A Lovely Planet contributors Sarah and James head to Thailand's Andaman Coast. Here is their guide to the region.
We've heard a lot of mixed reviews about Thailand, the good, the bad and the pretty damn ugly within recent years, giving Thailand a pretty bad wrap. After lots of research, planning and advice from friends, and of course travel, we think we've got a pretty great guide to the Andaman Coast that will keep it as a top destination for your next trip.
Disclosure: This article contains affiliate links. This means that if you click a link and purchase something I've recommended I may earn a small commission. This does not affect the price you pay but helps me to run this site. You can read my full affiliate disclosure here.
Getting to and Around The Andaman Coast
Fly into Phuket or Bangkok as these are the most central hubs for exploring Thailand, with most major airlines servicing both airports. We did this trip as part of a longer Thailand itinerary, also travelling the Mae Hong Son Loop by motorbike.
There are plenty of inexpensive shared bus options to travel within Thailand, tickets are available from all travel shops at a set price or a little cheaper direct from the bus stations.
A metered taxi is the cheapest form of transport when you have luggage in the cities, a moto (bike taxi) is cheaper for quick rides and a cool way to explore. Generally, Tuk Tuks seem to overcharge, so we thought it best to avoid these after a few hugely inflated quotes.
Koh Ya Noi
From Phuket, we took a 30 minute metered taxi to the ferry port Bang Rong Pier to catch a speed boat across to the island Koh Ya Noi which translates "Little Long Island". Koh Ya Yai (Big Long Island) is also an option for the same price.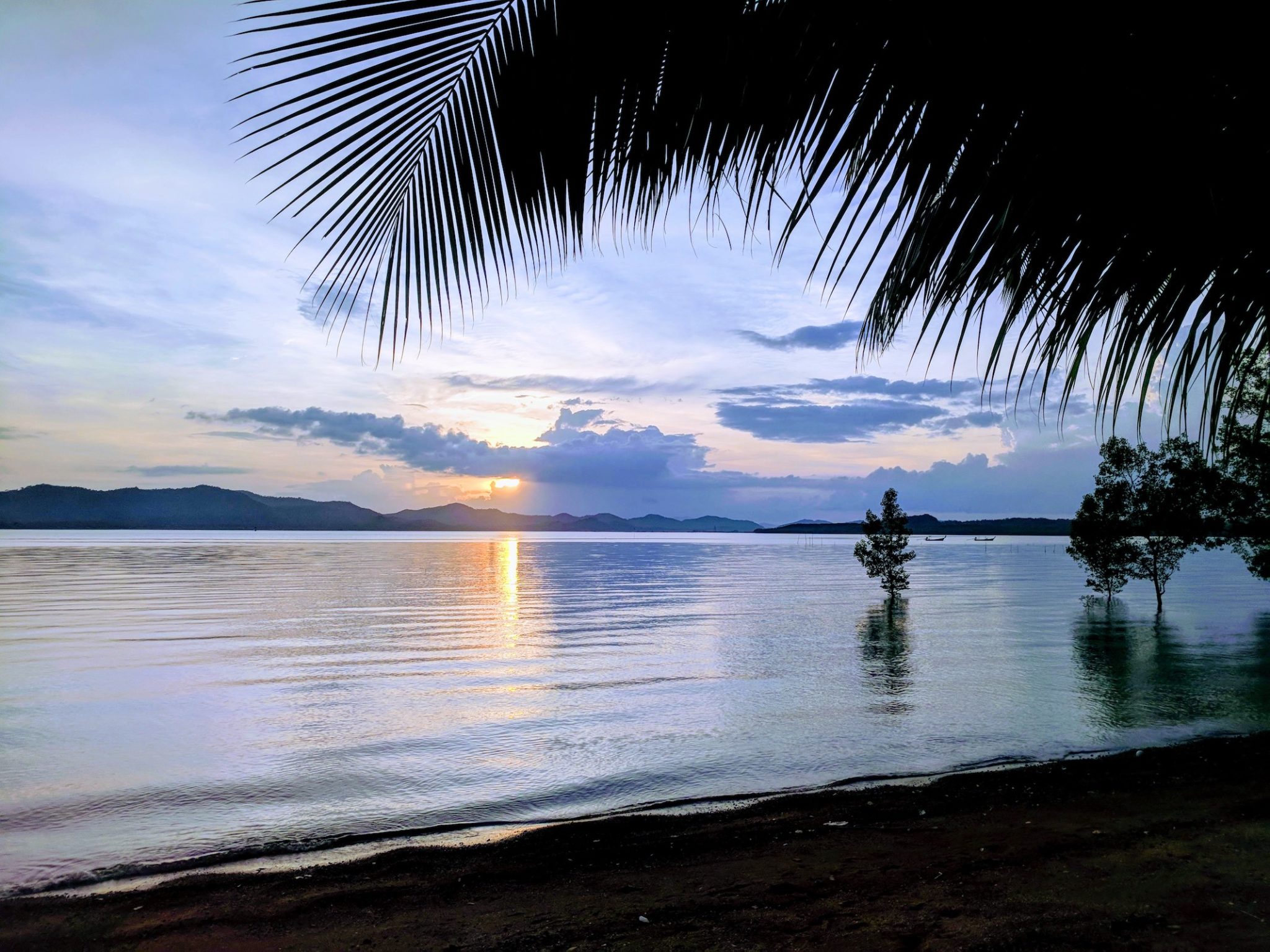 Being so close to Phuket it's surprising how this island still had a very local and relaxed vibe to it. Visited mostly by families, couples (us) and the more mature traveller (not us just yet), it was perfect for slowly adapting to the climate and the local culture. Possibly overlooked because of its infamous neighbouring islands with glistening Instagram pictures, but we think this is a great island and not to be missed for some downtime.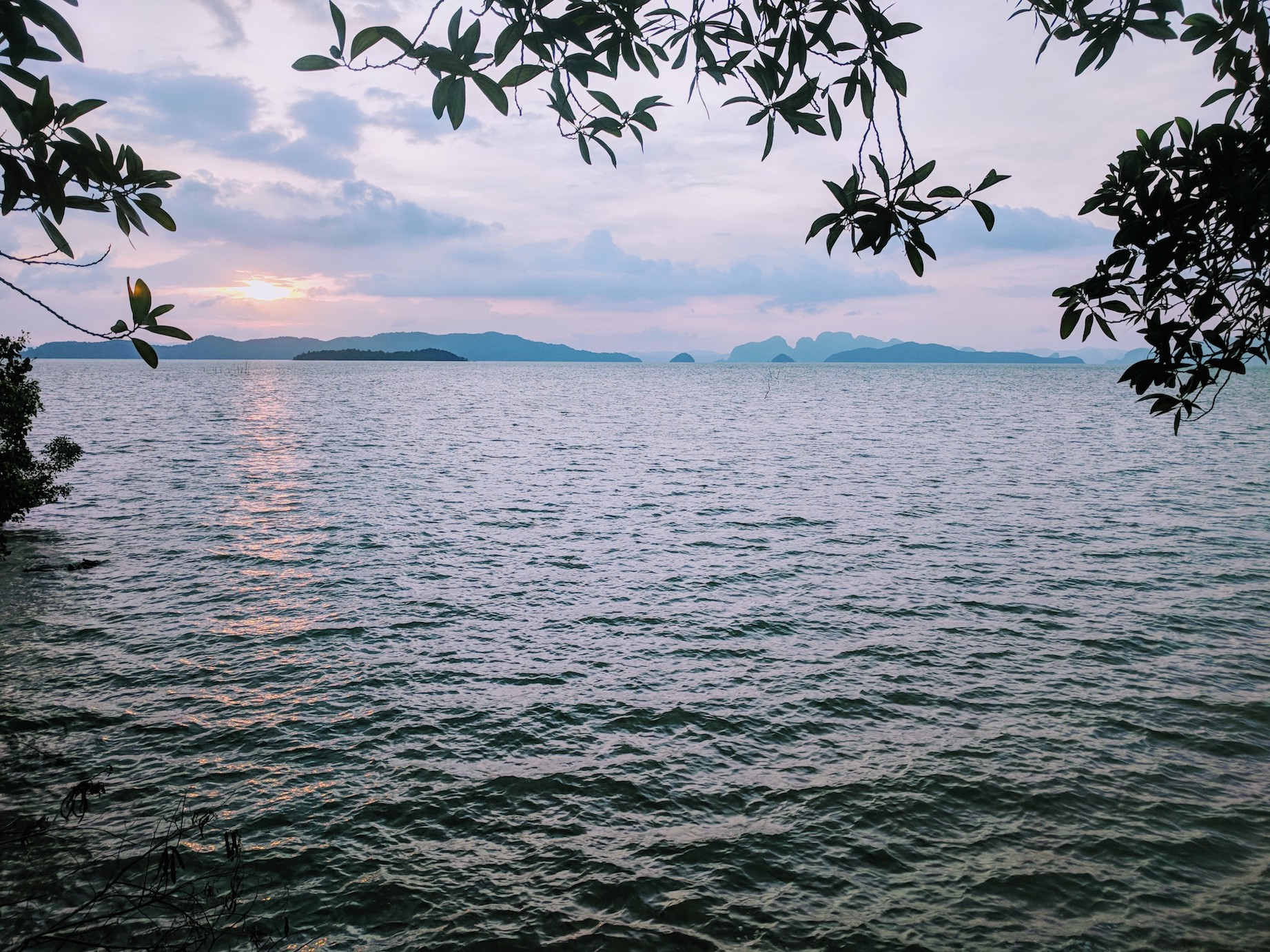 Getting Around Koh Ya Noi
Rental bikes are really your only option to get around (push or motorbike). We loved exploring the winding roads and seeing what we found. We discovered the best sunsets and local eats this way and you really feel like you know the island after a few days.
Food in Koh Ya Noi
The Coffee Break Cafe was hands-down the best and somehow cheapest coffee in town, had free WiFi and was frequented by ex-pats working on their business ventures, it became our morning hangout.
Near the markets, we found some of the best local cuisine including our favourite pad thai from the whole Thailand trip and delicious iced tea.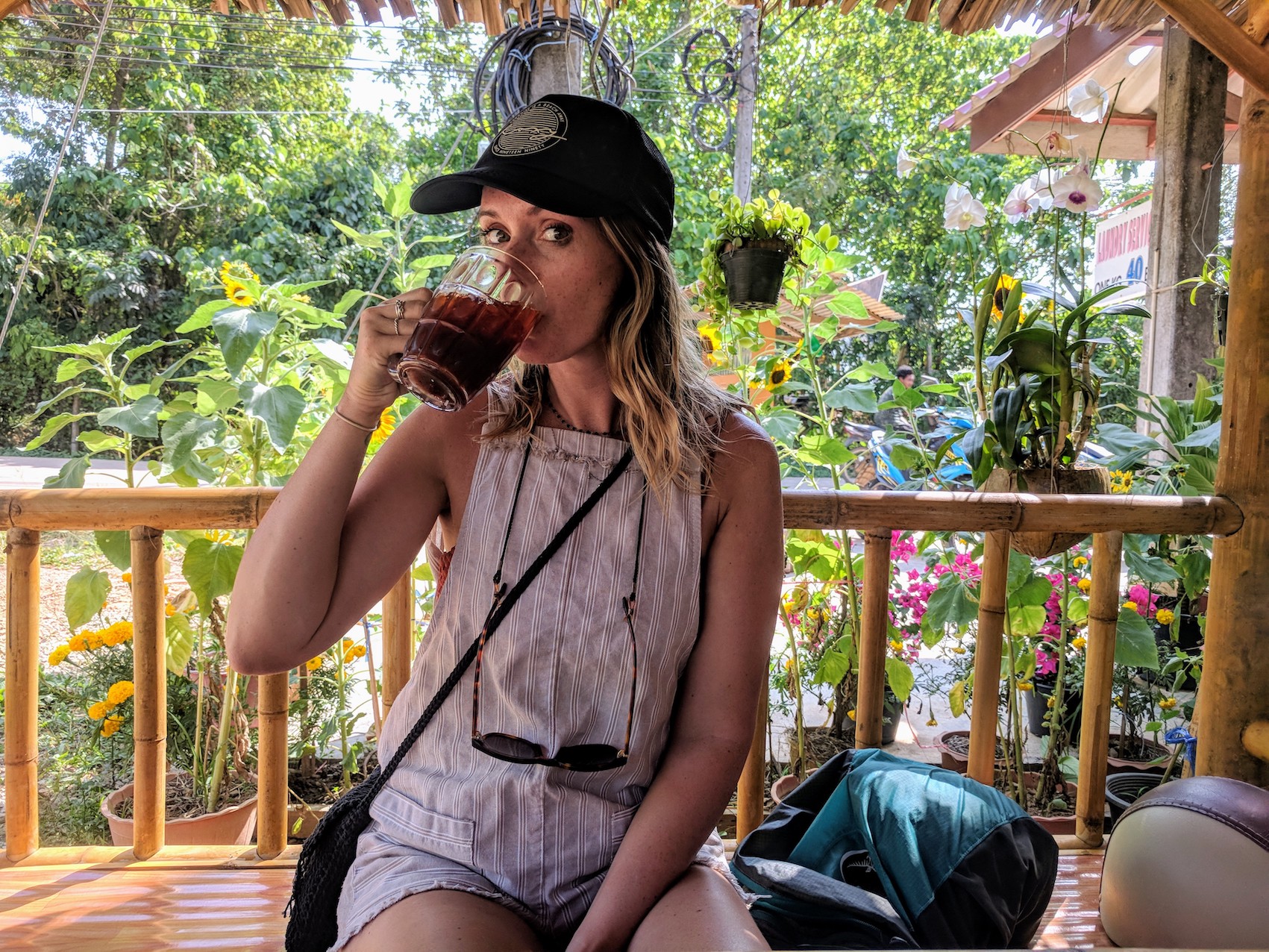 If you want a little adventure, there are lots of tours from this island to some of the famous neighbouring limestone islands, some of which you can kayak across too and climb to the top for a birdseye view.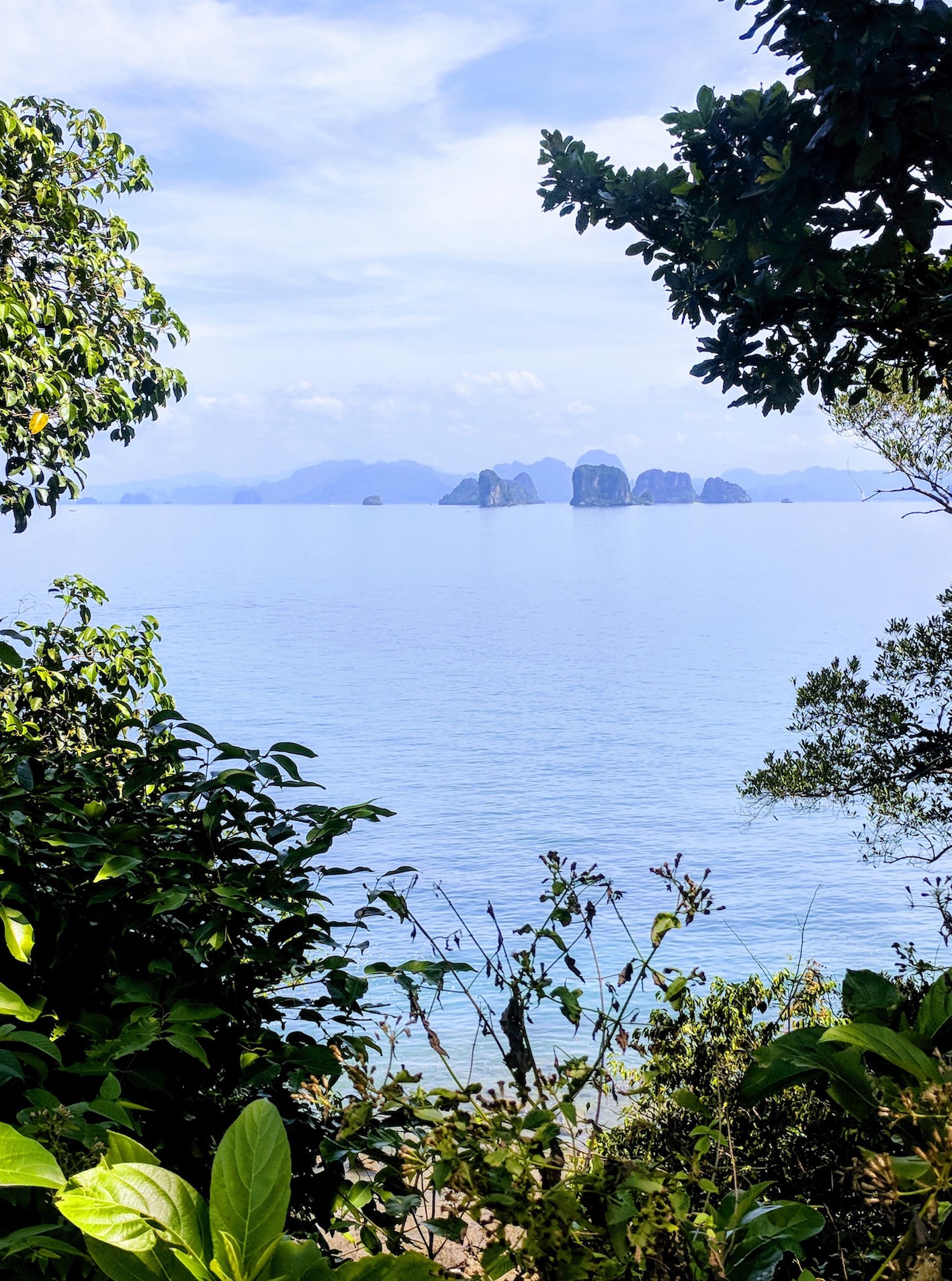 Koh Lanta
Head further south by boat or grab a minivan from Krabi, for a more bustling vibe at Koh Lanta. We used Krabi Town as a transit stopover as there are many options from here to travel North or South.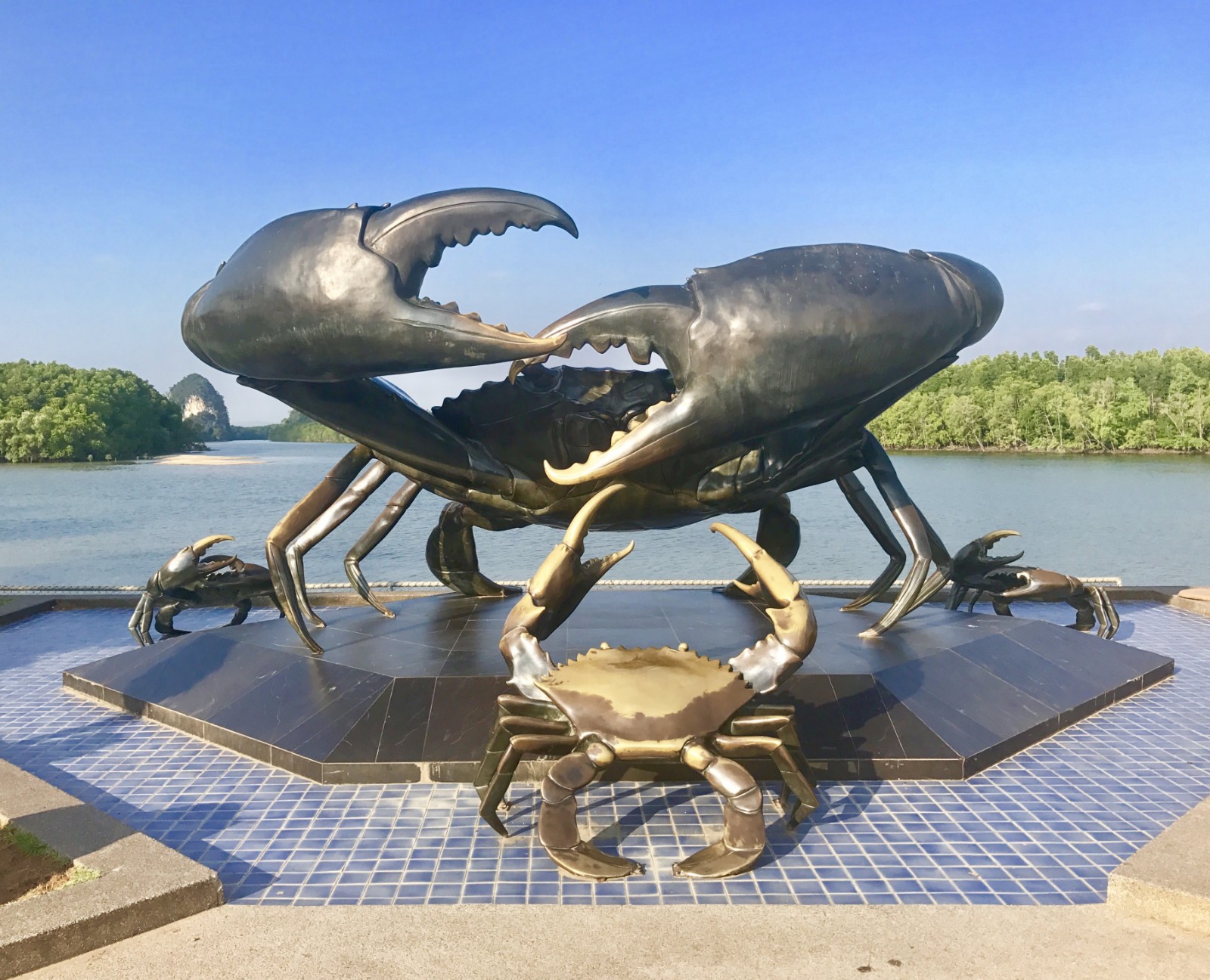 Koh Lanta's streets are packed with restaurants, markets, shops and places to stay, so it's a little harder to find the quieter side of life here.
The further south you go the quieter it gets, however, so if you want some peace, head towards Mu Ko National Park or Koh Lanta Old Town. Look out for monkeys in the cooler hours hanging by the side of the road nibbling on forest fruits.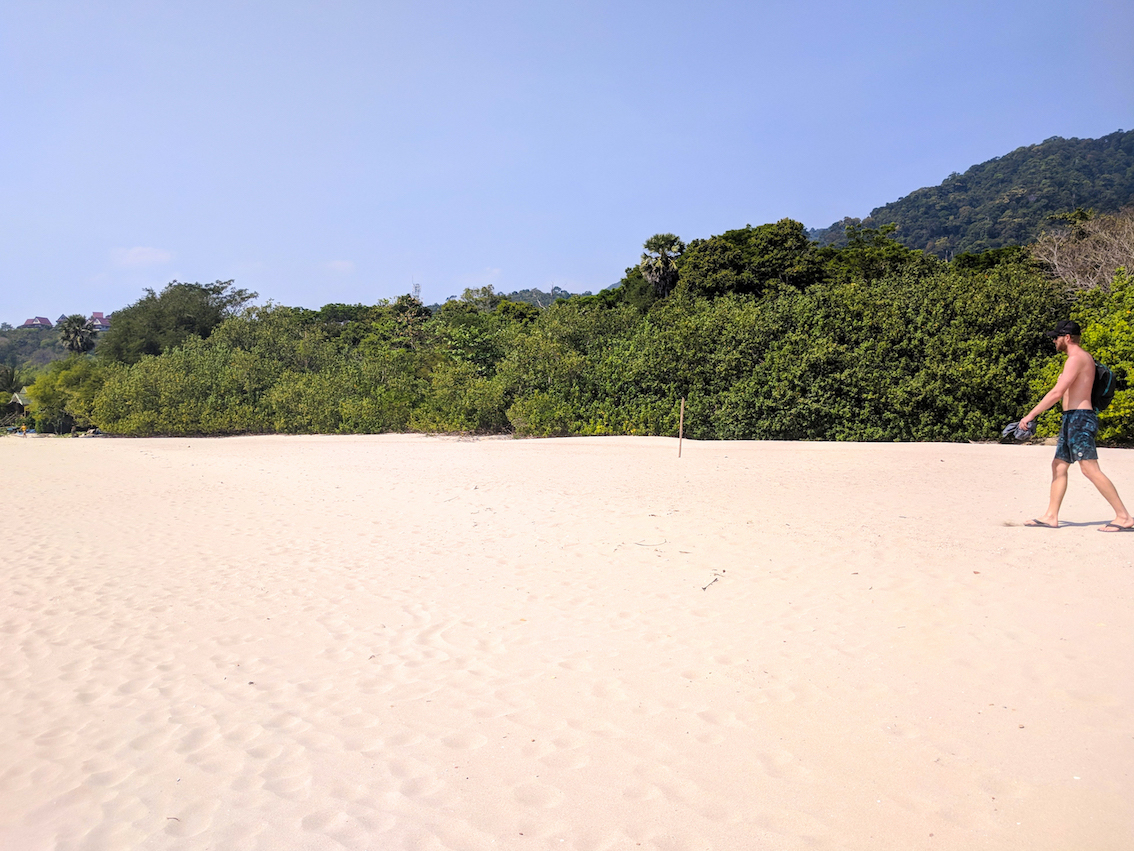 If you want a more vibrant atmosphere, you can find it nearer the Saladan Pier in the North of the island, with lots of bars and parties on offer.
Night markets light the streets after dark, where you can find inexpensive but delicious Thai treats and a souvenir treat for yourself too.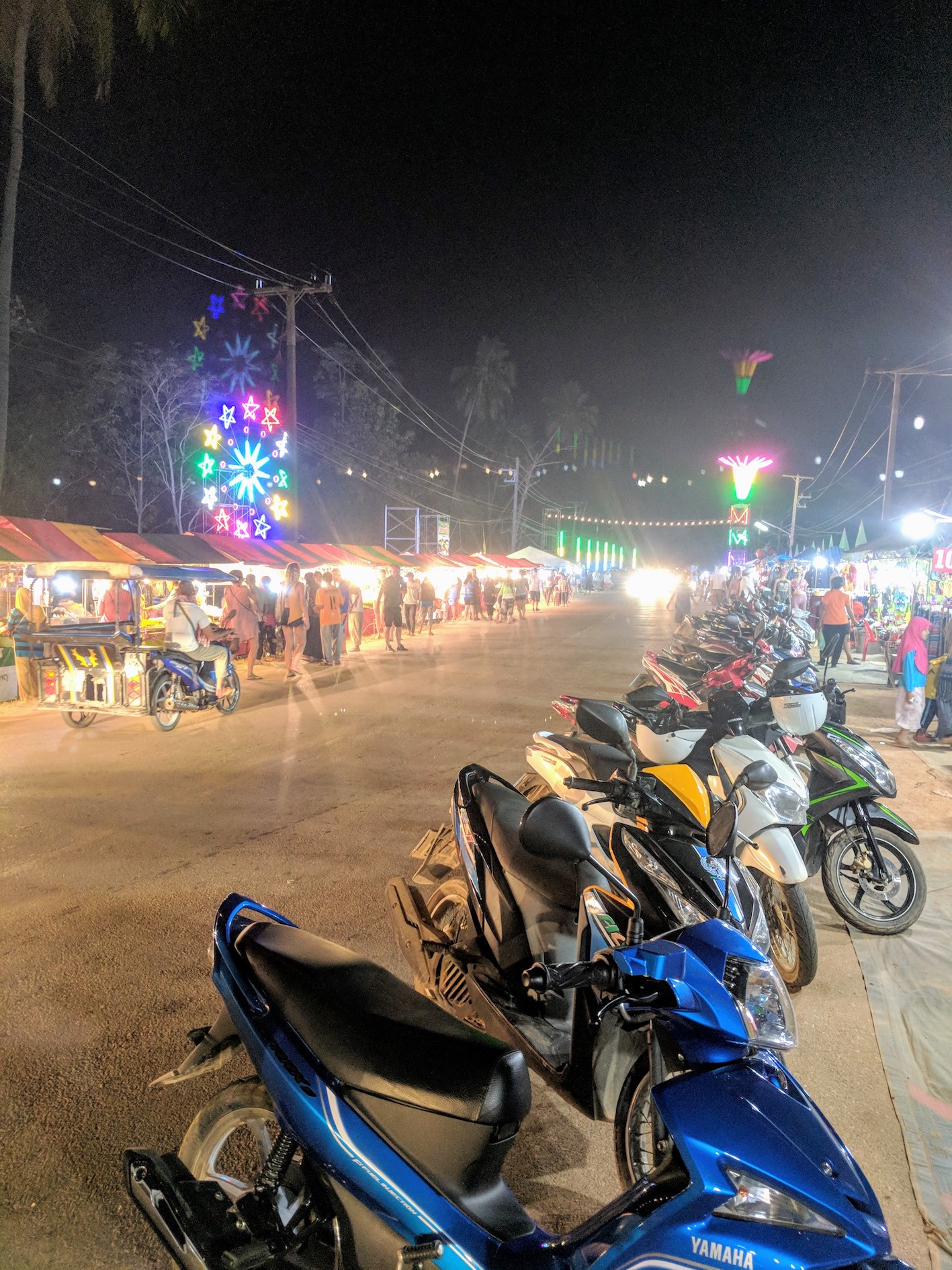 Diving Koh Lanta
The main reason we visited this island, was for diving, which has influenced our destinations in a big way. Whilst looking around for a dive shop to choose from amongst many, family-run Lanta Divers came out on top. They not only provide flexible packages, but they really prioritise the safety of their divers, so we felt in really good hands from the beginning. The boats are top-notch and so is the onboard menu, which to any diver is very important.
Koh Haa which translates to "Five Islands" in Thai is popular for day trips, snorkelling and diving. With its striking limestone rock towers, sandy beaches and calm blue waters, it's clear to see why.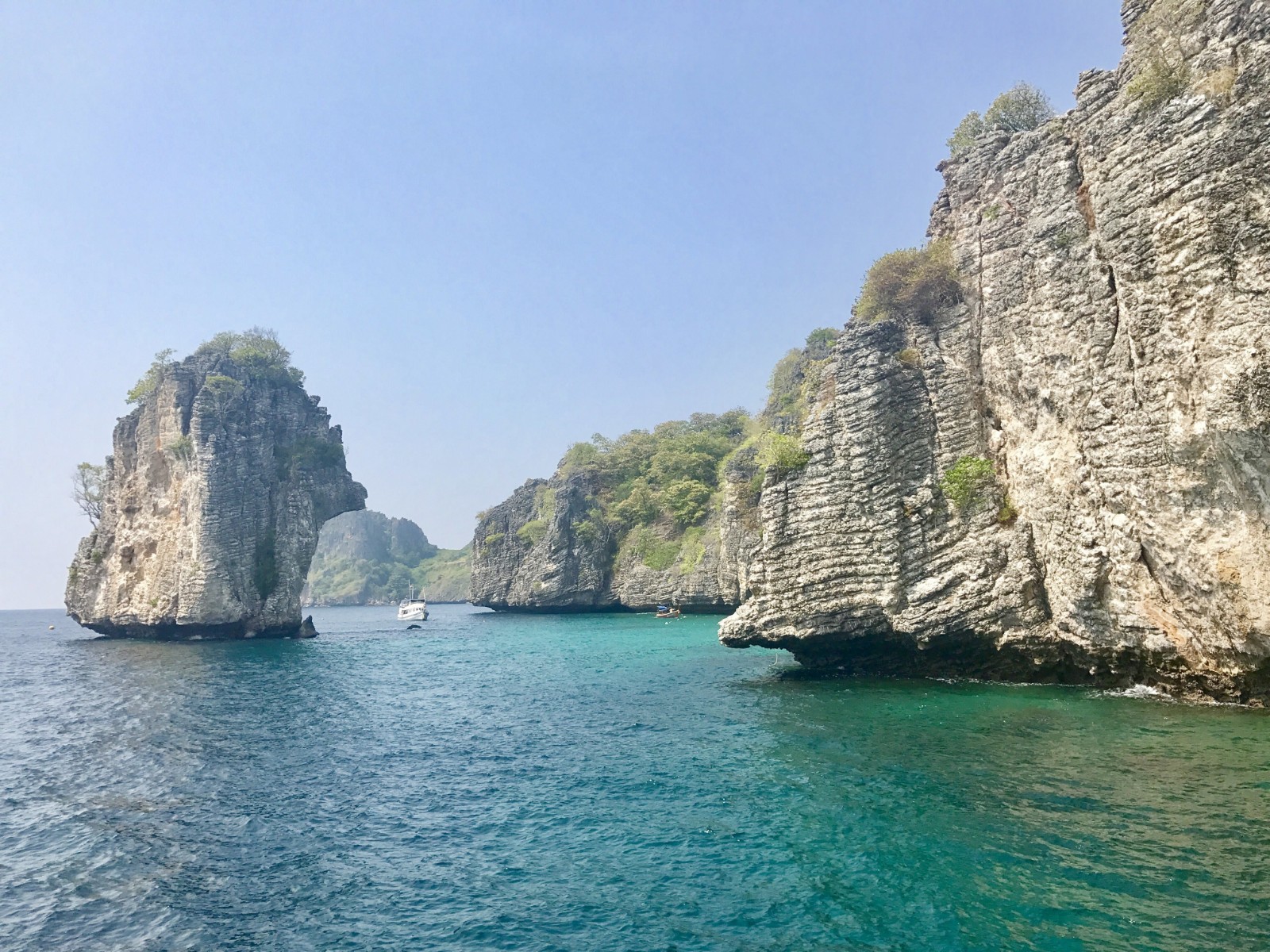 Koh Haa was equally impressive underwater as it is above. Our local guide 'Pop' had a fountain of knowledge on the area's marine life and spotted some awesome creatures, including a rare Zebra Eel, (Our first time seeing one).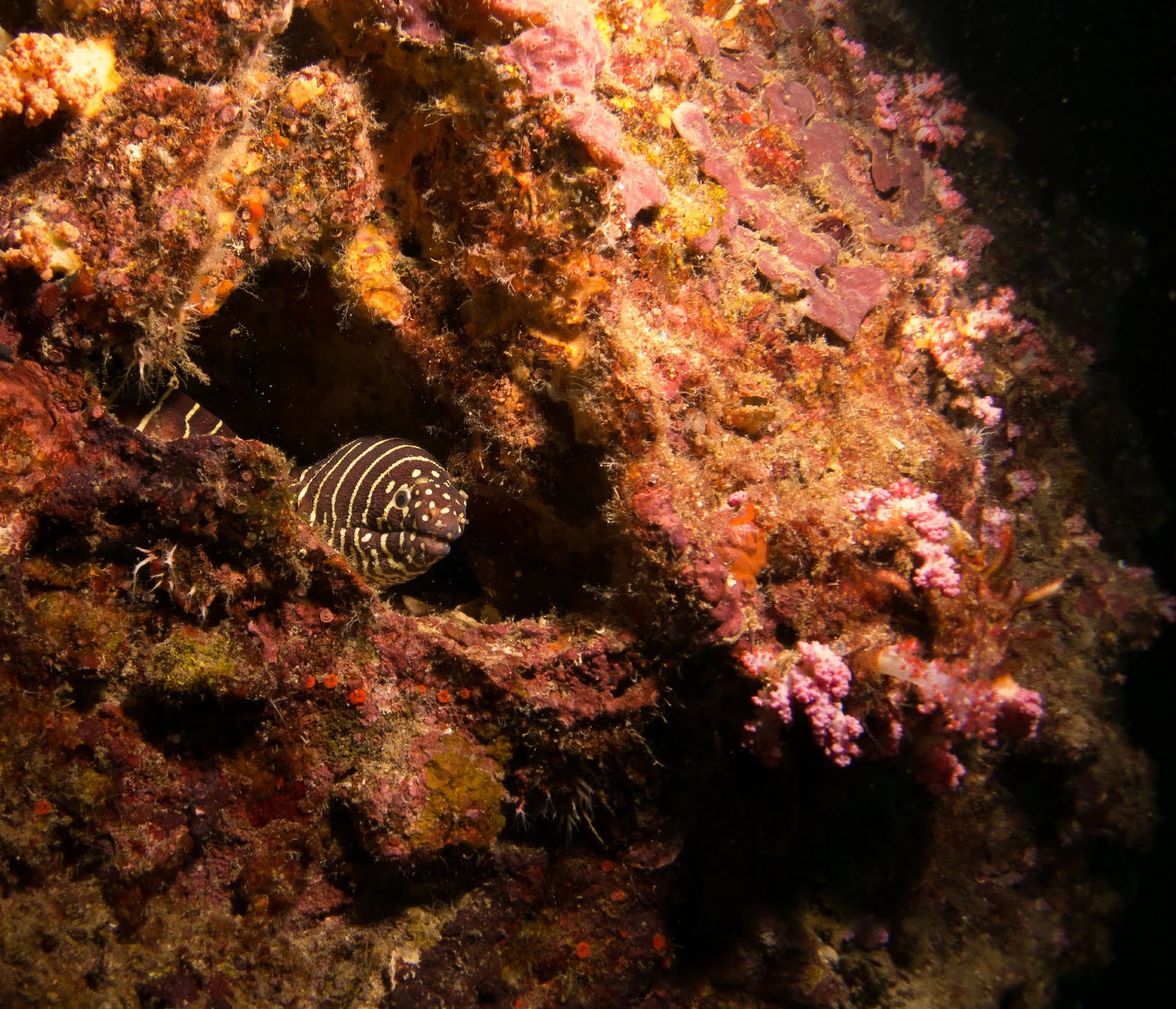 Dive site The Caves was our personal favourite, with cave swim-throughs and cool overhangs, it really felt like an underwater adventure.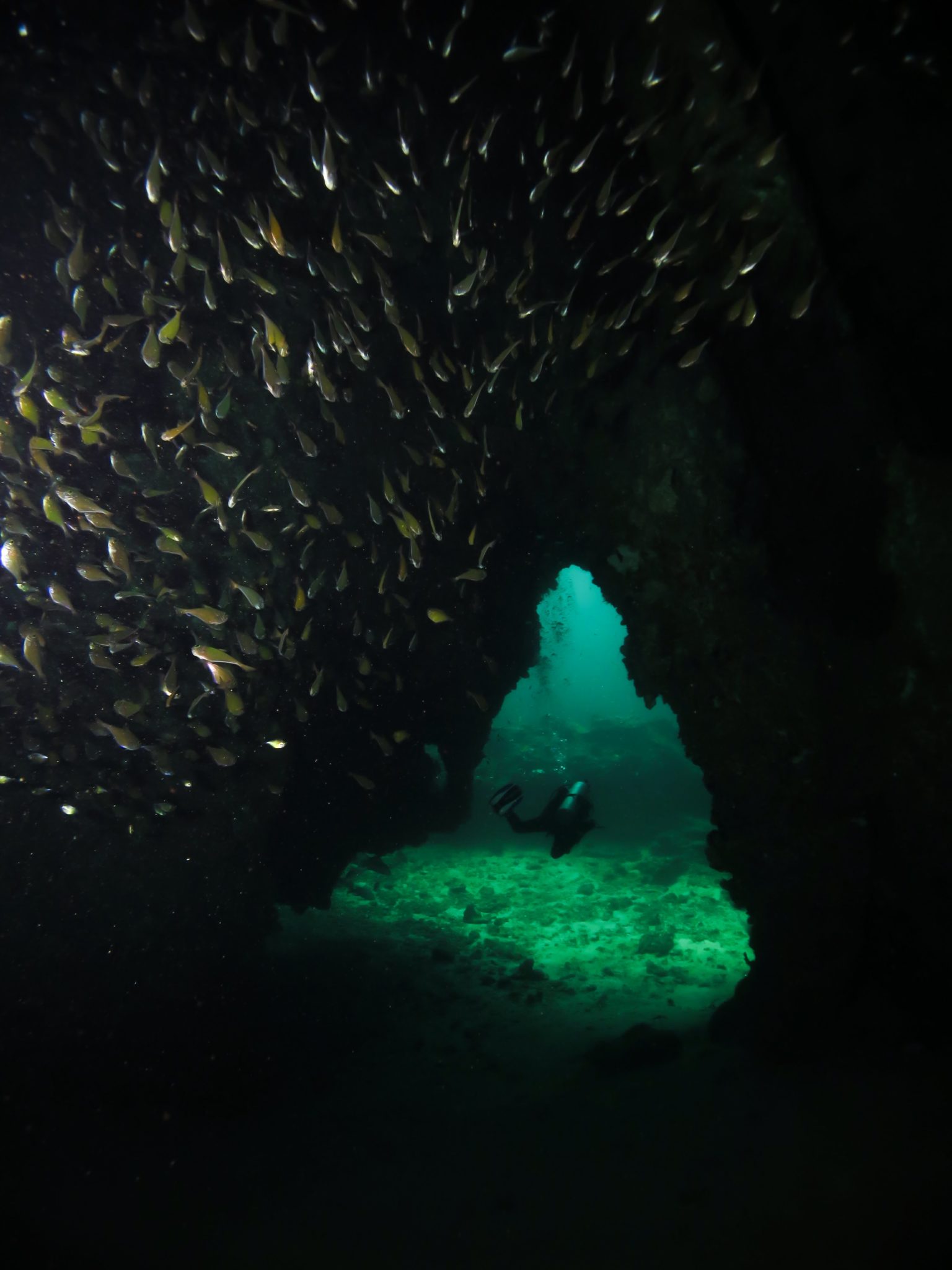 To try and spot the big stuff head to the famous Hin Mueng and Hin Daeng (Rock Purple and Rock Red) for hunting Trevally, schooling Barracuda and if you are very lucky manta rays and whale sharks. Unfortunately, we did not see any this time, but hey, that's nature. These dive sites rank among the best in the world, so add them to your dive bucket list!
Another way to dive this beautiful area is by joining a Thailand liveaboard.
Food in Koh Lanta
Back on land, our favourite pastime is visiting as many different eateries as we can. A favourite, vegan Cafe Kaya had a great menu, excellent Italian coffee and a cute courtyard.
The owner here told us about other interesting places in the area to visit in line with their ethical values.
One of them being Lanta Animal Welfare Shelter. Located just around the corner, we jumped on the bike to check it out.
Here volunteers take in and rehabilitate abused, sick or abandoned cats and dogs. The thing we loved most about this place was how easily holiday-makers could get involved. Our favourite option was to come by for a few hours and take one of the dogs out for a walk along the beach!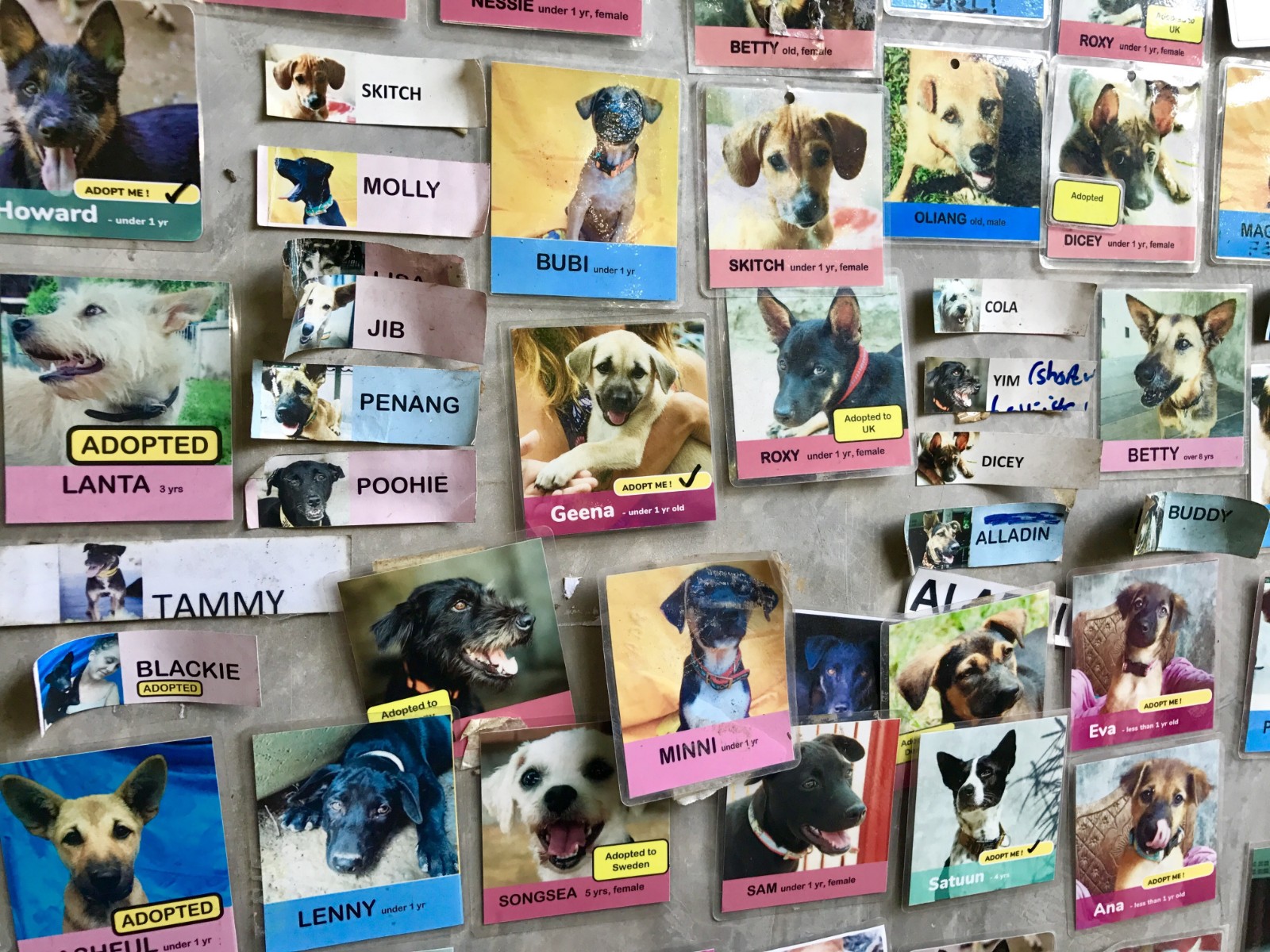 Koh Jum/Pu
We asked around and heard that Koh Jum was a favourite island for simple and peaceful paradise. A boat transfer takes around two hours with an interesting change from a ferry to a long-tail boat out in the ocean due to the island not having a pier.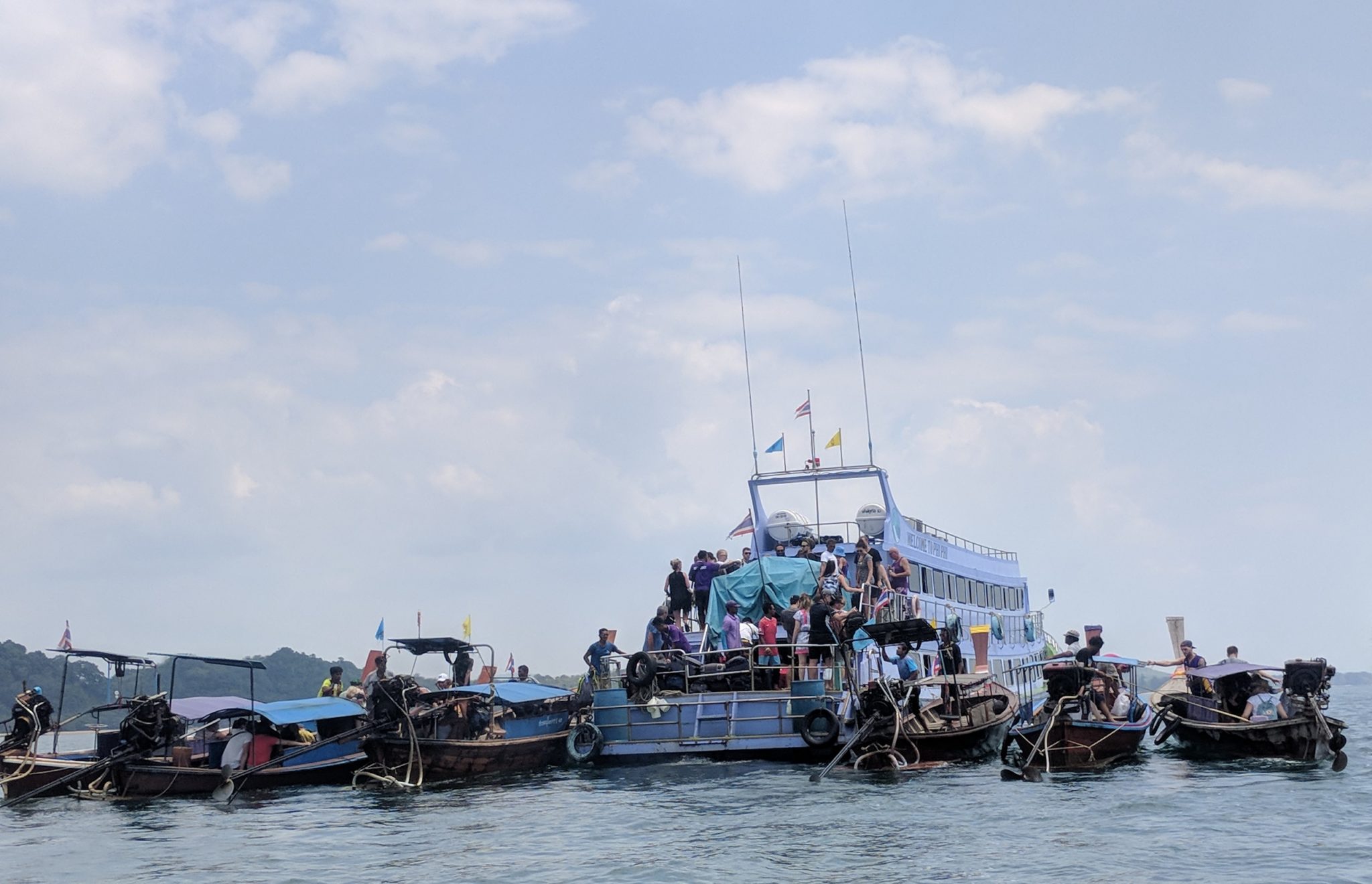 Although one island, locals will refer to the island in two parts: Koh Jum (South) and Koh Pu (North), which you'll need to know when getting off the ferry.
While a handful of upscale resorts can be found on this beautiful island, most accommodation options in the North are aimed at budget travellers or those who enjoy the simple life.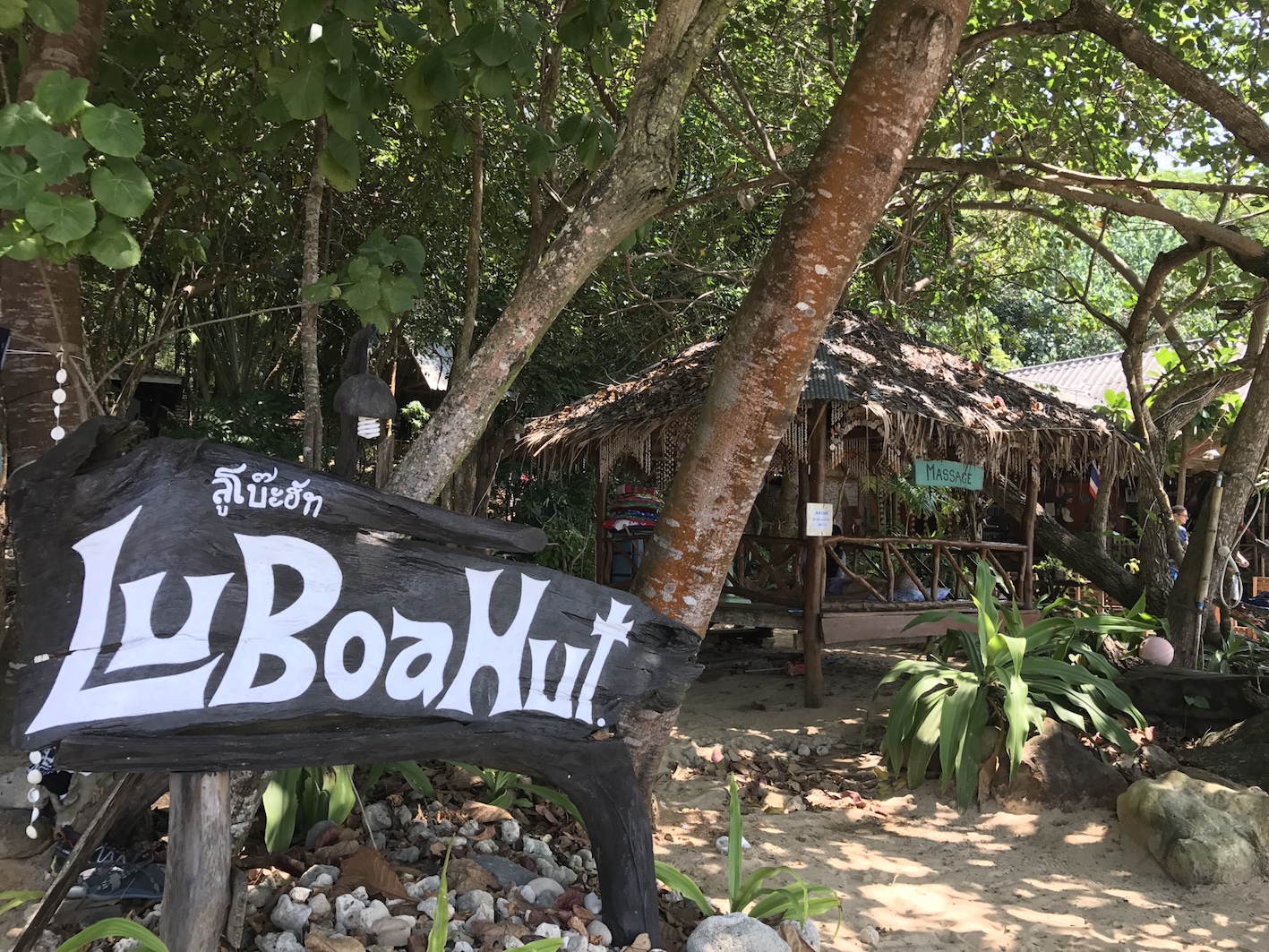 Grab the opportunity with both hands to switch off and relax, because Koh Jum allows just that, a refreshing contrast to neighbouring islands, Phi Phi and Koh Lanta.
Embracing the back-to-basics lifestyle, we opted for a bungalow amongst the trees at family-run Sunset Bungalows on Luboa Bay in the North. With a hippy laid-back vibe and beachfront hammock bar, it won't be long until you forget the busy city life.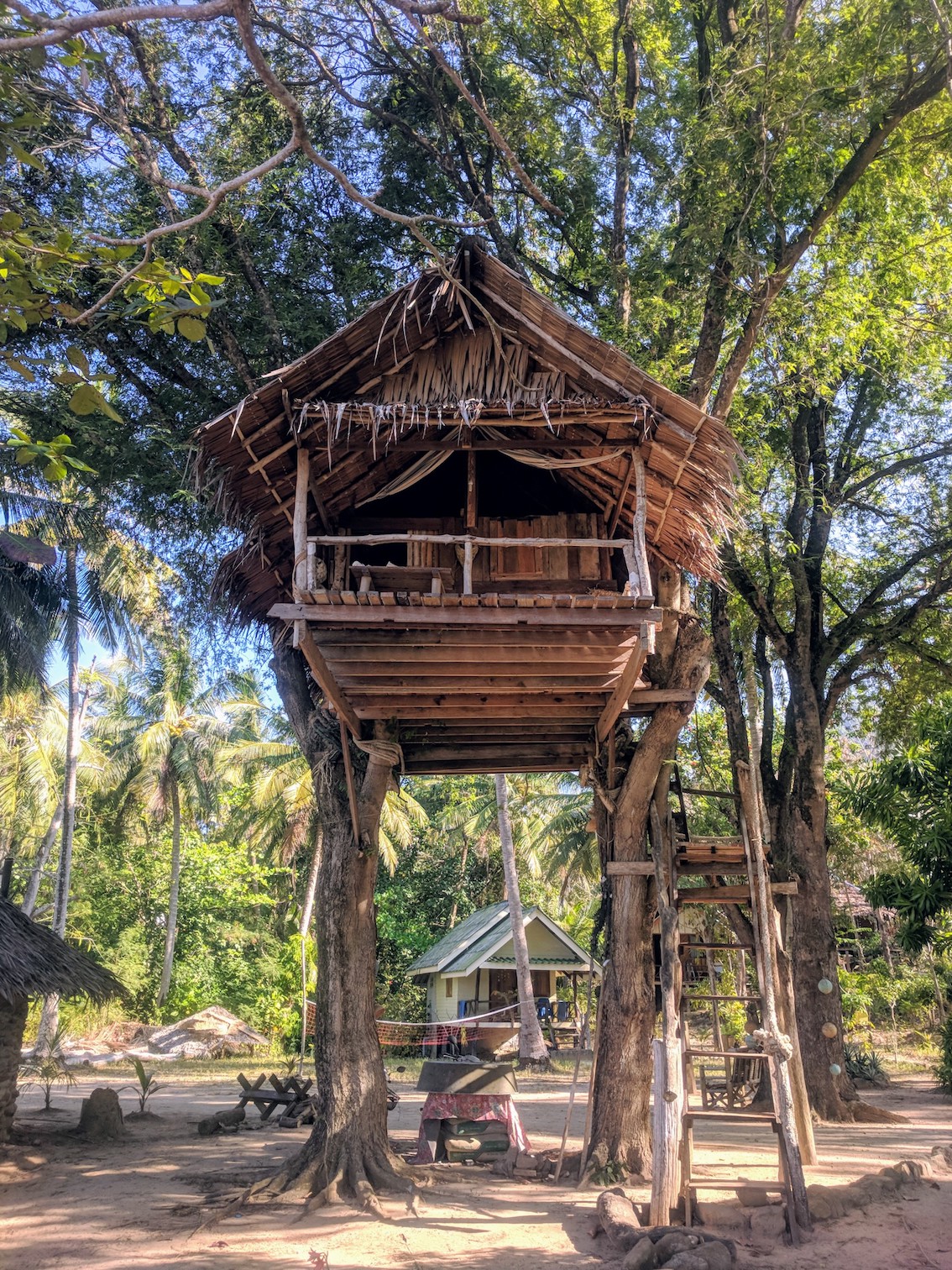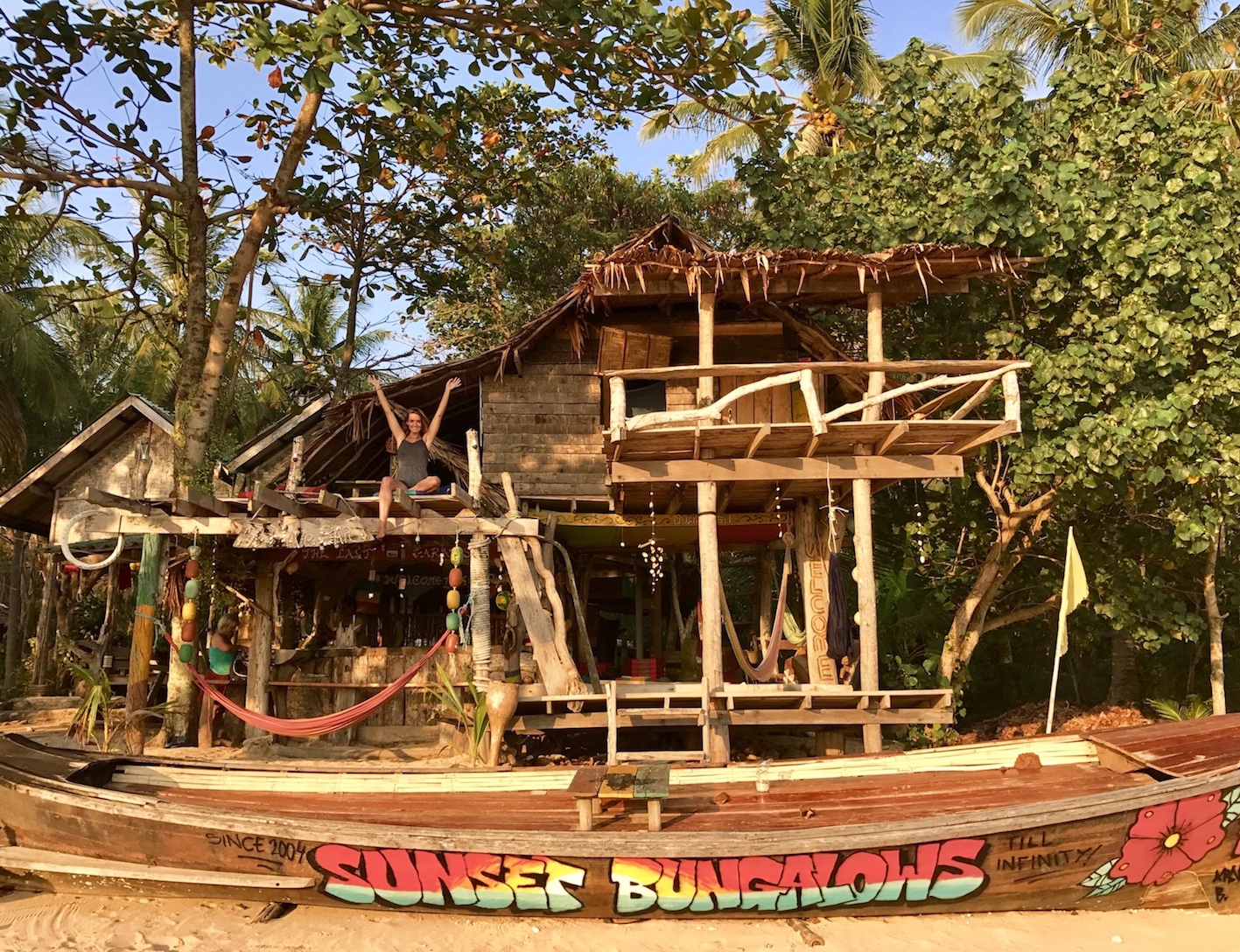 Koh Lak
A top dive site that continued to pop up was Richelieu Rock located in the Surin Islands, so we couldn't leave Thailand without seeing for ourselves.
From Krabi Town, it's an easy three-hour bus ride North to Koh Lak one way in a local bus.
Koh Lak is similar to Koh Lanta and is lined with restaurants, shops and numerous dive outlets.
Diving Koh Lak
Researching dive shops, Wicked Diving Thailand caught our eye with the focus on being environmentally friendly, only using ocean-safe products onboard such as shampoo and detergent, and a no plastic policy. A % of the fee paid by divers goes into local projects giving back to the community, so it was an easy decision to join this team. Unfortunately, they have now closed down, but there are a number of other diving shops in Koh Lak offering liveaboard trips.
"So how was Richelieu Rock" you may be wondering?
It was one of the most spectacular dive sites we have ever experienced, with an average visibility of 25m. The number of sea creatures in one place was just breathtaking!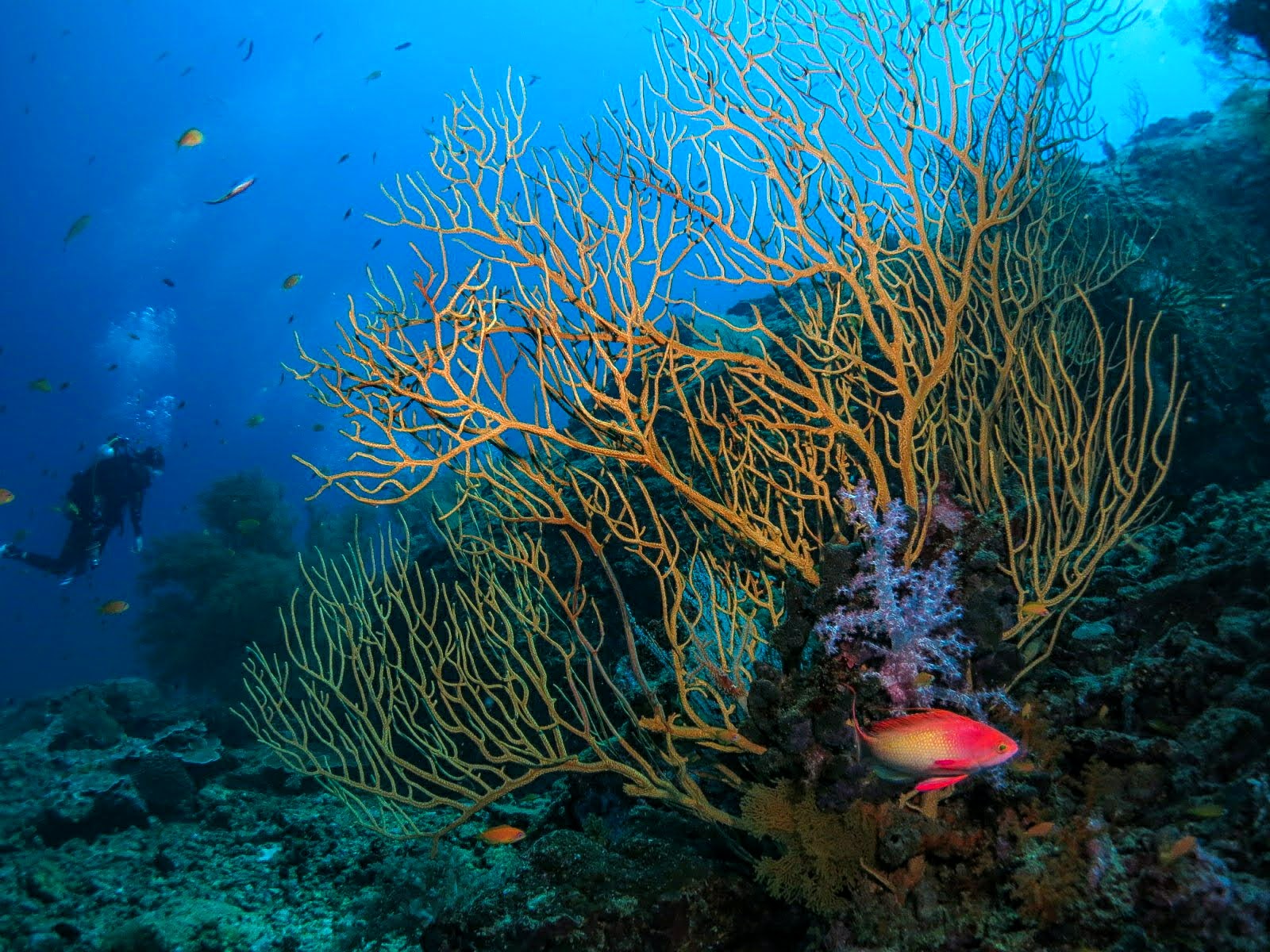 Koh Bon was another great dive site, especially for a night dive, where octopus & huge moray eels can be found hunting along with lionfish using your flashlight to spot their prey, so watch out for them lurking close by.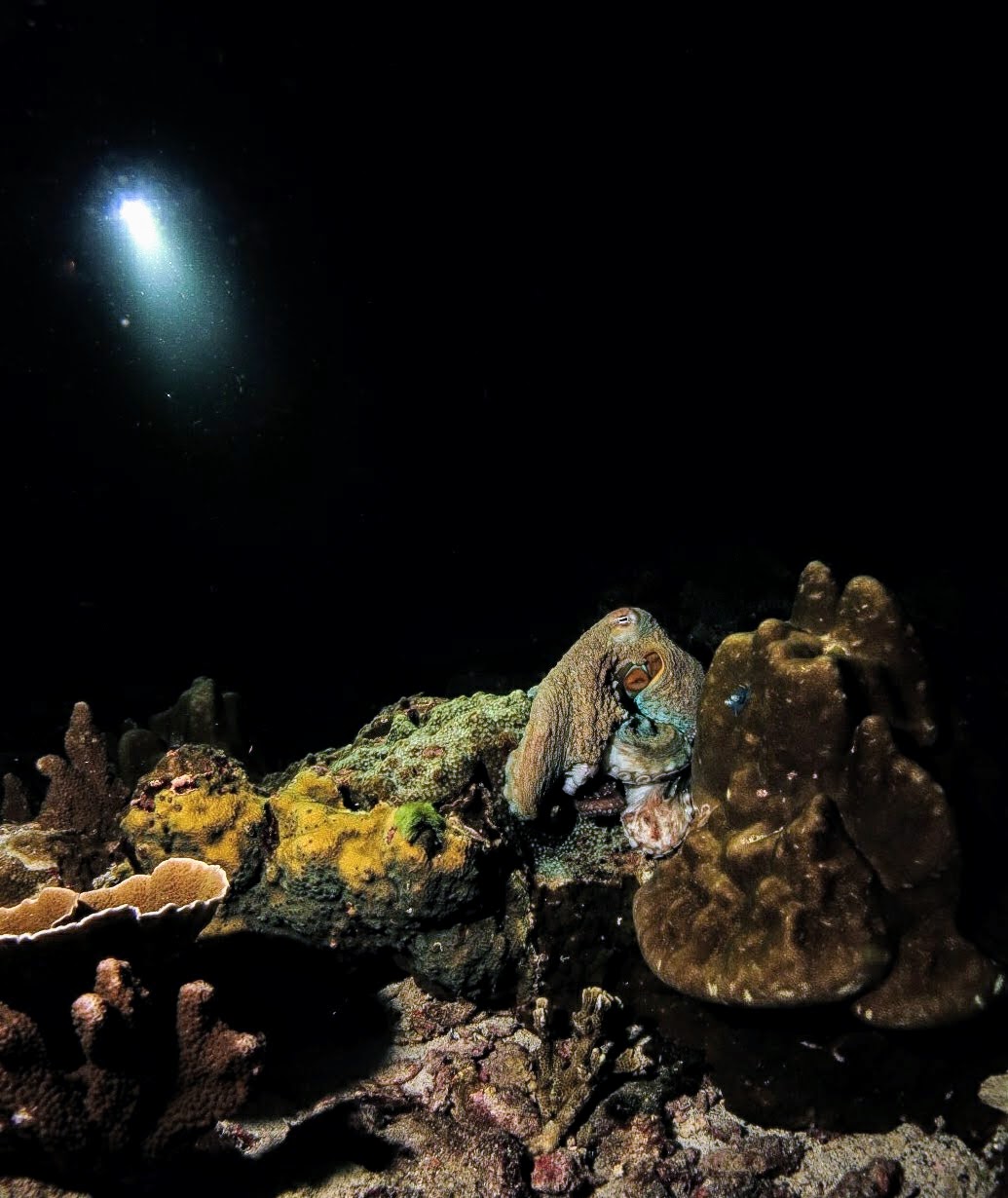 Thai History
It is easy to forget the places we visited were devastated by the 2004 Tsunami. Most families, homes and businesses were affected in some way, but have sprung back in memory of those they lost.
You'll find most Thai people open, friendly and willing to share their stories of love, loss and legacy.
A navy boat can still be found in Koh Lak, where it washed up during the devastation all those years ago by the Tsunami Museum.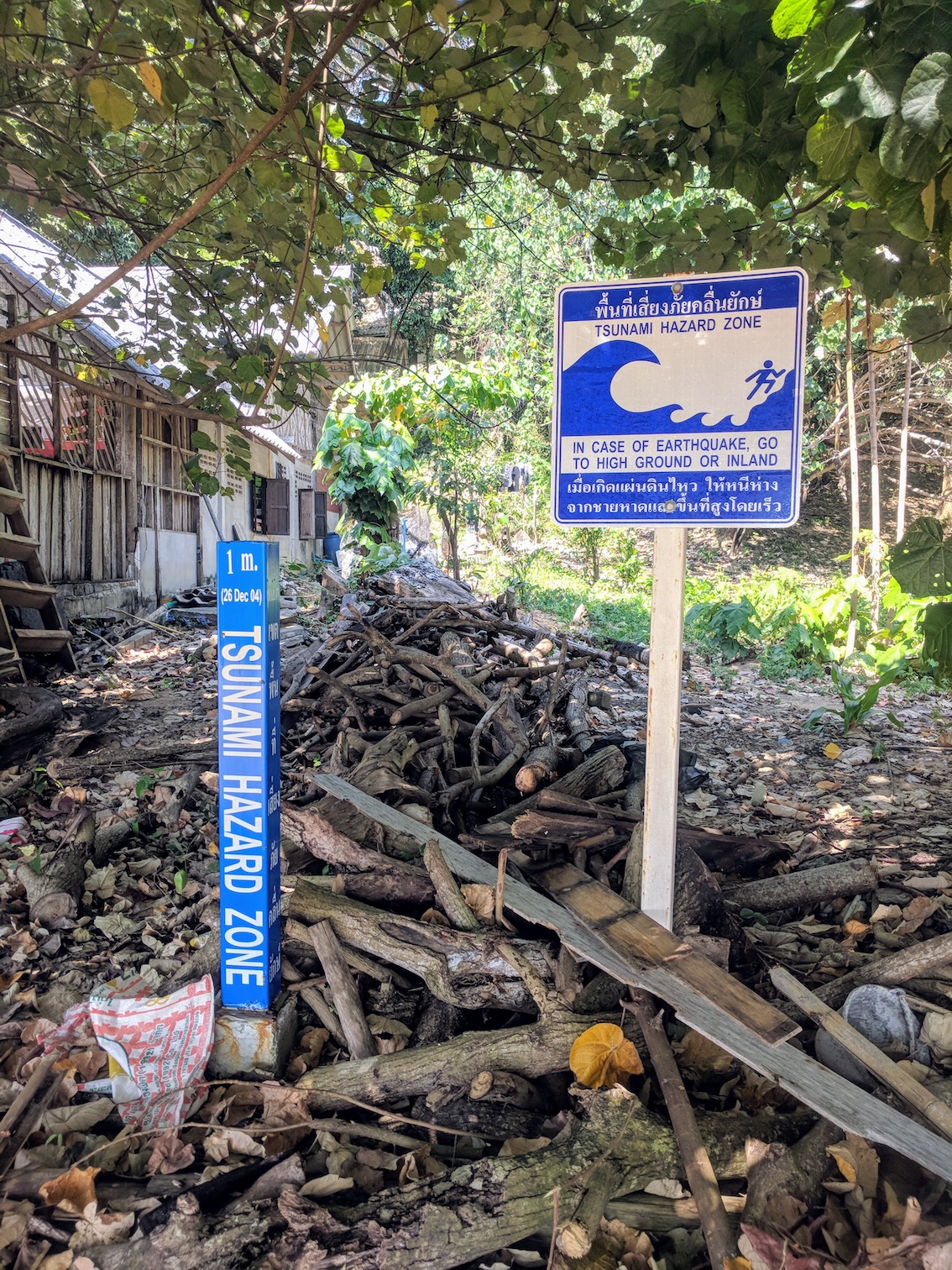 Top Tips for The Andaman Coast
Everyone gets around on motorbikes in Thailand and it really is the best way to see the islands. Ensure you're either comfortable on one, ask for a test drive or factor in funds for other transport instead. You technically need to have a motorbike license and wear a helmet at all times to avoid being fined by the police if you get stopped. Check your bike before paying as we had to swap bikes due to faulty rear lights.
All ATMs in Thailand charge to withdraw funds, on average 250 THB per transaction. This is a huge amount and could go a long way on a Thai island. Currency Exchange booths are the alternative option, which charge far less in fees, however, most only take cash so come prepared.
Food on The Andaman Coast
Eating out can be overwhelming with so many options, but it's hard to find a bad meal in Thailand if you follow the tips below:
The Pad Thai is just out of this world, we found simple is best!
Thai Pancake stands pop up everywhere, choose your filling from chocolate, fruit or more savoury options (dependent on your mood). Be careful though as they can be quite addictive.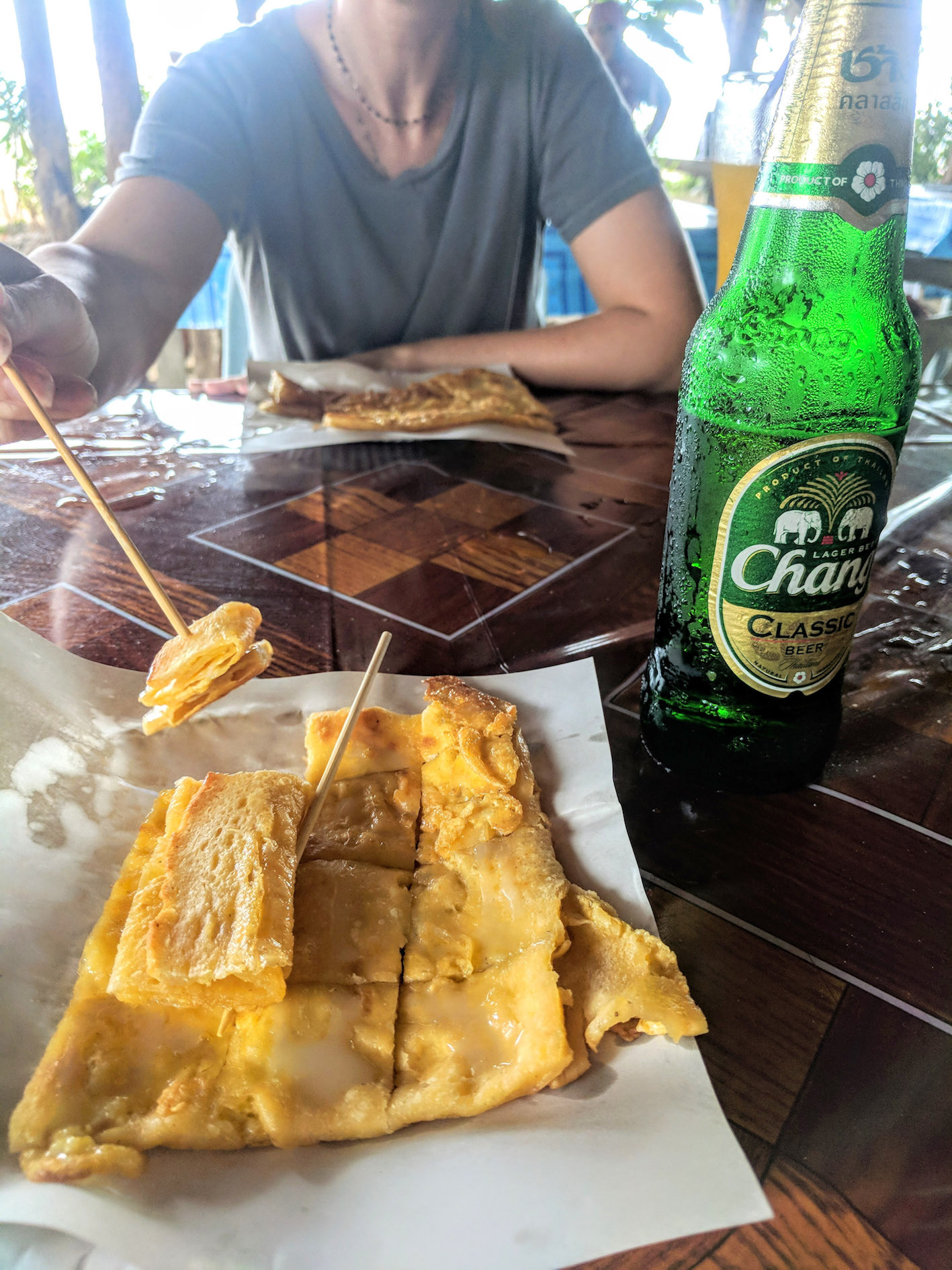 Avoid restaurants that cater to too many palettes and try to find where the locals eat. Stick to Thai food as Western food, in general, will be overpriced and likely won't meet your expectations. Look out for street stands with fresh ingredients, wok and broth pots. Usually, everything is prepared from scratch straight into your bowl!
For more on Thailand, check out our guide to the Mae Hong Son Loop.
Thank you to Lanta Diving for collaborating with A Lovely Planet.