The New Forest is one of my favourite places in the UK; I love the beautiful landscape and the wild horses roaming around the quaint towns and villages. So I was very excited to be heading back to the South Coast to stay at Careys Manor in Brockenhurst.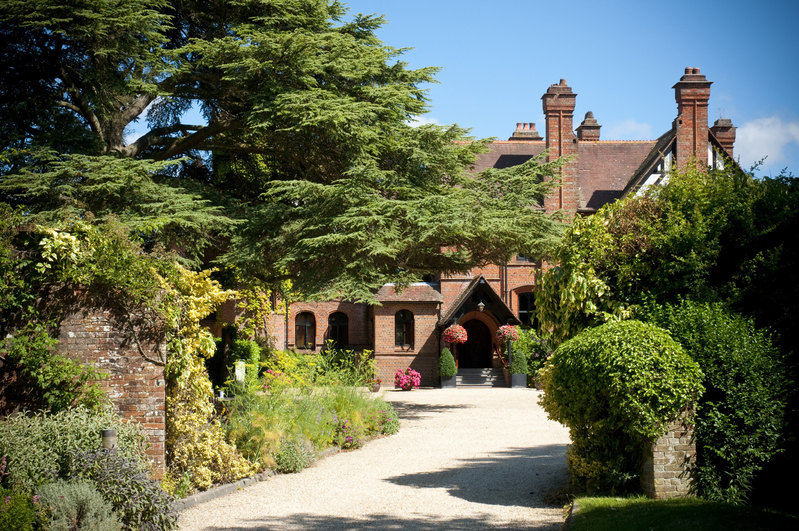 Disclosure: This article contains affiliate links. This means that if you click a link and purchase something I've recommended I may earn a small commission. This does not affect the price you pay but helps me to run this site. You can read my full affiliate disclosure here.
Brockenhurst is in the largest village in the New Forest and is only an hour and 30 minutes by train from London. It has a lovely high street filled with shops and cafes, surrounded by the gorgeous countryside of the National Park.
Careys Manor is located just outside the village centre, less than 5 minutes from the station. It was originally a hunting lodge and is named after John Carey, who managed the property in the 1600s. The present house was built in 1888 and was extended in the 1950s and 1980s. It has been a hotel since 1934, with the exception of during WW2, where it housed the Welsh guards.
The red brick building is incredibly beautiful, with a big tower at the entrance, surrounded by attractive gardens. Entering via the grand driveway, we (my mum and I) headed to the reception. We were checked in by Susie, who was very welcoming and gave us plenty of information, before introducing us to Tony, who gave us a tour of the hotel and grounds and then took us to our room. It was a lovely way to begin our stay, and it meant we knew exactly where to head later in the day for the spa and dinner.
Rooms at Careys Manor
Careys Manor has 77 rooms, some in the main building and some in the newer garden wing of the hotel. We were staying in one of the Oakwood Garden Rooms. These rooms are on the ground floor and have Juliette doors out onto the gardens.
The room was very spacious with comfy beds and a sofa and chairs by patio doors, as well as a seating area outside. As it was a nice day we took the opportunity to sit outside in the gardens and enjoy a glass of fizz.
SenSpa
Then we decided to hit the spa. Tony had mentioned that guests often walked the grounds in their robes and slippers and that the hotel had a very relaxed feel. So we put on our swimsuits and robes and headed to SenSpa.
Once there, the staff were again incredibly welcoming and informative, and we were given a delicious herbal tea while we filled out our health questionnaires. We were then treated to a full tour of the extensive spa facilities. Complementing the Thai theme of the spa, there is also a Thai restaurant located next door – The Zen Garden, where many guests choose to eat their lunch during a spa day (dressed in robes if they wish). Up a beautiful wooden staircase was the gym, with an impressive selection of equipment. There were also a variety of classes on offer including Yoga, Pilates and Circuits in the Thai Temple Studio.
We decided we wouldn't be using the gym (it was a relaxing break after all!) and headed straight to the pool.
Careys Manor has an Ozone pool, sauna, steam room and Jacuzzi that are available to use for all guests. The pool overlooks the Zen garden and is lovely and bright, with the other facilities surrounding it.
SenSpa is reached via a connecting door from the Ozone pool and guests can upgrade to this section (if it isn't included in their booking) for a fee. I would definitely recommend upgrading, as SenSpa is wonderful. It has an incredibly relaxing atmosphere and the hydrotherapy pool is gorgeous, heated to 37 degrees, with water jets at different heights to help relax your muscles. At either end there are submerged beds to relax on, as well as a Jacuzzi section of the pool and powerful Vichy showers for a hydro massage.
SenSpa has a variety of different rooms and sensory showers. So of course I wanted to test them all out! We were given information on the best way to use the rooms, and some suggested programmes.
Following the hydrotherapy pool, we tried the experience showers. These have options to select different sounds, lights and temperatures, and include tropical rainfall and a cold sea storm shower. There is also crushed ice to cool down your skin and a wooden bucket suspended from the ceiling filled with cold water, for a refreshing downpour!
After the cold shower, it was time for some heat in the herbal sauna, which smells amazing. This is next to the Crystal Steam Room, which I loved, featuring a huge bohemian amethyst crystal.
Next, we tried the health showers. Again there are different heat options and these also include amazing scents and body jets at different heights.
Up a spiral staircase are further rooms including the Laconicum and Tepidarium. These are cooler than the downstairs rooms and great for relaxing with heated loungers in the Tepidarium and a heated floor in the Laconicum room. I loved the sparkly lights in the ceiling of the Tepidarium.
The Spa has a variety of treatments available, by Thai trained therapists. There are 18 treatment rooms including two double rooms and a Rhassoul Mud Room. Here, the therapists apply detoxifying Rhassoul mud all over your body, before allowing you to relax on heated seats in an infused steam and mist.
One of the things I loved about Careys Manor Hotel is that they have really thought about all the tiny details. There was a great selection of refreshments available in the relaxation room, including some lovely herbal teas. But there is also a phone in the spa, so you can request drinks to be brought to you, which makes for an even more relaxing experience!
The Spa has a shop that sells many of the products used in SenSpa including their own Natural Body Therapy treatments (the Detox Body Scrub is amazing!). I managed to forget my make-up remover, so bought some from the amazing Willow Organic range (and they were kind enough to bring it for me room for me!)
Food and Drink
As well as the Zen Garden Thai restaurant, Careys Manor Hotel has two other restaurants, The French Le Blaireau located at the entrance to the hotel and Cambium in the main hotel building. Following the spa, we had a dinner reservation booked at Cambium. It's a charming light room, with views of the grounds outside, and the restaurant's name is inspired by the New Forest, with much of the food on the menu being locally sourced. Everything on the menu looked great, and we had a hard time deciding what to pick. I chose the Tuna Tataki and my mother opted for a Pressé of Rabbit.   We were introduced to the restaurant sommelier, Michael Driscoll, who talked to us about the wine menu, featuring over 300 wines. The wine list changes seasonally, and they offer some more unusual wines, including an Indian Sauvignon Blanc. He suggested glasses of Viognier and Vinuva Fiano to go with our starters, which were lovely and complemented the food perfectly.
For the main, I went for Lamb, which was delicious; the meat was beautifully cooked and served with Broad Beans, Pommery Mustard, Goats Curd and Wild Nettle. It was one of the tastiest meals I've eaten in a long time! My mum had Halibut with squid and black squid ink spelt, which she enjoyed, and again we went with the Sommelier's suggestions for wine.
For the dessert we shared a Pistachio Crème Brule and a Blood Orange Carpaccio with spice pepper cake. It was all delicious and beautifully presented and the staff were incredibly attentive without being intrusive throughout the meal.
Full from dinner, we headed back to our room for a comfy night's sleep. In the morning I woke up early and went for a little wander of the grounds. I discovered a secret garden near the entrance to the grounds and was intrigued. Unfortunately, the gate was locked, so I went to reception to enquire and I was informed that the garden was used for wedding photos at Careys Manor Hotel. Francoise, the Wedding Planner, was kind enough to unlock the gardens so I could have a look. They had recreated a bedroom from plants and flowers, complete with furniture. Each newlywed couple is given an engraved padlock to add to the fence. It's such a nice idea and a beautiful garden, which is evolving with new ideas and additions each year, as it becomes more established.
We had a very enjoyable breakfast in Cambium – a huge buffet-style breakfast with plenty of options including eggs, bacon, sausages, fruit, cereal and pastries and fresh coffee and juices.
We had use of the facilities for the rest of the day, but sadly we had other engagements, so had to say our goodbyes to Careys Manor. It was such a lovely stay and I was incredibly impressed by the staff, facilities and attention to detail. From the moment I arrived, I felt incredibly welcome, calm and looked after and I wouldn't hesitate to head back to Careys Manor for a relaxing break.
Book a stay at Careys Manor Hotel and SenSpa