As a wine lover (but by no means an expert!), I was very excited to visit Châteauneuf du Pape village in the southern Rhône Valley in France. The area surrounding the village is where the famous Châteauneuf-du-Pape wine is produced and is made up of five communes: Châteauneuf-du-Pape, Courhézon, Orange, Bédarrides, and Sorgues.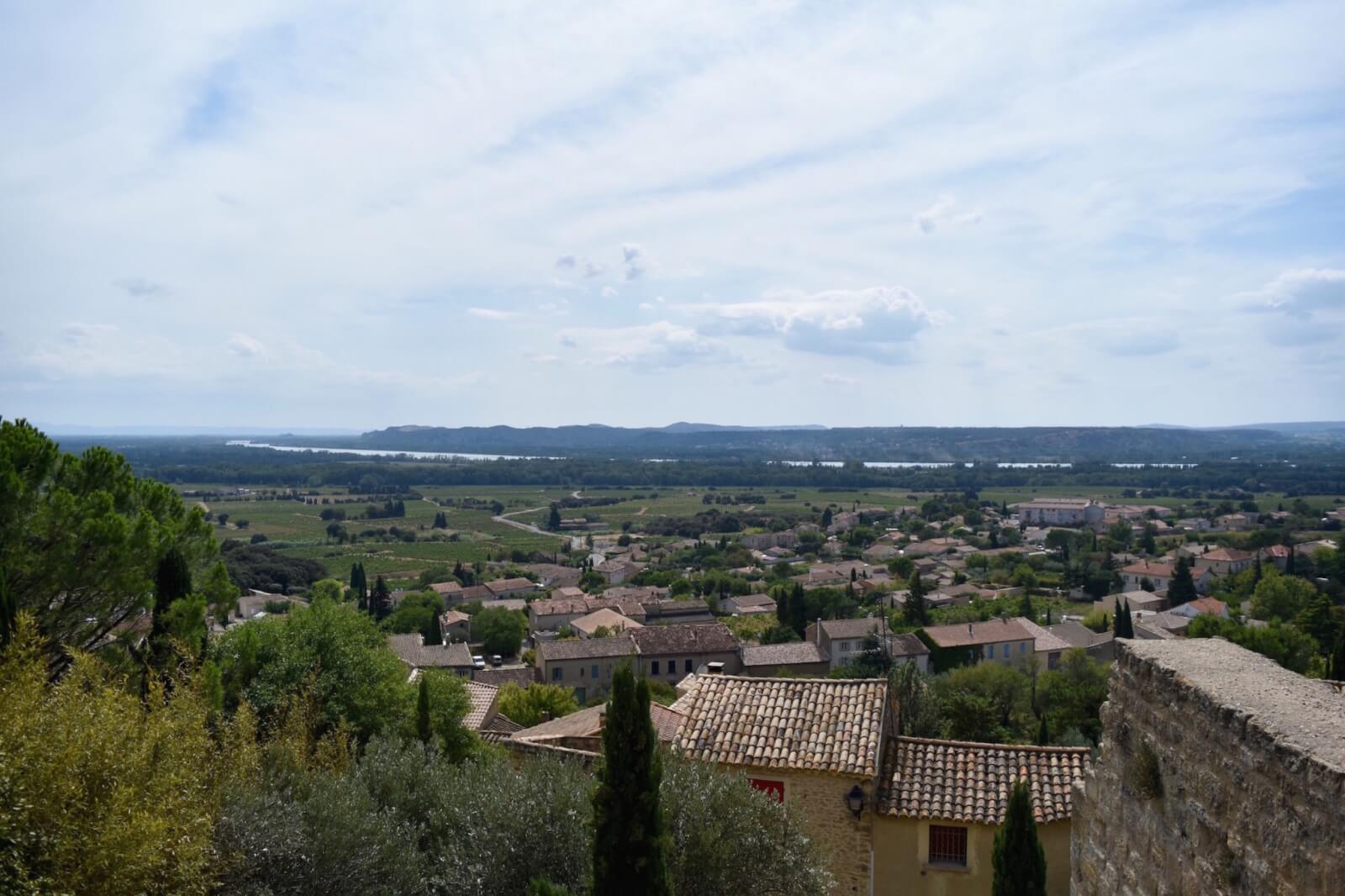 Châteauneuf du Pape village itself is small, with around 3000 residents. It is centred around a pretty crossroads with restaurants, huge trees, a fountain and of course wine shops. Here you can find the tourist office, with lots of info on the area.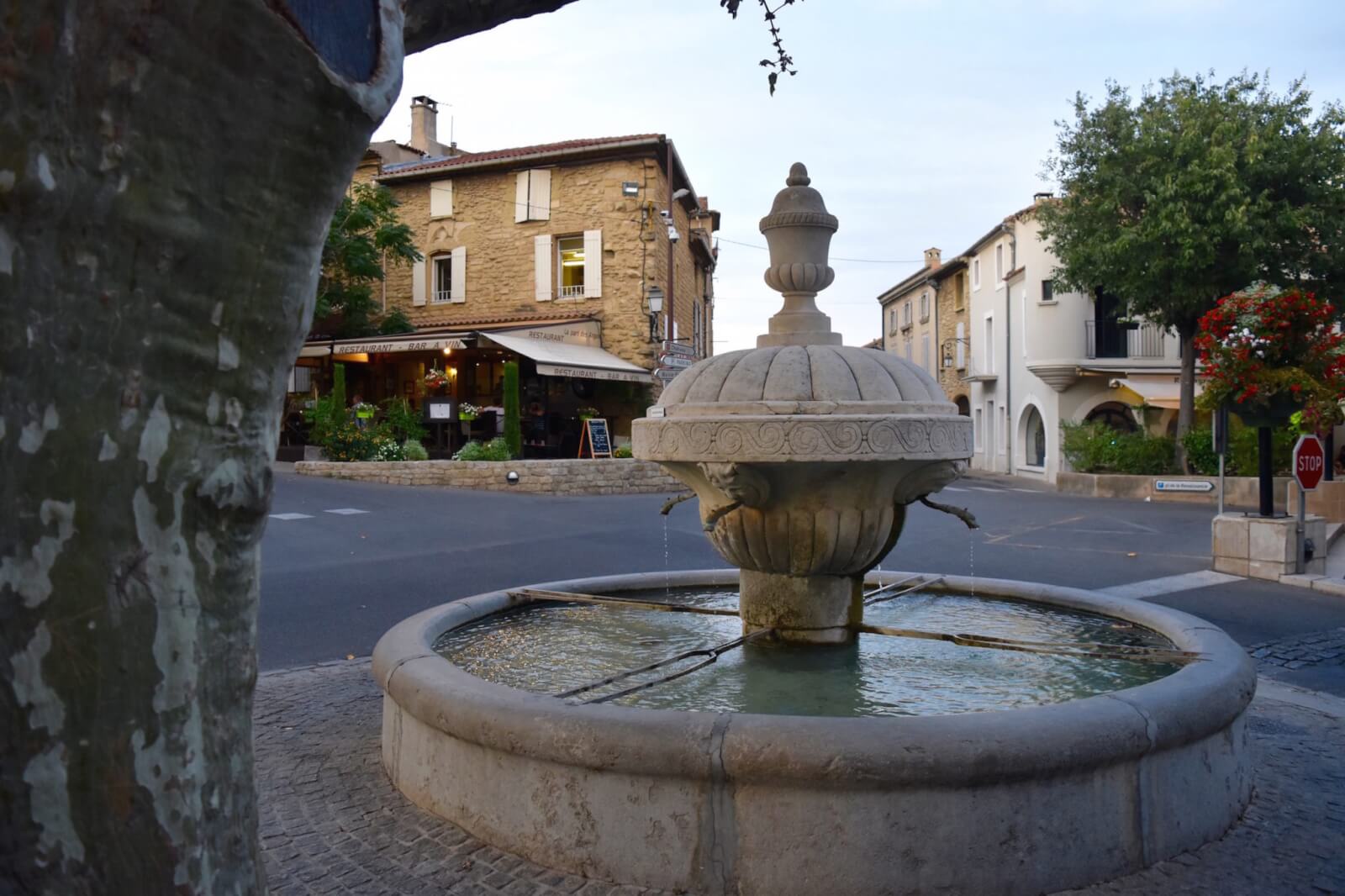 Disclosure: This article contains affiliate links. This means that if you click a link and purchase something I've recommended I may earn a small commission. This does not affect the price you pay but helps me to run this site. You can read my full affiliate disclosure here.
Things to Do in Châteauneuf du Pape
Considering its size, there are plenty of things to do in Châteauneuf du Pape, and it's a great place to spend a few days. I would definitely recommend it for a weekend break, or as part of a longer trip to Provence.
Wine Tasting
The main reason people come to the Châteauneuf du Pape region is for the wine. There are over 300 wine producers in the area, and 13 different grapes are grown and blended in the wines, which means there is a huge variety to choose from. A good starting point is Vinadea in the village centre, literally 'the house of wine', this shop offers free tastings and sells over 250 of the local wines. The staff are very knowledgeable and the wines are priced the same as if you were to buy them directly from the vignerons, which is great too.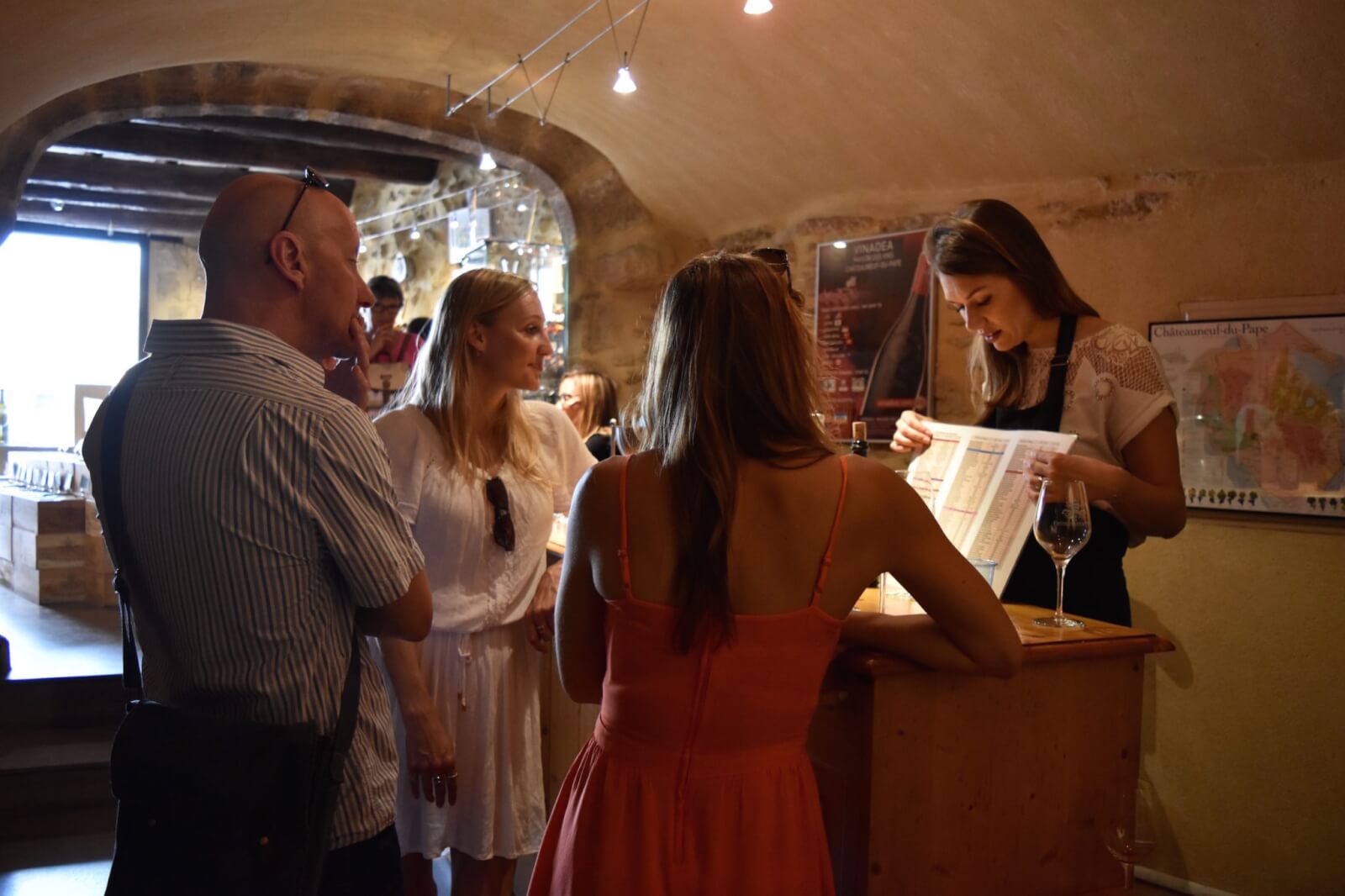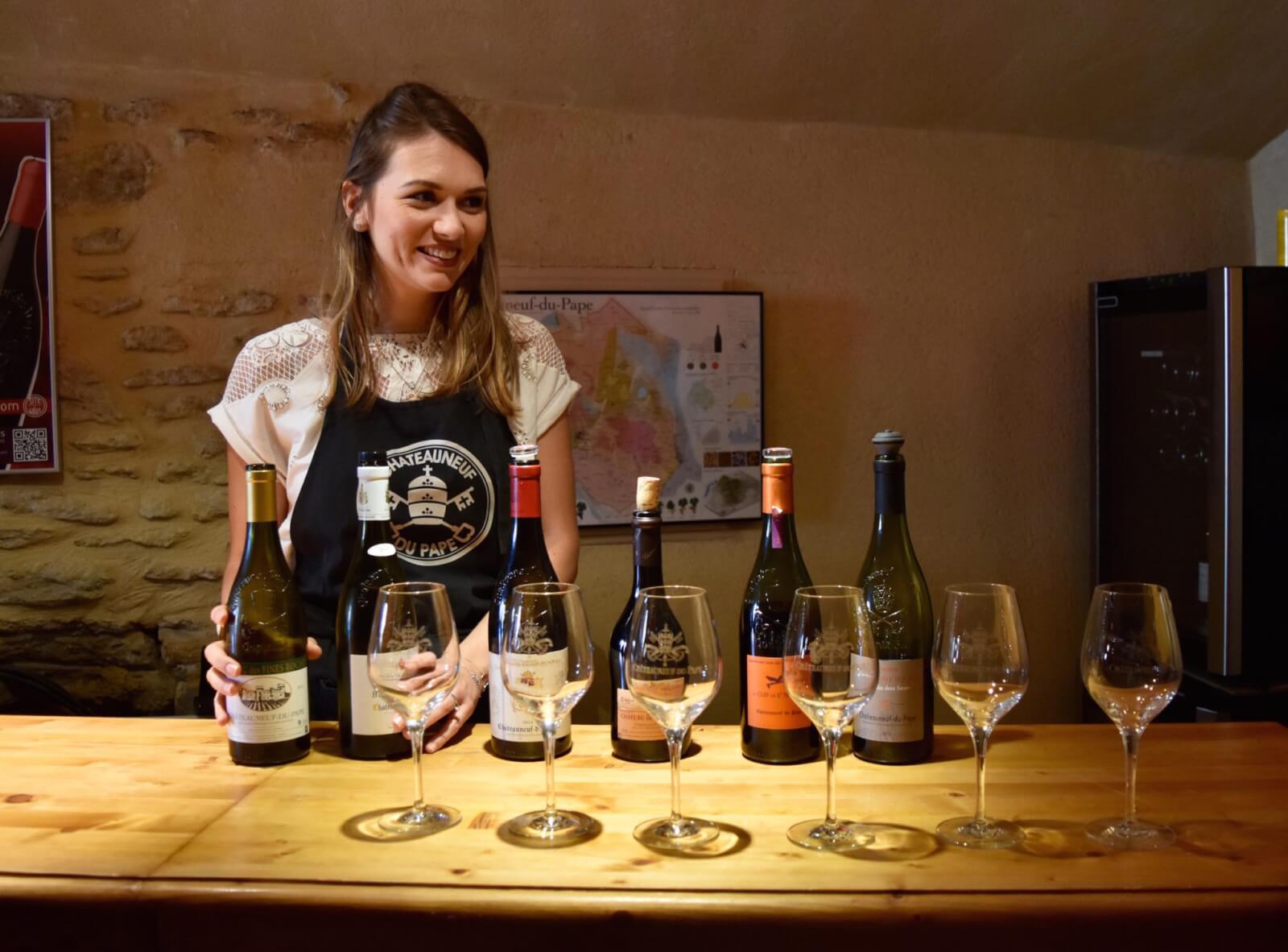 Following this, pay a visit to one of the vineyards. The Vinadea staff can recommend one (or two or three), and many are walkable from the village centre. Most close between 12-2 for lunch, so it's worth bearing that in mind when planning your day.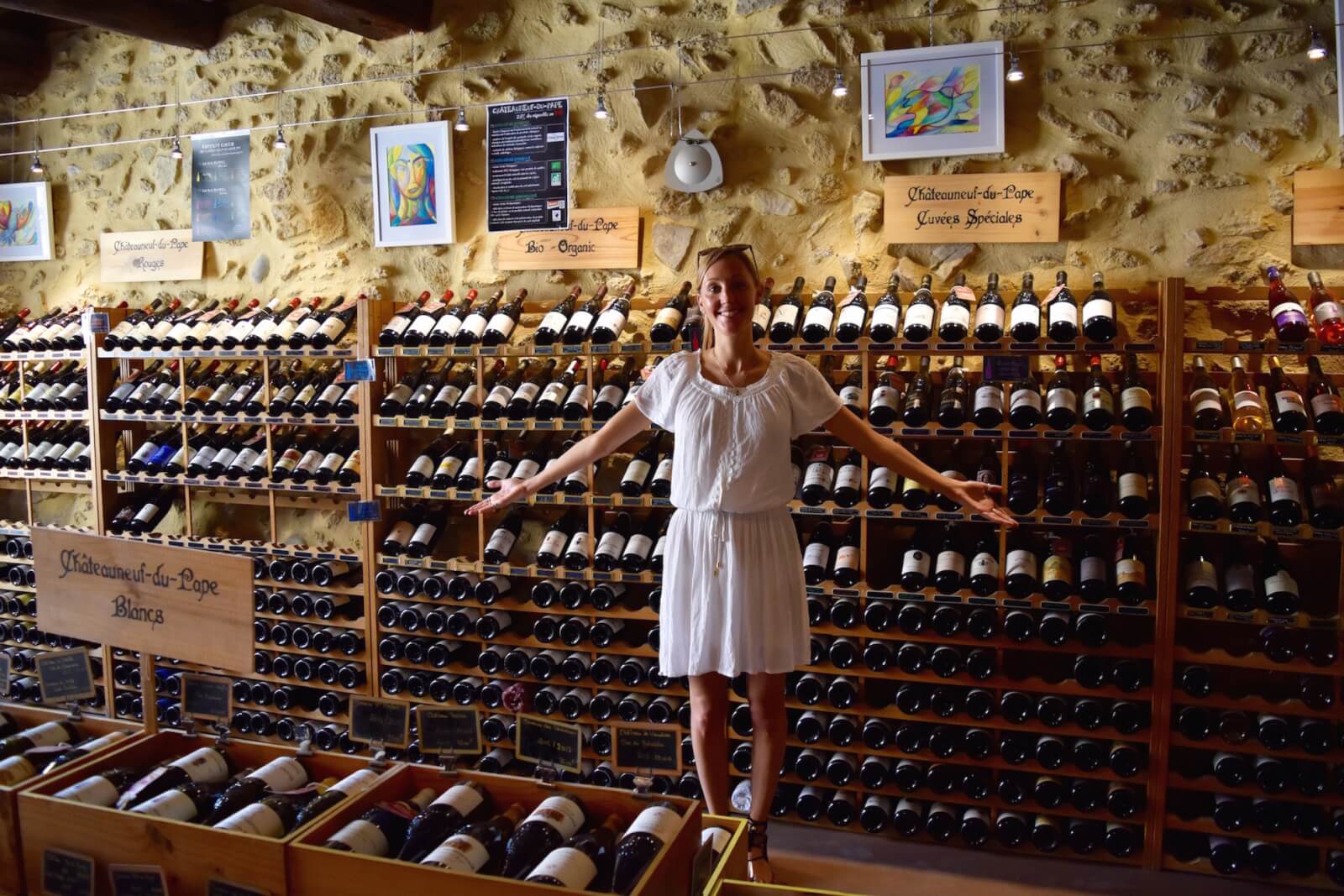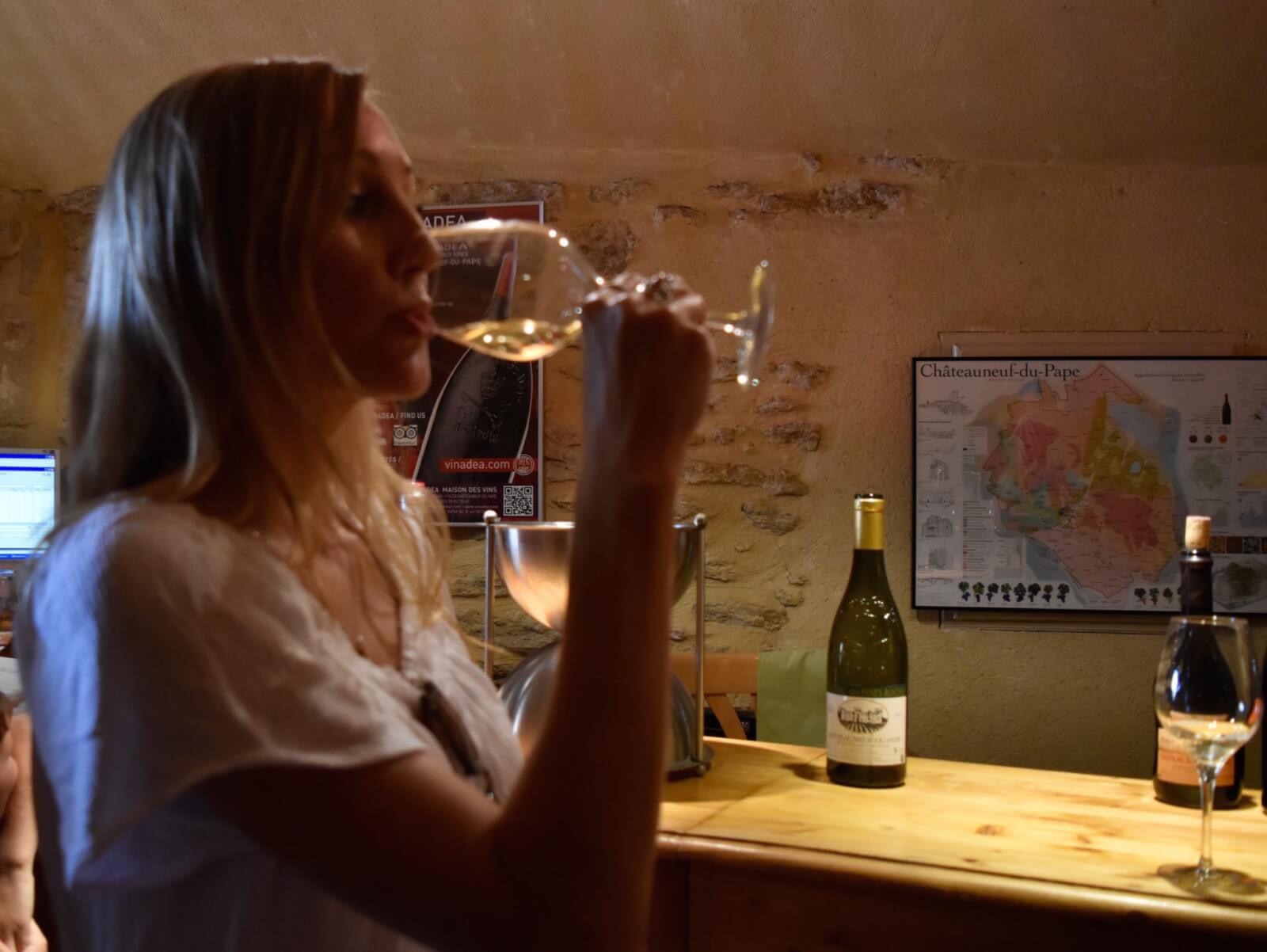 Chateauneuf du Pape Castle
The 'Pape' in Chateauneuf du Pape, means Pope, and the village was once the summer residence to Pope Clement V and John XXII. The latter ordered the construction of a castle, built on the hill in the village (although he died a year after it was completed). Sadly much of the castle was destroyed over the years, and even more so in WWII. However it's still an impressive sight and you can enter what was once the wine store, as well as looking out across the village and the Rhone Valley from the old windows.
Saint Theodoric Chapel
South of the main crossroads is a small chapel, Saint Theodoric, the oldest building in the village. It often hosts exhibitions and you can still see 12th century Vaucluse frescoes on the walls.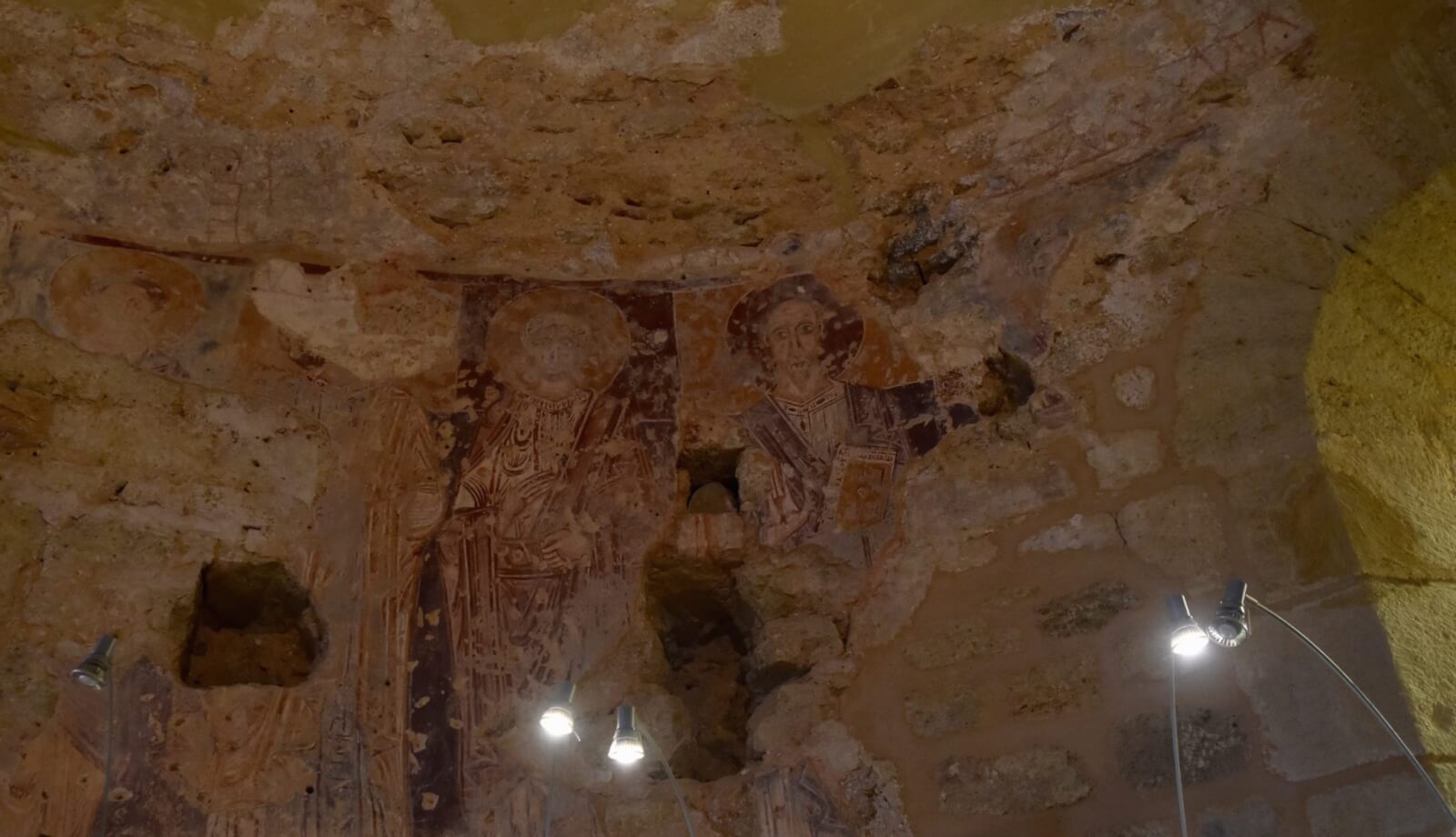 Eating & Drinking in Châteauneuf du Pape
There are a number of restaurants in the village, we had dinner at Hotel La Garbure which does a set menu. It was delicious and has a nice location in the centre of the village. A definite recommendation is Le Verger du Pape up by the castle ruin. This place has spectacular views of the village, the river and Avignon, and the food was great too.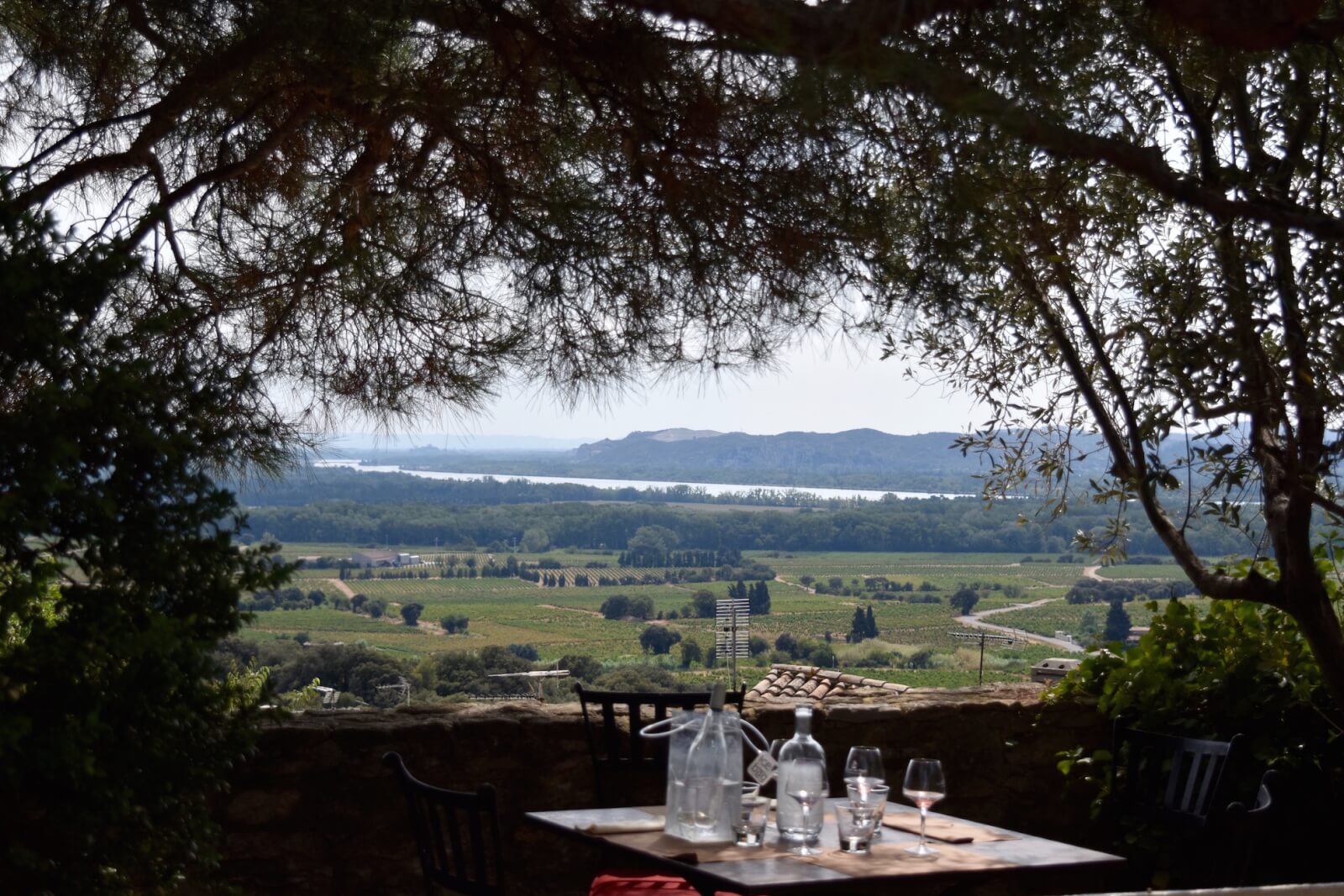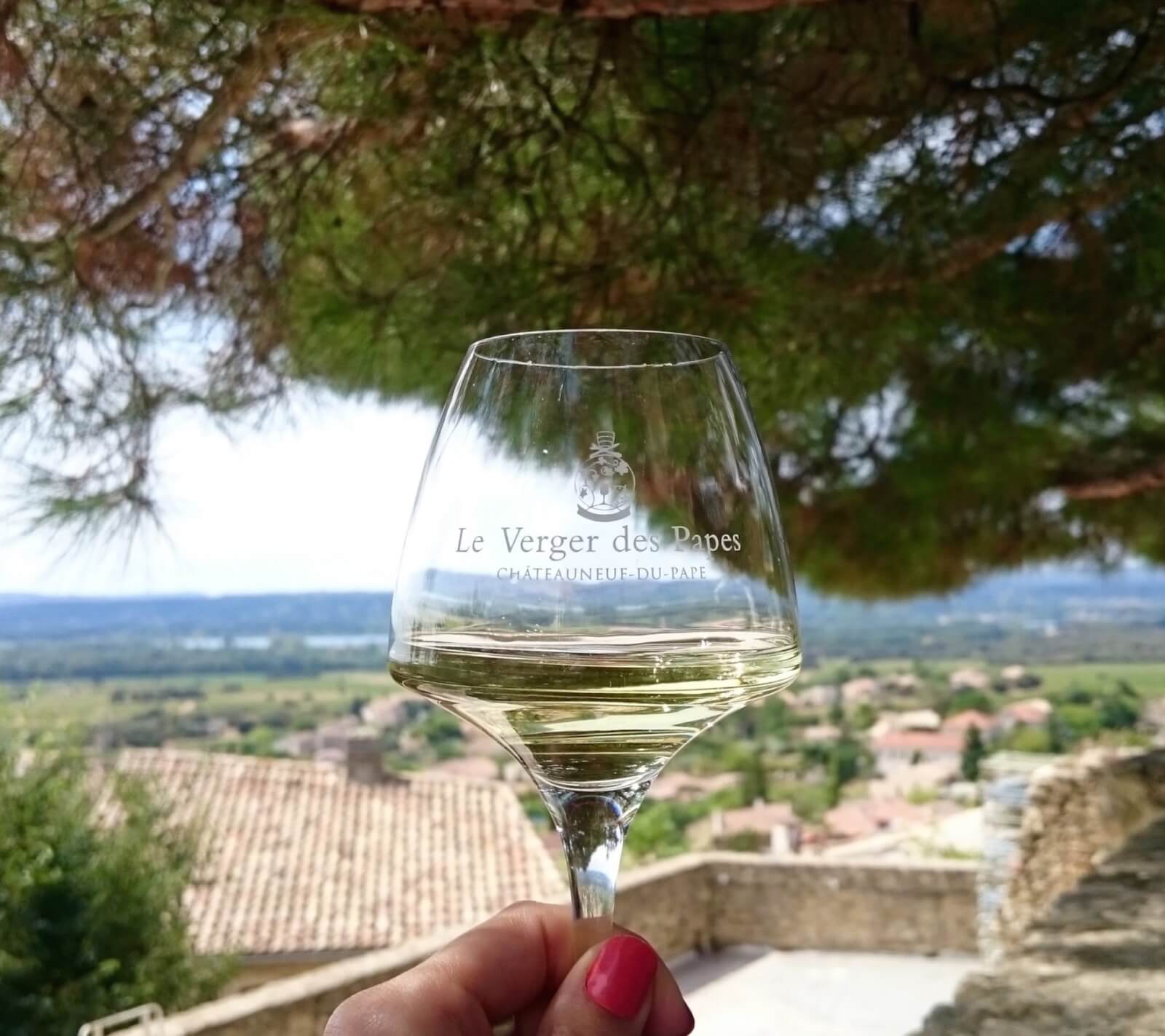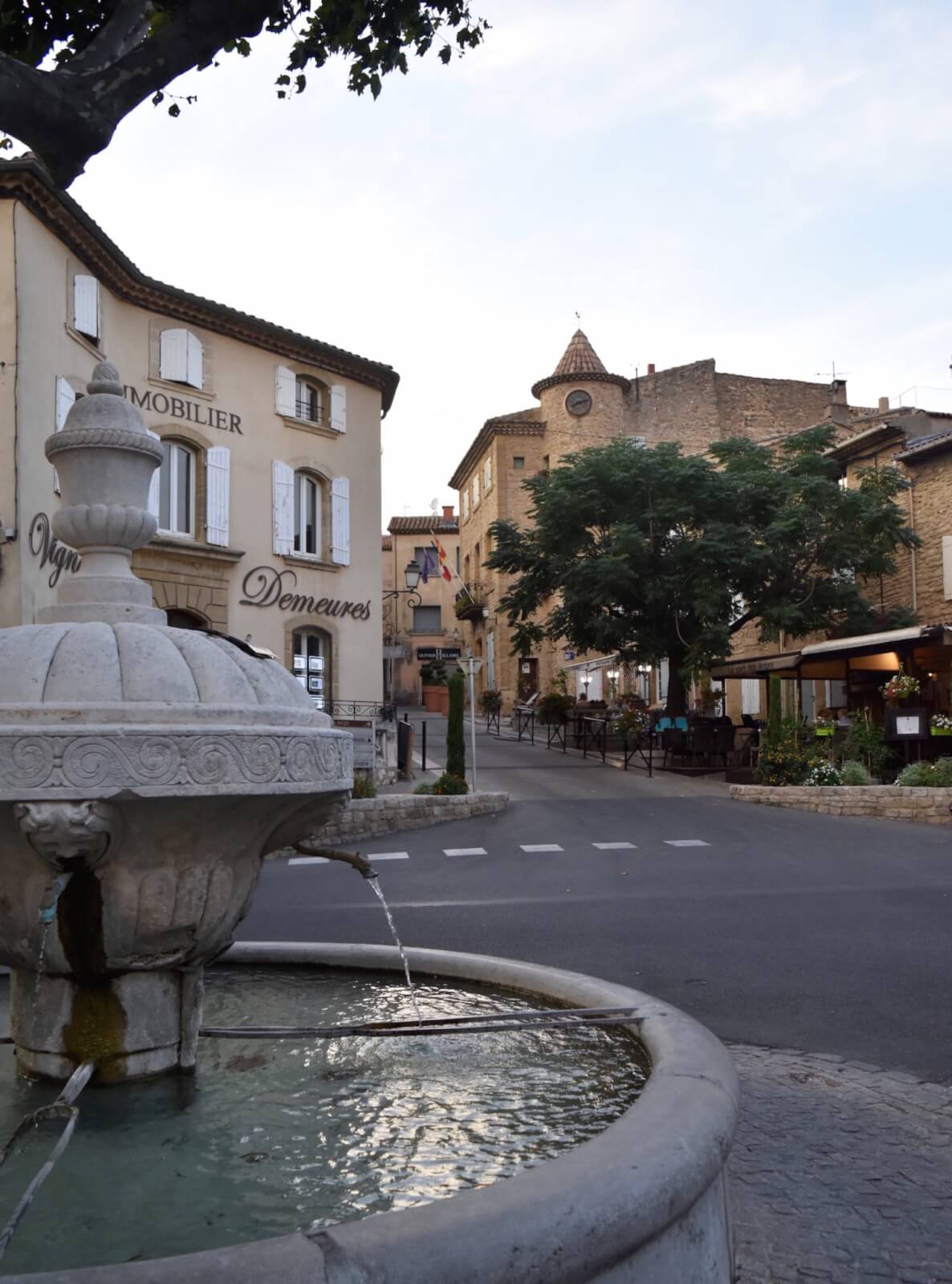 On the outskirts of the village (5 minutes by car), are a distillery and chocolate factory. If you're a chocolate fan (and who isn't?) then definitely check it out. The chocolate factory offers wine and chocolate pairings and sells a huge variety of chocolate, sweets and desserts.
Places to Visit Near Châteauneuf-du-Pape
We spent a week in the area and also visited a number of nearby towns and villages.
Avignon
Avignon is a 25 minute drive from Châteauneuf-du-Pape village and is a historic city, home to the pope during the early 14th century. Visit the World Heritage-listed Palais des Papes, the Avignon Cathedral and the Pont Saint-Bénézet (Pont d'Avignon).
L'isle sur la Sourge
L'isle sur la Sourge is a gorgeous town 40 minutes southeast of Châteauneuf-du-Pape village. Nicknamed the "Venice of the Comtat", the Sorgue River flows through the town, with lovely waterside restaurants and shops to enjoy.
Accommodation in Châteauneuf du Pape
Although it's a small village, Châteauneuf-du-Pape has some great accommodation options, ranging from quaint B&Bs to 4-star chateau hotels. We stayed at the Wine B&B in the centre of the village, run by Danièle Raulet-Reynaud, a lovely little place with 4 rooms. It's easy to miss from the main road, but once inside, there is a large house with a beautiful big garden where we ate breakfast.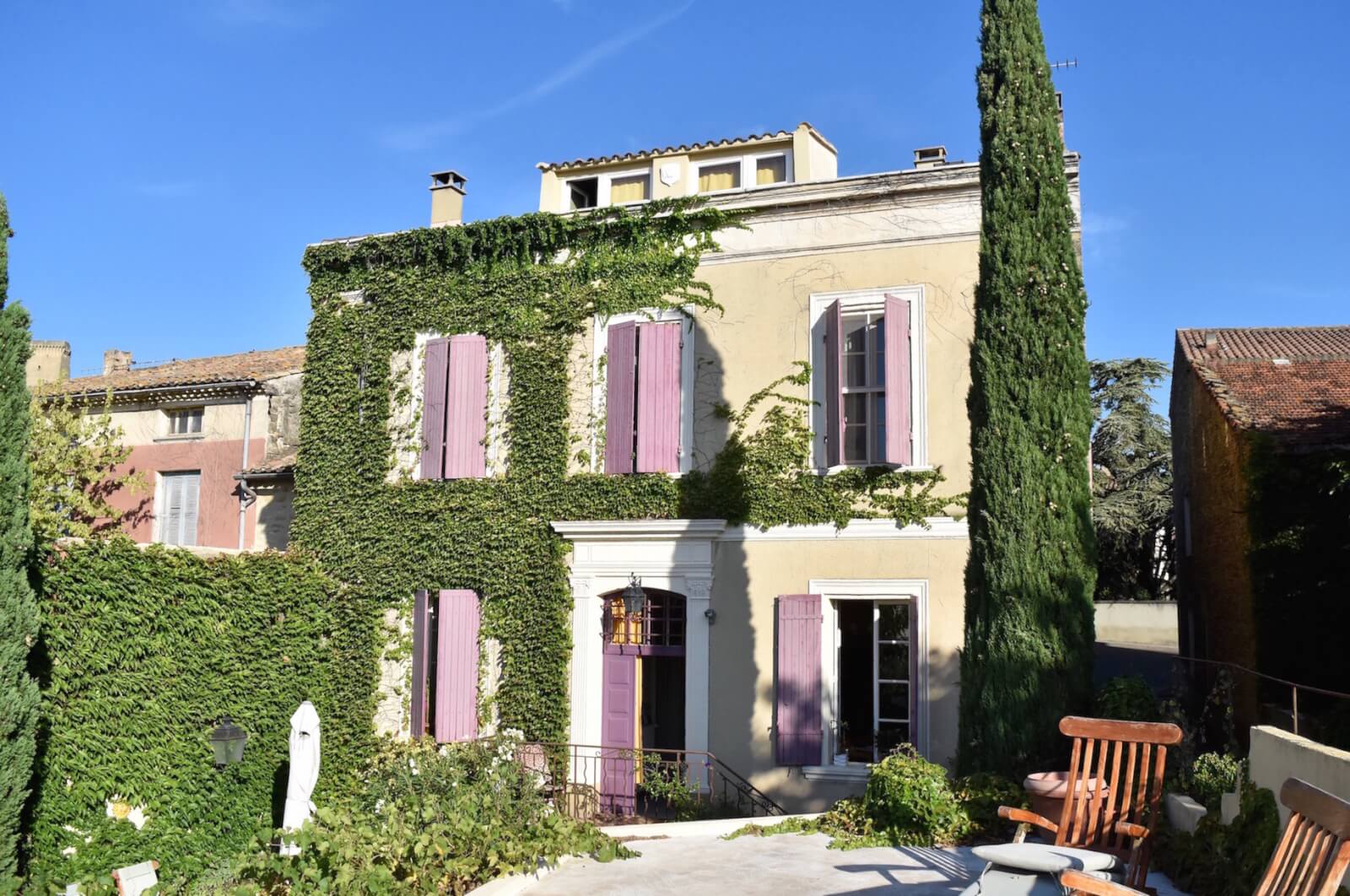 It's a great B&B, but one of the main reasons to stay here is the host – Danièle was France's first female Sommelier. She's had an impressive career that includes: running Michelin star restaurants, travelling the world to give lectures about wine and producing her own in Châteauneuf-du-Pape.
After breakfast, she took us to her cellar and gave us an introduction to the region's wines and talked about the amazing Femmes Vignes Rhône, a network of women who are producing wine in the region. Danièle also offers wine and cheese pairing classes for both B&B residents and non-guests.
Find accommodation in Châteauneuf du Pape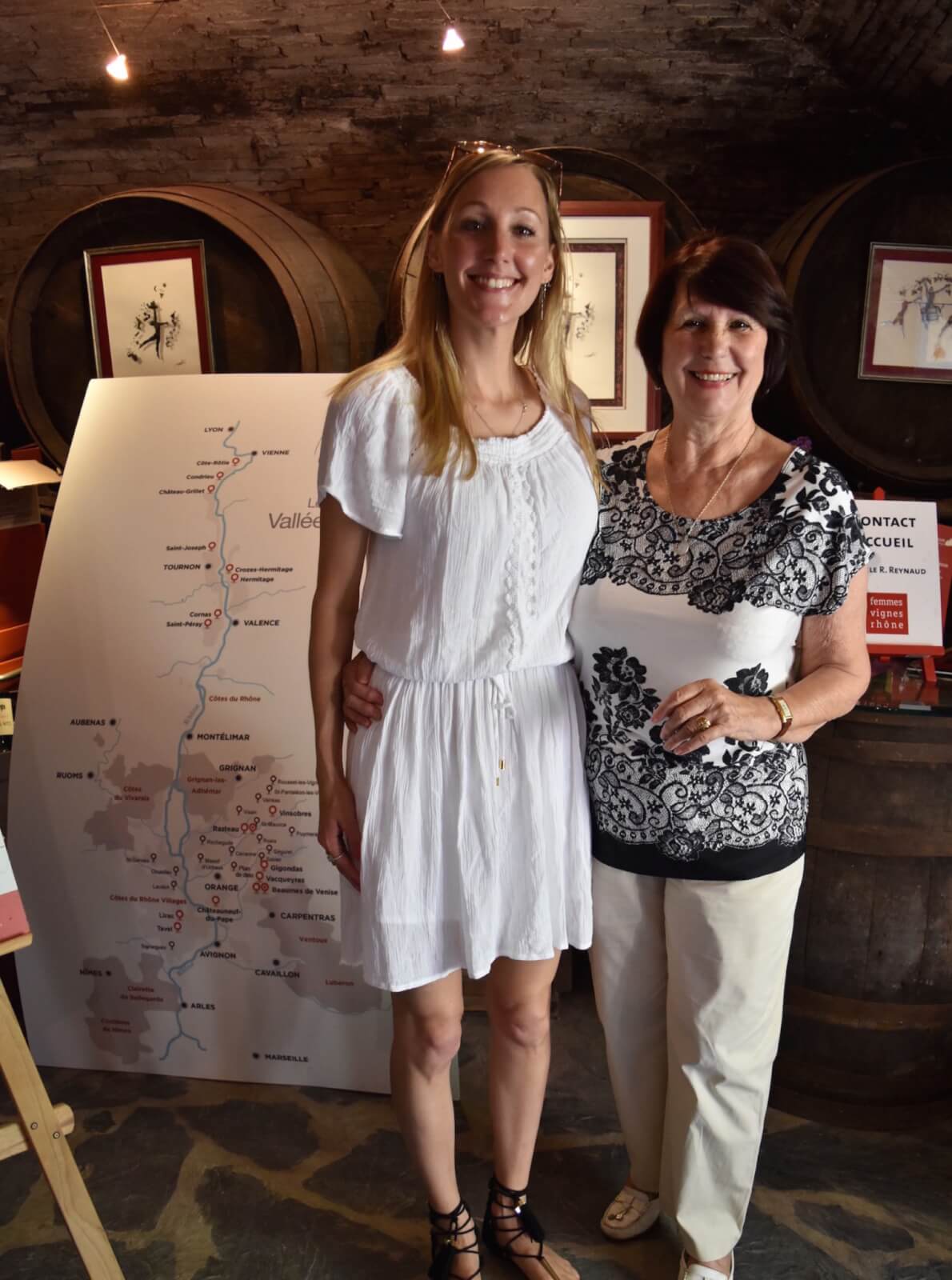 Getting to Châteauneuf du Pape
The closest international airport is Marseille, which is around an hour drive. There is also the option to take the Eurostar to Avignon, which is 30 minutes from the village.
We flew to Marseille, took a hire car and drove through Salon de Provence, Sorgues and past Avignon to reach Châteauneuf du Pape. It's definitely best to hire a car if you can, as public transport is scarce around the tiny villages. Alternatively, there are tour companies who will organise trips around the region.
Thank you to Châteauneuf-du-Pape Tourism for hosting A Lovely Planet.
If you are a French wine lover you should check out our guide to Burgundy.