September was my first visit to Treviso, the hometown of my boyfriend, Enrico. It's a lovely part of the world; 30 minutes from Venice and a few hours drive from the stunning Dolomites. While we were there, we spent a weekend in the Dolomites,  hiking the mountains, exploring the gorgeous lakes, and breathing in the amazing alpine air.
The Dolomites are a UNESCO World Heritage Site, and it's easy to see why; the landscape is incredible. It's a large area that covers both the three provinces of Belluno, South Tyrol and Trentino in Northern Italy. And there is a lot to see and do. In the winter, there is excellent skiing and in the summer, the mountains are popular with hikers and cyclists.
A Weekend In The Dolomites
Lago di Braies
Lago di Braies is an incredible lake with a mountain backdrop. For 15 euro you can hire a rowing boat and paddle around the lake for an hour. It's stunning. There is a large hotel on the shore with a restaurant, as well as a café and bar next to the boathouse.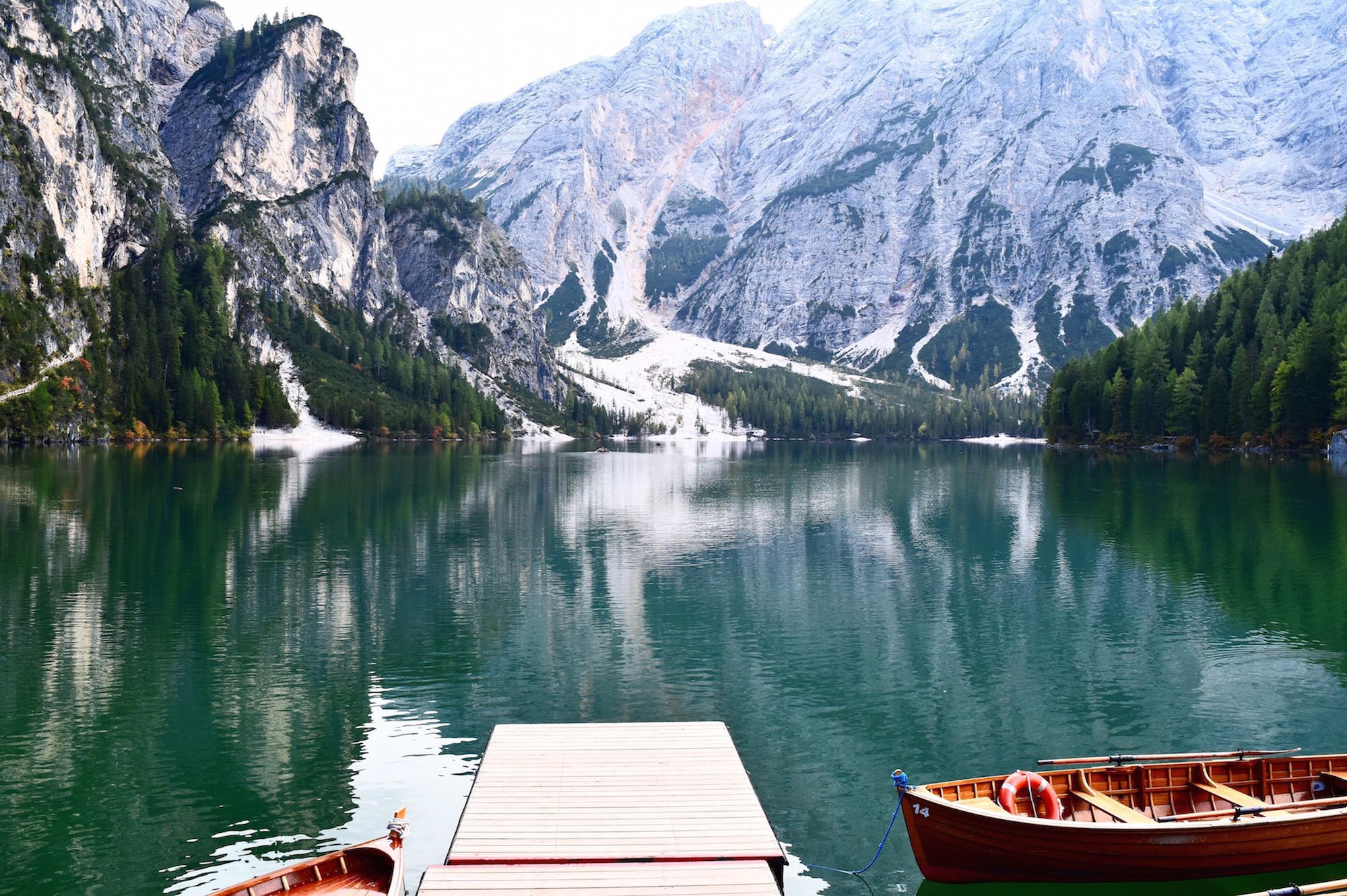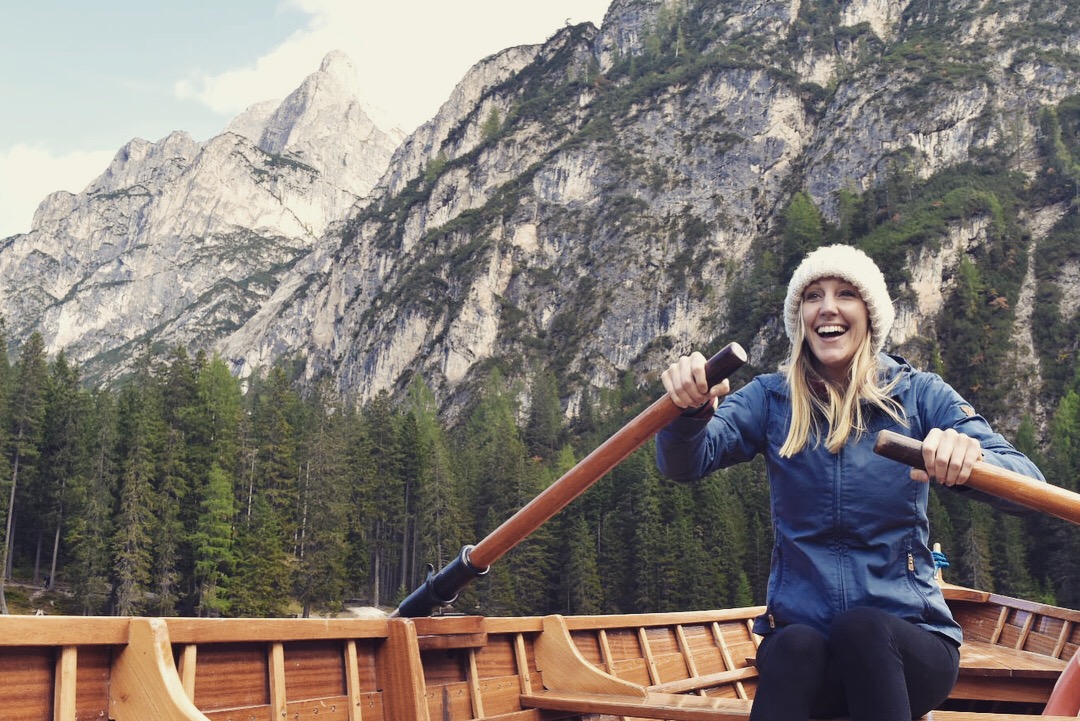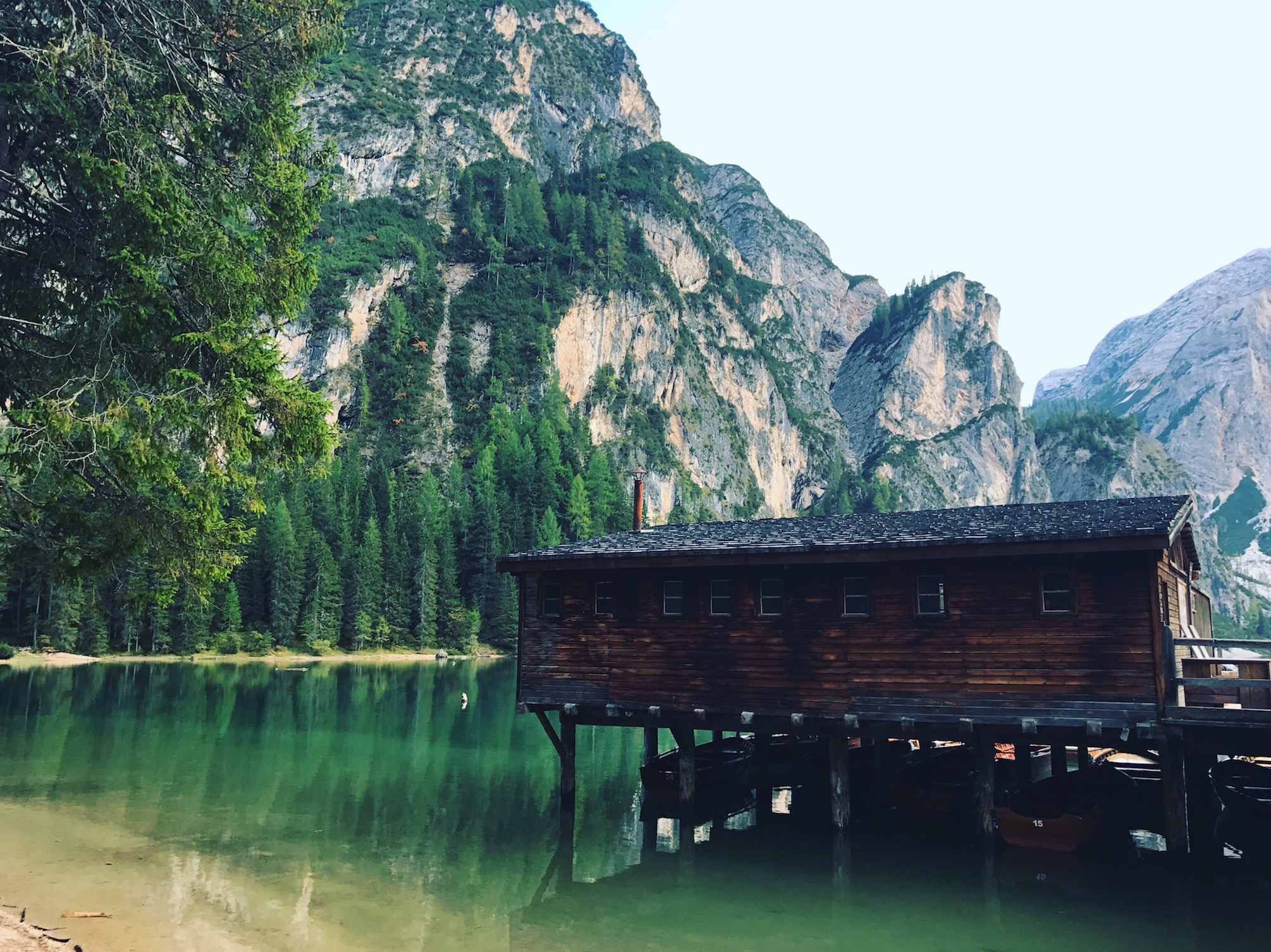 Cortina
Cortina is one of the better-known towns in the Dolomites. Besides hosting the Winter Olympic Games in 1956, it has been featured in a number of films, including "Cliffhanger" and "For Your Eyes Only".  Cortina attracts a wealthy crowd and has some excellent eateries and high-end shops.
Lago di Sorapis
It's a 2 and a half hour walk up to the lake, but it's definitely worth it. The starting point is Passo Tre Croci, a few minutes by car from Cortina. The trek has some steep sections, which make it a little scary for those with acrophobia, but also make it a very exciting hike! The lake itself is a beautiful milky blue, which is caused by the rock from the glacier. This is a stunning contrast to the mountains, which often look pink at sunrise and sunset, due to the combination of Magnesium and Calcium carbonate contained in the rock.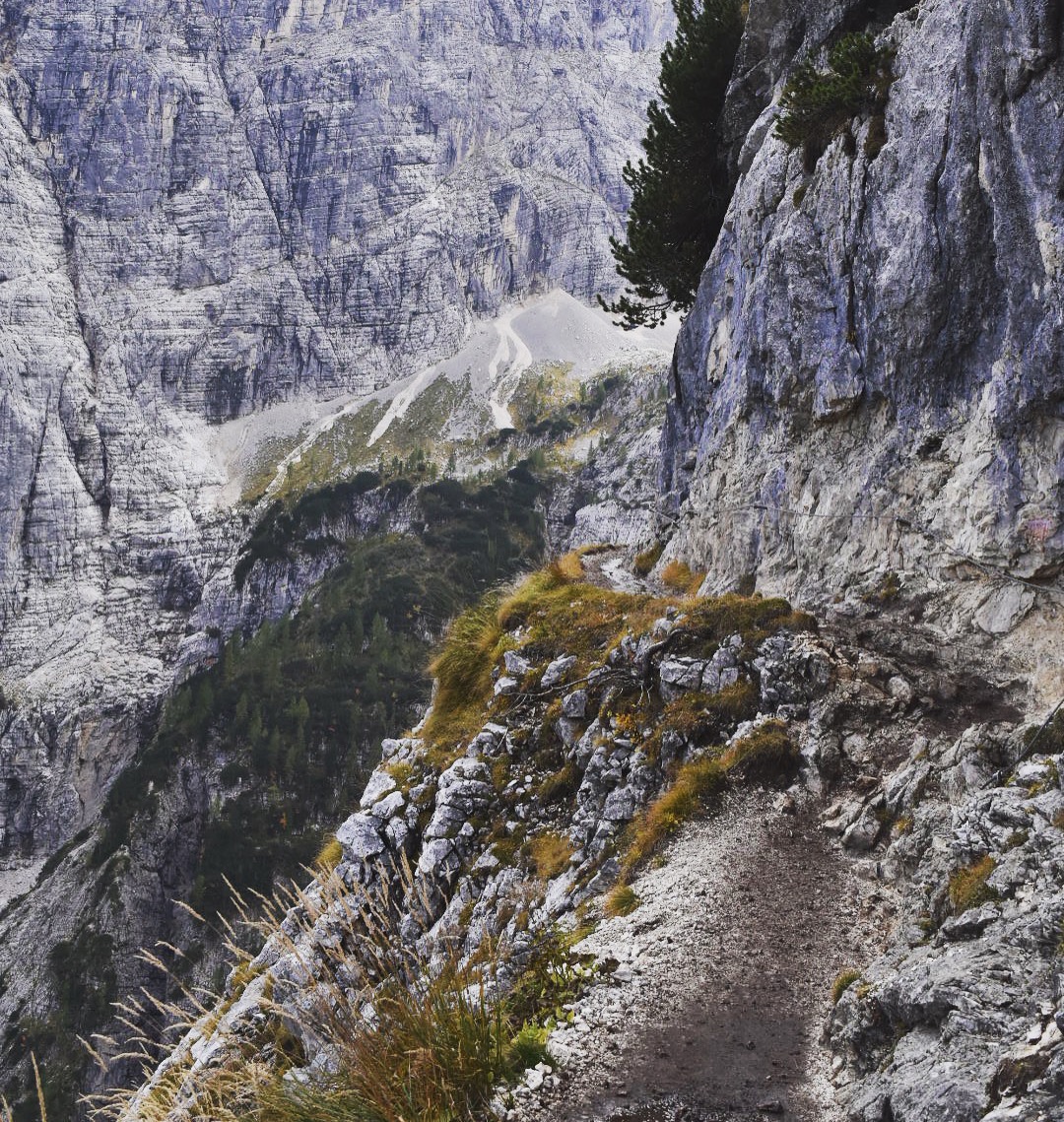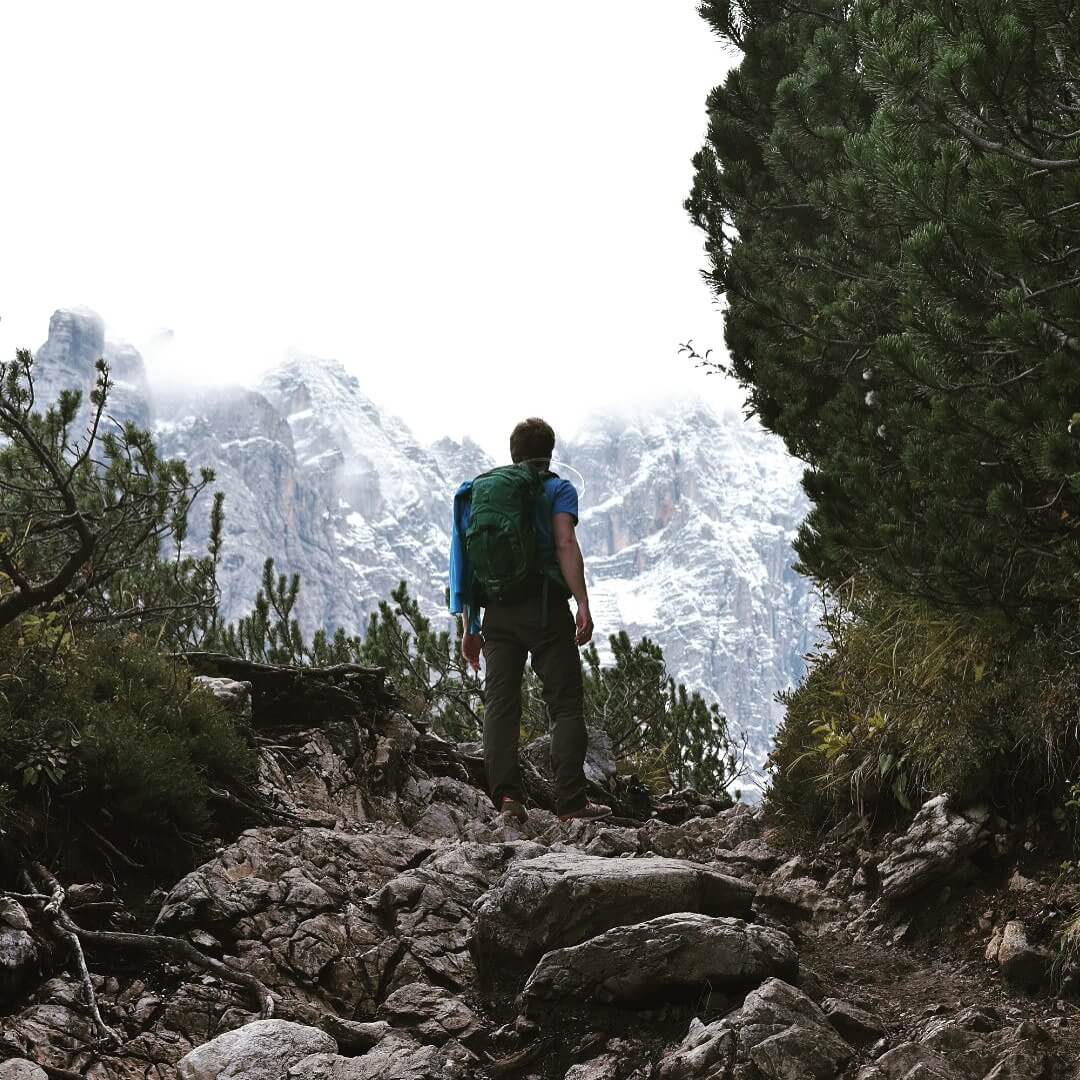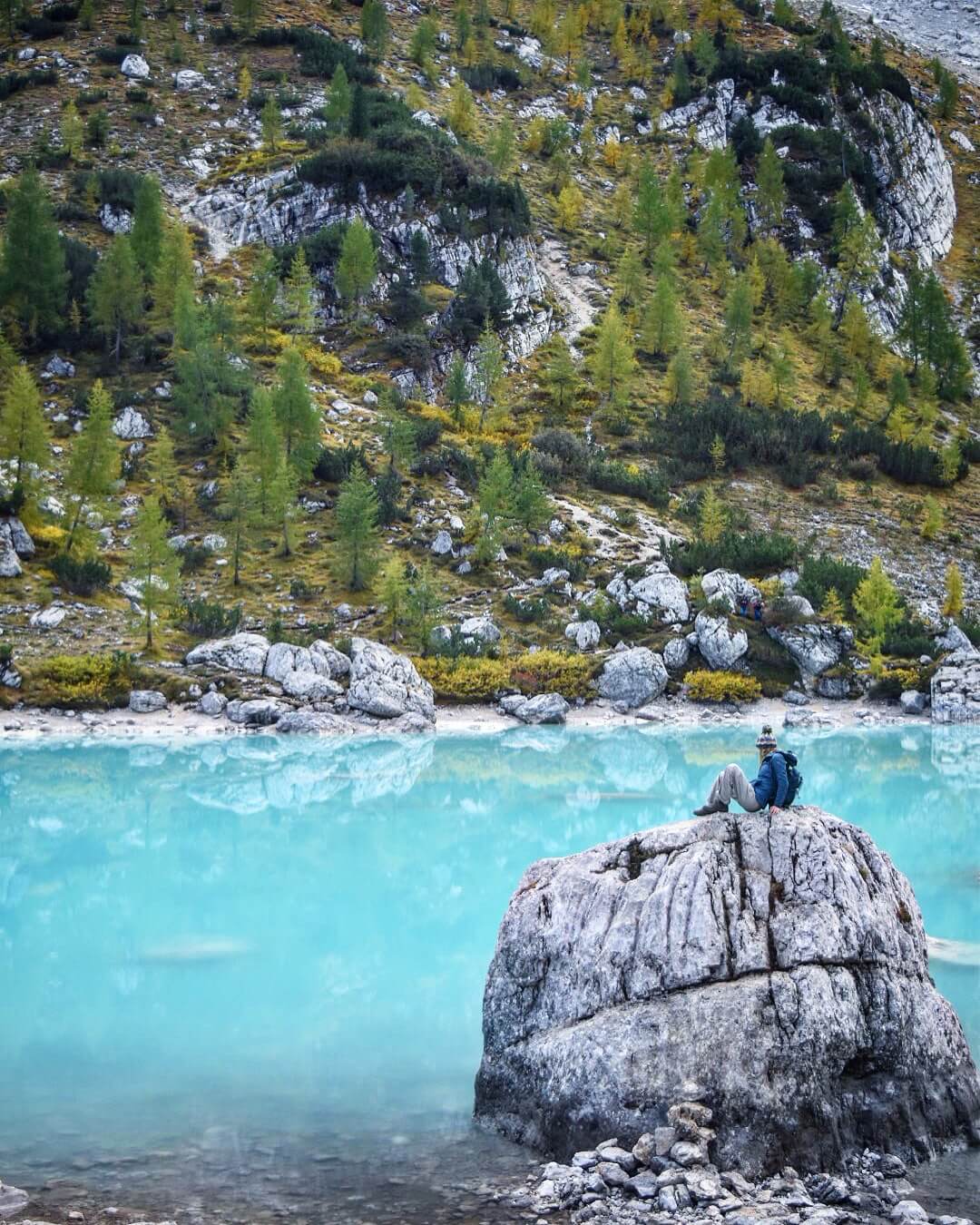 Tre Cime di Lavaredo
The Tre Cime di Lavaredo (Three Peaks) are the symbol of the Dolomites. A three-hour trail starts from Rifugio (Hut) Auronzo and runs in a loop around the Tre Cime di Lavaredo.
Once back at Rifugio Auronzo you can reward yourself with a 'Bombardino', a typical drink amongst the ski resorts of the Dolomiti  – this delicious hot drink is a combination of eggnog, brandy, coffee and whipped cream. Delicious!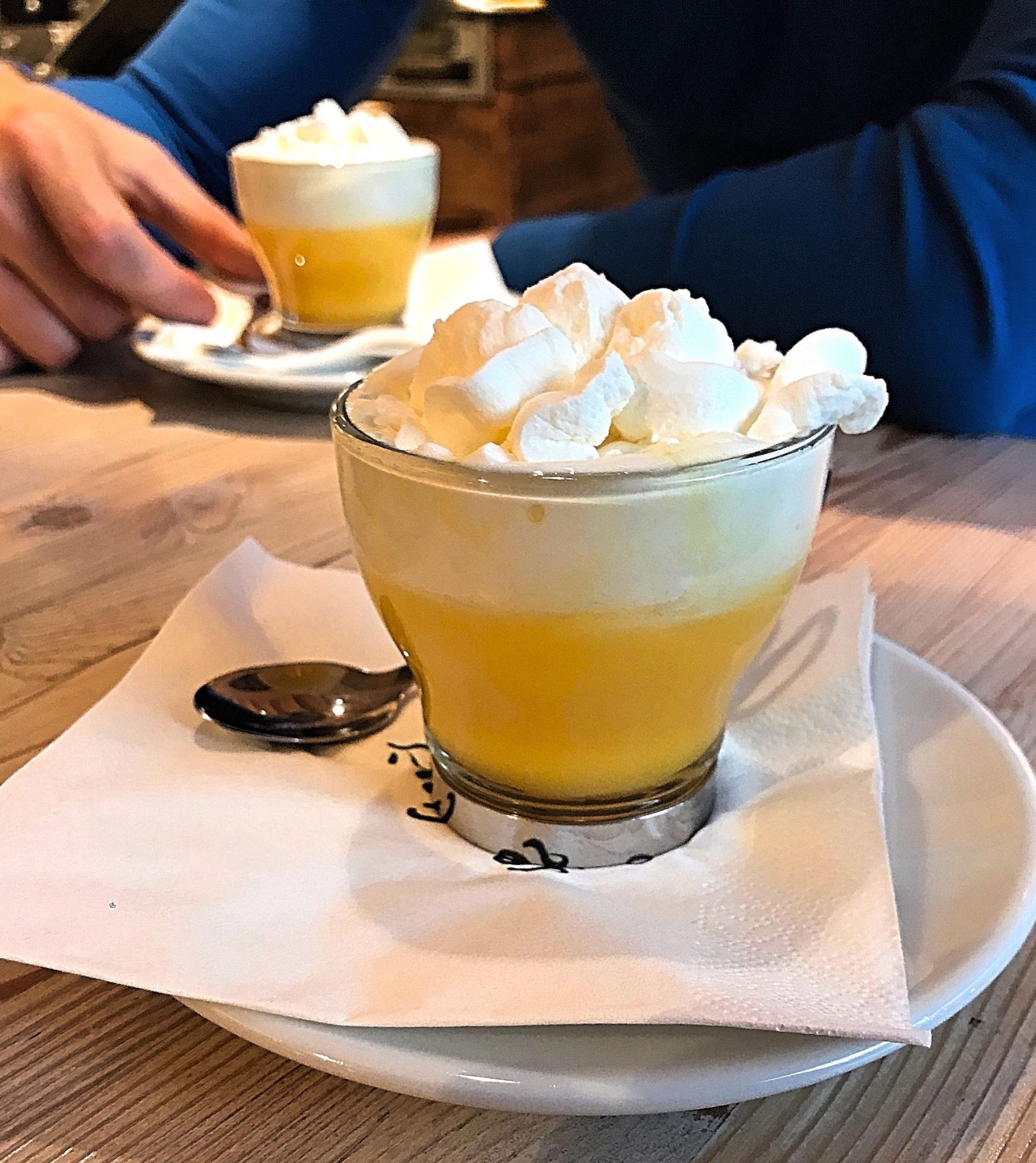 Typical Dishes
On the way back to Treviso, we stopped off in Forni di Zoldo, to eat at 'Insonnia', a famous restaurant in the region, to sample some typical dishes including polenta with pastin: pork meat seasoned with a secret recipe based of wine, cinnamon and alpine herbs. You can either eat inside near the 'fogher' (firepit) or outside admiring the Pelmo and Pelmetto mountains.
Where To Stay In The Dolomites
We based ourselves in San Candido at Sport Hotel Tyrol, who kindly hosted us for the night. San Candido is a pretty little ski resort, with some nice bars, restaurants and shops. September is the end of the summer season, and the ski season hasn't yet started, but it's actually a really nice time to visit the area. It's quieter and very relaxed, but we still had fantastic weather.
Sport Hotel Tyrol is in the centre of San Candido, so if you don't have a car you can get around easily in the town. However, I would recommend visiting by car, so you can really explore the area (and the hotel has free parking!).
The hotel is set in beautiful gardens with a pond and outdoor seating. Once inside it has a lovely Alpine feel, with wooden panelling and seating.
The Bedrooms are incredibly spacious with a lounge area and a large balcony. It was lovely to wake up to a view of the mountains.
I loved the bathroom, with a large walk-in shower with a huge waterfall showerhead.
Downstairs, is a gorgeous pool and Jacuzzi, with views of the mountains through the windows, as well as a spa.
Dinner is included in the hotel rate and is a set menu, served from 7pm. We had traditional Italian dishes; fusilli kamut with venison ragu and gnocchi Roman style. For 'primo piatto' (first course), followed by Pork tenderloin in green pepper sauce and Roasted vegetables with quail eggs for 'secondo piatto'. The food was accompanied by a glass of merlot from nearby town Bolzano. Dessert was a delicious half frozen mango and liquorice.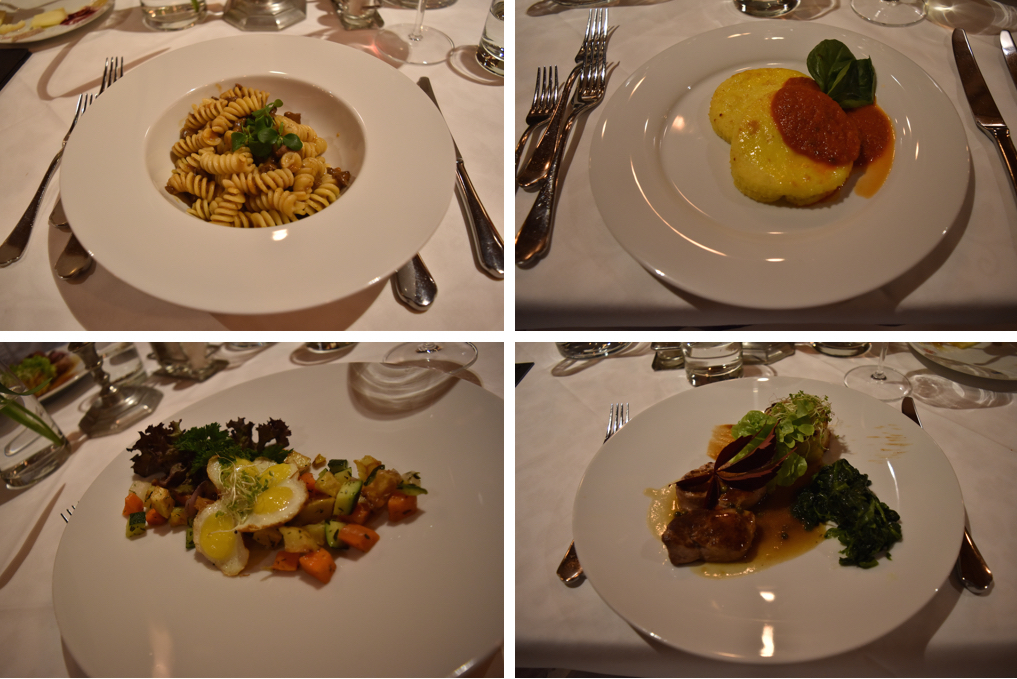 Breakfast is served from 7:30am and is the perfect start to a day of hiking, with an extensive buffet and a la carte options.
From Sport Hotel Tyrol we were able to explore the surrounding area and go on some great hikes. Prices start from €100,00 per night for half board.
I'm keen to explore more of the Dolomites, but the areas we visited were absolutely beautiful and San Candido and Sport Hotel Tyrol was an excellent place to stay for our few days in the mountains.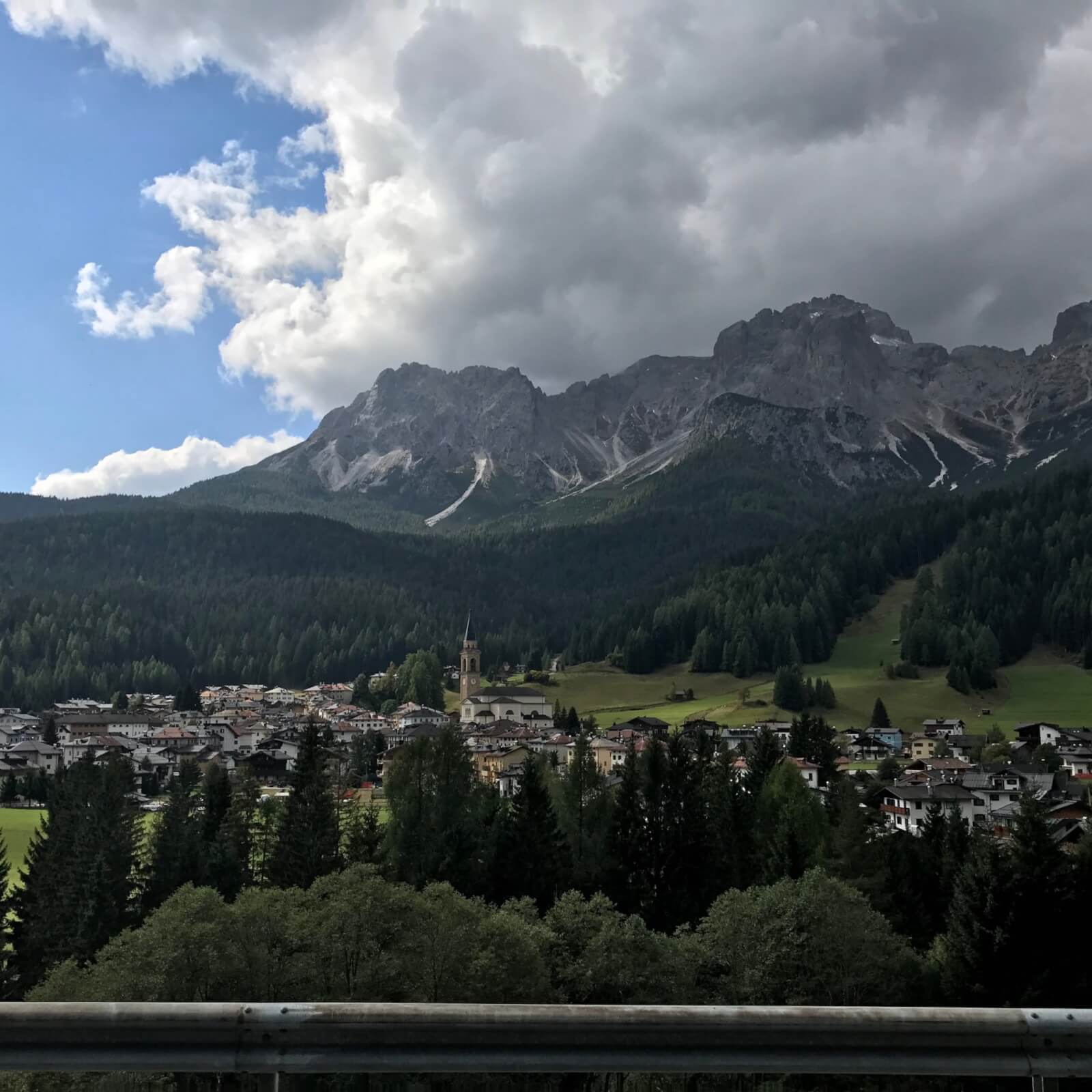 Thanks to Sport Hotel Tyrol for hosting A Lovely Planet.