As a big Game of Thrones fan, I was very excited to visit Northern Ireland, one of the main filming locations for the TV show. After a little research, I found that the Game of Thrones Northern Ireland filming locations are predominantly in Country Antrim and Country Down. I wasn't planning on hiring a car and with only 3 days to visit, I decided an organised tour would be the way to go.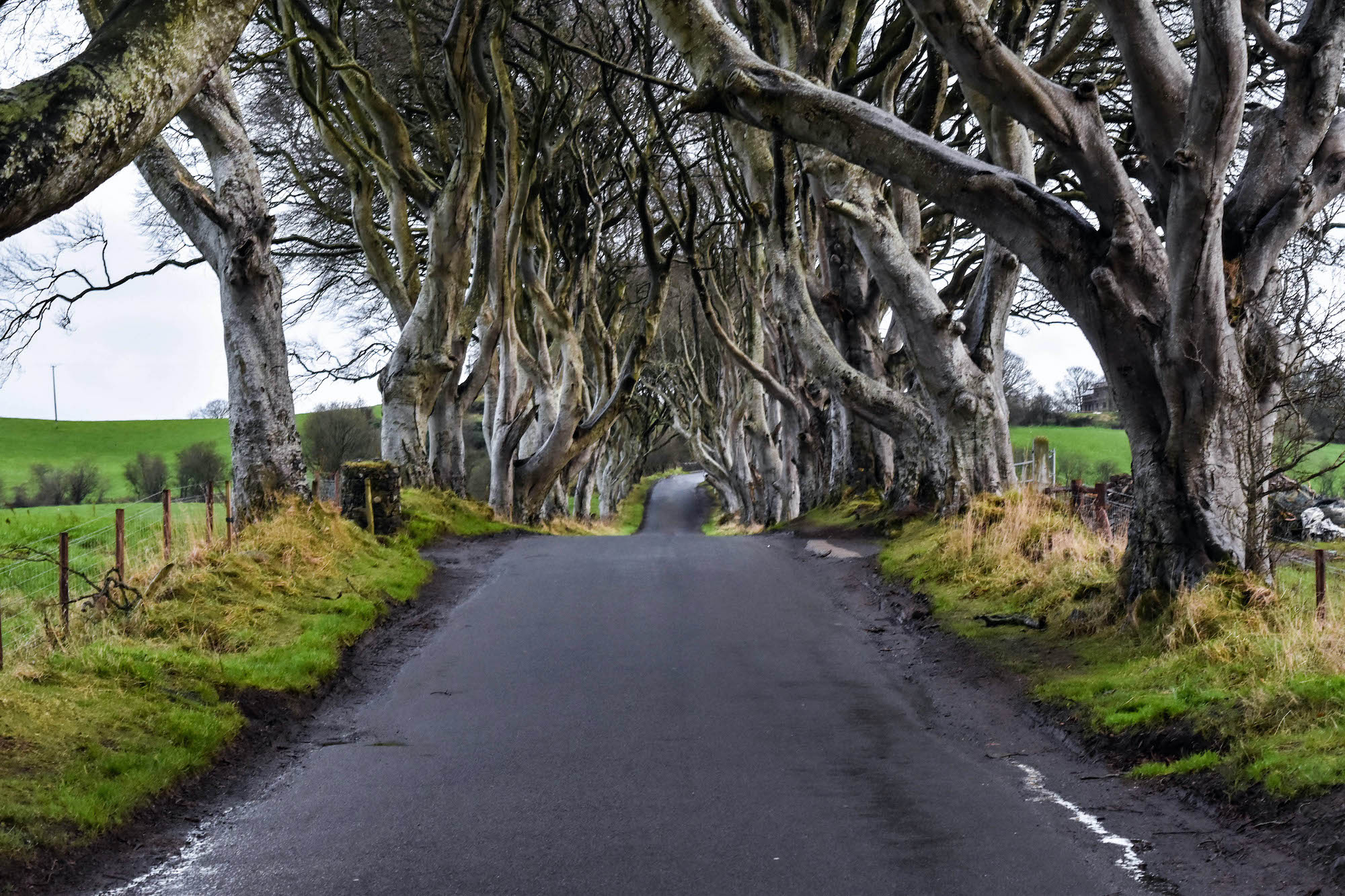 Game of Thrones Northern Ireland Filming Locations
There are loads of companies offering Game of Thrones Tours, and there are a few different routes – either heading north for the coastal sites or south to explore Winterfell (Castle Ward). I opted for the northern tour, as it visits the Giant's Causeway, as well as the Game of Thrones locations (and I felt it was a bit kinder to my boyfriend who doesn't watch the programme!)
Note: If you decide to take a film location tour, bear in mind that lots of CGI is used in most films/TV shows – so you're unlikely to see an exact replica of what you've watched on TV. If you go in knowing that, you will definitely find the tour more enjoyable than if you're expecting to see the actual wall. (I'm sure you know this, but just in case!)

We met our group at 9am outside the Visit Belfast Welcome Centre and our Brit Movie Tours guide – Charlene welcomed us onto the bus. Rather than a coach like some of the other tours, we were on a minibus, which we found out later was a bonus, as coaches can't access certain locations due to the narrow roads.
Magheramorne Quarry
First off, we drove past the filming location for Castle Black, the Magheramorne quarry. We weren't able to stop and fully explore the site as it was still an open set, but we caught a glimpse of the set-up. While this might sound a little disappointing, it hadn't been advertised as a feature of the tour, so was more of a little added bonus.
Antrim Coast
We then headed north, up the Antrim coast, through small towns and villages, passing the occasional castle, with Charlene giving us info on the way. As well as giving tours, Charlene had also been an extra in series 5, so had lots to tell us about the filming process, which was great. (She was a wilding in case you're wondering – although one of her friends worked in Littlefinger's establishment!).
Tip: Ireland isn't exactly known for its tropical climate, so dress warm, wear gloves and a hat and take an umbrella. Admittedly I went in January, so probably experienced the tour at it's coldest, but having visited Northern Ireland a number of times I would say it's good advice all year round. Oh and wear sturdy shoes for walking.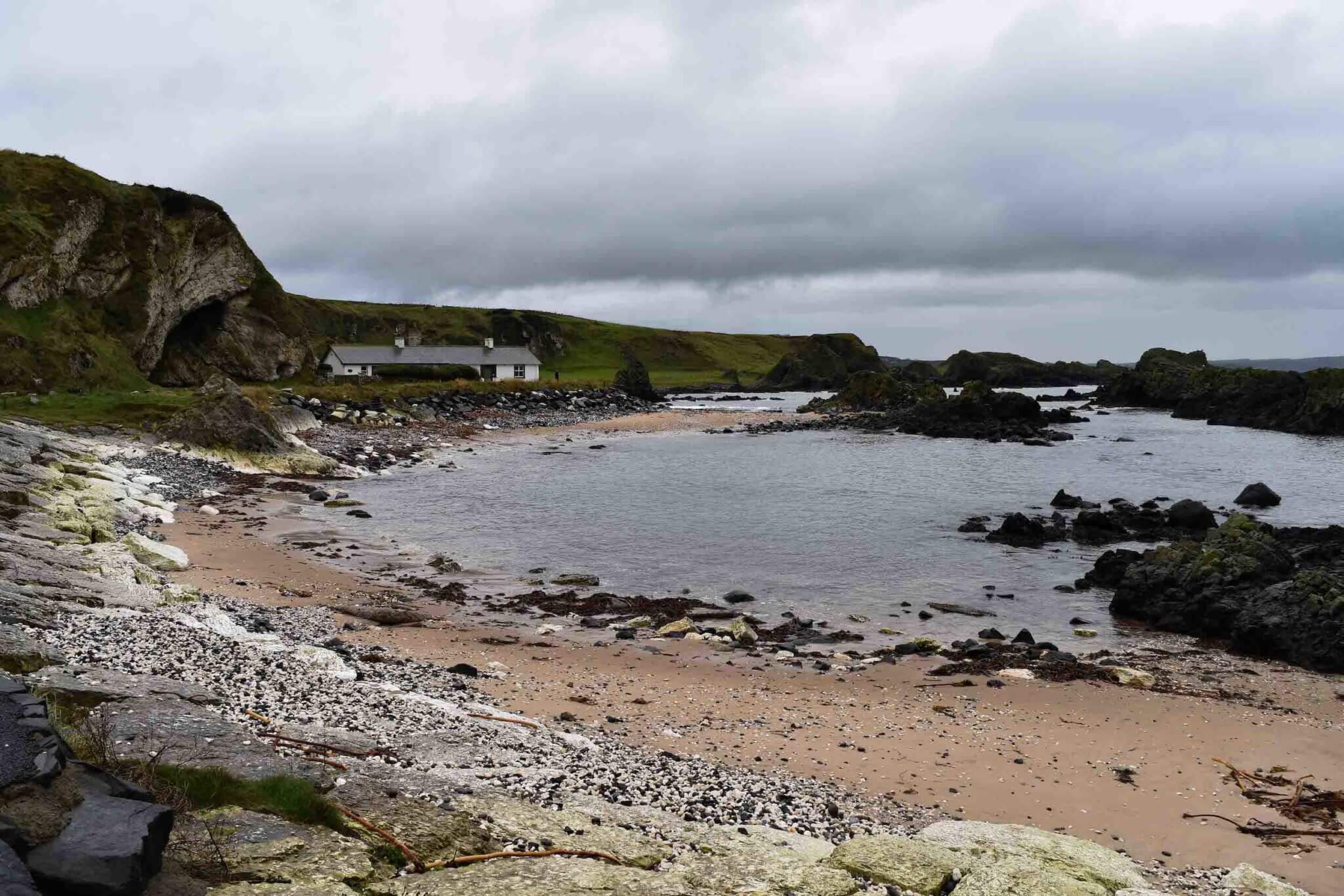 Next, we stopped at a filming location from the first episode – where Ned Stark cuts off the head of a deserter from the Nightswatch (apologies if you haven't seen the programme – but I imagine you probably have if you are reading this.) It was pretty misty, but you could see why they chose the location as it had a very eerie feeling about it.
Carnlough
From here we headed to Carnlough – which is a filming location for series 6 – we had just missed the filming the week before. It becomes the free city of Braavos, where Arya Stark is fighting the Waif and ends up in the water.
Tip: If you do take the tour and stop here I would recommend the sausage rolls from the Spar – delicious!!
Cushendun
Next stop was the red caves in Cushendun – the scene where Melisandre gives birth to the shadow assassin. It was incredibly cold in here, so I felt quite sorry for the actress who plays Melisandre knowing she was completely naked when they filmed it!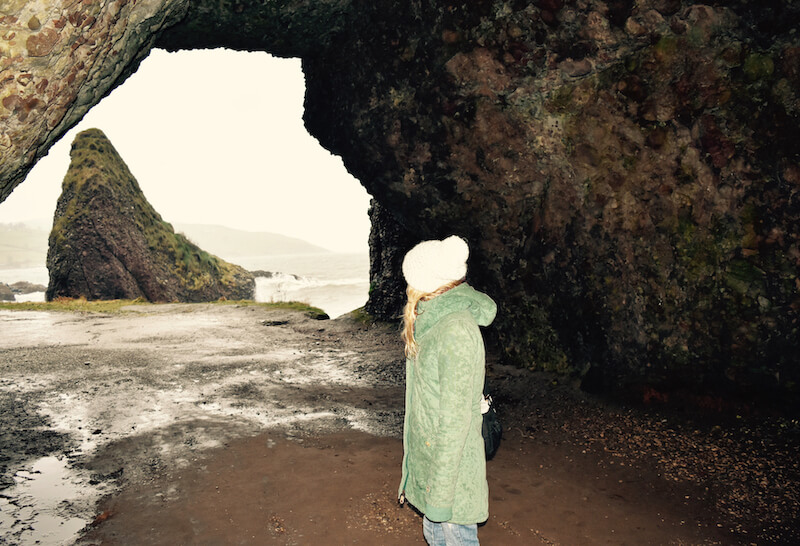 Ballycastle
We then passed through the town of Ballycastle – the hometown of Cateyln Stark and Varys (or the actors who play them), before heading to the Carrick – a –Rede Rope Bridge. While not featured in Game of Thrones, I was excited to visit this bridge, as I'd seen so many great photos of it. Sadly the weather wasn't on our side, so it was a very blustery and cold walk to the bridge and then a wobbly walk over, with the wind blowing. But still such a beautiful place. (Less fun for my boyfriend who didn't bring a hat, or a hood, or gloves or a scarf!!). I'd definitely like to visit this bridge again with sunnier weather, as it really is such a stunning location.
Ballintoy
One of the most recognisable of the Game of Thrones locations was Pyke, The Iron Islands. It looked almost exactly like the programme. We spent some time wandering around the harbour (real name Ballintoy), complete with Theon Greyjoy sign, before heading back onto the bus.
At this point, we gave an older gentleman from another tour a lift back from the harbour (he was on a coach that couldn't get down there). He wasn't on a Game of Thrones tour, so seemed thoroughly confused while Charlene was telling us about Theon and his sister's moment of incest!
Giant's Causeway
Following this, we headed for the Giant's Causeway. This is the only Unesco World Heritage Site in Northern Ireland, and easily one of Northern Ireland's most famous sites. It's incredibly beautiful – layers of basalt columns overlooking and protruding out of the sea.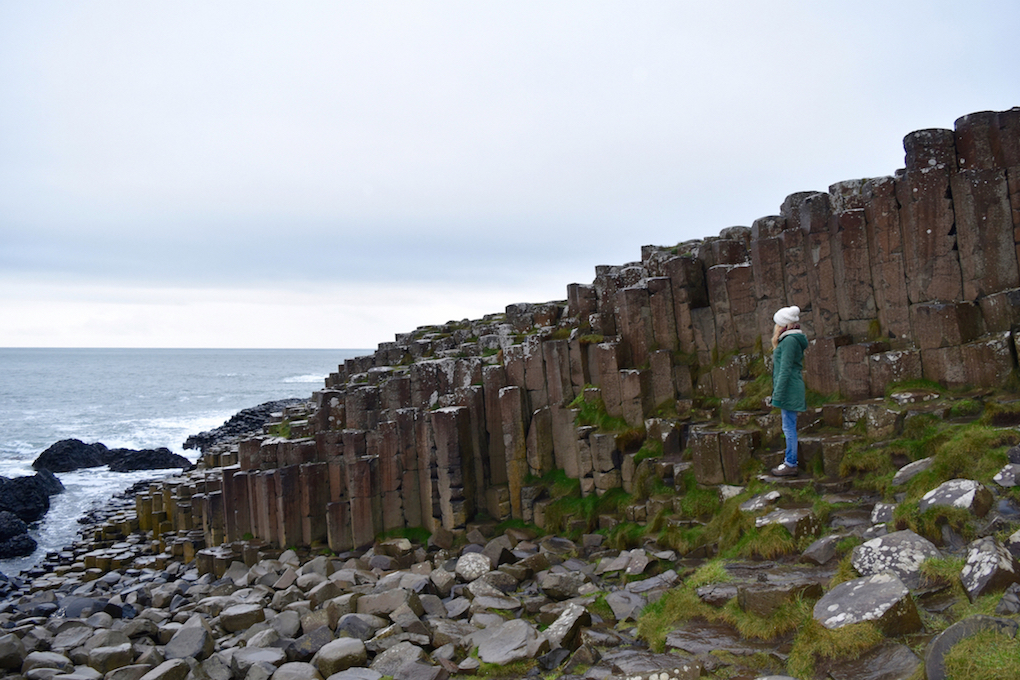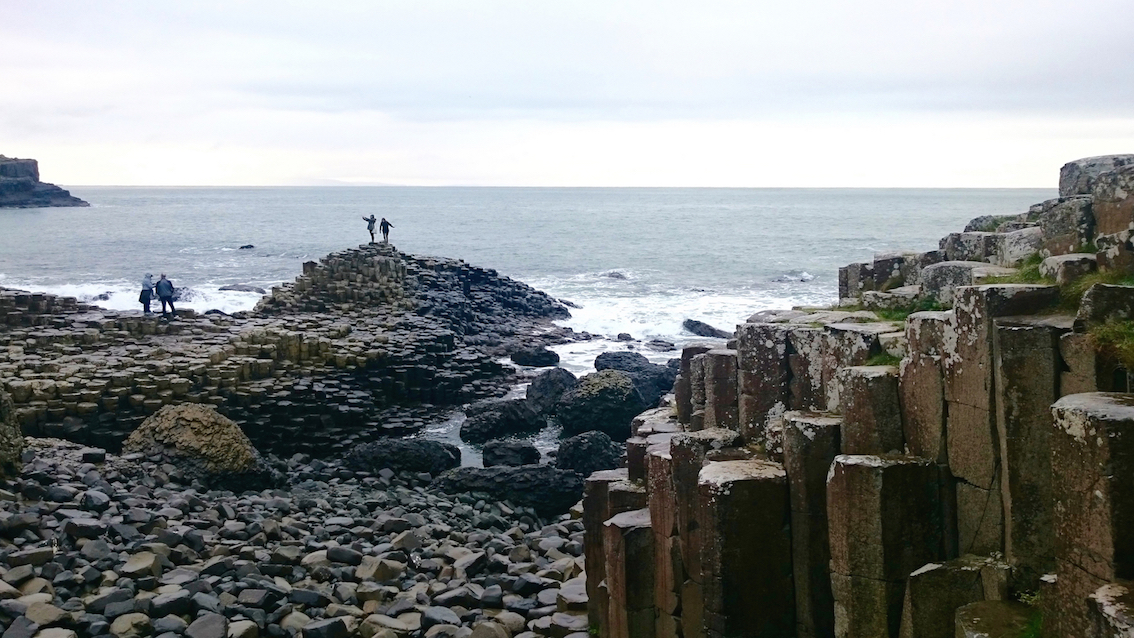 The Dark Hedges
We then stopped for lunch at a cosy pub before our final destination. The Dark Hedges. Of all the Game of Thrones locations, this was perhaps one of the ones I'd been most excited about. These trees (despite the misleading name), are some of the most photographed in the world and feature in Game of Thrones as 'The Kings Road', where Arya escapes from Kings Landing.
Then we headed back to Belfast, but not before we got to try on some props and pose for photographs! (sadly none of those have made it onto the blog!).  If you're a Game of Thrones fan (and even if you're not), it's a really interesting day, and a great way to see the beautiful Irish countryside.
Other Places to Visit for Film/TV Fans in the UK
If you're a fan of Harry Potter, then the UK has a number of great locations to visit, including Kings Cross Station and Leadenhall Market in London, Oxford University, Gloucester Cathedral, Durham Cathedral and the Glenfinnan Viaduct along with the Harry Potter Studio Tour at Leavesden.
You can also discover some of the inspiration behind Harry Potter in Edinburgh, the home of J.K Rowling while she was writing the books.
James Bond fans can visit Glencoe in Scotland, where Skyfall was filmed, Cairngorms National Park also in Scotland, as seen in No Time to Die and Whitehall in London from the same movie.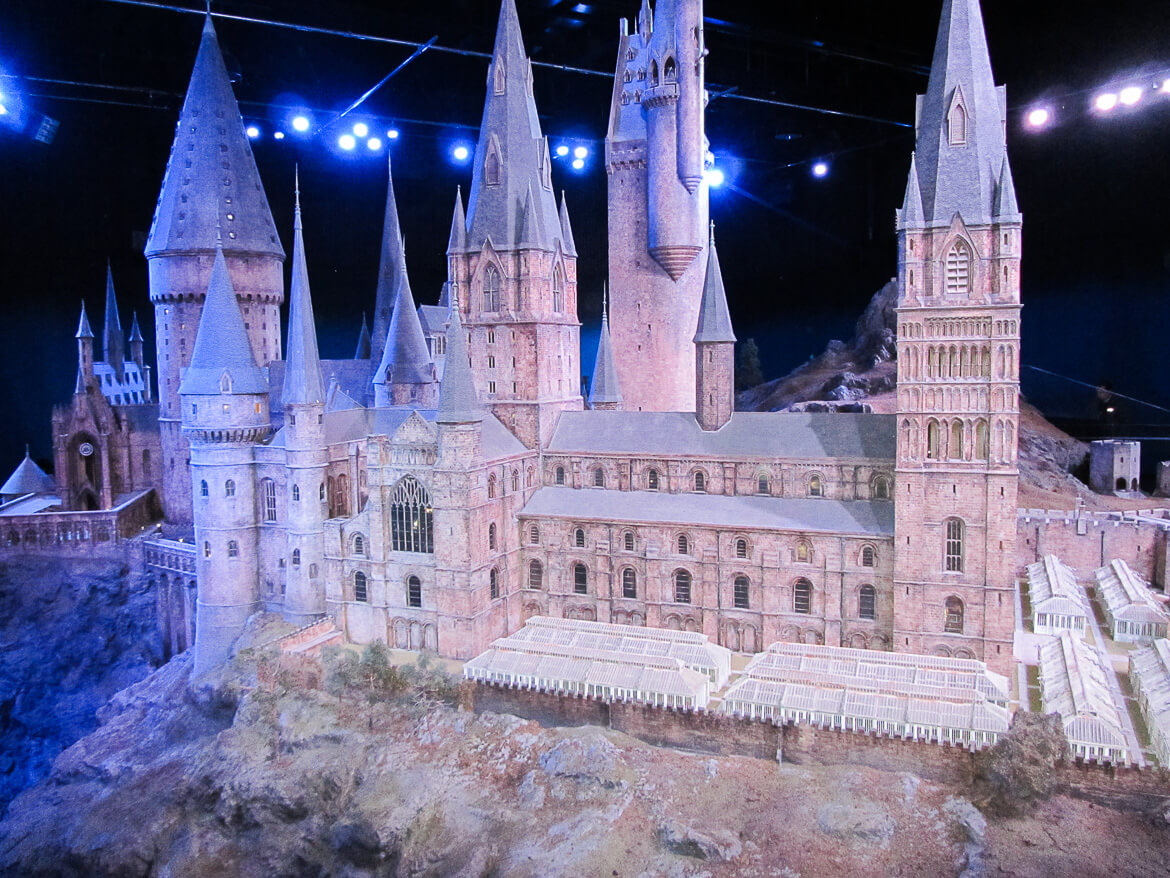 If you're heading to Northern Ireland check out our other articles here.