A Lovely Planet contributors Sarah & James spent Christmas and New Year in Komodo, home to the largest land dragons in the world and thrill-seeking diving!
We'd heard from so many people on our travels that we must go to Komodo for some crazy current dives and to swim with the Mantas. When we realised Komodo is only a one hour flight from Bali we were there in a heartbeat.
Komodo Diving
Who to Dive With in Komodo
There are tons of dive shops that line the main streets, but diving with Wicked Diving was a no brainer for us. We had joined their liveaboard before in Thailand, (check out our article).
Disclosure: This article contains affiliate links. This means that if you click a link and purchase something I've recommended I may earn a small commission. This does not affect the price you pay but helps me to run this site. You can read my full affiliate disclosure here.
Diving In Komodo
Komodo can have VERY strong currents especially around a full moon which affects the water flows. We would suggest being a confident or experienced diver to really experience what Komodo has to offer, but of course, any level of diver can dive here too.
Dive site "The Cauldron" can catapult you like superman through the water. Sometimes you'll need to hook into a rock (with a reef hook) to hold your position otherwise go with the current and enjoy the ride.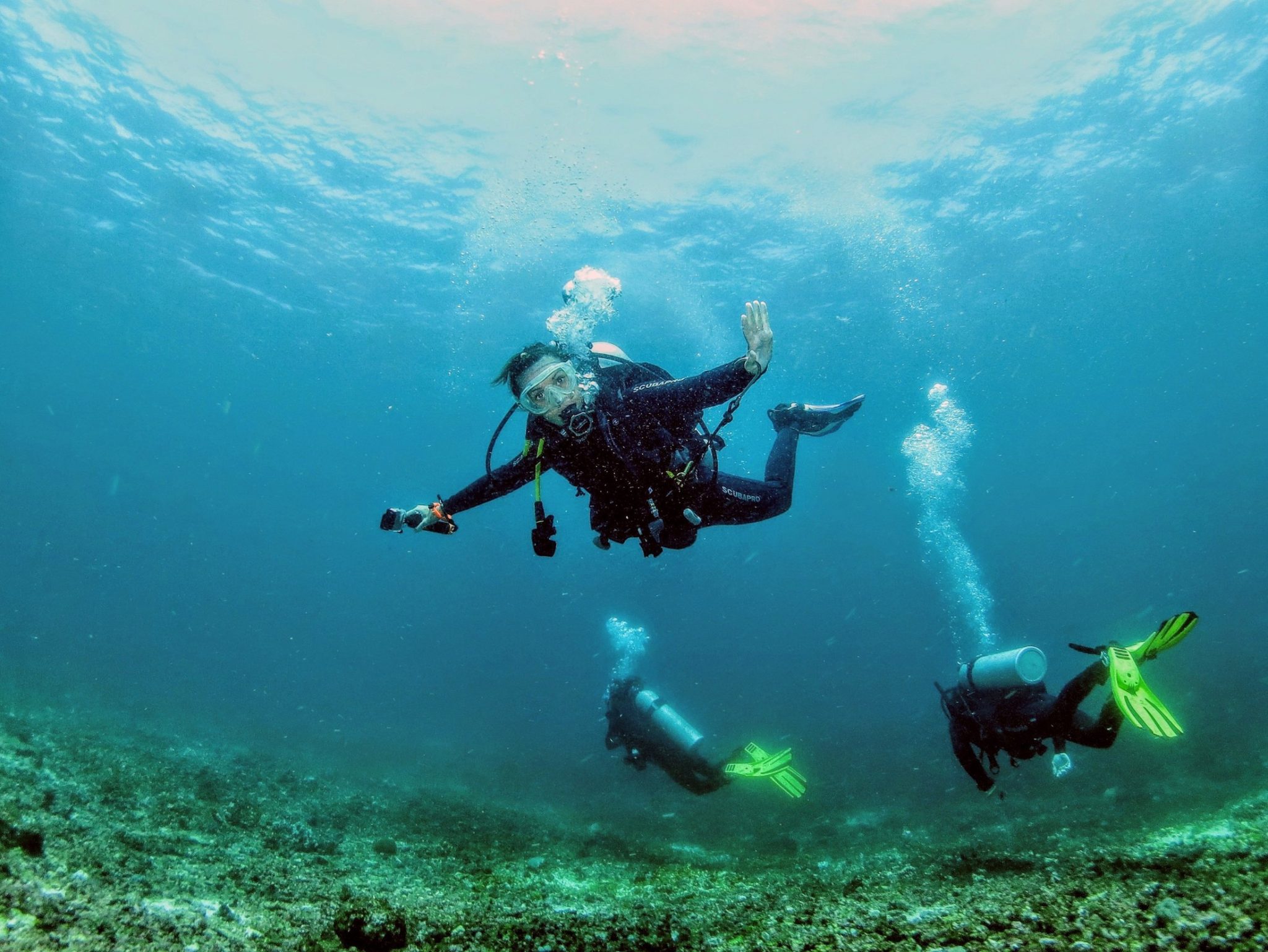 Mantas tend to hang out in strong currents whilst they are cleaned by smaller fish so it's your best chance of seeing them. No currents often mean no Mantas.
Encounters can happen at any time though, and take you by surprise. One manta was enjoying the bubbles so much that he sat on Sarah's head, a very funny sight to see.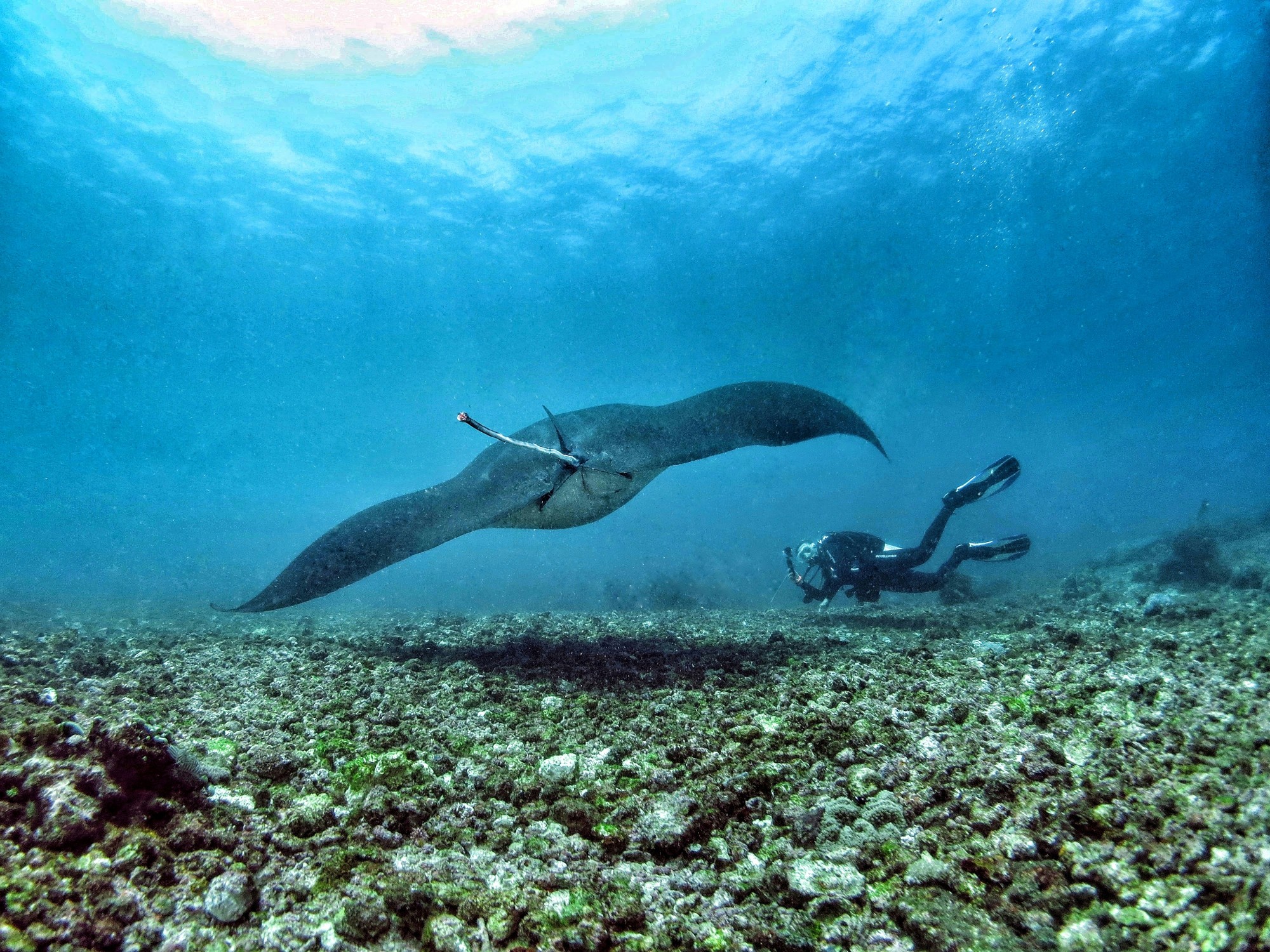 Dive site "Manta Point" was AMAZING! We saw 26 of these stunning creatures on ONE dive!
During peak season May – October the visibility is a good 20m+, but you'll see fewer mantas. If mantas are what you are here to see, then go in October – December.
There's nothing quite like an encounter with the Manta's as they are incredibly curious and reach up to 5 meters. It's something you won't forget easily!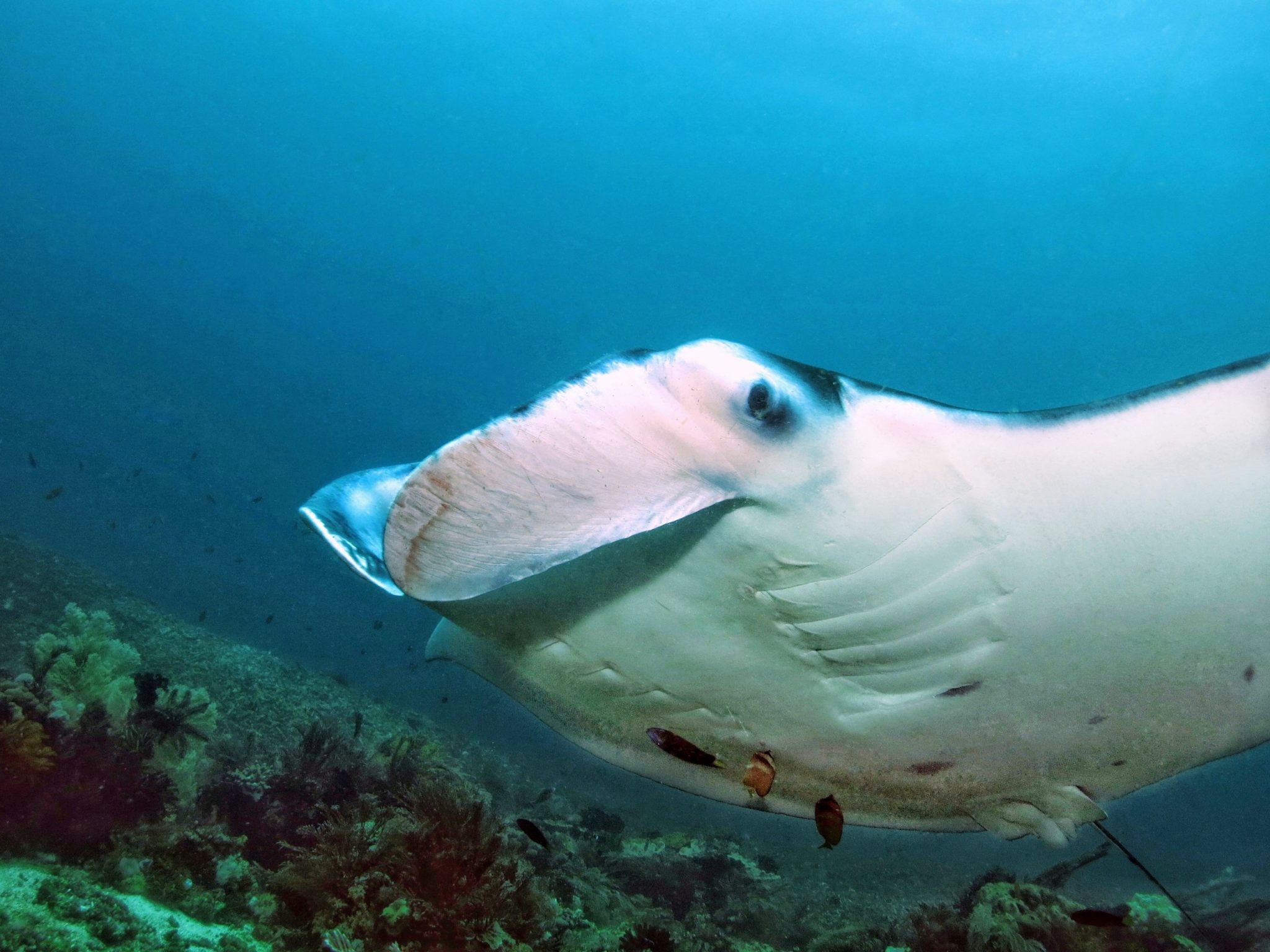 Beautiful sunsets, sparkling stars at night and dive sites on your doorstep really make staying on a liveaboard the best way to experience Komodo.
One reason we love diving with Wicked Diving is that they are very environmentally conscious and we believe strongly in protecting our oceans and the marine life in it. We were very happy when we stopped off at an island for a beach clean and a sunset beer!
Komodo Dragons
Unique to the Komodo area, you can see the largest Dragons to still walk this earth.
We joined XPirates Camp, which has an awesome 'shipwrecked' feel on Sebayur Island within the National Park. Basic but comfy cabins overlook the private beach making it a really great alternative stay from the main town of Labuan Bajo.
Here you can arrange trips, snorkel their house reef and even learn to dive.

A walk around Komodo and Rinca islands is where you'll find them. In our opinion, Rinca was much better than Komodo Island, as it is much quieter.
The Komodo Dragons can run and swim but are unlikely to move too quickly once fed as they are quite lazy. So don't worry too much, but always stay with your guide….just in case. Most of the ones we saw barely moved, but meant we could get a good look at these awesome creatures.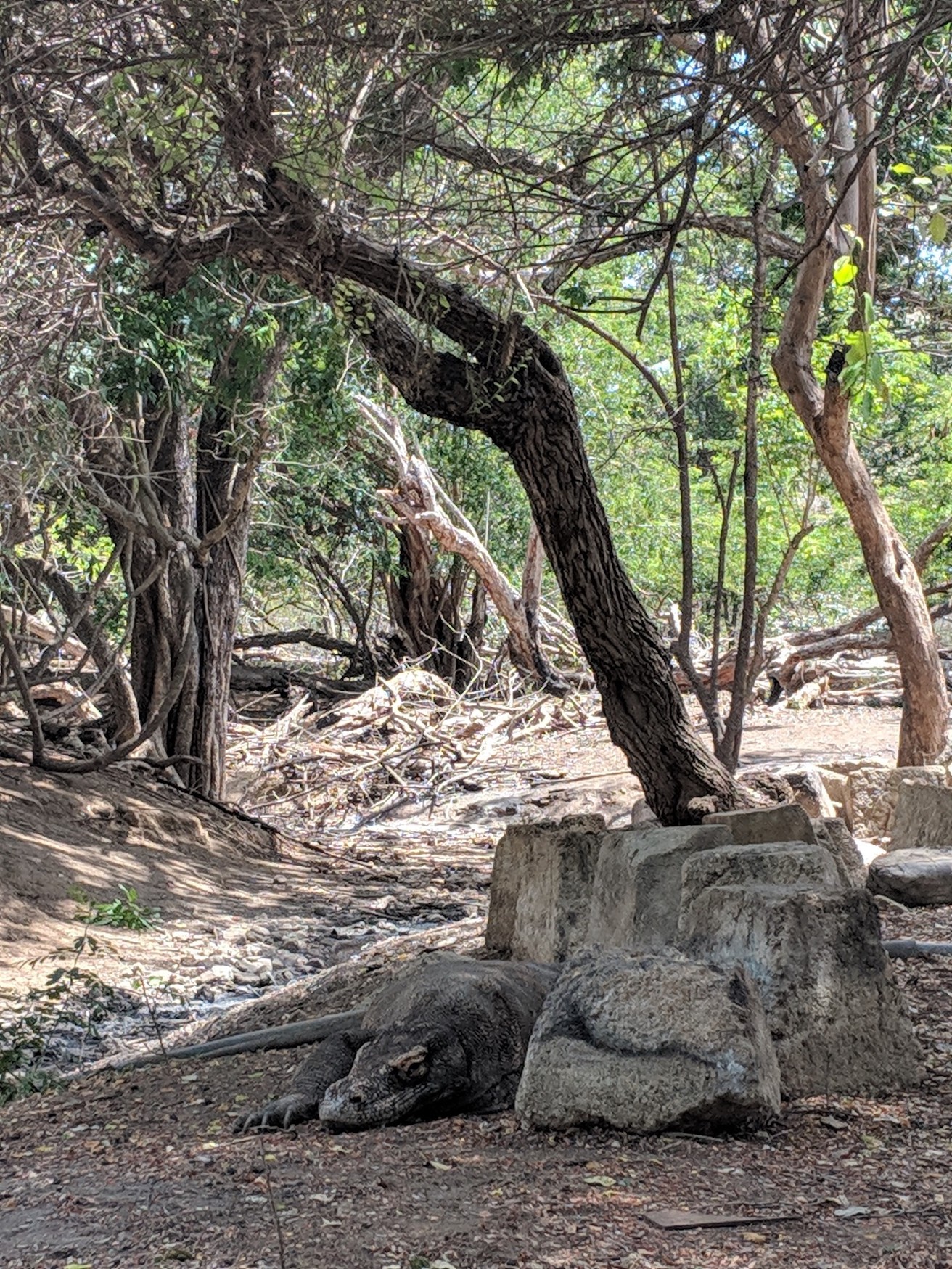 Our boat trip also visited Pink Beach and snorkelling spots as part of our itinerary, which was a nice stop between island trekking and diving.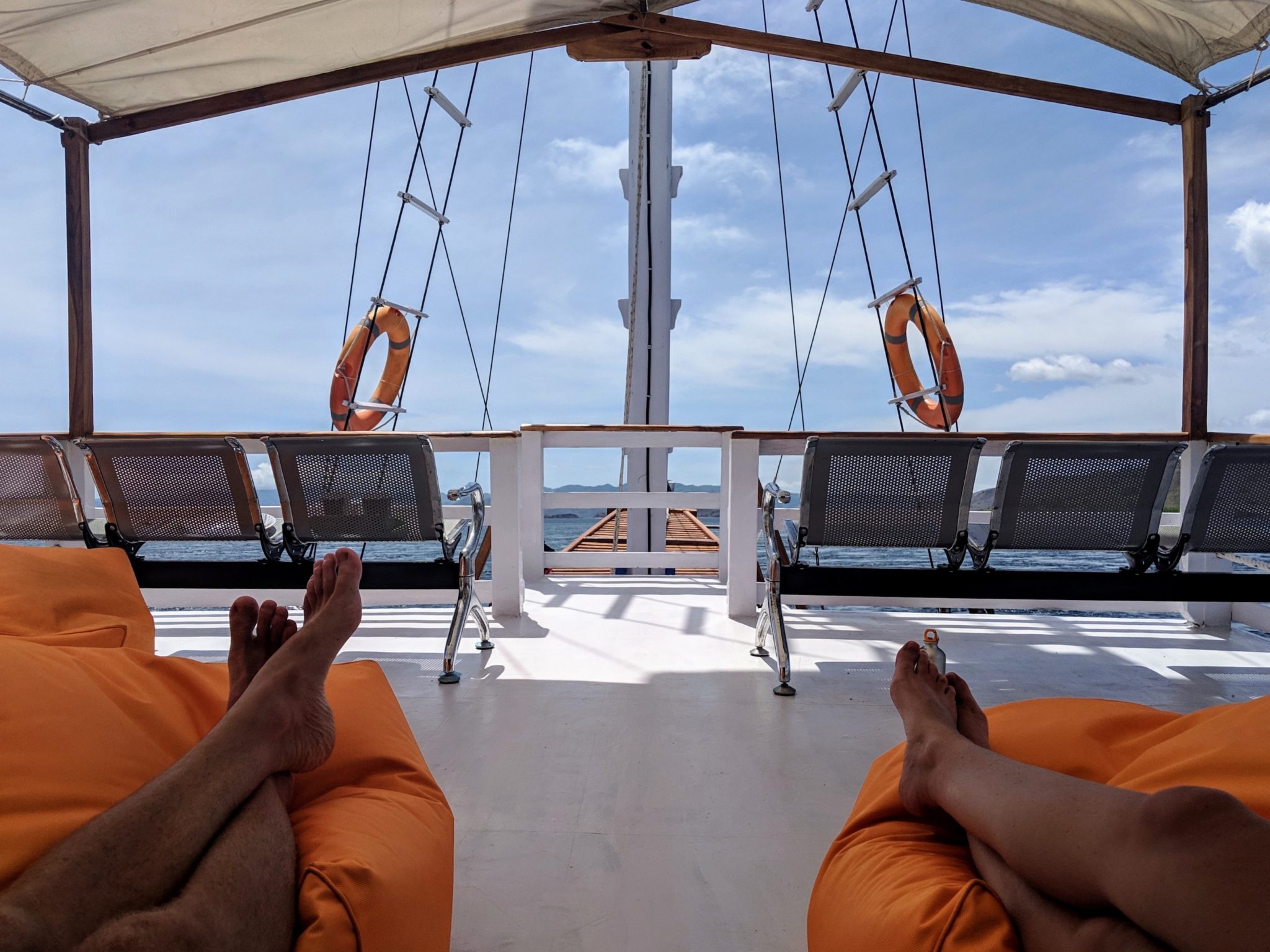 If you don't scuba dive you can still see the Manta's as they play and circle below in only 6m of water in a fantastic snorkelling spot.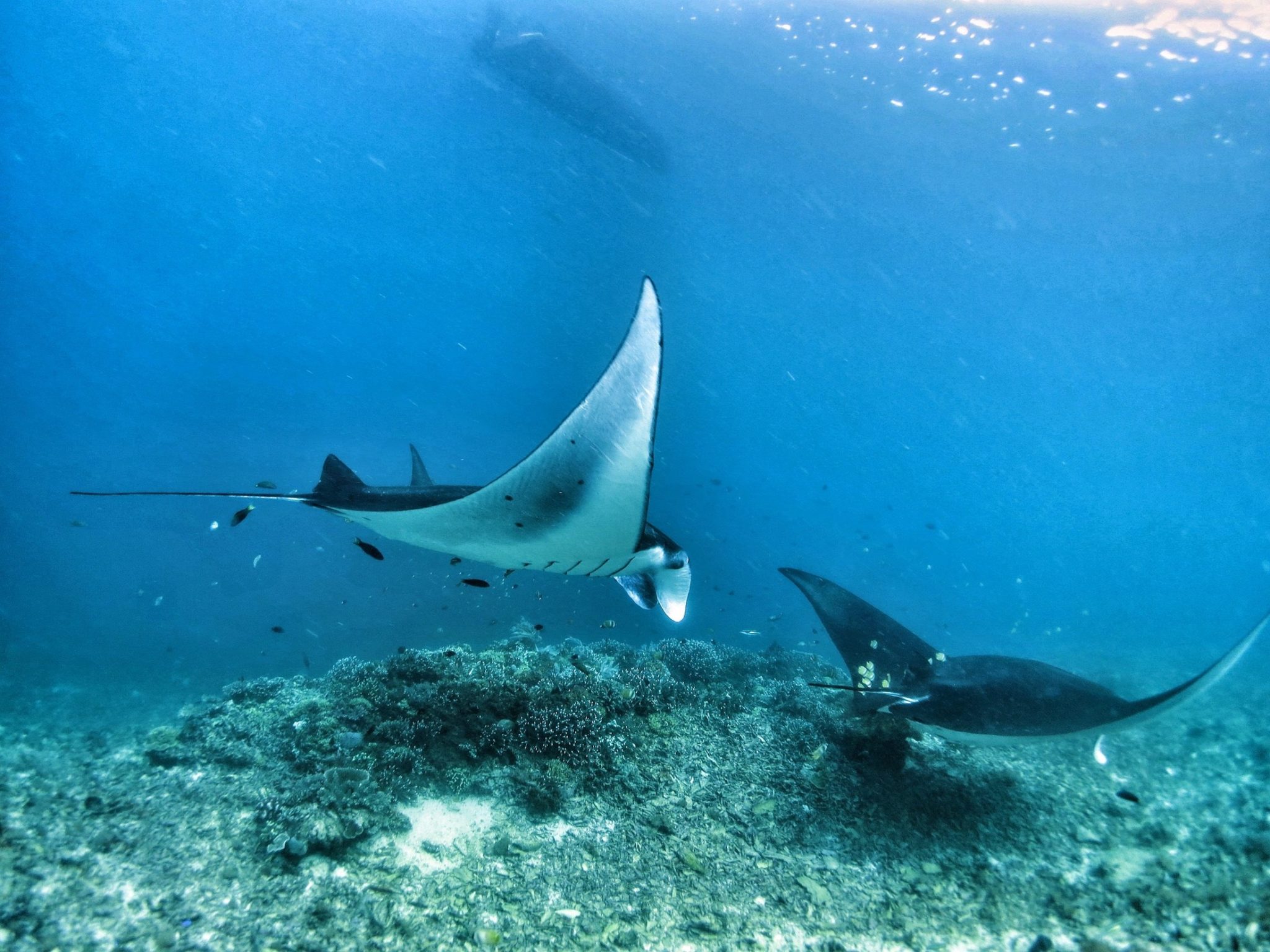 Incredibly curious, they swam up to many of us, returning again and again for another look.
It's important to judge the situation though. If the mantas seem spooked or unsettled give them more space and respect their habitat.
Where to Stay in Komodo
If you are staying at Labuan Bajo we recommend Wae Molas. It has a great pool, great food and they even have movie nights showing awesome documentaries such as Blue Planet and other ocean-related films.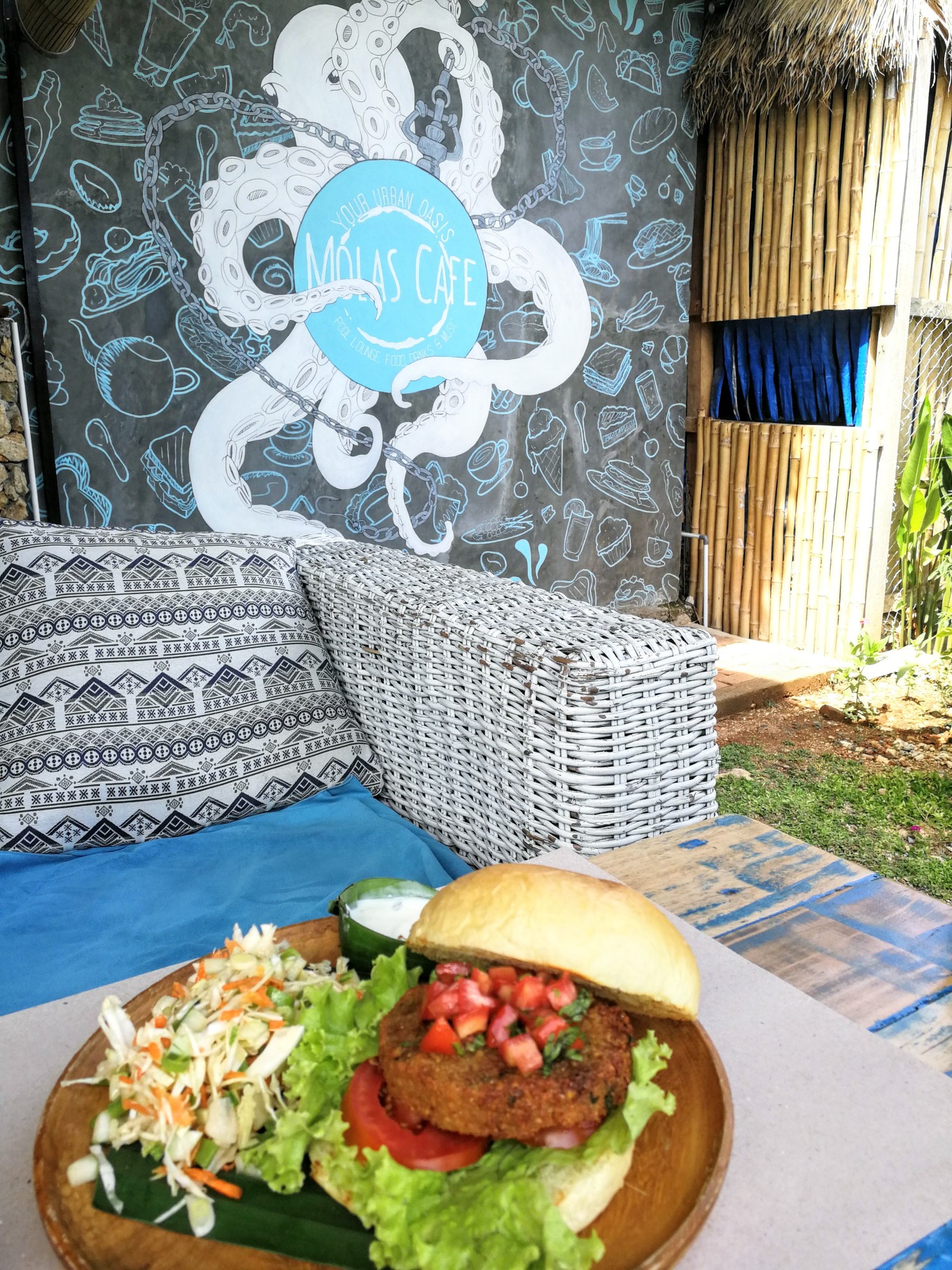 Getting To Komodo
A well connected 1-hour flight from Bali to Labuan Bajo airport means it's a great side trip if you're visiting Bali too.
When to Go to Komodo
Peak season is between May – October and is very busy, so just outside of these months would be our recommended time to go. We were there at the tail end of the dive season in December, with some operators closing completely from Christmas to March because of rough seas.
Thank you Wicked Diving and XPirates Camp for hosting A Lovely Planet.