Sarah and James swap the ocean for the mountains with their recent adventure to Northern Thailand, exploring the Mae Hong Son Loop, Chiang Rai and Bangkok.
We are drawn to the ocean and sparkling waters, but honestly, Northern Thailand gets a 10/10 from us! It feels less touristy and more authentically Thai, giving you a rich and more cultural experience. What more could you want?
Disclosure: This article contains affiliate links. This means that if you click a link and purchase something I've recommended I may earn a small commission. This does not affect the price you pay but helps me to run this site. You can read my full affiliate disclosure here.
Bangkok
Arrive into Bangkok airport, a great international hub from almost anywhere. We were hesitant as we tend not to love big cities, but we recommend at least three days in this amazing city! (Yes we loved it).
Things to Do in Bangkok
Live like a local
New apartments are popping up everywhere, so opt for a holiday rental and live in a popular urban suburb, rather than an expected tourist hotspot.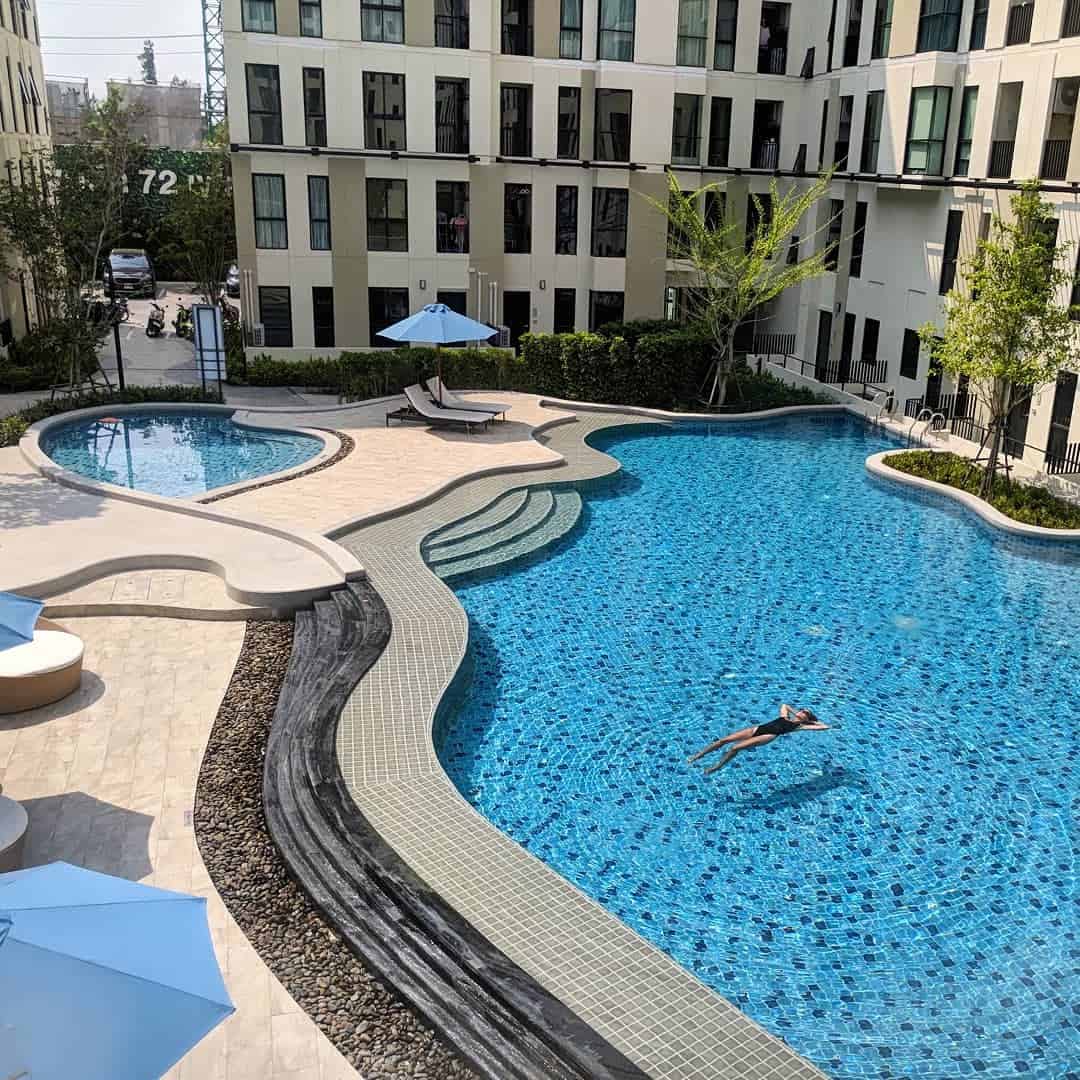 Eat like a local
Follow your nose to the small streets tucked underneath the BTS (train) and highways to find local eateries at great prices.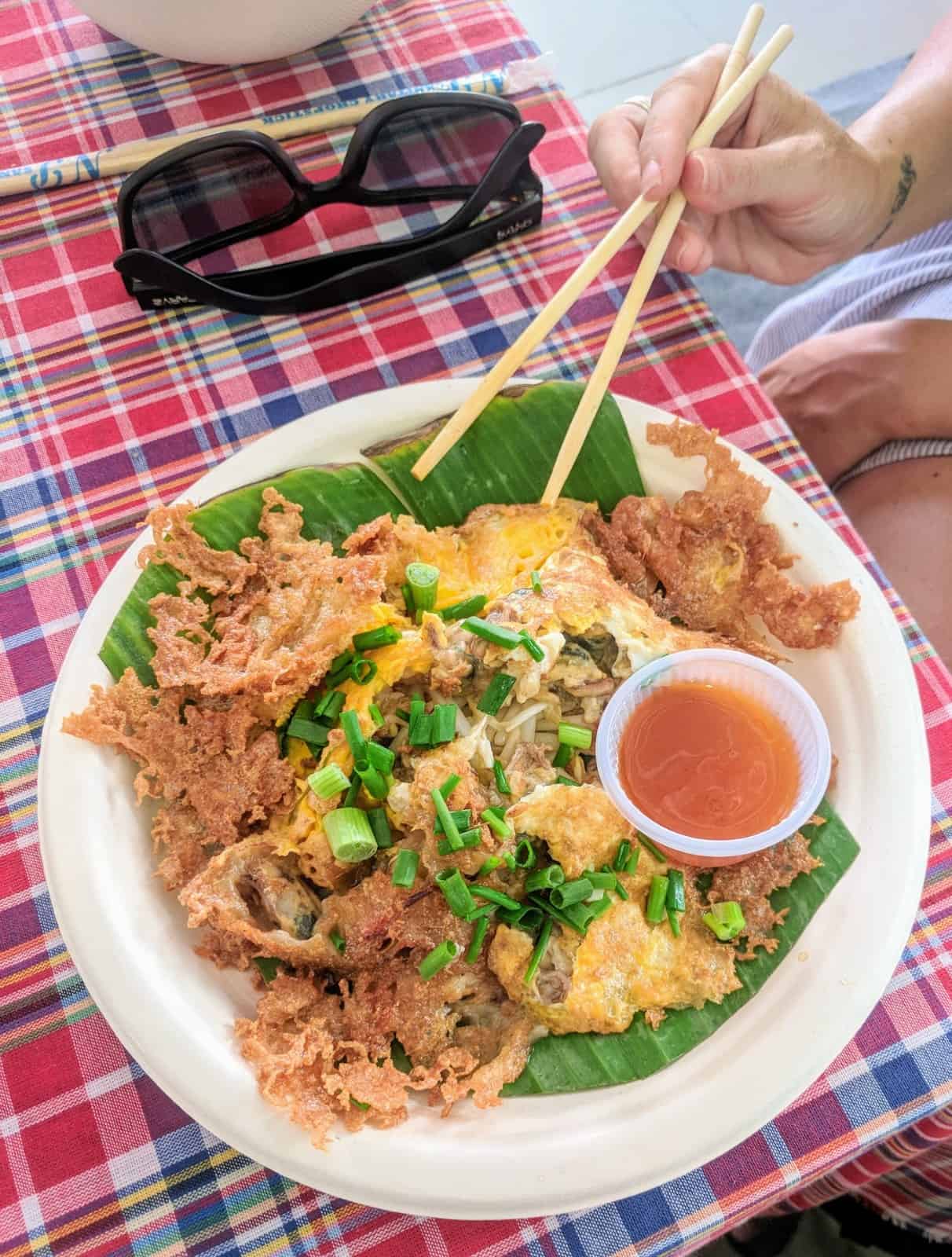 Shop like a local
Swap tourist favourite Chatuchak market for JJ Green night market, just up the road. A smaller more quaint market, with vintage clothing, souvenirs, so many delicious food stalls and live bands playing throughout the night.
Beginning The Mae Hong Son Loop
From Bangkok catch the train for a full day or overnight adventure. You can fly but you'd miss the beautiful scenery.
This loop is one of Asia's most famous motorbike routes. Starting in Chiang Mai, heading west to Mae Hong Son then looping back east to Chiang Mai, you cover some of Thailand's finest mountainous regions, exploring lush pine forests, dense jungle, farming villages, hill tribe communities and border towns…it's not one to miss!
We took two weeks and at times this felt rushed, as there is so much to see.
Getting started – Motorbike
This loop is possible with a 125cc automatic bike (with two people), but we would recommend a semi-automatic (Honda Wave) to help with the climbs and descents.
Chiang Mai – 2 Nights
Spend some time in Chiang Mai both before and after you drive the Mae Hong Son Loop. Head to the end of the article for our tips on what to do in Chiang Mai.
Chiang Mai to Pai
Pai – 3 Nights
Setting off from Chiang Mai, it is busy and hectic, but soon the roads clear to winding paths and some beautiful views.
After a four hour ride through small towns, we arrived at our first stop.
Pai, a backpackers' favourite, sees all nationalities flock to it, but in our opinion, it lacks authentic Thai culture.
It is, however, a great chance to meet other travellers and sample some of the best Western food we have come across on the road to date. (Go on, treat yourself)
Still, with an underlying hippy vibe, the air is filled with sounds of guitar-playing artists and travellers' tales.
We stayed at Baan Pai Riverside Resort, a simple and peaceful hut along the river. A perfect five minute walk across a bamboo bridge to the main walking street.
There are plenty of inexpensive food options and beautiful local stores to explore so leave room in your suitcase.
By day there are many close-by waterfalls and other attractions such as the Land Split, Pai Canyon and the White Buddha for Sunset.
The real magic, however, is just relaxing in hammocks, sipping coffee and soaking up the sunshine.
We were in Pai in the low/dry season (April) and would recommend avoiding it in the busy season unless you want to party as there are lots of bars in this area.
Pai to Sop Pong
Sop Pong – 3 Nights
Driving three hours northwest towards Sop Pong the views are breathtaking!
Cave Lodge offers adventure tours to nearby caves and has a wealth of information about the region. Its located in a beautiful setting with a restaurant, basic cabins and even a herbal sauna.
Start with an easy 1hr walk through Lod Cave, finishing with a pleasant bamboo raft ride to the exit. You can only access it with a local guide – it's very well organised and helps support the local community.
This is a mild warm-up for our next full day trek to three caves: Fossil Cave, Waterfall Cave and Xmas Cave.
This day requires you to be physically fit and if you're claustrophobic then forget it.
The most challenging was Waterfall Cave. We soon found ourselves crouching down to fit through tight spaces, then on our hands and knees, then on our bellies floating through muddy waters up to our necks. (Sarah may or may not have been shrieking in parts).
Keep an eye out for snakes, bats, frogs and who knows what else is hidden in the dark spaces of these magnificent caves, eek!
Sop pong to
Ban Rak Thai
Ban Rak Thai – 1 Night
Nan Pa Paek was a sweet little stop at Mong Guesthouse with a bungalow set on the mountain looking over the vineyards. It's a good base to visit Ban Rak Thai, a small town bordering Myanmar.
Ban Rak Thai to
Mae Hong Son
Mae Hong Son – 2 Nights
The capital of the region and the name behind the famous 'Mae Hong Son loop'. This town was quieter than we expected. It was low season, but the town seemed largely undeveloped by tourism and retained a lot of its charm as a bustling Thai town with street food, ice coffees, temples and markets.
Mae Hong Son to
Mae Sariang
Mae Sariang – 1 Night
Heading south towards Mae Sariang, we stopped at Phu Klon Mud Spa.
You can get the deluxe package with a full-body mud bath, but we chose the facial mud mask and foot spa.
It was a great stop to break up the journey and our skin was left as smooth as a baby's bottom.
Mae Sariang itself is a quiet town with few main roads. We were pretty much the only Westerners here, which we liked.
Mae Sariang to
Doi Inthanon
Doi Inthanon – 2 Nights
If you want an early start for Thailand's highest peak (Doi Inthanon), stay in the nearby town of Mae Chaem.
The highest point itself marked by a sign is a little underwhelming, as you can't actually see any of the view.
The nature trail, however (roughly a two-hour walk) has remarkable views above the clouds, hopefully you're not scared of heights!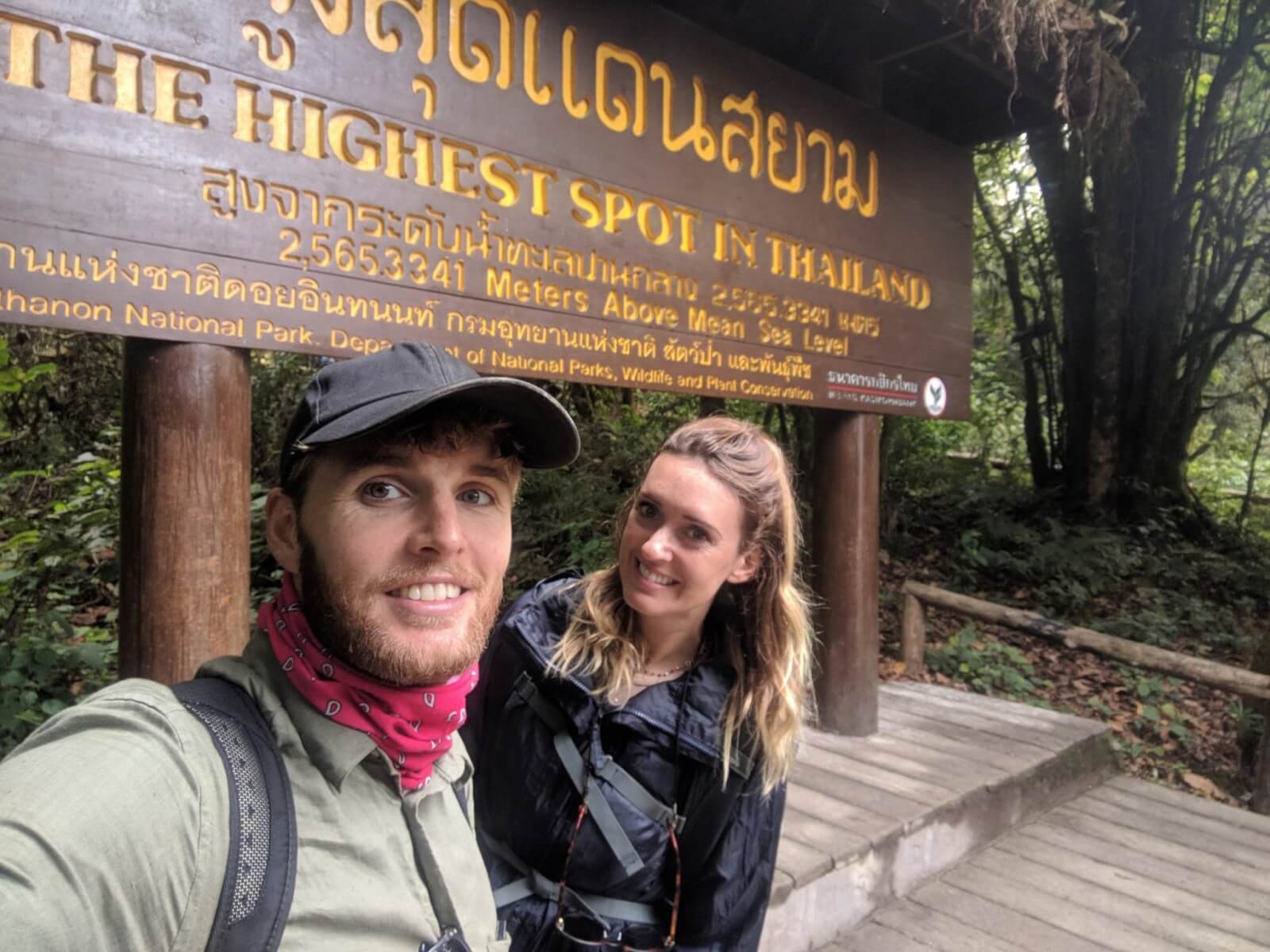 Well, that's over 1000km completing the Mae Hong Son loop in 14 days. How long you spend completing this famous loop is up to you, but we recommend at least one week.
Doi Inthanon
to Chiang Mai
Chiang Mai – 3 Nights
Chiang Mai's old town is a network of small streets and alleys and hosts many of the area's great cafes, bars and restaurants. Much more peaceful than the touristy areas near the Night Bizarre.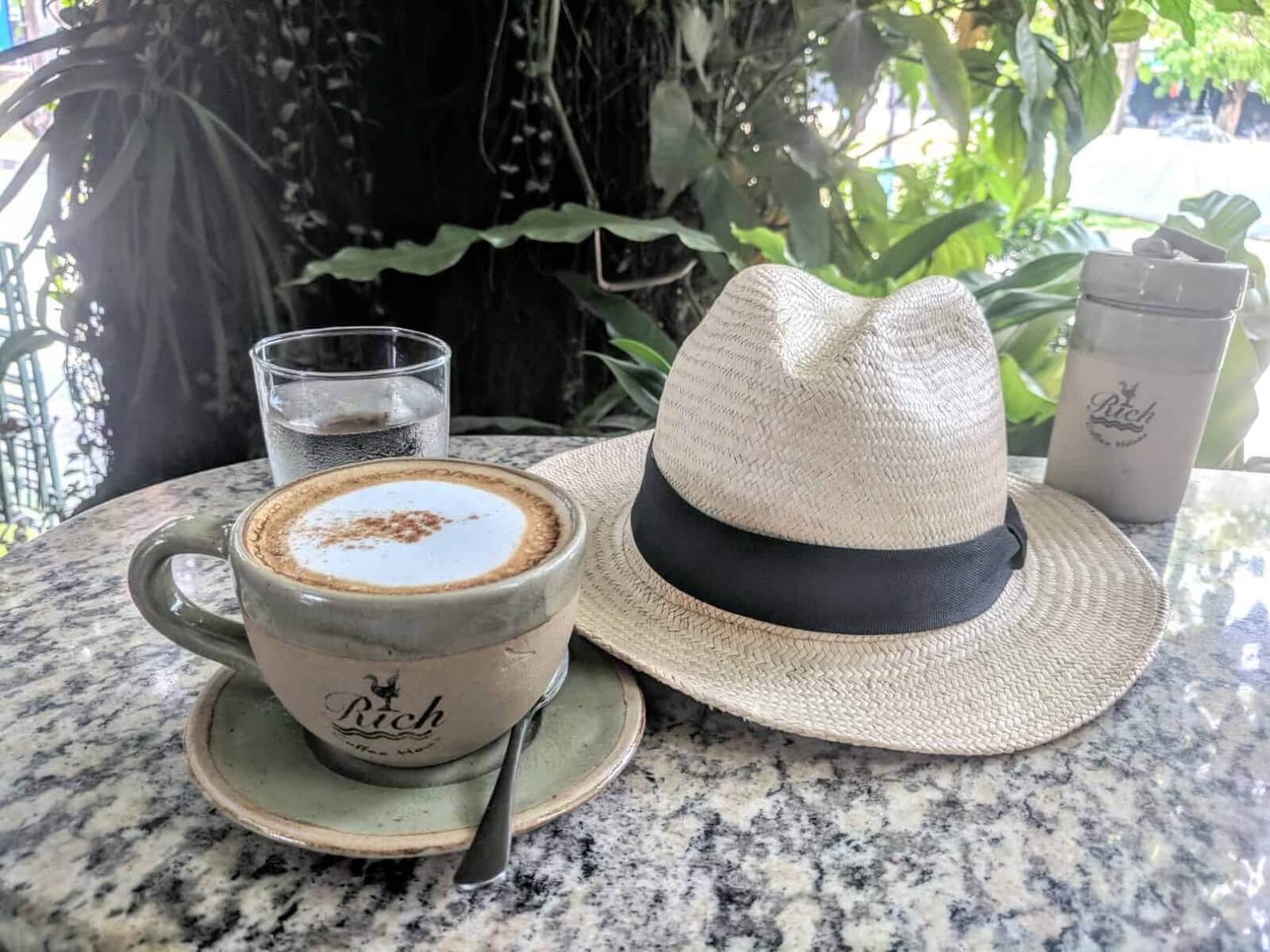 Things to do in Chiang Mai
Stay at a hidden Oasis
Staying at the Shewe Wana Resort was a tranquil escape from the busy central area just down the road.
A beautiful retreat amongst nature, Shewe meaning 'Life' and Wana meaning 'Forest'. There was something very special about surrounding yourself with lush green gardens.
For larger groups or families, the one or two bedroom suites were perfect with lots of space, lounge areas and relaxing daybed balconies overlooking water features and gardens.
The Shewe Cafe just next door offers unique latte art on your morning coffee, sure to put a smile on your face before the caffeine kicks in.
Delicious menus from breakfast to dinner, certainly make it hard to leave this resort.
If you're not relaxed enough, then visit the Shewe Spa or take a dip in not one but two swimming pools.

Take a Cooking Class
In all our travels so far, Thai food has to be our favourite, so we absolutely had to learn how to cook this amazing cuisine.
Located just outside of the Old Town wall to the East, Chiang Mai Thai Cookery School is set amongst beautiful gardens of fresh vegetables and herbs.
Garnet our chef, teacher, and comedian really made the day special with her fun-loving personality and wise culinary tips.
Learning five delicious dishes, it was surprising to see how simple they were to make, definitely possible at home with a few minor additions to the spice rack.
The best bit, you get to eat your creations all day long once each dish is ready – make sure you're hungry before you get there!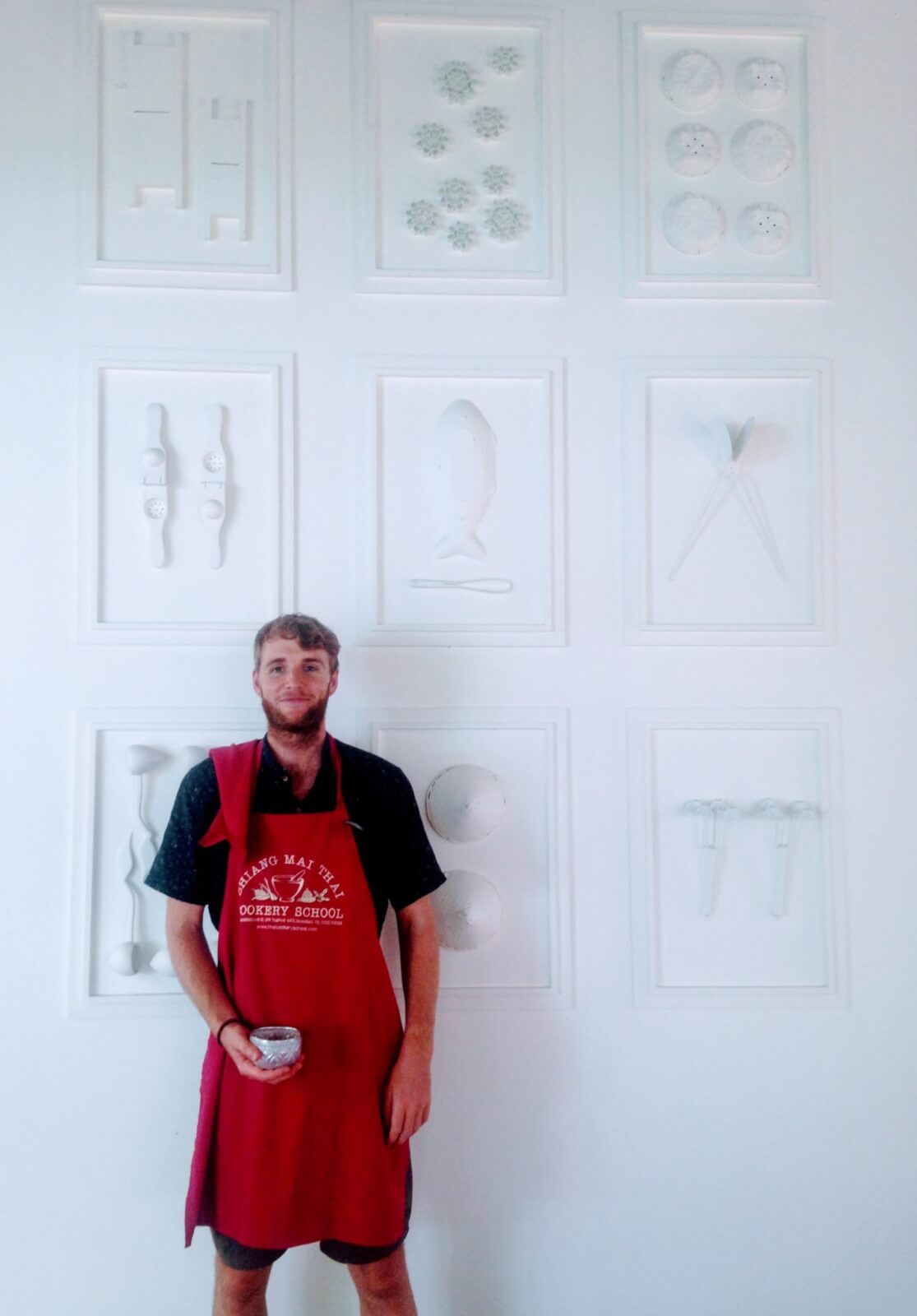 Enjoy a massage
After 1,000km on the road, our bodies (and bike) had taken a beating so we treated ourselves to a massage with Kiyora Spa.
Although close to the centre, this day spa is the perfect way to relax with its beautiful setting and individual massage hut rooms.
We chose the 'Soothe N Bliss' package, a two-hour massage combining traditional Thai massage with essential oils and natural hot compresses. It was really nice to learn that the owner's mother handpicked the compressor herbs to ensure they were of the highest quality.
Once finished, a delicious Thai tea and mango with sticky rice dish were served to top off a perfect afternoon.
Meditation training
Have you ever wanted to learn more about meditation, understand the foundations of Buddhism or simply chat with a monk and learn more about their way of life? Well here's a unique opportunity with Monk Chat.
Join Monk Chat for a one hour, one day, or a two-day overnight experience.
We joined for the one-day meditation course and "WOW" what an experience we had.
The whole day was led by Phra (Monk) KK, an incredibly happy and funny young monk who made Buddhism and meditation, approachable and easy to understand.
The day included an introduction to Buddhism, meditation practices (sitting, walking & lying) a tour around the temples, and a Q&A to end – this day was definitely a highlight of our Northern Thailand trip.
We learnt so much, but we won't spoil it for you, you'll have to visit yourself to find out.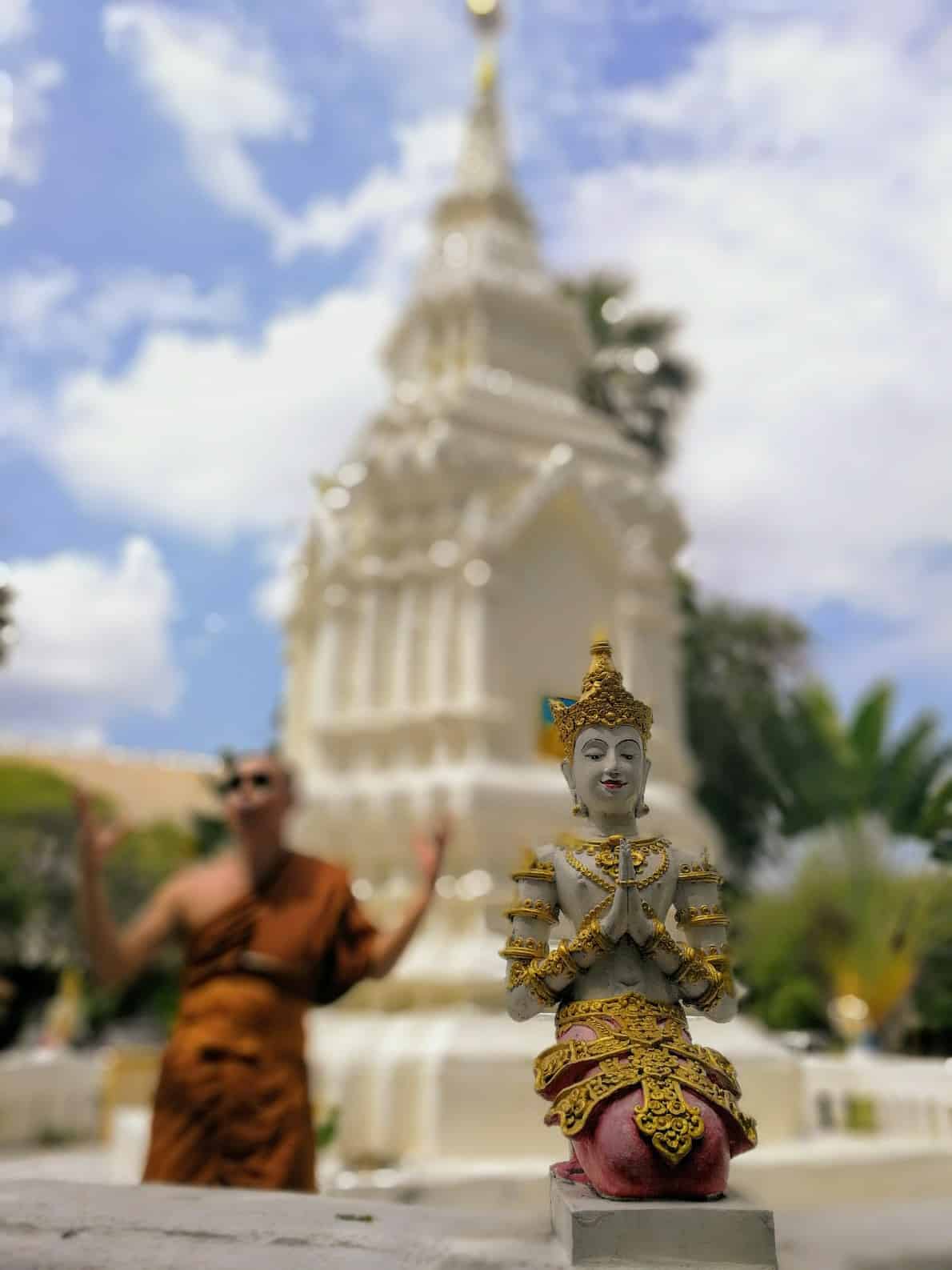 If you have more travel time after completing the Mae Hong Son loop, then it's definitely worth making a trip to Chiang Rai.
Chiang Rai
Getting to
Chiang Rai
Continuing north we took a three-hour bus from Chiang Mai to Chiang Rai. Book in advance.
Things to do in Chiang Rai
Night Market
Luckily for us arriving on a Saturday meant it was market day! Once the sun fades the streets come to life from 5pm-12am.
Locals dance the night away with rehearsed moves to lively beats. Not to mention the hundreds of food, clothing and handicraft stalls to choose from, we spent hours here just looking around.
Join a rural hill tribe
We had heard that North of Chiang Rai was home to remote hill tribes bordering Myanmar, so we jumped on another bike to explore outside of the city for a few days.
The Akha Mud Huts are a unique place between Ban Lo Cha and Mae Salong, built by owner Yohan and the local community using mud, straw and bamboo.
Unbeknownst to us, Yohan's sister was getting married here the following day, and he kindly invited us along to experience a traditional Akha wedding!
We jumped at the chance for this unique opportunity, helping set up for the big day.
Akha history
Akha history is made up of migration from Tibet through Myanmar and Yunnan to Northern Thailand, Northwestern Laos and North Vietnam.
The "Akha Way" is a complicated system of beliefs that involves, amongst other things, memorising and reciting oral myths and the names of male ancestors.
Akha tribes are easily recognised by the spectacular traditional dress, which uses very decorative and colourful details.
Nowadays most Akha residents wear everyday clothes with traditional dress only reserved for special occasions, like a wedding!
This wedding saw the whole village come together starting at sunrise for decoration and food preparations.
The formalities started with a midday blessing ceremony from the parents and elders, followed by hours of feasting.
James was even asked to give a speech, so with a translator by his side, he wished the newlyweds a happy and wonderful life together.
We were so humbled by the welcome and hospitality that we received, it will be something we will remember for the rest of our lives.
Northern Thailand Travel Tips
Here are a few Northern Thailand travel tips that may be useful for your next trip.
Bike
You need an international driving licence to ride a motorcycle in Thailand (obtain from your country of residence before travel).
Police set up checkpoints, especially in Chiang Mai. The fine is 500 baht, but more importantly, if you don't have an international licence your insurance is unlikely to cover you.
Food
A cheap eat of Khao soi or noodles at a local hangout will cost around 50 baht, with local beer costing around 70 baht.
Water
You'll see water machines dotted around the whole of the North as drinking water is still not readily available from the tap.
1 baht for one litre is amazing value compared to 15 baht in the shops. You'll also feel good about actively reducing plastic waste.
Transport
Never sit at the back of a bus or minivan, it will be a bumpy and very unpleasant journey; the middle seats away from the wheels or engine is our seating hack. It's also good to know that the back of buses are reserved for monks.
When to Do The Mae Hong Son Loop
Thai New Year – Songkran
If you can visit around Thai New Year, join the celebrations of 'Songkran' or more widely known as 'The Water Festival', which takes place in April; an unforgettable experience.
Thousands of locals and visiting tourists join in the wildest and biggest water pistol fight in the world!
This huge celebration is lots of fun (obviously), but is also culturally significant, as the water symbolises the washing away of the past year's misfortunes and welcomes good luck for the new year ahead.
Celebrations take place all over Thailand, but head to Bangkok or Chiang Mai to experience the largest and craziest celebrations.
Prices may peak during this time, but it is totally worth it!
A big thank you to Shewe Wana Resort, Kiyora Spa and Chiang Mai Thai Cookery School for hosting A Lovely Planet.
Travelling to Thailand? Check out our travel guide to the Andaman Coast