You may have realised from reading this blog, that I'm totally obsessed with Italy and Italian food! So I decided to ask fellow bloggers for their favourite foods from all over the country, to create the ultimate eat list for Italy!
Must Eat Food in Italy & Where To Eat It
Campania
Buffalo Mozzarella in Campania
By Hayley from A Lovely Planet (me!)
One of Italy's most celebrated and widely used cheeses comes from the beautiful region of Campania. Buffalo Mozzarella DOP (Denominazione di Origine Protetta) is made from the milk of Italian Mediterranean buffalo and must be made under strict regulations and methods, in certain locations. The rich and creamy cheese is often used on pizza, eaten in salads or enjoyed on its own. Delish!
Emilia Romagna
Balsamic Vinegar in Modena
By Maggie from The World Was Here First.
If you're serious about Italian food, then visiting the Emilia-Romagna region of Northern Italy is something that needs to go on your Italy travel wish list. Home to delicacies like Parmigiano Reggiano, Proscuitto di Parma, Mortadella, and many others, the region is truly a food-lovers paradise.
If you want to learn more about some of Italy's most famous culinary exports while visiting this wonderful country, then make sure to add the beautiful city of Modena to your list. Not only is Modena itself an absolutely gorgeous city to visit, but it is home to traditional balsamic vinegar and it is nothing like the stuff you can find on the supermarket shelves back home.
A tradition dating back to the 11th century in Modena, balsamic vinegar is produced in acetaias (traditional balsamic producer) scattered throughout the Modena province. Made only from the cooked juices and skins (or must) of Lambrusco and Trebbiano grapes, the vinegar then goes through a process of ageing in a series of six barrels of decreasing size. The vinegar must be aged for a minimum of 12 years in order to be considered traditional Balsamic vinegar.
You can visit many of the acetaias surrounding Modena to see how traditional Balsamic vinegar is made and learn how to taste it. Many of these tours are free of charge too, so it won't cut into your Italy travel budget! All in all, if you're looking for a unique food experience, then you can't go wrong with tasting Aceto Balsamico Tradizionale di Modena or Traditional Balsamic Vinegar of Modena while visiting Italy!
Mortadella in Bologna
By Ayngelina from Bacon is Magic.
Whilst many people visit Rome, Venice and Florence, it is actually Bologna that is known as one of the best cities for food in Italy. In fact, its nickname is La Grassa, or the Fat One. For this reason, eating is one of the best things to do in Bologna,
Although you can eat bologna sausage in Bologna, you need to call it by its Italian name – mortadella. If you have horrible childhood memories of eating cheap bologna (baloney) with white bread at school and refuse to touch it now, you must try it one more time. Italians take this cooked sausage seriously.
It is made with a mixture of pork and creamy pork fat. It is an absolutely decadent afternoon snack with a glass of sparkling prosecco wine.
Tagliatelle al Ragu in Bologna
By Amber from With Husband In Tow
When it comes to pasta in the Emilia Romagna region of Italy, be sure to track down one important dish, tagliatelle ragu. Many travellers in Italy might refer to this dish as "Spaghetti Bolognese," which is an American invention and does not exist in Italian cuisine. Instead, when talking about what to eat in Bologna, Italy, people should be searching for Tagliatelle al Ragu. Tagliatelle is a pasta that can often be confused with many other Italian pasta shapes, including fettuccine and pappardelle, as they are each different variations of similar pasta. Tagliatelle is made by rolling out the pasta until it is so thin you can almost see through it. Then, the pasta is cut with a knife by hand to make it the perfect thickness. If you accidentally make it too wide, it turns out to be pappardelle. Too thin, and it is tagliolini. Regardless of its width, in this case, it is best served in Emilia Romagna with meat ragù, a typical Bolognese sauce.
Lazio
Carbonara in Rome
By Kate from Our Escape Clause.
On more than one occasion, I've considered buying a ticket to Rome simply to enjoy a perfect pasta carbonara.
Rome is known for four pastas – gricia, amatriciana, cacio e pepe, and carbonara – and whilst each and every one of them is utterly delicious and deserves a sampling while in Rome, carbonara will always be my favourite.
The history of carbonara is obscure, though the name is fairly recent, dating to the mid-twentieth century. This creamy pasta and pancetta dish, though, has been enjoyed in Italy for who knows how long! Ideally made with fresh pasta (I personally love it with rigatoni to scoop up all the delicious pancetta), carbonara is tossed with cheese (pecorino and parmesan), crispy pancetta, egg, and a generous helping of black pepper.
Though outside of Italy pasta carbonara is often prepared with cream, the traditional (and superior, in my opinion) version doesn't have a bit of it: the creaminess of the dish comes from the cooking technique and the egg, not any actual cream.
Like so many iconic Italian dishes, it is simple and yet exquisite – one helping is sure to leave you ridiculously full, but also desperate to have more the following day. Consider pairing it with a glass of Italian red wine and following it up with pannacotta for a truly indulgent Roman meal experience!
Supplí in Rome
By Susie & Stephen from Dreamers Who Wander.
Think about a deep-fried ball of delicious risotto al ragú (an oval to be precise!) with a cheesy surprise in the middle: it's a supplí! This simple, mouthwatering and cheap Italian speciality it's a typical Roman food and can be found in any pizzeria/rosticceria in the region of Lazio.
The classic recipe used to make these balls of pure goodness is pretty simple and uses few ingredients: rice, tomatoes, minced beef, wine, mozzarella, breadcrumbs, eggs, extra virgin olive oil, salt and pepper. Italian grandmothers prefer to use leftover rice from the day before to make supplí, as the rice is stickier and the balls hold together nicely.
The story behind the name of this Roman dish is fascinating. The name supplí originally comes from the French word surprise, referring to the mozzarella found in the middle of it (surprise!). According to the legend, it was thanks to the French soldiers in Rome during the Napoleonic occupation (end of 1700) that this Italian street food got its name. Apparently, the hungry soldiers biting the tasteful deep-fried rice ball wouldn't stop exclaiming "Surprise! Surprise!" once they revealed the hot and stringy mozzarella hidden in the middle.
Cacio e Pepe in Rome
By Katy from Untold Morsels.
When in Rome you will no doubt try a lot of pasta, but at the top of your list should be Cacio e Pepe. One of the most famous and ancient pasta dishes, cacio e pepe is a simple rustic dish full of flavour and one that will transport you back to Roma with one bite.
Proof that sometimes the simplest things are the most delicious, this pasta dish has only a handful of ingredients. Cacio e pepe is made with grated pecorino romano cheese (cacio in Roman dialect), peppercorns and the water that the pasta was cooked in. This delicious sauce is added to tonarelli – a long, thick, square-shaped noodle – perfect for slurping up the creamy sauce.
It is how the ingredients are combined that make this dish so special. The cheese should be at room temperature and the water not too hot so they combine smoothly with no clumps.
The key to tasting the best version of this dish is, as always, the quality of the ingredients. You can try a delicious cacio e pepe at Flavio al Velavevodetto [Via di Monte Testaccio, 97, Rome]. Their version of cacio e pepe was one of my favourite meals in Rome.
Liguria
Trofie con Pesto alla Genovese in Liguria
By Dhara from It's Not About the Miles.
If you visit the Ligurian Coast of Italy (the magical Cinque Terre, for example), don't forget to try the local trofie pasta with Genovese pesto. It's absolutely delicious! If you enjoy wine, a glass of pigato, the local white wine, is the perfect pairing.
Liguria is famous for its basil. Pesto originated in Genoa, and is still made the traditional way in many places in Liguria. Fresh basil is ground manually in a mortar and pestle with parmesan cheese, local olive oil, pine nuts, and salt, for a coarse consistency and great flavour. The short twists of trofie pasta are made locally as well, and their shape is designed to hold the pesto sauce.
You don't have to go far in Liguria to find trofie with pesto. Almost all restaurants carry their version of the local speciality. I had trofie with pesto at Il Frantoio in Lerici, a small coastal town just a few minutes from the Cinque Terre. My dish featured small diced potatoes and green beans, folded into the perfectly cooked pasta and flavorful pesto sauce. Yum! It was so delicious I had it two nights in a row.
So if you visit the Ligurian Coast, make sure you try the trofie with pesto, for one of the best meals you will enjoy on your trip!
Lombardy
Cotoletta alla Milanese in Milan
By Greta from Greta's Travels.
Cotoletta alla Milanese, as suggested by the name, is one of the traditional dishes from Milan. It's a meat-based dish composed of veal steaks that are dipped in an egg mix, then coated in bread crumbs and deep fried. The meat remains tender with a crispy fried exterior. It's usually served with a squeeze of lemon over the meat, then either fresh tomatoes, roast potatoes or chips on the side.
The traditional cut of meat is a veal cutlet that includes the bone and remains quite thick. A lot of restaurants today pound the meat beforehand and serve it without the bone, which makes for a much thinner and crispier cotoletta. I personally prefer the traditional cut since you can taste the meat more.
You can eat this traditional dish pretty much everywhere in Italy, but you will find the best ones in Milan and surrounding towns. Being born and raised in Milan I usually had cotolette at home, where I would help my grandma dip the veal cutlets in the egg mix and coat them in bread crumbs.
This dish dates back to 1134, where it is first mentioned in historical records as being served at a banquet for Sant'Ambrogio, the saint patron of Milan. There are some historical controversies as it resembles the Austrian schnitzel, which Austrians claim was around for much longer. The Austrian schnitzel, however, is coated in flower, not in egg and breadcrumb mix like the Italian cotoletta.
Risotto Milanese in Milan
By Margherita from The Crowded Planet.
I'm from Milan, and my hometown's cuisine is very, very underrated, and extremely difficult to find in restaurants – save for one dish, risotto alla Milanese! It's a risotto with the addition of one simple but very precious ingredient, saffron, which lends it a deep yellow colour and a delicious flavour. It can be served as it is, or with the addition of braised ossobuco, making it a full one-dish meal!
The origins of risotto alla Milanese (also known as risotto giallo due to its yellow colour) date back to the 16th century, when the stained glass windows of the Duomo were being assembled. A glass artist had an idea to make his daughter's wedding unique – adding saffron to the risotto. Saffron had been brought to Italy by the Arab and Jewish communities, and it was used by glass makers to turn glass yellow, but nobody had thought to add it to risotto before. The dish was a great success, and it is widely appreciated nowadays.
There are many restaurants in Milan where you can try risotto alla Milanese – my favourite is PanEvo, the restaurant of the Westin Palace Hotel, also offering other Milanese dishes like cotoletta and ossobuco. The only issue is that it's quite expensive – if you want to try risotto Milanese without breaking the bank, your best bet will be trying to find Biroccio, a Milan street food cart specializing in risotto Milanese which is always made to order. Follow their Facebook page for info in their location!
Marche
Olive All'ascolana in Ascoli Piceno
By Mario from Humanitarian
One of the most celebrated dishes in Italy are olive fritte (fried olives) or olive all'ascolana (Ascolan olives). The olives are typical of the town of Ascoli Piceno, in the region of Marche, where they take their name, and the town, in turn, is known for this special dish. Indeed, it is the first thing that comes into an Italian's mind when the name of this beautiful town is mentioned.
There are a variety of recipes for the popular dish. In general, the renowned Ascolan variety of olives have a spiral pitting, which is filled with meat, nutmeg, egg yolk and parmesan. After being breaded, they are deep fried in abundant extra-virgin olive oil, to give them a crispy and tender texture. They can be eaten as an aperitivo with a glass of wine, or as street food in a wrap, while walking around the beautiful historical centre of Ascoli.
Puglia
Orecchiette in Puglia
By Nadine from Le Long Weekend.
Otherwise known as little ears, orecchiette is the typical pasta of the Puglia region of Italy. Made with love by nonnas (grandmas), it's a recipe that has been passed down through the generations. Despite its simple form – it's an oddly shaped circle with a textured surface in the middle and a thin ridge around the outside – making orecchiette is an art that takes practice! If you were going to be in the area, I'd recommend taking a cooking class (they're widely available!) and learning how to make this traditional dish from the experts. The people of Puglia are very proud of their heritage, and nowhere does that shine through more than when they share their love of the local food with you.
Typically paired with simple vegetables and sauces, it's a delicious staple that you must try when visiting the south of Italy. And when you see orecchiette alle cime di rapa on the menu (as you will if you visit Puglia), don't hesitate to try it. This classic dish of pasta with turnip tops may sound a little odd, but it's absolutely divine! Pair it with local Apulian wine for the perfect midday meal before heading to your nearest swimming hole to hang with the locals.
Frisa in Puglia
By Wendy Werneth from The Nomadic Vegan.
Frisa is a popular starter or appetizer in southern Italy, particularly in the region of Puglia, although I've also come across it in Campania. A frisa looks a bit like a bagel cut in half, except that it's made from a very hard, dry, twice-baked bread.
You can buy them in local supermarkets and grocery stores, but you wouldn't want to bite into one straight out of the packet! They need to be softened up by soaking them in a mix of water and olive oil before serving.
The same dish is sometimes called a frisella (little frisa), which usually means the rings are smaller than the bagel-sized ones. In addition to soaking in diluted olive oil, they are then topped with tomatoes and sometimes other ingredients, such as mushrooms, arugula or eggplant preserved in olive oil. The one shown here is topped with a mix of preserved vegetables and olives.
Frisa are quite similar to a speciality dish from the island of Crete in Greece, called dakos. The main difference is that the dakos of Greece are topped with feta or mizithra cheese in addition to vegetables, whereas the frisa of Italy are cheeseless. This is actually one of many vegan dishes in southern Italy, as the traditional cuisine of this region is largely plant-based.
You can find frisa in lots of eateries throughout Puglia, from snack bars to fancier sit-down restaurants. Some good ones to try are La Rusticana in Lecce and La Navicula in Gallipoli.
Pasticciotto in Puglia
By Cristina Buonerba from The Lazy Trotter.
If you are planning to spend your next holiday in Puglia, you should definitely get ready to try some of the most delicious food you have ever tasted. I am not saying this just because I was born and raised in this region, but because it is actually true!
If you don't believe me (yet), I would like to grab your attention for a few seconds and introduce you to your future favourite best friend: pasticciotto. But before we get started, I would like to warn you: beware of whoever asks you to try one outside Lecce and the Salento area. Pasticciotto pastry comes from this specific area of Puglia.
We love it for breakfast, morning break, after lunch, as a snack during the afternoon and why not, even in the evening or after dinner. There is always a good moment to indulge yourself with a warm piece of this delicious pastry filled with custard filling. You can find it everywhere in Lecce and around the Salento area, but if you wish to try the real pasticciotto, you should head to Galatina, a lovely little village in the Salento area, and go to Pasticceria Ascalone. According to the legend, pasticciotto was invented right in this shop many moons ago. Buon appetito!
Sardinia
Culurgiones in Sardinia
By Claudia Tavani from My Adventures Across The World
As with the rest of Italy, food in Sardinia is delicious and one of the best things to do in Sardinia is trying all the local specialities. One of the must-tries when on the island is "culurgiones" – a ravioli kind of pasta that is typical to some villages of Ogliastra and Barbagia, two neighbouring areas of central Sardinia. Each village has its own recipe for them, and each claims to own the secret to the best culurgiones, and the only original version of them. To be fair, they are all good – yet the ones from Seui, a mountain village at about 1 hour and 30 minutes drive from Cagliari, Sardinia's capital, have something special about them. Here, culurgiones are made with very thin fresh pasta which is filled with a mixture of boiled potatoes, a pinch of ground garlic, mint, olive oil, and a cheese which in Sardinian is called "casu de fitta" (cheese in slices) and is kept in brine. Though even locals eat culurgiones with a tomato sauce and grated pecorino cheese, locals of Barbagia and Ogliastra eat them boiled with just pecorino on top, so that they can savour all the ingredients.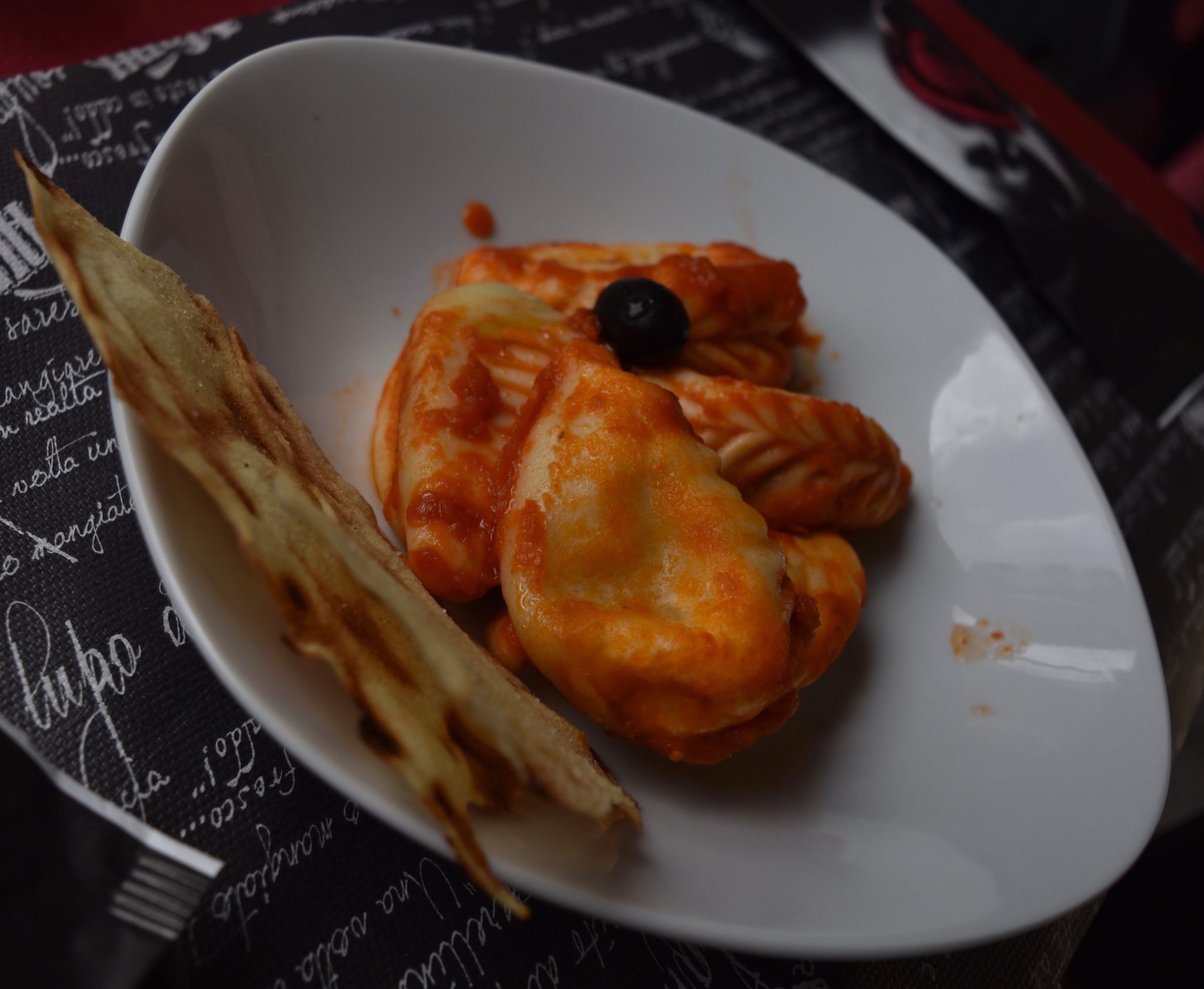 Sicily
Sfincione in Palermo
By Lance & Laura Longwell from Travel Addicts.
When it comes to street food, nearly every culture has a version of Sfincione (often pronounced spinciuni in Palermo). While they vary, the common elements are always bread, tomatoes, and cheese. But to call sfincione a pizza is to completely miss the point.
Fundamentally, sfincione is a half-loaf of thick Sicilian focaccia bread. On your focaccia bread, a little olive oil is added, then topped with crushed tomatoes and onions. This is then covered with a hearty cheese like caciocavallo and then sprinkled with a little bit of fresh oregano. Some people add anchovies or modern ingredients like sliced sausage, but these are not considered traditional.
The origins of sfincione are a working-class peasant food. It could be prepared in the morning, would keep for the morning, and could be consumed for the mid-day meal. It was easily packed and transported.
In the 19th century, Sicilian immigrants to the United States adapted their beloved sfincione to fit their new circumstances. Sfincione evolved into the Sicilian pizza known throughout the East Coast of the U.S. It could be made very cheaply and in large quantities to feed large families.
You can't visit Palermo without seeing the ubiquitous carts on the street selling sfincione. And if you try one you'll be glad you did!
Trentino-Alto Adige
Cheese Knodel/Canederli in Trentino & South Tyrol
By Alison from CheeseWeb.
When you think of Italian regional foods, pasta dishes are likely the first things to come to mind. However, the cuisine of one small, lesser-known Italian region has more in common with Austria and Germany than it does to the rest of the country. South Tyrol and its capital city, Bolzano, are located on Italy's northeastern border with Austria, and you're more likely to hear German spoken than Italian.
The cuisine of South Tyrol is hearty mountain fare, loaded with meat and potatoes and plenty of fresh mountain herbs. Dairy is also prevalent here, coming from the happy cows left to graze all summer long on the mountainside.
While all of the food is fantastic, my favourite local dish is the knödel (also known as Canderli); a simple bread dumpling that is the starch of choice in these parts. Plain knödel are perfect for soaking up the rich sauces of stews and ragu. They can also be enjoyed on their own with a variety of fillings from meat to cheese to herbs.
Although I did my best to try every possible variety of available in South Tyrol, it was the simple cheese knödel that won my heart. The bread is mixed with chunks of cheese and boiled first before being lightly pan fried with butter. Before serving, it's topped with a generous mound of grated parmesan. It's the perfect warming street-food snack when you're exploring the Christmas Market in Bolzano.
By Teresa from Brogan Abroad
Canederli are bread dumplings that are typical of Trentino, in Northern Italy. They are normally served as a first course or as a side dish. Considered part of the 'cucina povera', which is the food the poor in Italy used to eat, now a style of cooking that makes use of whatever happens to be present in the kitchen.
One of the best things to do in Trentino, or anywhere in Italy, is taking a cooking class. So of course, I took the opportunity and visited an agriturismo or farm stay where I learnt to make canederli. I made two types, one set of dumplings with speck and another set with cheese, combining bread, milk, eggs, and sausage meat and speck in one, and replacing the sausage meat and speck for casolet cheese in the other. Once everything was well mixed, I shaped the dumplings to the size of a golf ball, adding flour to stop them from sticking, and they were sent to the kitchen to boil.
About an hour later, which I spent entertaining myself with the farm animals, the canederli were ready to eat. We combined them with cured meats, olives, tomato and mozzarella salad, delicious bread and many more small dishes. They were simply delicious!
In Trentino you can find canederli in every traditional Italian restaurant, and I recommend trying them in any of the many refugi (mountain huts) in the area.
Tuscany
Bistecca alla Fiorentina
By Maggie from Pink Caddy Travelogue.
When it comes to Italian food, people don't usually think of steak. But one of the most famous dishes in Florence is exactly that – a giant T-bone steak.
Bistecca alla Fiorentina is served in nearly every restaurant in Italy's Tuscany region. "Bistecca" comes from the English "beef-steak," which was the term adopted for the dish in 1565. To celebrate the wedding of Paolo Orsino and Isabella, daughter of the Duke of Florence, a whole ox was roasted in Piazza San Lorenzo and distributed to the people. Being an important trade city, there were usually a number of non-Italians in town, and on this day a number of British knights were passing through. At the site of the steaks, the knights yelled out "beef-steak!" The Florentines liked to give their dishes exotic names, so "bistecca" became the name for their now-famous steak.
The is relatively simple, using only a handful of spices and a drizzle of olive oil. That's because this dish is all about showcasing the quality of the cut of beef used. In Italy, the steak is typically from Chianina cattle — an ancient Tuscan breed known for its prized and tasty meat. It's then grilled over hot coals and served rare (though tourists aren't judged too much if they ask for medium!)
If you order Fiorentina, be prepared to share. Most restaurants serve a steak large enough for 2-3 people to eat and still be full. After a day spent exploring Florence's famous art museums, the Duomo, or fashion district, a glass of Tuscan wine and bistecca alla fiorentine is the perfect way to cap off the evening.
Umbria
Spaghetti al Tartufo Nero in Norcia
By Julianna Barnaby from The Discoveries Of.
If you travel to Umbria, one of the dishes you absolutely shouldn't miss is spaghetti with black truffles. This simple dish showcases the "black diamonds" that are found in abundance throughout the region and prized as a mainstay of Umbrian cuisine.
Umbria is one of my favourite regions in Italy. With its strong regional heritage, delicious cuisine and high-quality vineyards, it's the perfect destination for an Italian trip. It is also one of the main truffle-producing regions in Italy and the local cuisine uses them frequently, but this dish is my favourite. The ingredients are simple – spaghetti, olive oil, garlic and fresh black truffles – the fact that there's barely anything to this dish really allows the pungent flavour of the truffles to shine through.
While the dish is widely available throughout Umbria, I went on a truffle hunt with the chefs at the well-known Ristorante Piermarini. We learnt about the history of truffle hunting and the process of finding the black diamonds before bringing our treasured truffles back to the restaurant where the chef cooked them into spaghetti. It was an unforgettable experience, and one I remember every time I make the dish at home.
Aosta Valley
Pan Ner/ Black Bread in the Aosta Valley
By Gemma from A Girl & Her Dog On The Road.
In October in the Aosta Valley, nestled in the Italian Alps, there is an annual event celebrating local bread making. All the traditional community stone ovens in the villages are lit up and the regions traditional Black Bread is baked.
This simple and rustic bread is made with just wheat and rye flour, a little yeast and some water. The skill is all in the kneading of the dough and how long it is left to rise. It is lovely fresh but it is also often preserved. In days gone by, this was ideal for the isolated high mountain villages. It was then dipped in hearty broths or stews. Unlike other regions of Italy, the mountainous Aosta Valley is not associated with pasta, but instead with hearty, starchy foods that don't need to be eaten fresh.
These days Pan Ner is often served with a selection of local meats and cheeses or with some warm chestnuts and yummy honey. I love it when some raisins and walnuts are added to the bread giving it a sweet taste and a crunchy texture.
My favourite restaurant in Courmayeur, Ristorante Chalet Plan Gorret, serves a selection of homemade Black Breads with their meals and they are so delicious. They do a plain variety and a fruit and nut infused one. Perfect to fill you up after a day of hiking or skiing!
Veneto
Cicchetti in Venice
By Jennifer Dombrowski & Tim Davis from Luxe Adventure Traveler.
Italian food is incredibly varied from region to region. In Venice in the northern region of Veneto, cicchetti are a very typical Venetian food to try. Cicchetti are Venice's answer to Spanish tapas or Milan's apertivo, and small snacks are eaten while enjoying a glass of wine and socializing with friends. Cicchetti became popular centuries ago in Venice. "Andémo béver un'ombra?" was an invitation to go enjoy "a glass in the shade" when little carts selling the snacks and glasses of wine would set up in the shadow of the bell tower in Piazza San Marco. As the sun moved in the sky and the shadow shifted, the carts would shift right along with it in order to stay in the shade.
These days cicchetti are sold all over the city in bacari (cicchetti bars). The most popular are crostini, little pieces of bread topped with something like a piece of charcuterie or cheese. Cicchetti are usually entirely unique to each bar and sold individually for €1 – €2.50 per piece. Order 3-5 and a glass of house wine, then take your plate and enjoy it all while standing around the bar or just outside with friends. You can also book a Venice food tour, which Jennifer & Tim of Luxe Adventure Traveler (us!) who lived in a small village nearby Venice for seven years, highly recommend on a trip to the city.
Tortellini in Valeggio-sul-Mincio
By Tamason Gamble from Travelling Book Junkie
Tortellini has become famous across the world and while everyone knows that it comes from Italy, very few people know the history behind the well-known little knot of pasta.
Based on a local Italian legend of undying love, Tortellini pasta, also known as 'Nodo d'Amore', is widely eaten, but what better way to enjoy it then at its official home of northern Italy, in Valeggio-sul-Mincio near Lake Garda.
Based on a story dating back to the 13th century of lost love, this pasta dish is now one of the most widely eaten dishes across the country. There is even a festival that takes place each year to celebrate tortellini where over 550,000 pasta knots, both savoury and sweet, will be consumed.
There are many different dishes to try but for a true traditional experience, I highly recommend a big bowl full of either Valeggio's very own mixture of fragrant braised meat while for those who prefer a lighter dish, the Pumpkin (zucca) tortellini with a butter and sage dressing is absolutely delicious. If neither of these appeal, there are more than 15 different recipes to try in some of the town's restaurants but whichever dish you decide upon make sure to follow it with a dessert of chocolate tortellini, a dish relatively unknown to anyone that has not visited Valeggio-sul-Mincio.
What are your favourite Italian foods? Please leave a comment below! Thanks to everyone who contributed to this post.