A Lovely Planet contributors Sarah and James have spent the last month in North Sulawesi, checking out the best dive spots and exploring this lesser-known Indonesian destination. Here is their guide to the province.
A Guide to North Sulawesi, Indonesia
We'd actually never heard of North Sulawesi, a province in Indonesia, until last year. This destination, however, kept coming up as a 'must visit' area from locals and travellers eager to share their experiences.
Offering beautiful lush highlands, rich culture, crystal clear waters and world-class diving, yet rarely visited by many tourists, our bags were packed!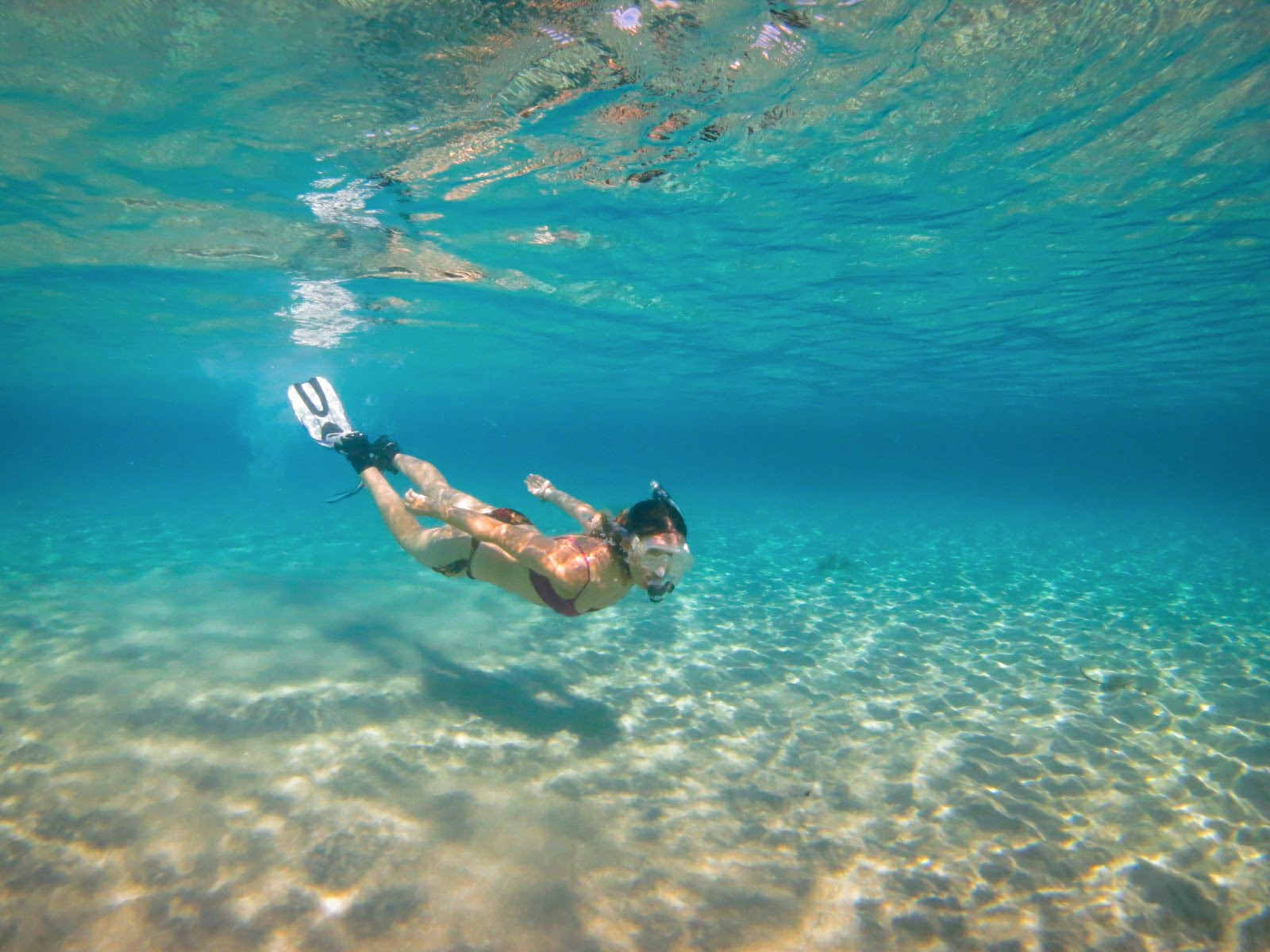 Disclosure: This article contains affiliate links. This means that if you click a link and purchase something I've recommended I may earn a small commission. This does not affect the price you pay but helps me to run this site. You can read my full affiliate disclosure here.
Getting to and Around North Sulawesi
Singapore is the most direct international hub, which services the 3hr flight to Manado.
Flying within Indonesia is easy, with carriers Lion Air, Garuda Indonesia, Silk Air and Nam Air. Expect delays on the budget airlines, so leave time between any connections.
On land it's cheap to get around – local apps Go-Jek or Grab (similar to Uber and motorbikes) really helped us.
A 10-minute car ride generally costs 10k IDR (£0.50) alternatively download the Blue Bird app for the metered taxis or hop on the local shared buses.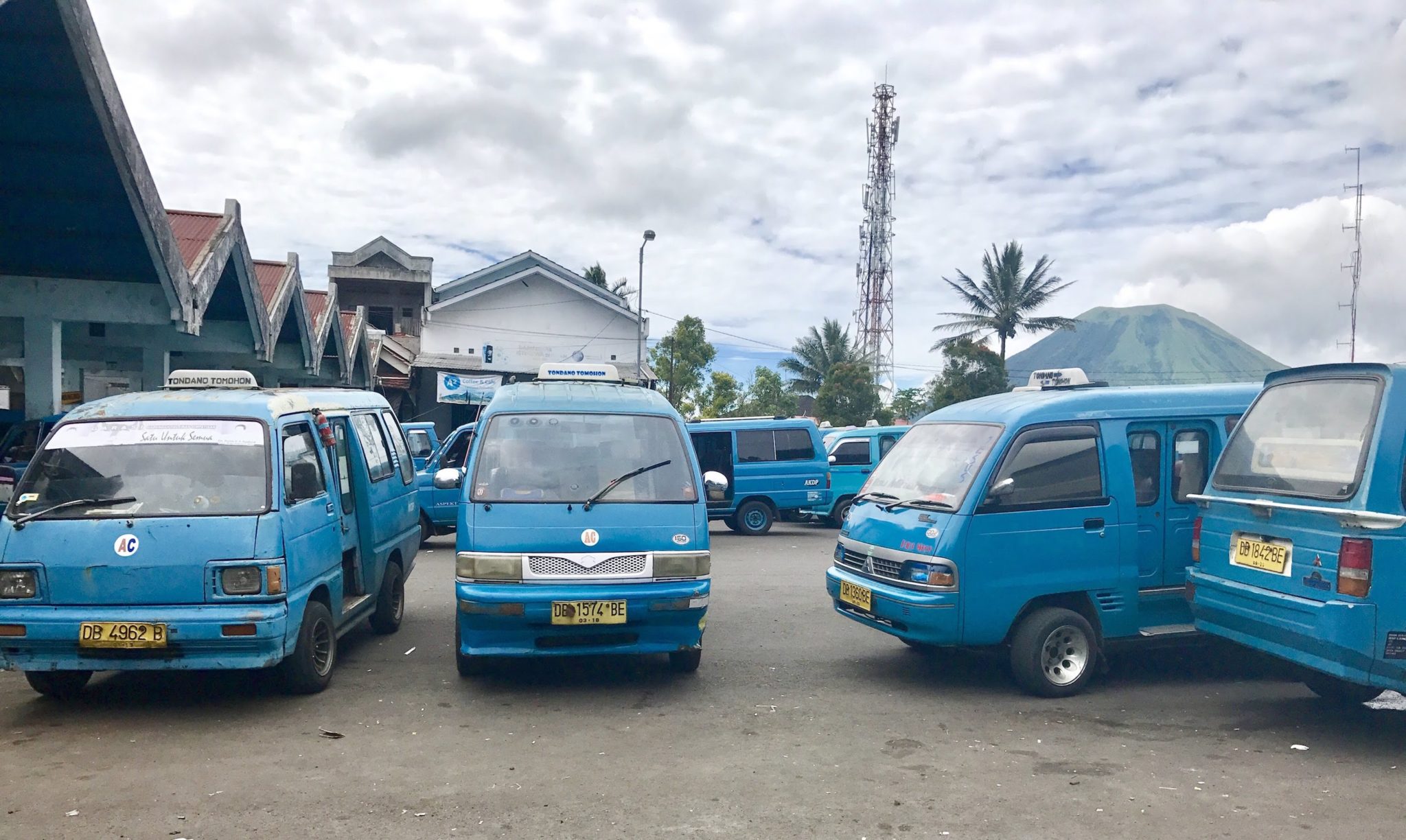 Manado is generally used as a stop-over unless you like shopping malls, lots of them! For a reasonably priced hotel choose the quirky, but no frills Istanaku 2, at 300k IDR (£16) for a room including breakfast.
Bunaken Island
For our first dive location, we jumped on a local ferry at Pelabuhan Manado (Manado port), destination Bunaken Island.
Travelling with the locals, sitting amongst supplies of rice and eggs for a quick 45-minute trip, once you eventually depart.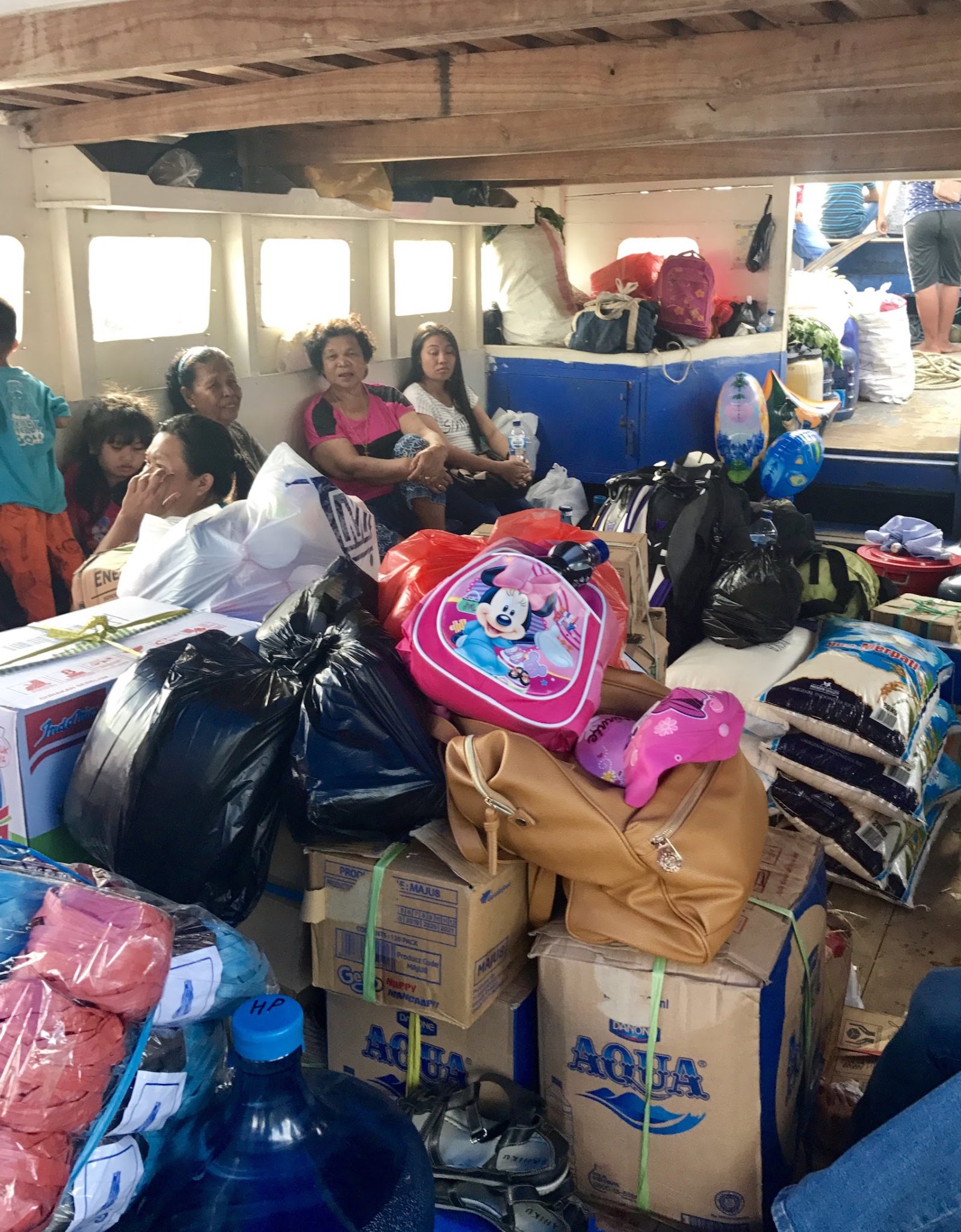 For a more luxurious arrival, charter a private boat at 450-550k IDR (£24 – £29) or organise with your resort.

Resorts and homestays line the East and the West of the island, with the local village in the middle.

Daniels Homestay was our pick, a charming resort and dive shop, at 500k IDR (£26) per bungalow including all meals. Diving at 930k IDR (£48) for two dives a day.

Take a stroll around the town and explore the colourful streets. Stop at Novita's homestay for an iced tea "Es Teh" an Indonesian favourite.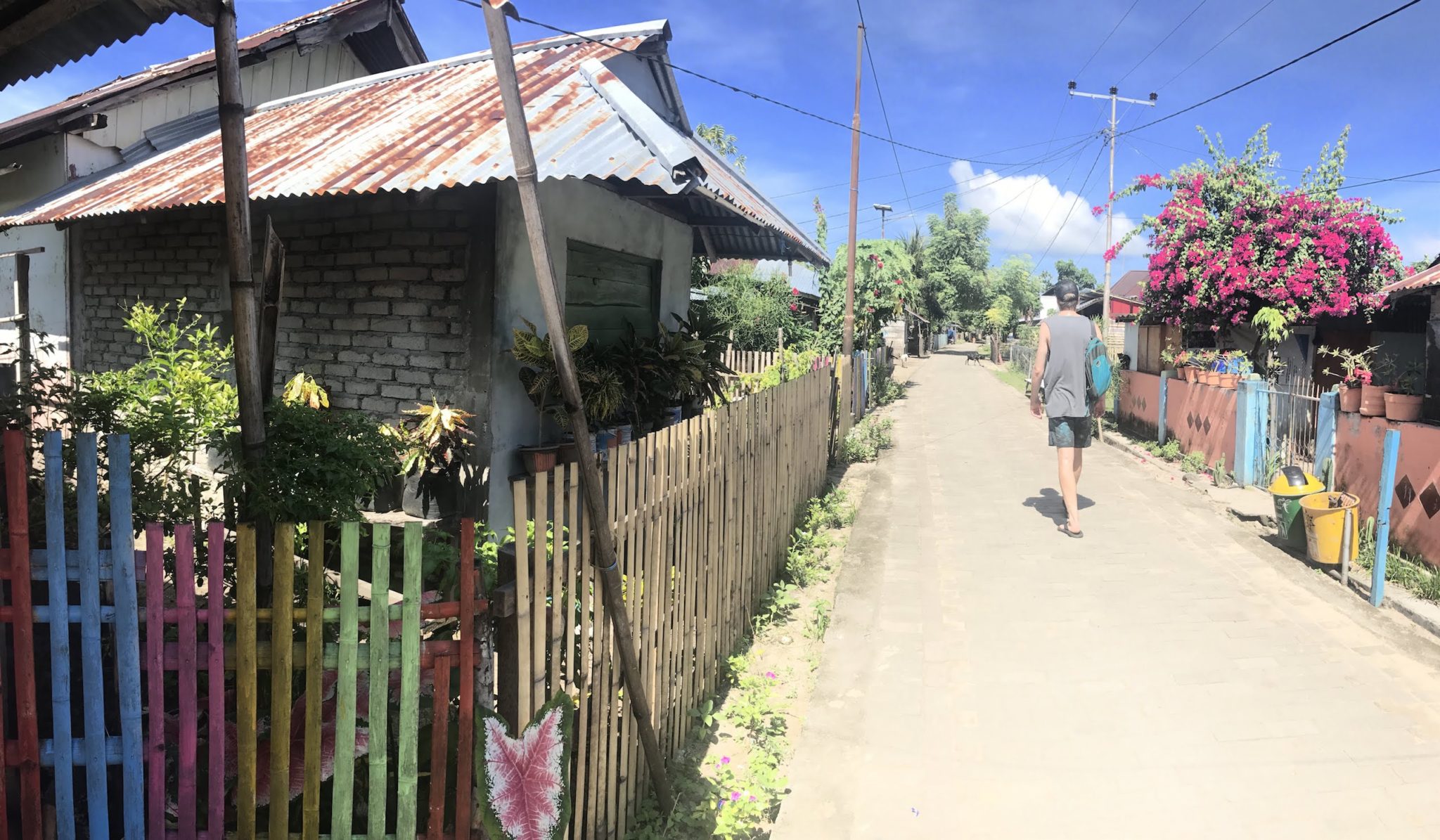 For an evening of chilled Bintang (Indonesian beer) or palm wine head to Deco Stop where a fun local band will be taking song requests of local and commercial hits until the early hours.
Siladen Island
A much smaller island, Siladen, only a short boat ride from Bunaken (15 minutes), is a quieter more relaxing stay with only a few homestays and resorts.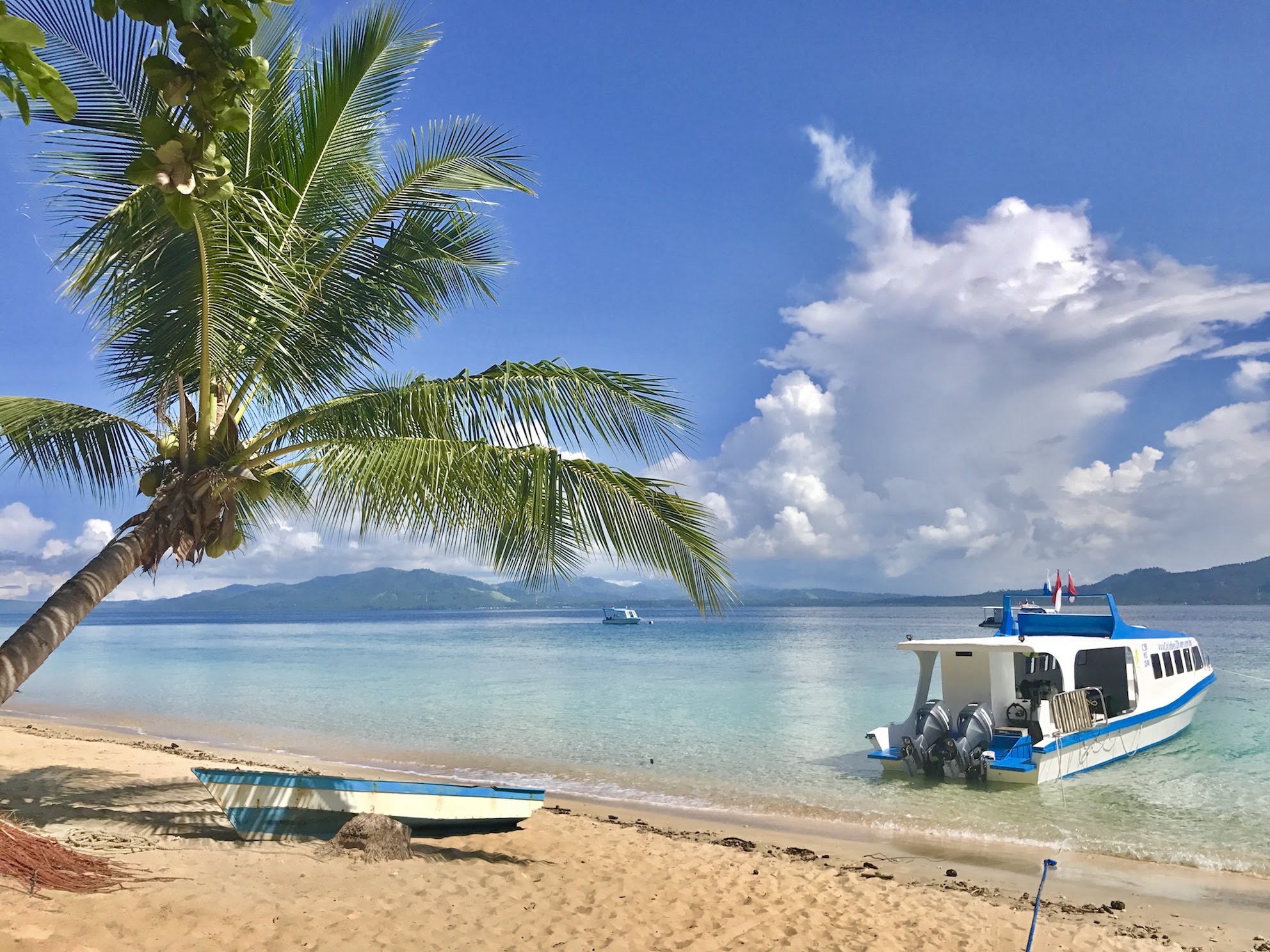 Celebes Divers hosts two resorts both positioned right on the beachfront side by side.

The Onong Resort has all you need, spacious rooms with a gorgeous four-poster bed, balcony and hot water shower.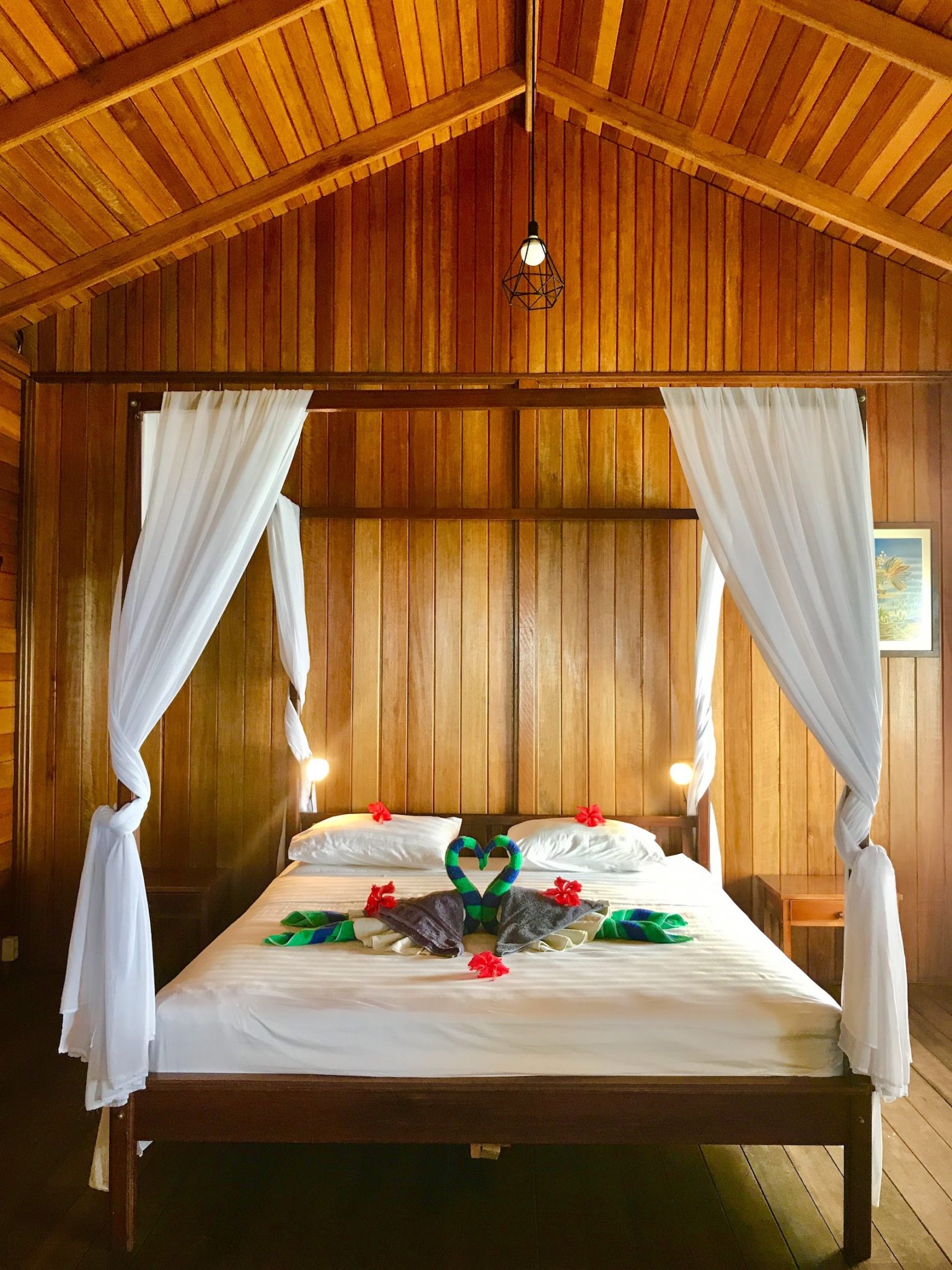 For a more refined affair book next door at The Kuda Laut Resort, a gorgeous setting of day beds, sundecks, and a sparkling swimming pool.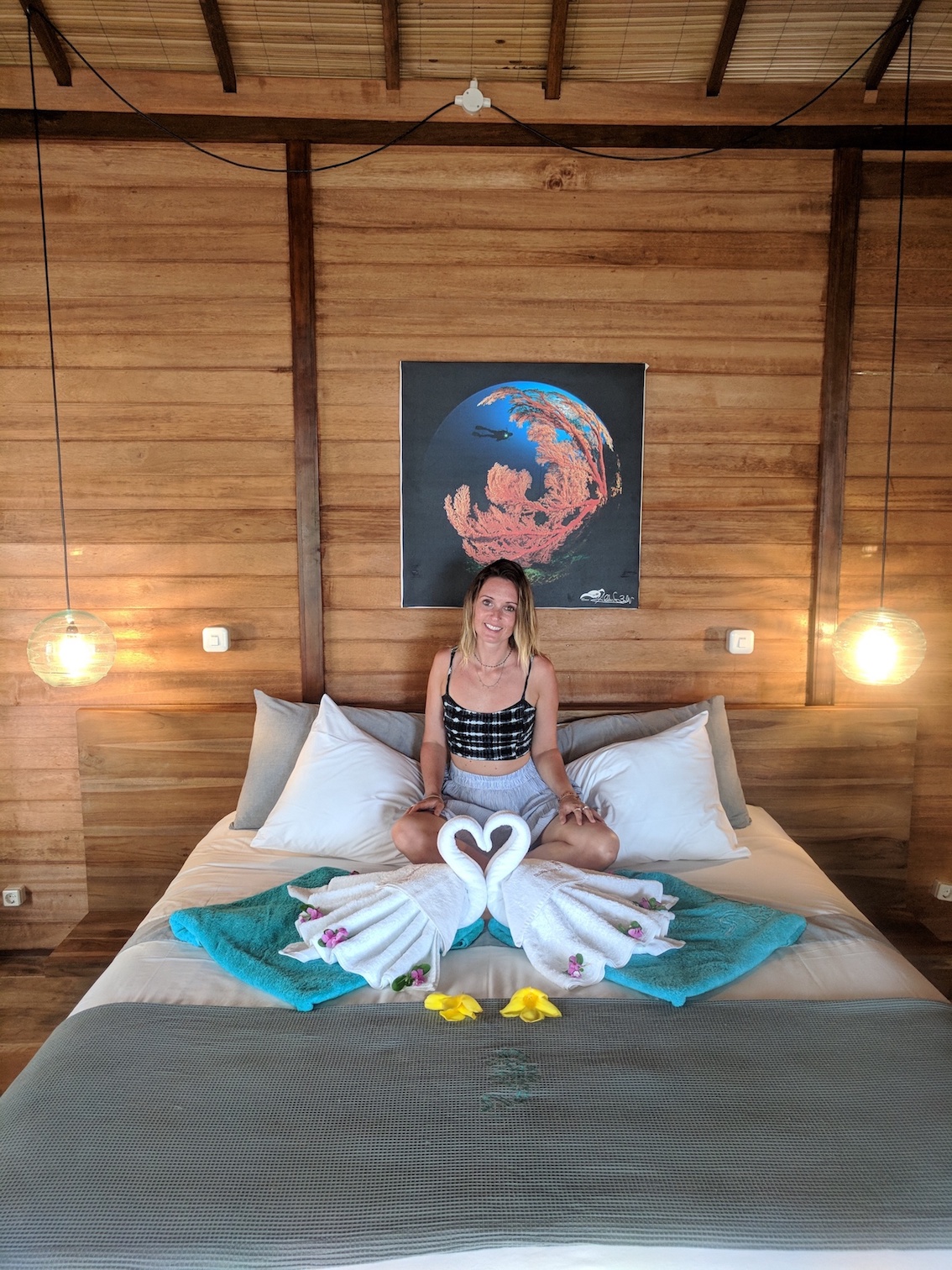 The bungalows are beautifully decorated and the best bit… a dream outdoor shower that opens right onto the beach.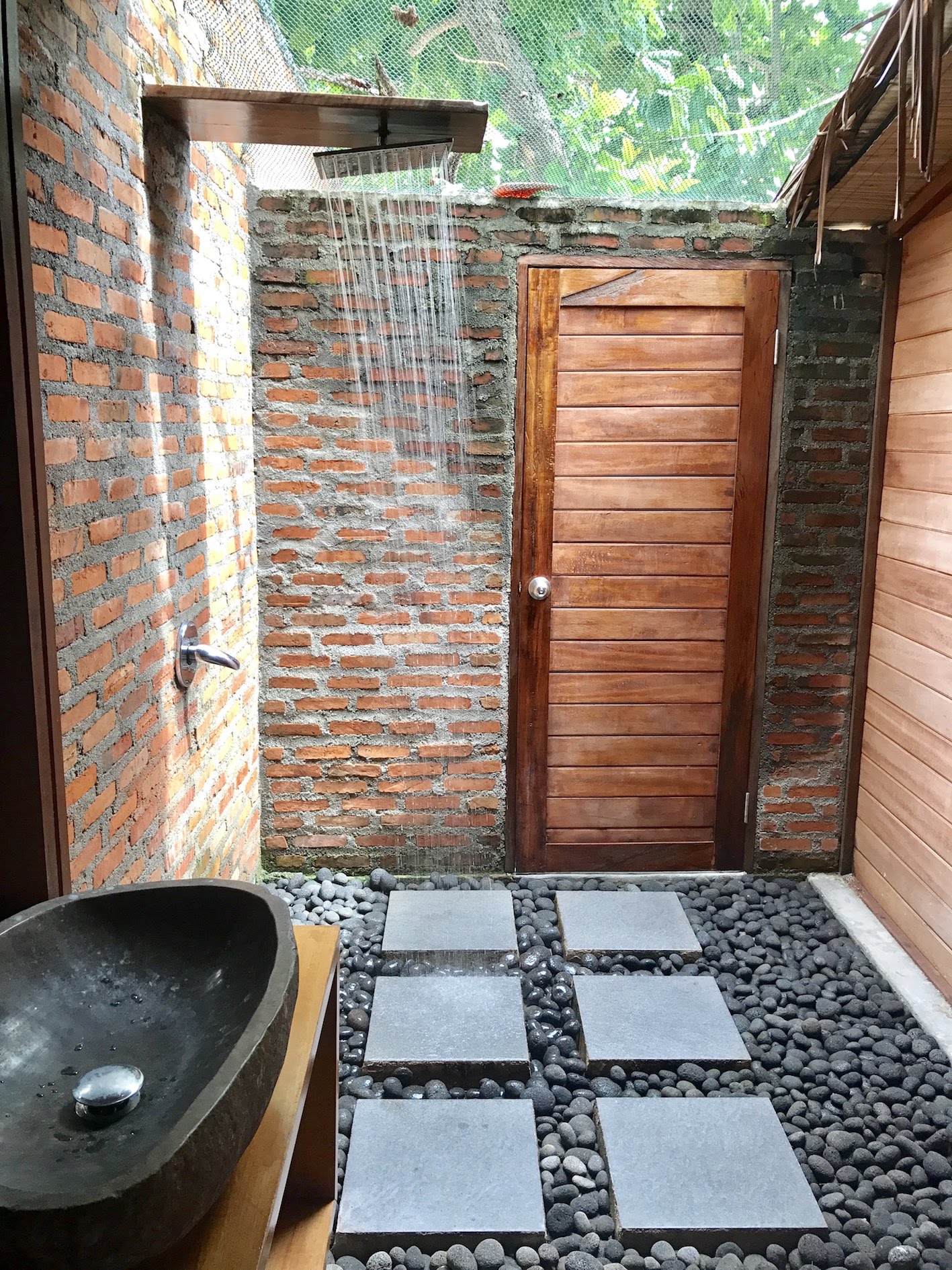 Celebes Divers services both resorts and has excellent facilities, even a camera room for those underwater photography enthusiasts.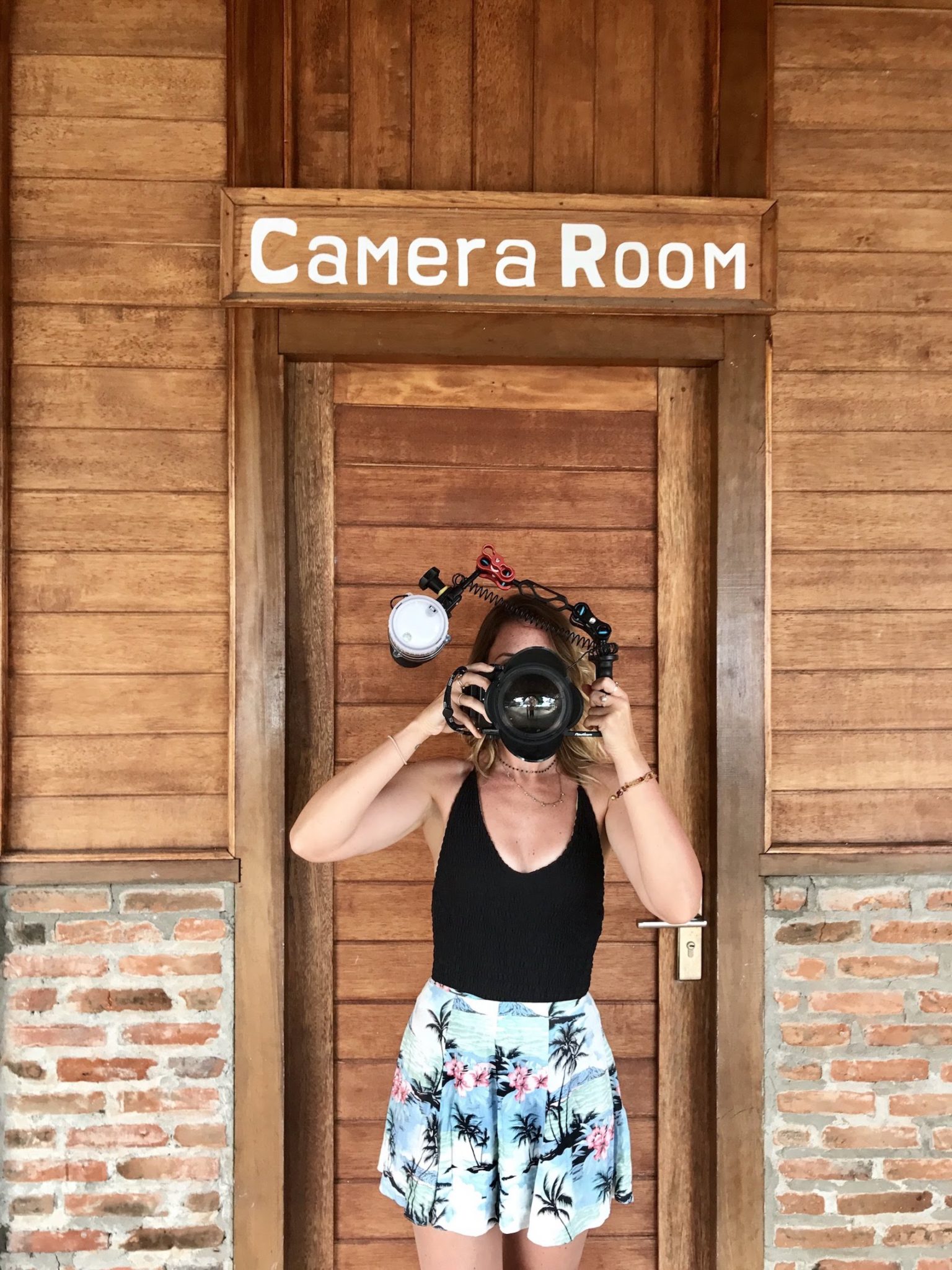 The diving here is all about the vertical wall drop-offs with an abundance of Hawksbill turtles, camouflaged critters and towering sponges – all making the diving in Bunaken National Park some of the best in South East Asia.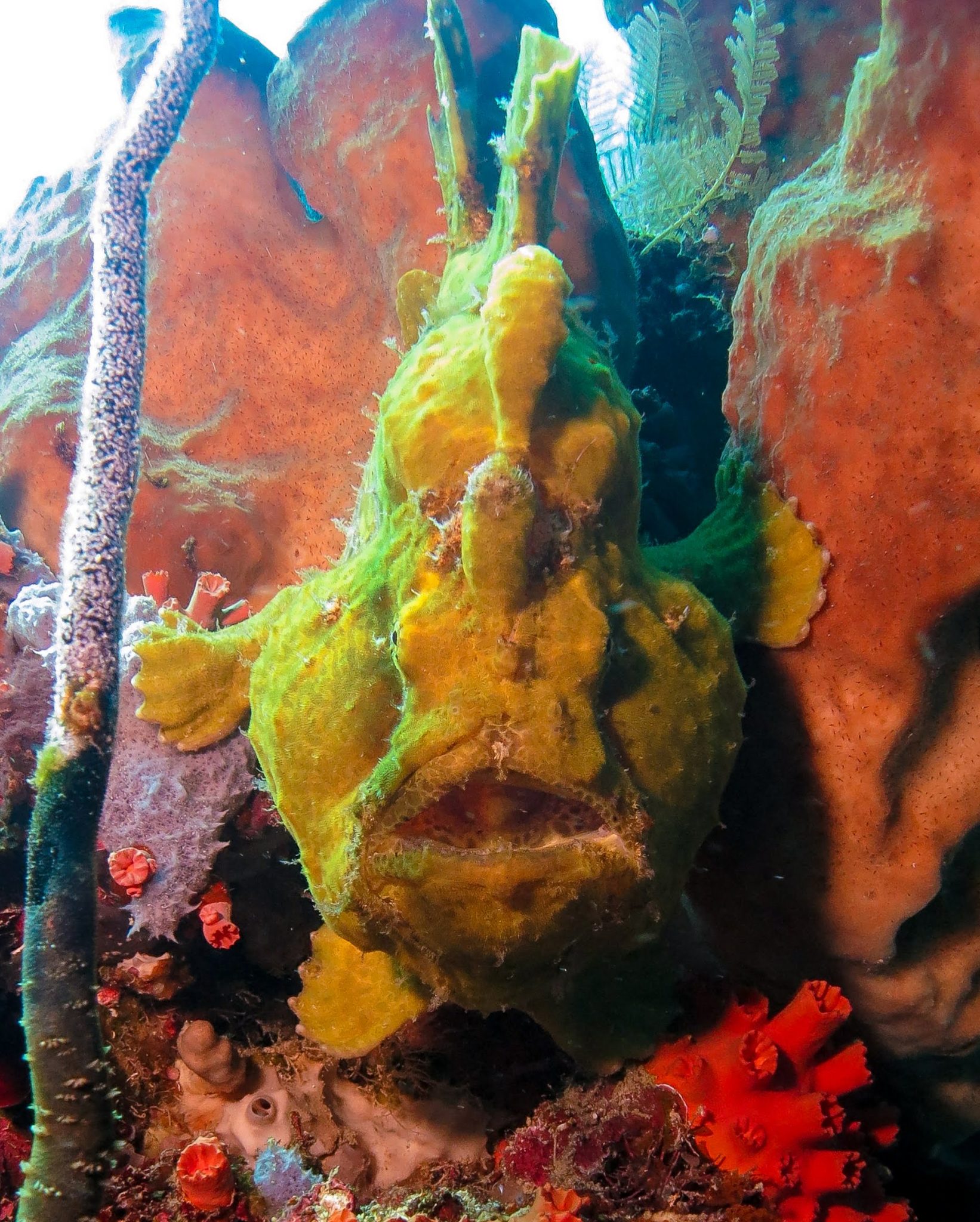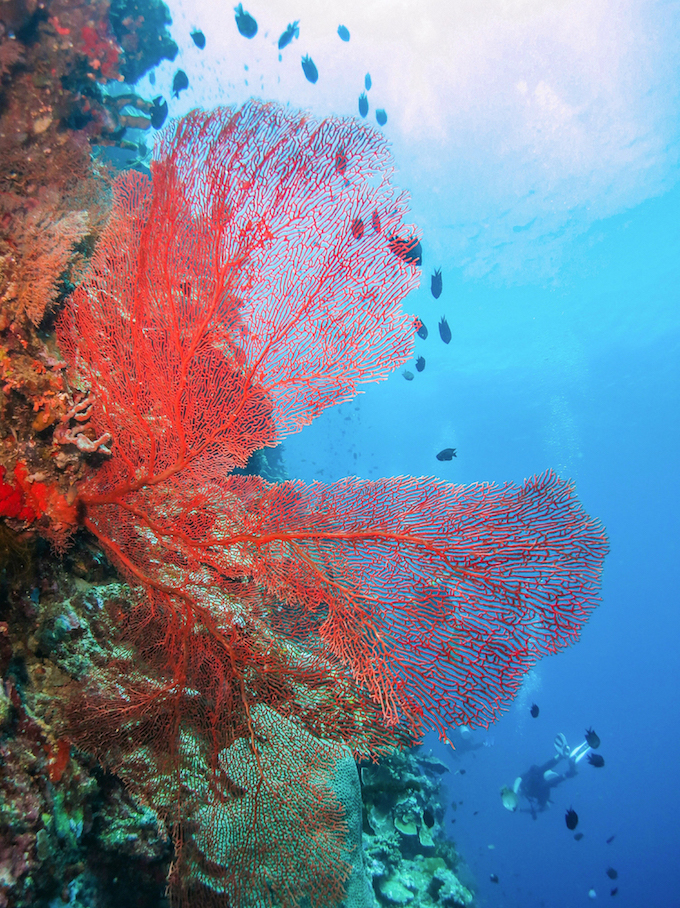 Be sure to opt-in for a night dive, to see even more weird and wonderful critters come out to play. It's truly amazing if you pluck up the courage, but it's not for everyone.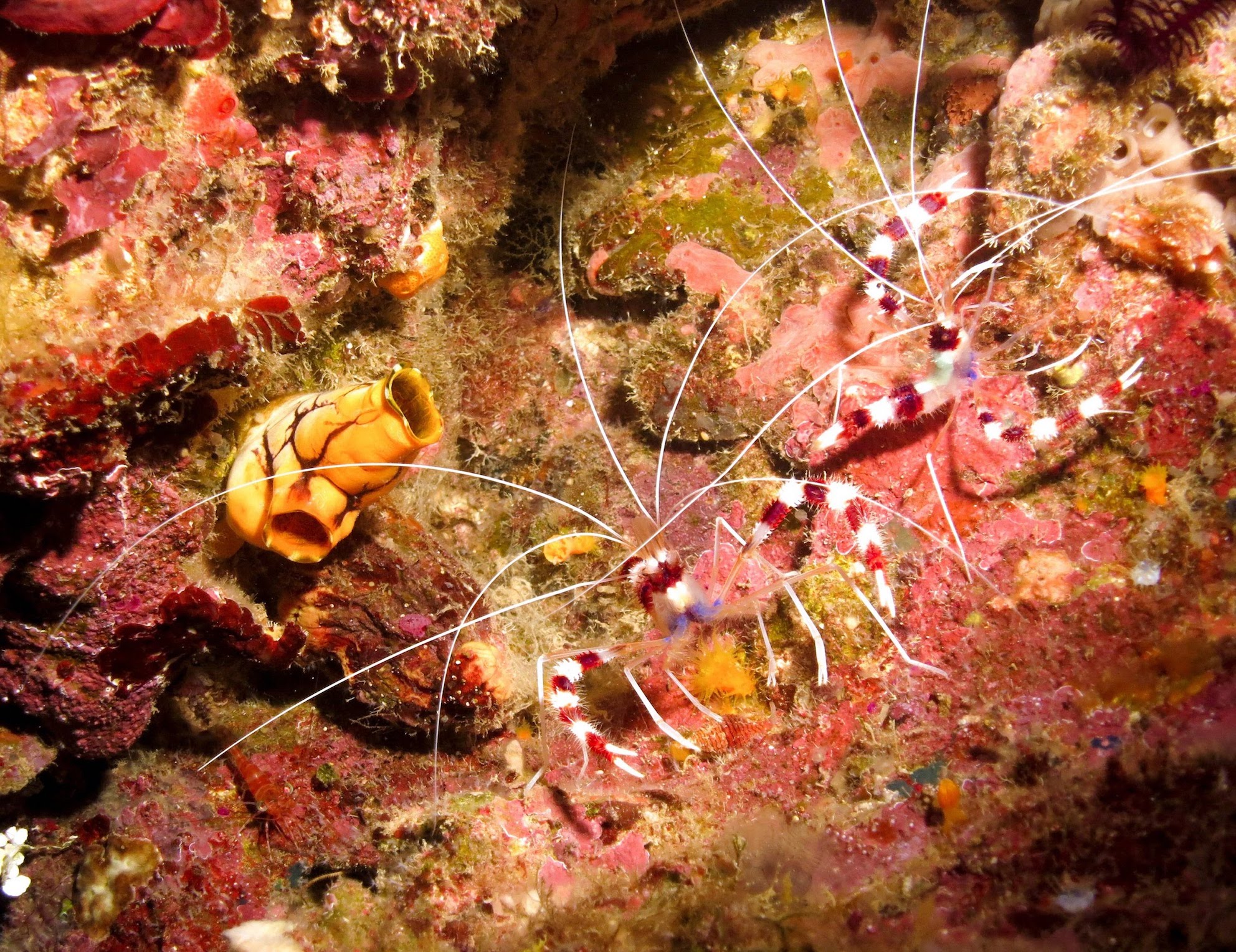 For the non-divers, snorkelling here is great. Both Kuda Laut and Onong resorts offer snorkel trips and also a spa service.

There's also a variety of day trips from the island. We joined a morning of dolphin watching and we were not disappointed! We found a superpod of hundreds of Spinner dolphins who gave us an incredible show for over an hour and a half, living up to their name, twirling and spinning out of the water to impress their spectators.
Minahasa
Central Minahasa is a unique stop between dive destinations Bunaken and Lembeh, accessed by taxi (1hr) from Manado. Offering a huge variety of local activities from water rafting, volcano and waterfall trekking, to culinary experiences not for the faint-hearted at the local Tomohon market.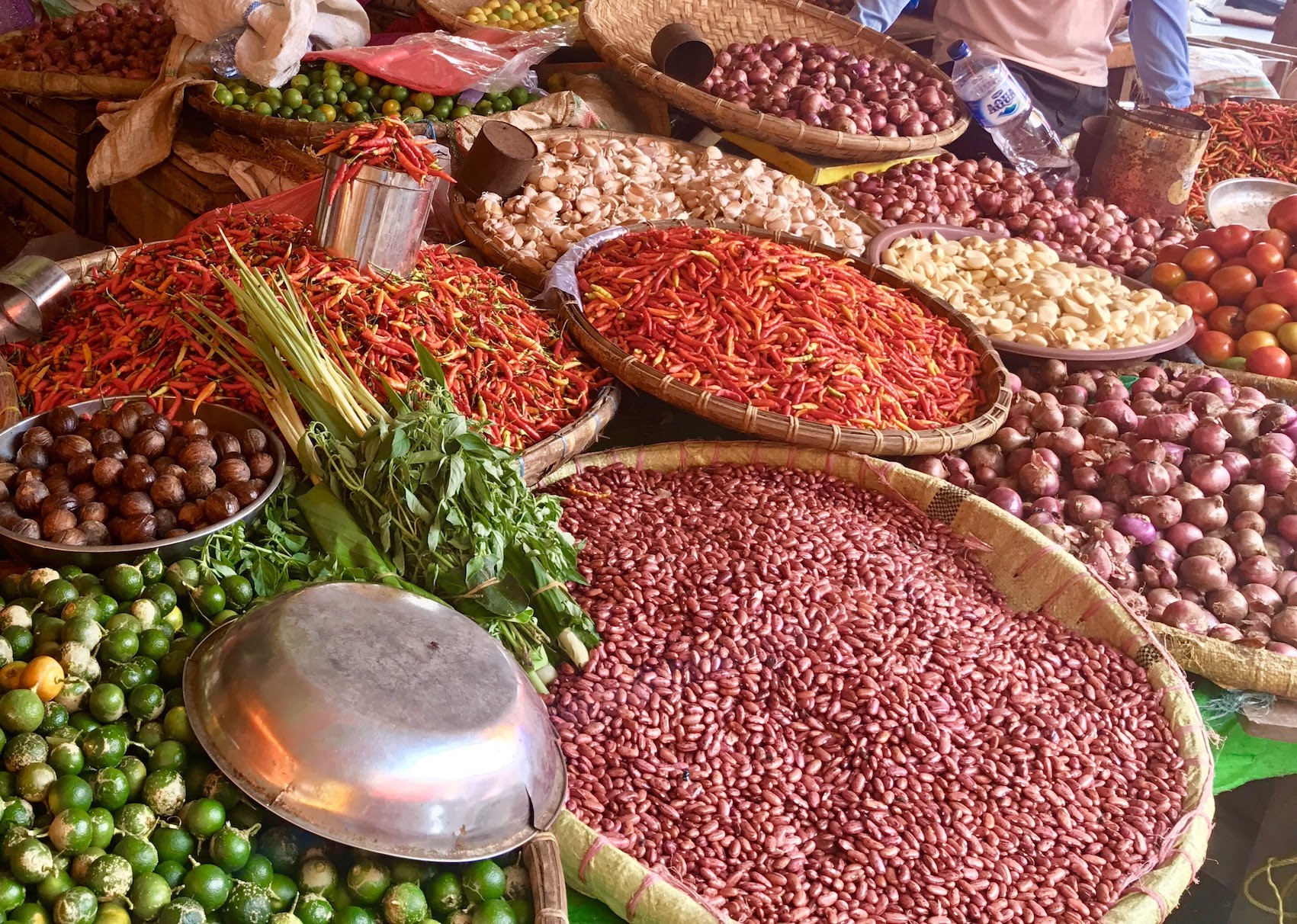 Staying at The Mountain View Resort, the experienced guides tailor activities to your interests, so we quickly had an itinerary to suit.
Our local guides Mikel and Egi, always on the hunt for new experiences, discovered a new waterfall only known by a few locals. With a 50 minute trek through tight corners and sloping terrains, we made it to the beautiful setting of Pararangen Waterfall, the first tourists to visit this waterfall, ever!
Restaurant We'Lu is the best lunch stop, with views of the active Lokon twin volcanoes. The food is delicious and there's even a viewing platform to get the perfect Instagram snap like mine.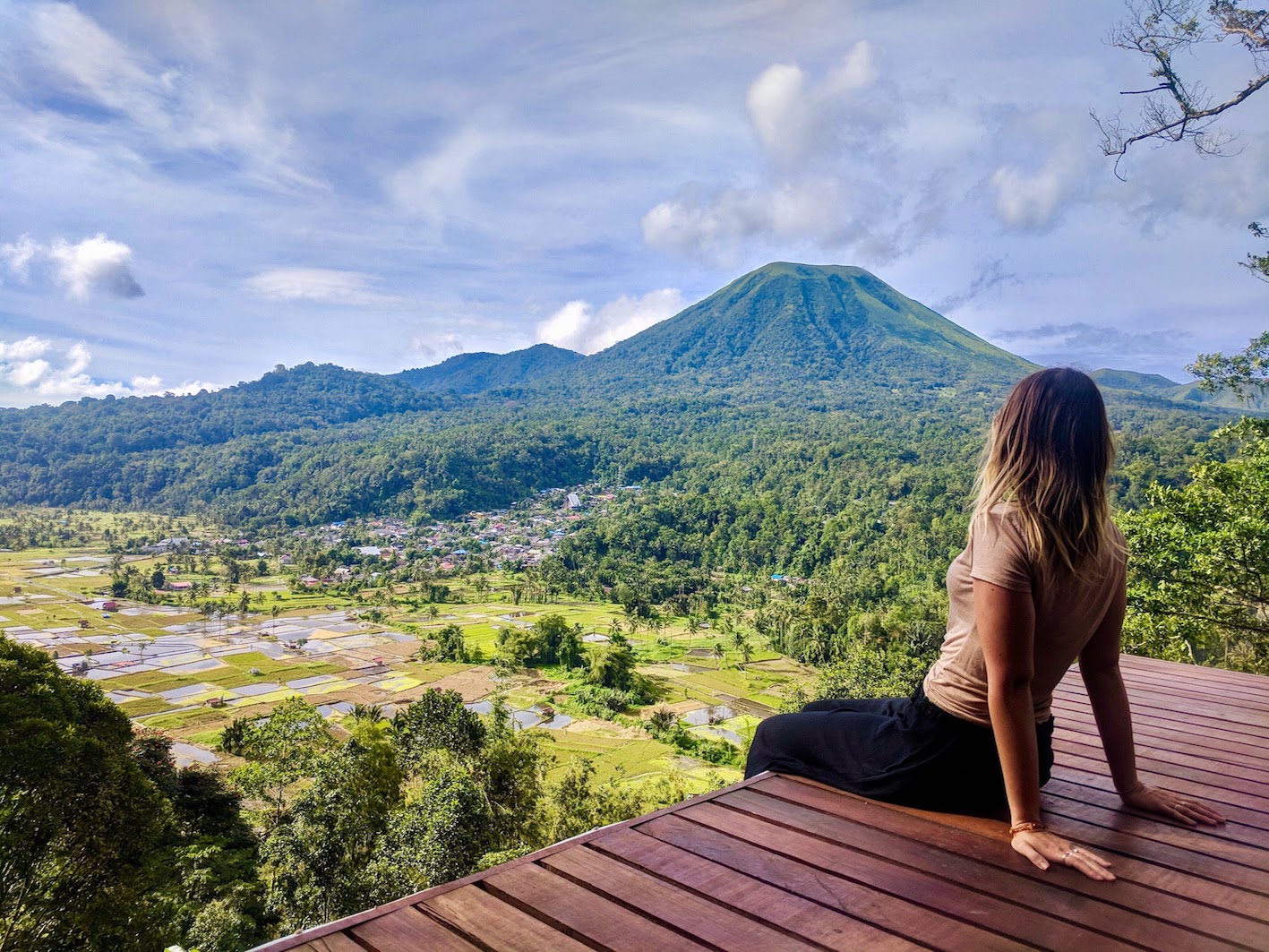 If you're interested in these very active volcanoes, visit the monitoring post which shows recent activity still recorded using Seismographs.
For a walk with more views, Bukit Kasih or Love Hill, an active sulphuric hill will offer just that. If you trek to the very top you'll find not only stunning views but 5 praying places for 5 different religions.
Using the hot water from the volcanic hill, foot spas and massages are on offer at 75k IDR (£4) for 1 hour to soak those trekking feet.
To continue the theme of relaxation, we drove to the local natural hot spring, Ranolewo, to join the locals who come here to soak their sore muscles after a long day at work. With temperatures of a hot bath, it's a relaxing and perfect way to end the day.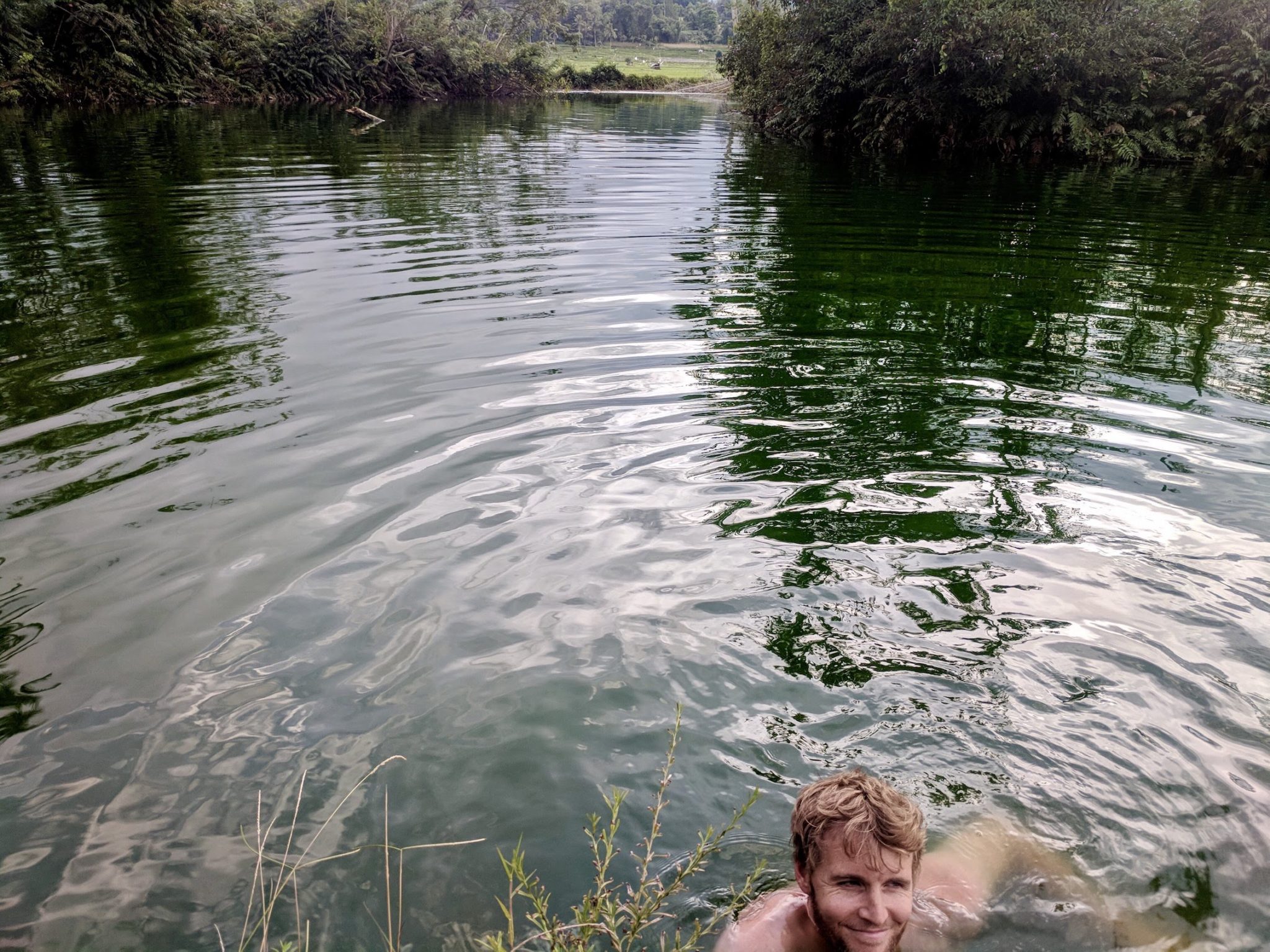 The Lembeh Strait
Leaving Minahasa, the journey takes around 1hr 30 in a taxi (roughly 200K IDR / £10.50) to the Lembeh fishing port, and then a short 10-20 minute boat ride across to the island to our final and unique dive destination, The Lembeh Strait.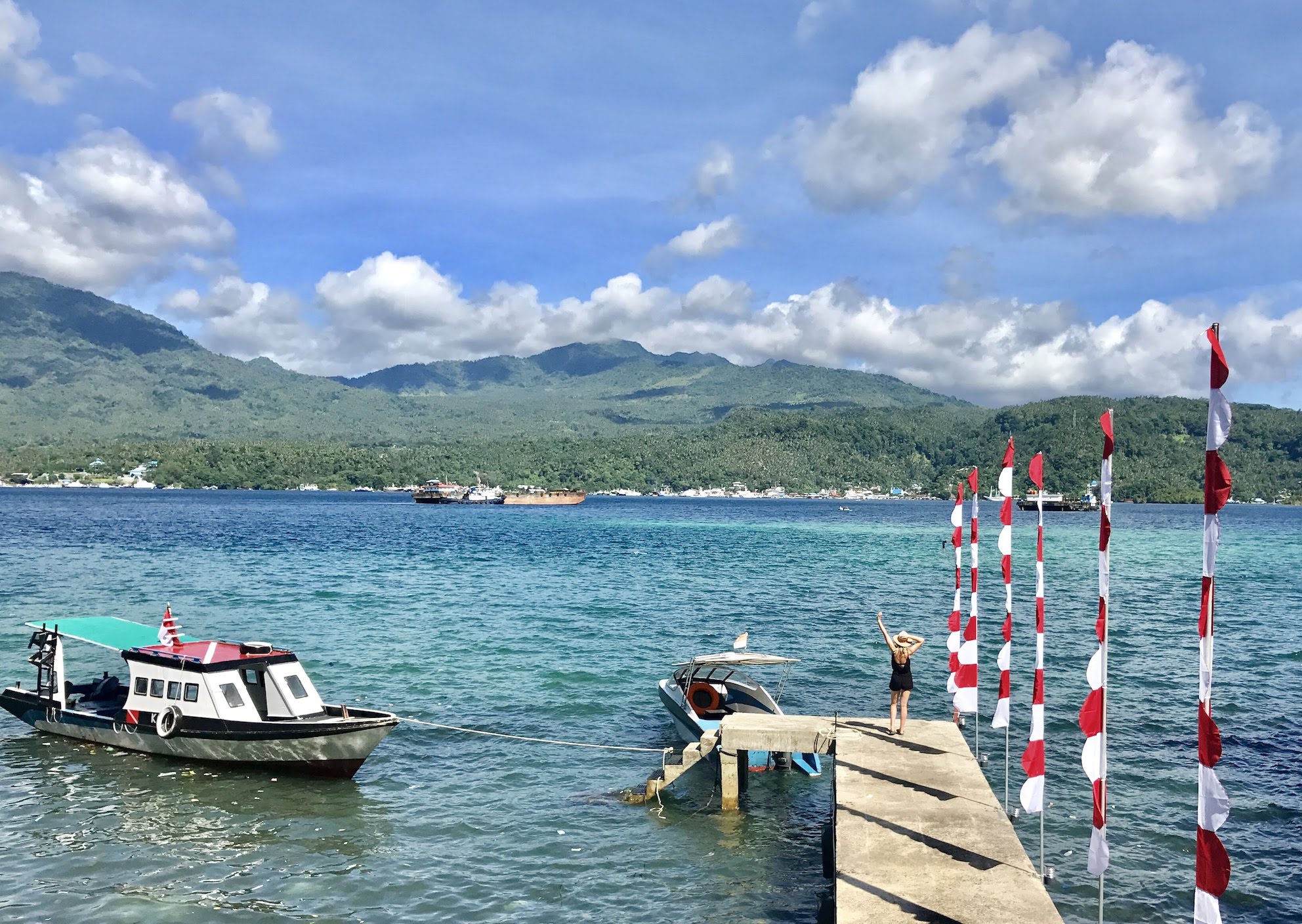 The Lembeh Strait is the 'Where's Wally' of diving destinations and ranks as some of the best diving in the world for 'muck diving'- unique macro critters found in murky rubbish-filled waters.

The K2 Resort which is staggered up a steep hill on Lembeh Island gives the resort an impressive vantage point over the Lembeh Strait as well as being perfectly located within a 25-minute boat ride to most top dive sites.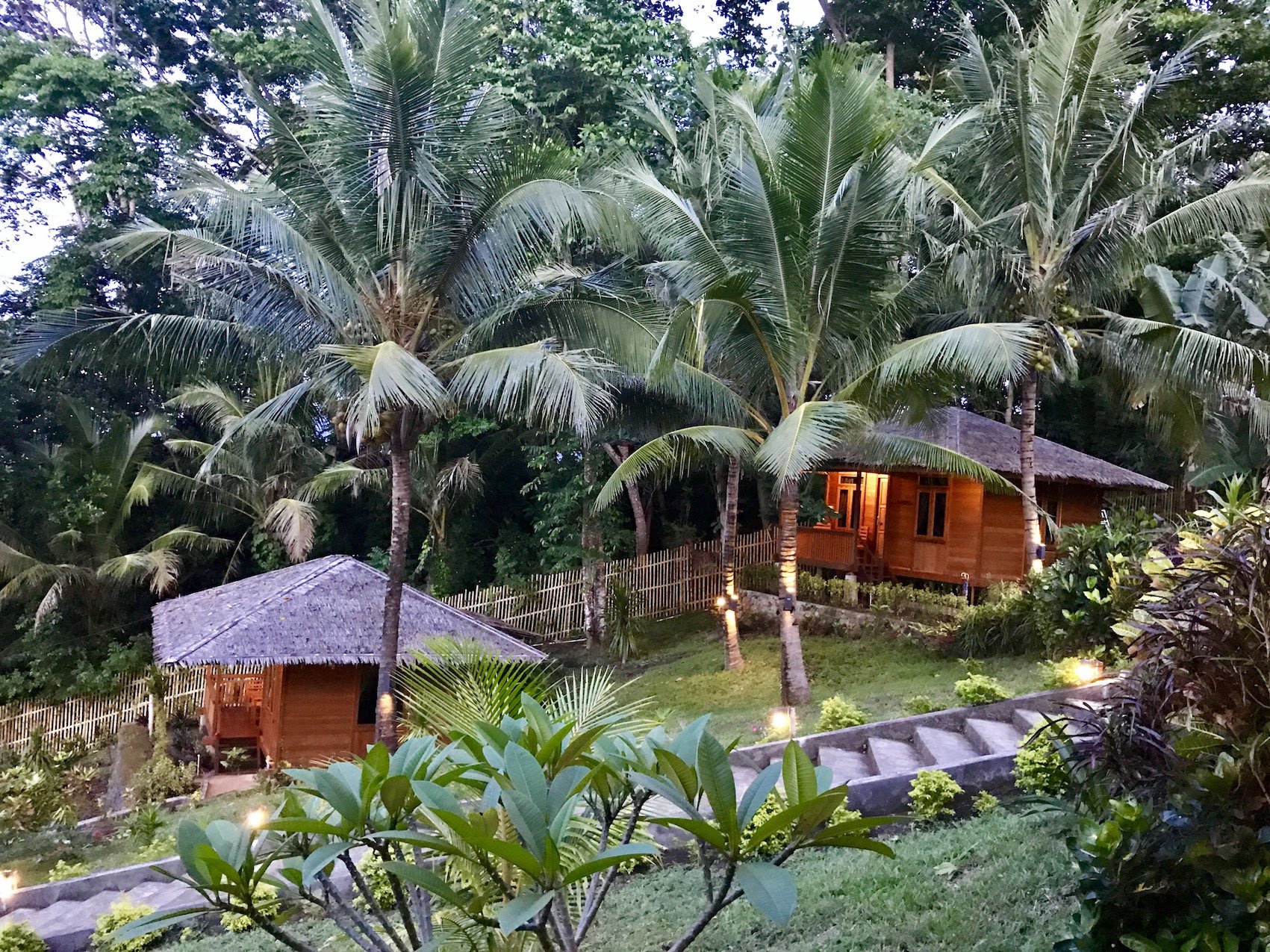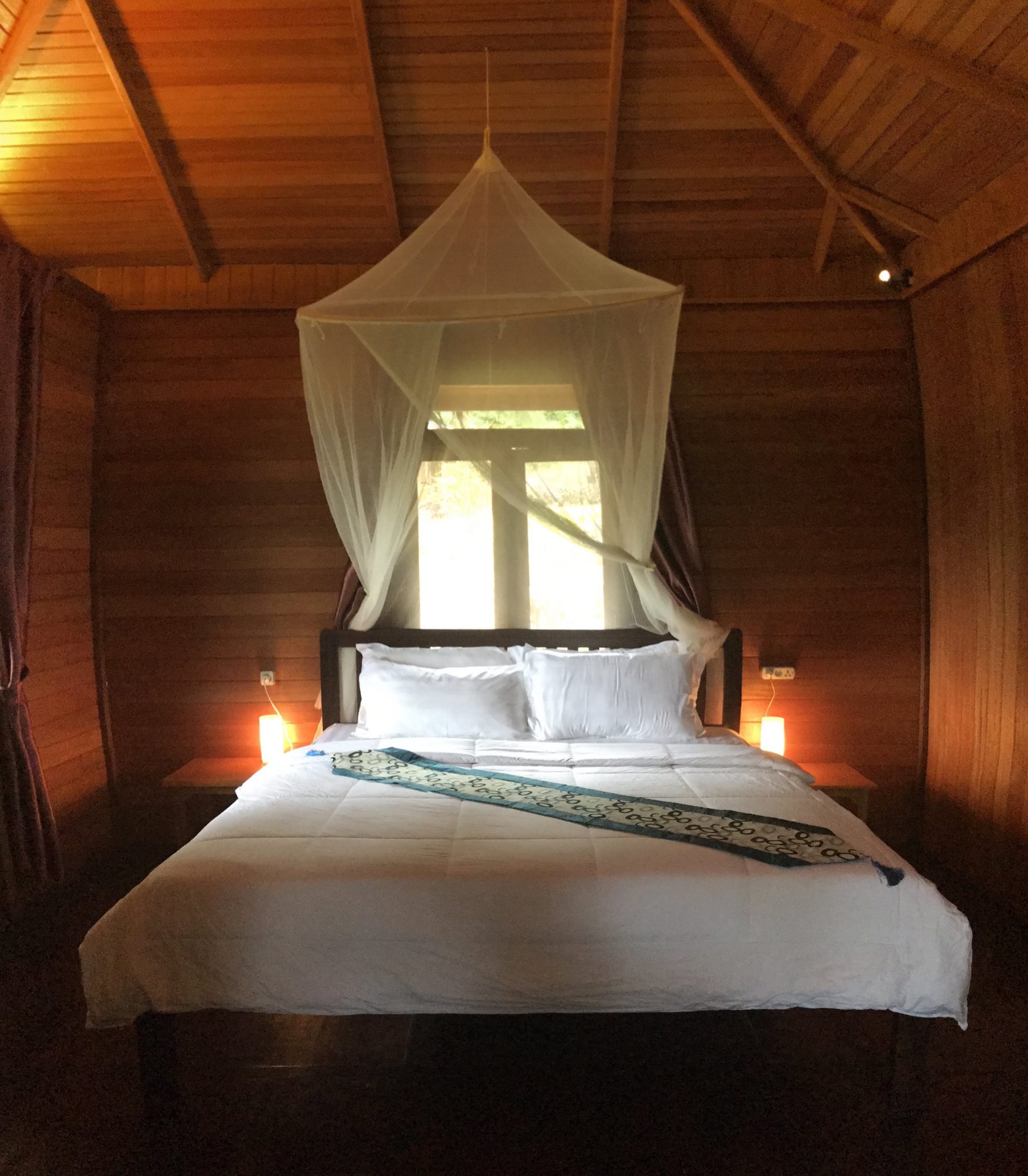 As you descend under the water to reveal a dark sandy bottom, you may wonder why you left the clear waters of Bunaken behind, but look closely and keep your eyes peeled for hidden and insanely camouflaged creatures.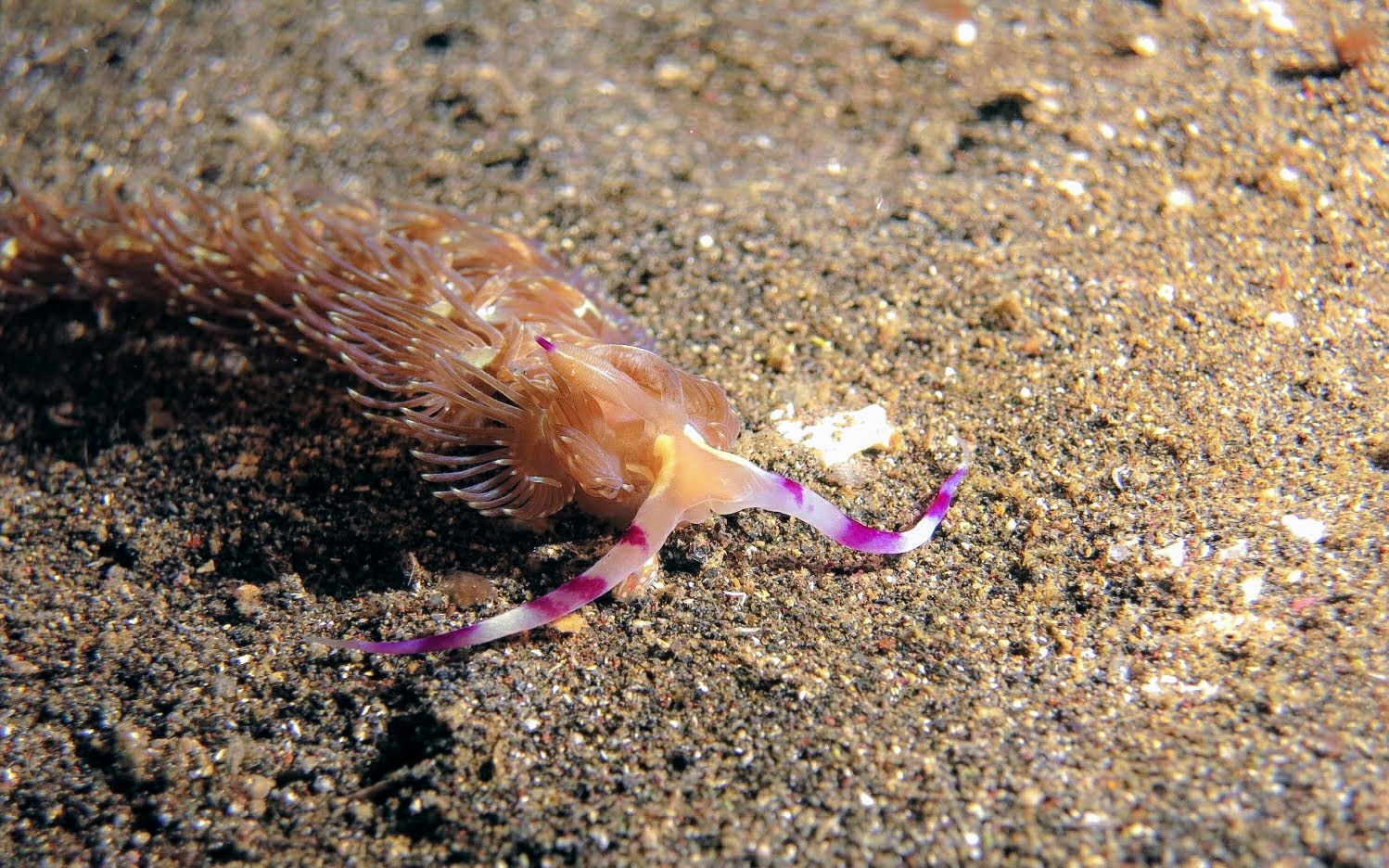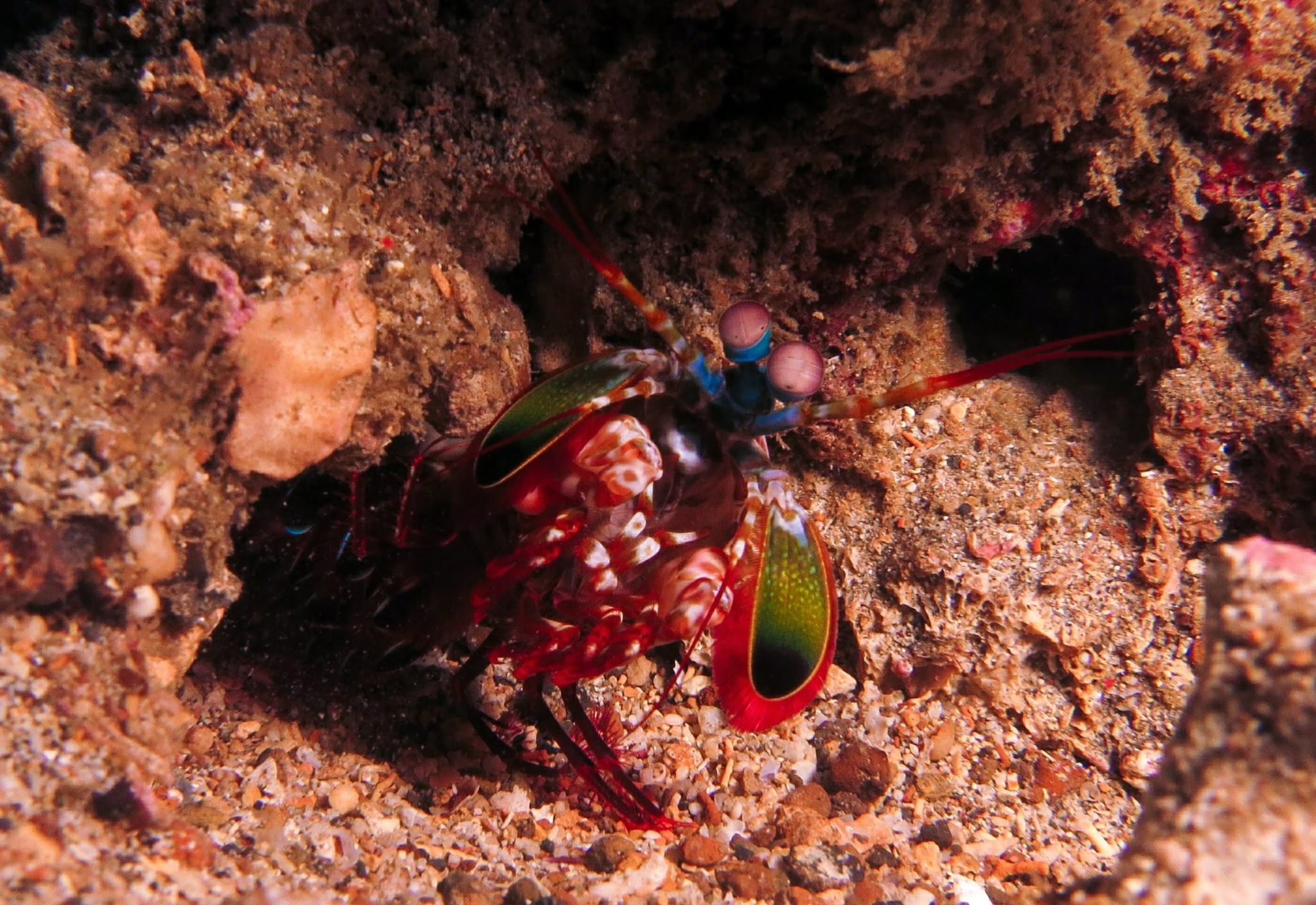 We'd recommend a long wetsuit and having a dive pointer to protect and balance yourself from stinging critters lying in the sand. Keep your kicks soft and the sand still so you don't miss anything!

Coconut Octopus can be found hiding in almost anything they can call home. We were even lucky enough to find a Hairy Frogfish no bigger than a small coin thanks to our guide Oping, which the other divers were very jealous of.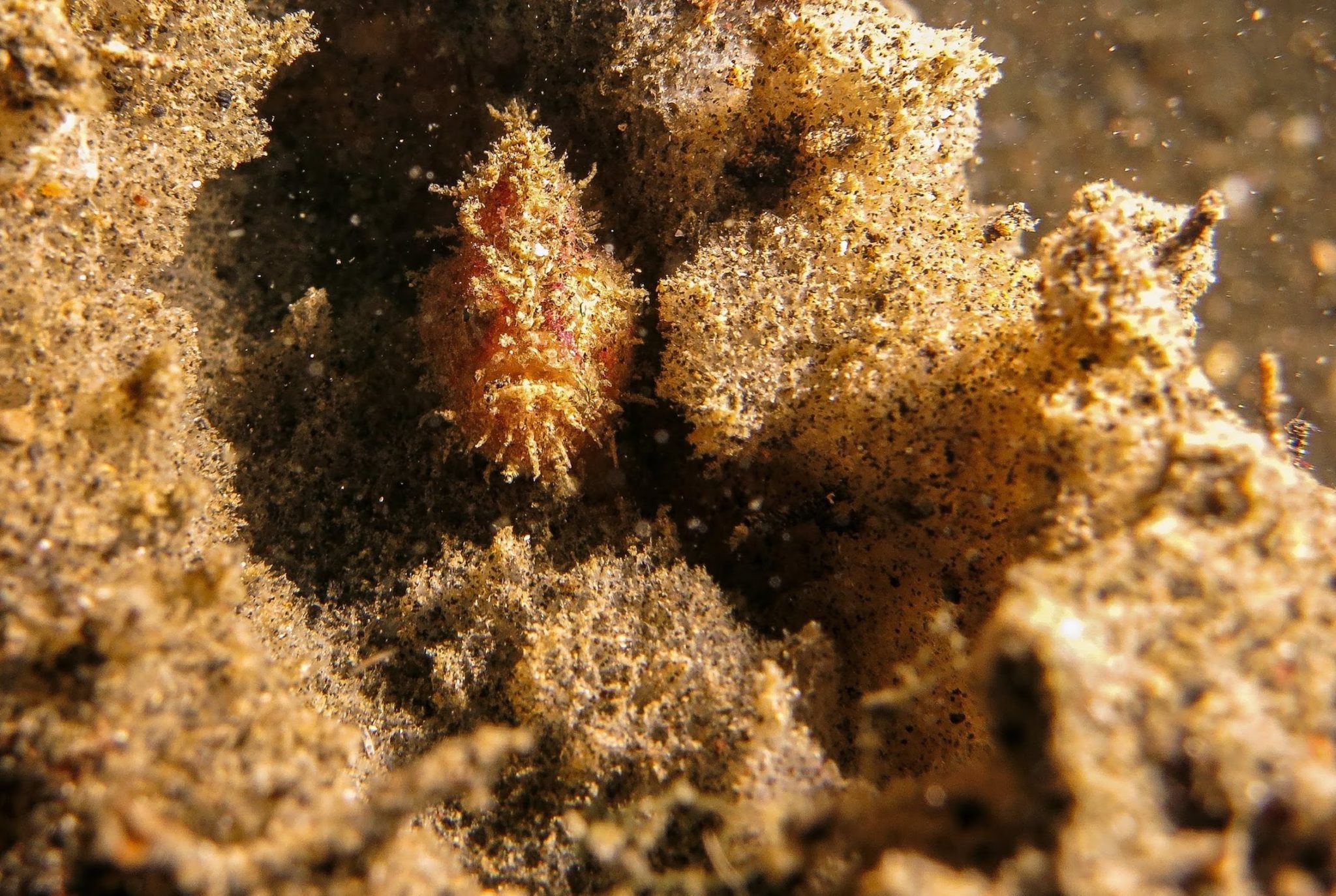 Jump on a bike to explore this lush island visiting beautiful villages, mangroves and the famous Jesus statue. Standing at 35m, it is larger than that in Rio de Janeiro, (Christ the Redeemer) which stands at only 30m.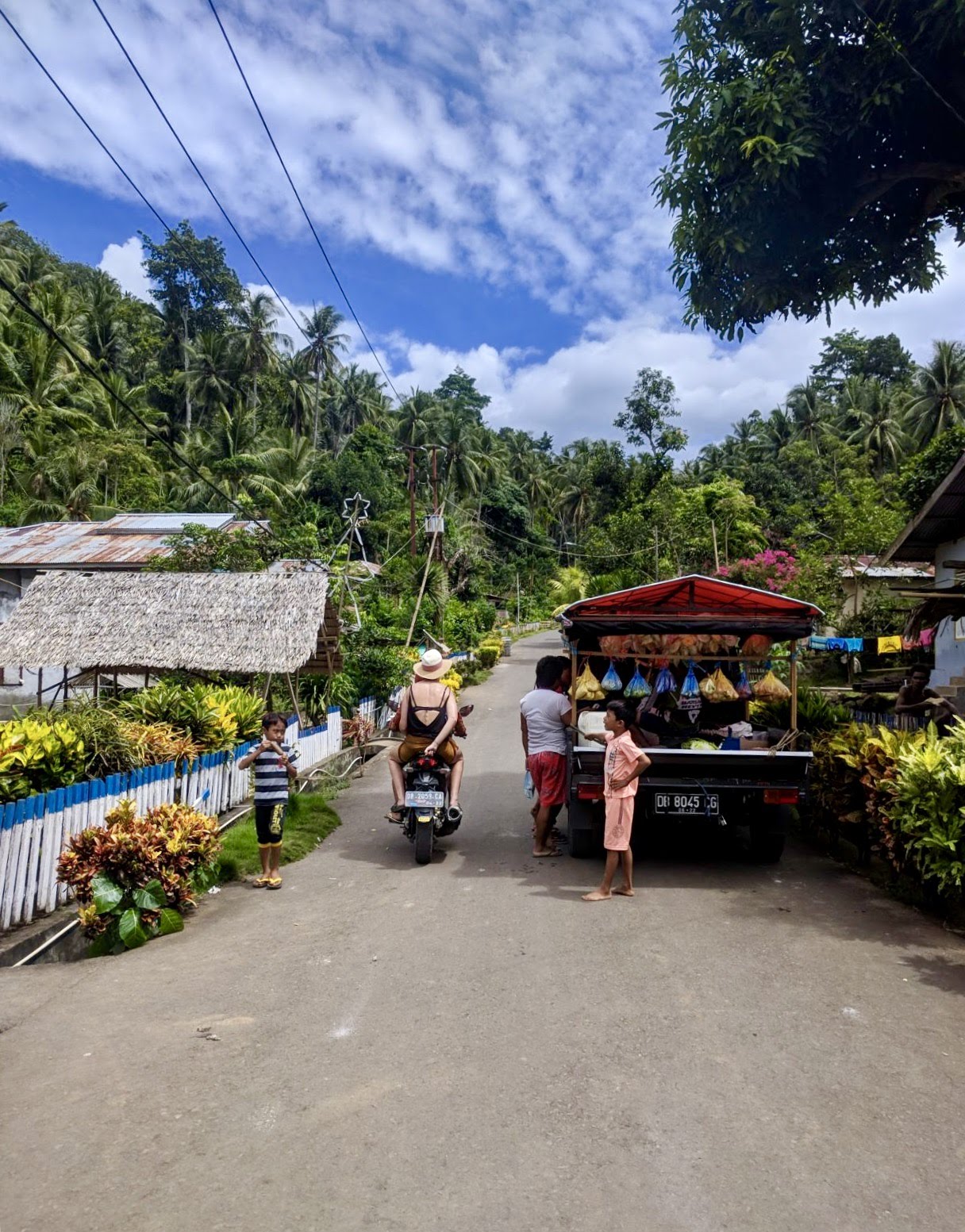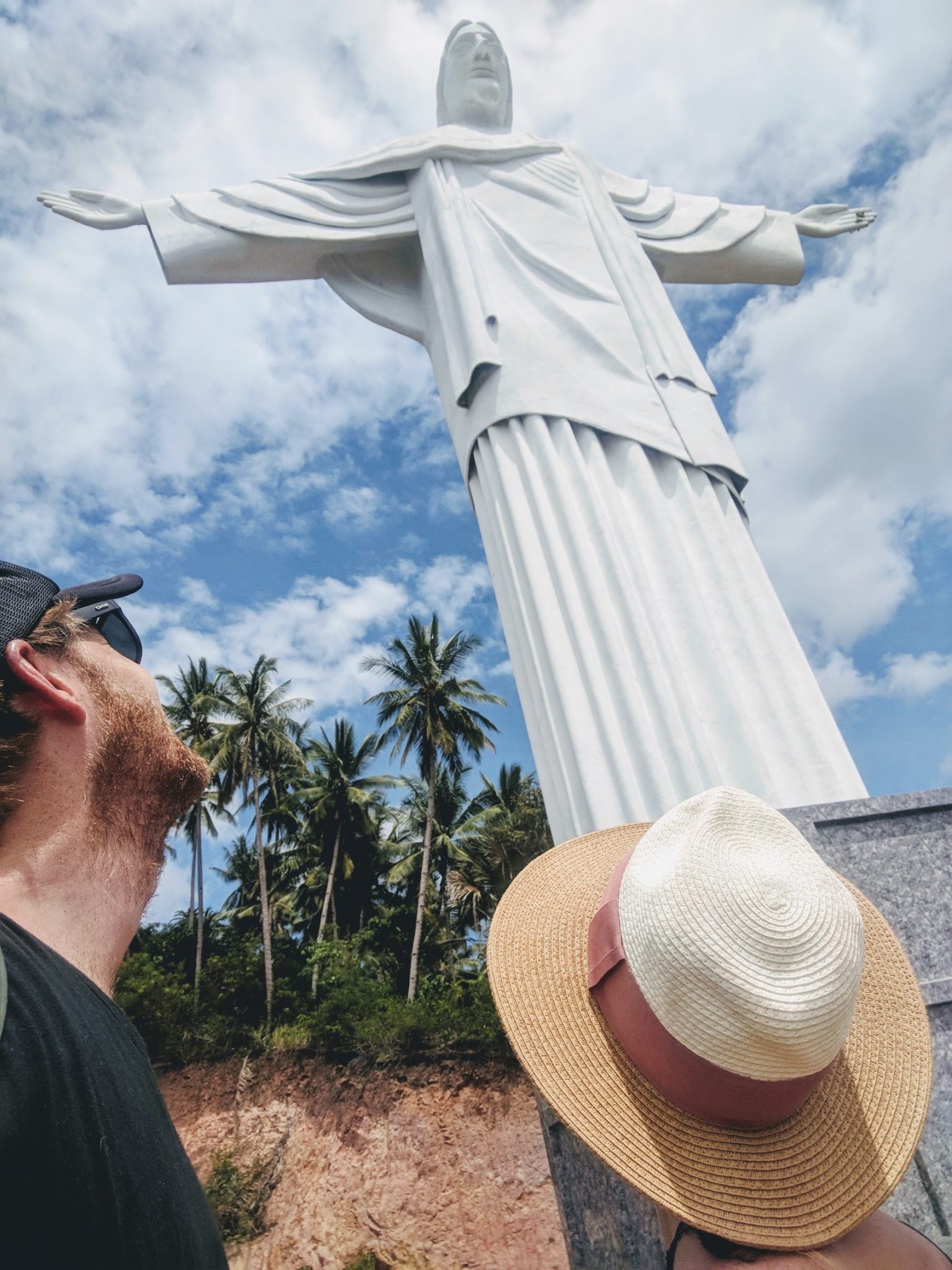 Top Tips
Outside of main cities, you may hear the word "Bule", usually used for tourists of lighter hair and skin colour. It is generally not meant to offend but is a way of saying hello.

You'll be asked for quite a few pictures as you're considered exotic. Just roll with it. It's a great way to get pictures as well!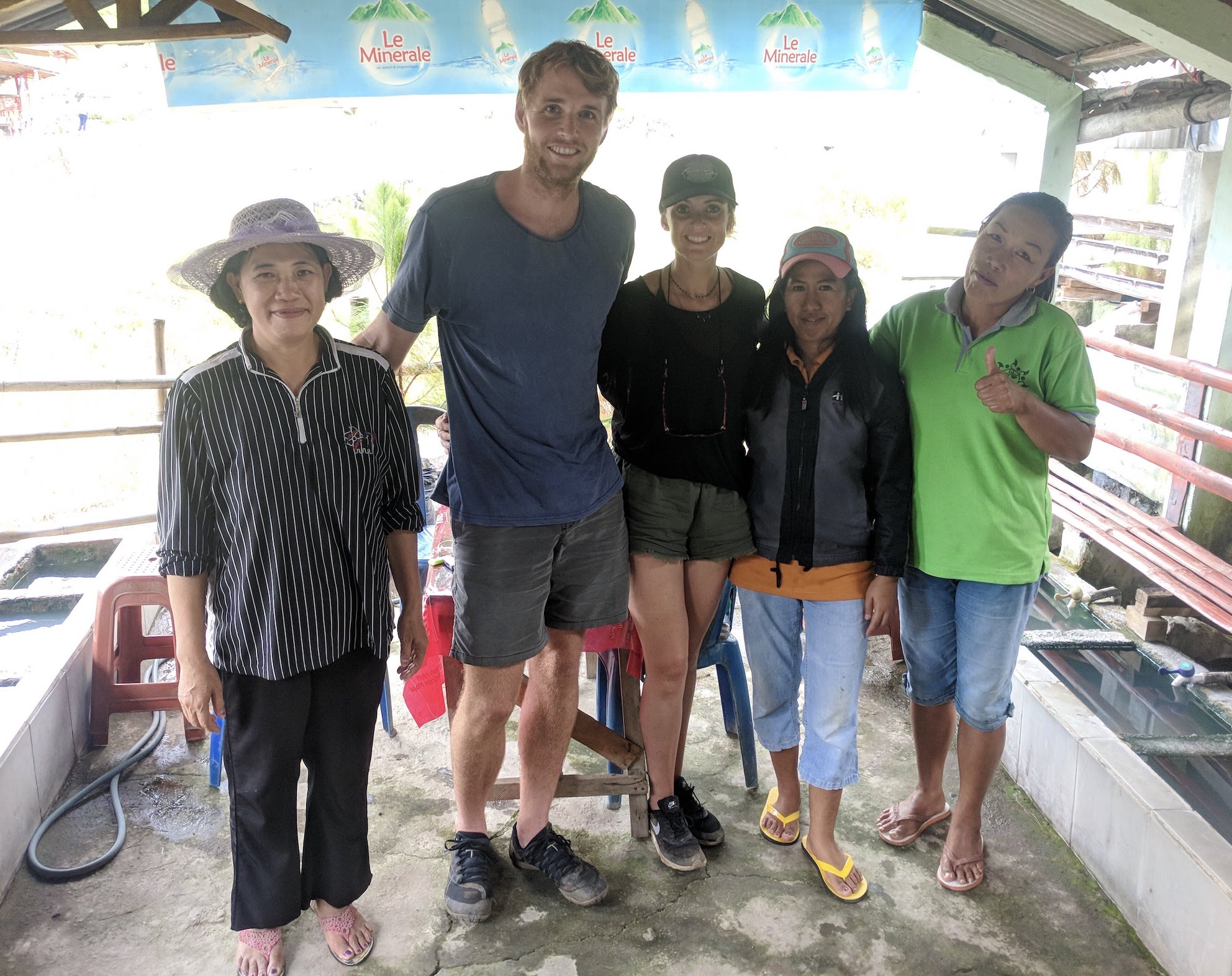 Language
Get involved and don't be shy to chat with the locals. Everyone we met was very friendly and generally wants to help, even if the language is difficult.
These useful phrases helped us
Berapa = How much?
Mahal = Expensive
Terima Kasih = Thank you
Satu bir dingin, tolong = One cold beer please
Tidak panas = No hot spice

Food
The Beng-Beng chocolate bar, Es Teh (iced tea), Nasi Goreng (fried rice) and Bitung beer can be found almost anywhere and you'll be hooked before you know it, so enjoy!

Another great way to enjoy diving is on a liveaboard in Indonesia.
Thank you to Celebes Divers, Mountain View and K2 Dive Resort for hosting A Lovely Planet.
Travelling to Indonesia? Check out our guide to Bali