Sydney is full of beautiful hotels, many with stunning harbour views, luxurious amenities and excellent service, perfect for a romantic night away. But for the ultimate stay with your loved one, there is another option – an overnight yacht stay on Sydney Harbour. You'll be closer to the water than any of the hotels, have complete privacy (no other guests bothering you next door) and enjoy a romantic dinner and breakfast aboard a luxury yacht.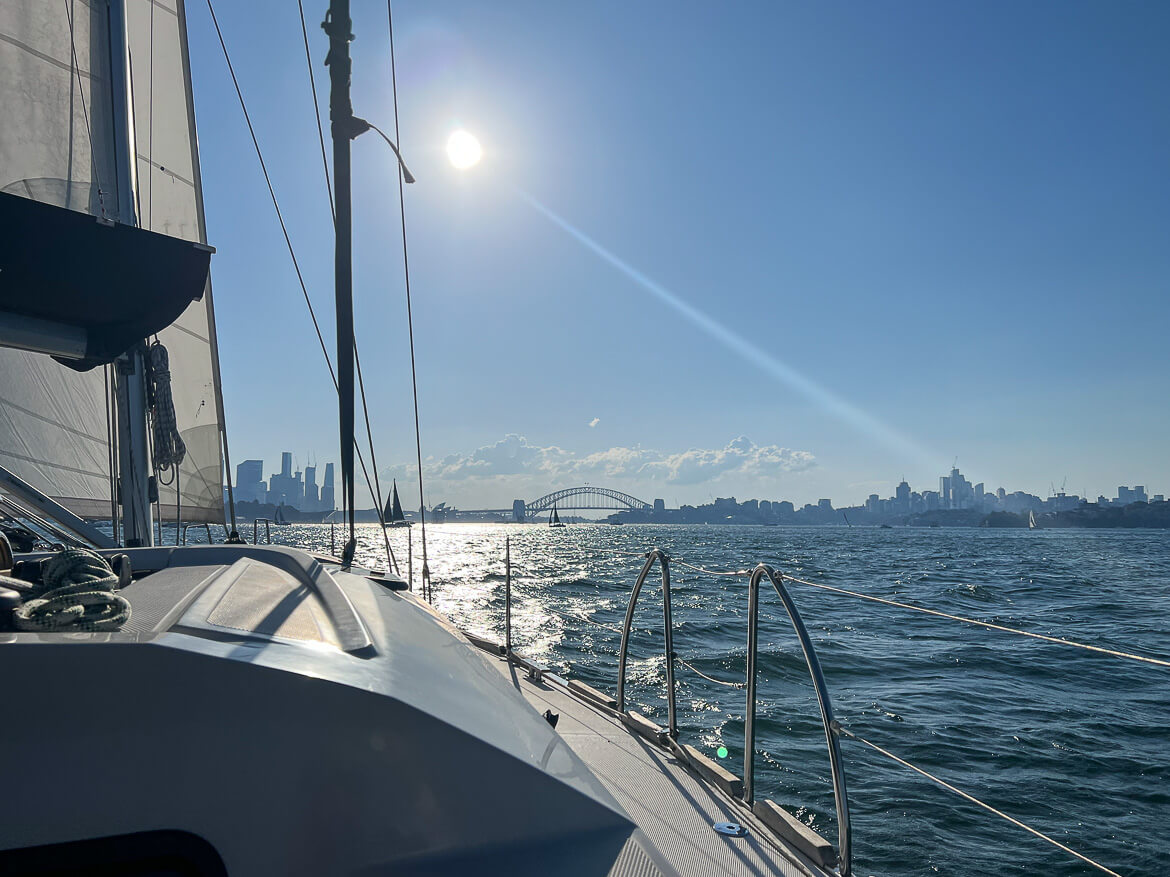 The Best Place to Stay in Sydney
Sydney by Sail offers the unique experience to sleep on a yacht in Sydney Harbour. We were lucky enough to experience this and indulge in a little luxury sailing. There are three different packages to spend a night on the harbour, which vary in duration, inclusions and the yacht you stay on. Whichever you choose, you will be treated to a private sail on the harbour, dinner, overnight stay and breakfast. Details on each can be found at the end of this article.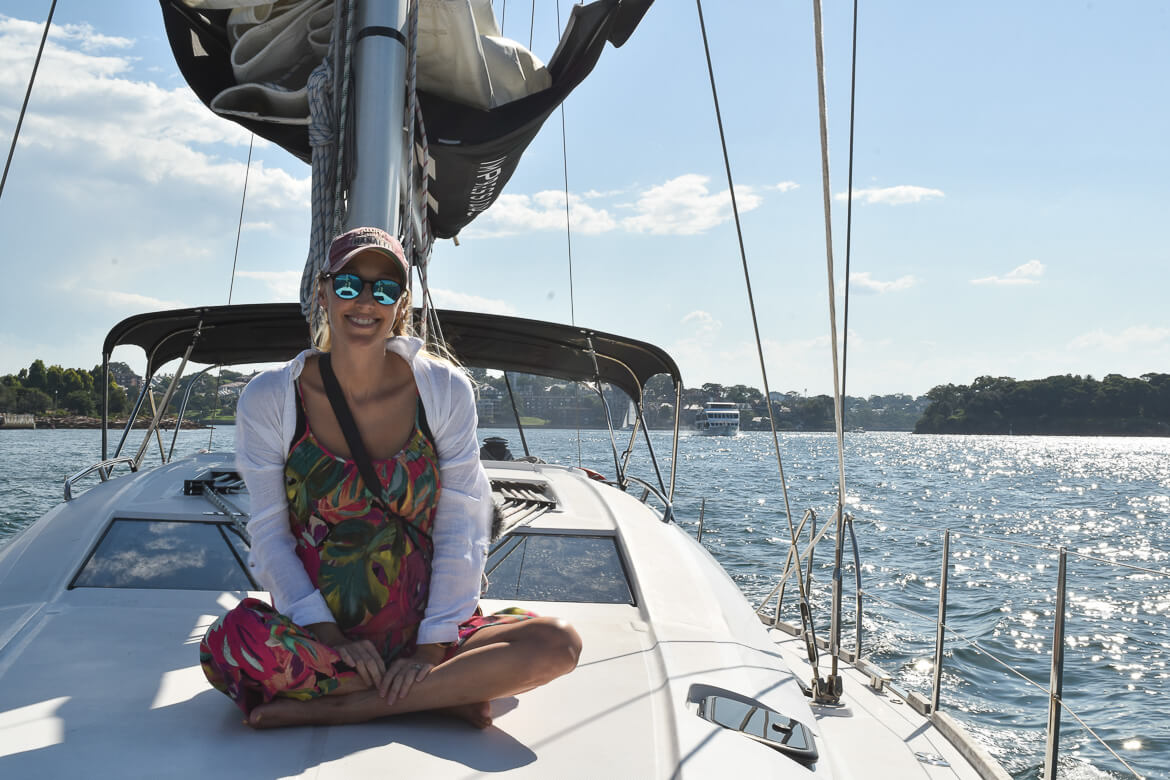 Checking-in
Departing from Darling Harbour, you'll be given a tour of your home for the night. Our was the impressive Elan Impression 45.1 yacht. Featuring a beautiful deck with a table and seating area, kitchen/lounge area, 3 bedrooms (although there would only be two of us sleeping aboard) and two bathrooms.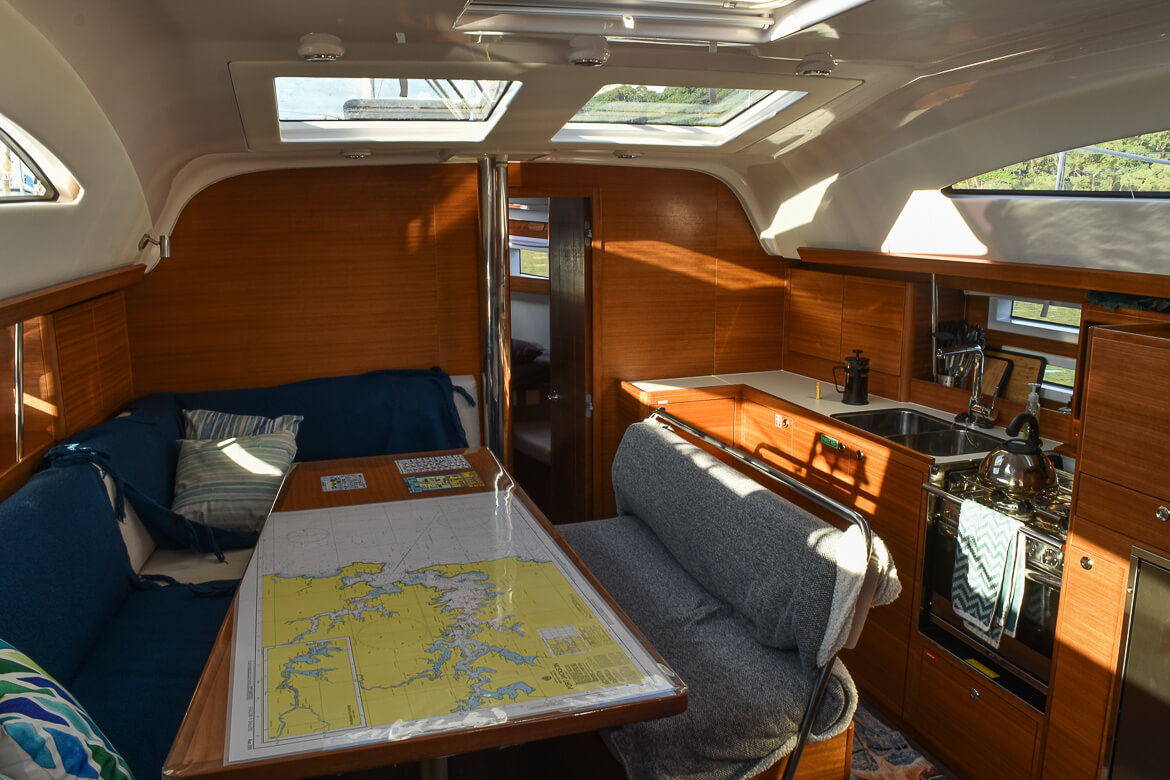 Setting Sail
Then it's off for a sail around Sydney Harbour. As you head off from Darling Harbour, you'll see some of the city's unique buildings including the W Hotel and Crown Sydney as you pass Barangaroo before sailing towards the iconic Sydney Harbour Bridge and Sydney Opera House. Despite having lived in Australia for more than 6 years, it never gets old seeing these two structures – especially from the water.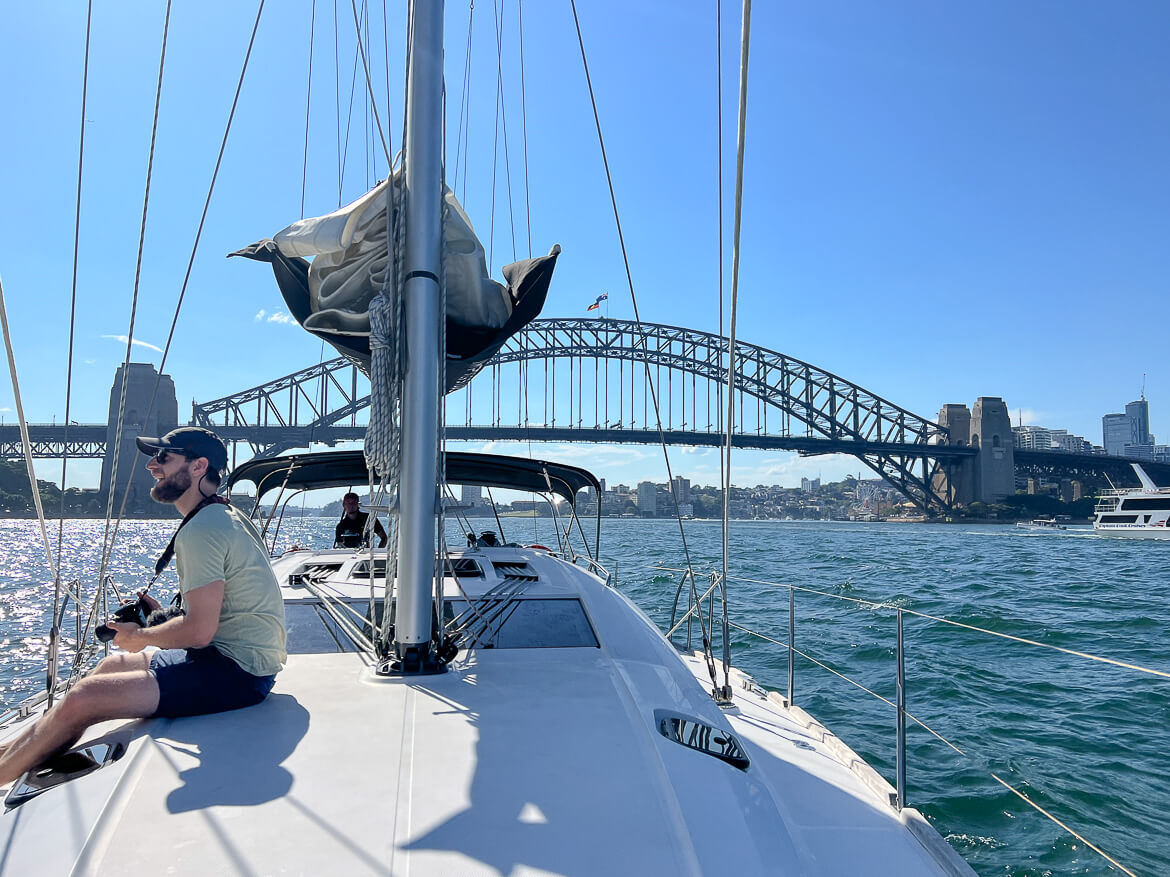 You then have some time to sail around the harbour. As it's just you and your skipper, you can choose where to go, whether you want to stop in a bay for a swim or even have a go at steering the yacht.
You are likely to sail past Taronga Zoo, Point Piper – where you can admire some of Sydney's most expensive properties, Shark Island, Watsons Bay and towards Manly and the Sydney Heads leading out to the Pacific Ocean.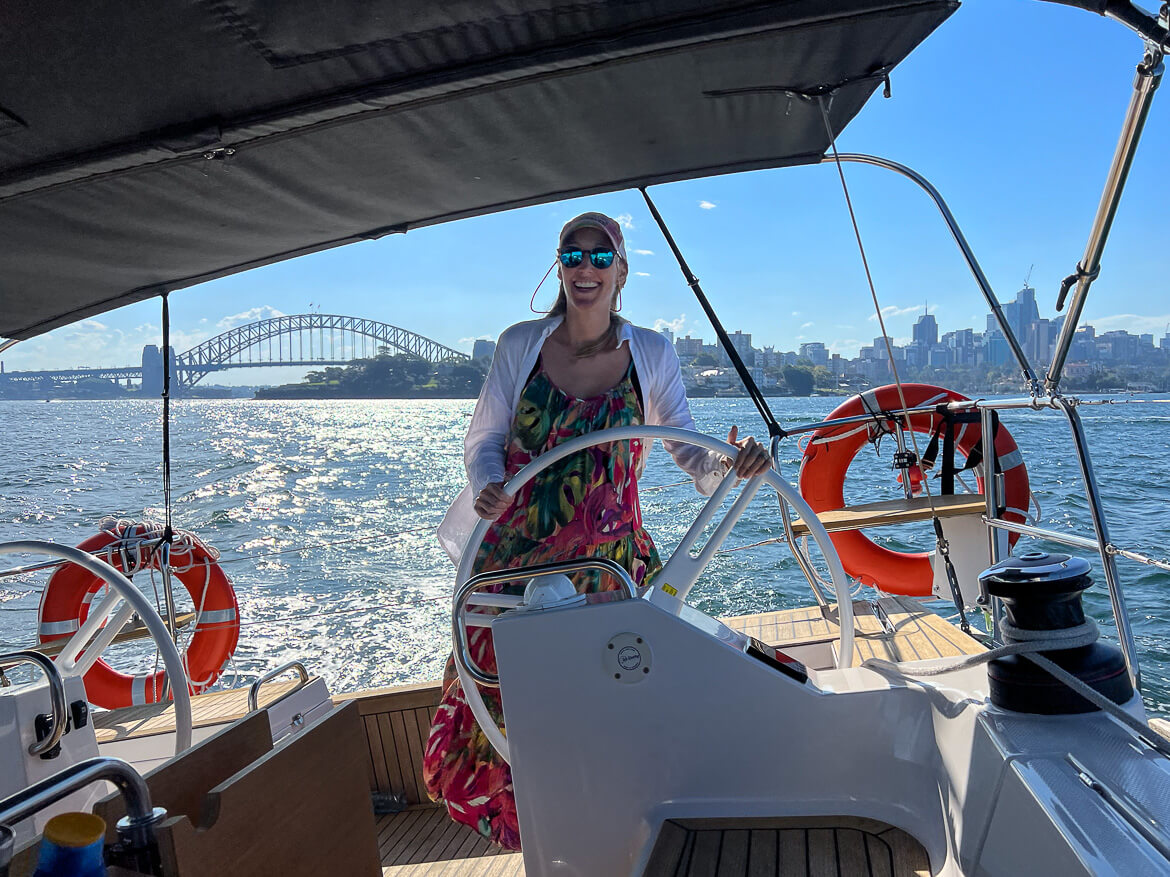 Dropping Anchor
Then it's time to head back under the bridge and drop anchor for the night. This may depend on weather and wind direction, our spot was Balls Head Bay, with views of Berry Island Reserve and across to Balmain.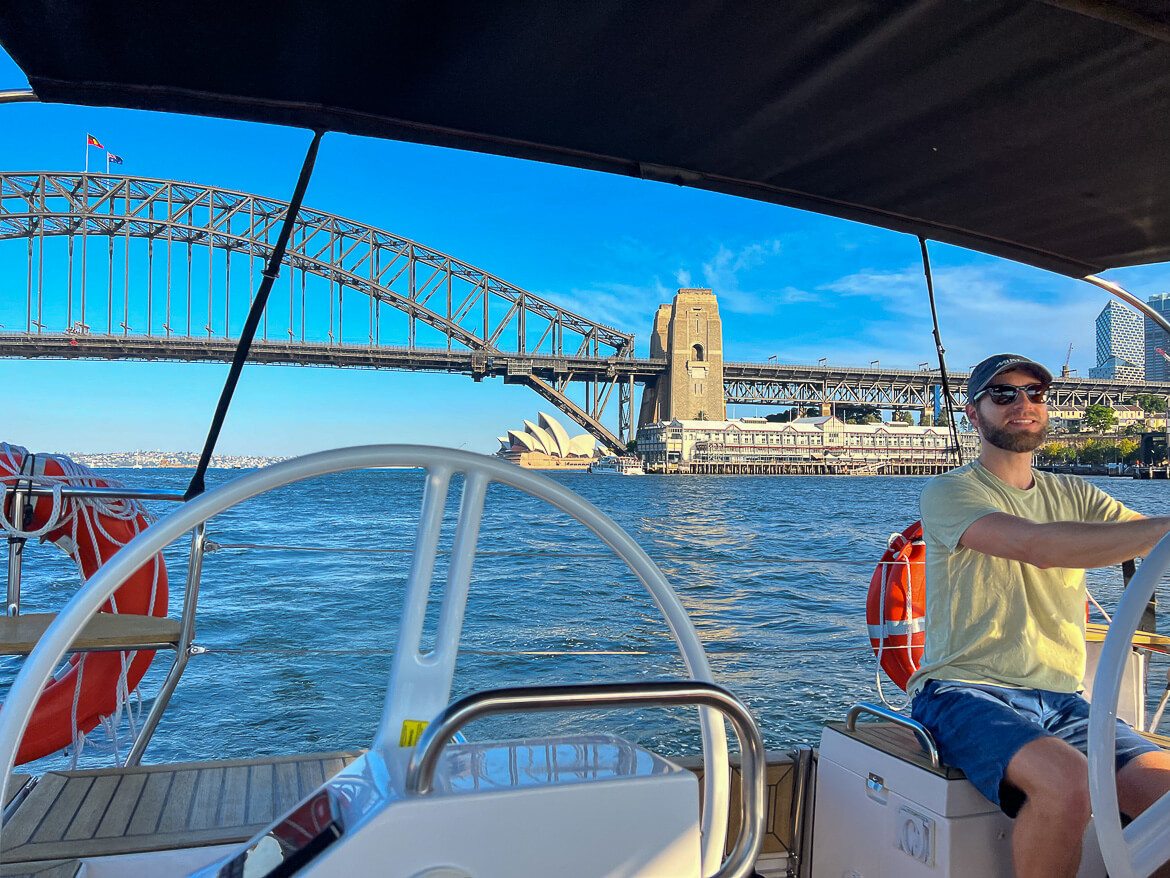 Goodbye Skipper
At this point, you get a final run-through of the yacht and how it operates (not in terms of sailing – just how to turn lights on and off and make sure you don't run out of battery or water). Then the skipper departs and you're left alone for the night. It's pretty exciting being left in charge of a luxurious yacht for the evening – it definitely gave us a glimpse of the life of the rich and famous. You can take another swim, relax on the deck with a drink of your choice, or whatever takes your fancy on your romantic overnight yacht stay.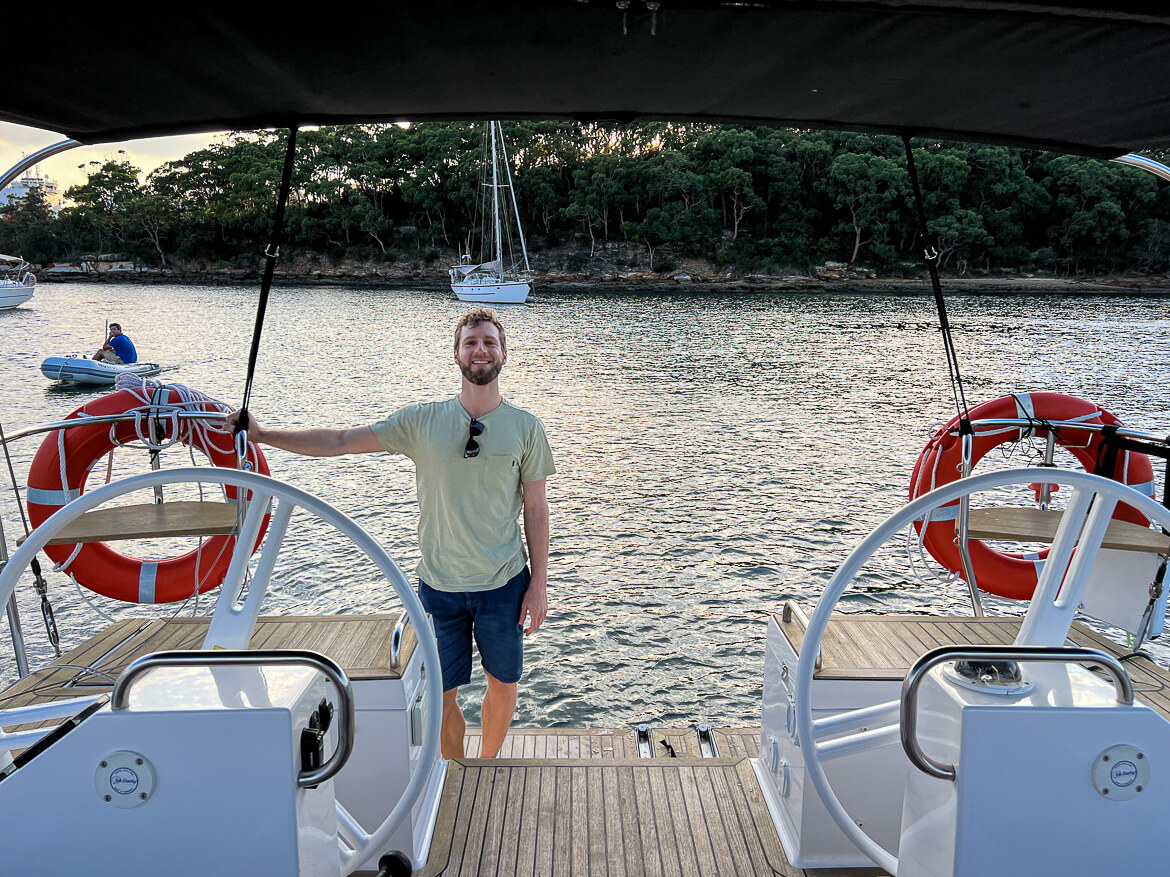 Dinner
When booking your Sydney overnight sailing experience, you'll be asked to choose what you would like to eat for dinner and breakfast. This is all then provided for you in the fridge onboard the yacht. Dinner options include seafood platters, antipasto or cheeseboards, and various salads.
We couldn't have asked for better weather for our overnight boat stay on Sydney Harbour and we enjoyed our dinner on the deck as the sun set. But even if it rains you can cosy up in the lounge below deck.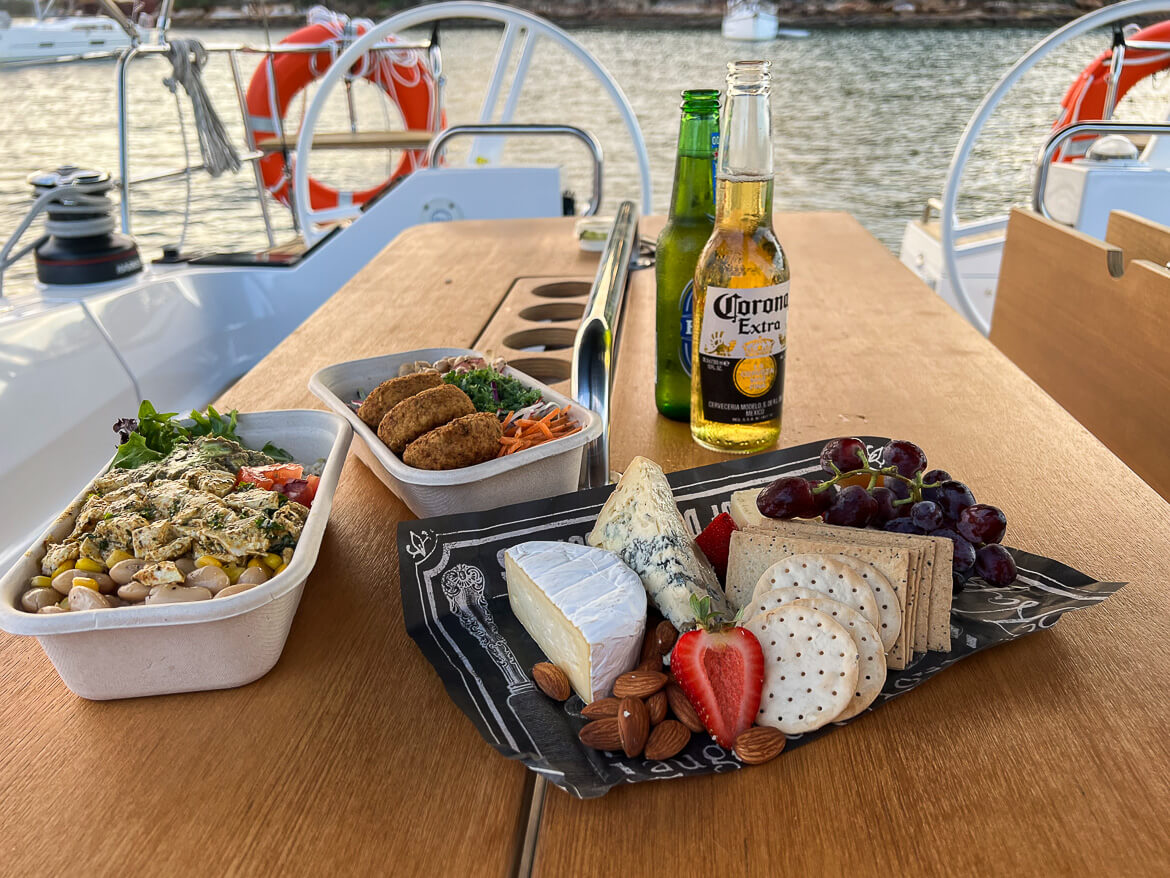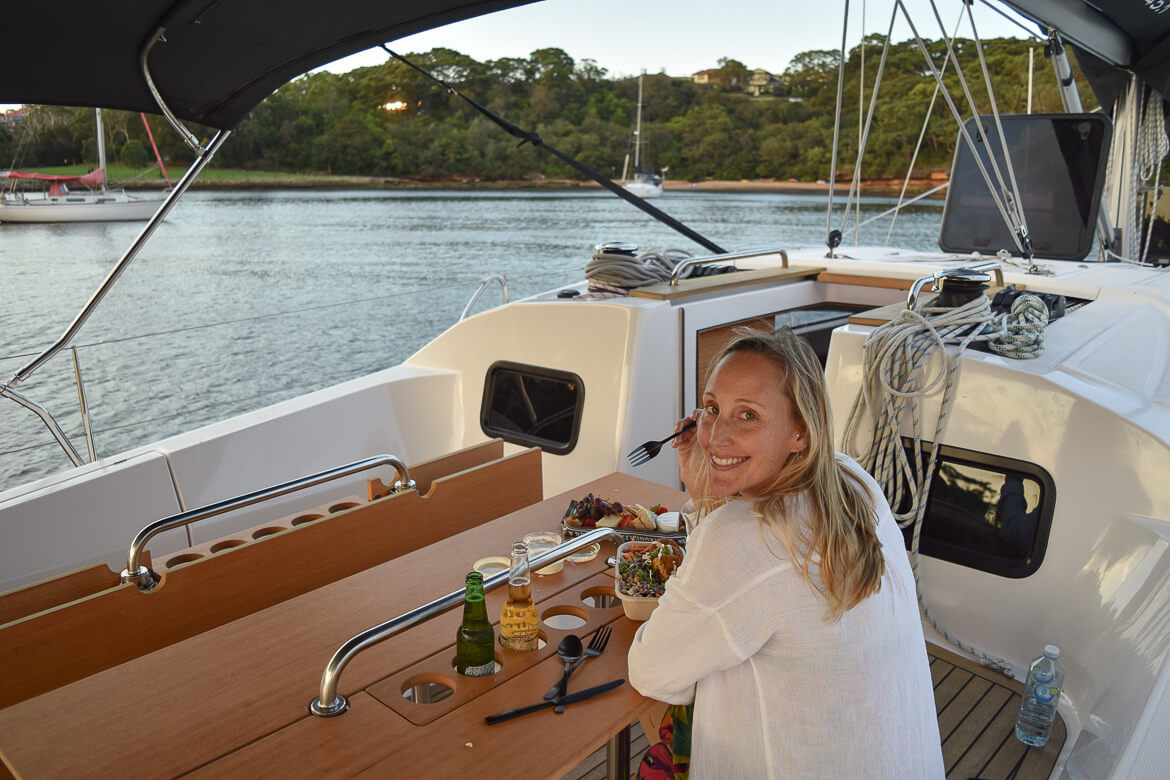 Sleeping on a Yacht
Our room was at the front of the boat, with windows above and to the side. It's an incredible feeling falling asleep (and waking up) to the sound of the water just outside. Balls Head Bay is very secluded, with minimal passing traffic, so the wasn't much movement on the boat and it was very easy to fall asleep aboard the yacht.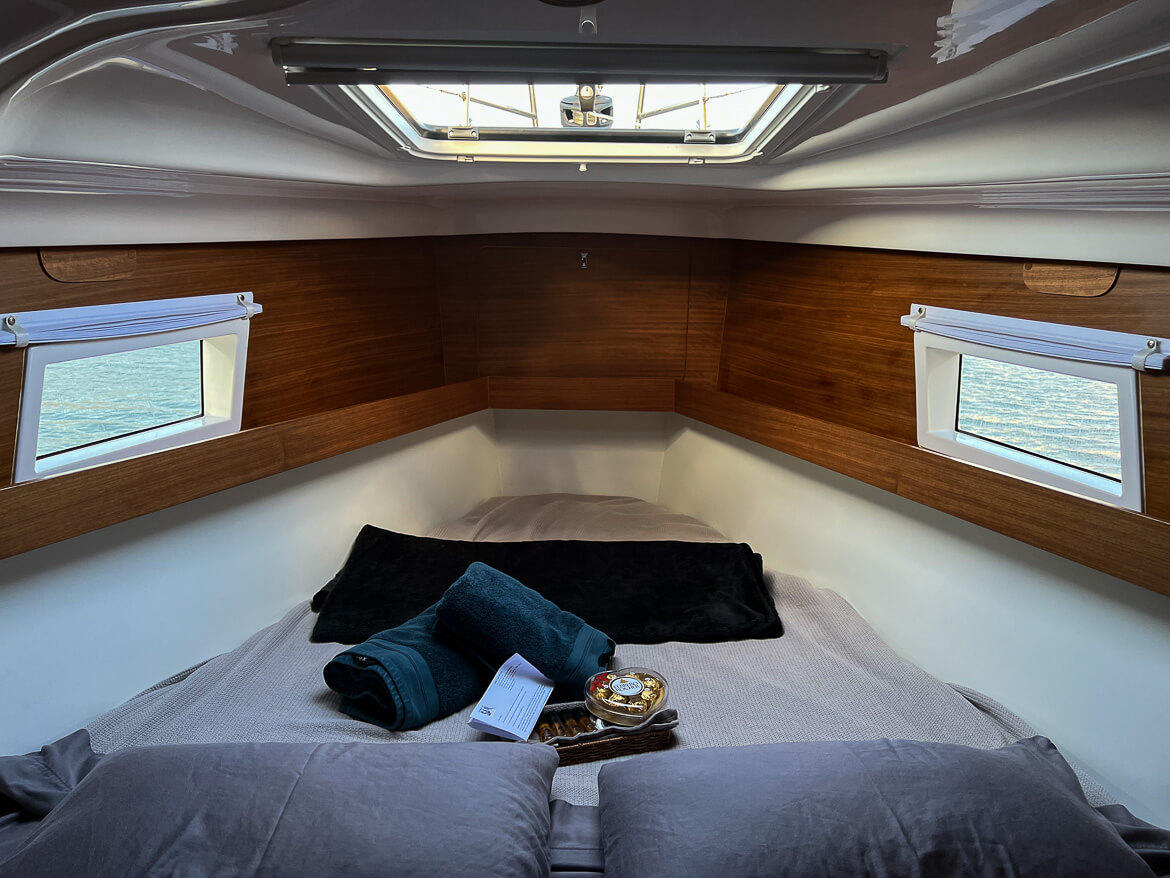 We woke as the sun rose to a glorious sunny morning and tranquil still harbour.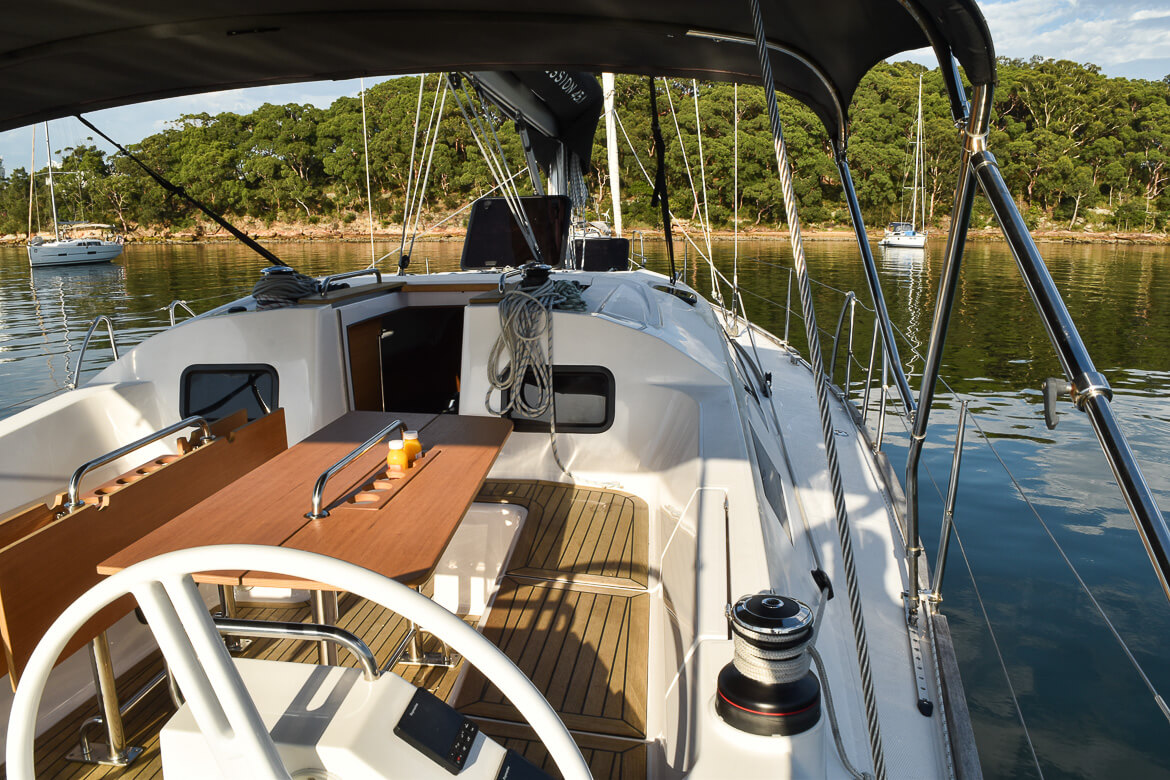 Breakfast
As the yachts are equipped with kitchens you have the option of cooking your breakfast onboard, but we opted for a very Aussie breakfast of smashed avo, tomato and mint on sourdough, accompanied by fruit, yoghurt and a muffin. A cafetière and ground coffee is also provided along with fresh orange juice, which we of course chose to enjoy on the deck.
You have time for a quick swim, or whatever else you fancy before the skipper returns to take you back to shore.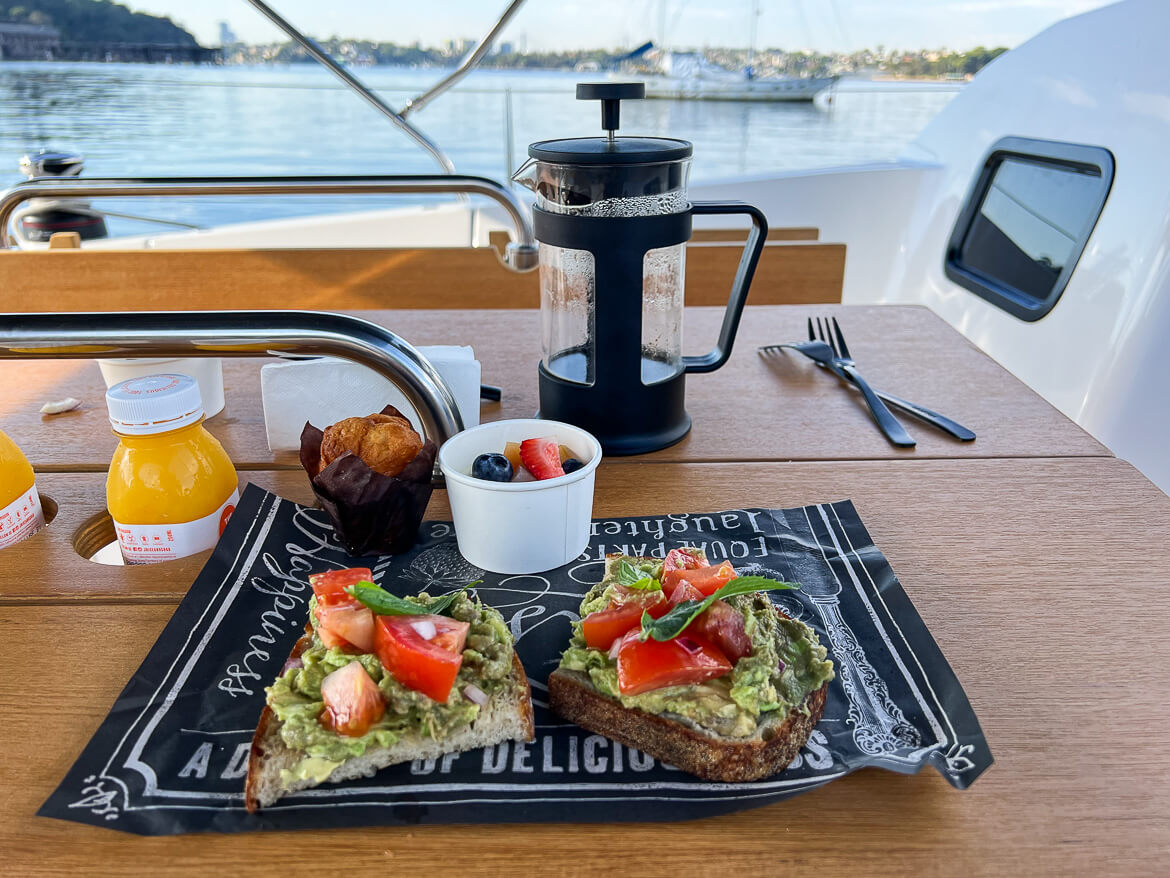 Romantic Sydney Harbour overnight yacht stay
While you definitely don't need a reason to book this experience, an overnight boat stay is great for celebrating a special occasion. Our skipper told us that many proposals have taken place on board the yachts and I can absolutely see why – it's the perfect place to propose. For us, it was the first proper opportunity for a night away after the birth of our son – so even more special falling asleep knowing I would not be woken to the sound of a crying baby – mine or anyone else's!
Romance B&B Packages
There are three options to choose from:
Includes a 2 hour harbour sail and overnight stay aboard yacht Hunter 36. Dinner and breakfast are included. $1295 AUD per couple
Includes a 3 hour harbour sail and overnight stay aboard yacht Dufour 382 or Elan Impression 45.1. Dinner and breakfast are included. $1500 AUD per couple
Includes a 6 hour harbour sail and overnight stay yacht Elan Impression 45.1. or Dufour 412. Lunch, Dinner and breakfast are included. $2400 AUD per couple.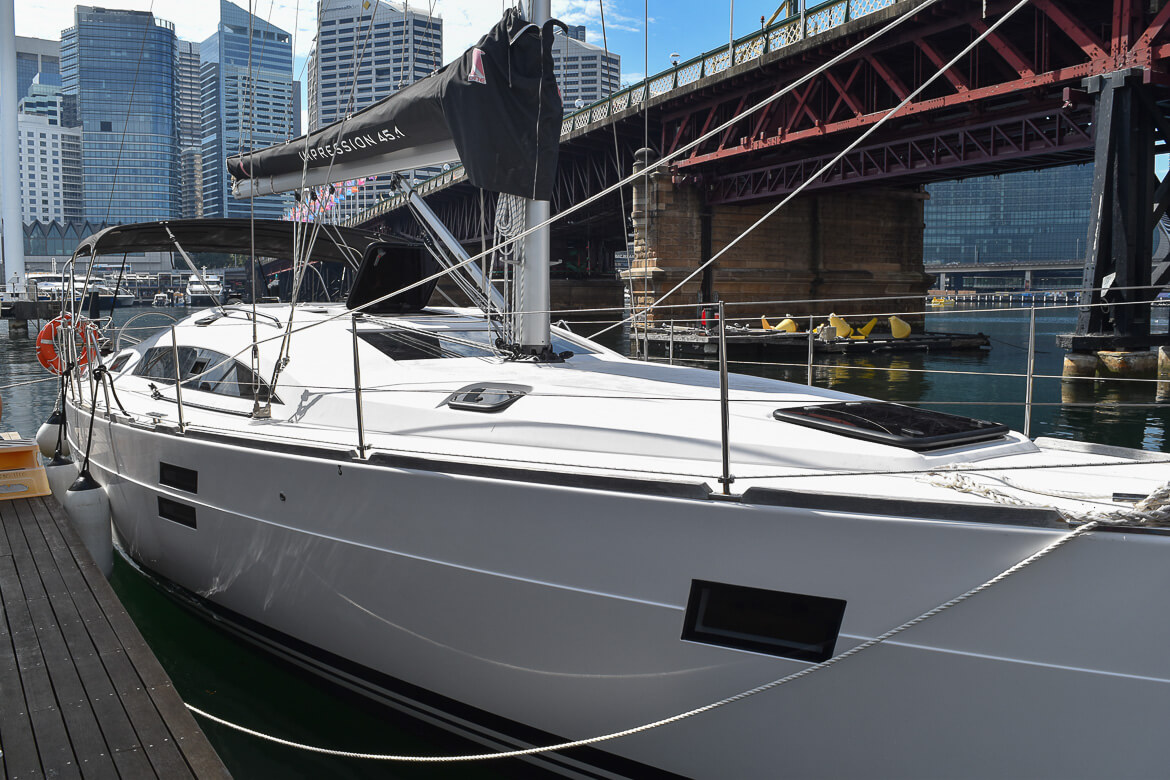 Thanks to Sydney by Sail for hosting A Lovely Planet.