I'm totally obsessed with travel photos, and can occasionally get a little distracted by all the beautiful pictures on Instagram, so I've decided to compile a list of my favourite travel Instagram accounts. In no particular order, here are my top 20 wanderlust Instagrams:
Lucy writes the blog On The Luce, and her Instagram account is full of lovely photos from her travels. Lucy is also a freelance designer and you can definitely see her creative side through her pictures!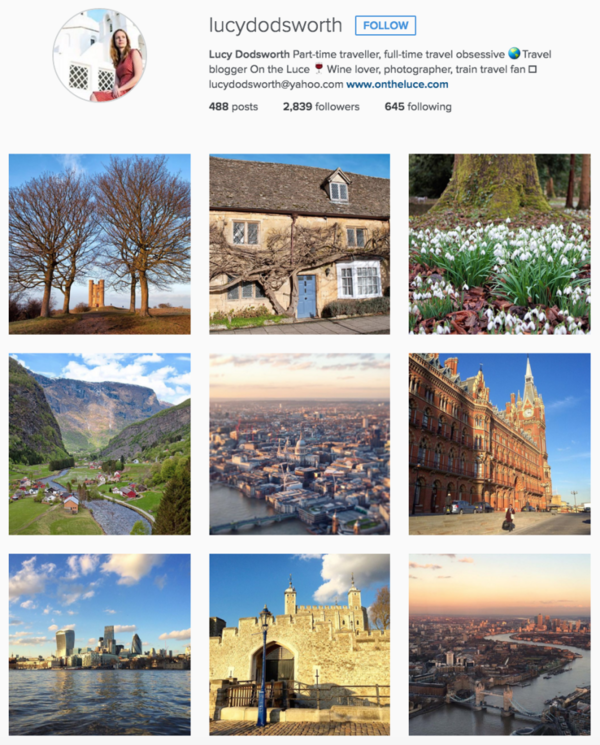 Jack Morris travels the world taking stunning photographs and creating films for his youtube channel. His Instagram account features amazing pictures of the people he meets on the way.
This is one of my favourite travel Instagram accounts – I love Hannah's pictures and the detailed information she gives with each shot. She is also about to launch a travel blog with her sister.
This account has a huge following and it's easy to see why. Murad Osmann is a Russian photographer, who travels the world taking photos of his stunning wife Natalia leading the way.
Rachel Brathen is a Swedish yoga teacher and author living in Aruba with her husband, dog and adorable goat Penny. She is refreshingly honest in her Instagram account, which features lots of pictures of Aruba and her travels further afield as well as some impressive yoga poses.
France Duque is a Belgian photographer living in the Bahamas. As well as being incredibly attractive herself, she photographs some of the most beautiful women in the world, in magnificent surroundings.
Matt Tully's account is full of beachy surf shots with his model girlfriend B.Cooper. Guaranteed to make you want to book a holiday!
Emma Kate has one of the most artistic Instagram accounts. She designs stationary featuring handwritten notes, and these are interwoven with gorgeous travel photos.
Cole Rise is a professional photographer based in California. His account is full of stunning scenic shots and he actually created 7 of Instagram's filters! (including the 'rise' filter).
Tara describes herself as "a Hobbit Raised By Leprechauns!" on her blog Where is Tara. I love her witty style and her Instagram is full of fun travel images.
Alex Strohl is a French photographer who takes amazing photographs of Canada (among other places). He runs the content agency Stay and Wander with Canadian photographer Maurice Li.
Arienne's Instagram account contains gorgeous colourful photos from around the globe. The Canadian writes the blog See You Soon as well as working as a producer in Toronto.
Nick is a South African entrepreneur and youtuber. His account is full of lots of outdoorsy adventure shots in amazing locations.
Foster quit his job in New York in 2011 and has been travelling in his camper van ever since. His Instagram account features beautiful pictures of his idyllic life.
Kristin and Shadi are living the dream life – reviewing luxury resorts all over the globe. Their Instagram account is full of gorgeous hotels and amazing sunsets.
Brooke Saward aka World of Wanderlust has one of the worlds most successful travel blogs. The Aussie now has a team of writers that contribute to her blog and her Instagram account features photos of her adventures (and some lovely hats!).
Samuel and Hildegunn are a Scandinavian couple, sharing their travel photos through their respective Instagram accounts. Now based in Norway, Samuel is a photographer and Hildegunn volunteers for Youth With a Mission.
Chloe is a fellow Londoner and as well as travel blogging works as a producer (we've even worked on some projects together!). Her account is full of colourful pics from all over and some mouthwatering food shots.
Dame Traveler is a women's travel blog founded by Natasia Wong. The Instagram account showcases female travellers exploring the world, with some incredibly artistic shots.
This is the list of my top travel Instagram accounts and I'd love to hear who your favourite Instagrammers are too, so feel free to leave a comment. You can also check out my Instagram account here.