Tuscany, quite rightly, is one of Italy's most popular destinations. A collection of historic towns and cities, beautiful countryside, thermal springs and of course incredible food. To see a bit of everything, you really need a car, as many of the best spots aren't easily accessible by public transport. Having visited the region almost every year since I was born, I know (and love) it well, and have shared what I think is the best Tuscany road trip itinerary.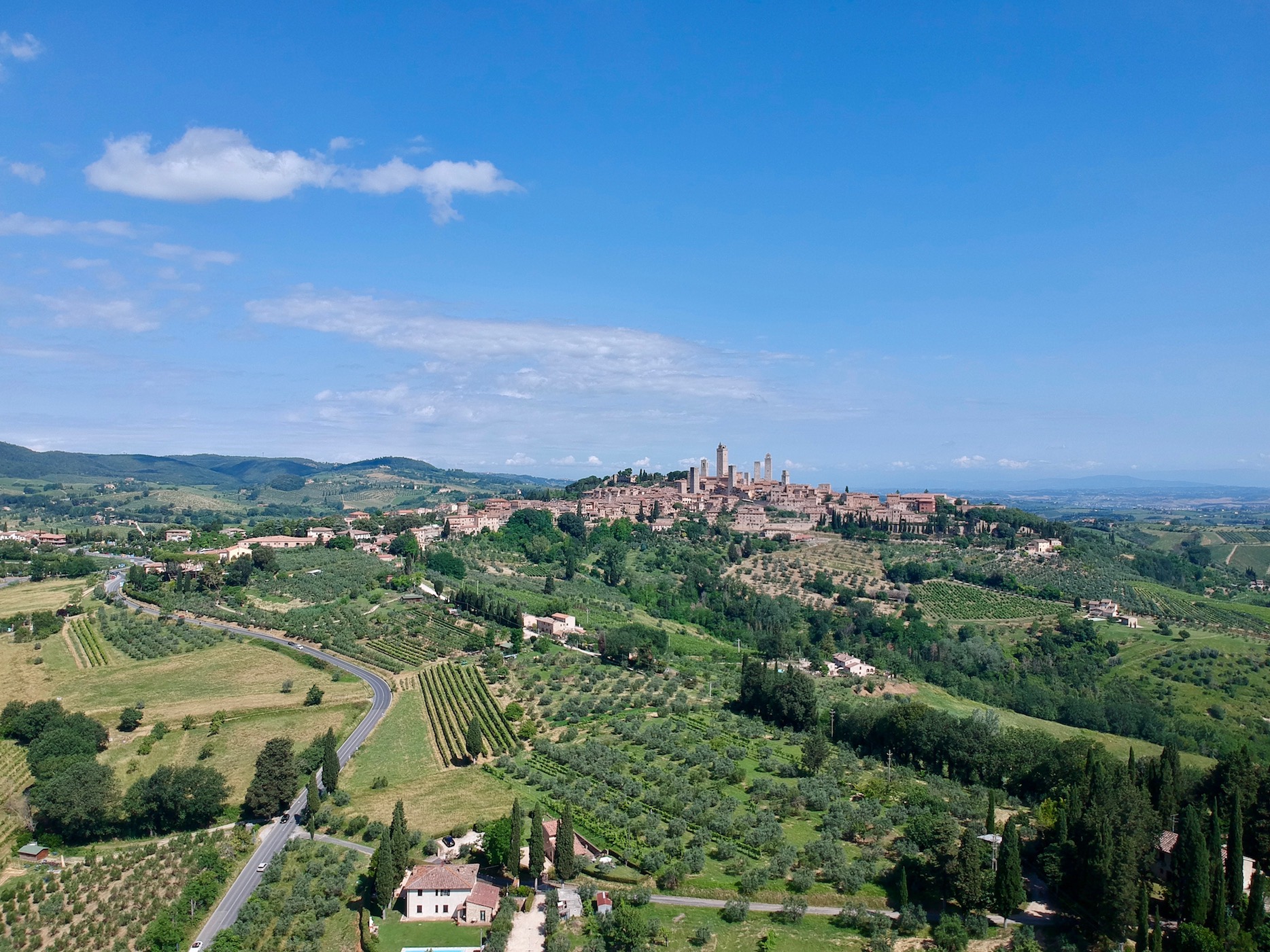 Disclosure: This article contains affiliate links. This means that if you click a link and purchase something I've recommended I may earn a small commission. This does not affect the price you pay but helps me to run this site. You can read my full affiliate disclosure here.
Where to start your Tuscany road trip?
This Tuscany trip follows a loop, you can start and finish at any point of the itinerary, but I recommend starting in Florence as it has an international airport and good rental car options. An alternative would be to start in Pisa.
This 10 day Italy itinerary is relatively relaxed, allowing 2-3 days in most destinations. If you want to spend a week in Tuscany, then follow the itinerary reducing Florence, Montepulciano and Lucca by a day. I have included options for a 14 day Tuscany road trip at the end of the article.
If you want to travel to other regions, check out our Northern Italy itinerary and Southern Italy road trip.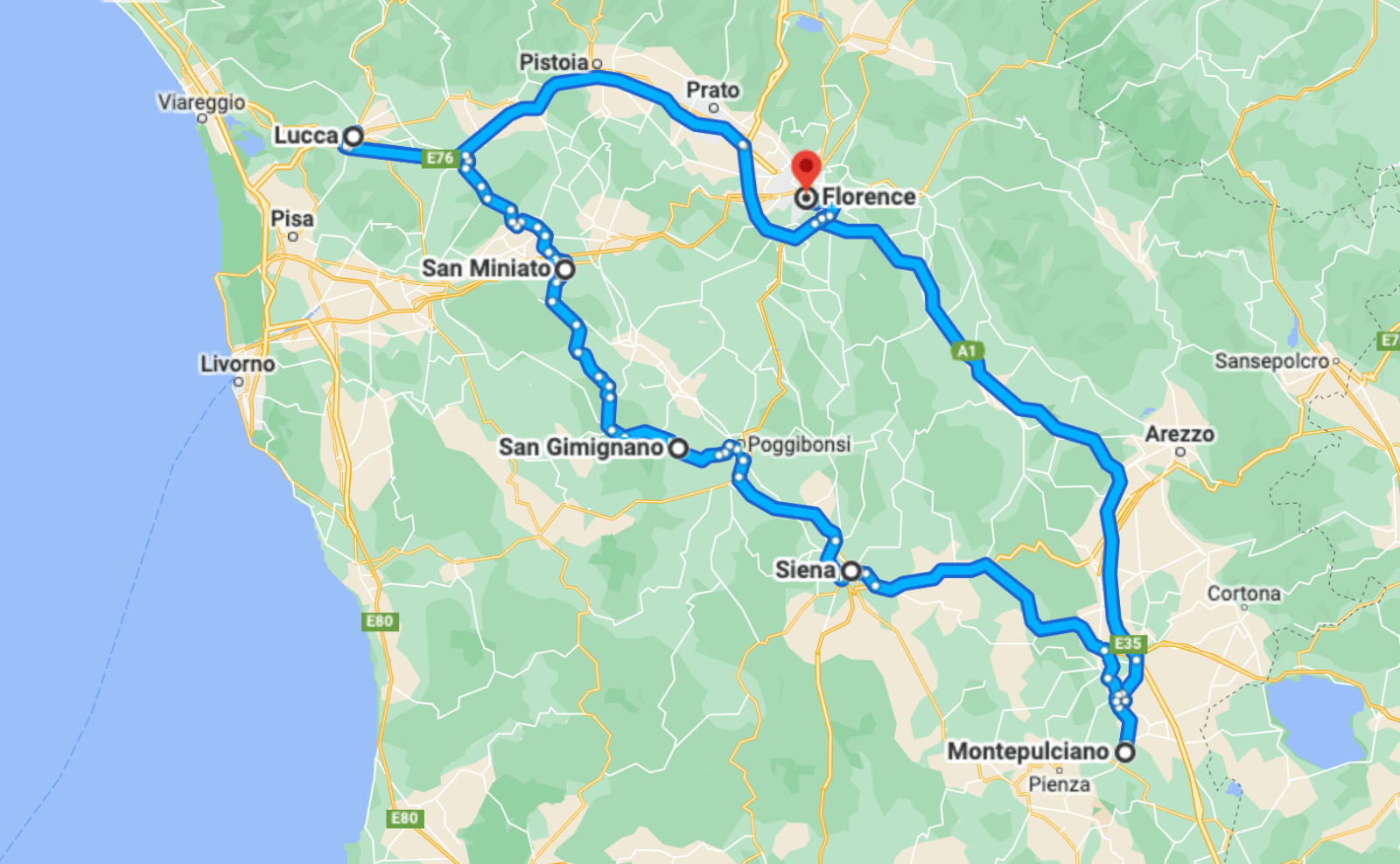 Tuscany Road Trip Itinerary Summary
Day 1-3 Florence
Day 3-6 Montepulciano
Day 6-7 Siena
Day 7-8 San Gimignano
Day 8-10 Lucca via San Miniato
Day 10 Florence
Discover the best things to do in Tuscany
Tips for driving in Italy
I recommend hiring a small car for this trip. Many Italian towns have narrow streets and low bridges in the centre, which can be tricky to navigate with a big car or motorhome. (I know this first-hand after almost getting stuck under a bridge in Montepulciano!). However, if you do plan to travel in a camper or motorhome, there are lots of great camping spots – just stay outside of the town/village centres. Expect to be beeped at often – it's just to let you know someone else is there – and watch your speed in towns and villages, it's usually 50km/h, even if there aren't signs and there are often speed cameras.
Hire a motorhome or camper in Italy.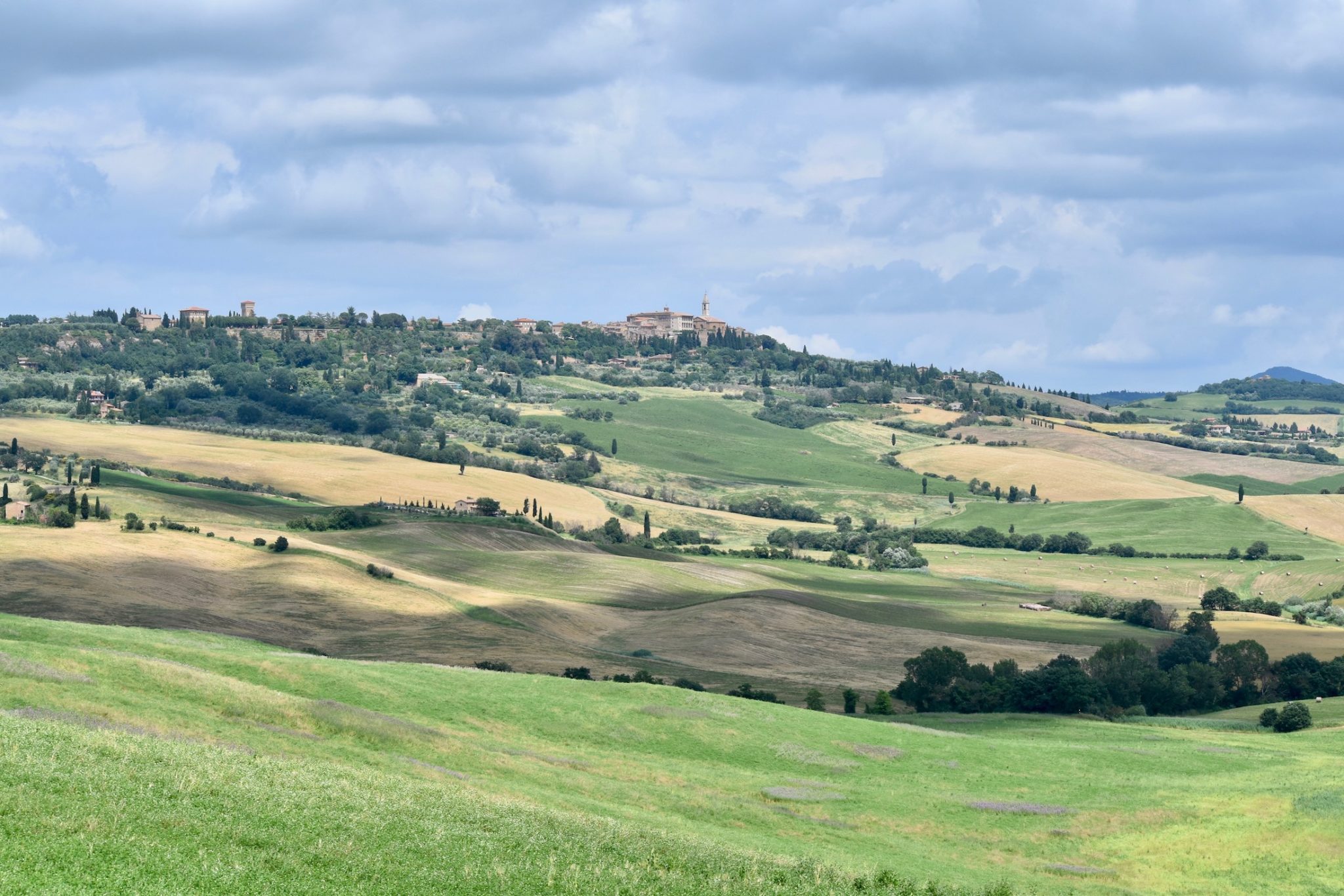 Day 1-3 Florence
Fly into Florence, grab a rental car/camper, and head into the city. You won't need the car while in Florence, so another option is to leave the car until you depart in a few days' time, this way you don't need to worry about finding accommodation with parking. Florence is the capital of Tuscany, and one of Italy's most loved and visited cities. Home to incredible artwork, stunning architecture, and delicious food it is a cultural and gastronomic paradise.
---
Things to Do in Florence
Eat Bistecca alla Fiorentina (Florentine Steak)
Stroll across Ponte Vecchio
Visit Piazza della Signoria and admire Palazzo Vecchio, the Fountain of Neptune and Perseus with the head of Medusa
See Michelangelo's David in the Accademia Galleries
Admire the Cattedrale di Santa Maria del Fiore (The Florence Cathedral/Duomo)
Walk up to Piazzale di Michelangelo for the best view across the city
Visit the Uffizi to see Botticelli's The Birth of Venus and da Vinci's Annunciation
---
Where to stay in Florence
Budget – Residenza Conte di Cavour & Rooftop is situated 200 m from Accademia Galleries and has a rooftop terrace. (Note parking is €40 per day – so worth picking up the rental car after Florence if you're on a budget).
Mid-Range – Relais Piazza Signoria is located on the corner of Piazza Signoria and offers studios and apartments, some with terraces. (Parking as above).
Luxury – The 4-star Hotel Berchielli is located on the River Arno, with views of Ponte Vecchio. Rooms are decorated in a classic style with antique furniture and details. (Parking €37 per day).
Campsites – Florence Park Scandicci is a 15 minute drive from the city centre with regular buses.
Find accommodation in Florence
---
Day 3-6 Montepulciano
From Florence drive 1.5 hours to Montepulciano. This beautiful walled medieval town sits on top of a hill, with panoramic views of the Val d'Orcia and Val di Chiana valleys surrounding it. Spend a few days here to enjoy the excellent wine of the same name and explore some of the surrounding areas.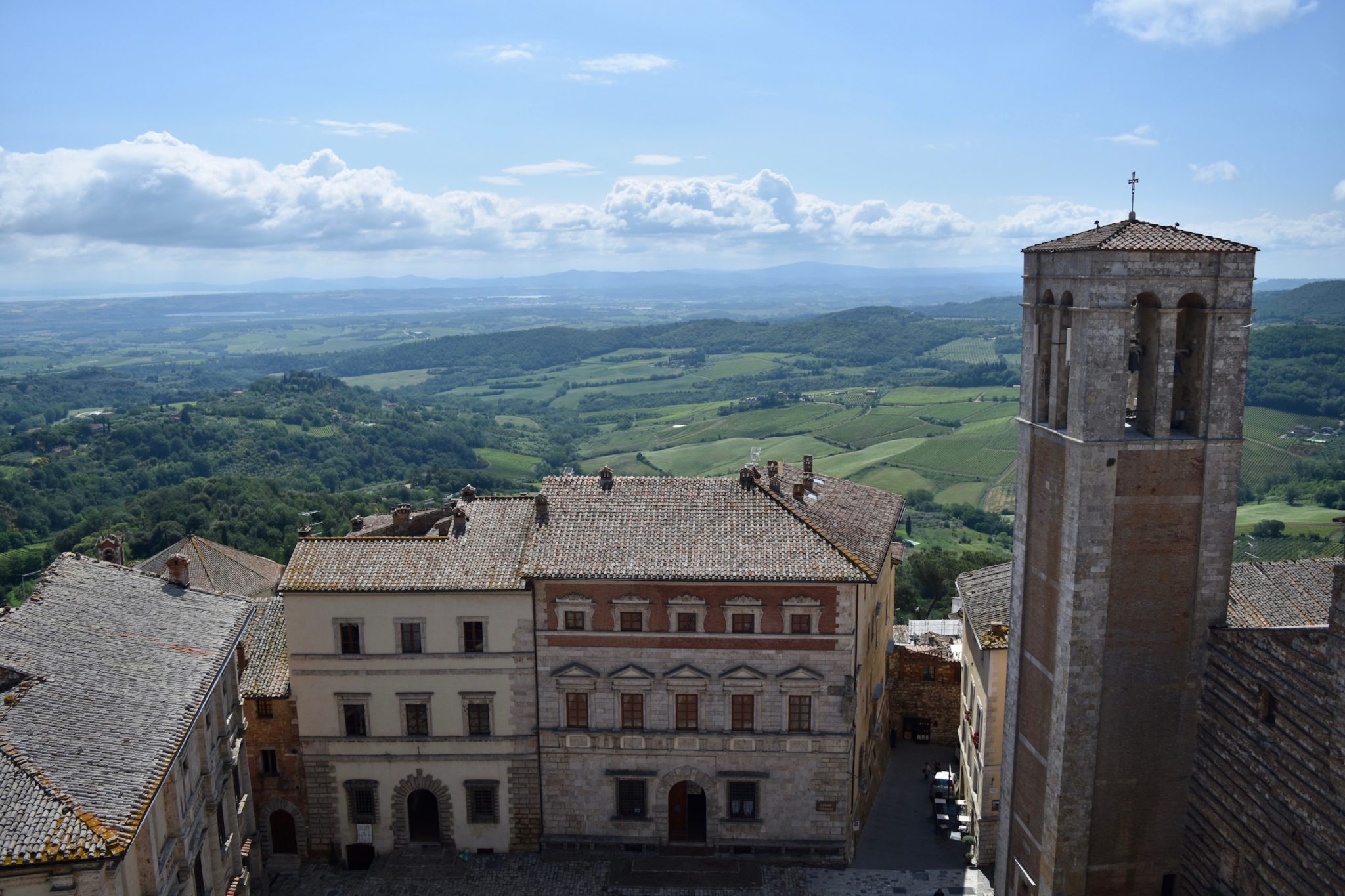 Things to Do in Montepulciano
Try Vino Nobile di Montepulciano (not to be confused with varietal wine merely made from the Montepulciano grape).
Go wine tasting – I recommend Cantina De'Ricci, located in the Renaissance-era Palazzo Ricci. Part of the cellar here dates back to the Etruscan period.
Wander along Il Corso – the main street
Explore the Piazza Grande
Climb the tower in Palazzo Comunale (the town hall) for beautiful views
Eat pecorino cheese from nearby Pienza, pici alle briciole (pasta with breadcrumbs), and Chianina steak
Visit the Tempio di San Biagio – Renaissance church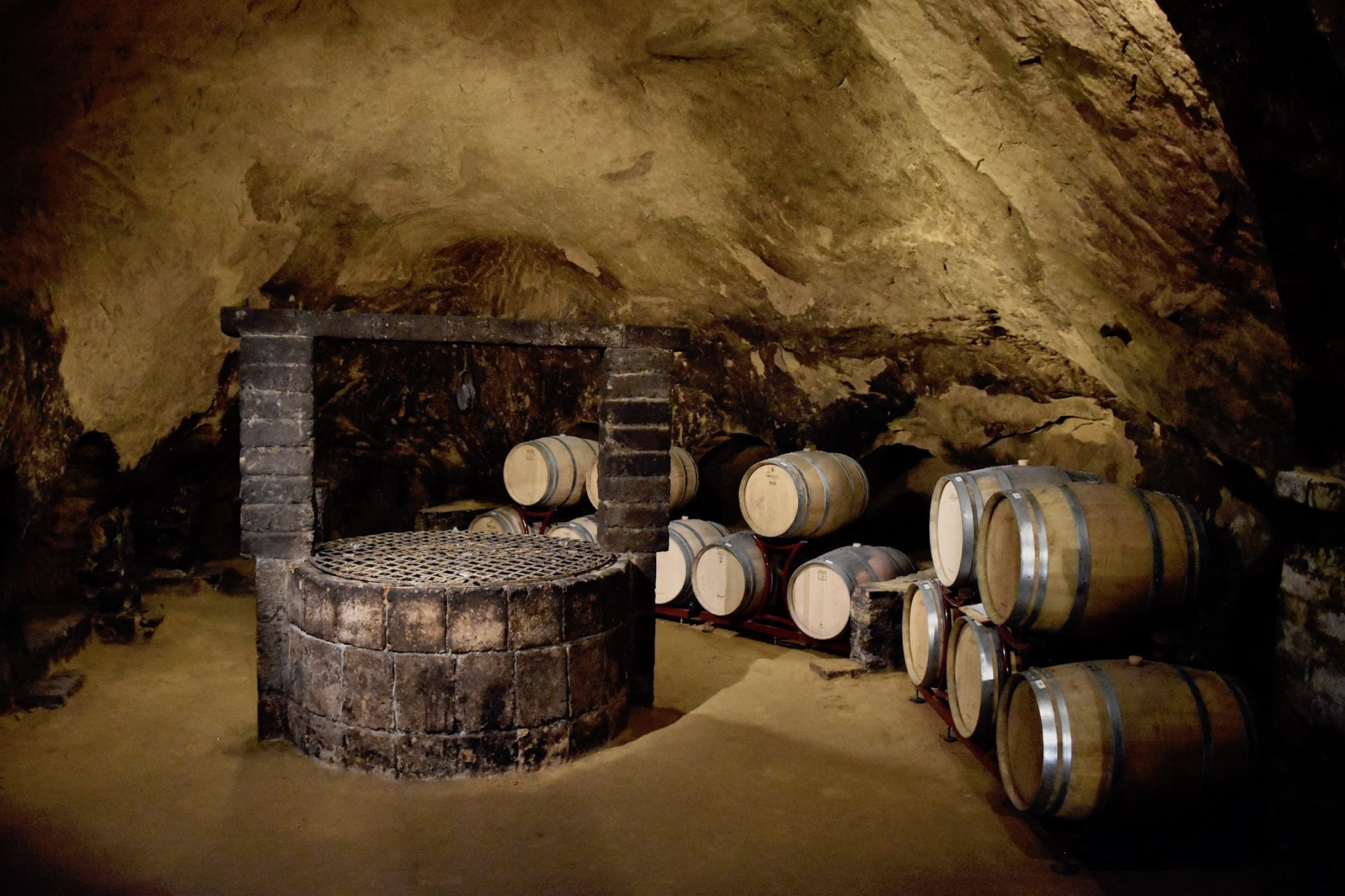 Day trips from Montepulciano
Bagni San Filippo (San Filippo Thermal Springs)
Tuscany is home to a number of natural thermal springs. Some have been converted into hotels and spas, but there are still a few that have been left in their natural state and are free to visit. One of these is San Filippo. Located in a small town of the same name, natural pools have formed from calcium carbonate deposits, and are filled with hot sulphuric spring water. It's a bit smelly but very relaxing and a lovely spot to spend the afternoon.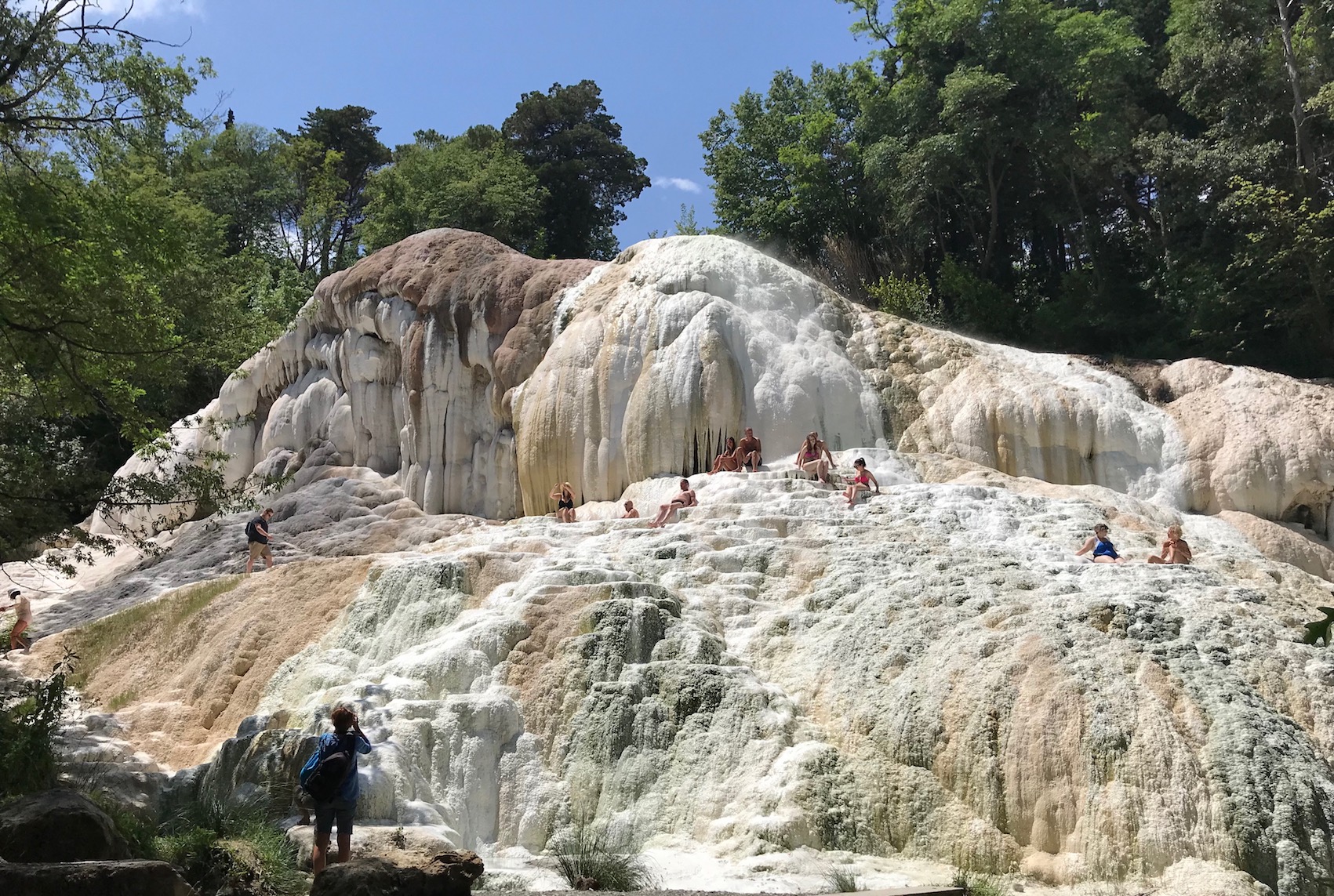 Chianciano Terme
Only 15 minutes drive from Montepulciano is Terme di Chianciano. The town of Chianciano is another spot known for its thermal waters and the spa here is excellent. Unlike Bagni San Filippo, this is a man-made, pay spa – using waters from the town's thermal springs, and it is excellent. Explore the 20 wonders of the Sensory Baths including whirlpools, a mud bath, ice crash, saunas, Turkish baths and emotional showers, there is even a pool which plays music underwater. Treatments are available and you can also book babysitters for your visit if you're travelling with kids.
Val d'Orcia
A UNESCO World Heritage Site and an area of outstanding beauty that includes several towns and villages, surrounded by rolling hills and stunning countryside. Visit the hilltop town of Montalcino for a taste of one of Italy's most celebrated (and most expensive) wines – Brunello di Montalcino. Explore the gorgeous countryside, some of which was featured in the movie Gladiator (as Maximus' house and land). Take a tour of Castello Banfi I borgo – Europe's biggest wine producer and enjoy lunch at their lovely restaurant.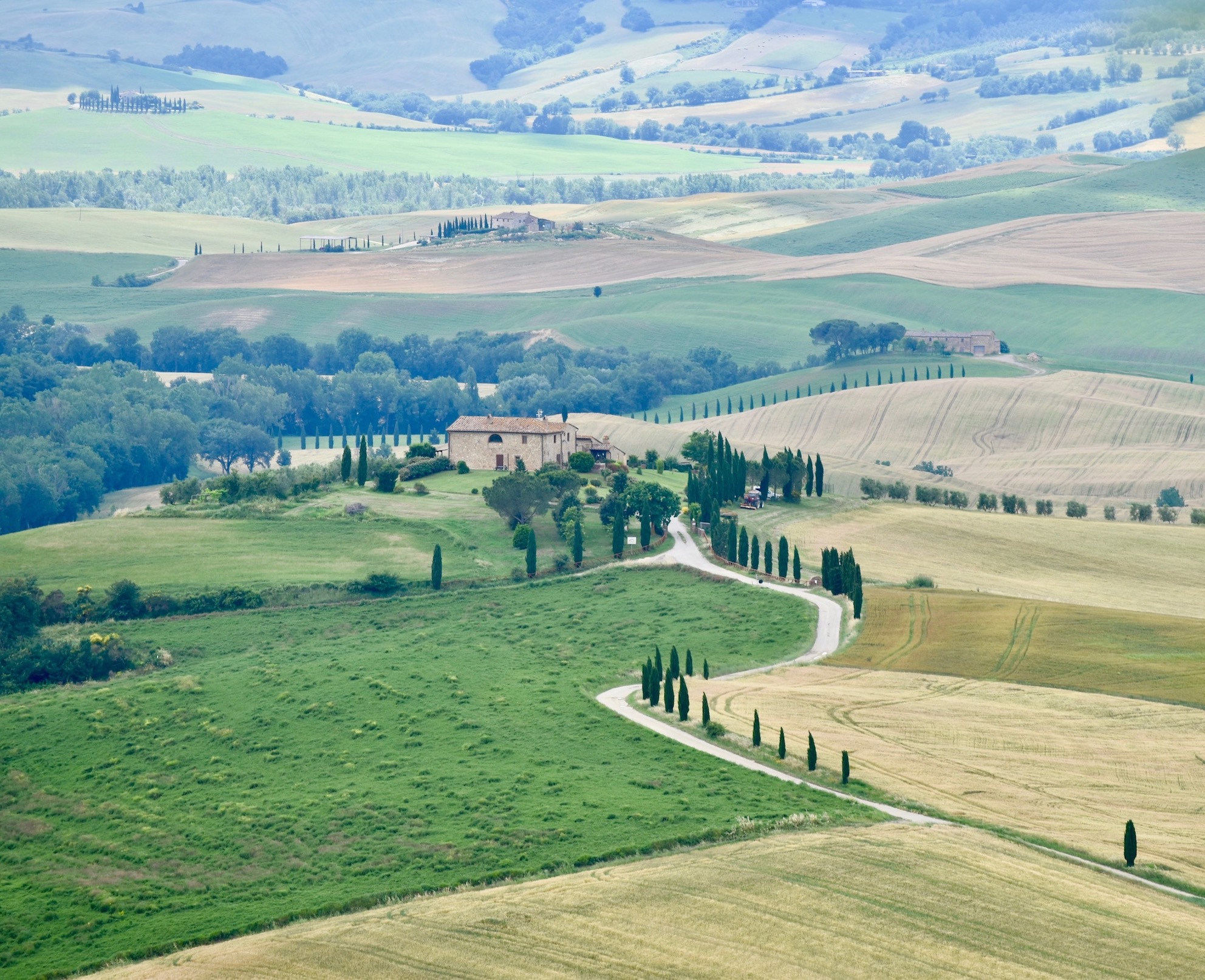 Where to Stay in Montepulciano
Budget – Pacifico is a farm stay a short walk from Montepulciano. Rooms have private bathrooms and share BBQ facilities and a garden. Breakfast and parking is included.
Mid-Range – We had a great stay at Locanda San Francesco, which has an excellent bar and restaurant and views of the valleys. Free parking on site.
Luxury – The 4-star Palazzo Carletti is located in Montepulciano's historic centre, set in a Mediaeval building that features original frescoes, high ceilings and views over the Chiana Valley and Lake Trasimeno. Rooms are individually designed with separate sleeping and living areas. Free parking is available 300m from the hotel.
Campsites – Area Comunale P5 is centrally located with waste and water disposal. (Not suitable for tents).
Find accommodation in Montepulciano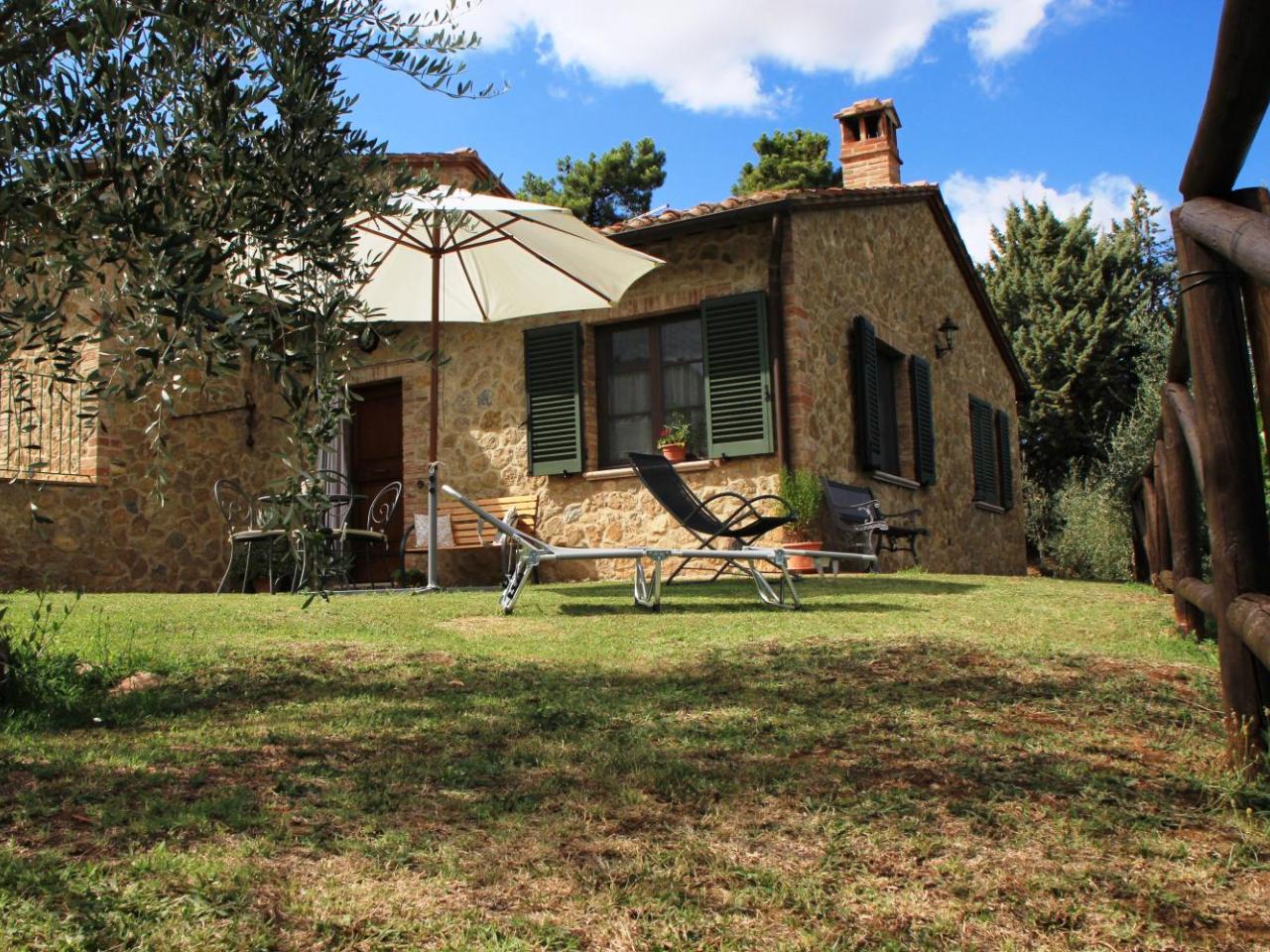 ---
Day 6-7 Siena
It's just under an hour's drive to Siena from Montepulciano, depending on the route you take. If you haven't visited already, you can drive via Val D'Orcia, or take the faster route past Sinalunga. Siena city centre is a UNESCO World Heritage Site, with an impressive fan-shaped main piazza – Piazza del Campo. Every summer this is the setting for the famous horse race – Il Palio.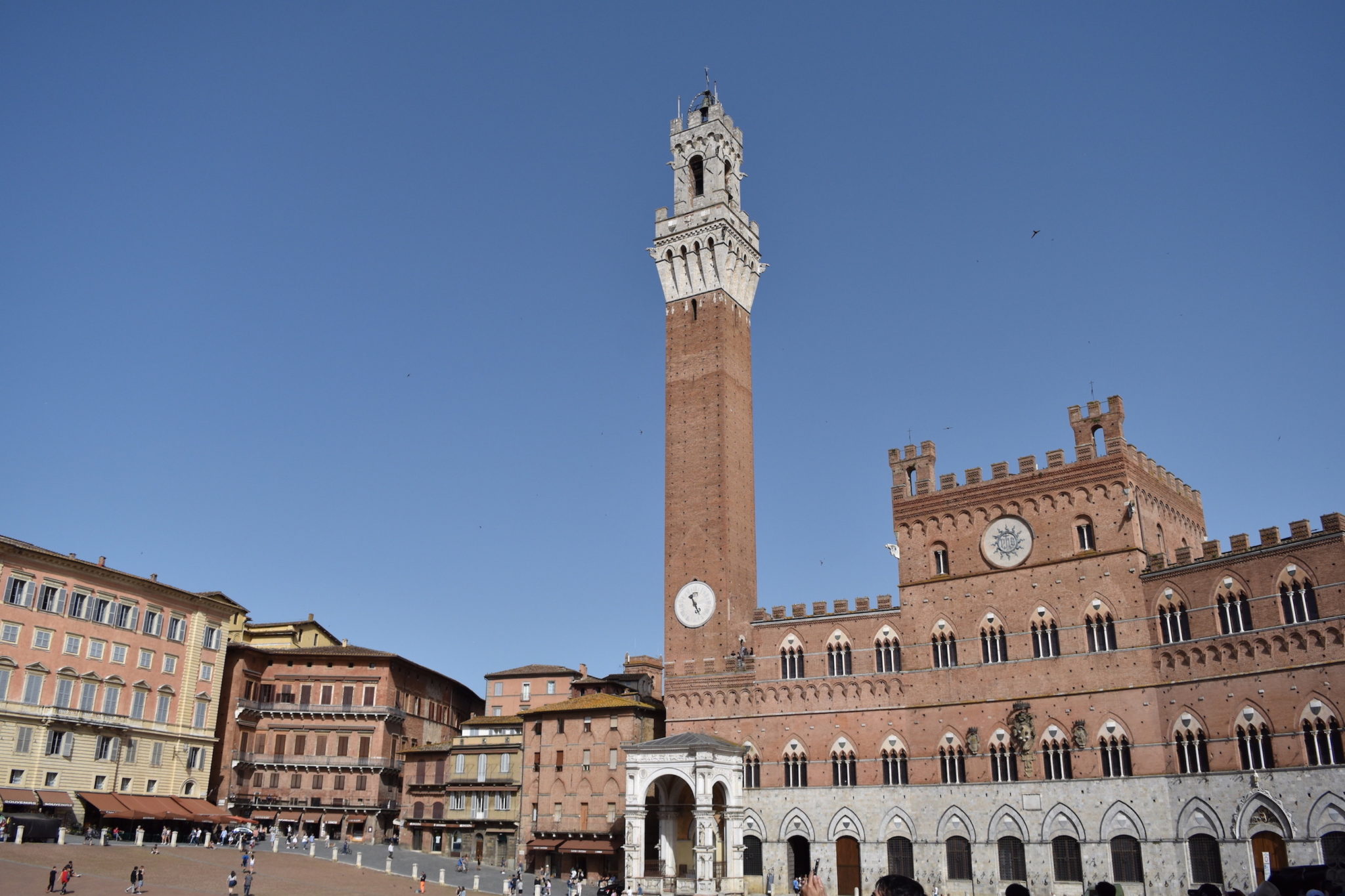 Things to Do in Siena
Spend some time exploring Piazza del Campo, including Palazzo Pubblico (the town hall – now the Civic Museum) and Fonte Gaia (fountain of joy),
Visit the Cathedral of Santa Maria Assunta (Duomo)
Go to Santa Maria della Scala – which was one of the oldest hospitals in Italy, and is now an impressive museum complex
Admire Basilica of San Domenico
Climb Torre del Mangia, which overlooks the Piazza del Campo. There are 400 steps up the tower which was built in the mid-14th century and stands at 289 feet tall – exactly the height of the Duomo.
Eat pici (this time with pork/wild boar ragu) and the famous panforte – a Sienese dessert containing candied orange and citrus peel, honey, cinnamon and vanilla.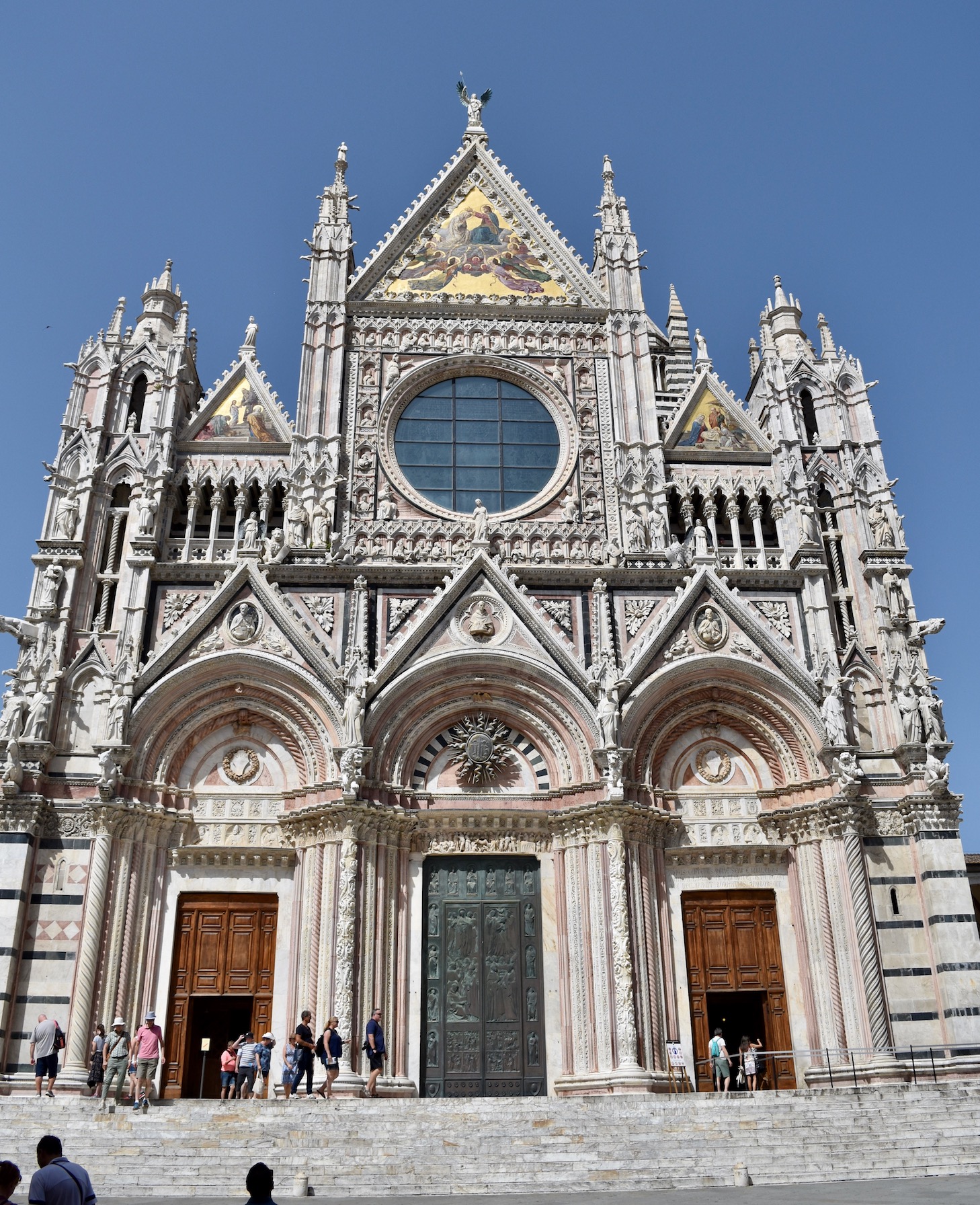 Where to Stay in Siena
Budget – Domus Il Palio is located 1km from Piazza del Campo. Rooms are spacious with private bathrooms, many with terraces or patios. Parking is free (on street).
Mid-Range – Piazza Paradiso is set in a historic building 300 m from Siena's Cathedral.
Each floor has a shared living room and guests can enjoy the use of the shared garden. Parking is €25 per day.
Luxury – For luxury, stay at the 5-star Grand Hotel Continental Siena. Set in a 17th-century building, it offers elegant rooms with frescoed ceilings and period furnishings. Parking is a pricy €55 per day.
Campsites – Camping Siena is a holiday village located a 10 minute drive from Siena. There is a bus service into town and the resort has a pool, pizzeria and cafe.
---
Day 7-8 San Gimignano
Drive 50 minutes to San Gimignano. This small town is famous for having many towers, which were a symbol of wealth for the local families. At one point there were 72 towers, though today 14 remain, which is still plenty when you consider the size of the town.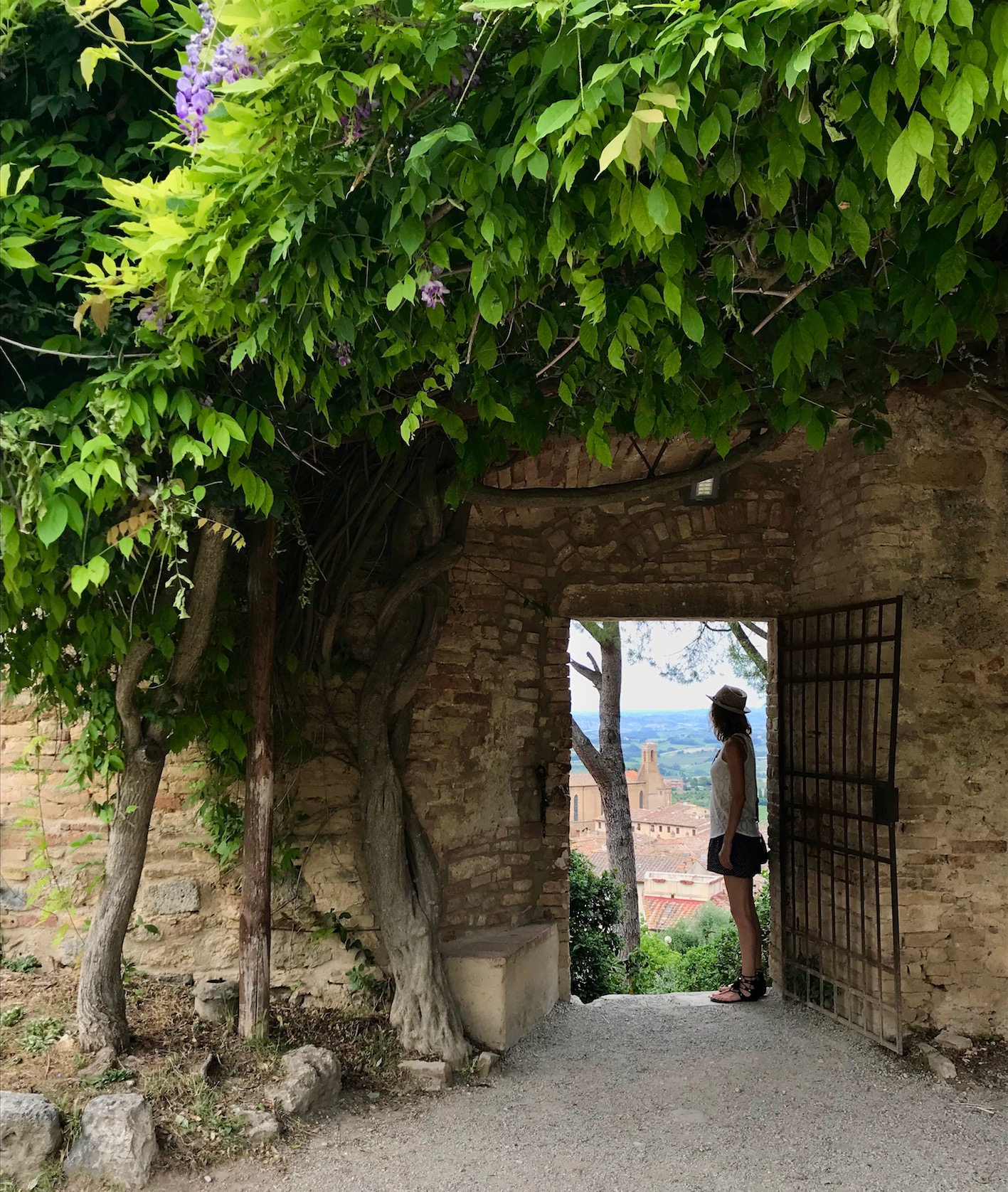 Things to Do in San Gimignano
Have a gelato at prize-winning Gelateria Dondoli in Piazza Della Cisterna
Climb the Torre Grossa – the town's tallest tower – for spectacular views
Visit the wine museum, so you can enjoy a glass of the region's speciality Vernaccia
Eat saffron and visit a Saffron farm – Casanova di Pescille (You can also stay here).
Head up to the Florentine fortress – Rocca di Montestaffoli
Visit the Duomo di San Gimignano
Check out the San Gimignano 1300 exhibition – a model of what the town looked like 700 years ago.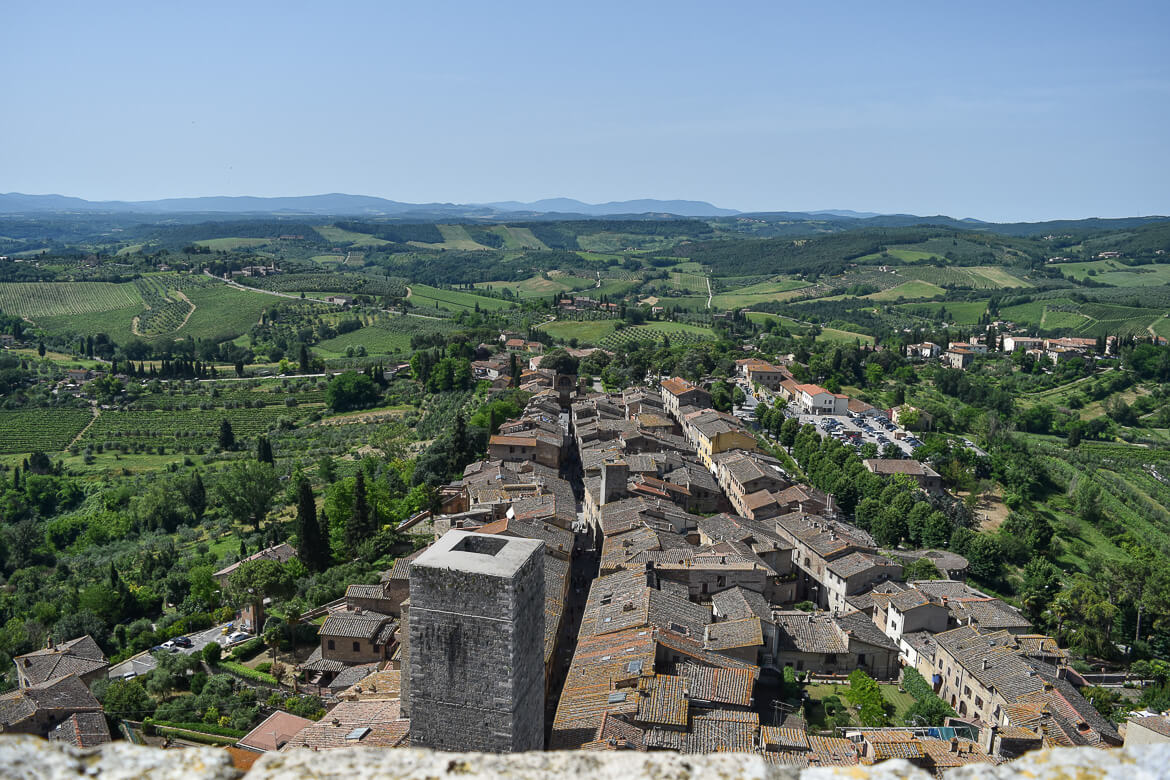 Where to Stay in San Gimignano
Budget – Casa dei Potenti is located in the centre of San Gimignano overlooking Piazza delle Erbe. Each room is unique and furnished with antique furniture. Parking nearby is free.
Mid-Range – We stayed at Hotel La Cisterna in Piazza Della Cisterna – a few steps from the gelateria – in a 14th-century building. Rooms have views over the piazza or over the Tuscan countryside. Parking (€15 per day) is outside the city walls a short walk away or via a shuttle service.
Luxury – Tenuta Sovestro is a farm stay located in the countryside with a free shuttle service into the town. There is a restaurant, pool, garden and free parking. Breakfast is included.
Campsites – Area di Sosta camper S. Lucia is about 3km from the centre. There is an 8 minute bus into San Gimignano every 30 minutes. Camping Boschetto di Piemma is 100m away and has tent pitches and a restaurant.
Find accommodation in San Gimignano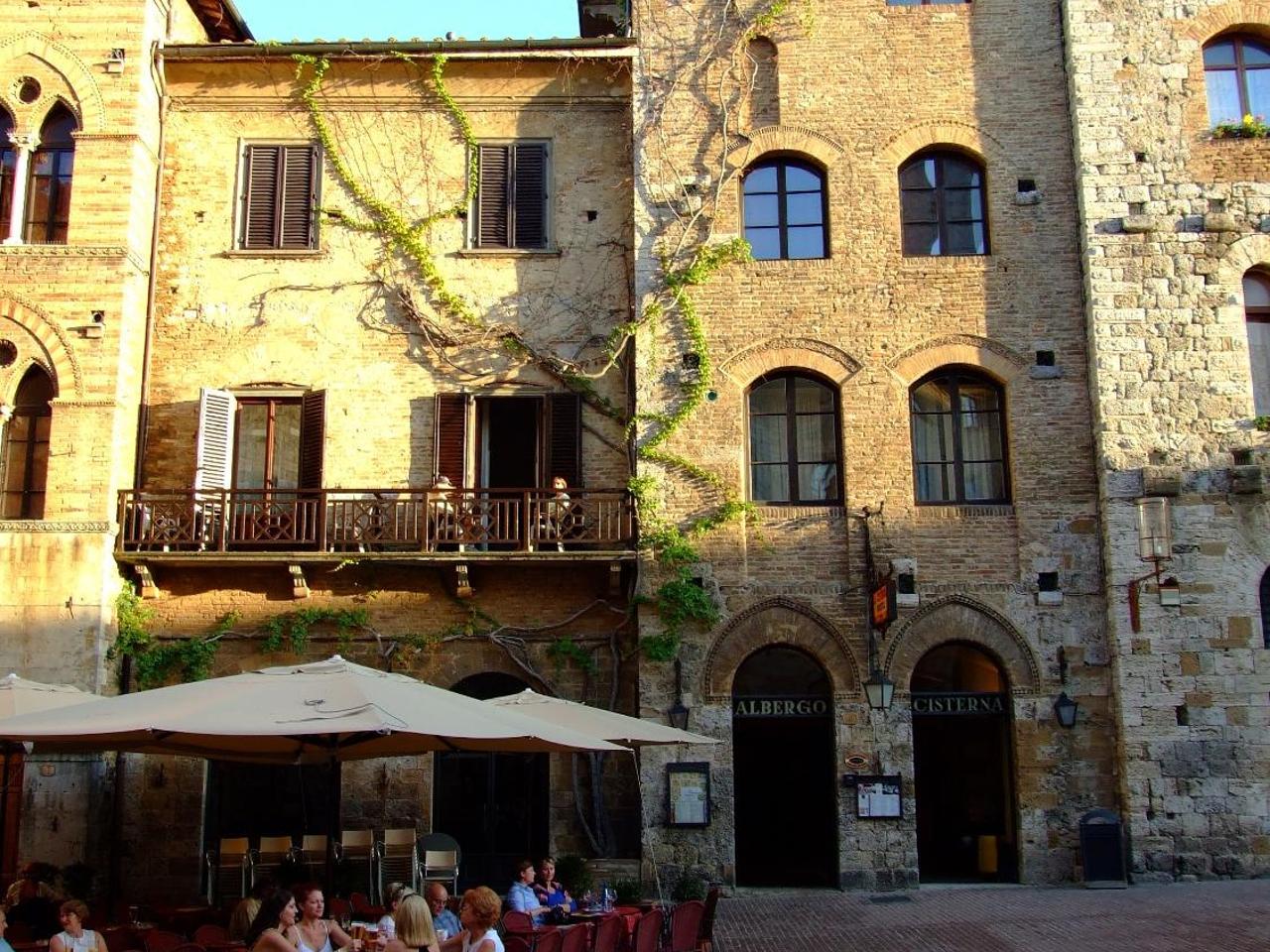 ---
Day 8-10 Lucca via San Miniato
From San Gimignano, it's a 50 minute drive to San Miniato. Book in advance with Massimo from Truffle in Tuscany for a morning of Truffle Hunting. You will be taken to the forest with one of the expert truffle dogs to search for black truffles. Afterwards, Massimo cooks up a feast at his home and you can taste some of your findings.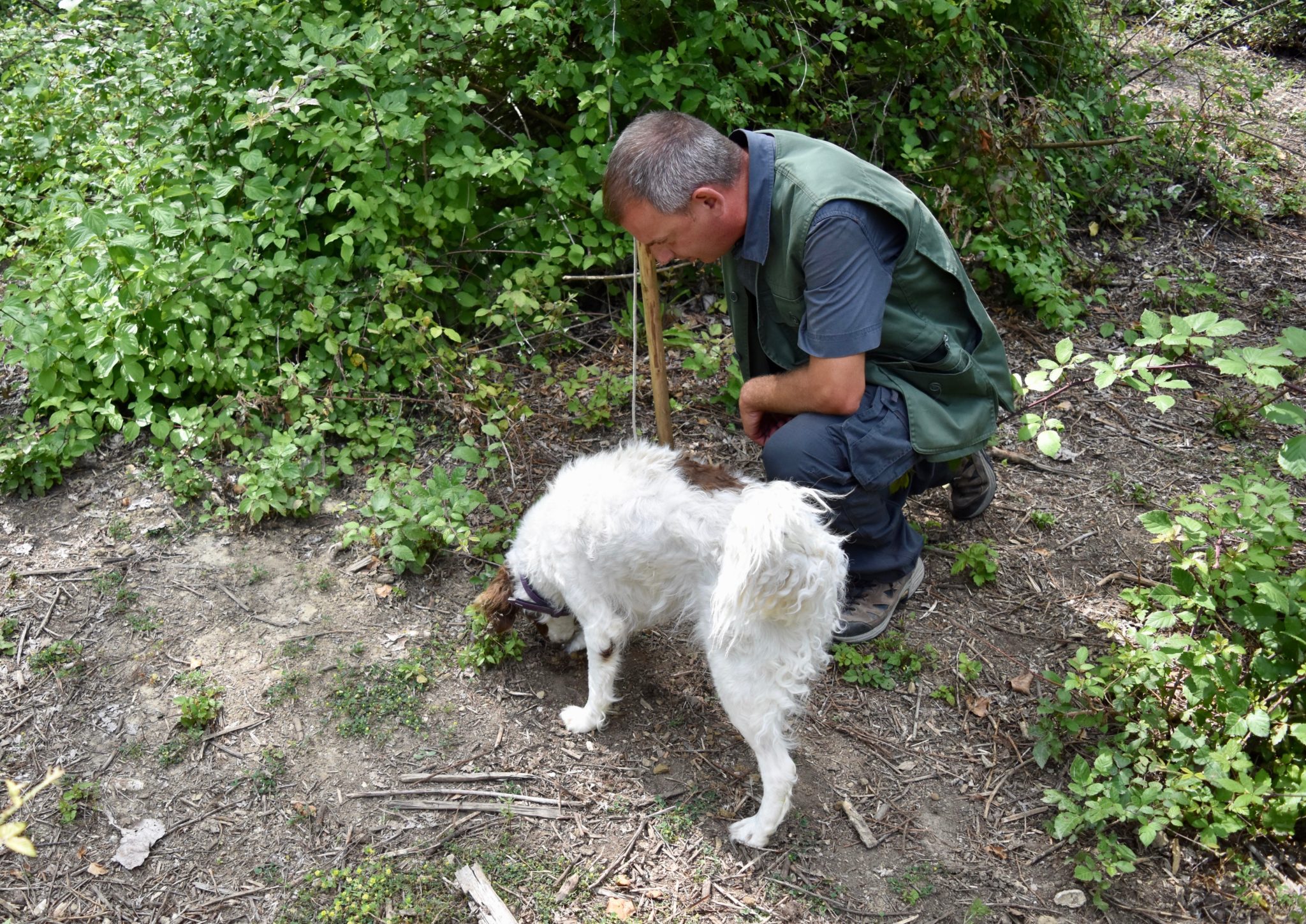 Continue another hour onto Lucca. This is my favourite Tuscan city and one I've spent a lot of time in. The walled city has fewer tourists than some of its neighbours and offers a wonderful Tuscan experience, with cobbled streets and laneways full of restaurants and bars.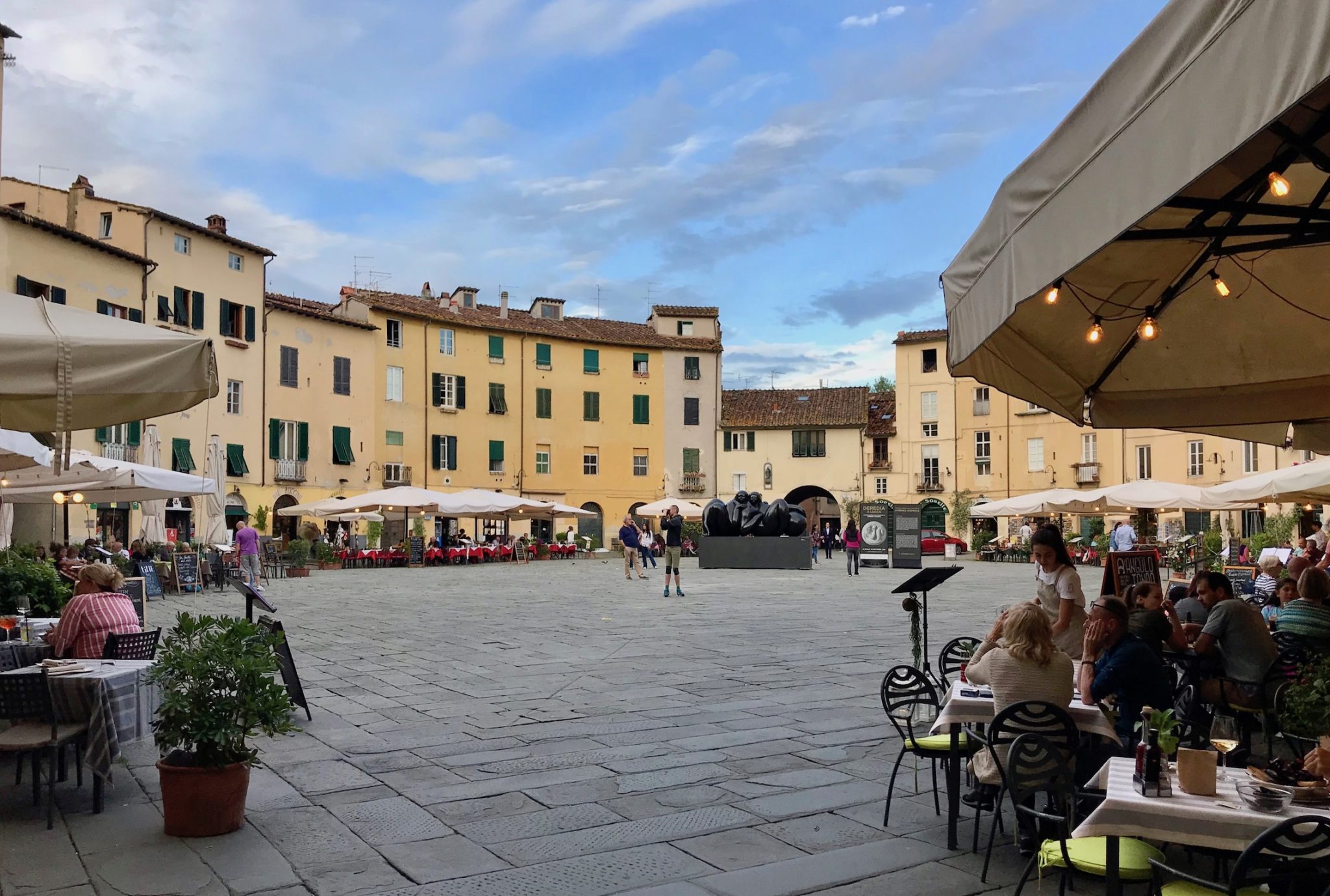 Things to Do in Lucca
Hire bikes and cycle around the 4km path on top of the city's walls
Climb Torre Guinigi to enjoy the views and the trees at the top
Wander the narrow streets and stop for coffee, focaccia and gelato, and to shop in the city's centre
Visit Piazza dell'Anfiteatro, a huge circular piazza that was once a Roman amphitheatre – there are often concerts here in the summer with big international artists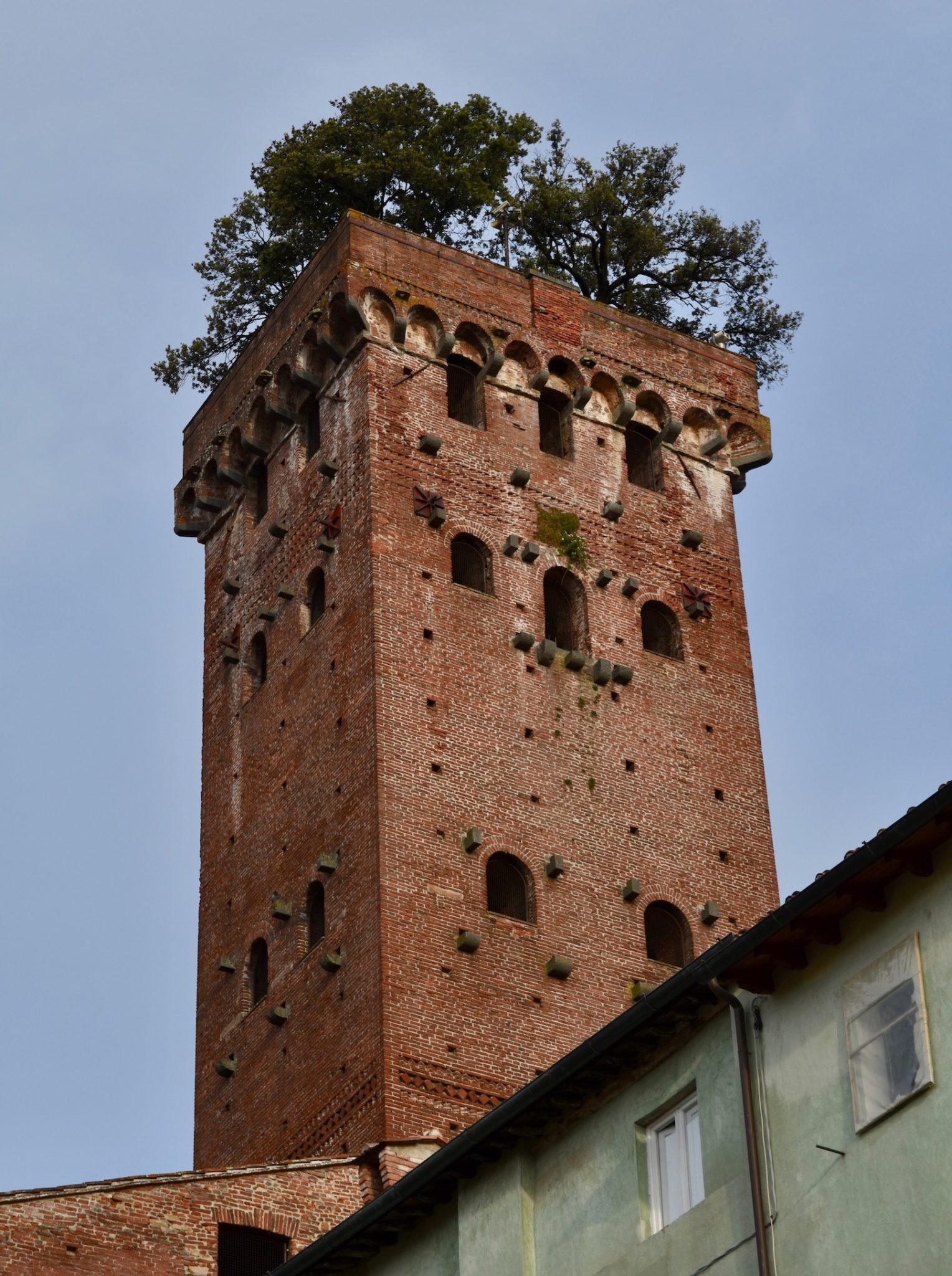 Where to Stay in Lucca
Budget – We had a lovely stay at Al Tuscany inside the city walls. It's a great location to get everywhere and many of the rooms have views over the city. You will need to park outside the city walls and walk in.
Mid Range/Luxury – Palazzo Rocchi is a gorgeous guesthouse inside the walls, with opulent decor. We loved our stay here – it feels like a luxurious little secret and the owners are so welcoming. Parking nearby for €2 per hour.
Luxury – Located outside the city walls, Villa La Preziosa is a 4-star property with beautiful gardens. There is a pool and breakfast is included. The property offers a shuttle service for an additional charge. Parking is free.
Campsites – Parking del Borgo is located a 5 minute walk outside the city walls and has camper spots for €15 per night.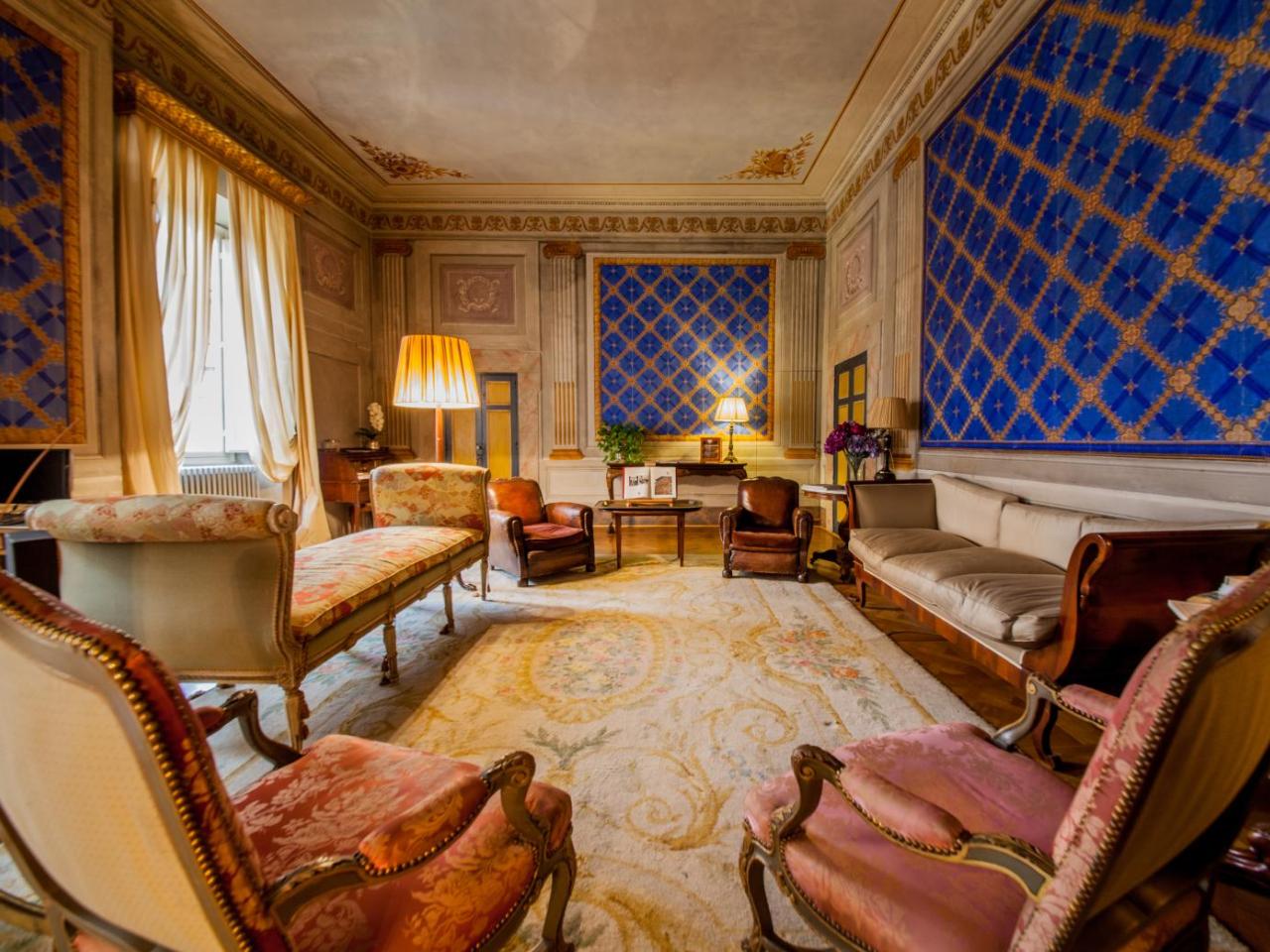 ---
Day 10 Florence
Drive 1 hour 15 back to Florence for your flight home.
Two Weeks in Tuscany
If you have a longer trip, then I suggest heading west from Lucca to the coast. Here you have a few options:
Elba
Take a ferry to the idyllic island of Elba. This is the third largest island in Italy after Sicily and Sardinia and is part of the National Park of the Tuscan Archipelago, the largest marine park in Europe. It is known for unspoilt beaches and clear blue water and is a good spot for diving and snorkelling as well as hiking and mountain biking.
---
Tuscany Beaches
Stay at one of the Tuscan beaches, such as Viareggio, Forte dei Marmi or Camaiore.
Around 30 minutes drive from Lucca.
Liguria Beaches
Head to Liguria, to one of my favourite Italian beach spots – Lerici and Fiascherino – an hour's drive from Lucca. I personally think the beaches here are more lovely than the Tuscan beaches further south and while you are here, you can easily take a day trip to the famed Cinque Terre and the beautiful villages of Porto Venere and Tellaro. You can read all about it in our Liguria guide.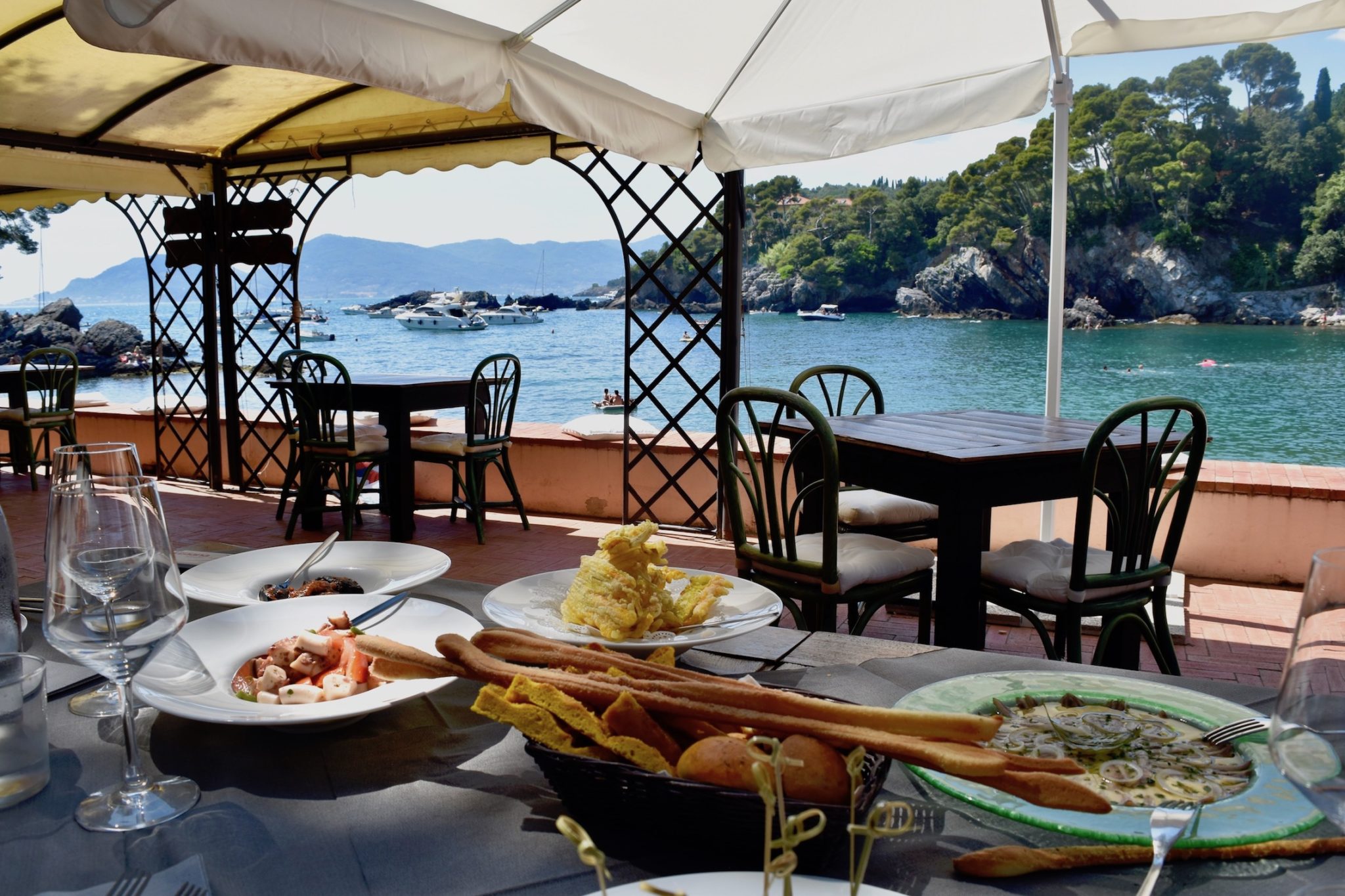 FAQs
How many days do you need for a road trip to Tuscany?
A 10 day Tuscany road trip allows you time to see the main cities, smaller towns and villages, as well as the beautiful countryside in between. If you're short on time it can be done in 7 days, and for a really relaxed Tuscany itinerary, 2 weeks is excellent.
What is the famous road in Tuscany?
The SR222 'Chiantigiana road' is Tuscany's most famous drive, connecting Florence to Siena through the Chianti region.
Do you need a car to explore Tuscany?
To really explore the region it's really worth having a car. The main cities are connected by train, but it's more difficult to get to the smaller towns and see the countryside without a car in Tuscany.
Where should I stop on a Tuscany road trip?
Include a mixture of iconic cities such as Florence and Siena, along with smaller towns and villages like San Gimignano, Lucca and Montepulciano and visit the beautiful area of Val d'Orcia.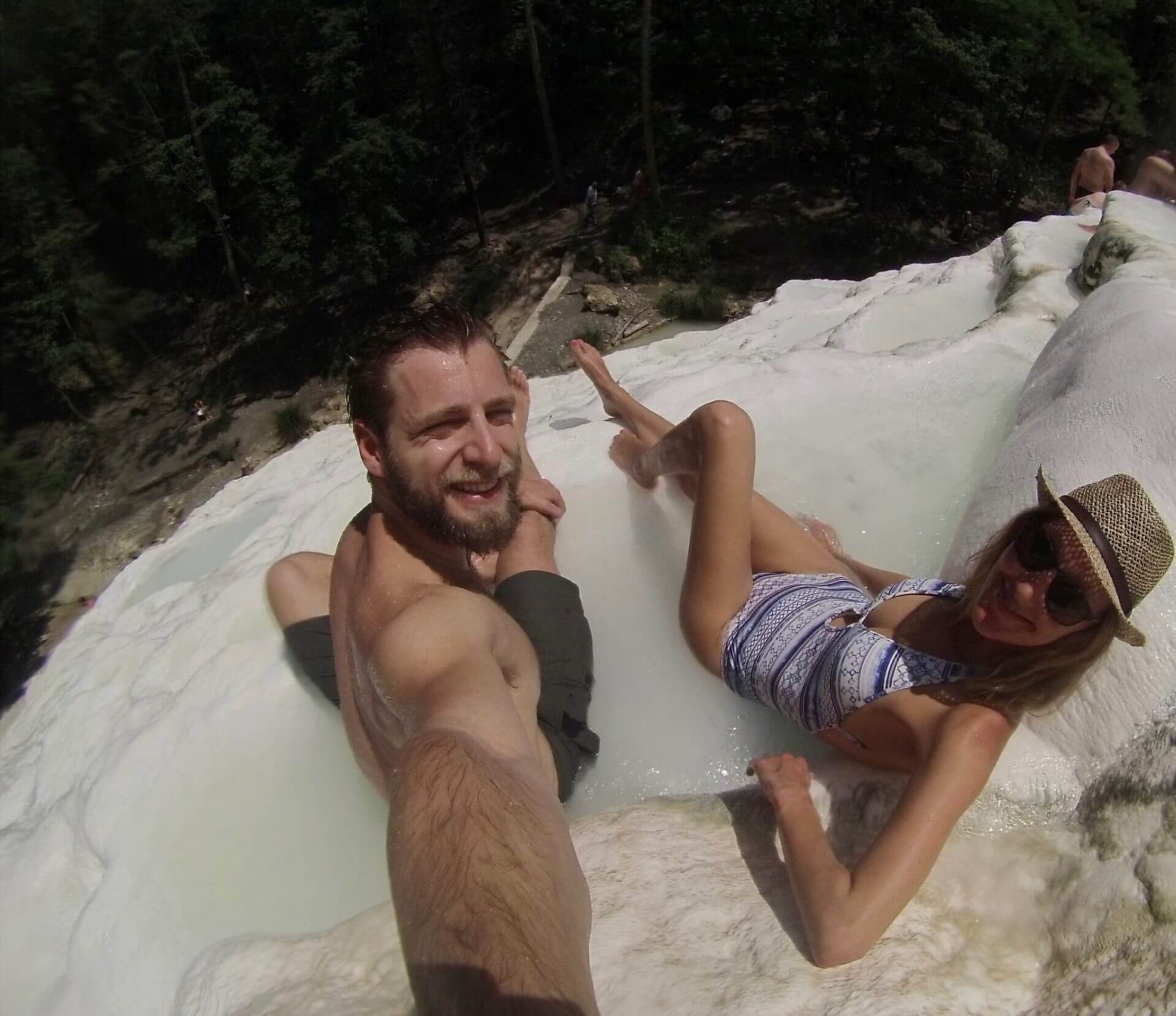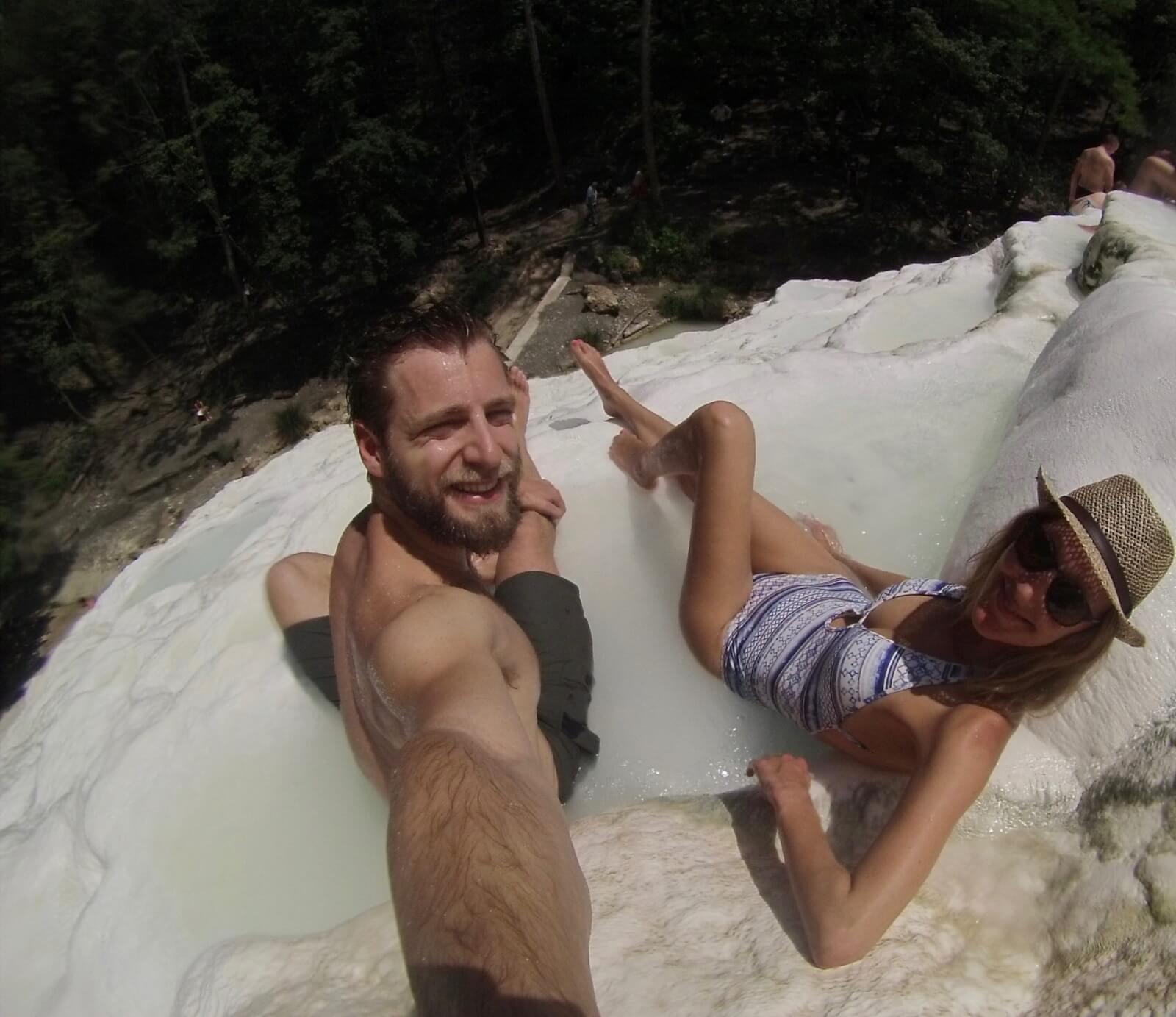 Have you taken a road trip in Tuscany? We would love to hear your thoughts in the comments below.