Here's the ultimate Ubud travel guide from contributors Sarah and James.
Bali is unique compared to the rest of Indonesia, one of the main differences being the prominent religion is Hindu (Indonesia is mostly Muslim). With its variety of Hindu temples, Balinese traditions, food and arts, Ubud is rightly known as Bali's 'Cultural Heart' – combine this with the fact Ubud has become a magnet for travellers around the world, you will find a bizarre mix of Western amenities, alongside traditional Balinese culture.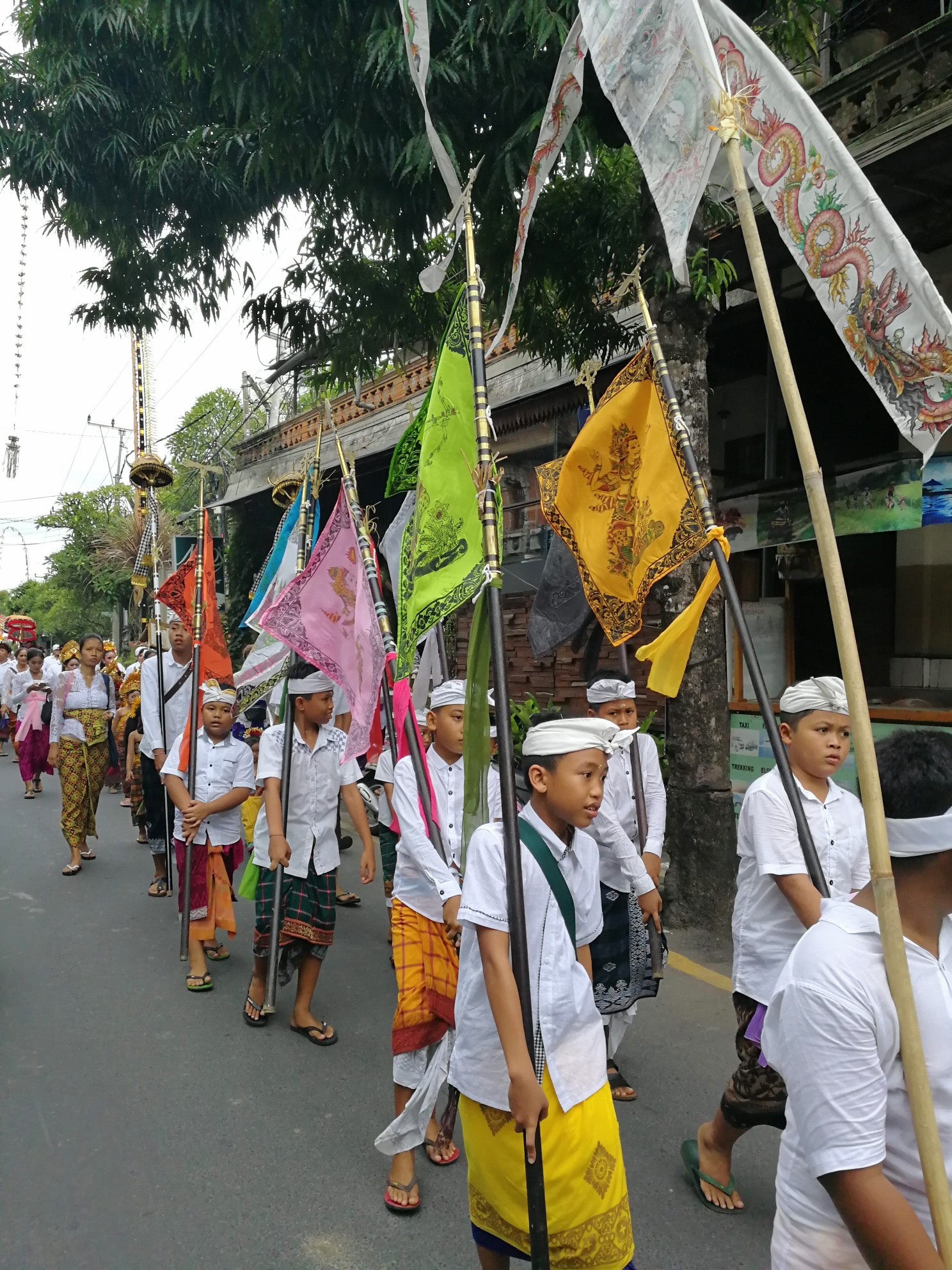 In parts, Ubud is hectic, crowded and 'Westernized', but if you head off the main roads following the many small lanes, you'll find yourself in the middle of a Balinese oasis with hardly anyone else in sight.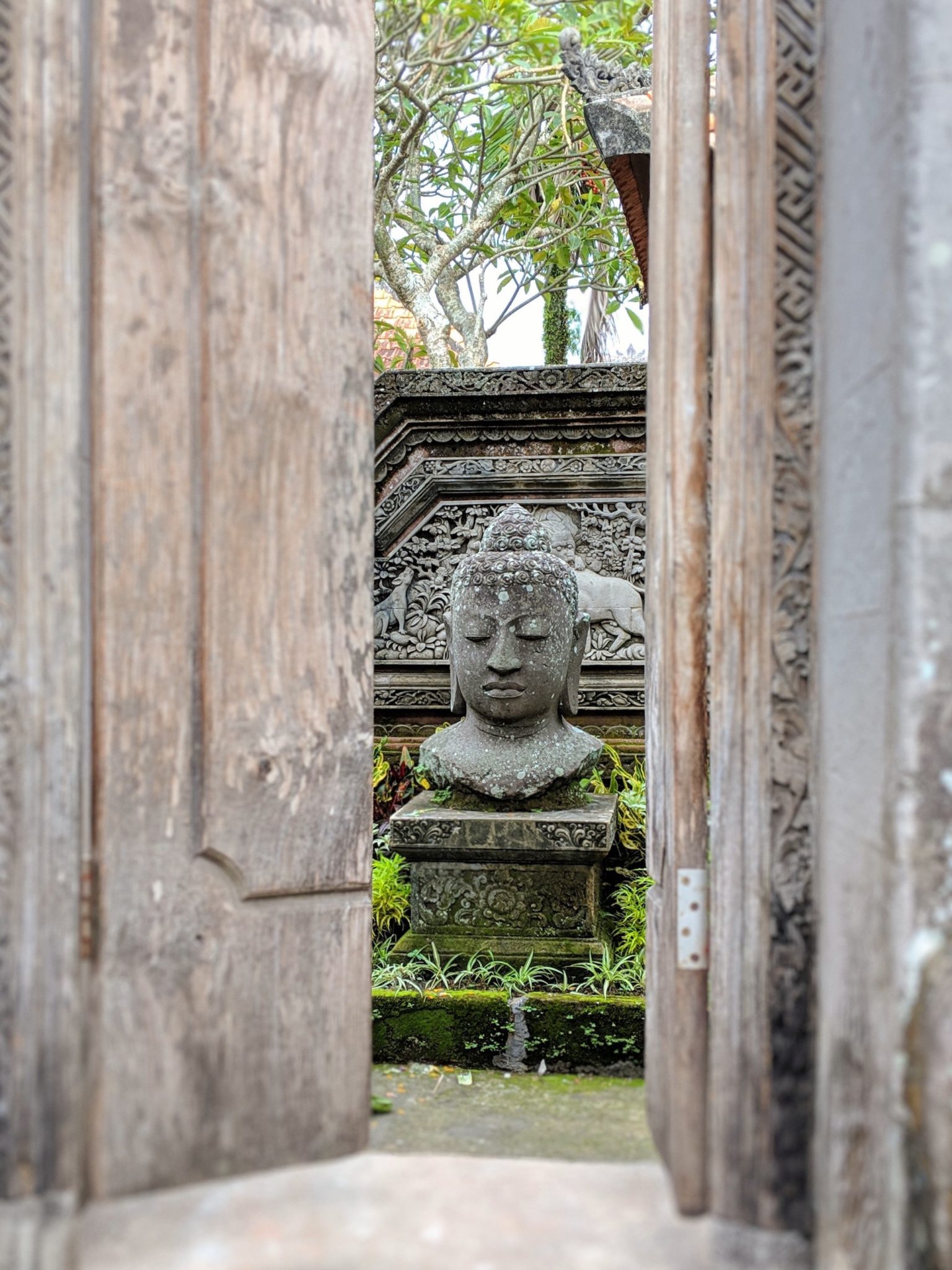 Things to Do in Ubud
Monkey Forest
Spend a morning at the Sacred Monkey Forest exploring the series of 14th-century temples and watching the cheeky monkeys (long-tailed macaques). If you want a close encounter just stand by someone who has food, you'll soon see how bold these cheeky monkeys really are.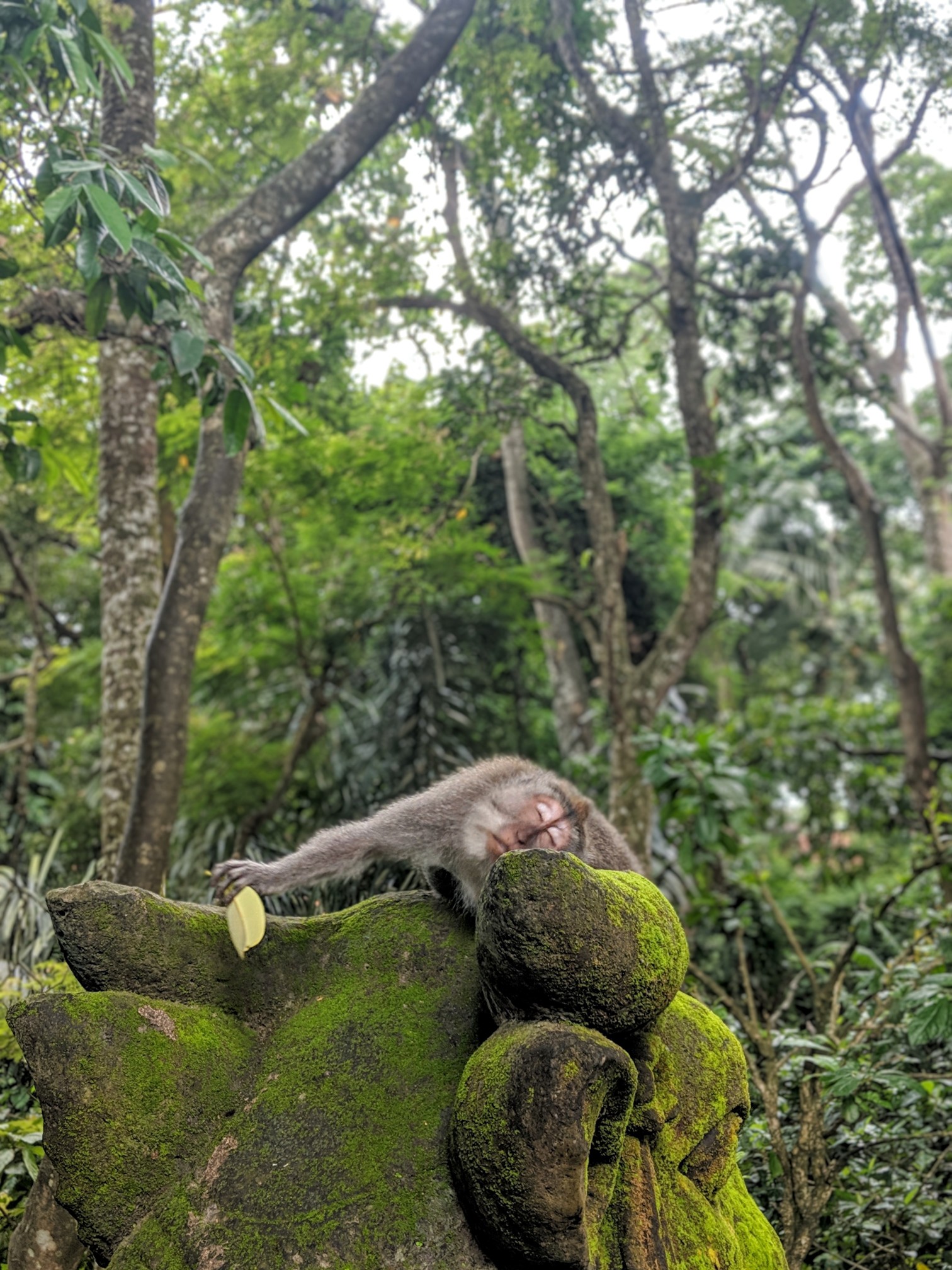 Tegalalang Rice Fields
A little further out of town, head to Tegalalang rice fields. Although it's one of the top touristy things to do, it is a worthwhile walk. Try morning or towards sunset for fewer people.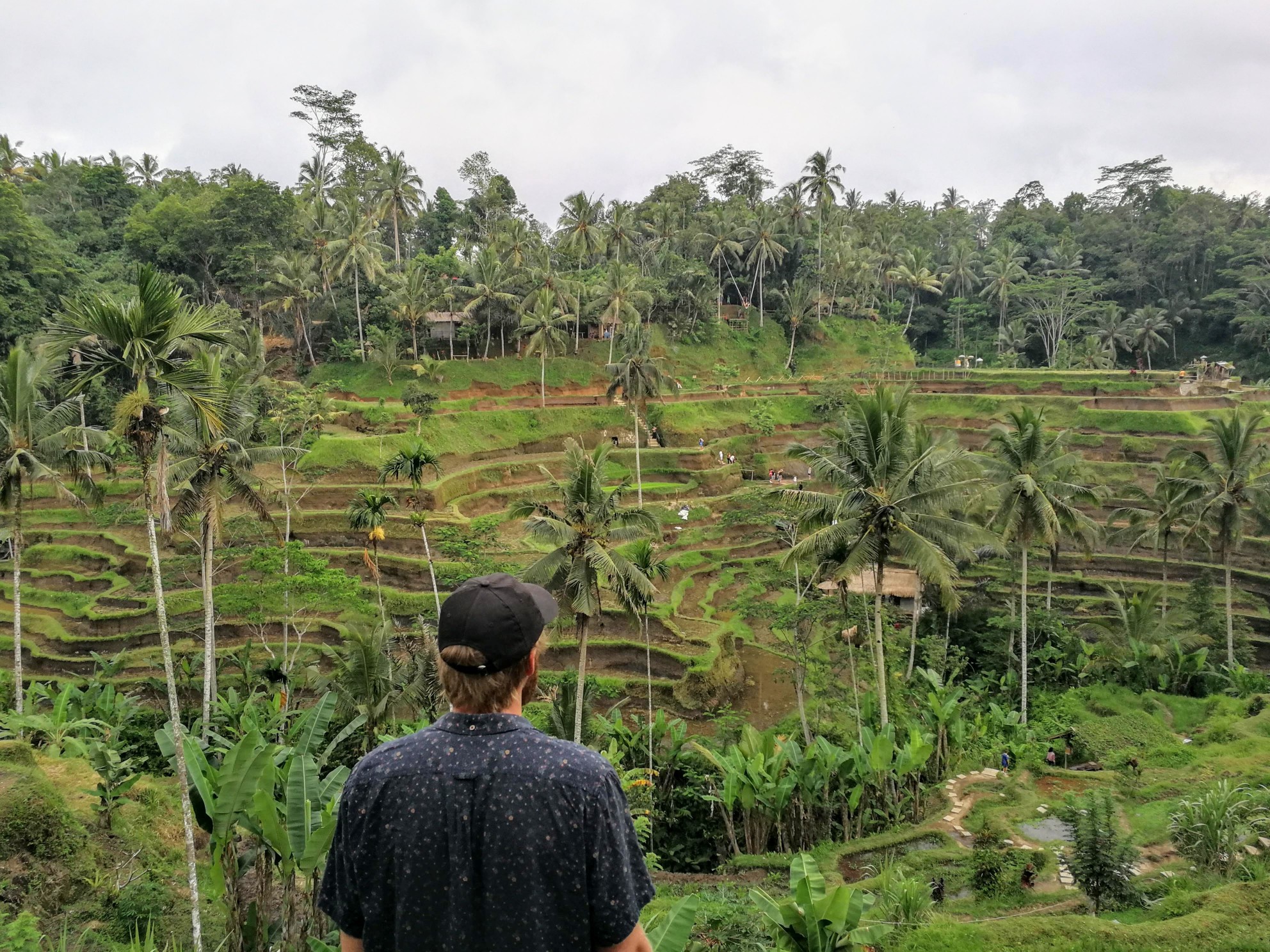 Yoga & Meditation
A visit to Ubud is not complete without some form or relaxation, whether that's yoga, meditation, a massage or any number of the unique experiences available – this is a great place to try something different.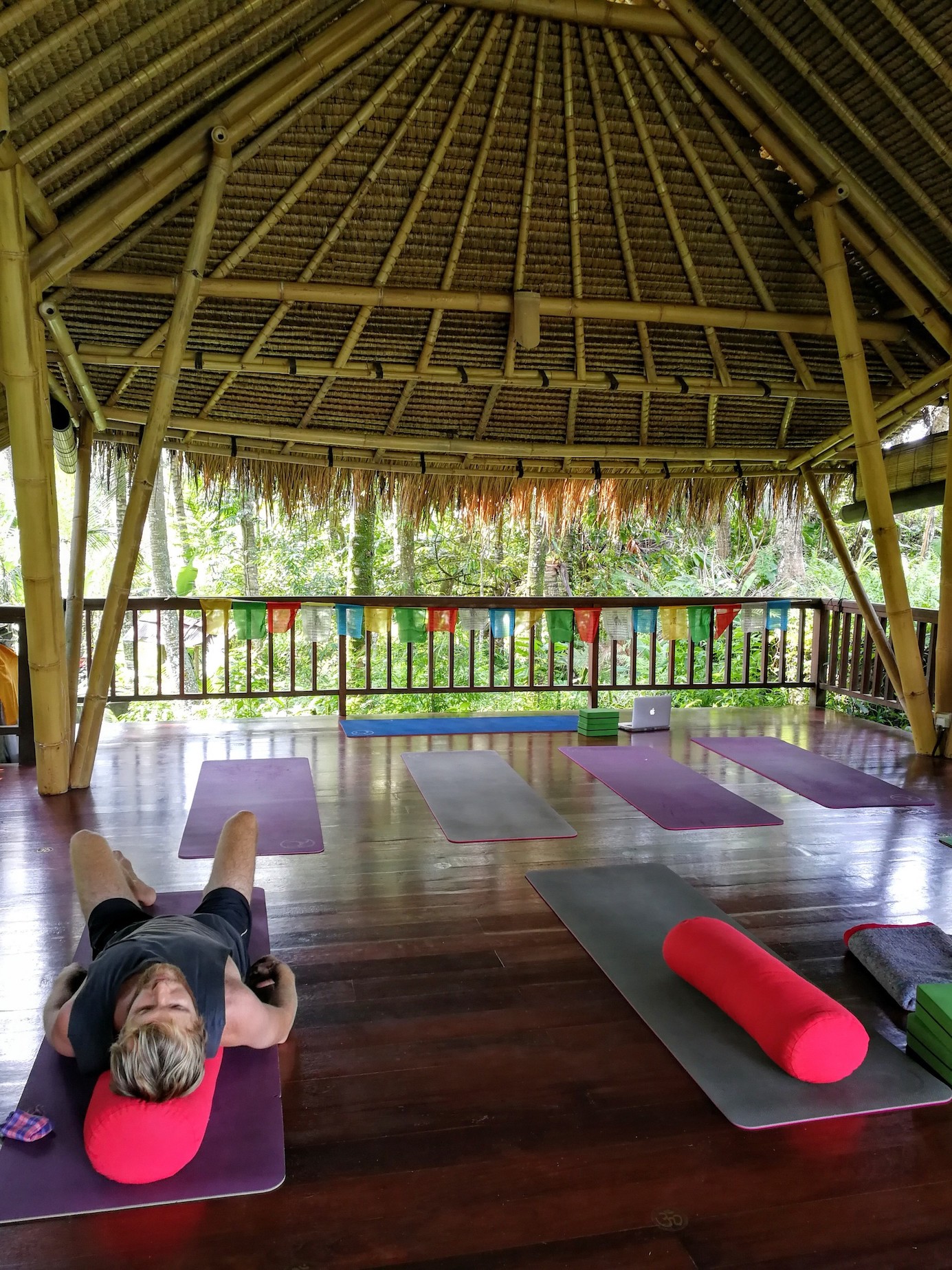 The famous Yoga Barn has a huge variety of classes and is particularly good for unique classes, such as live sound healing. If you'd like to focus on more 'standard' classes and prefer smaller studios, we would recommend Ubud Yoga House. Offering intimate classes for all levels, the studio is tucked away amongst the rice fields. It's a perfect setting to unwind and really find your zen. We went every day, even in the evening for a candlelit meditation session.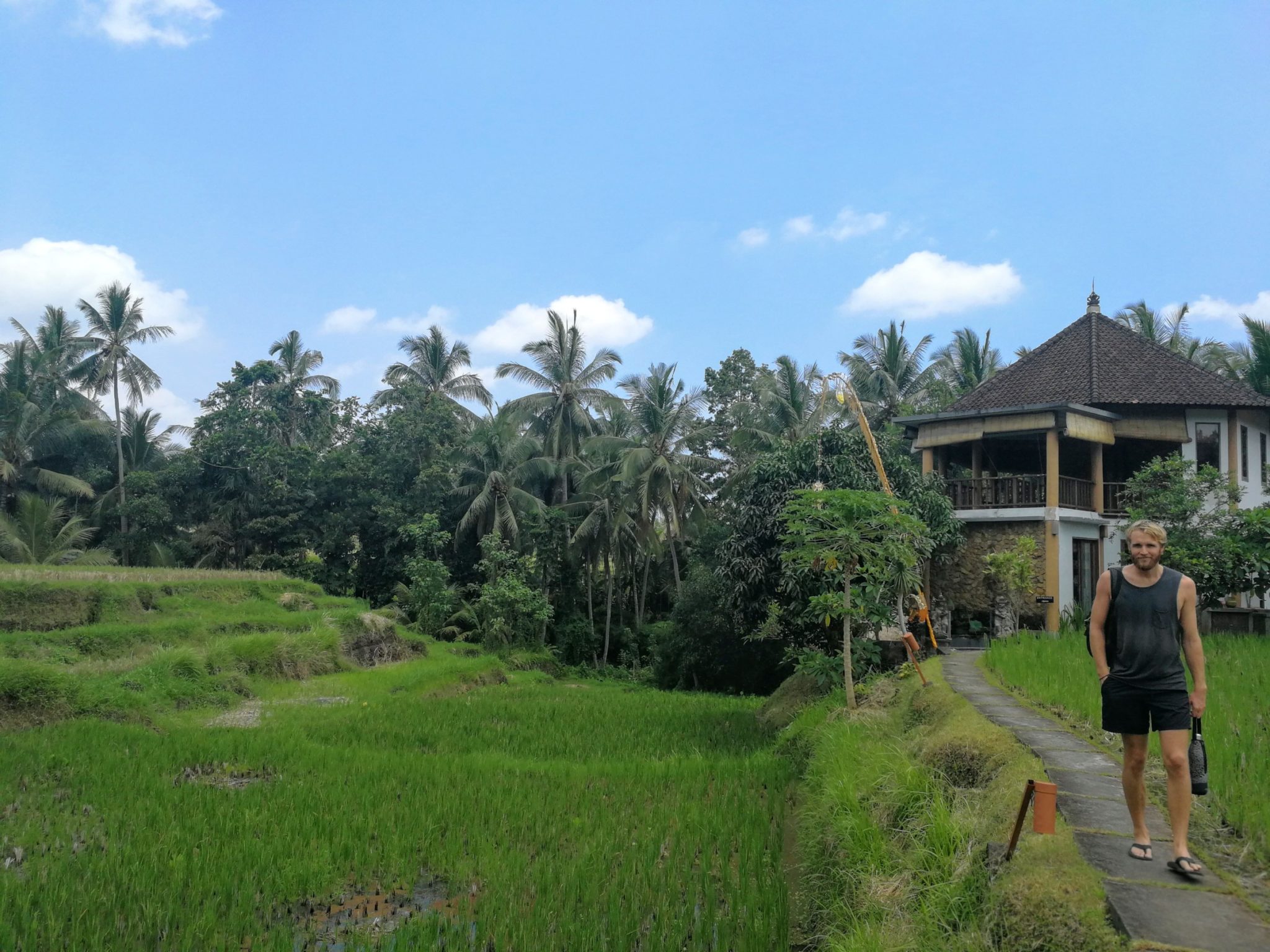 What to Eat in Ubud
We try to eat local cuisine as much as possible when visiting another country and Ubud has many great local food options to try. In addition, there are great Western style restaurants emerging all the time, particularly catering to vegan and healthy foods.
Roast pork (Babi) with various spices is a local delicacy. The famous place is 'Ibu Oka' which is seriously tasty! If you're looking for a good vegetarian option, try the national favourite, Gado Gado; a mixture of Tempe, vegetables and egg, topped with peanut sauce, you can see how this quickly became a favourite.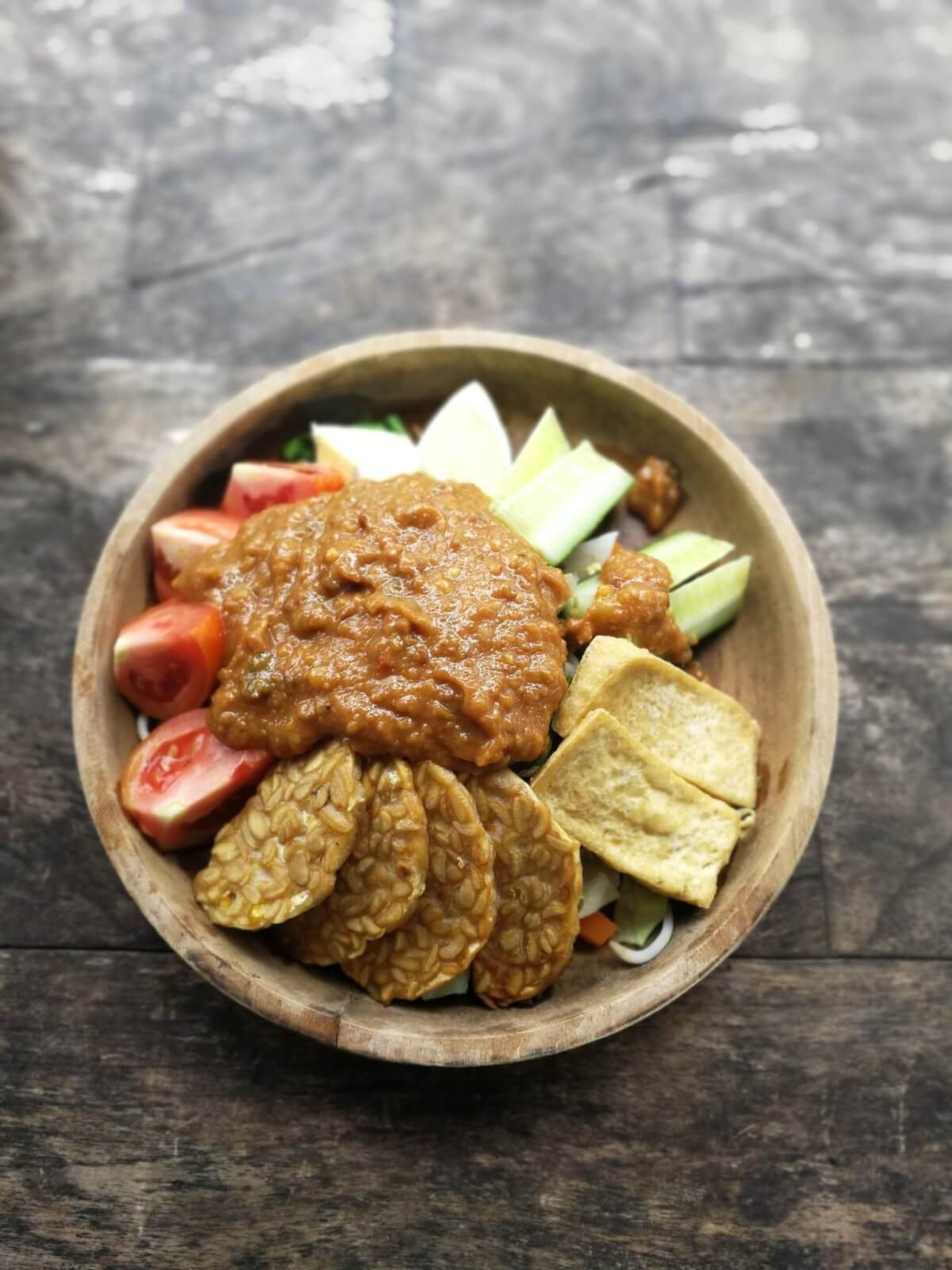 Sweet Orange Warung, is a quiet gem surrounded by paddy fields, only a 10-minute walk from the hustle and bustle of central Ubud. The food is amazing and the avocado & beetroot smoothie is so tasty, we craved it the whole week, so went back again.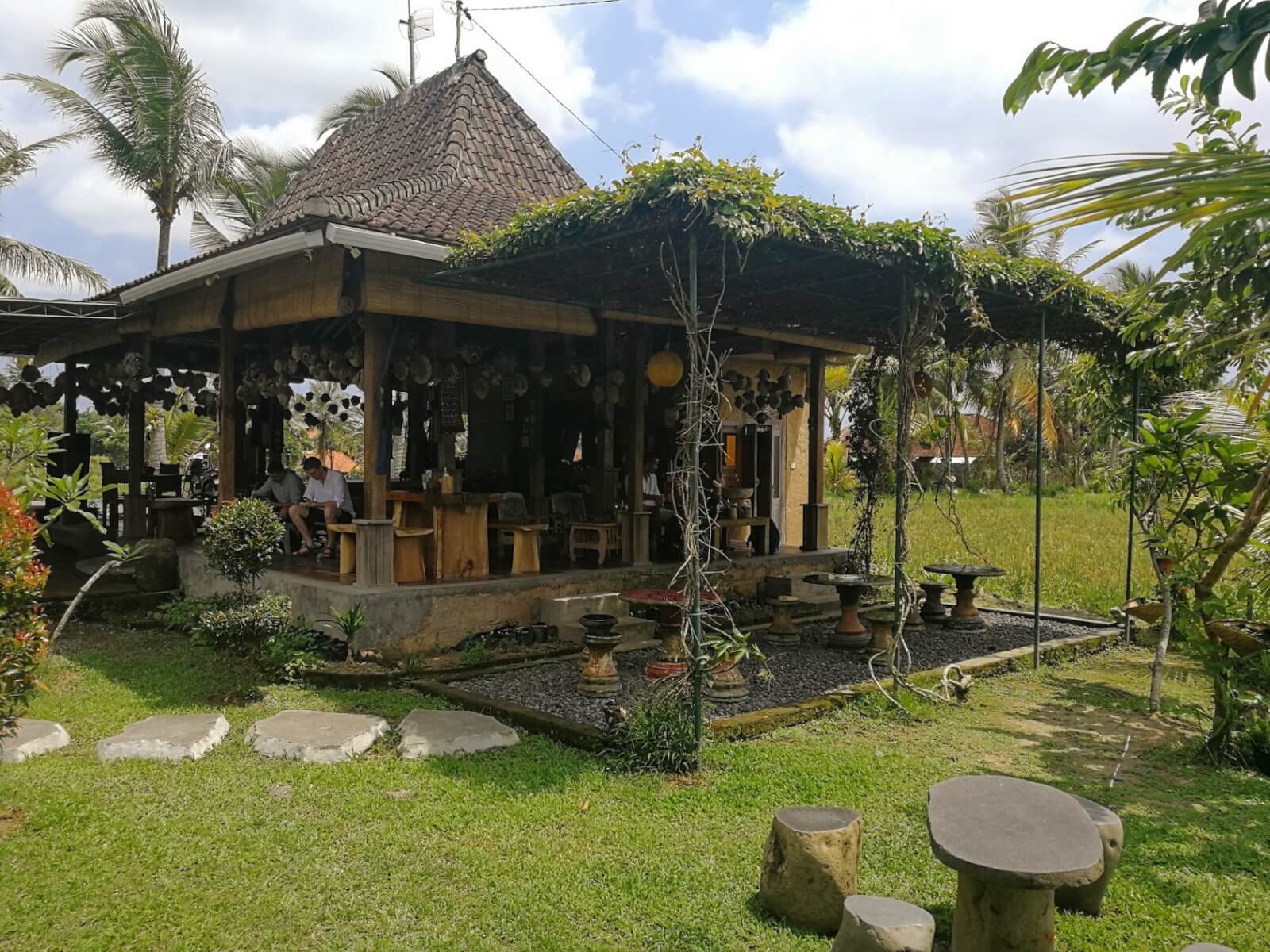 Coffee lovers head to Kafe, where you'll find delicious coffee and the usual Ubud 'digital nomads'. For a healthy (and Instagram-worthy) smoothie bowl, head to Yellow Flower Cafe, a quaint cafe tucked away on a hill surrounded by greenery. We have to say it – this was the best smoothie bowl we've ever had!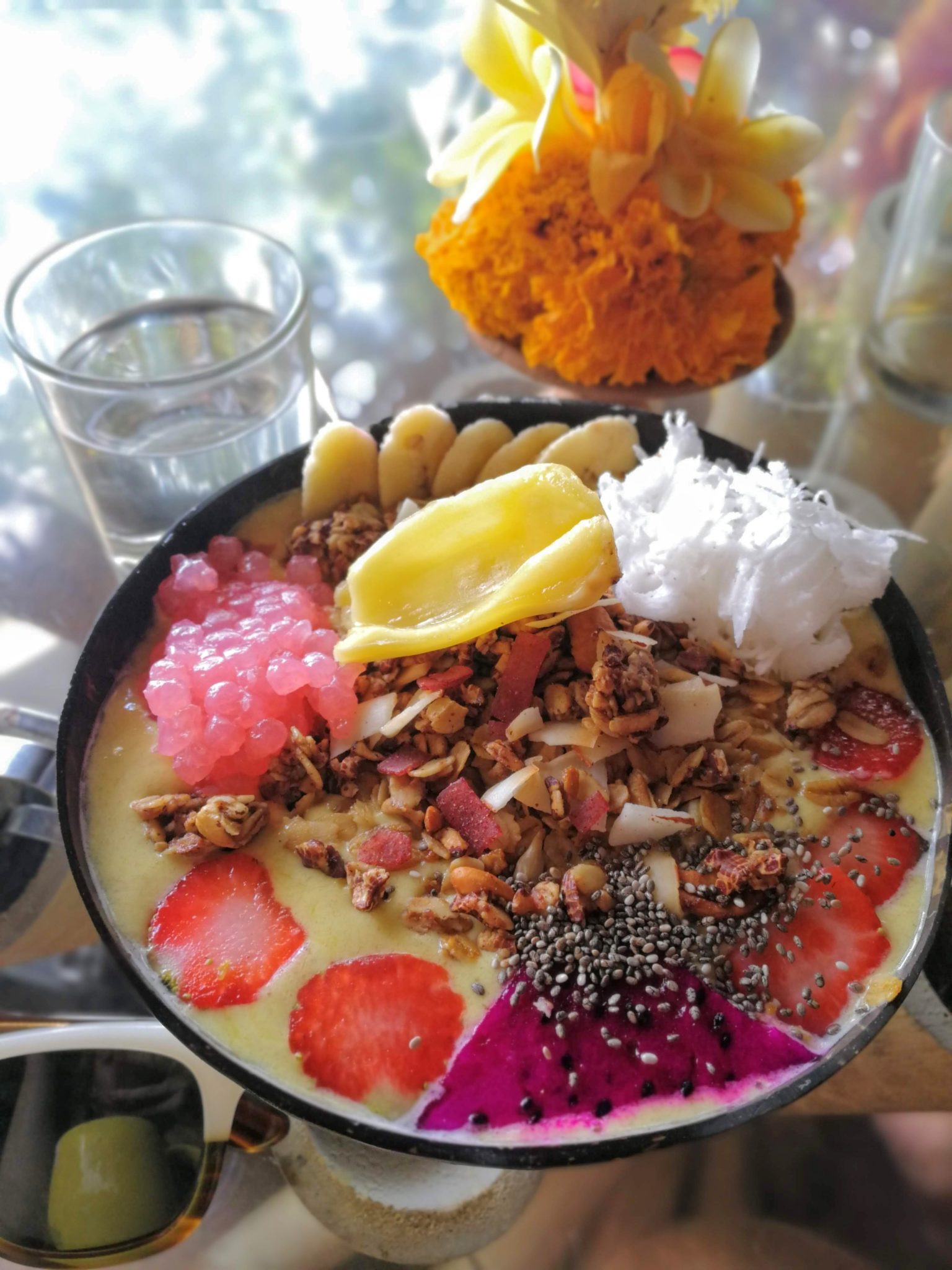 The Arts in Ubud
It's hard not to feel inspired in Ubud. Artistic talent from all over the world is drawn here to learn from others and to share with anyone who will listen/watch.
Two of our favourite experiences in Ubud were the open mic nights at Paradiso and Bali Bohemia. Get up on stage with a song, poem, story, or any kind of performance as anything goes.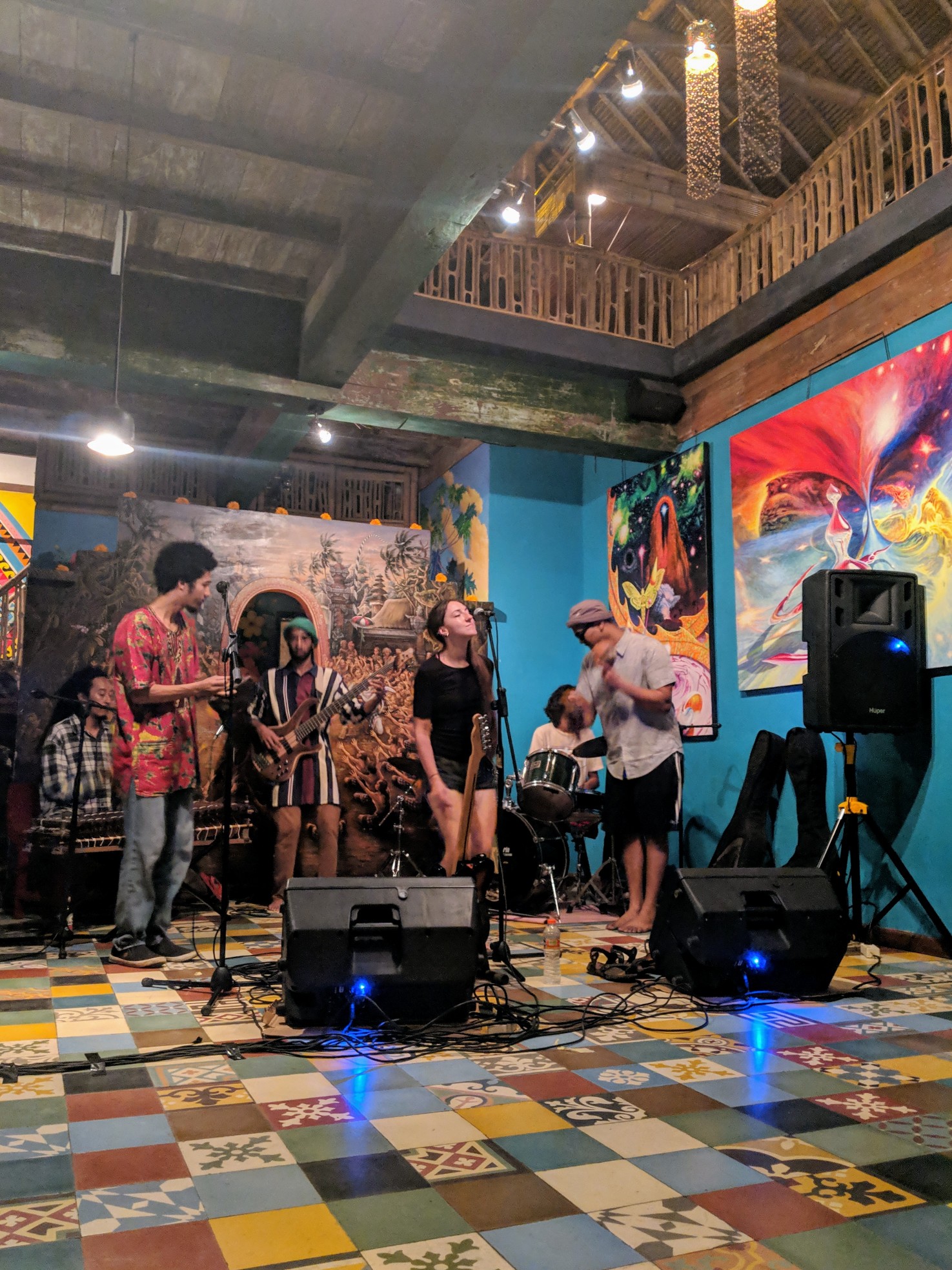 The Kecak Dance, famous to Bali sees a chorus of up to 100 men chanting into a climactic and dramatic fire dance, where they actually walk through the fire… Ouch!
You can see this dance in and around Ubud at one of many temples for a great evening of entertainment.
Where to Stay in Ubud
The accommodation options in Ubud are so diverse, from tiny authentic homestays to lavish villas with pools tucked away in the jungle – your choice really depends on your budget.
The Tetirah Boutique Hotel was the perfect location – away from the busy streets but only a 10-minute walk to the Ubud Palace and the main centre. We were welcomed with a traditional Balinese blessing. A sprinkle of holy water and rice placed on the head signifies that you have been welcomed and blessed.
We would recommend avoiding accommodation that joins the very busy one-way road system. During a certain time of the day, the main roads become very busy so walking or driving around from your accommodation isn't particularly zen.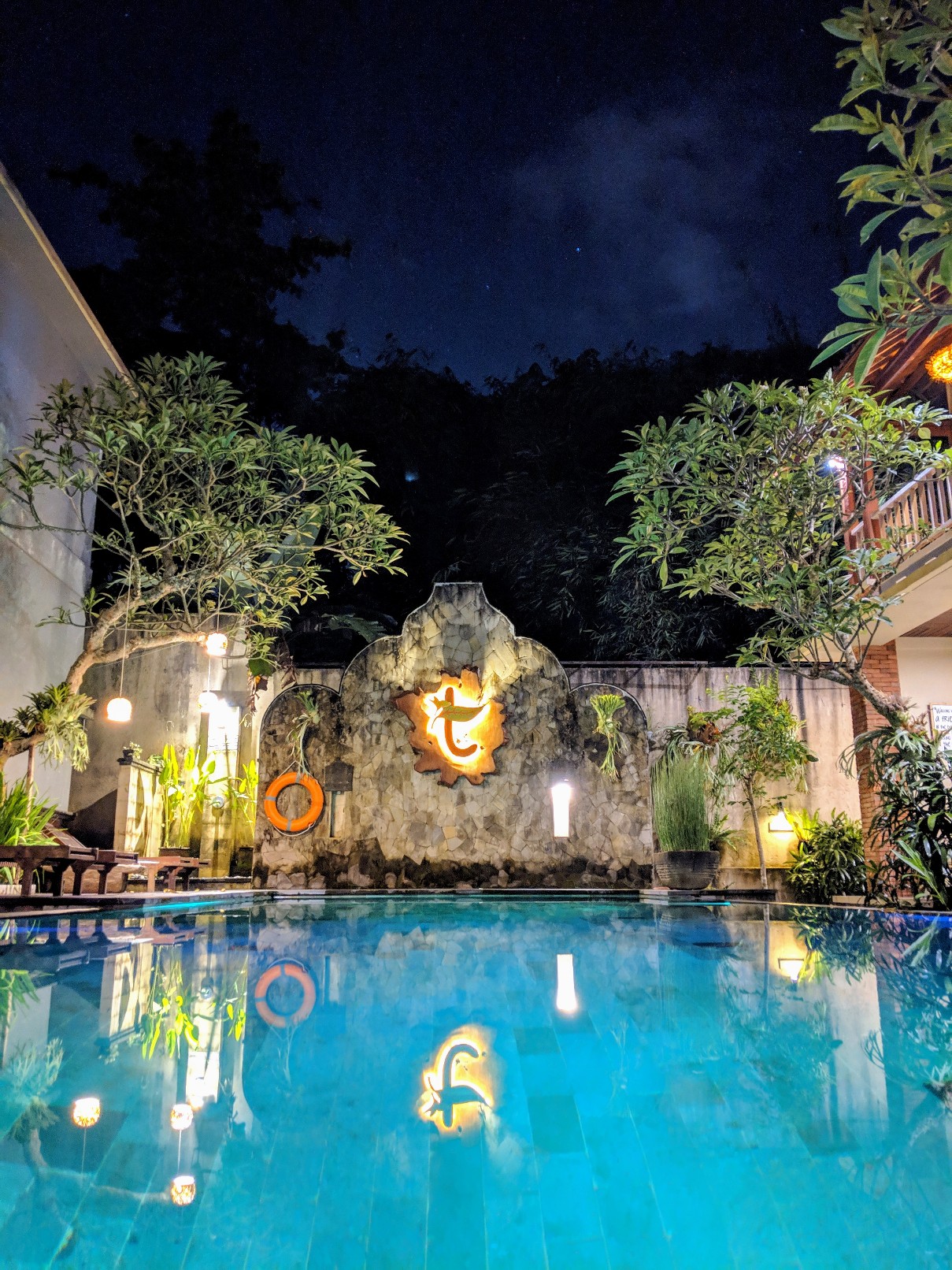 It's all about the pool at Tetirah Boutique Hotel, you couldn't keep us away.
It was such a nice retreat to come back to after a day exploring Ubud, and out of the whole trip, Tetirah had the most amazing pillows!
Breakfast was made to order, a huge spread of eggs, pancakes, croissants, fresh fruit, coffee and juices (we still managed lunch, thankfully).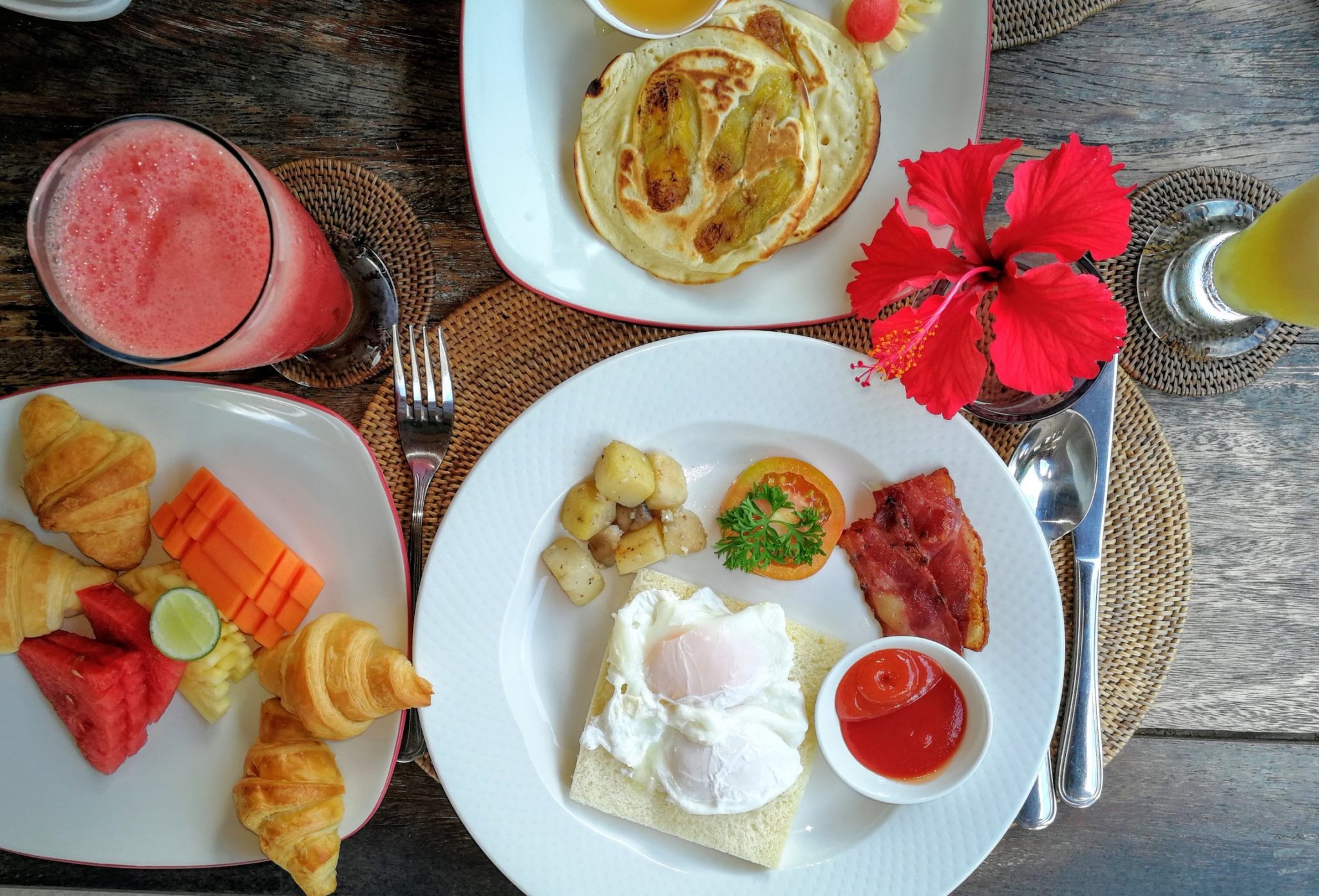 Where you stay in Ubud can be an experience in itself, so check out some other Ubud options here.
How Long to Spend in Ubud
You could spend weeks in Ubud, relaxing into the chilled way of life, but in a two week Bali itinerary, I recommend spending at least 3 days there.
Ubud Summary
Ubud really surprised us. It's full of different experiences, whether that's Sound Healing or staying at a local homestay amongst a family's temple. Some people never leave Ubud and it's easy to see why, it has such a great sense of community and openness, with inspiring and warm-hearted people.
Travelling to Bali? Check out our other guides and hotel reviews here.
Thank you to Tetirah Boutique Hotel for hosting at A Lovely Planet.