Italy's largest lake sits in the middle of three Italian regions; Veneto to the east, Lombardy to the west and Trentino–Alto Adige to the north. With crystal clear water, a mountain backdrop and beautiful waterside towns and villages, it's an idyllic and much-loved destination. From its most southeasterly point, it's only a 20 minute drive or train from Lake Garda to Verona, so two make for an excellent Italian holiday. Whether it's a long weekend away or a week-long Verona and Lake Garda itinerary you're planning, the close proximity means there are lots of great options.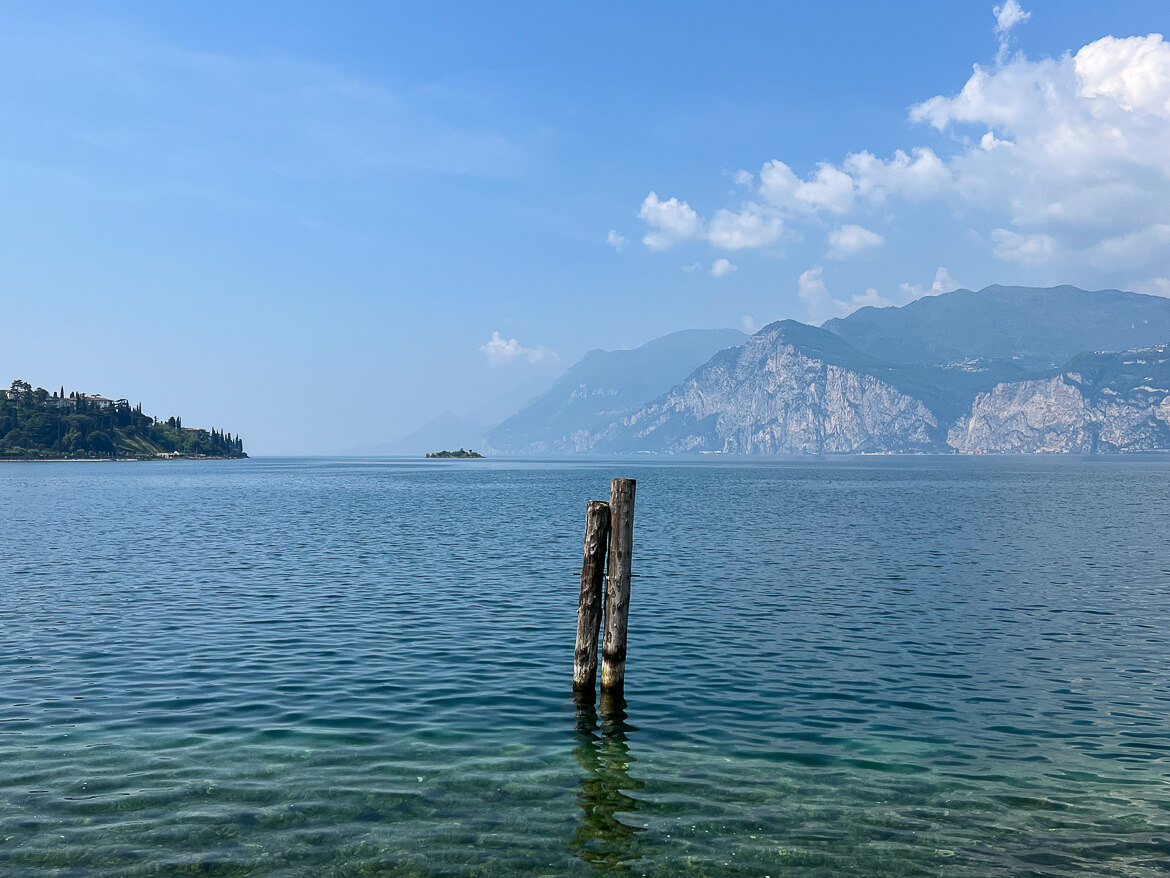 Disclosure: This article contains affiliate links. This means that if you click a link and purchase something I've recommended I may earn a small commission. This does not affect the price you pay but helps me to run this site. You can read my full affiliate disclosure here.
7 Day Verona and Lake Garda itinerary Summary
This itinerary is for 7 days in Lake Garda and Verona, however, if you're travelling for less time, I recommend dropping a day in Verona and skipping Salò for a 5 day itinerary and spending a day in Verona and two days in Malcesine (Or Lazise) for a 3 day itinerary.
Day 1-3 Verona
Day 3-5 Malcesine
Day 5-7 Salò
Day 7 Verona airport via Sirmione
---
Tips for driving in Italy
Driving around Lake Garda is relatively easy, so the main thing to be aware of on this trip is driving in Verona, which has a Limited Traffic Zone (Zona Traffico Limitato/ZTL). Cars are not allowed in this zone and if you happen to book a hotel in this zone you will need to park outside it and take public transport or walk in. All recommended hotels in this article have parking. It is also possible to do this itinerary via public transport.
Day 1-3 Verona
Verona Airport is the best airport for Lake Garda and for Verona itself, so fly in here. Hire a car and head into the city. Verona is a beautiful city with a lovely historic centre full of ancient buildings. As with most of Italy, there is excellent food and wine with some delicious specialities including Amarone della Valpolicella (red wine) and risotto. Spend 2-3 days here.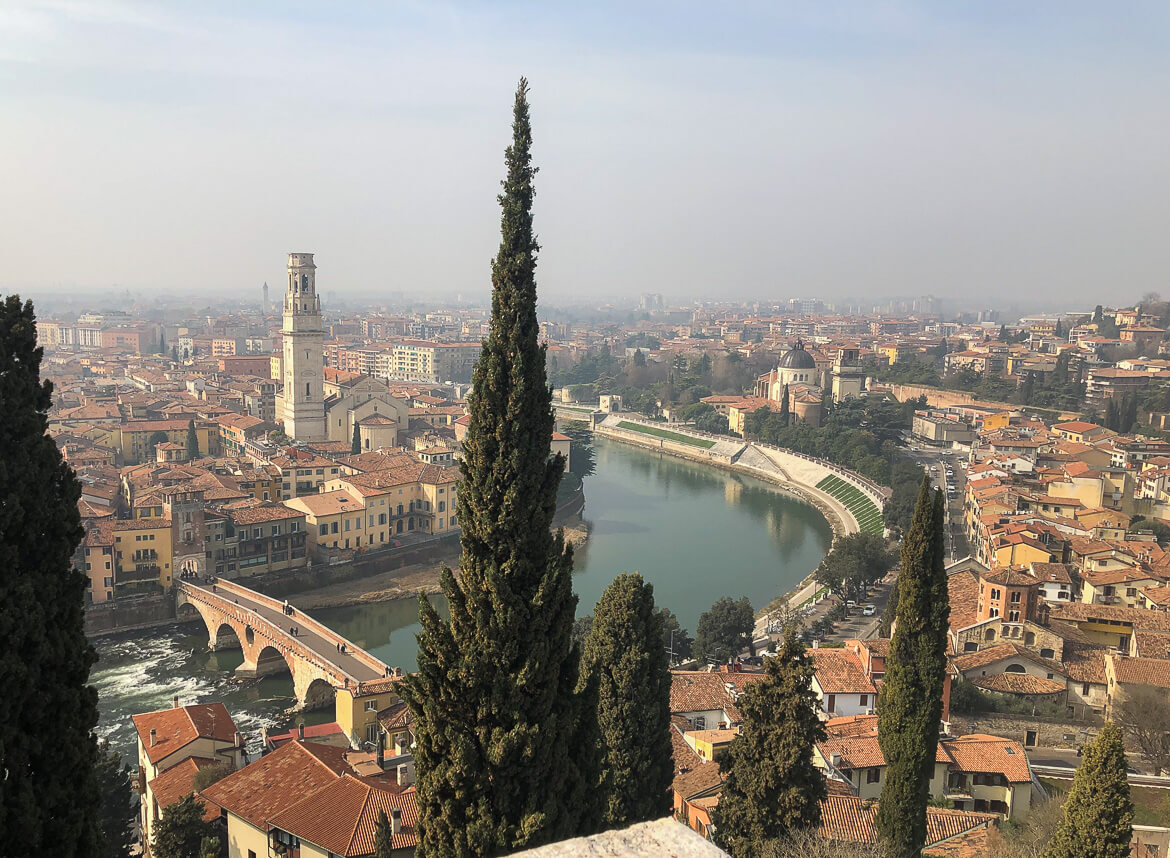 Things to Do in Verona
Visit Casa di Giulietta (Juliet's House), the inspiration behind the famous Shakespeare tale. You can visit the courtyard and look up and see Juliet'sbalcony for free, but there is also a museum inside that charges a fee. This is usually busy and is an extremely popular Verona attraction.
See an opera at Arena di Verona (Verona Arena). Built in 30AD, this incredible arena is actually older than the colosseum! You can visit the amphitheatre during the day, but if you're visiting during the summer season, try and get tickets to see an opera performance.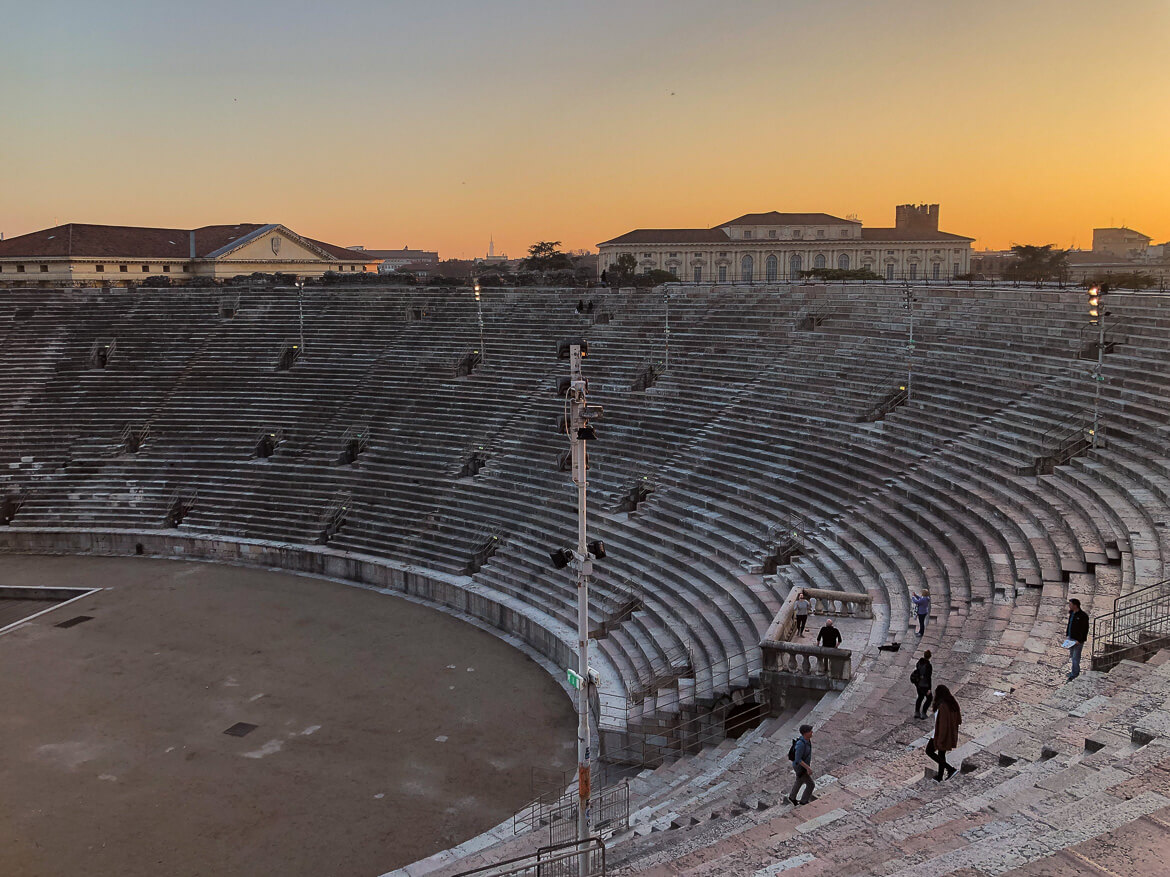 Take a walking tour of the city with a guide. 
Visit Castelvecchio (Old Castle). Built in 1355 by the Della Scala family, the castle is now home to the Castelvecchio Museum which displays a collection of ancient weapons and artworks including sculptures, statues, paintings and ceramics.
Stroll through Piazza Delle Erbe in the heart of the historic centre.
Take a foodie tour of Verona to sample some of the local specialities.
Visit Duomo Santa Maria Matricolare (Verona Cathedral). Built in 1187, inside the Romanesque-style church you'll find Biblioteca Capitolare – one of the oldest working libraries in the world.
Wander around Palazzo and Giardino Giusti, a 16th-century palace with beautiful Renaissance gardens.  
Drink Amarone della Valpolicella (a delicious red wine from the region) or eat risotto all'Amarone.
Take a wine tasting tour to Valpolicella and learn about the history and production of the wine.
Learn how to make pasta and risotto in an Italian cooking class.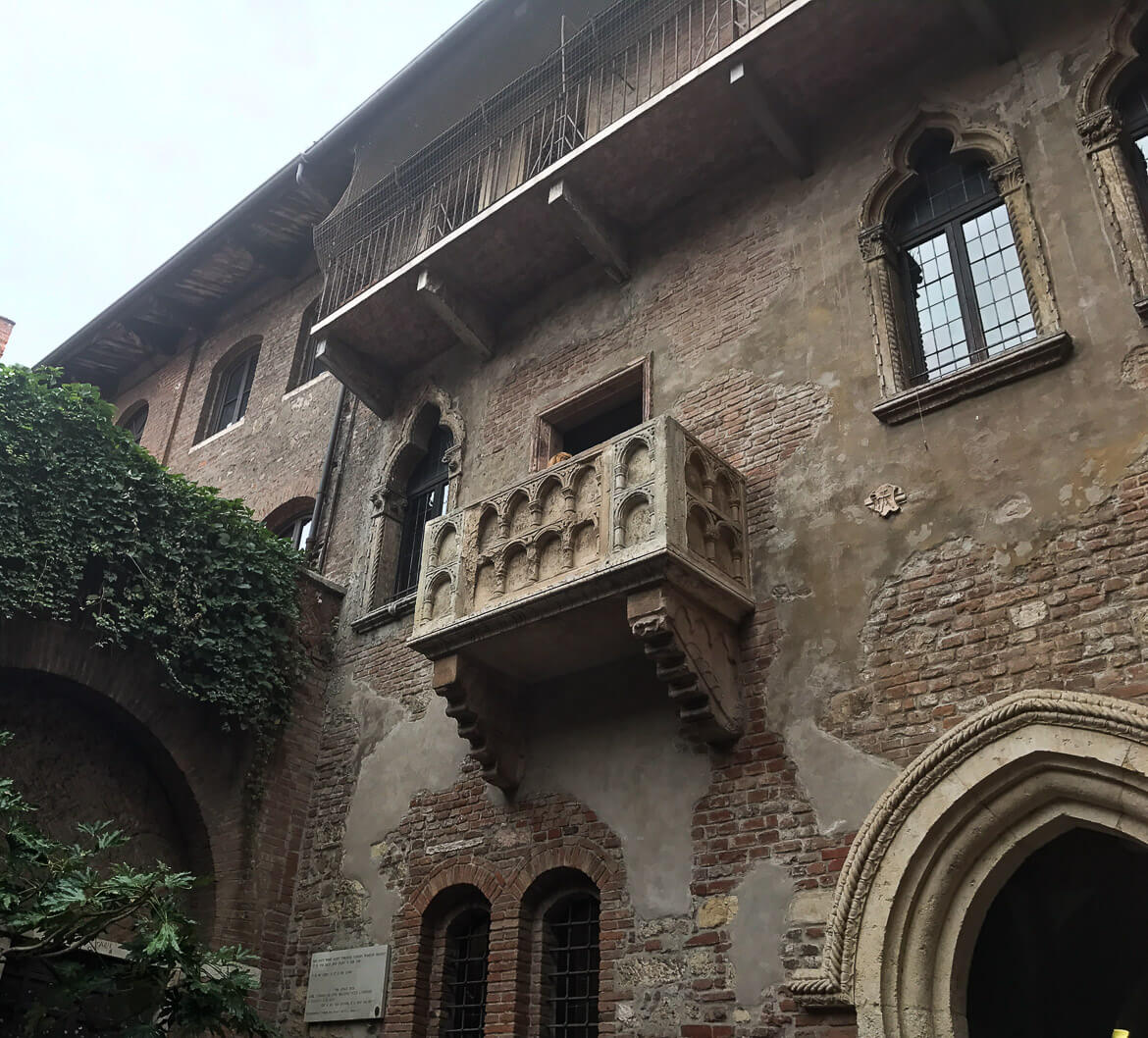 Where to Stay in Verona
Budget – La Nuova Corte Rooms are 600m from the Verona Arena. Many have a balcony or terrace. Parking is €15 per day.
Mid-Range – Relais Ponte Pietra is located in front of Ponte Pietra bridge and 350m from Verona Cathedral in the centre of Verona, in an elegant 13th-century building. Free parking is available at Relais Ponte Pietra.
Luxury – Hotel Accademia is set in Verona's centre, just 350 m from the Verona Arena, in an 18th-century building. Parking is €21 per day.
Super Luxury – Due Torri Hotel has a large roof terrace with views of the historic centre and is a 5-minute walk from Juliet's balcony. Parking is €35 per day.
Campsites – Camping Castel San Pietro is located within the ancient city walls, surrounded by lush gardens. 10 minutes walk to the city centre.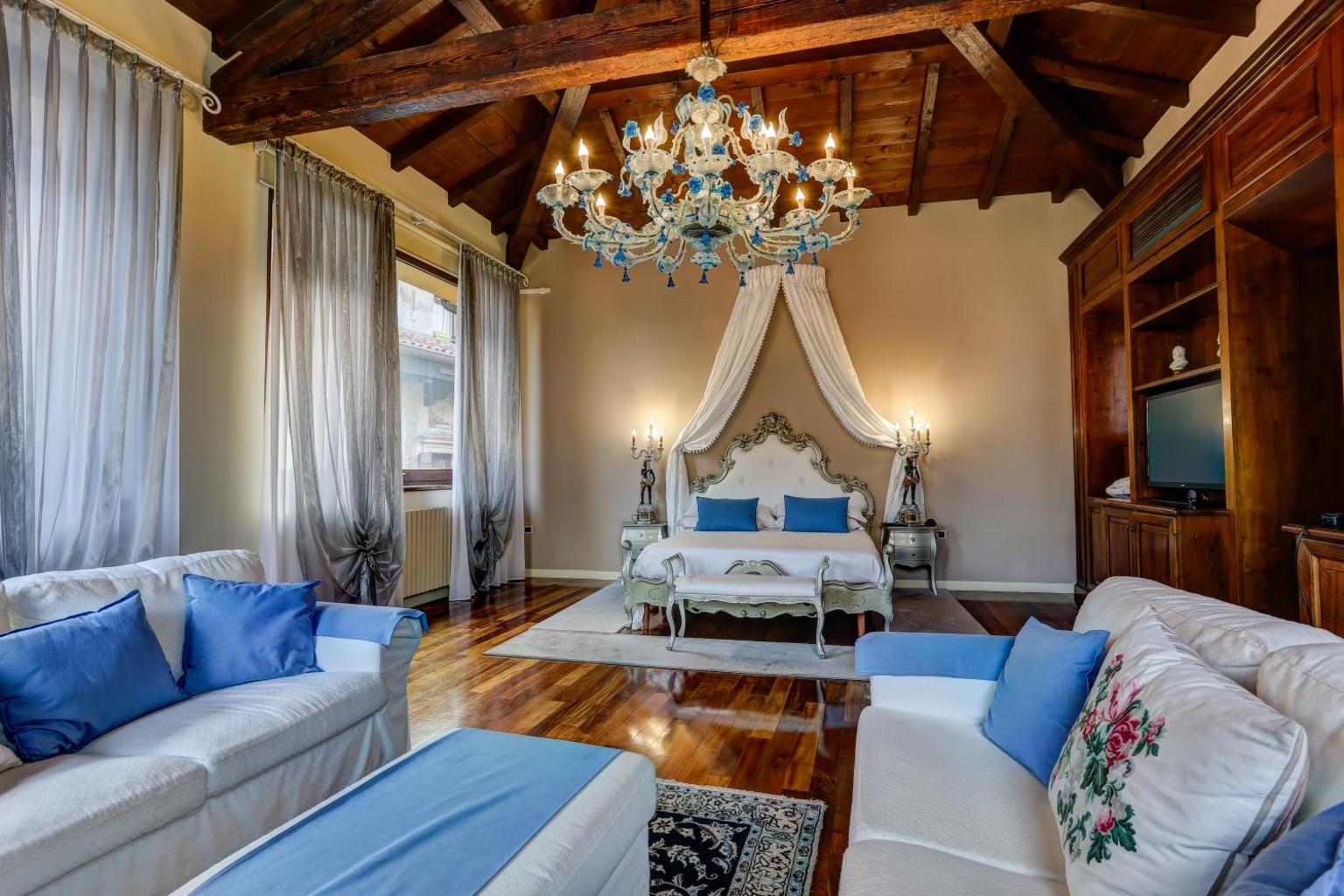 ---
Day 3-5 Malcesine
Depart from Verona to Lake Garda. There are lots of beautiful towns on Lake Garda, and for this itinerary, we are heading to Malcesine. It's about an hour's drive from Verona to Malcesine, but it's worth taking it slowly and stopping en route. After about 25 minutes of driving, you will reach the lake and the town of Lazise. Stop here (there is a big car park by the lake), for a wander and swim if you fancy it. There are lots of great restaurants and bars/cafes here for lunch or a coffee and a lovely lakeside promenade.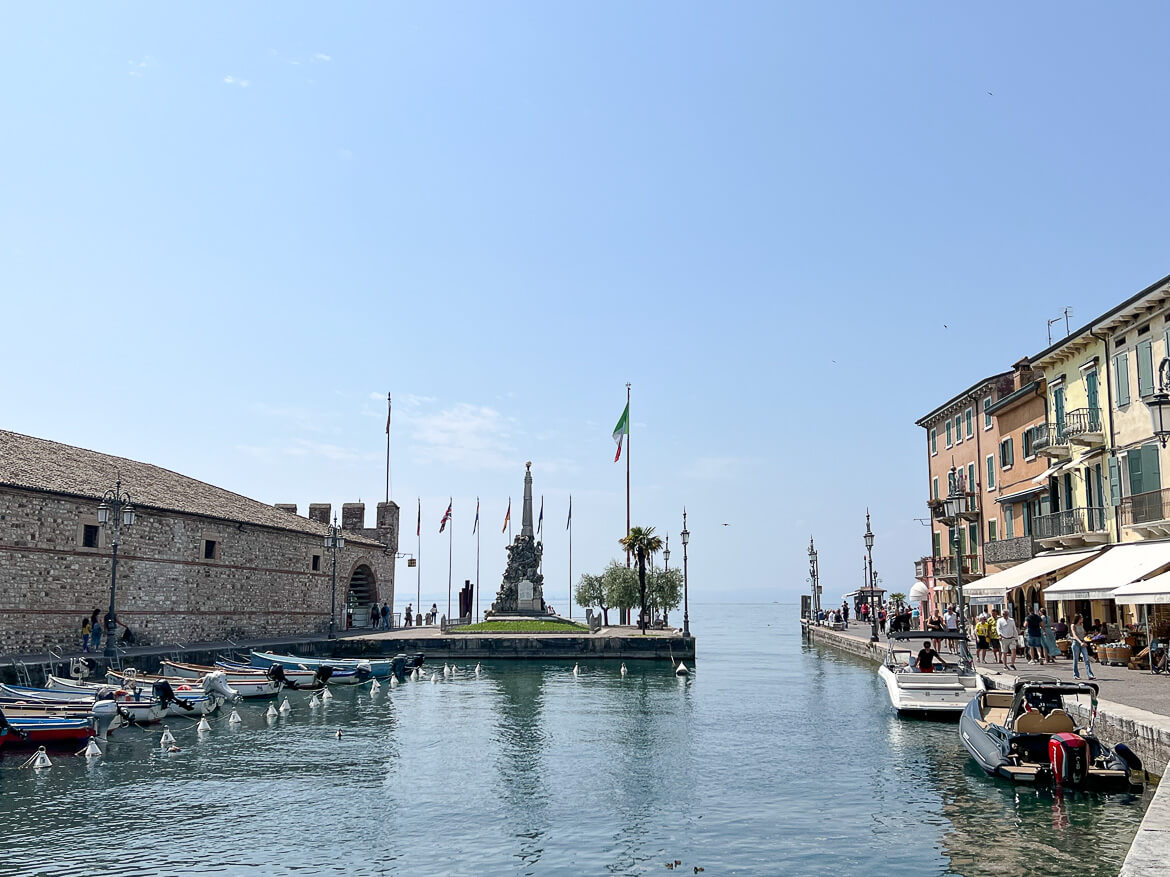 Drive another 40 minutes north to Malcesine. The road hugs the lake on this section of the journey and there are lots of beautiful scenic spots to stop and see. You'll pass through the towns of Bardolino, Garda and Torri del Benaco before reaching Malcesine, all of which are considered some of the best towns in lake garda.
Once in Malcesine, check into your accommodation or campsite and spend the next few days exploring this lakeside town. Malcesine is a small town, and it's easy to get around the centre on foot. One of the best things about Malcesine is that it sits at the foot of Monte Baldo, and you can take a cable car up the mountain for the best views of Lake Garda, lovely walks, and in winter even skiing.
Things to Do in Malcesine
Take the cable car up to Monte Baldo for hikes and impressive views – easily one of the best attractions in Lake Garda.
If you're brave enough, go paragliding from Monte Baldo – there are companies offering a tandem experience with an instructor from the top!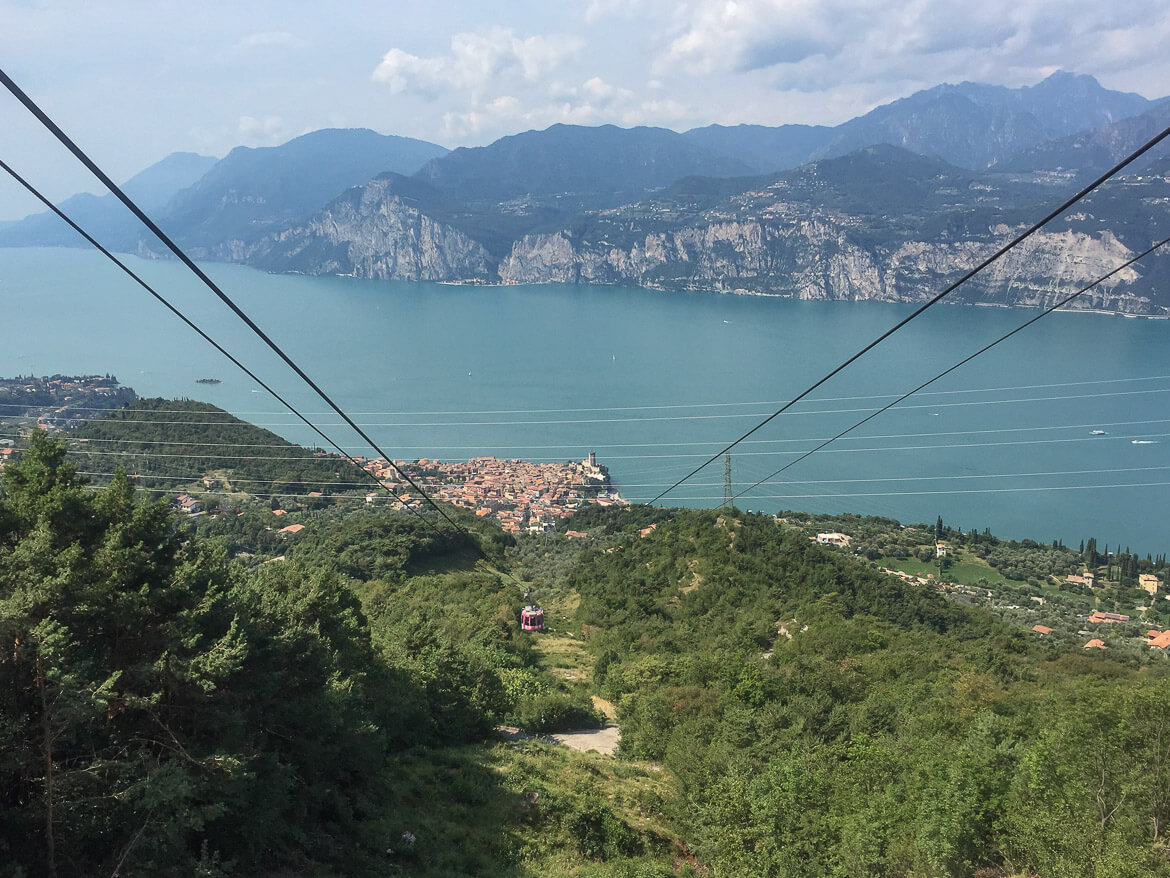 Wander the cobbled streets of the historic centre and harbour, stopping to shop for local produce or grab a coffee from one of the many little bars and cafes.
Visit Castello Scaligero, which houses the Natural History Museum of Garda and Monte Baldo.
Kitesurf, windsurf or sail on the lake (the best spot for kitesurfing is Torbole – a 20 minute drive north) but you will find equipment hire and lessons in Malcesine too.
Visit Palazzo dei Capitani, a Venetian Gothic-style building with a beautiful garden overlooking the lake.
Take the ferry across to Limone sul Garda for the afternoon (20 minutes each way) or continue on to Riva del Garda (1 hour each way)
Swim from one of the many beaches in Lake Garda – I love Spiaggia di Paina which has views of the castle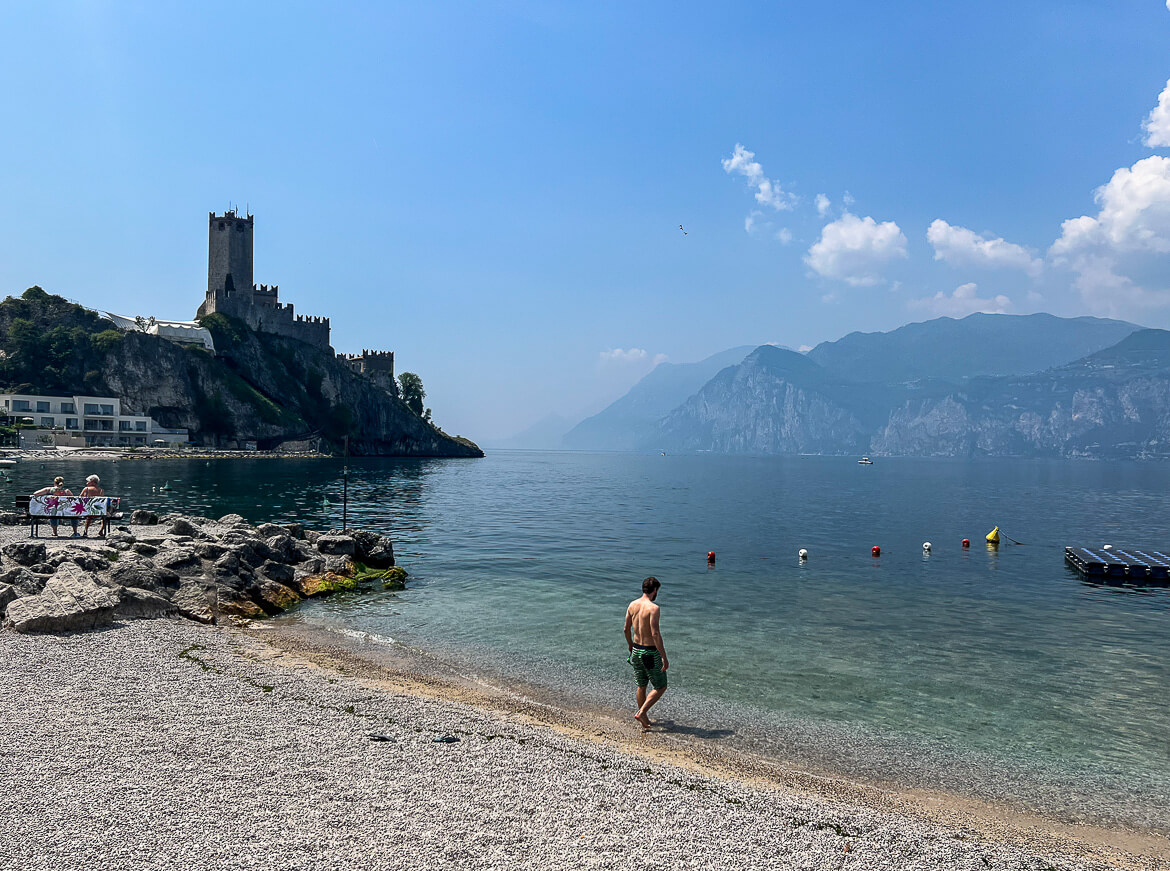 Head inland on an e-bike tour and visit San Michele, Faigolo, Castello and Navene.
Taste local olives and olive oil.
Hire bikes and cycle along the paths by the lake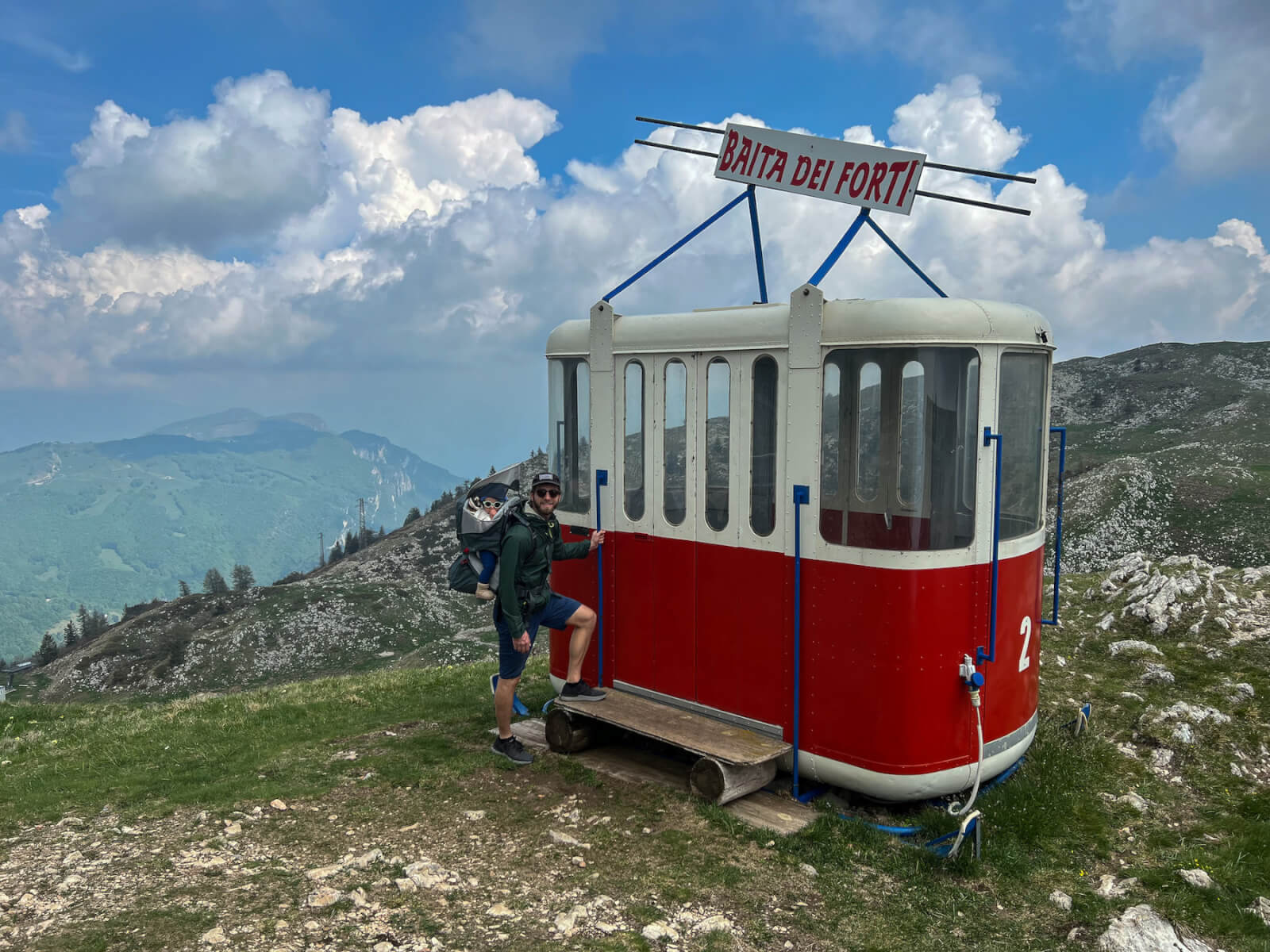 Where to Stay in Malcesine
Budget – Hotel Lago Di Garda has a roof terrace with views of Lake Garda. Parking is free.
Mid-Range – Hotel Antonella features an outdoor pool and restaurant, 600m from the lake. Free private parking is available on site. Parking is free.
Luxury – Hotel Castello Lake Front has panoramic lake views and a private beach with parasols and deck chairs. Parking is free. Parking is free.
Campsites – Camping Priori has twelve pitches a few metres from the lake and 150 meters from the cable car.
Find accommodation in Malcesine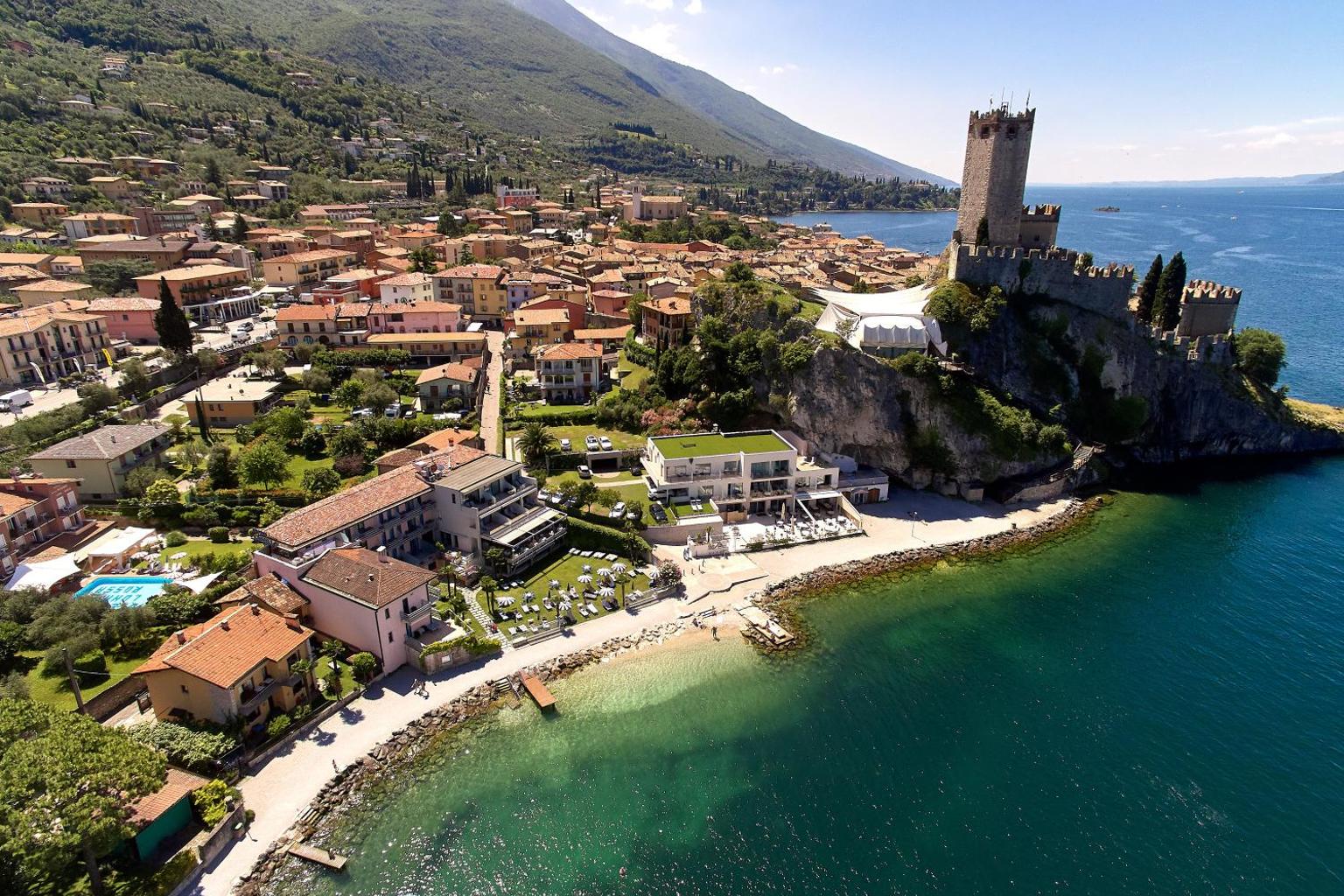 ---
Day 5-7 Salò
Drive south to Torri del Benaco and take the car ferry across to Toscolano Maderno (30 minutes). From here, continue south to Salò. You also have the option to drive north around the lake which takes a similar amount of time (just over one hour).
The gorgeous town of Salò has the longest lakeside promenade (lungolago) on the whole of Lake Garda, so is the perfect spot for leisurely strolls along the water. It's the largest city on the west shore of Lake Garda, offering a different experience to the small town of Malcesine.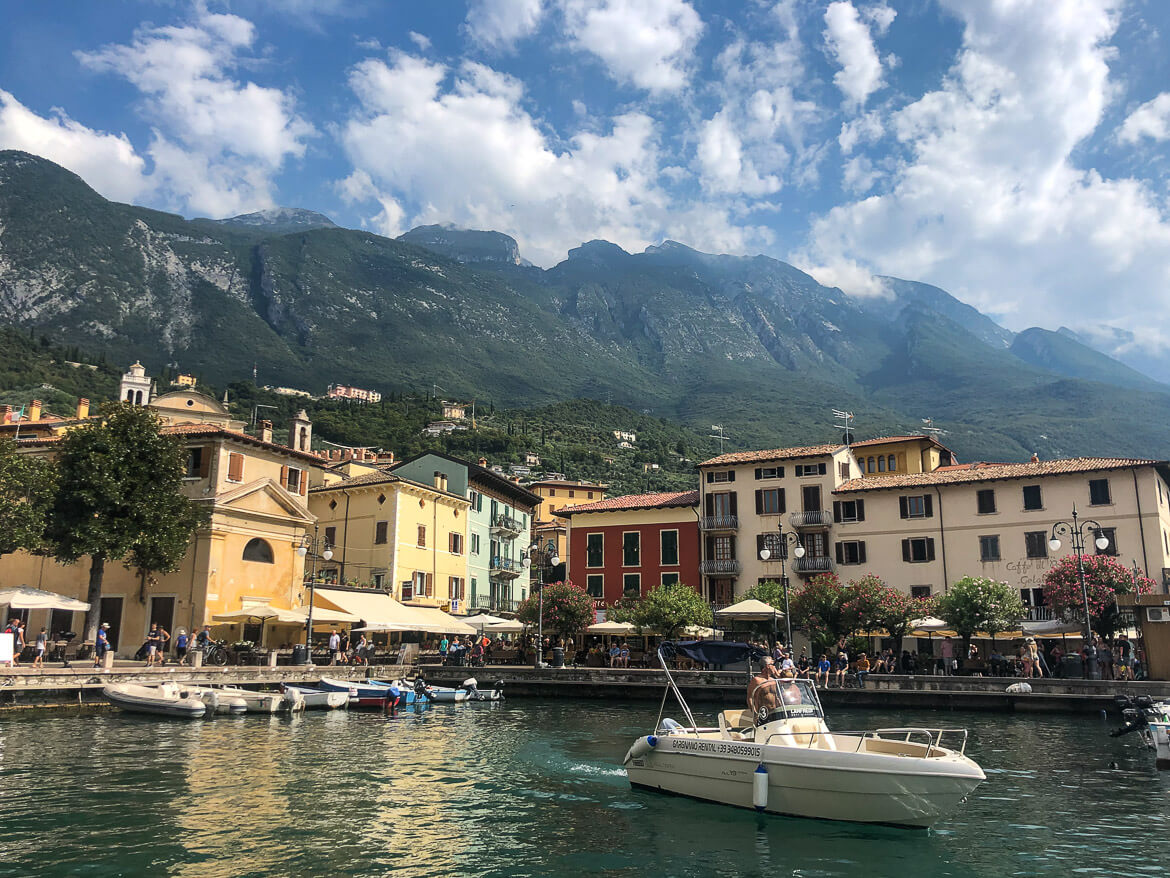 Things to Do in Salò
Relax on the beaches including Spiaggia/Strand Mulino, Bau Beach, Spiaggia/Strand Salò and Spiaggia Conca D'oro.
Admire the view from the Rocca (castle) – known as the 'balcony of the lake'
Shop at the Saturday market
Enjoy canoeing, fishing and sailing on the lake
Admire the Torre dell'Orologio (clock tower)
Stroll along the Lungolago Zanardelli (promenade).
Visit the Salo Museum and learn about the city's history.
Step inside the cathedral Santa Maria Annunziata to see the beautiful interiors including a three-dimensional mosaic floor and an eleven-meter-high Venetian dome.
Spend some time in Piazza della Vittoria – the main square overlooking Lake Garda.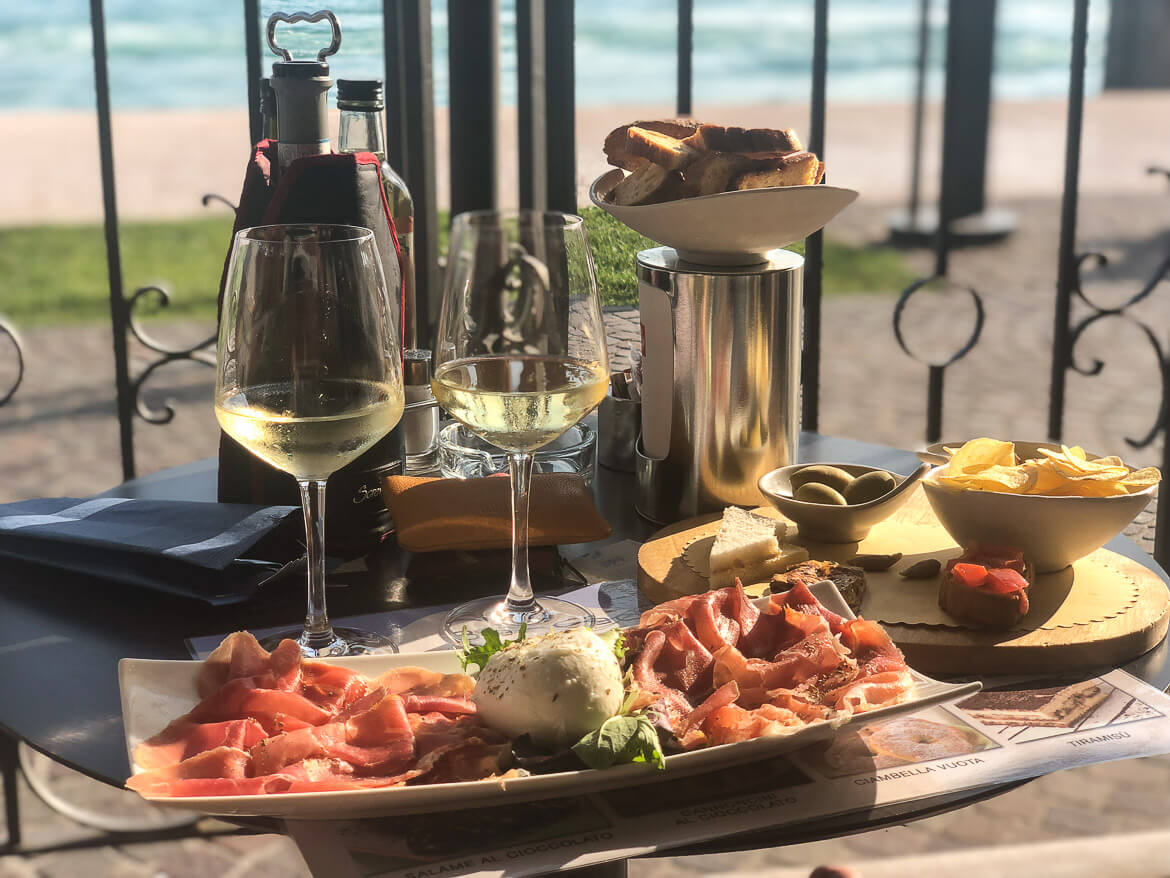 Where to Stay in Salò
Budget – Rivalta Life Style Hotel is located 150 m from Lake Garda promenade. Breakfast is included.
Mid-Range – Hotel Vigna is situated in the historic centre of Salò, with a gorgeous terrace with panoramic views across Lake Garda.
Luxury – Hotel Laurin is located in a charming Art Nouveau style villa from the early 20th century, 5 minutes walk from Salo town centre. The hotel features a large outdoor swimming pool and an excellent restaurant.
Campsites – Paradiso is an excellent spot for camping in Lake Garda, on the shore of the lake. It has 50 paid spaces.
---
Day 7 Verona Airport via Sirmione
On your last day, head back to Verona airport and if you have time, take a detour to Sirmione. This is considered by many as the best town on Lake Garda, and for this reason, it is very popular – especially during the summer months. On a short visit, make sure you visit Scaligero Castle and wander through the historic centre.
Then continue on to the airport for your flight home.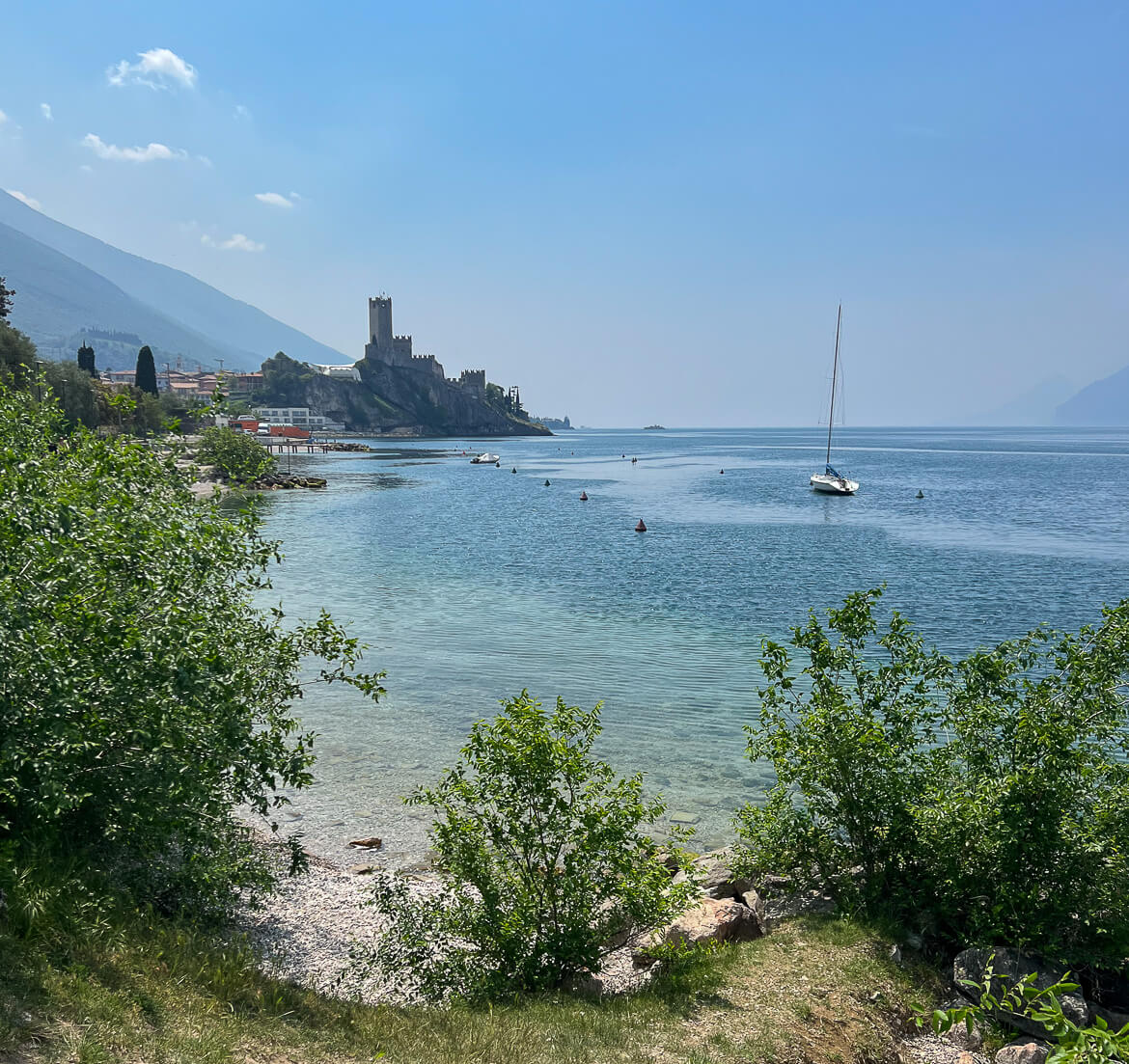 Longer than a week in Lake Garda and Verona?
Spend a night or two in Sirmione, or add a few days in Riva del Garda on the north of the lake. Or you could take a two week road trip of northern Italy.
FAQs