I often go on city breaks taking only hand luggage (the baggage fee is much better spent when you're there in my view), so I'm pretty used to cramming everything into a small holdall for a weekend away. However, I recently headed to Oslo, where it was going to be snowing and the temperature would be in the minus. So I had to have a bit of a rethink and be a bit smarter with my packing strategy, and plan a winter clothing list for my city break!
Disclosure: This article contains affiliate links. This means that if you click a link and purchase something I've recommended I'll earn a small commission. This does not affect the price you pay but helps me to run this site. As an Amazon Associate, I earn from qualifying purchases. You can read my full affiliate disclosure here.
Luggage
I usually take a trolley case or a backpack as hand luggage, which generally allows enough room for a weekend's worth of clothes. I was given a Patagonia Black Hole duffel (the 60l carry-on size), which was perfect for this sort of trip – you can cram loads of stuff in there, it's water-resistant (great for snowy Oslo), and it can be worn as a backpack as well as carried as a holdall. This was particularly good for getting on and off buses/the tube so I wasn't tripping everyone over with a trolley. If you're not a fan of carrying luggage (and I have to admit that is often me!) then a wheeled holdall is a great alternative. I bought an American Tourister holdall a few years ago and I've used it on so many trips. I like that it has two compartments, so I can separate my clothes from my camera/laptop etc. 
Winter Clothing List
Clothing
Next step – what to pack? For cold destinations I always go for lots of layers; they keep you warm and you can take some of them off when you get into a bar/restaurant/museum. Uniqlo has some great leggings and tops in their HEATTECH range, and Mountain Warehouse has a great range of thermals too. I wore a pair of leggings every day in Oslo, either under jeans or under dresses.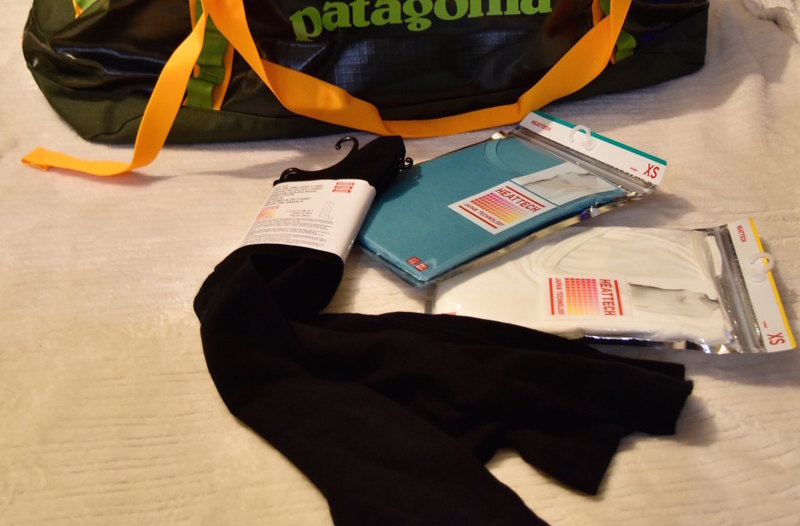 I love maxi dresses, so usually go for one maxi, one short dress and one pair of jeans. These can all be worn with leggings/tights to add warmth. Then I wear one jumper/cardigan and pack another. The dresses can be dressed up for the evening, or down for daytime and combined they don't take up too much room in my hand luggage.
As well as layers, you need a decent coat. I have a very cosy fleece-lined coat, which is ideal for this sort of trip, and if you have a down-filled coat then even better. You will appreciate it if you're spending any length of time outside. During the trip to Oslo, I spent a day watching the X Games Final in a park and I was really glad for my coat then! Make sure you wear (rather than pack) your coat on the flight – otherwise, you will be using valuable packing space!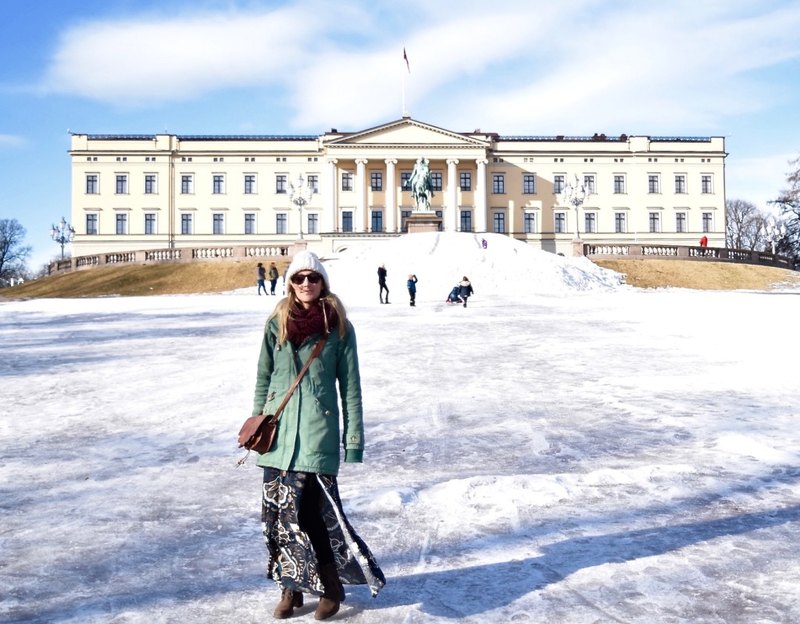 Shoes
Another really important item in my winter clothing list is a decent pair of shoes. If it's snowy and icy then shoes with a good grip are essential. Falling over on ice is never fun. Even better, pack a pair of waterproof shoes, to keep your feet dry. I have a great pair of walking shoes, which are waterproof and perfect for this sort of trip. Then for the evening, when I want to dress a bit smarter, I have a pair of boots with great grips on the sole and fleece lining. I always take more than one pair of shoes, (pack one, wear one). Just in case they get wet/break etc. it's better to have a backup rather than having to buy a new pair when you're there.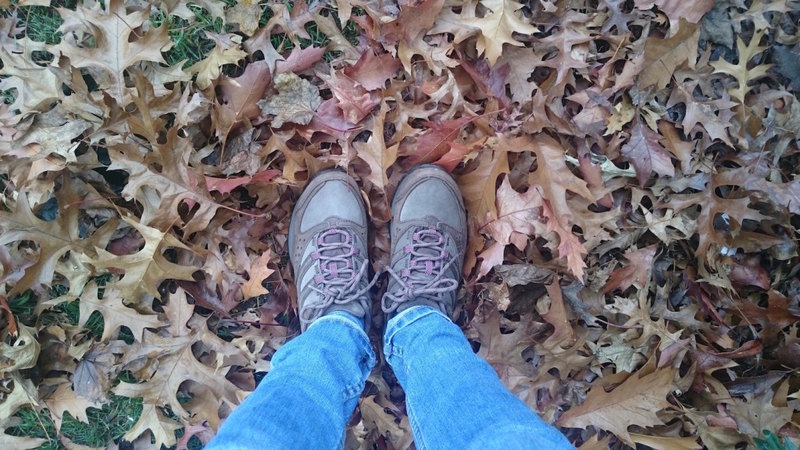 Socks
I have bad circulation, so my feet really feel the cold and a good pair of socks can make the difference between a great day and a miserable day in a cold location. So make sure you pack a few pairs of warm and comfortable socks. Ski socks can be a good option, but they are a bit bulky, so generally, I go for Merino wool. I learned the hard way a few years ago in Copenhagen – 20 minutes outside and I realised my socks were not going to cut it and ended up paying £25 for a pair of emergency socks!
Hat
Regardless of the destination, I always pack a hat.  A bobble hat (or equivalent) is essential for a winter break (or at least for me it is!), to keep your ears and head warm, as well as a scarf (I like snoods), and some warm mittens.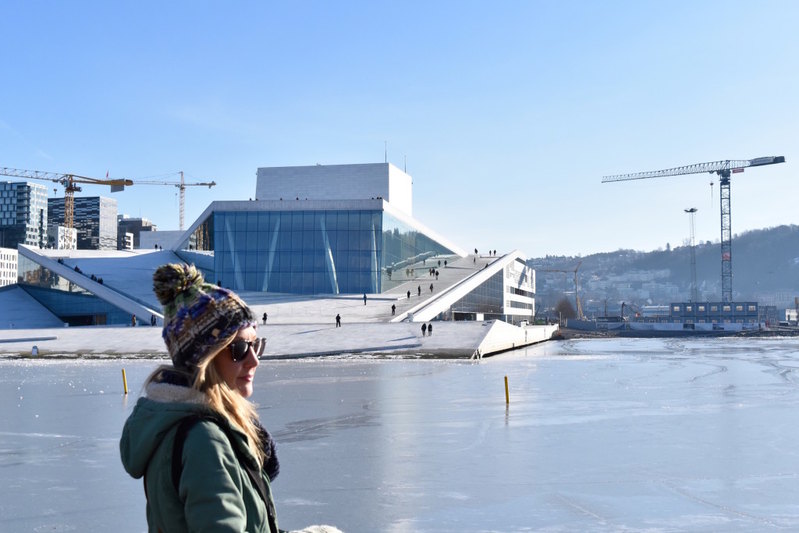 Toiletries
Finally, I make sure I pack some decent lip balm with SPF and sun cream. Cold weather causes chapped lips which is never fun, and if the sun is shining you can still get burnt even when it's cold. I like Ultrasun's Face SPF50+ – it's great to wear every day instead of moisturiser and as it's under 100ml you can take it in your hand luggage!
One last thing – make sure you double-check your airline's baggage allowances. As some airlines now only let you take one bag (including your handbag), so if you want to bring a camera/day bag etc. it will need to fit in your holdall or duffel.
I hope this winter clothing list has helped you. Have a great trip!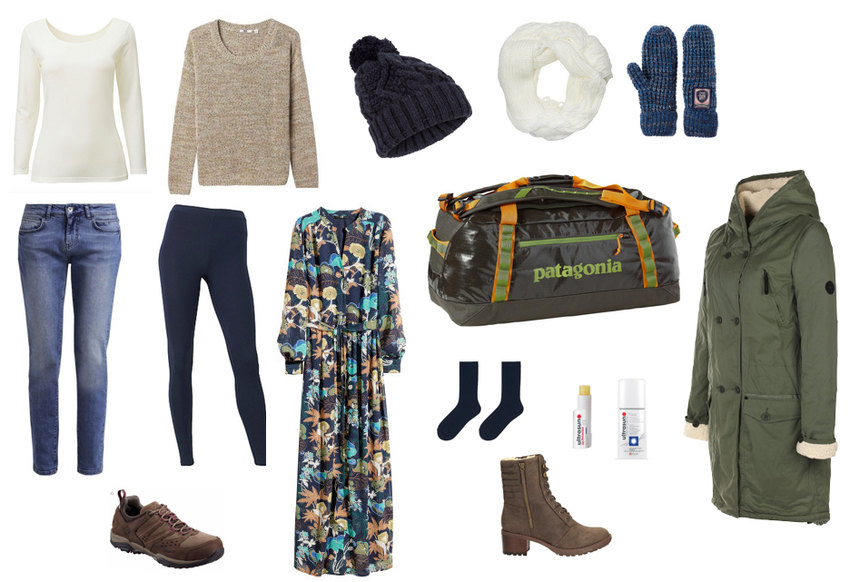 Planning a round-the-world trip? Check out our packing guide.