Following my visit to Four Seasons Sayan in Bali, I headed to their sister resort: Four Seasons Resort Bali at Jimbaran Bay.
Jimbaran is a fishing village on the southwest coast of Bali. It has a beautiful long sandy beach and is known as a great spot for seafood. Here you will find plenty of restaurants along the beach and some lovely hotels including the Four Seasons Resort Bali.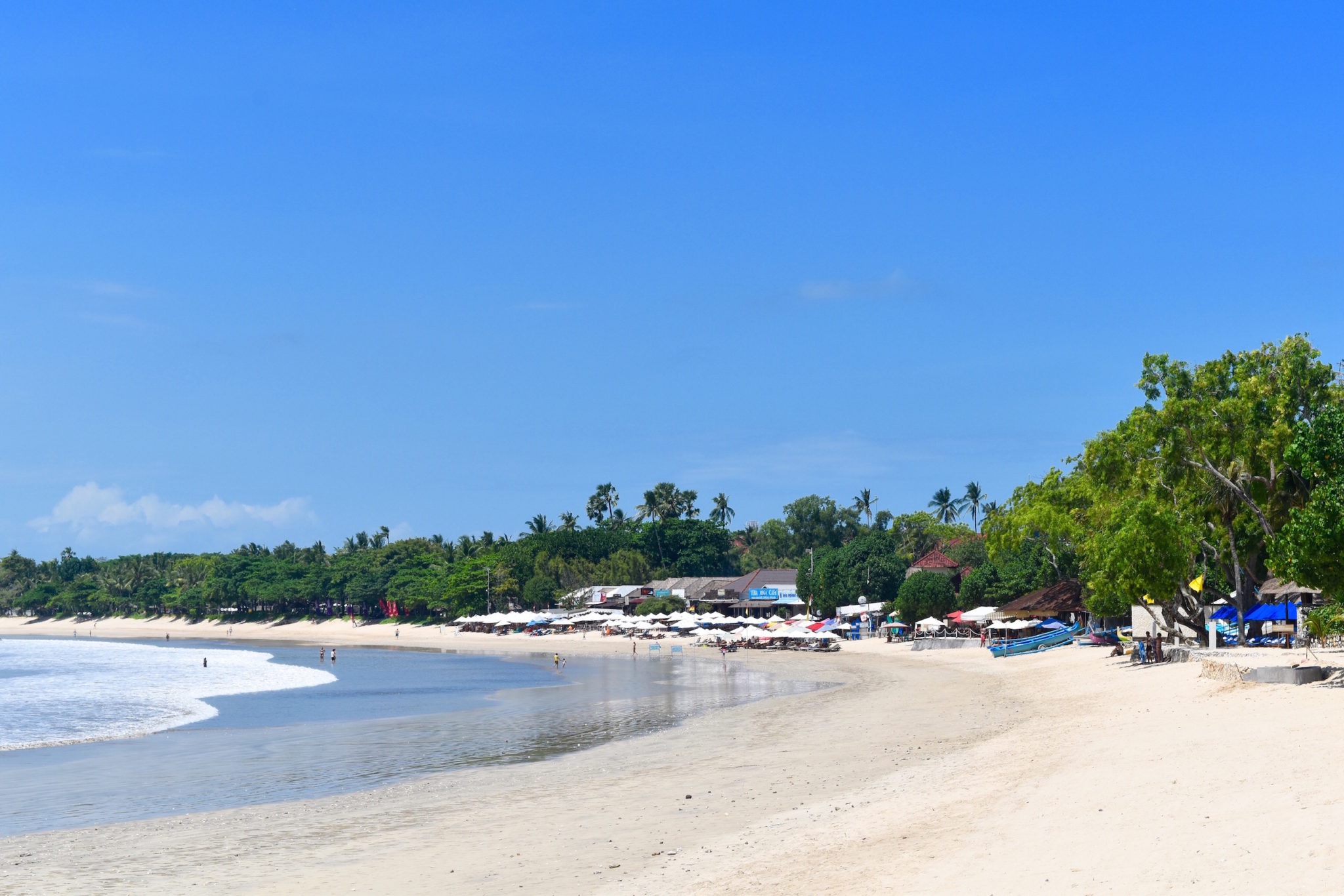 My sister Vicky and I arrived at the hotel on a beautiful sunny afternoon. After checking in and were given a welcome drink while we enjoyed the view of Jimbaran Bay from the hotel lobby, before being taken in a golf buggy to our room; a Premier Ocean Villa.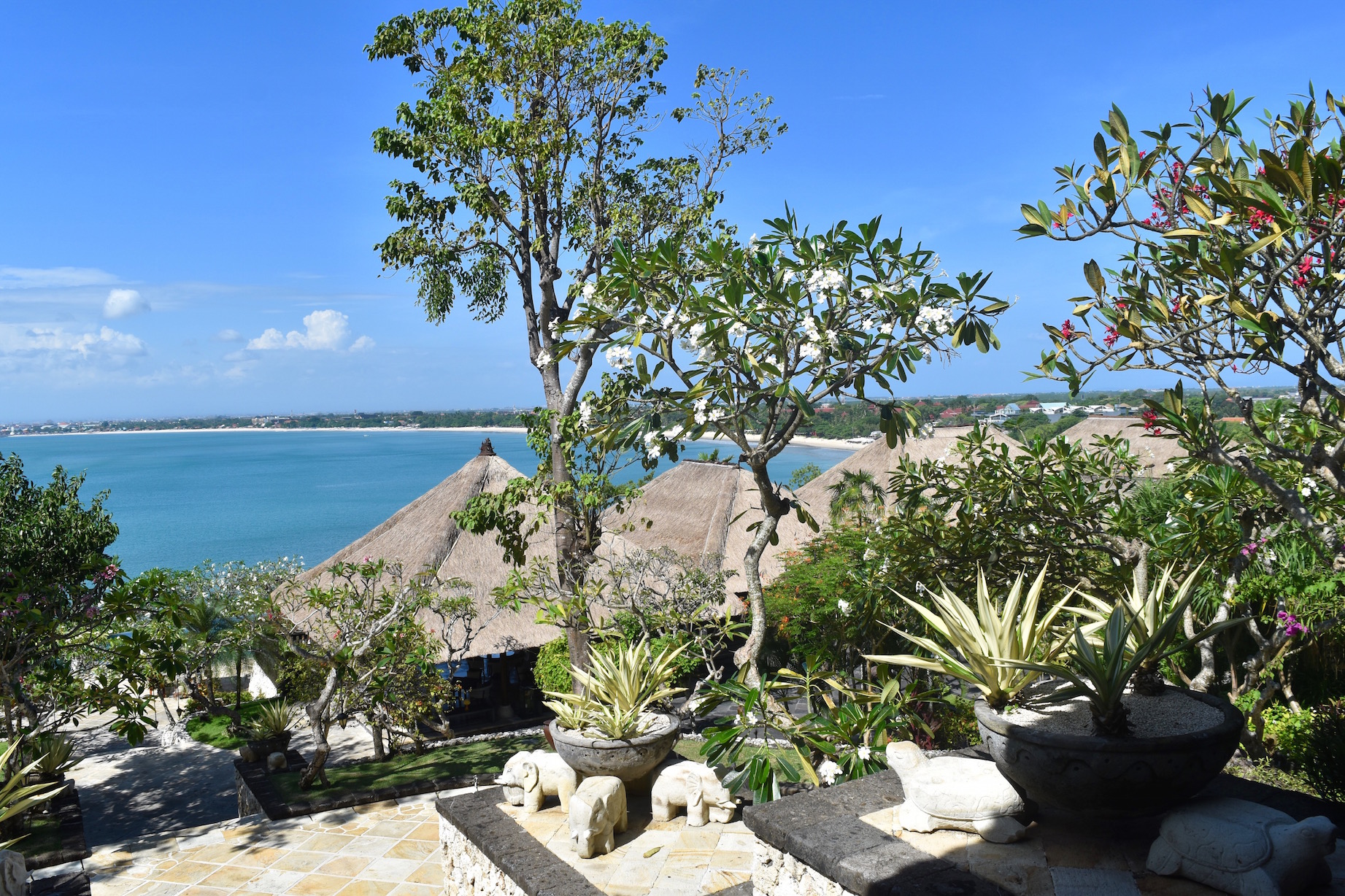 Premier Ocean Villa
The Villas at Four Seasons Resort Bali at Jimbaran Bay have recently been renovated and they are beautiful. The villas are accessed via an ornate door, which leads onto the terrace.
Each looks out onto the bay, with a gorgeous infinity pool and veranda area. Inside, the rooms have been lovingly decorated and furnished with traditional Balinese furniture.
My favourite part of the room was the bath, a gorgeous roll top bath in a light filled bathroom. There are also two showers; indoor and outdoor depending on your mood.
There were fresh fruit and cocktails in our room in arrival, which we enjoyed while admiring another amazing view.
Sundara
For dinner we headed to Sundara on Jimbaran Beach. Though part of Four Seasons, this is very much open to non-hotel guests.
It's the perfect spot to watch the sun go down on Jimbaran Bay. We sat with a cocktail and enjoyed the sunset while listening to live music. Once it's dark, fire pits illuminate the terrace.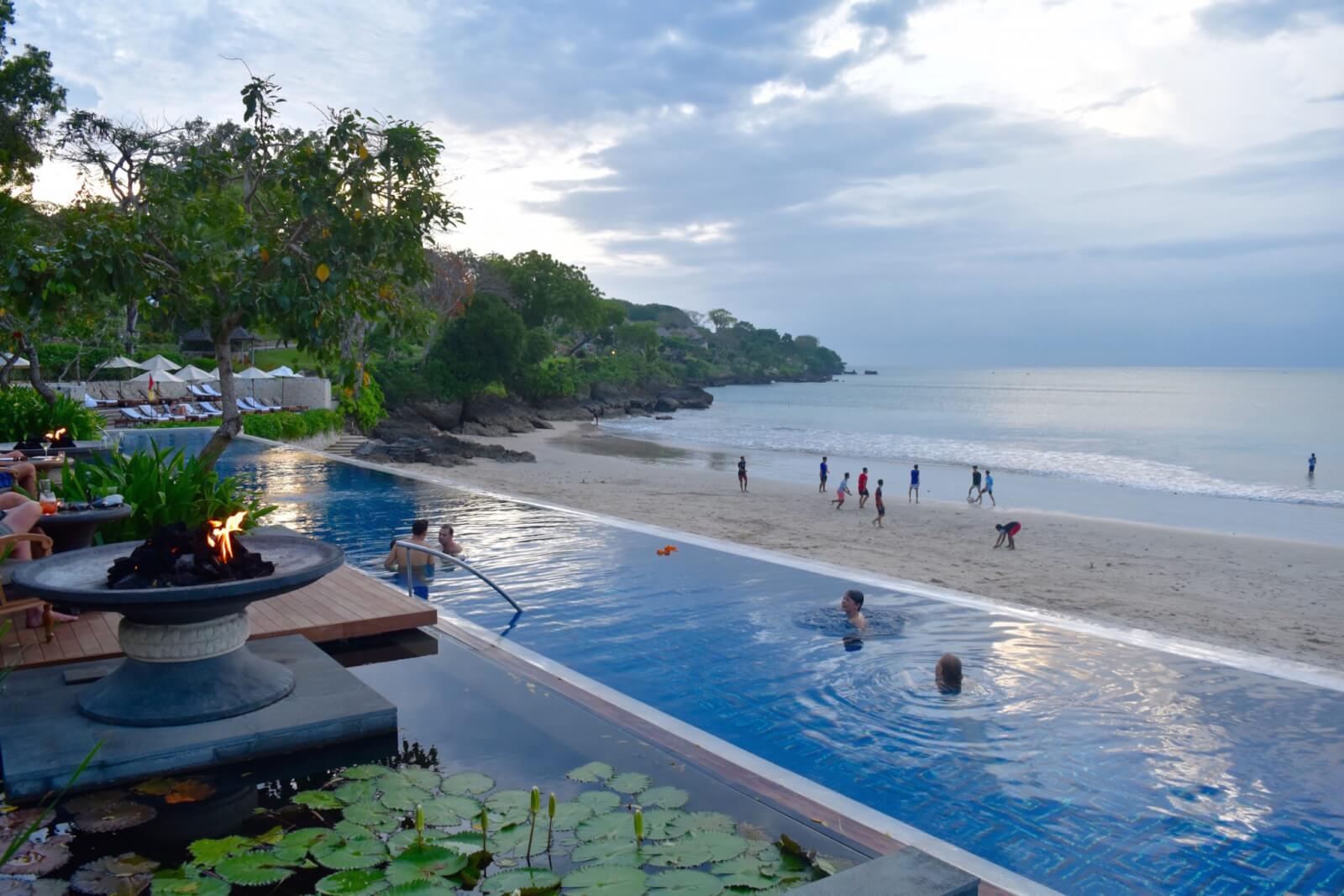 We had the option of having dinner on the terrace, but opted to head inside the restaurant, and were given a table looking out over the pool and beach.
Sundara has a modern Asian inspired menu, which is split into three categories: cold, hot and sweet. You can choose small, medium or large portions of each dish and most diners share a selection of dishes.
Where possible the ingredients are locally sourced and organic and the breads are made on the premises. We ordered a mixture from each of the three sections, including a delicious crab and coconut dish and twice cooked duck.
The desserts were incredible. We both ordered from the 'Sweet' Menu. I had 'SibangKaja Road', which is a chocolate 'road' consisting of a variety of different chocolate elements including truffles, foam and soil. Vick had a chocolate lava cake with cherry compote and vanilla ice cream.
After dinner, we headed back to our villa and enjoyed another incredible view of Jimbaran Bay at night.
Breakfast
Most guests have breakfast at Taman Wantilan restaurant, but there is also the option to order room service to your villa. We decided on the latter. We sat on the terrace by the pool and enjoyed a huge selection of food including eggs, fruit, bread, coffee and tea while enjoying the gorgeous view.
Sokasi Making Class at Ganesha Cultural Centre
After breakfast, I headed to the Ganesha Cultural Centre. Here they offer a variety of workshops and exhibitions of Balinese art, crafts and music. You can purchase locally crafted work, as well as learn how to create traditional Balinese crafts.
I was attending a Sokasi making class. Sokasi are colored woven baskets that are used for storage and also for offerings for daily prayers. The instructors were women from a local village and were incredibly skilled at creating the Sokasi.
AntiGravity Yoga at Four Seasons Resort Bali at Jimbaran Bay
One of the things I was most excited about trying at the Four Seasons Resort Bali was AntiGravity Yoga. Both hotels offer it, but I didn't get a chance to try it at Four Seasons Sayan, so was looking forward to the ocean front experience at the Four Seasons Resort Bali at Jimbaran Bay.
If you've never heard of it, AntiGravity Yoga is essentially performing yoga poses, while suspended in a hammock. You spend quite a bit of time upside down, which is believed to relieve stress and encourage healthy blood circulation. It's also really fun, and the setting is incredible, overlooking the sea.
During the stay, we were given a tour of the property and some of the other rooms, including the incredible residence villas. The four bedroom villa was located close to Sundara and was spectacular, with a huge pool and open rooms.
Four Seasons Resort Bali also host many weddings, and we saw one of these being set up by the main pool. It was a beautiful setting and would be an incredible spot to get married.
We ended the trip with a day at Sundara, before heading to the airport, although we would have loved to stay for longer! Four Seasons Resort Bali at Jimbaran Bay is an incredible hotel in a stunning location. The premier ocean villas with the infinity pools are so lovely you could easily spend your whole trip there!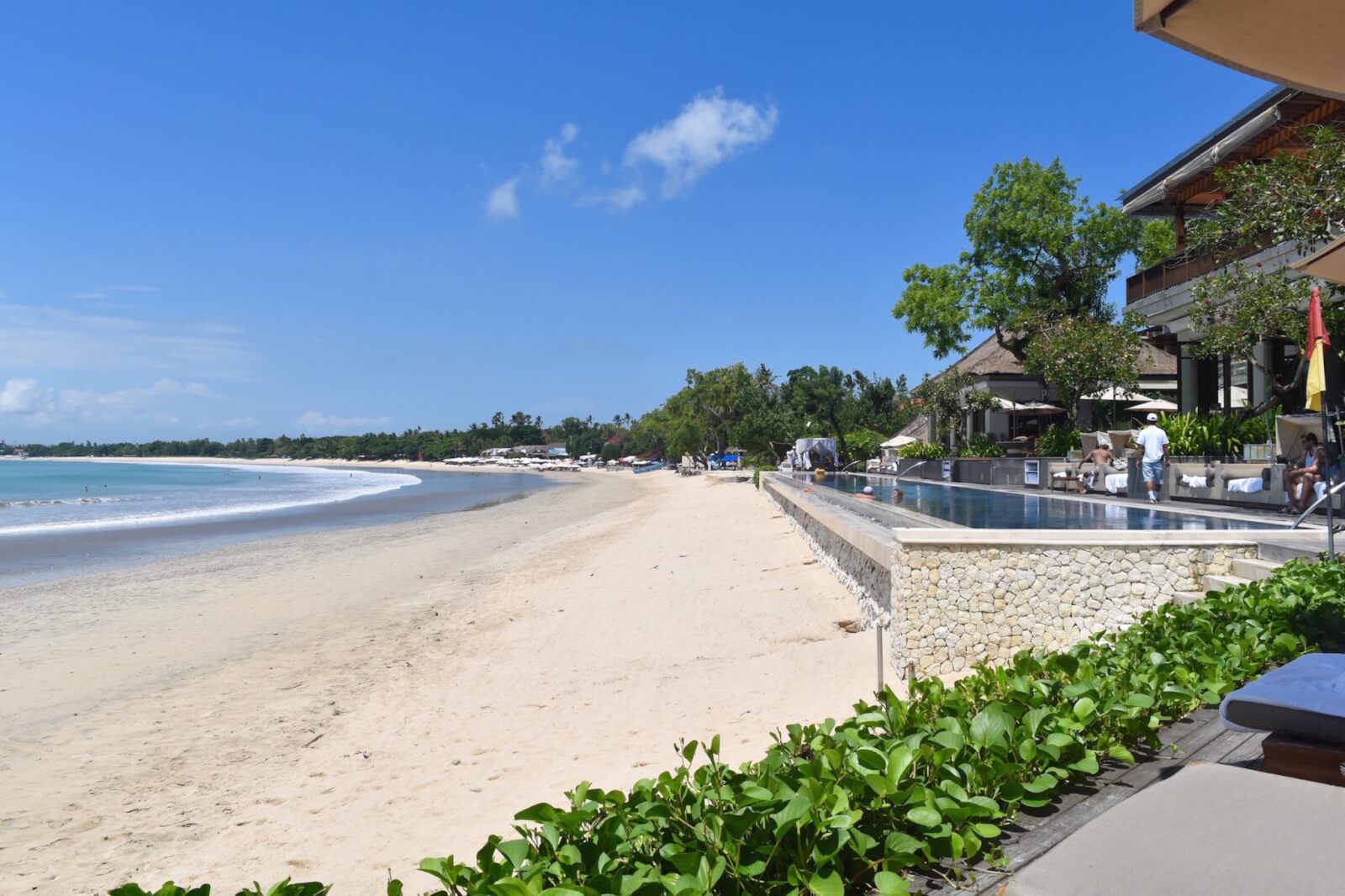 Thank you to Four Seasons Resort Bali at Jimbaran Bay for hosting A Lovely Planet.
Travelling in Bali? Check out our reviews of Bali's resorts Kayon Ubud, Four Seasons Jimbaran Bay and Anantara Uluwatu.