I've spent a great deal of time travelling all over Italy. Partly because I'm married to an Italian, but mostly because I just love it. Nothing fills me with more happiness than sitting in a beautiful piazza eating pasta and sipping a prosecco or primitivo. The south of Italy has some of the country's best beaches, is the birthplace of pizza, mozzarella and burrata and contains some incredible architectural and cultural sites. After exploring the area in both a motorhome and with a car and in hotels, here is what I think is the perfect Southern Italy road trip itinerary.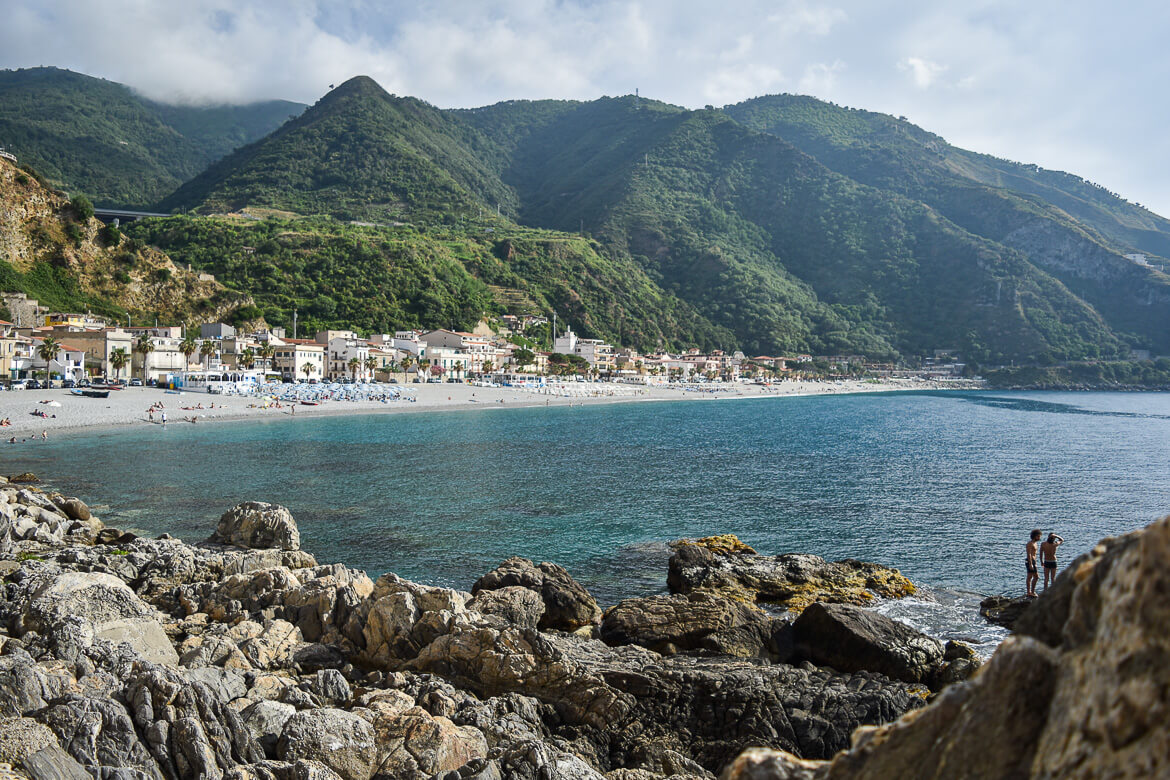 Disclosure: This article contains affiliate links. This means that if you click a link and purchase something I've recommended I may earn a small commission. This does not affect the price you pay but helps me to run this site. You can read my full affiliate disclosure here.
Where to start your Italy road trip?
As with my Northern Italy road trip route, this itinerary follows a loop, so you can start and finish at any point of the itinerary. I'm suggesting Naples as a starting point as it has the largest airport in southern Italy aside from Rome, with plenty of car rental options.
This 14 day Italy itinerary is fairly fast-paced but can be slowed down if you have more time. I've also offered detours if you have a longer trip and the option to take a longer Italian road trip. 
Southern Italy Road Trip Itinerary:
Day 1-2 Campagnia
Day 3-6 Puglia
Day 7-10 Calabria
Day 11 Basilicata
Day 12-14 Campania
Camper or Car?
This is a beautiful part of the world to travel by motorhome or campervan but equally, there are some absolutely stunning hotels in Southern Italy too. So either option is great and I've included recommended places to stay for both.
Hire a motorhome or camper in Italy.
Tips for driving in Italy
Driving in Italy can seem a little scary but once you get used to the Italian driving style it's generally pretty enjoyable. The horn is used much more frequently than in the UK and Australia and is usually just to let you know they are there rather than being aggressive. Watch out for speed cameras, especially in small towns where the limit is usually 50km/h, and familiarise yourself with the motorway toll options. If you don't have an automatic Telepass in your car you will need to choose the payment lane.
This southern Italy itinerary includes lots of delicious food and drink, incredible beaches, gorgeous little towns, and a few cities.
Day 1-2 Campania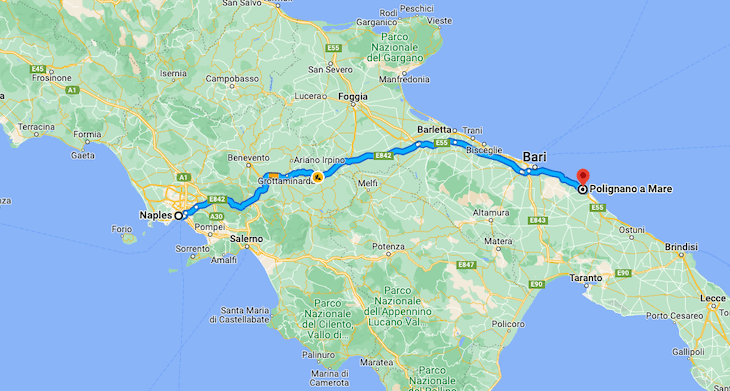 Naples
Fly into Naples (Napoli), grab a rental car/camper, and head into the city. Though Naples often gets a bad rep, it's actually a fantastic city to visit with a beautiful historic centre. And more importantly, it is the original home of pizza.
If you do nothing else during your stay in Naples, try at least one margherita pizza. Named after Queen Margherita who loved the dish during a visit in 1889. You will also find incredible mozzarella which originates from the region and delicious limoncello amongst many other delightful treats.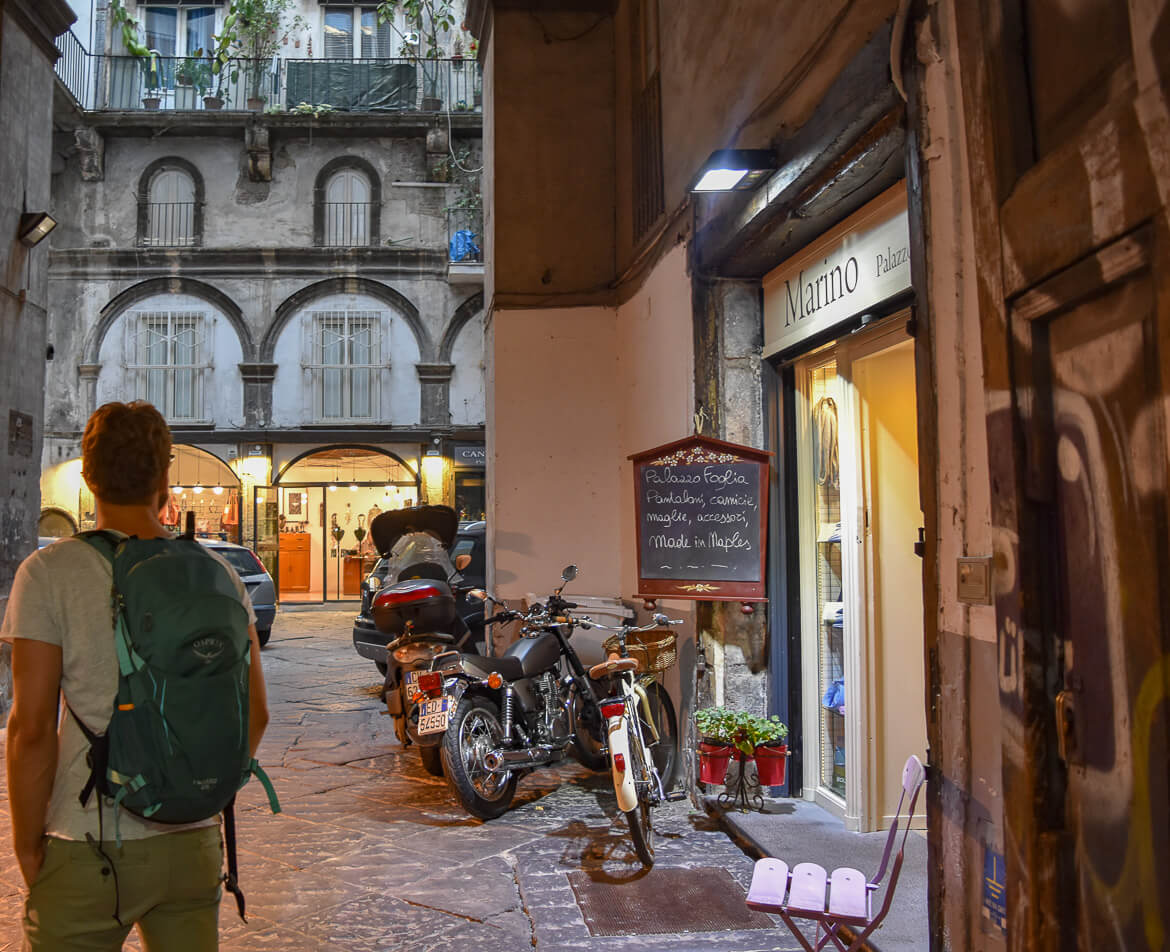 Naples highlights
Visit the Castel Nuovo (a medieval castle)
The Catacombs of San Gennaro (an underground paleo-Christian burial and worship site)
Take a pizza-making course
Stroll the Lungomare (the seaside promenade)
Visit Naples National Archaeological Museum
Explore the main street of Spaccanapoli and the surrounding lanes
Eat a margherita pizza, mozzarella and drink limoncello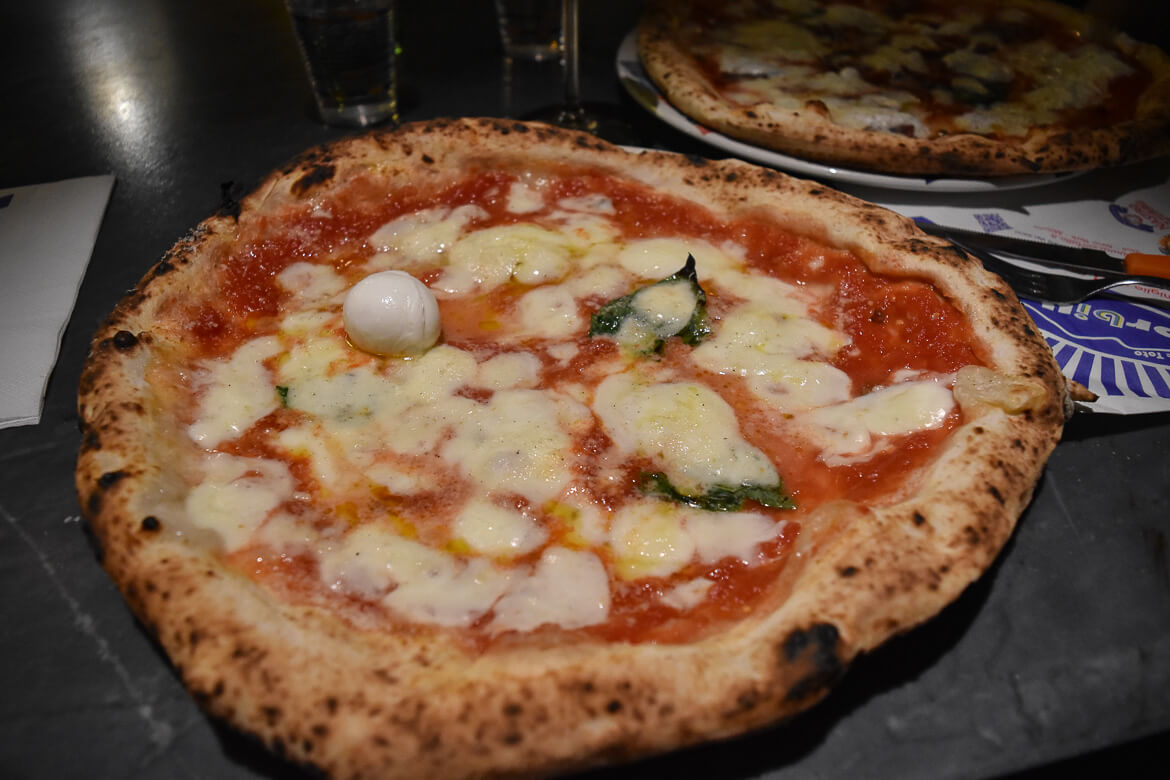 Where to Stay in Naples
Budget – Terrazza Partenopea has en suite rooms with air conditioning, a flat-screen TV and a fridge, located in the Spanish neighbourhood.
Mid-Range – Toledo Boutique Rooms is a new accommodation with modern rooms. Centrally located with friendly staff.
Luxury – Relais sul Mare is located on the promenade in a historic building overlooking the Gulf of Naples. Parking is available nearby for an additional charge.
Campsites – There is an area di sosta with water and waste facilities at Parking IPM on Viale Colli Aminei 27. It has 24-hour security and is very centrally located – an easy bus to the main sights.
---
Day 3-6 Puglia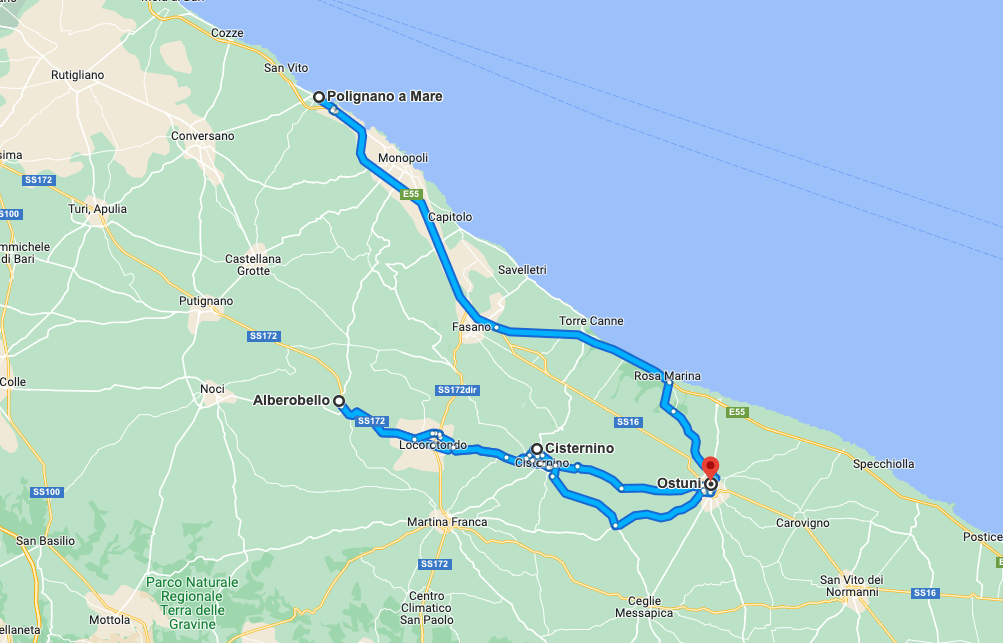 Puglia is such a gorgeous region with white-washed hilltop towns, stunning beaches and fantastic red wine. If you have lots of time, then I recommend heading all the way down to Lecce, Otranto and Gallipoli and the tip of the heel. If not then follow the itinerary below.
Polignano a Mare
It is just over 3 hours from Naples to the coastal town of Polignano a Mare by car. Located on the rocky coastline of Valle d'Itria, it's a beautiful spot with striking white buildings perched on limestone cliffs. The town is popular for its picturesque beaches and it has also become a favourite with cliff divers. The main beach of Cala Porto is the setting for an annual cliff diving competition.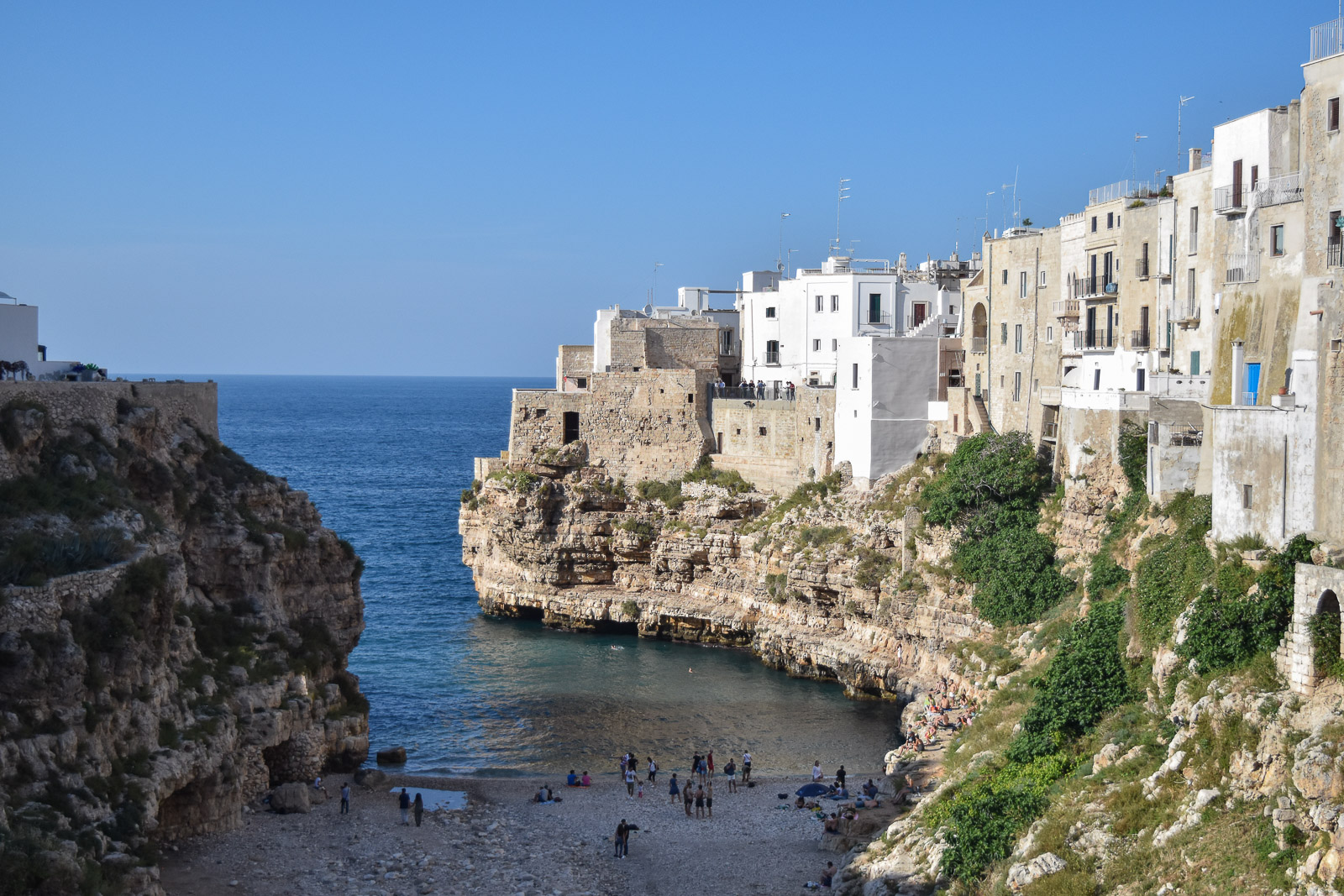 Polignano a Mare highlights
Swim at Cala Porto (also known as Lama Monachile)
Have an aperitivo in Piazza Vittorio Emanuele II
Eat at the much-photographed Grotta Palazzese (a restaurant within a cave overlooking the sea)
Get the best views of the beach from Terrazza Santo Stefano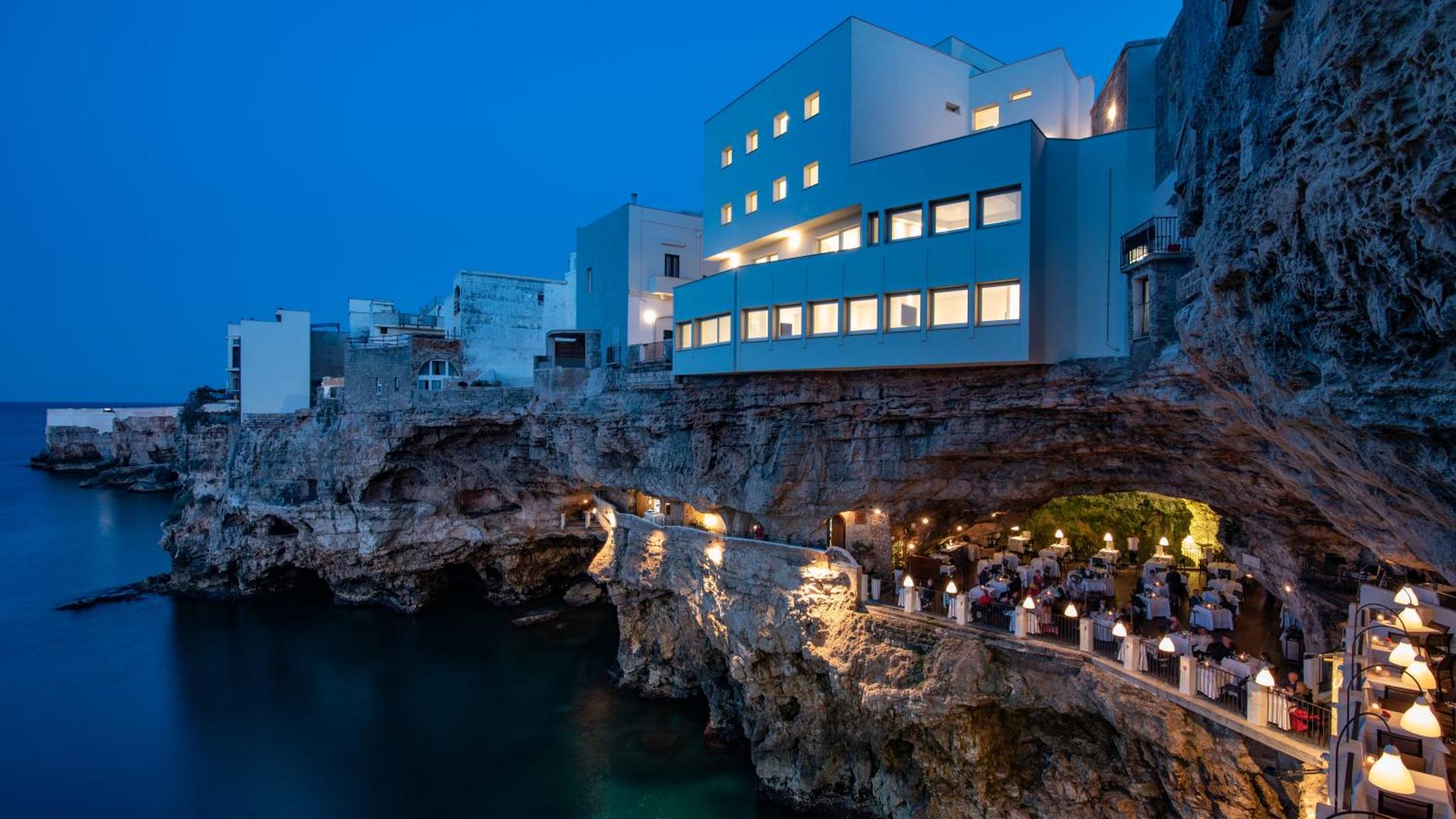 ---
You can spend the night in Polignano a Mare but I suggest continuing on your south Italy itinerary to Ostuni (around 40 minutes drive) and using this as a base for the Puglia portion of this road trip.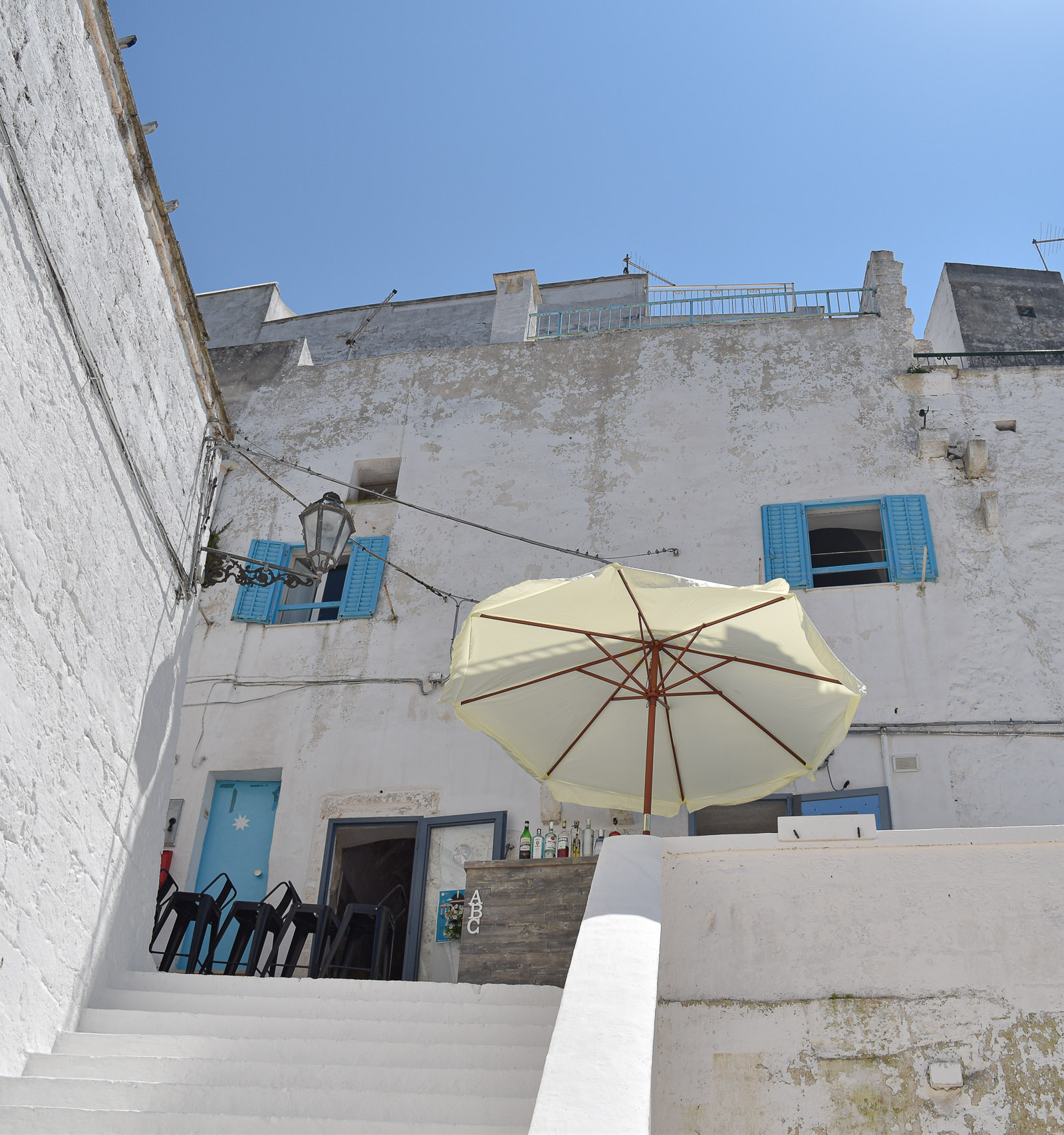 Ostuni
Known as 'Citta Bianca' (white city), Ostuni is a maze of cobbled streets and lanes perched on a hill. It really is a gorgeous city with white-washed buildings decorated with colourful flowers and lovely views out over the Puglian countryside.
Ostuni highlights
Wander the narrow lanes and discover lovely bars, restaurants and shops at every turn
Visit 15th Century Gothic Ostuni Cathedral
Admire the views of the olive groves below and out to the Adriatic
Walk along the city walls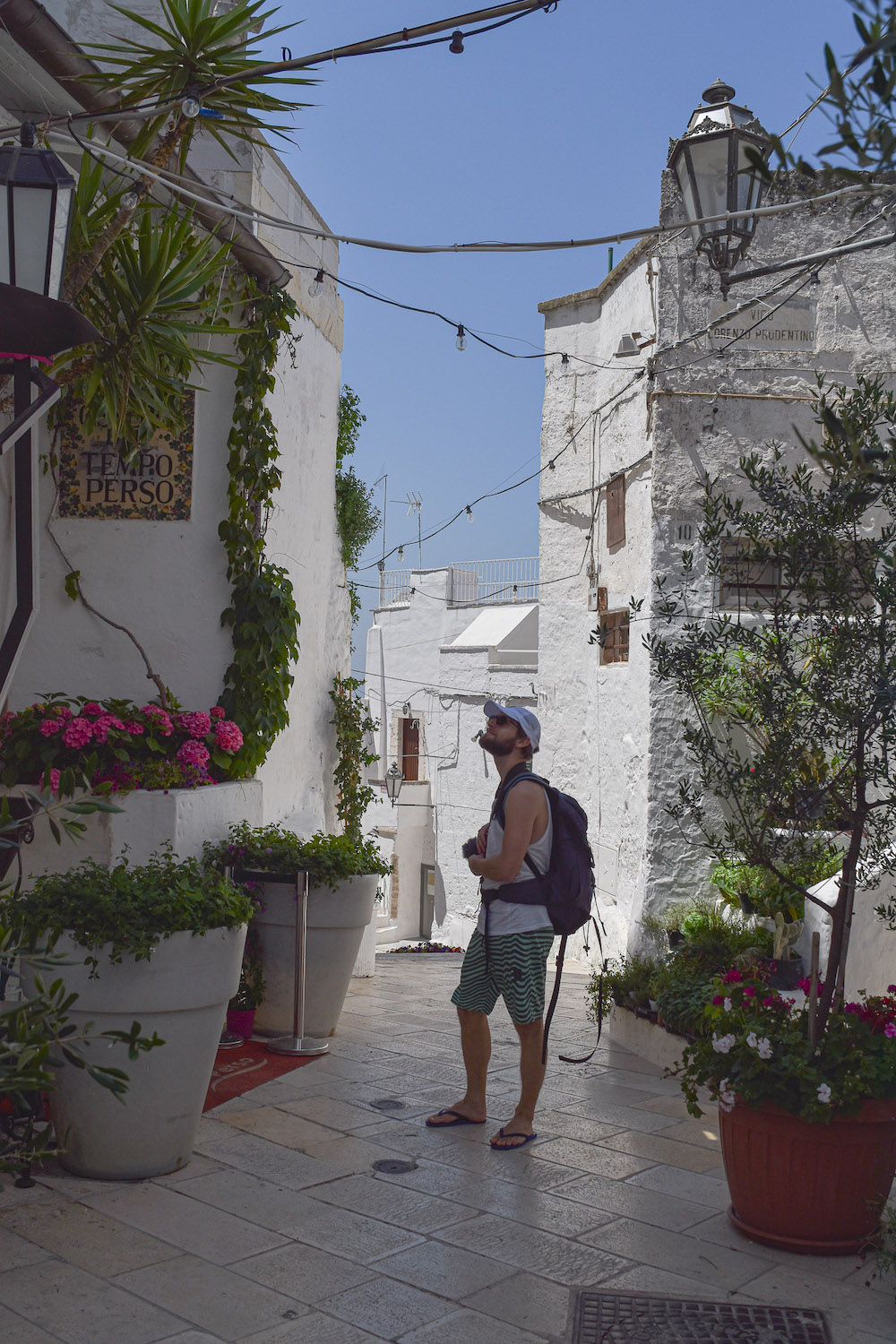 Where to stay in Ostuni
There are some great places to stay in the centre of Ostuni such as Paragon 700 Boutique Hotel & SPA, however, for this southern Italy road trip, I recommend staying just outside the city in a masseria. A masseria is an old farmhouse (usually an olive farm) that has been converted into accommodation. Most have pools, fabulous restaurants and are an incredibly relaxing way to spend a few days in Puglia.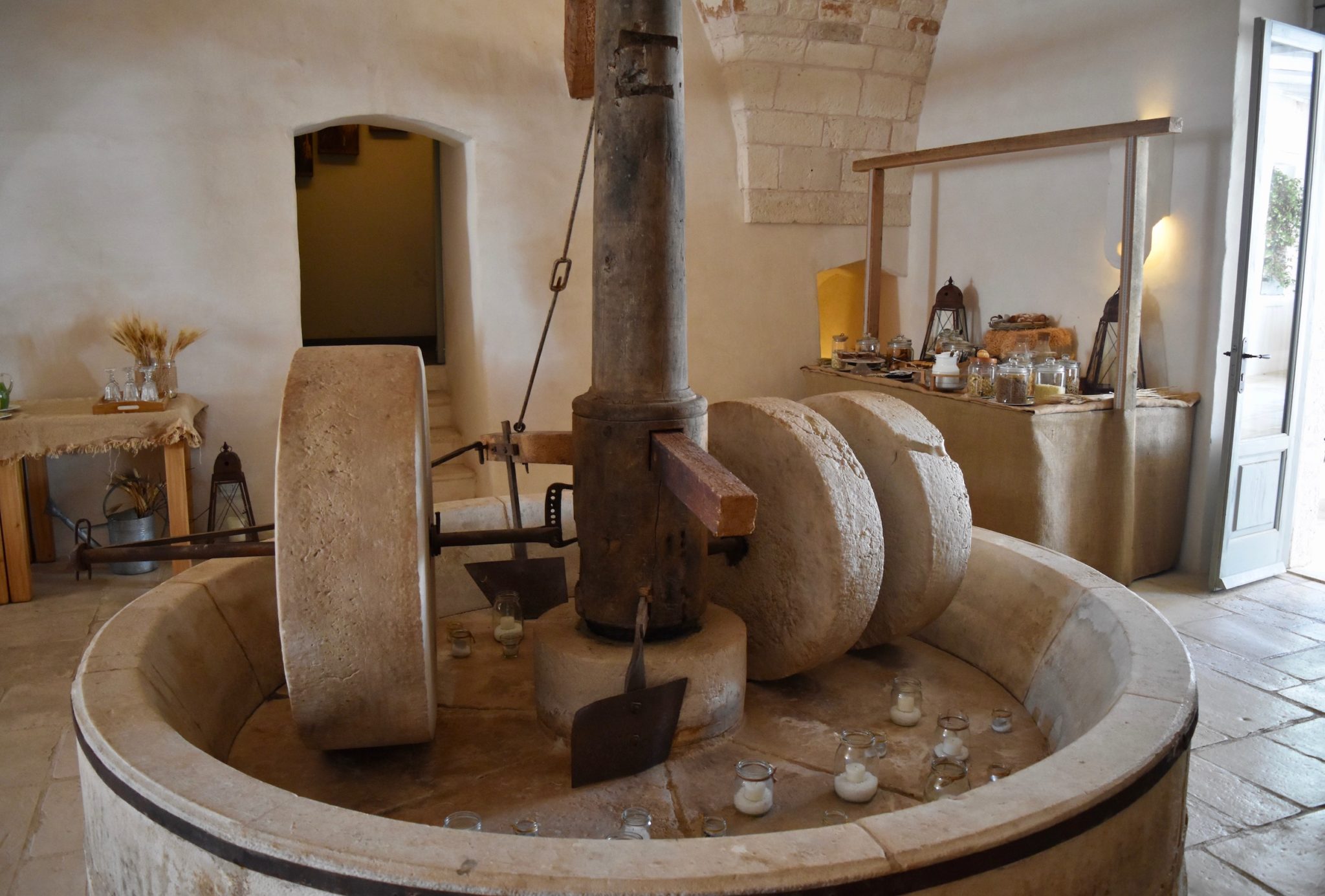 Budget – There aren't many budget masserias, so if you're looking for cheaper accommodation try Casa In Pietra, located in the historic centre. The air-conditioned apartment has a kitchen and one bedroom.
Mid-Range/Luxury – Masseria Le Carrube is one of the best places I've stayed in Italy. The old olive press forms the centrepiece of the hotel's excellent (vegetarian) restaurant and the white walls are draped in purple Bougainvillea. It has two idyllic pools surrounded by olive groves.
Masseria Cervarolo is a traditional farm with restored 16th-century trulli (typical Puglian stone houses with conical roofs). 6km from Ostuni, The Masseria's grounds include an outdoor swimming pool and an ancient chapel.
Campsites – Agriturismo Salinola offers parking on the grounds of the property with the use of the facilities (including a swimming pool and playground) included in the price and access to the restaurant for breakfast and dinner.
Read our guide to the best things to do in Puglia.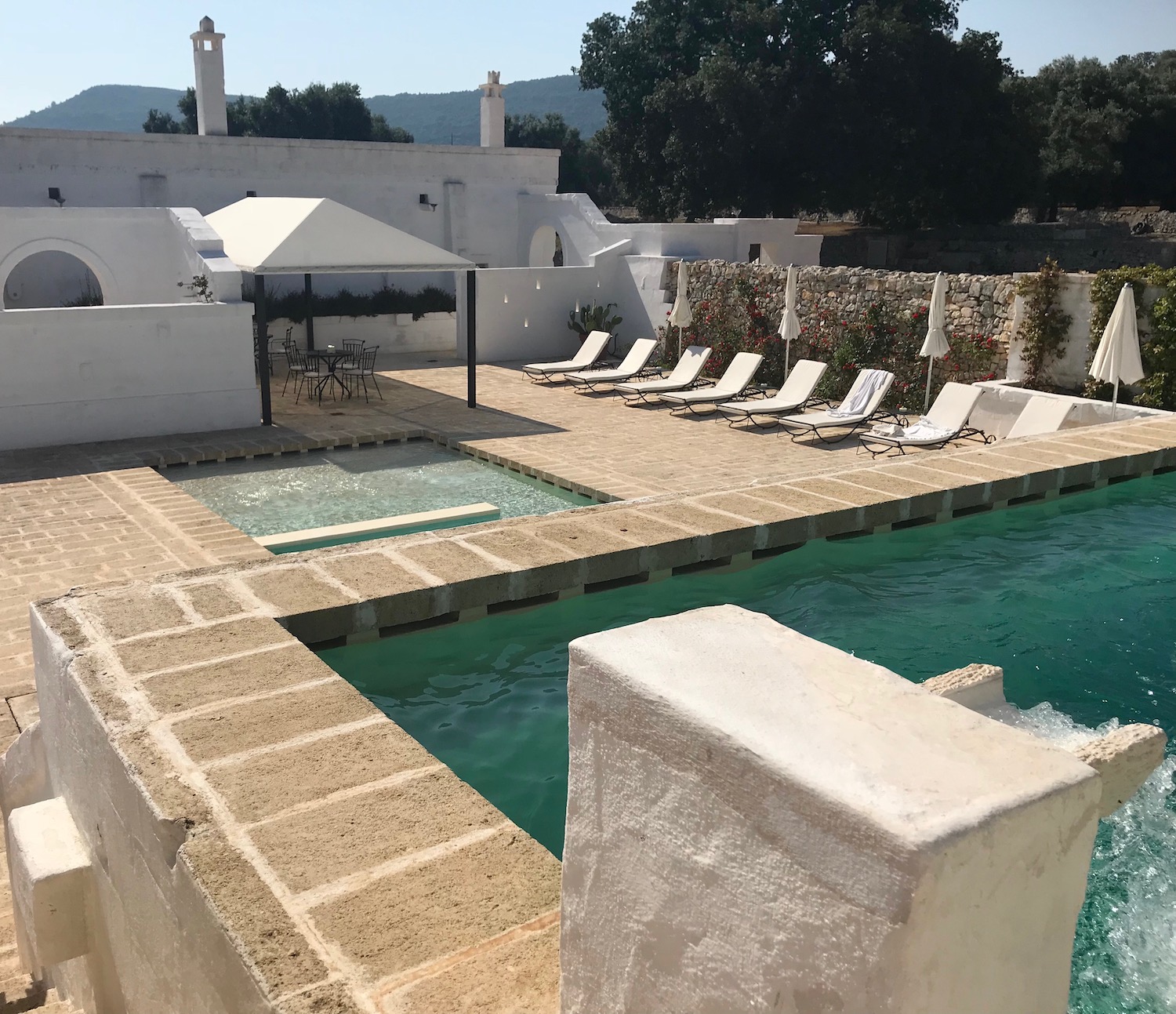 Alberobello
The next day head to Alberobello. If you can, depart early for the 40-minute drive to this UNESCO World Heritage Site. The town is known for its many trulli. You'll notice lots of tour buses rolling up throughout the morning full of tourists, so the earlier you arrive here the better.
Alberobello highlights
Take a stroll and admire the uniqueness of this town
Visit Trullo Sovrano – the only two-storey trullo, home to a heritage museum
See the Sant'Antonio Church
Visit "Il Trullo più piccolo" – the smallest trullo.
See Trullo Siamese – two connected trulli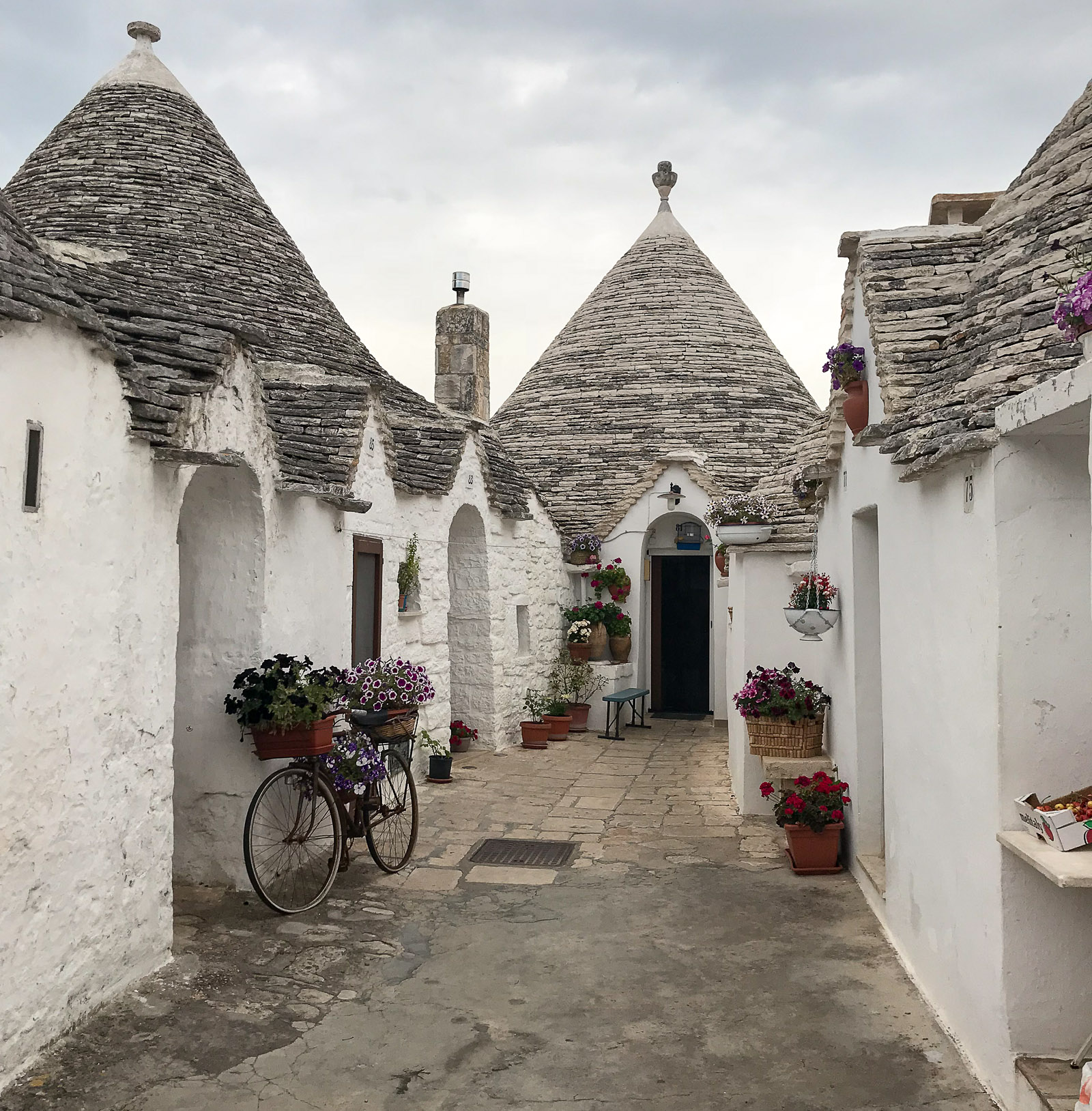 Stay in a trullo in Alberobello
Cisternino
Drive 20 minutes from Alberobello to Cisternino for lunch. This is another beautiful whitewashed hill town and one of Italy's 'Borghi più Belli' (most beautiful towns).
Cisternino highlights
Admire the views from Piazza Garibaldi
Eat bombette ('little bombs' of rolled meat and cheese)
Have a drink in Piazza Vittorio Emanuele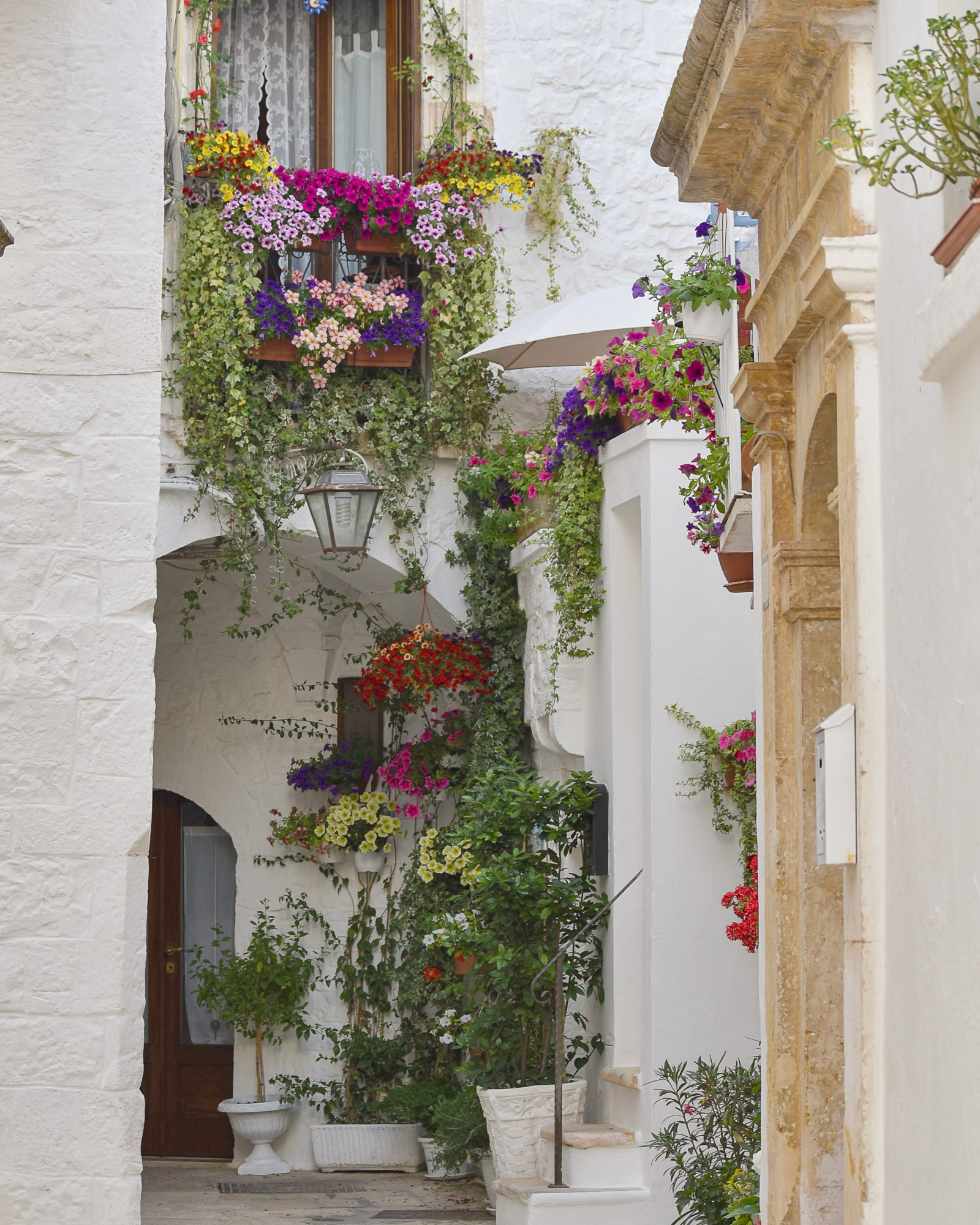 After spending the final night at your masseria, get up early and drive to Tropea in Calabria. It's a 4 and half-hour drive, with a few optional detours.
Check out our three-day Puglia itinerary for more detail.
Punta Prosciutto
If you fancy a bit of time on the beach, head southwest to Punta Prosciutto. This is a gorgeous long sandy beach with crystal clear water. The large majority of the beach is free, but there is a lido section if you want umbrellas and deck chairs. There are a few small bars if you're after a coffee, snack or lunch but the rest of the beach is pretty untouched. It's idyllic. (This will add an hour and 30 mins to the driving time)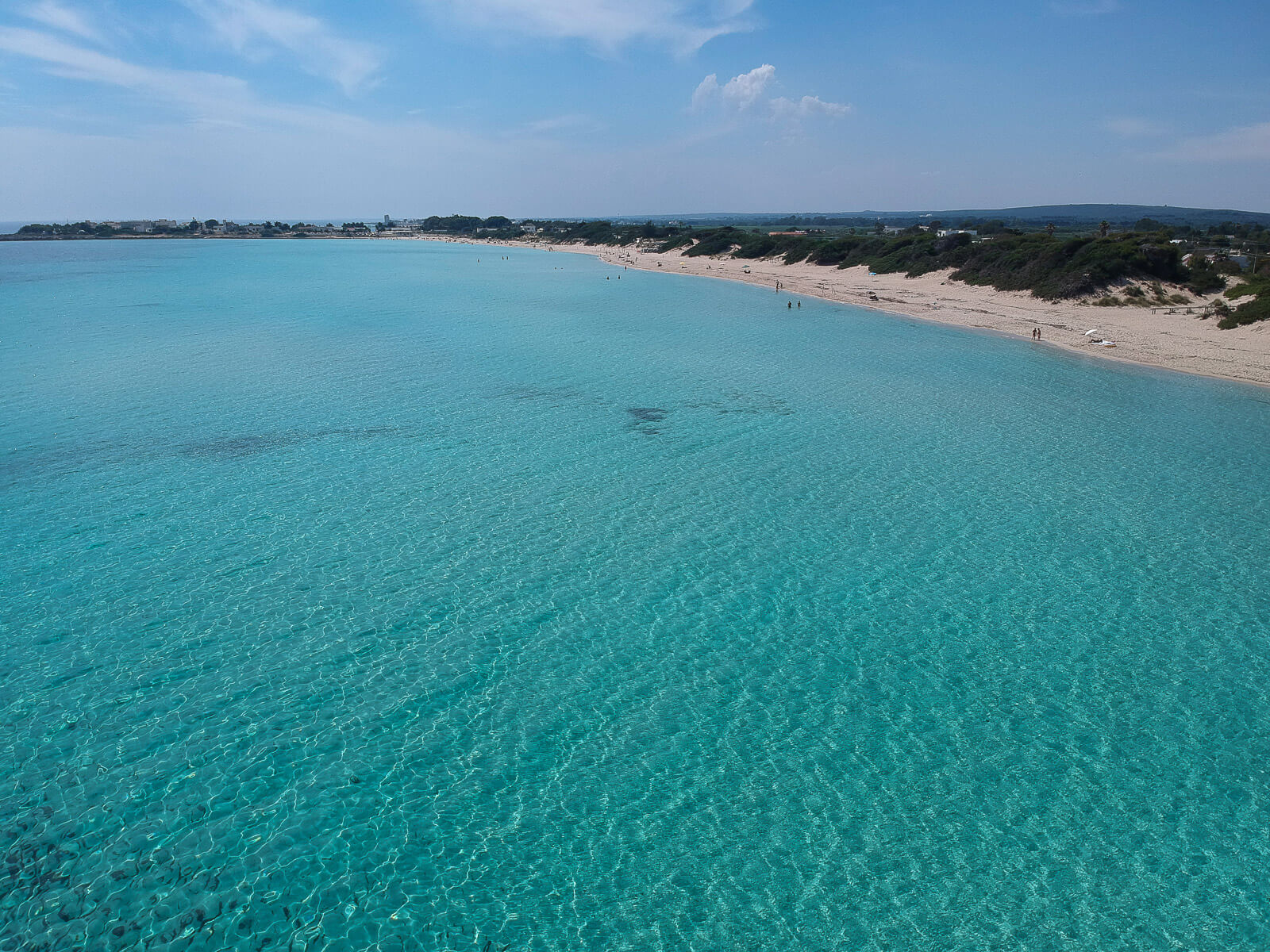 Matera
Alternatively, head north to Matera. Matera is the city of caves and is a Unesco World Heritage Site. It's one of the oldest cities in the world. You may also recognise it from James Bond – No Time To Die.
Matera highlights
Visit Casa Grotta di Vico Solitario (a typical cave dwelling)
Wander the narrow streets
Visit Santa Maria di Idris (a cave church)
Check out Casa Noha – a multimedia exhibit that tells the history of the city
---
You can also spend the night in Matera in a Cave hotel, and add a day onto your Italian road trip.
Day 7-10 Calabria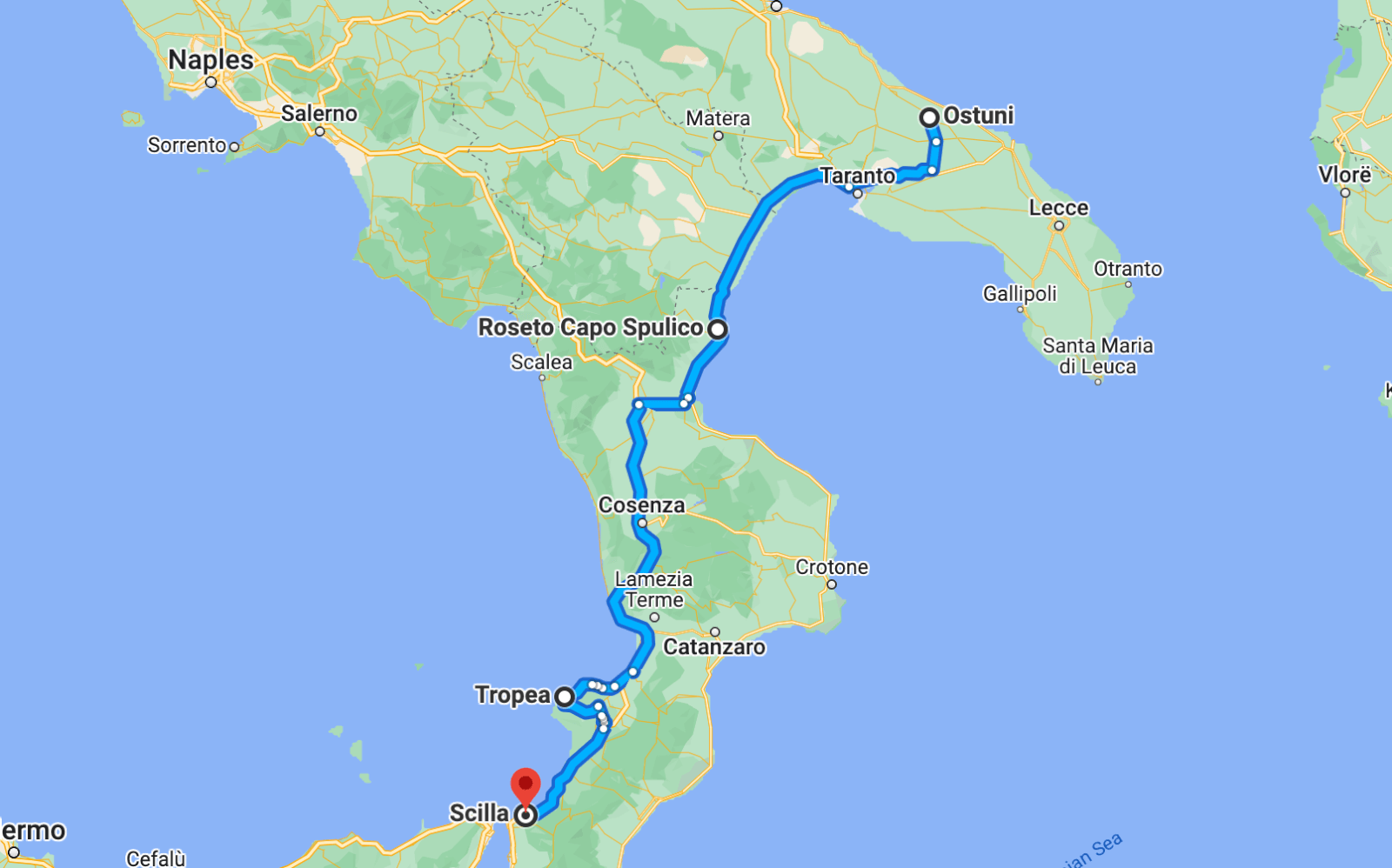 If you're heading straight to Tropea, then a good midway stop is Roseto Capo Spulico. This is a coastal town with an impressive castle right on the water.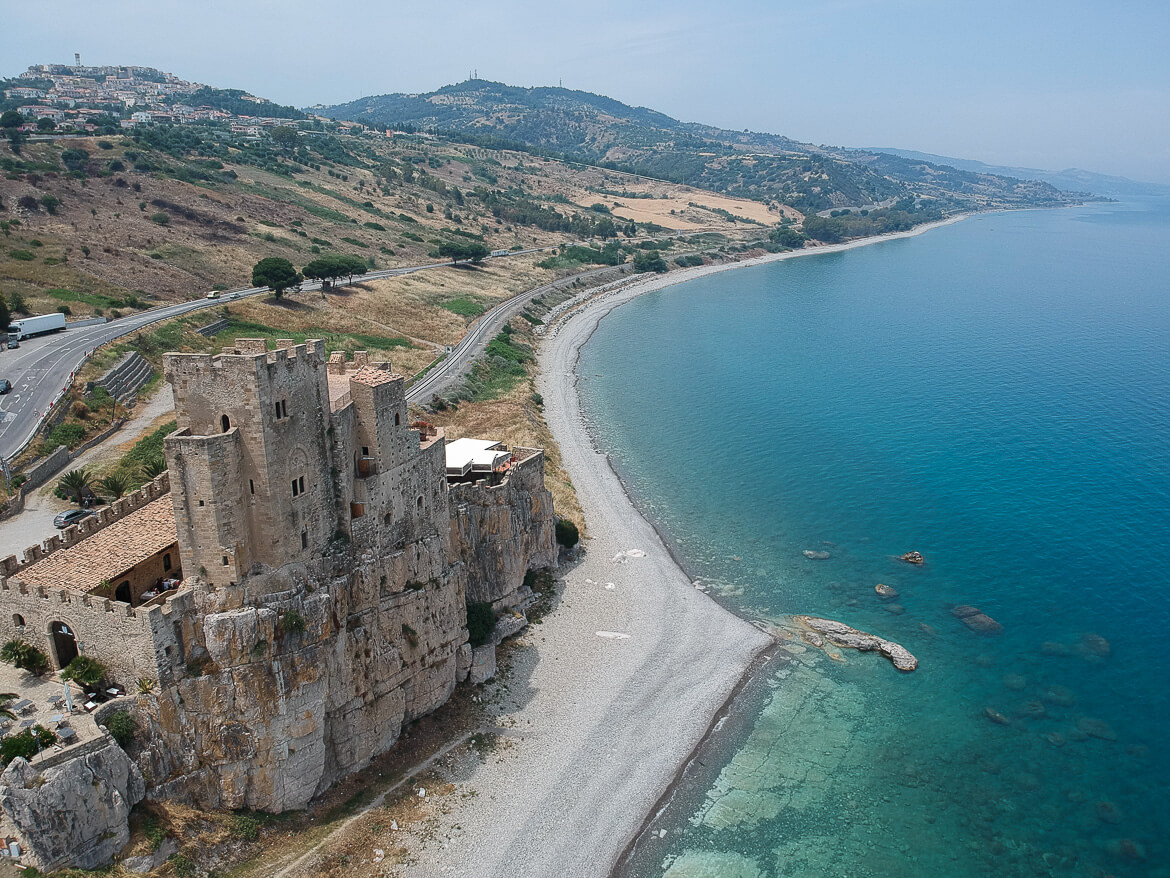 Tropea
Tropea is a popular Italian holiday destination, known for Santa Maria dell'Isola Monastery – a medieval church perched on top of a rocky cliff surrounded by the shimmering water of the Mediterranean. There are some excellent restaurants in the historic town centre and beautiful beaches. It's also a short boat ride from here to the volcanic island of Stromboli.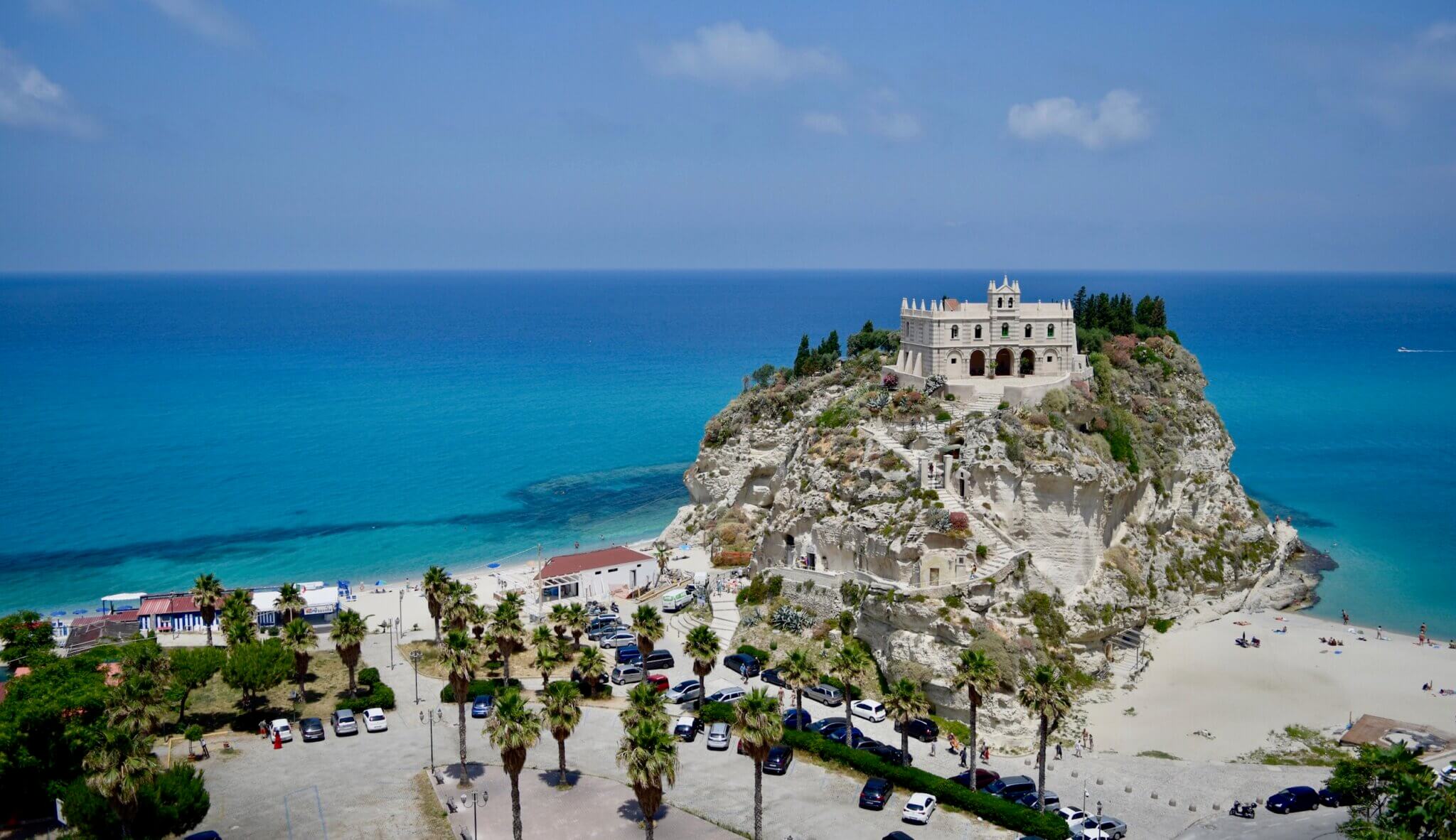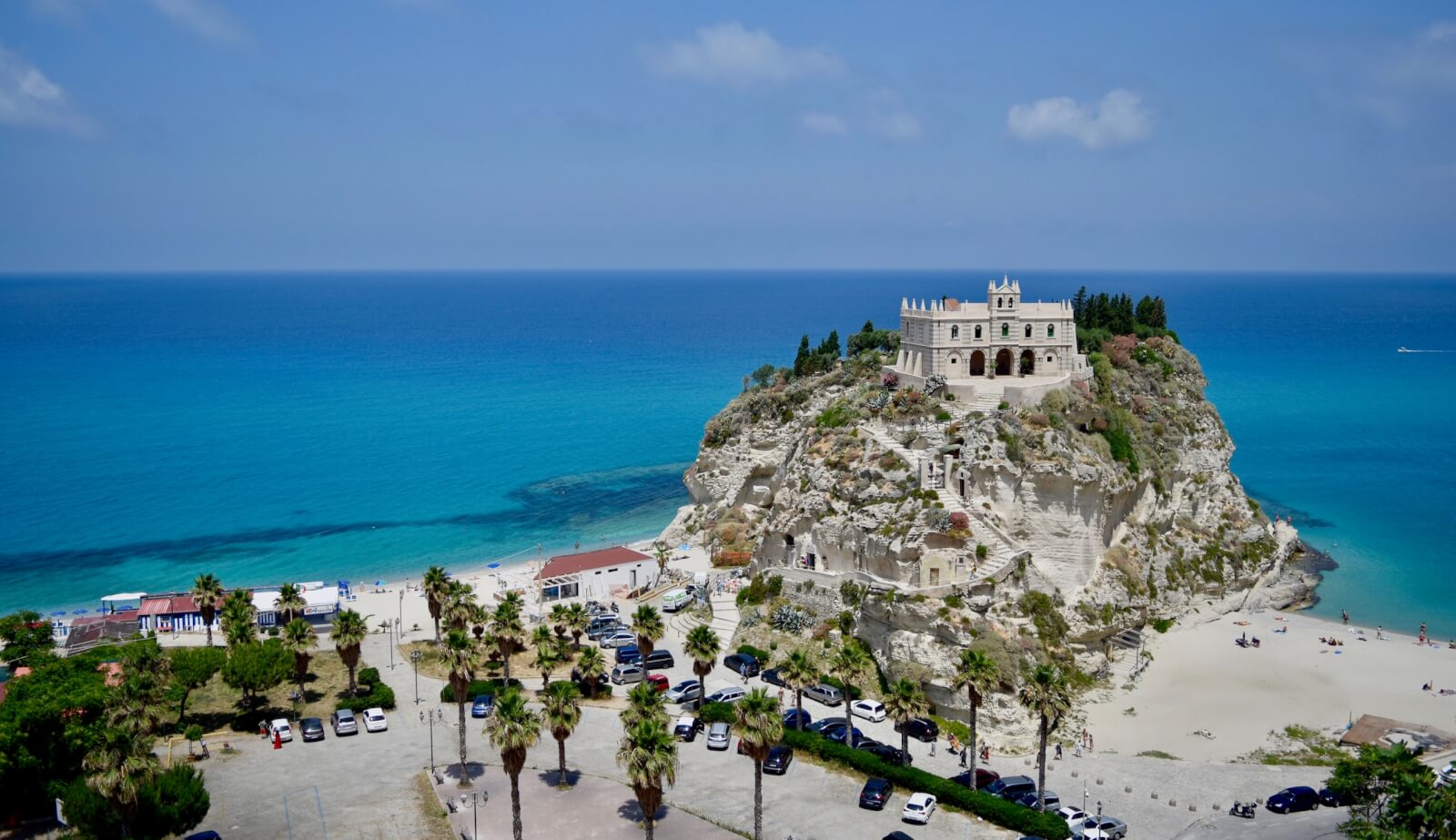 Tropea Highlights
Visit Santuario di Santa Maria dell'Isola di Tropea
Eat Nduja sausage and red onion
Take a day trip to Stromboli – a volcanic island fringed with black sand (and a still active volcano)
Wander the historic centre
Enjoy a dip at the beautiful beach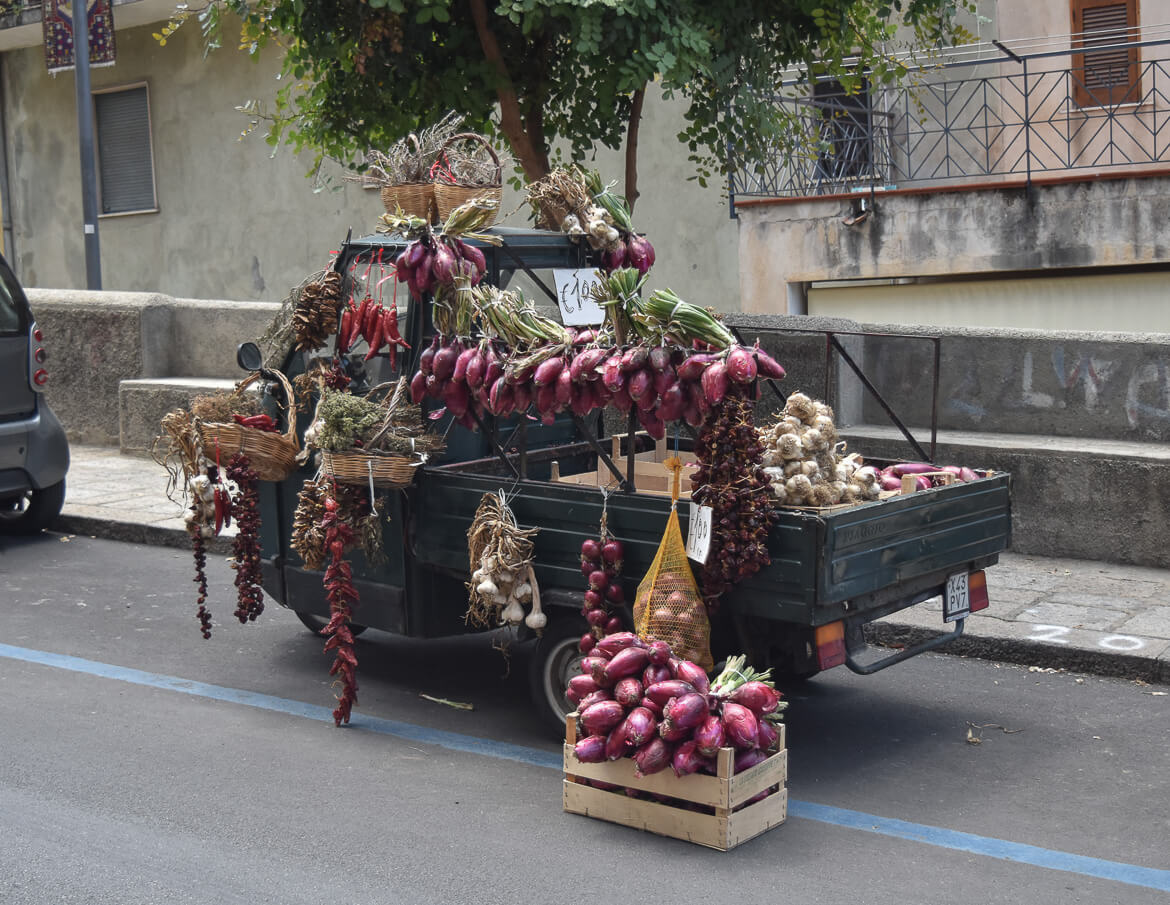 Where to Stay in Tropea
Budget – Donnaciccina is located in the pedestrian centre of Tropea, 400m from the sea. Comfortable country-style rooms have air conditioning and balconies.
Mid-Range – We had a great stay at Residenza RoMa. 500m from the beach and 700m from the town centre, this small and friendly accommodation offers elegant and air-conditioned rooms, each with an outdoor area and a modern shared lounge area.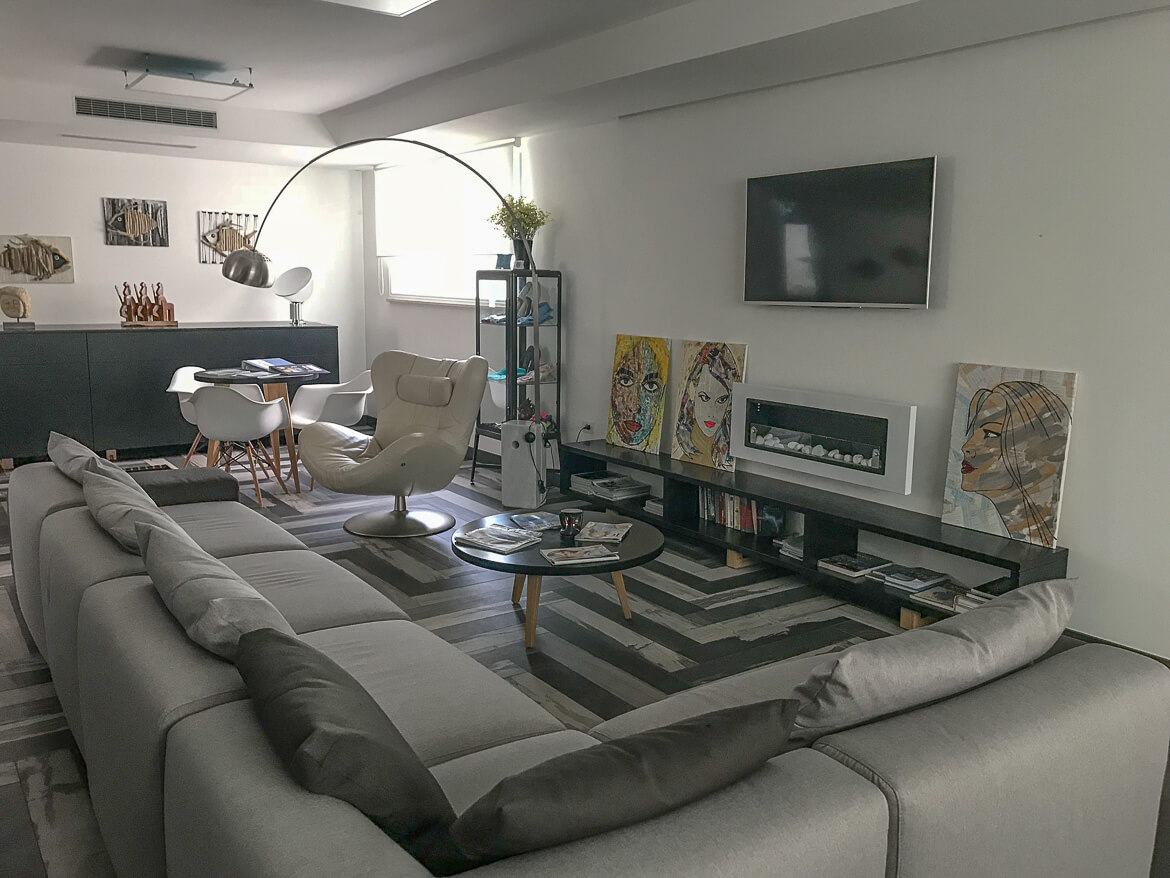 Luxury – Villa Paola is set in a 16th-century convent overlooking the Tyrrhenian Sea. With an outdoor pool, sun terrace and garden, and elegant rooms, the 5-star property is a luxurious place to stay in Tropea.
Campsites – You can't get a much better camper spot than Da Ciccio Parking, right next to the beach and a short walk from the Old Town. Next door Camping Marina del Convento has pitches for tents, cars and caravans. Some with sea views.
---
Scilla
Spend two nights in Tropea and then drive onto Scilla. Less frequented than Tropea, we absolutely loved this town. With the fortress – Castello Ruffo – in the centre, the beach resort of Marina Grande to the west and the quaint fishing village of Chianelea to the east, it's a wonderful place to spend a few days.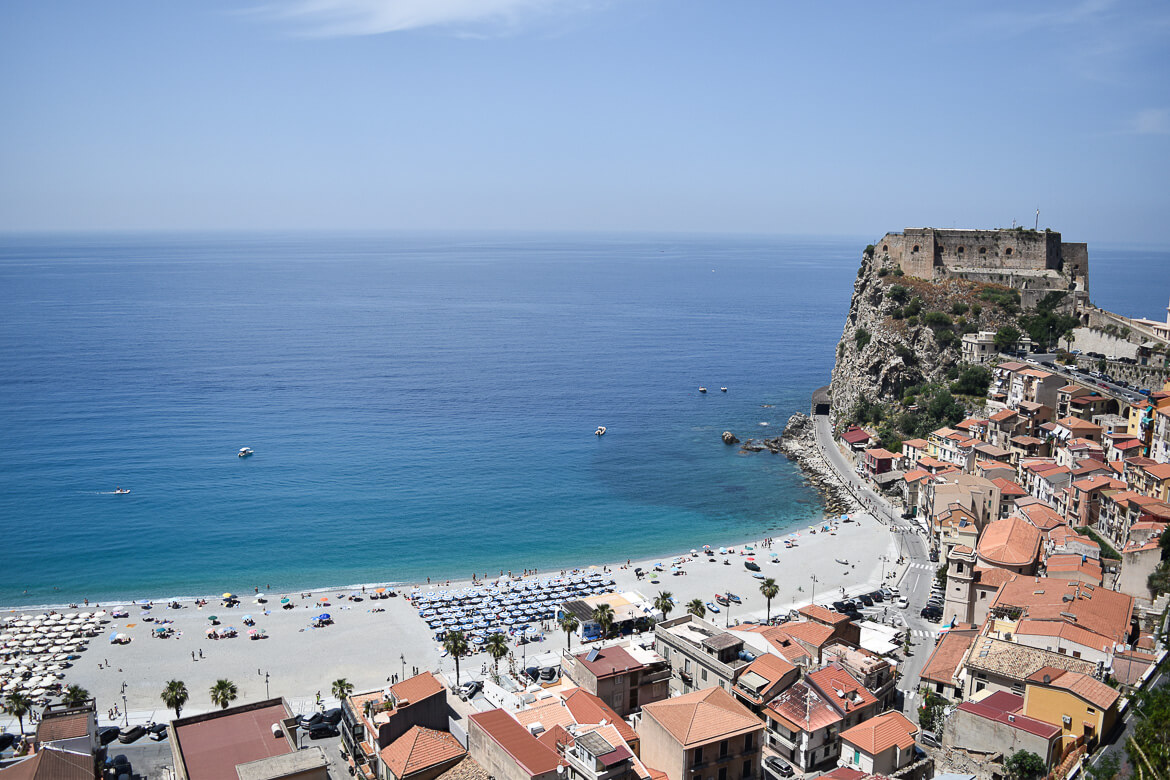 Scilla Highlights
Watch the fishermen search for swordfish in their impressive tall ships (or join them for a day of fishing)
Visit Castello Ruffo
Enjoy a dip at the beautiful beach
Eat swordfish
Wander the narrow lanes of Chianalea – one of the 'Borghi più belli d'Italia' – 'most beautiful villages in Italy'.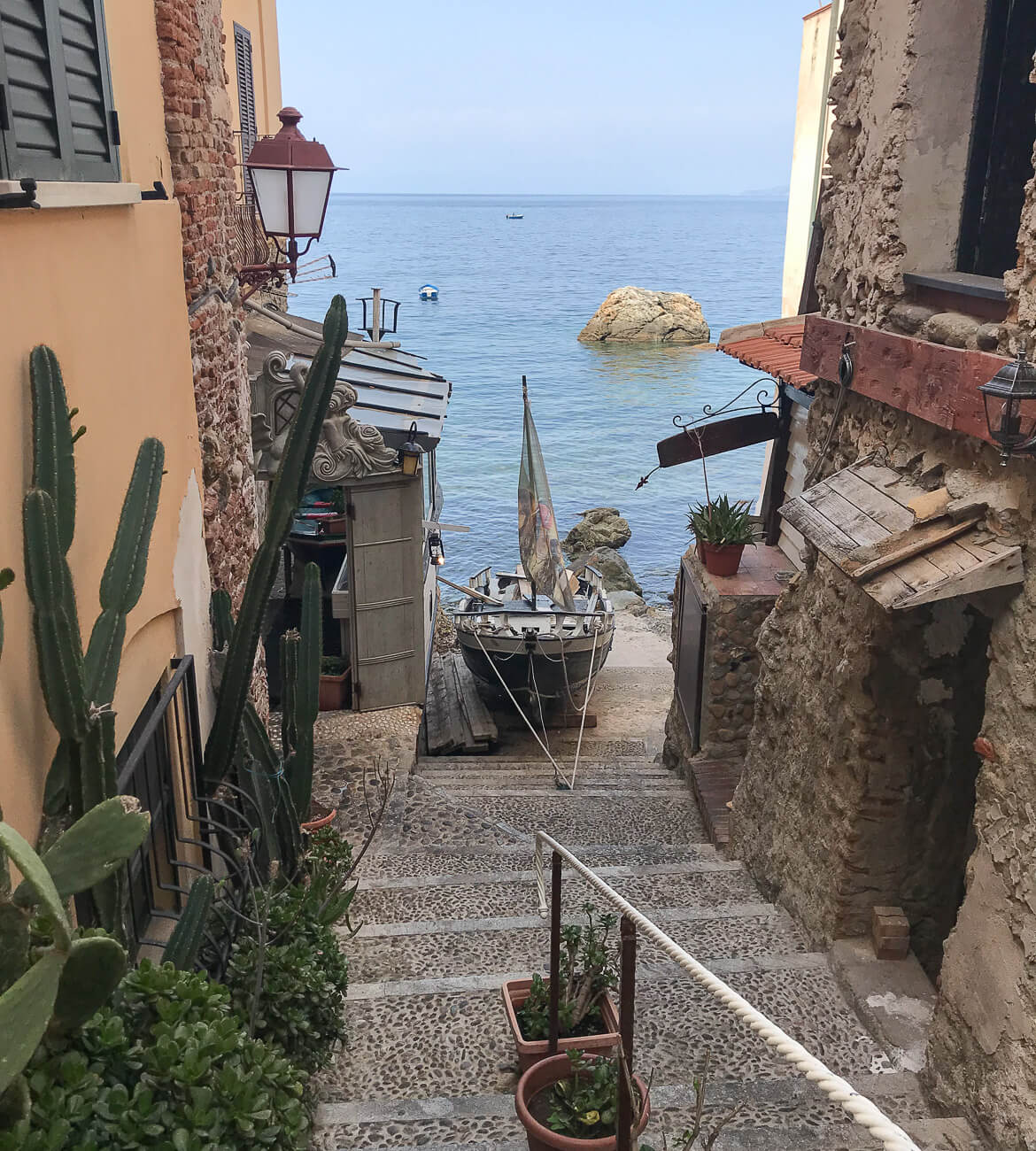 Where to stay in Scilla
Budget – Hotel Scilla is set in Scilla's centre, a 10-minute walk from the sea. It offers free parking and free Wi-Fi. Rooms have air conditioning, some with a balcony. Breakfast is included in the rate.
Mid-Range – We absolutely loved B&B Chianalea 54. It's on a pedestrian street so you will need to park your car at the port and walk along the narrow lane to get there, but it's totally worth it. It has lovely views from the balconies, and you can have your breakfast served here.
Luxury – Set right on the water, the large terraces at La Veduta have exceptional views. A delicious breakfast is included in the rate.
Campsites – There isn't a campsite in Scilla but there are some nearby such as Il Tracciolino.
Road trip option: From here you can continue on to Reggio Calabria and take a ferry to Sicily, adding a Sicily road trip to this itinerary. You ideally want an additional week or more for this.
Day 11 Maratea, Basilicata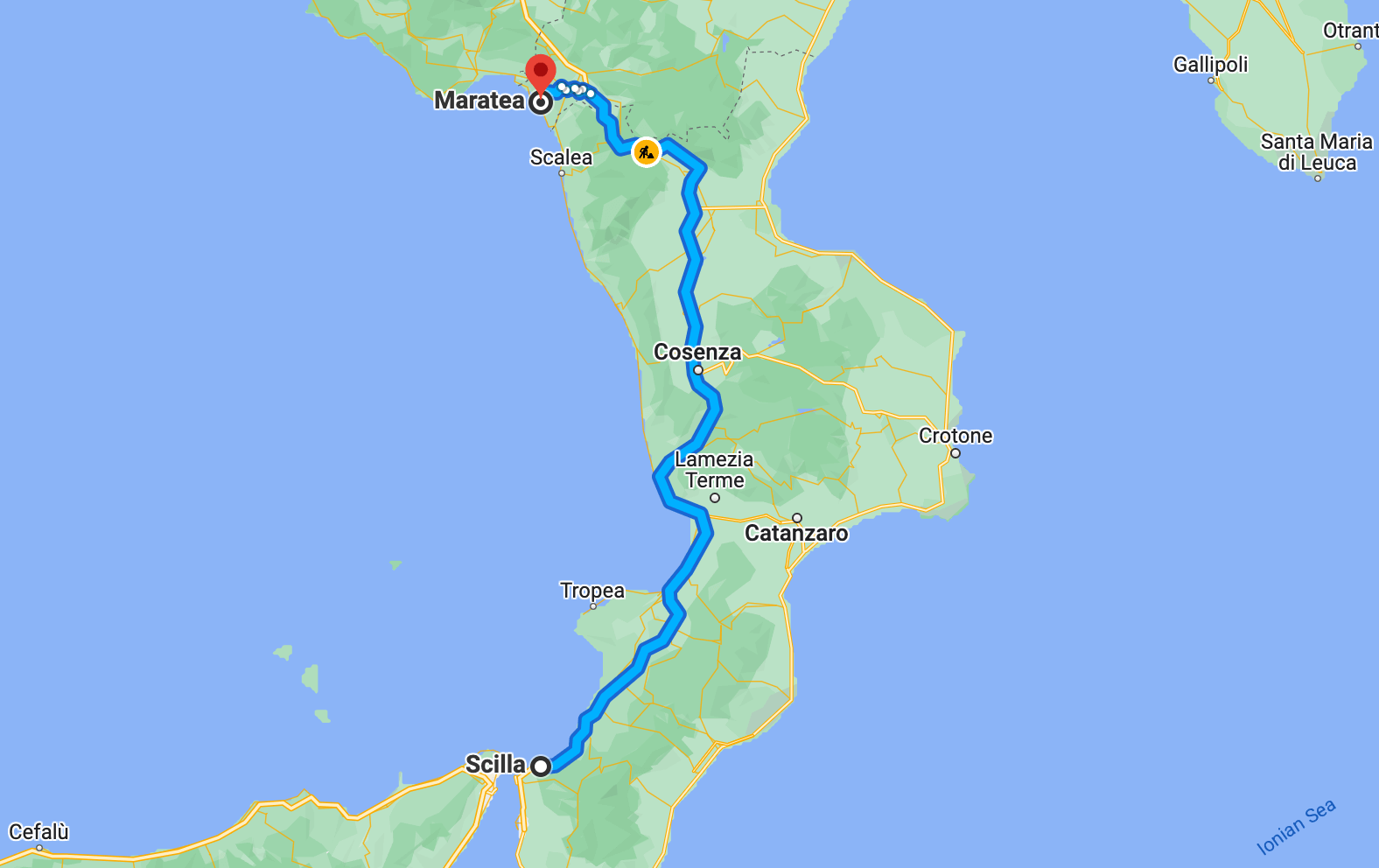 Head north to the region of Basilicata. It's a 3 hour drive to the commune of Maratea, known as the Pearl of the Tyrrhenian Sea. There are two sections to this town, the historic old town on the hill and the port down by the water.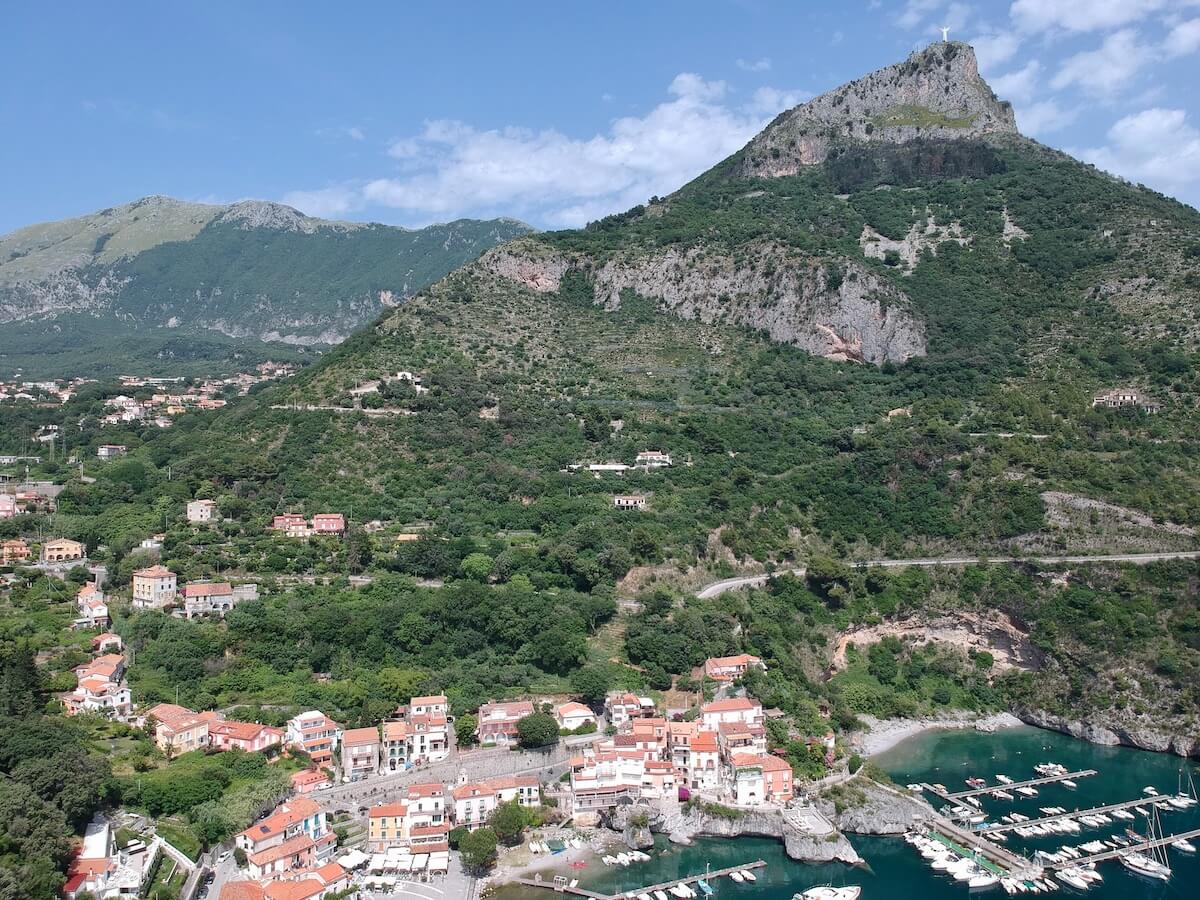 Maratea Highlights
Admire the statue of Cristo Redentore – the second biggest in the world, after Corcovado in Rio de Janeiro in Brazil
Swim/relax at one of the rocky beaches such as Spiaggia Marina di Castrocucco
Enjoy gelato at Gelateria Emilio at the port
Wander the historic centre of the old town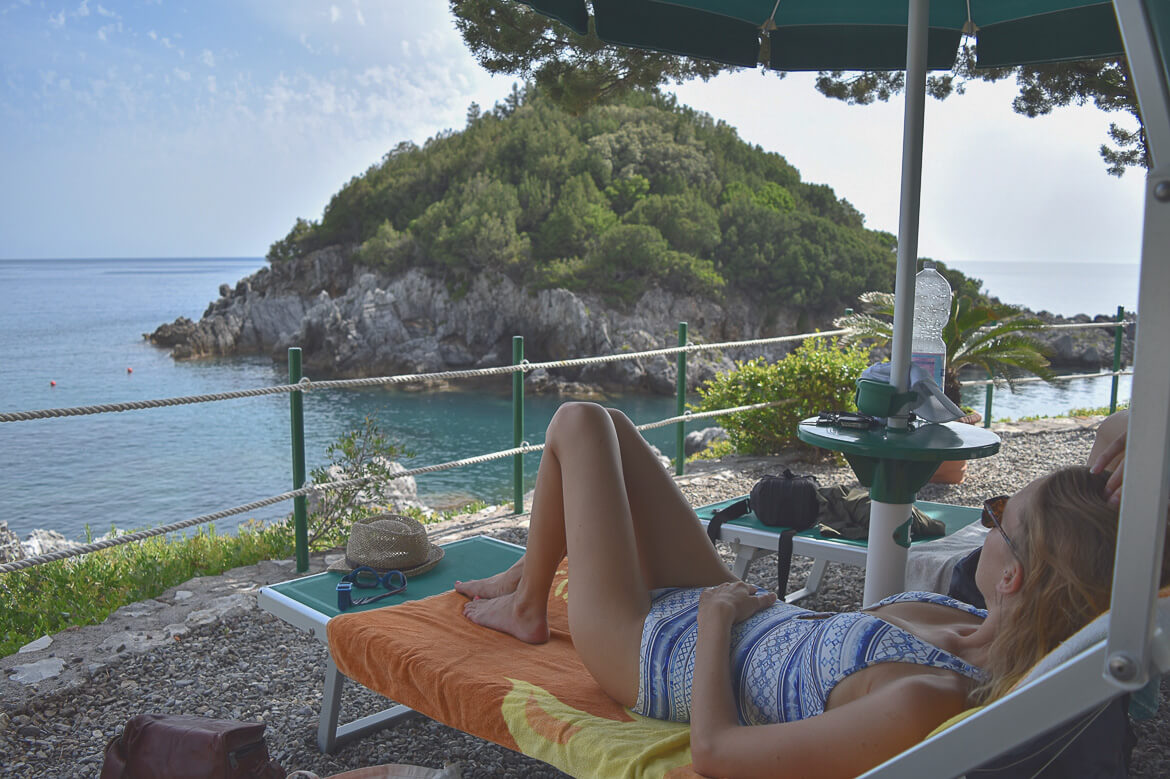 Where to stay in Maratea
Budget – B&B da AnnaMaria is located close to the historic centre but in a quiet area. Offering beautiful views and a garden, rooms have air conditioning and free WIFI.
Mid-Range – Hotel Ristorante Borgo La Tana is a 10-minute walk from L'Agnola Beach and an 8 minute drive from the historic centre. We enjoyed our stay here and the hotel has great facilities including an outdoor pool, fitness and wellness facilities, as well as free parking. There is a restaurant serving Italian cuisine and Basilicatan specialities and breakfast is served on the terrace in the summer months.
Luxury – The 5-star Santavenere Hotel has its own private beach, 250m from the property, as well as swimming pools, a wellness centre and three restaurants. It's 3km from the centre of Maratea and operates a free shuttle service.
If you want to stay in the old town, then La Locanda Delle Donne Monache is an excellent choice, set in a beautiful building that is an ex-convent. It has an outdoor pool, cocktail bar and garden.
---
Day 12-14 The Amalfi Coast, Campania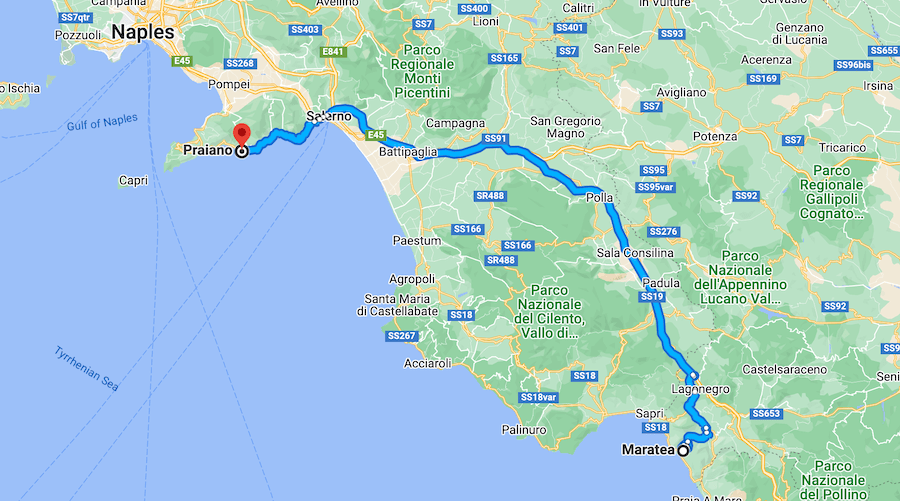 Departing Maratea, you are heading to your final destination of the trip – the Amalfi Coast. This is one of the most popular destinations in Italy for international tourists and it's easy to see why – beautiful cliff-side towns and villages overlook the Mediterranean, connected by narrow roads with sheer drops into the water below. This is an expensive destination, filled with high-end hotels and fine-dining restaurants. However, it is possible to do it on a moderate budget.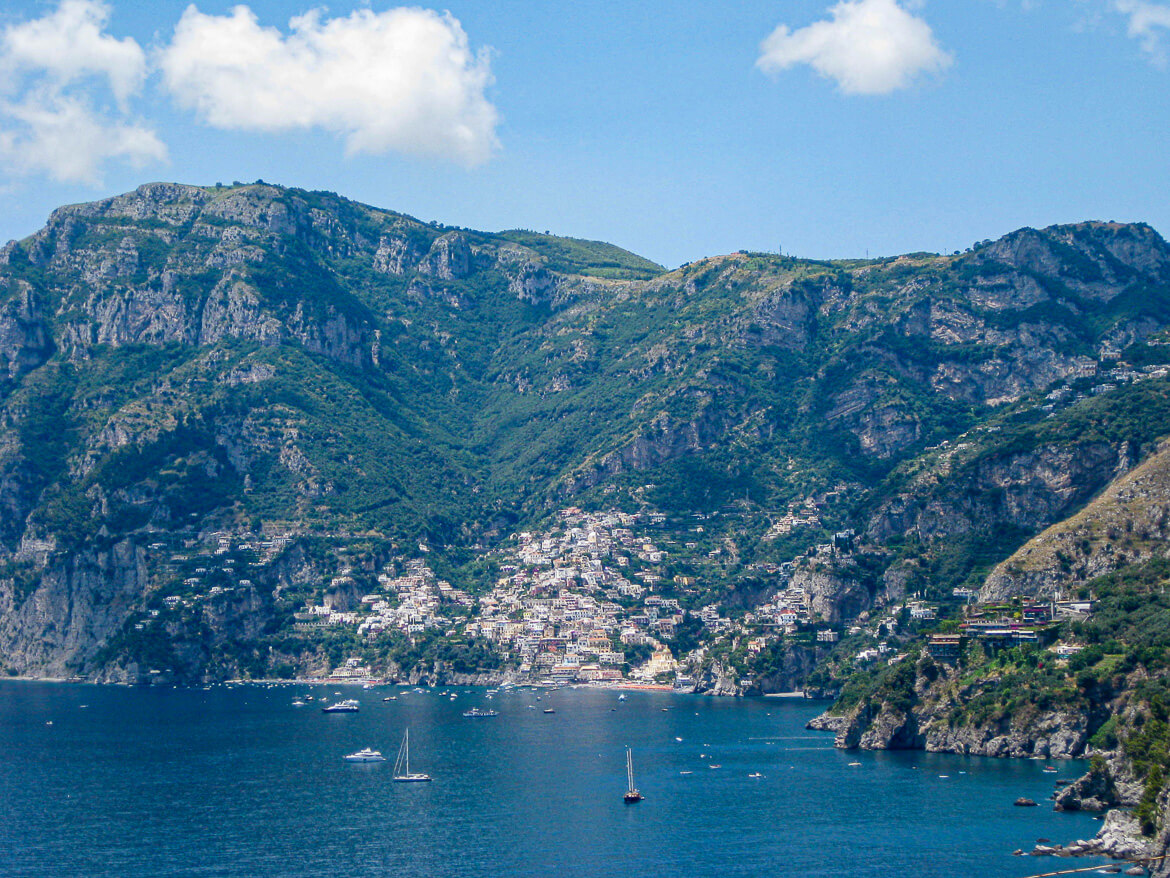 Amalfi Coast Highlights
You can't come to the Amalfi Coast without visiting Positano, the much-photographed hillside town. Have an aperitivo overlooking the beach and dinner at one of the lovely sea-view restaurants.
Take a day trip to the island of Capri
Visit the mountaintop town of Ravello
Hire a boat and admire the Amalfi Coast from the water
Hike the 6.5km Path of the Gods
Spend some time in the town of Amalfi, and admire the Amalfi Cathedral
Take a day trip to Pompeii and Herculaneum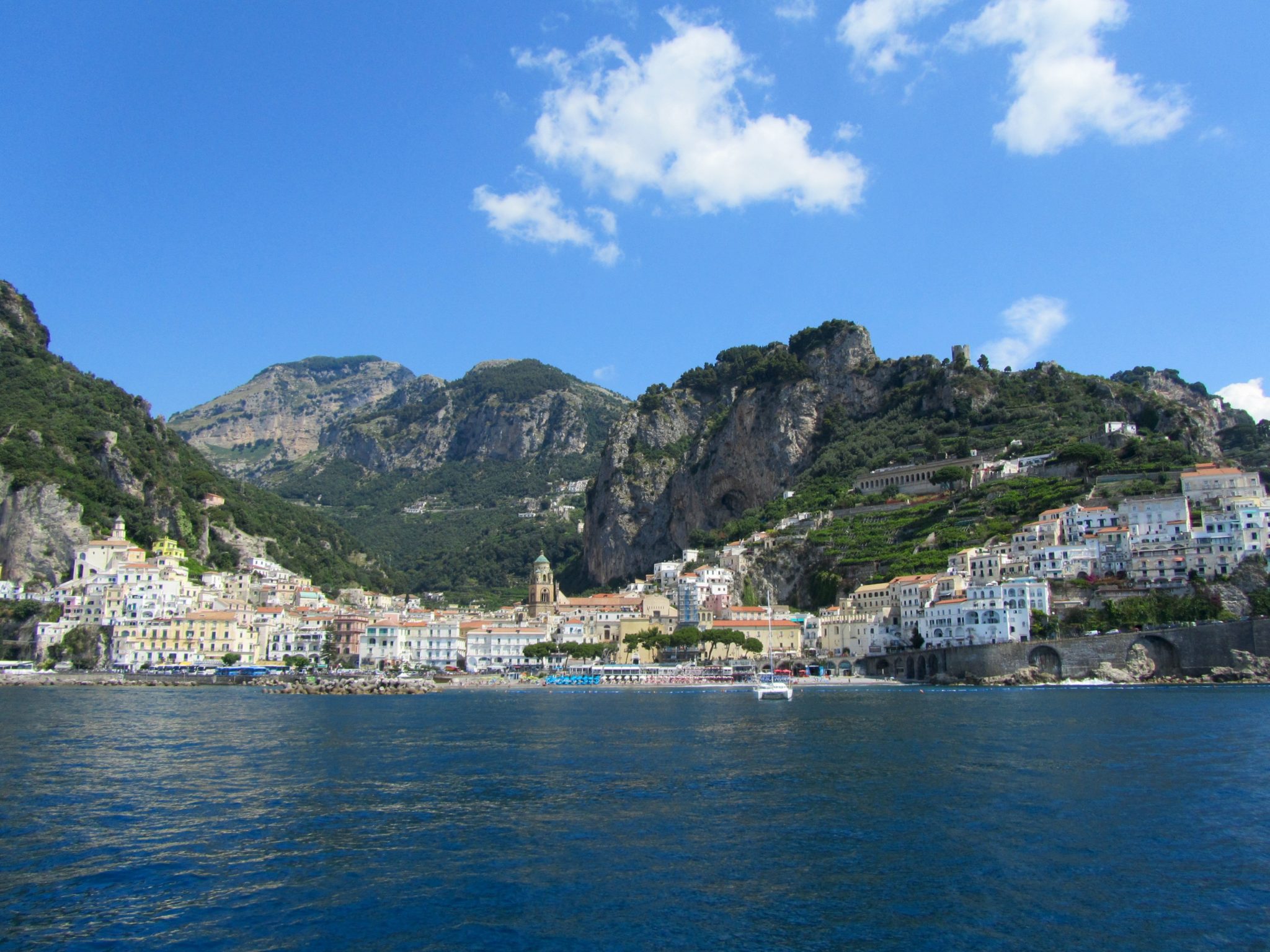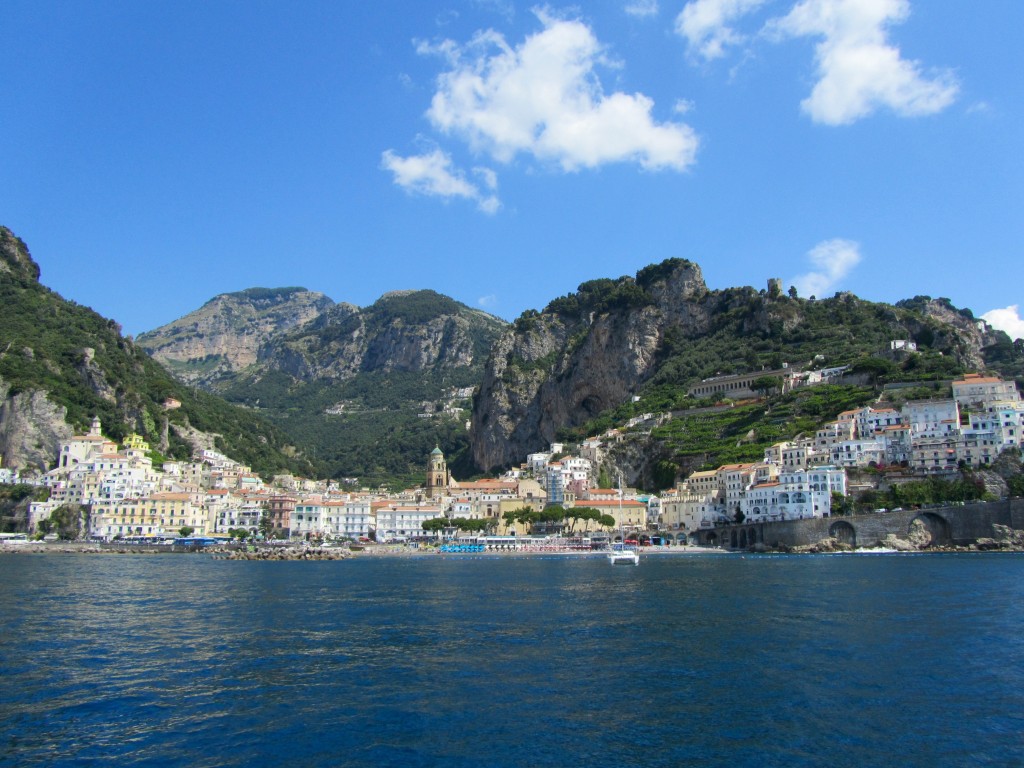 Driving on the Amalfi Coast
Hopefully, by this point on your Southern Italy road trip, you are feeling confident enough with driving to tackle the narrow roads of the Amalfi Coast. Locals will drive fast, but take your time on the windy roads and enjoy the incredible views! During your time here, if you don't feel like driving, there is also a bus that connects the towns and villages, so you can leave your car at your accommodation. There is also a ferry between some of the larger towns such as Amalfi and Salerno.
Where to stay on the Amalfi Coast
Positano is a beautiful place to stay but can be very expensive. I love the village of Praiano, located between Amalfi and Positano, which has some lovely accommodation, restaurants and two rocky beaches. Personally, I would avoid staying in Sorrento, which is very touristy and where cruise ships come in.
---
Budget – There isn't a huge amount of budget accommodation on the Amalfi Coast, but there are a few hostels and 3 star hotels. Hotel Villa Bellavista is a great family-run hotel in Praiano with air-conditioned rooms and an Italian-style breakfast.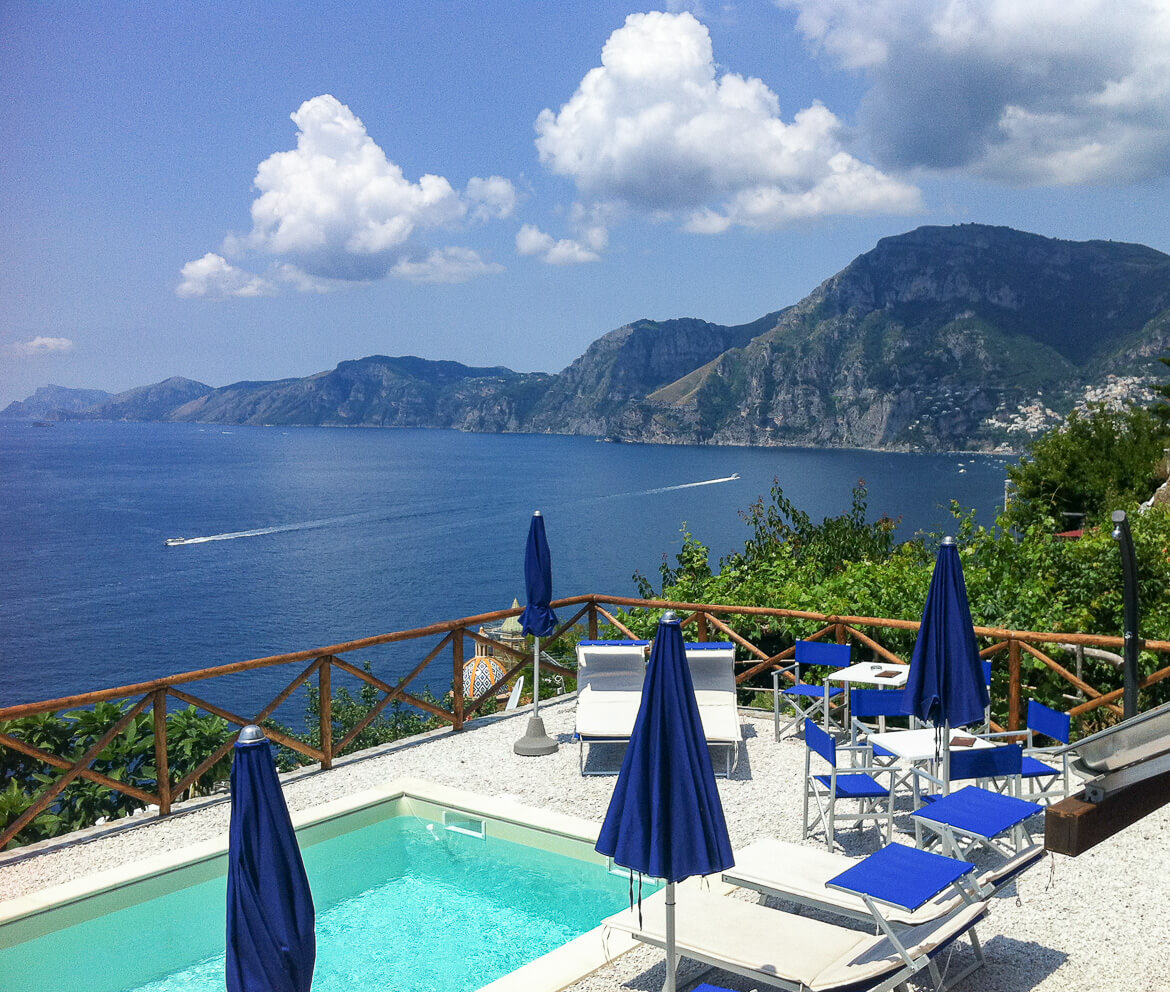 Mid-Range – I would go back to Villa Il Frantoio in a heartbeat. Set in a 17th-century olive press, the family-run accommodation in Praiano has the most incredible views of Positano, Praiano and the water – particularly from the pool and sun terrace. All rooms have a sea-view balcony or terrace. Access is up a steep staircase and you will need to park your car nearby (EUR 12 per day), but it's totally worth it.
Luxury – Hotel Eden Roc Suites has incredible views of Positano. There is a pool, a spa and gym, as well as a restaurant and sun terrace.
---
Ultra Luxury – Considered one of the best hotels in the world, the luxurious 5-star San Pietro di Positano has a private beach and a Michelin-starred restaurant. There are two bars, a tennis court, a pool and a spa. Parking is free, along with a free shuttle bus into Positano. It's very expensive to stay here, but if you can afford it, this is the place to stay in Positano.
Find accommodation on the Amalfi Coast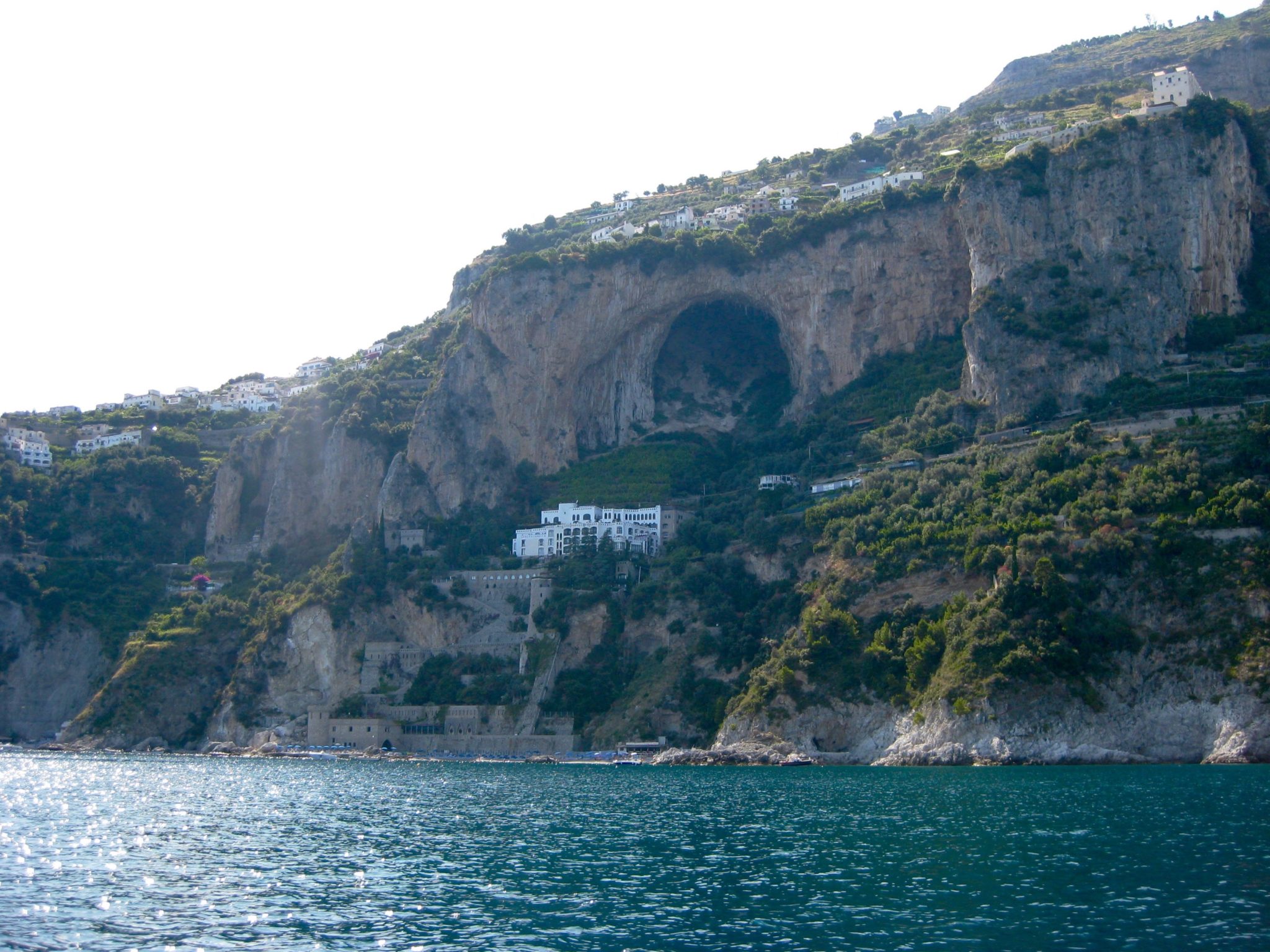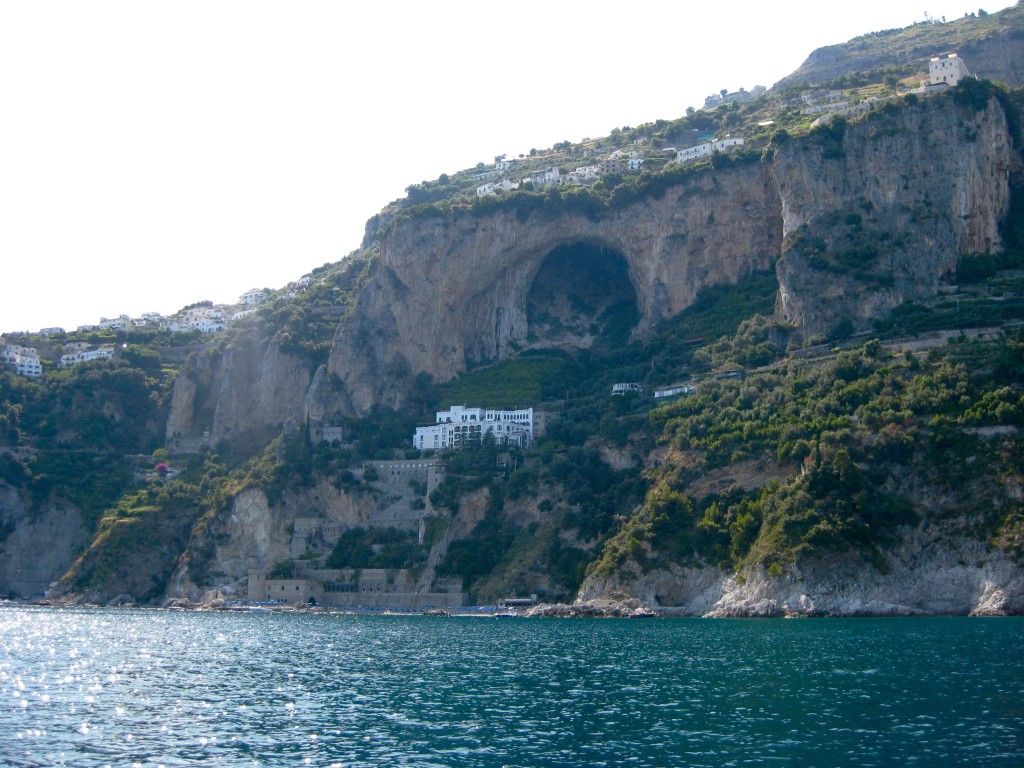 On your final day, drive back to Naples for your flight home.
How to Extend Your Southern Italy Road Trip
If you have more time, you could add one of the following:
Sicily
From Calabria, take the ferry across to Sicily. You can easily spend a few weeks here exploring the island, its beautiful beaches and excellent cuisine.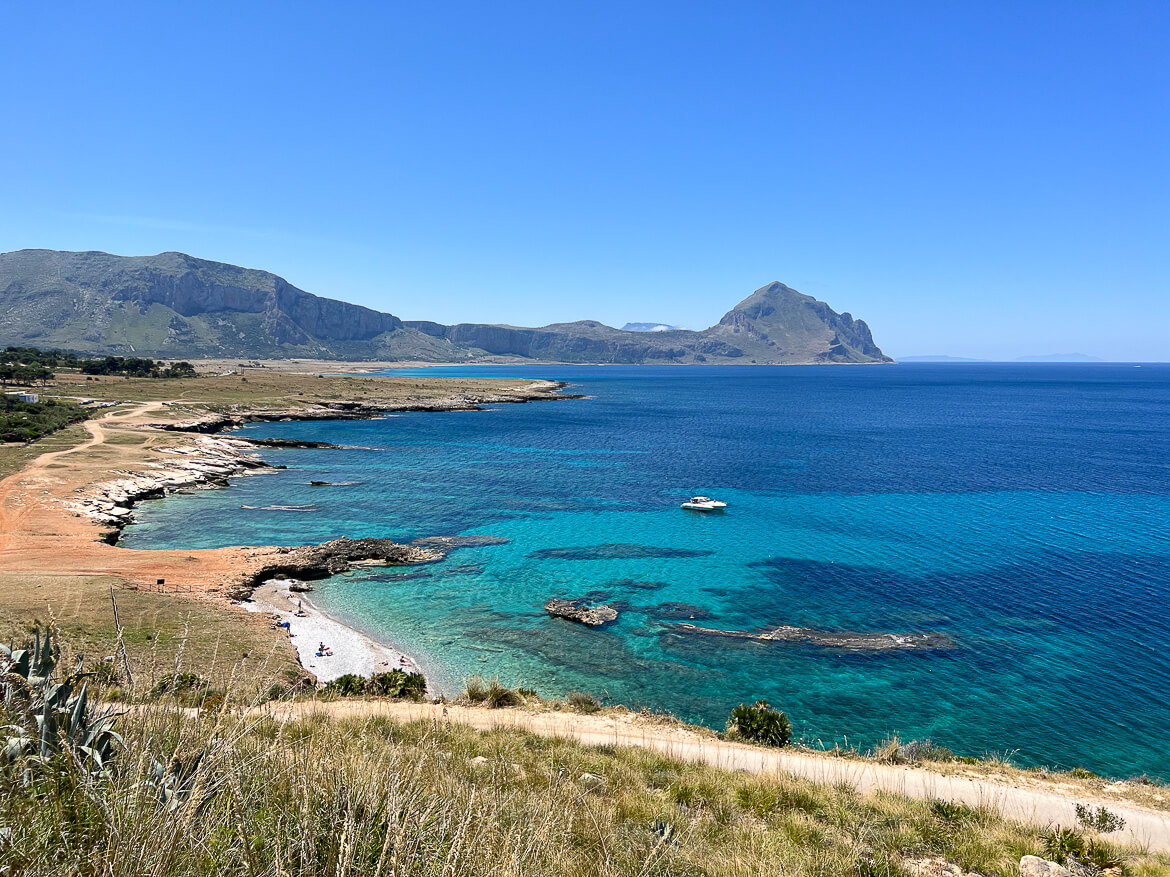 Rome
From the Amalfi Coast, continue north to Rome and end your trip here with a few days in the city. Read our suggested Rome itinerary here.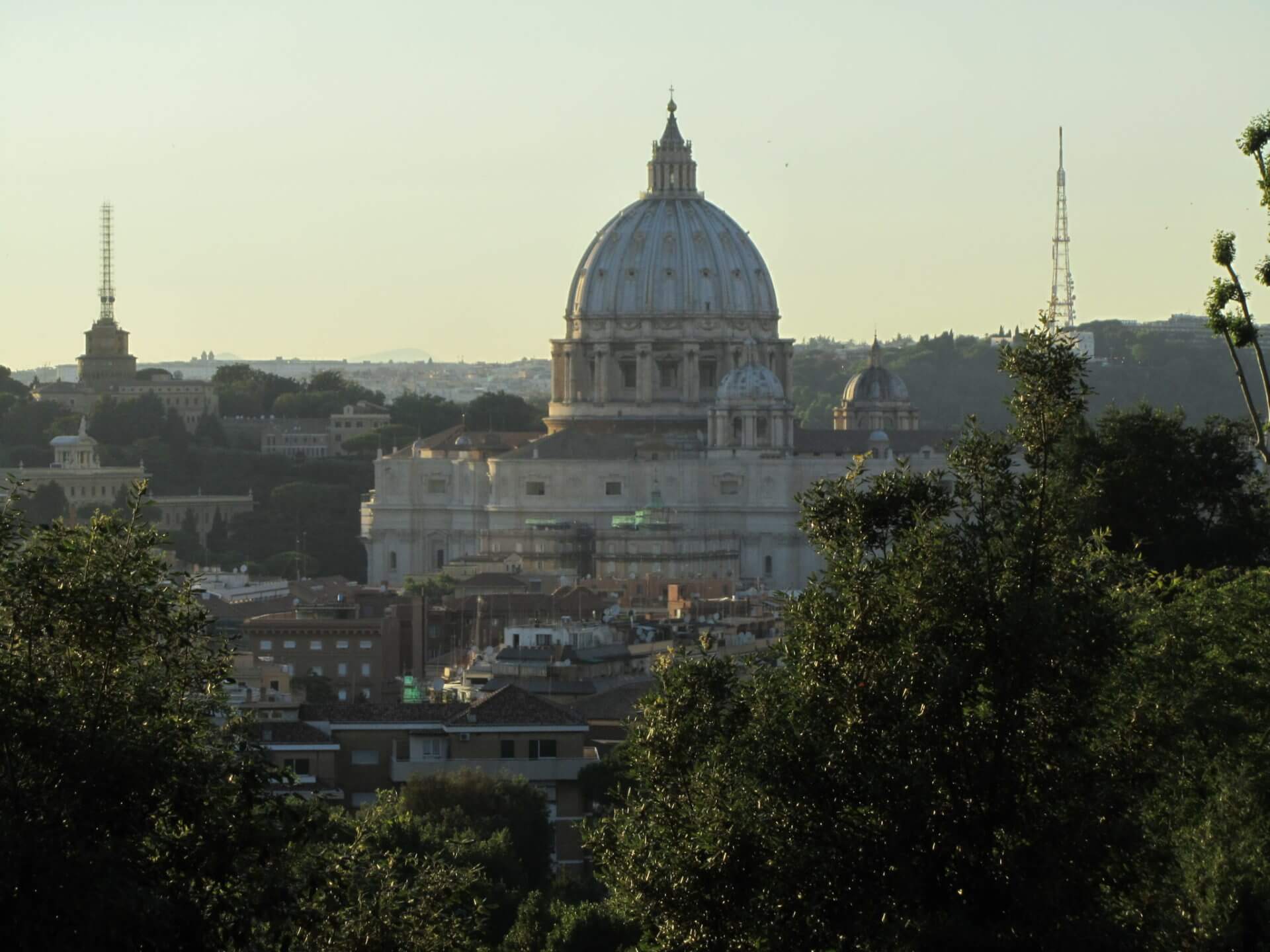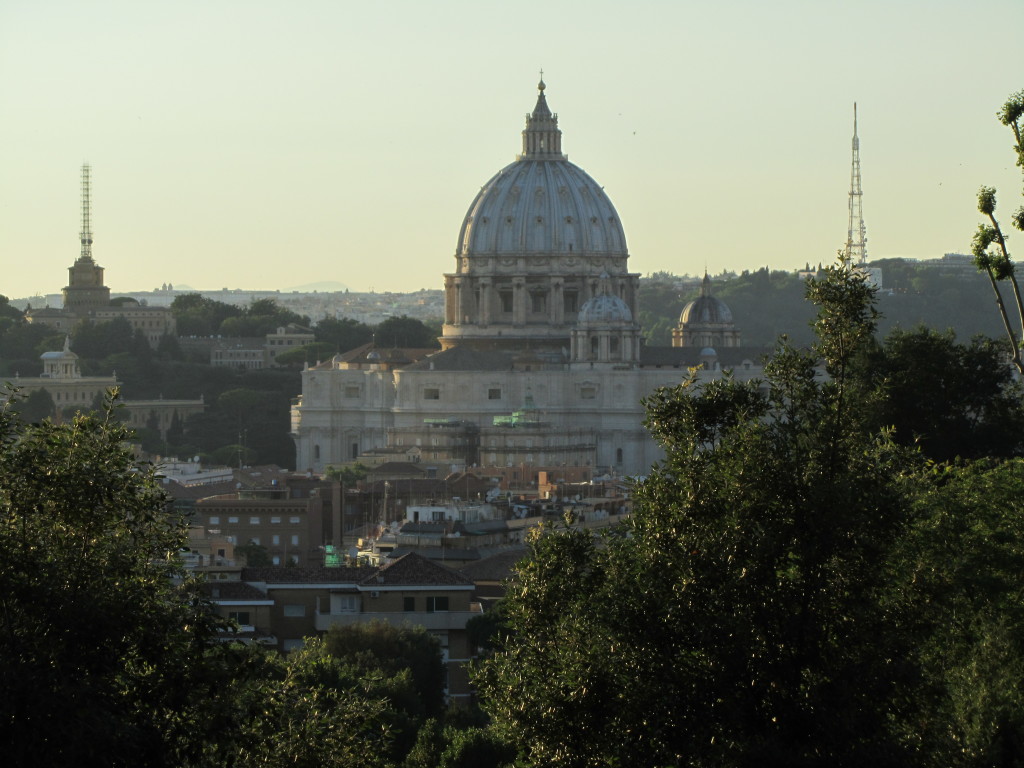 Matera
As mentioned above, spend a day or two in Matera after departing Puglia and before reaching Calabria.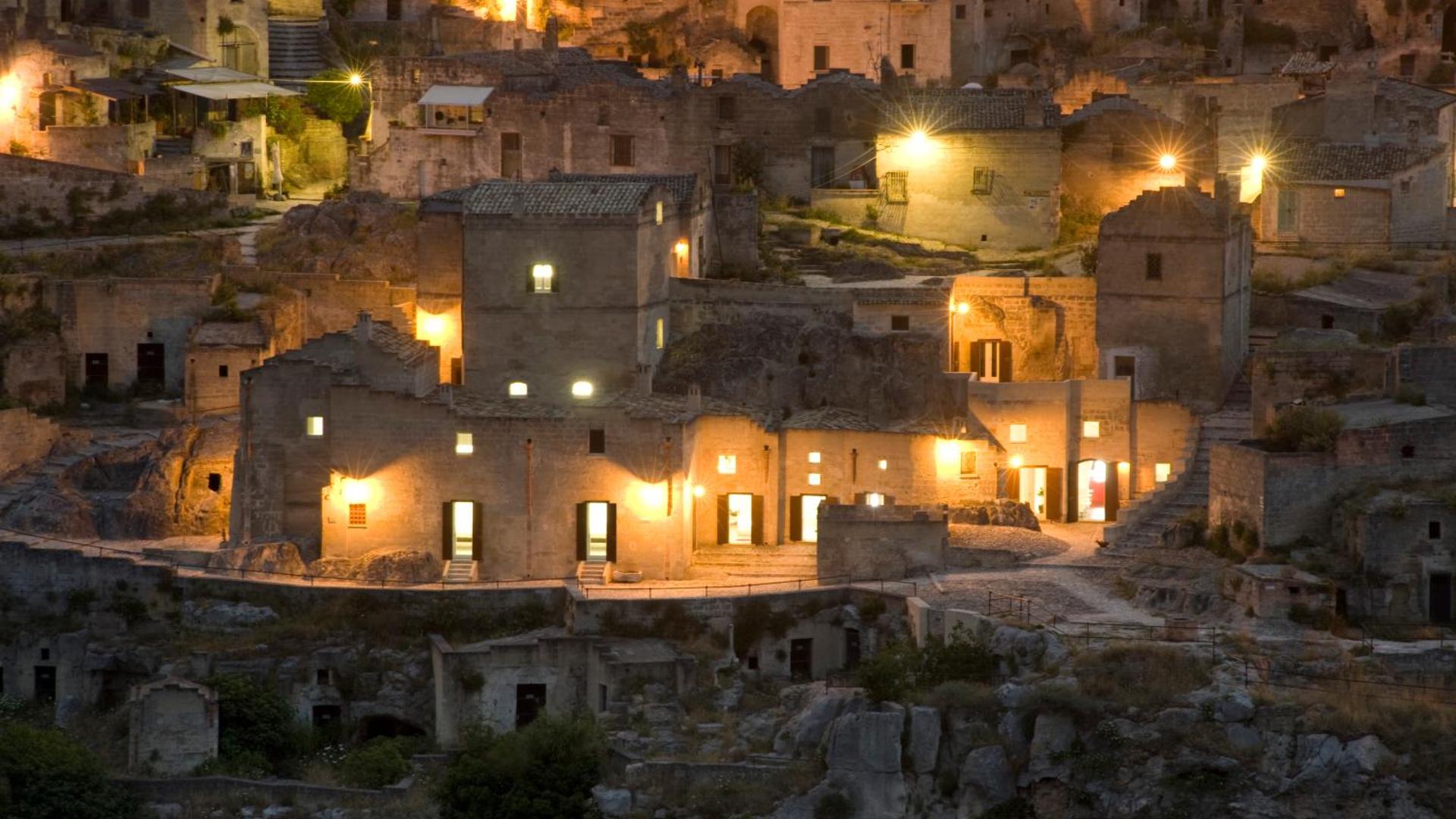 ---
Northern Italy Road Trip
If you have lots of time you can add a northern Italy road trip before or after this trip. Read our suggested itinerary here.
FAQs
How long do I need for a Southern Italy road trip?
Ideally two weeks or more. In two weeks you can explore a few of the regions in Southern Italy. If you have more time you can travel at a more relaxed pace, spend longer in each destination and add a few additional stops.
What is the best time of year to visit the south of Italy?
Spring, Summer and Autumn are all great times to travel in Southern Italy. In the summer you will have the highest temperatures but also the biggest crowds. In the shoulder seasons, you can enjoy quieter beaches while still having warm weather.
Where are the best beaches in Italy?
What are the most beautiful towns in Southern Italy?
The hilltop towns of Ostuni and Cisternino in Puglia are incredibly beautiful along with the famous town of Alberobello. Tropea and Scilla in Calabria are gorgeous beachside towns with stunning architecture and the Amalfi Coast is full of lovely little towns.