If you've read this blog before you'll know Italy is my favourite place in the world. The food, scenery, beaches and people are all wonderful – so much so that I married an Italian! So the hubby and I decided to take an epic northern Italy road trip and explore some of the beautiful regions in North Italy, and eat as much food as we could along the way.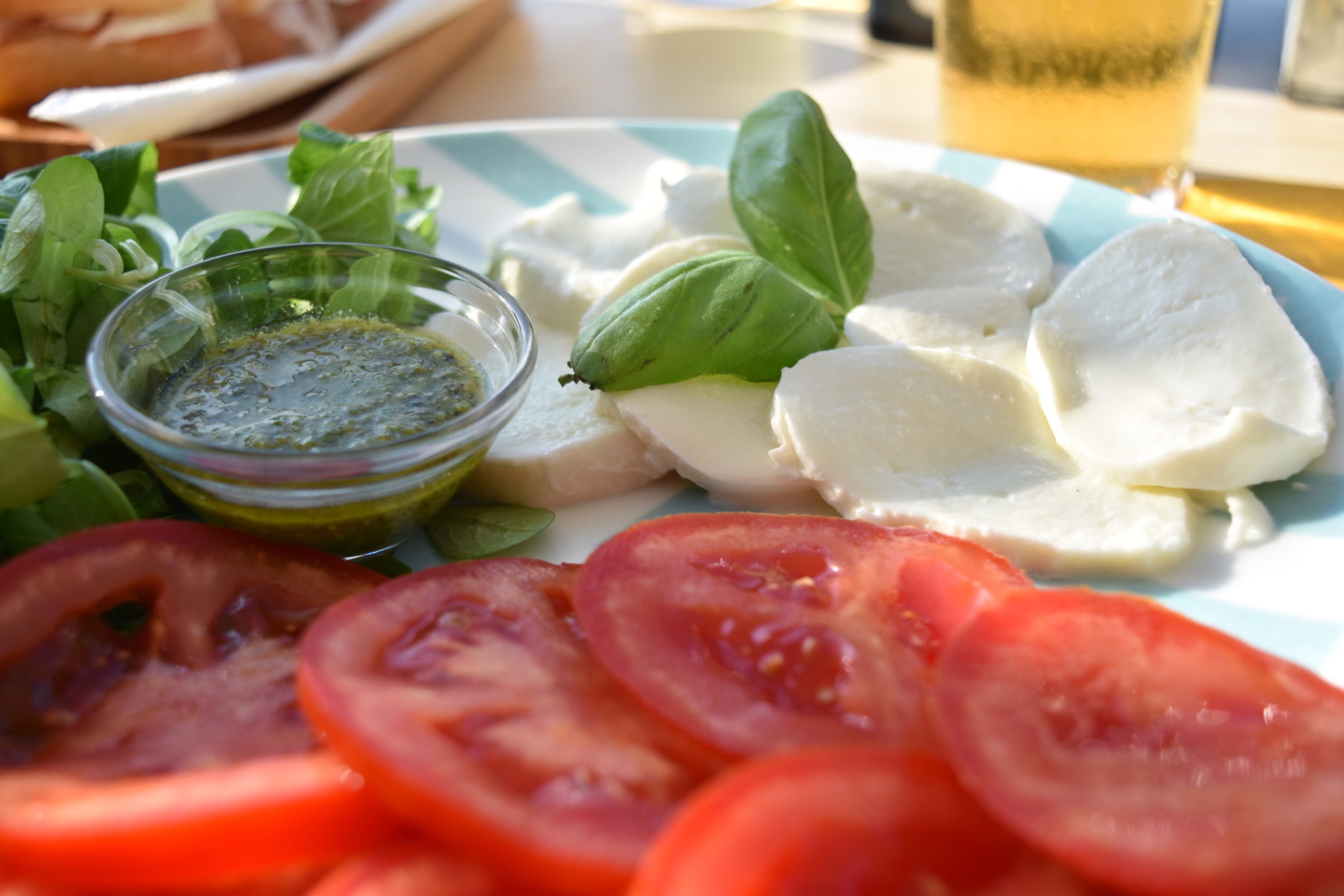 Disclosure: This article contains affiliate links. This means that if you click a link and purchase something I've recommended I may earn a small commission. This does not affect the price you pay but helps me to run this site. You can read my full affiliate disclosure here.
Where to start your Italy road trip?
As this Italy road trip follows a loop, you can start and finish at any point of the itinerary. We started in Enrico's home town of Treviso, which is easily accessible by two airports; Treviso and Venice. This 14 day Italy itinerary crams in a lot, and can easily be slowed down if you have more time. I've also offered options to add on other locations if you're travelling for longer too or adding Italy to part of a longer Europe itinerary.
Northern Italy Road Trip Itinerary Summary
Day 1-3 Veneto
Day 4-6 Emilia Romagna
Day 6-10 Tuscany
Day 10-11 Liguria
Day 12-14 Lombardy/Veneto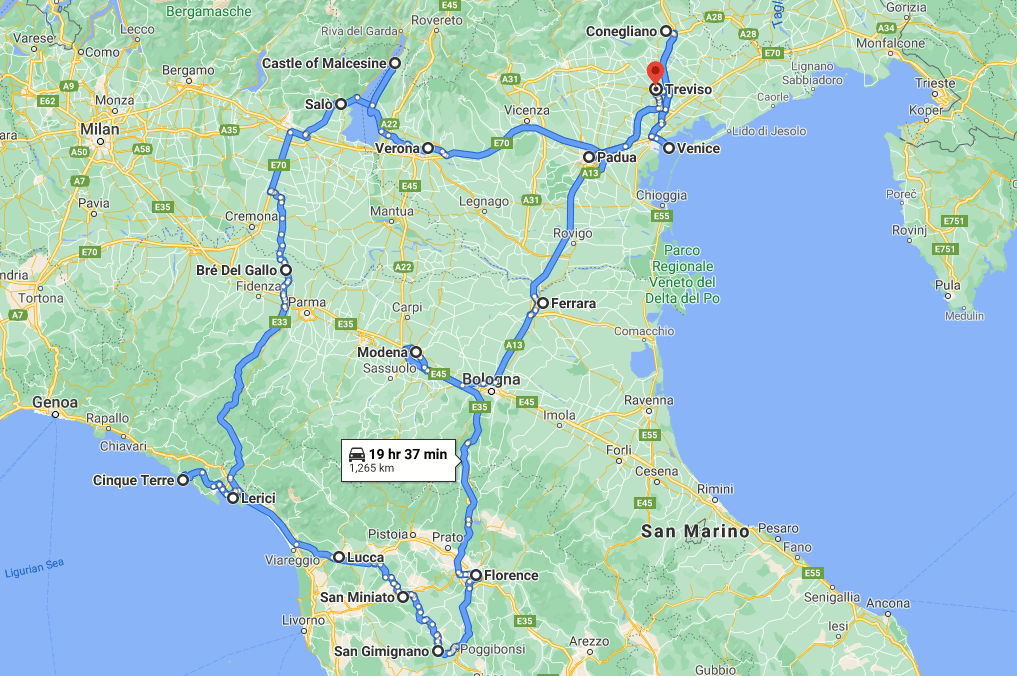 Camper or Car?
Either option is great for a road trip of Italy. If you're driving a motorhome or campervan, there are lots of 'area di sosta' where you can often park for free – many with waste disposal and water facilities. There are also paying campsites with excellent facilities in some prime locations. If you're travelling Italy by car, then you've got lots of accommodation options to choose from – just make sure they offer parking as it can be hard to come by in the cities. All suggested accommodations in this article offer parking (some at a fee).
Hire a motorhome or camper in Italy.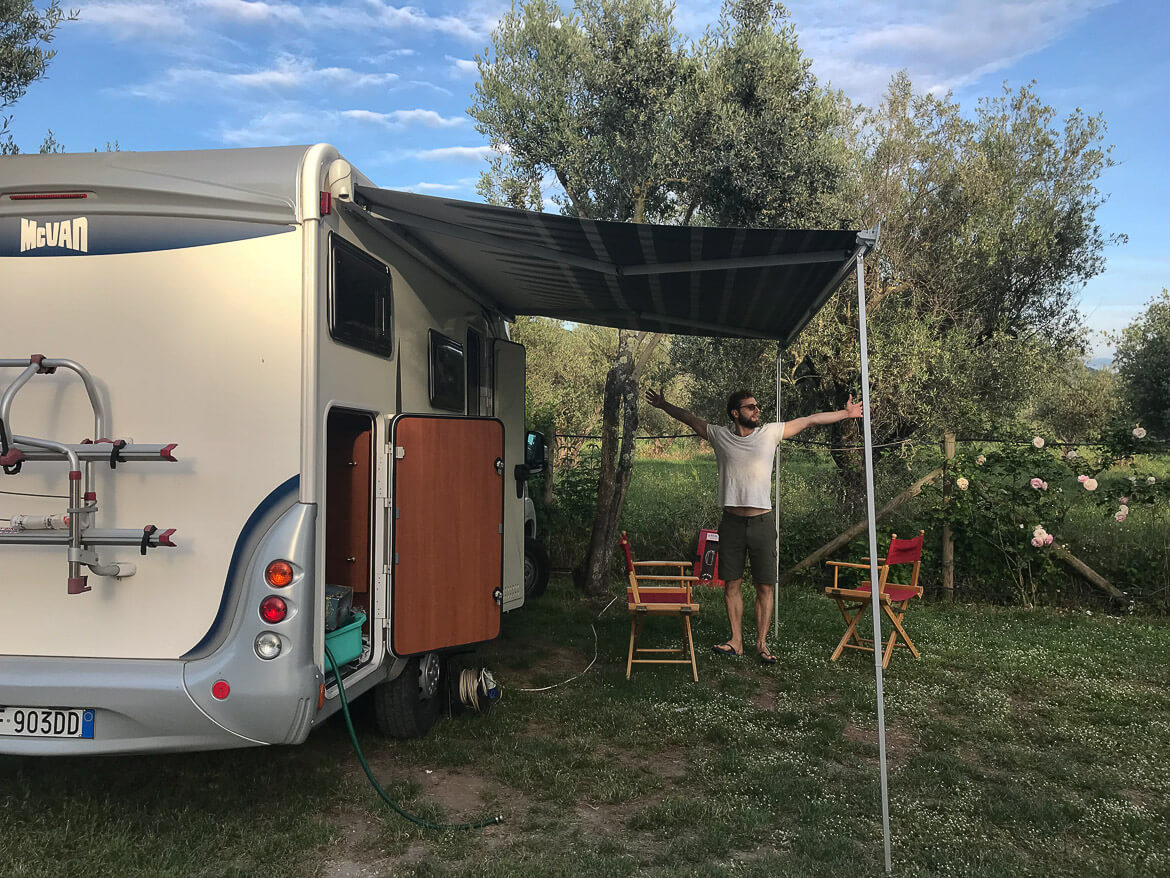 Tips for driving in Italy
Italians use the horn often – but don't get offended – it's just to let you know they are there. Be careful of your speed when driving through towns and villages – even if there isn't a sign to say so – it's likely the speed limit is 50km/h, and there are often speed cameras.
This northern Italy itinerary includes all the things that make Italy great: gastronomy, architecture, art and beaches. Whilst there are plenty of famous and fantastic cities in the North of Italy, we have only included a few as driving in Italian cities is not always enjoyable and one of the benefits of having a car is that you can visit some of the places off the beaten track (and tourist route).
Check out our southern Italy road trip itinerary.
Day 1-3 Veneto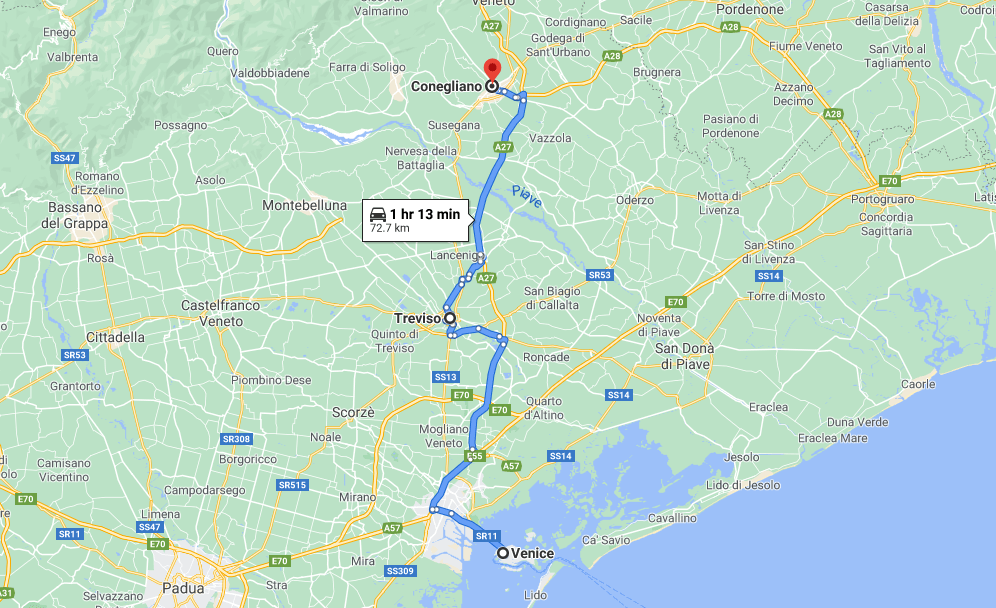 Treviso
We began our Italy trip in Treviso in the Veneto region in Italy's northeast. I'm obviously completely biased as Enrico is from this area but I think it's such an underrated and incredible region to visit.
Treviso is known for a number of things, including being the origin of the popular Italian dessert tiramisù and more importantly, the home of Prosecco. So visiting a few wineries or at the very least, sampling a few glasses is a must while you're here.
I recommend spending a morning in the city of Treviso, it's a walled city with lots of canals and little laneways filled with bars, restaurants and shops. Due to its proximity to Venice, it is often overlooked, which means you'll find fewer tourists and more locals.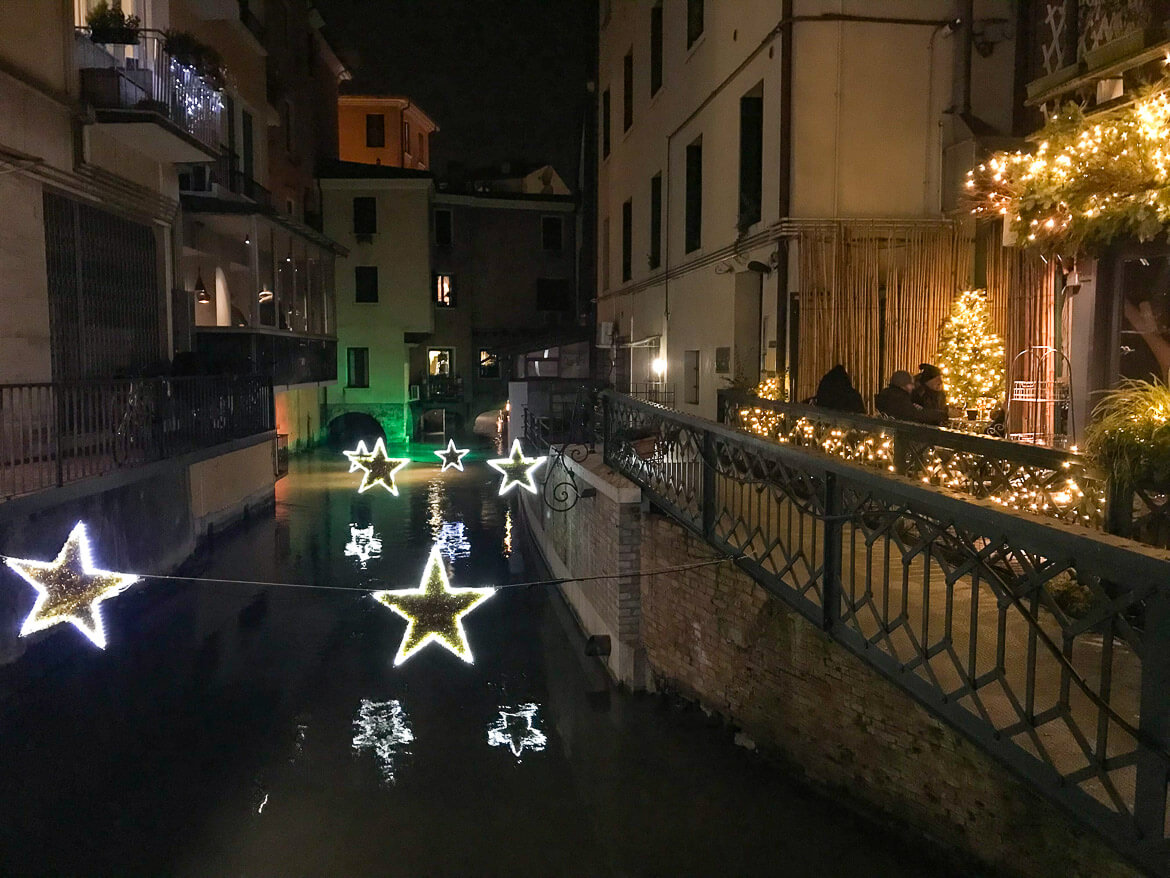 Things to Do in Treviso
The five domed Treviso Cathedral
Walk the ancient city walls
Visit the Isola della Pescheria (fish market on an island)
Eat radicchio – a Treviso speciality (usually available between Autumn and Spring)
Where to Stay in Treviso
Budget – Dafne B&B offers rooms just outside the city walls. There is a garden and a fully equipped kitchen for guests to use. From €45.
Mid-Range – Locanda Ponte Dante is set in a historic building, 500 m from Piazza dei Signori square. Rooms from €120
Luxury – Maison Matilda Boutique Hotel has luxurious rooms located next to Piazza Duomo. From €220.
Campsites – There is an area di sosta with water and waste facilities on Via Castello d'Amore – outside the city walls.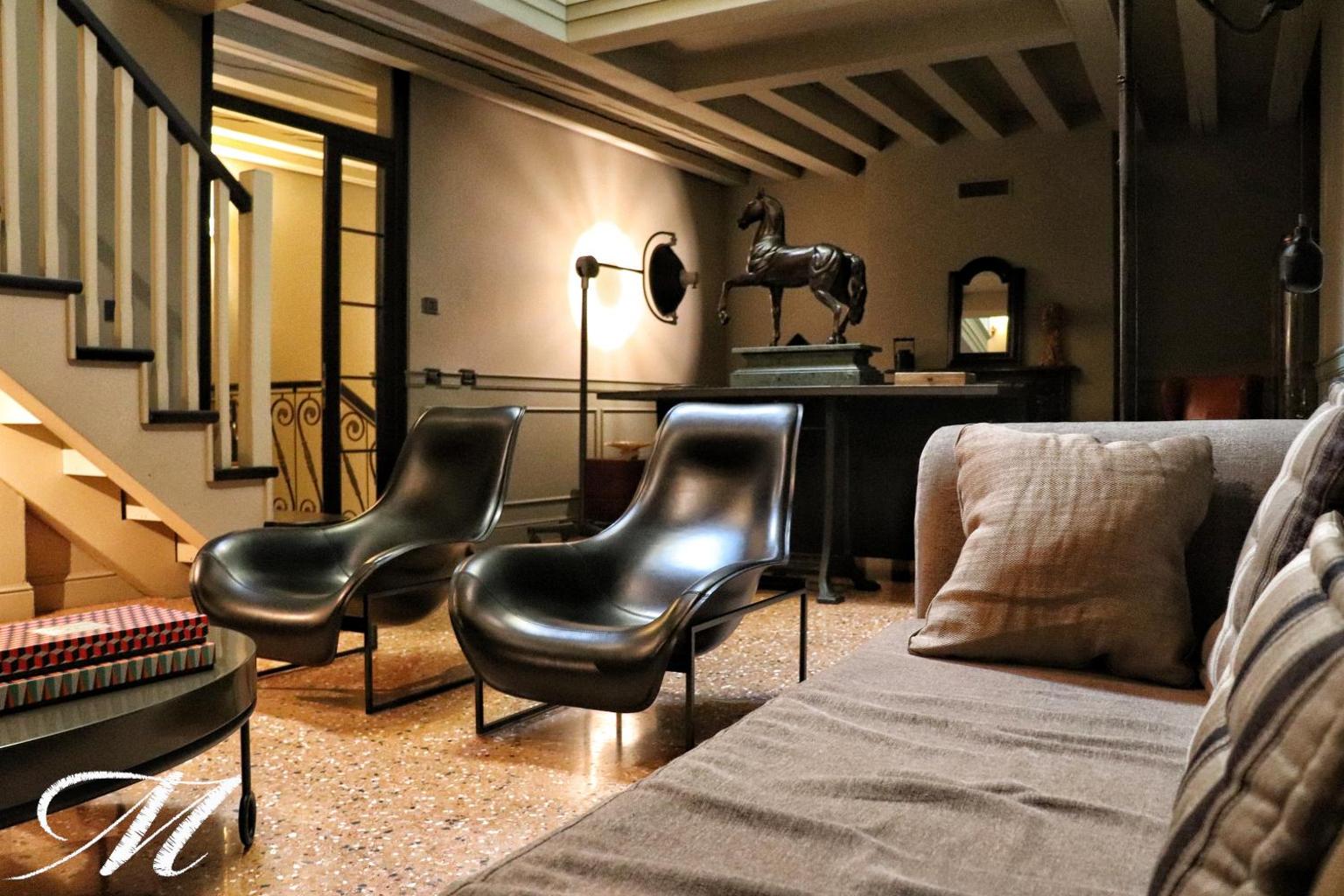 Venice
Venice is hugely popular and with good reason, it really is like stepping into a fairytale. It's worth spending 2 days in Venice, or at least a day and a half to see the main sights.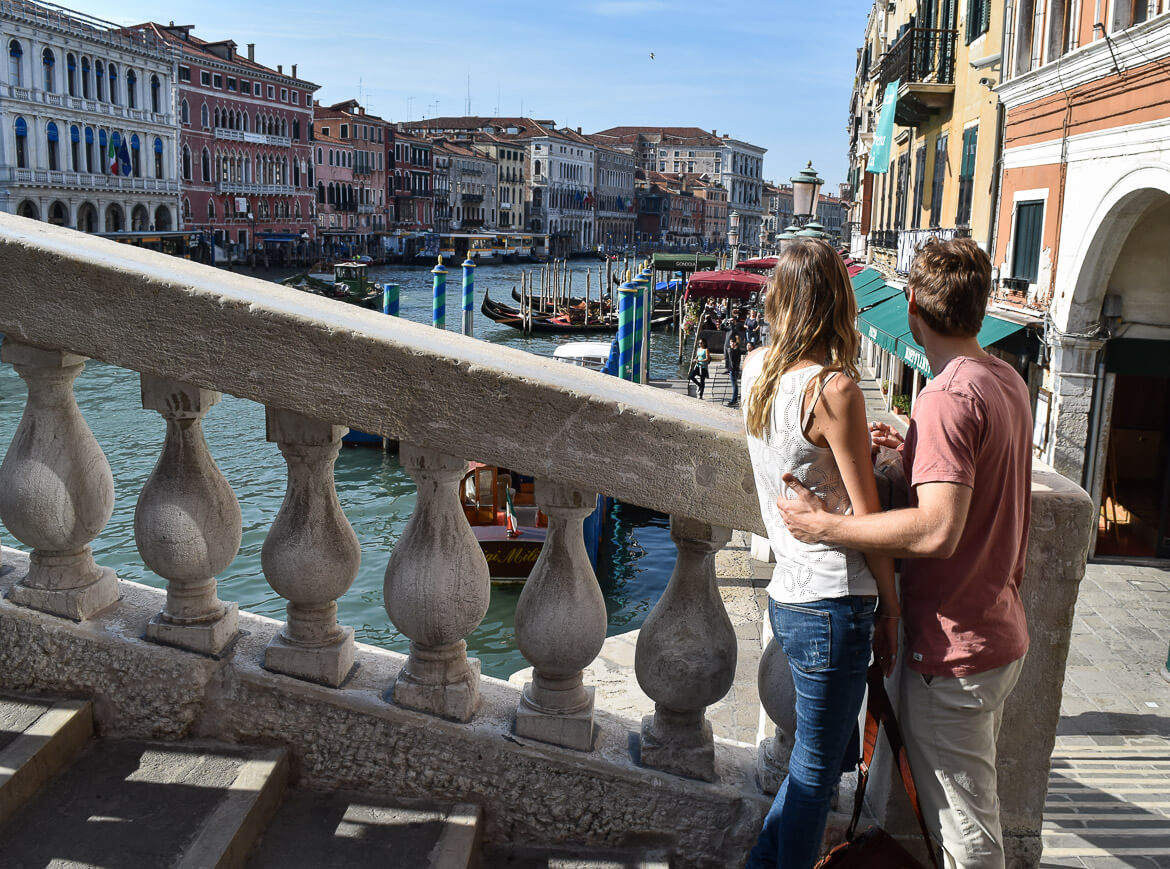 Things to Do in Venice
Hire a gondola and admire the city from the water
Eat cicchetti and drink a spritz along Fondamenta dei Ormesini
Admire the colourful buildings and lacework in Burano
Visit a glass-blowing factory in Murano
Marvel at the the Basilica di San Marco (a Byzantine marvel), the Torre dell'Orologio and the Doge's Palace in Piazza di San Marco
Visit during Carnevale or the Biennale for an added experience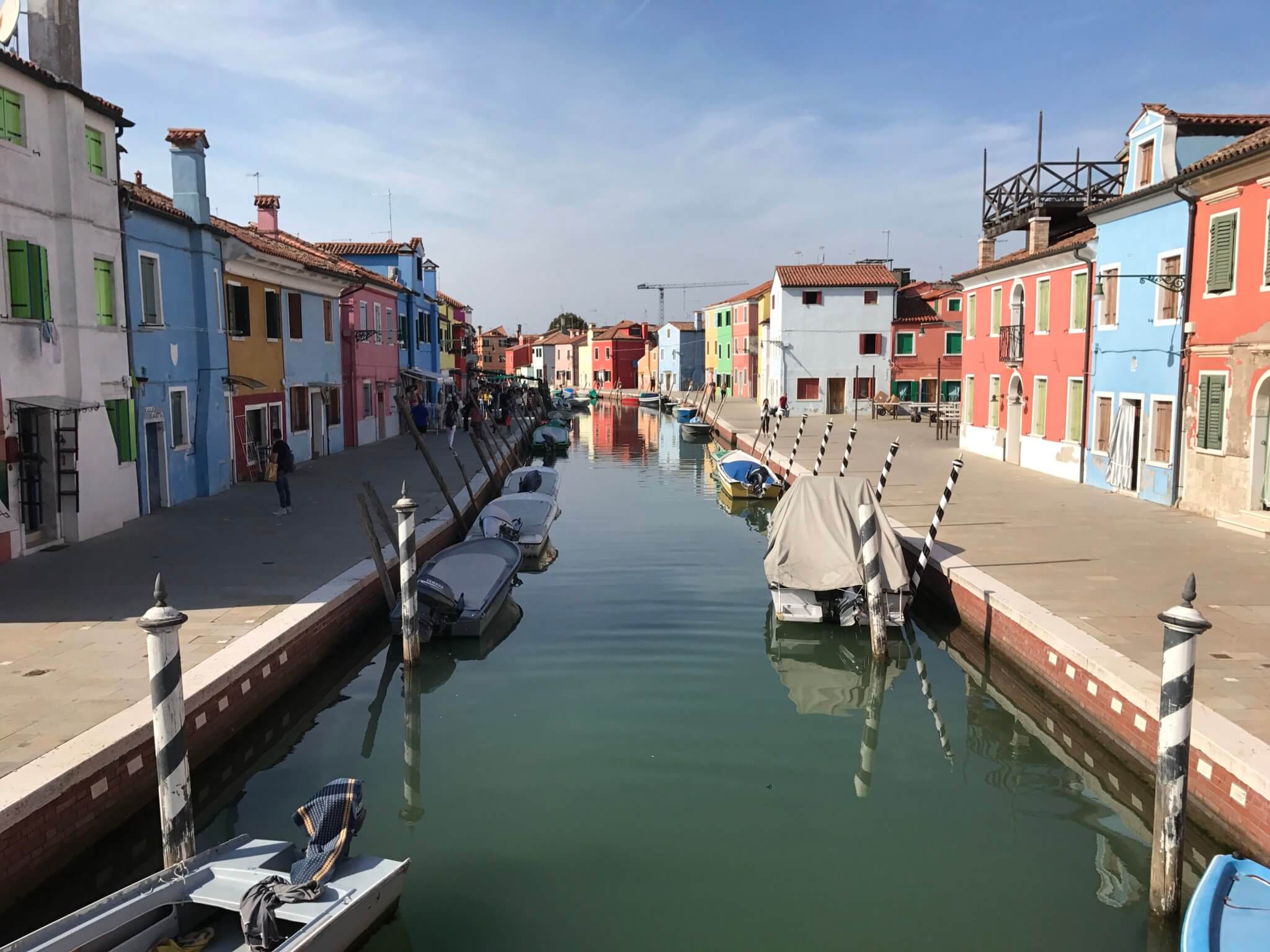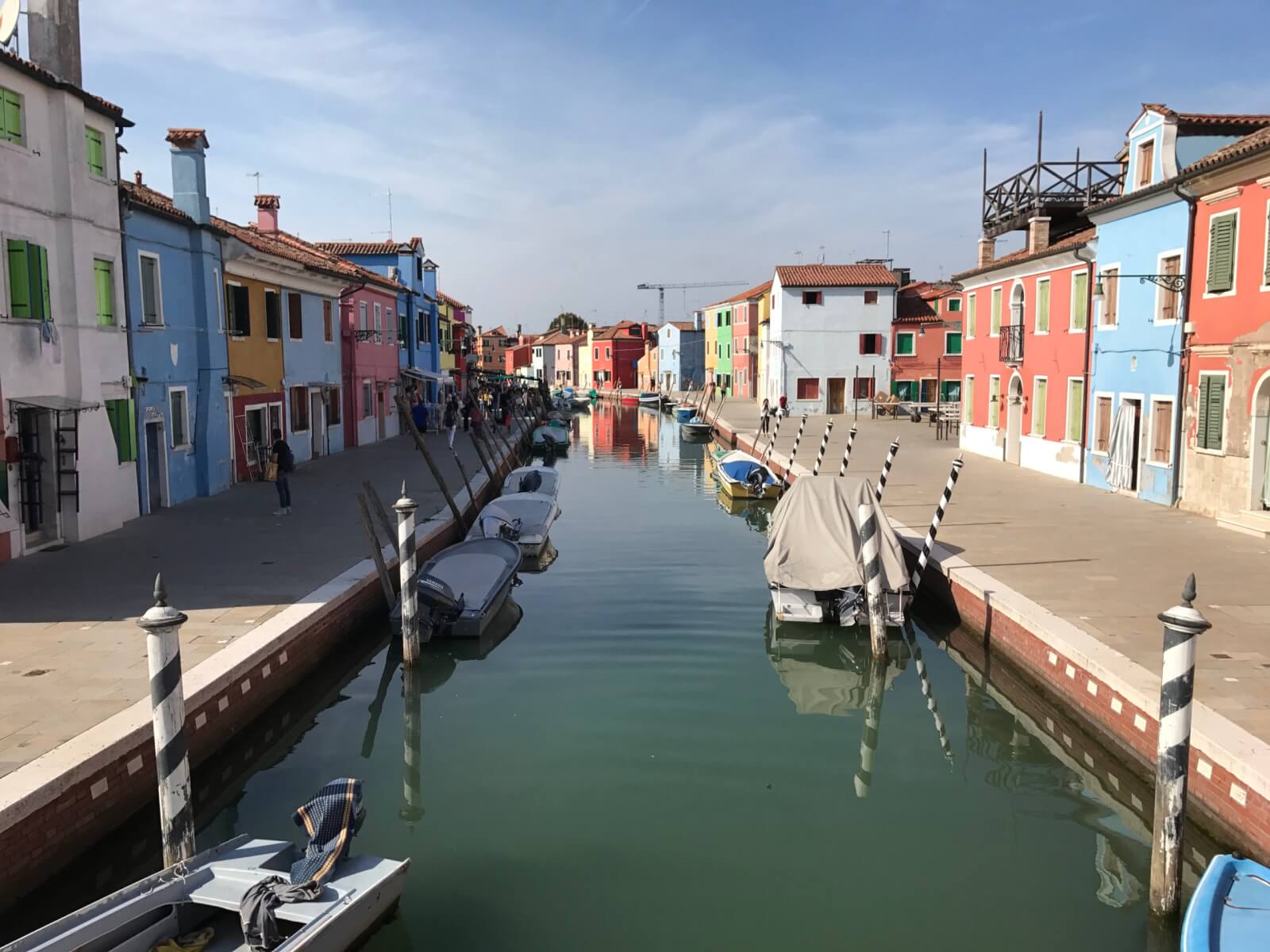 Where to Stay in Venice
Venice is really not the place to bring a car, so I recommend leaving your car in Treviso and catching the train in – it takes about 30 minutes. You can also park at Mestre and take the train from there (20 minutes). If you want to drive into Venice, there is a multistory in Piazzale Roma which costs €39 for 24 hours.
Budget – B&B Exclusive features Venetian-style rooms with shared bathrooms a 5-minute walk from Venezia Santa Lucia Train Station and Piazzale Roma. From €48.
Mid-Range – Ca' Amadi is set in a 13th-century palace, a 5-minute walk from the Rialto Bridge. Rooms from €94
Luxury – Residenza d'Epoca San Cassiano overlooks the Grand Canal and is a 5-minute walk from Rialto Bridge. The 14th-century villa is furnished with antiques and Murano glass chandeliers. From €190.
Super Luxury – Baglioni Hotel Luna is a 5-star hotel set 80 m from Saint Mark's Square, with views over the lagoon. From €440.
Campsites – Venice Utility Park in Mestre has a free shuttle service to Venice island. For €20 per night for a camper. But I'd recommend leaving your camper in Treviso and taking the train from there.
Conegliano and Valdobbiadene
Next, head 40 minutes north of Treviso to Conegliano and Valdobbiadene. This picturesque area has DOCG (Denominazione di Origine Controlla/Controlled and Guaranteed Designation of Origin) status for Prosecco, meaning only Prosecco produced in these two towns can be awarded the prestigious DOCG classification. It is also a UNESCO World Heritage Site, with undulating hills covered in vines with a mountain backdrop. I honestly think it is one of the most beautiful places in Italy. I love it so much that Enrico and I got married here in 2019.
Things to Do in Conegliano and Valdobbiadene
A visit to some of the wineries for prosecco tasting – my recommendations are Cantina Vigne Matte (we held our wedding reception here and aside from the excellent wines, the views don't get much better)
Osteria Senz'Oste – a hillside spot with Prosecco vending machines and an honesty bar for delicious Italian charcuterie and cheese
Molinetto Della Croda – a 17th century water mill (and where we got married!)
Cycle the Strada del Prosecco (Prosecco road)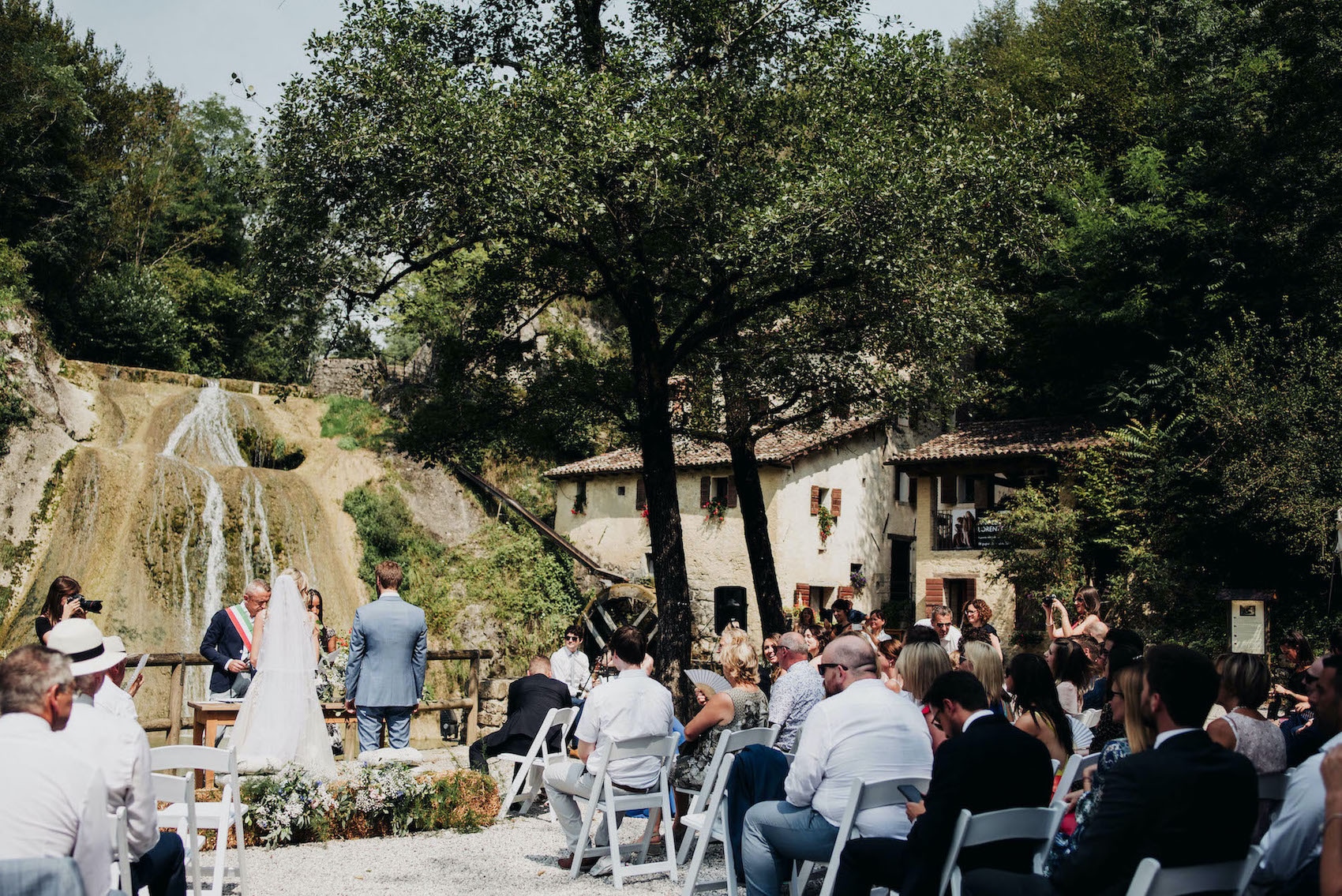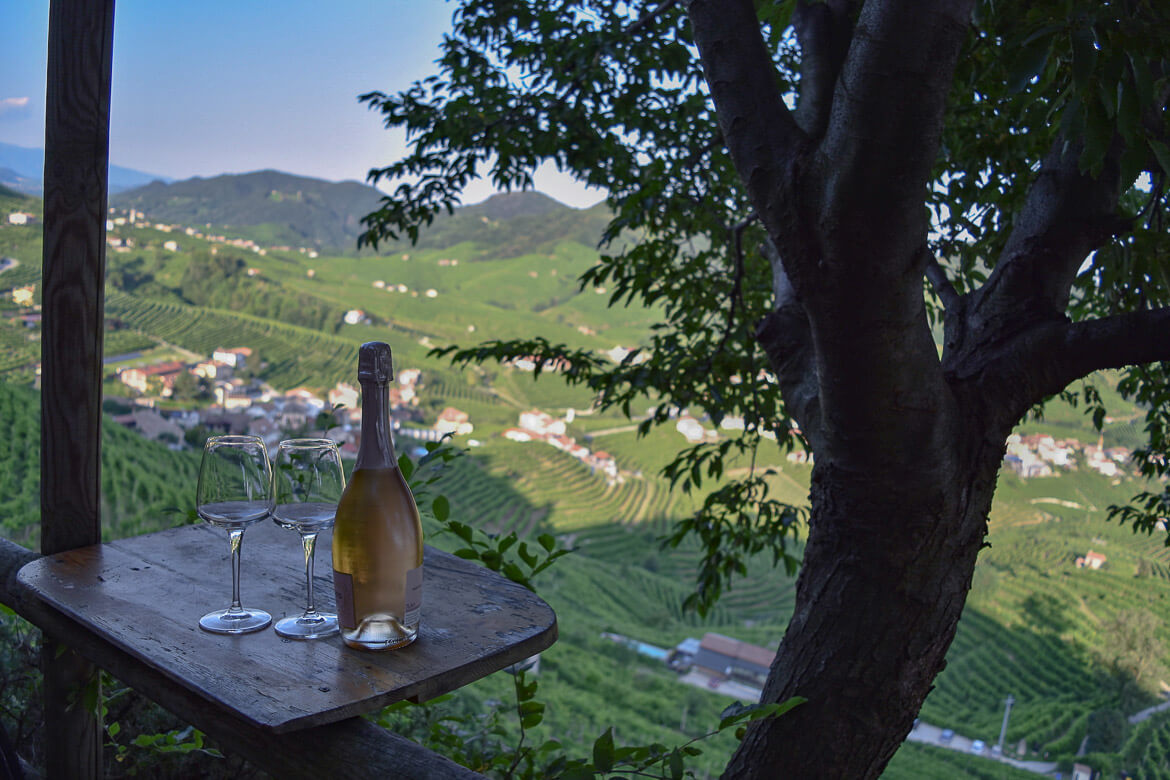 Where to Stay in Conegliano and Valdobbiadene
Budget – Oasi di pace nel sito UNESCO del Prosecco DOCG is an apartment with a kitchen, living area and terrace. From €56.
Mid-Range – Agriturismo due Carpini is located above Salis restaurant a short walk from Osteria Senz'Oste in Valdobbiadene. We stayed here after our wedding and enjoyed some delicious meals at the restaurant and relaxed by the pool with views of the vines. Rooms from €105.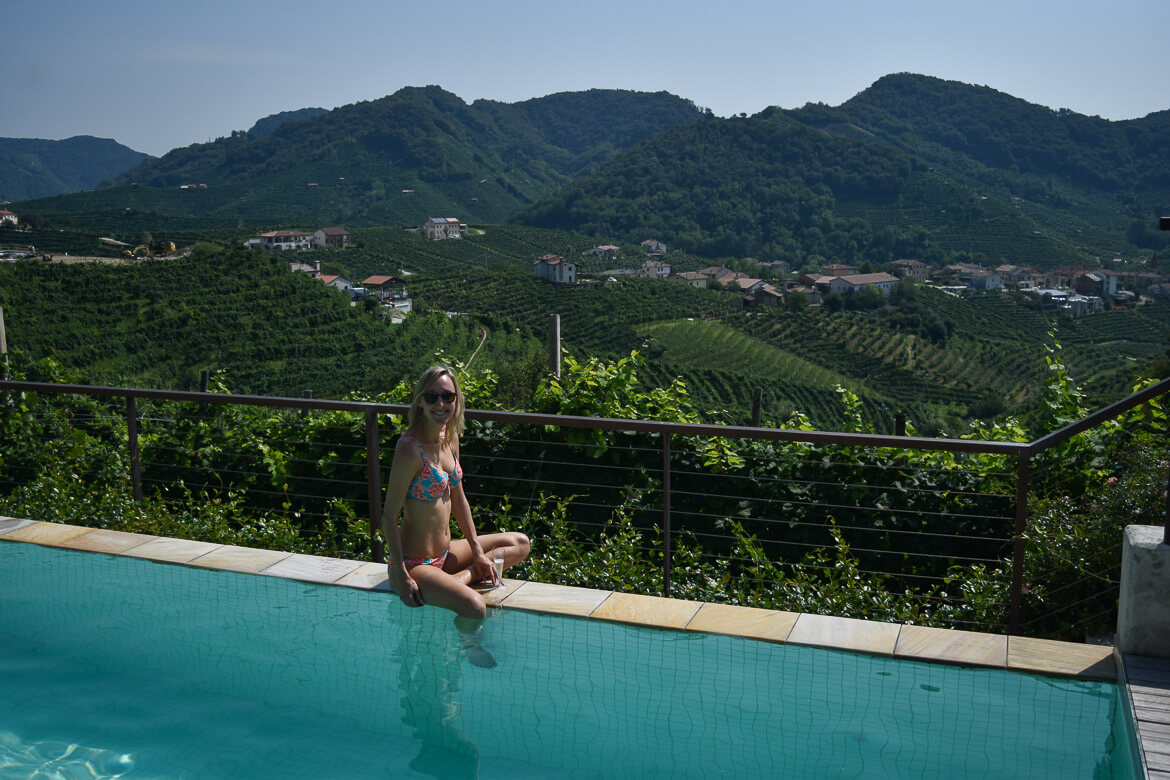 Luxury – Hotel Villa Soligo is a gorgeous 18th-century Venetian villa with lovely grounds and a swimming pool. We stayed here during our wedding with all our guests and it was fabulous! It has just undergone major renovations. Rooms from €290.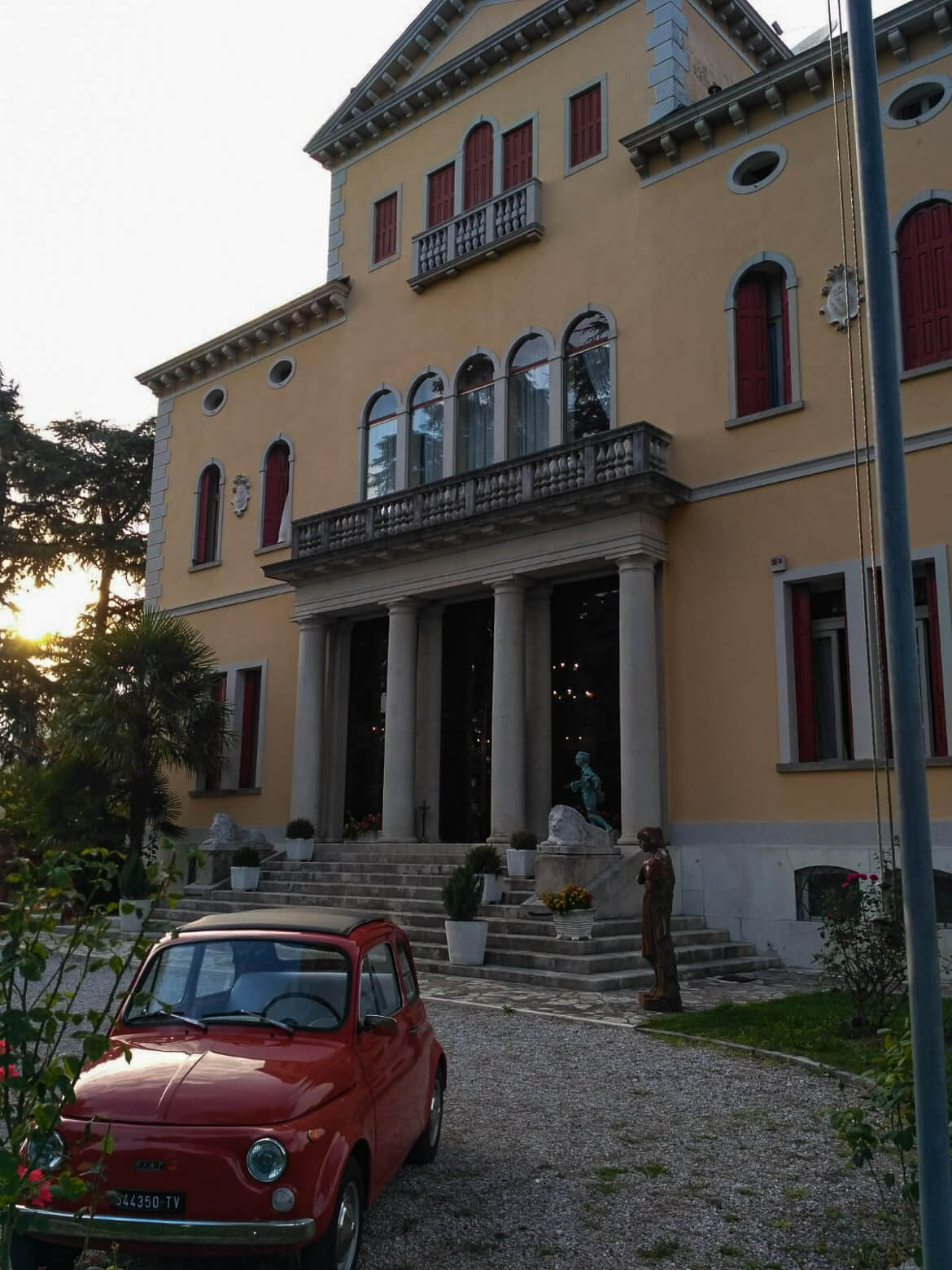 Campsites – There is an area di sosta in Valdobbiadene on Via della Pace.
Day 4-6 Emilia Romagna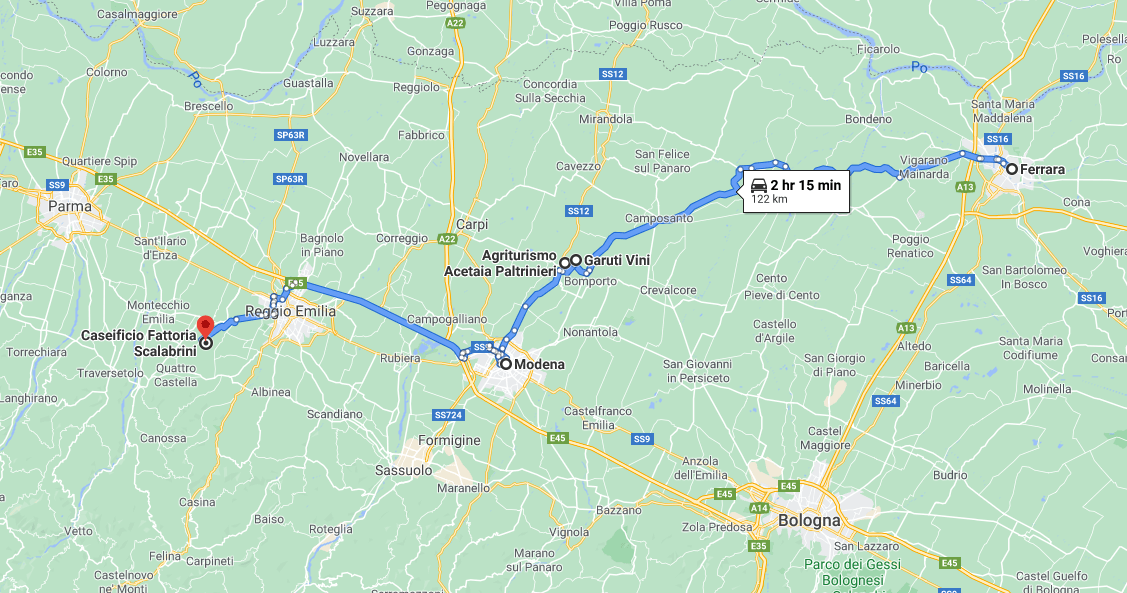 Emilia Romagna has some amazing towns and cities. If you have lots of time, then I recommend visiting Bologna, Parma, Modena, Reggio Emilia and Ferrara. If you're sticking to two weeks then follow the itinerary below. Otherwise, check out our 4 day Emilia Romagna itinerary.
Read our Emilia Romagna itinerary here.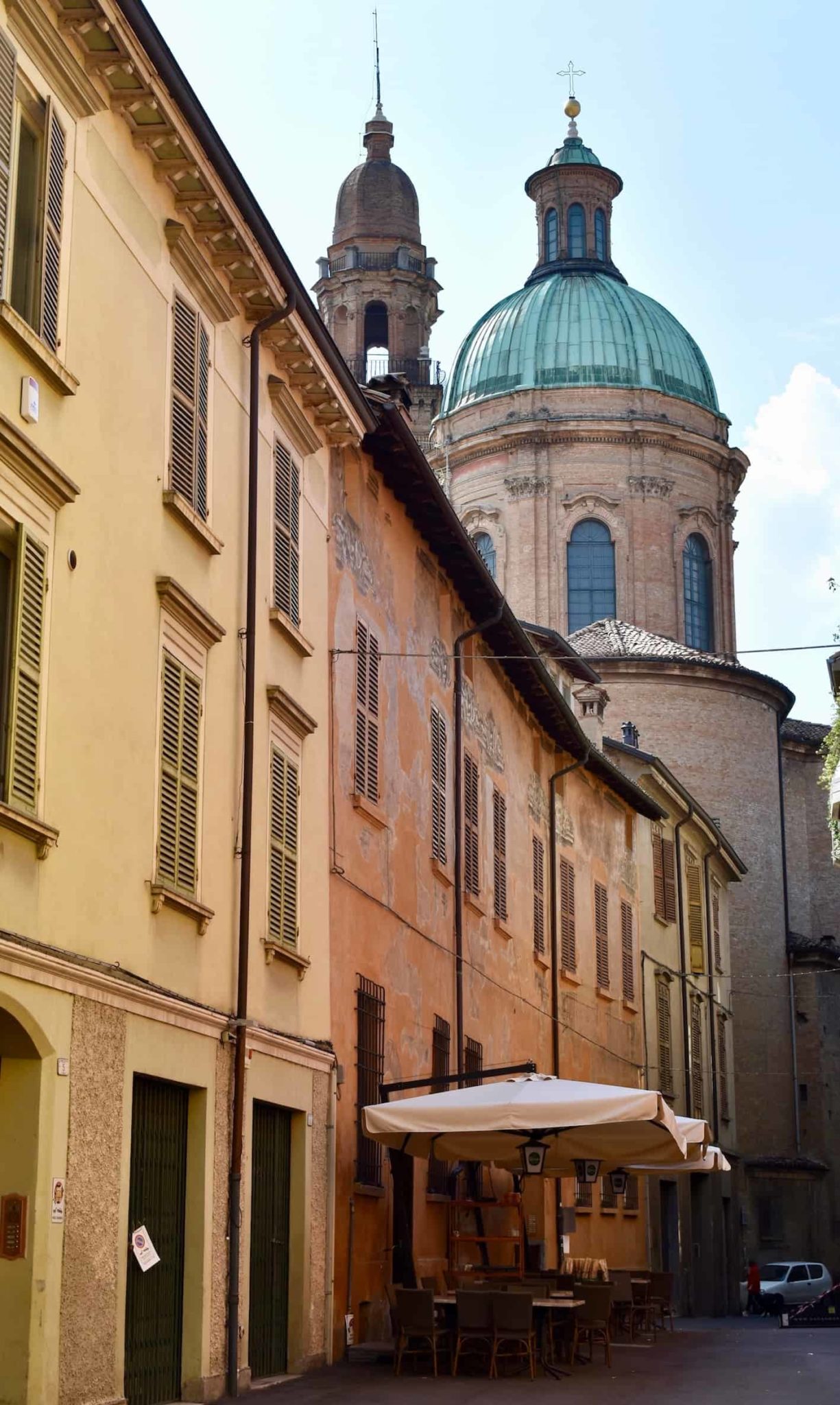 Ferrara
Depart Treviso and drive an hour and a half to Ferrara for a lunch stop.
Things to Do in Ferrara
Wander the ancient streets (the whole city is a UNESCO site)
Visit the Estense Castle and Palazzo dei Diamanti – named for its diamond patterned walls
Grab a Pasticcio di Maccheroni (a macaroni pie) for lunch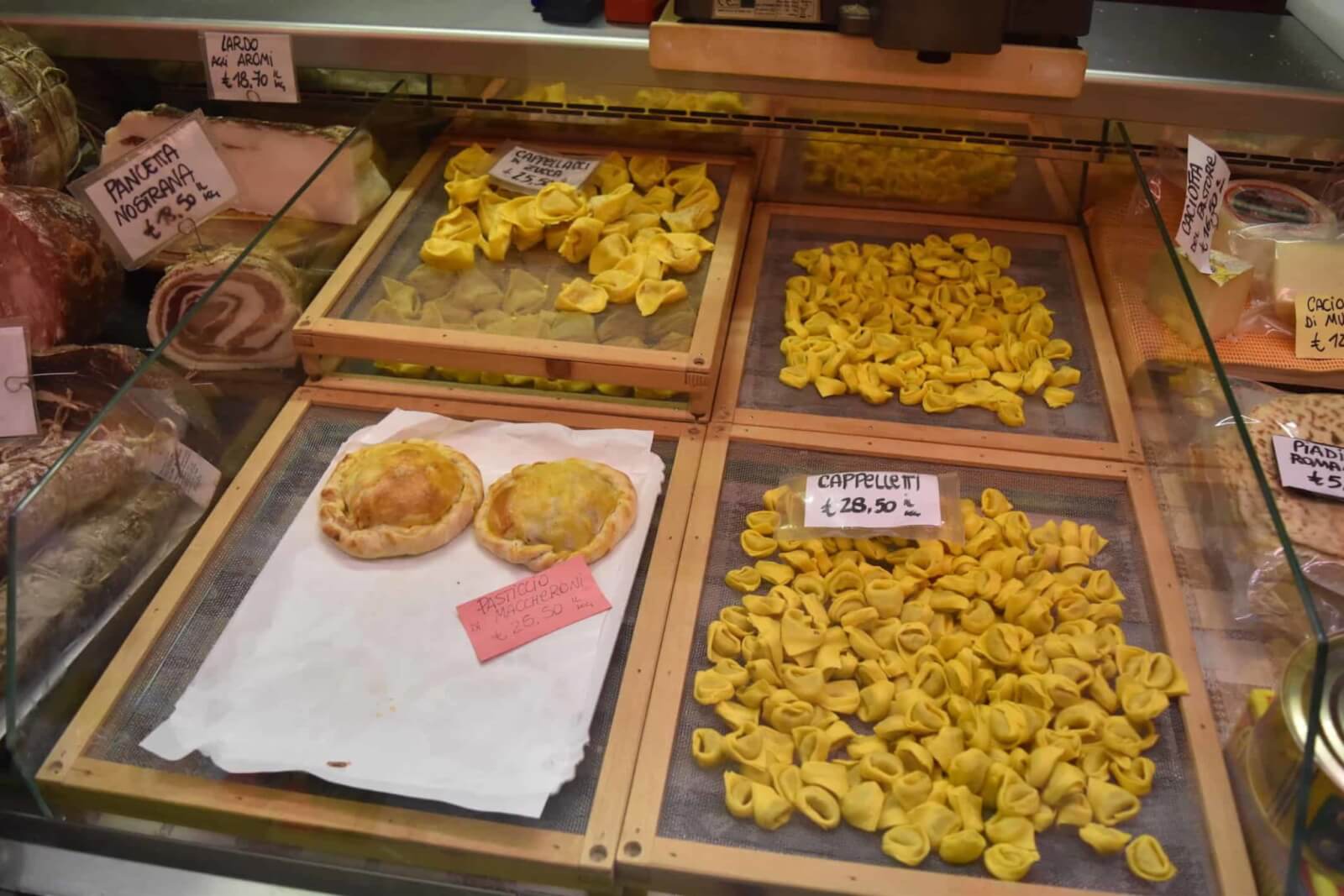 Continue on your north Italy itinerary to Modena. Take the scenic route through the countryside and stop at an Acetaia – a balsamic vinegar producer – such as Acetaia Paltrinieri and sample some of the world-renowned Aceto Balsamico Tradizionale di Modena DOP.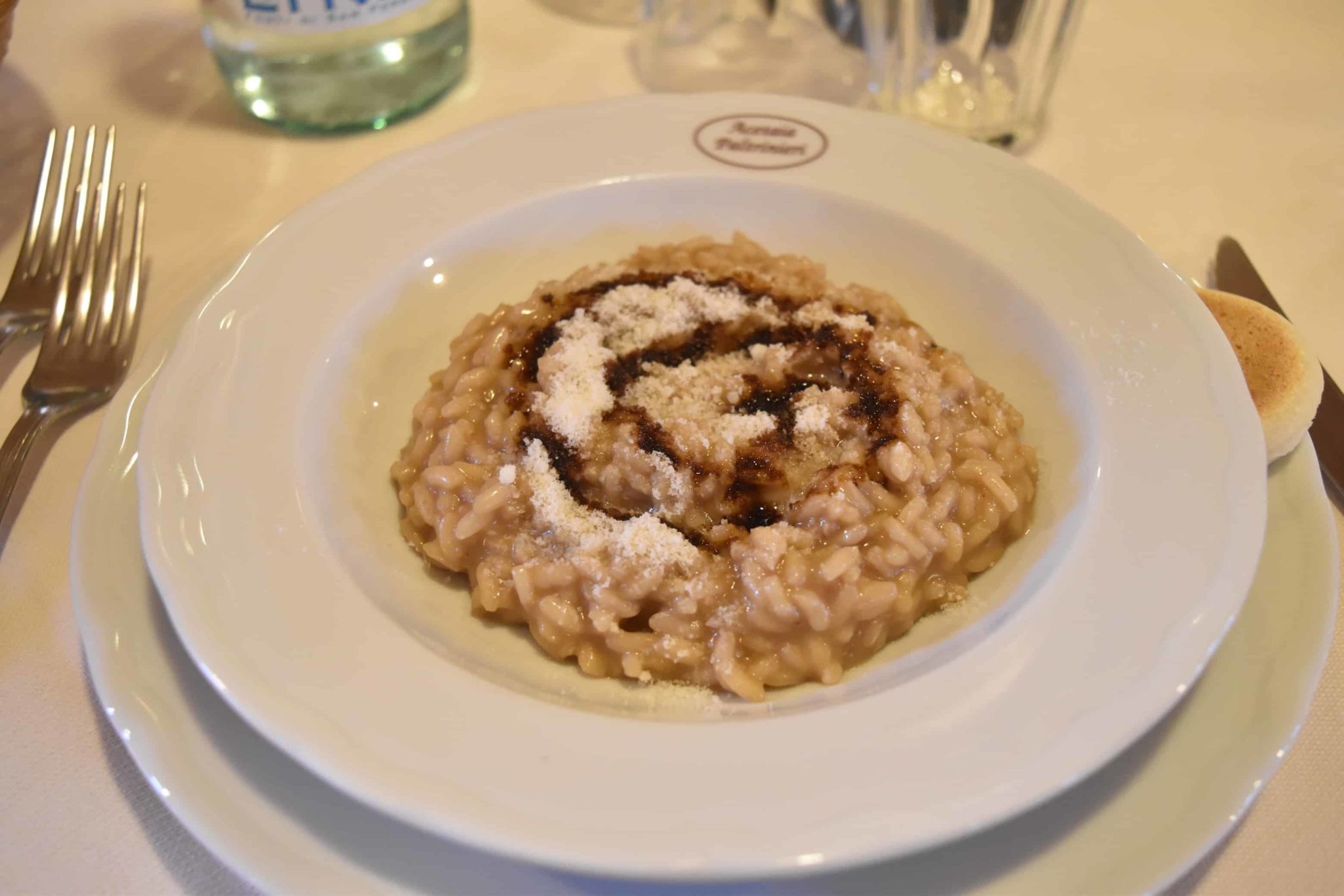 Then stop at a winery or two to try the region's specialities – lambrusco and pignoletto. Cantina Vini Garuti and Vini Zucchi are both less than ten minutes drive from the Acetaia.
Modena
Modena packs a lot into a small city. It's the home of Maserati, Ferrari, Lamborghini and Ducati, the birthplace of Pavarotti and also a gastronomic paradise with one of the world's best restaurants.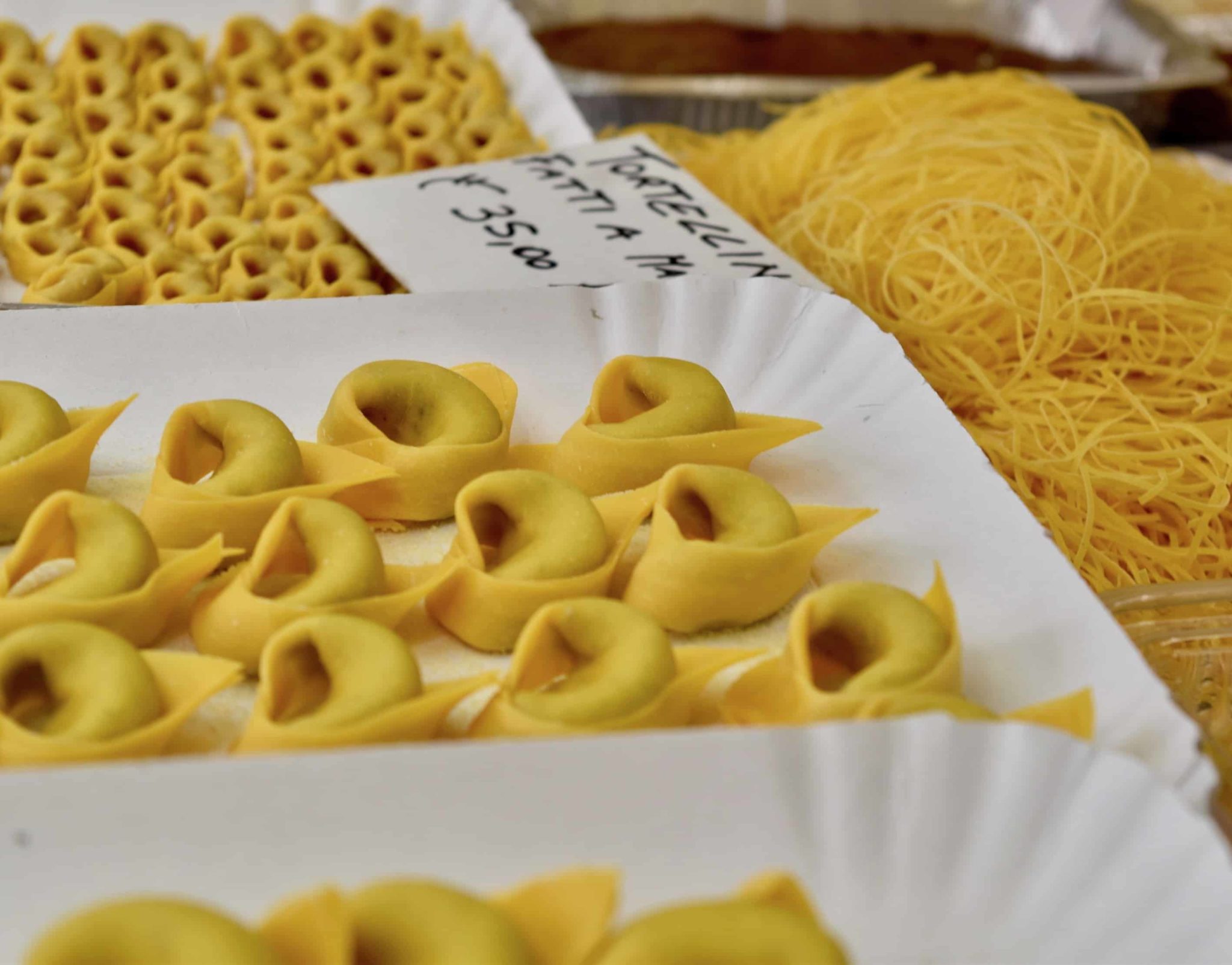 Things to Do in Modena
Explore the covered Albinelli Market – full of delicious Italian food
Eat at three Michelin star Osteria Francescana – winner of the world's best restaurant in 2016 and 2018. (Book at least 6 months in advance)
Admire the UNESCO listed Duomo di Modena
Watch an opera or concert at the Luciano Pavarotti Municipal Theatre
Where to Stay in Modena
Budget – Ostello San Filippo Neri is located 700m from Modena Cathedral and has rooms with shared and private bathrooms. There is a shared kitchen and living area. From €50.
Mid-Range/Luxury – Vittorio Veneto 25 has modern rooms a short walk from the centre. From €95.
Super Luxury – Hotel Rua Frati 48 is a 5-star hotel with frescoed rooms, a restaurant, private parking, a fitness centre and a bar. From €490.
Campsites – We slept at Cantina Vini Garuti which offers camper parking. Closer to the city, Mutina Camper Club costs €17 per night.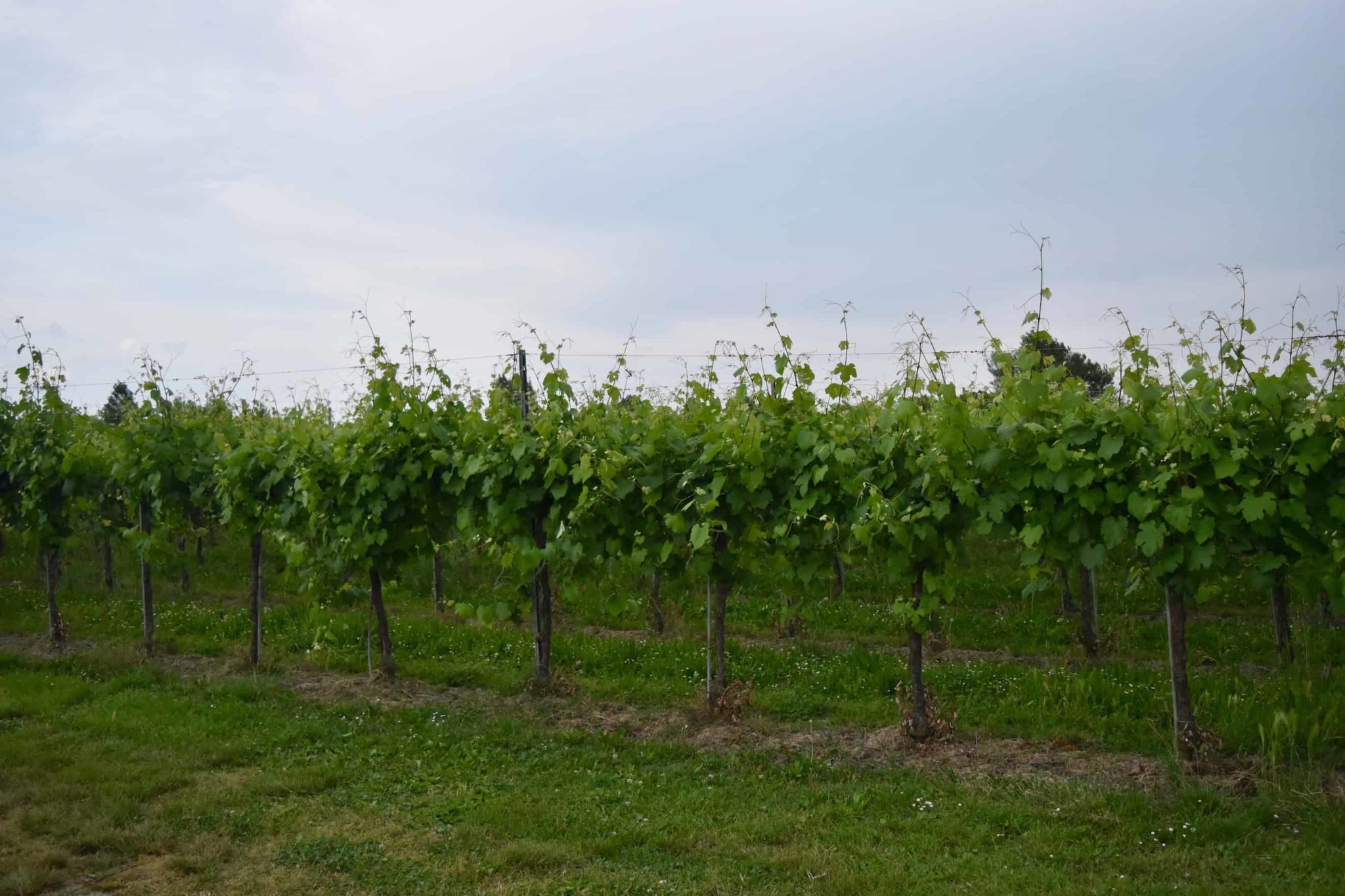 If you're a fan of cheese, then get up early the next day for a visit to a Parmigiano Reggiano factory. We visited Fattoria Scalabrini and watched the cheese masters at work, before sampling some of the delicious cheese. Book in advance.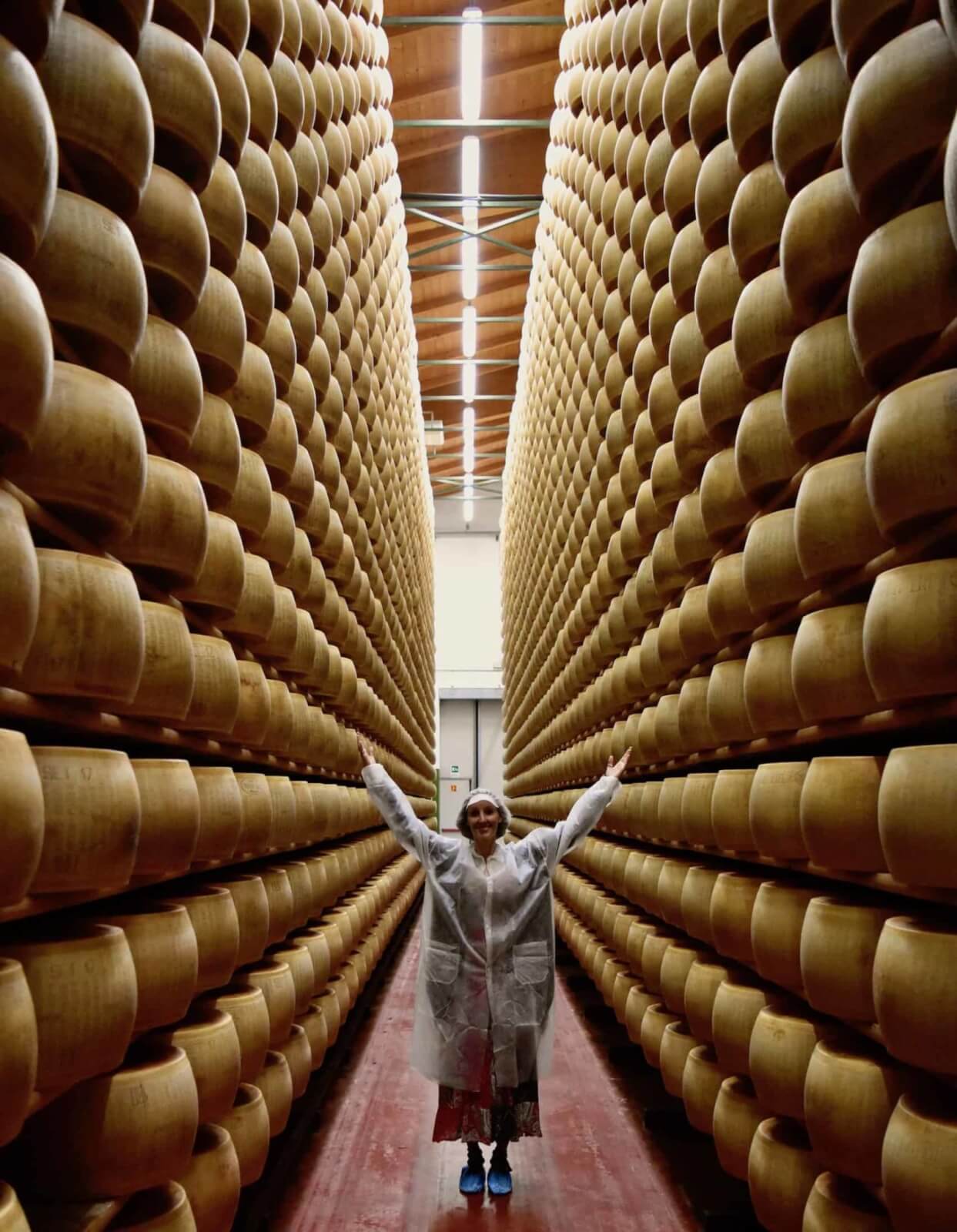 Day 6-10 Tuscany
Next on your Italian road trip is the popular region of Tuscany. There is so much to do in Tuscany and you could easily spend your entire road trip in this region alone.
Read our guide to the best things to do in Tuscany.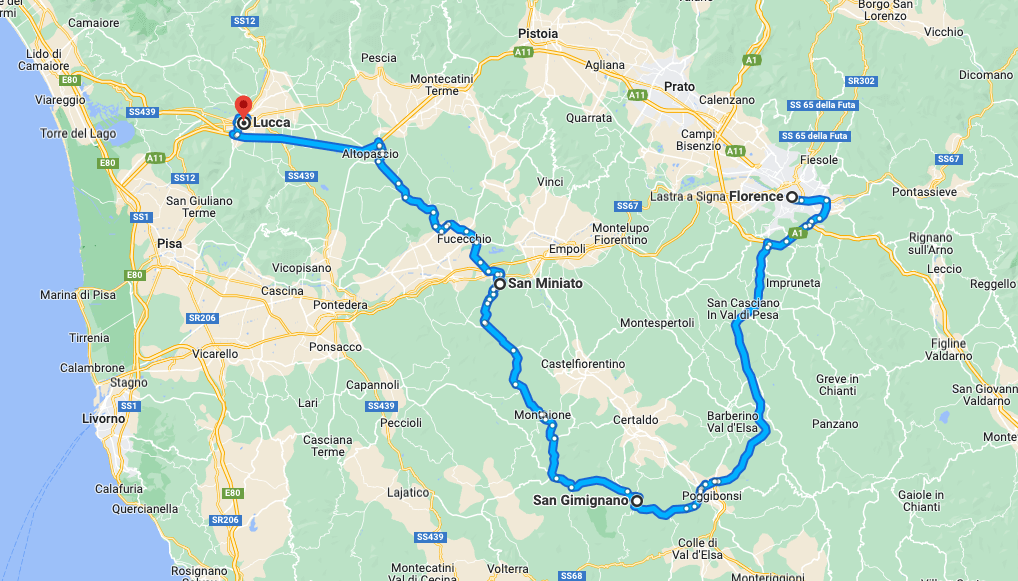 It's difficult to pick only a few places to visit in Tuscany, with so many stunning towns and villages. This northern Italy road trip sticks to the northern part of the region, but I've included other recommended places to visit further south if you have time.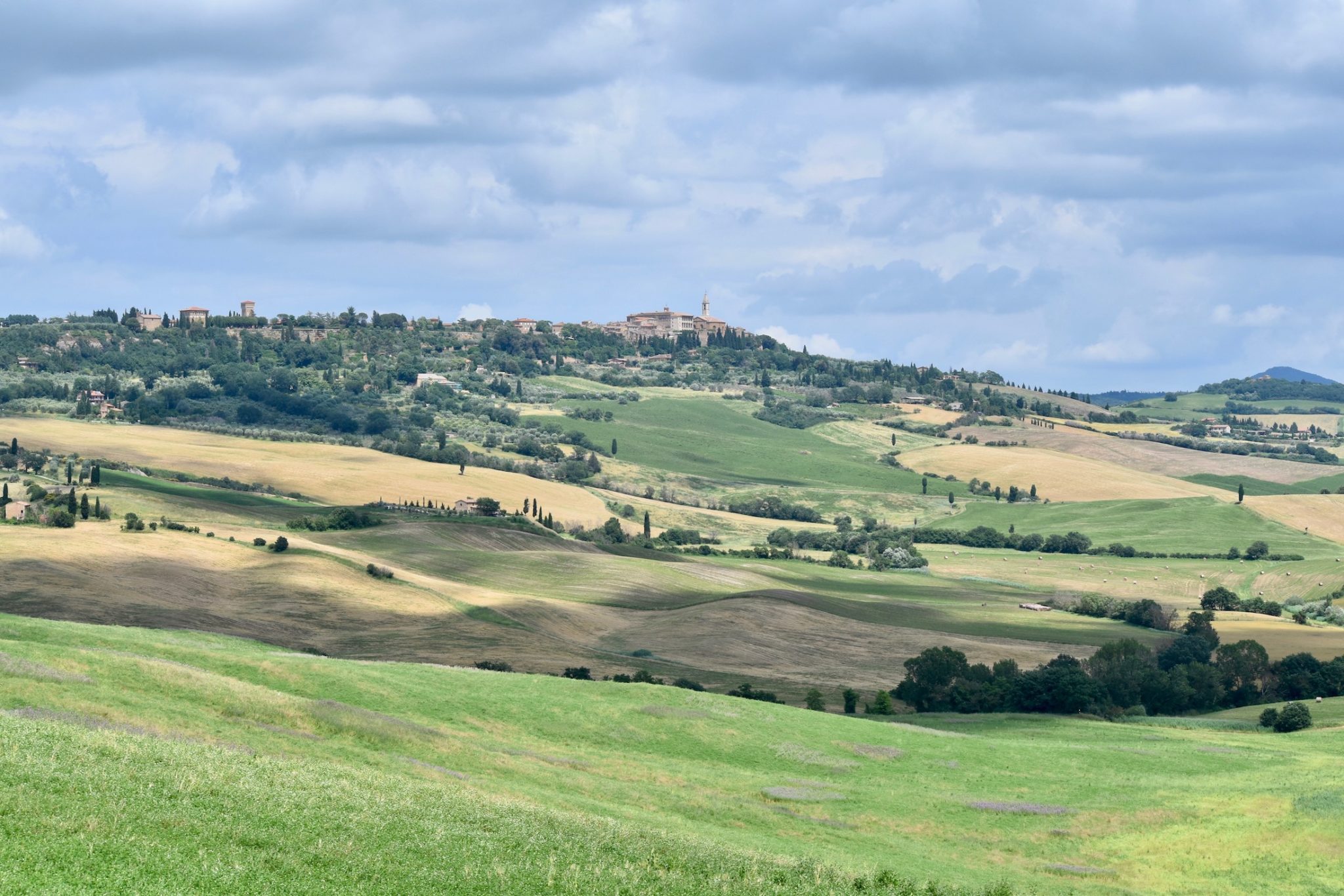 Florence
Florence needs no introduction as one of Italy's most famous cities.
Things to Do in Florence
Eat Bistecca alla Fiorentina (Florentine Steak)
Stroll across Ponte Vecchio
Visit Piazza della Signoria and admire Palazzo Vecchio, the Fountain of Neptune and Perseus with the head of Medusa
See Michelangelo's David in the Accademia Galleries
Admire the Cattedrale di Santa Maria del Fiore (The Florence Cathedral/Duomo)
---
Where to Stay in Florence
If you're staying in the centre parking can be tricky – so make sure you book a hotel that has parking. Alternatively, stay a little further outside the city and take the train or bus in.
Budget – Residenza Conte di Cavour & Rooftop is situated 200 m from Accademia Galleries and has a rooftop terrace. From €50.
Mid-Range – Relais Piazza Signoria is located on the corner of Piazza Signoria and offers studios and apartments, some with terraces. Rooms from €94
Luxury – The 4-star Hotel Berchielli is located on the River Arno, with views of Ponte Vecchio. Rooms are decorated in a classic style with antique furniture and details. From €230.
Campsites – Florence Park Scandicci is a 15 minute drive from the city centre with regular buses. €20 per night for campervans.
Find accommodation in Florence
From Florence, drive south to San Gimignano. On the way stop at one of the chianti wineries for a tasting, such as Antinori nel Chianti Classico, Villa Mangiacane or Castello di Verrazzano.
San Gimignano
This small town is known for its many towers – 14 to be exact (Although at one time there were 72!). Spend the afternoon and evening here.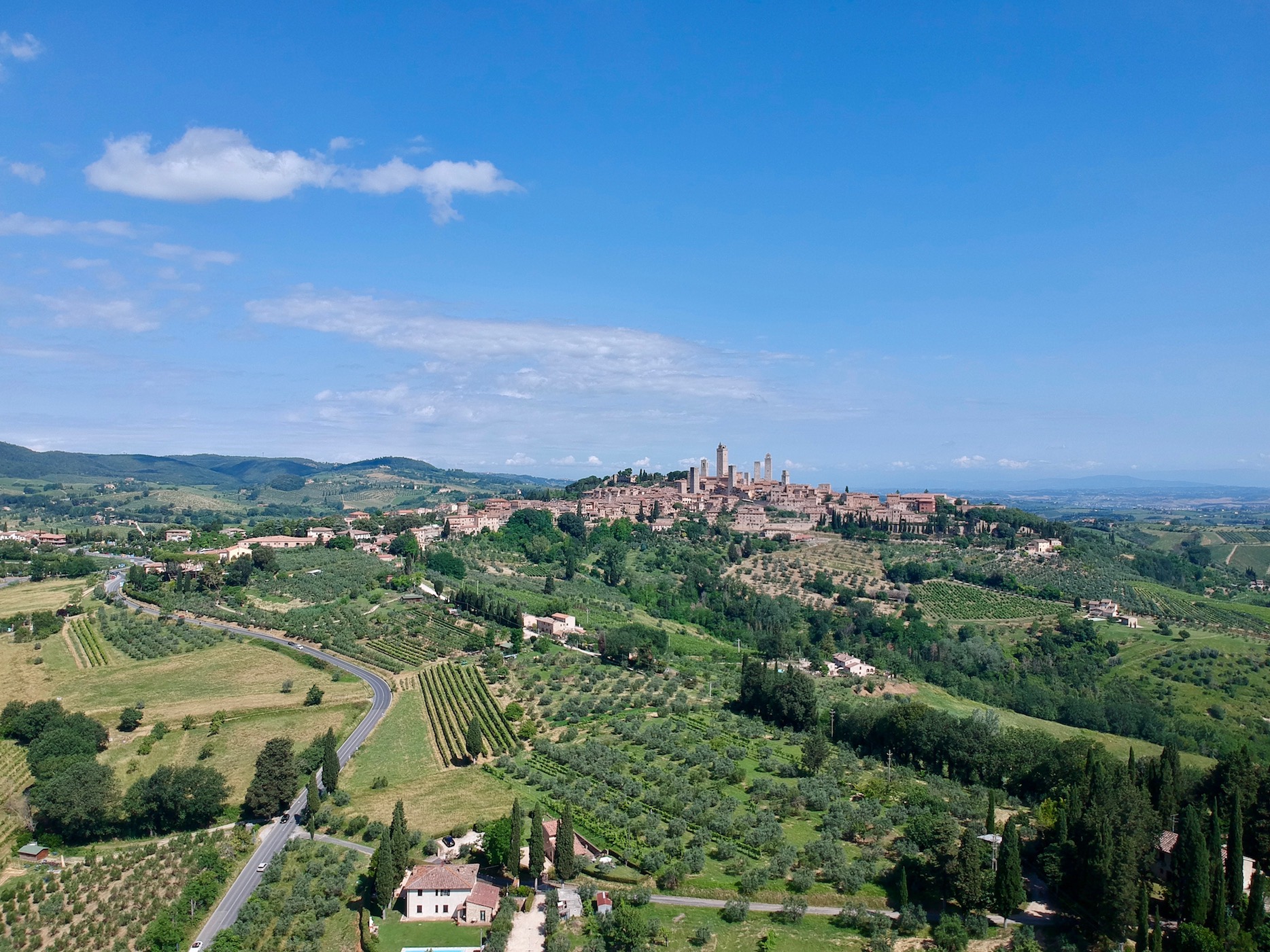 Things to Do in San Gimignano
Eat delicious gelato at prize-winning Gelateria Dondoli in Piazza Della Cisterna
Visit the Florentine fortress – Rocca di Montestaffoli
Enjoy a glass of Vernaccia at the wine museum
Climb the Torre Grossa – the tallest remaining tower
Where to Stay in San Gimignano
Budget – Hotel La Cisterna in Piazza Della Cisterna – a few steps from the gelateria! We stayed here and you couldn't ask for a better location. Double rooms start at €67 per night for a double room.
Mid Range – Casa Torre Margherita has a terrace overlooking the hills, set in a renovated 13th-century building. Rooms from €120
Luxury – Located a 5 minute drive from San Gimignano in a converted Franciscan convent. Hotel La Collegiata has stylish rooms and a large outdoor pool. From €240.
Campsites – There is an area di sosta at Strada Comunale Di Santa Lucia, which is an 8 minute bus from the city.
Find accommodation in San Gimignano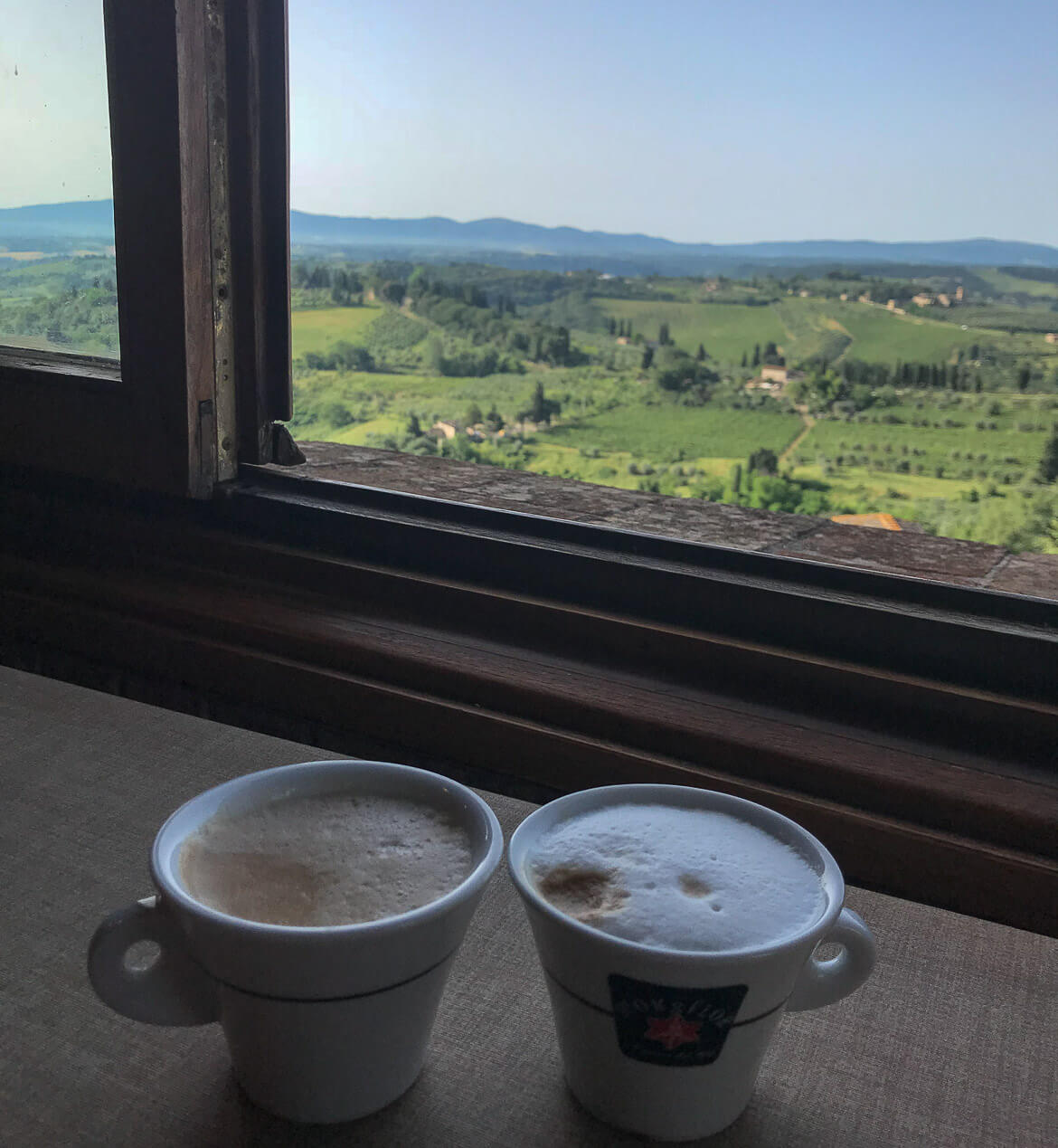 The next morning, drive 50 minutes north to San Miniato.
San Miniato
There is a tasty reason for stopping in this sleepy Tuscan town: truffles. You can take a tour with Massimo from Truffle in Tuscany and his dog Mela, who is incredibly skilled at sniffing out truffles. During our trip, Mela found two and we were then treated to some delicious truffle dishes after the hunt.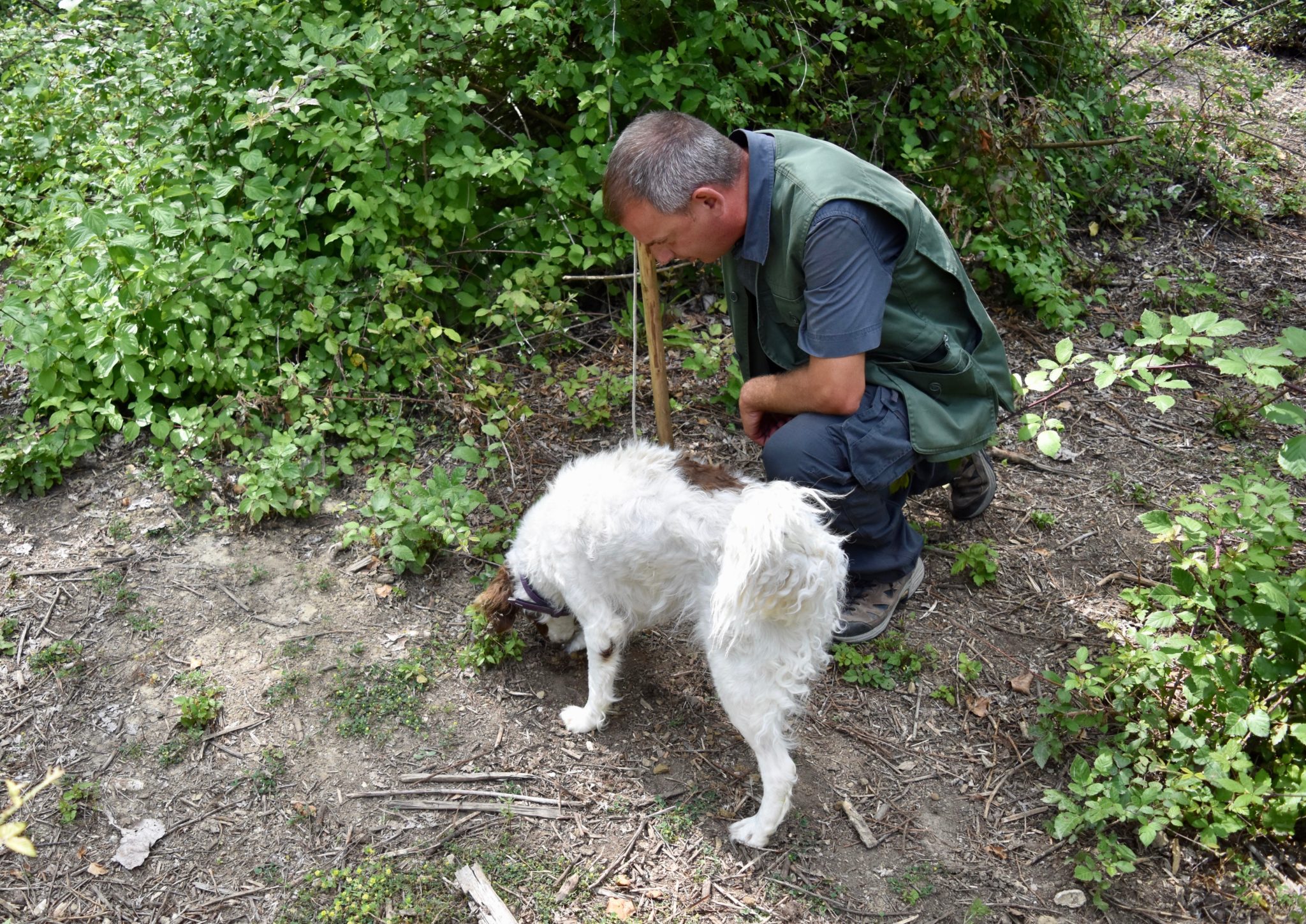 Continue north on your road trip in Italy to Lucca.
Lucca
Growing up, I spent many summers in Lucca and it's one of my favourite Italian cities. Lucca is a walled city, and its 16th-century wall is still intact. Inside it has cobbled streets and laneways full of restaurants and bars.
Things to Do in Lucca
Hire bikes and cycle around the 4km path on top of the walls
Visit Piazza dell'Anfiteatro, a huge circular piazza that was once a Roman amphitheatre
Climb Torre Guinigi to enjoy the views and check out the trees at the top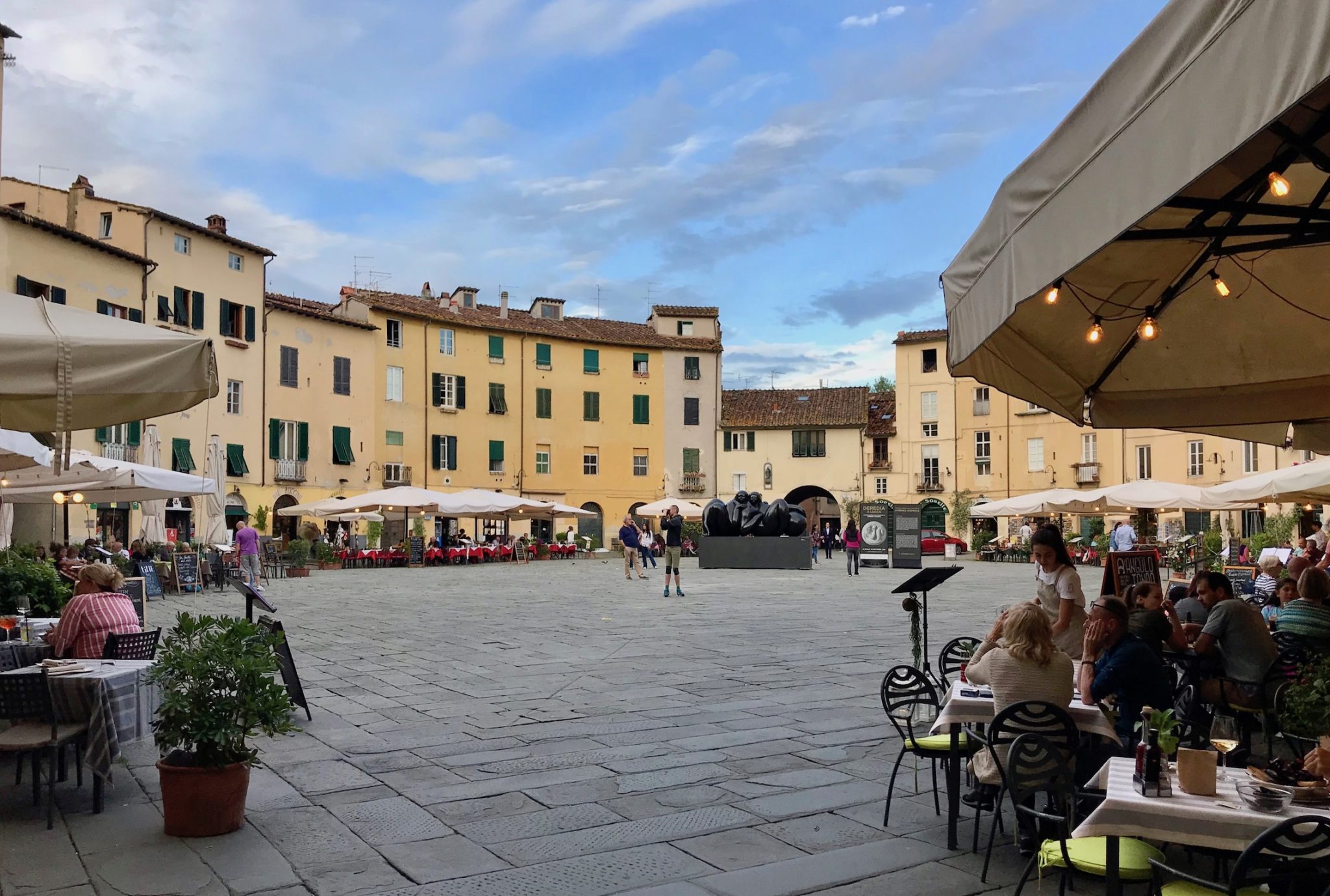 Where to Stay in Lucca
Budget – A double room at Al Tuscany starts from £45 (€50) per night including breakfast. We had a lovely room here with views over the city.
Mid Range/Luxury – Palazzo Rocchi offers double rooms from €125 per night with breakfast included. We loved our stay here – such opulent decor.
Campsites – Parking del Borgo is located a 5 minute walk outside the city walls and has camper spots for €15 per night.
If you have more time, then I highly recommend driving south to Siena and to Montalcino and Montepulciano – famous for wines of the same name. Another hour's drive southwest is Val D'Orcia, a region of incredible natural beauty (so much so it was a filming location for Gladiator). And nearby are the San Filippo Thermal Springs.
Read more about Montalcino, Siena, Montepulciano, Val D'Orcia and San Filippo here.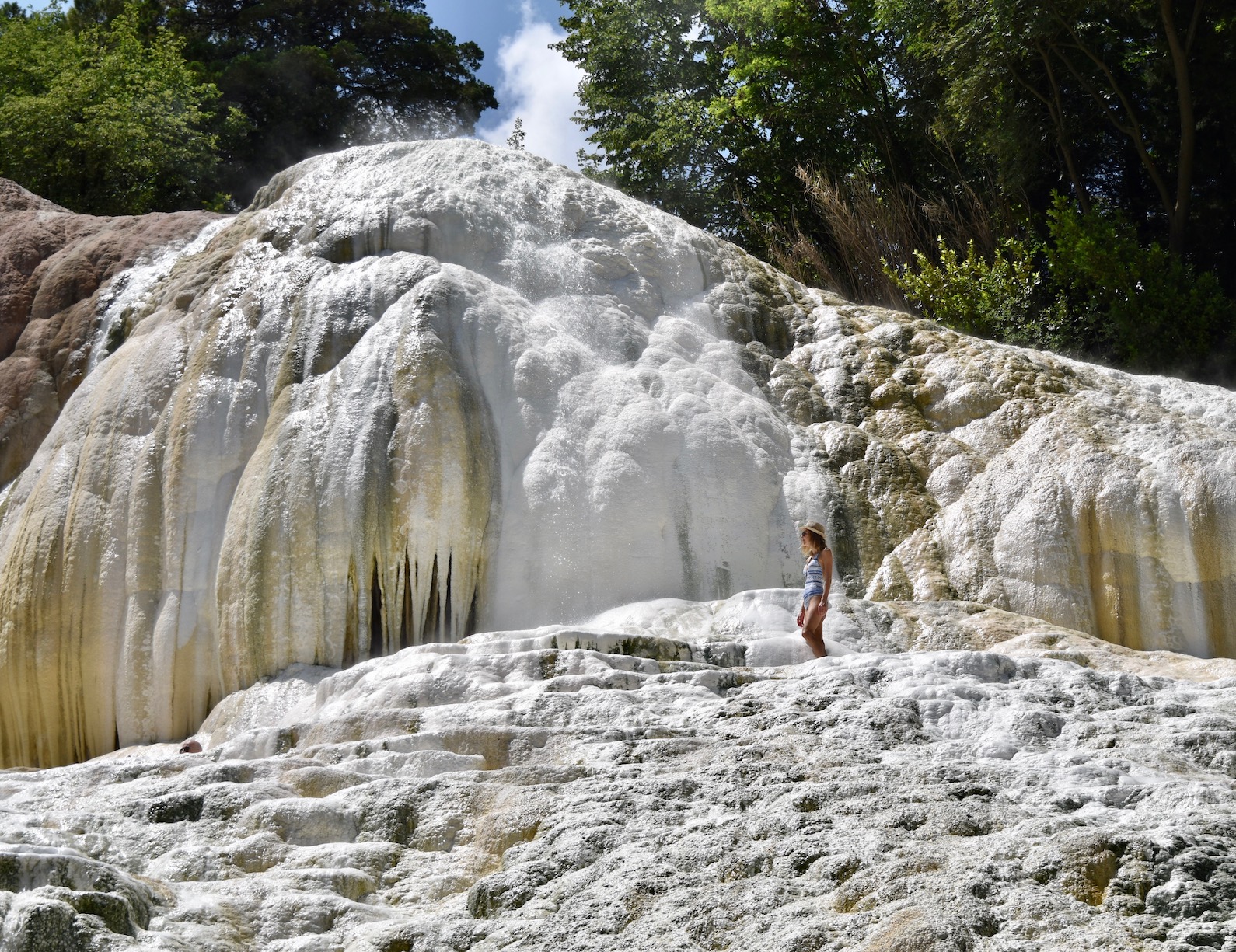 Day 10-11 Liguria
From Lucca, drive an hour to Lerici. Stop along the way at Viareggio – a glamorous seaside resort.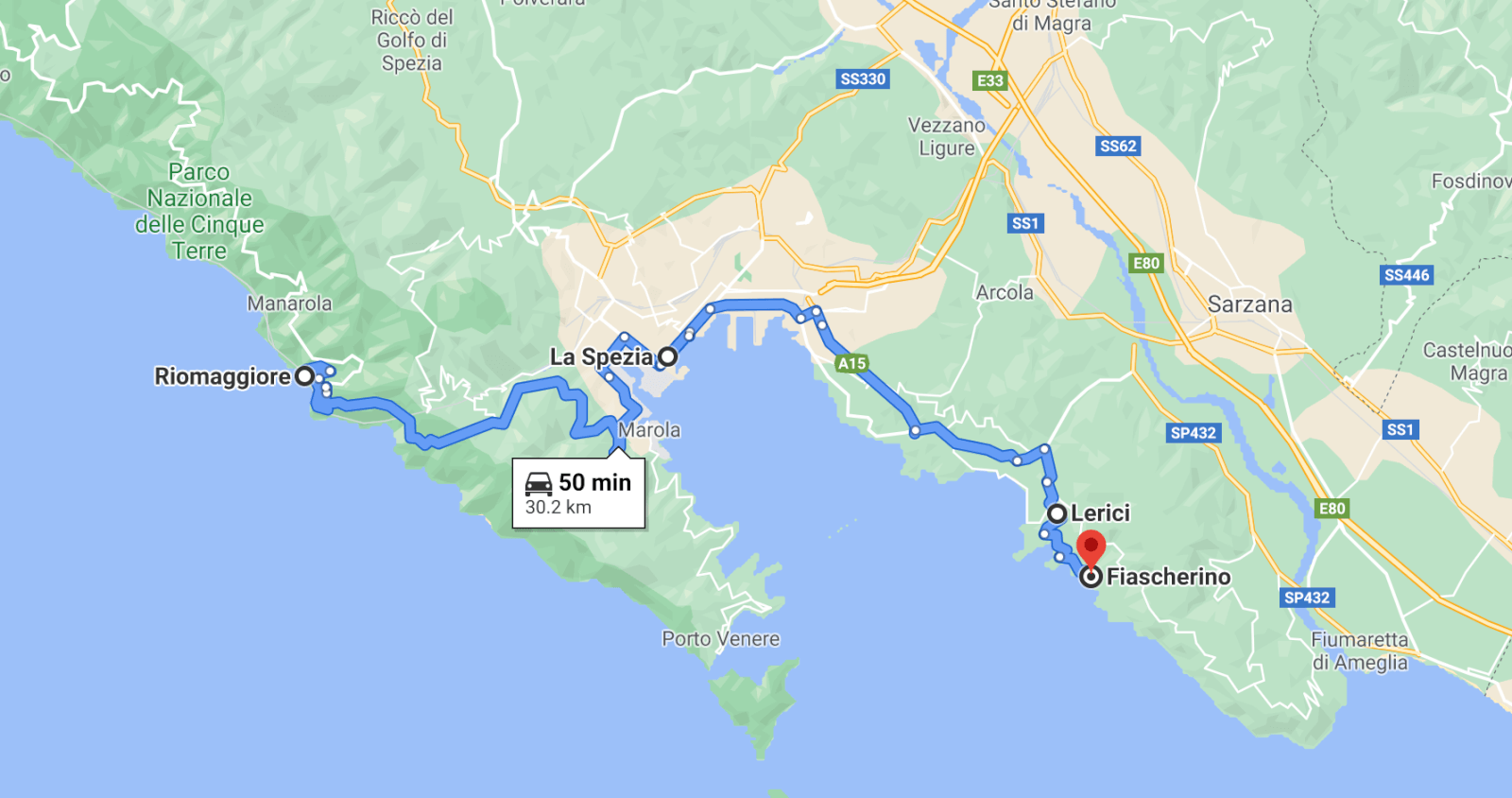 Lerici
Located in the Bay of Poets, Lerici is a seaside town with a sandy beach.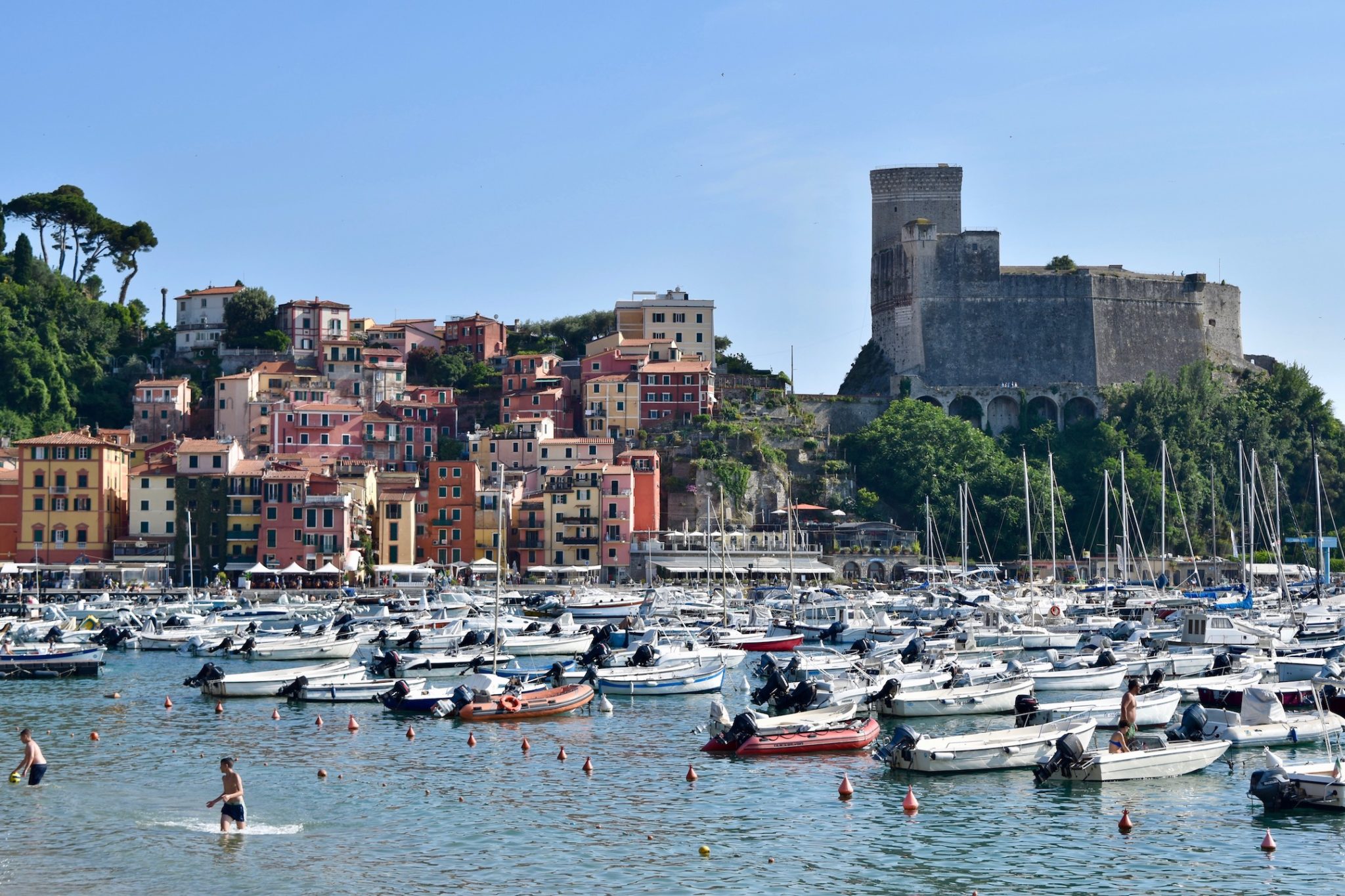 Things to Do in Lerici
Visit a mussel farm
Enjoy the beaches in Lerici and nearby Fiascherino
Eat pesto, focaccia and Ligurian honey (the region's specialities)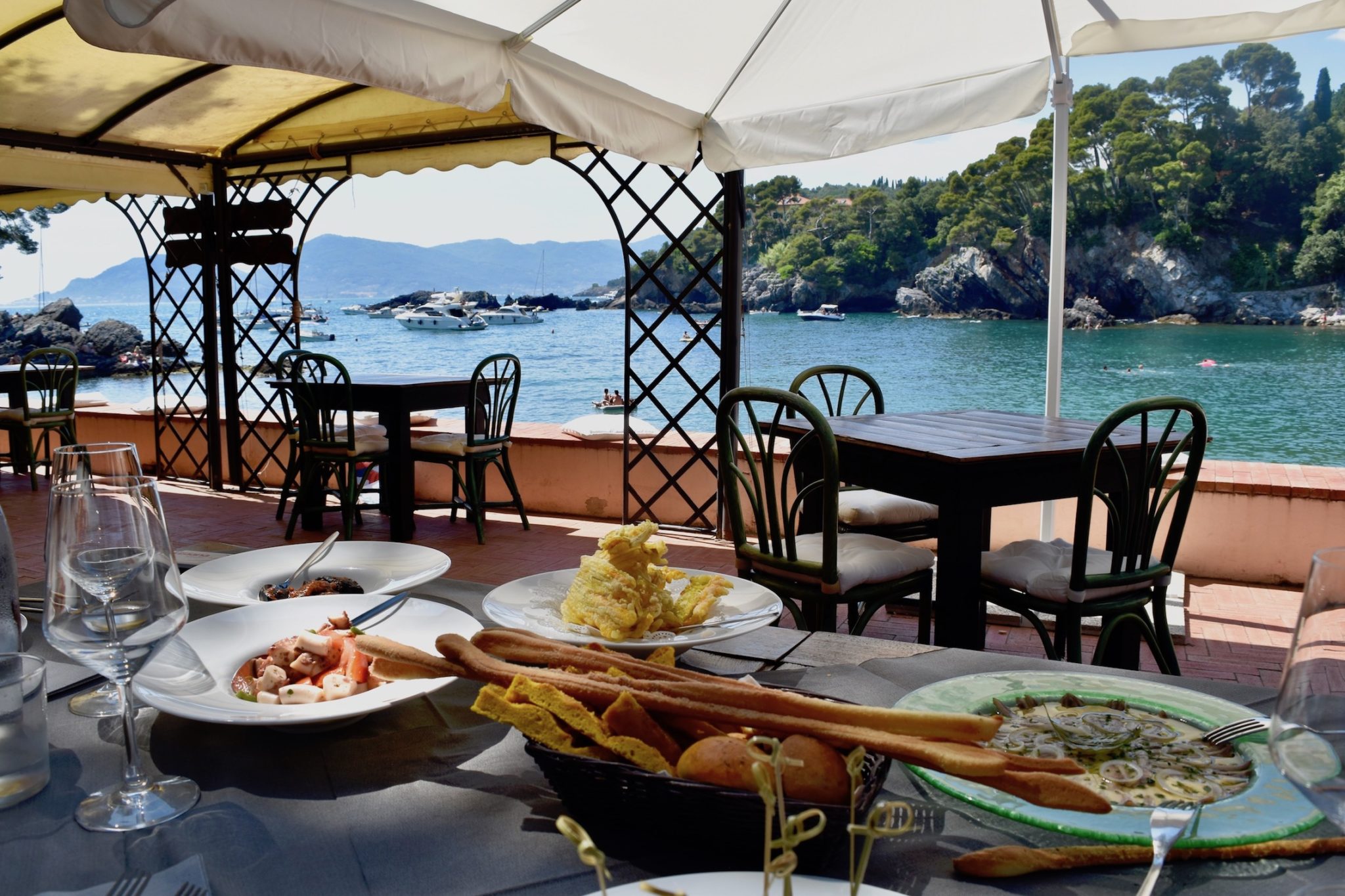 Where to Stay in Lerici
Budget – B&B Camera Bellavista has views of the coastline a 10 minute walk from the town. From €65.
Mid-Range – Hotel Byron has modern rooms, some with sea views, 1 minute walk from the beach. Rooms from €108.
Luxury – Located in the centre of Lerici, Doria Park Hotel has a terrace with views of the Gulf of Poets, the castle, and the old town. We had a lovely stay here. From €150.
Campsites – There is an area di sosta at Località Vallata which has no facilities for €15 per night. Alternatively, there is another site in La Spezia at Viale San Bartolomeo for €6 per night.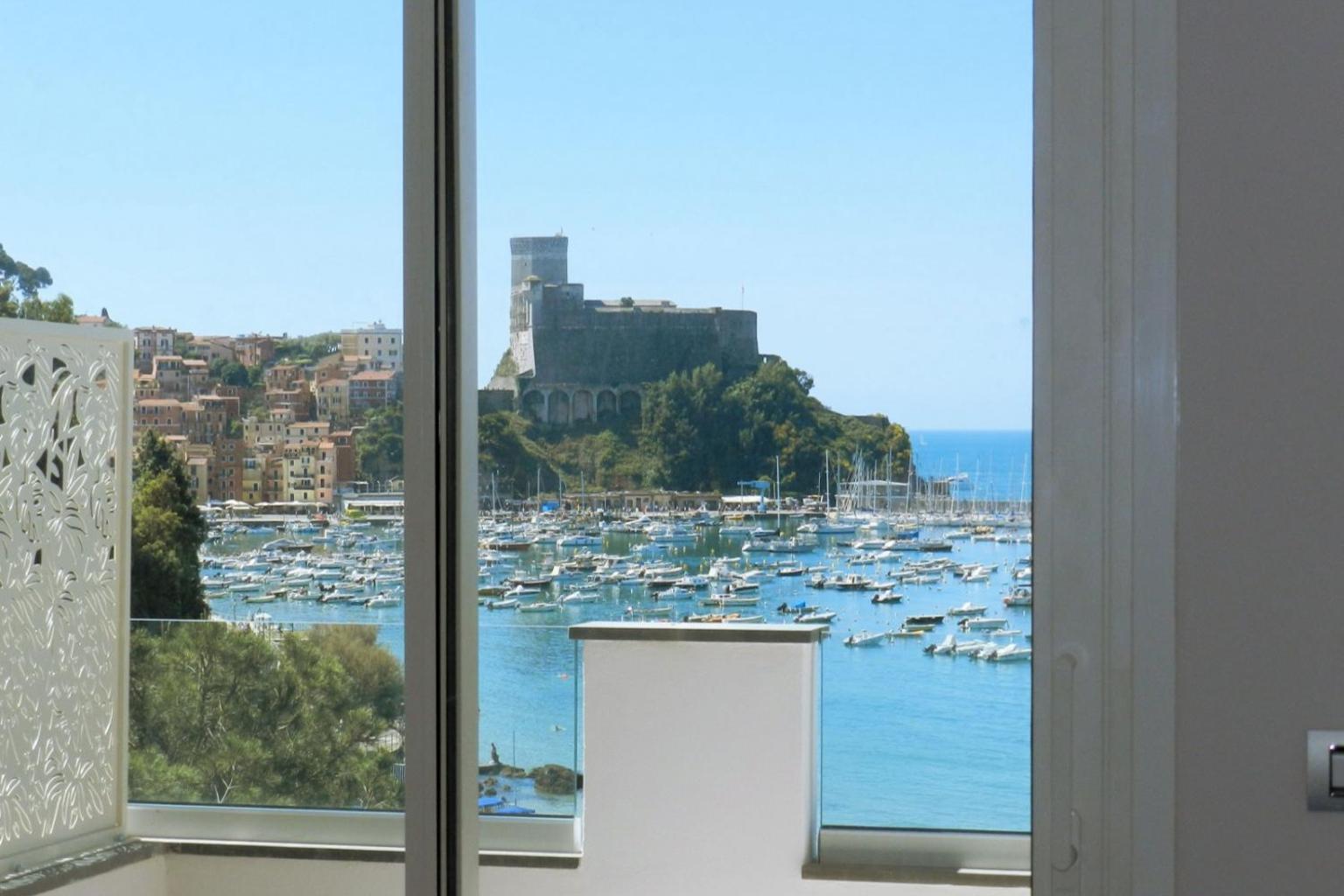 Cinque Terre National Park
On your second day in Liguria head to Cinque Terre National Park. Cinque Terre means five lands in Italian, and the park is made up of 5 main villages: Monterosso al Mare, Vernazza, Corniglia, Manarola, and Riomaggiore. These picturesque villages are well photographed and you're bound to have seen images of the colourful houses overlooking rocky beaches. It's a very popular spot and parking is limited here, so I recommend taking the train from La Spezia station (20 minutes drive from Lerici). Train tickets cover the whole area and can be used as many times as you like in a day. The first village of Riomaggiore is only 8 minutes by train from La Spezia.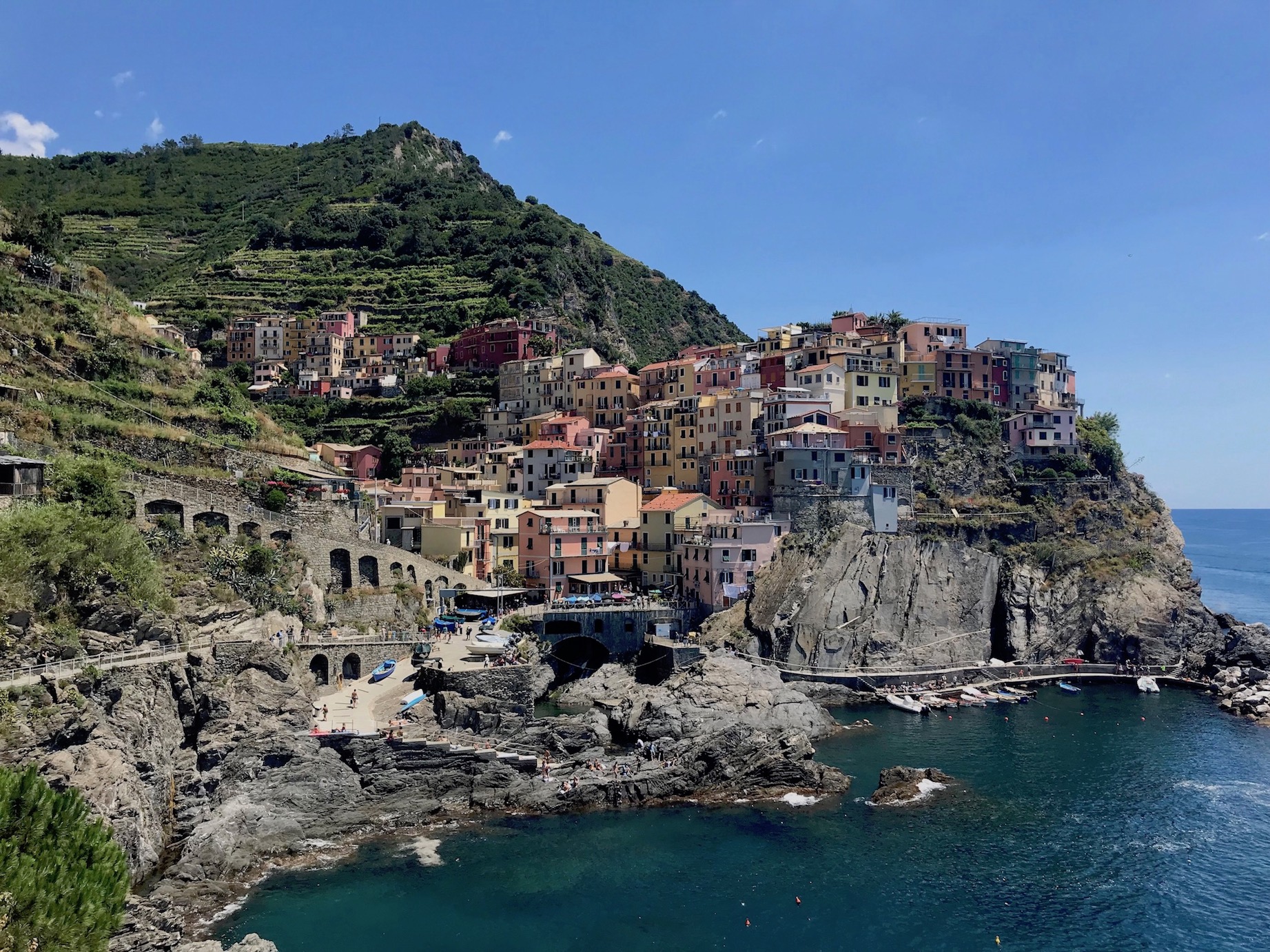 Where to Stay in Cinque Terre
If you prefer to stay in Cinque Terre there are a few accommodation options with parking.
Budget – Villa Caribe is set in Monterosso al Mare village, 800 m from sandy Gigante Beach. Rooms from €80 per night.
Mid-range – Also in Monterosso al Mare village, Locanda A Cà Du Gigante is 50 m from Gigante Beach. Rooms from €126 per night. Parking is €15 per day.
Luxury – Stellio Affittacamere is a guest house in Riomaggiore. Parking is available nearby at €15 per day. Rooms from €190 per night.
Super Luxury – Arpaiu has rooms and apartments with sea views in Manarola. Parking costs €60 per day. Rooms from €220 per night.
Campsites – Il Poggio is a camper area within the Cinque Terre National Park in Monterosso al Mare. Campers cost €25 per night which includes transfers to the village. Booking is advised.
Find accommodation in Cinque Terre
If you have more time in Liguria, then visit the pretty town of Portovenere. Read about it here.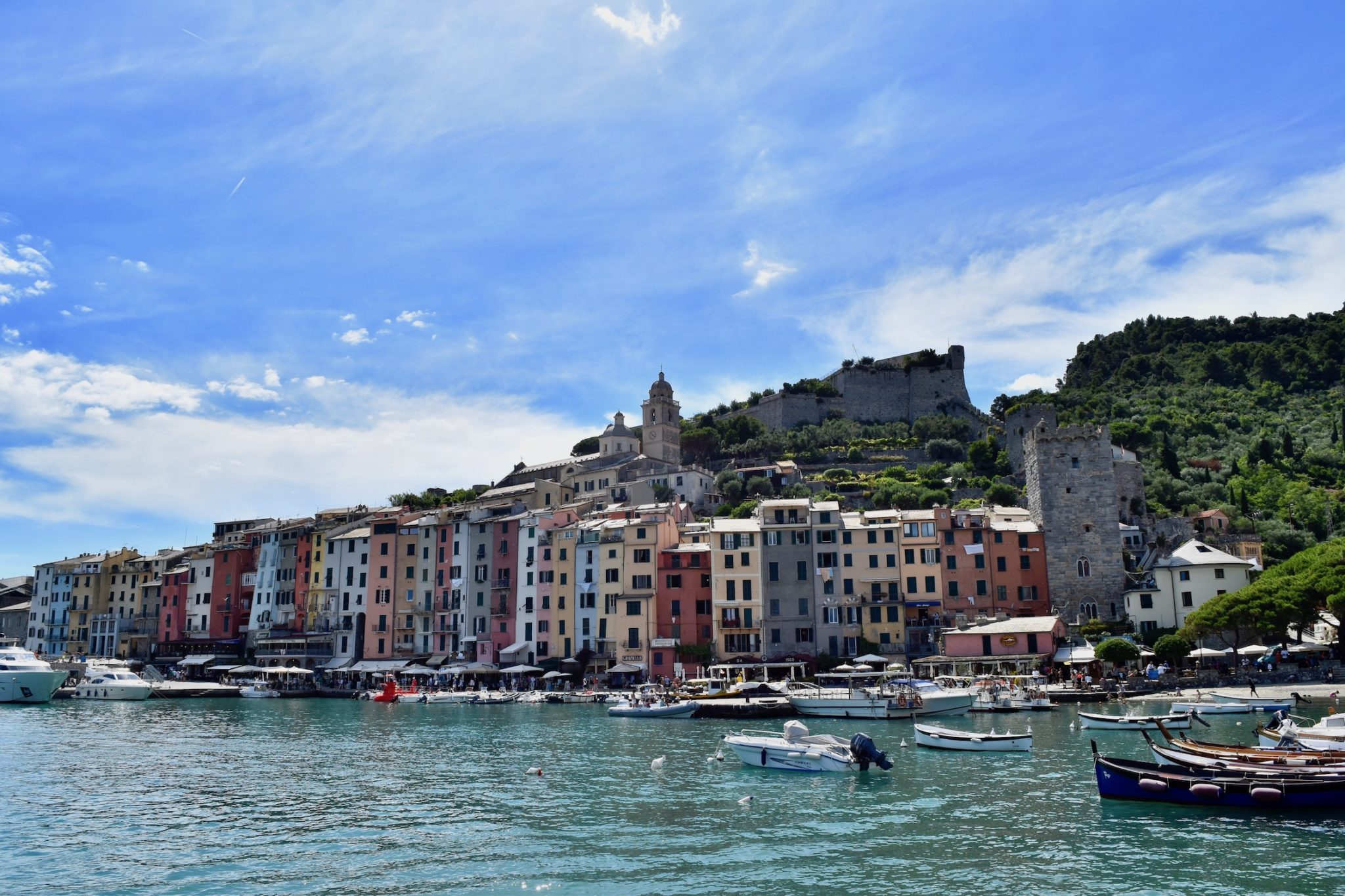 Read our full guide to Liguria here.
Travel 3 hours northeast on your road trip of northern Italy to Lake Garda. On the way stop in Parma for lunch or take a small detour into the countryside to Bré del Gallo – a Culatello cellar. Culatello is a delicious cured meat and though it's not as famous as Prosciutto di Parma, Culatello is considered the king of salumi.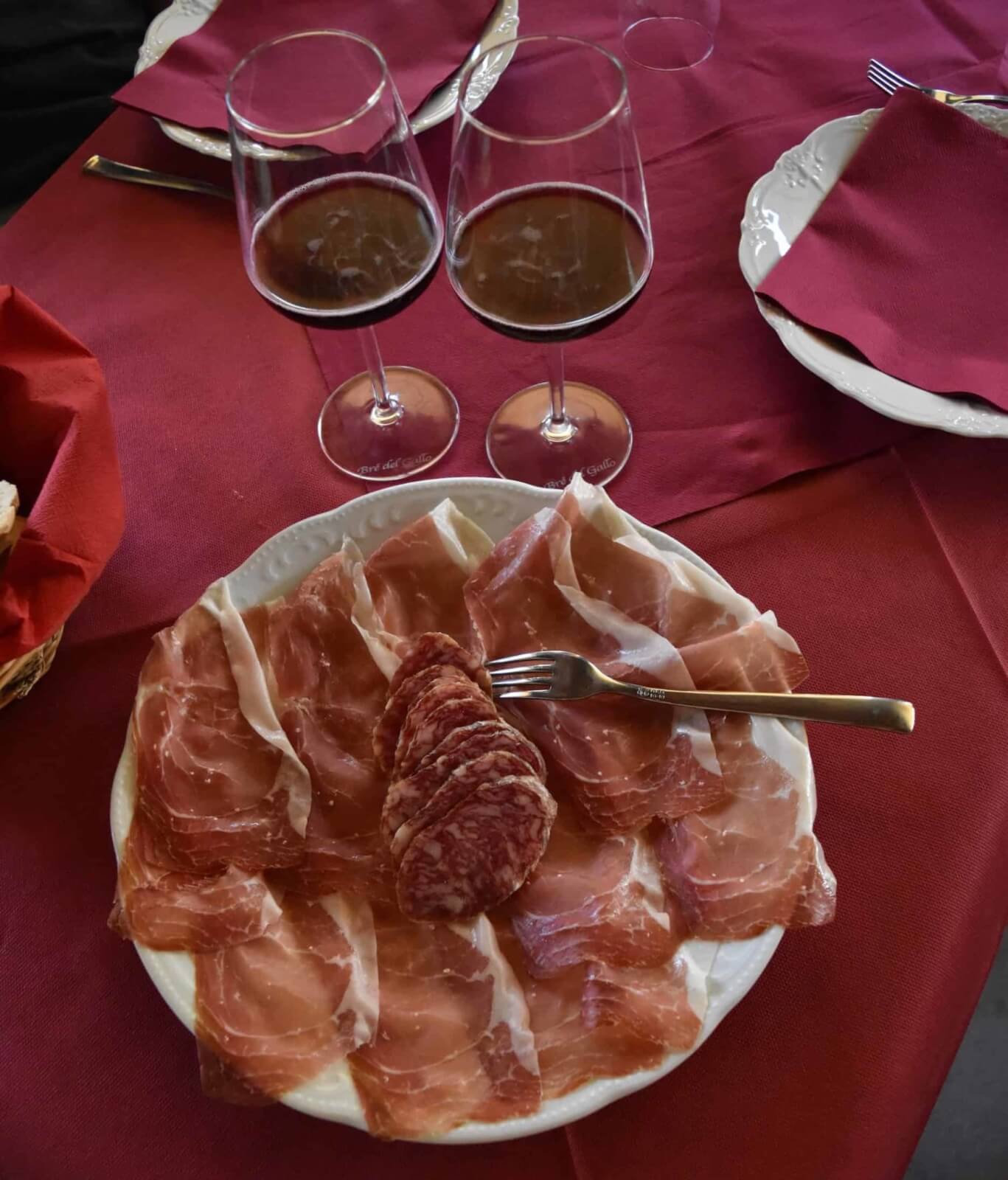 Day 12-14 Lombardy/Veneto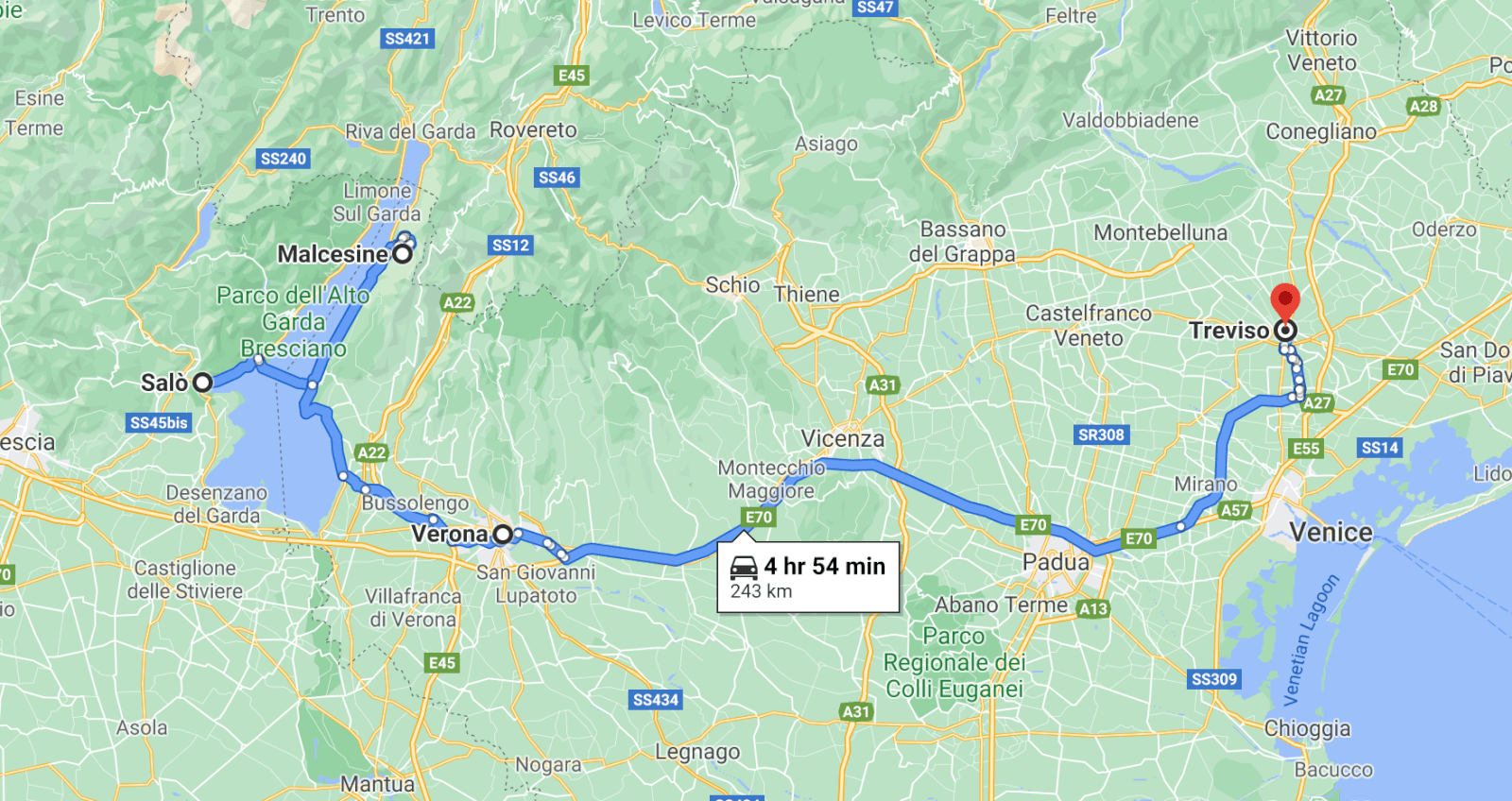 Lake Garda (Lago di Garda)
Beautiful Lake Garda is Italy's largest lake, with mountains to the north and beaches to the south. There are lots of lovely towns and villages dotted around its shores and it can be hard to pick one or two to visit. Our recommendations are: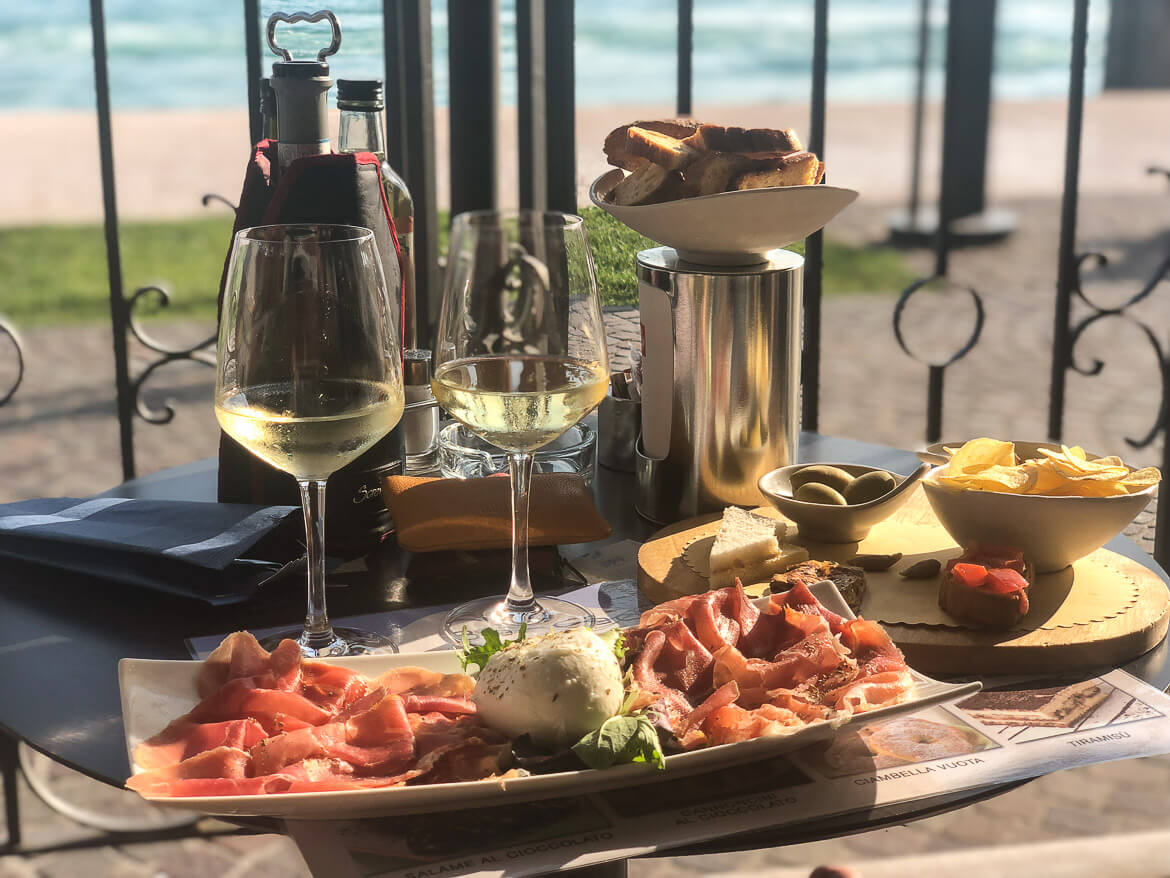 Salò
Salò is located on the western shores of the lake in the Lombardy region. With a mountain backdrop, it's an attractive town, particularly the historic centre – which is full of quaint lanes and small piazzas. It has the longest lakeside promenade on the whole of Lake Garda.
Things to Do in Salò
Relax on the beaches
Admire the view from the Rocca (castle) – known as the 'balcony of the lake'
Shop at the Saturday market
Enjoy canoeing, fishing and sailing on the lake
Admire the Romanesque cathedral and the Torre dell'Orologio (clock tower)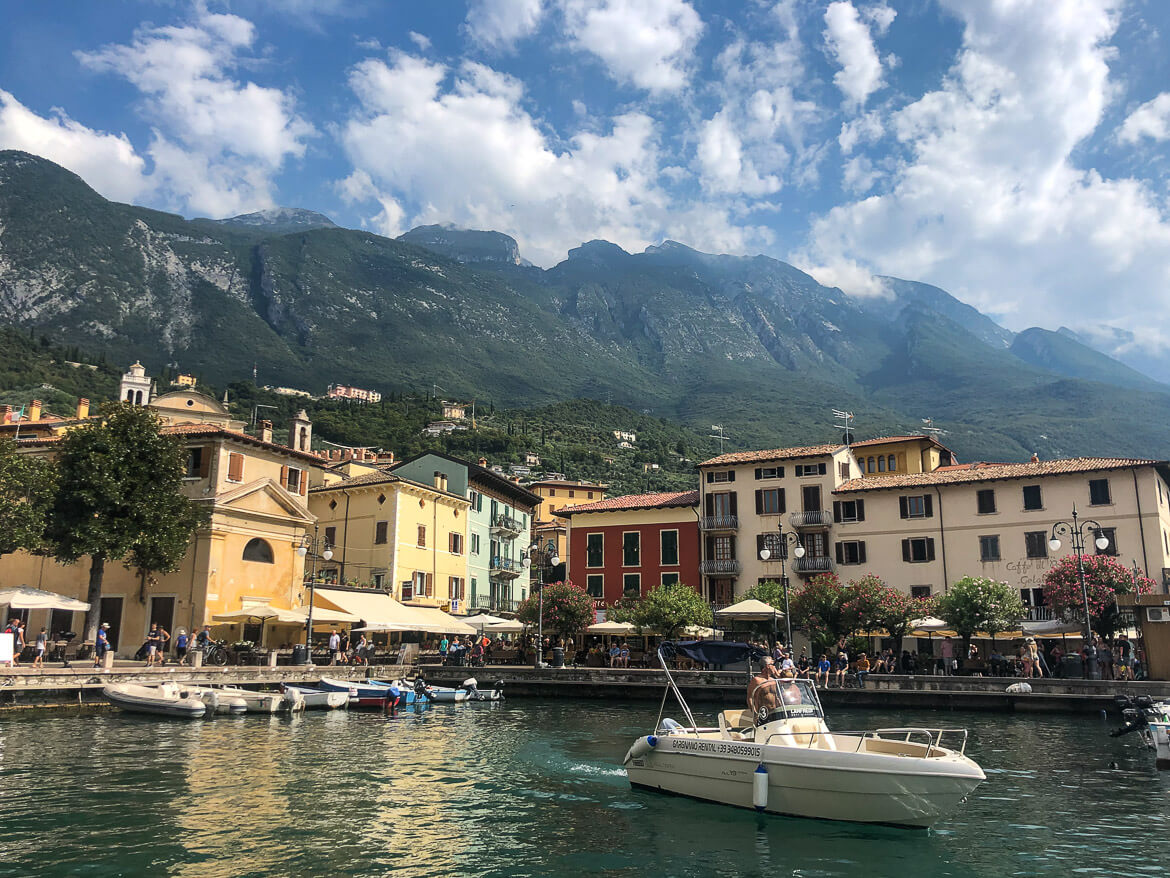 Where to Stay in Salò
Budget – Rivalta Life Style Hotel is located 150 m from Lake Garda promenade. Breakfast is included. From €59.
Mid-Range – Hotel Vigna is situated in the historic centre of Salò, with a gorgeous terrace with panoramic views across Lake Garda. Rooms from €103.
Luxury – Hotel Laurin is located in a charming Art Nouveau style villa from the early 20th century, 5 minutes' walk from Salo town centre. The hotel features a large outdoor swimming pool and an excellent restaurant. From €175.
Campsites – Paradiso is located on the shore of Lake Garda and has 50 paid spaces. €20 per night.
The next stop is Malcesine. Drive to Limone del Garda – considered the prettiest town on the lake and take the car ferry across to Malcesine. If you're travelling outside of the summer season, this ferry doesn't run but you can take a ferry from Maderno to Torri del Benaco.
Malcesine
Located on the eastern shore of Lake Garda, Malcesine is a picturesque town with cobbled lanes and a castle at the foot of Monte Baldo.
Things to Do in Malcesine
Take the cable-car up to Monte Baldo for hikes and impressive views
Wander the cobbled streets
Visit Castello Scaligero and its museum
kitesurf or sail on the lake (the best spot for kitesurfing is Torbole – a 20 minute drive north)
Visit the Palazzo dei Capitani
Taste local olives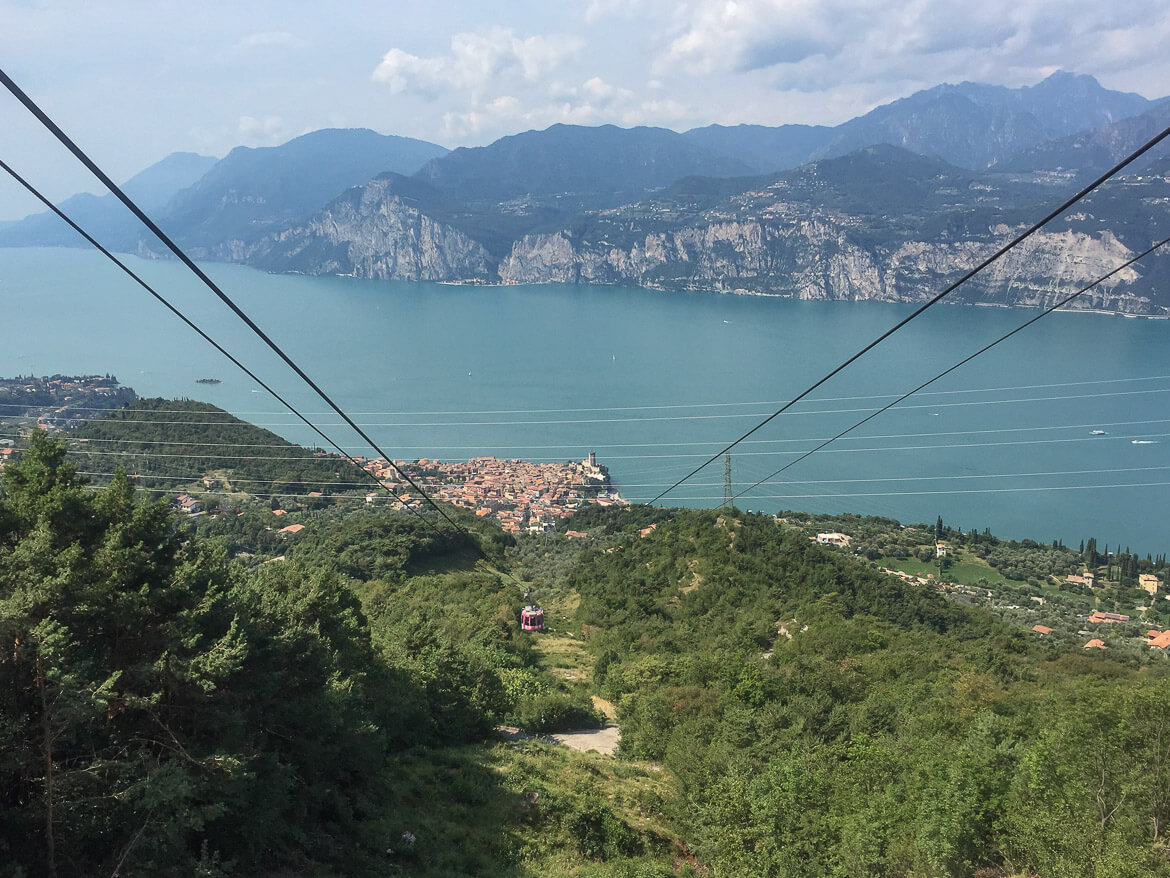 Where to Stay in Malcesine
Budget – Hotel Lago Di Garda has a roof terrace with views of Lake Garda. From €89.
Mid-Range – Hotel Antonella features an outdoor pool and restaurant, 600m from the lake. Free private parking is available on site. Rooms from €100.
Luxury – Hotel Castello Lake Front has panoramic lake views and a private beach with parasols and deck chairs. Parking is free. From €150.
Campsites – Camping Priori has twelve pitches a few metres from the lake and 150 meters from the cable car. From €11 per night.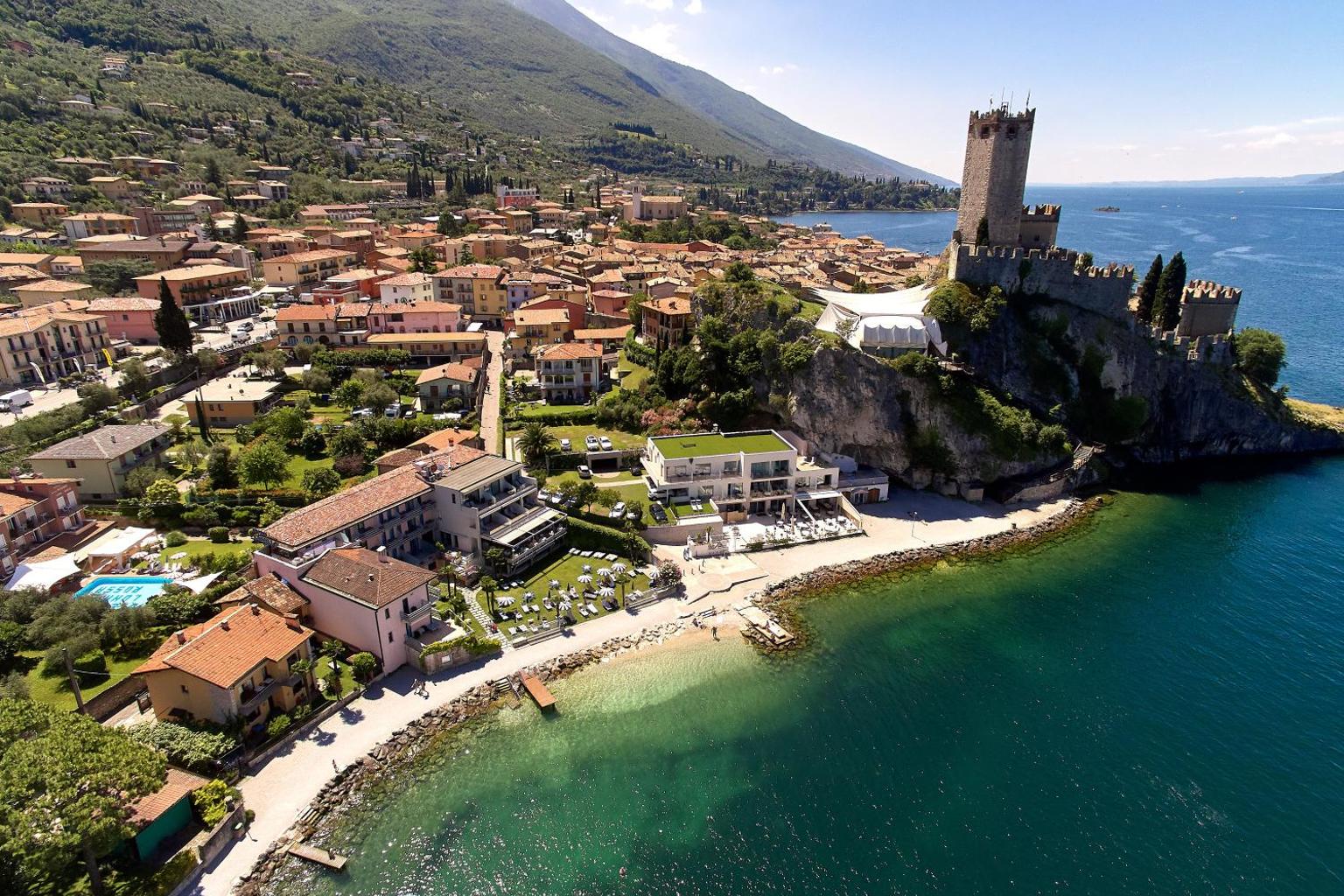 Find accommodation in Malcesine
From Malcesine, drive south along the coast for an hour to Verona. Along the way stop at some of the lakeside towns including Garda and Bardolino.
Verona
Considered one of the most romantic cities in Italy, if not the world, there are plenty of reasons to visit Verona. It is full of ancient buildings, has fantastic food and wine and was also the setting for Shakespeare's Romeo and Juliet.
Things to Do in Verona
Visit Juliet's Balcony
See an opera at Verona Arena
Drink Amarone (a delicious red wine from the region) or eat risotto all'Amarone
Visit Castelvecchio
Stroll through Piazza Delle Erbe in the heart of the historic centre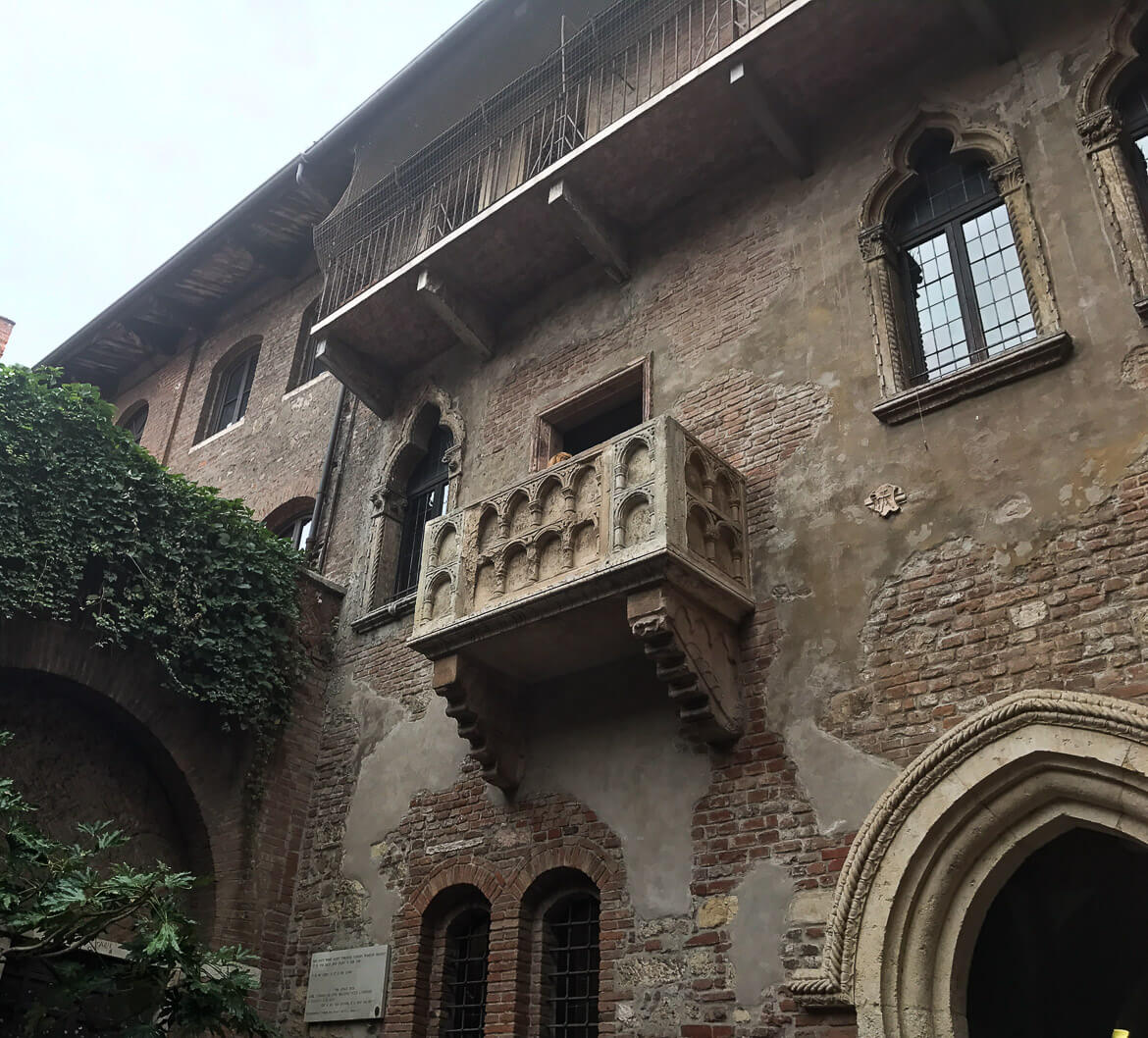 Where to Stay in Verona
Budget – La Nuova Corte Rooms are 600m from the Verona Arena. Many have a balcony or terrace. Parking is €15 per day. From €63.
Mid-Range – Relais Ponte Pietra is located in front of Ponte Pietra bridge and 350m from Verona Cathedral in the centre of Verona, in an elegant 13th-century building. Rooms from €96. Free parking is available at Relais Ponte Pietra.
Luxury – Hotel Accademia is set in Verona's centre, just 350 m from the Verona Arena, in an 18th-century building. Parking is €21 per day. From €145.
Super Luxury – Due Torri Hotel has a large roof terrace with views of the historic centre and is a 5-minute walk from Juliet's balcony. Parking is €35 per day. Rooms from €264 including breakfast.
Campsites – Camping Castel San Pietro is located within the ancient city walls, surrounded by lush gardens. 10 minutes walk to the city centre. From €21 per night.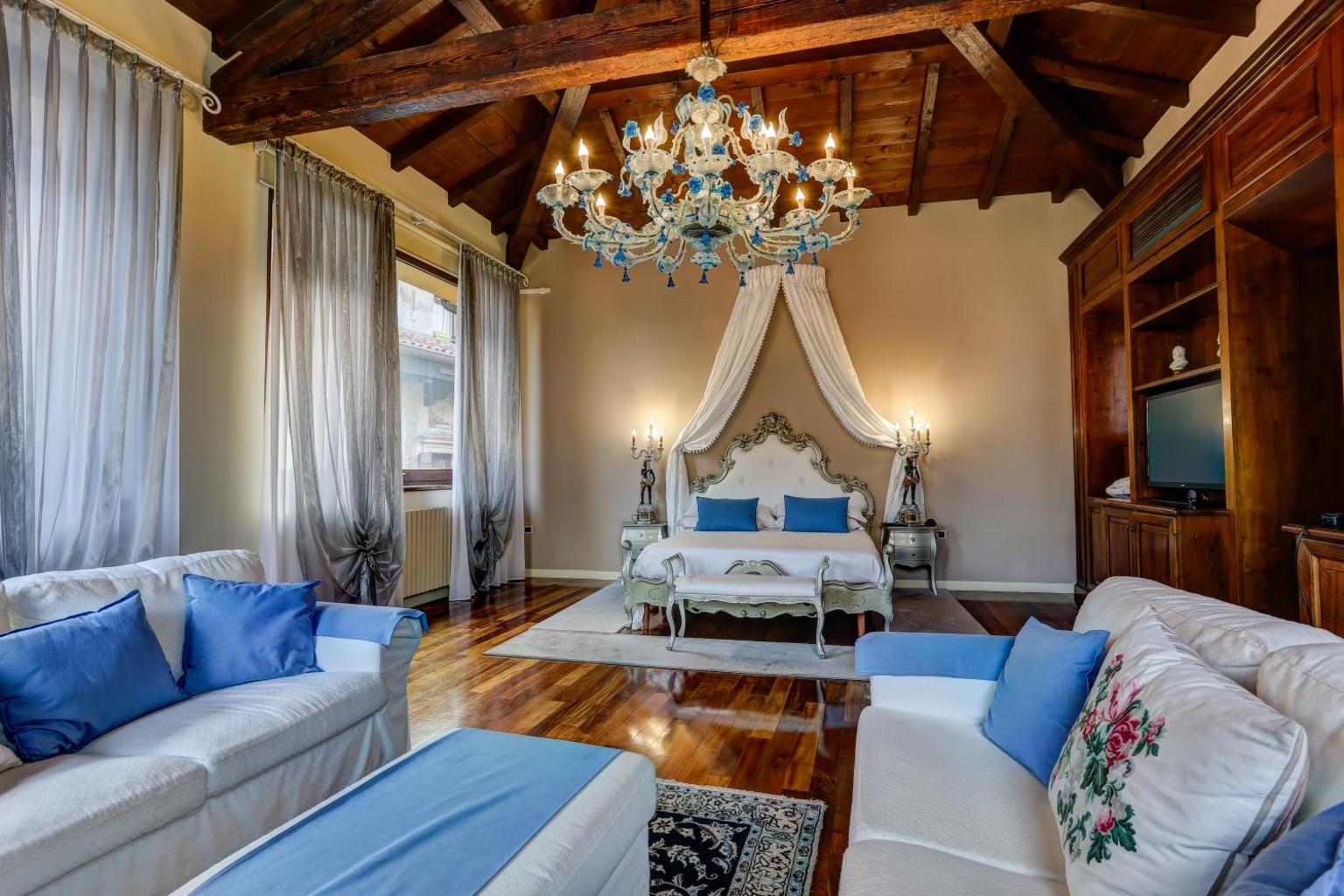 From Verona, it's the final stretch on your northern Italy road trip back to Treviso. It's an hour and a half drive and it's worth stopping in the walled city of Padua along the way.
Longer than 2 weeks in Northern Italy?
There are plenty of options to extend your trip:
The Dolomites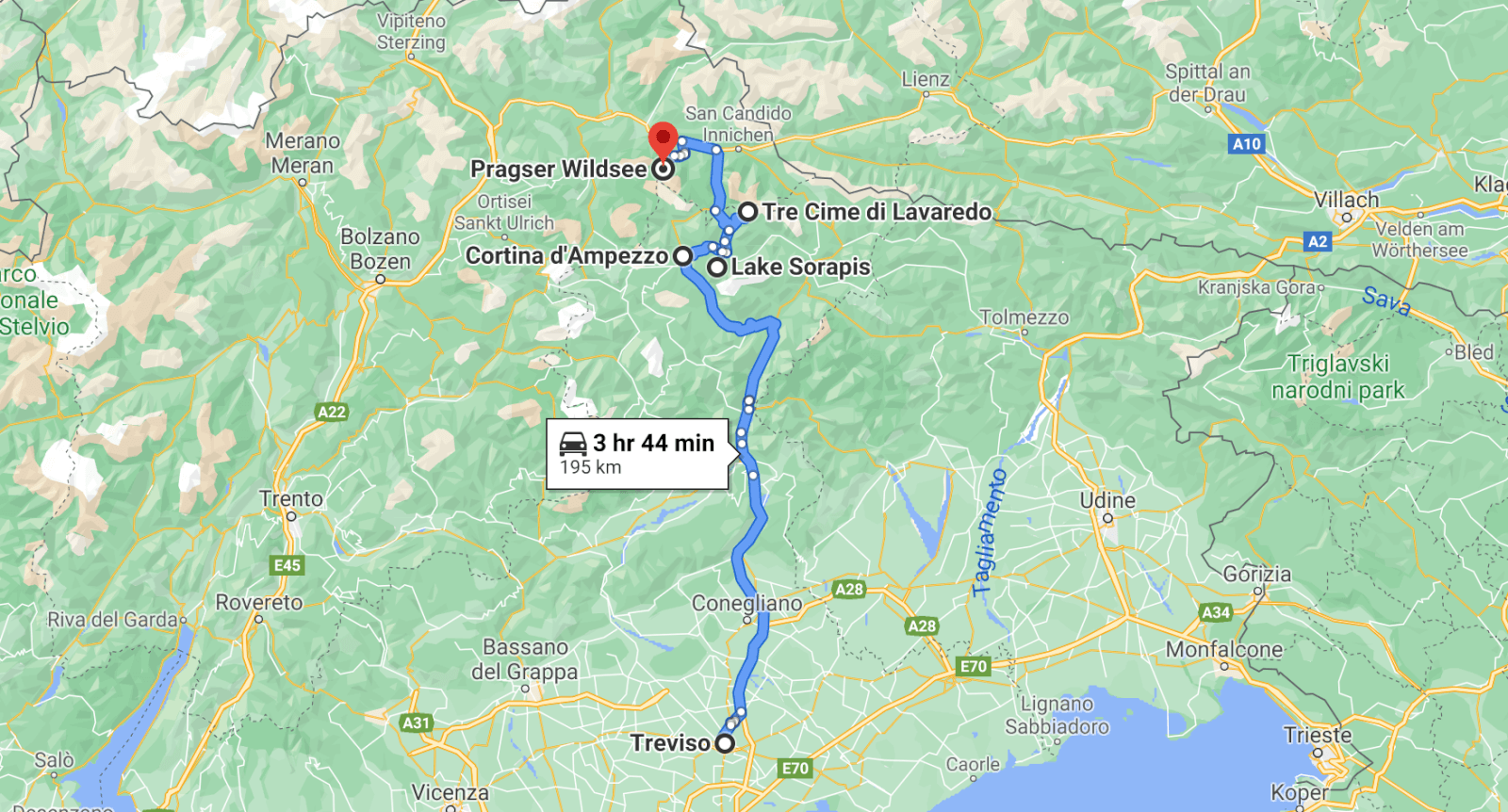 Instead of returning to Treviso after Verona, continue north to the Dolomites. This UNESCO World Heritage-listed area offers fantastic skiing in winter and amazing hiking in the summer, with a fusion of Italian and Austrian culture.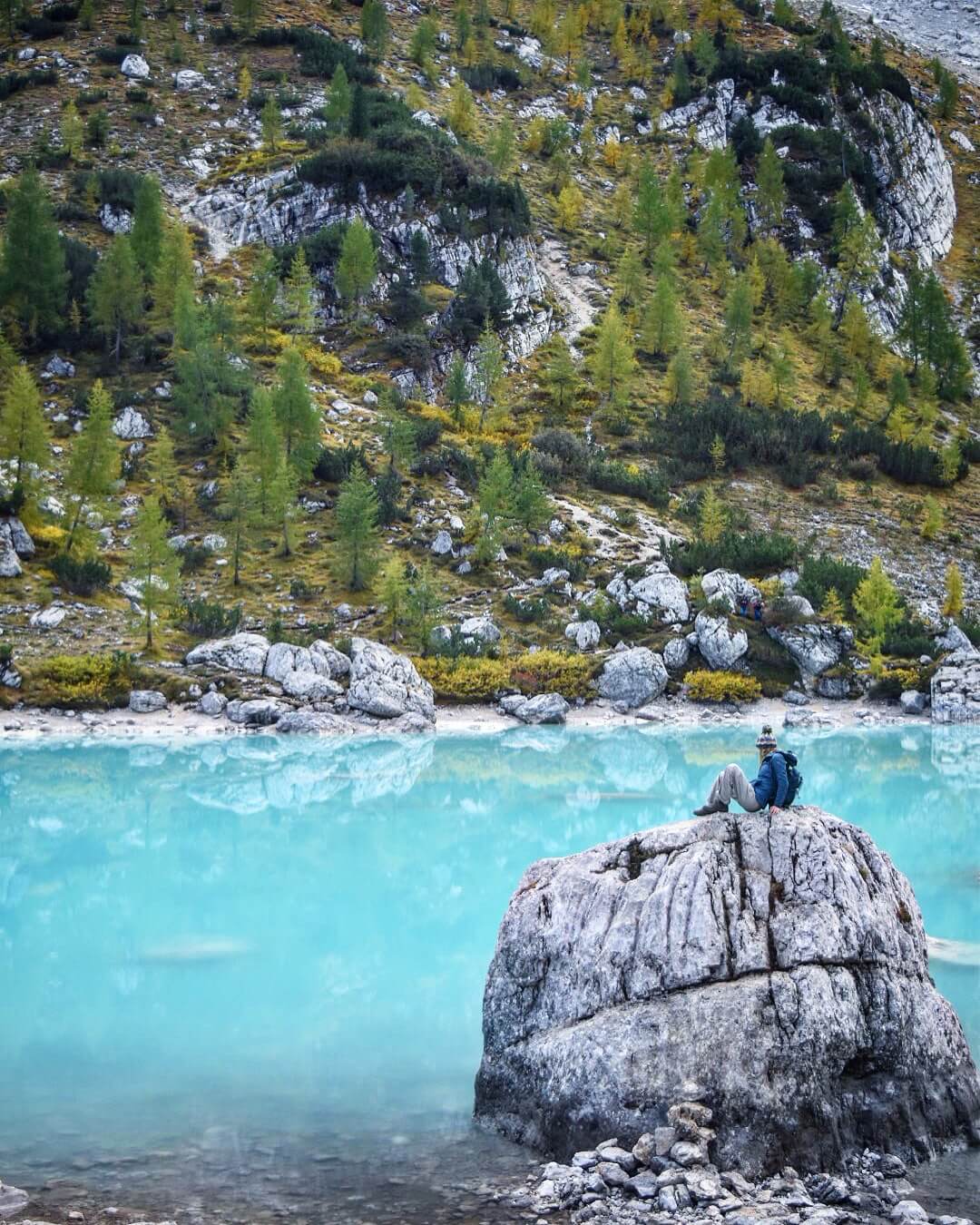 Things to Do in the Dolomites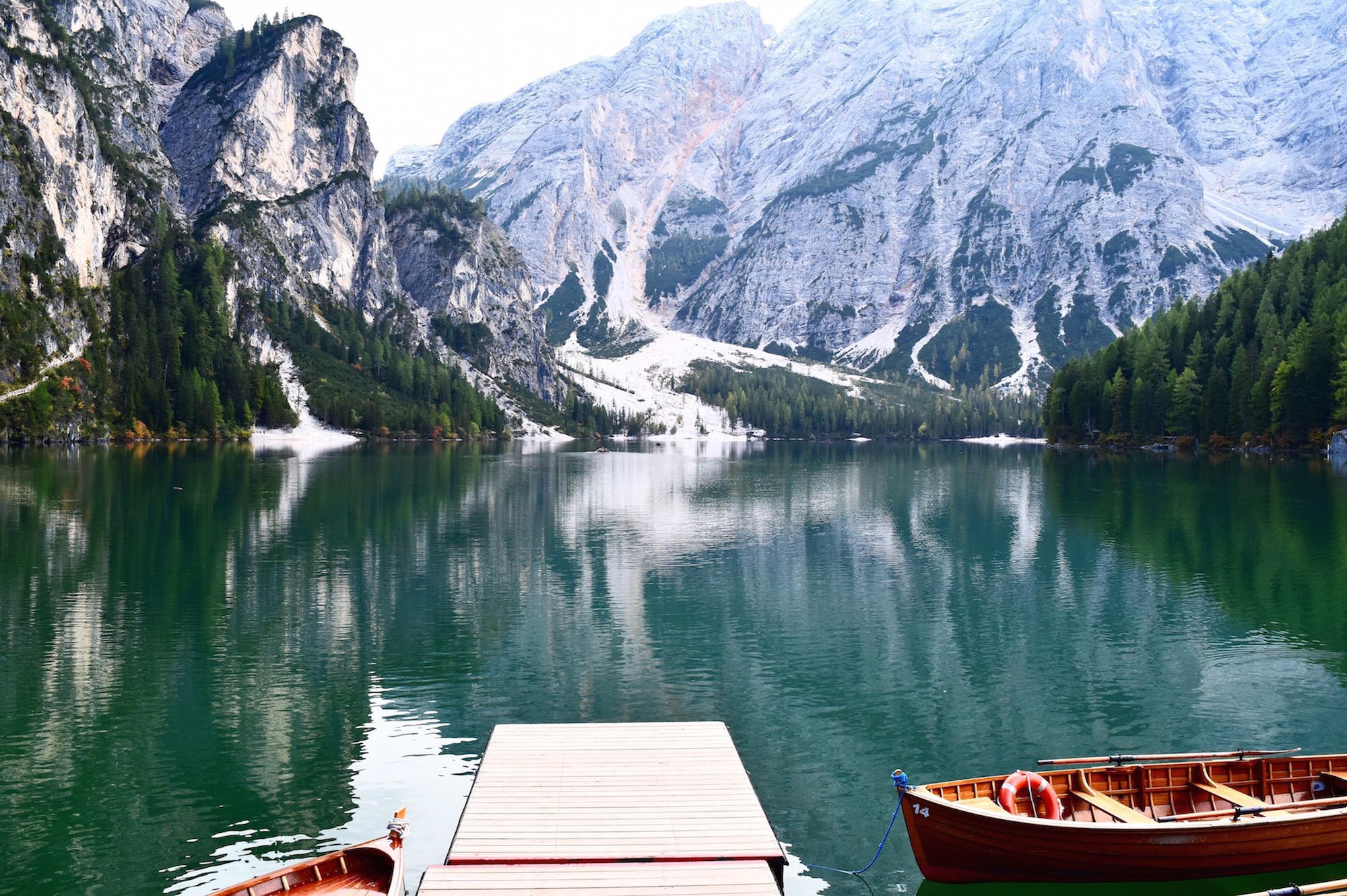 Read our guide to the Dolomites here.
Where to Stay in the Dolomites
Budget – Chalet Planvart is located 100m from the Santa Croce ski lift in Badia and 45 minutes drive from Cortina d'Ampezzo. From €40.
Mid-Range – Ristorante Rifugio Ospitale is a traditional mountain-style hotel with a restaurant in Rufreddo. 12 minutes drive from Cortina d'Ampezzo. Rooms from €120
Luxury – Sporthotel Tyrol is located in the centre of San Candido and has an indoor pool, a spa and panoramic views of the Dolomites. From €230 including breakfast. We had an awesome stay here.
Luxury – Hotel Leitlhof Dolomiten has an indoor pool and wellness centre in San Candido, 800m from the Haunold ski slopes. From €250.
Campsites – Camping Cortina International is a campsite with a pool and buses to the ski lifts. Camper spots from €17.
Find accommodation in the Dolomites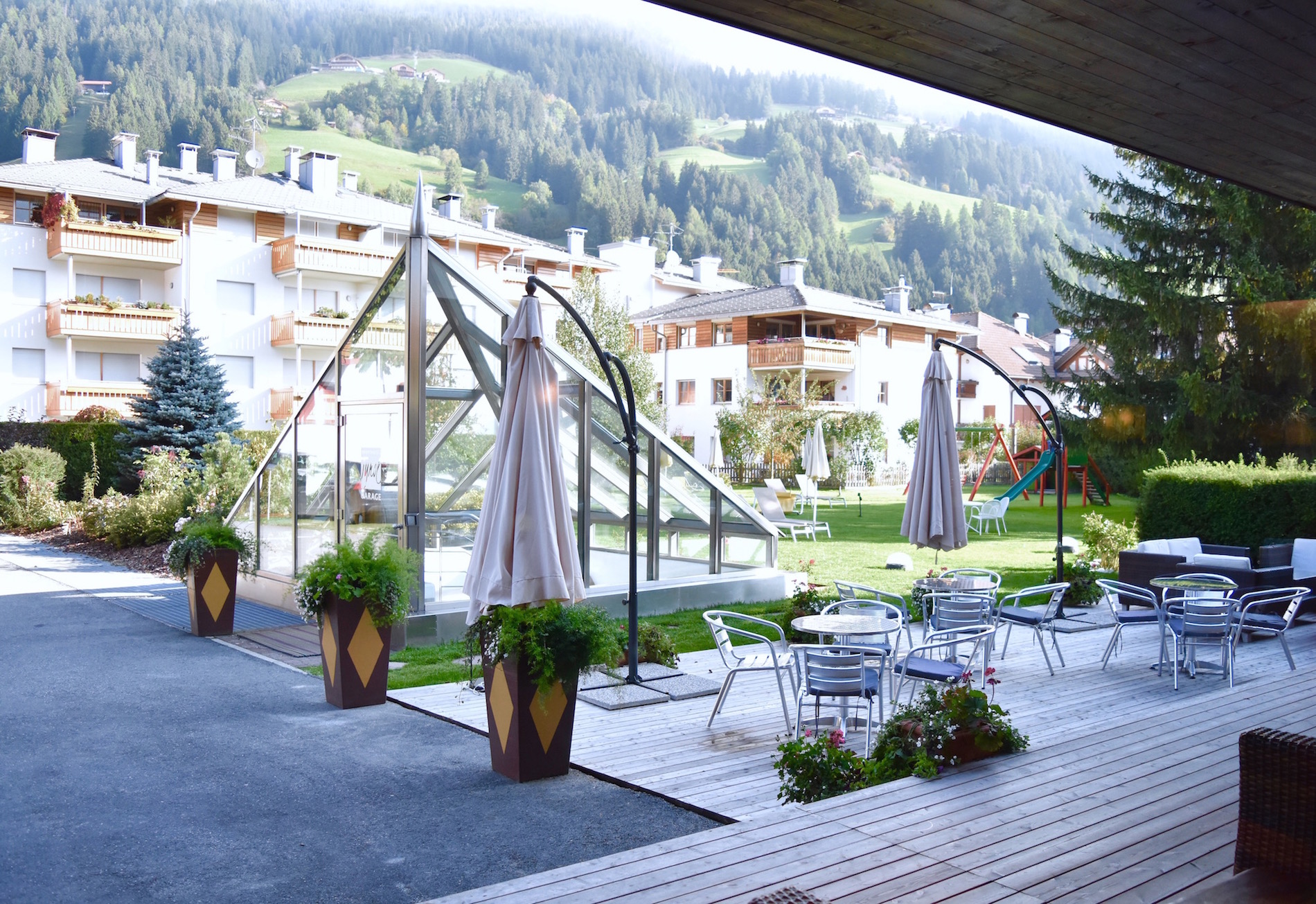 Have you taken a road trip of northern Italy? Leave us a comment below.
FAQs
How long do I need for a Northern Italy road trip?
Ideally two weeks or more. In two weeks you can explore a few of the regions in Northern Italy. If you have more time you can travel at a more relaxed pace, spend longer in each destination and add a few additional stops.
What is the best time of year to visit the south of Italy?
Spring, Summer and Autumn are all great times to travel in Northern Italy. In the summer you will have the highest temperatures, but the biggest crowds. In the shoulder seasons, you can enjoy exploring the towns, cities and countryside with fewer people while generally still having warm weather. Some parts of Italy, such as the Dolomites may be cold during Spring and Autumn, so pack accordingly.
What are the most beautiful towns in Northern Italy?
Tuscany is famous for its beautiful walled towns, such as San Gimignano, Lucca and Siena. Venice is one of the most beautiful cities in the world and the Ligurian coast is also home to some incredibly scenic towns and villages, such as the towns of the Cinque Terre, Portovenere and Portofino.