The Amalfi Coast is one of the most iconic places in Italy and quite rightly so, known for its rugged coastline, amazing cuisine and colourful villages. It's also one of the most expensive European holiday destinations. However, it is possible to visit the Amalfi Coast on a budget, and it's well worth the trip.
Disclosure: This article contains affiliate links. This means that if you click a link and purchase something I've recommended I may earn a small commission. This does not affect the price you pay but helps me to run this site. You can read my full affiliate disclosure here.
The Amalfi Coast on a Budget
The Amalfi Coast stretches from Sorrento down to Salerno, on the Sorrentine Peninsula. Sorrento, is a resort town, a well-known stop on the cruise line route and has quite a few big hotels. For me, it's a little too touristy. Further down the coast, you can have a more authentic Italian experience.
The towns of Positano and Amalfi are also very popular with tourists, but they still retain a lot of original Italian charm, and my favourite spot is in between them – Praiano – where you can find more modest accommodation and inexpensive food.
Where to Stay on The Amalfi Coast
I really recommend staying in Praiano, it's a very small town and the accommodations are mostly locally run B&Bs and small hotels, which make it feel less touristy.  I stayed at Villa Il Frantoio, a great little B&B with an amazing pool overlooking the sea, run by the lovely Giulio and his family. If you visit early/late in the season, you can find rooms here for £150 a night.
If you're looking for somewhere a bit more lively, then I would recommend staying in Amalfi or Positano, which are busier with more restaurants and bars. Although there are many high-end hotels in these towns you can still find a selection of budget Amalfi and Positano hotels.
If you can afford it, I would recommend accommodation with a pool, as the Amalfi Coast is very hilly, you will probably have an uphill walk back from the beach, so it's great to be able to jump in the pool to cool off when you get there. Plus, the views are so spectacular from the hills; it's just as nice spending a day by the pool overlooking the coast.
The cost of accommodation varies greatly depending on the season you are visiting.
Suggested places to stay:
Budget – There isn't a huge amount of budget accommodation on the Amalfi Coast, but there are a few hostels and 3 star hotels. Hotel Villa Bellavista is a great family-run hotel in Praiano with air-conditioned rooms and an Italian-style breakfast.
Mid-Range – I would go back to Villa Il Frantoio in a heartbeat. Set in a 17th-century olive press, the family-run accommodation in Praiano has the most incredible views of Positano, Praiano and the water – particularly from the pool and sun terrace. All rooms have a sea-view balcony or terrace. Access is up a steep staircase and you will need to park your car nearby (EUR 12 per day), but it's totally worth it.
Luxury – Hotel Eden Roc Suites has incredible views of Positano. There is a pool, a spa and gym, as well as a restaurant and sun terrace.
Ultra Luxury – Considered one of the best hotels in the world, the luxurious 5-star San Pietro di Positano has a private beach and a Michelin-starred restaurant. There are two bars, a tennis court, a pool and a spa. Parking is free, along with a free shuttle bus into Positano. It's very expensive to stay here, but if you can afford it, this is the place to stay in Positano.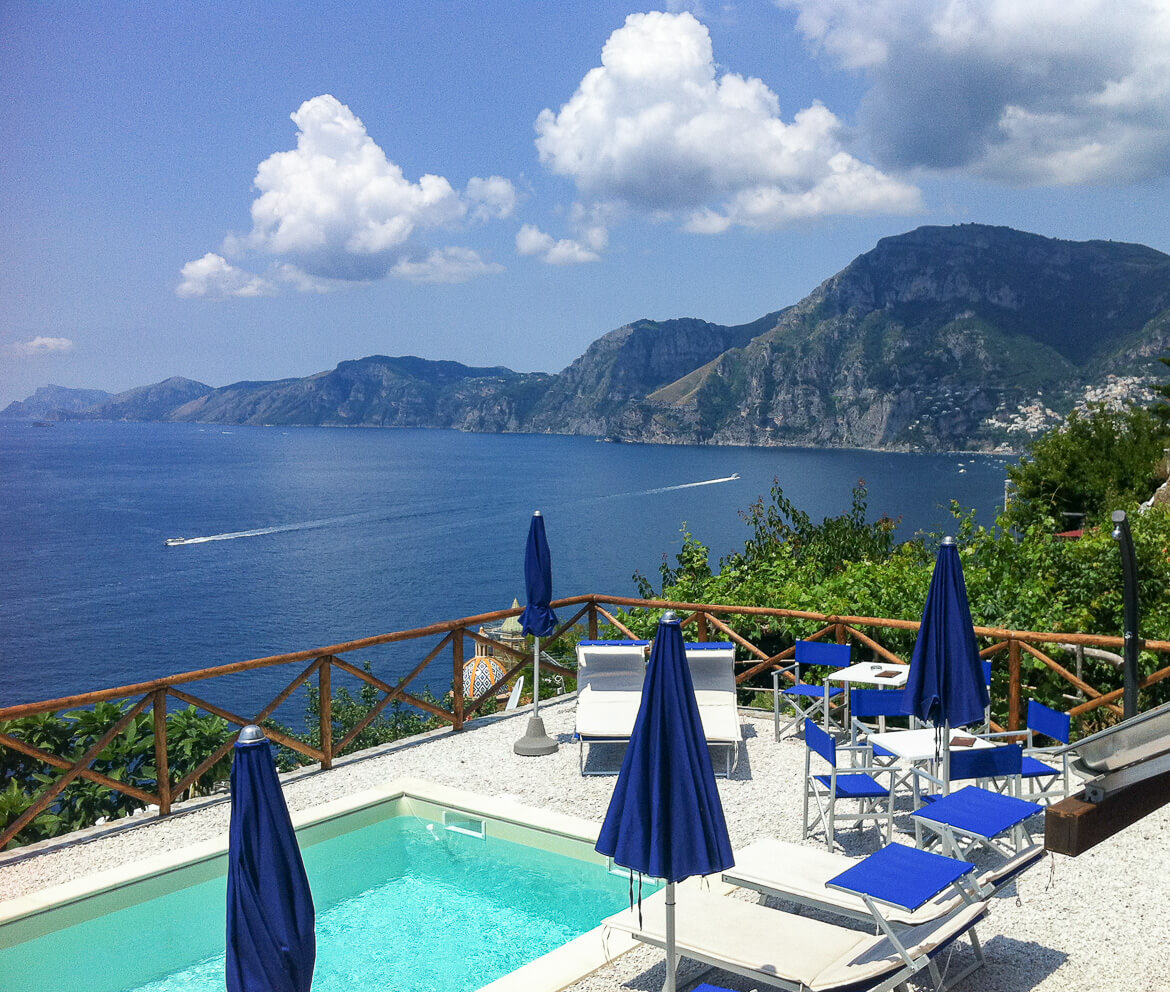 Things to Do on The Amalfi Coast
Explore the Beautiful Towns & Villages
Praiano
Praiano is a quiet town but has some great restaurants.  There are two small beaches at either end of the town; Gavitella and Marina di Praia. Gavitella offers stunning views of Positano and Capri and has all-day sun. It's accessed by a long staircase, but it's well worth the climb down and back up! Marina di Praia is a beautiful natural fjord at the southern end of Praiano. There is a diving centre here as well as a great restaurant. It's a bit of a walk from the town centre, but there is a bus that travels from Positano, through Praiano and onto Amalfi.
Positano
Positano is a charming coastal town renowned for its dramatic cliffside setting and pastel-coloured buildings. the narrow streets and pathways are full of quaint cafés, boutique stores and high-end restaurants and hotels. There is a black sandy beach, lined with sun loungers.
Amalfi
Amalfi is the historic town, from which the coastline takes its name. You'll find beautiful cathedrals, piazzas and plenty of places to eat and drink as well as a port and beaches.
Ravello
Ravello is a picturesque town up in the hills, known for its stunning views of the Tyrrhenian Sea, charming architecture, and cultural heritage. It is and has been a well-loved spot for artists and writers and has a beautiful central piazza, duomo and villas.
Other Amalfi Coast Towns and Villages
There are lots of smaller towns and villages lining the coastline which are well worth a visit or are other nice options to stay if you want something a little quieter. Don't miss the towns of Maiori and Minori and the traditional fishing villages of Atrani and Cetara.
Cruise The Amalfi Coast in a Boat
You can also hire a boat for the day, which was a fantastic experience.  Whilst it's not cheap, if there is something to splash out on, it would be this! They gave us a demonstration on how to steer the boat, a bit of safety info and then we were free to explore the coastline from the water.  We took a packed lunch and moored up for a swim and some food, it was amazing.  You can also hire boats with a skipper for a larger fee, which sounded great too.
If that doesn't fall within your budget, then take the local ferry from Amalfi to Salerno for a fraction of the price and you'll still get to admire the coastline from the water.
Pompei and Herculaneum
You can also take a day trip to Pompei and Herculaneum from most spots on the Amalfi Coast. There are plenty of operators offering the trip, or if you have a car it's just over an hour's drive.
Getting Around The Amalfi Coast
It's easy and cheap to get around by the local SITA bus and you can also take a ferry to and from the main towns. I would advise against hiring a car – unless you're experienced at driving in Italy and don't mind narrow roads with sheer drops and some fairly speedy drivers, then it's not the most enjoyable experience. There is also very limited parking.
Getting to The Amalfi Coast
The closest airport is Naples, but you can fly to Rome, which is what we did and had a few days in the city.  From Rome, it's either a coach all the way down or you can take the train to Salerno and ferry from there.  (We did both – the coach was simpler, but I enjoyed taking the ferry).
Amalfi Coast Budget
Your biggest expenditure on the Amalfi Coast will be accommodation. Even the budget options aren't cheap. Our stay at Villa Il Frantoio cost around £170 a night in May, including an amazing (and large) breakfast, which meant we spent less on lunch.  Each room has its own private terrace overlooking the sea, which is a lovely place to sit and have a drink in the evening (the local shop sells some very nice local wine). Of course, when you are in Italy, you want to eat local food, but this doesn't have to be expensive. There are lots of little cafes that serve pizza by the slice and great salads, which is perfect for a cheap lunch.
So while it probably won't be the cheapest trip you take, you don't have to spend a fortune and for me, it is definitely worth the money. The Amalfi Coast really is a special place, a beautiful area, oozing with culture and class. I can't wait to go back.
Travelling to Italy? Check out our article on Emilia Romagna.