Every time we spoke to someone who had visited Mexico before our trip, the first thing they said was 'the food is so good!' So it was one of the things we were really excited about before arriving. It certainly didn't disappoint, we ate our way across the country, enjoying mole in Oaxaca, cochinita pibil in Yucatan and tequila in Jalisco. In Mexico City, it was all about tacos. We tried a huge variety of different tacos and explored the different neighbourhoods checking out the best places to eat. We also took two food tours while here to get insider knowledge on the best tacos in Mexico City. I would highly recommend taking one of these tours when you arrive in the city, not only does it introduce you to some great places to eat and drink, but it also helps you get your bearings of the city. Additionally, it made us feel much more comfortable about exploring the city on our own.
The Best Tacos in Mexico City
You can't visit Mexico without trying tacos – they are a staple of the Mexican diet and in Mexico City, you'll find them on almost every street. Though there are many variations, tacos are essentially soft corn tortillas with an assortment of fillings such as seasoned meat, legumes or cheese, often garnished with salsa and chilli.
Tacos Al Pastor
'Tacos Al Pastor' means shepherd style, one of the most popular types of taco. We ate tacos al pastor many times during our travels in Mexico, in particular in Mexico City.
Thin strips of pork are sliced from a trompo (a vertical rotisserie) and marinated with achiote (a Mexican spice). They date back to the arrival of Lebanese migrants in the early 1900s who brought the shawarma concept with them.
El Tizoncito
El Tizoncito claims to be the birthplace of tacos al pastor, and while that may or may not be true, they are totally worth trying. Located in the Condesa neighbourhood, this was the first stop on our taco and tequila tour and the tacos were delicious.
Disclosure: This article contains affiliate links. This means that if you click a link and purchase something I've recommended I may earn a small commission. This does not affect the price you pay but helps me to run this site. You can read my full affiliate disclosure here.
El Huequito
This taqueria in the Centro Histórico has been running since 1959 and is still one of the most popular in Mexico City. If I had to choose, I would say these just beat the tacos al pastor at El Tizoncito, but both are delicious and worth visiting!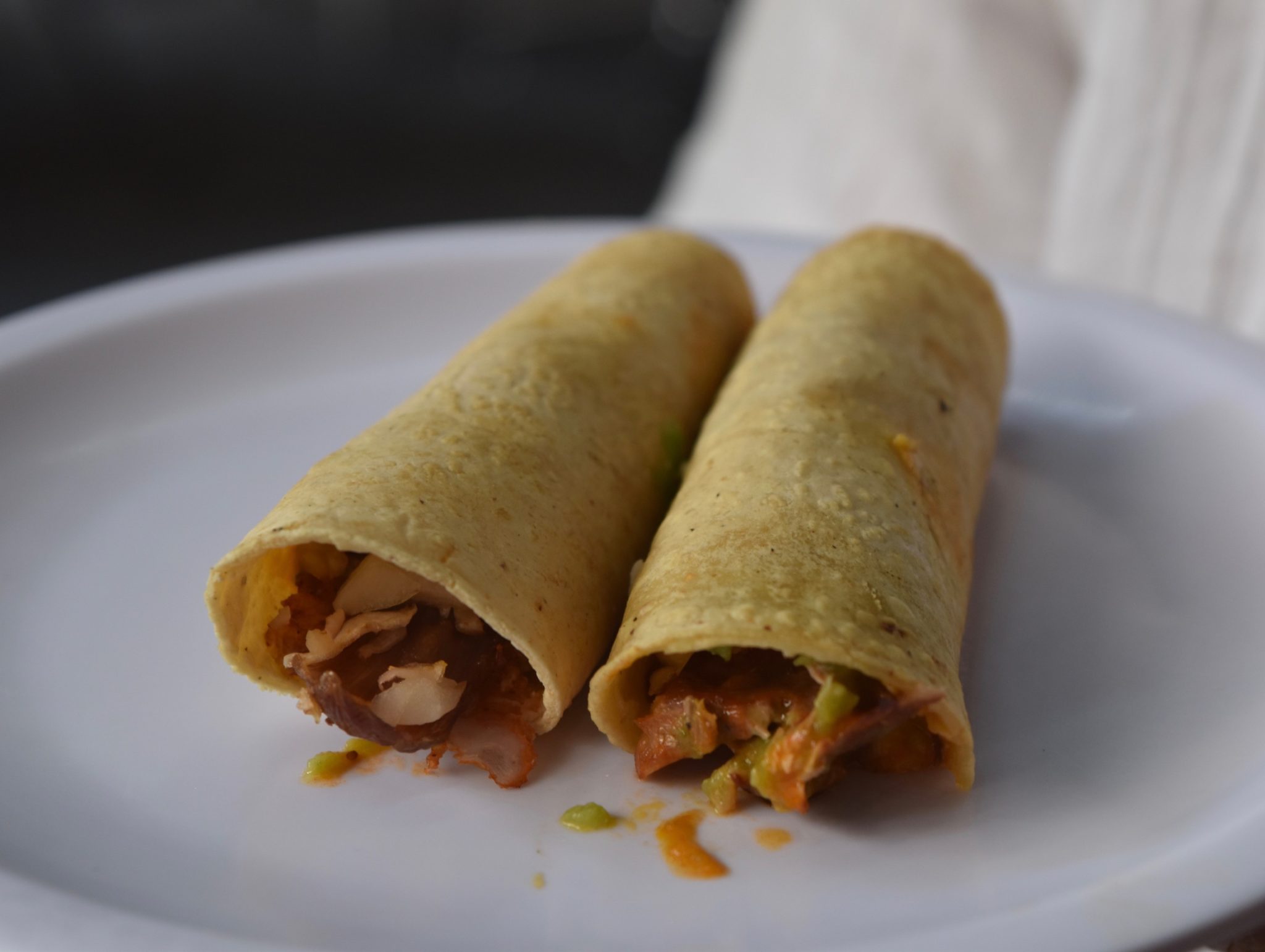 Tacos Árabes
Tacos Arabes originated in Puebla, a city south-east of Mexico City. Similar to tacos al pastor, tacos árabes use pork from the trompo seasoned with different spices and often served in pita-style bread.
Taquería El Greco
This is a great place to try tacos árabes, located in the Condesa neighbourhood. It's a tiny place and very popular. The tacos are served with Oaxacan cheese and great salsas. Best accompanied with a Mexican beer!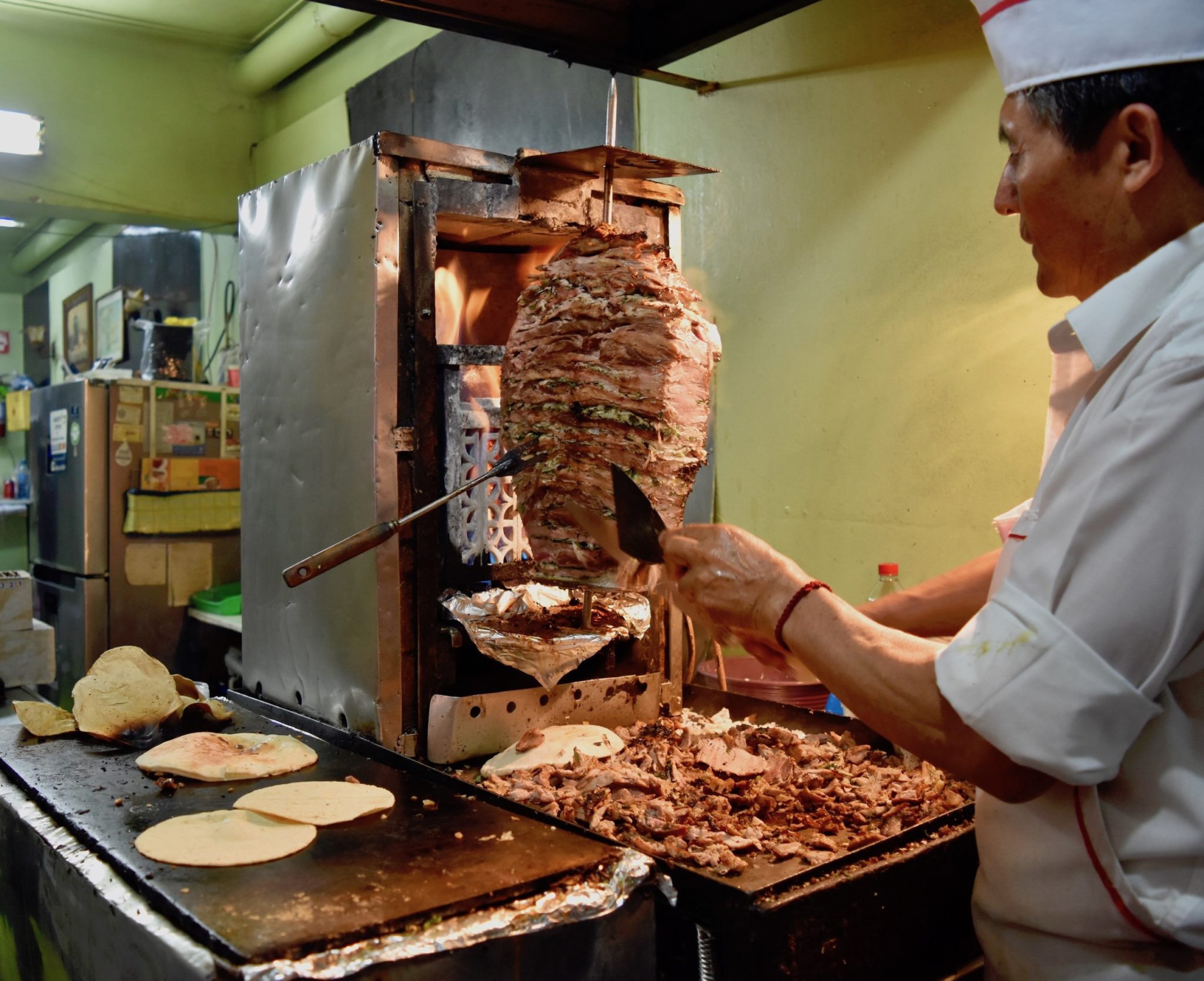 Check out our 3 week Mexico Itinerary
Tacos Campechanos
Tacos campechanos usually contain a selection of meats, often beef and pork, in particular, a type of thinly cut and marinated beef called Cecina.
Taquería El Jarocho
Taquería El Jarocho has been serving tacos for more than 70 years in Roma. Their specialities are tacos campechanos and tacos de guisados (stew tacos), served in handmade tortillas.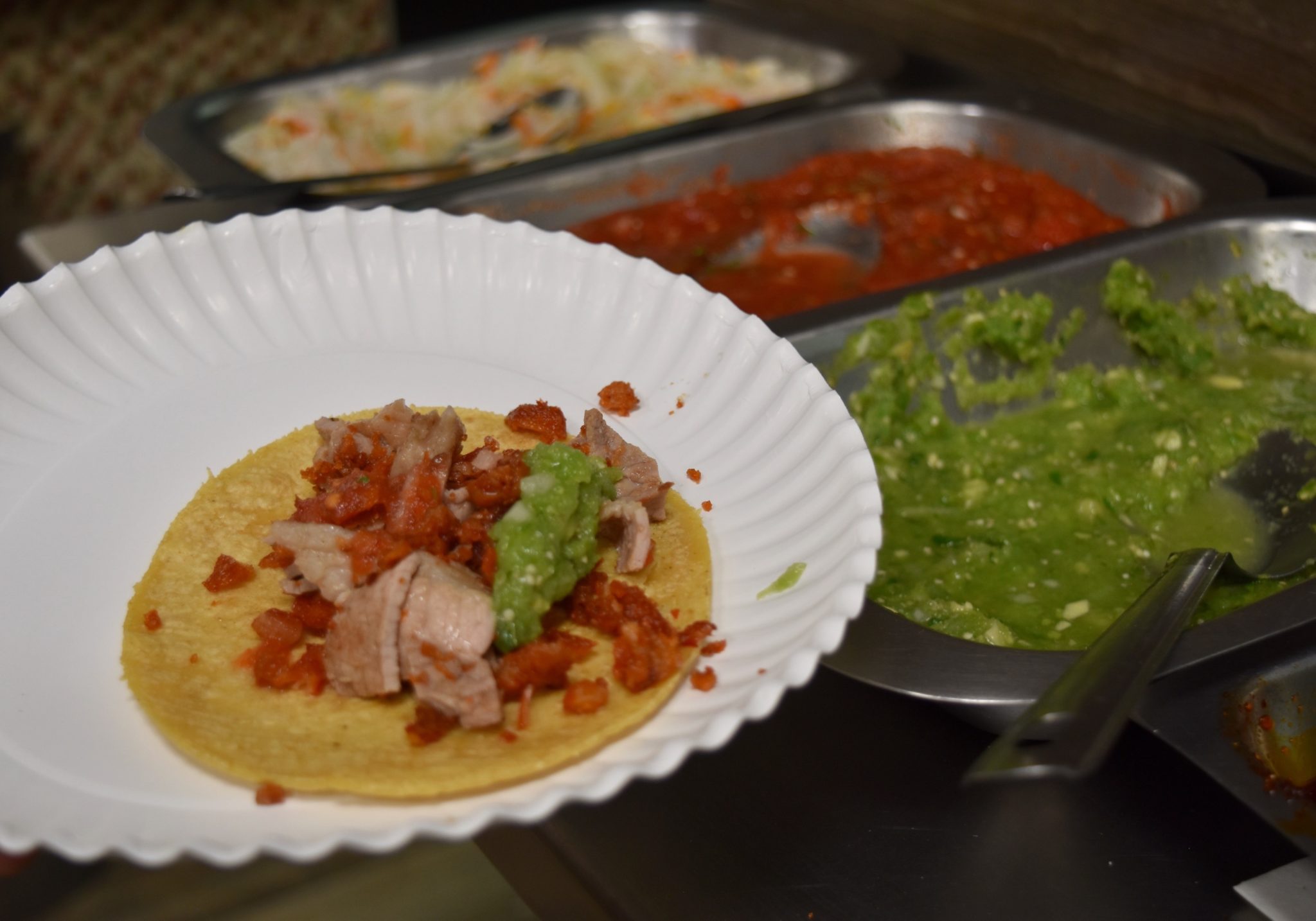 Cochinita Pibil
Cochinita Pibil comes from the Yucatan peninsula, but you can find some excellent options to try in Mexico City. Slow cooked pork marinated pork in sour orange and achiote, served with pickled onions. Traditionally the meat is wrapped in banana leaf and baked in the ground in a BBQ pit.
Riviera de Sur
This is a great place to visit, even if you're not eating the tacos (though you should!) Located in Roma, the cantina has been renovated but still retains its old fashioned charm, including seats with in built drinks holders – so you don't knock over your drink while playing dominos! The Tacos de cochinita pibil are delicious, accompanied by Maestro Dobel Diamante cristalino tequila. This is also the place we discovered Sangrita – a chaser for Tequila.
Take a taco and mezcal tour in Mexico City
Other Great Tacos in Mexico City
Tacos de Canasta Chucho
A great place in the Centro Histórico, selling 'basket' tacos. You can choose between beans, potatoes, bacon with salsa verde, eggs and much more. Perfect for refuelling while visiting the main tourist sights.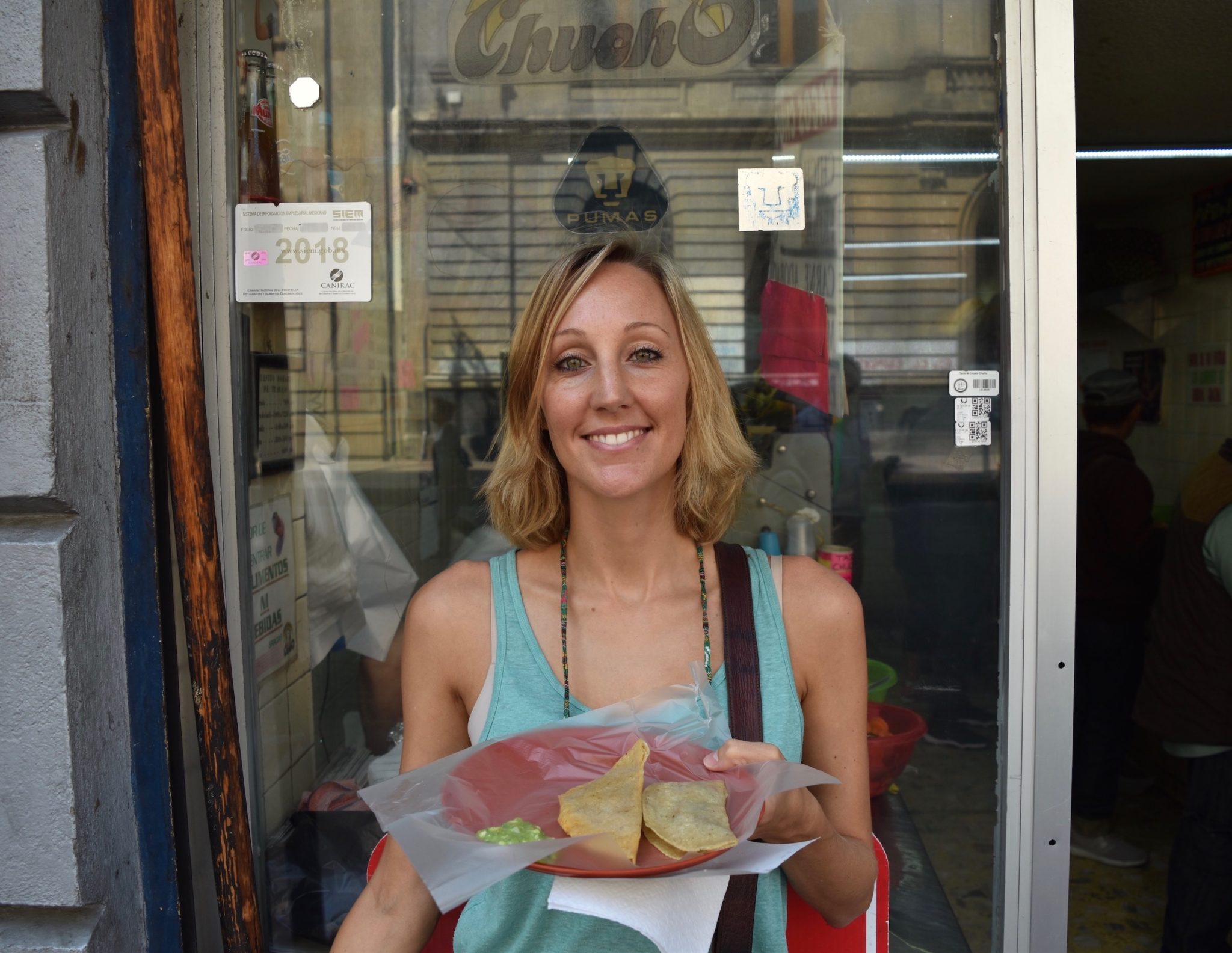 Ricos Tacos Toluca
Another spot in Centro Histórico. Ricos Tacos Toluca is known for its green chorizo tacos! It's a typical hole in the wall type vendor with plastic seats on the pavement if you want to sit and eat. If you don't fancy the green, they also do red chorizo (although I definitely recommend trying it!)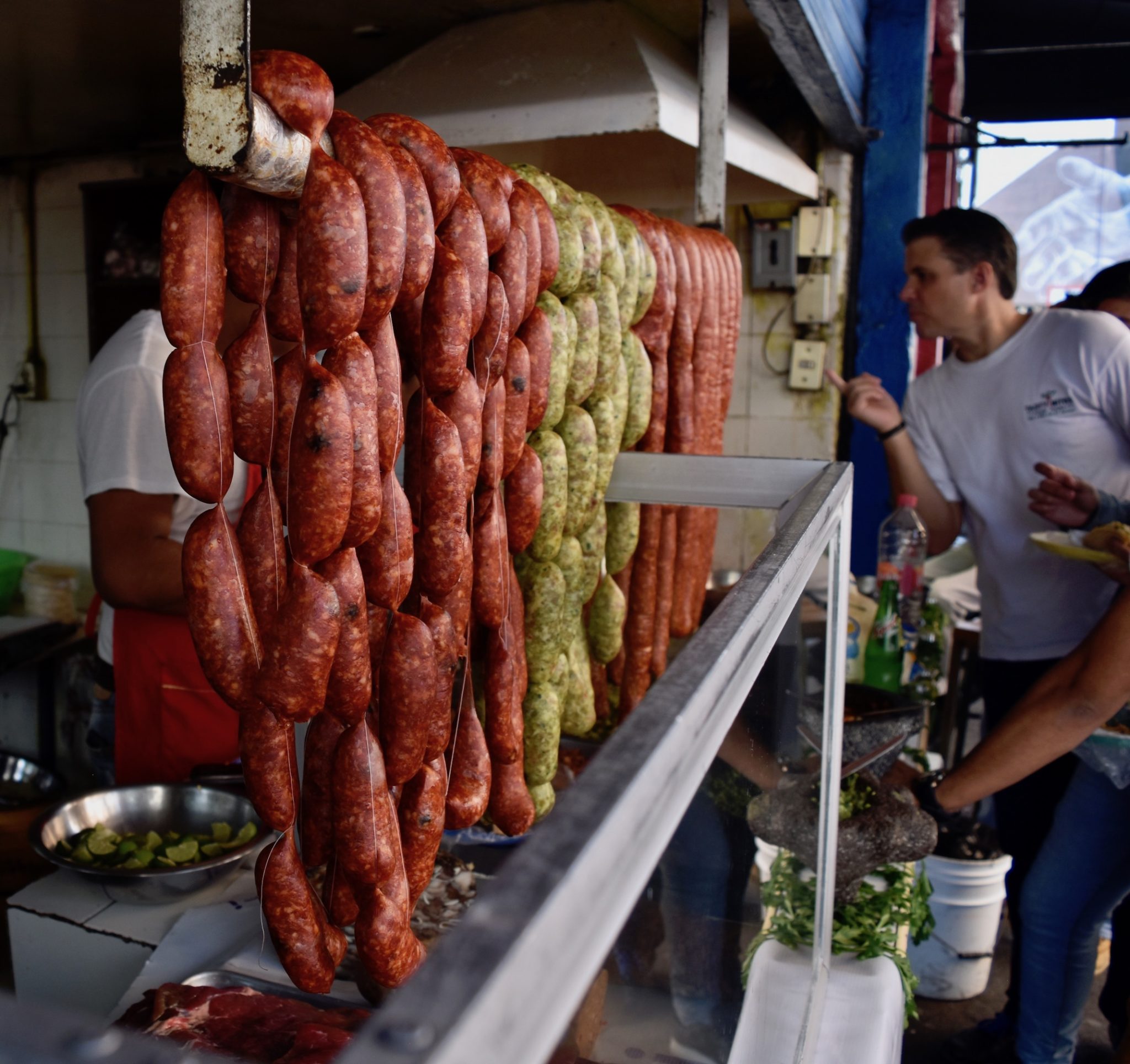 Los Cocuyos
Los Cocuyos is the place to come for a variety of meats. Slow cooked in a huge bubbling vat you can choose from ojos (eyes) or lengua (tongue), campechano (mixed beef and sausage taco), suadero (brisket), tripe, chorizo and pig's head. The meat is then seared on a hot plate and accompanied with lime juice, radishes, coriander, onion and your choice of salsa. The best part – they are open all night!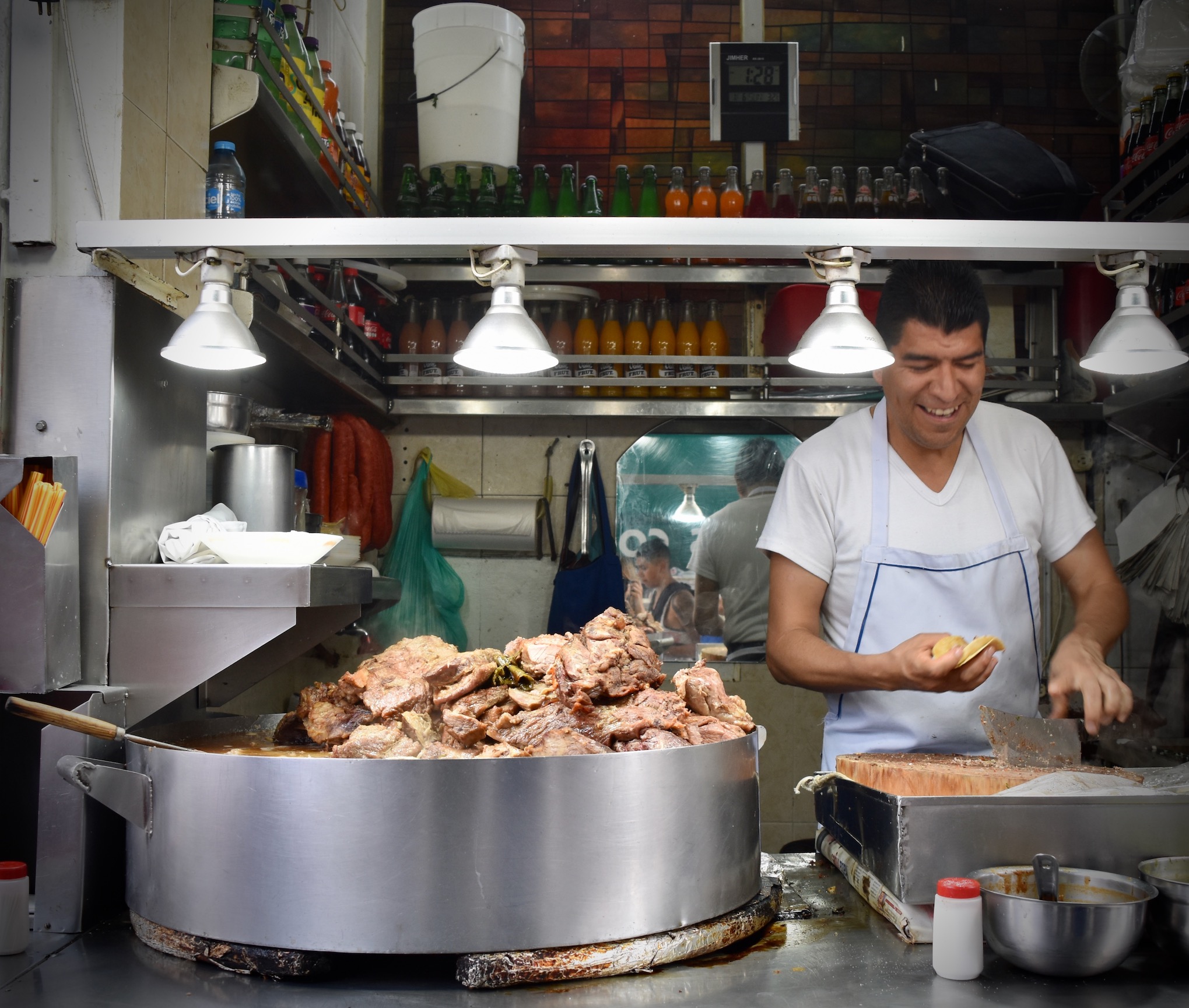 What Else and Where Else to Eat in Mexico City
It's not all about tacos in Mexico City; there are countless dishes and eateries to try. Some of our favourites are:
Flautas Poblanas At La Olla De La Abundancia (Located in Mercado de San Juan 78)
Tortillas rolled into a tight 'flutes' filled with meat and covered in a delicious sauce. Yum. This place was recommended to us by our lovely hosts at Chaya B&B – and it was one of the best things I ate in the whole of Mexico! They also do excellent pozole – a kind of Mexican soup/stew.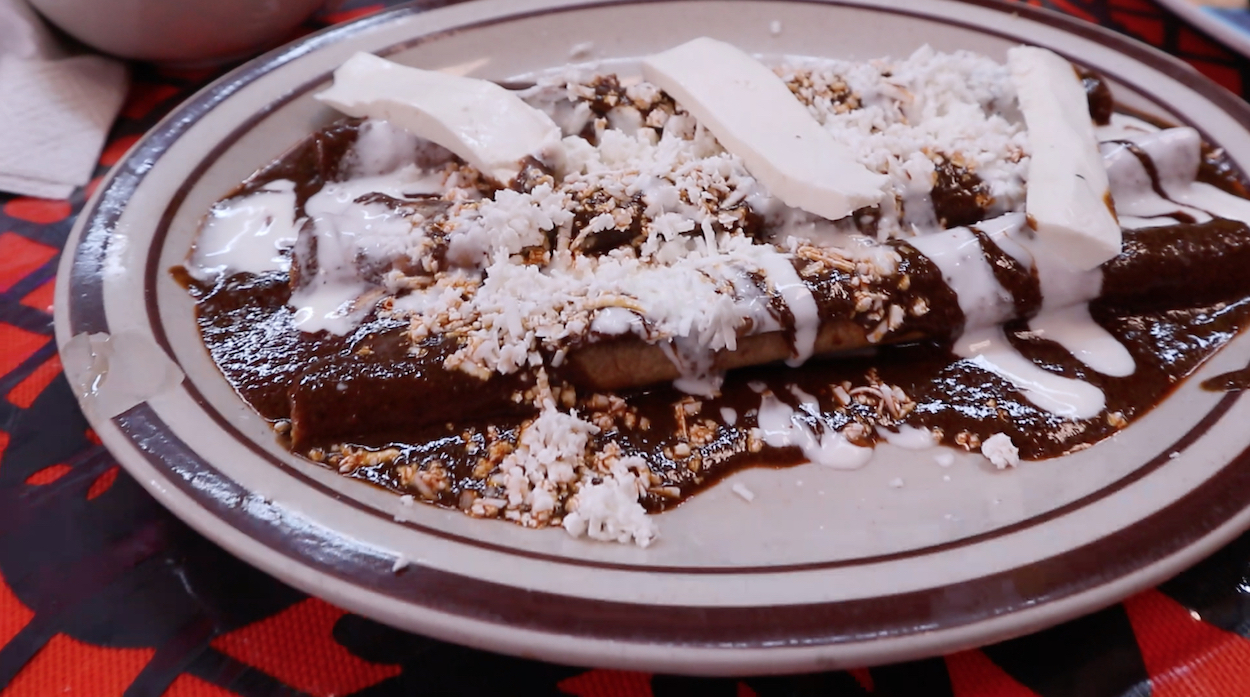 Mercado San Juan
Mercado San Juan (San Juan Market) is actually two markets, located a block apart. One is more of a produce market, selling meat, fish, fruit and veg and the other (Mercado de San Juan 78) has food stalls, where you can sit and have a meal. La Olla De La Abundancia (above) is located in Mercado San Juan. If you're brave, there are some interesting options on offer, including alligator, iguana and scorpion!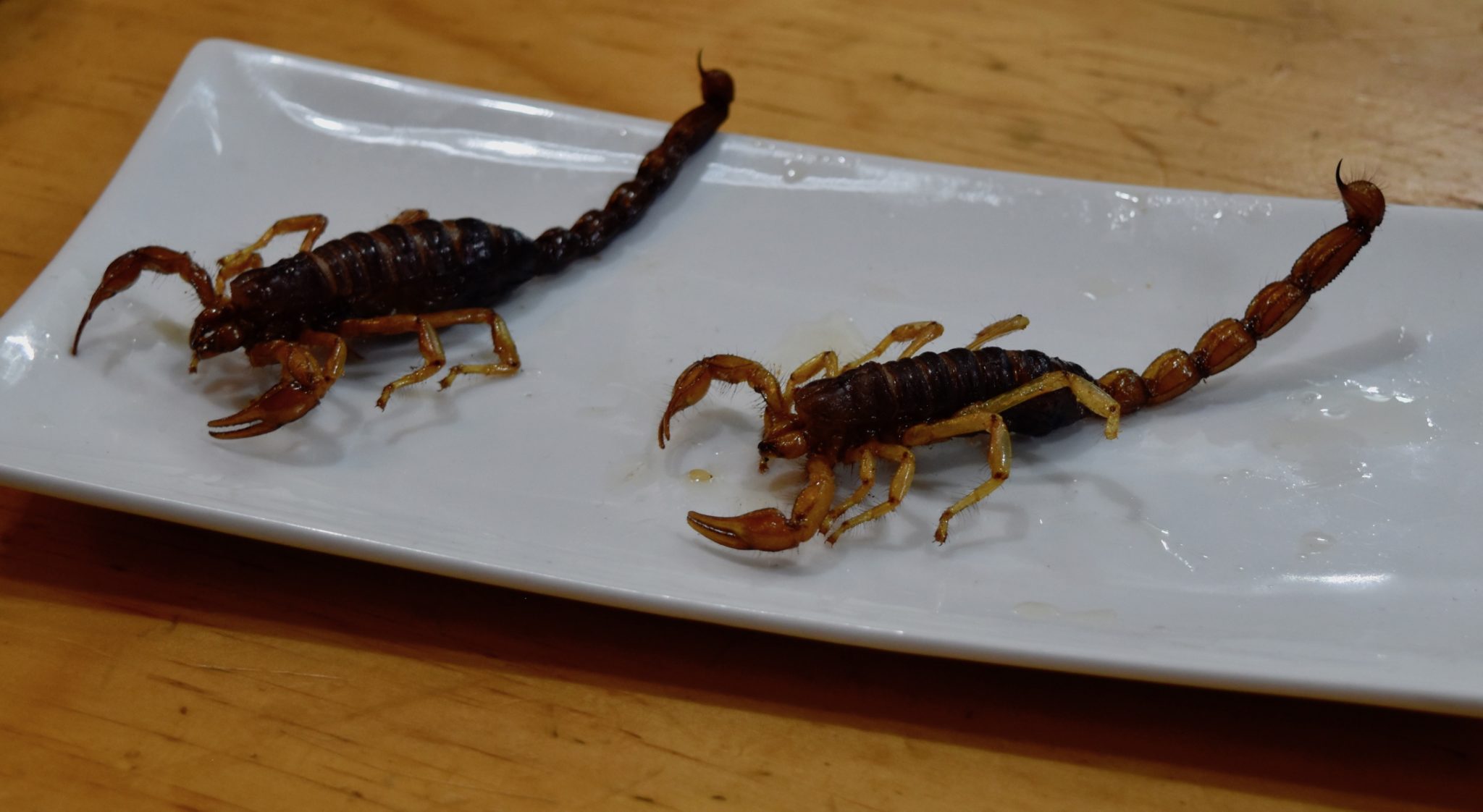 Churros at El Moro
Once of Mexico City's iconic treats. El Moro offers fresh churros with a variety of dipping chocolates including Spanish (The traditional, sweet and thick), French (With a touch of vanilla) and Special (Semiamargo (semi bitter) with a touch of cinnamon). There are 12 branches in the city, so you'll have plenty of opportunities to try them!
What to Drink in Mexico City
Whilst exploring the many great food options in Mexico City, be sure to stop for a drink or two. Some must try beverages in the Mexican Capital are:
Hot Chocolate
Mexico is the birthplace of chocolate and you can't leave Mexico City without trying some Chocolate. In Mexico, chocolate is more commonly served as a drink and is often made with cinnamon or other spices. One of the best places to try this is at Mayordomo in the Centro Histórico, which serves delicious Oaxacan chocolate with milk.
Tequila
There are plenty of good places to enjoy the famous Jaliscan spirit in Mexico City. Best sipped with an accompaniment of Sangrita – a non-alcoholic chilled drink usually made from tomato, lime, chilli and Tabasco sauce (although recipes vary). Try at Bar La Ópera in Centro. This historic bar opened in the 1870s and still retains its traditional charm. Also a great place to sample Mezcal.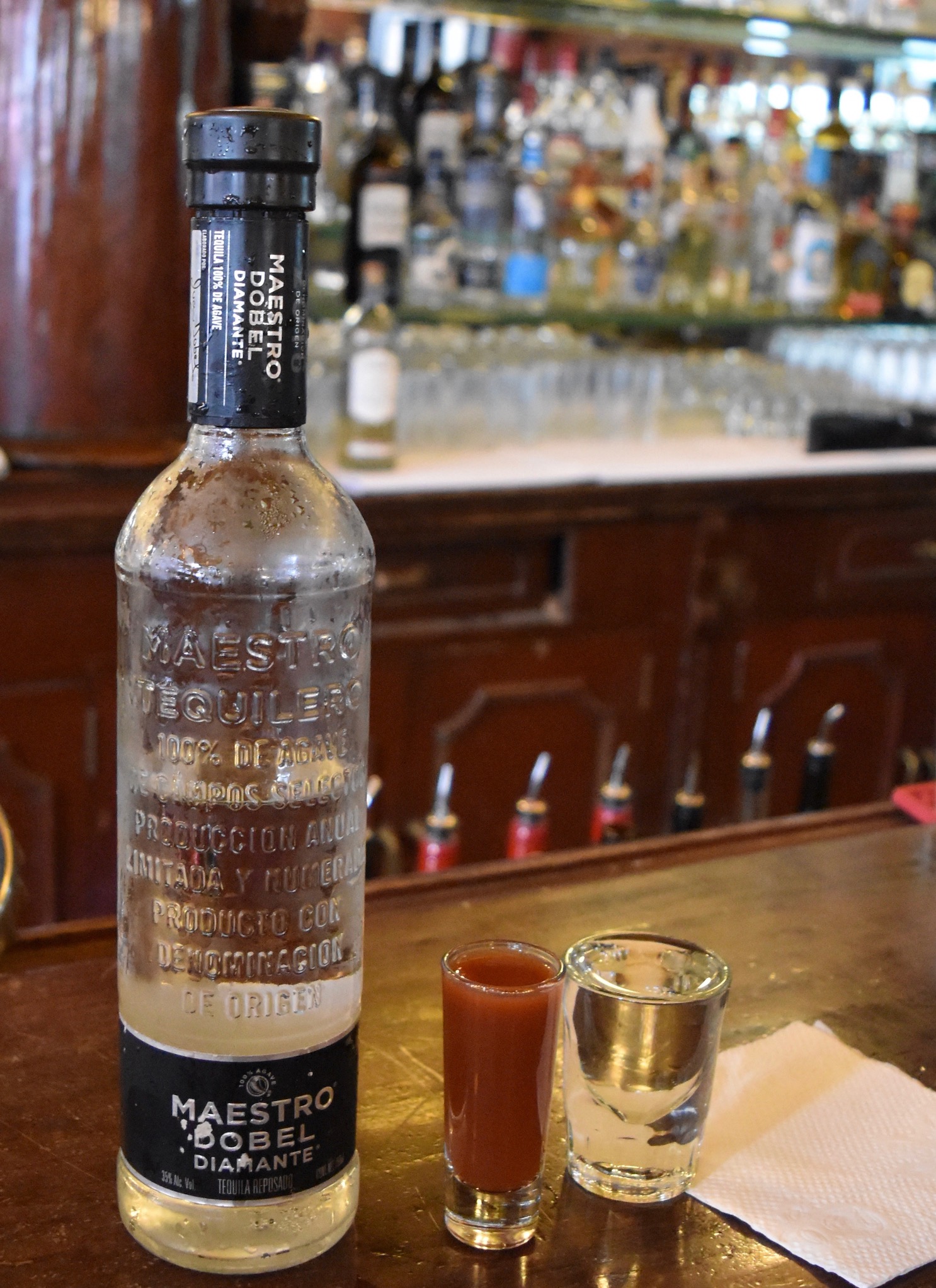 Mezcal
Though not as well-known as tequila, mezcal's popularity is definitely on the rise. I'd had it a few times prior to visiting Mexico, but once we were there it quickly became a favourite. Originating from Oaxaca, mezcal is made from the same Agave plant as tequila – but usually has a smokier taste. Try Artisanal mezcal at Escollo in Roma. (Also a good place to try tlayuda – the Oaxacan equivalent of pizza).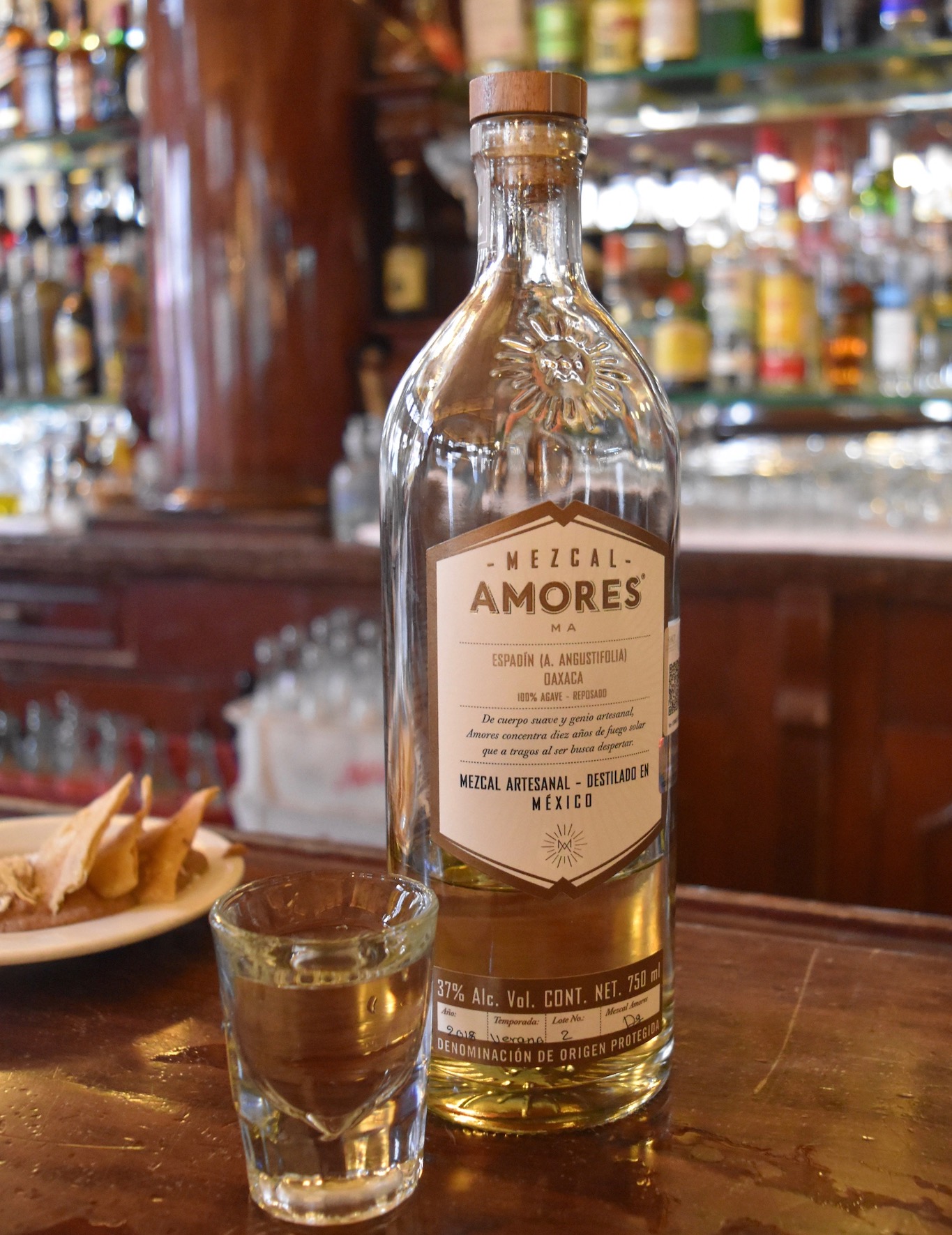 Pulque
I have to admit I had never heard of this drink before arriving in Mexico, but in fact, Pulque is Mexico's oldest alcoholic drink. It is made from the fermented sap of the maguey plant. It has low alcohol content and is considered to have many health benefits! Try some at the city's oldest pulqueria – Las Duelistas or sample some interesting flavour varieties at La Nuclear in Roma. We opted for Coconut & peanut pulque.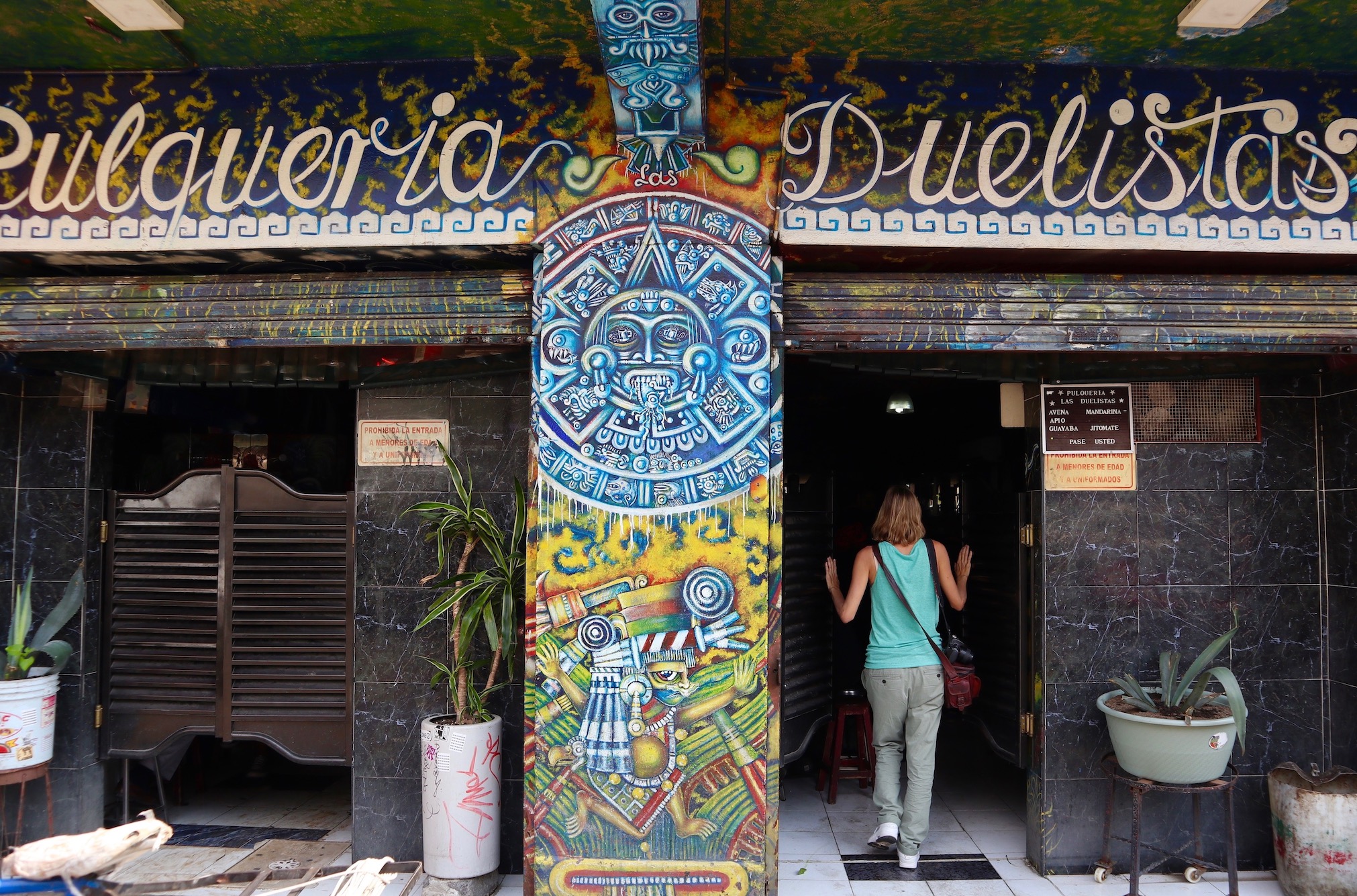 Where to Stay in Mexico City
We spent a lot of time researching where to stay in Mexico City. It's a huge place (the 23rd largest city in the world in case you're wondering!), so we really wanted a good location to explore as easily as possible. We narrowed our search down to three neighbourhoods – Centro Histórico, Roma and Condesa. The latter two are trendy districts, full of great eateries and the first is home to the famous Zocalo (central square) and plenty of museums.
If you're spending more than 3 days in Mexico City, you may want to stay in two different accommodations in different areas of the city, so it's easier to explore.
Budget – HoM Balderas has dorm rooms and private rooms with shared bathrooms in the centre of Mexico City.
Mid-Range – Casa Lomah Hotel is a stylish accommodation overlooking Alameda Central Park, in a renovated 1920s building which also houses a number of restaurants, bars, boutiques and small businesses. There is a lovely communal roof terrace and breakfast area.
Luxury – Gran Hotel Ciudad de Mexico is a 5-star hotel located in the Zocalo. In the centre is an incredible stained glass window – the fourth largest in the world, and it is worth visiting even if you don't stay there. Some of Spectre was filmed here too.
Find accommodation in Mexico City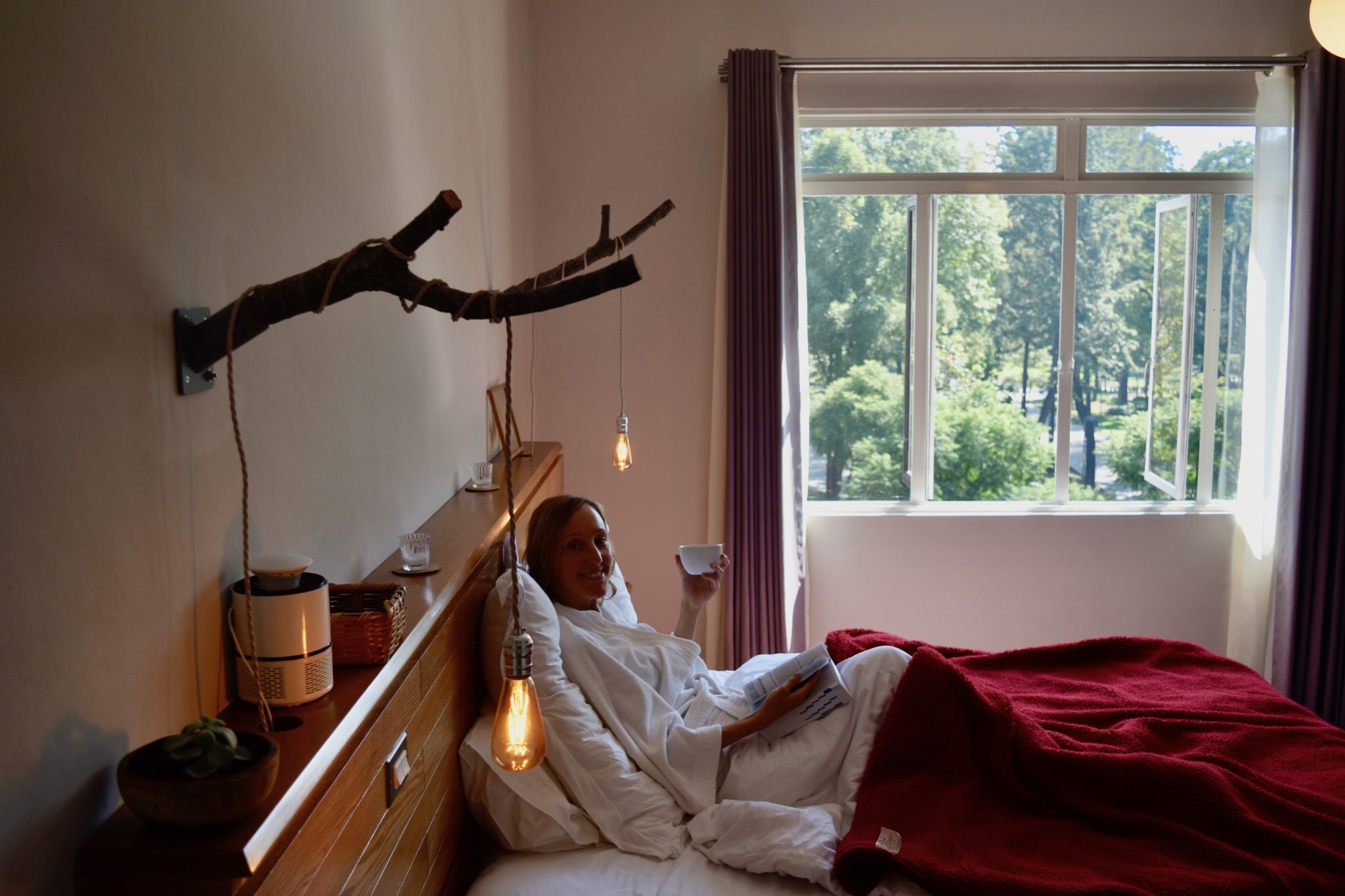 Other Tips for Mexico City
Climate and what to wear in Mexico City – Mexico City has a subtropical highland climate, with warm summers and mild winters. So whatever time of year you go, bring a few layers and a rain jacket if you're travelling in summer.
Neighbourhoods – We recommend basing yourself in Centro Histórico, Roma or Condesa.
Getting around – Mexico City has a good Metro system and taxis are reasonably priced. You can also try the bike-sharing service EcoBici or book a Grab bike via the Uber app.
How to Get to Mexico City
You can fly direct from London to Mexico City and from Sydney via L.A and Dallas.