I always hoped that if I became a mother my life wouldn't change too much, and I would continue to travel with the baby as an additional travel companion. Now that I am a mum, I understand it's not always that simple! However, I have taken quite a few trips with my little babe, including a 9 week trip to Europe from Australia. I did a lot of planning and research, as well as chatting to my mum friends who travel and make this same annual trip. Having made the journey and other shorter travels, I can now share what I think are the essentials for travelling with a baby.
Disclosure: This article contains affiliate links. This means that if you click a link and purchase something I've recommended I may earn a small commission. This does not affect the price you pay but helps me to run this site. You can read my full affiliate disclosure here.
Flying with a Baby
One of my biggest concerns pre-trip was the 25-hour flight from Sydney to Italy and the UK. We have taken bambino on a plane before to South Australia and he was a dream, sleeping the whole way there and back. However, this obviously would not be the case for 25 hours! So what are the must-have items for a long haul flight with a baby?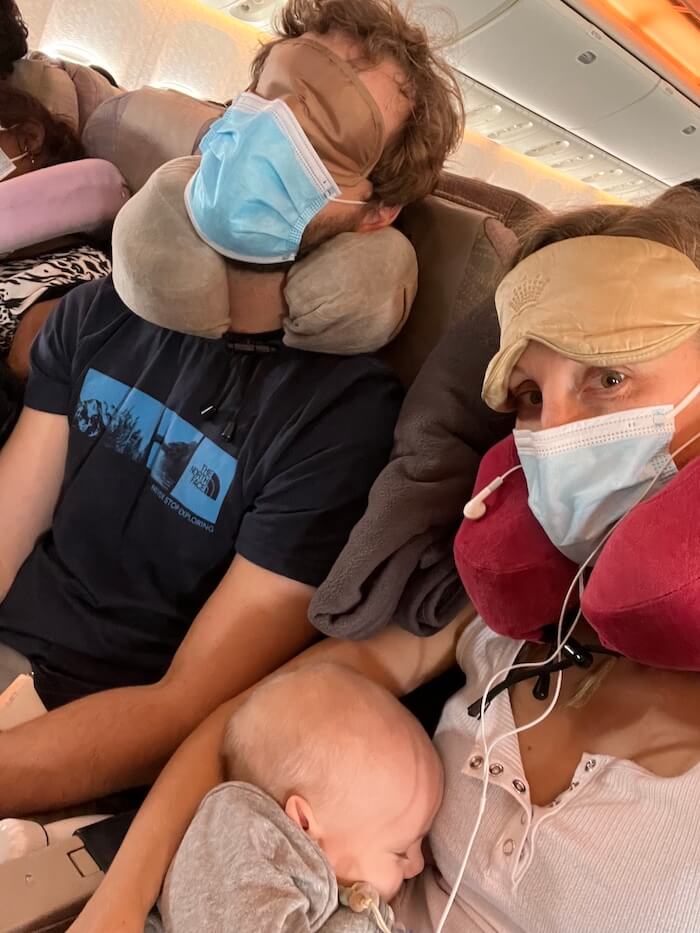 CoziGo
Firstly, when you book your flight make sure you get a seat with a bassinet. These are usually suitable for babies up to 11kg. With most airlines, you can arrange the bassinet at the time of booking but for others, you have to call afterwards. Once you've secured your bassinet – great – your baby has somewhere to sleep that isn't your lap. However, the open bassinets provide no cover from the light of the aeroplane or your neighbour's reading light.
This is where the CoziGo comes in. Created by a mum living in Sydney, who had to make this same journey many times, the CoziGo is a flexible domed cover that fits on airline bassinets (as well as on prams) that blocks out light. It folds up into a compact bag and is light, so easy to carry in your hand luggage. It made a huge difference to our flight. We put the baby in there straight after take off, where he had fallen asleep on the boob (really recommend feeding during take-off to help the babies equalise their ears!). This meant we could enjoy our dinner (as much as you can enjoy plane food) in peace without a baby on our laps. He woke a few times during the first 15 hour leg, but it provided us with much-needed sleep and rest.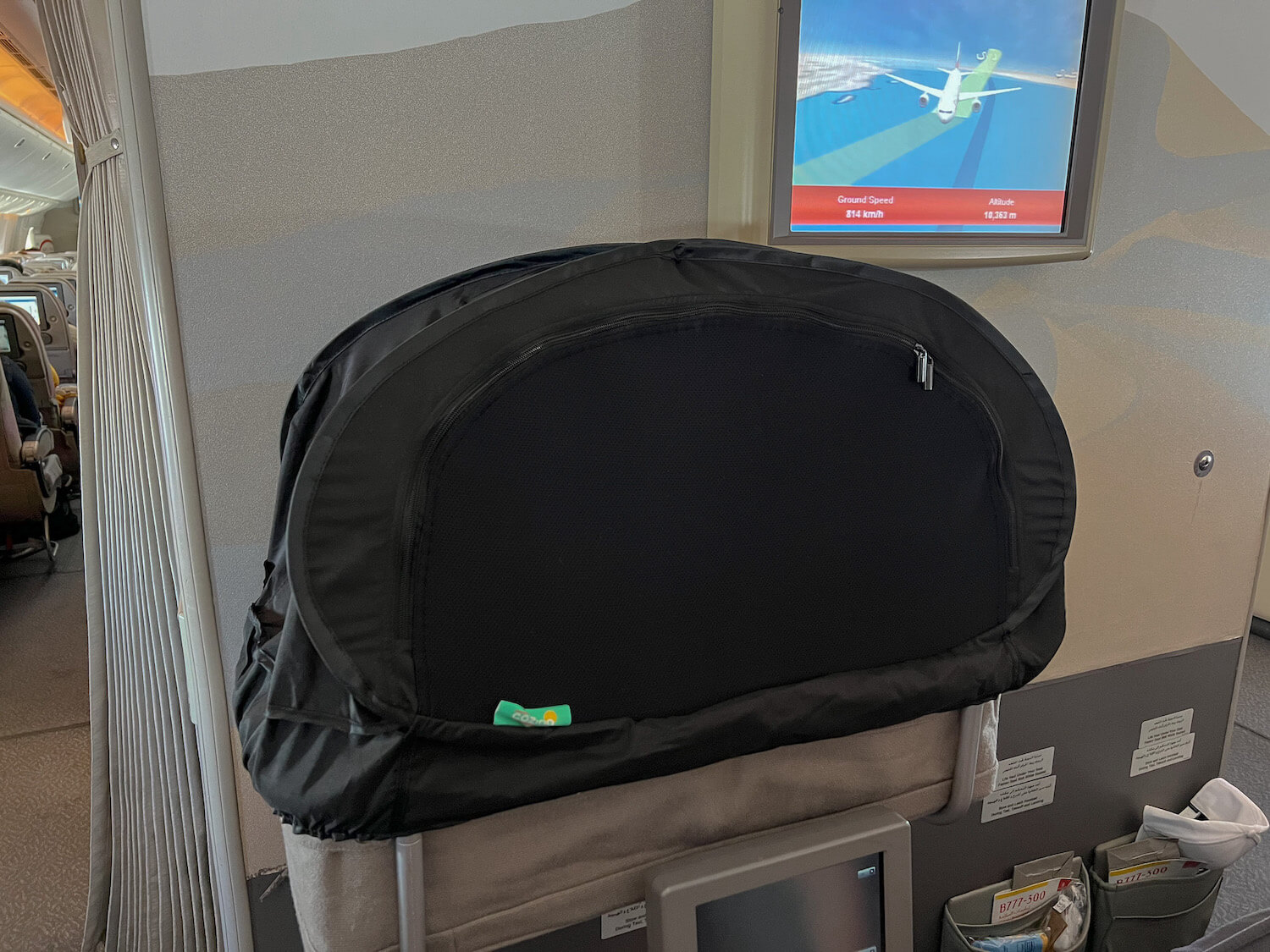 Note: Some airlines make you take the baby out of the bassinet during turbulence. This was the case with Emirates. However, Qantas bassinets have straps across which means this isn't the case.
The CoziGo can also be used on prams which we found handy in Italy. We used it on our pram at a friend's wedding so that Elio could sleep while the party was happening, and out and about during the day to block out the sun. It's 100% breathable and air permeable and UVP 50+, which is ideal for sunny and hot destinations (and excellent for living in Australia).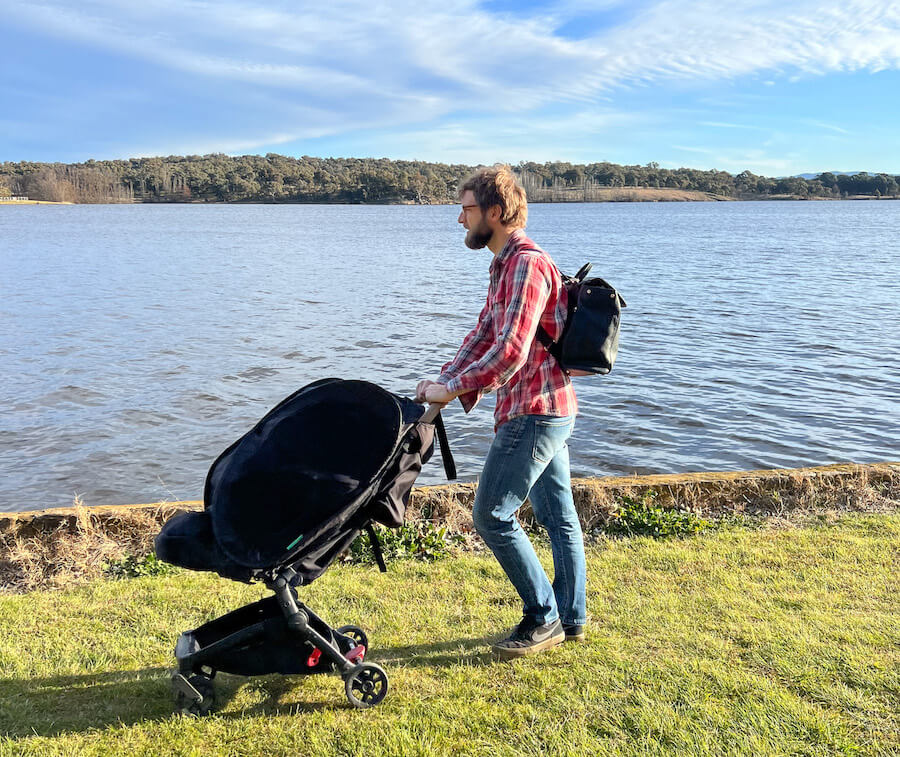 Other Essential Baby Items for a Flight
Formula (if you use it) or stay hydrated if breastfeeding
Lots of sterile water as airlines generally can't provide this (you can take it through security)
Dummies (if you use them)
One or two toys that they haven't seen/played with before
A sleep sack that has the option to convert to legs for the pram/car seat
Snacks and baby food (though some airlines provide this its worth having it in case they run out)
Sterilised bottles
Nappies, wipes and all the usually nappy bag bits – take more than you think you may need
Change of clothes for everyone (you don't want to spend half the flight in sick or poo-covered clothes!)
A comforter or familiar toy to help the baby settle in the bassinet
A few baby sensory videos downloaded on your phone as a last resort (We managed to get to the last hour of the second flight before we got to this point!)
Sleeping on the Go
The Best Travel Cot
An essential baby travel item is a travel cot. I considered relying on borrowing cots from friends and using hotel cots when travelling around but I'm so glad I didn't. Having a consistent place for the baby to sleep each night helped him get settled in new surroundings and it was also peace of mind for me as I knew that the mattress and cot he was sleeping in were safe and had passed the relevant safety checks. I wanted a cot that was compact but quick and easy to assemble and pretty much everyone I spoke to recommended the Baby Bjorn travel cot. It's not the cheapest on the market, but it is a great cot. If you're looking for something cheaper then there are lots of imitations, such as the Babylo Liteway Lightweight Travel Cot.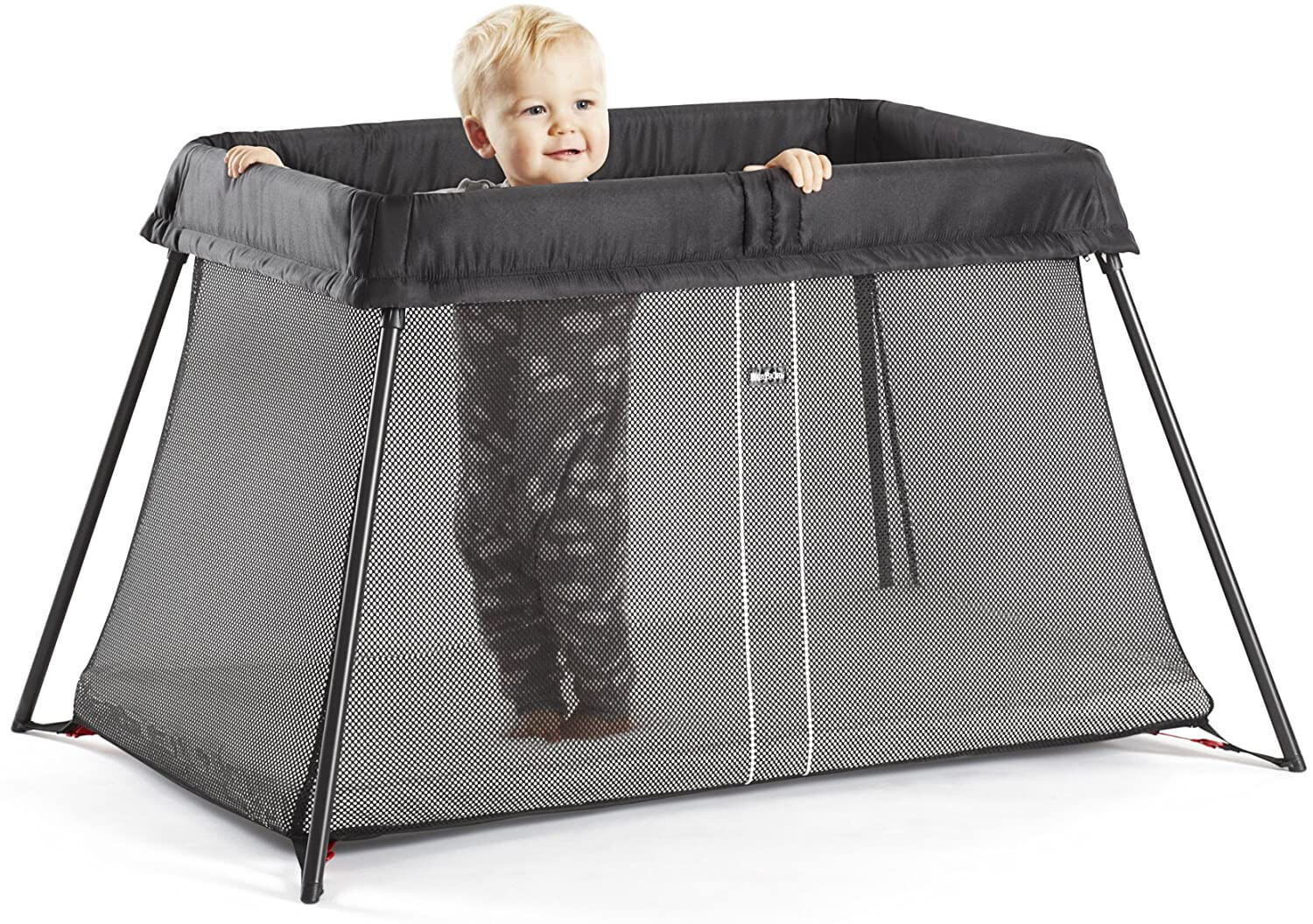 Blackout Blinds
If your baby is anything like mine, he needs almost total darkness to nap. So blackout blinds are a must. These have suction cups that attach to pretty much any window and can be quickly put up and down to create a dark nap space. The only place we didn't need these was in Italy as nearly all the buildings have shutters – which is amazing! But in the UK, especially during summer when it gets light early and dark late these were essential.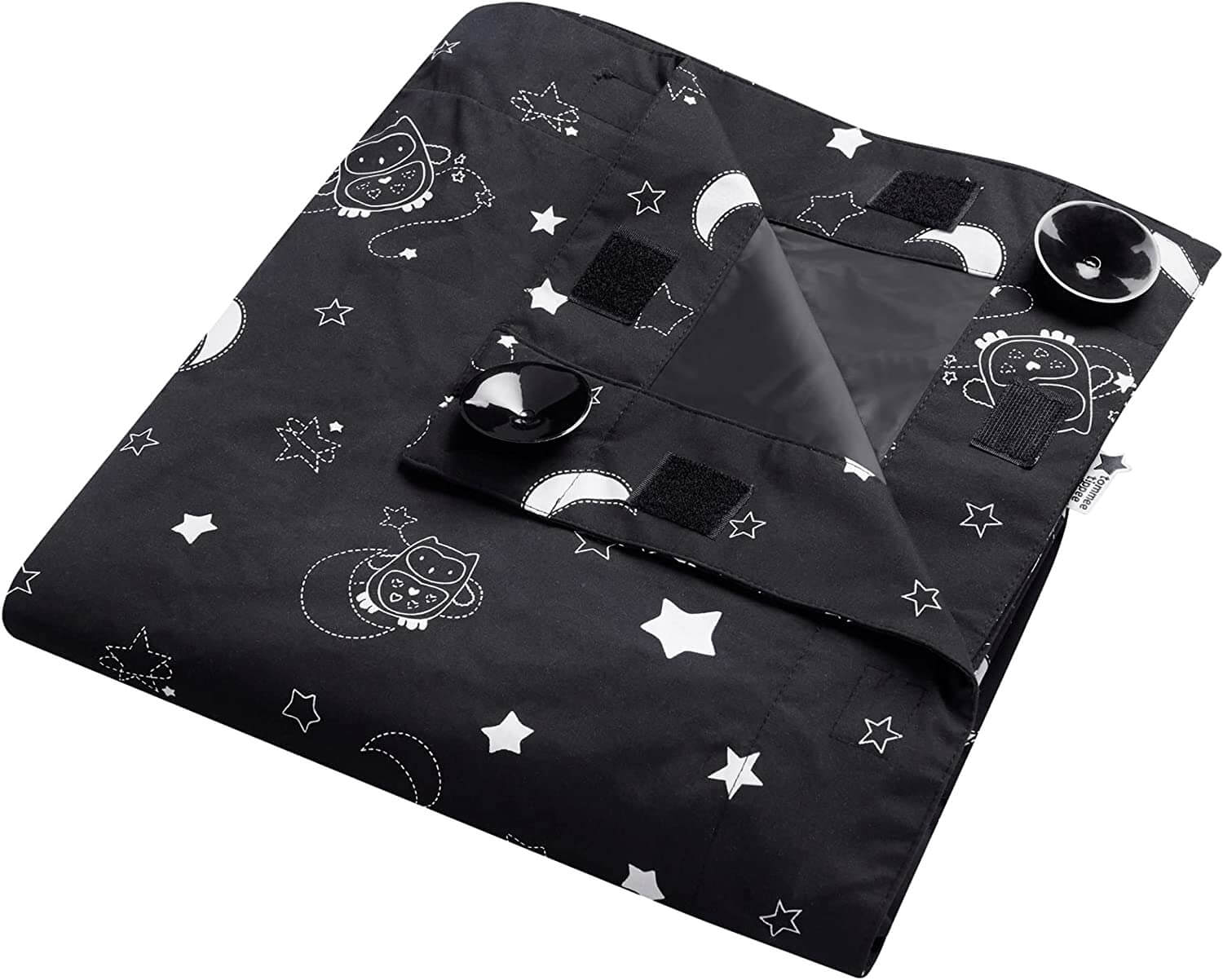 Getting around with a Baby
Car Seat
One of the worst things I find about travelling with a baby is car seats. We did consider taking our car seat for the trip but decided against it as we already had so much stuff. Because of this, we hired them in each place we visited or borrowed where we could. Most of the times that we hired seats, they were awful. We were either given a seat suitable for an older baby or toddler, or a seat that was very old and covered in sick! If I was travelling again with a young baby I would consider taking a capsule to avoid this added stress. Most airlines allow you to check them in for free but double-check as some airlines allow a maximum of two baby items including the pram and cot. If you are booking a seat on the flight for your baby then you can take the car seat on board to attach to the seat. I would consider doing this once our baby is a bit bigger and we are paying for a seat for him.
Travel Pram
I have a beautiful iCandy pram that I use at home which has great wheels and suspension and is very comfy for the babe, however, it's not very light. I was originally planning on taking it with us as I do have a pram bag for it, but with two suitcases, a travel cot and hand luggage there was no way we would fit it in the boot of the car, so I needed a plan b. A travel pram was the answer.
There are lots of great travel prams, but I recommend going for one that folds up small enough to fit as cabin baggage, such as the Baby Jogger City Tour 2 or the Silver Cross Clic.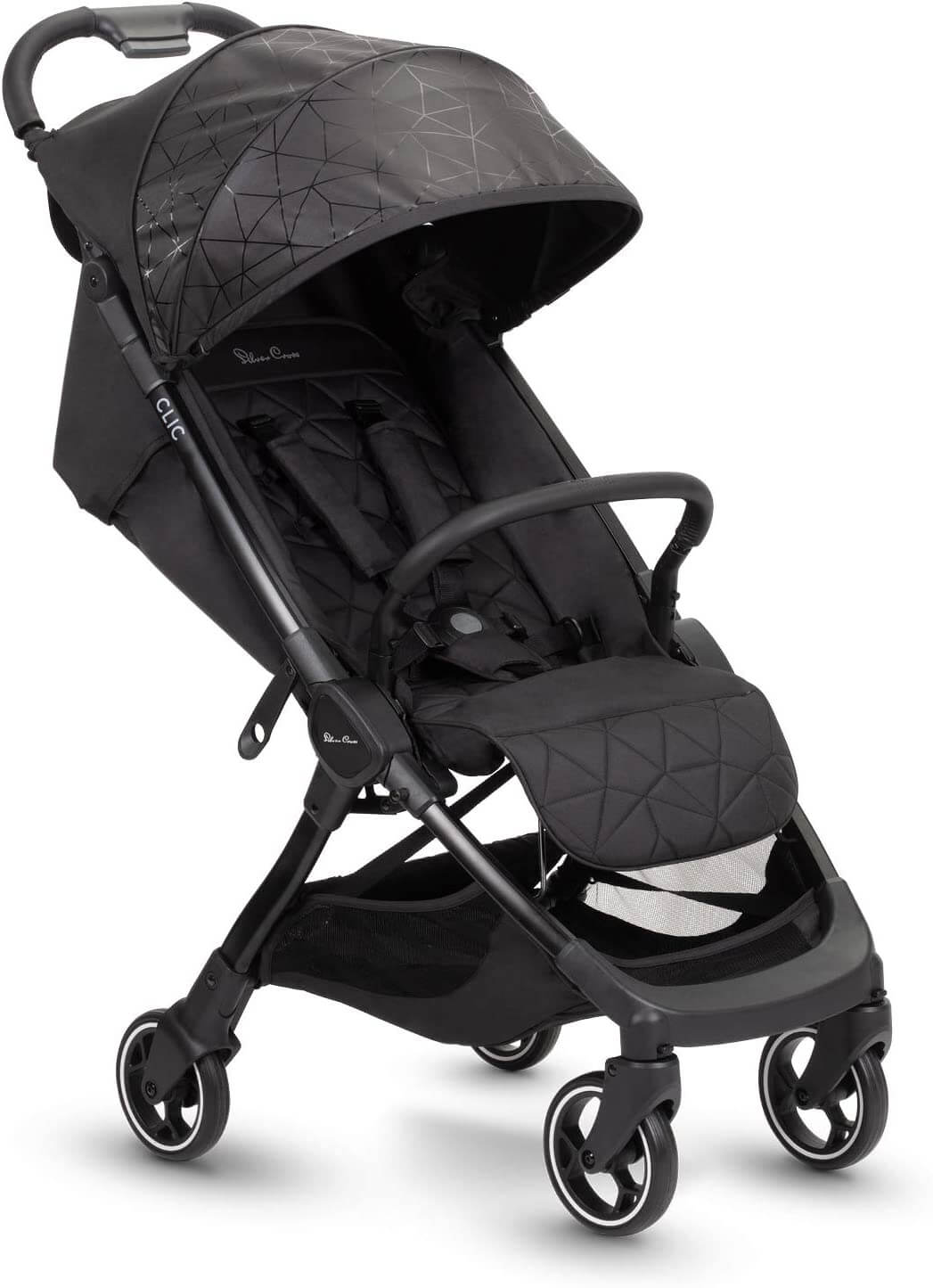 Baby Carrier
A baby carrier is really handy on a transit flight and also for getting around in cities. We have the Ergobaby Omni Breeze, which is a great carrier that can be used from birth with the baby facing you and then facing out once they get older. We use it for both, inward-facing when he needs to nap and outward-facing when he's awake and wants to look around. Elio loves the carrier, he enjoys being up high and seeing what's going on around him. A baby carrier is particularly useful if you're going to be travelling in European cities with cobblestones or lots of stairs – it was great when we were in Venice, going up and over so many bridges and through narrow lanes. The Omni breeze is a good choice for summer trips as it is breathable so you and the baby don't overheat.
Nappy Bag
It's worth getting a decent nappy bag if you don't already have one. This is handy while you're travelling to keep all the essentials in one place. I have two nappy bags, a beautiful Storksak St James leather bag which I use for nice occasions like lunches out or weddings and then a Babymel Georgi eco Convertible Backpack Aqua for day to day. I took the latter on this trip. Both bags are backpack style which makes them easy to carry around but they also have the option to hold as a shoulder bag. This is useful when you have lots of different luggage to carry around or just want to make a quick trip to the baby changing room.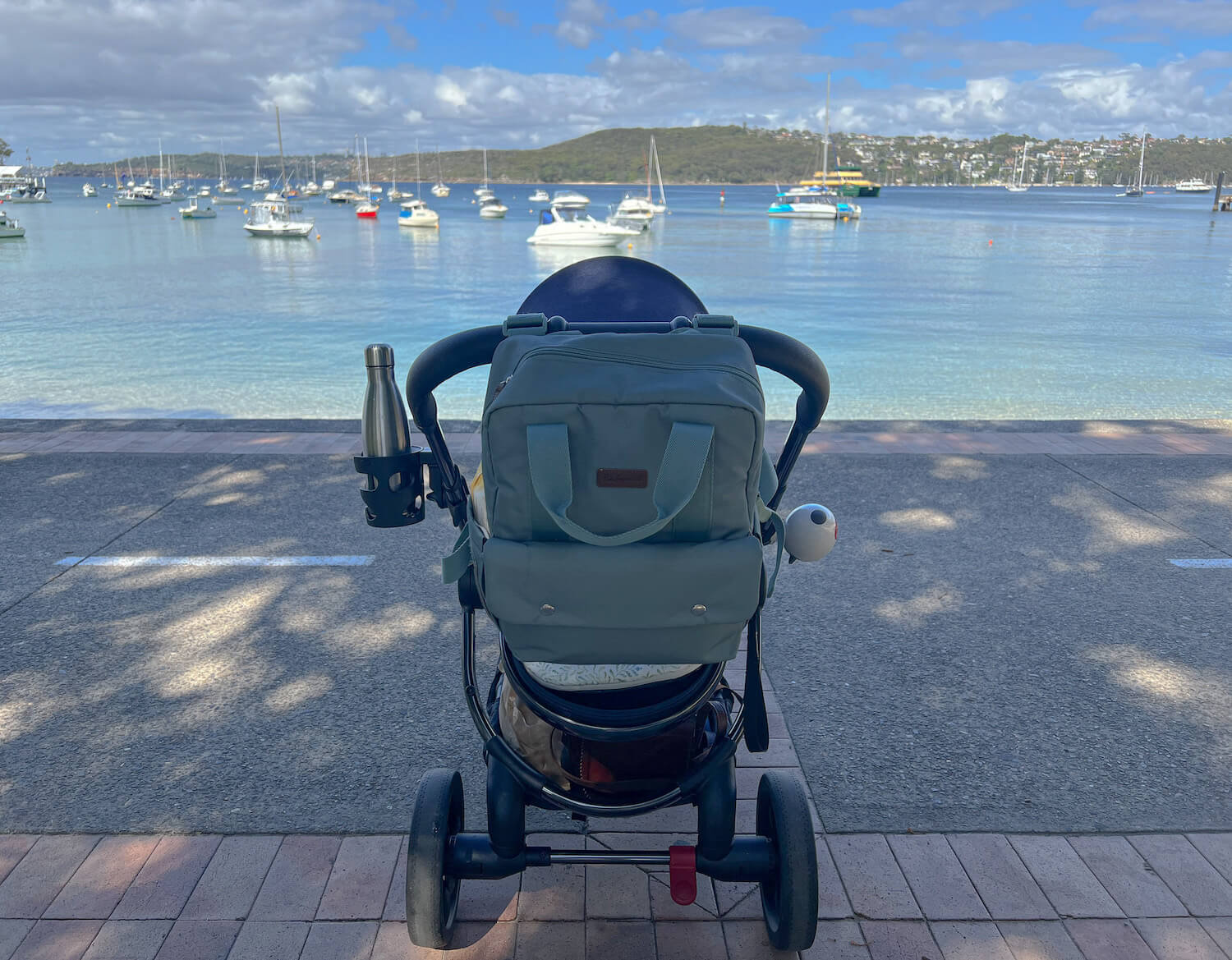 They come with a change mat included and have insulated pockets for bottles. They can also attach to the handles of most prams. Something I also love about the Babymel bag is that it is made from recycled plastic bottles.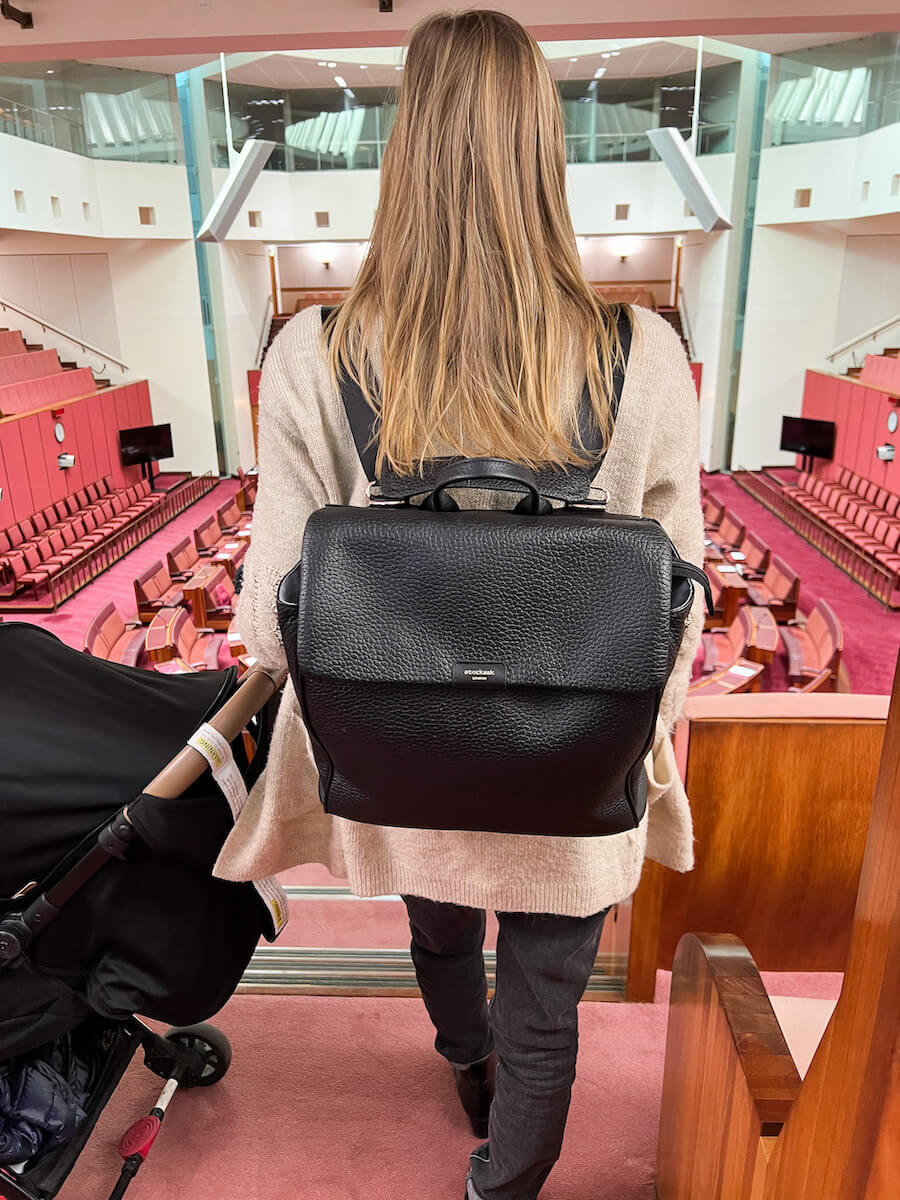 For Play
I initially wasn't going to take a play mat as I was trying to travel as light as possible, however, in the end, I felt that it would be useful to have somewhere for the baby to play at each place. I'm so glad I took it. In Italy, the floors are often hard stone and not ideal for a crawling baby who is learning to stand and walk. We took our Marmalade Lion mat which is cushioned and it meant our babe could sit and play comfortably. Plus it has a waterproof cover, so even if he vomited etc. on there we could wash it easily and it is handy as a changing station too. It folds up in a bag which is great for taking to the beach, parks, anywhere really!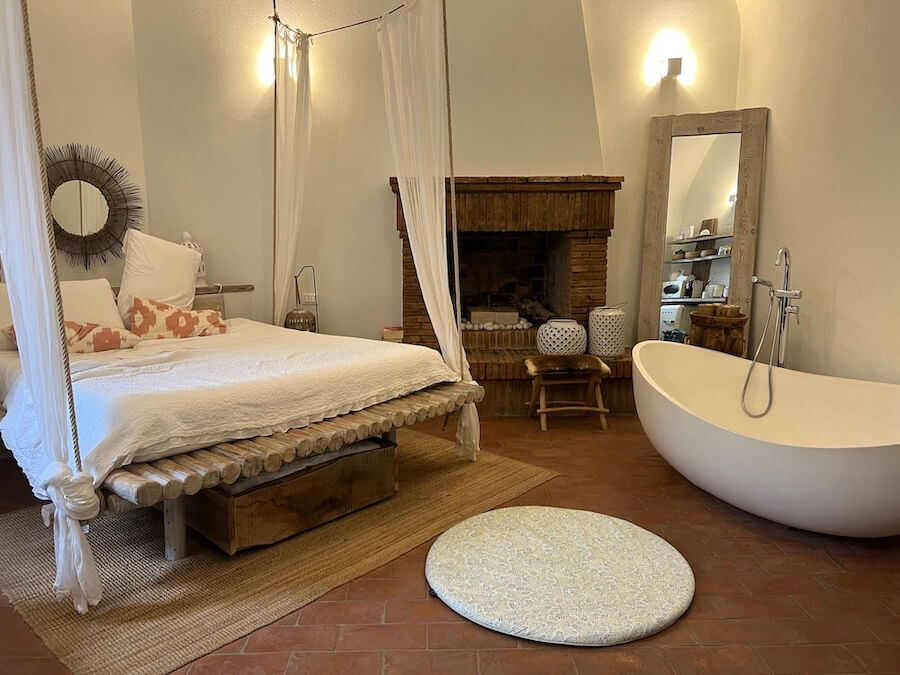 Other Must Have Baby Travel Items
Travel steriliser – either a portable one or reusable bags – these are great as they hardly take up any luggage space.
Milton tablets if you don't have access to a microwave or don't want to bring a steriliser
Baby calpol/panadol and a thermometer 
A long sleeve bib that can be wiped clean 
A muslin (handy for keeping baby warm or protecting from the sun) 
Hand sanitiser and disinfectant wipes 
Wet bag