A detailed itinerary for a Perth to Exmouth road trip in Western Australia.
Aged 15, I travelled to Australia for the first time, visiting our family just north of Perth. They took us on an amazing WA road trip, all the way from Perth to Coral Bay on the Ningaloo Reef and back again. I remember the snorkelling being incredible and have great memories of the trip, and I've always wanted to do it again as an adult. It's a long drive from Perth to Exmouth, and you need a good few weeks to drive there and back, so we decided to drive it one way and fly the other leg instead. So for our honeymoon, we hit the road, driving the Western Australian coastline on a Perth to Exmouth road trip.
Disclosure: This article contains affiliate links. This means that if you click a link and purchase something I've recommended I may earn a small commission. This does not affect the price you pay but helps me to run this site. You can read my full affiliate disclosure here.
Perth to Exmouth – The Ultimate WA Road Trip
This road trip can be done in either direction: Fly Perth to Exmouth and drive back to Perth or drive from Perth to Exmouth and fly back to Perth. We opted for the former as we were hoping to reach Exmouth before the whale sharks left (more on that later!).
When hiring a car for a one-way trip there are 'one way fees'. These aren't usually included in the upfront price so make sure you check the small print. Avis often offer $150/$250 one way fee deals for this route depending on the direction you travel. Other companies can vary from $250 – $1000 so make sure you check before booking!
Hire a car in Western Australia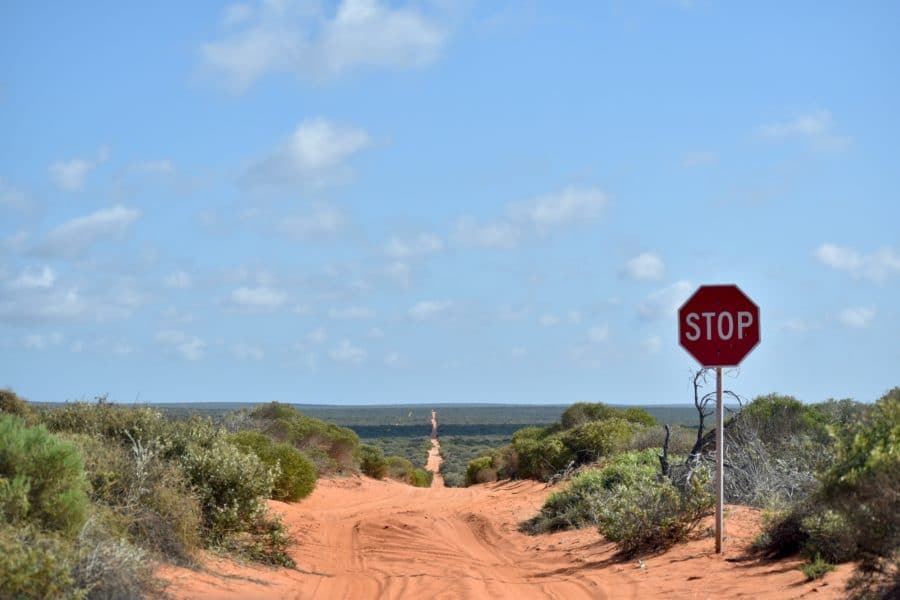 Perth to Exmouth Road Trip Summary:
• Day 1 Perth
• Day 2 Fly Perth to Exmouth (Learmonth)
• Day 3-4 Cape Range National Park/Exmouth
• Day 5 Exmouth to Coral Bay
• Day 6-7 Coral Bay
• Day 8 Coral Bay to Shark Bay
• Day 9-10 Shark Bay/Monkey Mia/Denham/Francois Peron National Park
• Day 11 Shark Bay to Kalbarri
• Day 13 Jurien Bay
• Day 14 Jurien Bay to Perth
Perth – 1/2 Days
We flew into Perth and spent a few days exploring the city before flying to Exmouth.
Perth has changed a lot in the last few years with lots of new developments and great restaurants popping up. If you visit during the summer then check out Scarborough and Cottesloe Beaches – both are beautiful. As we were there in winter, and it was still a little chilly, we had a wander of Elizabeth Quay, a new(ish) precinct on the Swan River.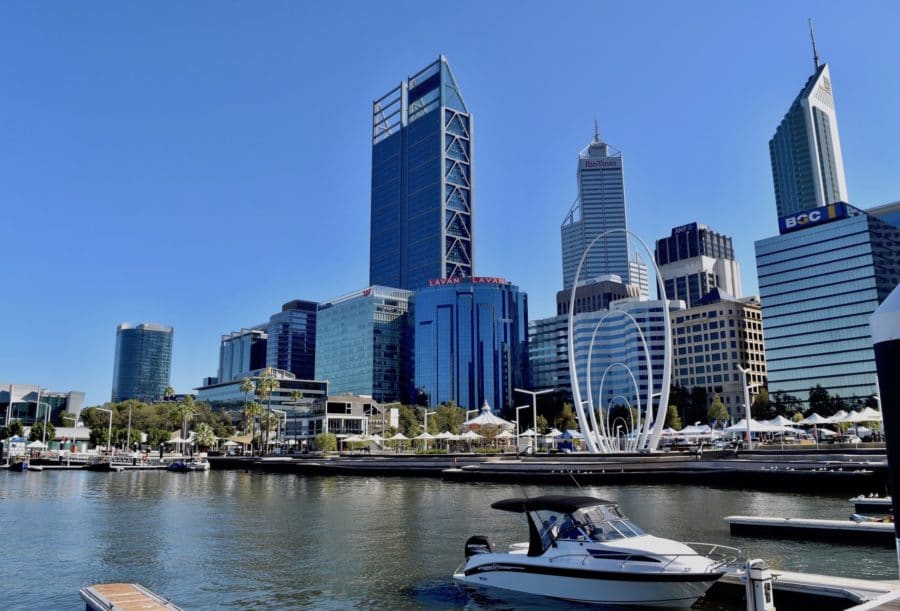 Taking a tour is a great way to get to know a city and its heritage. On a previous visit to Perth, I took a walking tour with Go Cultural Aboriginal Tours and Experiences, and would definitely recommend it. Run by Noongar elder, Walter McGuire, the tours give you an overview of Aboriginal culture and history in Perth, as well as taking in some of the city's beautiful locations, such as Kings Park.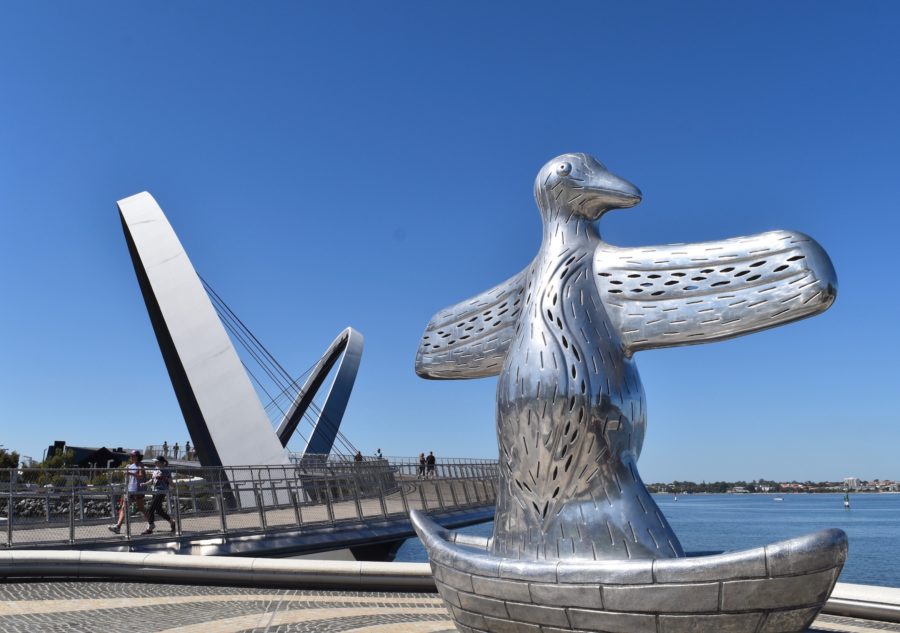 Eat – Perth has lots of great restaurants and it's definitely worth checking out the restaurants inside the State Buildings – three heritage buildings that have been transformed into a cultural precinct in the city centre. Long Chim is a personal favourite. Another good foodie area is Northbridge and Yagan Square – I loved Ficus.
Sleep – We spent the night at QT Perth – a quirky hotel with gorgeous rooms in the city centre. This is one of my favourite hotel brands, and I've stayed at a number of their other properties in both New Zealand and Australia. Rooms start at $220 AUD (£118).
Fly Perth to Exmouth (Learmonth) – 2 hours
If you can, book yourself a window seat, as the views on the way up to Learmonth are stunning. Every time I fly over Western Australia I fall a little bit more in love with the insane colours – it has some of the most beautiful landscapes I've ever seen.
Book flights from Perth to Learmonth.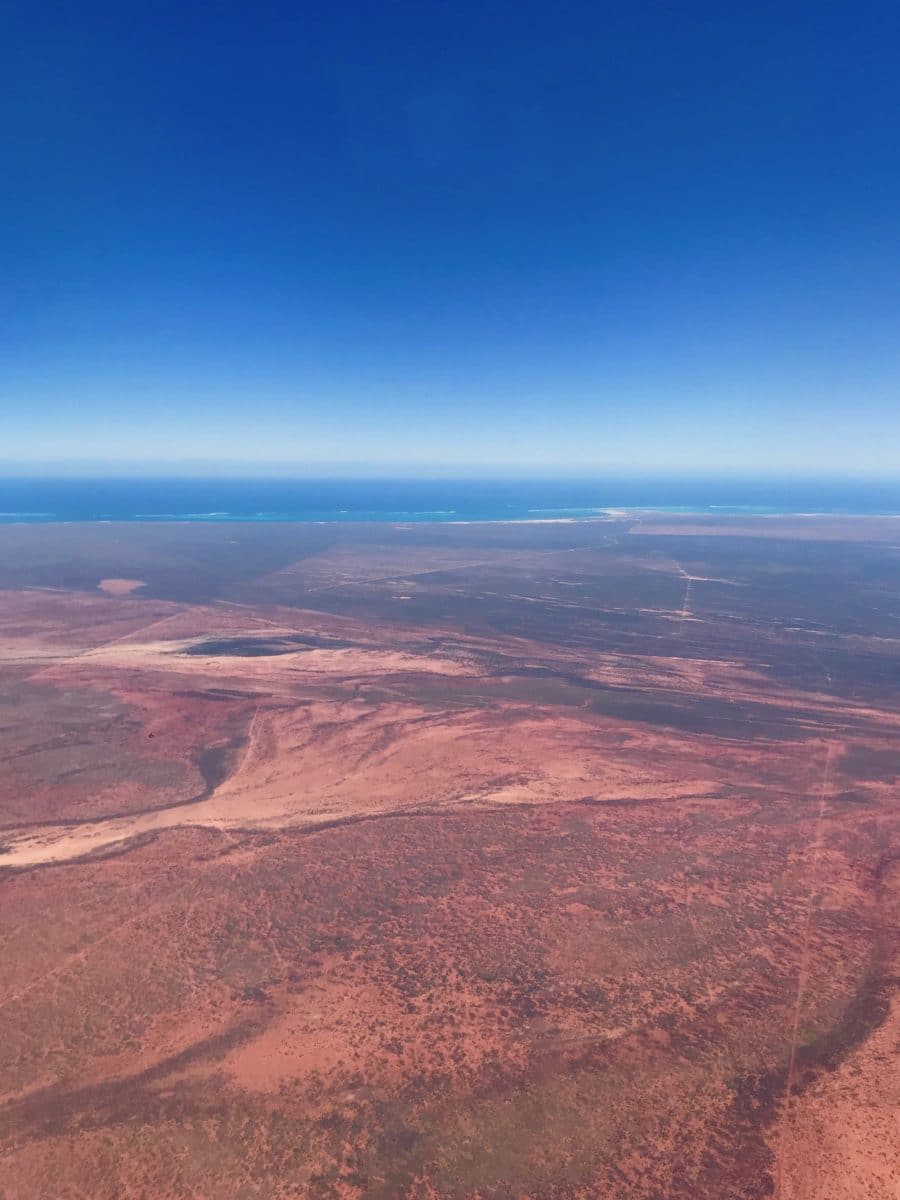 Learmonth Airport to Cape Range National Park – 1-2 hours (depending on where you go in the park)
Cape Range National Park/Exmouth – 3/4 Days
We picked up our hire car from Learmonth airport and headed to Exmouth for lunch. Exmouth is the biggest town in the region and has supermarkets, restaurants and quite a few accommodation options.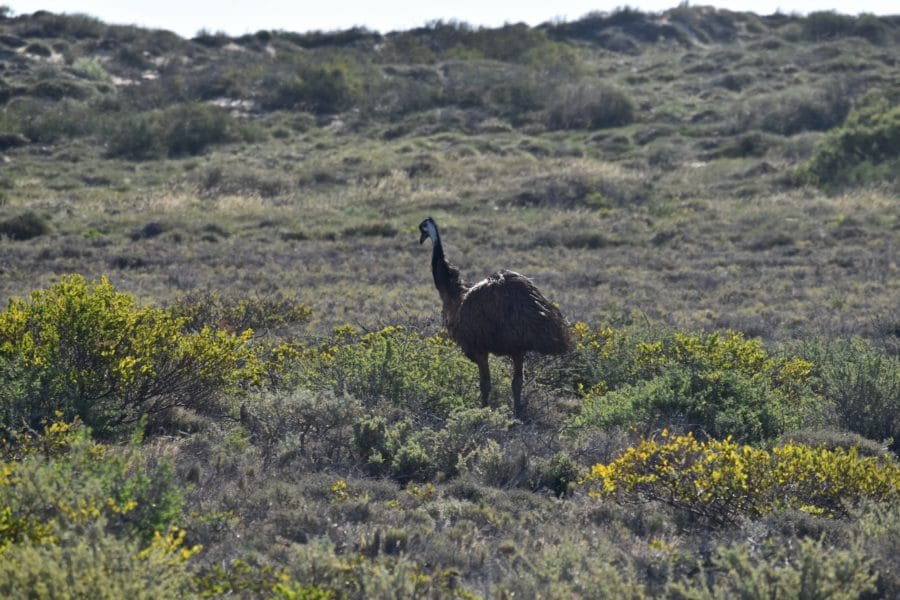 Read our guide on where to stay on the Ningaloo Reef.
If you like camping (and have the gear) or have hired a camper van, then I definitely recommend sleeping in the Cape Range National Park – there are a couple of campsites here, with stunning locations right on the beach. Be warned – these get booked out months in advance – so if you want to stay here make sure you book well ahead of your trip.
We were lucky enough to stay at the only other option in the national park – Sal Salis. Sal Salis is a beautiful eco-luxury retreat, with glamping tents right on the beach. A great start to the honeymoon!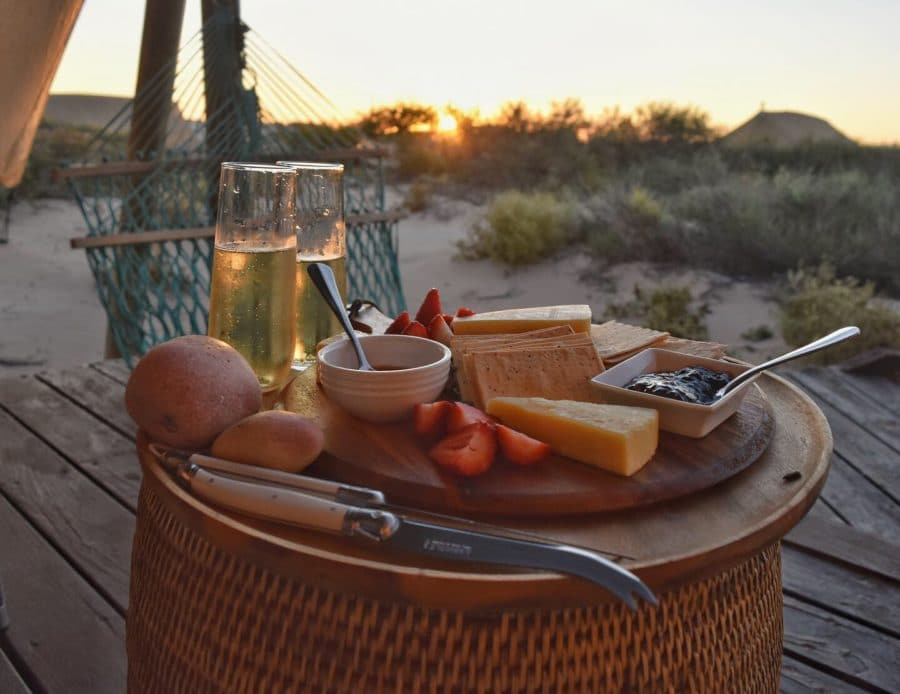 Sal Salis is definitely an upmarket option and is priced accordingly, but if you're wanting to splash out on a treat, then it's a fantastic place to stay. One of the great things about it is that all the (exceptional) meals and drinks are included in the price, and the staff organise lots of excursions and activities for no extra cost. Sal Salis costs from $900 AUD (£490) per person twin/double share.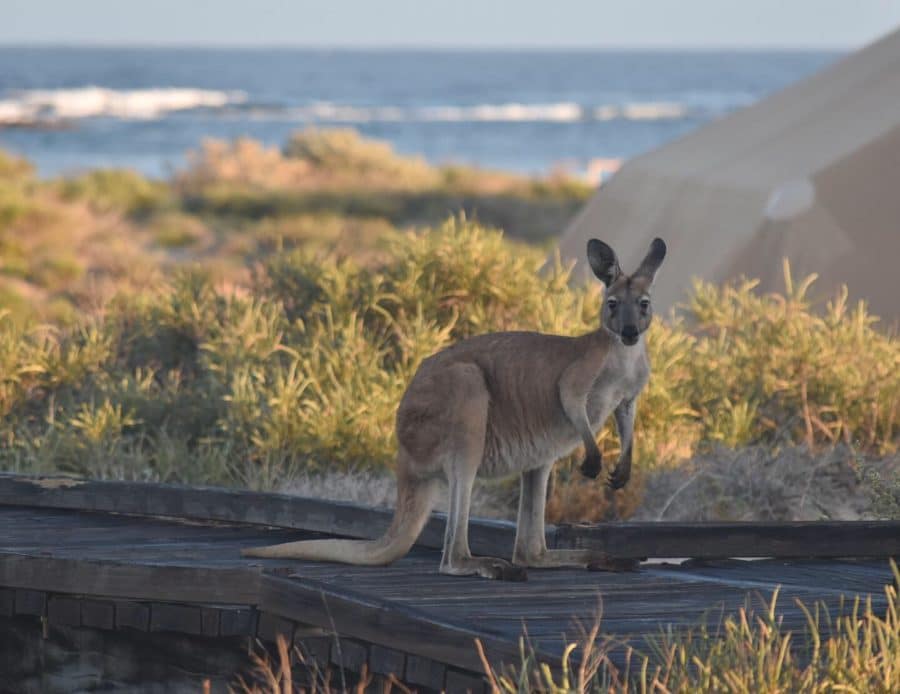 There is no phone reception or wifi in most of the national park, and it was so nice to switch off for a few days and stop looking at our phones. It's the most relaxed I've been in a long time, and we spent lazy afternoons snorkelling and reading in our hammock outside our tent. Heaven!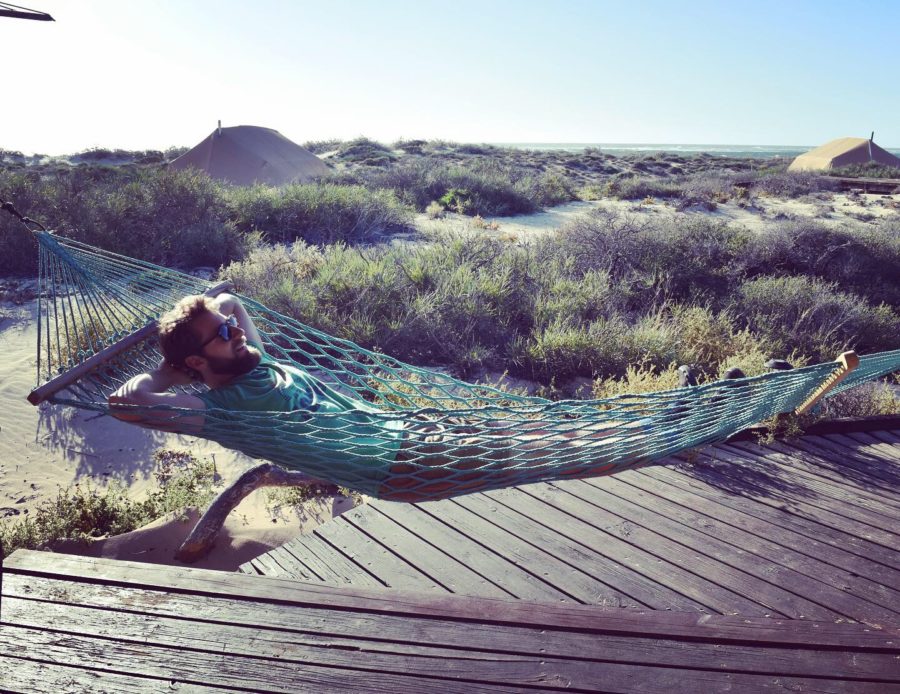 Things to Do in Cape Range National Park
Whether you're camping/glamping/or day-tripping from Exmouth, there is a lot to see in Cape Range National Park.
Turquoise Bay is a beautiful beach with a great drift snorkel and Sandy Bay is a lovely sheltered beach with white sand and crystal clear water.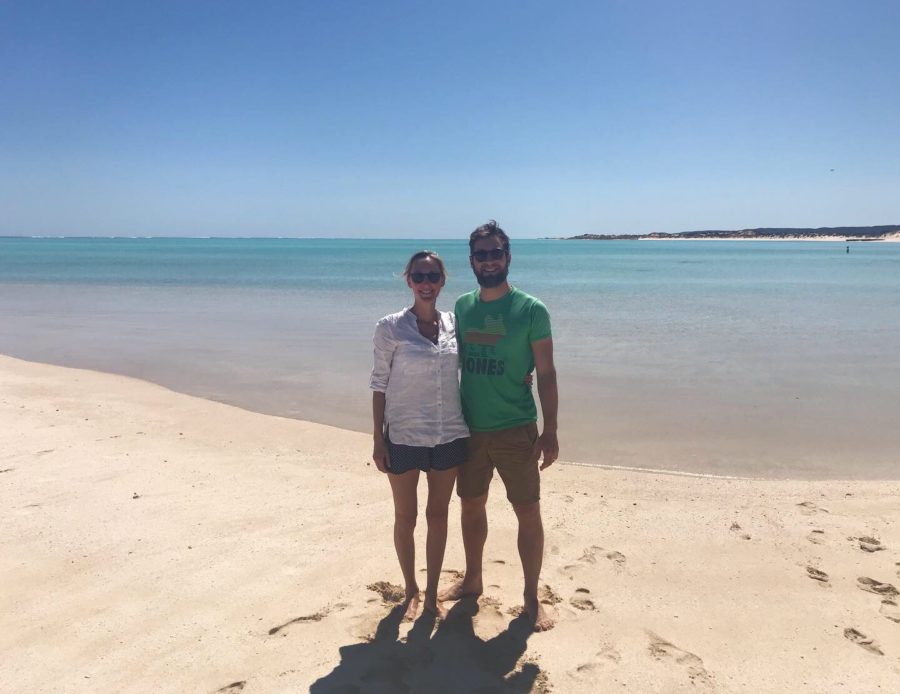 If you like hiking, there are plenty of good walks including Mandu Mandu and Yardie Creek, at varying levels of difficulty. Make sure you take lots of water, wear sun cream and hat, and preferably start early, as even in winter it gets very hot!
The main reason for us visiting this part of the world was to swim with humpback whales and whale sharks. Whale shark season is typically from March to August and humpbacks from August to October. Arriving in September we were still hopeful that a few whale sharks would still be hanging around, and we would be lucky enough to see both. After speaking to a few other guests at Sal Salis and hearing that they had seen them the day before our boat trip, we were even more hopeful.
We headed out with Live Ningaloo, a small operator who take up to 10 guests on their boat (many take up to 20). A spotter plane circled above, searching for the whales and once sighted, we made our way to their location. Our guide was in communication with the plane via walkie talkie, so we knew where to position ourselves as the whales were approaching. A few minutes later, the whales swam below us, and then did a loop around us to get a better look! It seems a silly thing to say, but I couldn't get over how huge they were. Having previously seen them from a whale-watching boat from a distance, I hadn't quite grasped how massive and magnificent humpback whales are. It was a very humbling experience and one I won't forget in a hurry!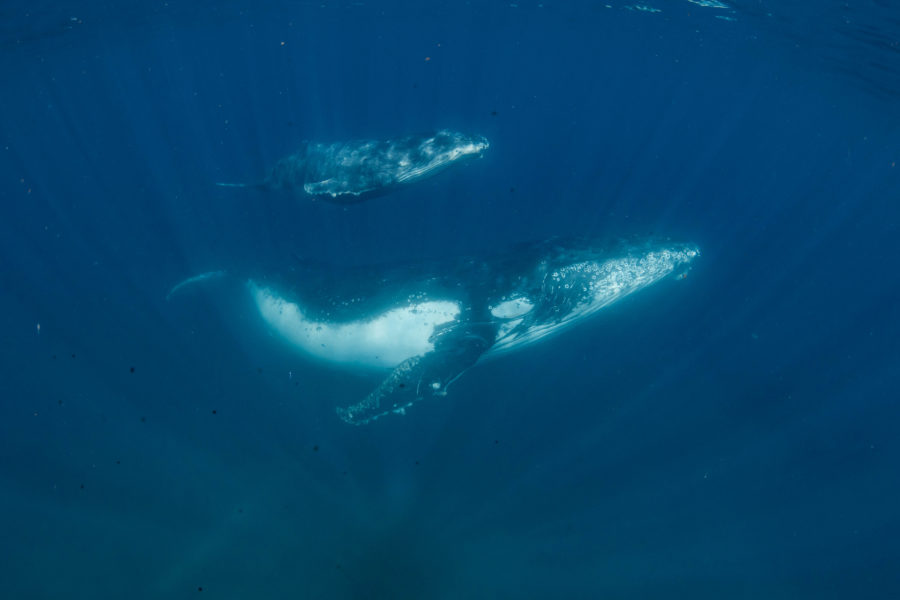 After our encounter with the whales, we jumped back on the boat and were able to get in a second time to see them. Then, the pilot announced that a whale shark had been spotted! So we climbed back in the boat and headed towards it. Unfortunately for us, it went below the surface before we arrived, and so we were unable to see or swim with it. As it was out of the season, we knew it would be a bonus to see a whale shark, and I was a little disappointed to come so close – but on the positive side, it gives us an excuse to head back to the Ningaloo another time!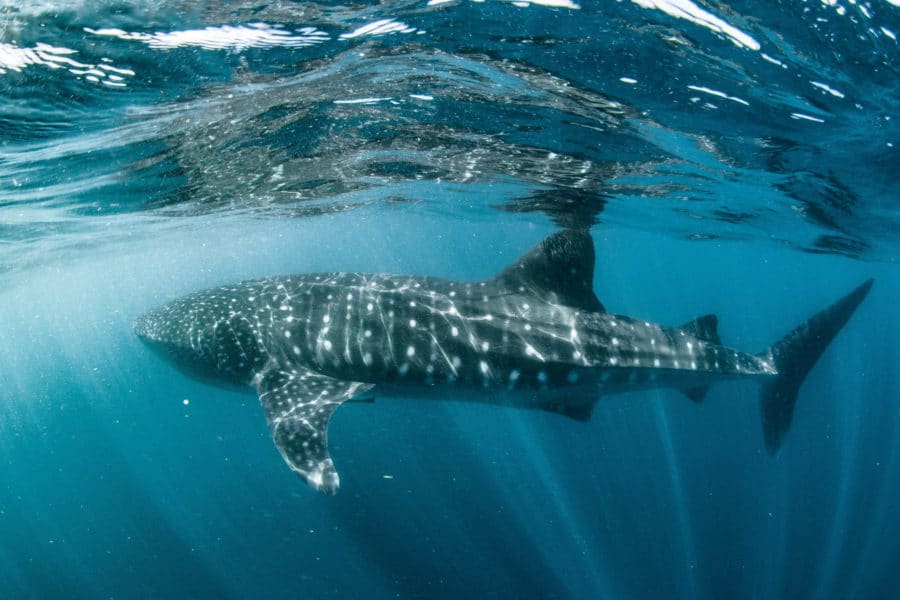 Exmouth
We decided to spend one night in Exmouth and check out the town. If you're staying in Exmouth I would definitely recommend going to Whalebone Brewing Company. We had a great evening trying the local beers, and enjoying pizza and live music in the beer garden – it's obviously a real hotspot in the town as it seemed like all the locals were here.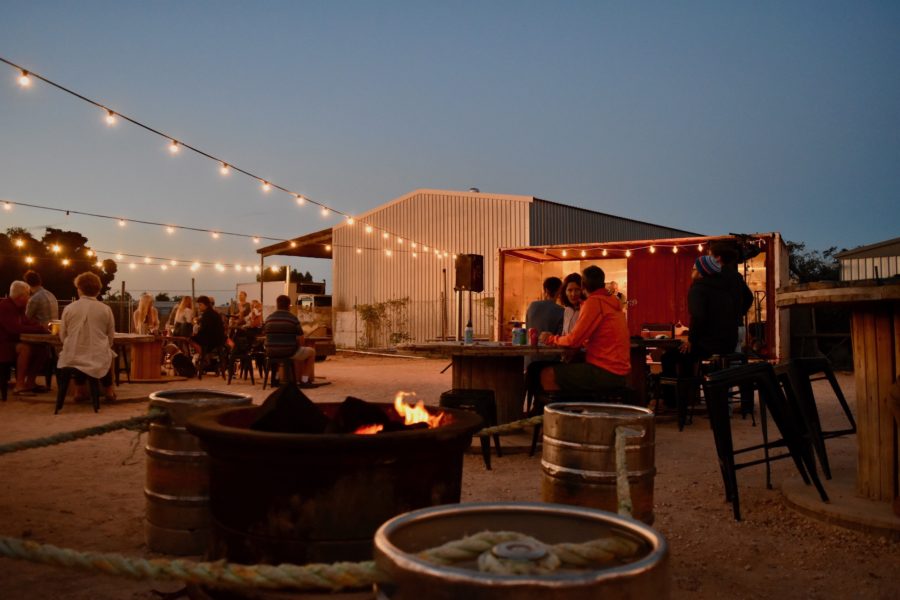 Eat – Whalebone Brewing Company
Sleep – Ningaloo Lodge Exmouth is a good budget option in Exmouth. The rooms are small but have private bathrooms and there is a shared kitchen if you want to make your own meals. It's also walking distance to the main shops and cafes. We paid $165 AUD (£82.50) for a double room.
For luxury, Mantarays Ningaloo Beach Resort overlooks Town Beach and has an infinity pool, restaurant and bar. A superior room with ocean view costs approx. $440 per night.
Exmouth to Coral Bay – 153km / 1 hour 40 mins
After a great breakfast at Social Society, we hit the road for our next stop – Coral Bay. Before you continue your journey, it's worth stocking up on any food/booze supplied in Exmouth as the supermarket at Coral Bay is smaller and more expensive.
Shortly after you leave Exmouth you will pass Charles Knife Canyon. I highly recommend stopping here to enjoy the views and take a few photos. It's a beautiful spot.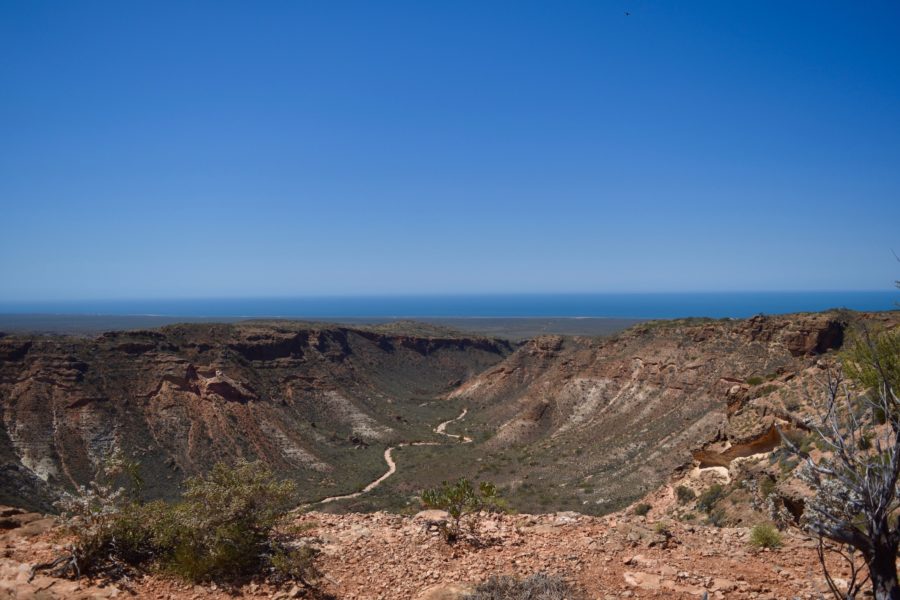 Coral Bay – 2/3 Days
I came to Coral Bay aged 15, and not much has changed since then which was a happy surprise. There is a small centre with a few shops and a bakery, a few cafes/restaurants and a couple of accommodation options, mostly camping and self-catering chalets.
It's also possible to swim with whale sharks and humpback whales from Coral Bay, and there are also a few operators offering manta ray and snorkelling tours. We took a boat trip with Ningaloo Marine Interactions the following day.
I've been fortunate to snorkel a lot since my first visit to Coral Bay all those years ago, and I always wondered if it really was as good as I remembered. It turns out it was better. I just couldn't get over how healthy and colourful the corals are here, and the abundance of marine life. In one snorkel we saw 6 different turtles. In the past, I've seen one, or perhaps two, but never so many in one location.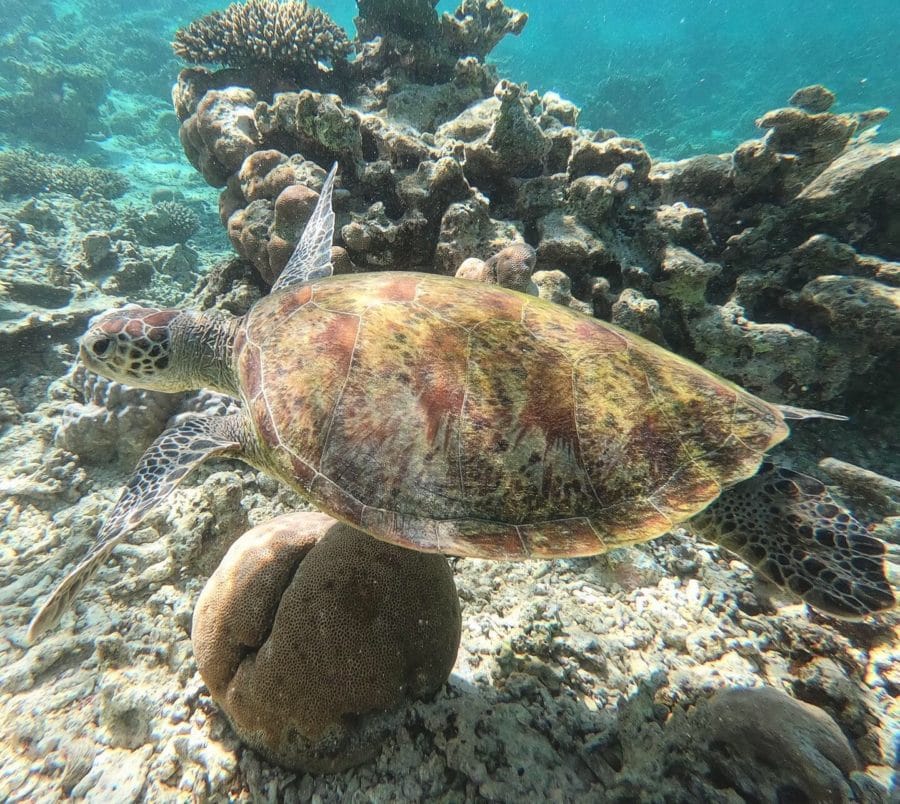 The spotter plans were out, searching for manta rays and whales, and I heard a mention of 'stripeys' over the radio. Next thing we knew we were sailing alongside three huge tiger sharks! The skipper asked 'does anyone want to swim with them?' I thought he was joking, but apparently not – as the boat's photographer slid into the water, gently swimming alongside a 3-metre long shark. If you had asked me that morning whether I would willingly get in the water with a tiger shark, my answer would have been no, but seeing how calm they were and how uninterested they were in the photographer, I decided to go for it, and I'm so glad I did. Much like the humpback swim, the sharks were relaxed and calm and I didn't feel in any way threatened or in danger. It was a brief encounter, as they swam past at a speed I could never hope to achieve, and we swam back to the boat beaming from a huge adrenalin rush.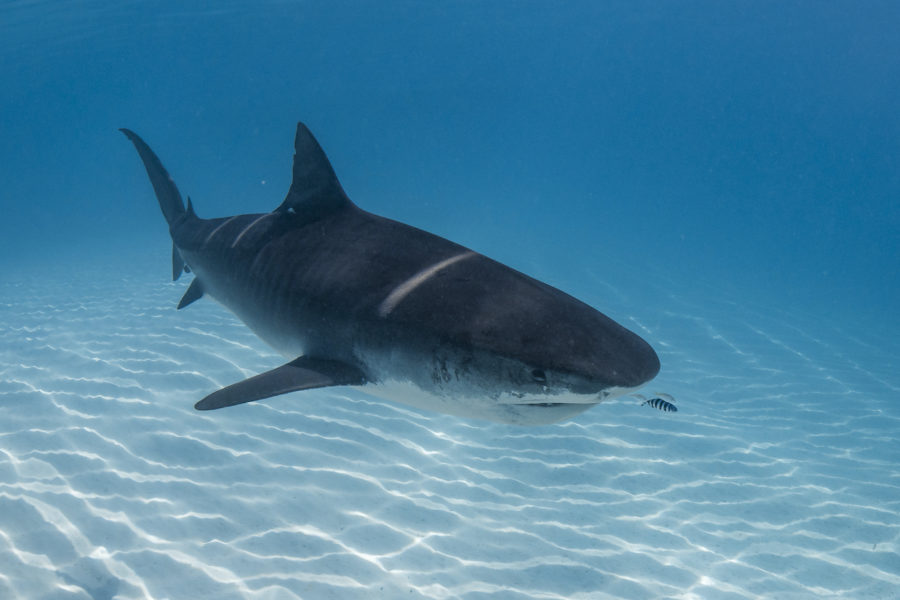 We loved the snorkelling trip so much, we decided to do it again the following day! This time we were lucky enough to see and swim with manta rays. We even got to witness a courtship between two males and a female which was a pretty special sight.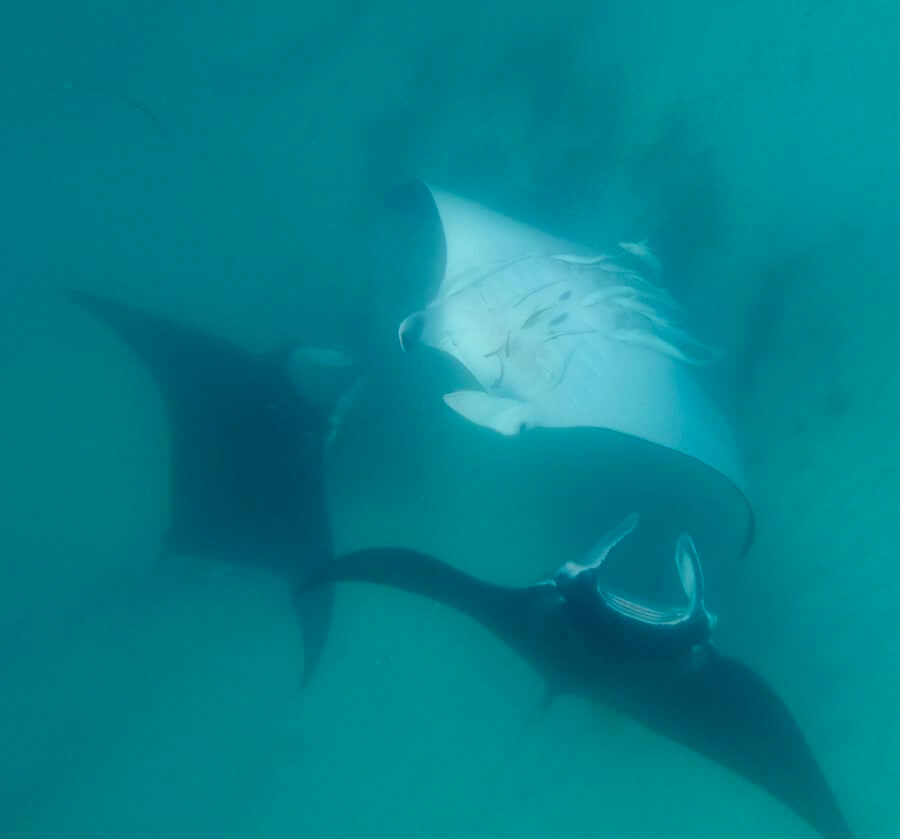 I really loved Coral Bay, and I would happily go back and spend more time there. There is something really magical about how relaxed and small it is, with such insane marine life on its doorstep.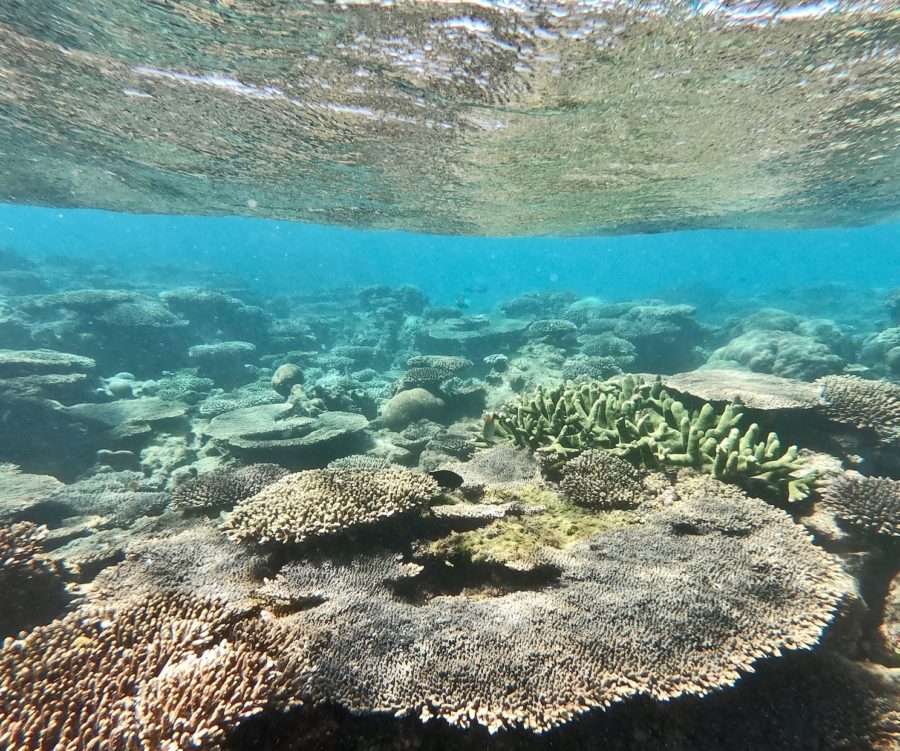 Eat – Though options are fairly limited, there are a couple of good cafes and restaurants in Coral Bay. We had a lovely dinner at Fins, with delicious fresh fish. The bakery does excellent pies, pastries and coffees and we also heard good things about Bills Bar.
Sleep – Ningaloo Coral Bay – Bayview is the cheapest option in Coral Bay other than camping or the backpackers, and we were very pleasantly surprised. We had a double room with its own kitchen and a lovely balcony with an ocean view. It cost us $215 (£115) per night.
Another good option is Ningaloo Reef Resort which has apartments with ocean views from $305 per night or the Penthouse from $345.
Find accommodation in Coral Bay
Coral Bay to Shark Bay – 556km / 5 hours 50 minutes
This is the longest drive of the trip, and if you're not keen to spend this long in the car you can break it up by spending a night in Carnarvon. However, we decided to set off early and do it in one day and stop at Carnarvon for an early lunch.
Carnarvon
Carnarvon is known as the fruit bowl of WA and produces 80% of Western Australia's fruit and veg, as well as being a big fishing hub. We had lunch at Sunsets Cafe, overlooking One Mile Jetty, which I would definitely recommend. The jetty is closed to the public, but there is an interpretative centre where you can learn about it and the town's history.
If you're into spacey stuff, head out to Carnarvon Space and Technology Centre to see the 'Big Dish'. This massive satellite dish was Australia's first satellite station and was an important part of the Apollo Moon Programme.
From Carnarvon, it's just under three hours to shell beach. On the way, be sure to stop at Gladstone lookout for some pretty cool landscapes.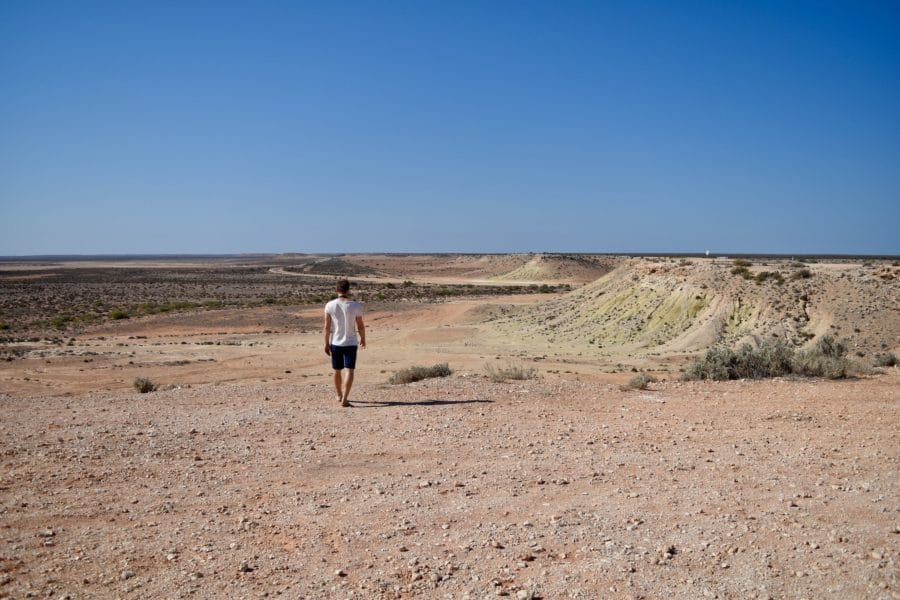 Shell Beach
Australian's are known for their practical naming of places and animals (my cousins used to Iive in Two Rocks, which is a town with two big rocks on the shore), and Shell Beach is another good example; a beach made up entirely of shells. It's a beautiful spot and worth a stop to admire the shells and have a paddle before continuing on the remaining 30 minutes to Denham.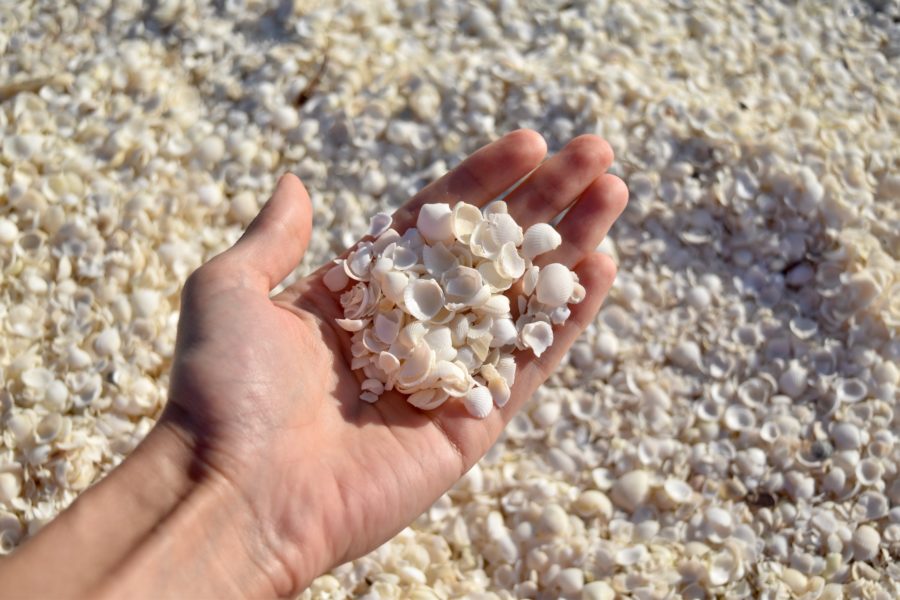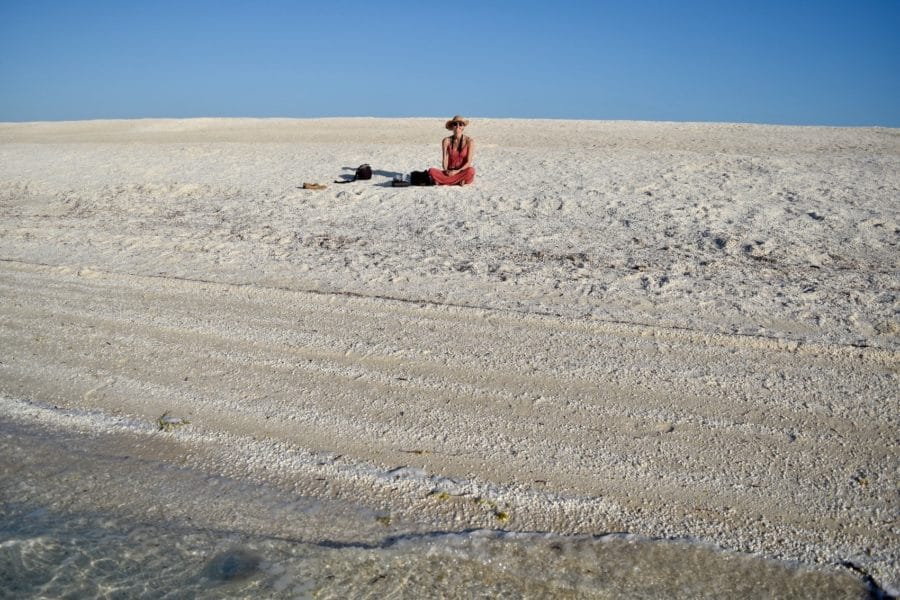 Shark Bay – 2/3 Days
Shark Bay is a stunning World Heritage area that encompasses Dirk Hartog Island, Francois Peron National Park, all well as Monkey Mia and Denham. If you're camping, I would stay in Francois Peron National Park, if not then the main accommodation options are in Denham or Monkey Mia.
Monkey Mia has a resort and camping. We chose Denham as the tour we were going on departed from there and it has more (and cheaper) options, but we did venture to Monkey Mia for dinner.
Monkey Mia
Monkey Mia is famous for bottlenose dolphins, that have been visiting the shores for more than 50 years. The rangers feed the dolphins a couple of times a day, which at first I was a bit unsure about, but the feeding is heavily monitored by the Department of Parks and Wildlife to ensure that the interactions don't interfere with their natural feeding patterns.
The dolphins are usually fed first thing, and then another two times during the morning. We didn't visit for a feeding, although I did go 16 years ago on my first Western Australian road trip, and from the sounds of it not much has changed.
Monkey Mia is a lovely spot for dinner, with the restaurant right on the beach and some delicious seafood on the menu. If you're driving back to Denham afterwards as we were, make sure you drive slowly and keep an eye out for Kangaroos, as there are no street lights.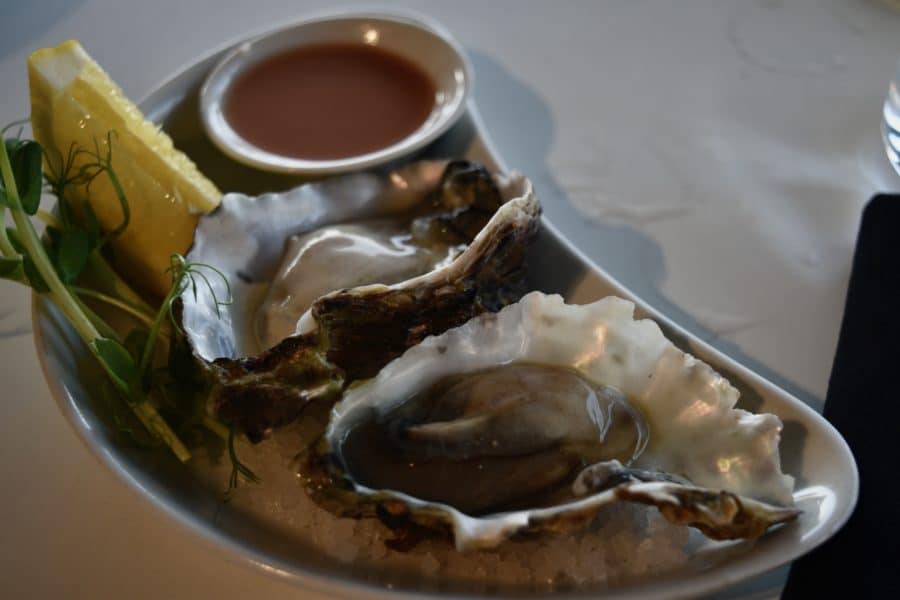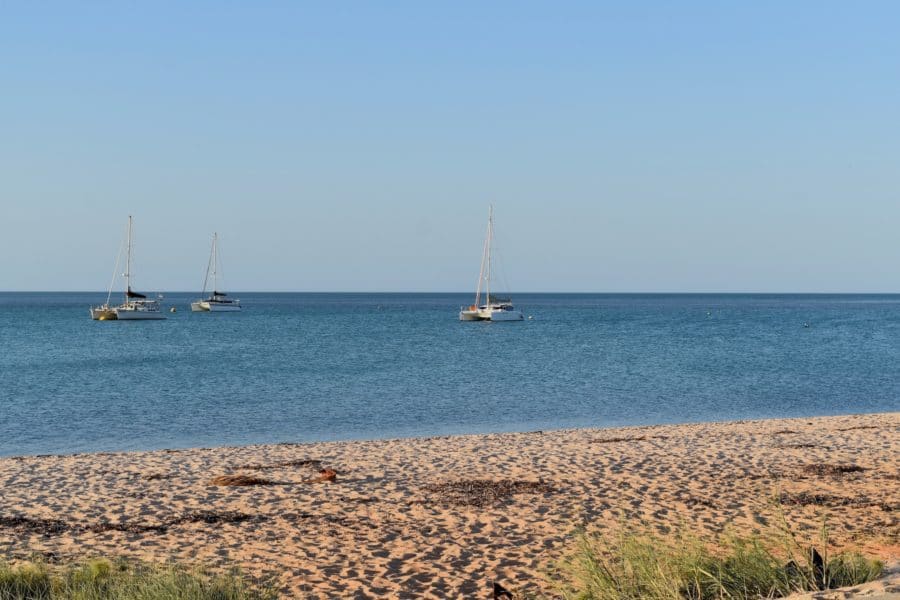 Denham
Denham is a lovely little spot, with a number of accommodation options and a couple of cafes and restaurants. Most tour operators heading to Francois Peron National Park depart from Denham, including ours; Shark Bay Coastal Tours.
Sleep – Oceanside Village has self-catering villas across the (quiet) road from the beach. We paid $143 AUD (£76.50) per night for a one-bed villa that sleeps four.
Francois Peron National Park
This is easily one of the most beautiful destinations in Australia. The park is made up of stunning contrasting landscapes, with red sand, white beaches and turquoise water. You need a 4WD to explore the park as it is all sandy roads, we had a regular hire car, so took a tour instead. Our guide Garth was an expert wildlife spotter and managed to show us animals I hadn't even known existed; thorny devils, tawny frogmouths and bobtail lizards.
Wula Gura Nyinda also offer fantastic tours, hosted by an Aboriginal guide.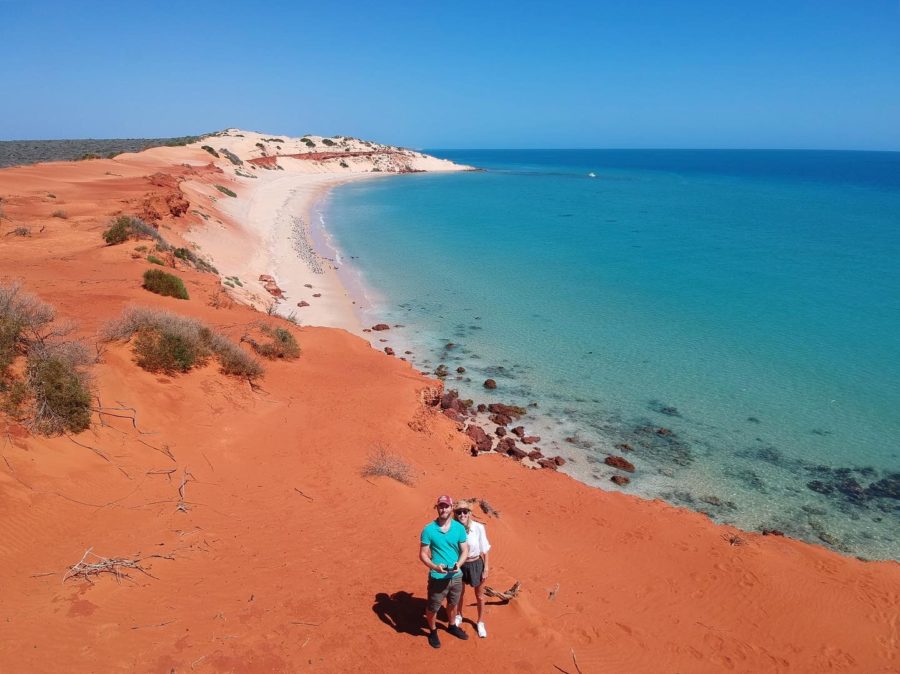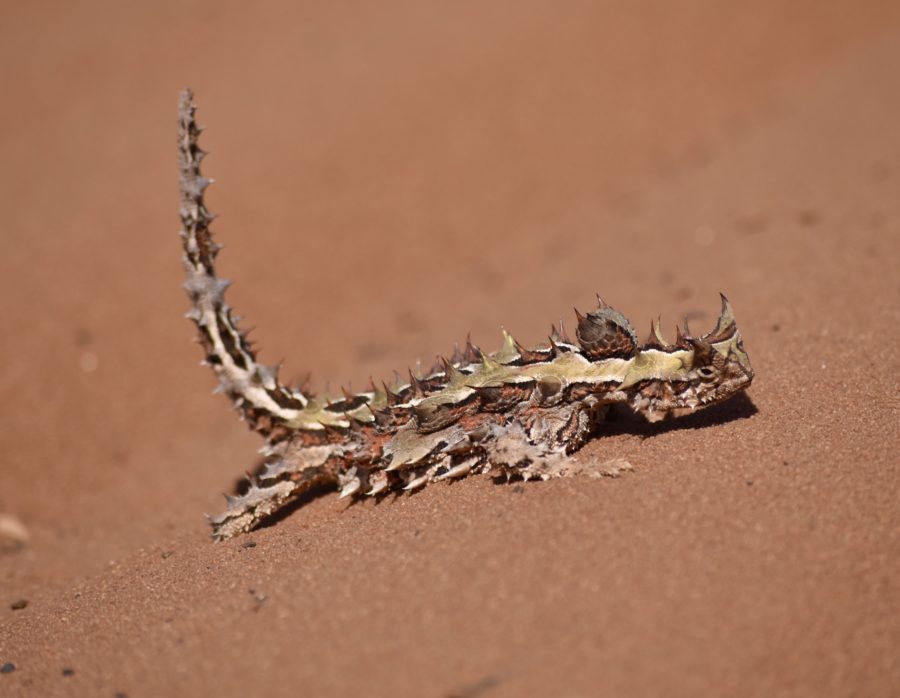 Shark Bay to Kalbarri – 374km / 3 hours 55 minutes
It's worthwhile heading off early again so that you can spend the afternoon in Kalbarri National Park, particularly as you will pass two of the main sections of the pass before you arrive into Kalbarri town.
Kalbarri National Park
This beautiful national park covers 186,000 hectares of river gorges, rock formations and coastal cliffs. There are a number of different locations and entrances to the park, so do a bit of research beforehand and work out which parts you would like to see. The most famous spot is 'Nature's Window' which is located in Inyaka Wookai Watju (The Loop) section of the park. It's easily accessible via a 1km return trail from the car park. If you fancy a more challenging or longer hike, you can continue onto The Loop, an 8km class 4 trail. In this same section of the park, you will also find Z Bend River Trail, a 2.6km return hike, with gorgeous views of the Murchison River. Regardless of which you do, bring lots of water and wear a hat and sunscreen – there is little shade and no drinking water in the national park. It may also be worth investing in a fly net/hat, as they can be pretty bothersome in the park.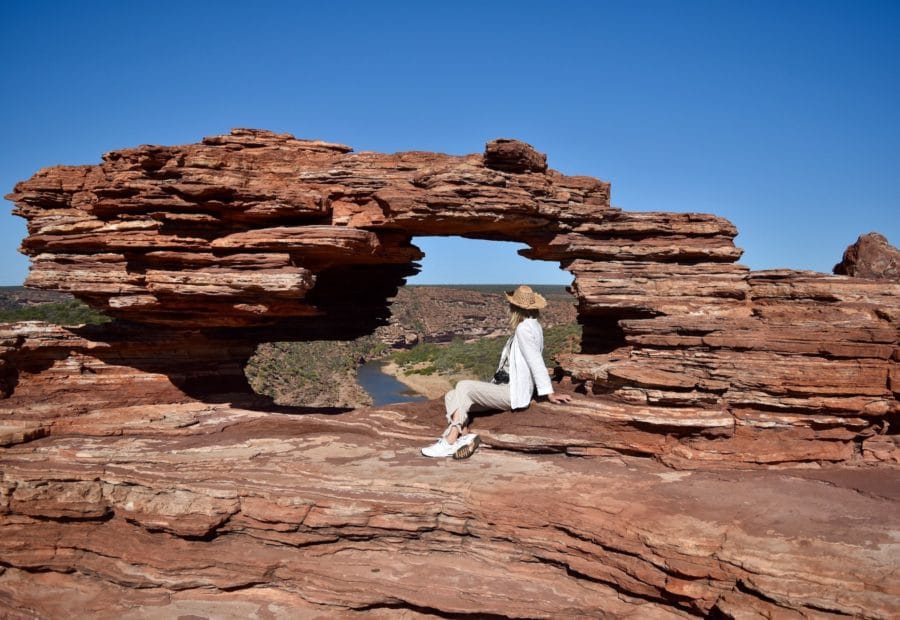 After exploring the park we checked into our accommodation and headed out for dinner. During my first WA road trip, we ate at a great place in Kalbarri, where the napkins were toilet rolls, staff were rude and if you played a song on the piano you got your dinner for free. I know it doesn't sound great, but we loved it (and the food was delicious!). I was hoping to go back and get another free dinner, but sadly the original place now has new owners, and the piano is no longer there. The food is still great though, and the staff are polite (and no toilet rolls). It's a lovely outdoor spot for a seafood dinner in Kalbarri.
Eat – Finlay's Kalbarri
Sleep – Kalbarri Palm Resort is a good budget option in Kalbarri, with a pool and kangaroos hanging around outside. We had an unexpected guest in our room – a snake in the shower! But it turned out to be harmless and the lovely owner removed it for us – all part of the Australian experience! A night in a double room was $89 AUD (£48). There are lots of inexpensive accommodation options in Kalbarri.
Find accommodation in Kalbarri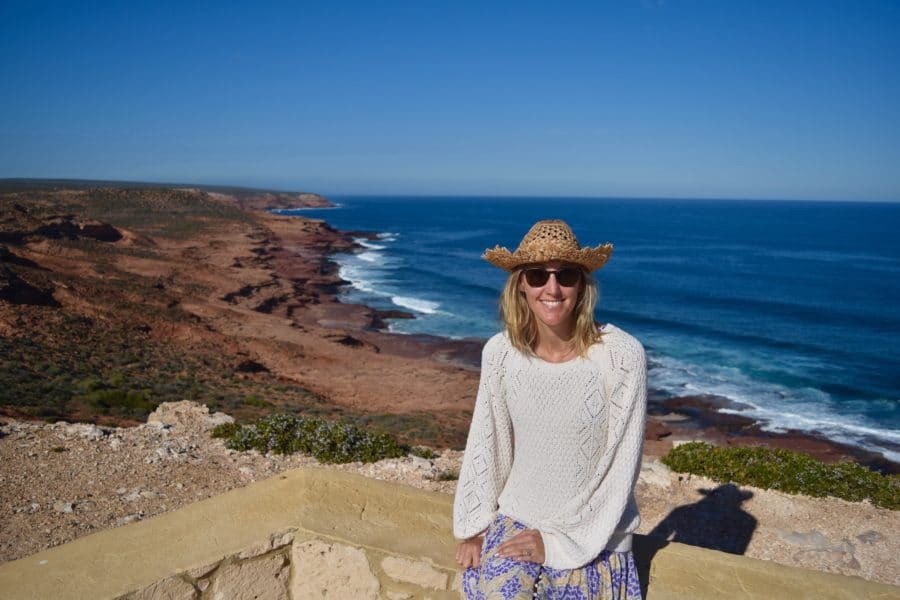 Kalbarri to Jurien Bay – 356 km / 4 hours
Driving south from Kalbarri you will encounter different sections of Kalbarri National Park. Make sure you stop at Red Bluff to admire the view and check out the surfers in the ocean below.
Hutt Lagoon
I've seen plenty of Instagram pics of Australia's pink lakes and I was keen to see them for myself. One of these is Hutt Lagoon, just south of Kalbarri. Our route took us down George Gregory Drive, where we stopped to have a look at the lake. It didn't look especially pink, and we were a little disappointed. We decided to try the other side of the lake and see if the view was any better, and carried on around the lake towards Gregory. Wow, this is where the colour really pops! There is a lookout here which gives you a raised viewpoint over the lake, and you can really admire the incredible hues. You don't need too long here, but it is well worth the stop (and photo op of course!)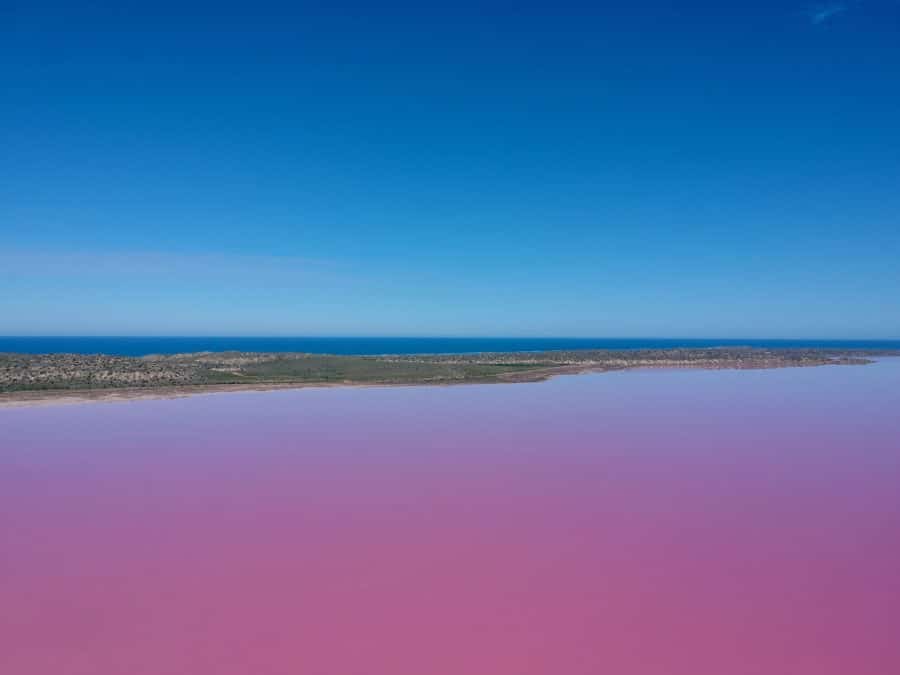 Geraldton
Geraldton is a good place to stop for lunch as it has plenty of cafes and restaurants. We had a nice lunch at Salt in the centre.
Illegal Tender Rum
An hour after Geraldton we stopped at Illegal Tender Rum for a tasting. Enrico was driving, so I got to sample a few of their delicious rums – I recommend the spiced rum – made using native herbs and spices.
Jurien Bay
We had another aquatic adventure ahead of us in Jurien Bay! We were due to head out the next morning with Turquoise Safaris, so we checked into our accommodation and had a relaxed evening in Jurien Bay.
Eat – There wasn't a great deal open in Jurien Bay during our visit, but we found a pub serving average pizzas.
Sleep – Jurien Bay Motel Apartments have nice and modern rooms and are walking distance from a couple of restaurants (if they are open!). They were also very kind and let us have a late check out so that we could shower after our tour the next day. A double room cost us $154 AUD (£82.50).
Find accommodation in Jurien Bay
The next morning it was time for our Sea Lion Tour. After a quick brekkie at the local bakery, we headed for the boat harbour and aboard our boat for the morning. The tour takes you out to one of the islands where a colony of sea lions live. We got in the water for a snorkel and the sea lions came over to check us out! They call them the puppies of the sea and it's easy to see why, they are so playful and curious. The water was shallow and the visibility was great, and we enjoyed an hour or so swimming and observing the sea lions.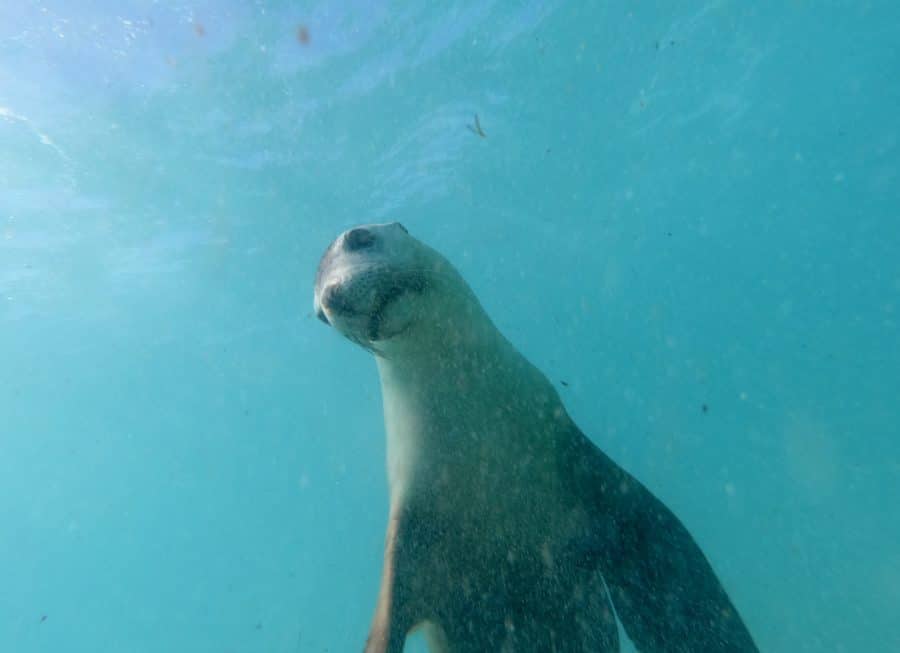 Then it was back on the boat and back to the harbour for the final leg of our journey.
Jurien Bay to Perth – 230 km / 2 hours 35 minutes
Cervantes
Make sure you stop at Cervantes for lunch, 30 minutes south of Jurien Bay, for a taste of the famous Cervantes lobster! There are quite a few cafes offering a lobster lunch and we opted for Cervantes Bar and Bistro. The portions are pretty large, so we shared a whole lobster with chips and salad. It was delicious.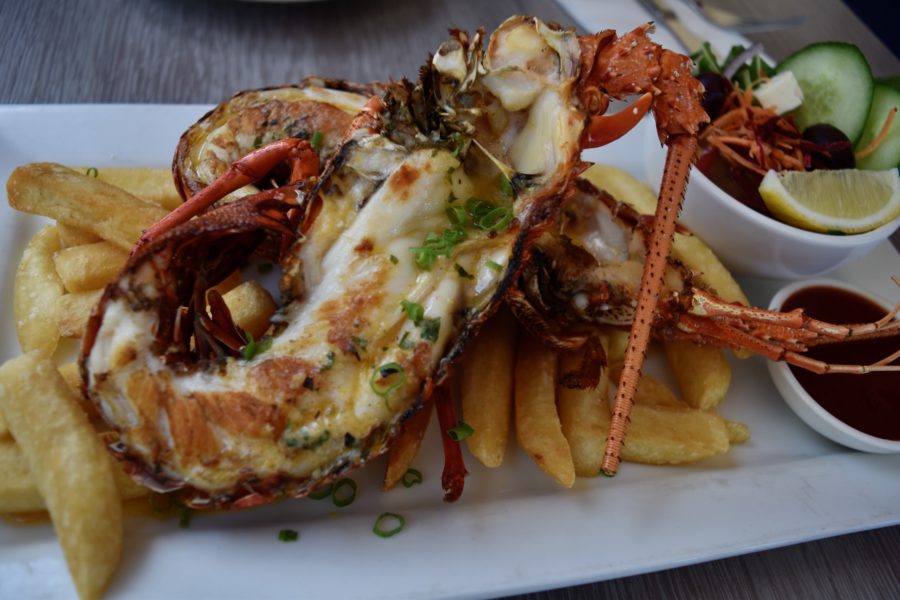 Perth
Back in Perth for the final night of our trip, we wanted a little luxury and checked into Crown Metropol, part of the Crown Perth complex. It's a huge place, with multiple hotels, a casino, 32 restaurants and bars and even two ballrooms and a theatre all under one roof. There is also loads of parking which was perfect for us. We spent our last night enjoying dinner at Silks, a fantastic Cantonese restaurant and then playing a few rounds of blackjack and roulette in the casino.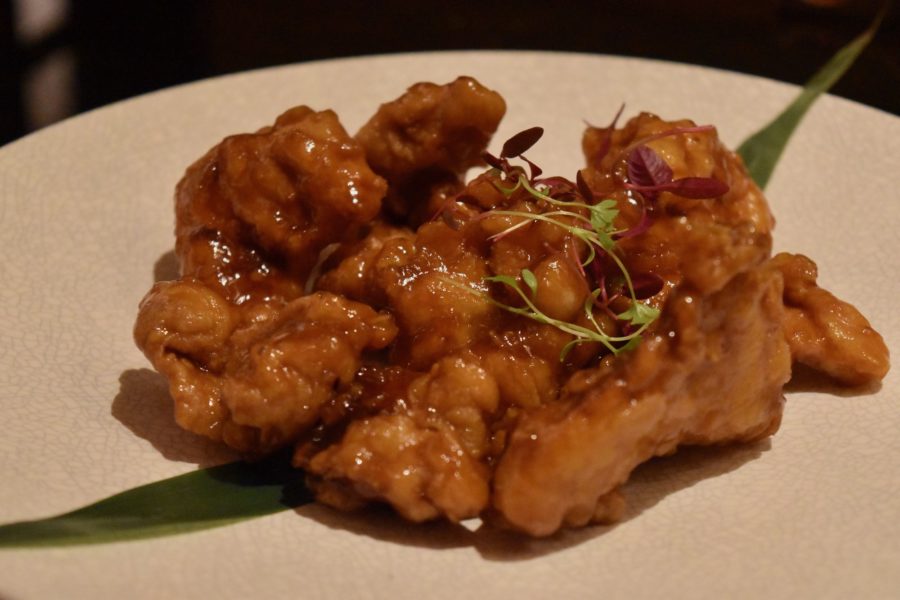 The next morning we were back at Perth airport for our flight home. It was such a fantastic road trip and I would absolutely recommend it, particularly if you love marine life and snorkelling.
Australia Road Trip Tips
The roads in Western Australia are long and straight. I recommend using cruise control if you have it, to ensure you don't speed as it's easy to speed up on these roads without noticing.
There is a lot of wildlife in Western Australia, and it often ventures onto the road. Stay alert for Kangaroos, emus, cattle and more, particularly around dawn and dusk – as this is when Kangaroos are most active.
Take regular breaks and never drive tired. I recommend planning your trip so you don't have to drive after sundown.
Bring lots of water in the car and snacks – there aren't that many places to stop along many of the roads on this road trip.
Fill up your petrol when leaving each destination and avoid letting it go below half a tank – sometimes it can be a few hours before you see another petrol station.
Particularly in the north, there is often no phone reception between towns, so it's a good idea to download offline maps before you go or take a paper map with you.
Western Australia is full of stunning national parks and most of these have an entry fee. It's worthwhile buying a WA Holiday Parks Pass before/when you arrive, as it will work out cheaper if you visit more than 3/4 parks during your stay.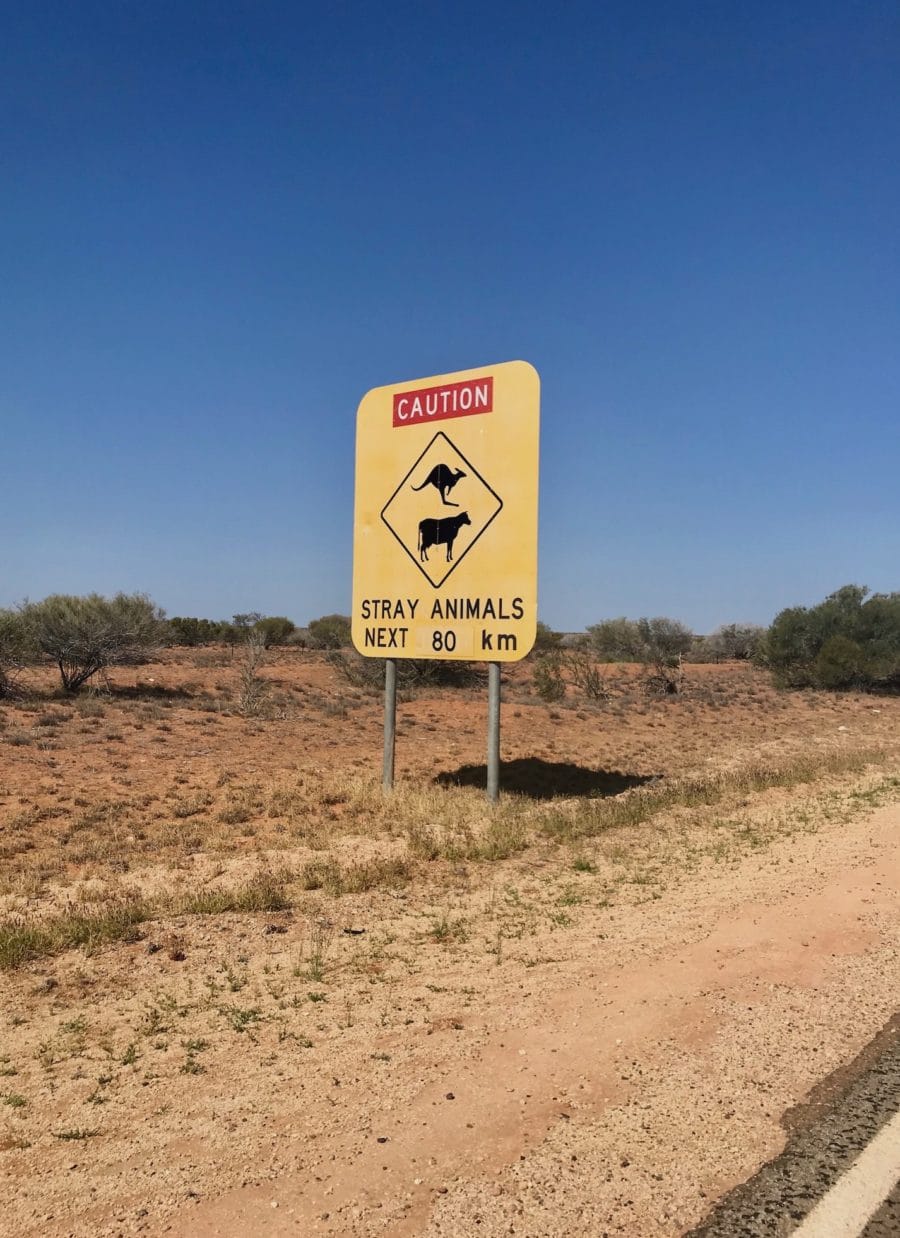 FAQs
How long does it take to drive from Perth to Exmouth?
It takes just over 15 hours to drive from Perth to Exmouth without stopping, but there is so much to see on the way it's definitely worth taking your time.
Do you need a 4WD to drive from Perth to Exmouth?
The roads between Perth and Exmouth are sealed so a 4WD isn't required. The main place you may want a 4WD for is Francois Peron National Park, but there are also tours if you don't have 4WD.
Is Exmouth or Coral Bay better?
Both are great, with different things to offer. Read our full article on Coral Bay and Exmouth here.
What is the distance from Exmouth to Coral Bay?
It's 153km from Exmouth to Coral Bay and it takes 1 hour 35 minutes to drive.
How long is the flight from Perth to Exmouth?
Flights between Perth and Exmouth take about two hours.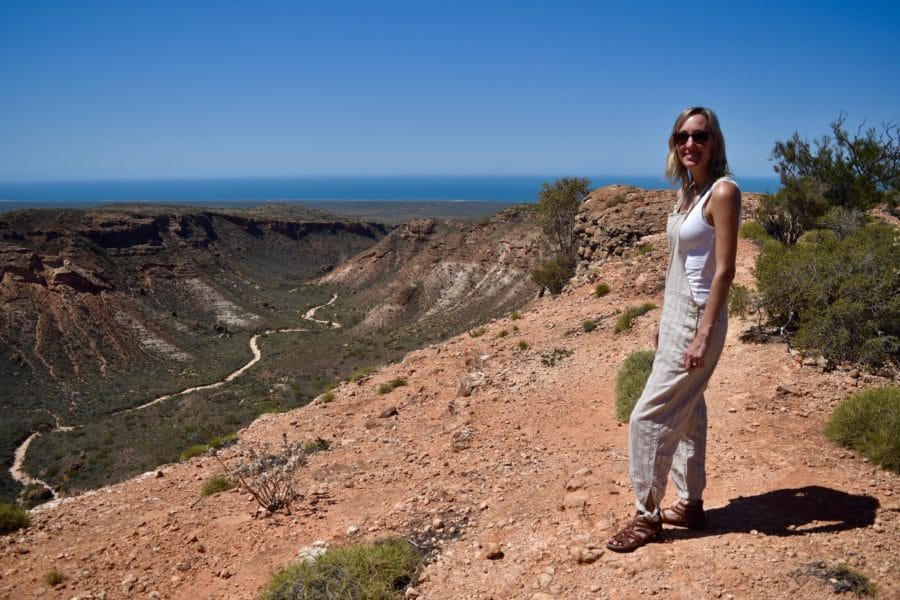 Have you done this road trip? I'd love to hear about your experience!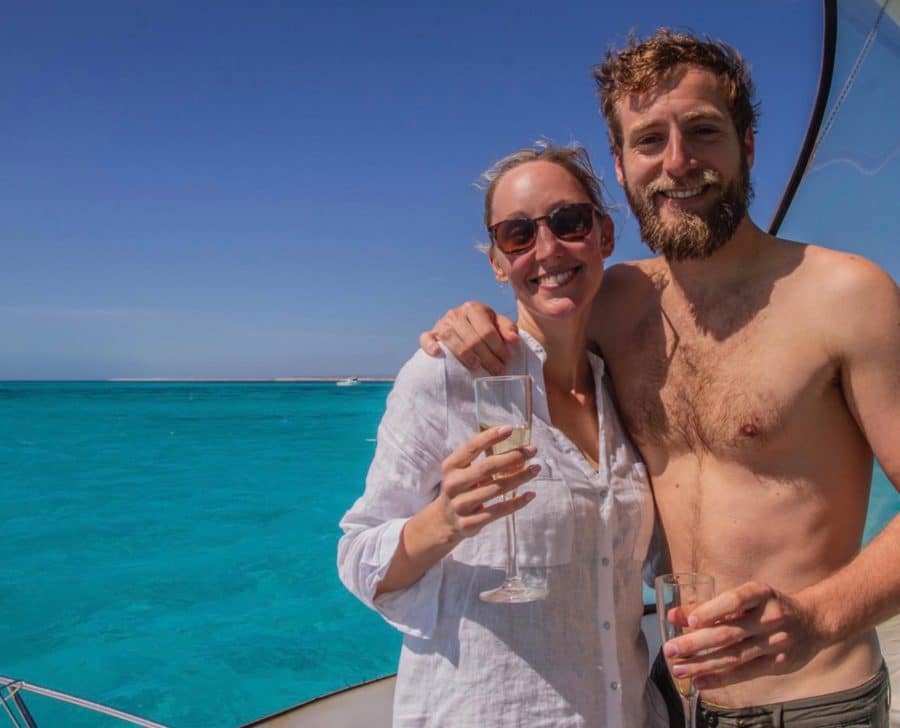 Thanks to Tourism Western Australia for providing us with car hire, Ningaloo Marine Interactions for the manta ray swim and to Sal Salis, Crown Perth and QT for hosting A Lovely Planet during this Perth to Exmouth road trip.