The Great Barrier Reef needs no introduction. The world's largest coral reef is home to over 3000 individual reef systems, coral cays, and over 9000 marine species. It's a special place. I've been lucky enough to visit a few times and take any opportunity I can to return. After two trips were detailed due to COVID-19, I finally made it back. This time with a baby and his grandparents in tow, for a family holiday to the Great Barrier Reef.
Visiting the Great Barrier Reef
There are a number of different departure points for visiting the Great Barrier Reef, from Bundaberg all the way up to Cape Yorke, but the most popular departure point is Cairns. We stayed in nearby Palm Cove – which is an idyllic spot – and drove the 20 minutes south to the wharf in Cairns for our trip with Reef Magic.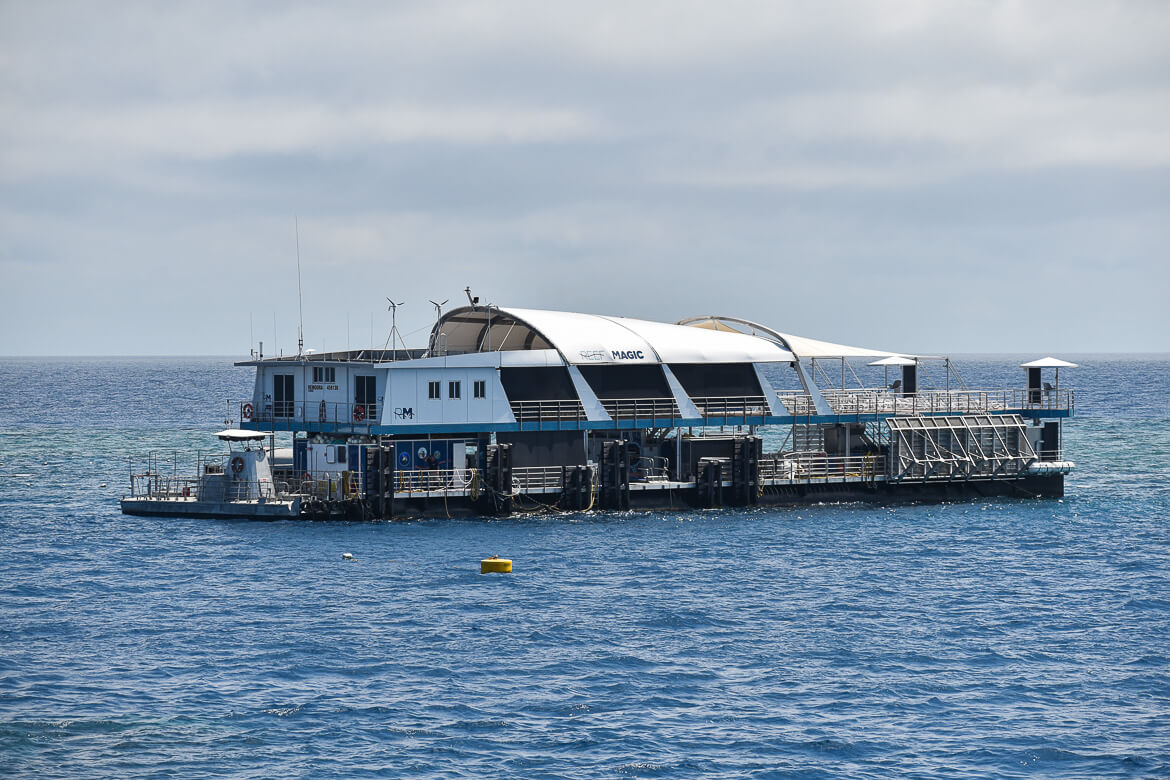 Reef Magic have the newest pontoon on the Great Barrier Reef and it is one of only four companies that offer a reef trip to a pontoon from this area. There are many benefits to a pontoon experience. Firstly, the pontoon is much more stable than a boat, so if you're feeling a little seasick on the way out then you can enjoy some stability for the majority of the day on the pontoon. Secondly, you have so much more space on the pontoon, this is particularly handy if you're travelling with toddlers and kids who have lots of energy. Our little babe has recently started walking and it's all he wants to do, so being able to take him for a walk around the pontoon was a massive bonus. Thirdly, there are lots of facilities and activities available on the pontoon that just wouldn't be possible from a boat tour, such as helmet diving, changing rooms and more. With two fairly nervous swimmers and the baby in our group, a pontoon was the way to go.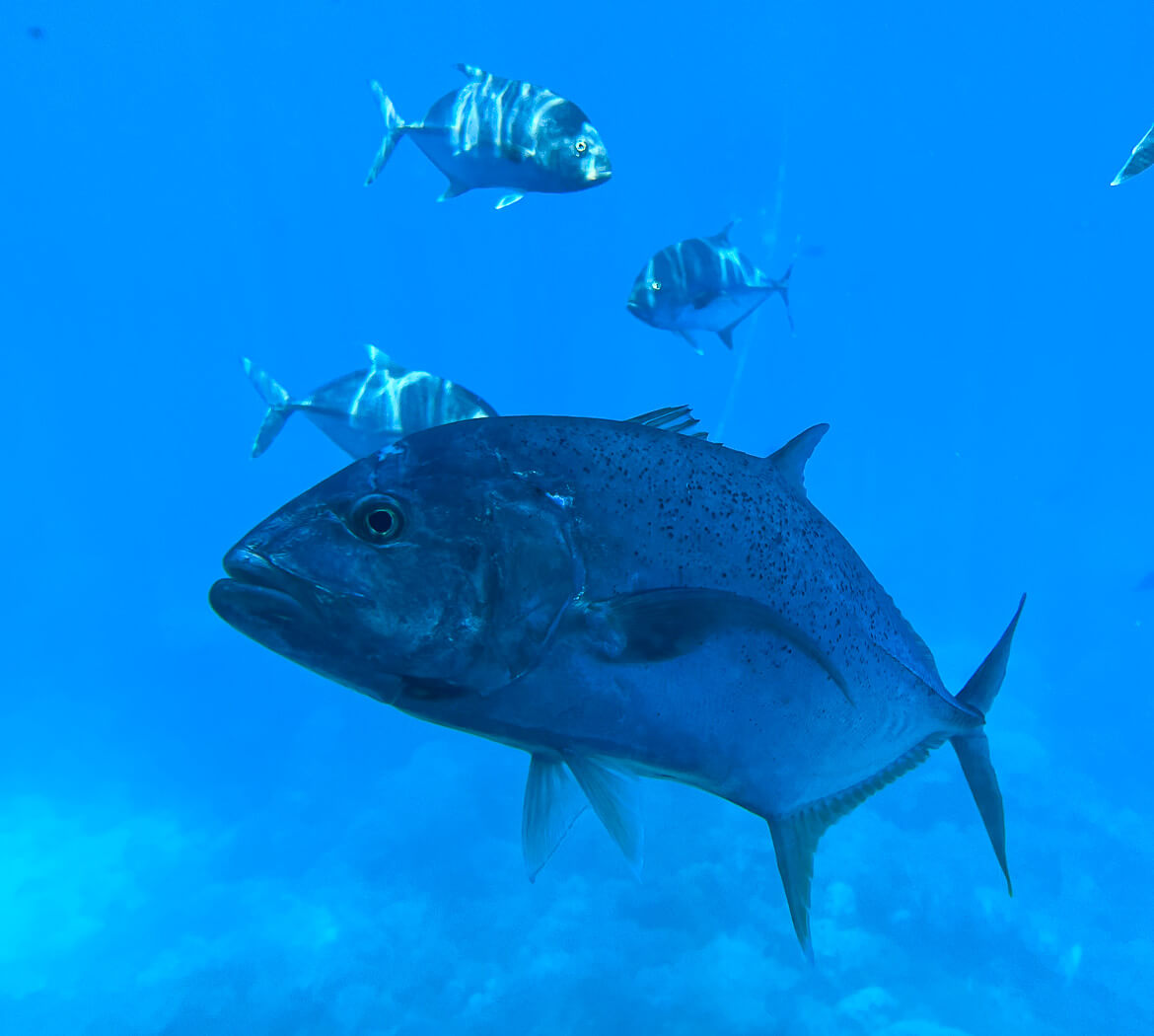 Reef Magic Cruise
It's a 90-minute cruise out to the pontoon, which takes you past Fitzroy and Green Islands and some of the beautiful Queensland coastline. It's a large and spacious motor-powered catamaran, and to be honest, the time flies by as the crew brief you for the day ahead, with an overview of all the activities available as well as an introduction to the reef from the company's marine biologist.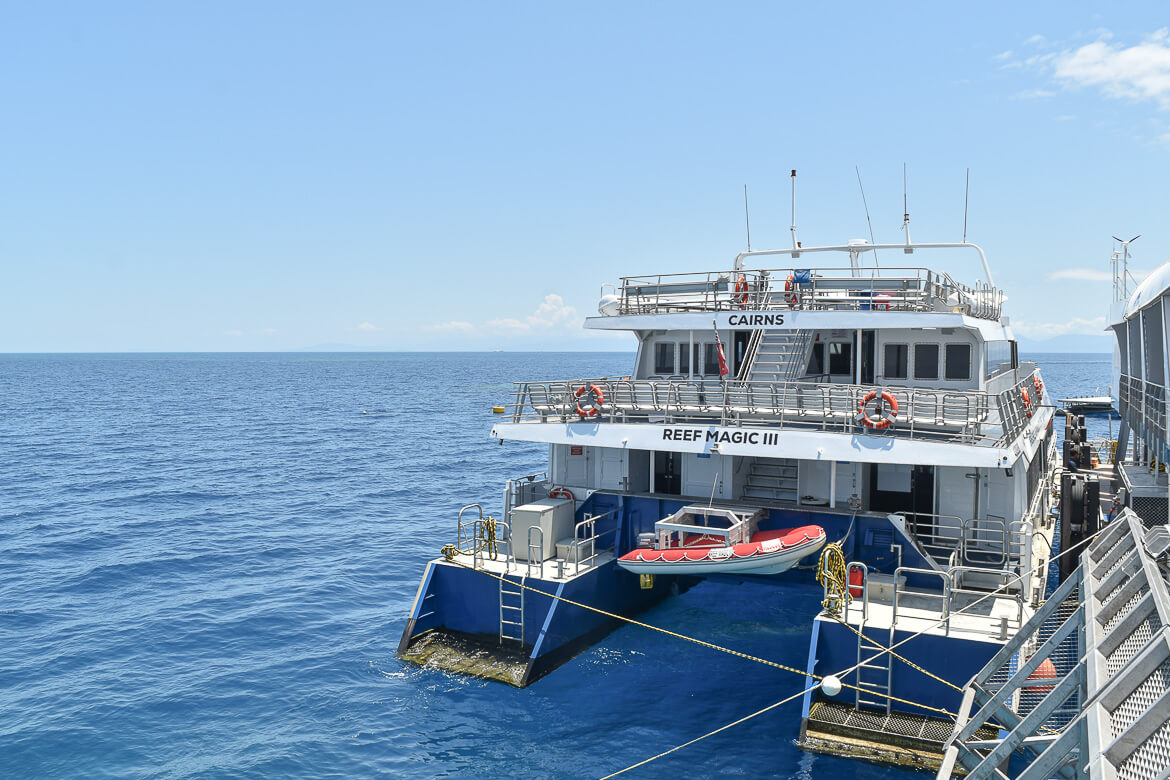 Reef Magic Pontoon
You then have 5 hours to enjoy the pontoon and underwater paradise at Moore Reef. Exploring the reef was undoubtedly my highest priority. We grabbed some stinger suits and headed straight into the water.
Irukandji jellyfish live in the waters around tropical North Queensland and though stings are rare, particularly during the summer months there is a risk of encountering the dangerous jellies. So stinger suits are recommended. They also protect you against the sun while snorkelling which is an added bonus. Stinger suits plus all snorkelling equipment are included in the tour price.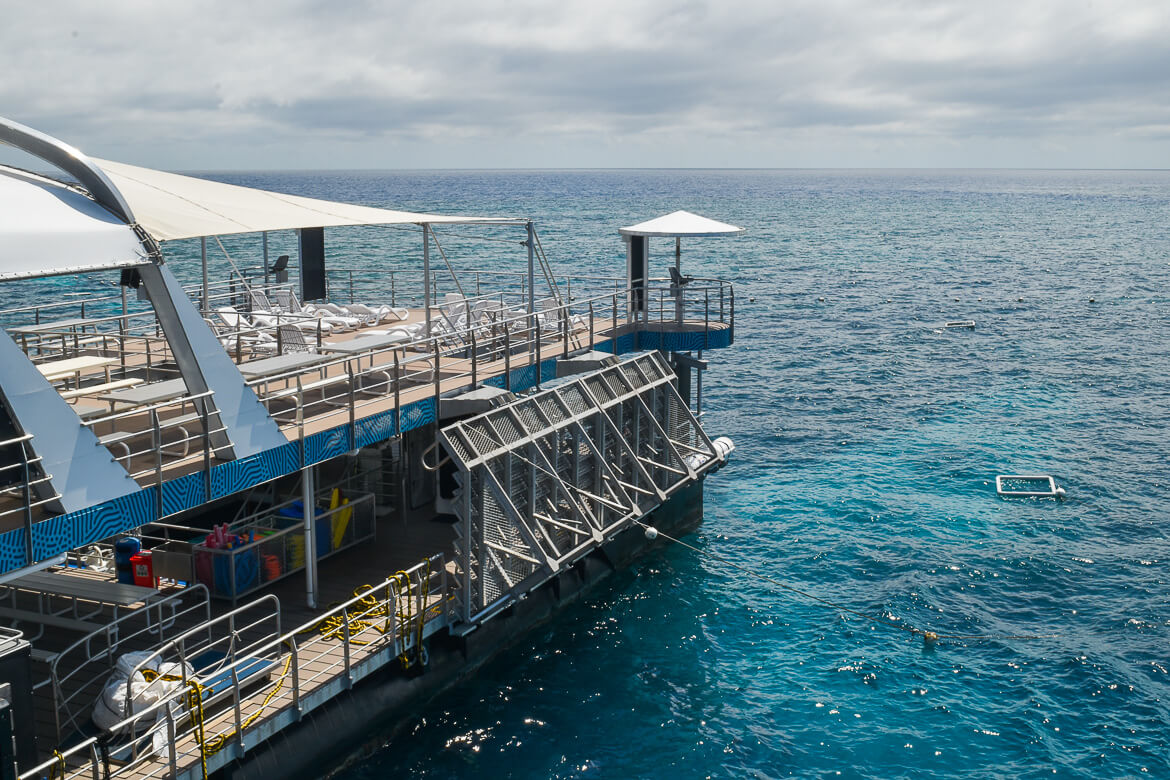 Snorkelling
As soon as you step off the pontoon and into the water you are face to face with a plethora of different fish, from giant trevally to a giant Maori wrasse there is plenty to see, and that's before you even reach the coral. It was the best snorkelling I've experienced on the Great Barrier Reef with vibrant and healthy, colourful corals in every direction.
Beginner snorkellers can join guided snorkels where a marine naturalist will point out different marine life on the way. Experienced snorkellers can join the adventure tour, which explores a different part of the reef, accessible by boat.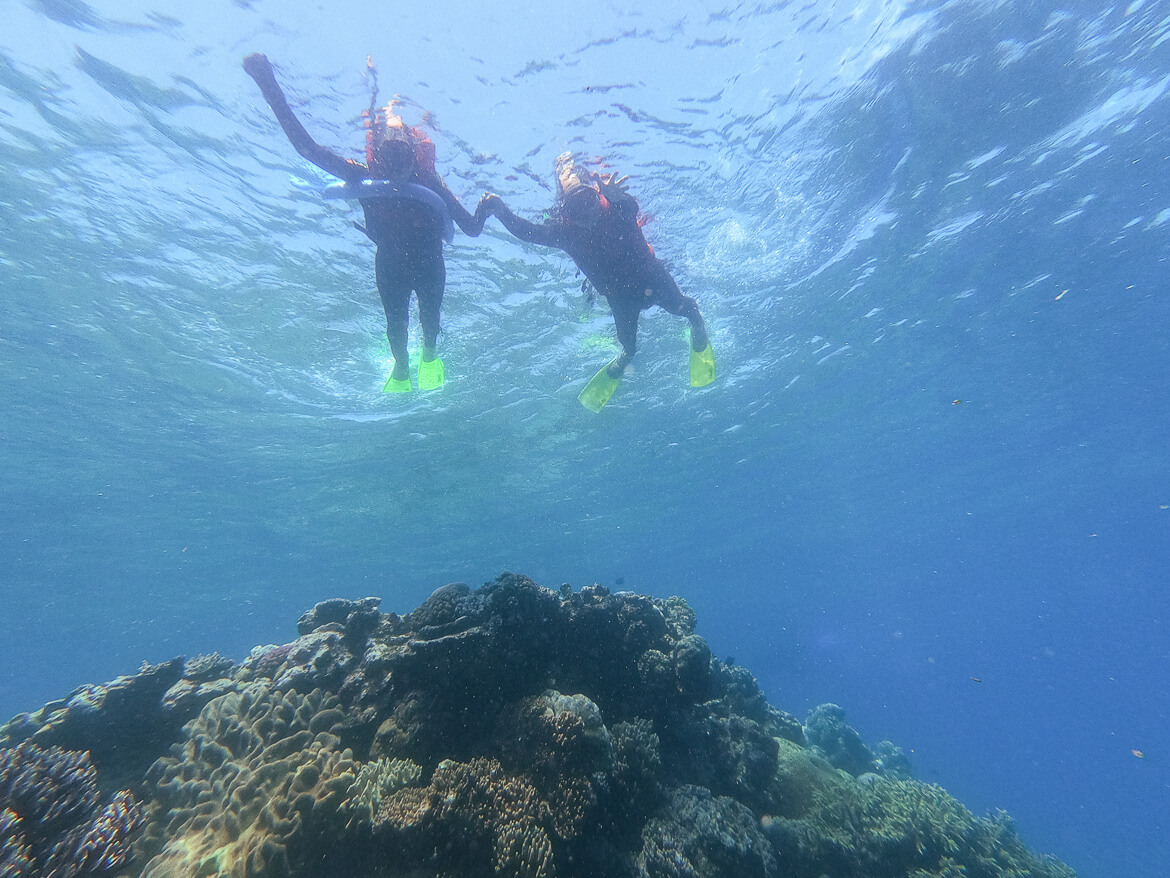 The pontoon was fantastic for my in-laws, who aren't confident in the water. They swam using the provided life vests and woggles, which made them feel more comfortable, and the wide easy access stairs down to the water make getting in and out a breeze.
Something I loved, is that Reef Magic hire out prescription masks, so if you wear glasses and don't have/want to wear contacts in the water you can hire a mask for your prescription. They were a bargain at $5 for the day.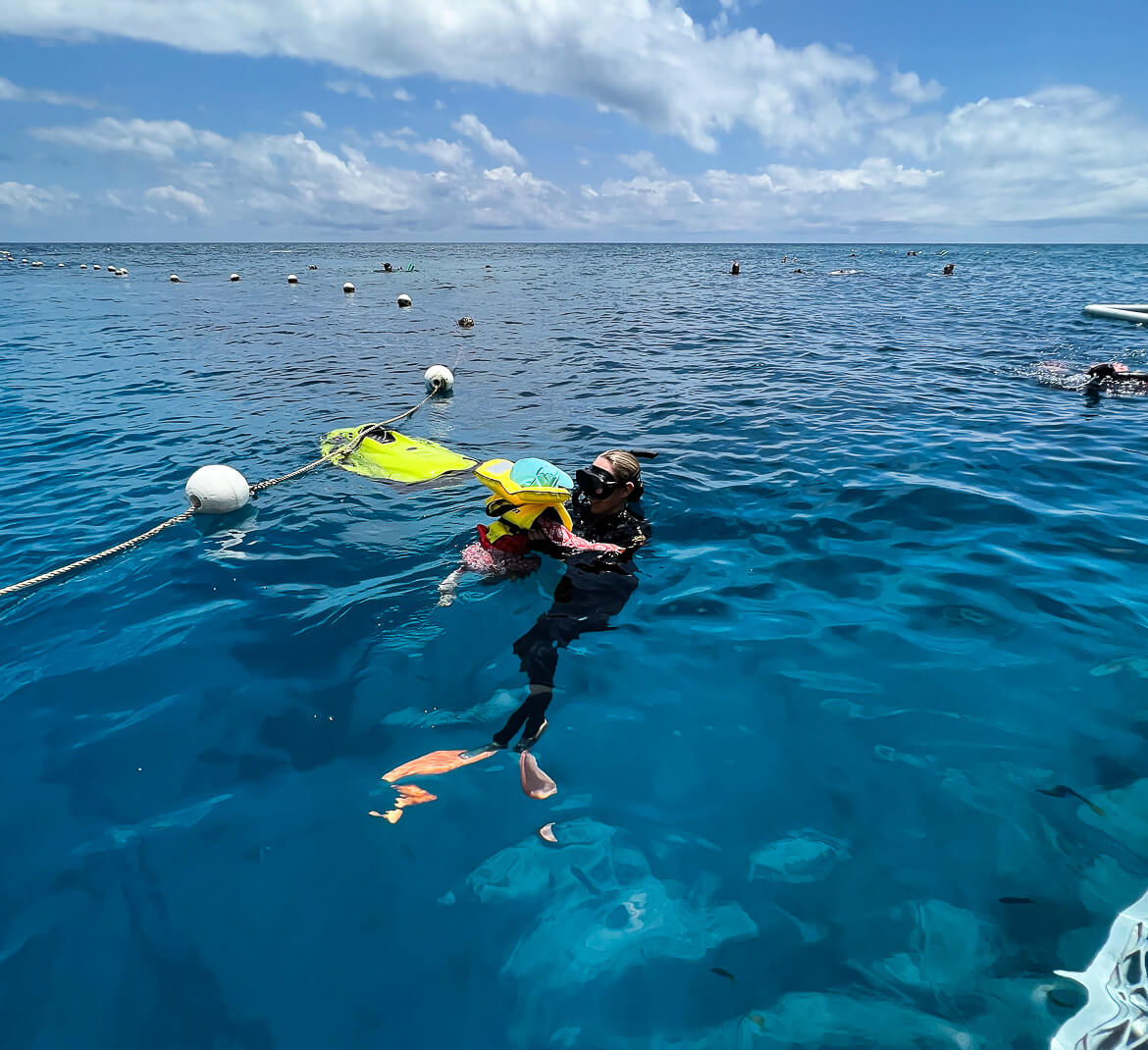 Scuba Diving
There is also the option to scuba dive from the pontoon. Certified divers can head out with a guide and beginners can do a try dive with an introduction to diving and practice in an enclosed underwater area of the pontoon before you head out to the reef.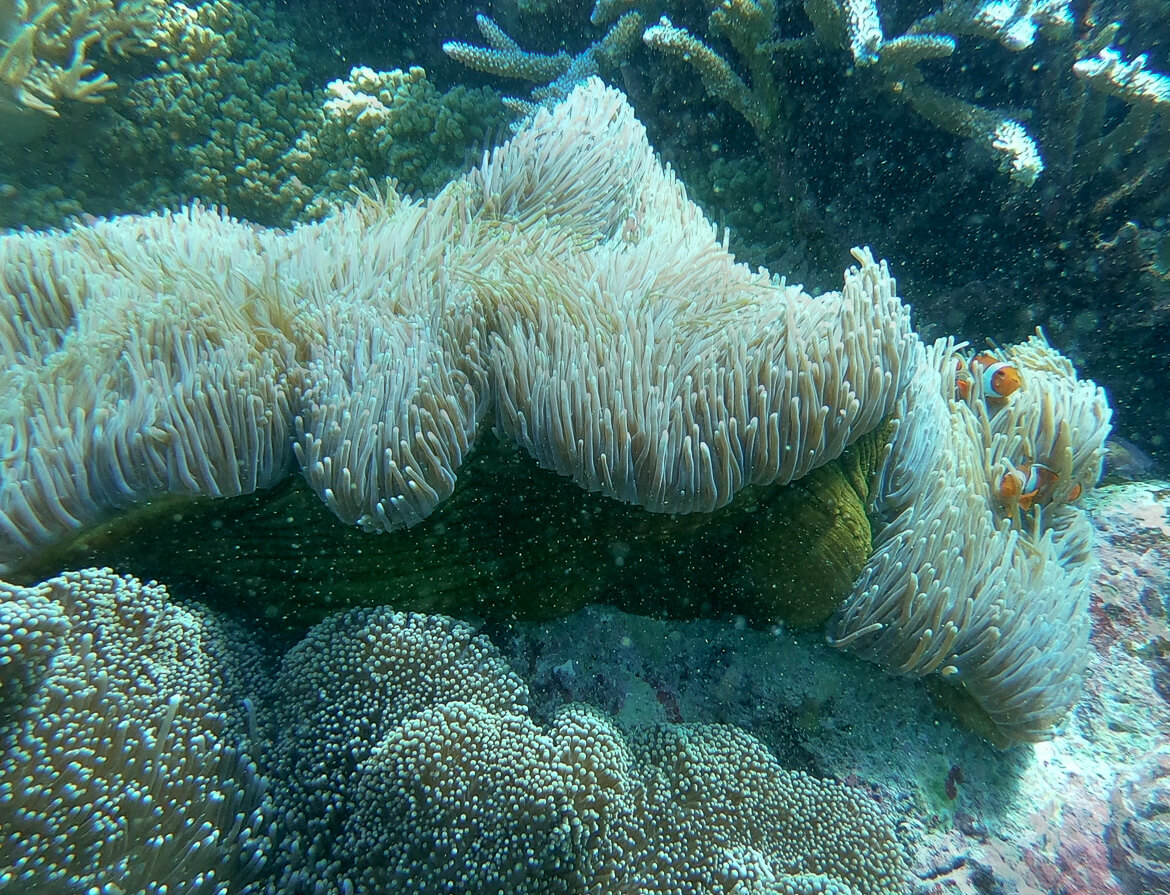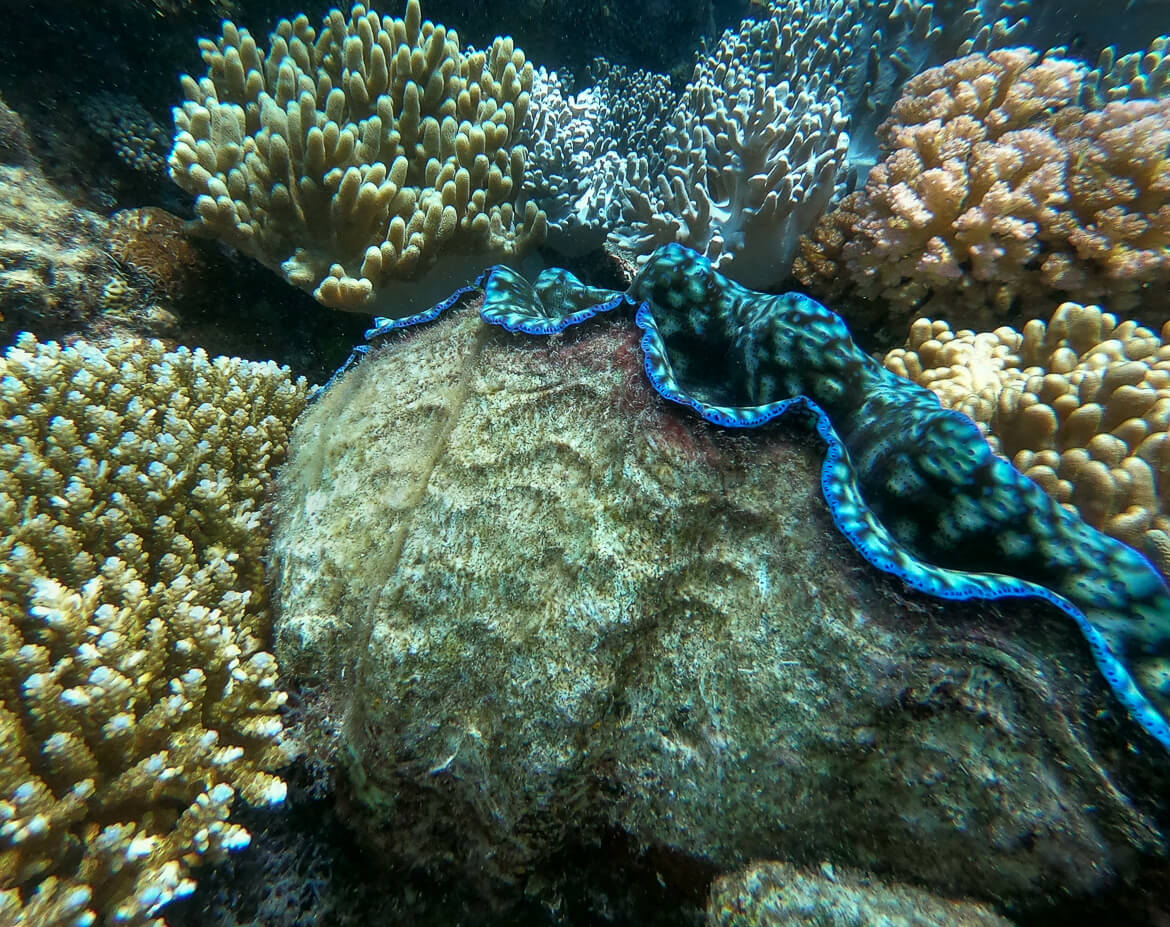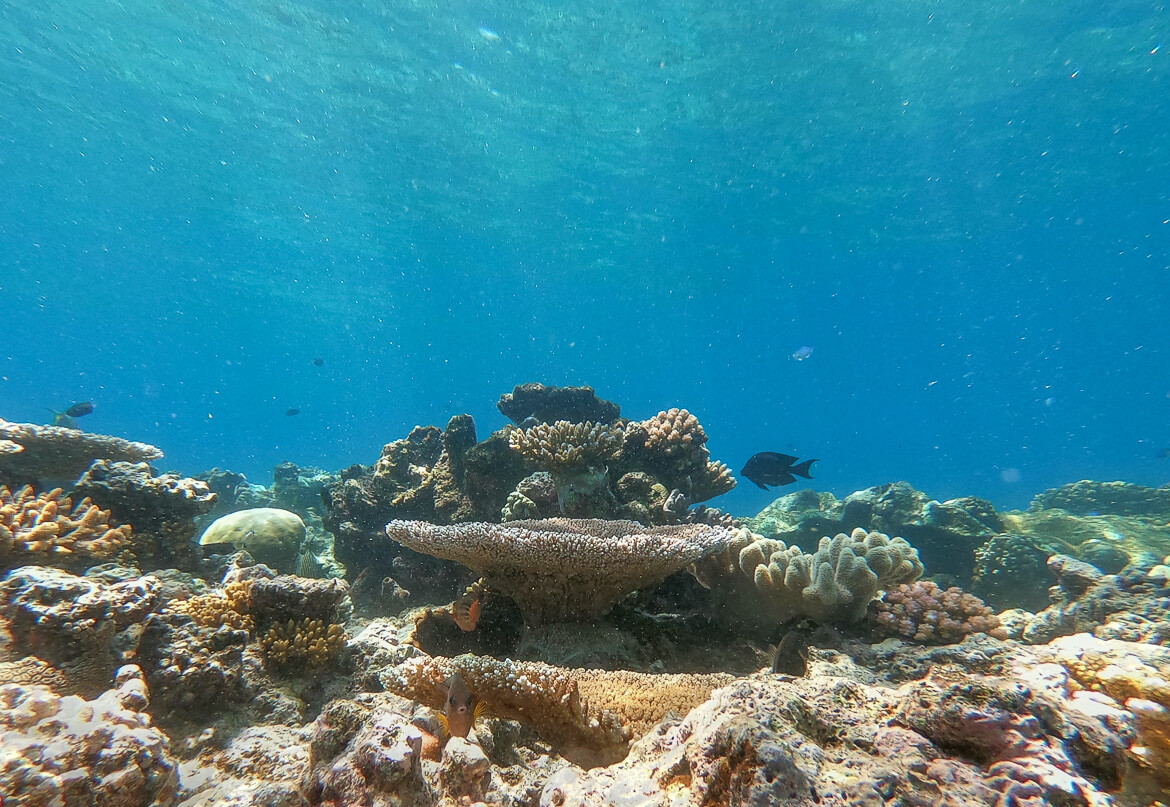 Helmet Diving
If you're looking to go deeper and don't fancy diving, then helmet diving is another option. This involves donning an astronaut-esk helmet attached to an air pipe and heading underwater for a walk alongside the reef. This is a great option for those who aren't confident in the water but want to get up close to marine life. And you won't even get your hair wet! Scuba diving and helmet diving incur an additional fee.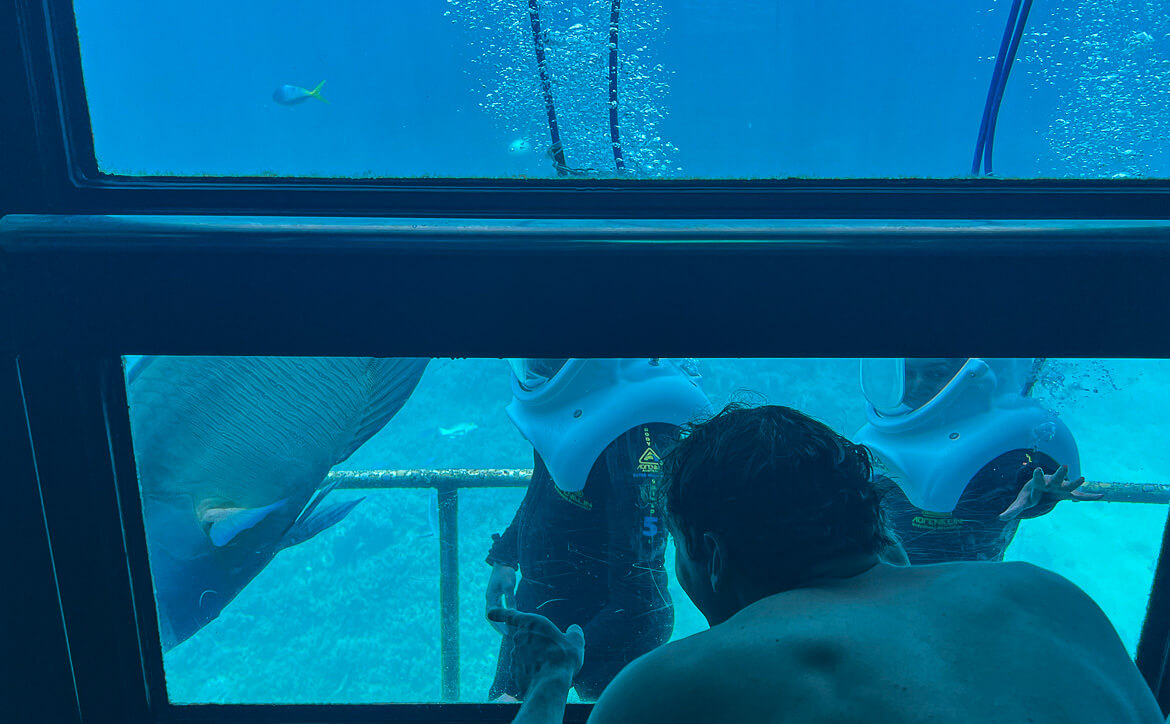 Underwater Observatory
We took the little babe in for a dip, but sadly they don't make toddler snorkels and masks so he wasn't able to explore the underwater world. However, this wasn't a problem as the pontoon also features an underwater observatory which he absolutely loved. We spent ages down there with him while he squealed in delight at all the fish darting past.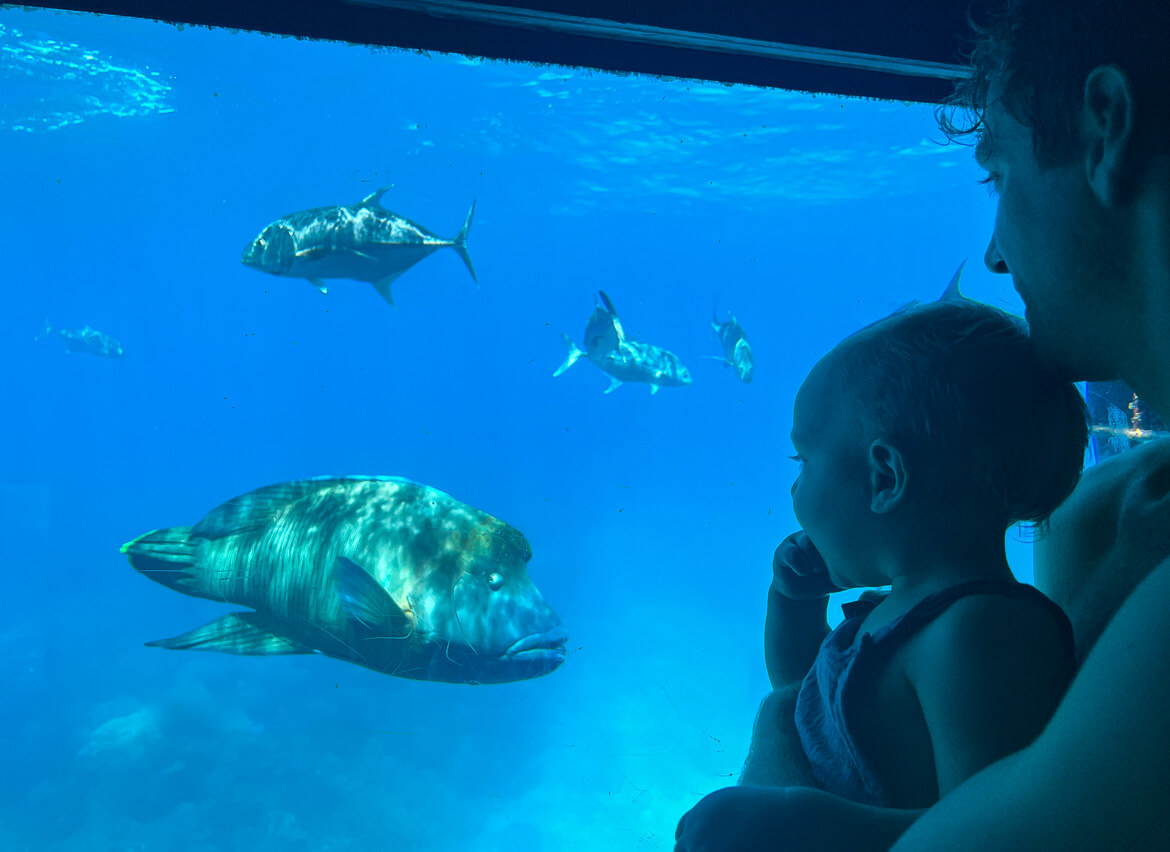 Another fun thing about the underwater observatory is that while you are snorkelling you can swim past and wave at the people inside!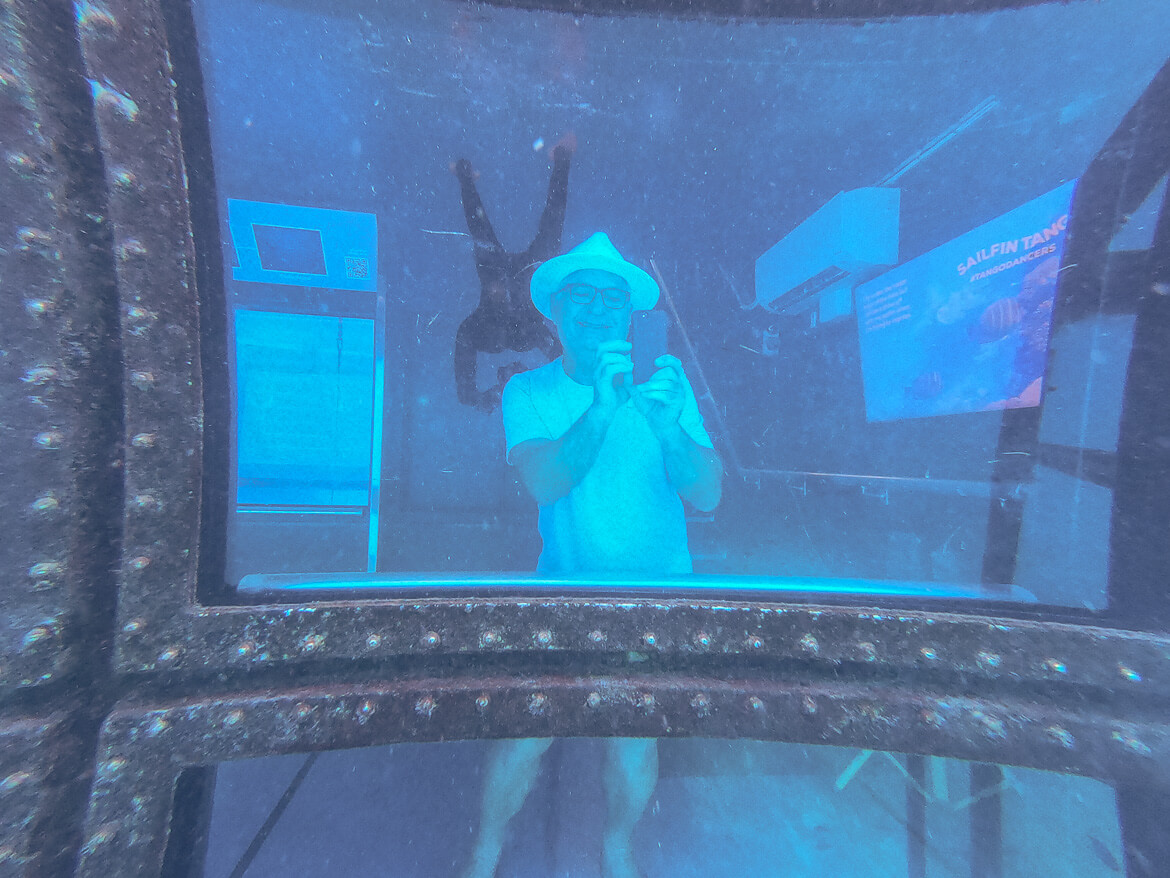 Semi-Submersible
An additional option for non-swimmers (and swimmers) is the semi-submersible. This is essentially a glass-bottomed boat that allows you to sit below the water line and see the reef from an underwater perspective. Trips run throughout the day from the pontoon.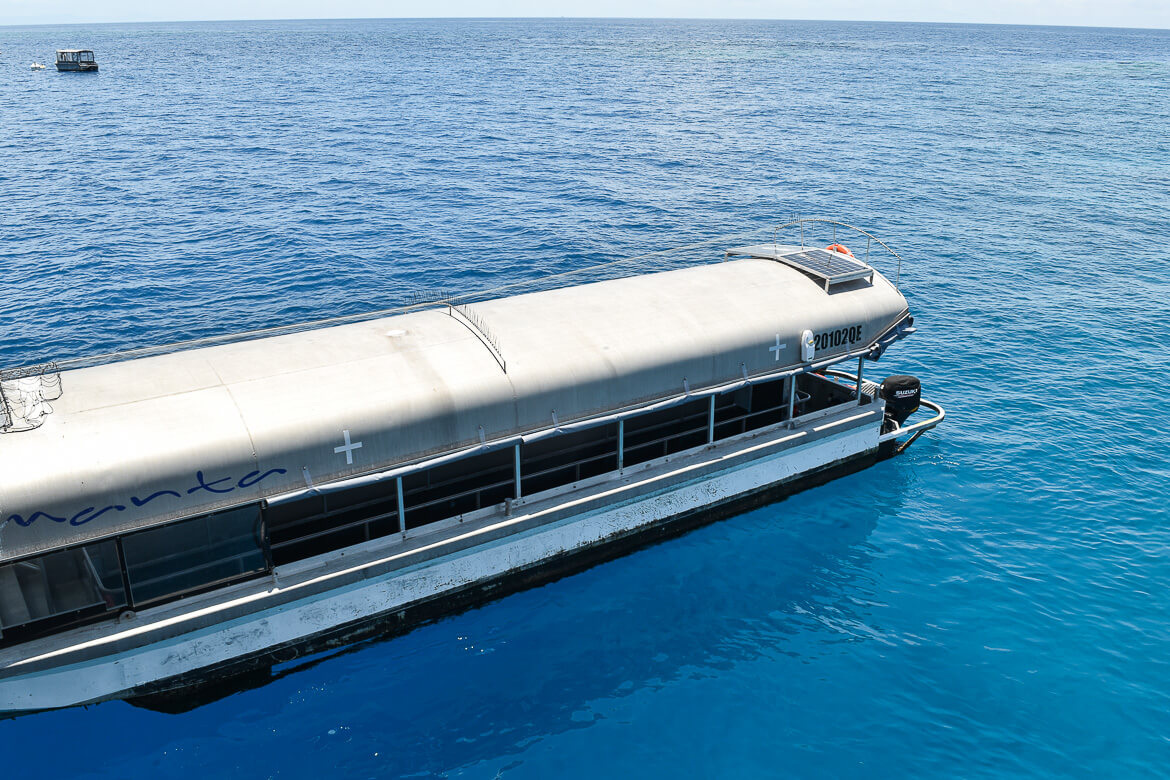 Food
Lunch, morning and afternoon tea are included in the trip, with a delicious buffet served on the pontoon featuring seafood, curry, salads and more. Morning tea is served on the boat on arrival at the pontoon and afternoon eat before departure. You have the option to eat your lunch on the boat or on the pontoon. On the upper deck of the pontoon is the Drift bar where you can buy drinks and enjoy your lunch with incredible views out of the water and the reef.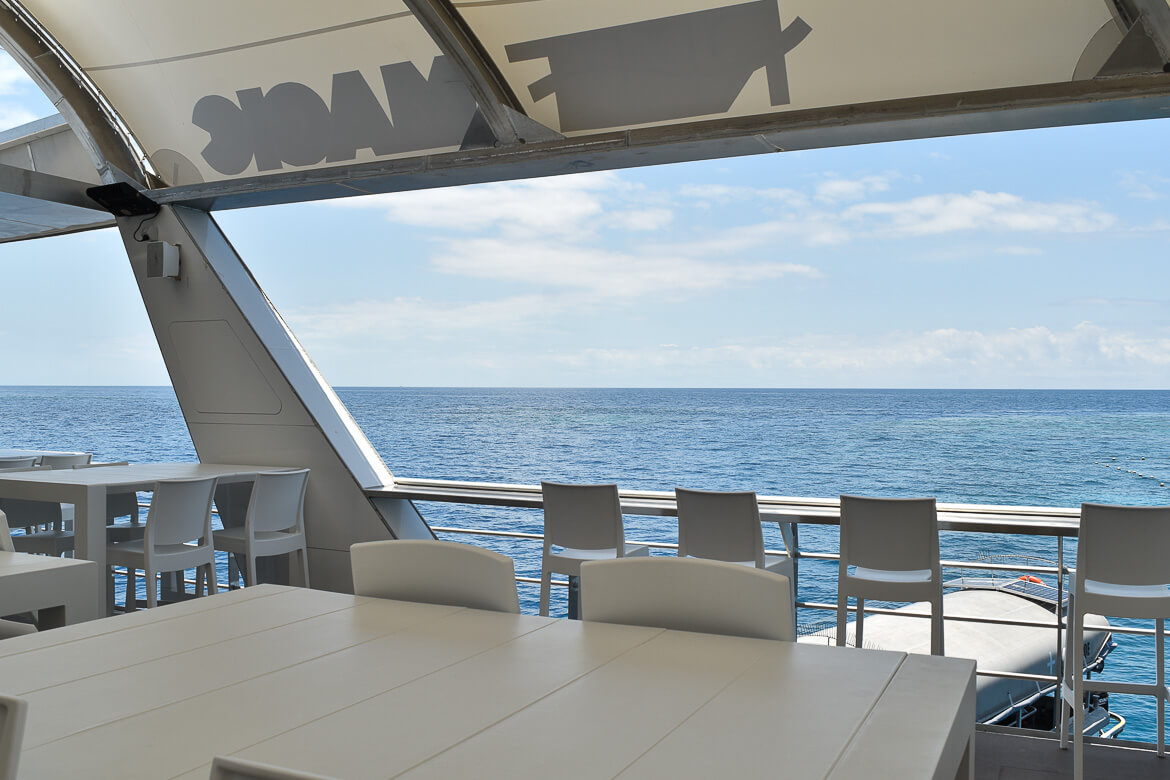 Aboriginal Culture
On the way back to Cairns, two of the crew gave us an introduction to Aboriginal culture, including a didgeridoo and cultural dance and music performance. Allowing the opportunity for guests to ask questions about Aboriginal culture and customs. It was a fantastic and educational ending to a wonderful day.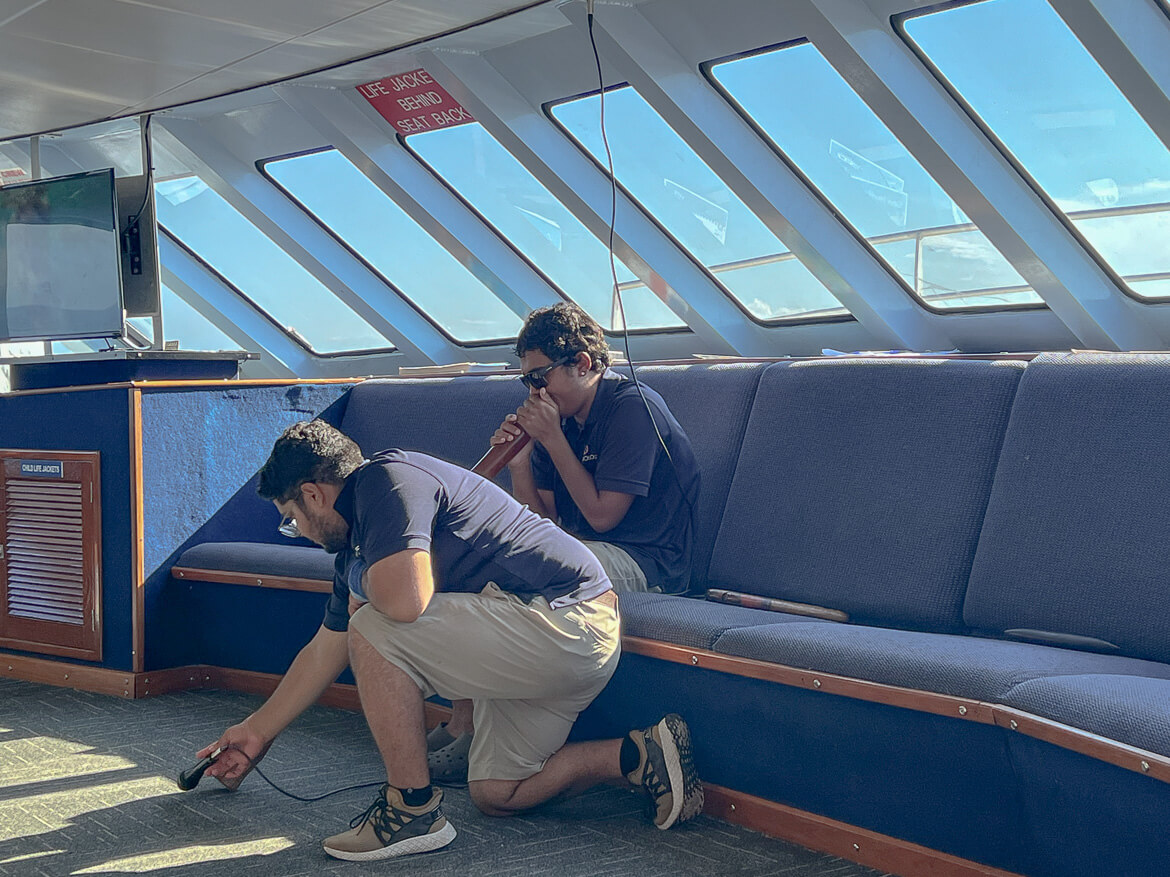 Choosing a Great Barrier Reef Tour
There are lots of operators offering trips out to the reef, so it can be a little overwhelming when trying to decide which one to go with. For families Reef Magic is a fantastic choice, offering a variety of activities and an enjoyable space to spend the day. 
Something very important to Enrico and I, is sustainability, particularly as Enrico works as a sustainability consultant, so we were thrilled to learn that Reef Magic has an Advanced Eco Accreditation as well as Climate Action Business Certification. They incorporate sustainable waste management practices into their business and avoid the use of any products that might damage the reef. In addition, the Reef Magic marine biologists actively work to help restore the reef and take part in conservation projects such as coral reproduction.
I wouldn't hesitate to return to the Reef Magic pontoon on our next family trip to the Great Barrier Reef.