Despite having lived in Australia for almost 6 years, I'd never made it to the nation's capital – Canberra. That is until a few weeks ago when we decided it was about time to visit. It also allowed us to spend a few nights in one of the city's coolest hotels – Vibe Hotel Canberra.
Location
Vibe Hotel Canberra is actually an airport hotel, conveniently located next to Canberra Airport. However, it's unlike any airport hotel I've ever stayed in and is an excellent choice for a city break to Canberra even if you're driving and not taking a flight.
Despite being the capital of Australia, Canberra is actually a pretty small city, with the airport only a 10 minute drive from Capital Hill and the city centre. So Vibe Hotel Canberra is perfectly located for all the main attractions. You can get around the city by bus, but we explored by car to give us a bit more freedom (and we were travelling with a baby that has plenty of stuff!).
The hotel is also in a great location for exploring the wineries of the Canberra District, Yass Valley and Murrumbateman, with the closest winery – Pialligo Estate – only a 6 minute drive away.
If you do happen to be flying in and out of Canberra, then Vibe Airport Hotel is 50 metres from the terminal and couldn't be more convenient.
The Hotel
The 4 star Vibe Hotel Canberra has an impressive design featuring a seven-storey black and white atrium. We were definitely wowed on arrival. This atrium includes the hotel bar, restaurant and lounge area which we put to good use during our stay. The marble fireplace is a stand-out feature and perfect for a cosy winter evening with a glass of red wine.
The Rooms
The hotel offers 191 guest rooms including nine apartments. Rooms all have double glazing so you won't be disturbed by jets taking off and landing, as well as climate control air conditioning.
Travelling with a baby in tow we opted for an apartment so that we could still enjoy the evening while the little one was asleep in his own room. These are located on the top floor and ours had lovely views of Canberra city and the hills in the distance.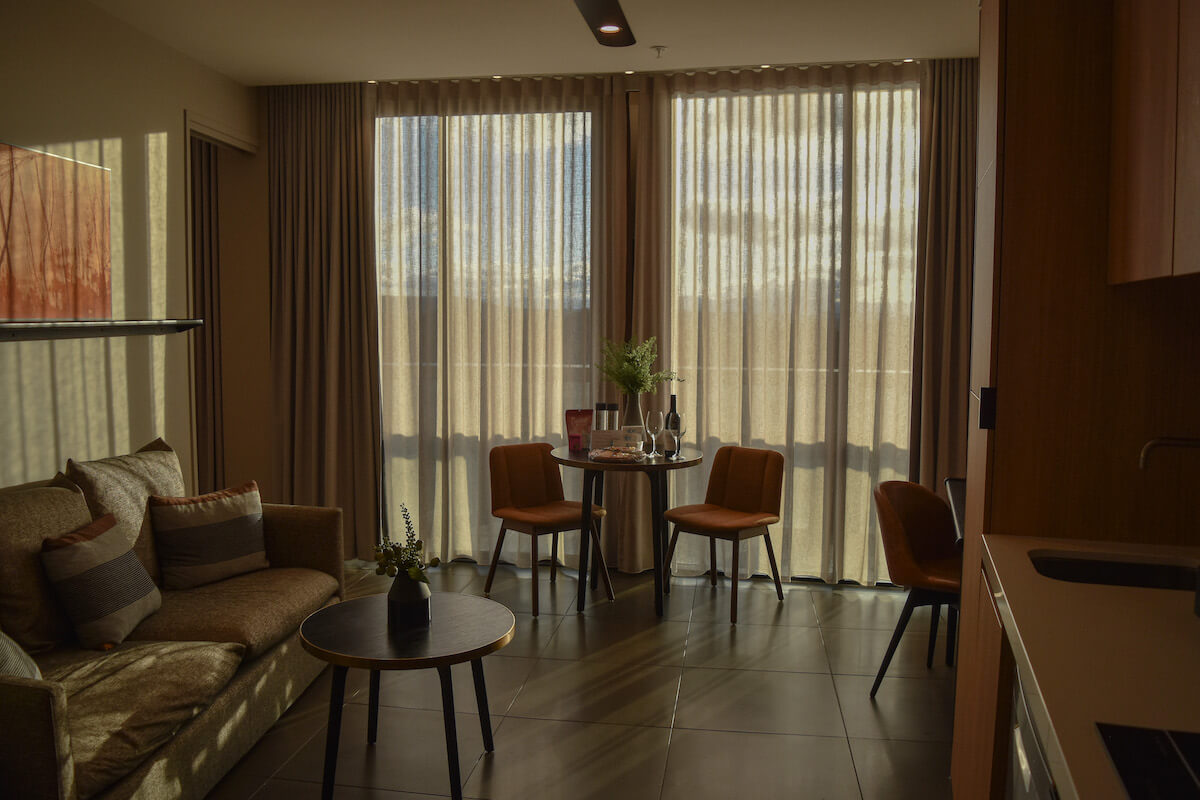 Our two bed apartment had two bathrooms, both very generous in size, with rain showers and a huge bath. Great for bathing the baby! I Iove that Vibe have opted away from individual single-use toiletries and are using larger bottles of natural Australian brand O&M.
Apartments are well equipped with an induction stove top, dishwasher, and washing machine and dryer. There are plenty of utensils and pans, as well as a Nespresso machine for our morning coffee. (Which was at 5am thanks to the early rising baby!) There is also 24 hour room service.
Food and Drink
Helix Bar & Dining is open seven days a week for breakfast, lunch and dinner. Breakfast is served as a buffet with hot and cold options including pastries, fruit and English breakfast.
The flight-themed lunch and dinner menus feature a range of dishes from around the world including Thai salad, chicken jalfrezi, Korean japchae and Filipino pork belly adobo. Produce is sourced locally by season and is paired with some of the region's excellent wines.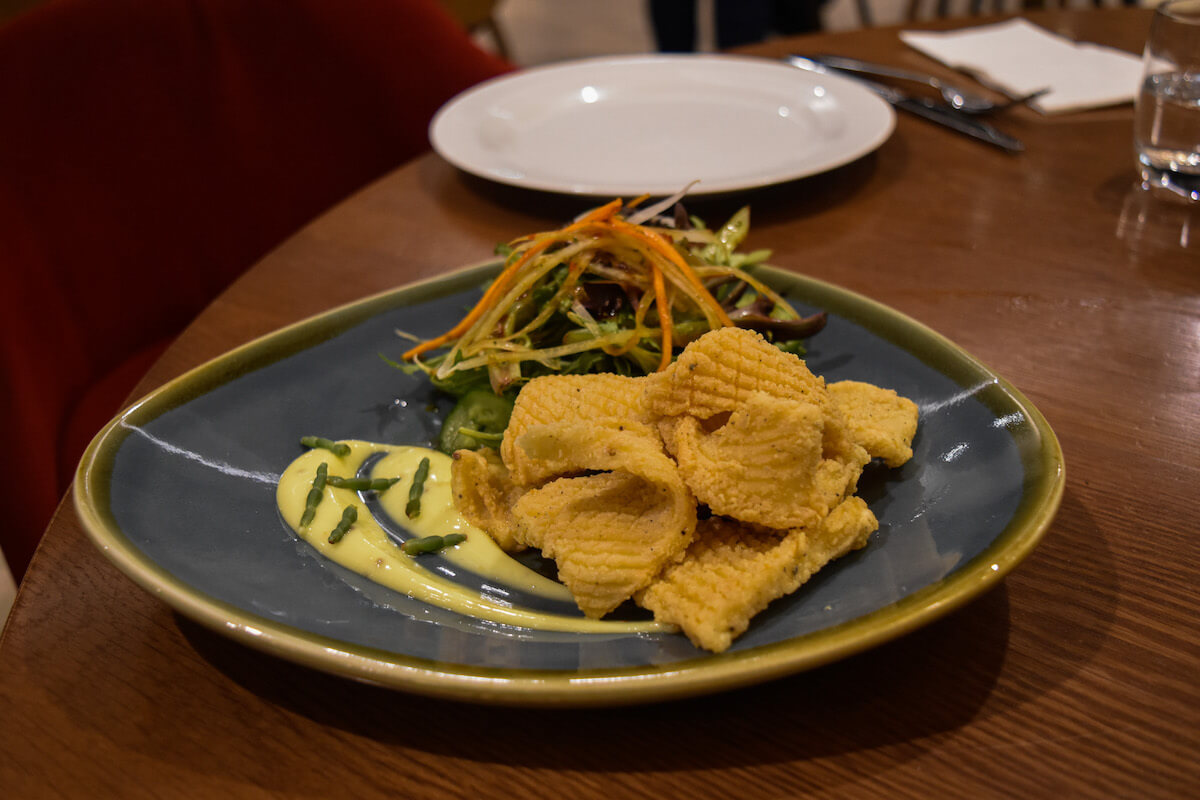 We opted for the evening special; 12 hour slow cooked lamb shoulder served with fried Kipfler, goat cheese-filled peppers and chimichurri. I have to say it was one of the best dishes I have eaten in a long time. It was huge – easily enough for two people if not three and the lamb was cooked beautifully.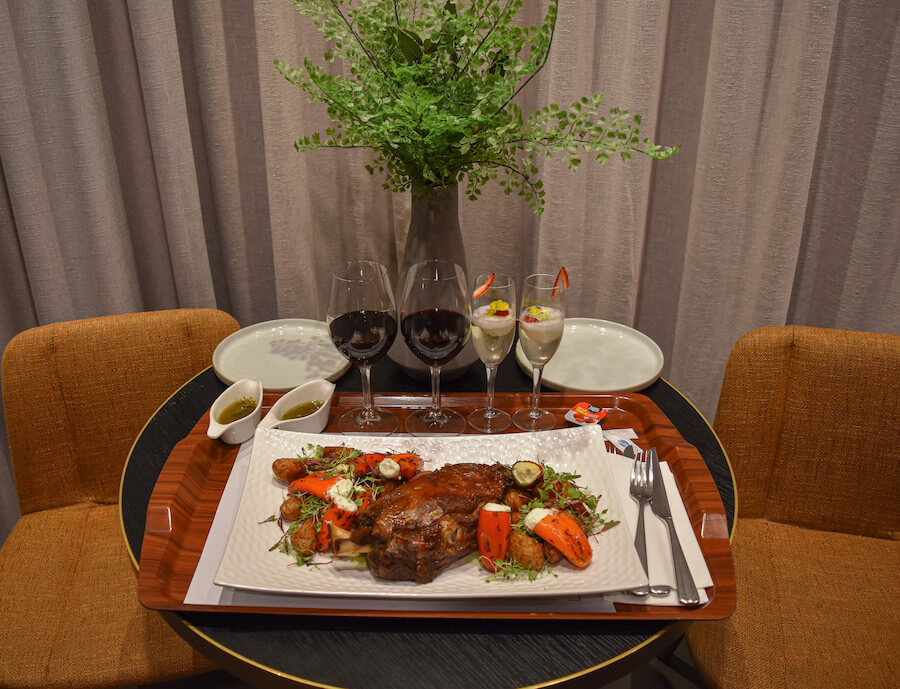 The staff were excellent and even took our main to the apartment for us to eat after the baby had a small meltdown in the restaurant. (Oh the joys of travelling with kids!). The bar is also a lovely spot to spend an evening and we enjoyed some excellent pre-dinner cocktails.
Facilities
Vibe Hotel Canberra has a 24 hour gym and offers car parking for an additional charge. For business travellers, there are meeting rooms and conference facilities and all rooms have desks and wifi. On call doctors, dry cleaning and babysitting services are also available for a fee.
The Verdict
We absolutely loved our stay at Vibe Hotel Canberra. It was a perfect spot for a family trip to Canberra, but just as good for business travellers or a weekend away with friends. The well-equipped rooms, excellent restaurant and unique style make it a worthwhile destination in itself. I would definitely stay again.
Vibe Hotel Canberra has rooms starting from $175.20 per night.
Vibe also has hotels in Sydney, Hobart, Perth, Gold Coast, Darwin and Melbourne. Vibe Adelaide will be opening in 2023 and a Singapore hotel will open later this year.