I first visited Fiji in 2008, as a fresh-faced backpacker, island hopping through the Yasawa Islands. It was incredible, a paradise of colourful corals, palms and white sand located off the north coast of Fiji's main island Viti Levu. I vowed to visit again as soon as I could. Fast forward to 2022 and I finally returned to Fiji, this time as a mum for a family holiday. So I thought I would share my experience and a few tips on making the most of Fiji with a baby.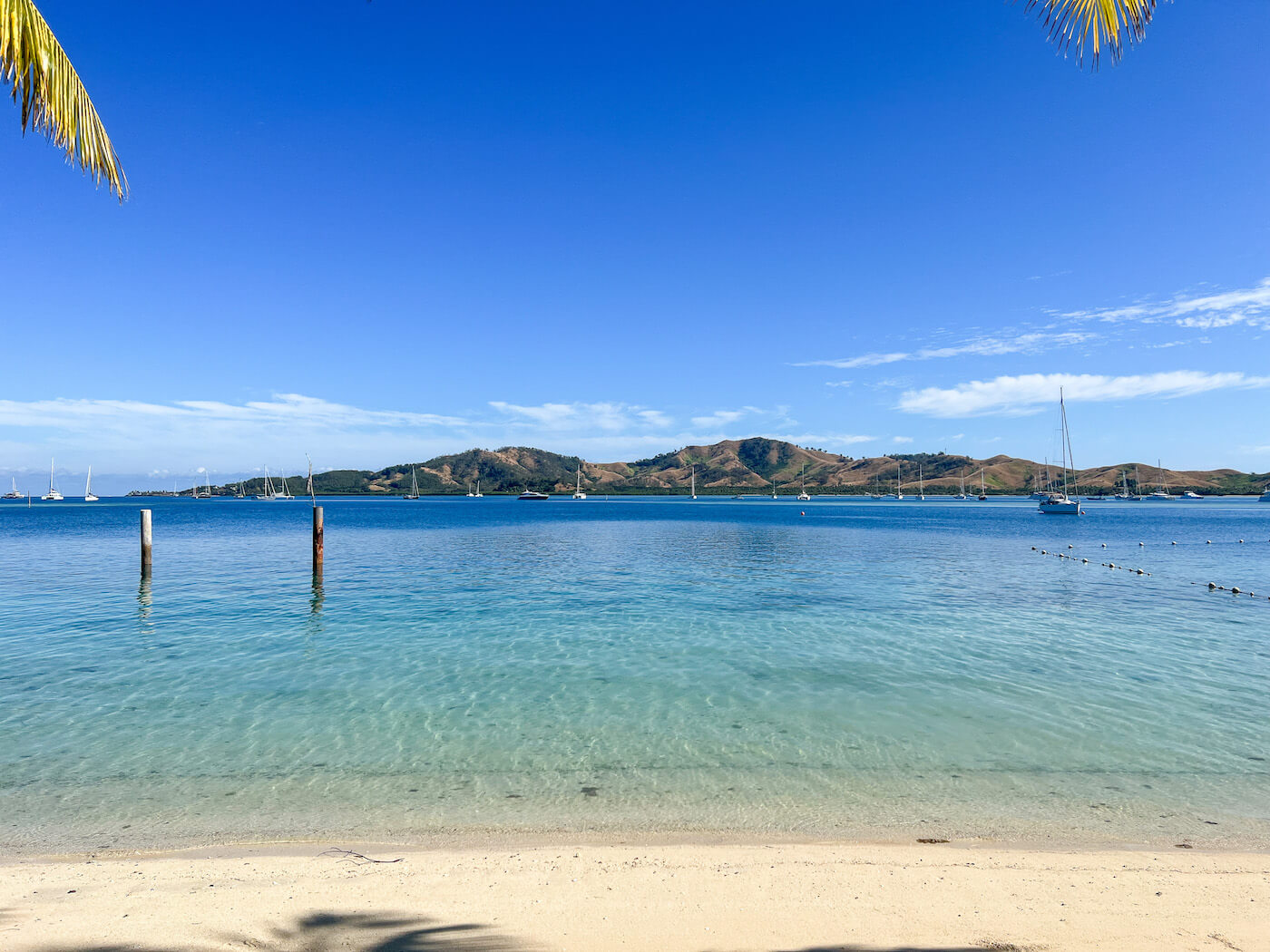 Disclosure: This article contains affiliate links. This means that if you click a link and purchase something I've recommended I may earn a small commission. This does not affect the price you pay but helps me to run this site. You can read my full affiliate disclosure here.
Where to Stay in Fiji with a Baby
Fiji is a very family-friendly destination. The Fijian people are incredibly friendly and warm, and many resorts are very well set up for families and kids. One of the most important decisions you'll make when booking a trip to Fiji is deciding where to stay. Note that some resorts are adults only and babies (and kids) are not allowed. However, there is a huge choice of family-friendly resorts and accommodation, so you have plenty of options.
During our recent trip, we stayed at two resorts in different locations; Outrigger Fiji Beach Resort in Sigatoka on the south coast of Viti Levu and Plantation Island Resort on Malolo Lailai in the Mamanuca Islands. Both were excellent, however, if I was travelling again to Fiji with kids, I would most likely just pick one spot to save the hassle of moving mid-trip. On the plus side, I've now experienced both mainland and island resorts in Fiji with a baby, and each offers different benefits.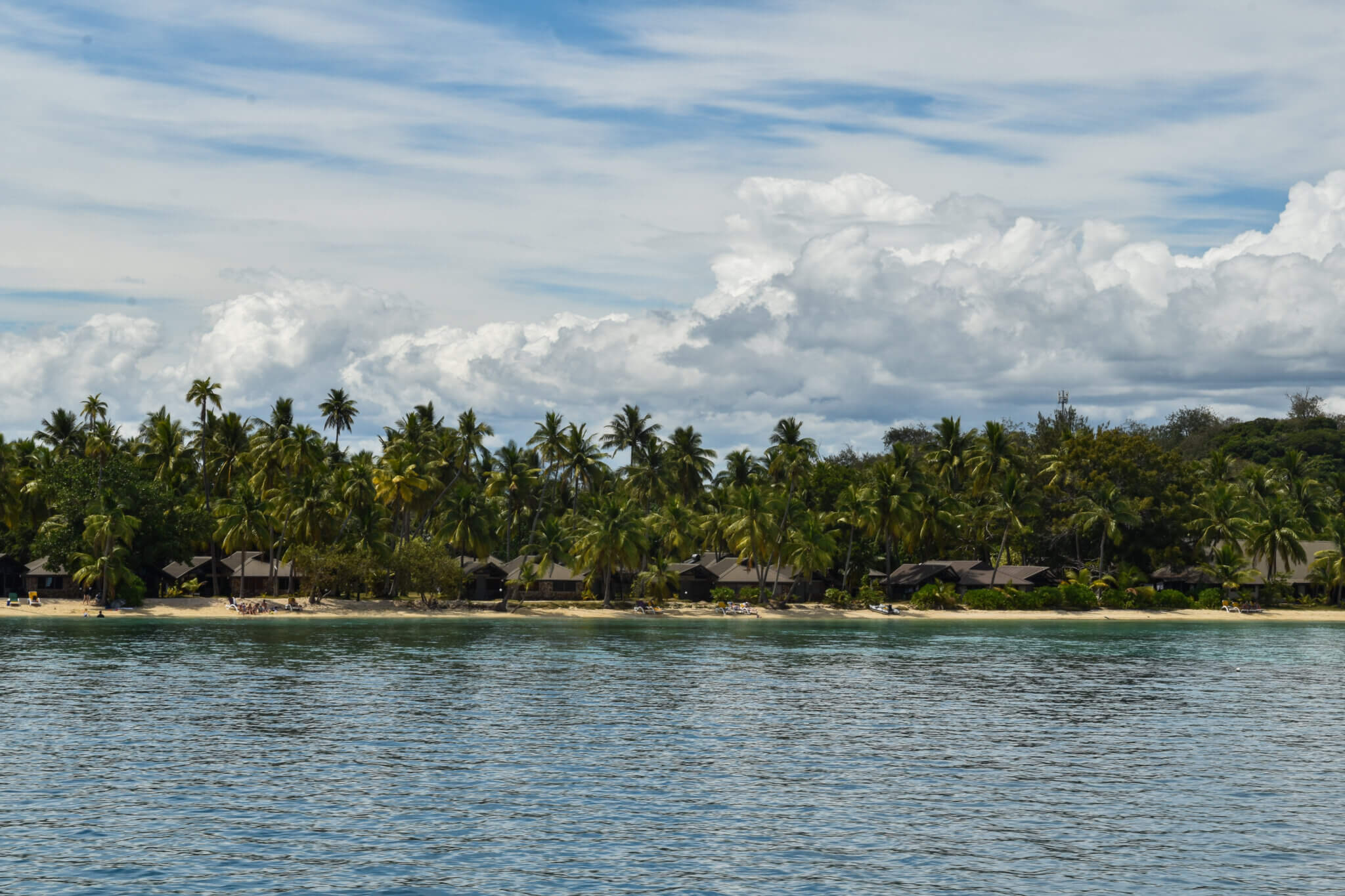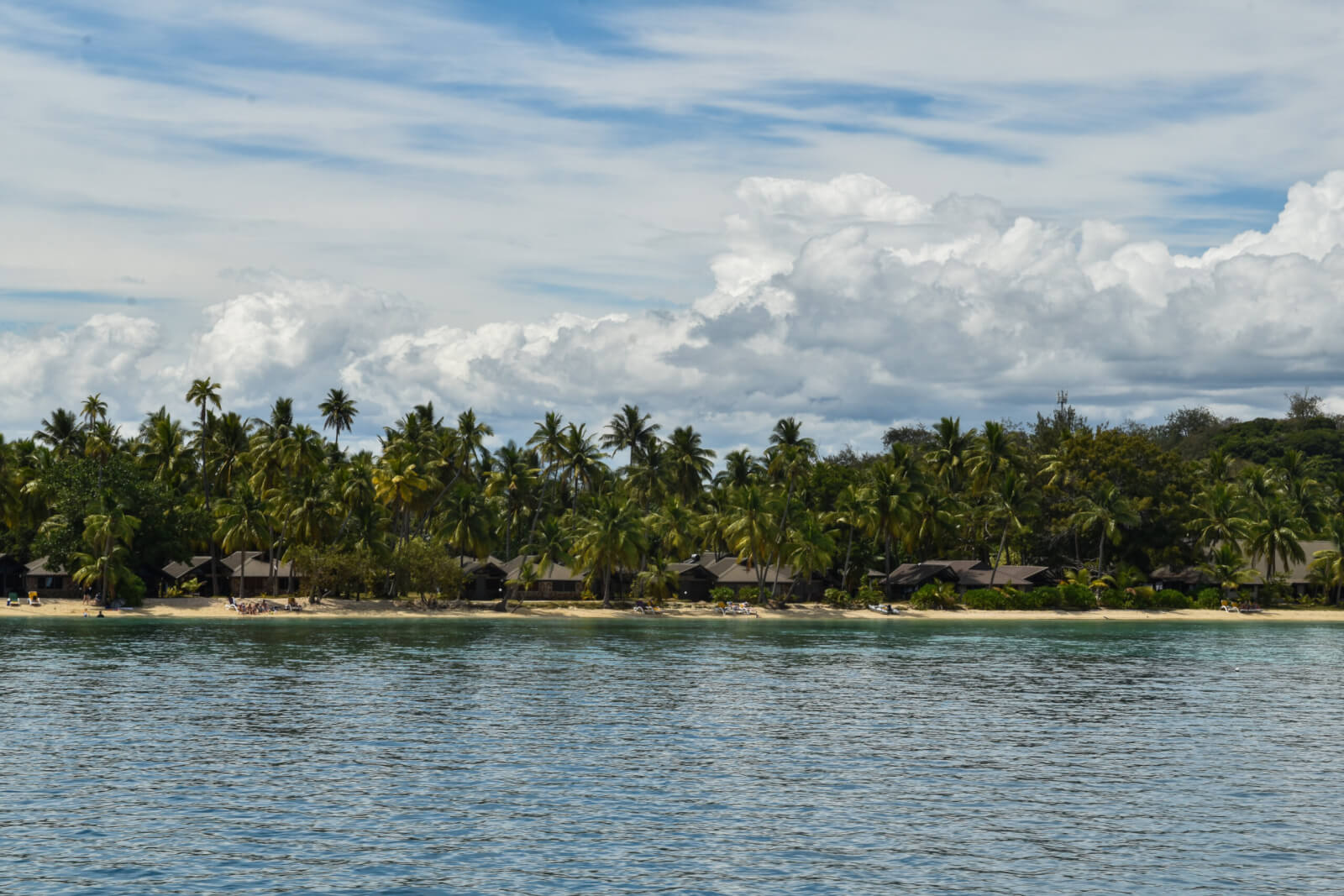 Viti Levu
Travelling with a baby can be tiring and stressful, so you often want to keep travel time to a mimumum, which makes staying on the main and largest island of Viti Levu is a good choice. Here you will find the international airport in Nadi, the capital city of Suva and lots of lovely Fijian resorts and hotels, including international brands such as Sofitel, Sheraton, Hilton, Marriott, Intercontinental and Shangri-La. Landing in Nadi, you can travel for as little as 10 minutes and arrive at a beautiful resort.
The great thing about staying on Viti Levu is that you can experience day to day Fijian life, visit local markets, villages and more, as well as enjoy the luxuries of a resort. There are also lots of facilities here including shops, hospitals etc. which can be reassuring when travelling with a baby.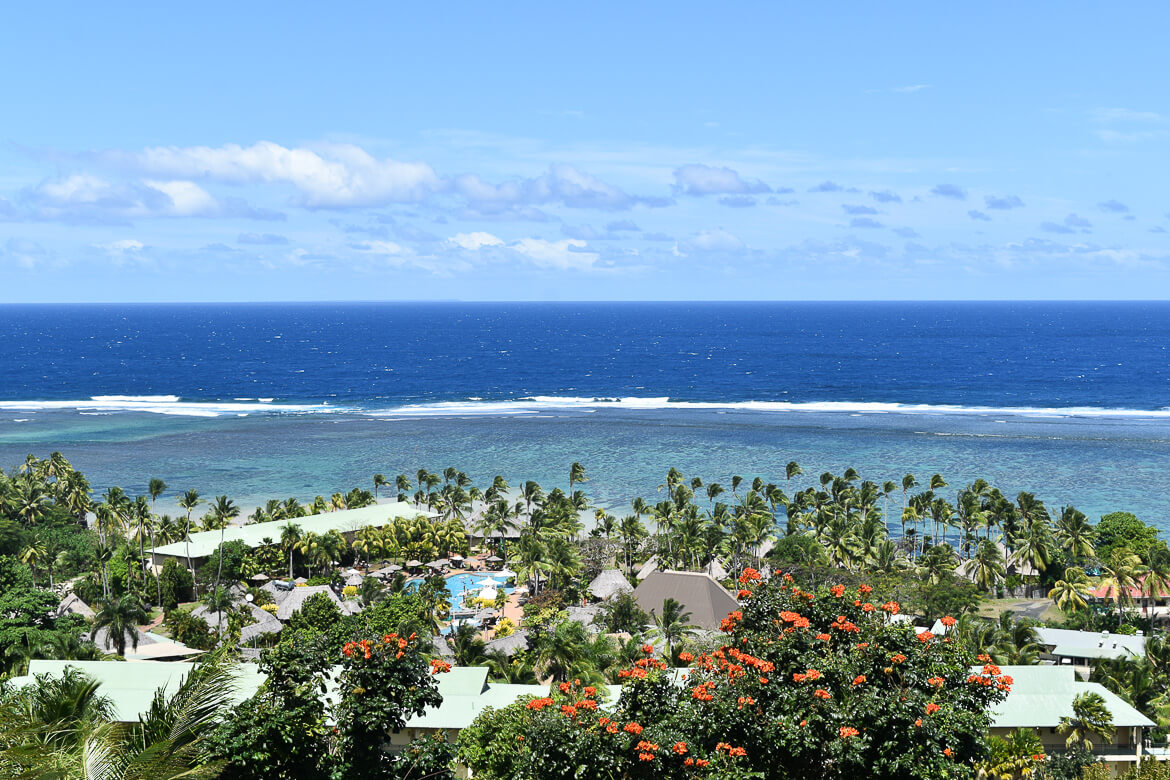 The Mamanuca and Yasawa Islands
If you're willing to add a longer transfer, then these two archipelagos are an excellent choice. The beaches are beautiful, there is great snorkelling and a real tropical paradise setting. The Mamanuca Islands can be reached via a 1-2 hour boat ride from Port Denarau, which is only 20 minutes by car from the airport. The Yasawa Islands range from 2 to 5 hours on a boat and some of the luxury resorts in both areas offer a seaplane transfer to reduce travel time.
The downside of travelling to the islands is that you will have access to fewer facilities, however, most large resorts have some sort of medical centre and shop on site. There is also less 'local' life, though most resorts offer an excursion to a nearby village and cultural activities. Depending on flight times you may also require a night in Nadi at the beginning/end of your stay in order to make the boat departures.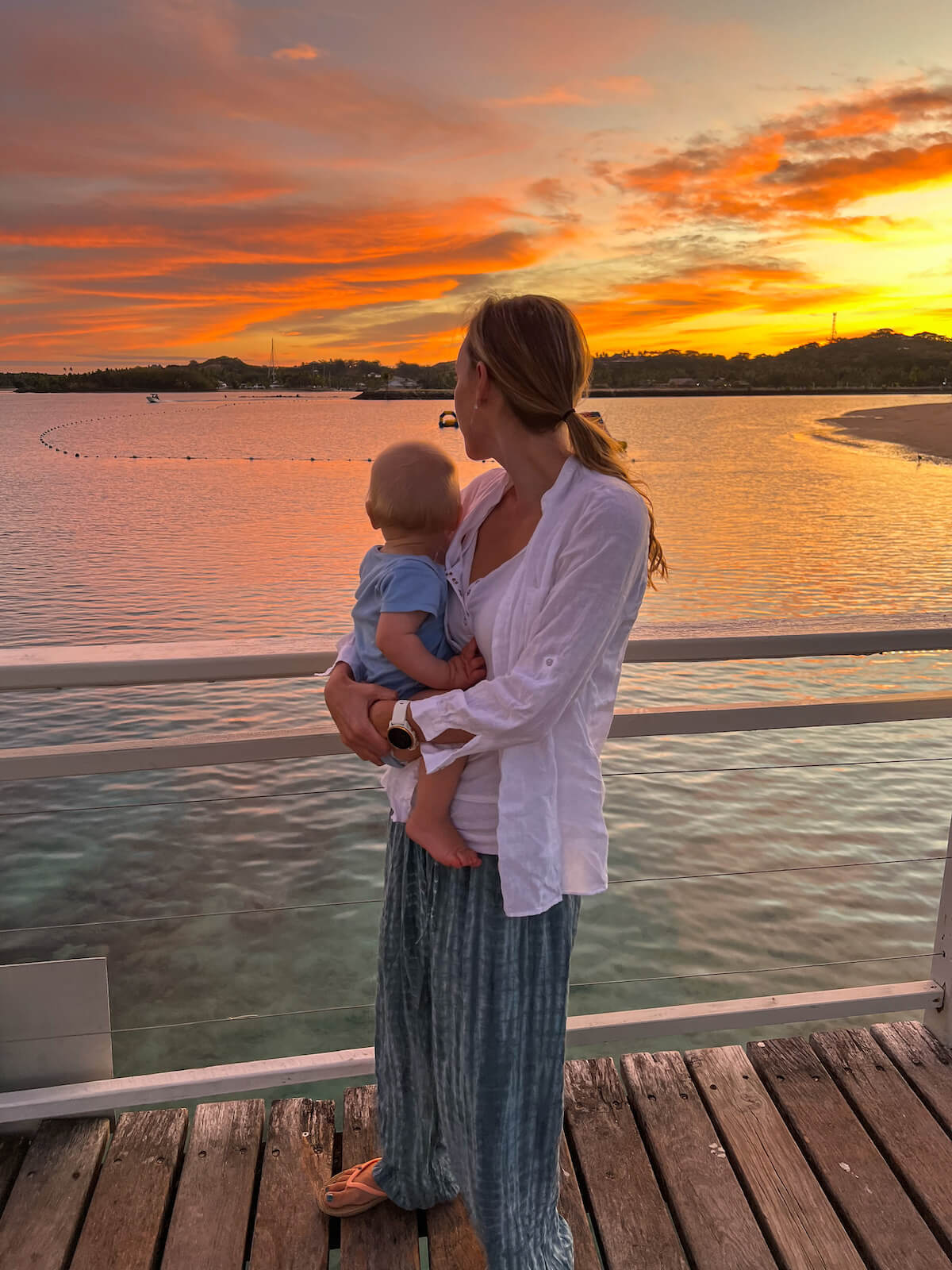 Vanua Levu and Taveuni
These are the second and third largest islands, respectively, accessible via a flight from Nadi or the capital Suva, on the south coast of Viti Levu. This usually means an overnight stopover in Nadi is required, making it less appealing for travelling with a baby and also generally more expensive with the cost of an additional flight. However, they are much less visited by tourists and are considered some of the best spots for diving and snorkelling in Fiji.
Read our essentials for travelling with a baby.
---
Nannies
Something to look out for when selecting a resort is whether they offer a nanny service. The majority of family-friendly resorts do, but not all. Also, their services and the cost of these vary depending on where you stay. At the time of writing $6-20 FJD is a typical range. The nannies are such a great option if you're travelling to Fiji with a baby, as it means you can take a break from parenting, go on a baby-free excursion or enjoy a mess-free dinner. Note most resorts require a minimum age of 6 months plus for nannies.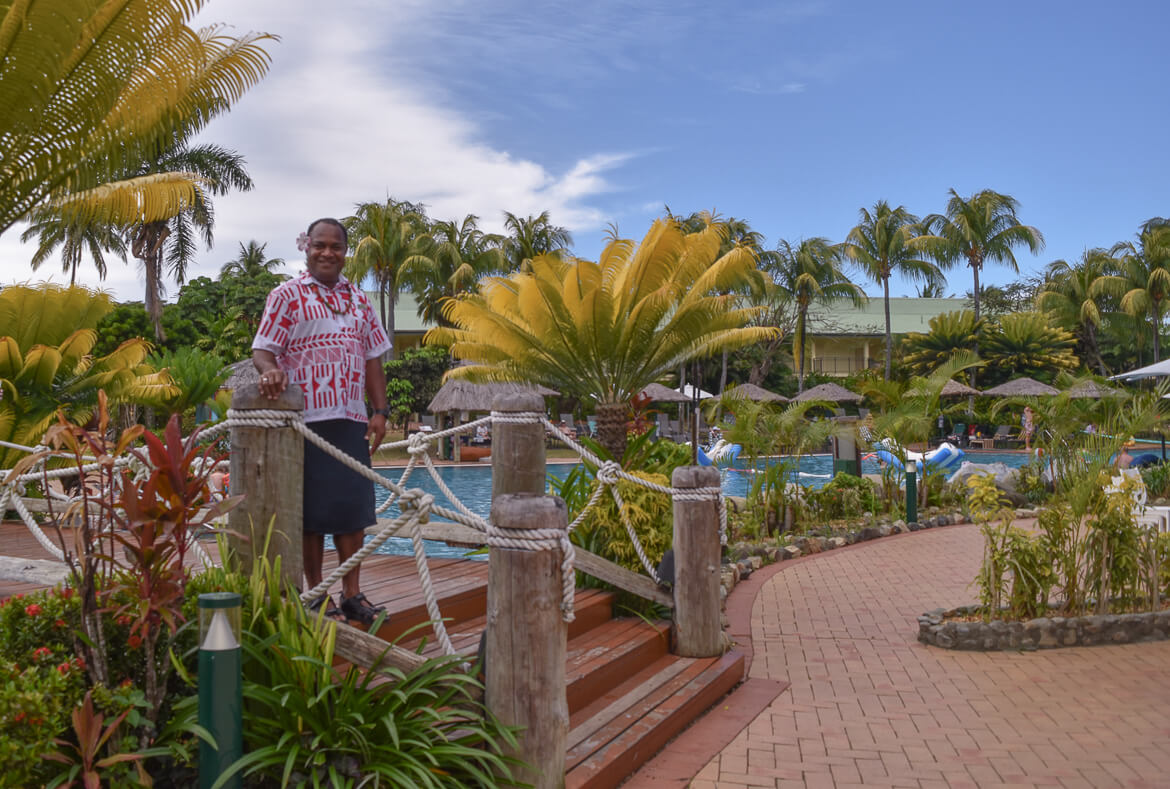 We loved the nannies at Outrigger Fiji Beach Resort. During the day you can drop your little ones off at the dedicated kids club, or you can have a nanny come to your room throughout the day or evening. We used the service several times and it was nice to see familiar faces each time we dropped our baby boy off. He had a great time at the kids club – meeting other babies and playing with new toys. In the evening we would put him to bed as usual before the nanny arrived, and stayed with him while he was sleeping and we went to one of the hotel's restaurants. This service cost $15 FJD per hour.
I was definitely apprehensive about leaving our baby, as we hadn't used a babysitter before, but the nannies were so warm and kind and our baby loved spending time with them, in fact, the first time I went to collect him he didn't want to leave!
Some resorts, such as Vomo Island Resort include 4 hours of a baby butler service per day in the rate, whereas others offer general resort staff as nannies for a much cheaper rate. If you're nervous about leaving your little one, then it's worth looking into the service on offer at each resort to ensure you are comfortable.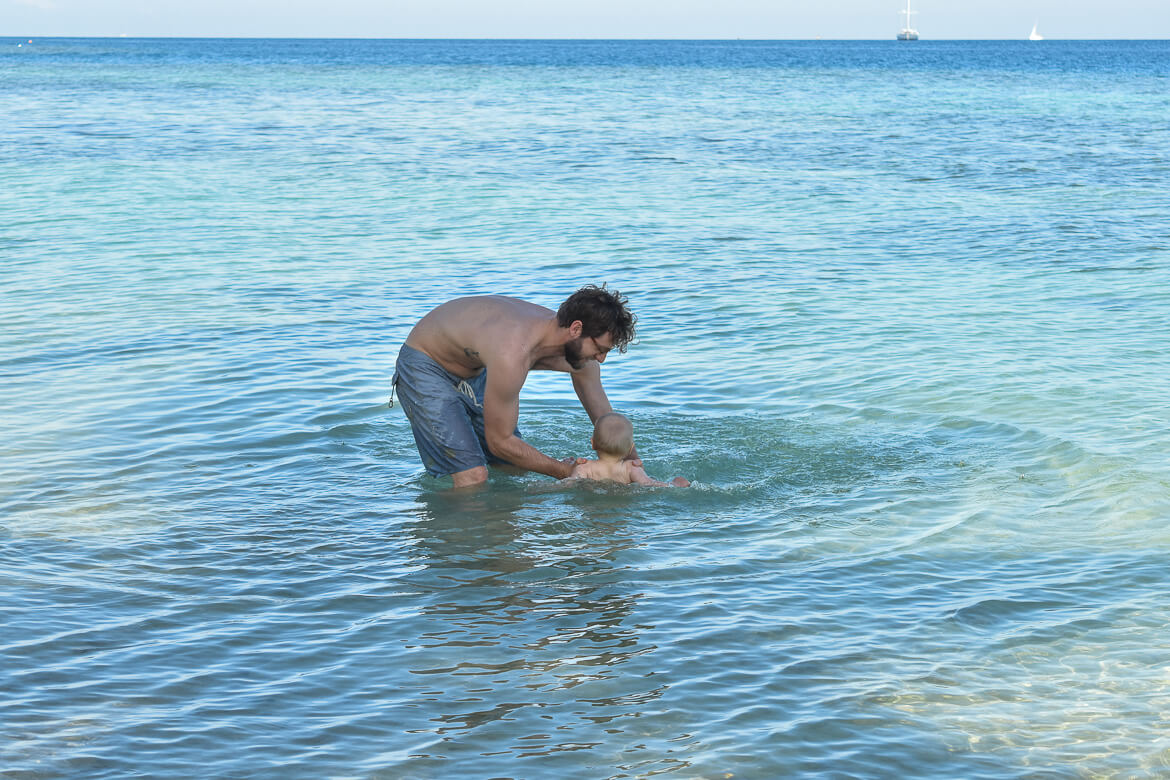 Kids Club
Most family-friendly resorts have a kids club. Children usually have to be aged 3 plus to attend, unless they are with a parent/nanny, but we found it a great place to take the baby. The kids club at Plantation Island Resort is excellent, with two outdoor parks, an indoor soft play centre and lots of toys and activities. It was a great place for the baby to burn some off energy and crawl around in a safe environment.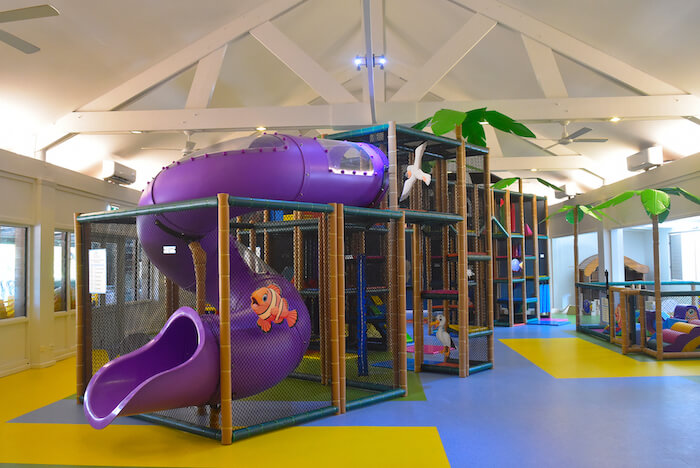 Family Friendly Restaurants
We have an especially messy eater, so it was nice to feel relaxed in the resort restaurants. Aside from the specific adults only eateries, babies are very well catered for. There are plenty of high chairs and excellent staff who always showered our little one with attention each time we arrived. Most offer dinner from 5:30 meaning we could all eat together before putting him to bed on the evenings we didn't use a nanny.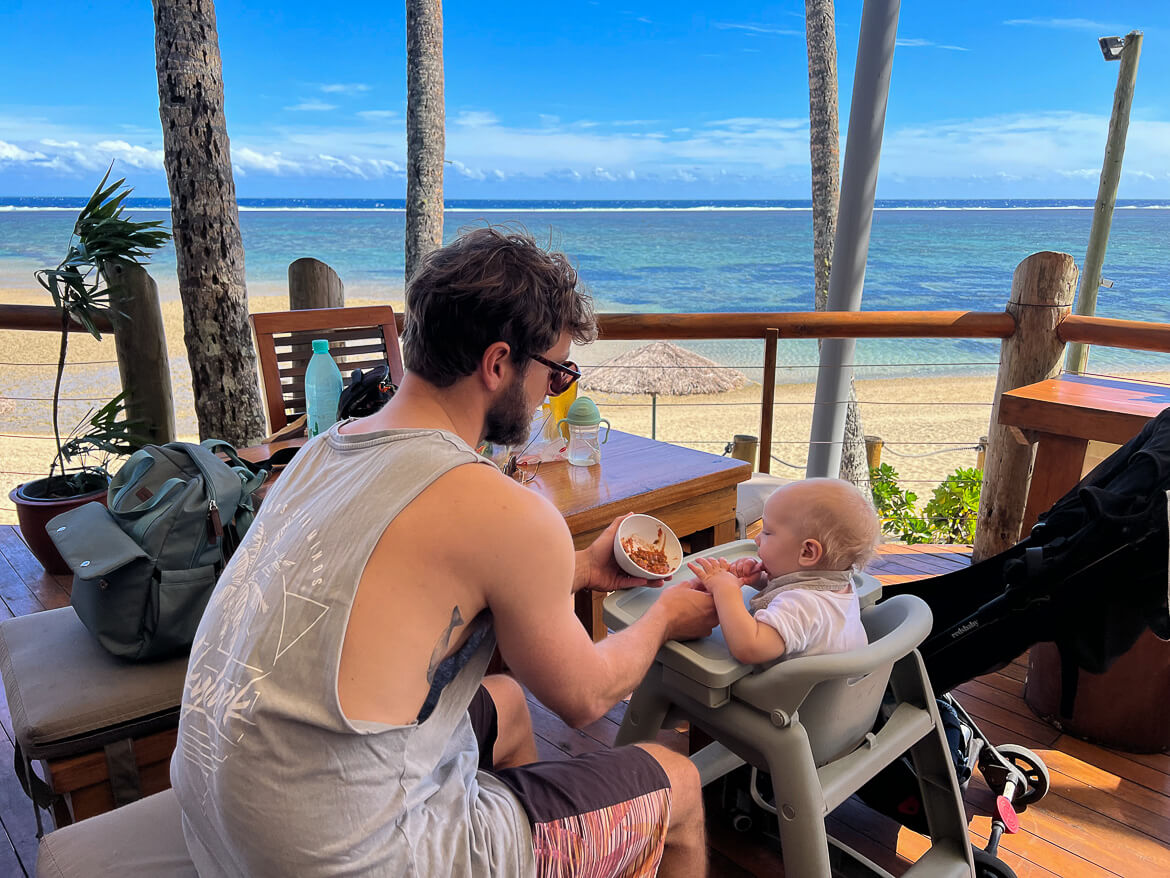 Baby Food in Fiji
If your baby has just started solids, then it's worth bringing some pouches with you. Both the resorts we visited had baby food for sale, but it can be harder to come by in some of the more remote locations and is also generally more expensive. The breakfast buffets always have baby-friendly food options including bread, boiled eggs and bananas and we found we were able to order well-cooked veg and unseasoned fish from the a la carte menu.
Some resorts have drinkable tap water, but it is worth checking this on arrival and for young babies boiling water for formula or using bottled water (though the NHS doesn't recommend this in general as it often contains a lot of sodium). We always try and avoid drinking bottled water, to limit the amount of plastic waste we produce, so we were happy to see that there were water filling stations all around Plantation Island Resort with safe drinking water.
If you are bottle feeding, something to consider is how to sterilise the bottles. At Outrigger Fiji Beach Resort they offered this as part of our room service at no extra charge which was fantastic. However not all resorts do, so it's worth taking some Milton tablets with you so you can sterilise bottles in your room.
Read our guide to island hopping in the South Pacific.
Activities in Fiji
Fiji is known as the soft coral capital of the world and has excellent snorkelling and diving. Some of the island resorts have great snorkelling just off the beach, however, most require a boat trip to the best reefs. If you're planning on diving, then you'll need to book the baby in with a nanny (or take turns) but on a snorkel trip you can generally bring the baby along.
We did two snorkelling boat trips while staying at Plantation Island Resort, both times the noise and motion of the boat sent him straight off to sleep and we left him on the boat in the travel pram (under the supervision of the skipper) while we snorkelled. It was great!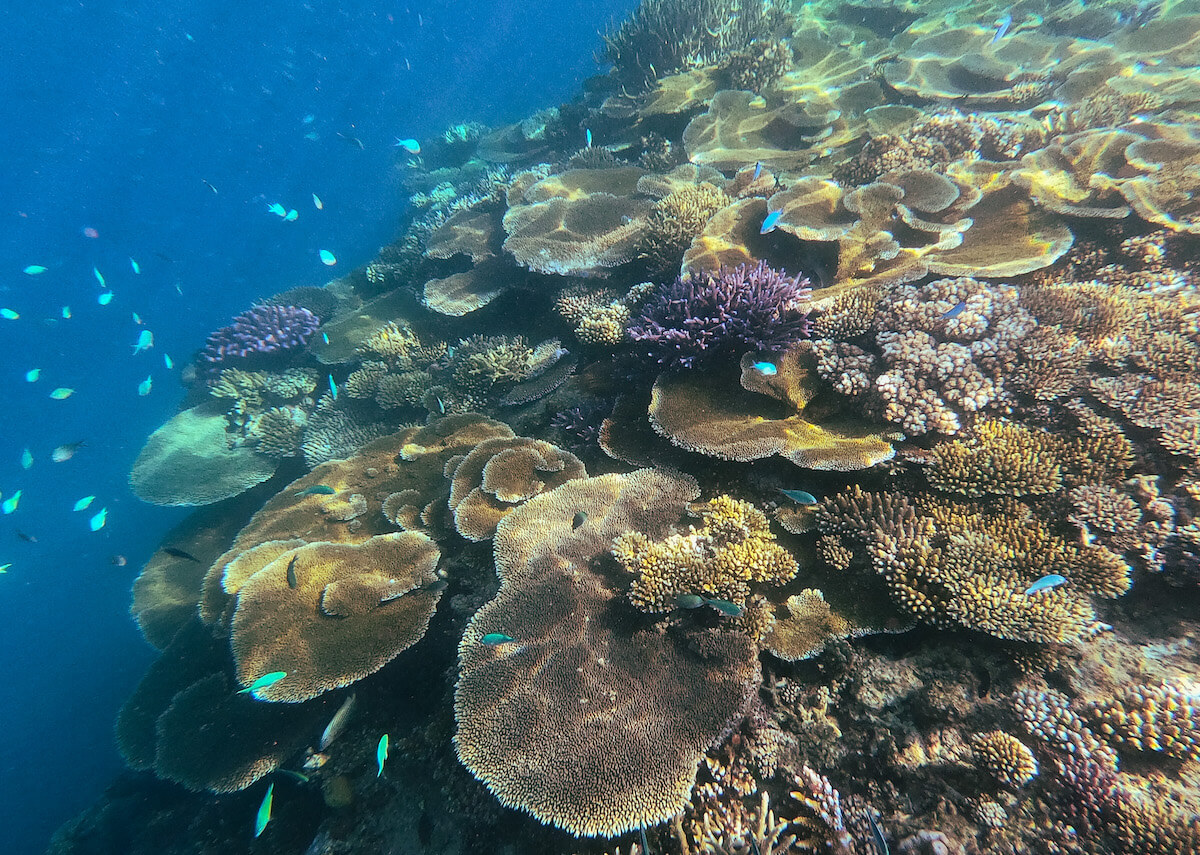 We also took an island hopping tour where we visited some of the other resorts in the Mamanuca's. Again it was very family-friendly and we took the pram on board.
Enrico also did a surf trip to Cloudbreak (considered one of the best surf breaks in the world). Which I wouldn't recommend taking the baby on – he stayed with me at the resort.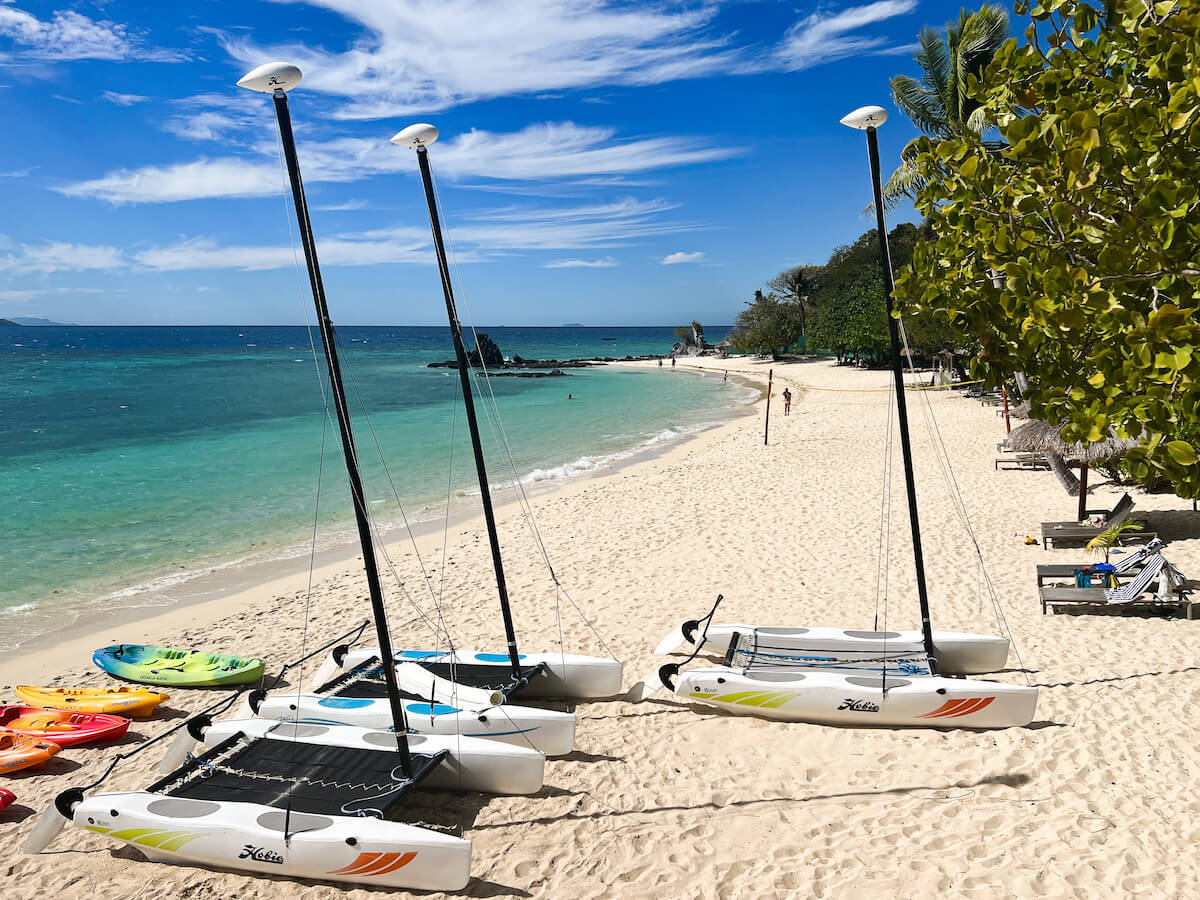 Adults Only
Once you have your baby taken care of by a nanny, you can escape all the other kids in the resort by heading to the adults-only pool, restaurant or bar. Many resorts have these and it's a great spot to relax without jumping every time you hear another baby cry (if you're like me anyway!). Alternatively you can book a massage at the resort spa, enjoy a child free lunch or just laze in a hammock for the afternoon!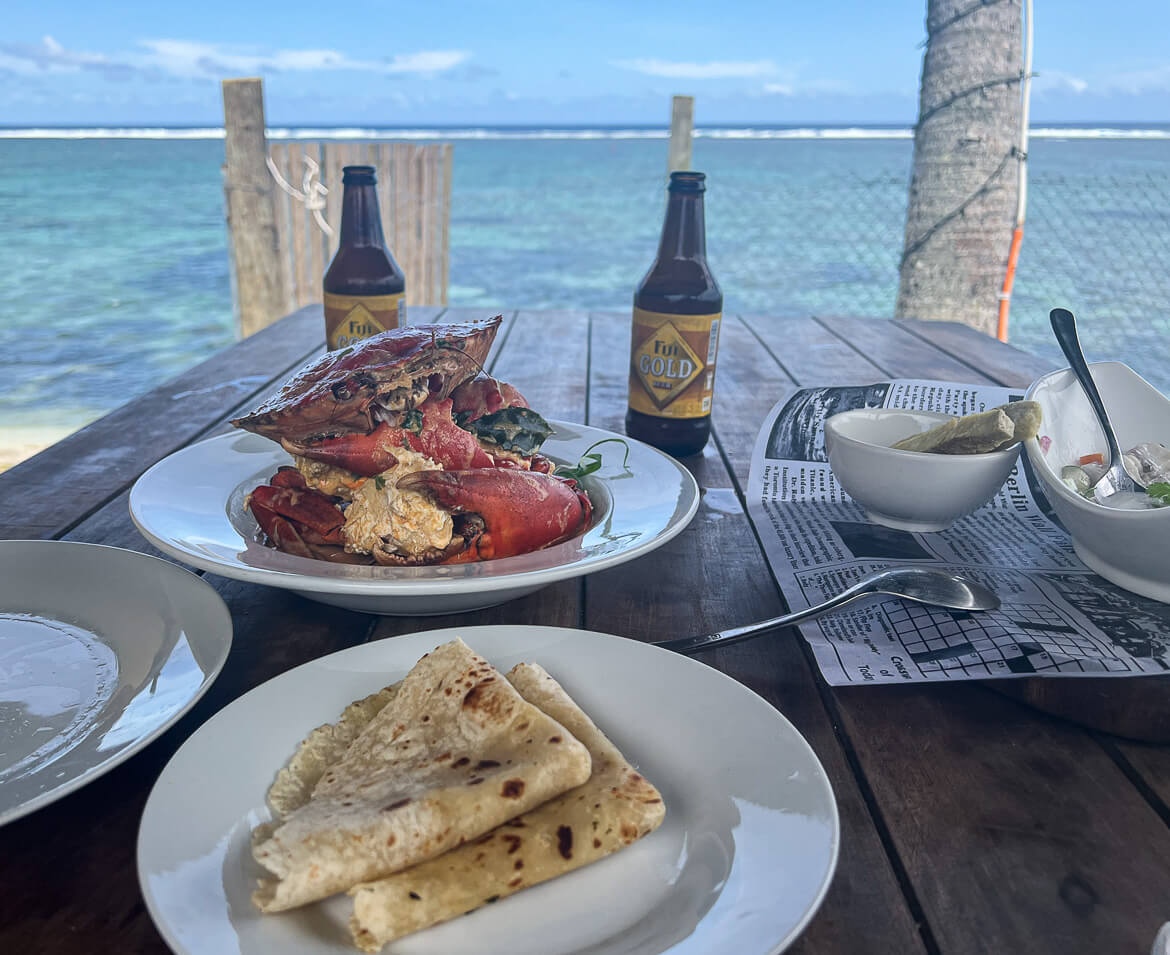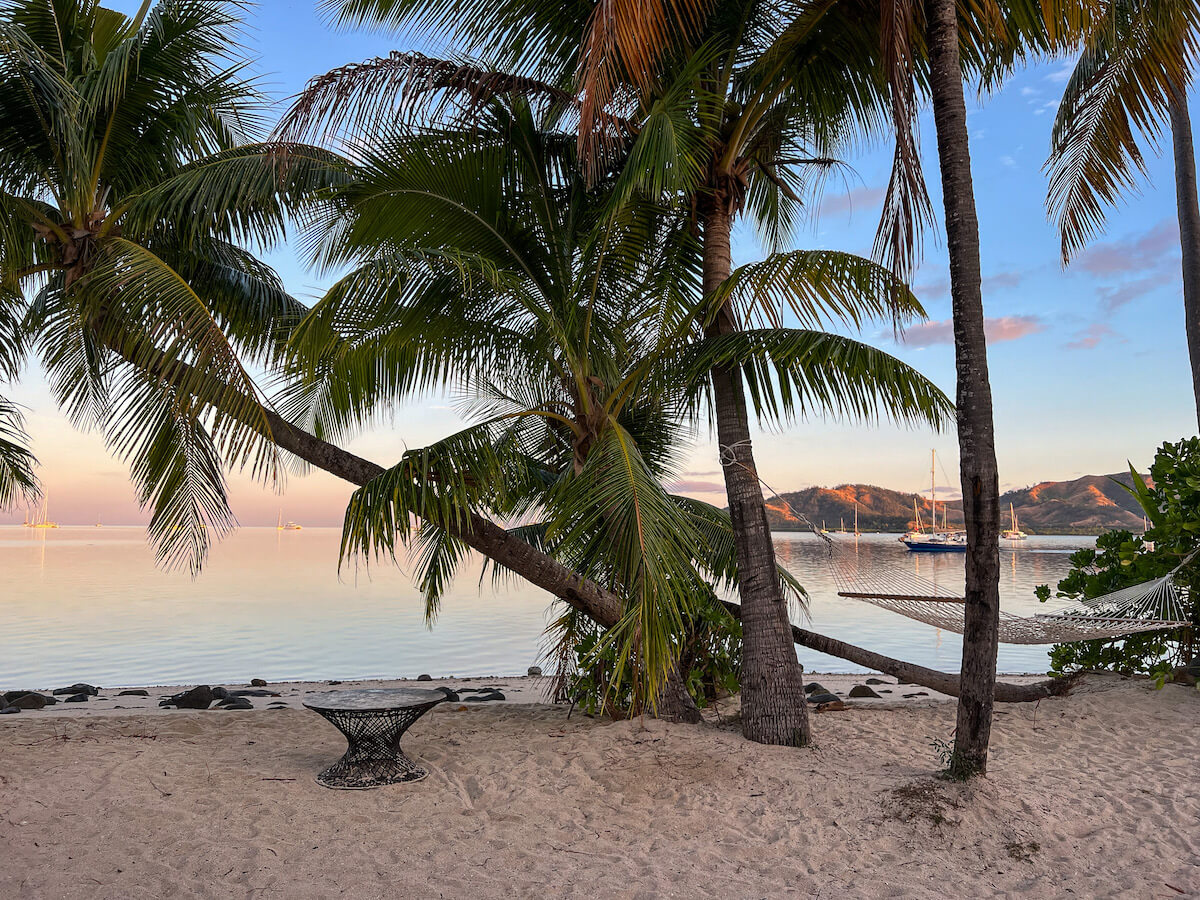 What to Pack for a Trip to Fiji with a Baby
Formula (if needed)
Bottles and sterilising tablets or bags (if your room has a microwave). Mam bottles can also also be sterilised in a microwave without a bag which is handy.
A baby carrier – perfect for sandy locations
Travel pram (but be aware that in some resorts it's tricky to get around with a pram due to sand/uneven ground/stairs)
Baby Panadol and ibuprofen
Hydration salts – in case of upset tummies (for the whole family)
Nappies (particularly if you're staying on an island resort)
Milton/Anti-bac wipes – handy for high chairs and transport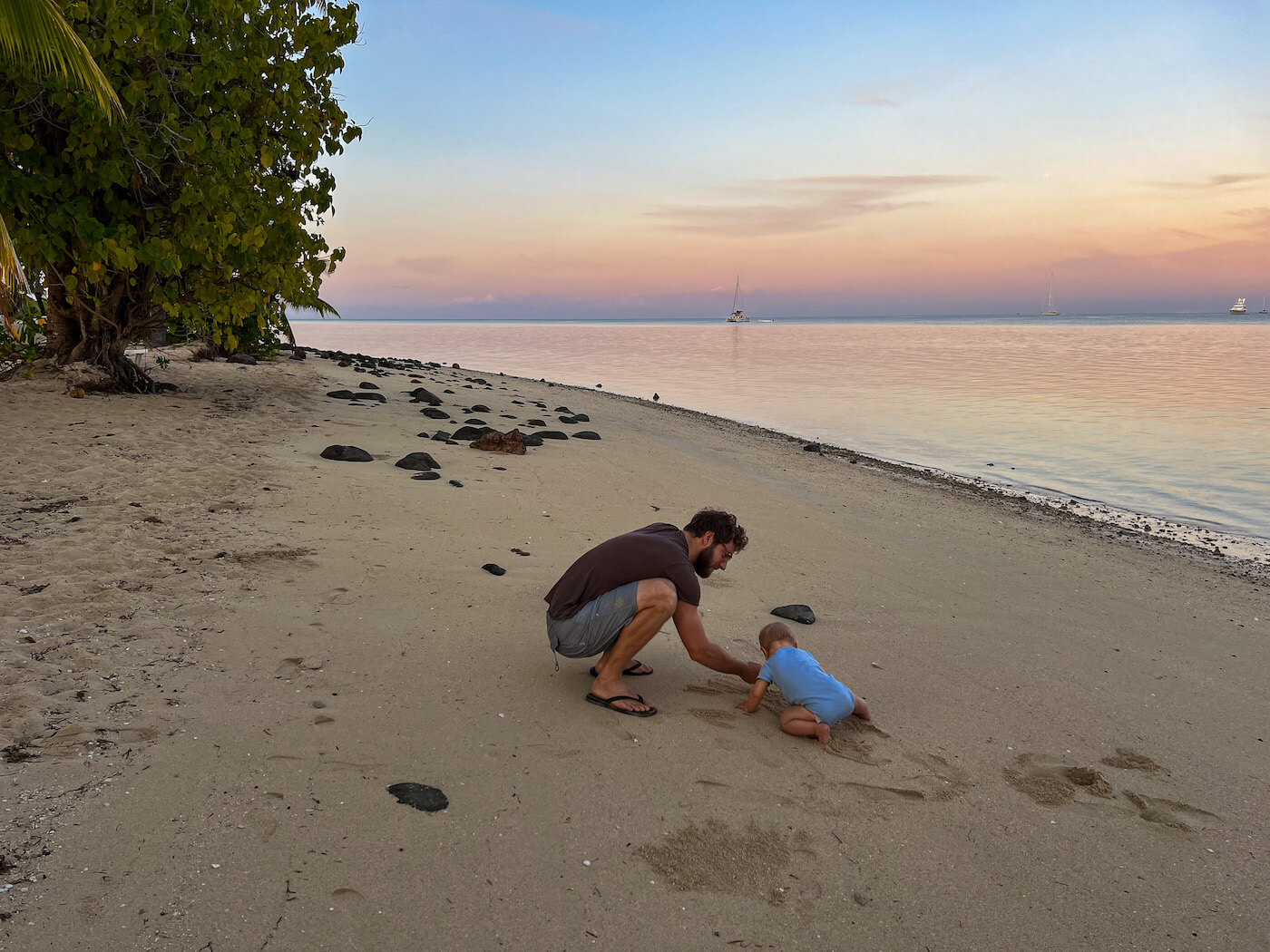 Getting to Fiji
Fiji is a particularly great choice for a holiday if you're based in Australia or New Zealand as it's less than 5 hours flight from Brisbane, Auckland and Sydney. If you're travelling from the US it's 11 hours from L.A and from the UK a longer 24-hour flight with a stopover. However, it's absolutely worth making the trip, and I say this as someone who has done many flights with a baby!
Make sure you book airport transfers in advance and specify the type of car seat you require. We used Rosie Holidays who provided us with a rear-facing baby seat for all our transfers.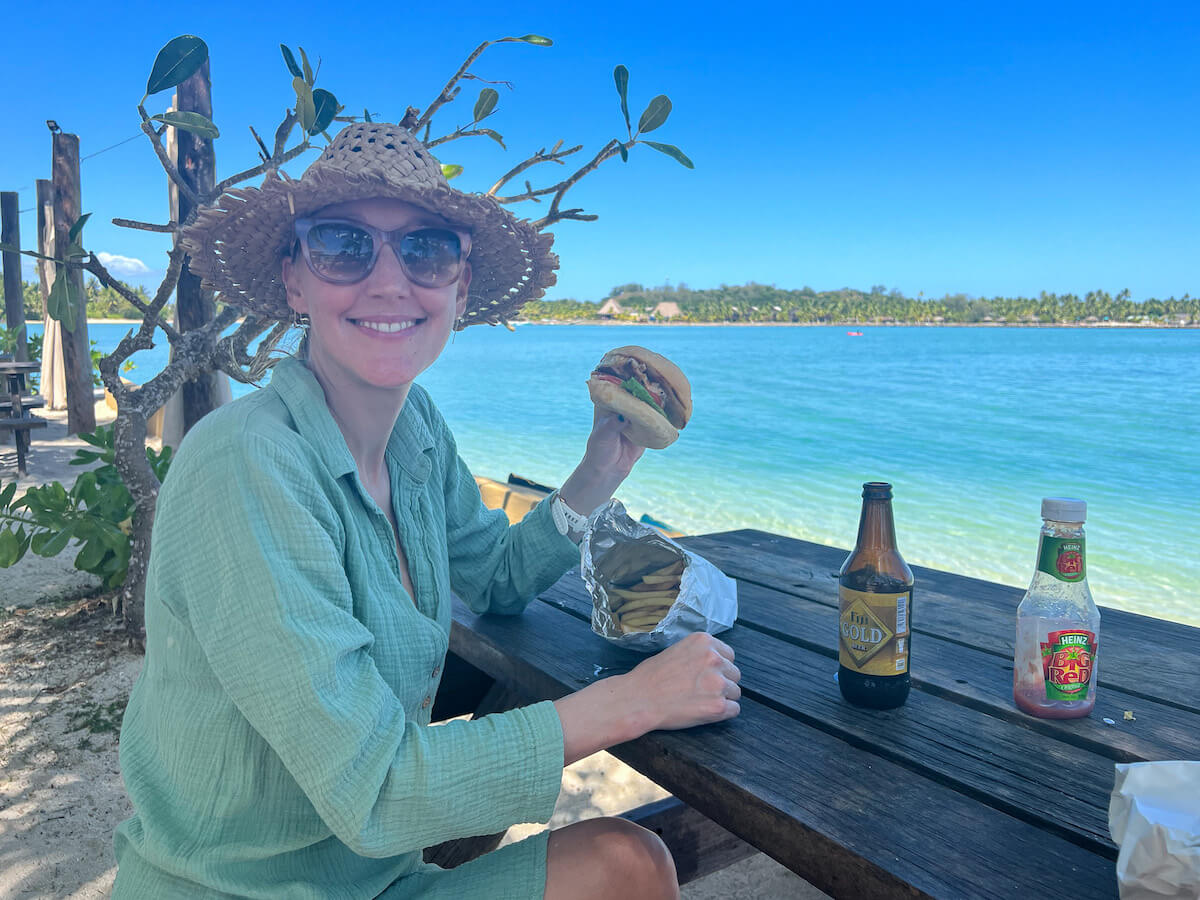 We had a fantastic family holiday and I wouldn't hesitate to travel to Fiji with a baby again. Have you been to Fiji? I would love to hear your thoughts in the comments below.
---