Scandinavia is easily one of my favourite parts of the world and I've been on numerous trips to Denmark, Sweden, Norway and Iceland, but until recently, I hadn't visited Finland. It's a pretty massive country and so we decided to visit two areas, Helsinki and Lapland, or more specifically Ruka-Kuusamo. This is an area often visited in winter to go sledging, skiing and see the Northern Lights. A Lapland summer trip would be a totally different experience, with long hours of daylight and beautiful scenery that is hidden by snow in the winter.
Finnish Lapland in the summer is all about the outdoors; lakes, forest, hikes, white water and wildlife. My first impression as we landed, was that it reminded me a lot of Canada – stunning scenery, tall trees and miles of untouched terrain to explore.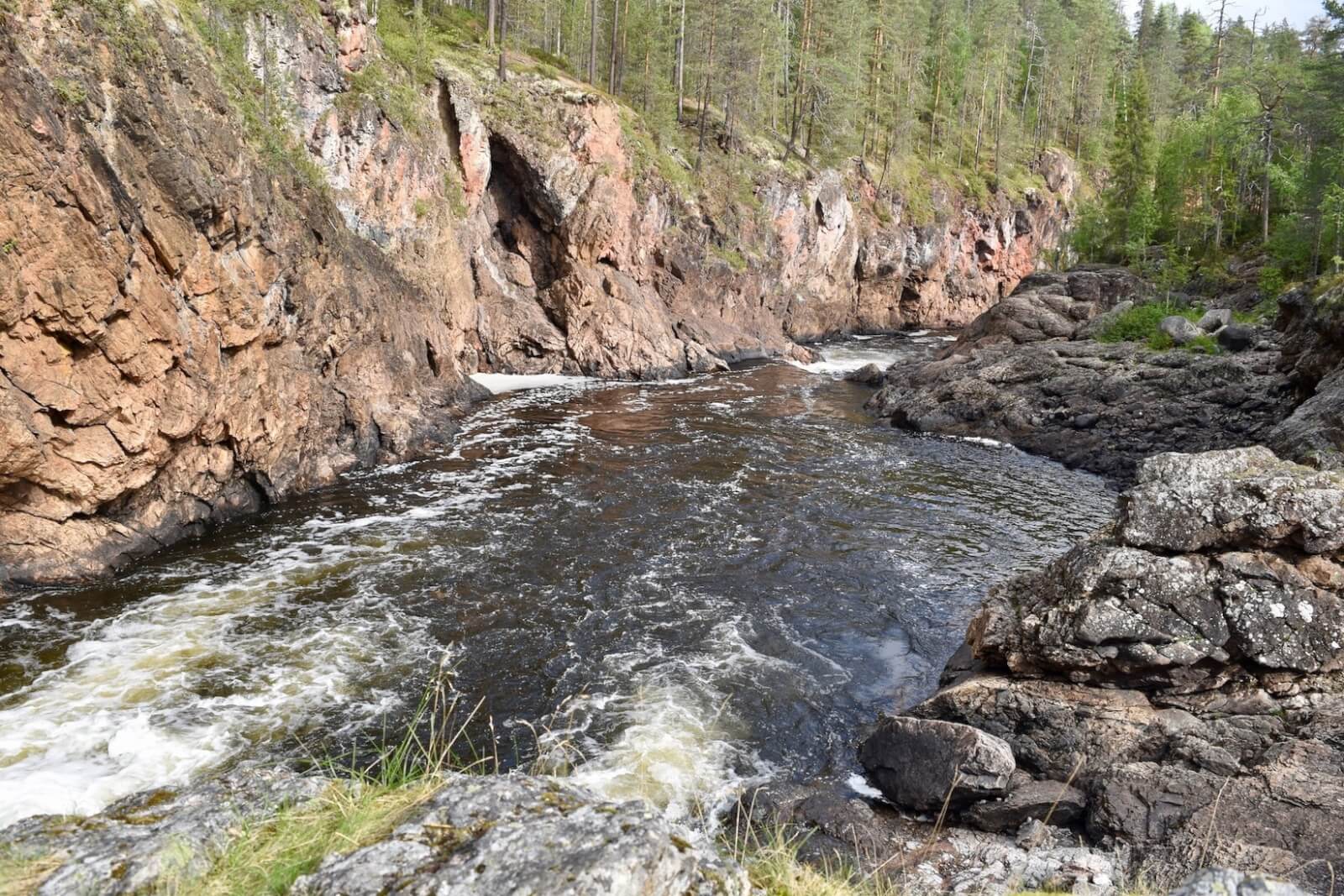 Disclosure: This article contains affiliate links. This means that if you click a link and purchase something I've recommended I may earn a small commission. This does not affect the price you pay but helps me to run this site. You can read my full affiliate disclosure here.
Midnight Sun
One of the best things about Lapland in the summer is the long days. If you come during midsummer you'll have 24 hours of daylight! We visited in August and there were a couple of hours of darkness each day, meaning you can really maximise your time and activities.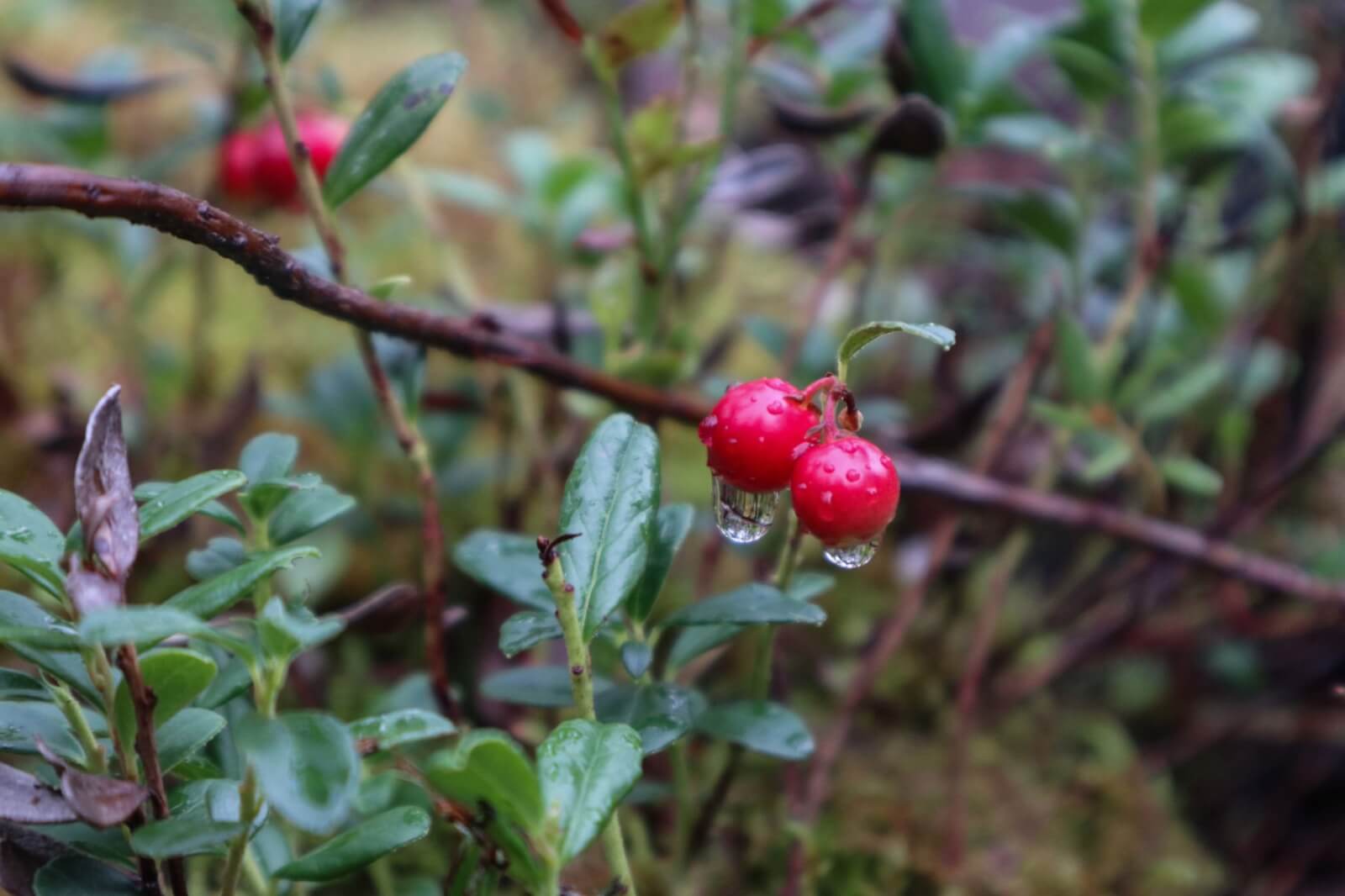 How to Get to Ruka Kuusamo
If you're coming from the UK, you'll need to fly into Helsinki and then take a connecting flight to Ruka Kuusamo. I recommend spending a few days in Helsinki as we did, it's an awesome city.
Once in Ruka Kuusamo, you need to hire a car to get around.
Read about the best saunas in Helsinki.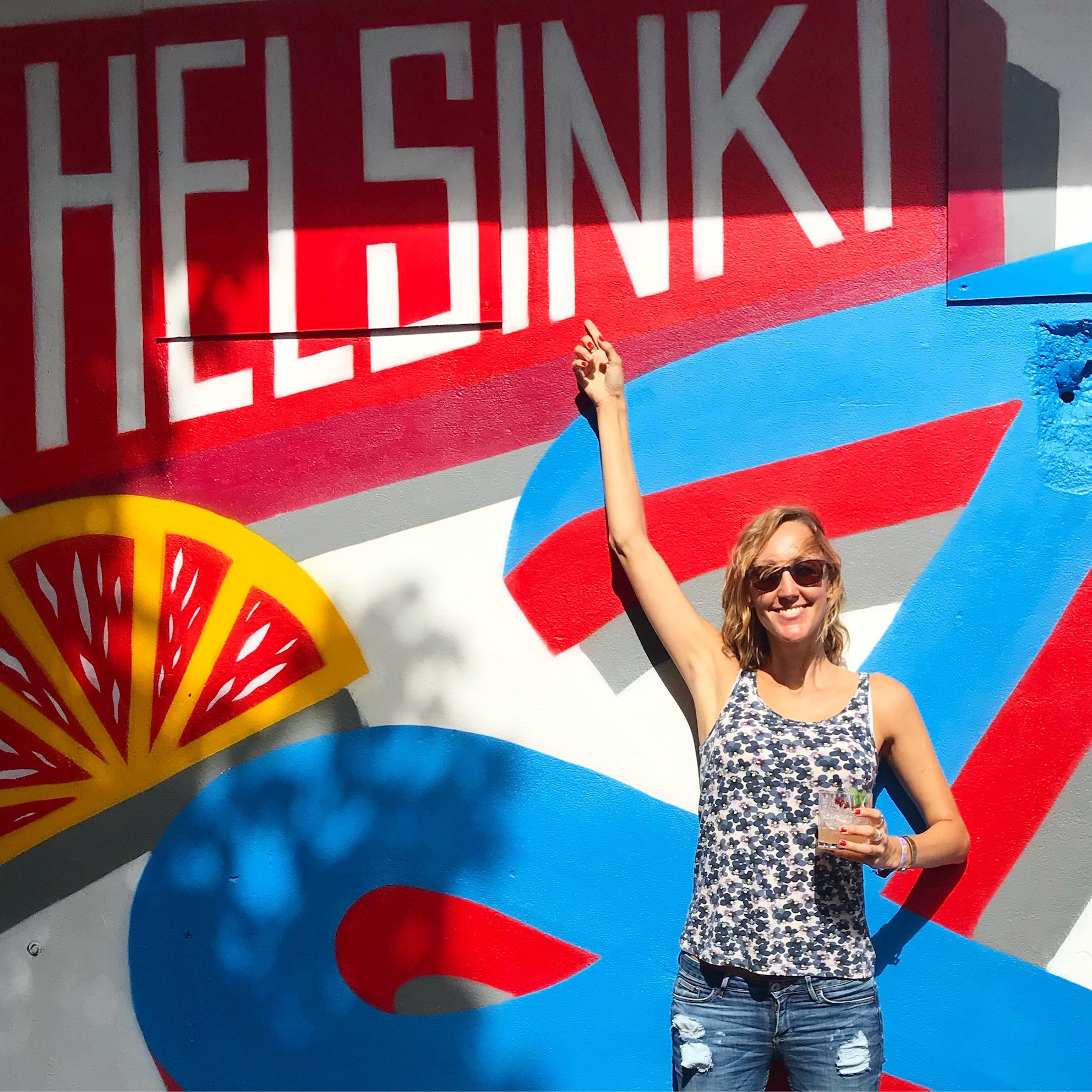 How Long to Spend in Finnish Lapland in Summer
We spent four days in Ruka Kuusamo and I would definitely aim for at least 3 days, ideally longer. There is a lot to do in Finnish Lapland, and you can easily fill a week here.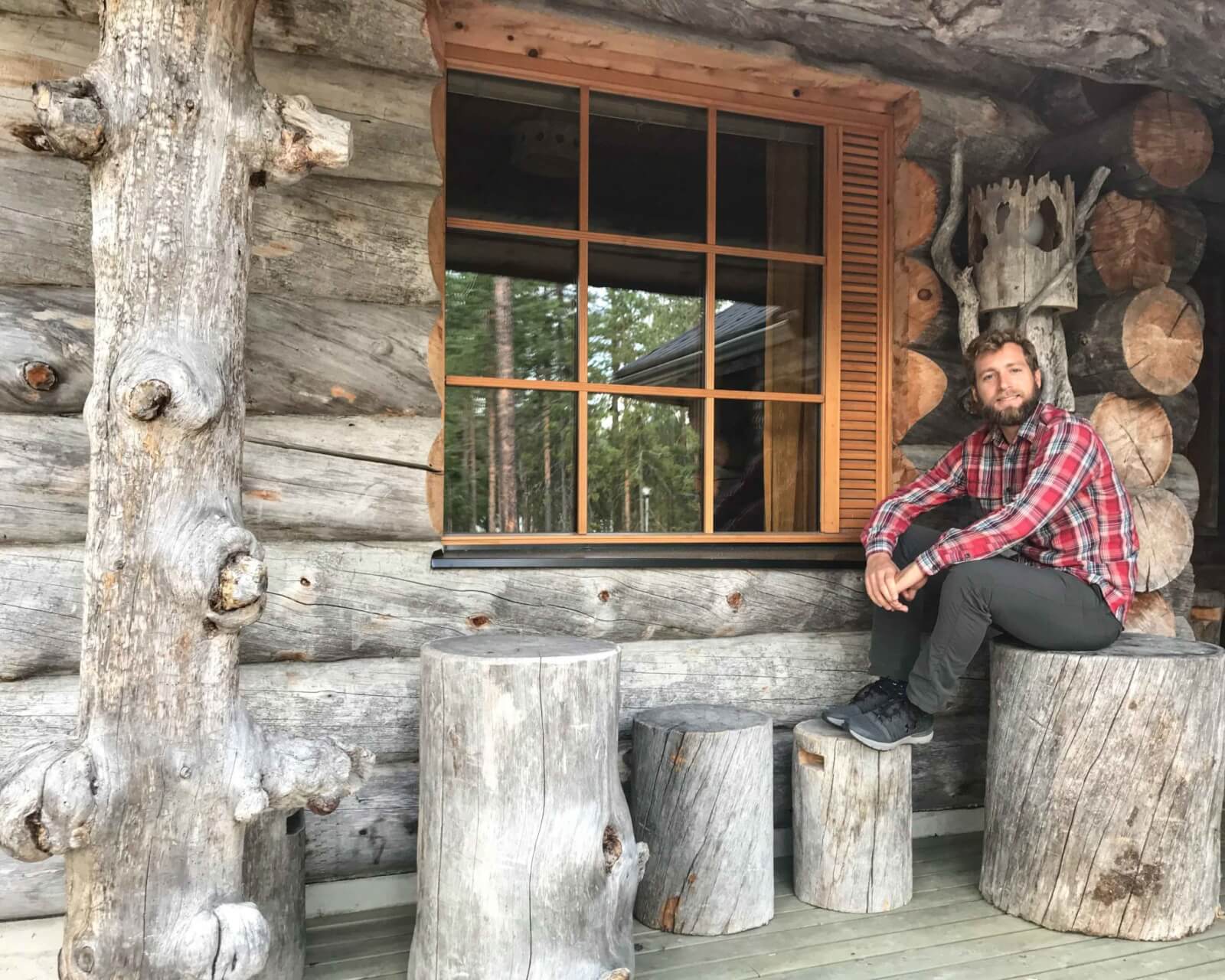 What to Do in Ruka Kuusamo
Now to the Lapland summer activities! There are so many great outdoor experiences in Ruka Kuusamo, but it's also a great place to relax. Allow some time in your itinerary to enjoy the scenery and enjoy a sauna or two.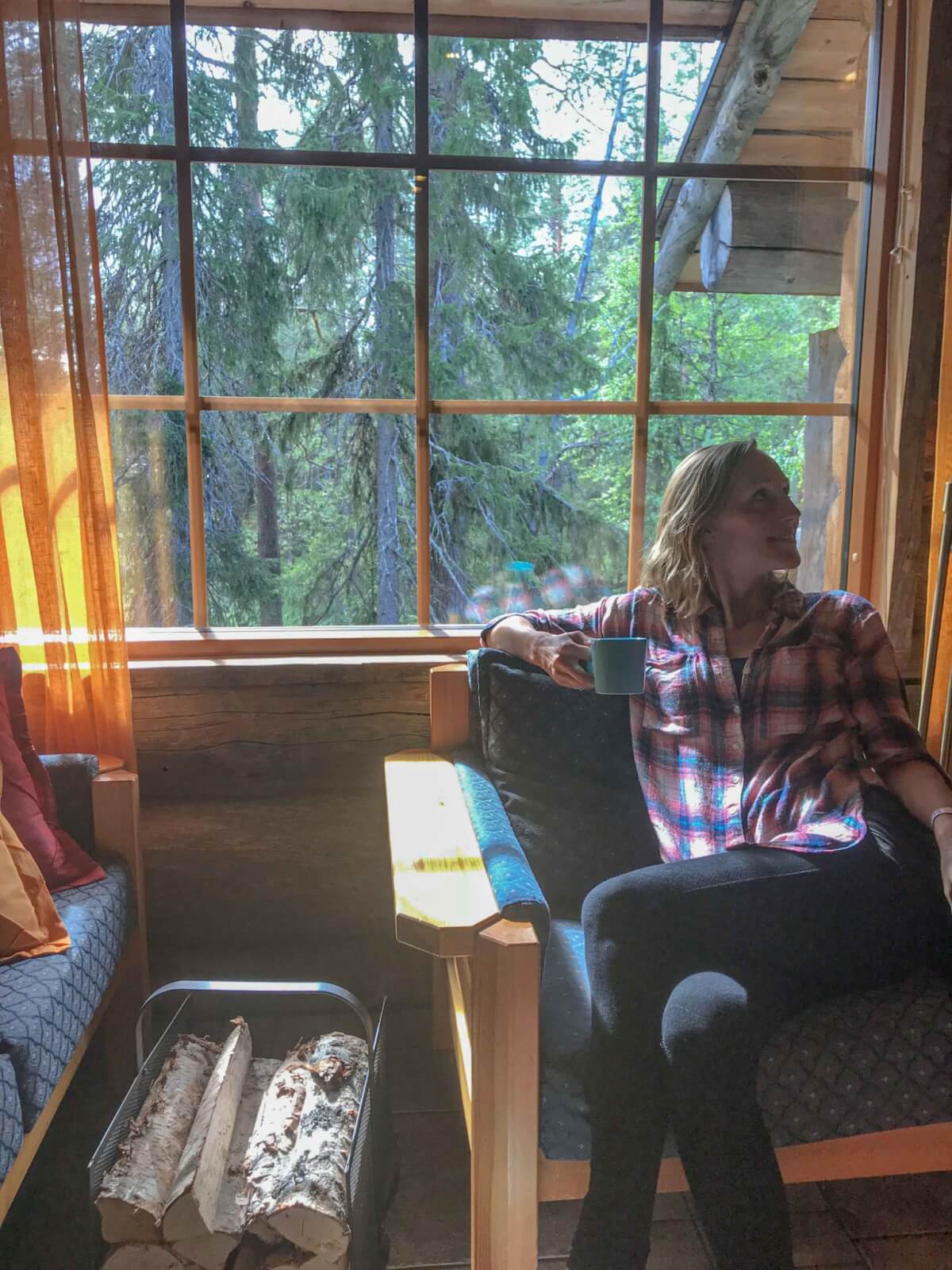 See Wild Bears
There are an estimated 1500 brown bears in Finland, and it's an incredible experience to witness them in the wild. This is definitely a great reason to visit Ruka and Kuusamo in the summer, as the bears hibernate in the winter.
We headed into the forest with Yuri from Lammintupa and made our way to a small cabin. Bears are generally frightened of humans and tend to avoid human interaction, so the aim was to not let them know we were there. The cabin had one-way glass with sections cut out to place our cameras, so the bears wouldn't sense our presence.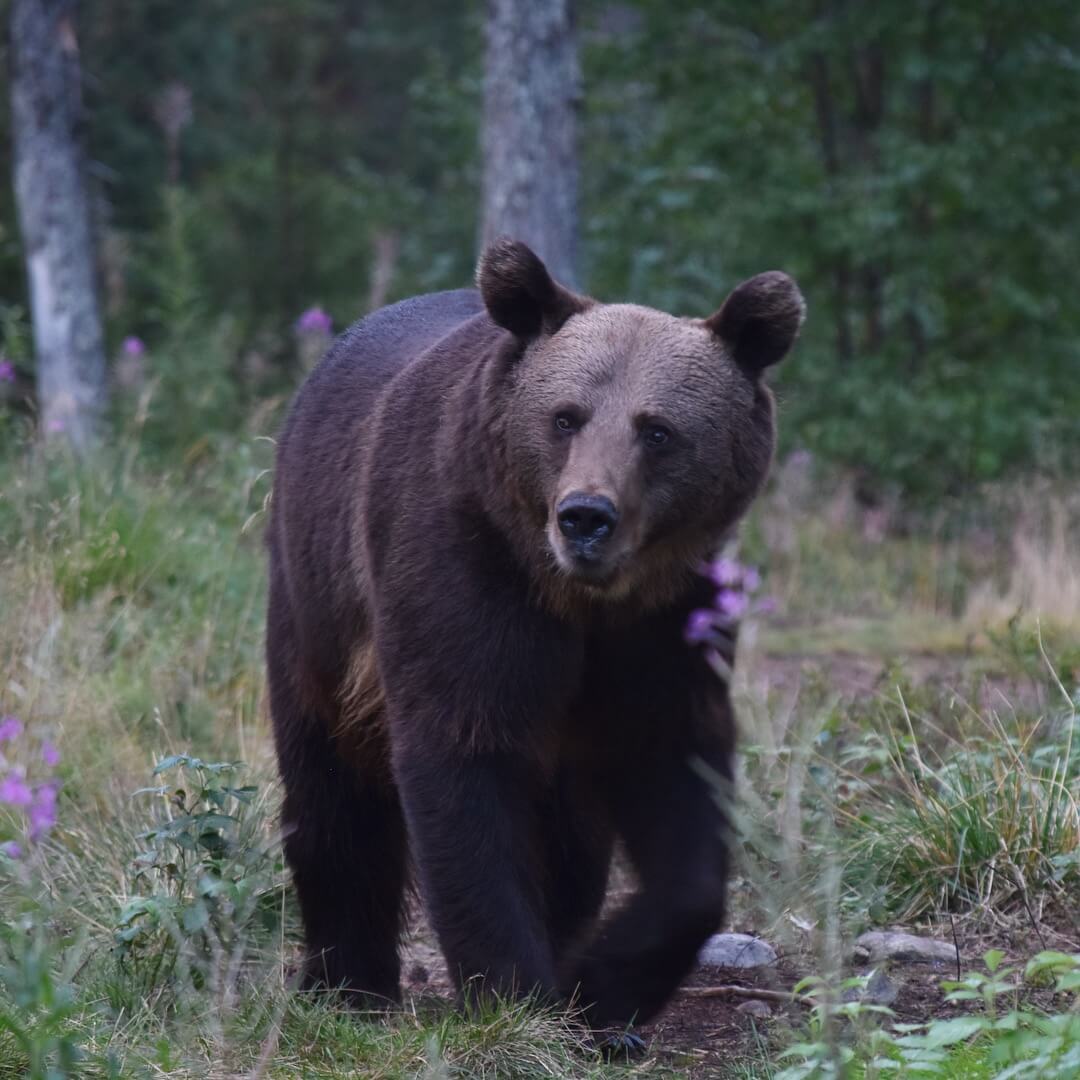 We waited a while, enjoying tea and cake and soon the bears arrived. They were so beautiful, and it was incredible to see them so close up in their natural habitat, I could even hear one of them breathing as he passed the hut.
We spent an hour or so observing, while Yuri told us more about the bears, including the fact that they can run 60km per hour and also climb trees! Sadly we didn't witness either of these things, but it was an unforgettable experience.
Go Hiking
Finnish Lapland is a hiker's paradise, with endless trails and paths to explore. Head to the Oulanka National Park Visitors Centre for maps and info on the routes. In late summer the woods are full of delicious wild berries, perfect for snacking during your hike!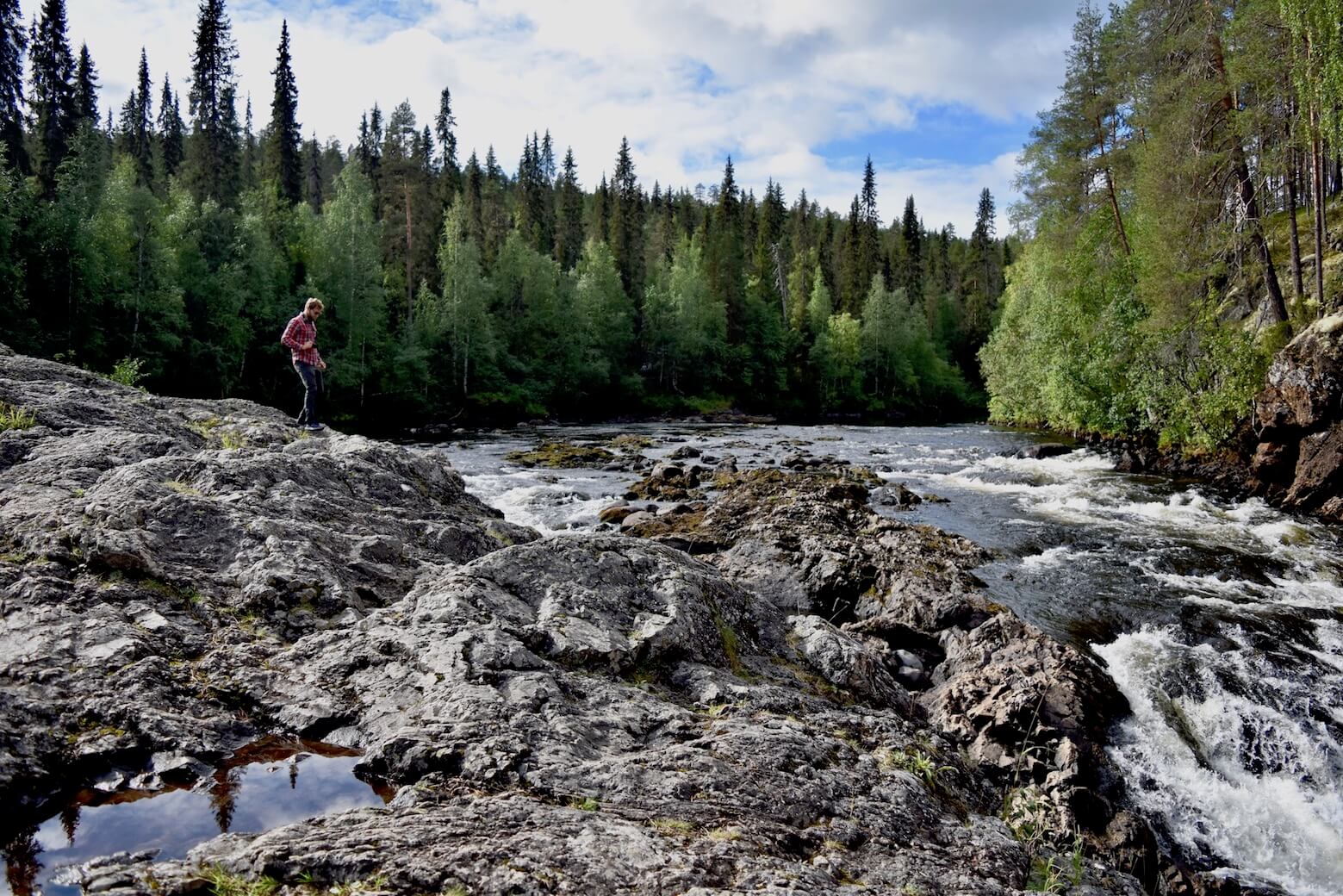 White Water Rafting
I'd never tried white water rafting before visiting Finland but soon discovered that it's an excellent place to do it. There are category 3,4 and 5 rapids, with category 5 being the highest level that guides are legally allowed to take guests.
After getting kitted out in our waterproof gear, helmets and lifejackets, and following a safety briefing we got into our raft. It all started off very relaxed as we gently paddled across a lake, then we reached the rapids and the adrenalin kicked in!
We progressed from category 3 rapids, ending at category 5, with us all managing to stay in the boat and actually row in unison. It was such a great experience and one I highly recommend in Finnish Lapland.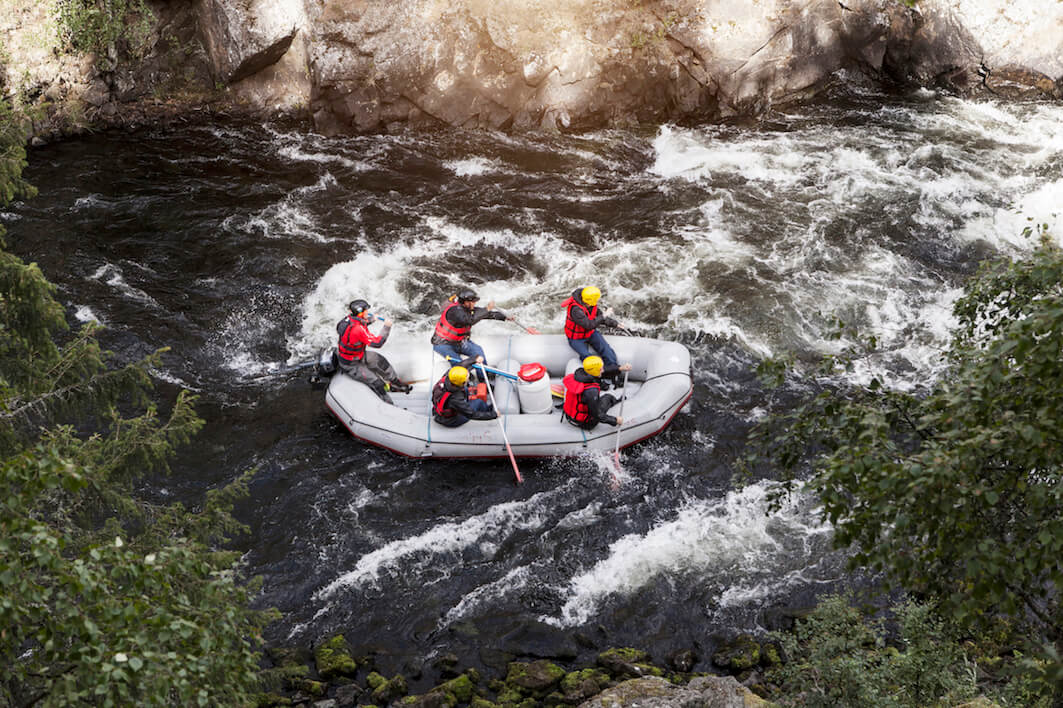 Finnish Sauna
Sauna is as important a part of Finnish culture and no trip to Finland is complete without at least one sauna. Our awesome chalet had a sauna (find out more at the end of the article), and we also visited the most incredible sauna during our summer Finland adventure, which I highly recommend. Pyhäpiilo Sauna is located on the shore of Lake Pyhäjärvi, a gorgeous setting surrounded by forest. The sauna is available for private hire, so you can sauna in the traditional way – naked – whilst keeping your modesty! For the full Finnish sauna experience, heat up in the sauna, then head outside and jump into the lake!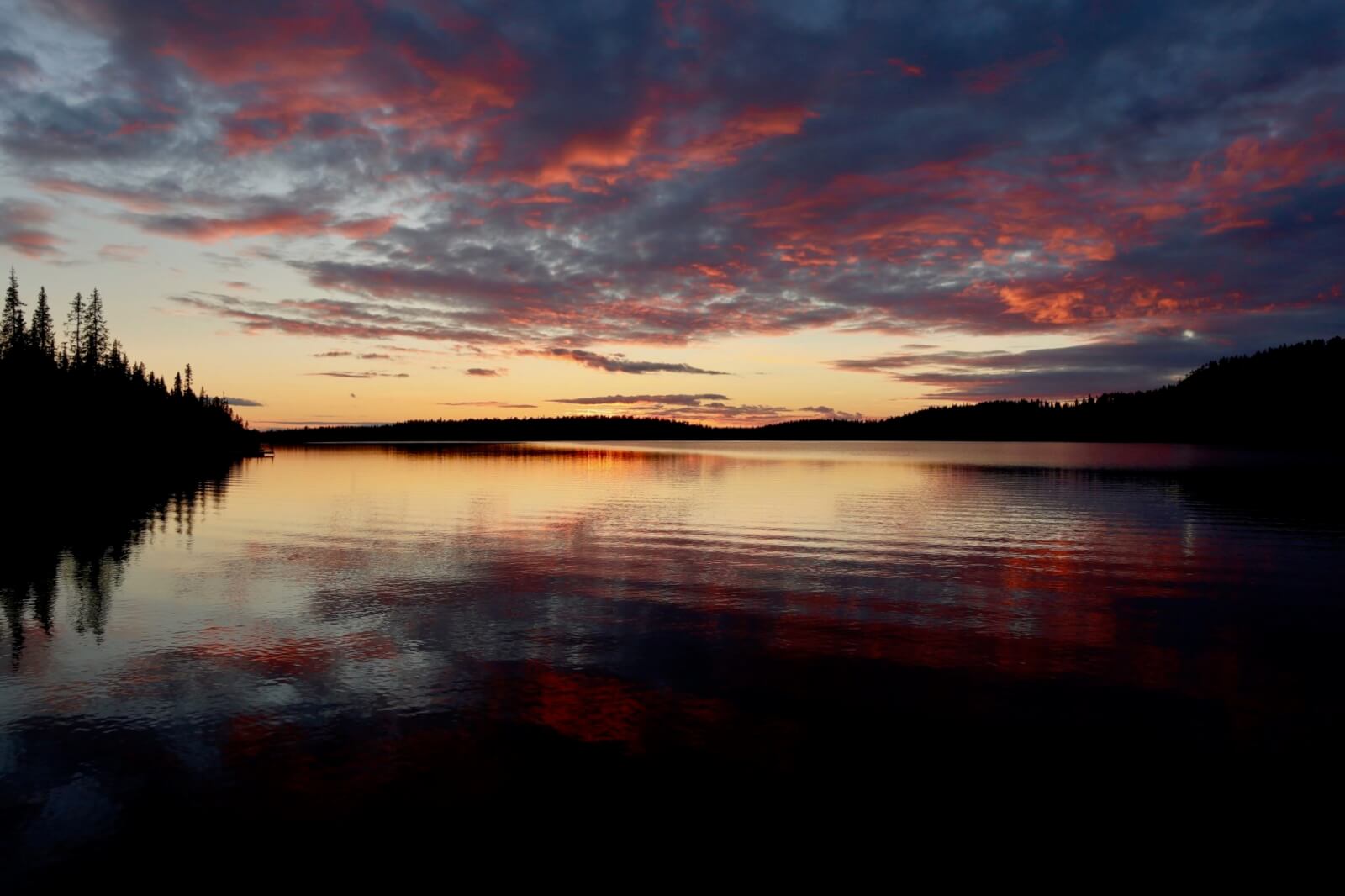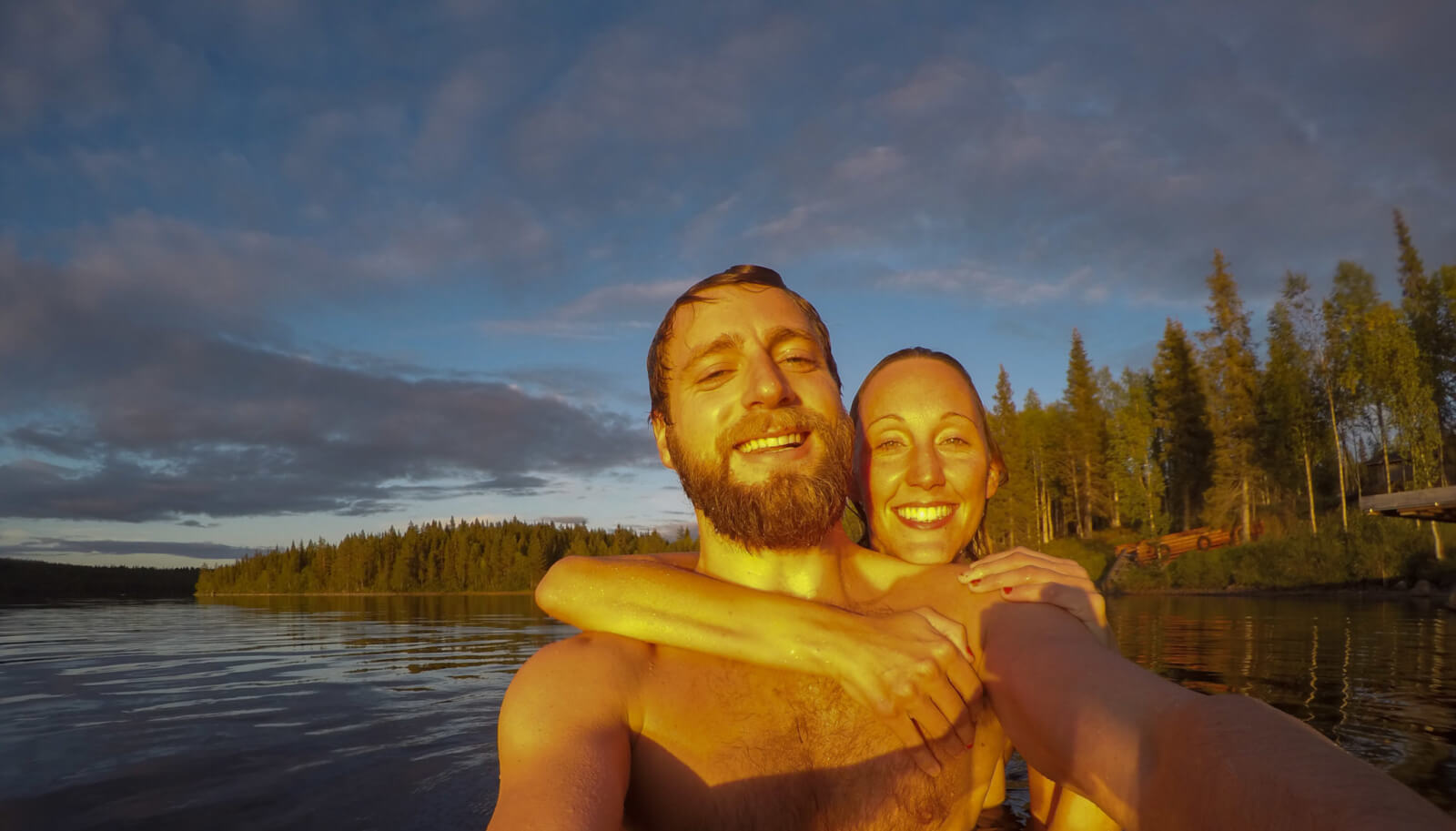 Horse Riding
Horse riding is a great way to explore the beautiful wilderness. We went on a 2-hour hack with Wanha Raatesalmi farm, on Icelandic horses. I'd never ridden Icelandic horses before, and what's special about them is that they have their own special gait,  in addition to the usual trot, canter and gallop of other horses. It's called a told and it is a little bit like power walking! I loved powering through the forest on horseback!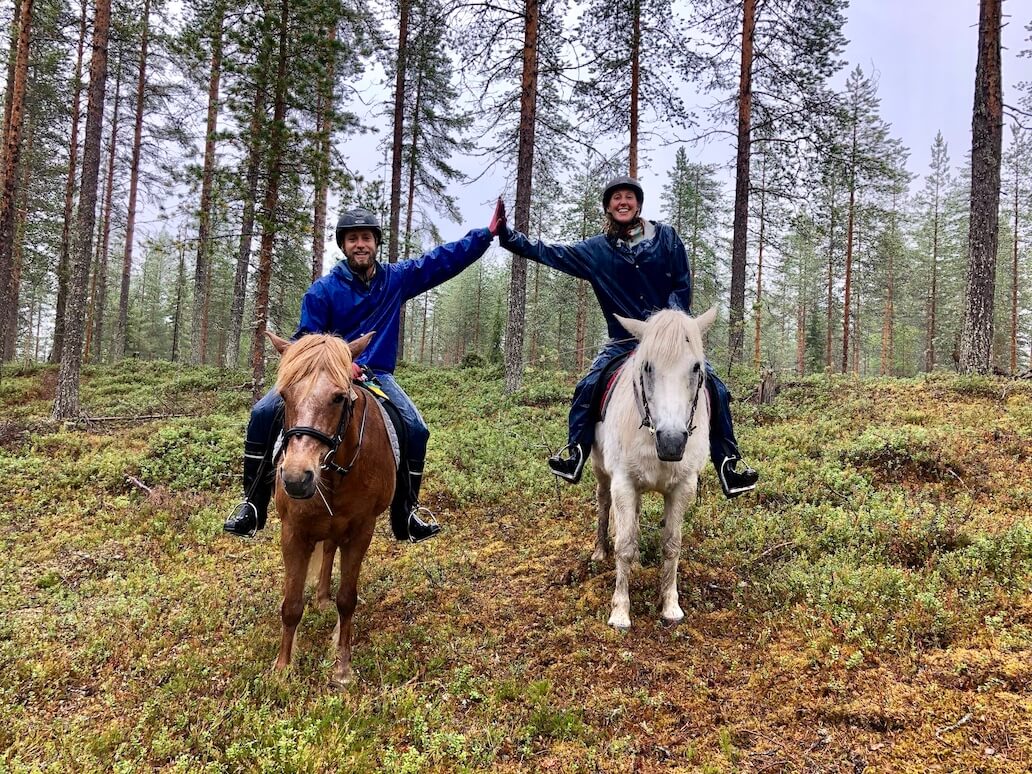 Take A Husky Hike
Just because you're visiting in the summer, doesn't mean you have to miss out on the husky action! Though you can't go sledging (as there is no snow), you can take a husky hike instead. Strap on a harness (the dogs are very strong!) and enjoy a walk in the woods with a furry pal.
Visit A Reindeer Farm
You'll more than likely see reindeer wandering along the roads and in the forest while in Lapland, but if you want a closer look, it's worth visiting Kujalan Reindeer Farm. On an hour-long visit, you can help feed the reindeer and find out more about these special animals.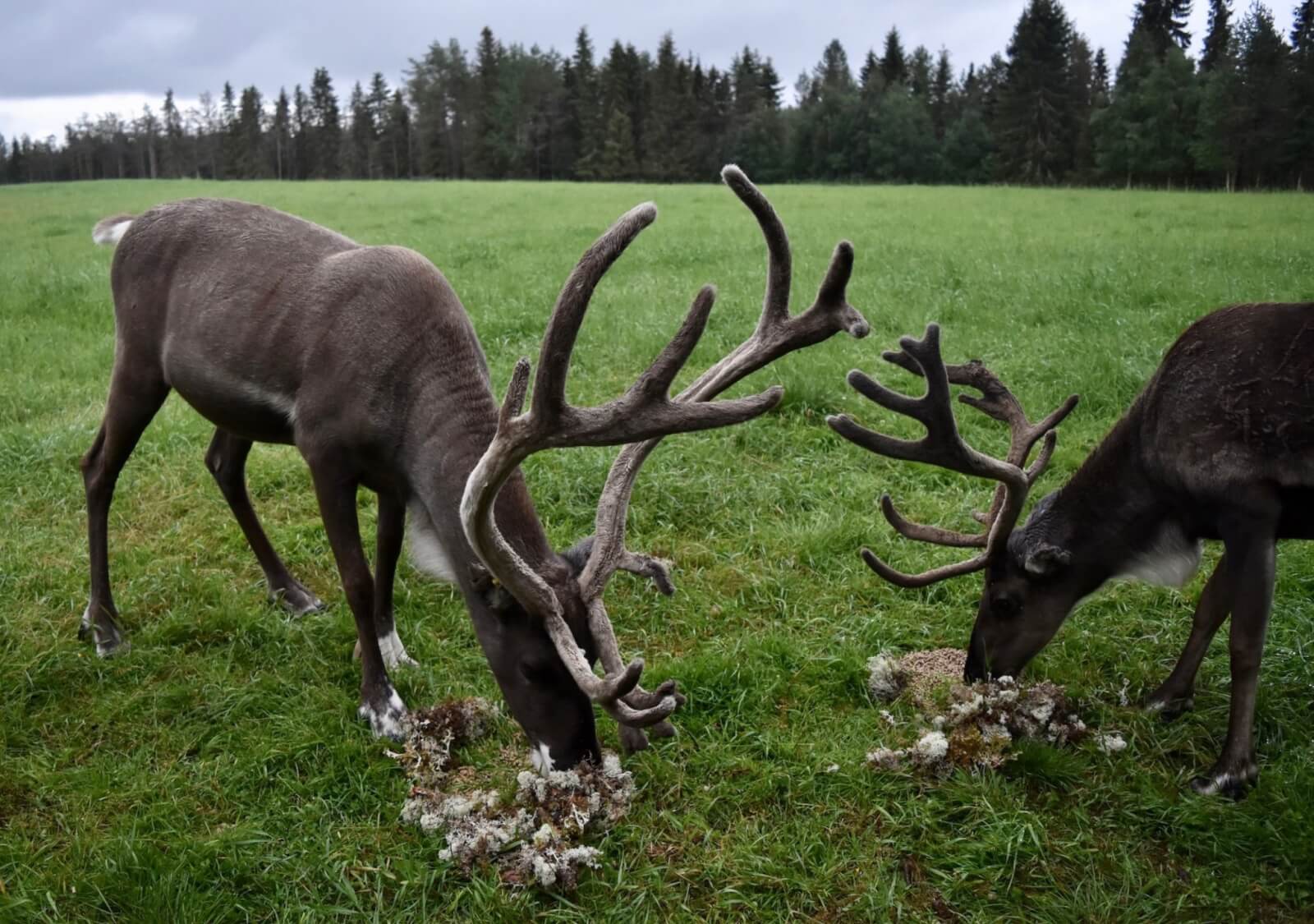 Where to Stay in Finnish Lapland
We stayed in a beautiful wood cabin – Rukan Salonki – complete with its own sauna. It was so cosy, and even though it was summer and not particularly cold, we still lit the fire each night.
Thanks to Ruka-Kuusamo Tourism for hosting A Lovely Planet on our adventure in Finnish Lapland in summer.