Great food, beautiful cities, white sand beaches and plenty of wine are my main criteria when it comes to choosing a holiday destination. Puglia has all of these and is the perfect place for a weekend or week-long holiday (or more). This Puglia itinerary focuses on the northern part of the region over three days. If you have more time, then I highly recommend extending your trip south to Otranto and Gallipoli.
Disclosure: This article contains affiliate links. This means that if you click a link and purchase something I've recommended I may earn a small commission. This does not affect the price you pay but helps me to run this site. You can read my full affiliate disclosure here.
Puglia Itinerary
You have two options for this itinerary, either stay in one location for the full 3 days or follow a road trip style itinerary staying at a different location each night. I've written it as the former but will provide info for both.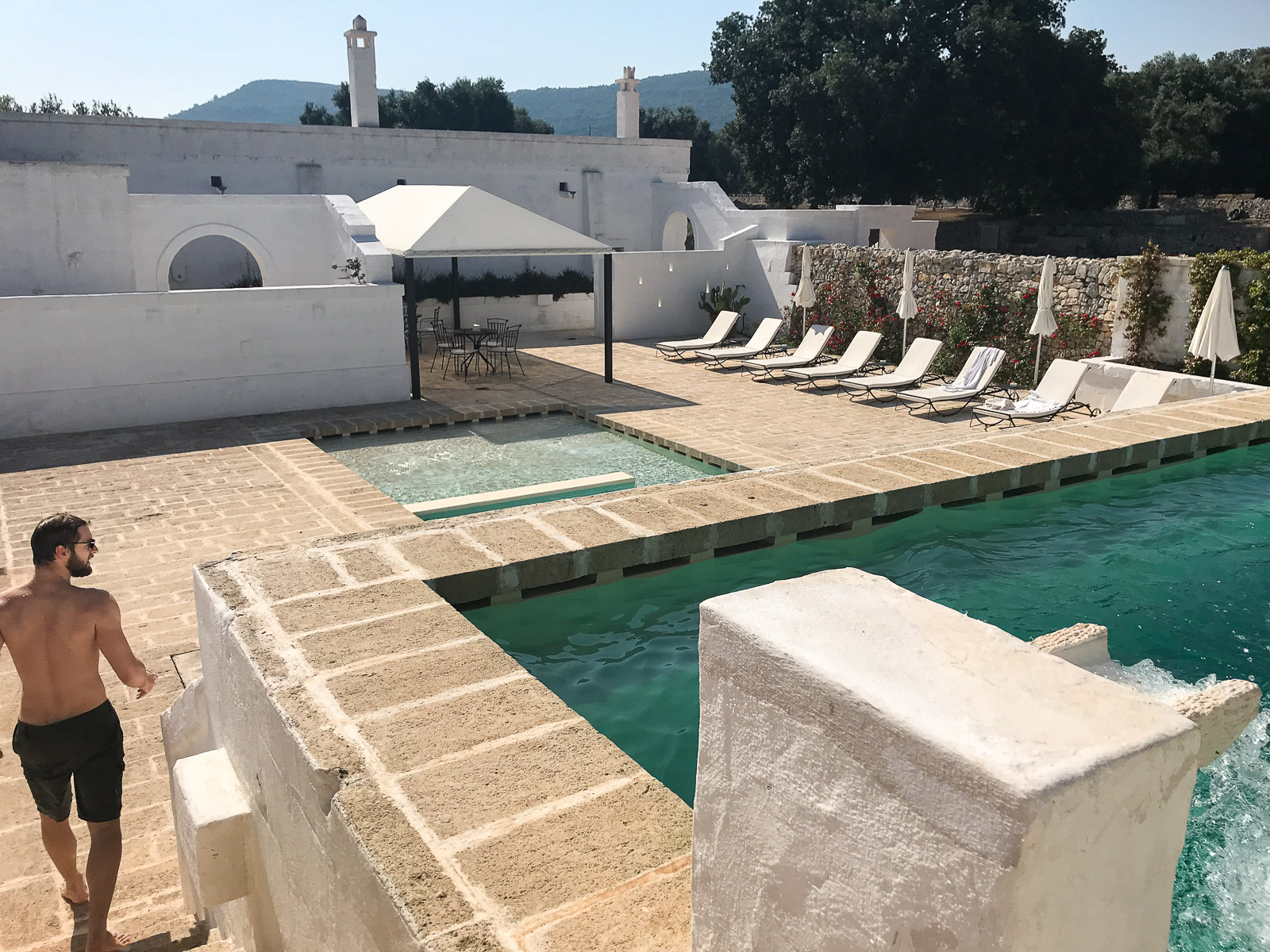 Fly to Brindisi (you can also fly to Bari 113km north)
Collect a hire car at the airport. It's worth booking in advance and I recommend hiring a smaller car, as it will be much easier to park (parking is limited in some Italian cities) and some of the country roads are narrow. We have done this trip in a motorhome which was a challenging experience at times!
Book a car with rentalcars.com.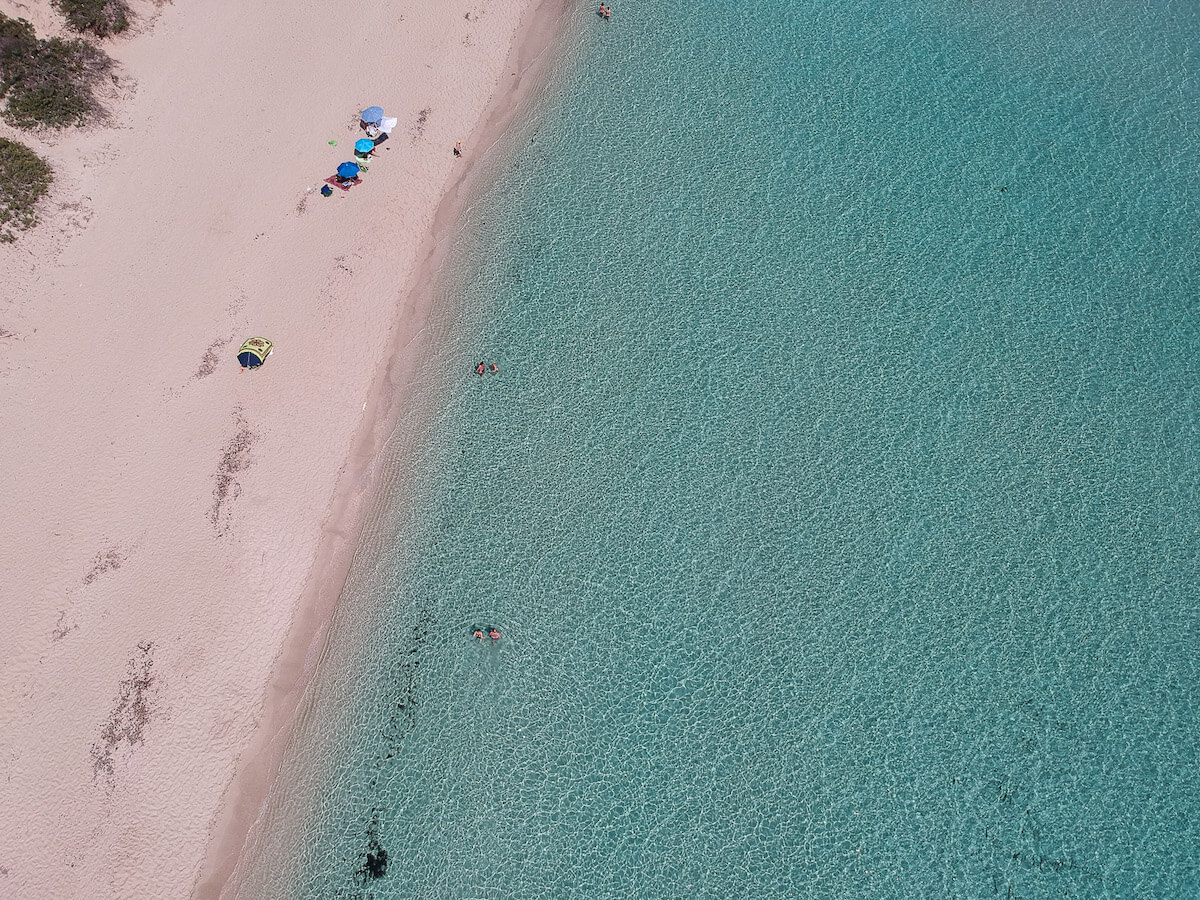 Driving in Italy
Italians love to use their horn, so if someone beeps at you, don't be offended. It's often just them letting you know they are there rather than the aggressive horn use that we tend to do in Britain/Oz (although they do that too!). Either way, it's best to try not to get flustered if you hear lots of horn beeping and just focus on driving.
Ostuni – Day 1
Drive straight from Brindisi to Ostuni (40km / 33 minutes). I recommend making this your base for the 3 days.
Ostuni
Spend the first day exploring the white-washed hilltop city. The 'Citta Bianca' (white city) is a higgledy-piggledy mix of buildings decorated with colourful flowers, with narrow lanes and hidden bars, restaurants and shops. You could lose hours wandering the alleys and streets, stumbling across a stylish bar for an aperitivo or a gorgeous view of the olive groves or out to the Adriatic from above.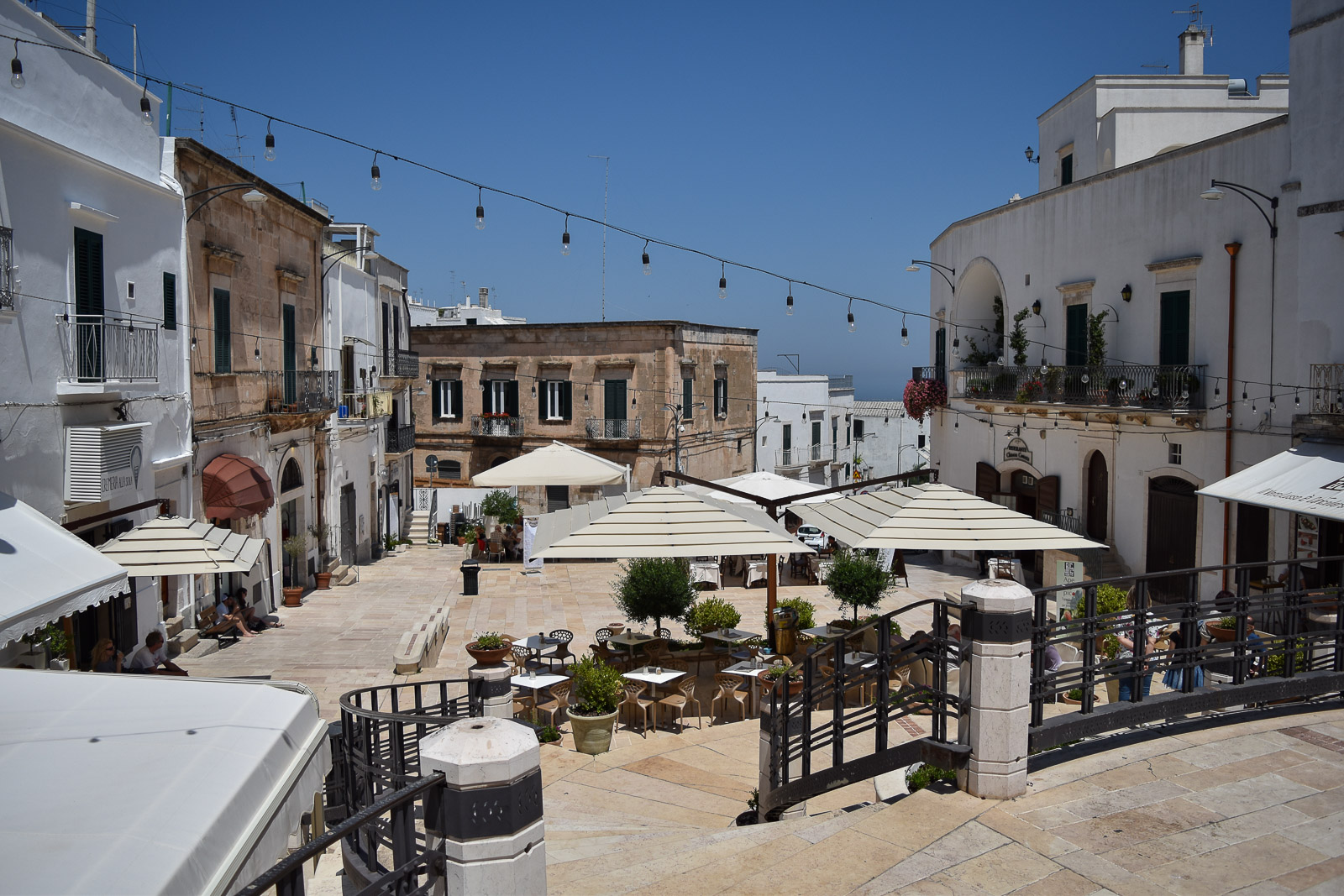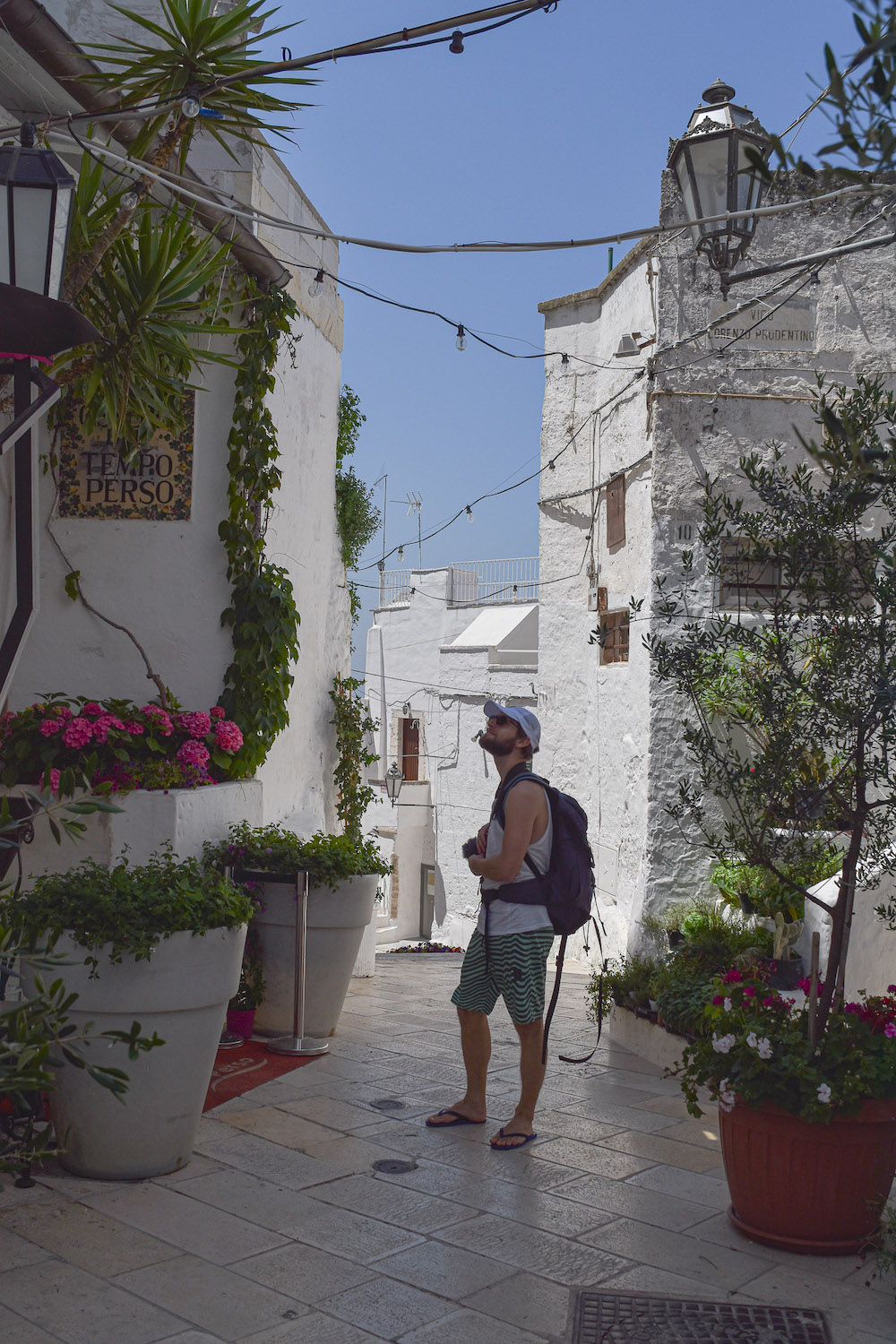 Eat dinner in Ostuni or back at your masseria if you're staying out of the city.
---
Where to Stay in Ostuni
There are lovely hotels and guest houses in Ostuni such as Casa Flamì 2 or Paragon 700 Boutique Hotel & SPA, however, I recommend staying just outside the city in a masseria. These are beautiful old farms that have been converted into accommodation. Usually surrounded by olive groves, with gorgeous pools and great restaurants they make an excellent base for your Puglia holiday.
We stayed in three beautiful masserias in the region and there are plenty more:
Masseria Le Carrube
We considered getting married at Masseria Le Carrube, we loved it so much. Once a frantoio (an olive oil producing mill), the olive press now forms the centrepiece of the hotel's restaurant. The white walls are draped in purple Bougainvillea and it has two idyllic pools. Unusually for Italy, the restaurant is vegetarian and it's so good. We had a fantastic meal here. (Neither Enrico nor I are veggie).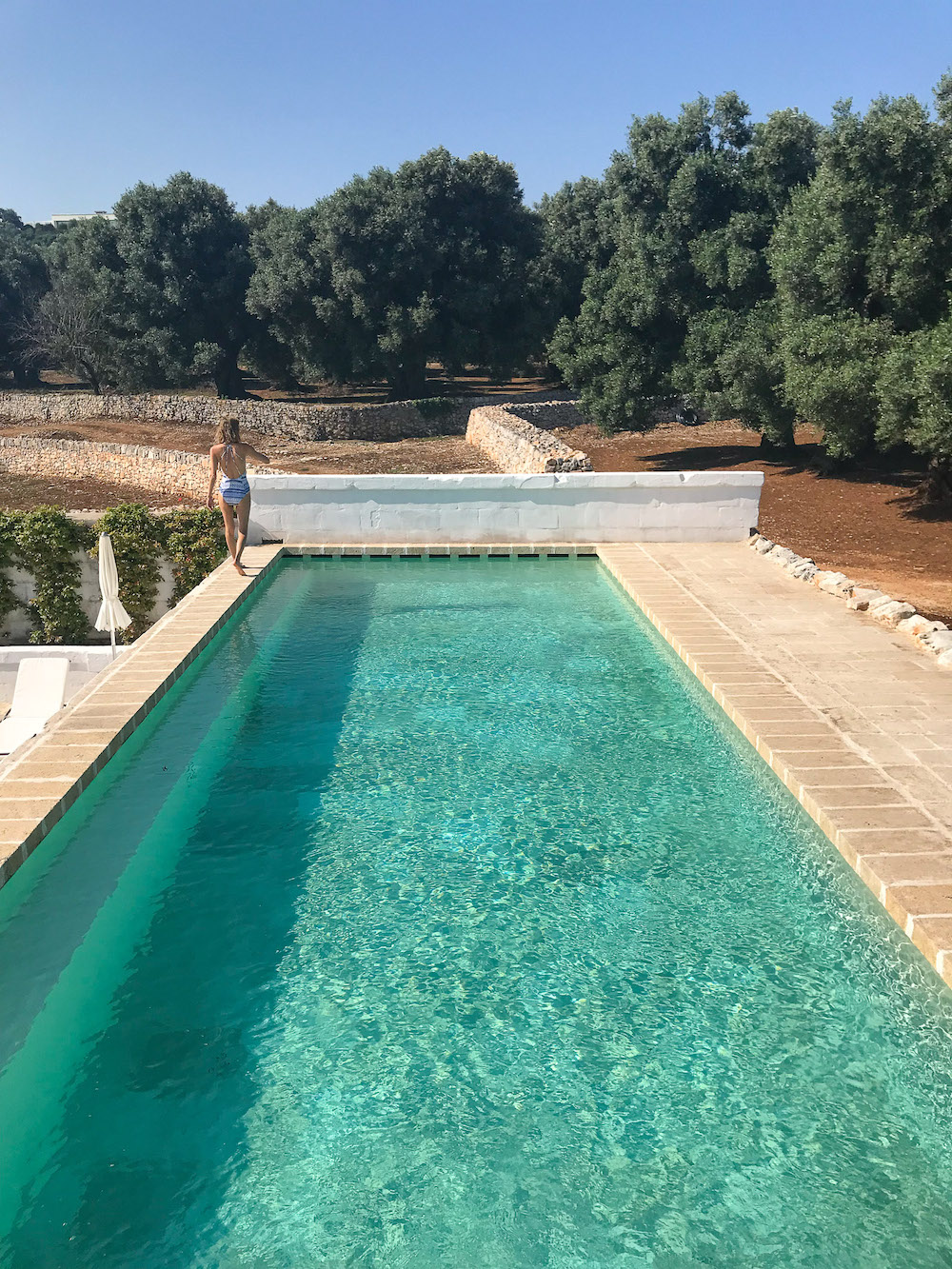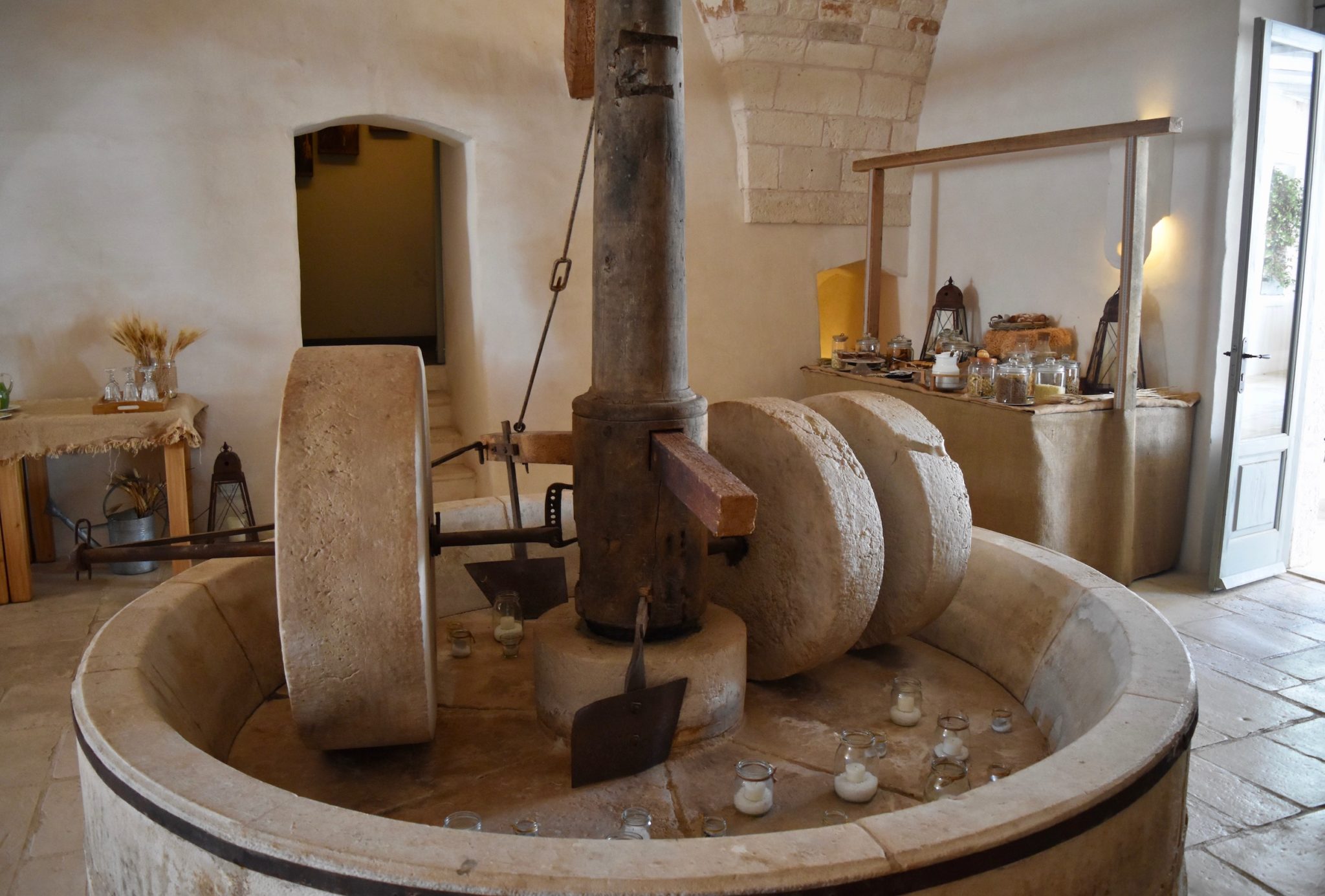 Masseria il Frantoio
As per the name, this masseria was also an olive oil farm. It's a good choice for foodies as they offer a delicious tasting menu using many of the herbs and vegetables grown in the gardens.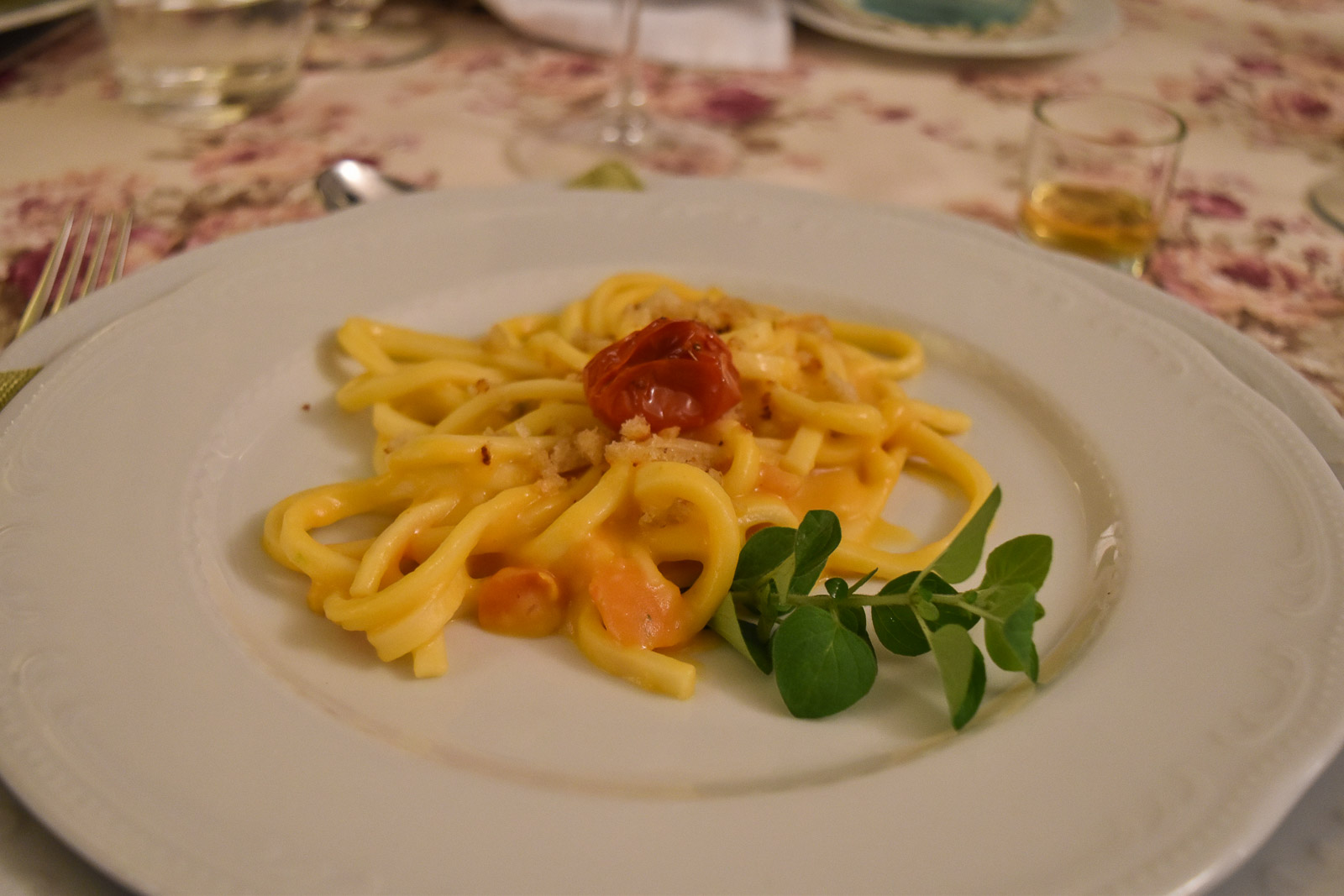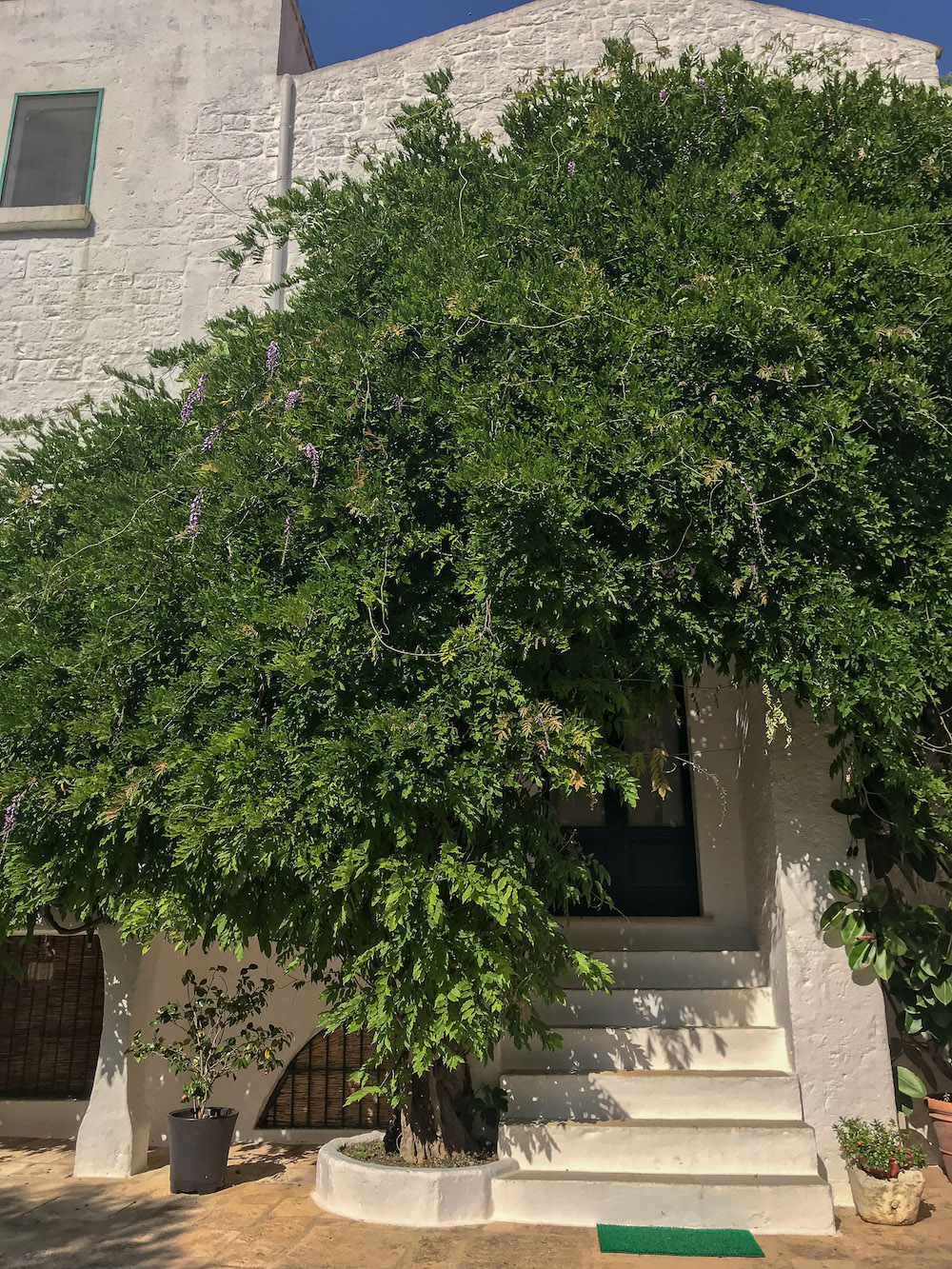 Masseria San Domenico
A little further north, Masseria San Domenico was definitely the most opulent of the masserias we stayed in. The 5 star resort has an enormous free-form swimming pool, complete with rock and water features and an excellent restaurant.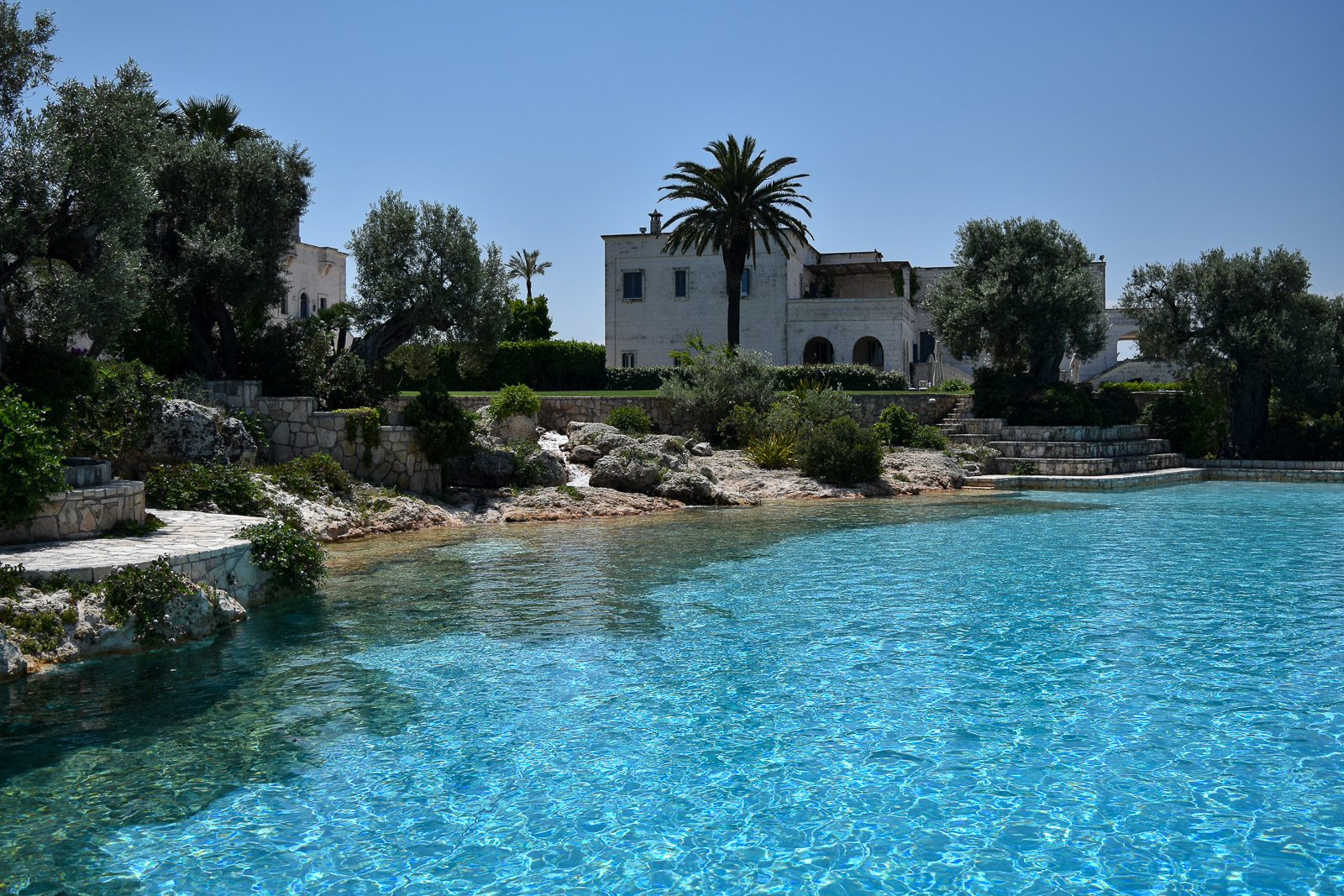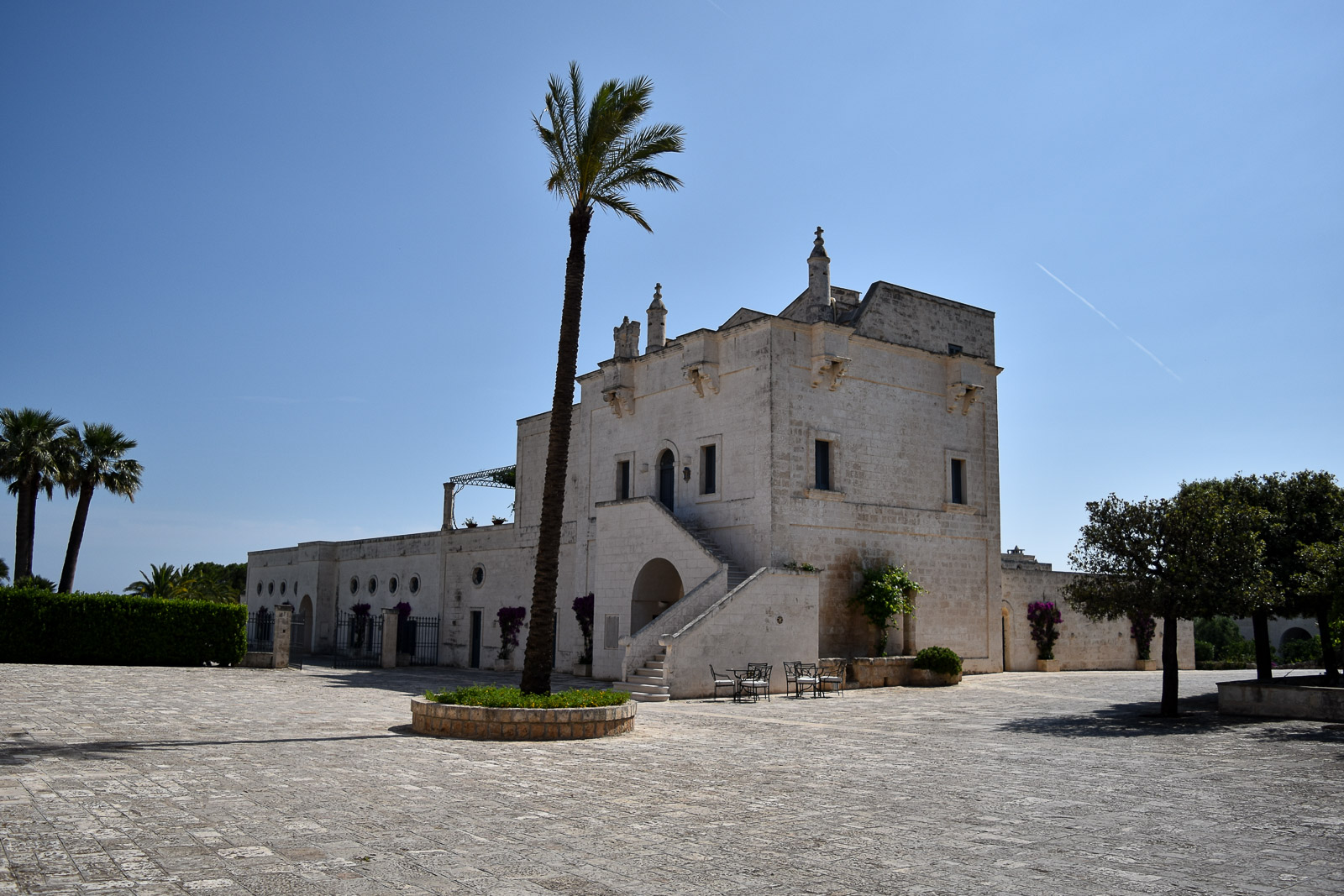 Masseria le Carube was my favourite of the three, but all were lovely.
Tip: You can't park in the centre of Ostuni, so look for parking outside the city. We managed to park our motorhome outside and walk in, so it is possible! If you're staying inside the city, check with your accommodation regarding parking.
Read our guide to the best things to do in Puglia.
Alberobello & Cisternino – Day 2
Ostuni to Alberobello (32km / 40 minutes)
Alberobello
Rise early on the second day and drive to Alberobello. This UNESCO World Heritage Site is made up of hundreds of trulli – small stone houses with conical roofs. This is a popular tourist spot, so getting here early means you'll have a chance to wander around before the tour buses arrive. Some of the trulli are still lived in, but others have been converted into shops and cafes. Trullo Sovrano is a two-storey trullo, which is also a museum, and the town's church Sant'Antonio Church is also built in the same distinctive style.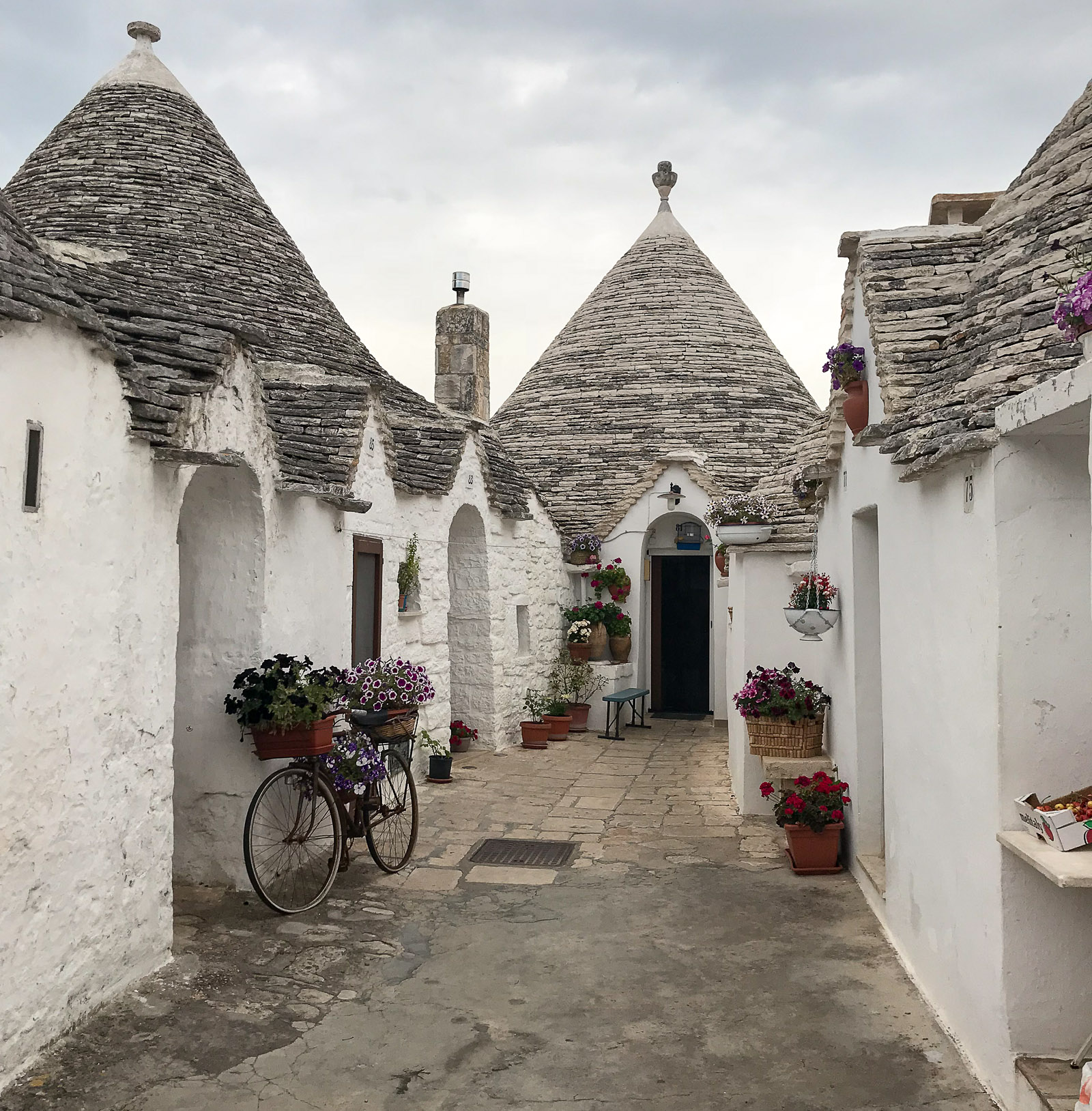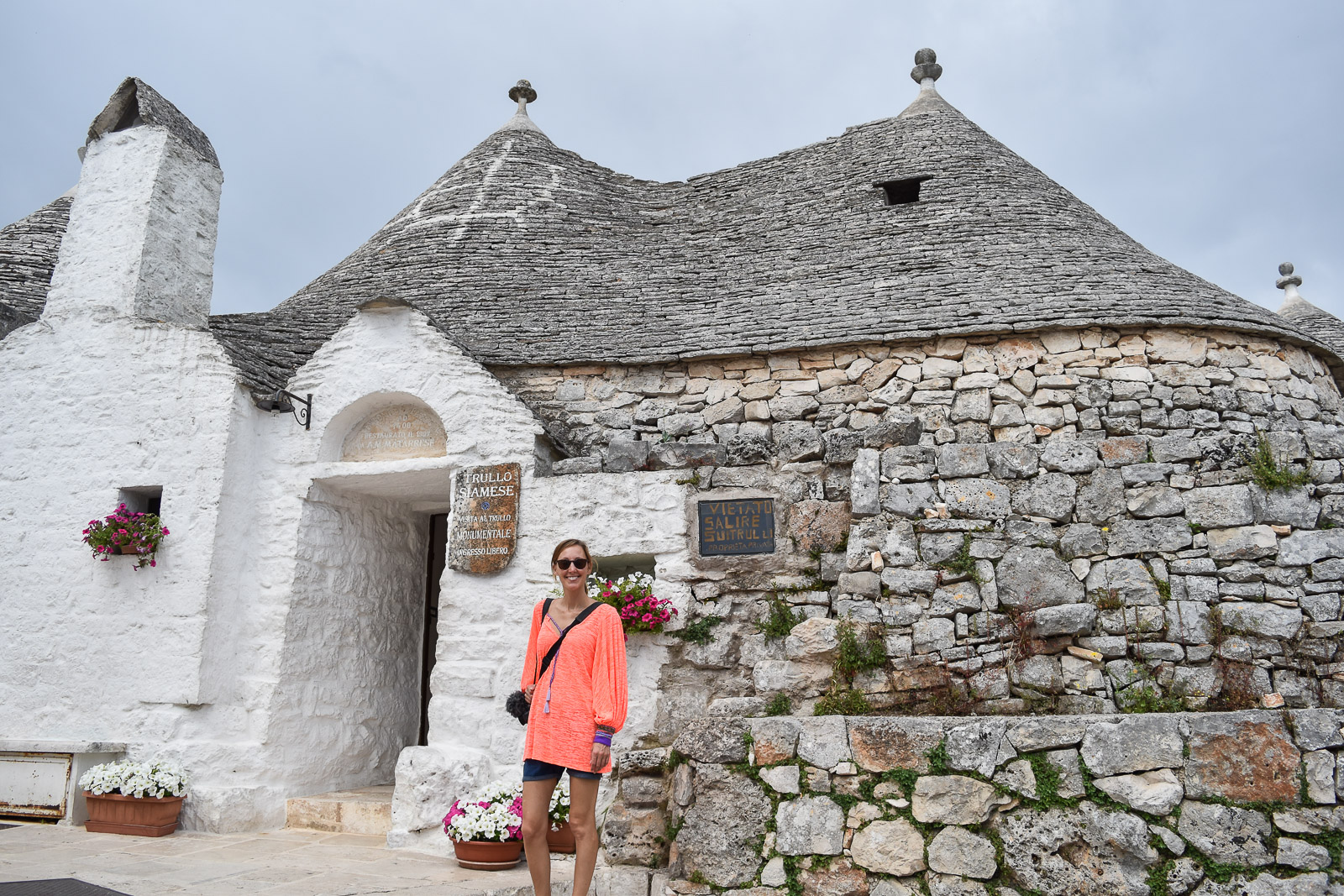 Road trip alternative: It's possible to stay in a trullo and you'll find quite a few on Booking.com and other sites. So an alternative option for this trip would be to spend the first night in Alberobello after spending the day in Ostuni.
---
Take the ultimate Southern Italy road trip
Alberobello to Cisternino (20km / 20 minutes)
Cisternino
A 20-minute drive from Alberobello is Cisternino, one of Italy's 'Borghi più Belli' (most beautiful towns). Like Ostuni, this is another whitewashed hilltop town, but with a smaller historic centre and fewer tourists. It's a lovely place to wander for an afternoon and there are fantastic views of the surrounding countryside and trulli from Piazza Garibaldi. Have lunch (or dinner) here and head to one of the restaurants serving Bombette. Cisternino is famous for these 'little bombs' of meat filled with cheese and Proscuitto. You select your bombette from the butcher's counter and these are cooked and brought to your table. Best paired with Negroamaro wine.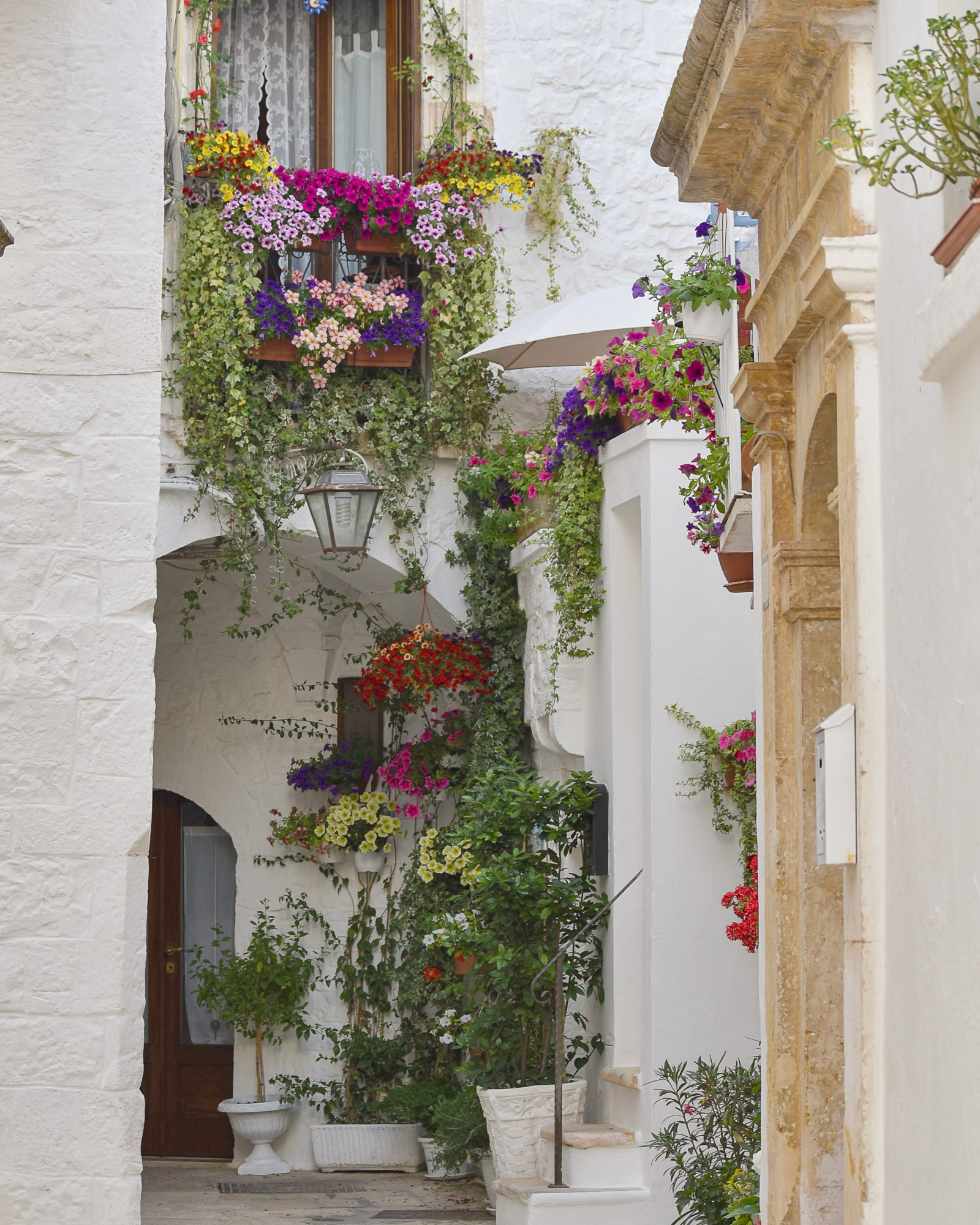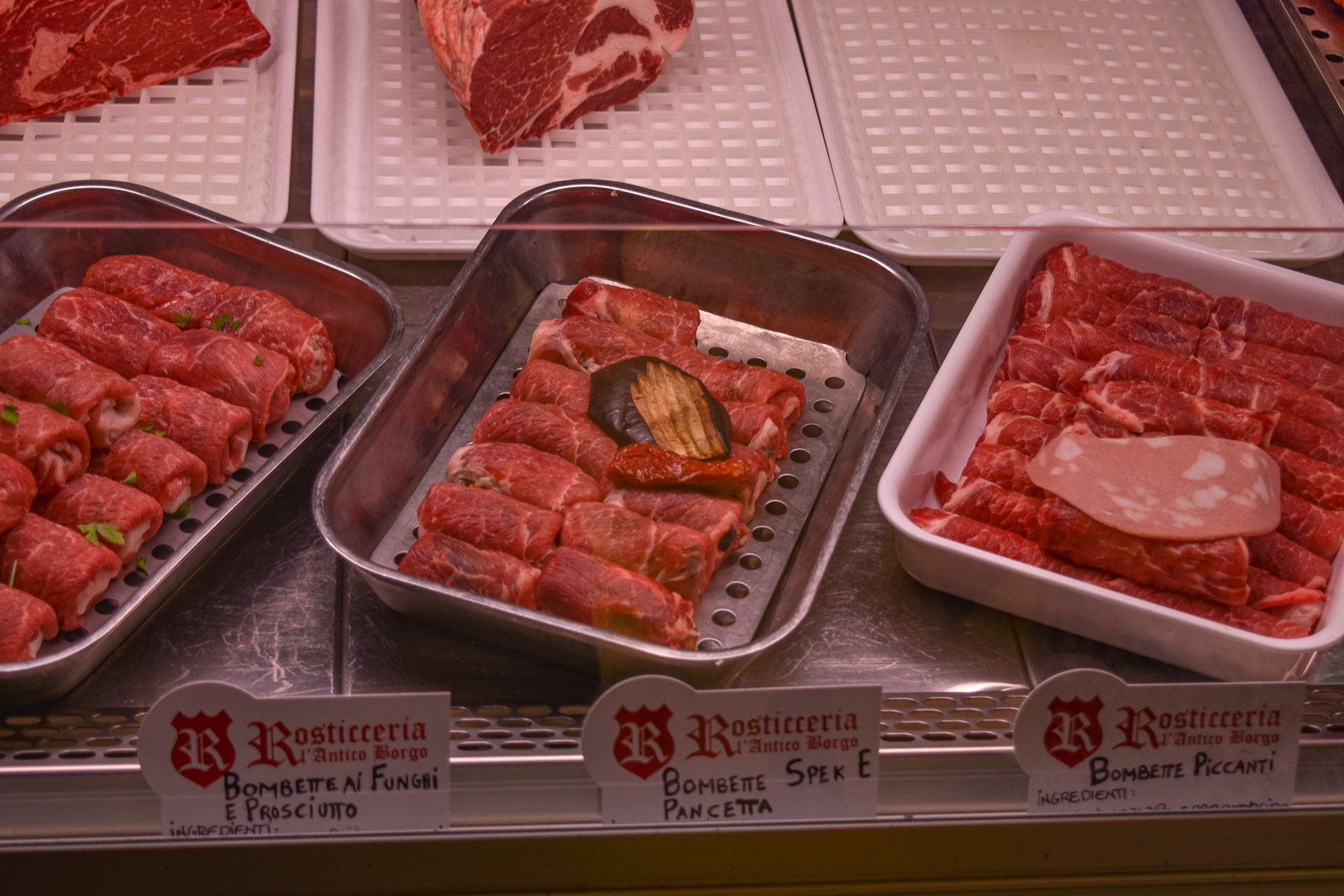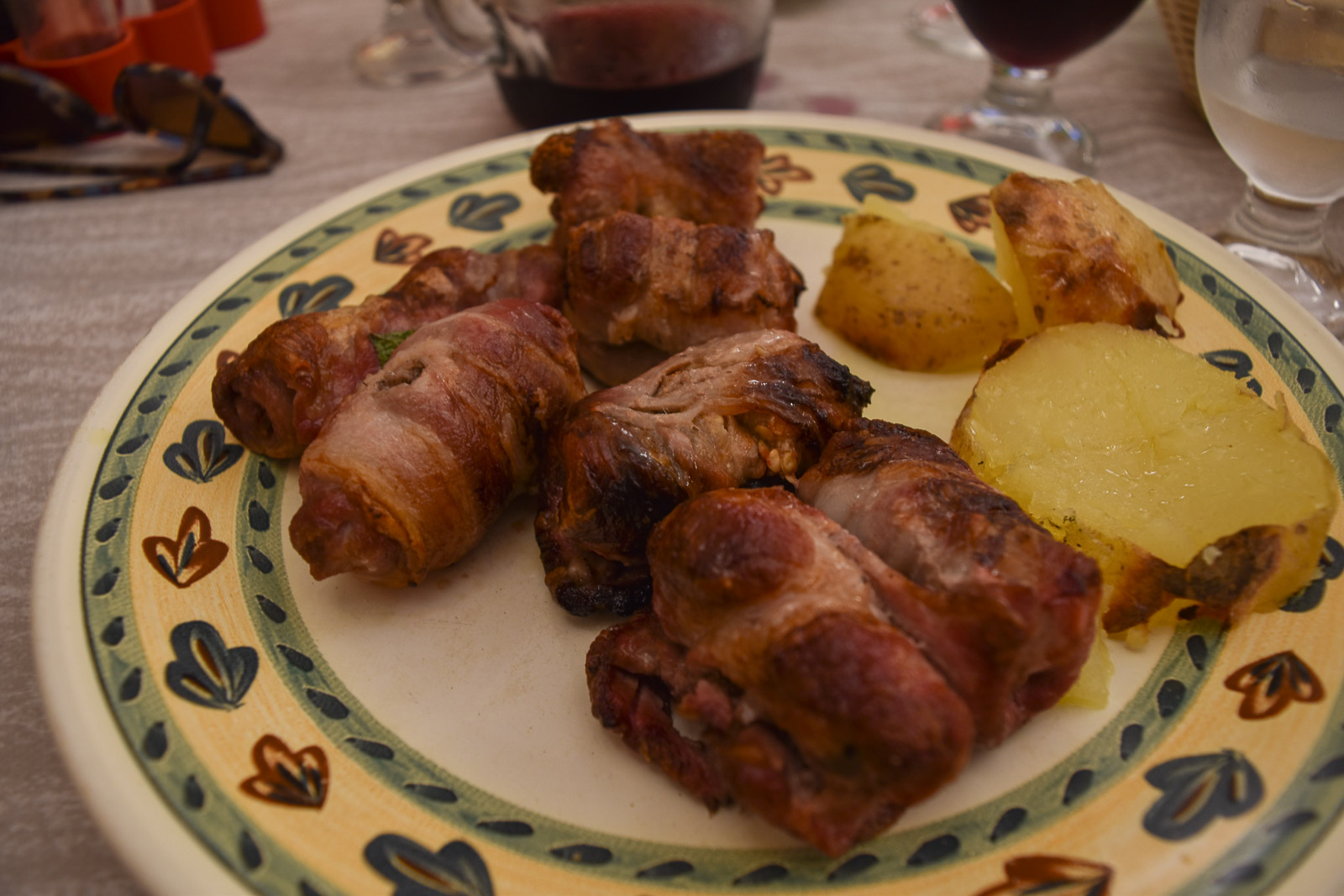 Eat dinner in Cisternino or at your (or a neighbouring) masseria.
Road trip alt: Spend the night in Cisternino or drive north to Polignano a Mare.
Polignano a Mare or Punta Prosciutto – Day 3
Spend your final day at the beach. You have two options here, either head north to Polignano a Mare or southwest to Punta Prosciutto.
Polignano a Mare
Ostuni to Polignano a Mare (45km / 40 minutes)
Perched atop limestone cliffs on the Valle d'Itria coast, Polignano a Mare is incredibly photogenic. This coastline is dotted with caves and small bays and the rocky cliffs lining the main beach (Cala Porto) in Polignano a Mare have become popular with cliff divers. In fact, there is now an annual cliff diving competition here.
Cala Porto is a pebble beach, with beautiful clear water. It's fairly small and can get crowded in summer but it's also easy to pop for a gelato or lunch as there are lots of bars and restaurants around the bay.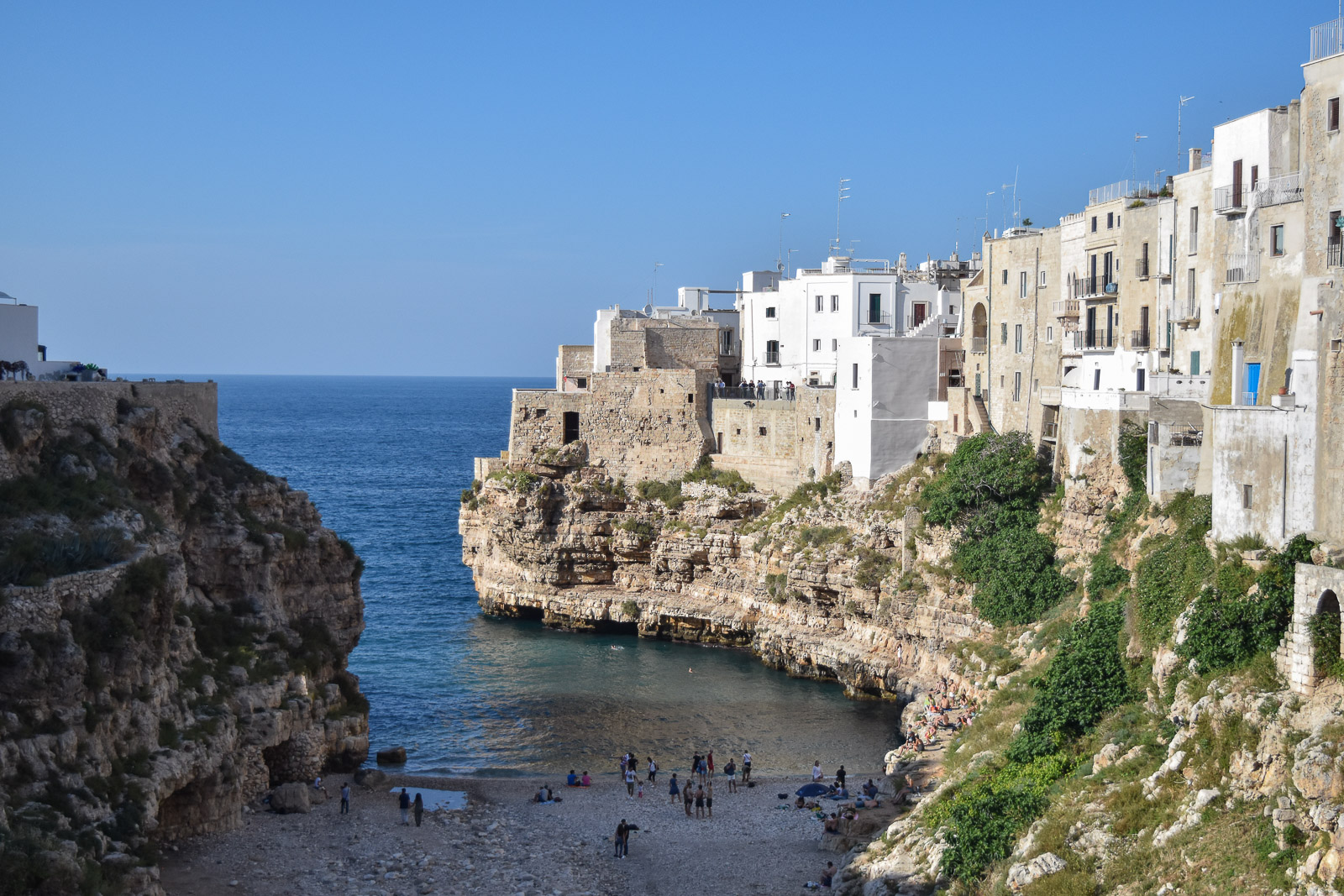 Punta Prosciutto
Punta Prosciutto is a long sandy beach along the west coast of Puglia and it is idyllic; aquamarine water, white sand and plenty of space to sunbathe and swim. There isn't a proper town here, but there are a few small bars lining the beach where you can get lunch or a drink, but I think this is all part of the beauty.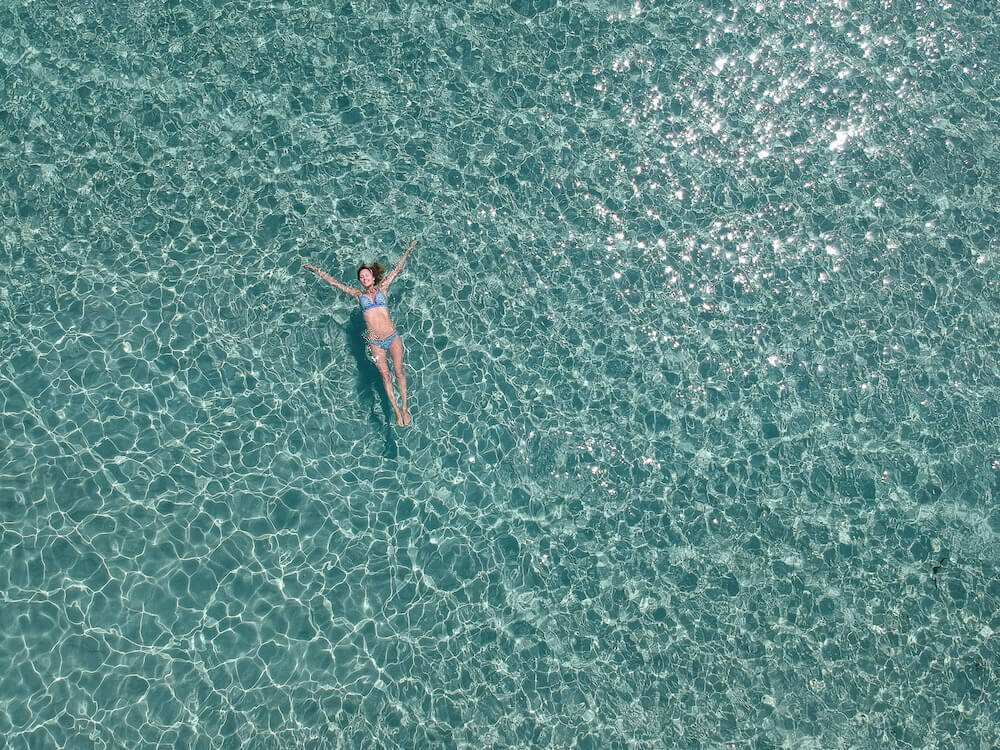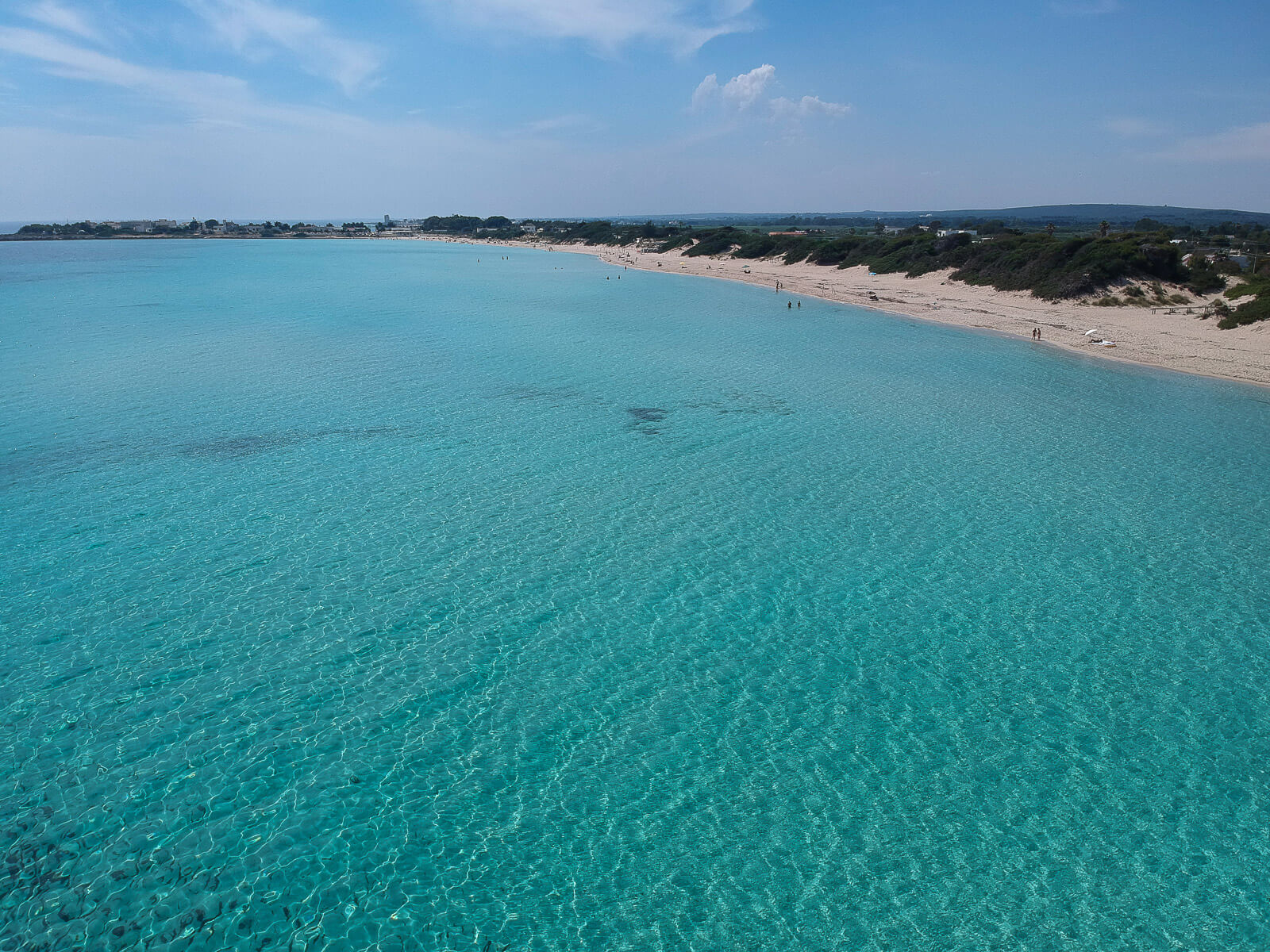 In the evening, make your way back to Brindisi for your flight home or to your accommodation for your final night in Puglia.
Where to Stay in Puglia
I recommend basing yourself in or around Ostuni. Alternatively, you can stay in a different city each night. There are fantastic places to stay in Puglia, from boutique hotels to masserias and cute city Airbnbs.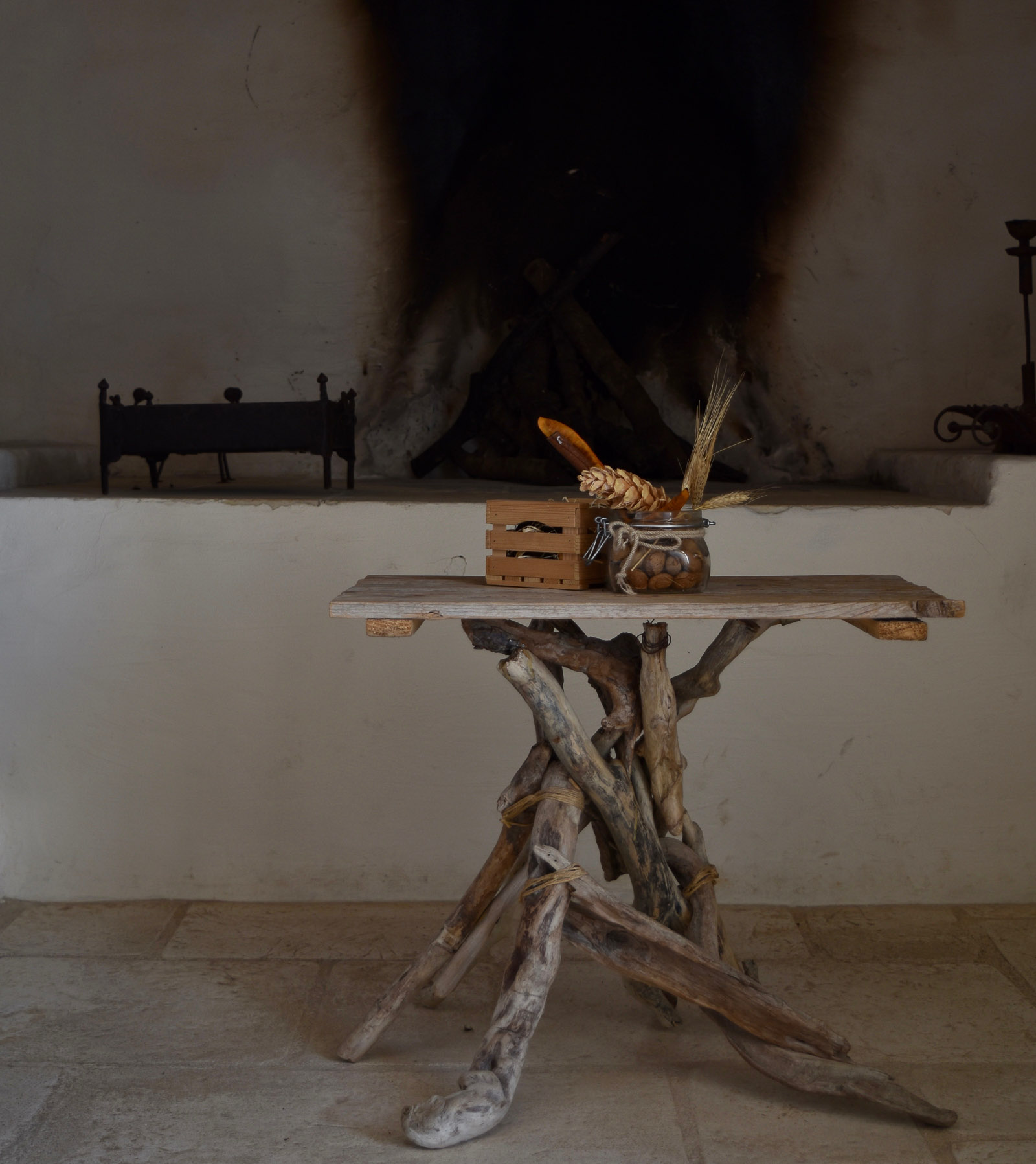 As well as the beautiful hotels around Ostuni mentioned above, we also stayed at Don Totu, south of Lecce, which was fantastic and an excellent base if you want to continue exploring further south.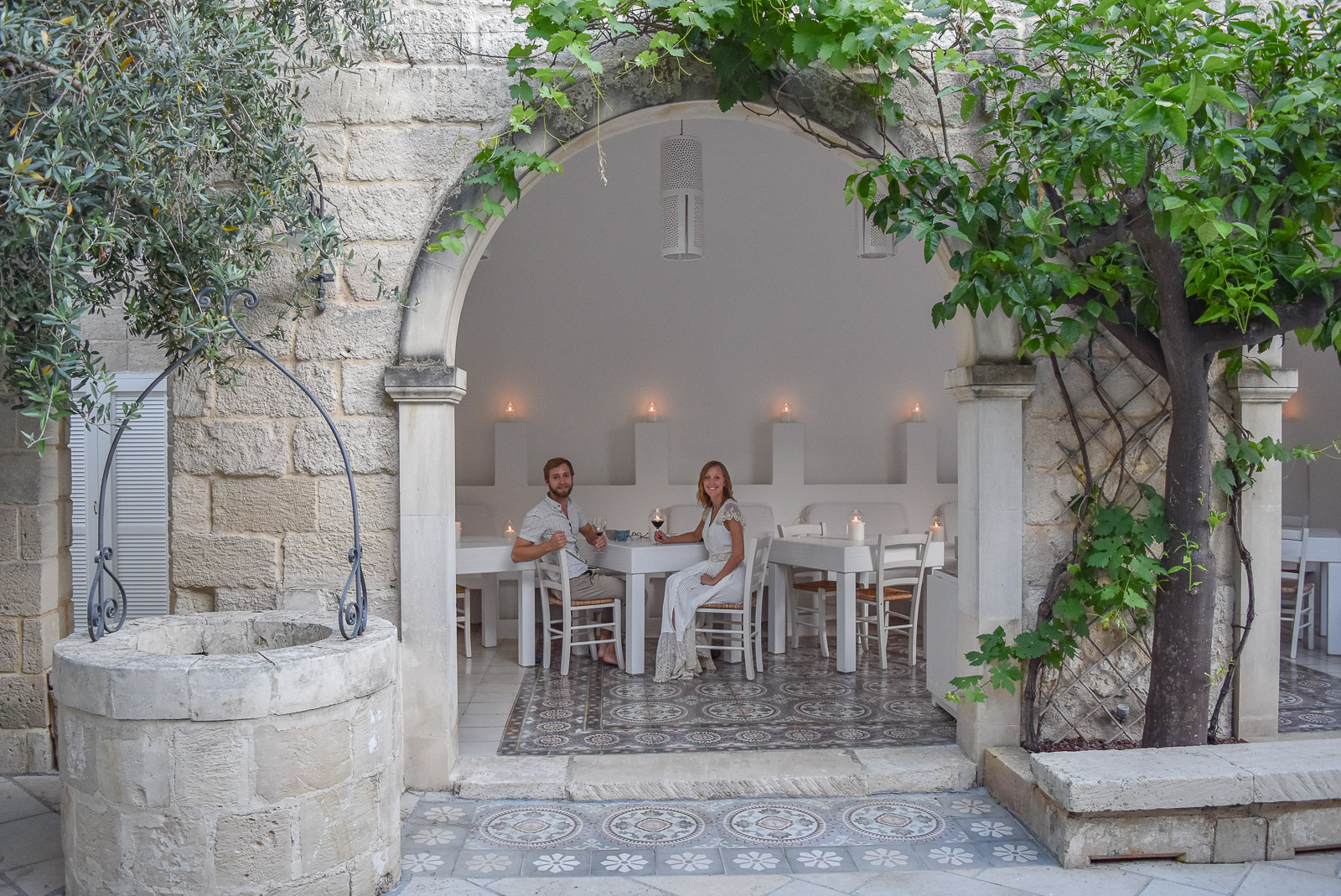 ---
How to Get to Puglia
Fly from London to Bari or Brindisi.