On our second trip to Tasmania, we flew into Launceston, the island's second city. We took off on a road trip before returning to Launceston for a few days to explore the city and stay in one of its most luxurious hotels, Stillwater Seven. 
Housed in an 1830's flour mill, Stillwater is an award-winning restaurant overlooking the River Tamar. In 2019 seven beautifully designed bedrooms were added to its offering, making Stillwater Seven the perfect choice for food-loving travellers.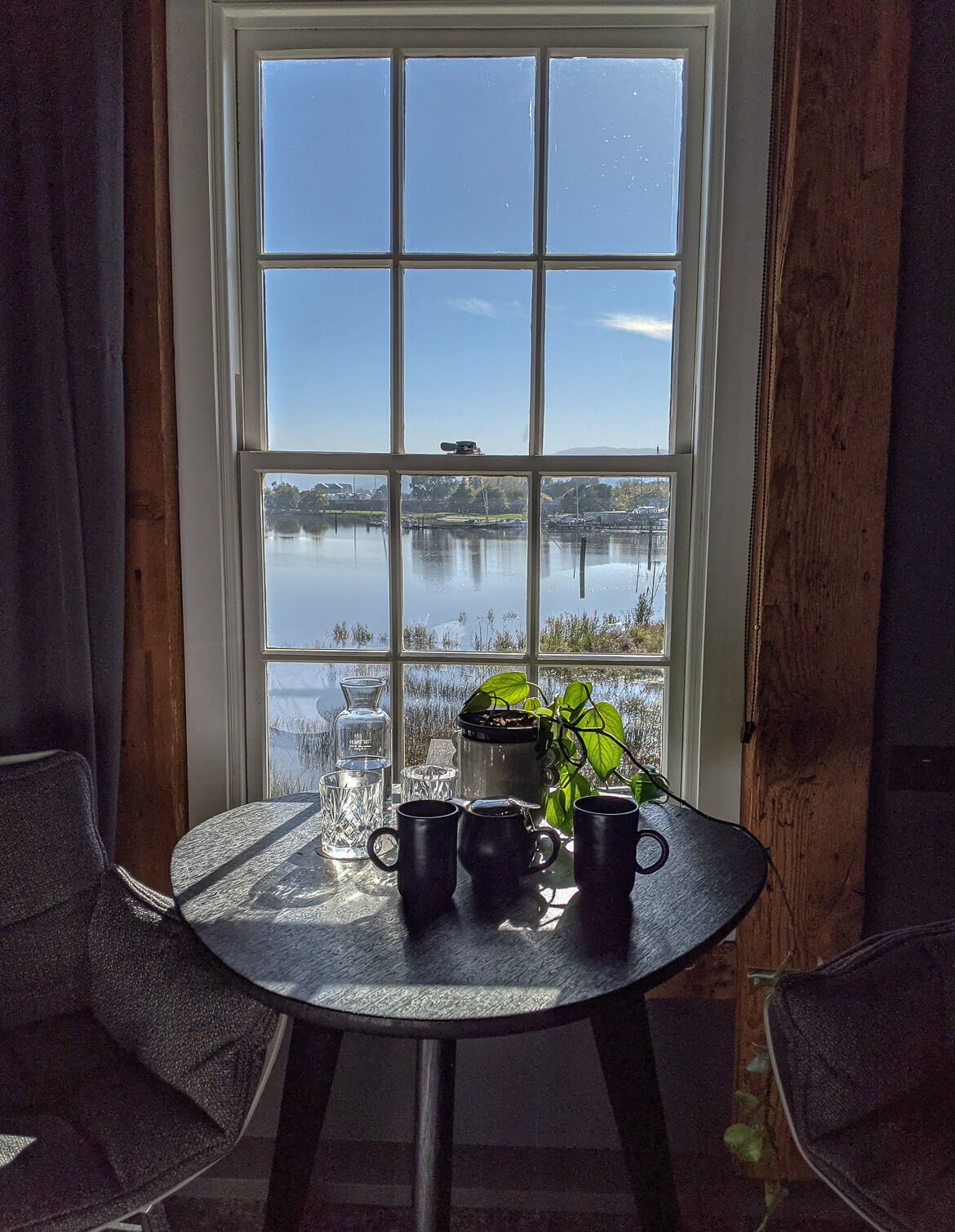 Rooms
The rooms all have waterfront views, and you can choose between a Deluxe King, Premium King and Courtyard King Suite, which increase in size and price respectively. The rooms feature locally designed and made furniture and artworks, such as gorgeous bespoke beds by Hobart designers AH Beard and torched timbers by Launceston designer Simon Ancher, which complement the dark tones of the decor.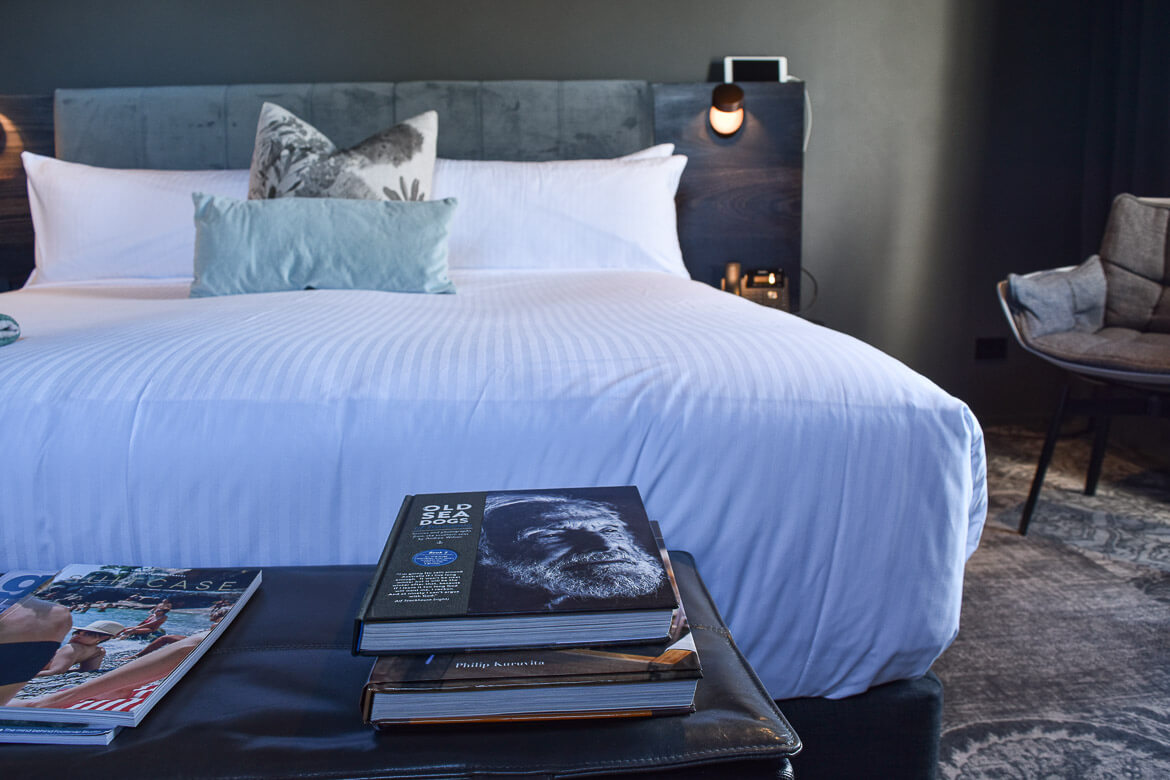 The mini-bar is extensive, offering a fantastic selection of Tasmanian products including cheese, cured meats, wines and spirits, along with beautiful glassware to drink them from. Freshly baked sourdough bread is delivered daily and a complimentary drink on arrival. If that's not enough, there is also a separate honesty based guest bar and of course the Stillwater restaurant.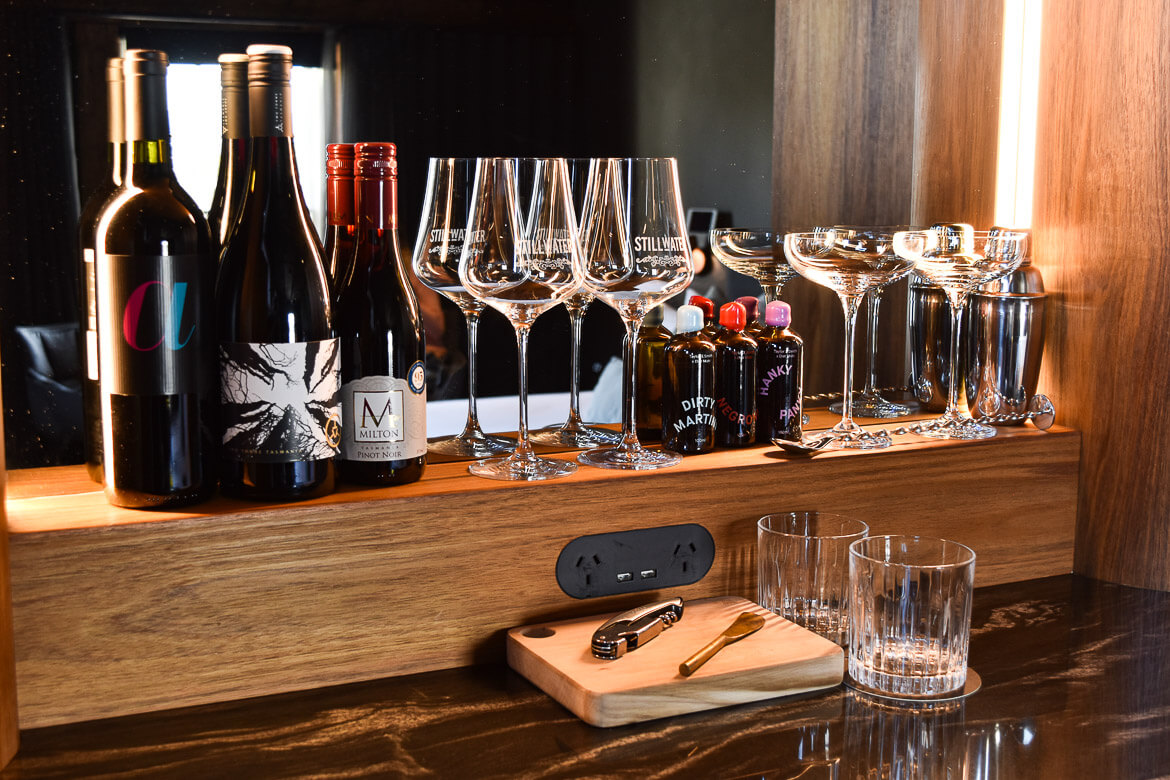 The bathrooms have walk-in showers, with baths in two of the Premium King Suites. Each has single or twin sinks and Tasmanian toiletries made from olive oil.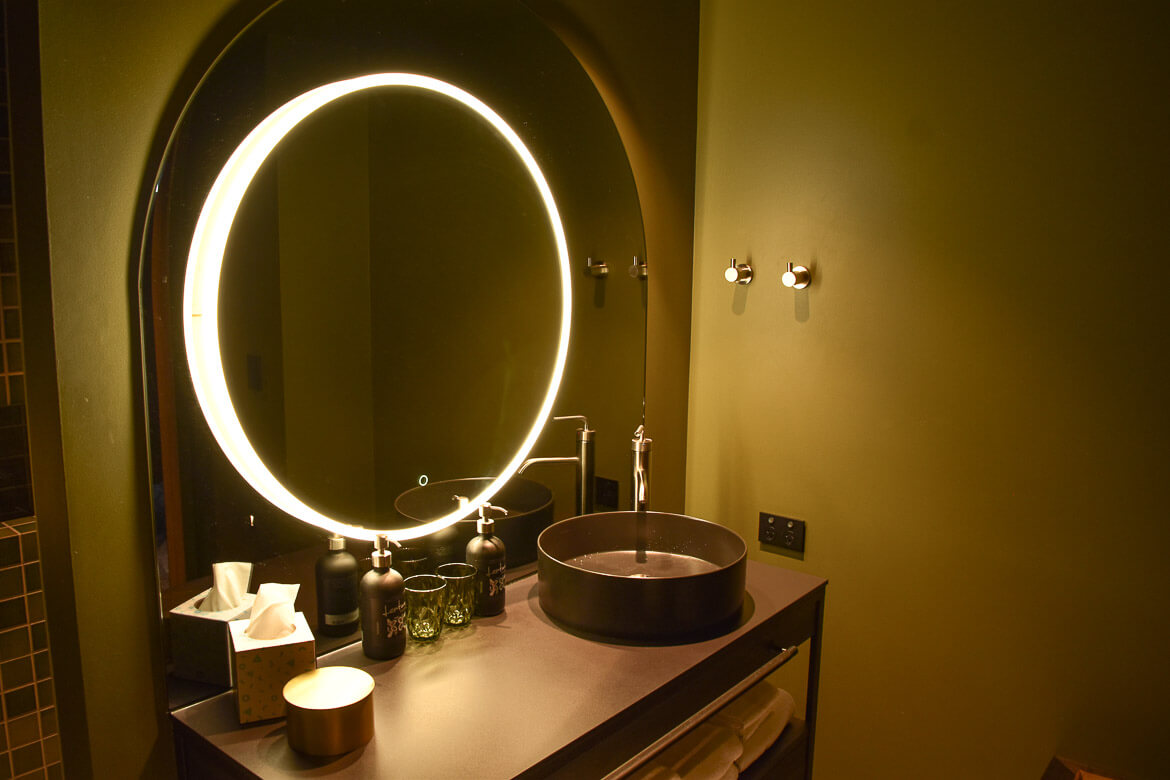 Free WIFI, a desk, a smart TV with Netflix and Spotify and air-conditioning complete the room offering.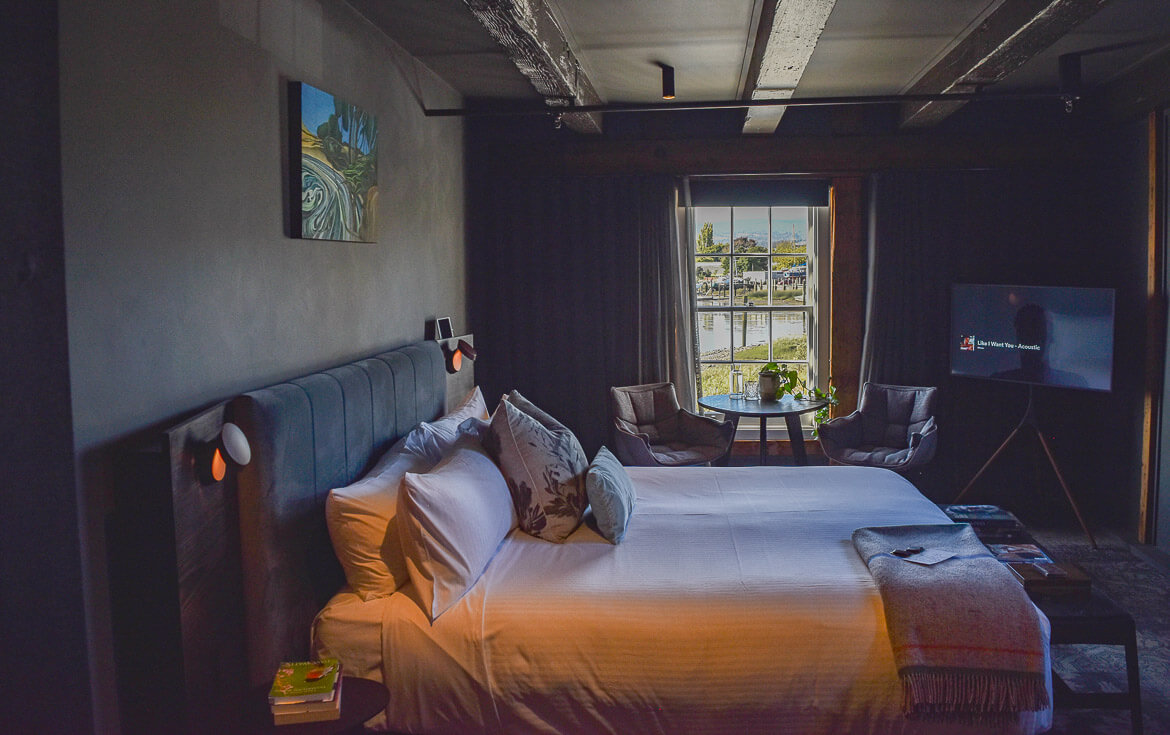 Restaurant
Considered one of the best restaurants in Tasmania, (which is no easy accolade), the award-winning Stillwater restaurant serves modern Australian cuisine for breakfast, lunch and dinner, with bar snacks and drinks served in between.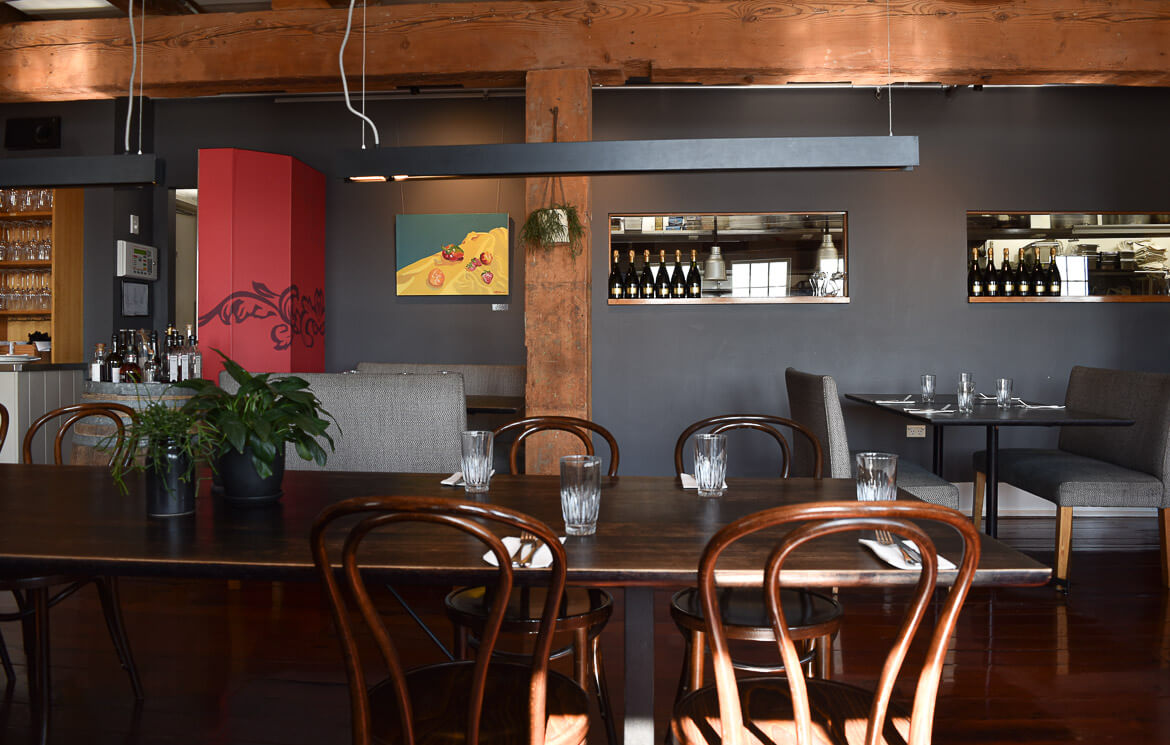 Breakfast is included in the room rate and can be eaten in your room or in the restaurant. The menu features the usual staples such as Eggs Benedict as well as some more unusual dishes including the 'Red Bowl' with Southern style baked beans, collard greens, fried eggs, corn salsa, fried polenta, and an omelette with slow-cooked pork, kimchi, oyster sauce, fresh coriander & bean sprouts.
For lunch and dinner, you can expect seasonal Tasmanian produce, such as Yellowtail kingfish sashimi, Cape Grim beef and Tasmanian wallaby.
Stillwater's sister restaurant, The Black Cow Bistro, is located 1km away in the centre of the city. This is the place to come for a Tasmanian steak, with Cape Grim, Robbins Island Wagyu and Great Southern Pinnacle beef all on the menu. This scotch fillet was easily the best steak I've had in Australia and the restaurant has a lovely intimate feel.
Location
Stillwater Seven has a lovely location right on the water, with a park a few steps away and only a short walk from the city centre. Cataract Gorge is a 25 minute walk along the river.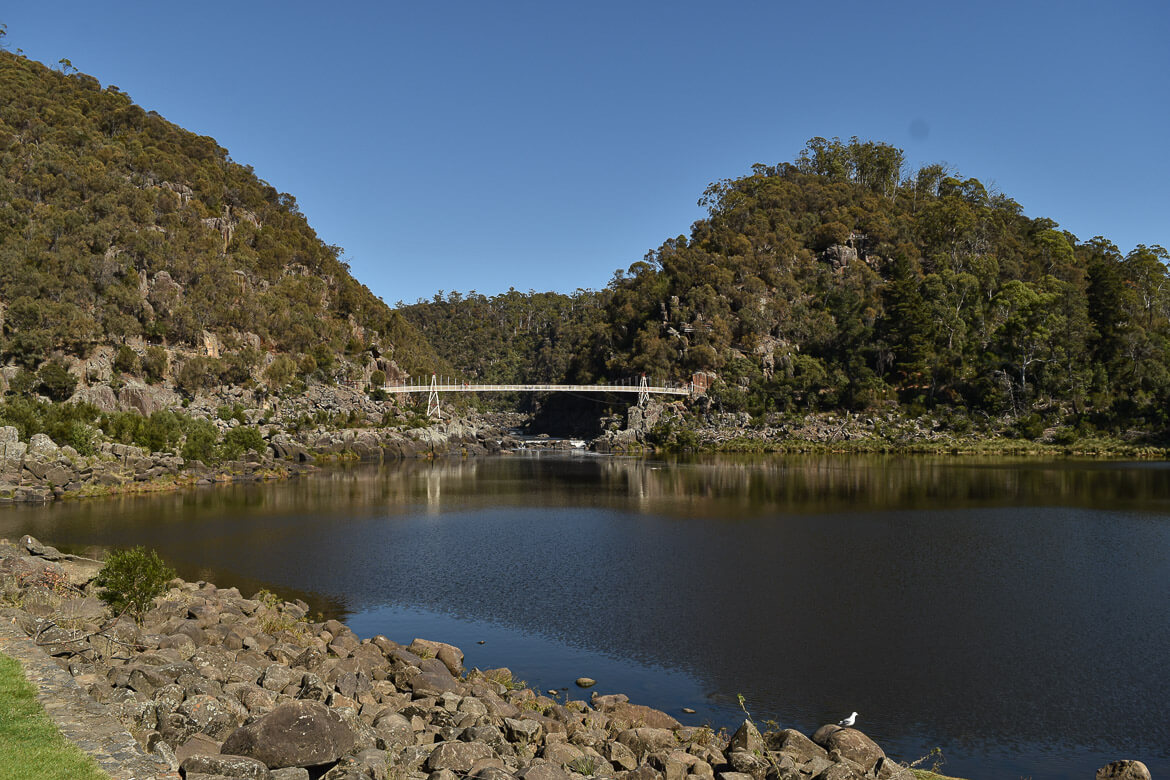 We loved our stay at Stillwater Seven and if you're looking for a bit of luxury in Launceston I would highly recommend it. If nothing else, it's worth visiting the restaurant for lunch overlooking the river.
Rooms at Stillwater Seven start from $495 AUD per night including breakfast.
Thanks to Stillwater Seven for hosting A Lovely Planet.