Despite living in Australia for more than four years, I had still never made it to the Northern Territory. I was desperate to go and swim in the incredible rock pools in Litchfield National Park, get up close (not too close) to crocodiles in Kakadu National Park and experience the tropical climate and scenery of the NT. So when the state borders reopened, we decided to go for it and hopped on a plane to Darwin for a 4 day adventure in Kakadu and Litchfield.
Disclosure: This article contains affiliate links. This means that if you click a link and purchase something I've recommended I may earn a small commission. This does not affect the price you pay but helps me to run this site. You can read my full affiliate disclosure here.
Kakadu Itinerary
This 4 day Northern Territory itinerary starts and ends in Darwin and focuses primarily on Kakadu with a day in Litchfield at the end.
Day 1 – Darwin to Kakadu
Day 2 – Kakadu
Day 3 – Kakadu to Litchfield
Day 4 – Litchfield to Darwin
Car or Camper in Kakadu?
We hired a car and stayed in hotels throughout the trip, however, there is also the option of hiring a campervan, motorhome or sleeping in a tent. We considered this option however some of the roads in Kakadu require a 4WD which means they are inaccessible by most campervans. Throughout our NT holiday, we saw lots of people driving SUVs with tents on the top so that is a good choice if you're keen to camp. One plus for the campervan option is that you don't have to rely on the restaurants in the national park, which are few and far between and not always open when you're hungry! I would not recommend camping during the wet season because it gets extremely hot – not fun in a tent.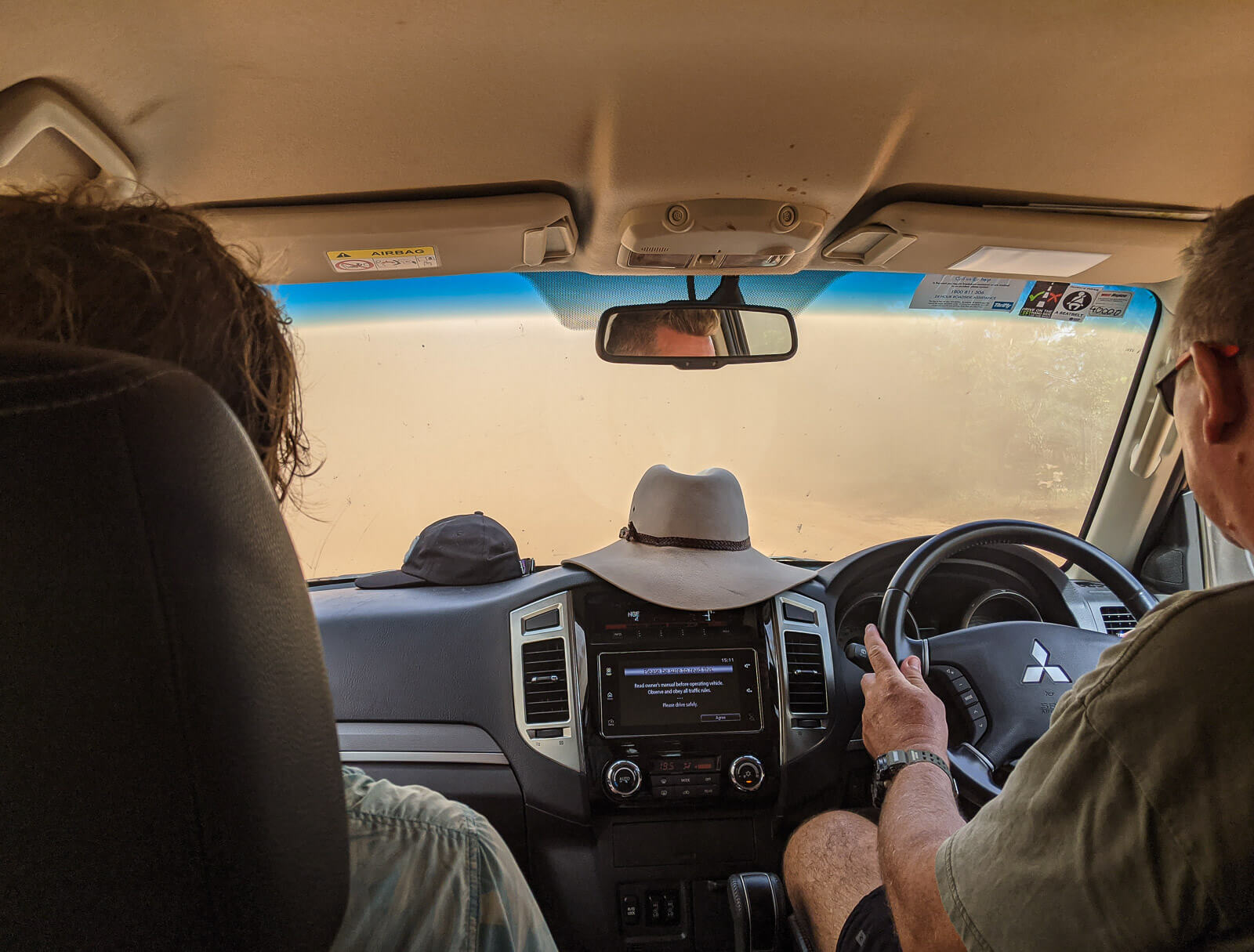 When to visit Kakadu and Litchfield?
The dry season (April to October) is the most popular time to visit, specifically between June and August. You can still visit during the wet season (November to March) but only in certain periods and depending on the weather and rains.
Kakadu's traditional land owners, the Aboriginal people who have lived there for thousands of years, recognise 6 different seasons in the area, which are:
Kudjewk – Monsoon season – December to March. 24°C – 34°C
Bangkerreng – storm season – April. 23°C – 34°C
Yekke – Cooler (but still humid) season – May to mid-June. 21°C – 33°C
Wurrkeng – Cold weather season – Mid-June to mid-August. 17°C – 32°C
Kurrung – Hot dry weather – Mid-August to mid-October. 23°C – 37°C
Kunumeleng – Pre-monsoon storm season – Mid-October to late December. 24°C – 37°C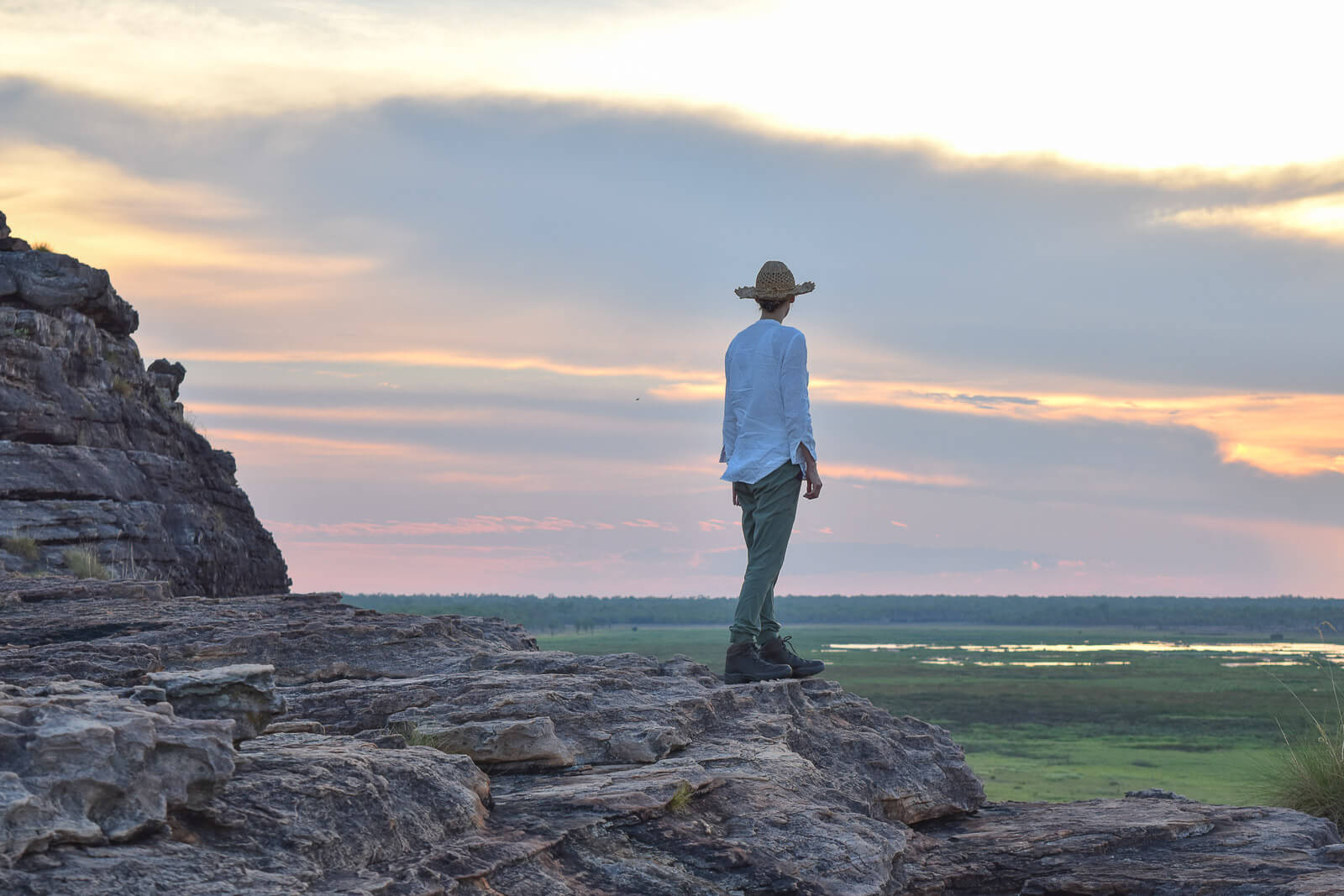 We visited in late October/early November during Kunumeleng and didn't have a single day of rain, there were thousands of birds on the wetlands and the waterfalls had a good flow. It was hot but I would absolutely recommend this time of year. We also planned lots of our activities in the early morning and late afternoon to avoid the midday sun. General advice is to avoid Kudjewk because much of the national park is flooded and inaccessible also be wary of the storms in Bangkerreng.
Day 1 – Darwin to Kakadu National Park
If you can, plan to fly into Darwin in the morning (or arrive the day before) so you can take full advantage of the day in the city. If it's at all possible, aim to arrive on a Saturday so you can experience the wonderful Parap Village markets.
Parap Village Markets
The markets feature an eclectic mix of products and cuisines reflecting Darwin's multicultural community. There are stalls selling an array of Asian foods and we had been recommended the Laksa – which was without a doubt the best I've had. The markets are open from 8 am to 2 pm every Saturday.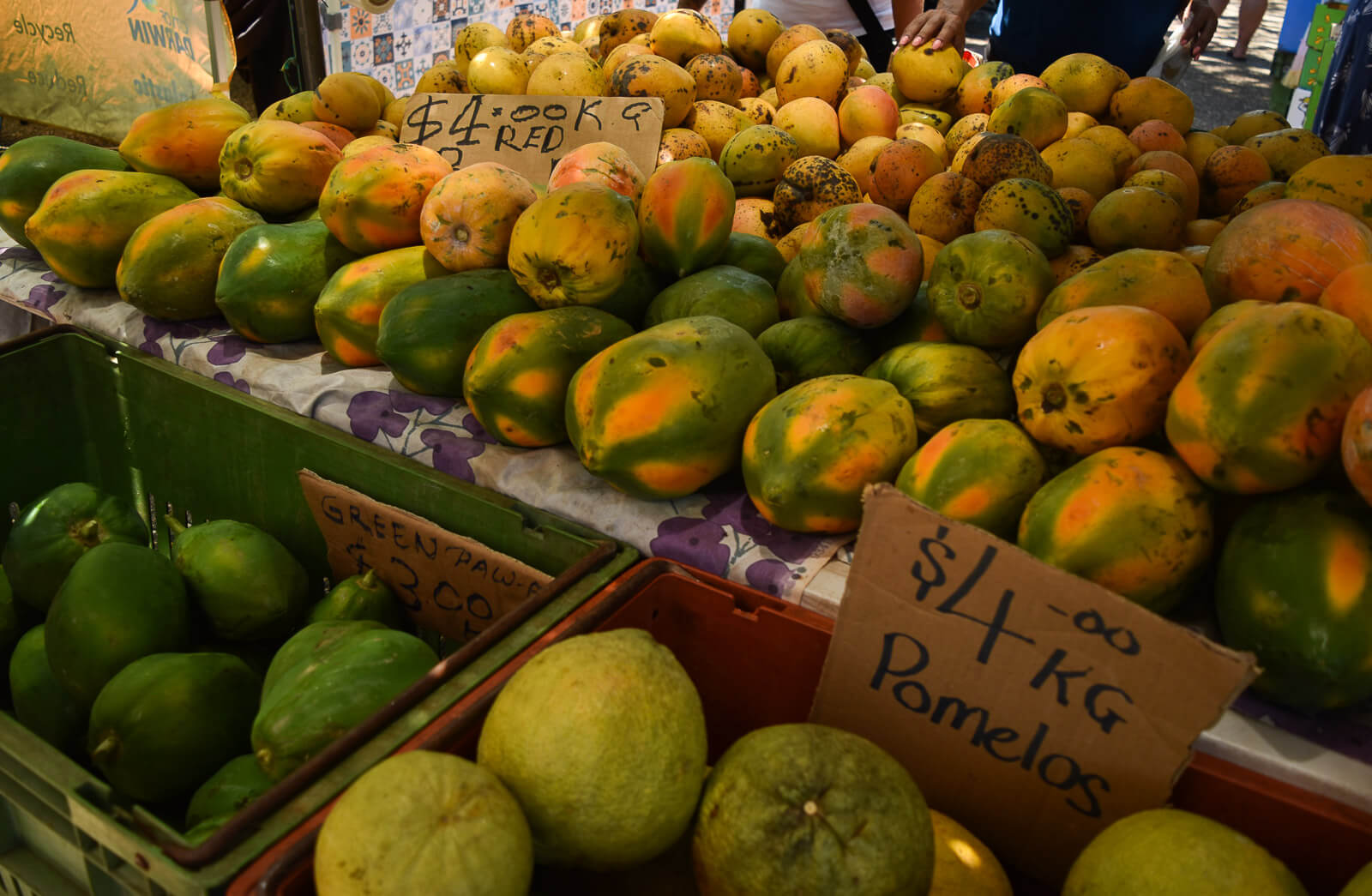 After re-fueling at the market, get on the road and head to Jabiru in Kakadu National Park. It takes around 3 hours to drive from Darwin to Kakadu so you don't want to leave it too late, especially as you'll find more wildlife on the roads at dusk.
Tip: Before you depart Darwin, fill up your car with petrol and download offline maps onto your phone, because there isn't much phone reception in Kakadu National Park. 
Make a stop at Bowali Visitor Centre, which is a good introduction to the park. There is a walk through display with information about the plants, animals and landscapes in Kakadu, as well as a cafe and art gallery featuring local Aboriginal artists. You can also pick up maps and useful info on the park. If you haven't already bought your Kakadu Park Pass, you can buy it here. ($25 AUD for adults and free for NT residents).
Sleep – Jabiru
Spend your first night in the town of Jabiru. This is the main township in Kakadu National Park and has lots of facilities including a shopping centre and a medical centre. This is also where you'll find most of the Kakadu accommodation.
Where to stay in Kakadu National Park
Budget
Aurora Kakadu Lodge has rooms with shared bathrooms and en-suite bungalows. There is a lagoon-style swimming pool and an onsite bar and restaurant as well as BBQ facilities, and some rooms have kitchenettes. You can also camp at Aurora Kakadu Lodge where there are powered caravan and campsites plus unpowered campsites with BBQ, camp kitchen and laundry facilities. From $160 per night for a room or $30 per night for an unpowered site.
Mid-Range/Luxury
We stayed at the Mercure Kakadu Crocodile, which is actually built in the shape of a crocodile! Pretty cool. There is a pool in the middle (in what is effectively its belly) and a restaurant and bar. It's slightly dated but is the most high-end option in Jabiru. From $240 per night.
After checking in to your accommodation, head back on the road to Ubirr for sunset. This is about a 30 minute drive from Jabiru, so make sure you allow yourself enough time (and don't miss the sun setting).
Cahills Crossing
Before you arrive at Ubirr stop at Cahills Crossing, where the road crosses the East Alligator River into Arnhem Land. It's a great place to see saltwater crocodiles and there is a lookout from above. Don't get too close or walk across the crossing, as submerged crocs can move pretty quickly. When we were there, a few guys were fishing off the rocks which I found terrifying, but apparently it's a good place for barramundi (which the crocodiles also enjoy).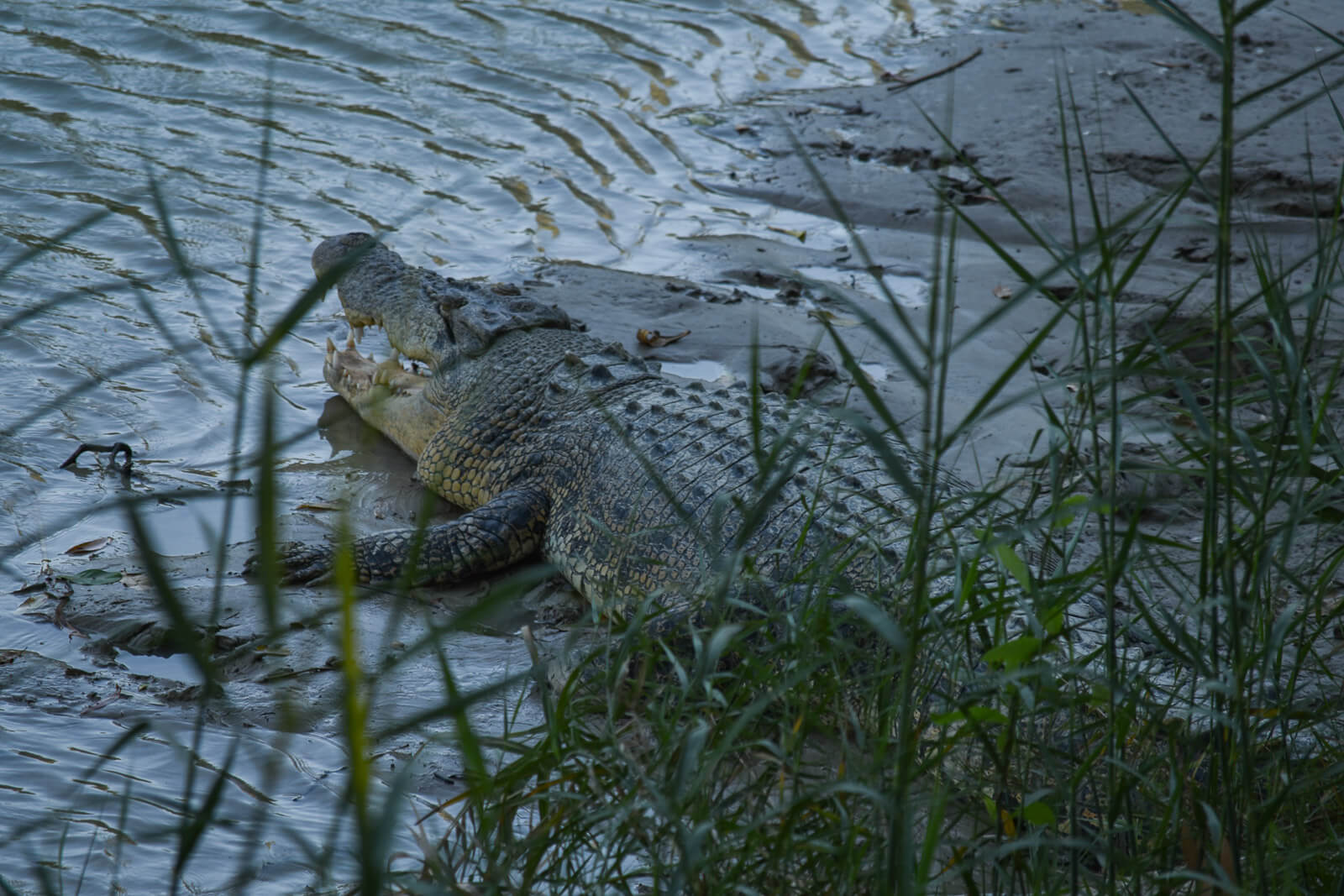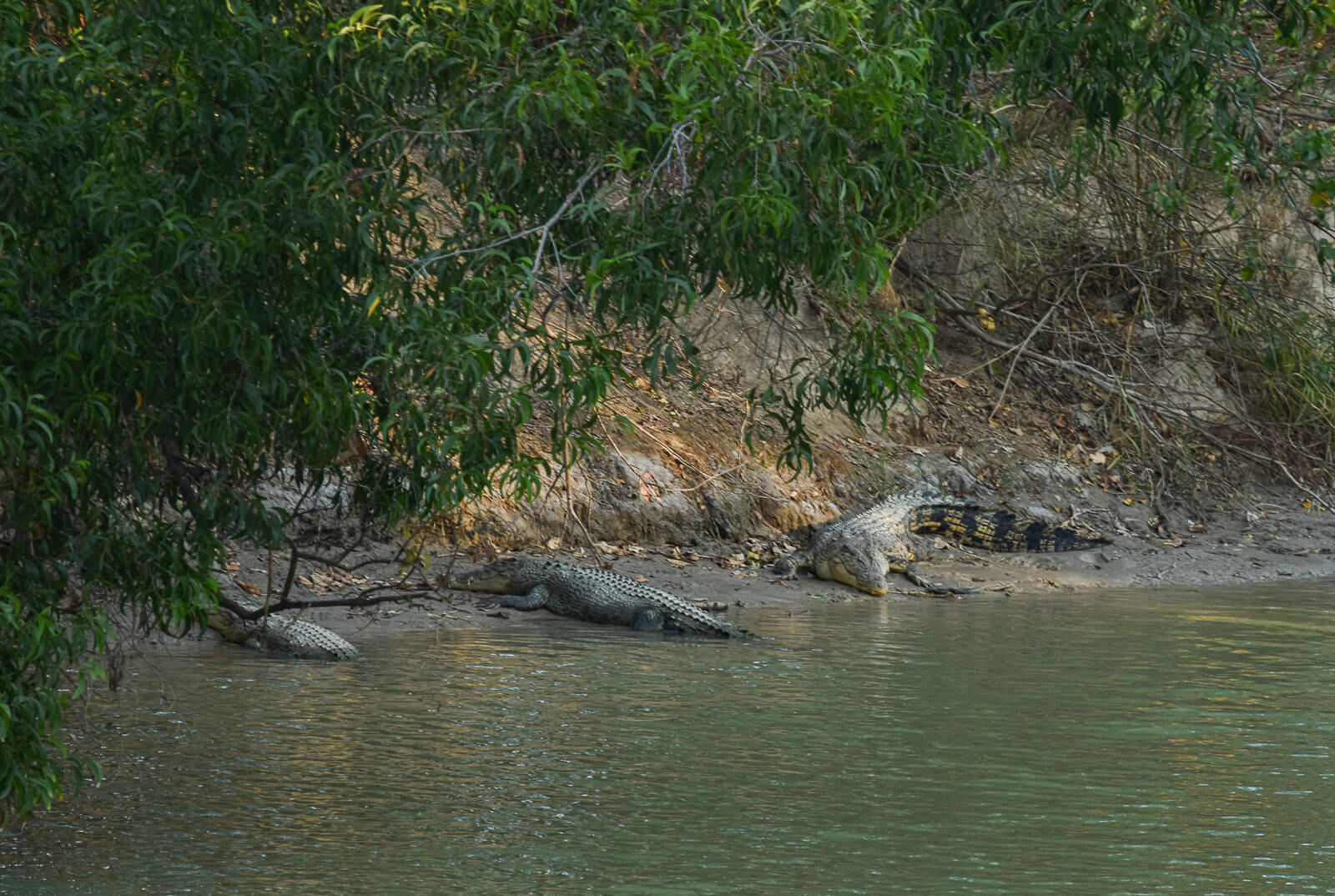 Ubirr
Ubirr is a rock formation overlooking floodplains and woodlands and is home to incredible Aboriginal rock art. A 1km trail links the various artworks which include x-ray style paintings thought to have been painted within the last 1500 years and a painting of a Tasmanian tiger, which was believed to have become extinct on mainland Australia 2,000-3,000 years ago.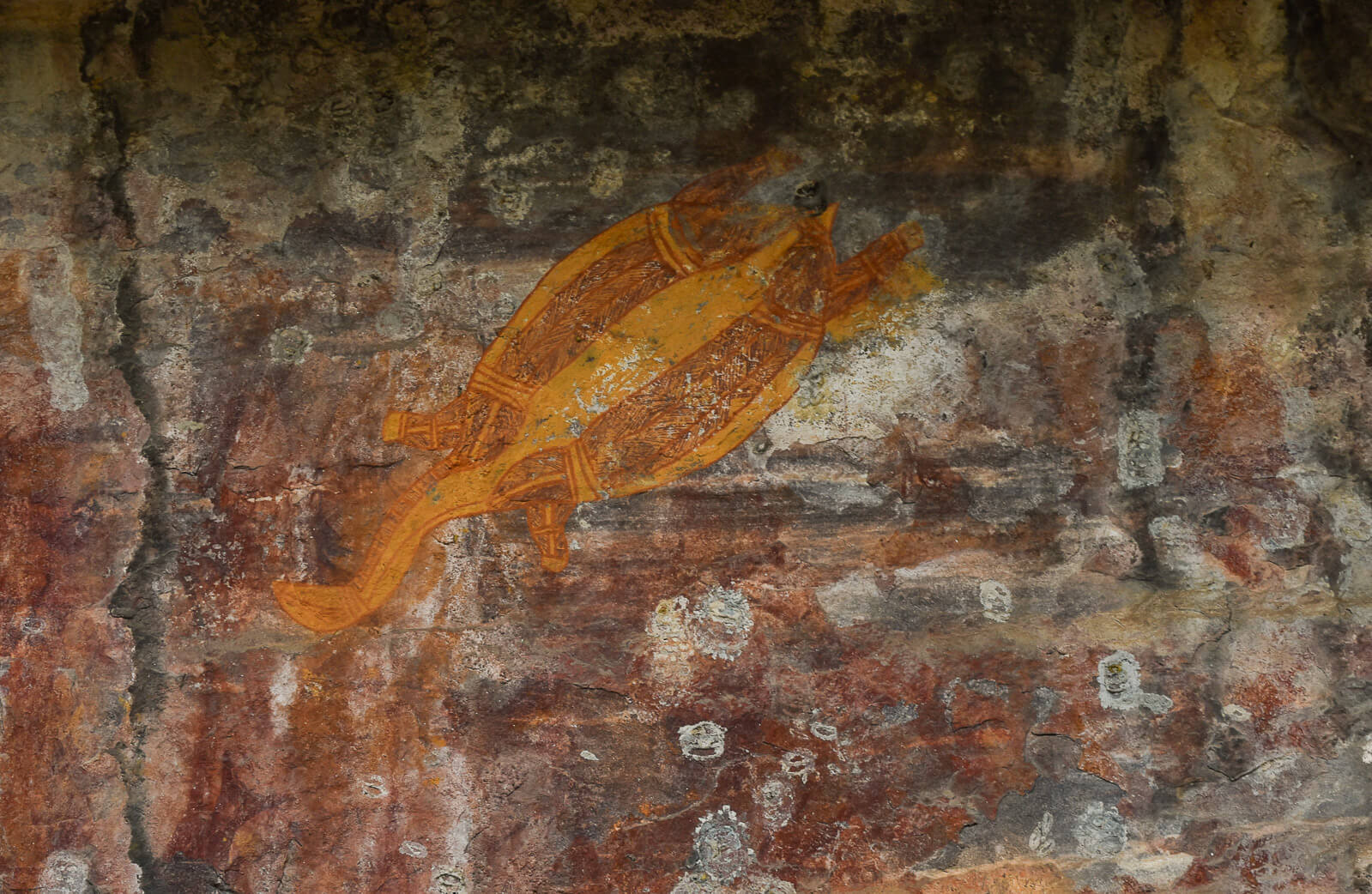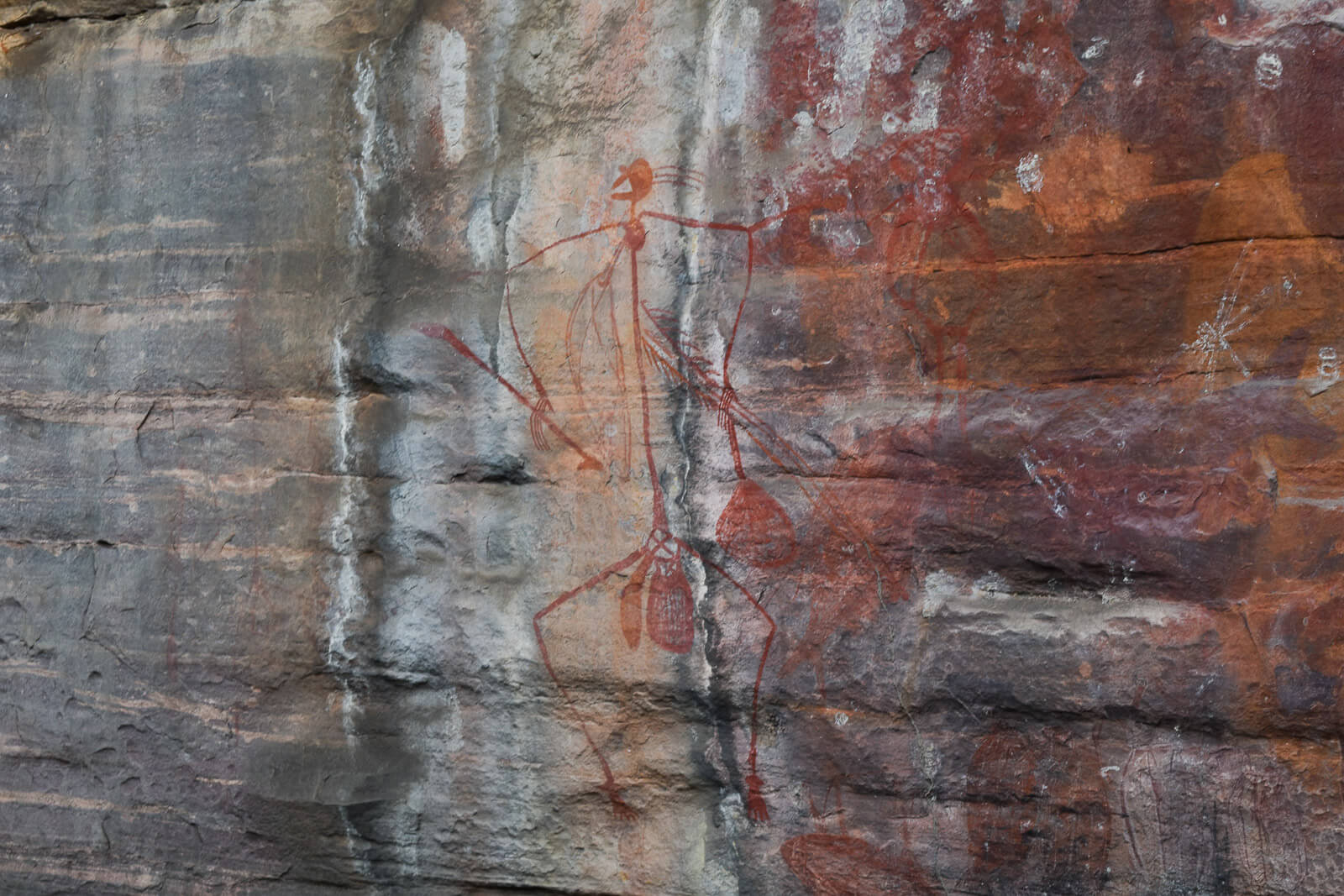 At the end of the trail, climb up the rocks to an outlook with beautiful views and watch the sunset. It's a magical experience.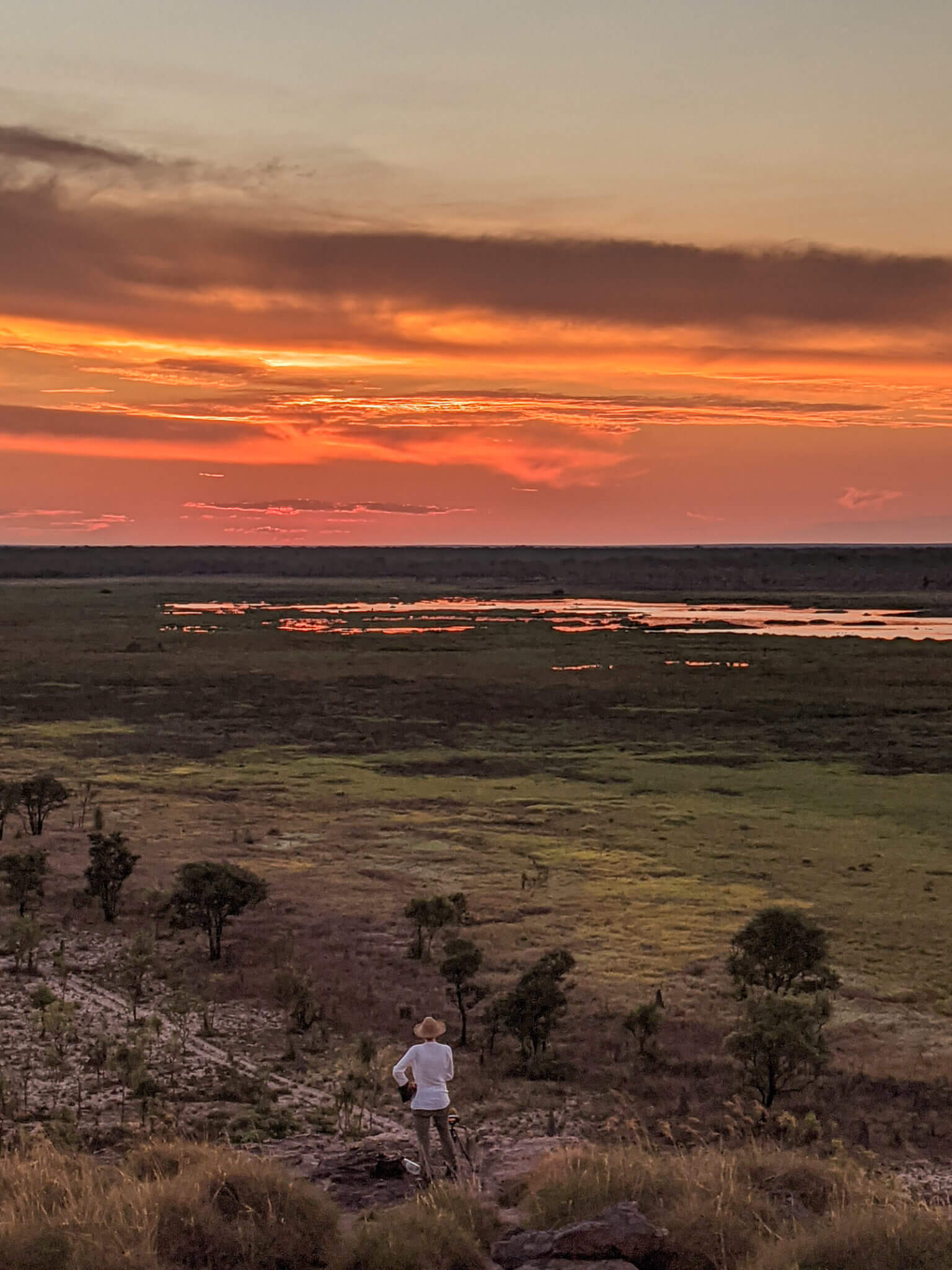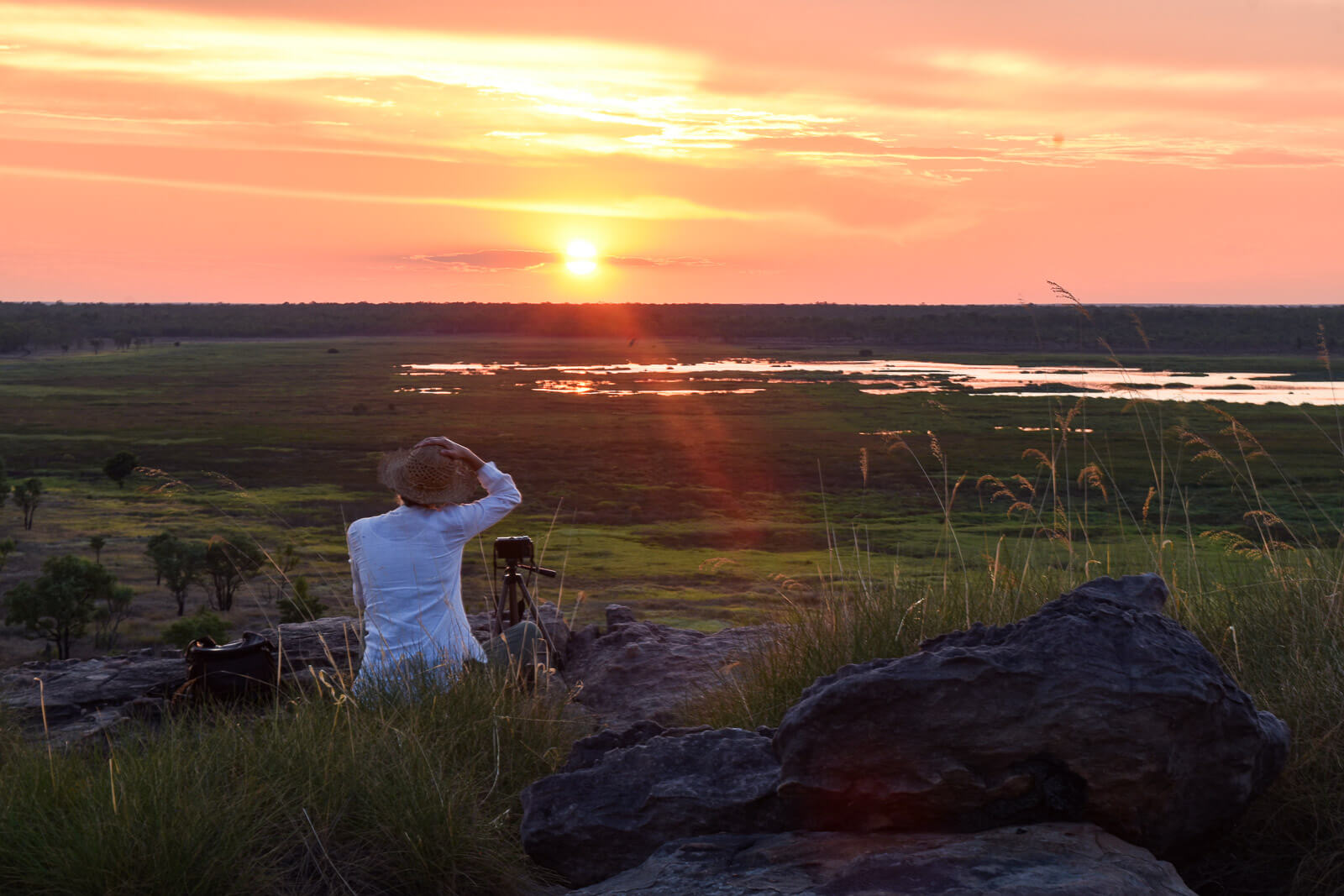 Day 2 – Kakadu National Park
Get up early, have breakfast at your accommodation and make your way to the Mamukala wetlands. We took a tour with Victor from Ayal Cultural Tours. Victor is a Minitja man and a traditional owner of Kakadu. As well as his extensive knowledge of the area passed down from his ancestors, he also spent 28 years working as a ranger in the national park. He offers a variety of tours, depending on the season and we took a private Mamukala Wetlands Tour with him.
Mamukala Wetlands
The Mamukala wetlands are home to an incredible array of bird life including magpie geese, kites, comb-crested jacanas, cormorants, willie wagtails, purple swamp hens, finches and kingfishers. Kakadu is home to one third of Australia's bird species, and many aren't found anywhere else in the world.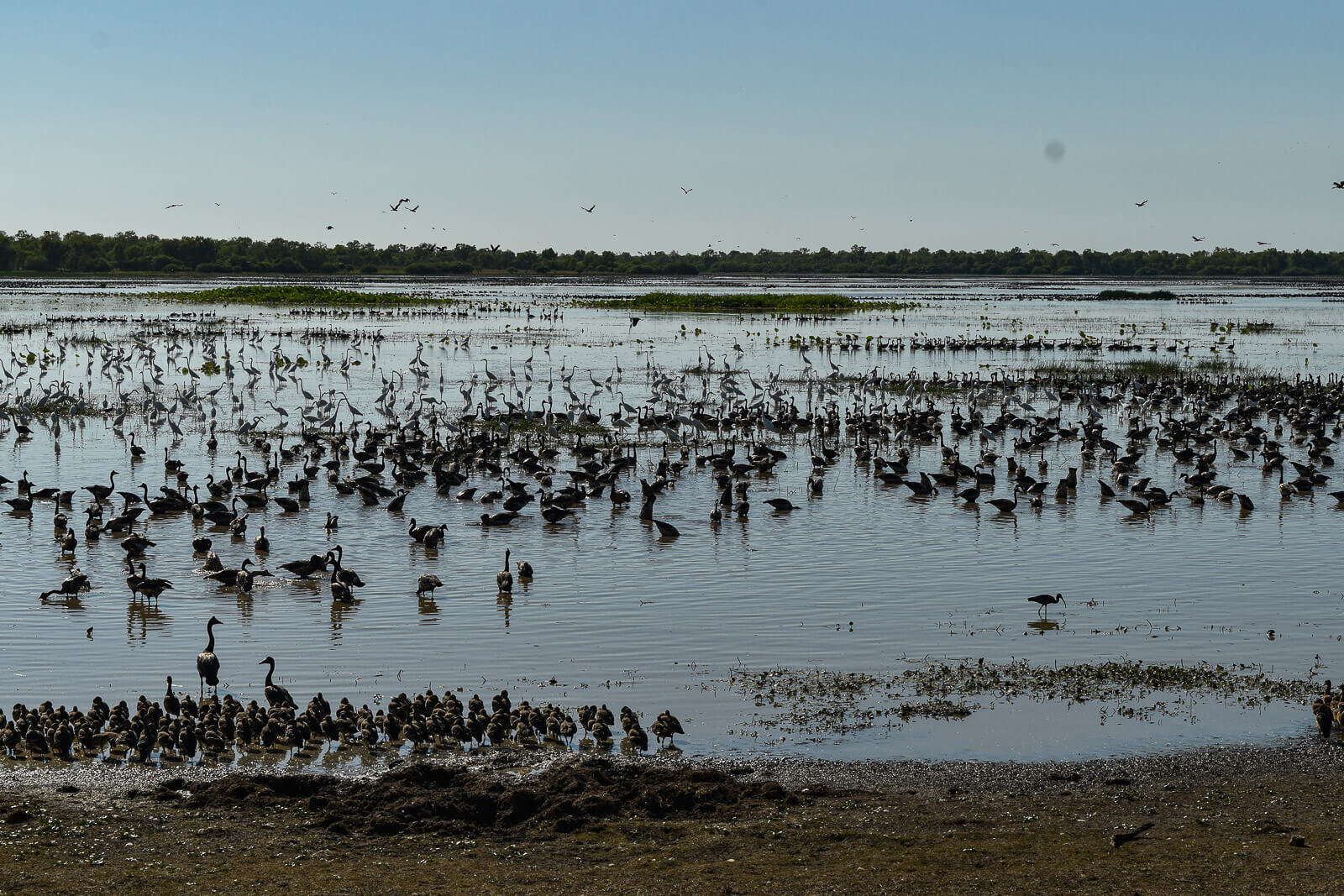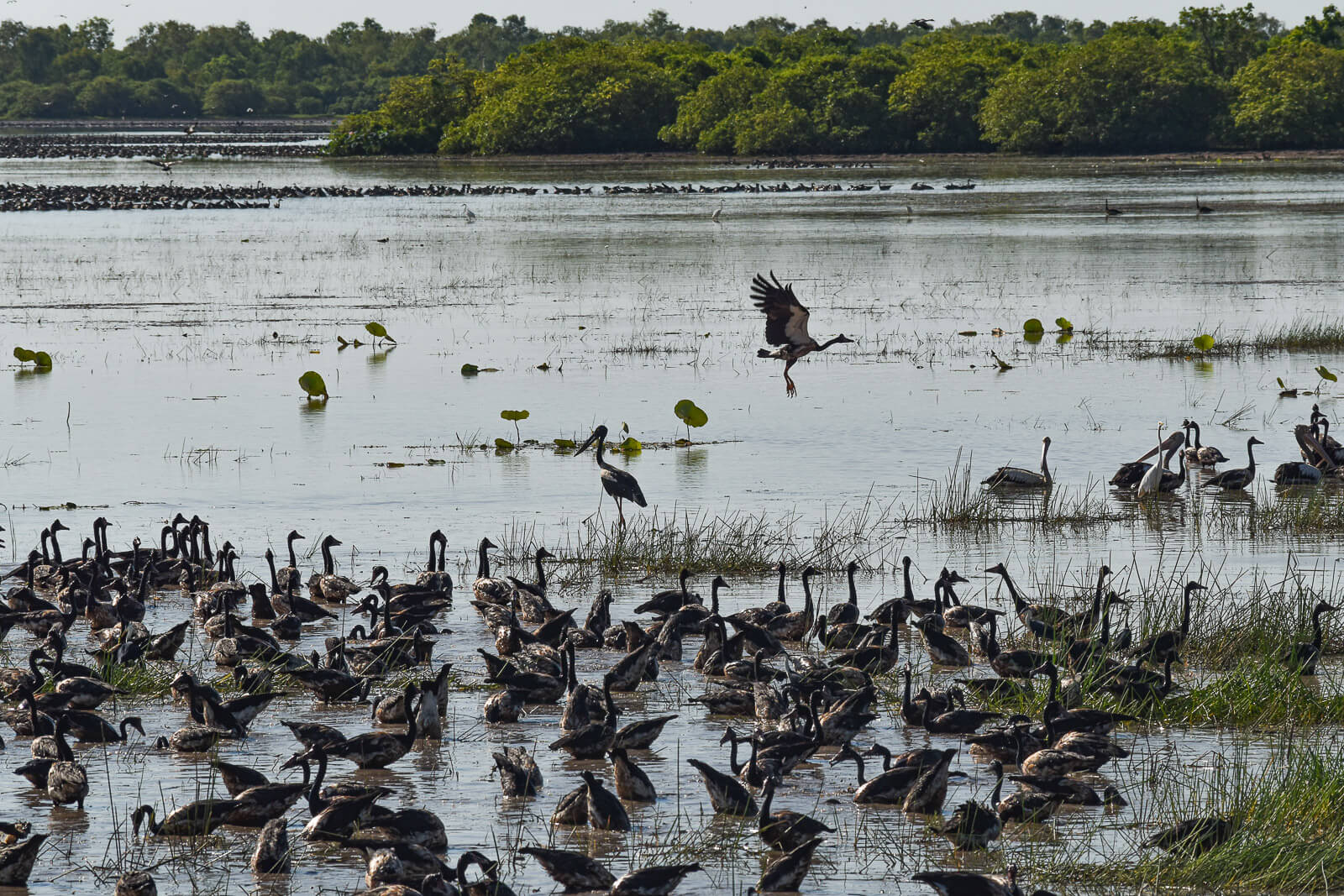 A covered lookout allows you to admire the birds while sheltering from the sun. We then took a 3km walk around the wetlands, where Victor taught us about the various flora and fauna and their different uses for bush tucker, medicines and for creating baskets and tools.
You don't need a tour guide to visit the wetlands, but we got so much more out of the experience doing the walk with Victor.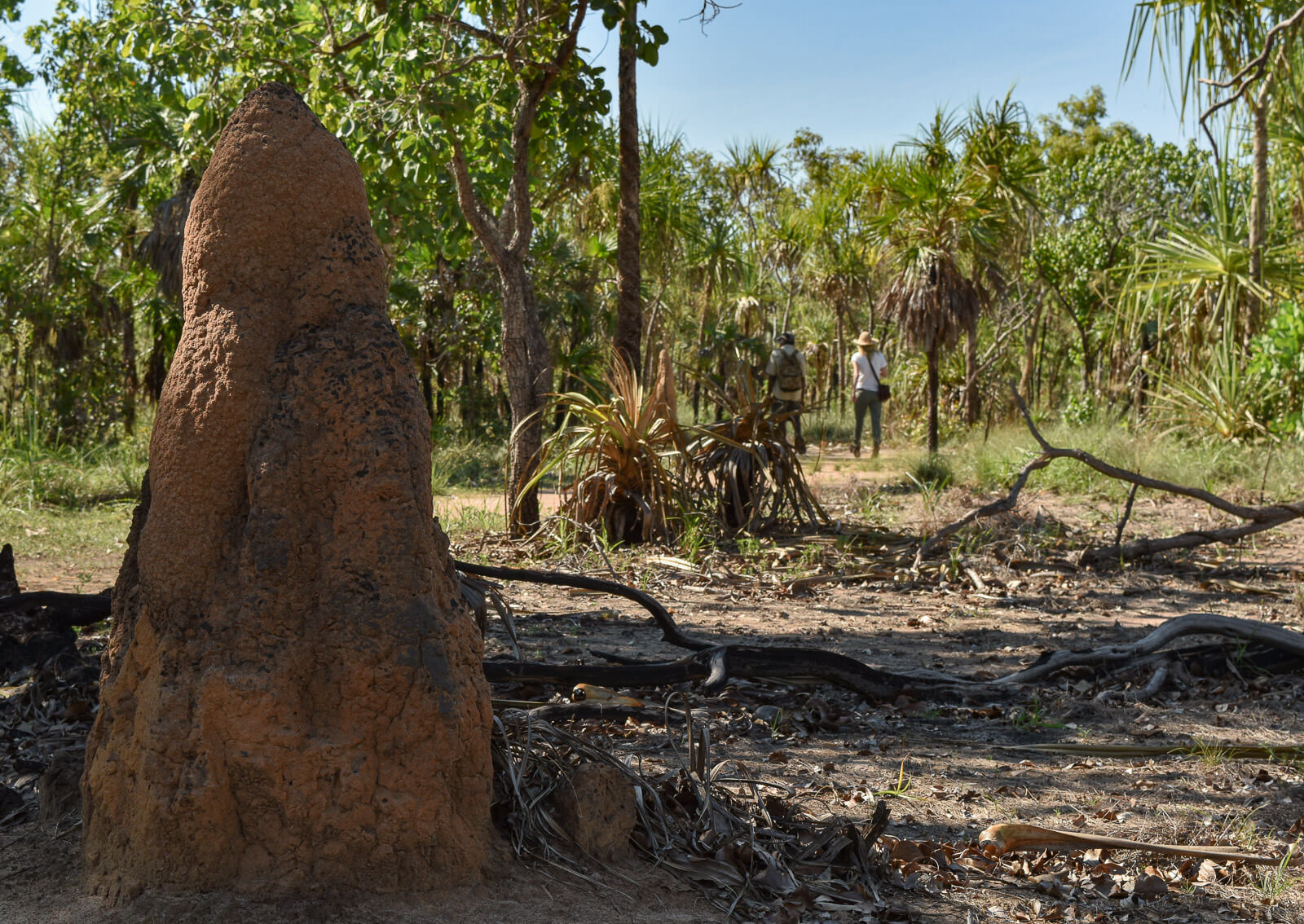 Marrawuddi Gallery
Head back to Jabiru to check out of your accommodation and visit the Marrawuddi Gallery.
Marrawuddi is an Aboriginal owned and operated gallery and cafe, run by the Mirarr People, the Traditional Owners of Jabiru and other parts of Kakadu and Western Arnhem Land. All the artworks displayed and sold in Marrawuddi are created by Aboriginal people from Kakadu and the surrounding country, and the profits are used to fund local initiatives.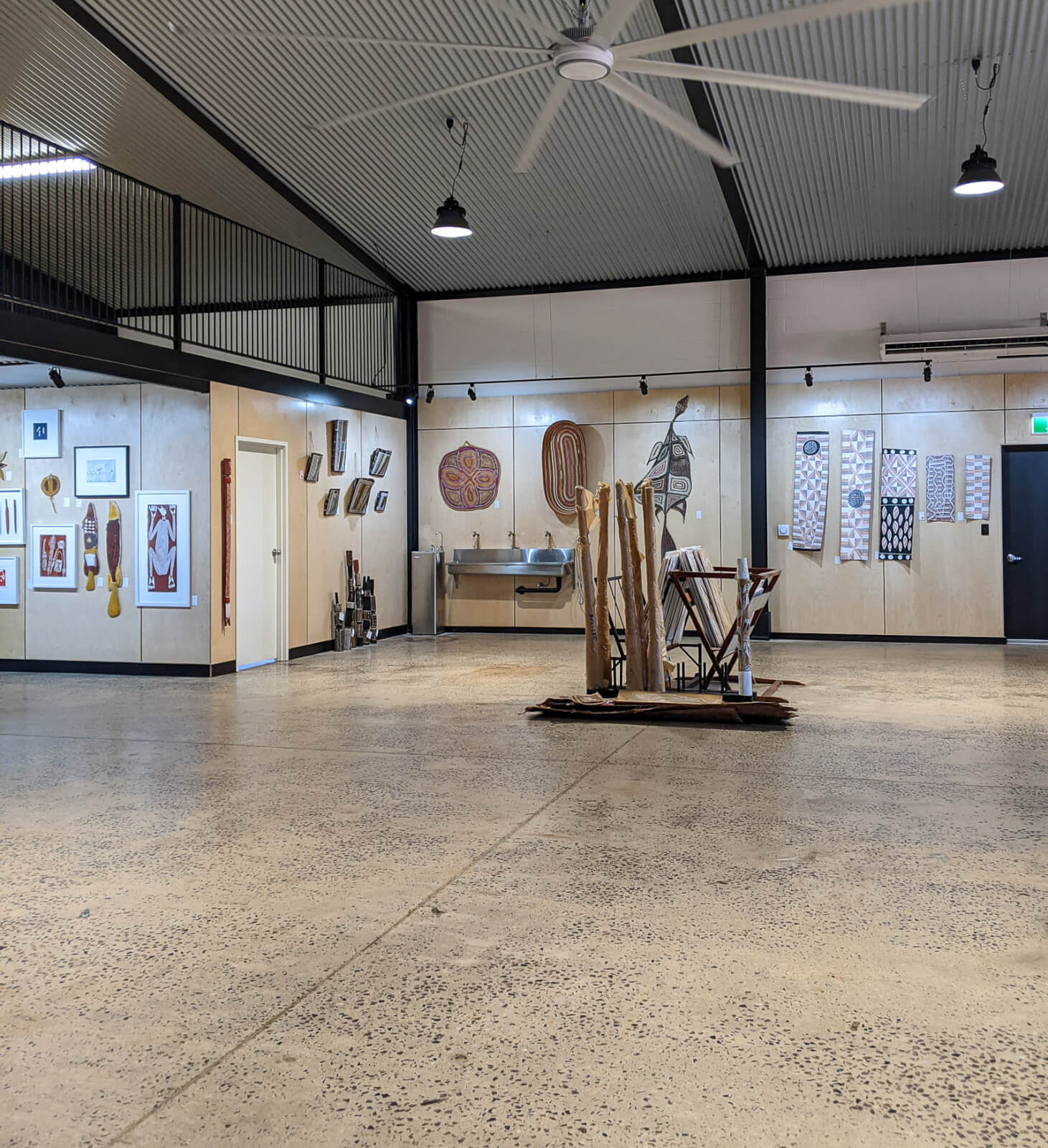 It's a lovely place to have a coffee and admire the beautiful artwork. If you're considering purchasing Aboriginal art, it is also a good place to buy as the gallery is a member of the Indigenous Art Code, meaning all trades are fair and ethical, between artist and dealer and artists are paid a fair price for their work.
Get back in the car and drive 40 minutes to Cooinda Lodge Kakadu Hotel.
Cooinda Lodge Kakadu Hotel
This is an awesome outback retreat with glamping tents and lodges and a big lagoon-style pool. Have lunch at the restaurant (I recommend the barramundi, which is a fish caught in the rivers and ocean in the NT), and then enjoy a little time by the pool.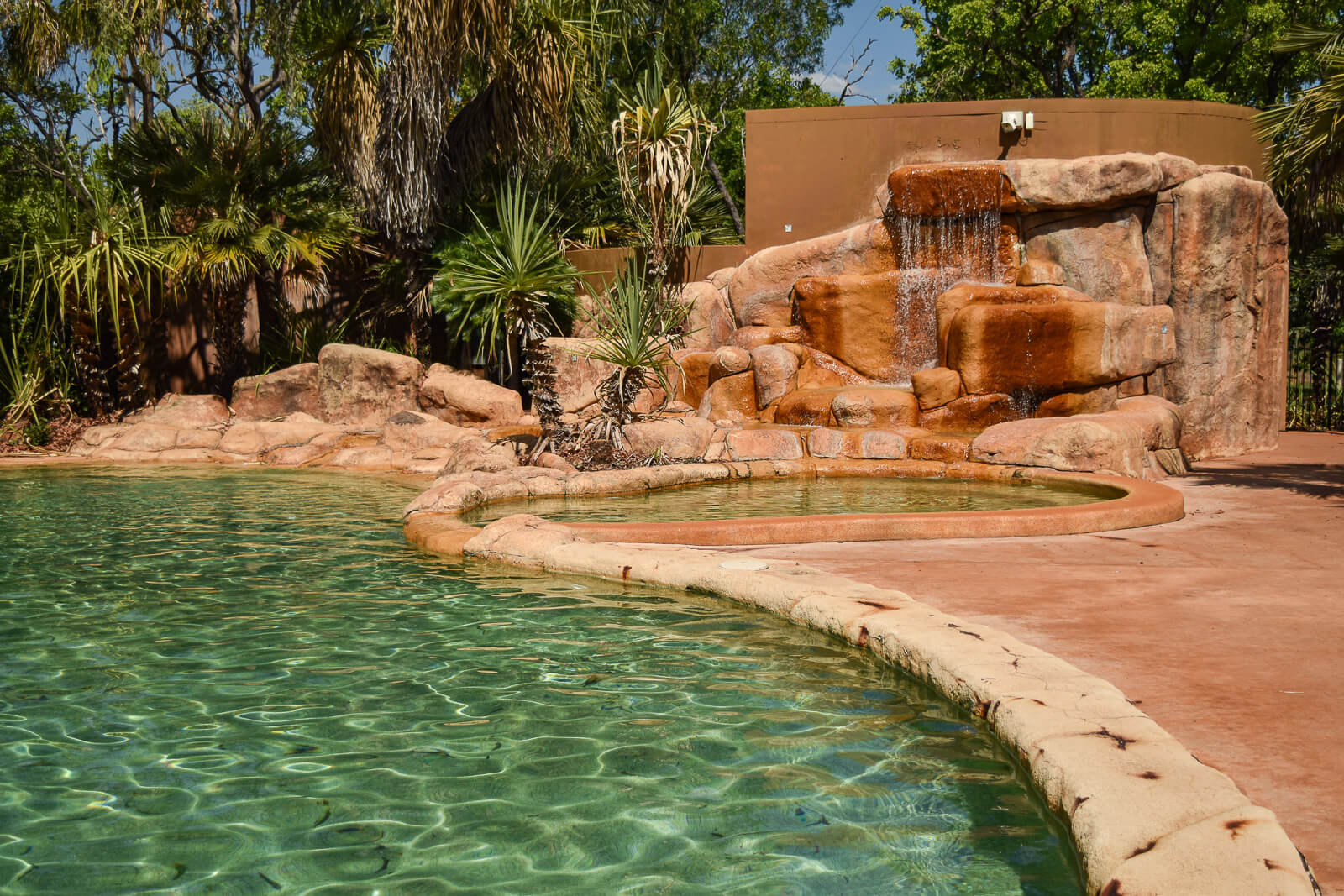 Jim Jim Falls
Depending on the season, now would be a good time to head to Jim Jim Falls. It's just over an hours drive from Cooinda to the falls but the road can be flooded so check before you go. You'll need a 4WD to drive Jim Jim Falls road. Otherwise, tours are available from Cooinda Lodge.
It's a 2km walk through forest and over boulders to the base of the falls, which has a deep pool where you can swim. The waterfall flows from the start of the wet season until mid-July.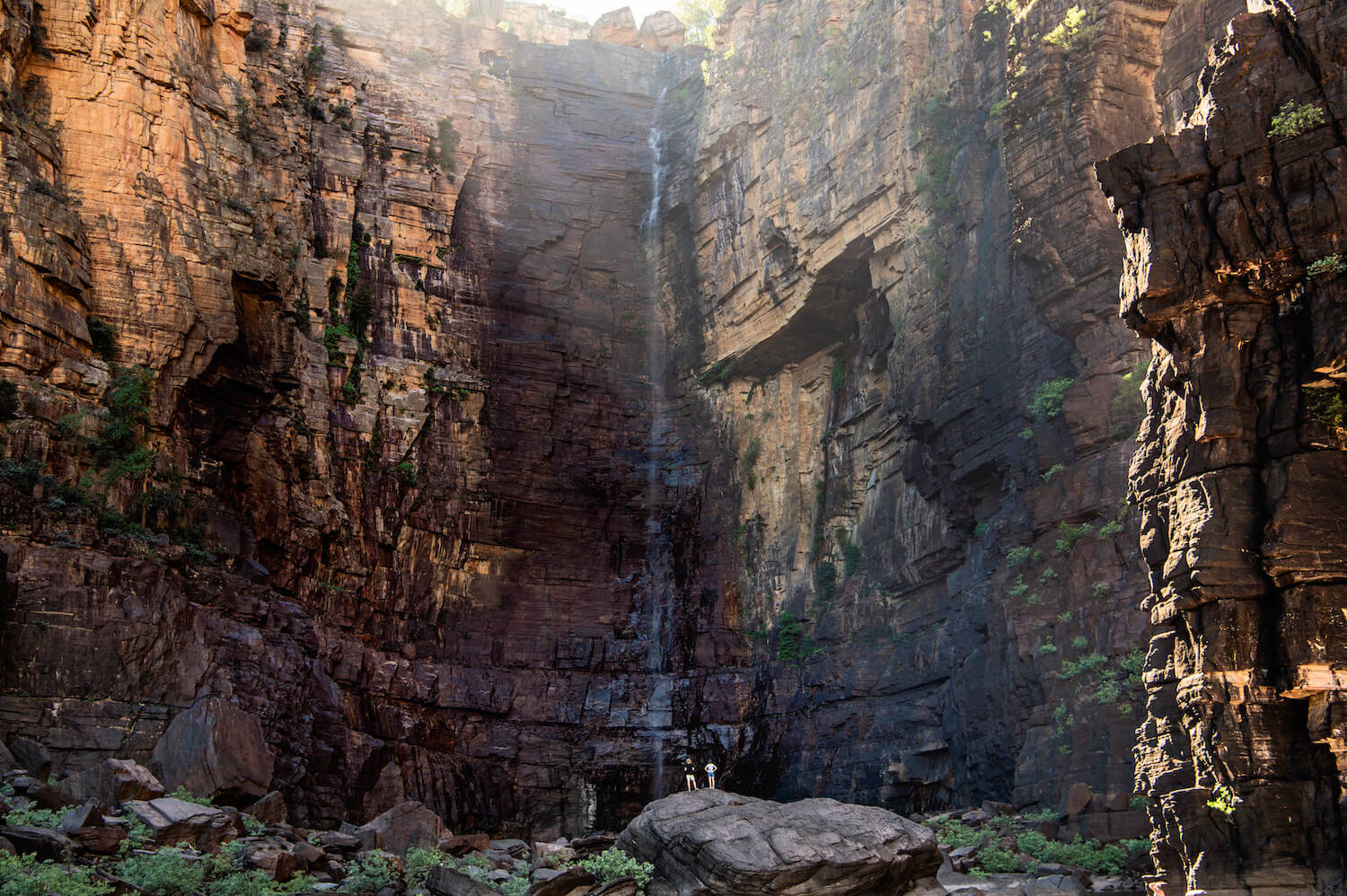 Water Safety:

Saltwater crocodiles live in and around both Kakadu National Park and Litchfield National Park and are extremely dangerous. Despite their name, they are not only found in saltwater. Before you swim, check signage and make sure it is a designated swimming area. Be extra cautious in the wet season and beginning of the dry as saltwater crocodiles make their way upstream to areas often considered safe during the dry season. Freshwater crocodiles also inhabit many waterways but are not considered dangerous providing you don't aggravate them. (I swam in Lake Argyle which is home to thousands of freshwater crocodiles – read about it here).
Jim Jim was closed on our trip and it was also extremely hot, so we made the most of the swimming pool and had a relaxing afternoon.
Tip: You will be up early again tomorrow, before the hotel restaurant is open, so I advise buying some snacks from the hotel shop for the next day.
Burrungkuy (Nourlangie)
Later in the afternoon make your way to Burrungkuy (Nourlangie). This is another fantastic site for Aboriginal rock art, in fact, it is considered one of the best Aboriginal rock art sites in Australia. Rangers lead guided walks and talks at the rock art site during the dry season. As we were there in the wet, we again met with Victor from Ayal Cultural Tours who told us about the different art and its meaning.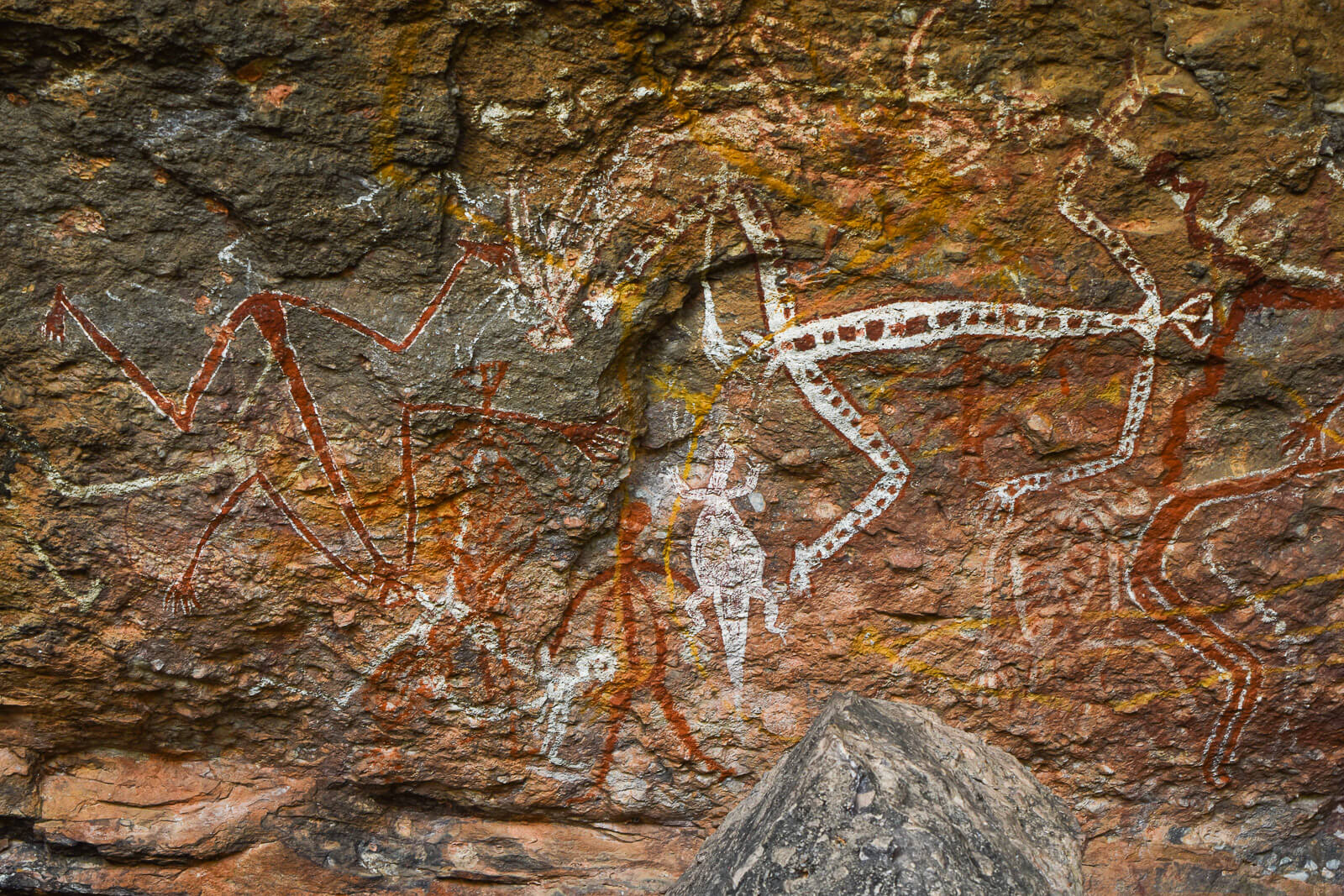 We then made our way up to Nawurlandja lookout, to watch another incredible sunset. From here you can enjoy views of the escarpment, Burrungkuy (Nourlangie) rock and Anbangbang Billabong.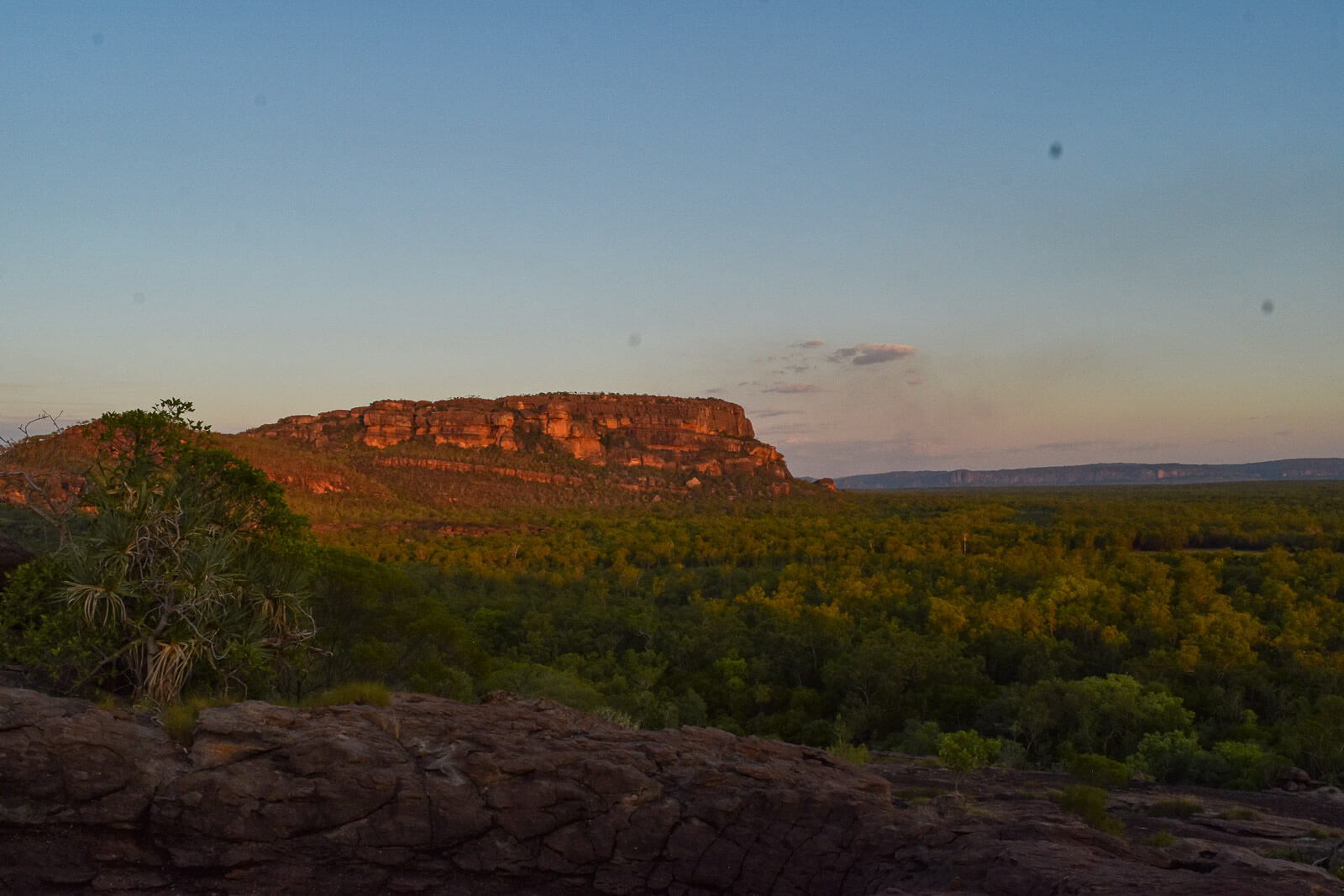 If the weather is cool enough, there are a number of walks you can do beforehand including the Anbangbang Billabong walk (easy) and the Kubara pools walk (6km).
Once the sun has set, head back to Cooinda Lodge for dinner.
Sleep – Cooinda Lodge Kakadu Hotel
Cooinda offers camping, powered sites, Lodge Rooms and Outback Retreats (glamping). From $149 AUD for lodges and glamping or $30 for unpowered and $40 for powered sites per night.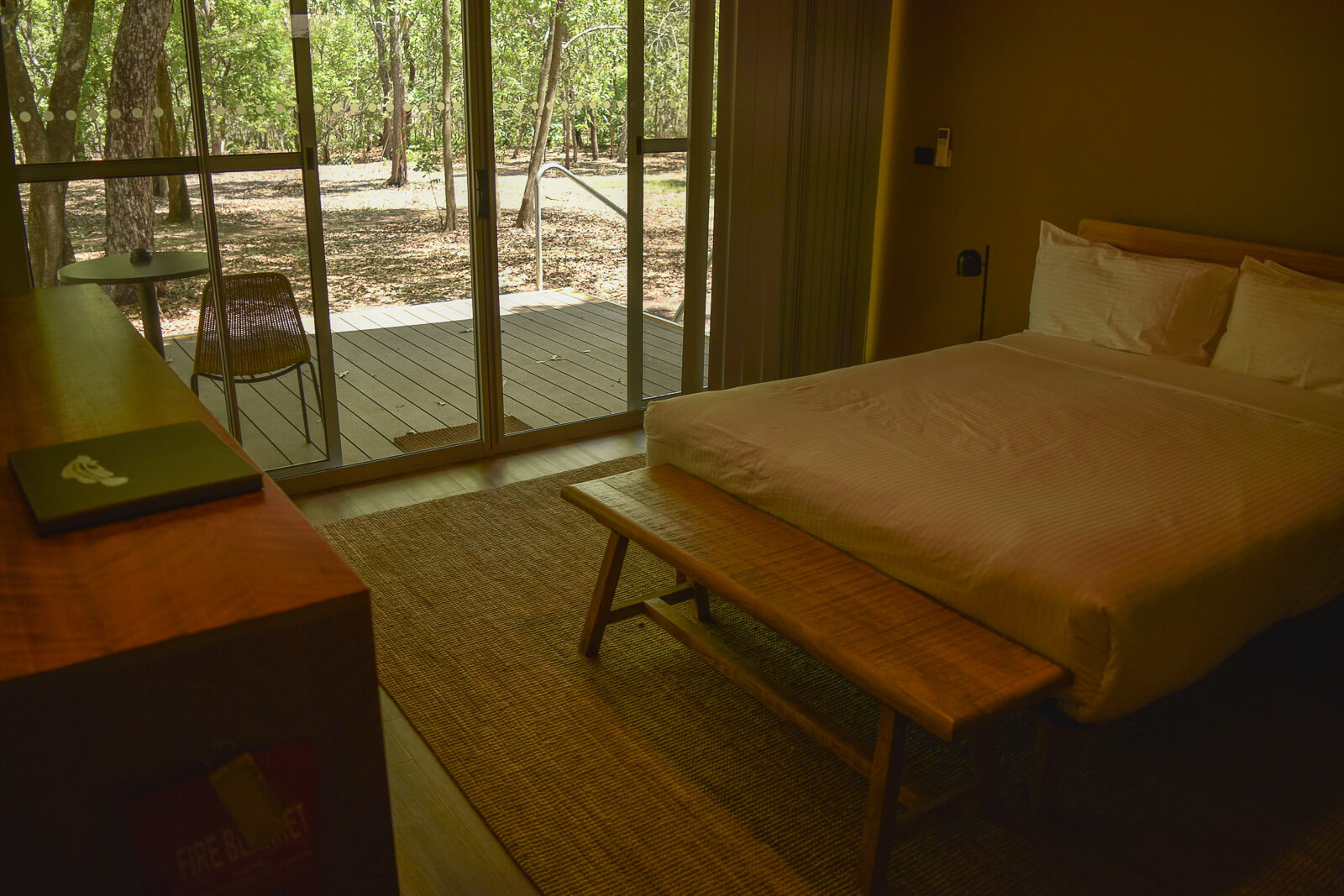 Day 3 – Kakadu National Park to Litchfield National Park
Another early start today for the Yellow Water Sunrise Cruise. As mentioned before, make sure you have some snacks ready as the hotel restaurant is closed and you'll be out on the boat until 9:30am.
A bus will come and collect you for the short drive to the river where you'll be met by your host for the morning, who will entertain you with stories and jokes throughout. Once aboard the boat, you'll cruise on the Yellow Water Billabong and South Alligator River, looking out for crocs and other wildlife including a variety of birds and buffalo.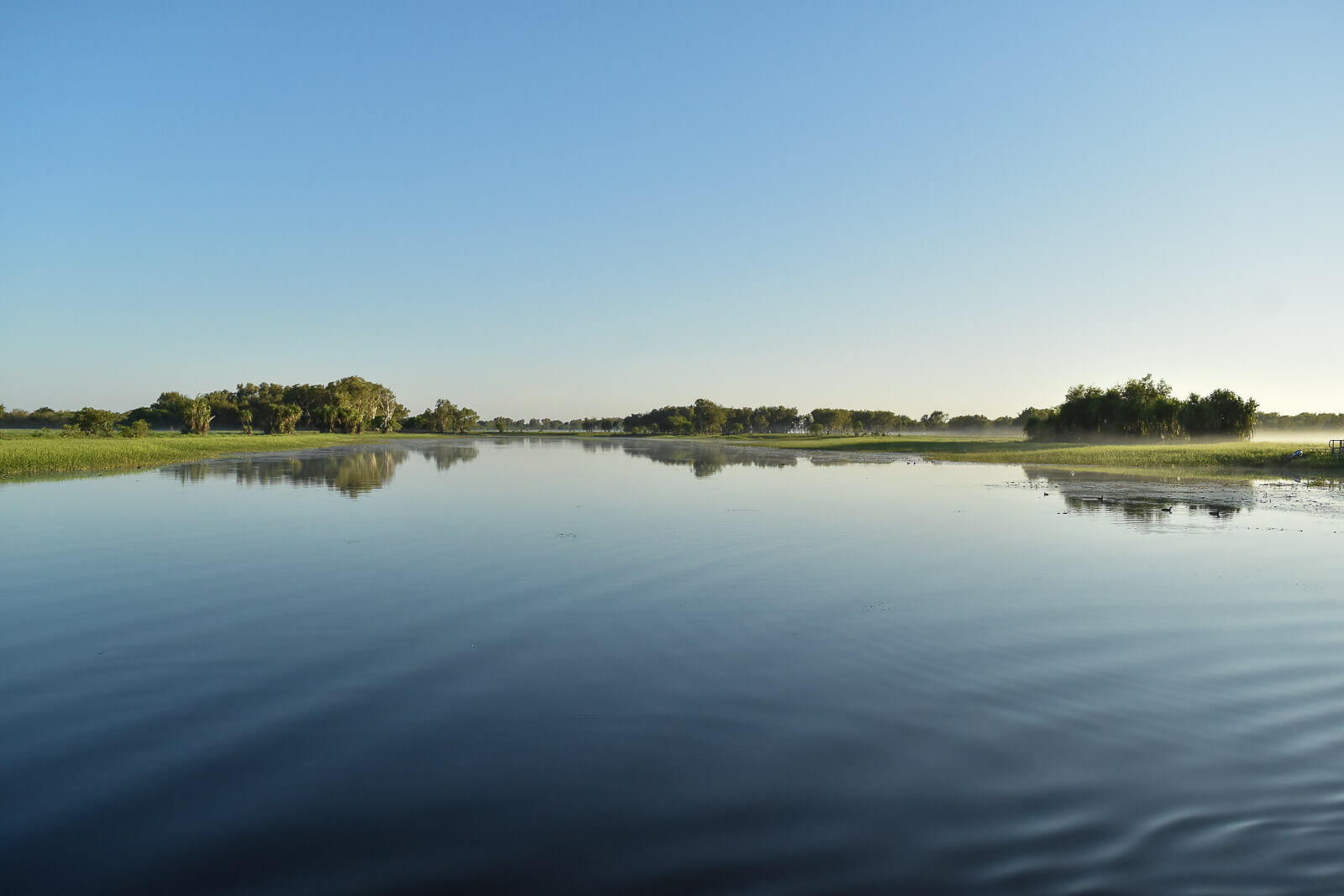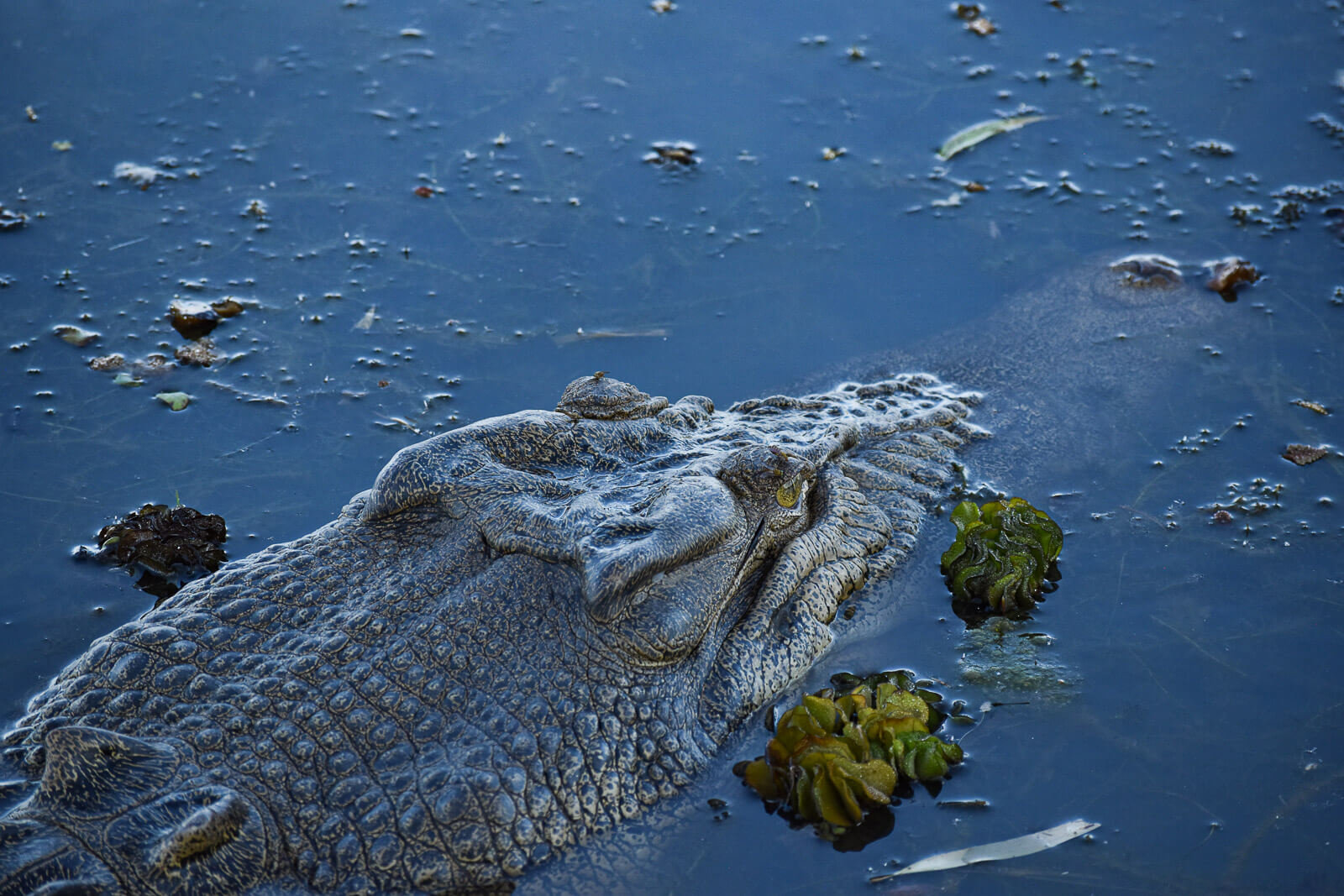 Back at the lodge have some breakfast before checking out and continuing on your Kakadu road trip.
Maguk
Drive south until you reach the turnoff for Maguk Waterfall. Again a 4WD is required on this road. From the car park it's a short walk through the rainforest and rocks to the waterfall and plunge pool. It's such a gorgeous spot for a swim and you can swim right under the waterfall. Be sure to check the safety signs regarding crocodiles before you enter the water, as the rangers frequently check the area.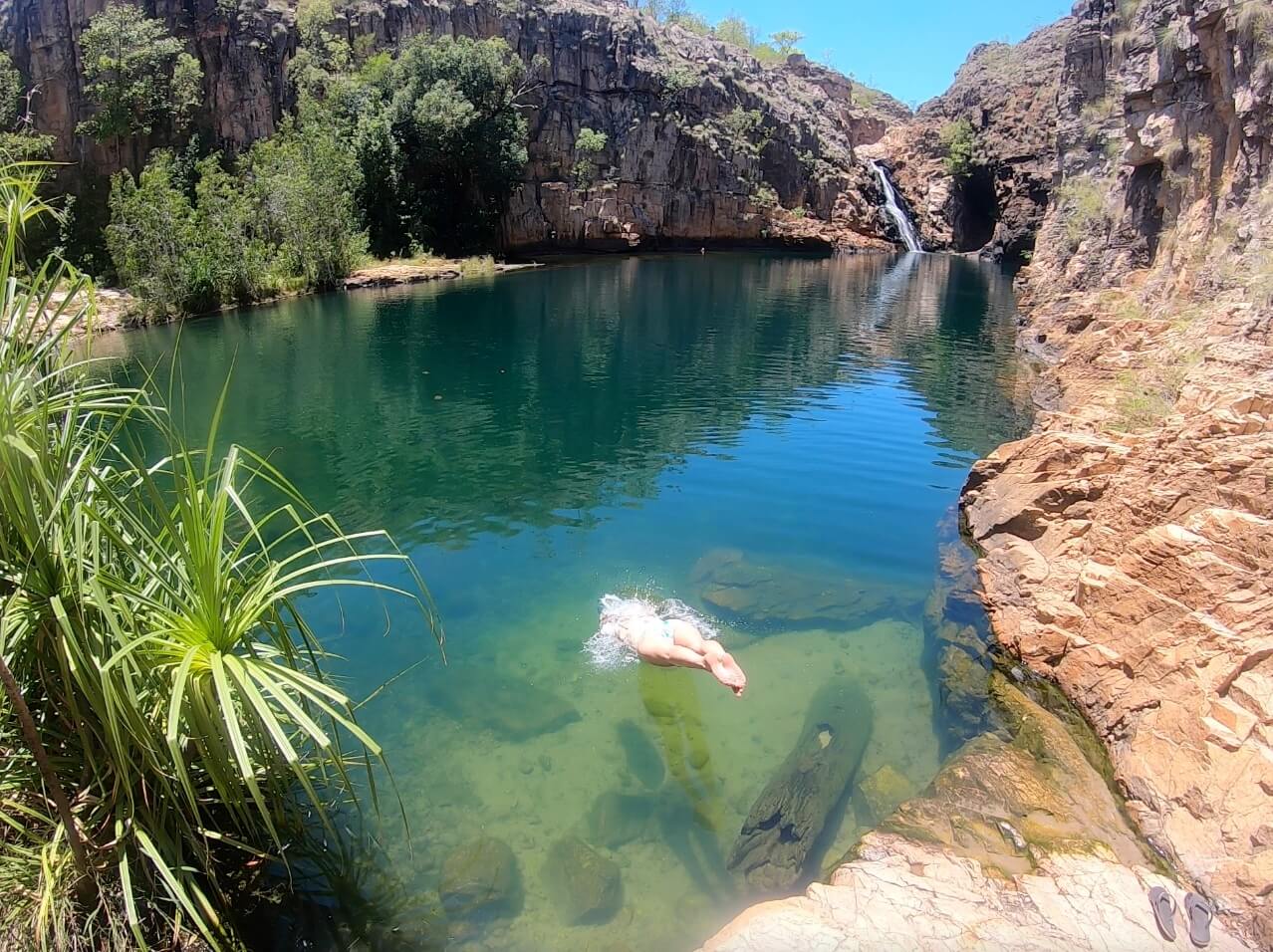 The final drive to Litchfield National Park takes just under 3 hours. We stopped at the Lazy Lizard Tavern in Pine Creek for lunch along the way.
Sleep – Litchfield National Park
Where to stay in Lichfield National Park?
We stayed at Litchfield Outback Resort which also has a great restaurant and bar – The Lil' Ripper Cafe, Bar and Bistro – which I definitely recommend for dinner. Rooms from $130 AUD. There are also unpowered campsites from $20 AUD. Although if you are camping, I would recommend continuing on and sleeping at Florence Falls (below).
Find hotels in Lichfield National Park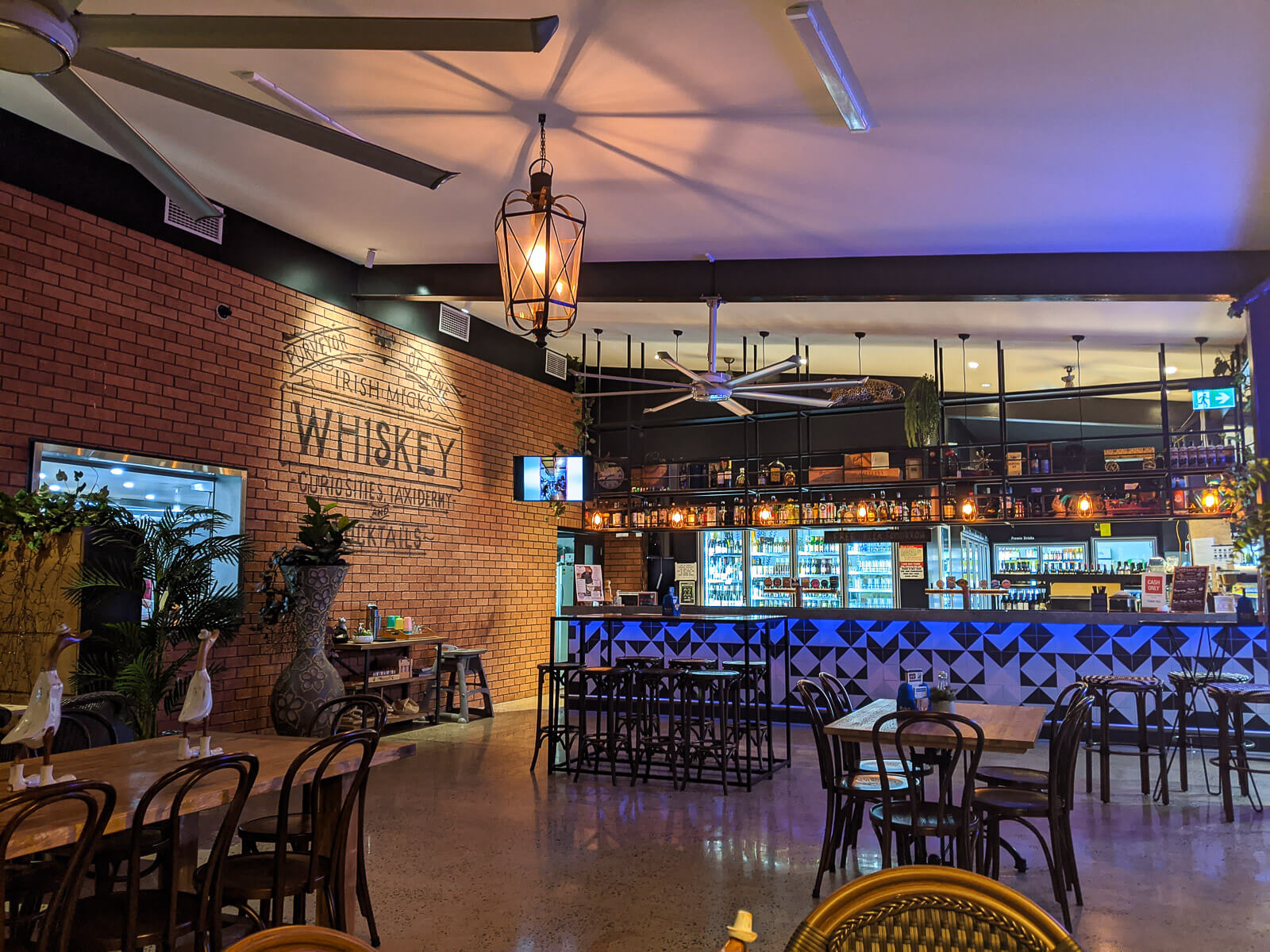 Lil' Ripper offers antipasto picnic boxes to take with you the following day into the park. Make sure you pre-order at least one day in advance.
Day 4 – Litchfield National Park to Darwin
The final day of your Litchfield and Kakadu itinerary will be spent enjoying the glorious rock holes in Litchfield National Park.
Have breakfast at The Lil' Ripper, grab your picnic lunch and drive 35 minutes into the park to Buley Rockhole.
Buley Rockhole
This is an incredible spot with cascading rock pools of different depths. Some are just deep enough to lie in, whereas others are deep enough to jump off the rocks into.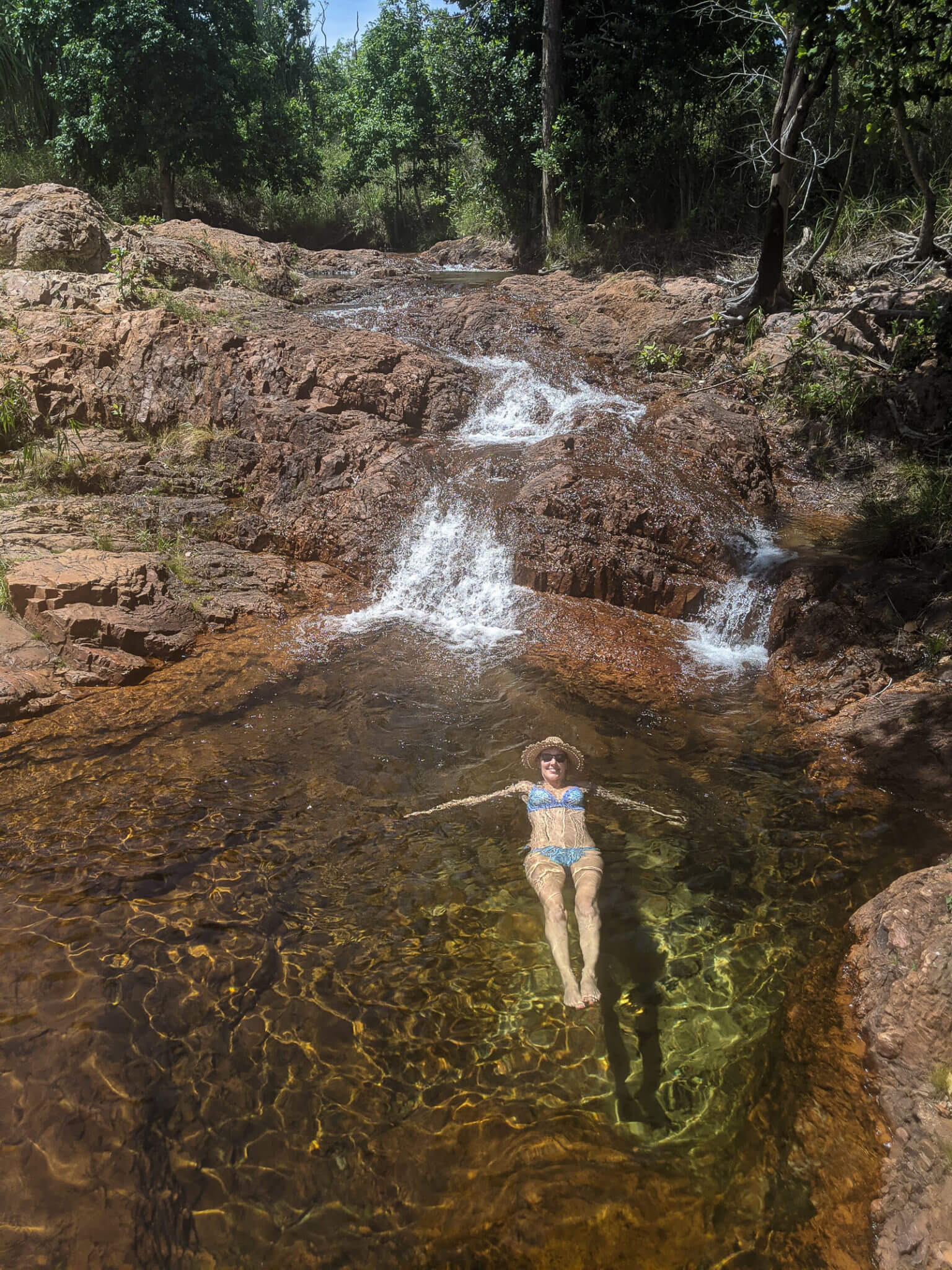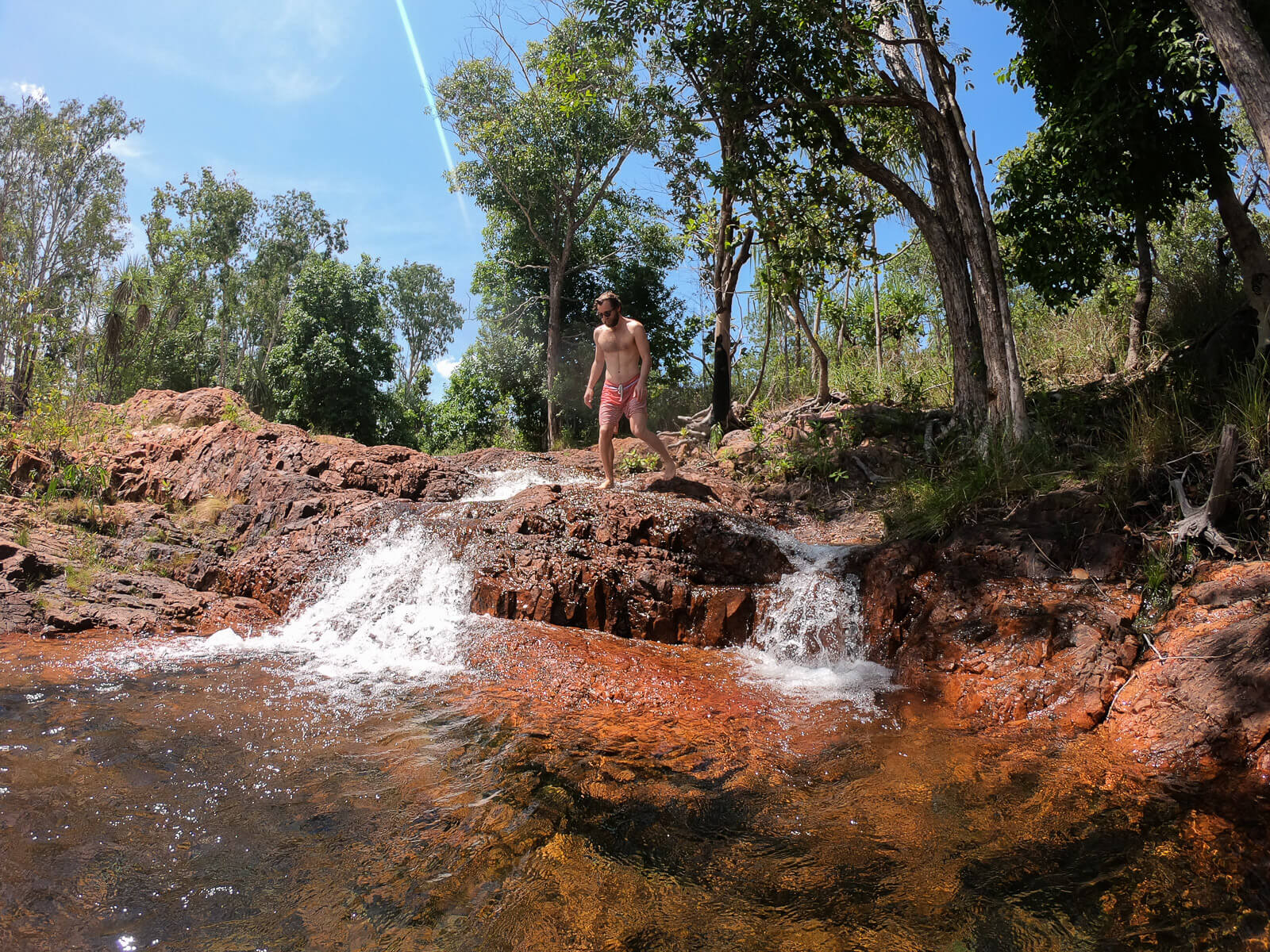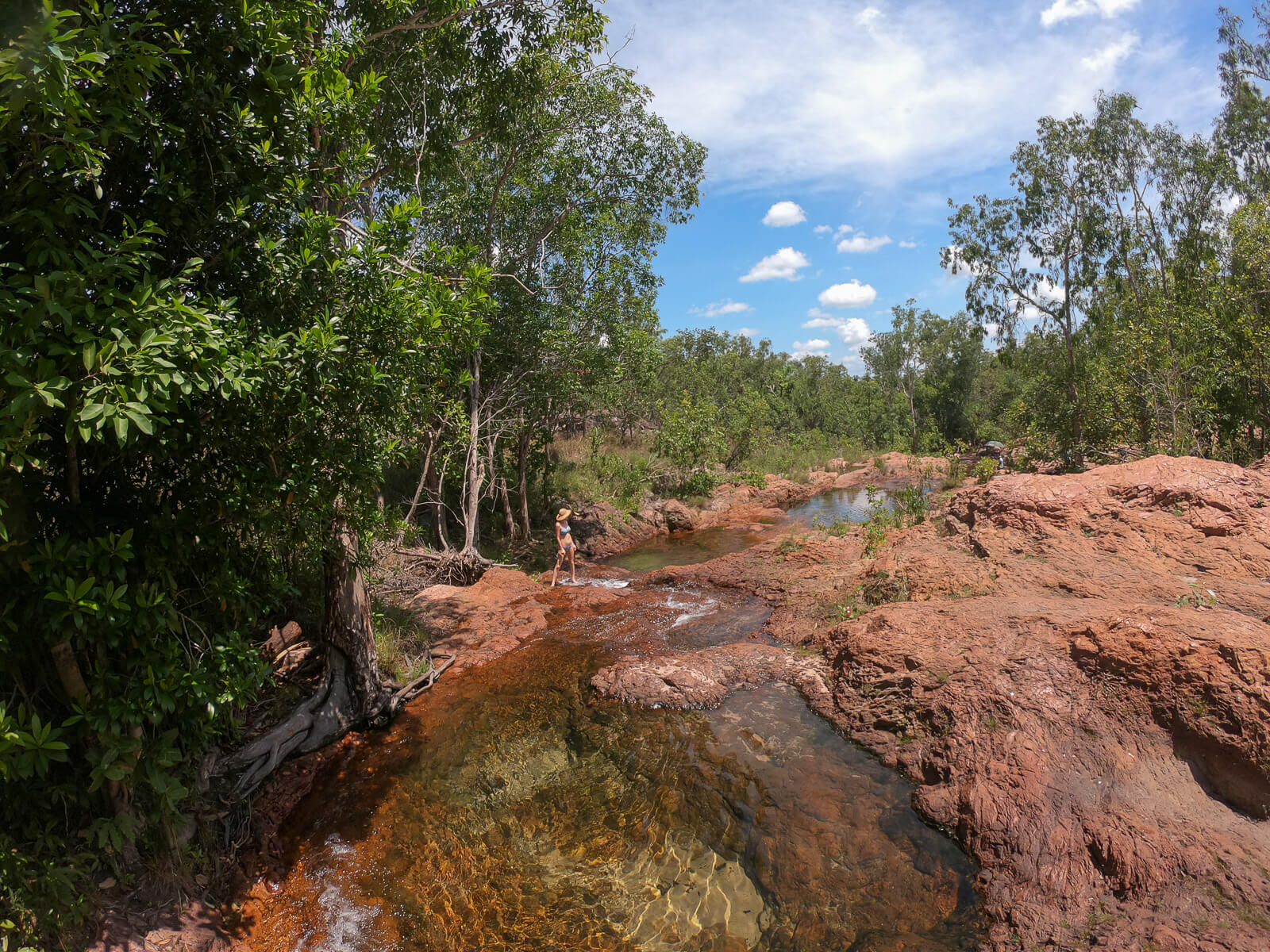 5 minutes drive from Buley is Florence Falls.
Florence Falls
There is a lookout close to the car park where you can admire the falls from above, then it's a downhill walk to access the pool. If you aren't keen on stairs and hills, then there is a flatter and longer 1k walk option (Shady Creek walk) to the pool. The pool here is much bigger than those at Buley, so you can have a proper swim and like Maguk, swim right under the falls.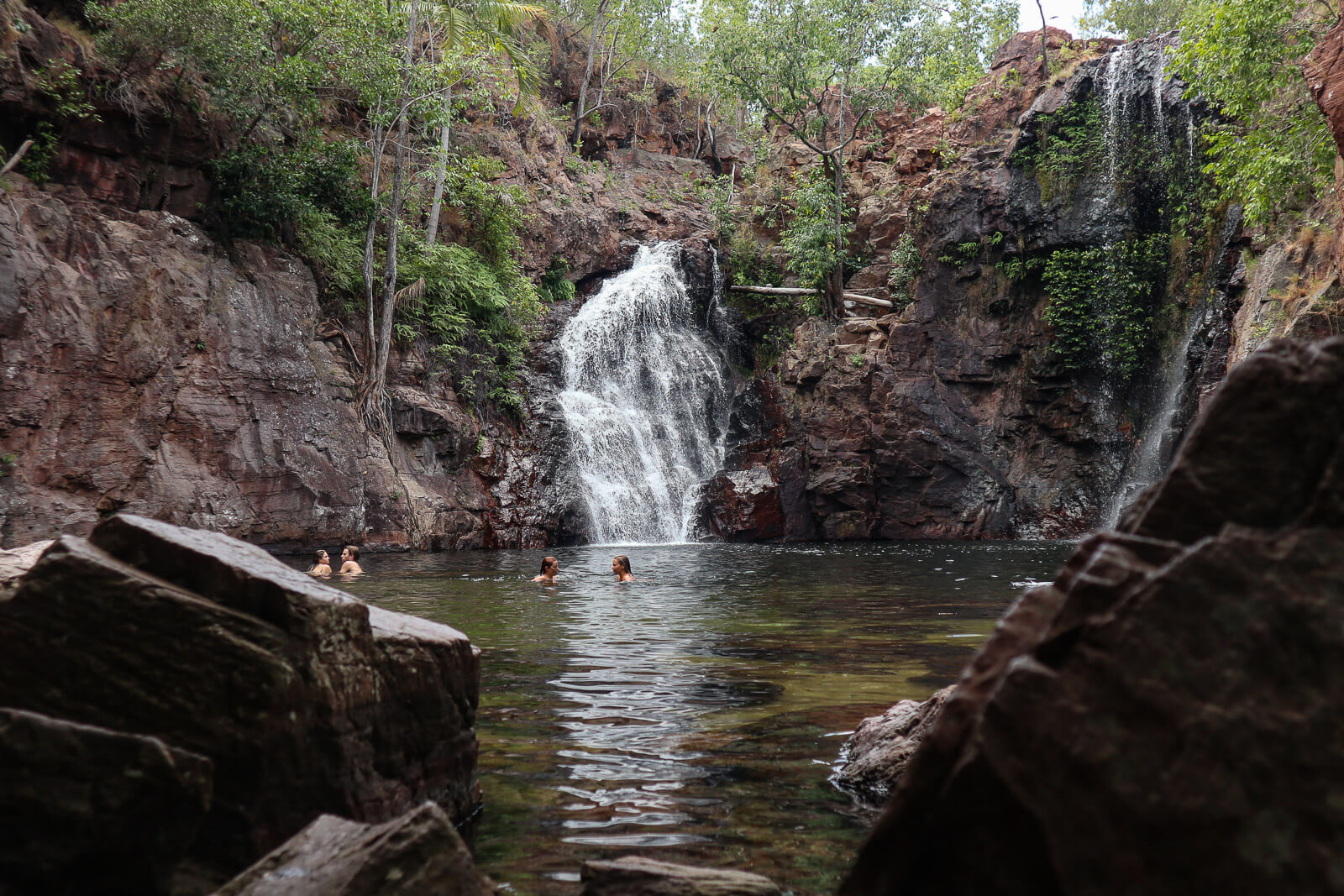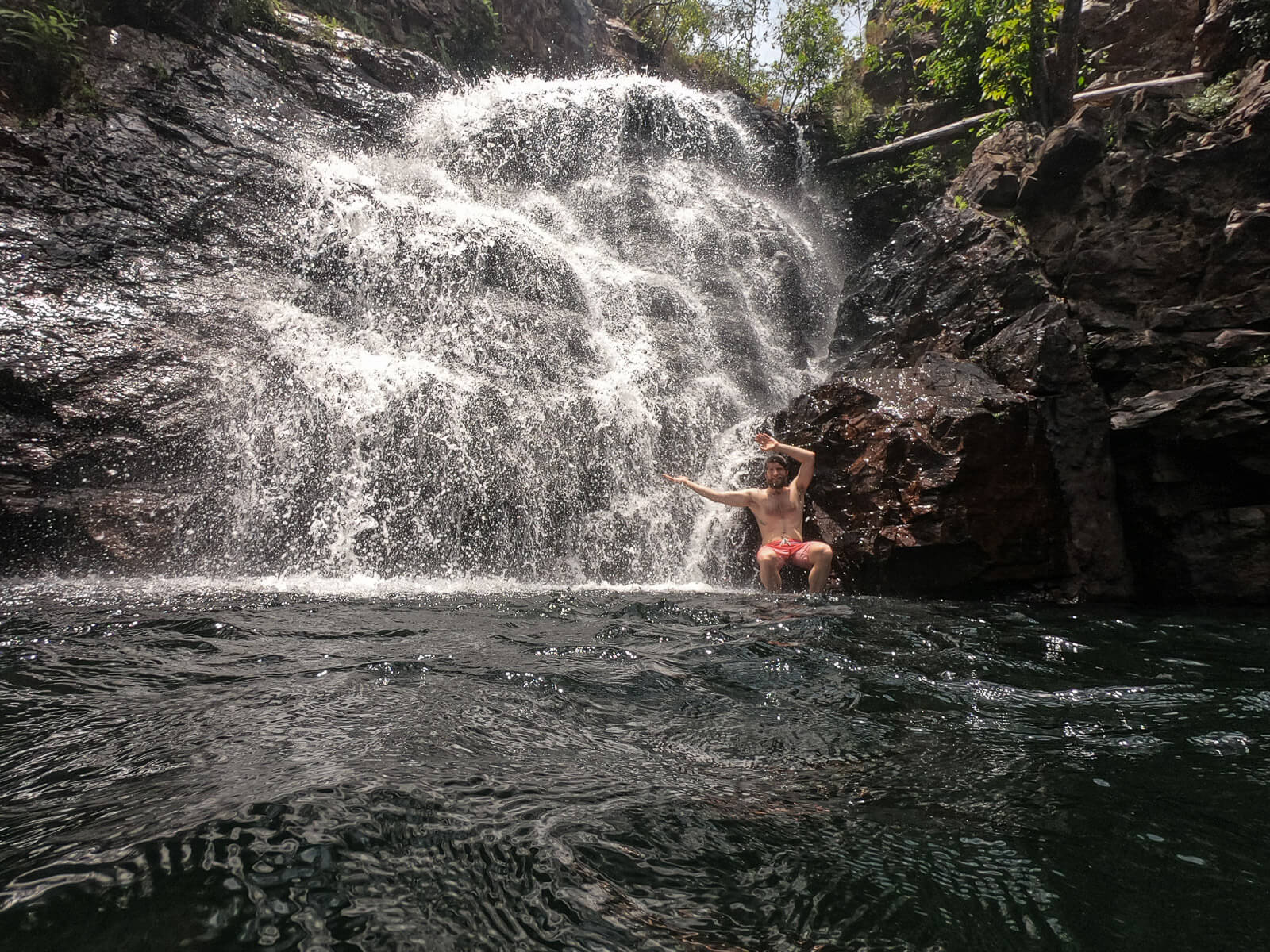 Tolmer Falls
You can't swim at the next stop, Tolmer Falls, but it's easily one of the most spectacular falls in the park. We admired the falls from the viewing platform, but you can also take the 16km Tolmer Falls loop walk. As we were there mid-morning and it was already extremely hot we decided against taking the walk.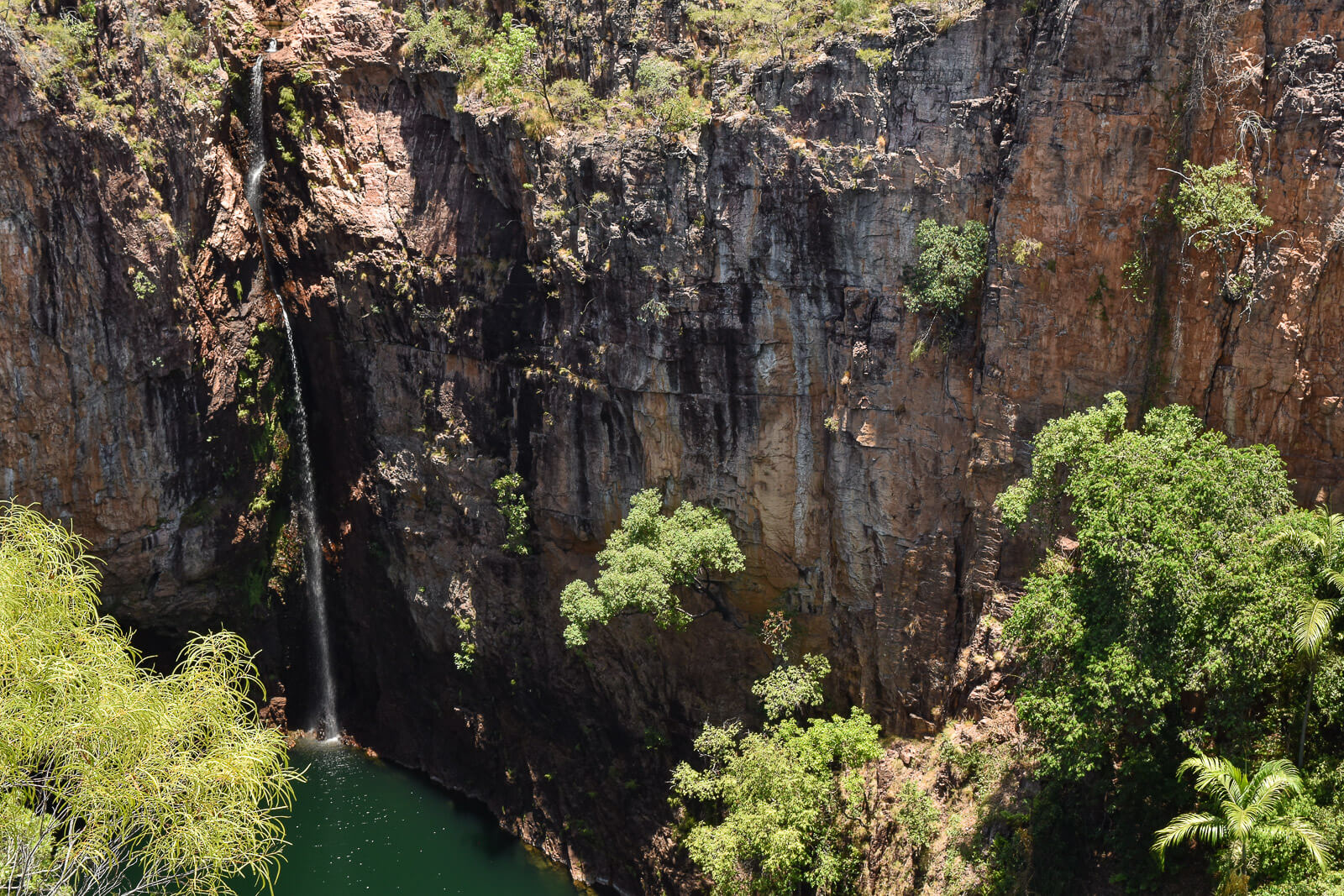 Wangi Falls
Drive 12 minutes west to Wangi Falls. These falls have a huge pool at the bottom and manicured lawns at the entrance, making it the perfect place for your picnic lunch. There is also a kiosk selling food if you didn't bring a picnic.
There is a tiny little rock pool within the rock face that you can climb up and relax in, or otherwise just enjoy swimming in the vast pool. Wangi Falls is often closed for swimming between October and March, however we were there in November and it was open.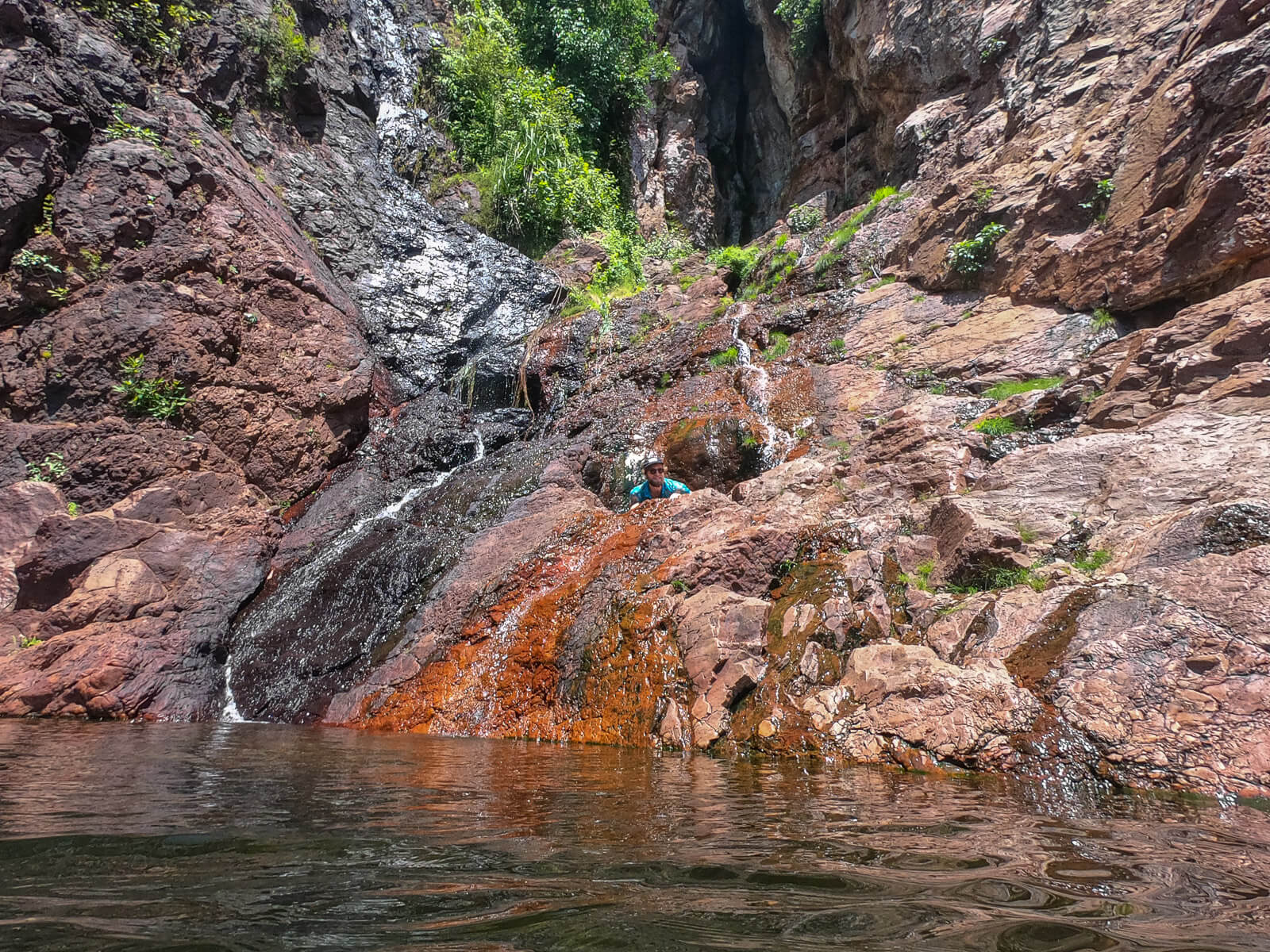 After a relaxing lunch and swim, get back on the road and drive back to Darwin (approx. 1 hour 40).
Darwin
We arrived back in Darwin late afternoon, checked into our accommodation and set out the explore the city on our final night.
Where to stay in Darwin?
There is lots of accommodation in Darwin, so you shouldn't have any trouble finding somewhere great to stay. I recommend basing yourself close to the Waterfront Precinct as there are lots of nice restaurants there, plus the lagoon and wave pool. Mitchell Street also has lots of good restaurants.
Budget
Darwin Hostel is located in the CBD and has an outdoor swimming pool and free private parking. Rooms have air conditioning and free wifi. Dorms from $26 per night.
Darwin City Hotel has en-suite rooms and self-contained apartments with full kitchens and laundry facilities. There is a swimming pool, spa and fitness centre. Parking is available for an additional fee. It's a really great budget option with rooms from $80 AUD per night and apartments from $169 per night.
Palms City Resort is located on the Esplanade and is surrounded by tropical gardens. All rooms are air-conditioned and there is a landscaped pool. A great option if you want resort-style accommodation but still want to be within walking distance from the bars and restaurants. Rooms from $100 AUD.
The Cavenagh is a central hotel with a swimming pool, bar and restaurant and air-conditioned rooms in the CBD. Double rooms from $107 per night.
Mid Range/Luxury
We stayed at the Hilton Darwin, which has a fantastic location on Mitchell Street and a short walk from the Esplanade. The rooms are lovely with huge bathrooms with a bathtub. Double rooms from $205 AUD per night.
Vibe Hotel is set right on the waterfront with views of the ocean and wave pool. This is such a great location for bars and restaurants, and you've got the option of the hotel pool or the Darwin lagoon and wave pool. Rooms from $200 AUD.
If you fancy staying in a different area then try Elsey on Parap. This is a 3 minute walk from the Parap Markets and has luxury serviced apartments with patios and a full kitchen. There is also free parking. One bedroom apartments start from $265 AUD per night.
An Evening in Darwin
Once you've checked in, make your way to the esplanade for a walk along the waterfront and continue along until you reach the waterfront precinct. If you're lucky you'll be treated to colourful Darwin sunset. Depending on what time you're there, you can enjoy a dip in the wave pool or the saltwater lagoon too.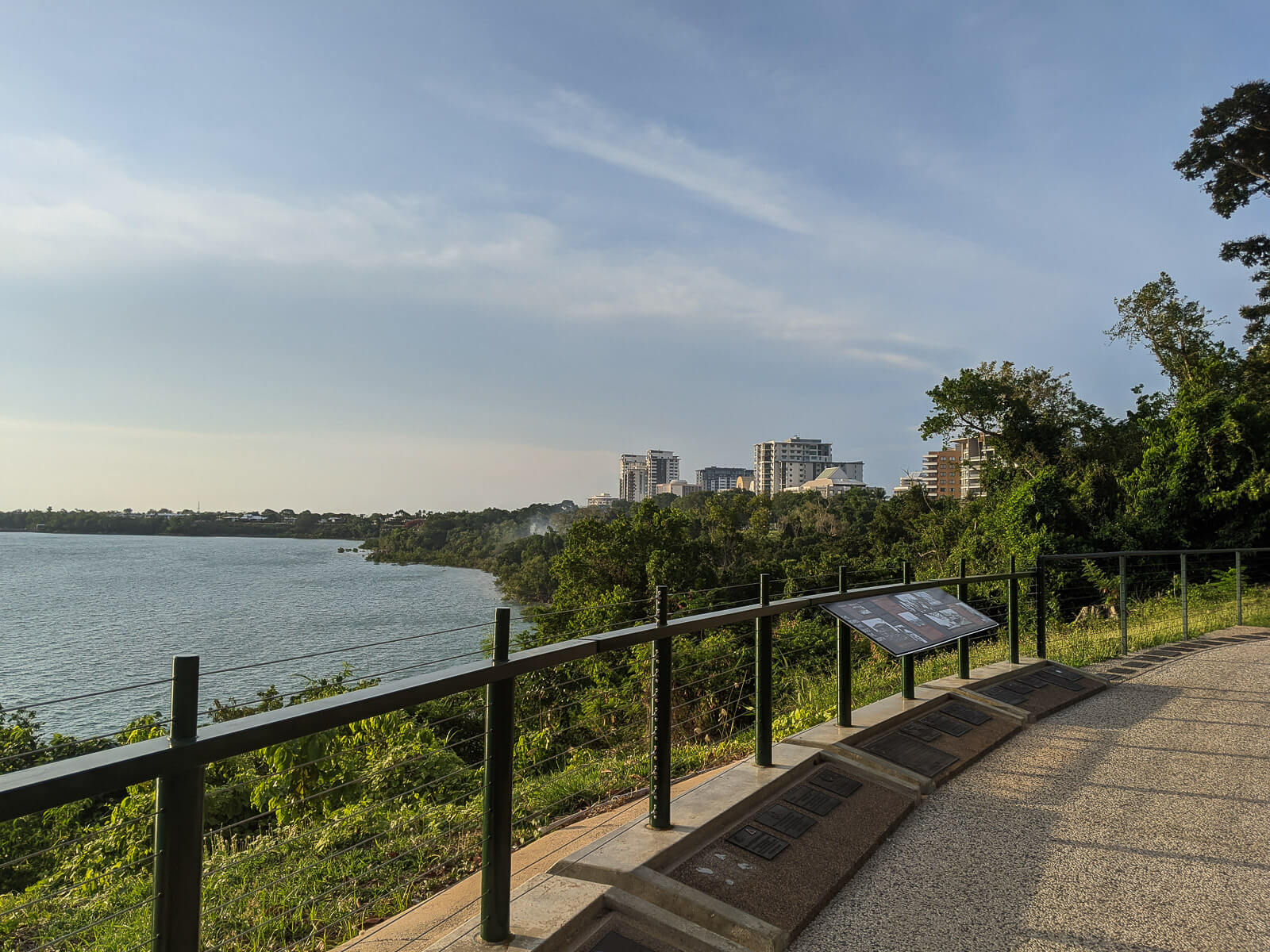 There are lots of great places to eat at the waterfront precinct. We had a delicious meal at Chow, a South-East Asian restaurant (although I have to say the laksa wasn't as good as at the Parap markets!). Snapper Rocks is another great spot and does some delicious cocktails.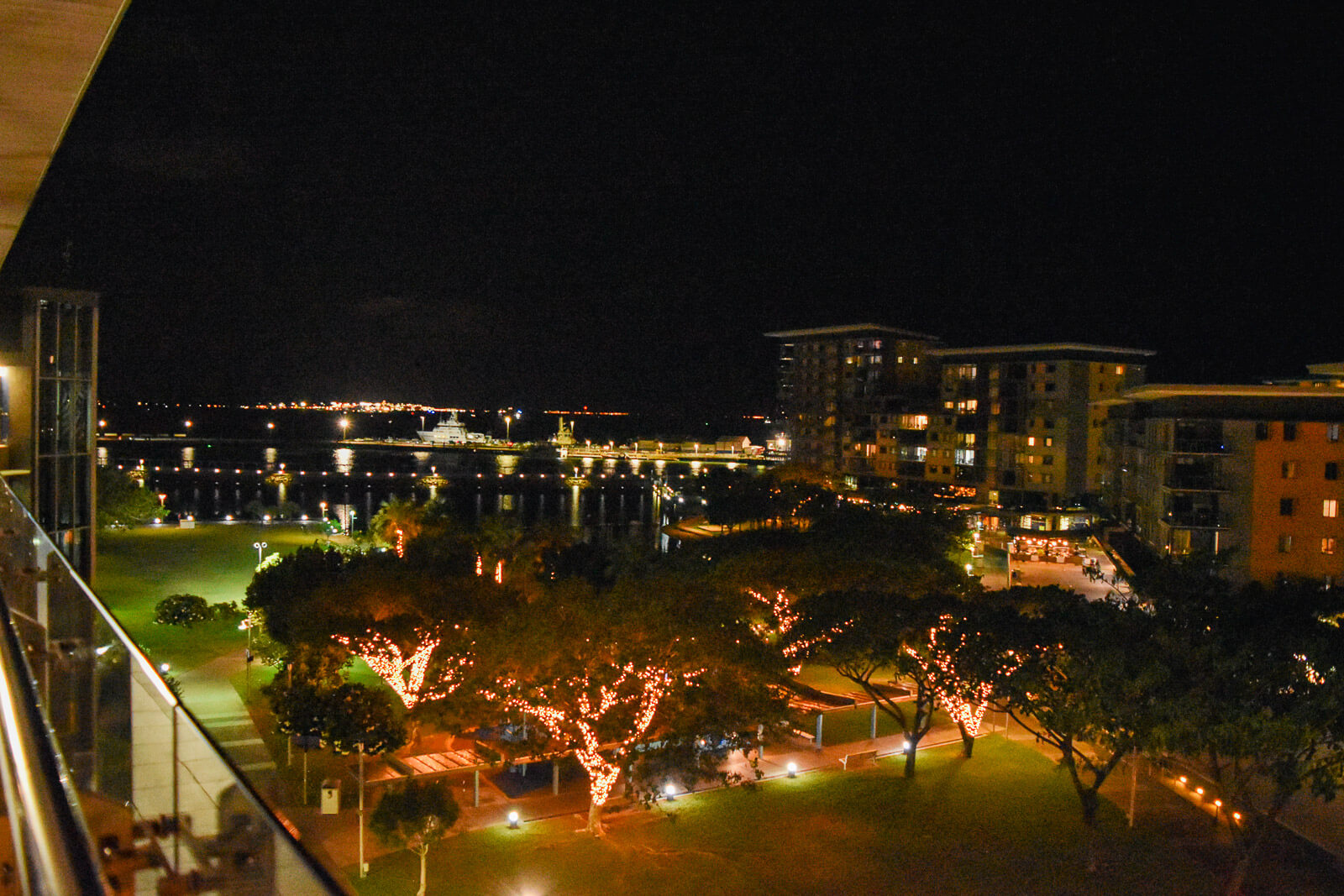 If you happen to be in Darwin on Sunday between late April and October, then instead go to Mindil Beach Sunset Markets for a delicious range of food stalls, as well as arts and crafts for sale. The markets run from 4pm – 9pm.
Head back to your hotel for your departure the next day. Instead of flying back to Sydney, we took the Ghan, a luxury sleeper train that travels through the centre of Australia down to Adelaide, which I highly recommend. You could also hire a car and drive through the red centre to Uluru and Alice Springs.
I can't wait to go back to the Northern Territory, it has such an incredible feeling about it, and the delicious food and insane scenery is a massive bonus.
FAQs