Whether you are a beginner or a veteran on the slopes, choosing a resort to visit can sometimes seem a little overwhelming. There are so many fantastic places to ski and snowboard, and many factors for choosing where to go. It may seem obvious, as one of the most famous ski areas to visit, but The Three Valleys really does live up to the hype. After 6 years of snowboarding (and 3 skiing), this was my second visit to the area, and it definitely won't be the last. So here are three reasons why you should make the Three Valleys your winter sports destination.
1. The Skiing/Snowboarding
The Three Valleys is the world's largest ski area, with more than 600km of pistes and 180 lifts. This basically means that whatever level you are at, there will be slopes to suit you (and many of them), and some fantastic off-piste too. As well as this, most of the piste is above 2500m, which means great snow.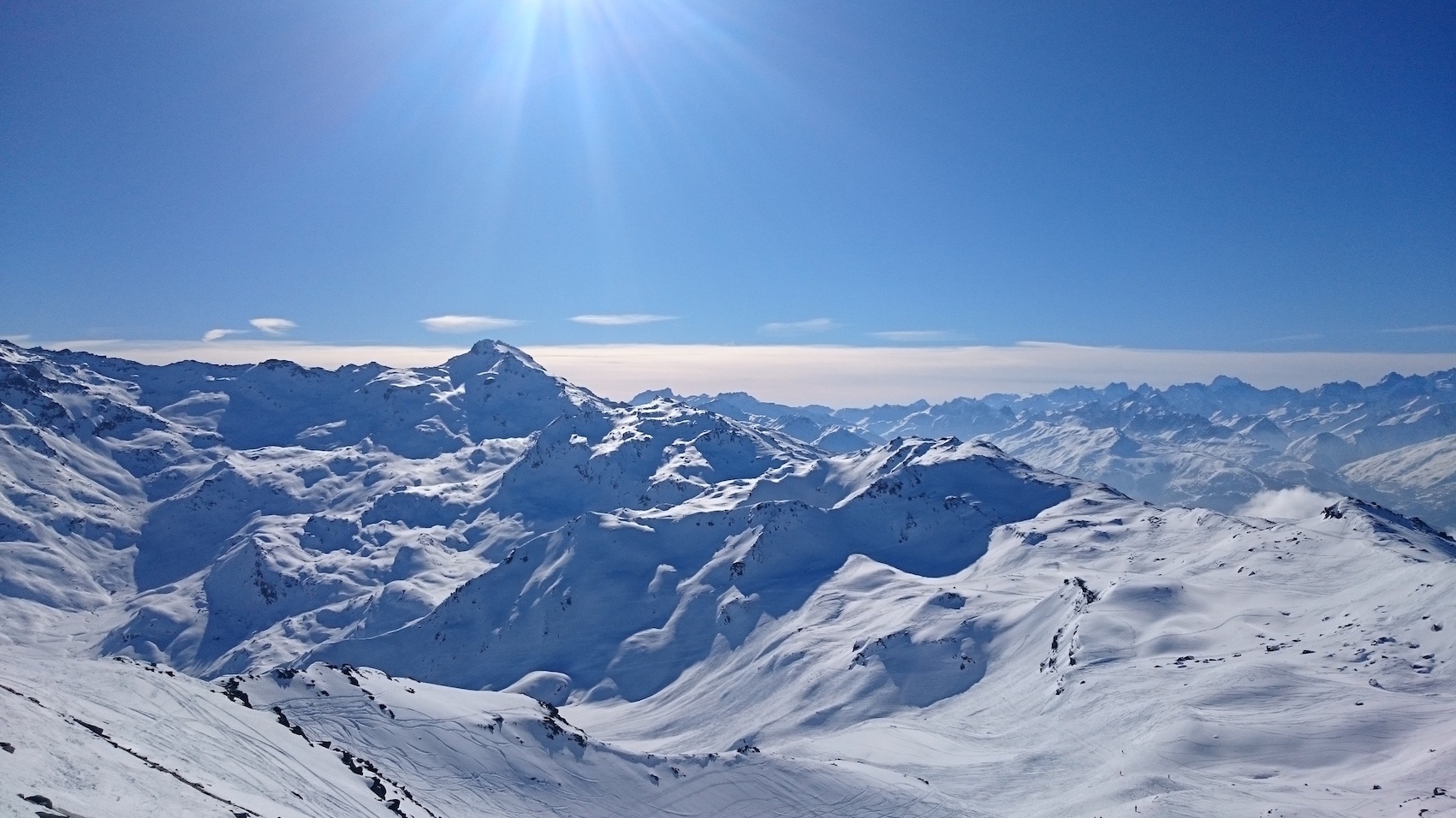 The 3 Valleys are made up of 8 resorts. The largest and best-known are Meribel, Courchevel, and Val Thorens. On my most recent trip, I was visiting with a group of 10 friends and family, staying in Courchevel. We are all completely different abilities (I like to think I'm somewhere in the middle…towards the good end!), but we all had a fantastic trip, and there was more than enough mountain to suit all of our abilities.
2. Après Ski
After a long (or short) day on the mountain, there is nothing better than grabbing a beer and reflecting on the day's events. Or better still, dancing on a table, while amazing DJs and musicians pump out music over the view of the valley below. The Three Valleys have some great bars for après ski, and I have a few definite favourites….
Now a chain of 5 bars across the Alps, there are two in the Three Valleys, one situated above Meribel and the other in Val Thorens. It really is an atmosphere like no other, particularly when the sun is shining. I've managed to visit most of La Folie Douce bars, many times, always ending up on the table, covered in champagne (the dancers spray it from the roof), dancing to some awesome music.
Further down the mountain towards Meribel, is the Rond Point. A completely different vibe to La Folie Douce, but equally great. This bar features a daily cover band (always good), and everyone generally ends up jumping and dancing around (imagine the end of a wedding but in ski gear.) Another feature of this bar is that the staff and customers often crown surf to the bar, which can be a little dangerous in ski boots, but all add to the fun!
A few other bars worth mentioning…..
The Funky Fox in Courchevel Moriand, also had some great bands and the food is good (and cheap!), and for later on in the evening, there is always French Kiss, which is more of a nightclub than a bar, but a great way to end the night (it opens until 4am).
The Food
The Three Valleys has 12 Michelin-star restaurants! Sadly, I couldn't afford to eat in any of them, however, there is so much fantastic food elsewhere. The traditional Savoyard cuisine is amazing (and very unhealthy!), and dishes include fondue, raclette and pierre chaud. We tried out all 3 in Courchevel 1850. I opted for raclette, which is a huge slab of cheese placed under a heater…as the cheese melts you slice pieces off and eat with potatoes, charcuterie and veg. The other two were slightly more meat-heavy, pierre chaud is beef cooked on a hot stone, the meat was so tender and delicious, I would definitely recommend it. And you can't really go wrong with a fondue. We had the non-cheese version, so you dipped the raw meat in hot oil to cook it. Yum!
All over the Three Valleys, the food was excellent, and everything we tried was lovely.
So if you are looking for a ski area that has everything, then look no further than the Three Valleys!
If you're a first-time skier or snowboarder, be sure to check out our beginner's guide.