I love skiing and snowboarding and have been going every year for the last 10 years. Recently a friend told me she was going skiing for the first time and it got me thinking about my first trip. It was definitely a little overwhelming knowing what to take and what to expect. So I decided to write a beginners guide for the first time snowboarding and skiing, addressed to all of you heading to the slopes for the first time!
Disclosure: This article contains affiliate links. This means that if you click a link and purchase something I've recommended I may earn a small commission. This does not affect the price you pay but helps me to run this site. You can read my full affiliate disclosure here.
What to Pack For Your First Ski Trip
First of all, you need to pack! Of all the travelling I do, I take the most stuff on a winter sports trip. (Even more than when I did a 7 month round the world trip!). There is no getting around it – you need a lot of things for skiing.
The essential items are a ski jacket and salopettes. These can be pricey, so if it's your first trip, I recommend borrowing some from friends or heading to TK Maxx or eBay, where you can get some cheap skiwear. After your first time snowboarding or skiing and once you're sure you like the experience and want to go again, then it's worth forking out on some good gear. This year I had a new Columbia down jacket, and it was so warm – I could really feel the difference.
Things To Look Out For When Buying Jackets & Salopettes
Waterproof rating: You ideally want waterproof clothing when skiing/boarding as you will want to stay dry when it snows/rains/you fall over. So look for the waterproof rating on jackets and salopettes. Go for a minimum of 5,000mm+, but ideally 10,000mm+.
Breathability rating: This is basically how easily water vapour passes through the fabric. Beginner skiers/boarders should look for 5000g+.
Material: Ski jackets will usually be insulated with down or man-made materials. Down is warmer, but isn't as good for wet weather. So it really depends on your preference (and the conditions).
Pockets: Look for a jacket with a pocket in the sleeve for your ski pass so you can easily get through the lift gates. It's also good to have an inside pocket for your valuables (phone/camera) as they are generally more secure.
Layers
Next, you need some layers to go under these. How many layers you wear will depend on how you cope in cold weather. I am always cold, so I wear more layers than most. But a good guide is a pair of leggings or thermals to go under the salopettes and then 1-3 layers on your top half (a thermal vest, a sports top and at least one top with long sleeves). Girls – wear a sports bra – you will need it!
Then you need some socks. Definitely buy a pair of ski/snowboard socks. The last thing you want is uncomfortable feet – as this will really affect your performance on the mountain. You can get a decent pair for £10 – £20.
Ski Safety
Another important thing to think about is body protection – you will be more likely to need this if you are snowboarding rather than skiing, as on the first time snowboarding you are going to fall over a lot more (and in general snowboarders spend more time on their bums!). I wear kneepads and a pair of padded shorts (I'm a wimp), but they definitely help when you fall. Most importantly, whether you ski or snowboard – wear a helmet! I can tell you from first-hand experience, that skiing can be dangerous so it's really important to protect your head (my sister had a head injury a few years back – luckily she is fine but it was a scary few days). You can hire helmets in the resort, rather than buying them when you start out. And make sure you wear sunscreen – it's easy to get burnt on the slopes and no one wants the panda look!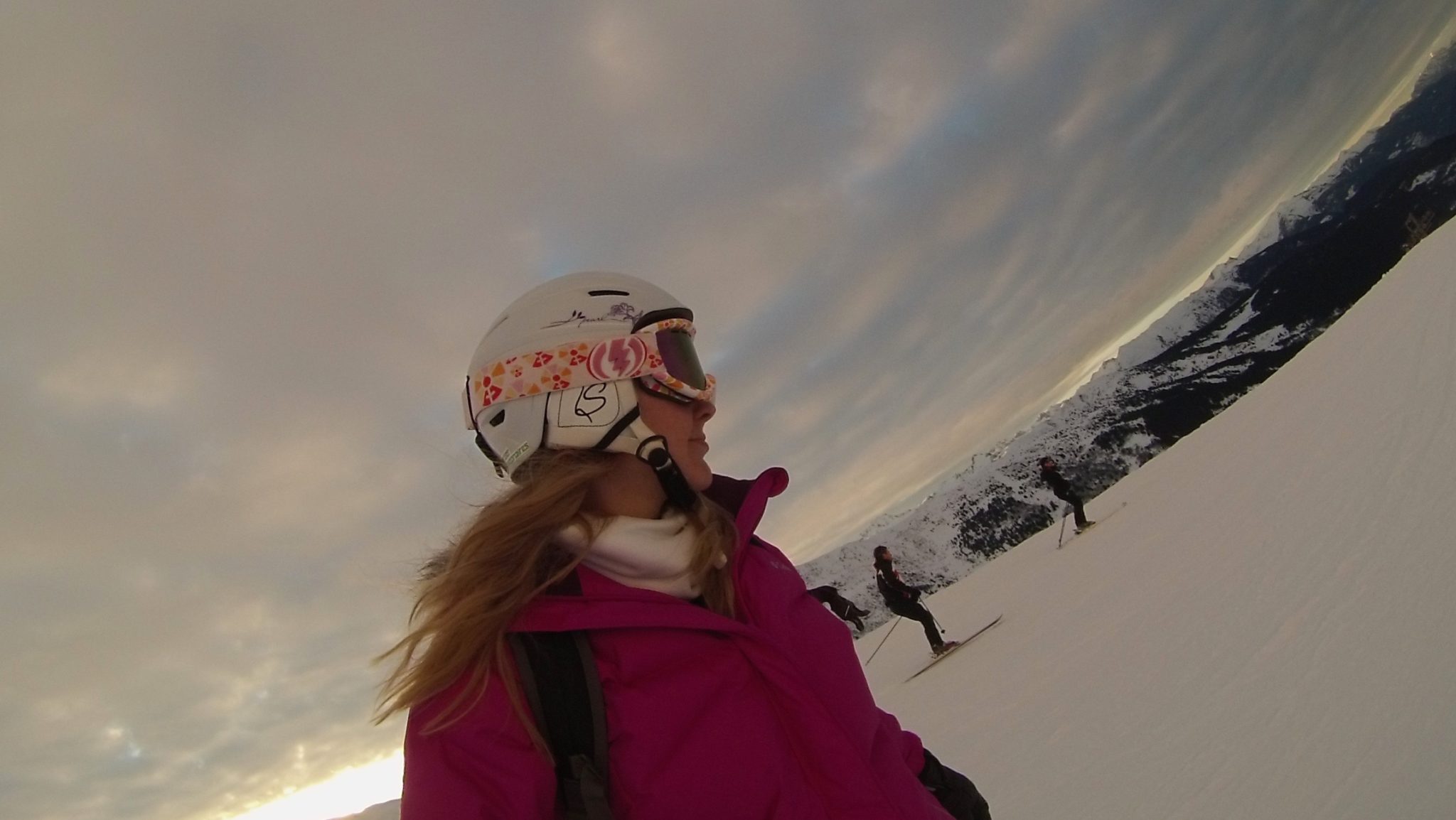 Goggles Or Sunglasses
To protect your eyes (and to see!) you will need a pair of goggles or sunglasses. I prefer goggles as they keep the snow and wind out. These come in varying styles and price ranges, but again TK Maxx is a cheap bet if it's your first time. Now that I go every year, I have goggles with interchangeable lenses – for both low light conditions (cloudy/snowing) and sunny.
Mittens Or Gloves
Finally, you will need mittens or gloves. For me, this is one of the most important things, as I get very cold hands. So I have a pair of cosy down mittens that I love.
Equipment for the First Time Snowboarding or Skiing
You can hire snowboards, skis, poles and boots in resorts and I would highly recommend doing this if it's your first time snowboarding or skiing. Once you're sure you want to return to the slopes, then it's worth investing in your own gear.
Daypack Essentials
Now you've got your gear sorted and you're ready to head to the mountain! But first, it's worth taking a few things in your pocket/backpack for a days skiing:
SPF lip balm – to protect your lips from the sun and cold.
A hat – I always take a hat with me so that when we stop for lunch/a drink I can take my helmet off but keep my head warm!
Water – you're exercising so make sure you stay hydrated.
Energy/cereal bar – good for a quick snack between runs on the ski lift.
European Health Card – In case you have an accident – this will cover some of the medical fees (if you are a European citizen). Don't forget to get travel insurance too!
Credit card – Again in case you have an accident – my sister had a ski accident last year and we had to pay for the ambulance en route to the hospital (and it wasn't cheap).
Cash – Not all restaurants accept credit cards.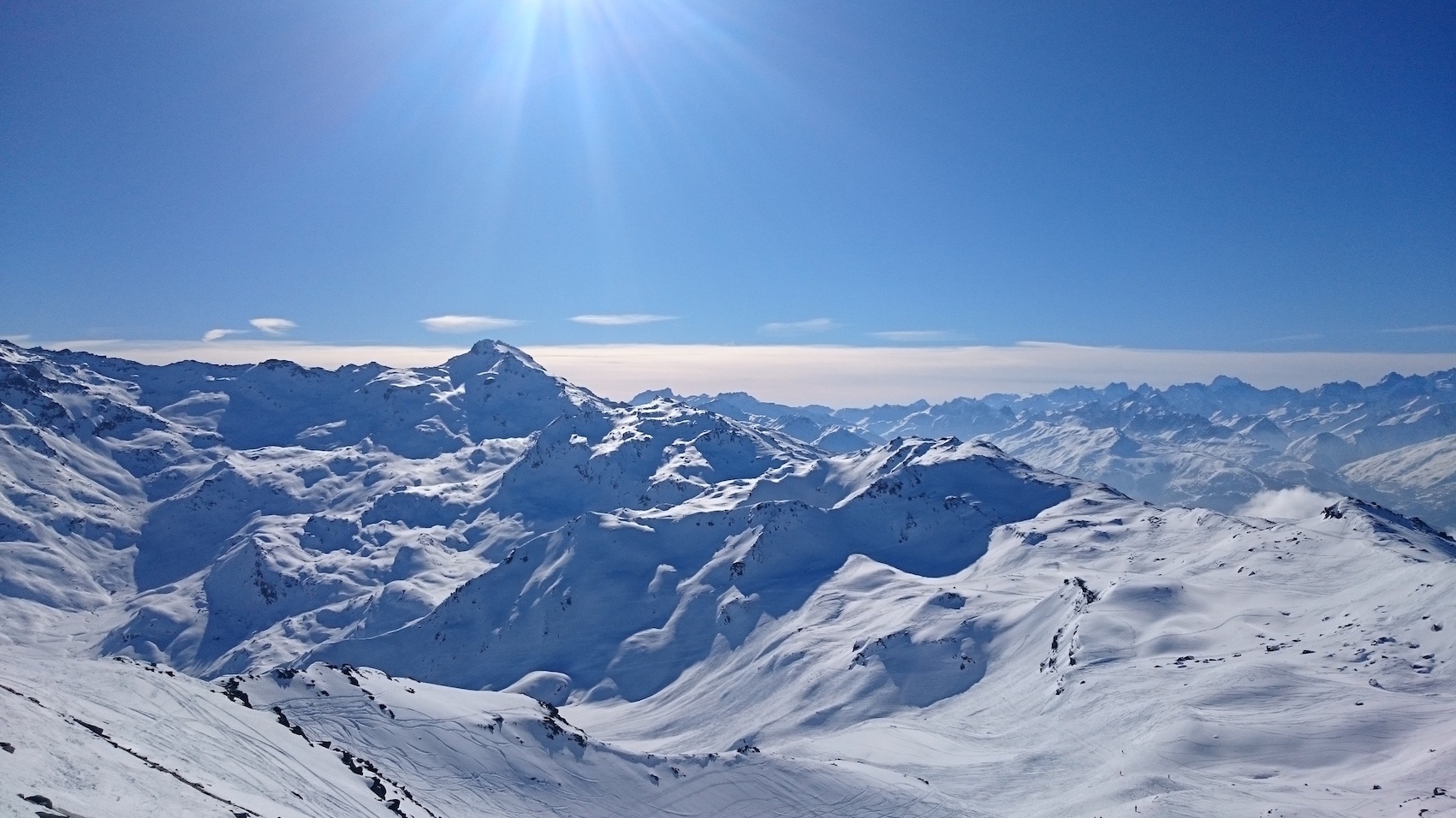 Pre-Trip Excercise
It's a good idea to do a bit of exercise in the weeks leading up to a ski trip, as it can be pretty tiring. Some squats and lunges will definitely help. But you will probably find during your first week that you feel pretty achy and may want to take an afternoon off. If so, there are usually plenty of other activities in the resort to entertain you for an afternoon.
Ski Resort Spas
A Spa is an excellent option to help ease muscle fatigue and most resorts have at least a couple of spas to choose from. On my recent trip to Meribel, I visited the spa at the Hotel Alpen Ruitor for an afternoon, which was great. If you want treatments, it's a good idea to book a few days in advance, as everyone has the same idea towards the end of the week!  They also do a lovely afternoon tea.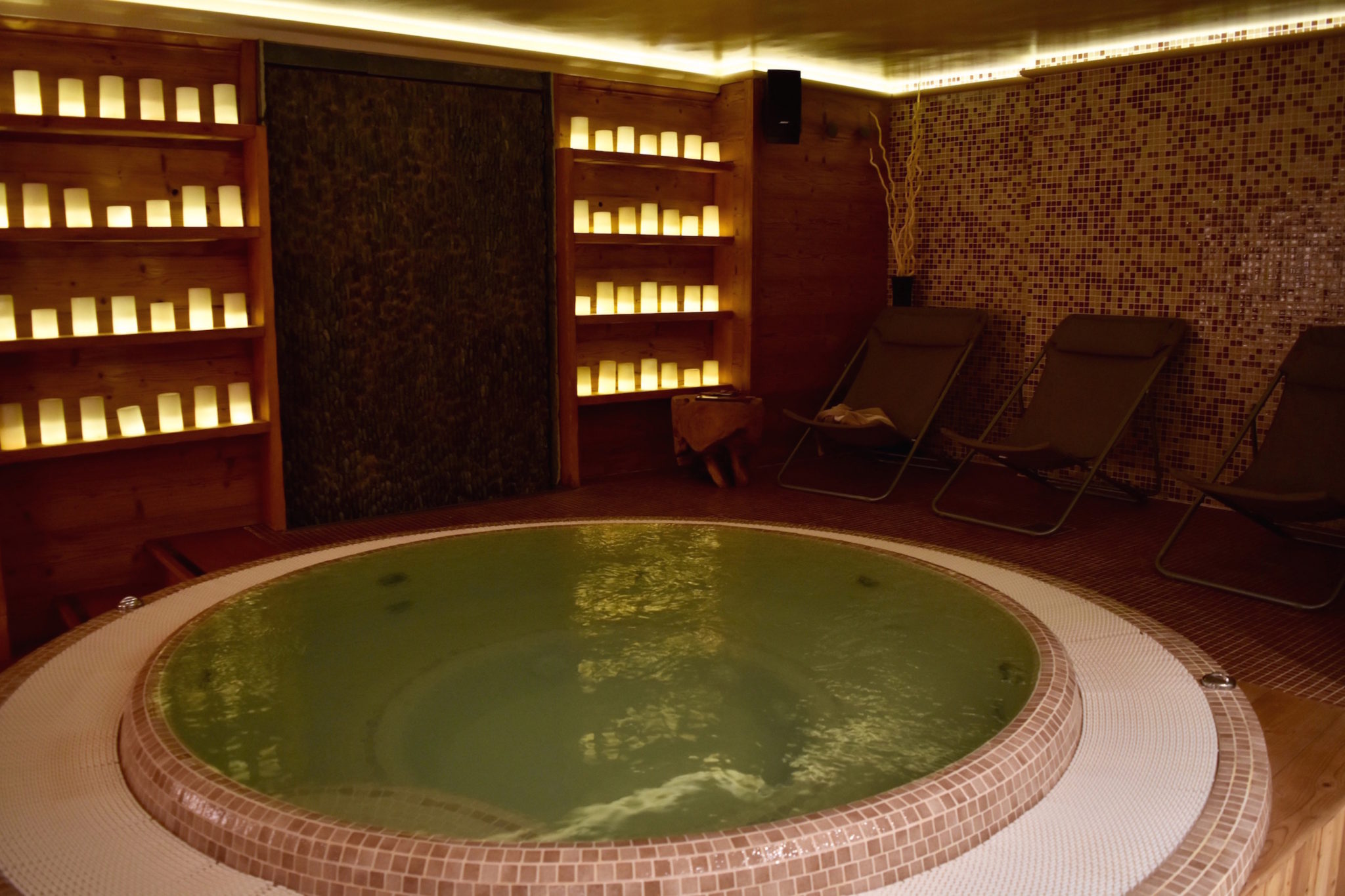 Shopping
I also like to spend a couple of hours wandering the shops in the resort. You can usually get some great local produce to eat/drink/bring home, including some delicious cheese!
Ski Terminology
Finally, there is the skiing lingo. Here is a quick guide to the language of the slopes:
Après or Après Ski – Literal translation 'after ski', this is going to bars and drinking after a days skiing.
Piste – The runs on the mountain that are categorised by colour.
Green – a very flat run, ideal for your first time snowboarding or skiing and kids.
Blue – slightly more advanced than green but great for beginners/intermediates.
Red – Pistes for more advanced skiers/snowboarders.
Black – Pistes for really advanced skiers – usually very steep and often with lots of moguls.
Moguls – mounds of snow on the piste formed by skiers pushing the snow as they turn.
Off piste – skiing/boarding off the pisted area. Not all insurance covers this, so check before you go.
So that's it! Now you should be fully prepared for your first snowboarding or skiing trip and ready to enjoy the mountains!