Ever since I saw a photo of a cenote for the first time, I've been desperate to travel to the Yucatan Peninsula in Mexico. They just look so beautiful, and I'm a massive water sports and diving enthusiast, so was eager to experience them in real life. My husband and I travelled coast to coast in Mexico for over 2 months – it was a dream trip and I would highly recommend it to anyone. We ended the trip in the Yucatan Peninsula and went on a mission to explore as many cenotes, diving spots and underwater experiences as we possibly could, along with Mayan ruins, beaches and of course, plenty of tacos, in the ultimate Yucatan road trip.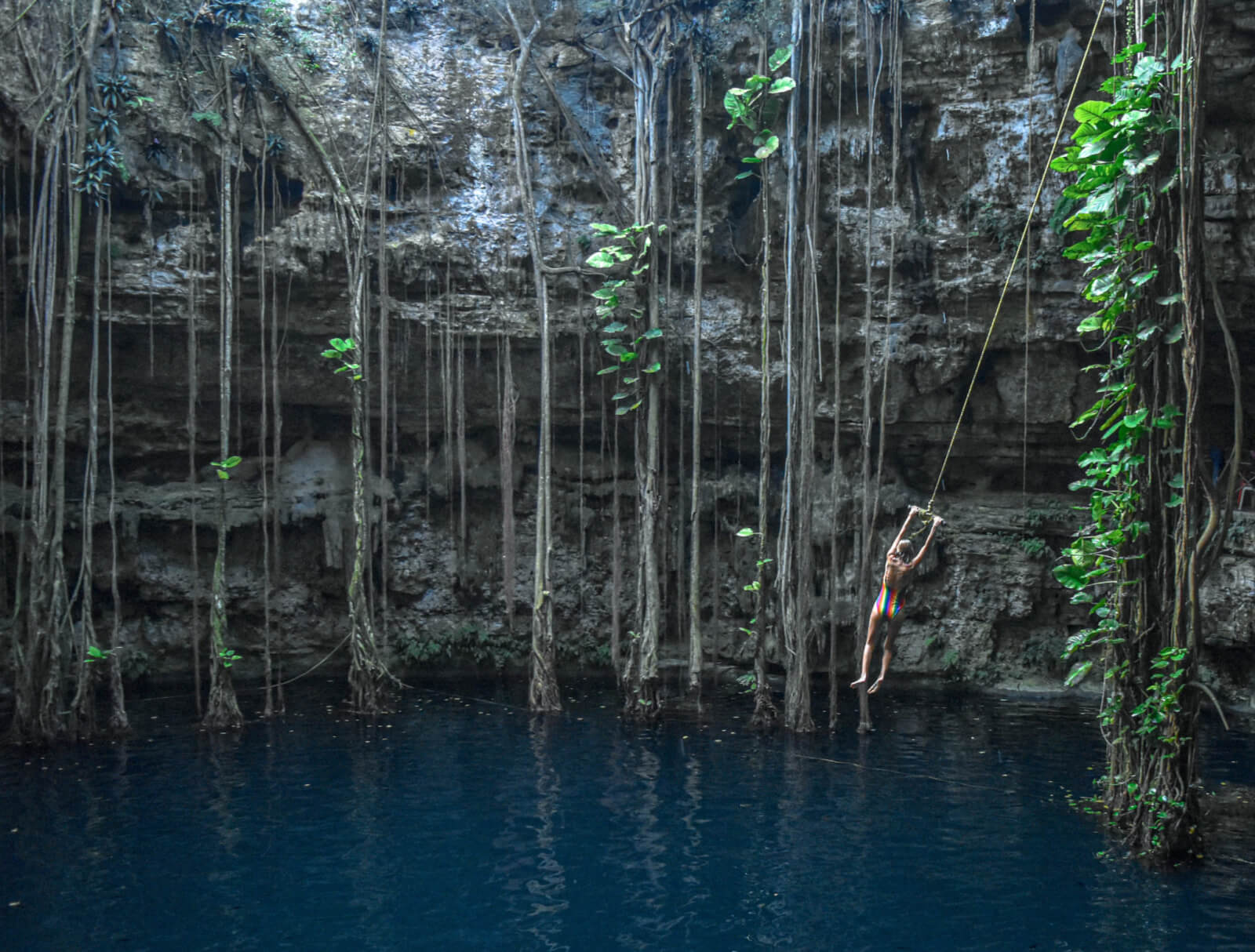 Disclosure: This article contains affiliate links. This means that if you click a link and purchase something I've recommended I may earn a small commission. This does not affect the price you pay but helps me to run this site. You can read my full affiliate disclosure here.
The Yucatan Peninsula is made up of three states; Quintana Roo, Yucatan and Campeche, and this road trip covers all three to some extent over two or three weeks. If you would like to incorporate other parts of the country into your Mexican holiday, check out our 3 week Mexico itinerary, which includes Mexico City and Oaxaca too.
Read our 3 Week Mexico Itinerary
Driving in the Yucatan Peninsula
You may have concerns about driving in Mexico, and we didn't originally plan to do a road trip at all, having bussed our way all the way from the east coast to Merida. However, driving in the Yucatan Peninsula is quite different from driving in other parts of Mexico and is generally considered safe. Roads are in good condition and most people drive safely and courteously (I've experienced much worse in Italy – sorry Enrico!).
Seeing as there are so many beautiful cenotes to explore, having a car gives you so much more freedom than relying on buses and tours, so after some research, we decided to hire the car to travel in Yucatan and I'm so glad we did.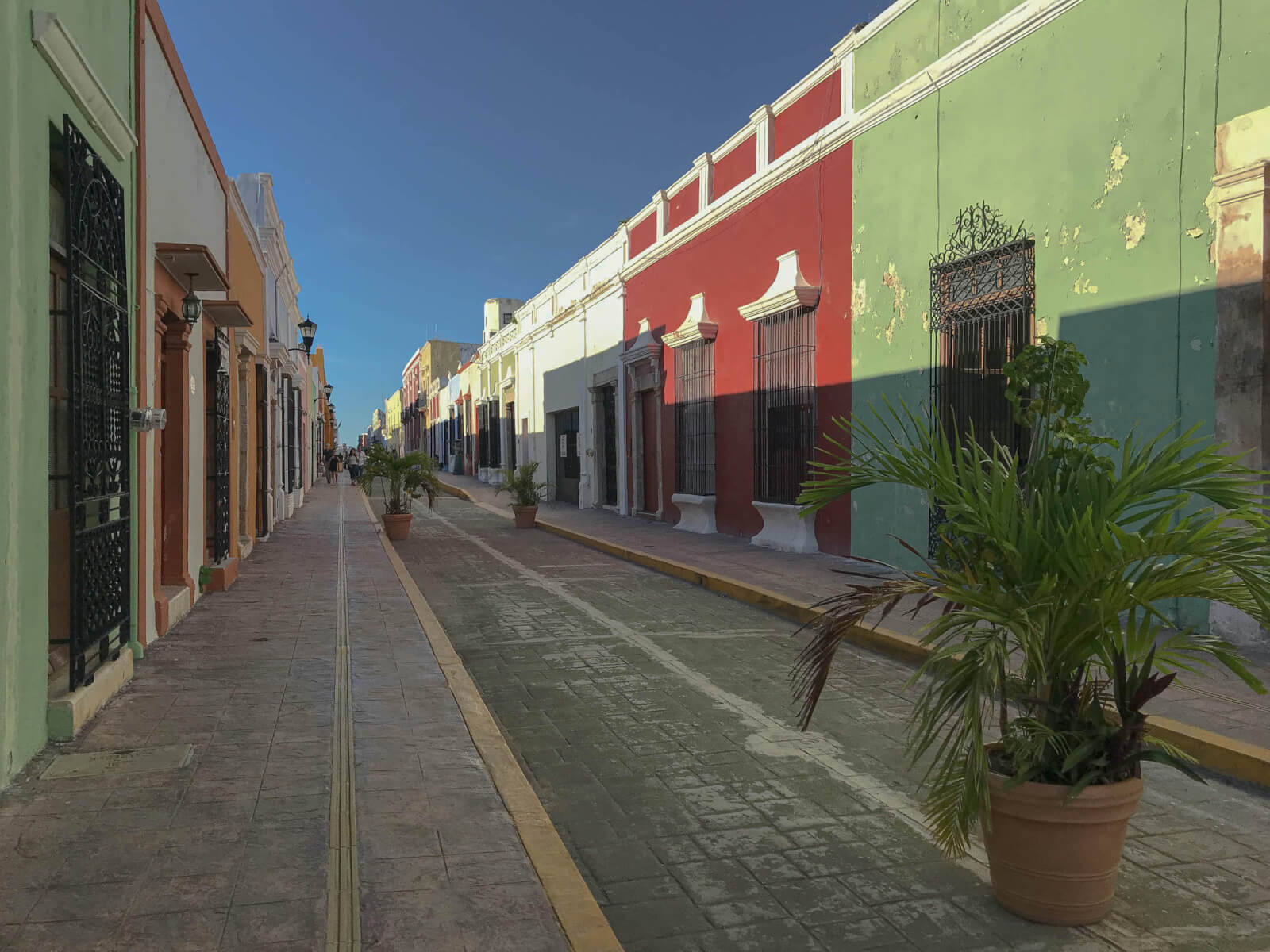 A few things to know about driving in Mexico:
It is a legal requirement to have liability insurance. This is not the same as travel insurance and can be purchased from the hire car company. You could end up with a lot of problems if you do not have this.

If you were to be involved in a crash, you must not move the car. Wait for the police to arrive and you will be provided with an attorney via your insurance who will deal with the legal stuff for you.

There is a free breakdown service called Ángeles Verdes (Green Angels), they patrol the highways but you can also call them on 078.

Watch out for topes. These speed bumps are everywhere in the Yucatan Peninsula and they are worse than they look. Make sure you slow down for each one so you don't end up bashing the front of your hire car!

I really recommend downloading offline maps on Google Maps – there are lots of one-way roads in the towns and cities and this will help you avoid getting lost or caught in the wrong street!

We read a few things about scams at petrol stations, particularly around Cancun and Playa Del Carmen. We didn't experience this, but it's worth reading this guide to

avoiding scams

before you go.
---
Yucatan buses
If you're not keen on driving, it's easy to get around the Yucatan by bus. We travelled with most of the Mexican bus operators during our Mexico trip including ADO and Primera Plus, which operate in the Yucatan. You can buy tickets at the bus station or online. I found this article very useful for bus info (and also hilarious). We booked the majority of our tickets through Busbud.
Now onto the fun part! The Yucatan road trip!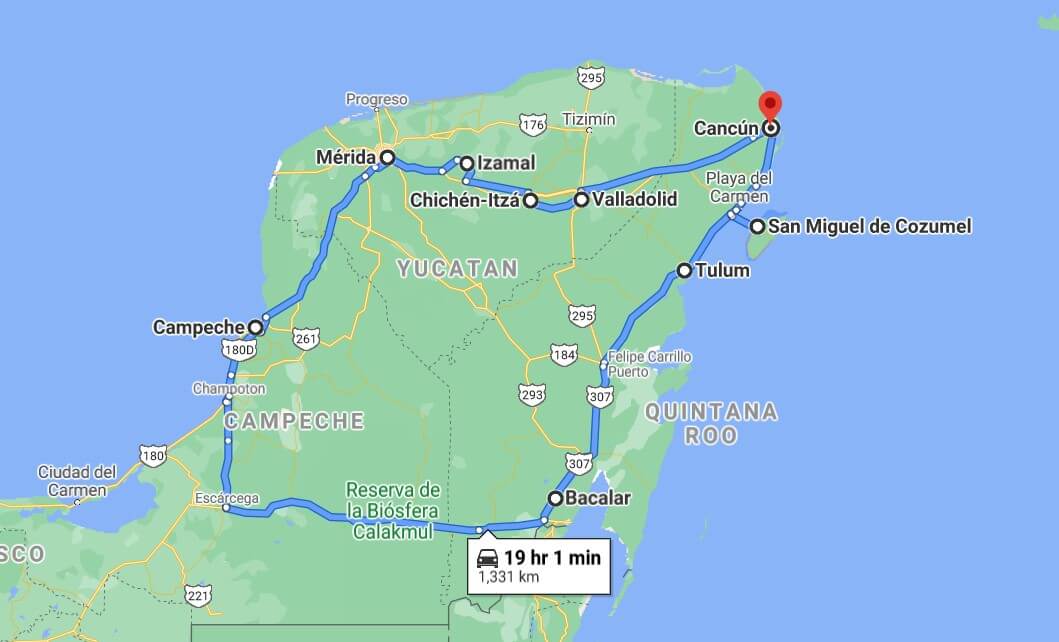 3 Week Yucatan Itinerary
Day 1 Cancun to Valladolid
Day 2 Valladolid to Chichen Itza
Day 3 Chichen Itza to Izamal
Day 4 Izamal to Merida
Day 5 Merida
Day 6 Merida to Campeche
Day 7 Campeche
Day 8 Campeche to Bacalar
Day 9-10 Bacalar
Day 11 Bacalar to Tulum
Day 12-13 Tulum
Day 14 Tulum to Cozumel
Day 15 Cozumel
Day 16 Cozumel to Cancun
Day 17 – 21 Cancun/Holbox/Isla Mujeres
2 Week Yucatan Itinerary Option
It's possible to condense this Mexico itinerary into 2 weeks by not spending a night in Izamel and stopping for a few hours en route to Merida, then skipping Campeche and travelling straight from Merida to Bacalar, and then missing the days in Holbox and Isla Mujeres at the end.
Cancun – Collect Hire Car
Unless you're coming from the West of Mexico as we were, it's likely that you will start your trip in Cancun – which has the largest international airport. From here you can travel in a loop (technically a triangle), ending back in Cancun for your return flight. Depending on where you're flying from I suggest collecting the hire car and heading straight off on your journey. However, if you've had a long-haul flight you may wish to spend a night here to acclimatise.
Cancun to Valladolid – 161km / 1 hour 45 minutes
Valladolid – 1 Night
Head straight to Valladolid! I loved this little town. It has a beautiful Zocalo (main square) and colourful narrow streets. It's a really good base for cenote exploration as they are plenty on the outskirts of the town. Most cenotes have a fee to enter, which is usually around $100 pesos. Although we did encounter some as much as $350.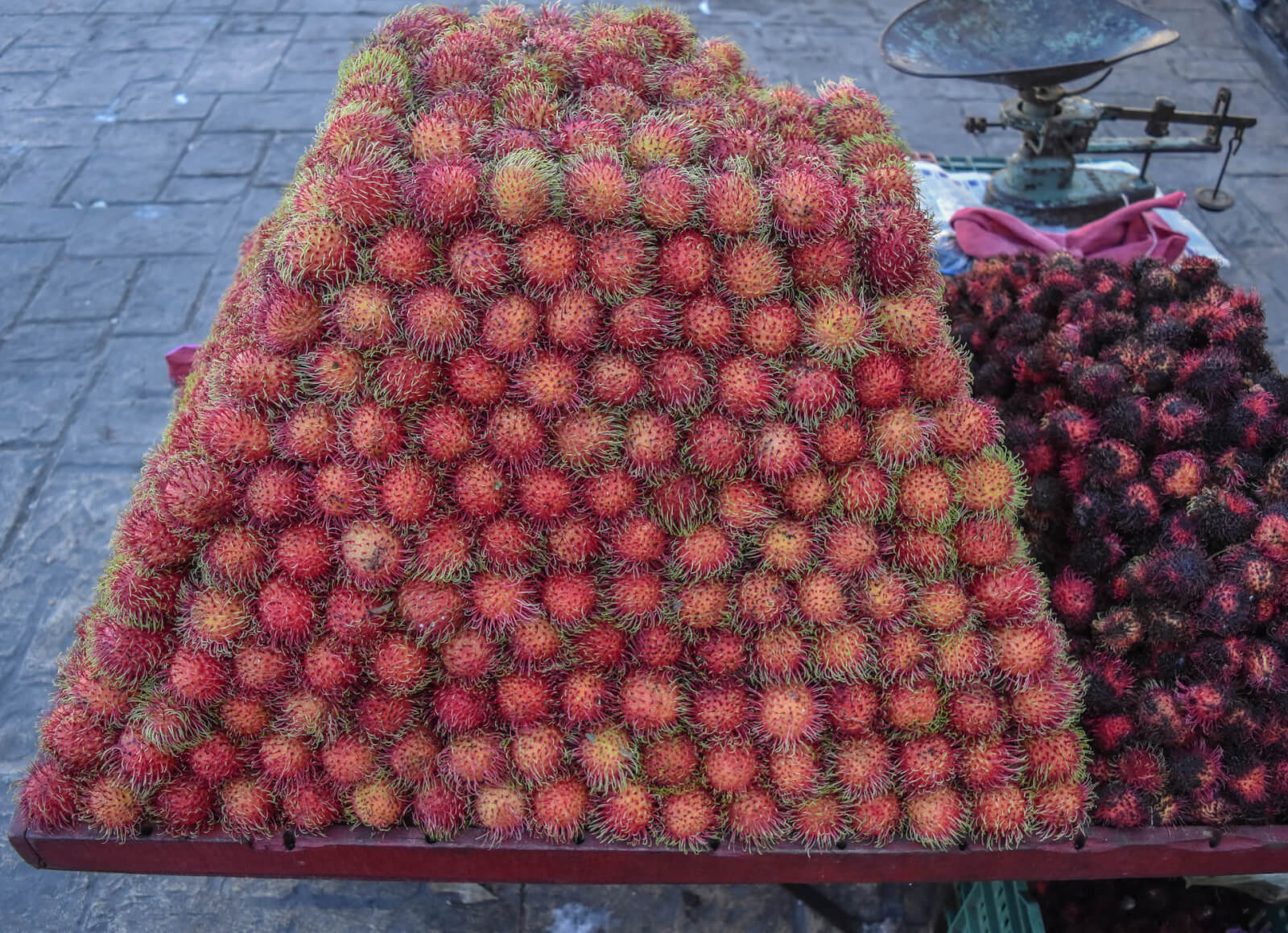 Find accommodation in Valladolid
Cenote Oxman
This was probably my favourite of all the cenotes we visited – the main reason being that it has an awesome rope swing. It's a beautiful cenote and if you're not keen on the swing there are steps to climb down and have a swim. But I highly recommend you try it!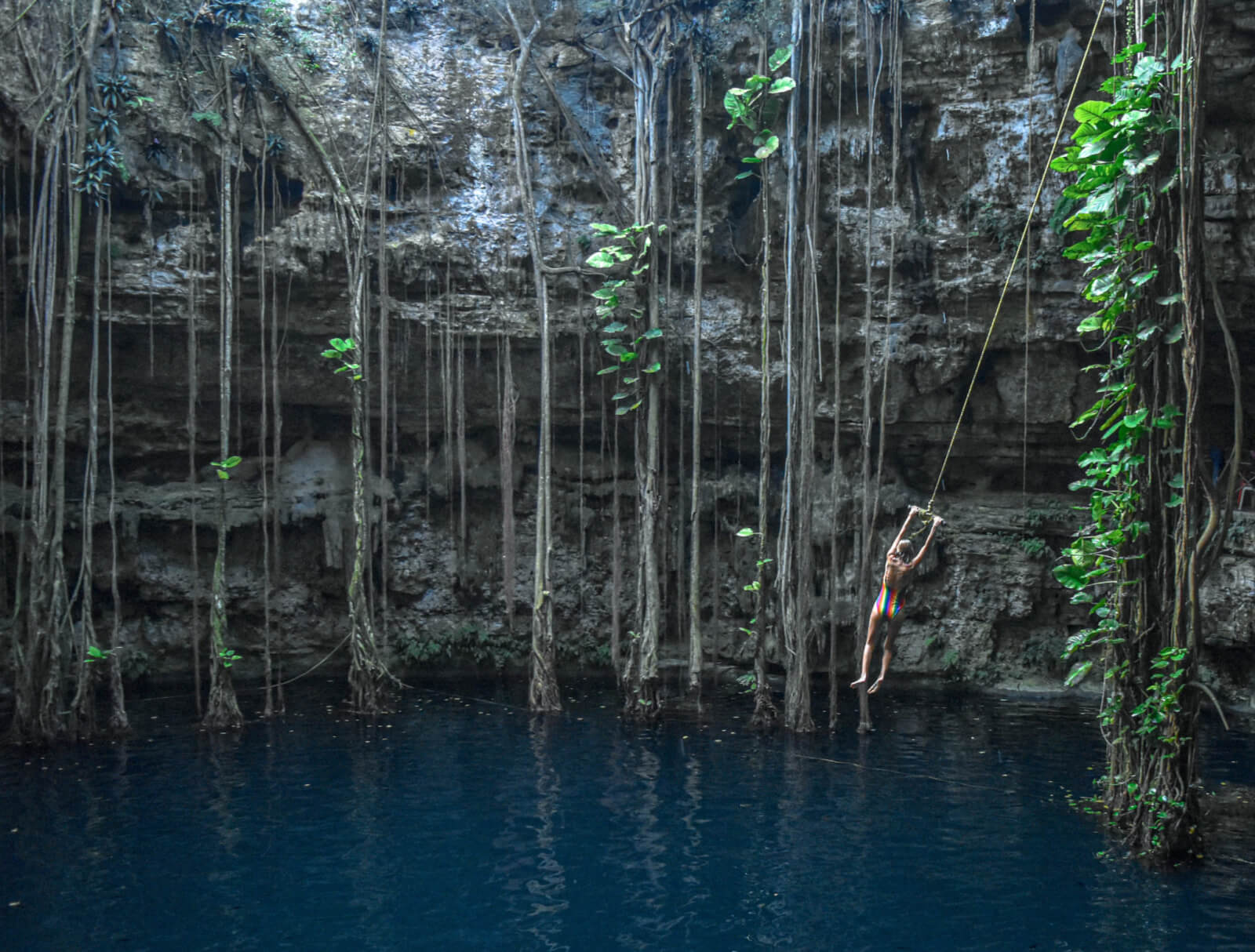 Cenote Suytun
You're likely to have seen pictures of this cenote on Instagram, as it has an incredible photogenic platform, with a beam of light shooting down from above. It is beautiful, but as with many things that have been shared on social media – it's popular. You'll find queues of people waiting to post on the platform which sort of spoilt the whole thing for me. (I obviously still had a photo though!) The water is actually pretty shallow here, so it's not really the best for swimming, so of all the cenotes we visited I would say this was my least favourite, but if you have time, it's still worth a visit.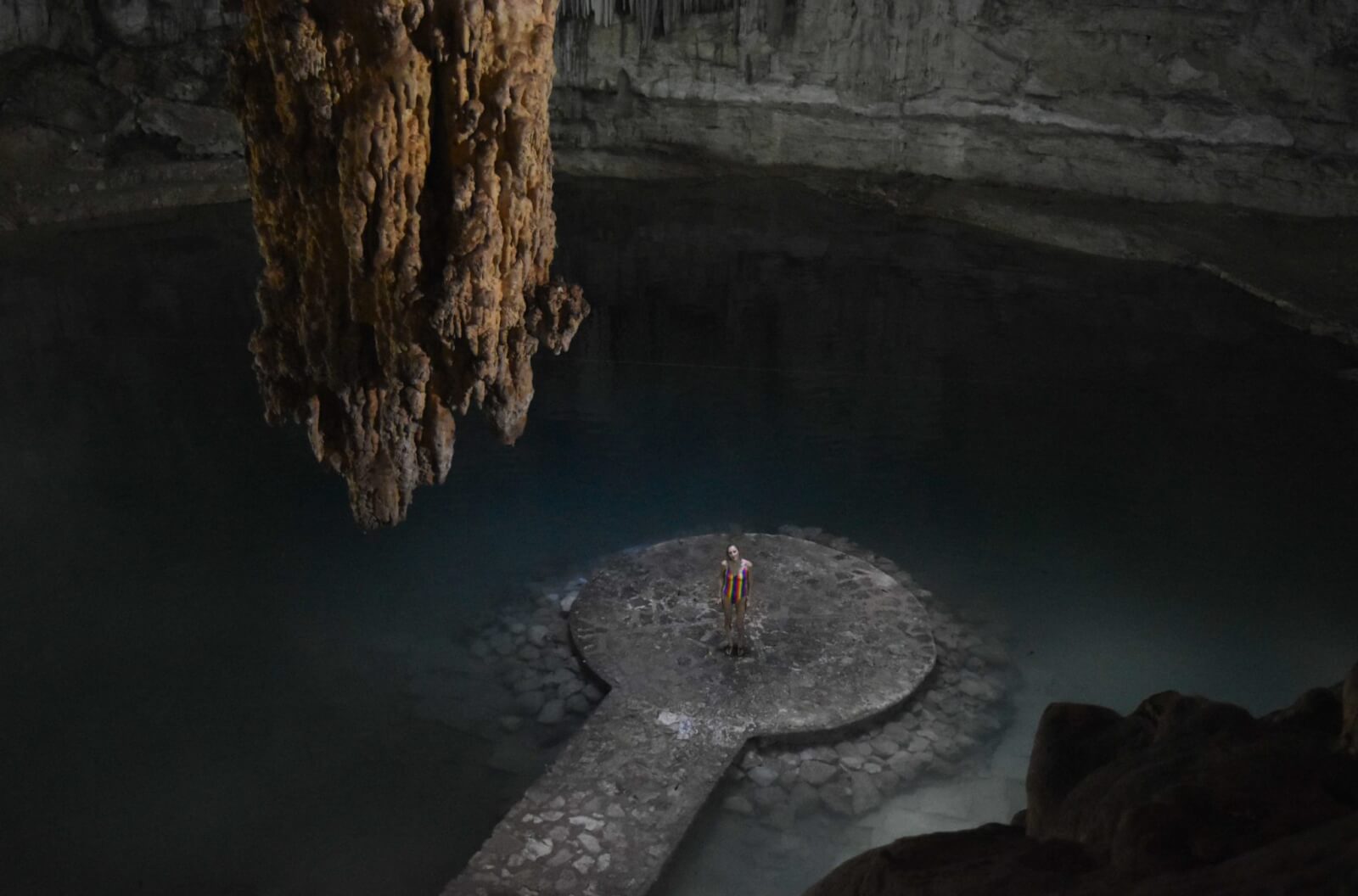 Where to Stay in Valladolid
Budget – Hotel Casa Rico is a 2-star accommodation with a terrace, shared lounge and swimming pool. Rooms have private bathrooms. There is free street parking nearby.
Mid-Range – 4-star Hotel Colonial Zaci has a shared garden, lounge and terrace, located a block from the Zocalo. There is free private parking.
Luxury – Hotel Mesón del Marqués is set in a Colonial 17-century house next to Francisco Cantón Park in the centre of Valladolid. The 5 star hotel has an à la carte restaurant, outdoor pool and free parking.
Find accommodation in Valladolid
---
Valladolid to Chichen Itza – 53km / 50 minutes
Chichen Itza – 1 Night
Although there isn't much around and in the nearby town (Piste) of Chichen Itza, I still recommend staying the night. We were advised to do this and I'm glad we did. It means you can get up super early and get to the temples before they open – and be the first in. Chichen Itza is one of, if not the most popular tourist attraction in Mexico and it gets busy. Arriving early you can explore some of the temples without other people and really feel the spirituality of the place (and of course get photos without hundreds of people in them!).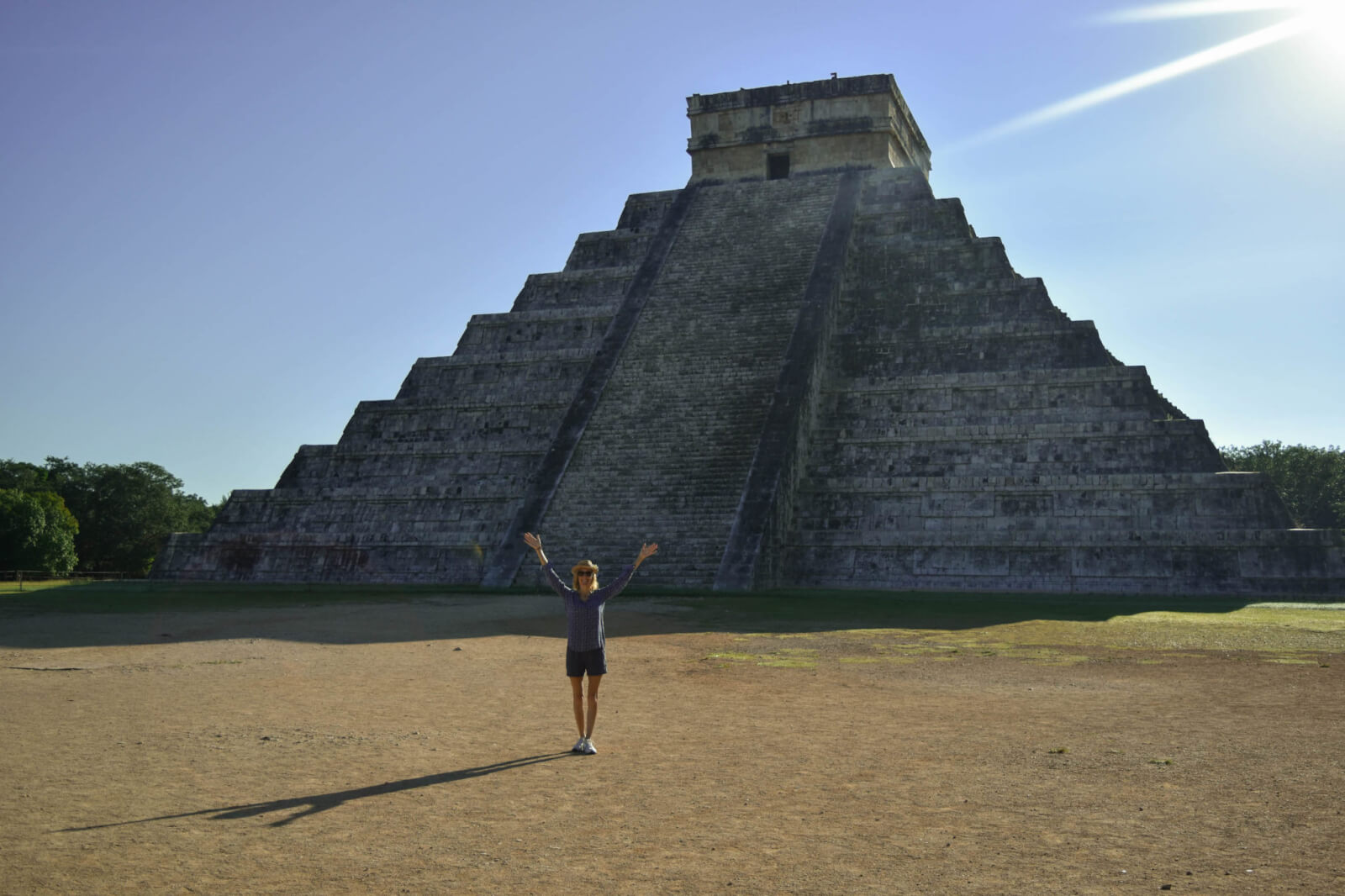 Where to Stay in Chichen Itza
Budget – La Casa de las Lunas is a simple accommodation with a pool in nearby Piste (a 4-minute drive to Chichen Itza). There is free parking and restaurants nearby. We stayed here and it was perfect for a short stay.
Mid-Range – Villa Arqueologicas Chichen Itza is one of the closest hotels to Chichen Itza and is located within the archaeological site. It is surrounded by beautiful forest and with gorgeous outdoor pools and a spa. There is a restaurant and bar on-site and free parking.
Luxury – Hacienda Chichen Resort and Yaxkin Spa is an eco-friendly resort located next to Chichen Itza and even has a private entrance into the Mayan city. There is an outdoor swimming pool, a spa, a restaurant serving organic Mayan Fusion cuisine and free parking.
Find accommodation in Chichen Itza
Chichen Itza to Izamal – 70km / 1 hour 6 minutes
Izamal – 1 Night
If you're short on time you don't necessarily need to stay a night in Izamal, however, I do recommend it. It was one of the most relaxed places we stayed and I also had the best Margarita of our entire Mexico trip at our hotel here (reason enough!). Izamal is famous for its beautiful yellow Franciscan monastery, as well as for being an important place of worship for the Mayans. It has beautiful cobblestoned streets and quaint little shops.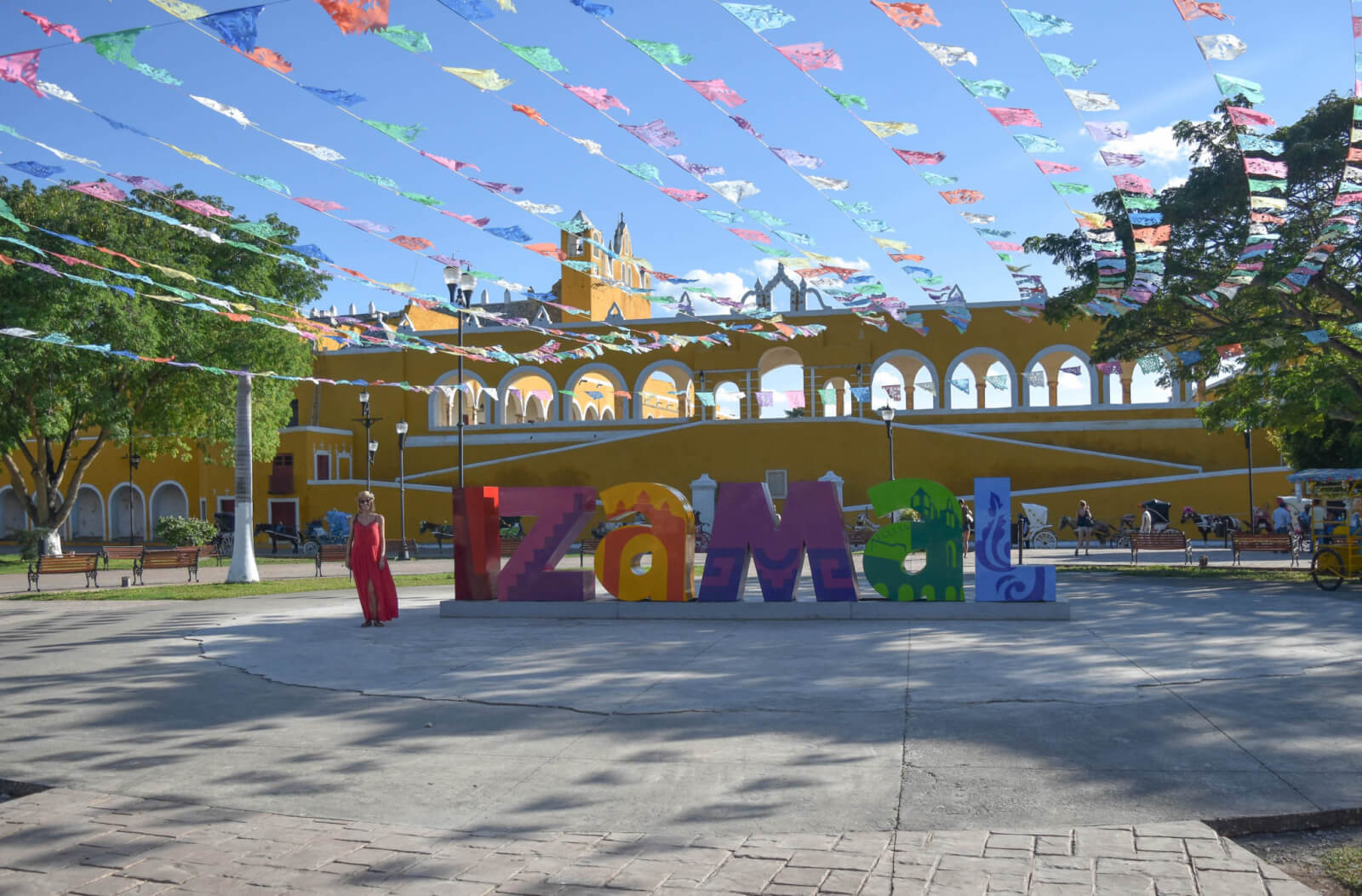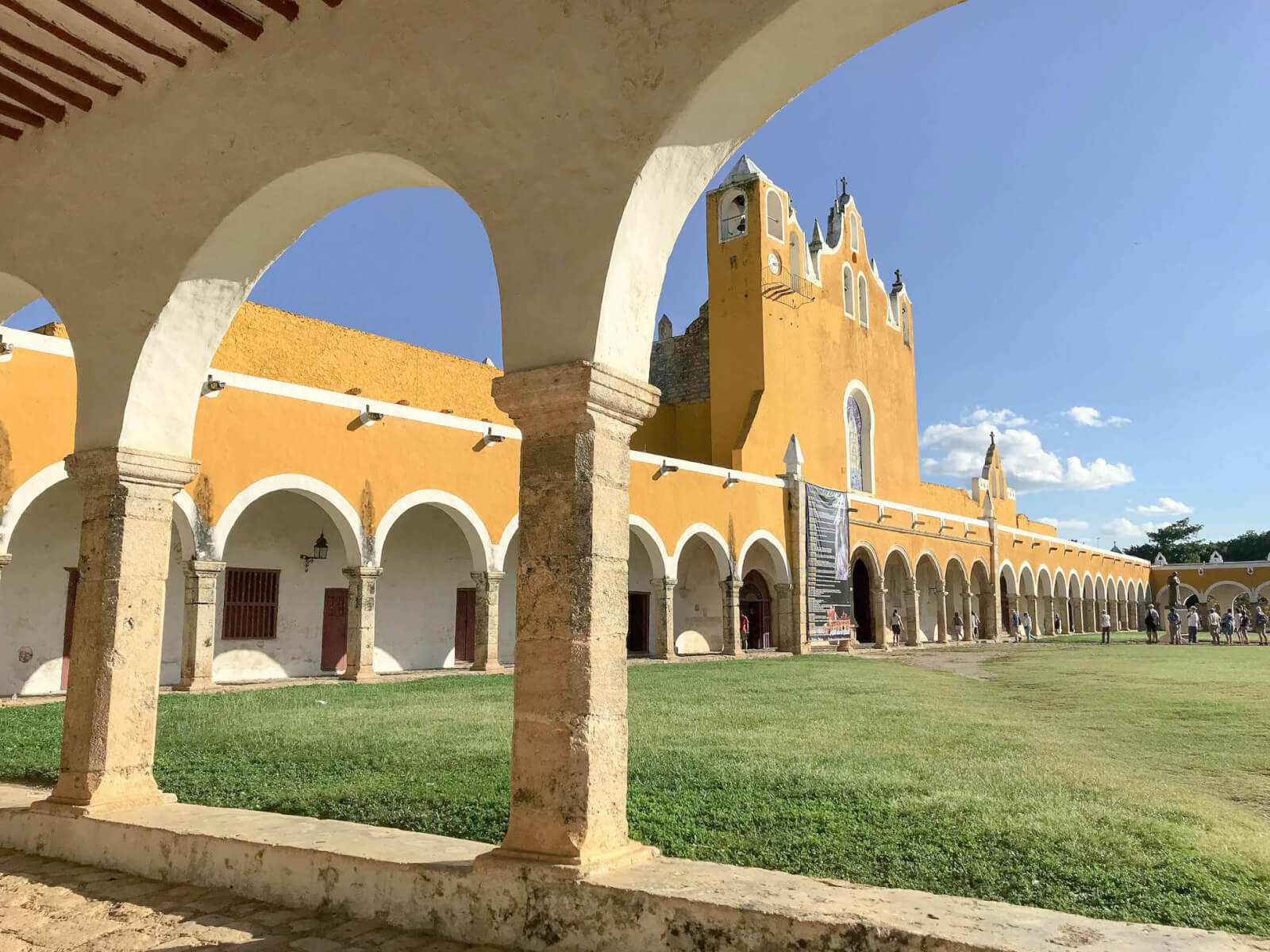 Sleep – we stayed at Macan Ché, which has small bungalows set in gardens with a rockpool-styled swimming pool. Make sure you order a Margarita!
Izamal to Merida – 67km / 1 hour
Merida – 2 Nights
I'd read a lot about Merida and was excited to visit. I was expecting a cool bohemian town, and I was a little disappointed when I arrived, to be honest. It's actually a very busy and large city, and after travelling through some of the lovely towns beforehand, we found it a bit hectic.
Having said that, there is a lot to do and see in and around this city, This is another great base for exploring cenotes. If you do have a car – great – you can explore these on your own. If you don't, then you can join an organised tour bus that will take you to two or three cenotes for the day.
Cenote Canunchen
This was another favourite of ours, and it also had a rope swing. It was more of a cave-type cenote than the others, making it dark and a bit ethereal. It wasn't too deep and you could dive down and see the tunnels leading to other cenotes.
Note: Never try and swim through the tunnels – some go on for miles and divers and swimmers have died exploring these. If you want to dive a cenote go with an experienced guide.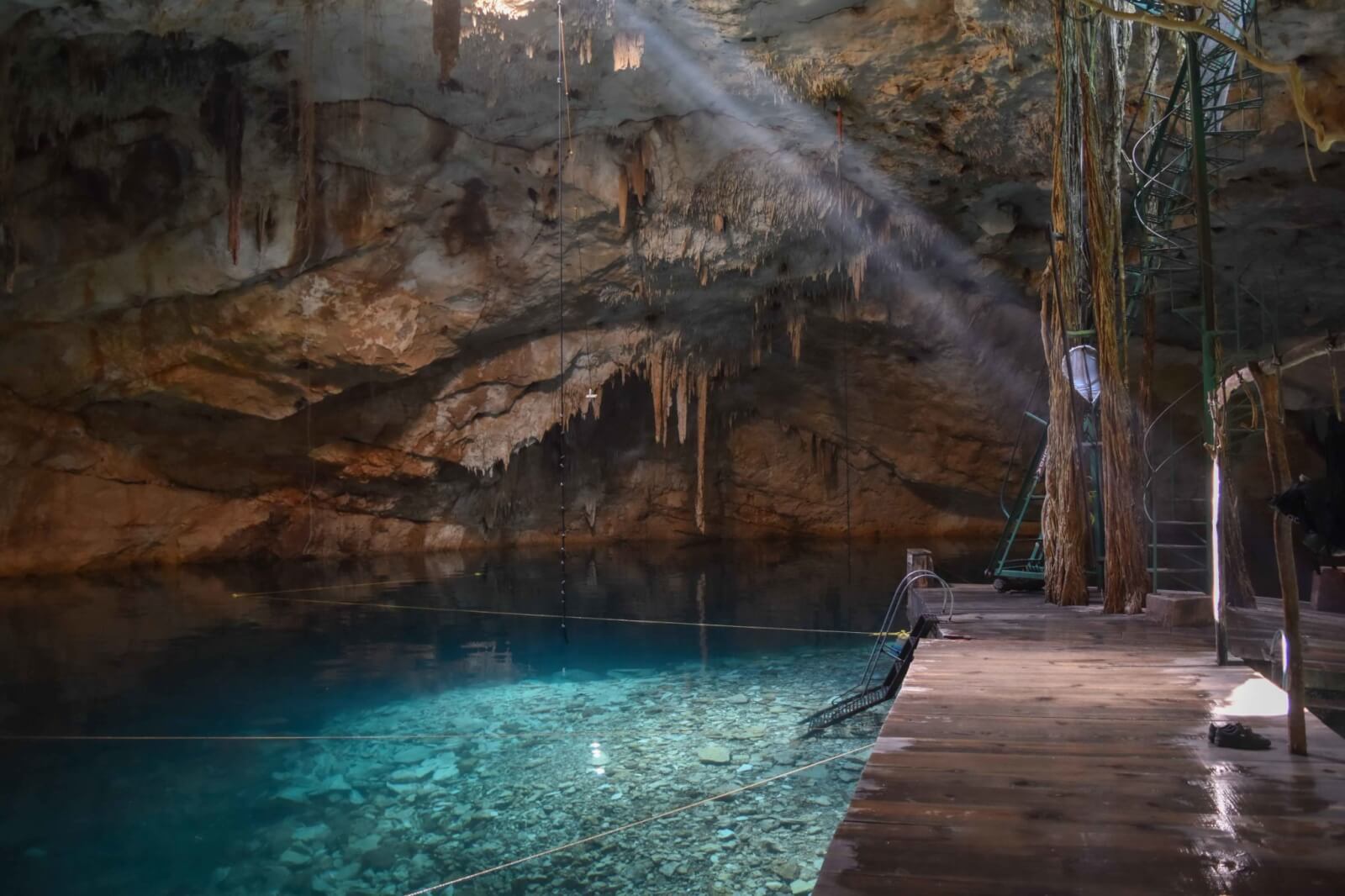 Cenote Tres Oches
This one is a deep and narrow open cenote, accessed by a wooden ladder. It was pretty busy when we visited but a lovely spot.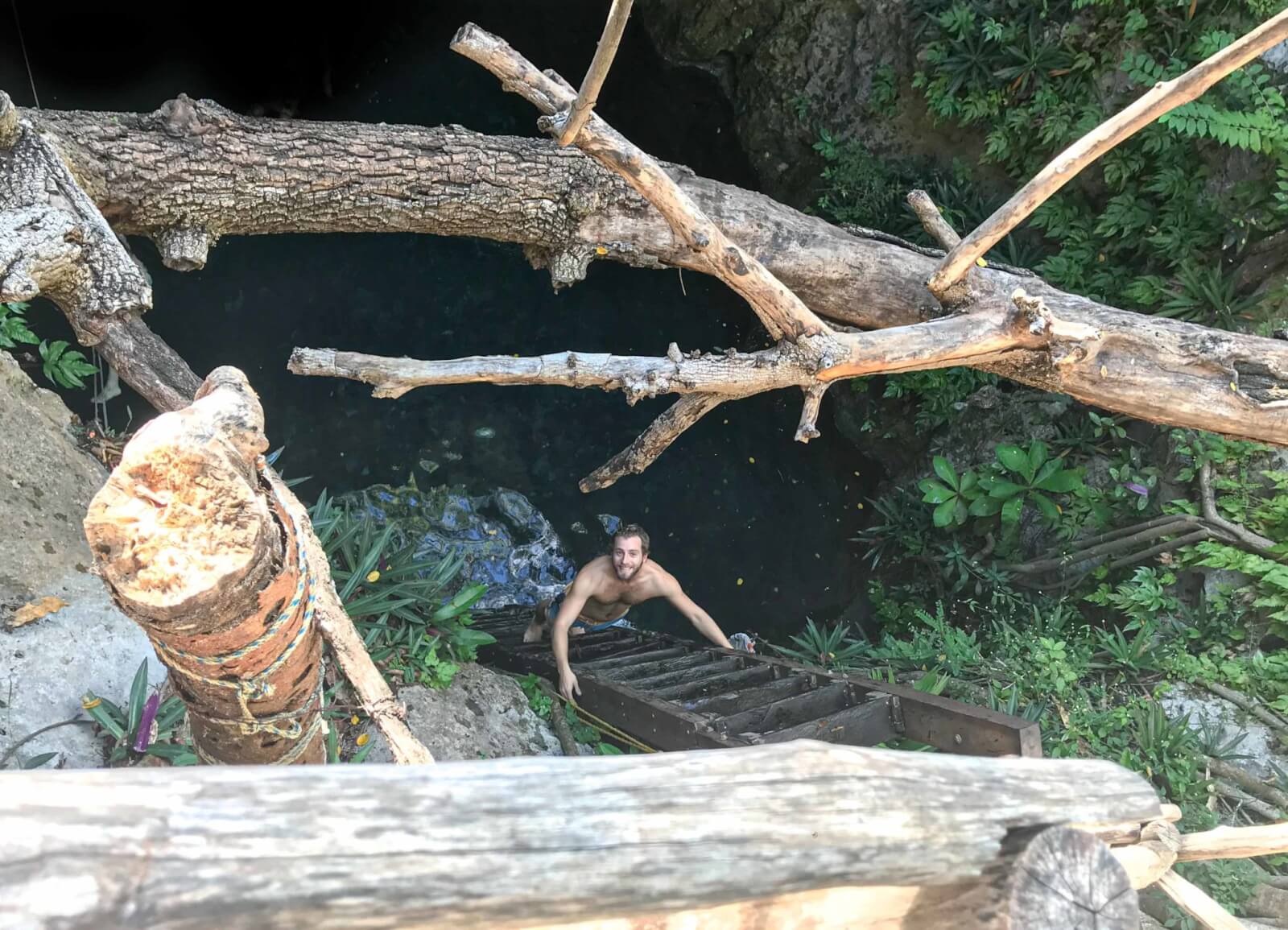 Cenote Bal-Min
A cave cenote filled with beautiful stalactites and stalagmites. You can't swim in this one as there isn't much water but it's definitely worth a visit.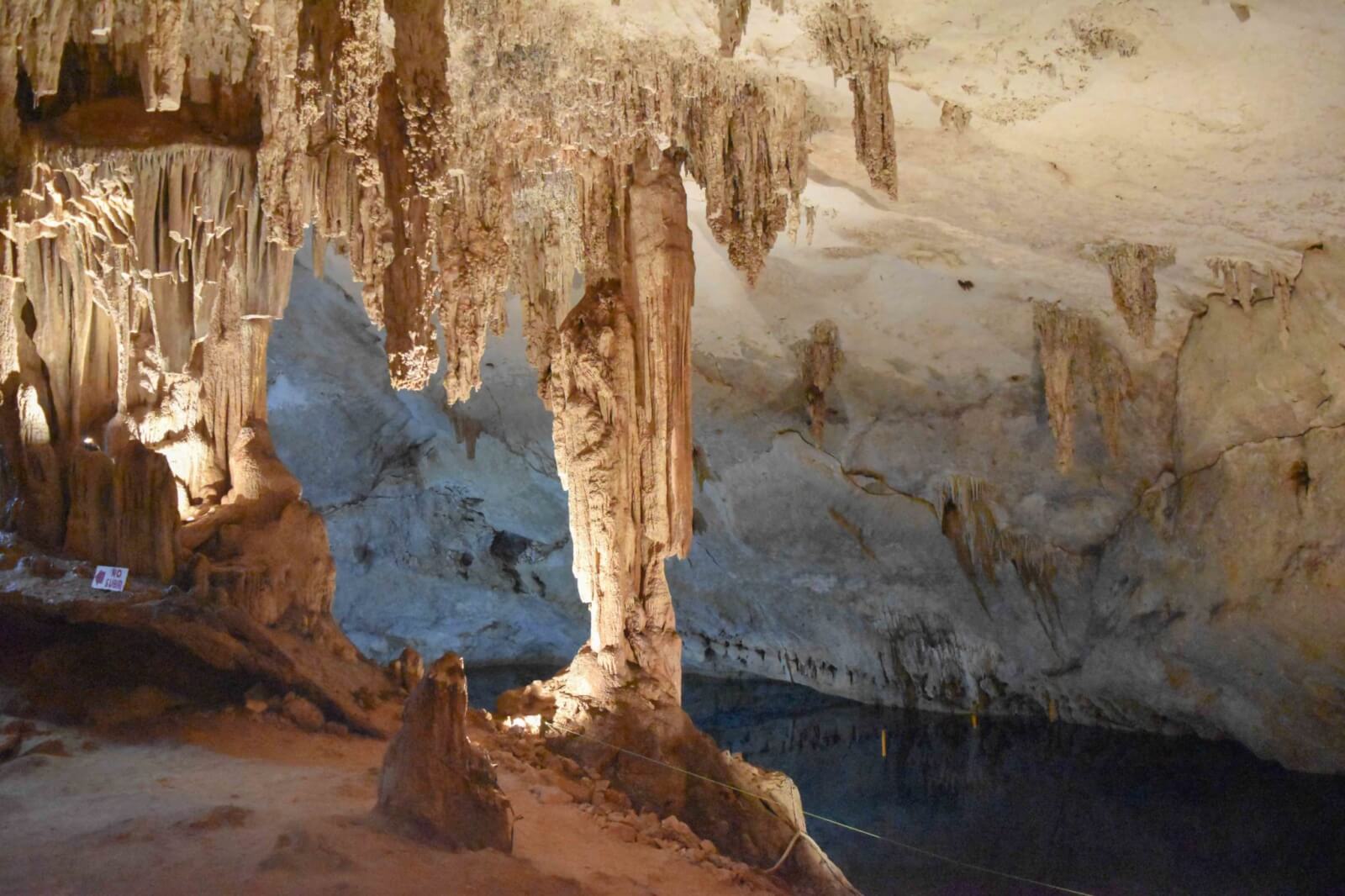 Cenote Santa Rosa
This cenote has two platforms to jump off, which we loved. It's another cave-like cenote and pretty dark inside, but great for a swim.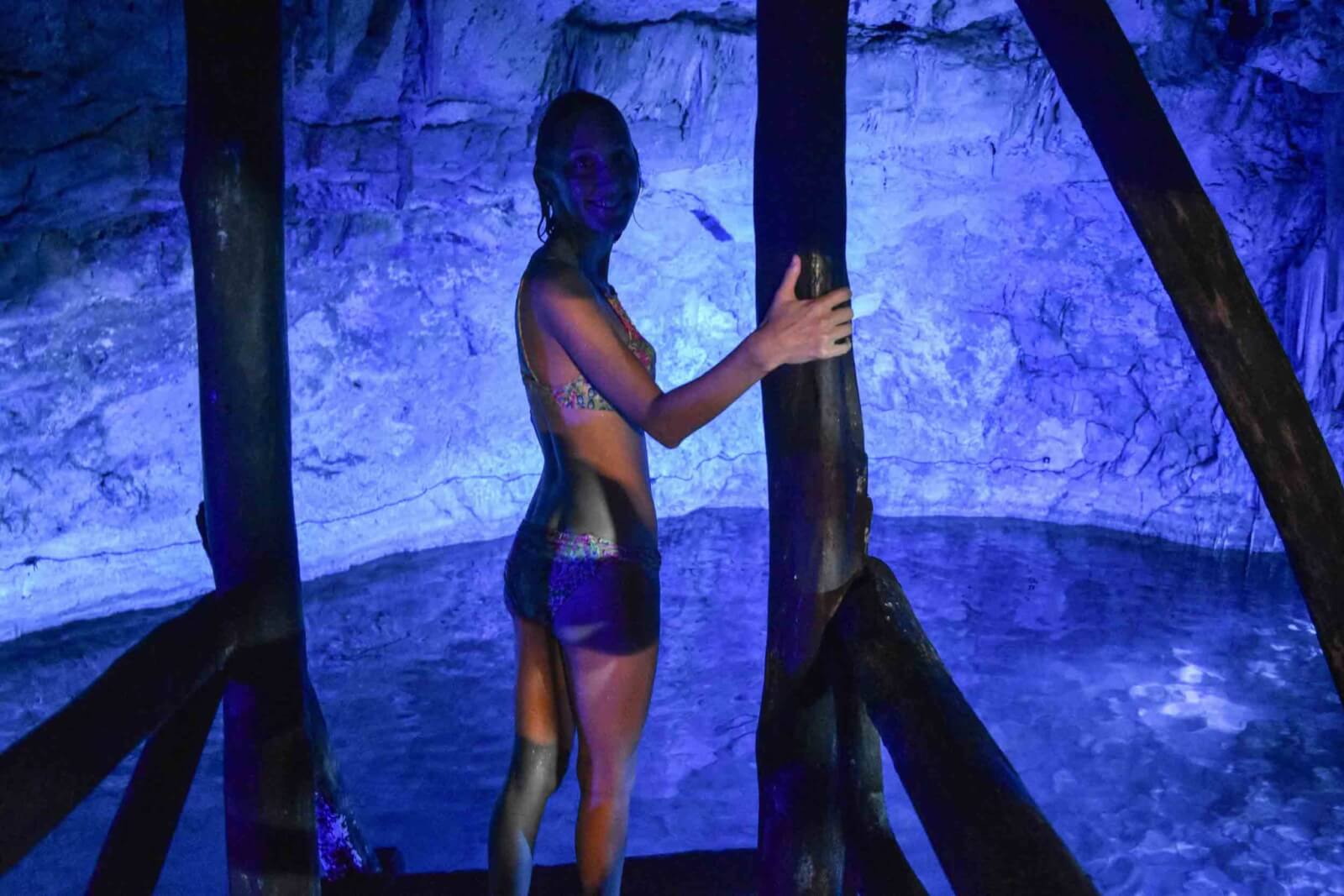 Merida Bars and Restaurants
Merida has great nightlife and is a good place for enjoying a few tequilas. There are lots of good bars and restaurants. Our favourites were:
La Chaya Maya

– A Merida institution – there are now two restaurants as this place is so popular. We visited the newer one, situated in a lovely colonial building

La Negrita Cantina – Great bar with live music

Pipiripau – Another great bar with a big courtyard

Mahalat – Cool speakeasy bar with great cocktails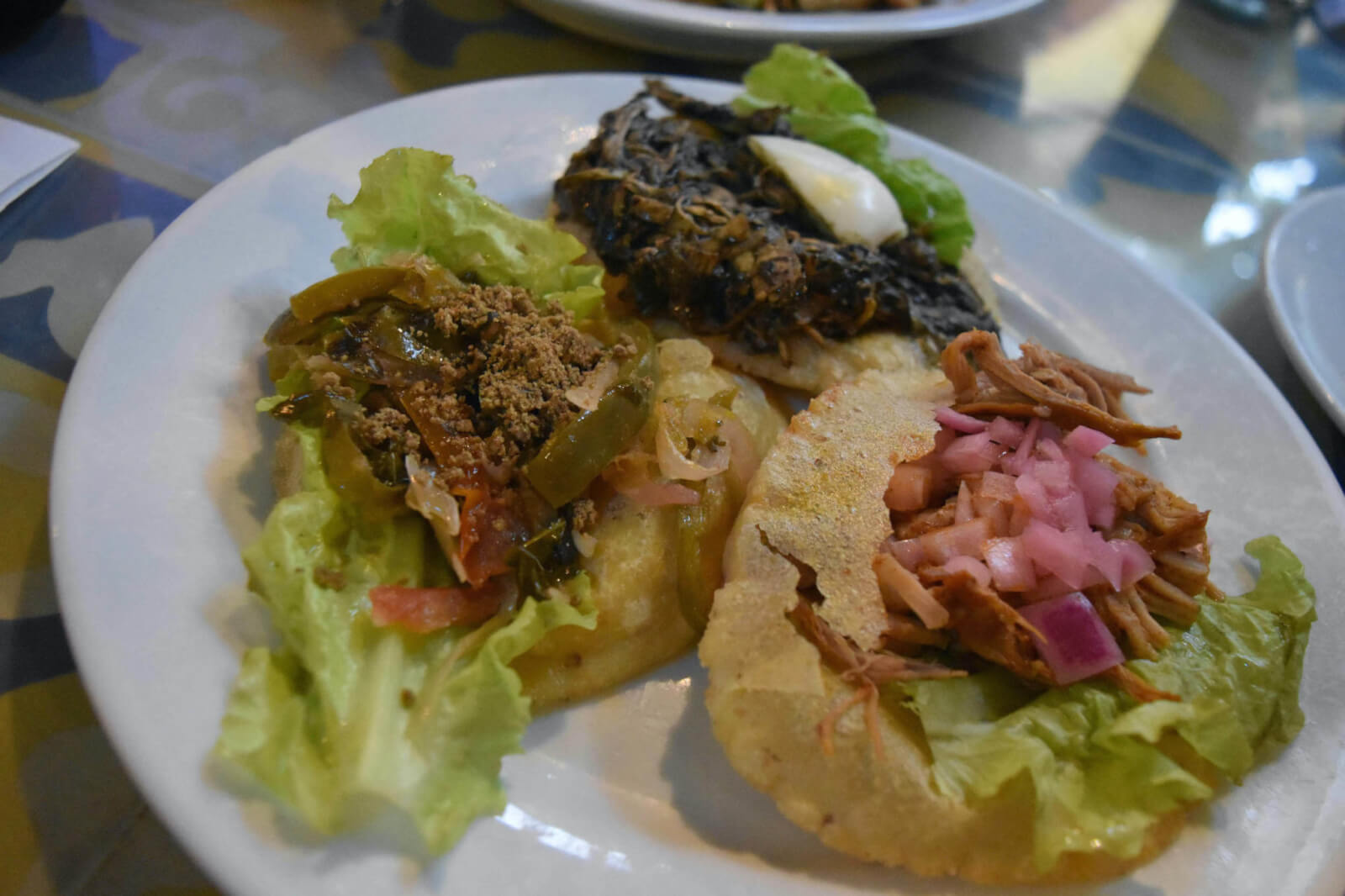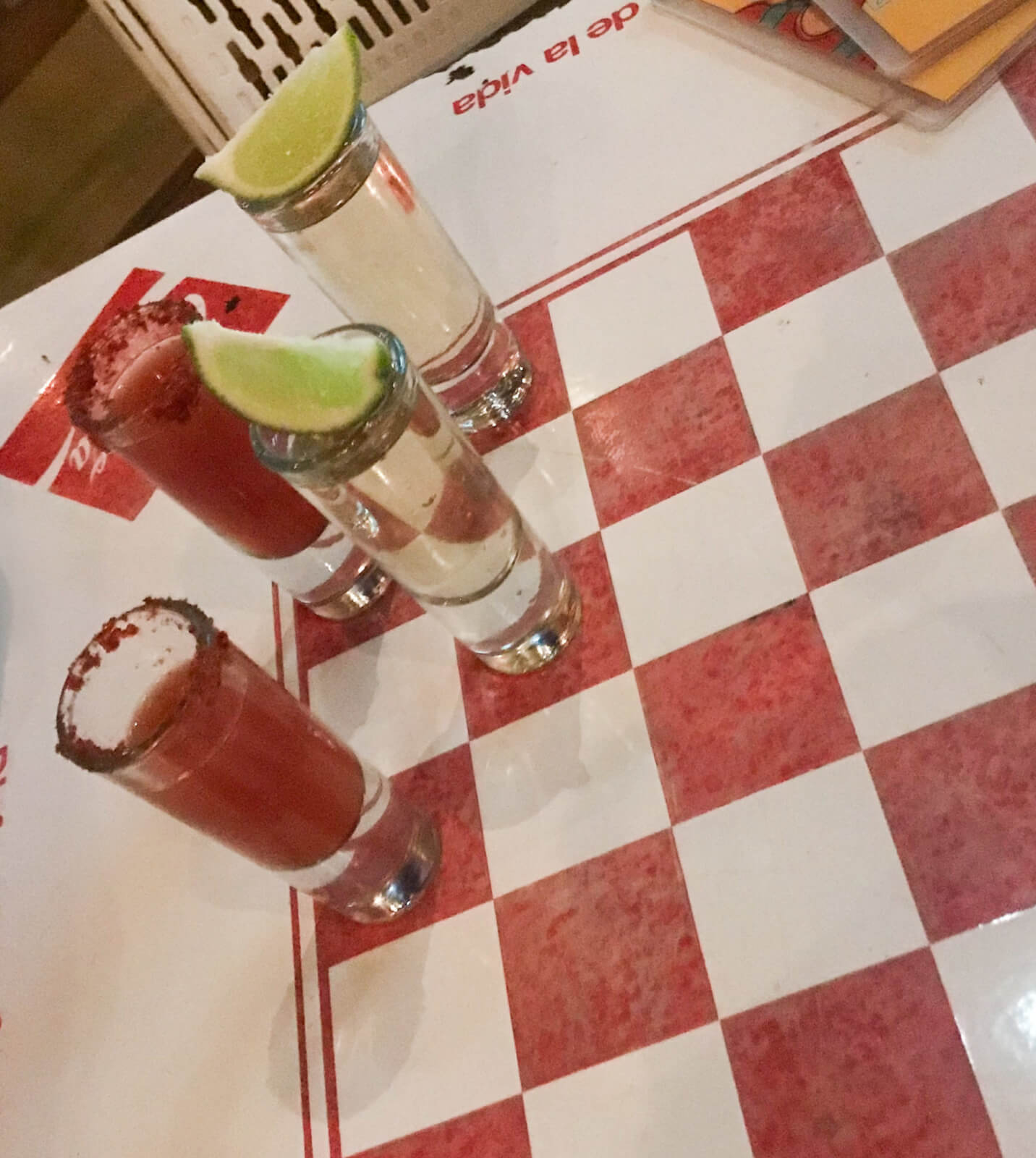 Mexican Cooking Course
While in Merida, Enrico booked us a cooking course for my birthday, and it was great! We visited a local market to buy ingredients and then learnt how to make Yucatan specialities. It's a good way to learn about the region's cuisine.
Where to Stay in Merida
Budget – Che Nomadas is a great adult-only hostel that has both dorms and private rooms. There is a large pool and they put on lots of activities including cooking classes and yoga. If you're a solo traveller this is a great place to meet people. It also has free parking.
Mid-Range – Hotel Caribe Merida Yucatan is located in the historic centre of Merida. Set in a beautiful 16th-century building with a swimming pool and bar and restaurant.
Luxury – Ya'ax Hotel Boutique is a 5-star hotel with an outdoor swimming pool, garden, terrace and restaurant. À la carte or American breakfast is included. There is free parking nearby.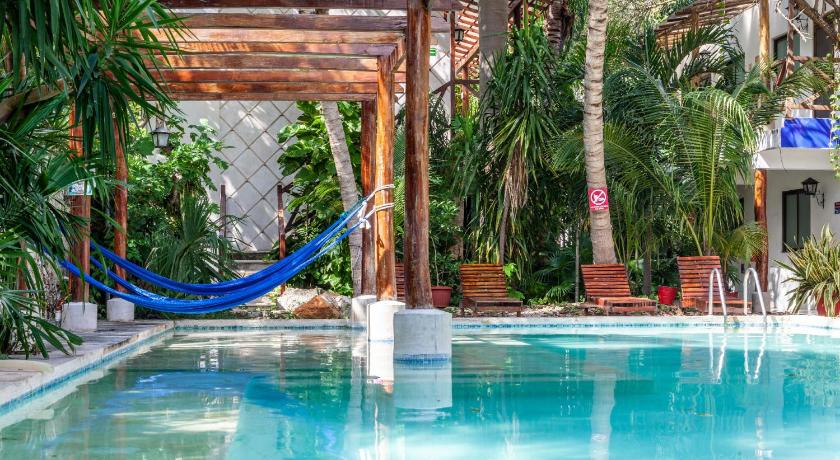 Merida to Campeche – 176km / 2 hours 15 minutes
At this point, you have two options, depending on how much time you have. You can continue south to Bacalar or head west to Campeche.
Campeche (optional) – 2 Nights
Campeche is a walled city on the coast, with a fascinating history. It has some of the gorgeous colourful houses and cobbled streets that you've probably seen photos of. While here, be sure to walk the walls and visit the Maya Architecture Museum, Baluarte de la Soledad, which tells you the history. There's also a nightly light and sound show on the walls of El Palacio Centro Cultural.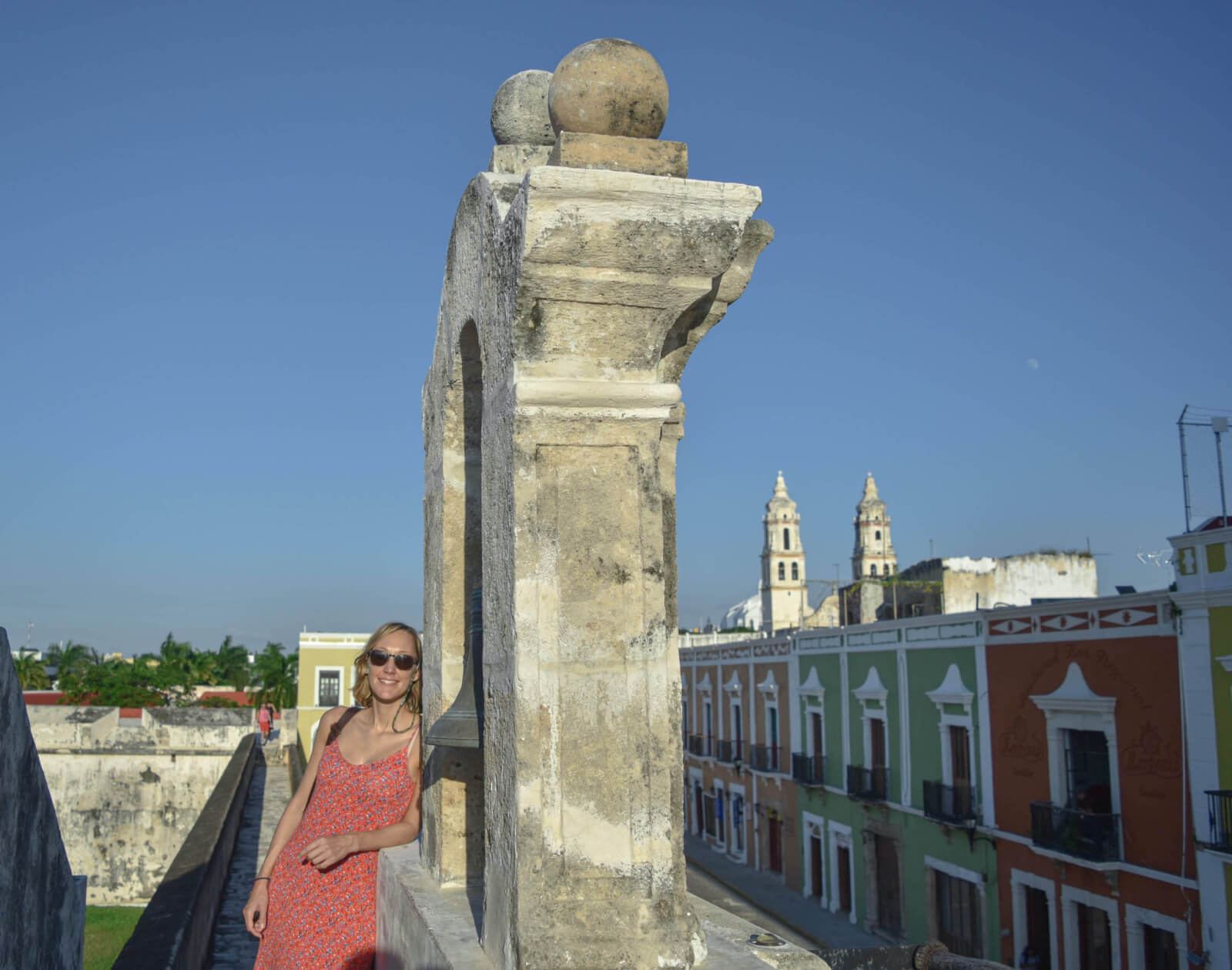 Where to Stay in Campeche
Budget – Ambar apartamentos are centrally located, less than 50m from the market. Rooms have air-conditioning, free WiFi and private bathrooms.
Mid-Range – Castelmar Hotel is located in the historic centre and has an outdoor pool and sundeck. Rooms are spacious with original tile floors, high ceilings with wood beams and cedar furniture.
Luxury – Hacienda Campeche is a 5 star hotel located in a restored 17th-century mansion house. It has a spa and indoor and outdoor pools. There is a bar and outdoor terrace, and breakfast is available. There is free on-site parking.
Find accommodation in Campeche
Campeche to Bacalar – 419km / 5 hours 40 minutes
Bacalar – 2 or 3 Nights
We hadn't originally planned to visit Bacalar as it is quite far south towards Belize. However, I'm so glad we did. It is gorgeous! The town is situated on Lake Bacalar, known as the lagoon of seven colours, due to the incredible colours of the water.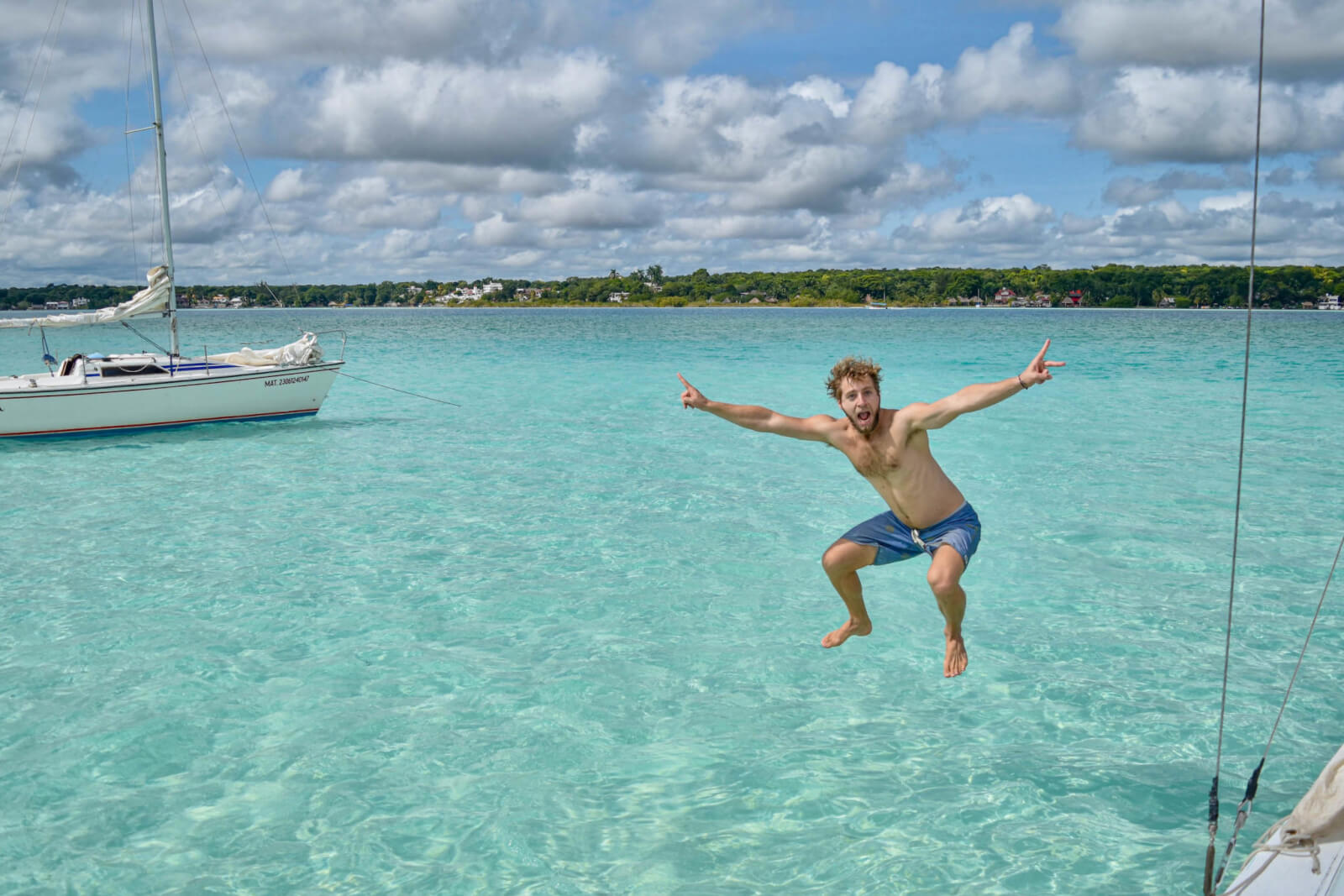 Cenote Azul
To the south of the town is Cenote Azul. This large open cenote is worth visiting for a quick swim, but for me, it wasn't as beautiful as the cenotes we saw further north and looks more like a lake. However, it is over 90m deep!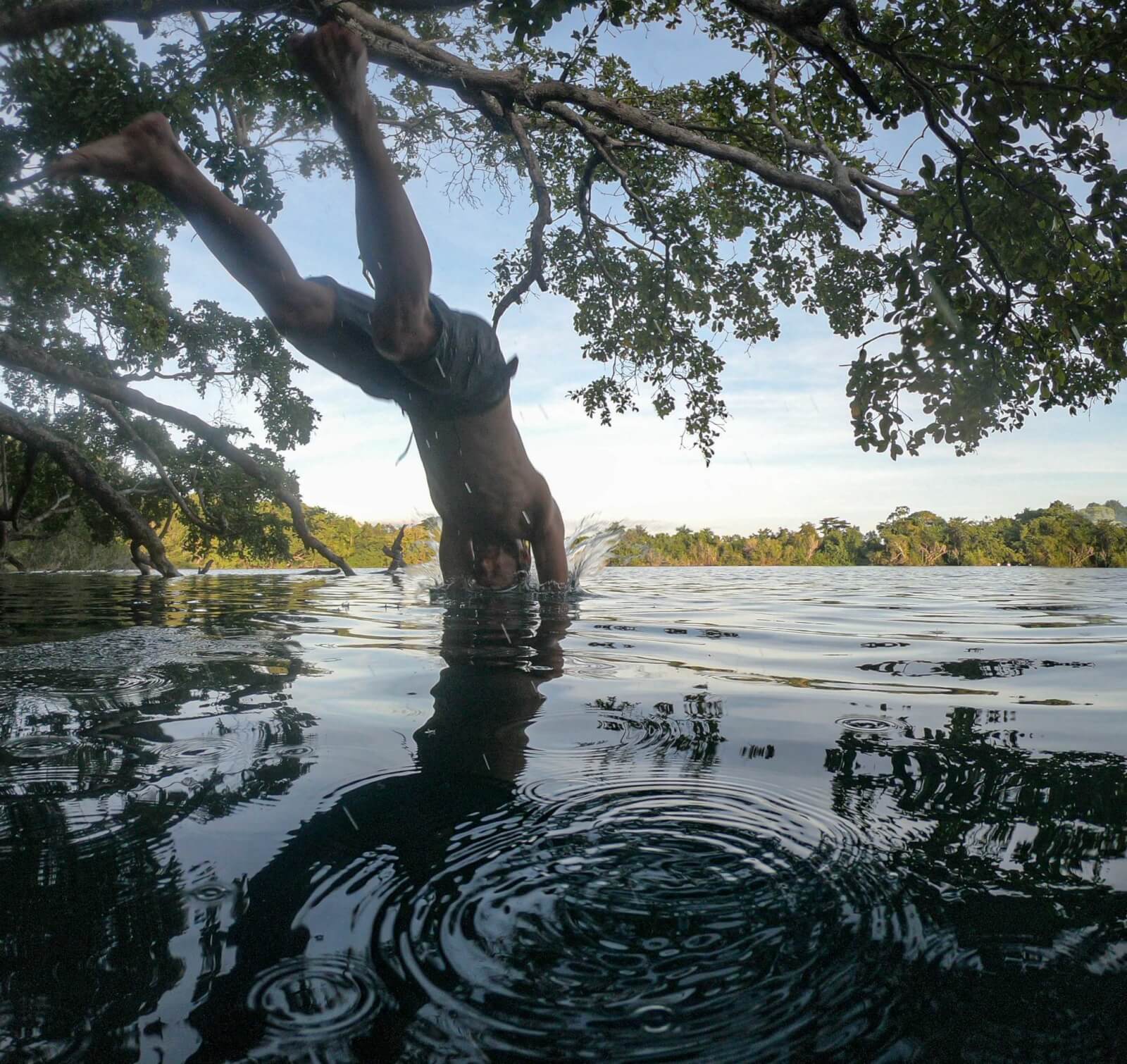 Bacalar Boat Trip
There are lots of boat trips heading out on the lake and we opted for a sailboat. It was one of my favourite days in Mexico. We had a small pink sailboat, and it was just us and our skipper, who took us to different areas of the lake to swim and explore. I highly recommend you do this while in Bacalar.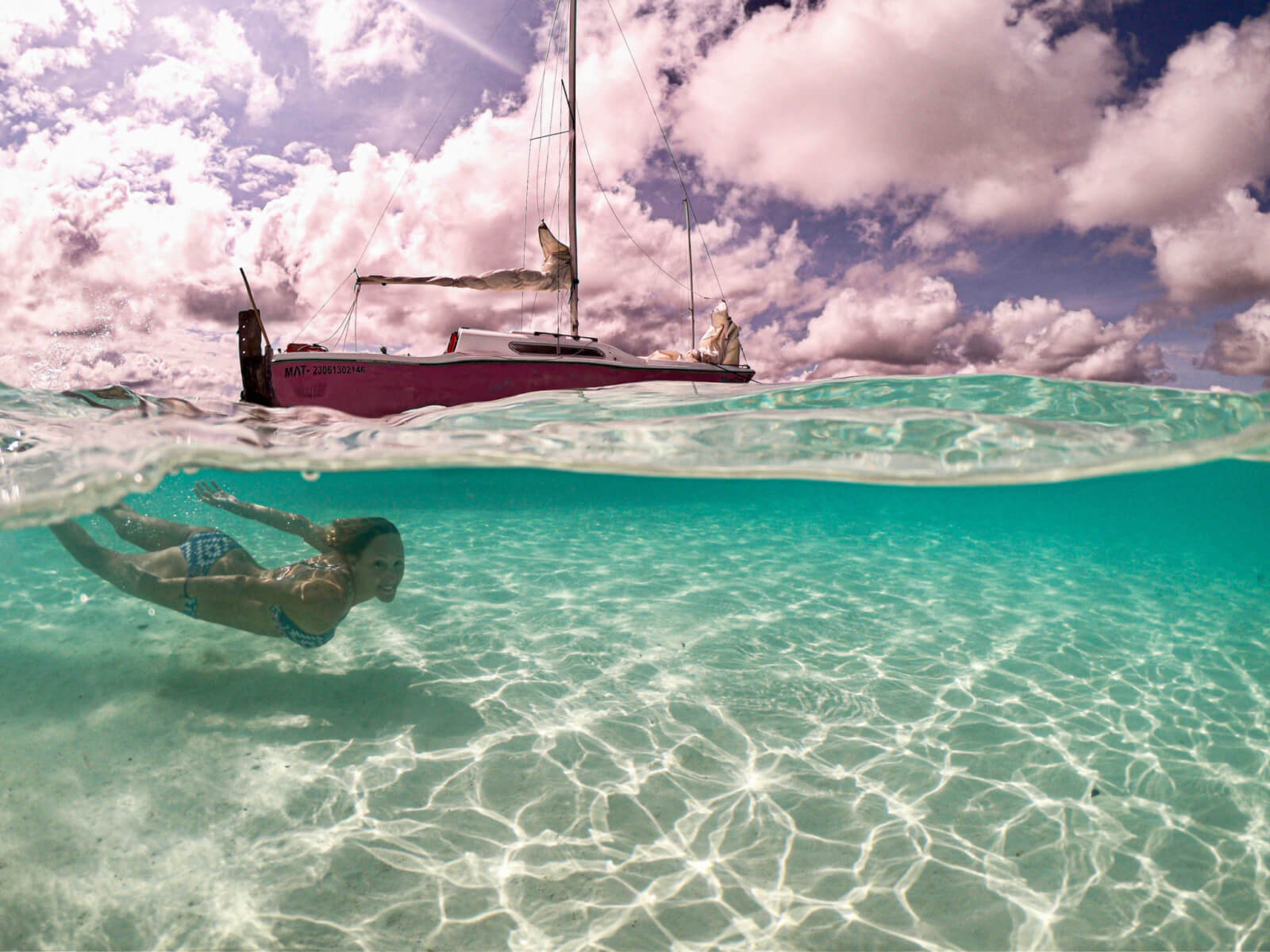 Where to Stay in Bacalar
Budget – Zayali Guest House has air conditioned rooms with private bathrooms and kitchenettes. There is a garden, a shared lounge and an outdoor swimming pool. Street parking is free.
Mid-Range – Hotel Makaabá Eco-Boutique has an incredible outdoor pool and terrace. Breakfast is included and there is a bar and restaurant on site, as well as free parking and bike hire.
Luxury – Hotel CasaBakal is a 5-star accommodation with a swimming pool overlooking the lagoon. There is a restaurant on site and breakfast and free parking is included.
Bacalar to Tulum – 215km / 2 hours 30 minutes
Tulum – 2 or 3 Nights
I had seen many, many pictures on Instagram of Tulum and was really looking forward to visiting it. Unfortunately, I ended up feeling a bit disappointed. It has a gorgeous beach (although there is a bit of a seaweed problem) and we stayed at a lovely hotel. However, it is so expensive compared to other parts of Mexico, and even to other parts of the Yucatan peninsular and it is quite pretentious; lots of people in designer clothes posing with overpriced cocktails. Having said that, the beach clubs are pretty cool, and at the end of Tulum Beach is Sian Ka'an Biosphere Reserve, which is absolutely worth exploring.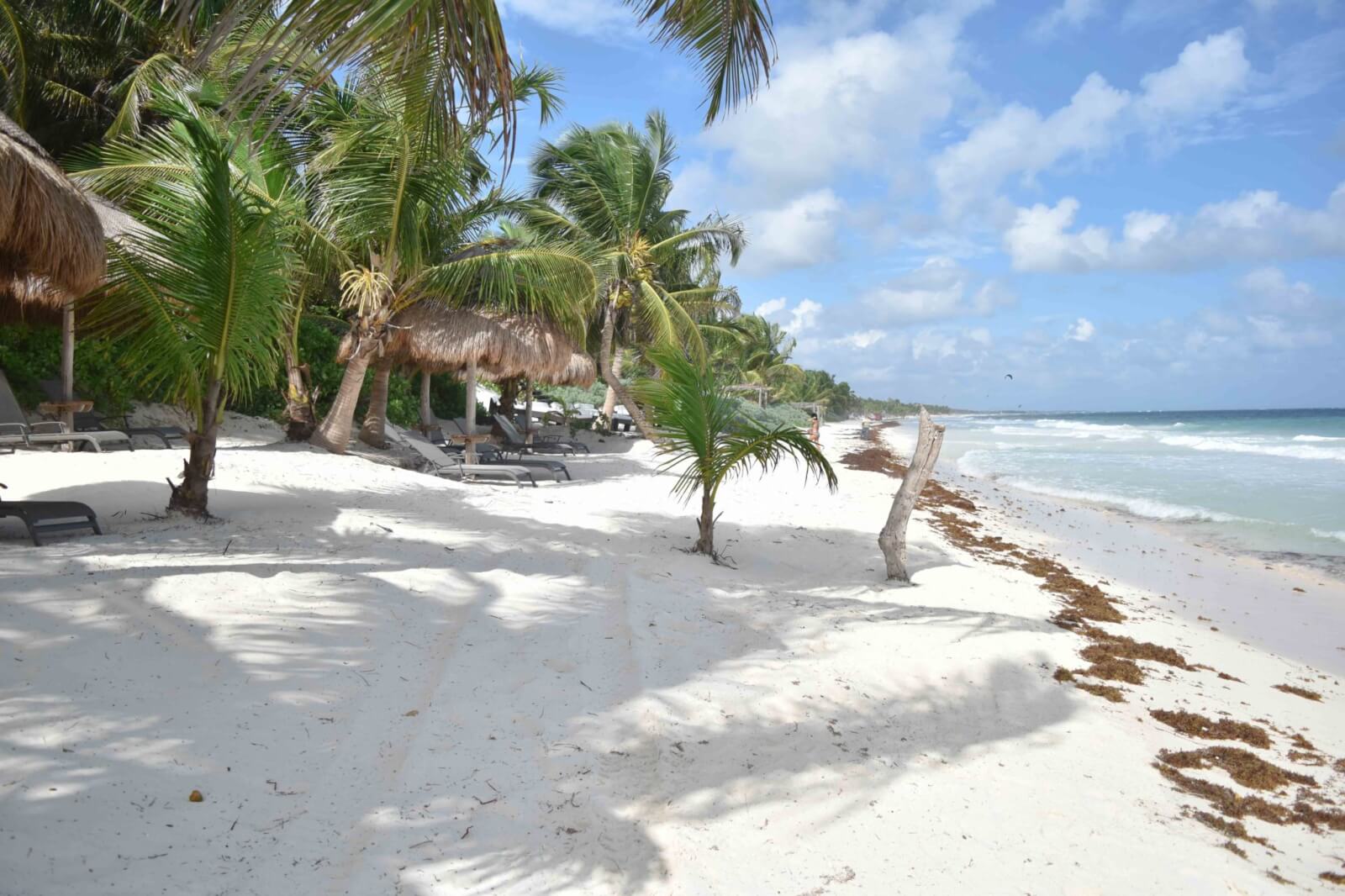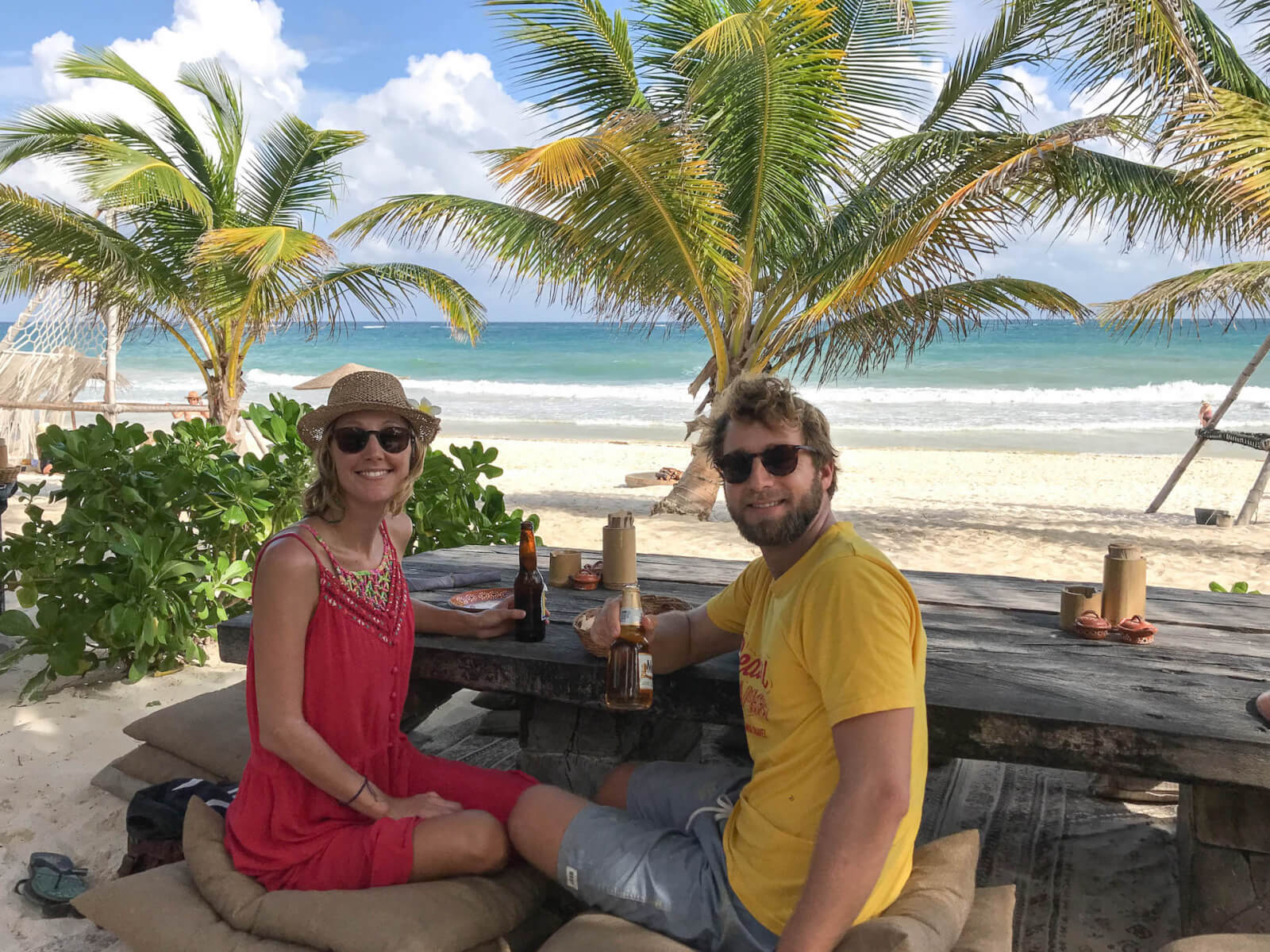 What really made our stay in Tulum, was our accommodation and I would totally go back, just to stay there again.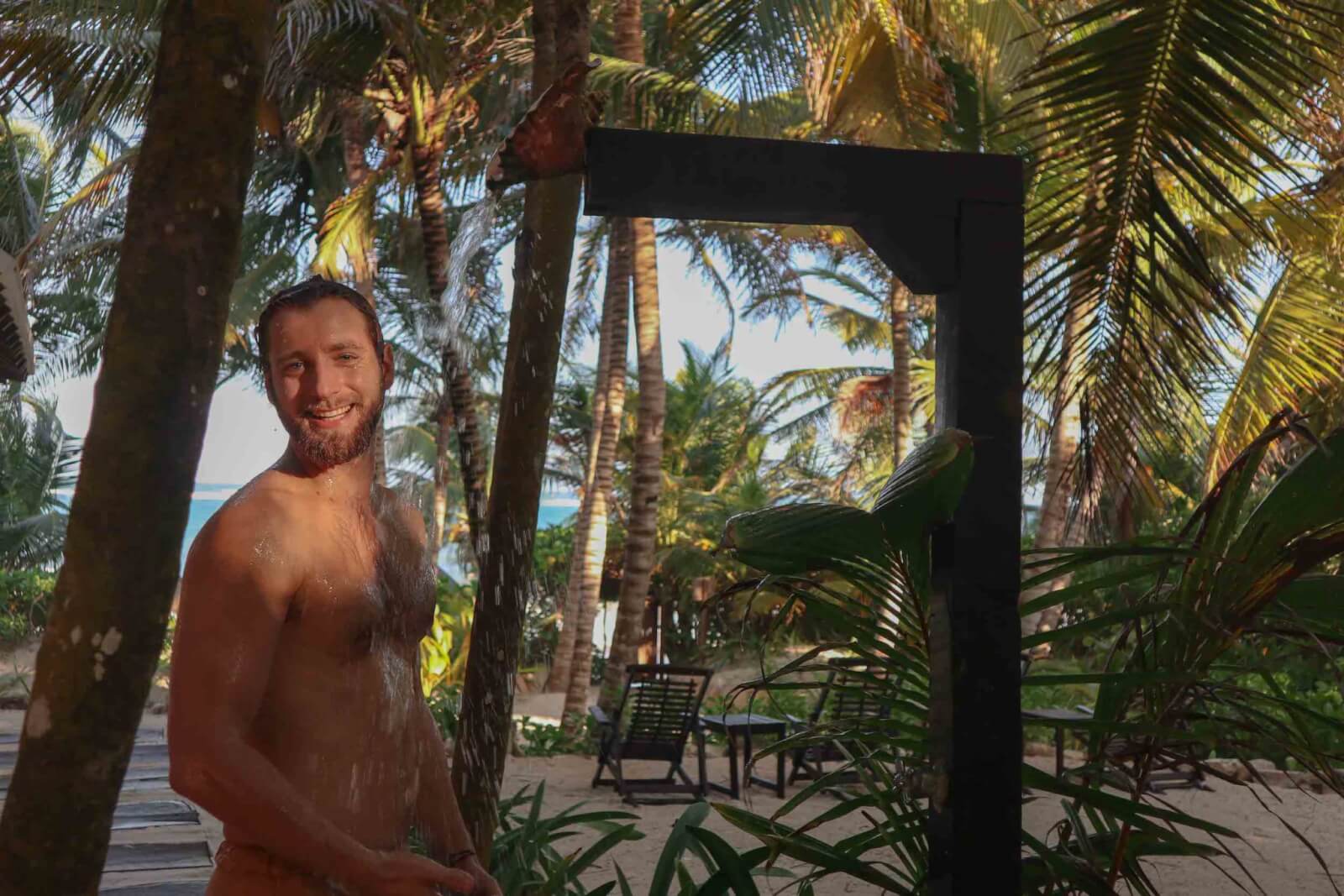 Where to Stay in Tulum
We stayed at Olas, right at the very end of the beach and next to the Biosphere Reserve. This was an oasis in Tulum. The beach is much quieter up this end and away from the building works of the town and beach clubs. I feel like this is the Tulum you would have experienced 10 or 20 years ago. It's an eco-resort, and is completely self-sufficient – run on solar and using rain and groundwater. The breakfast is excellent, made with locally sourced produce and set under palm trees on the sand. If you let them know in advance they also offer dinner. We spent a lot of time relaxing at the beach here.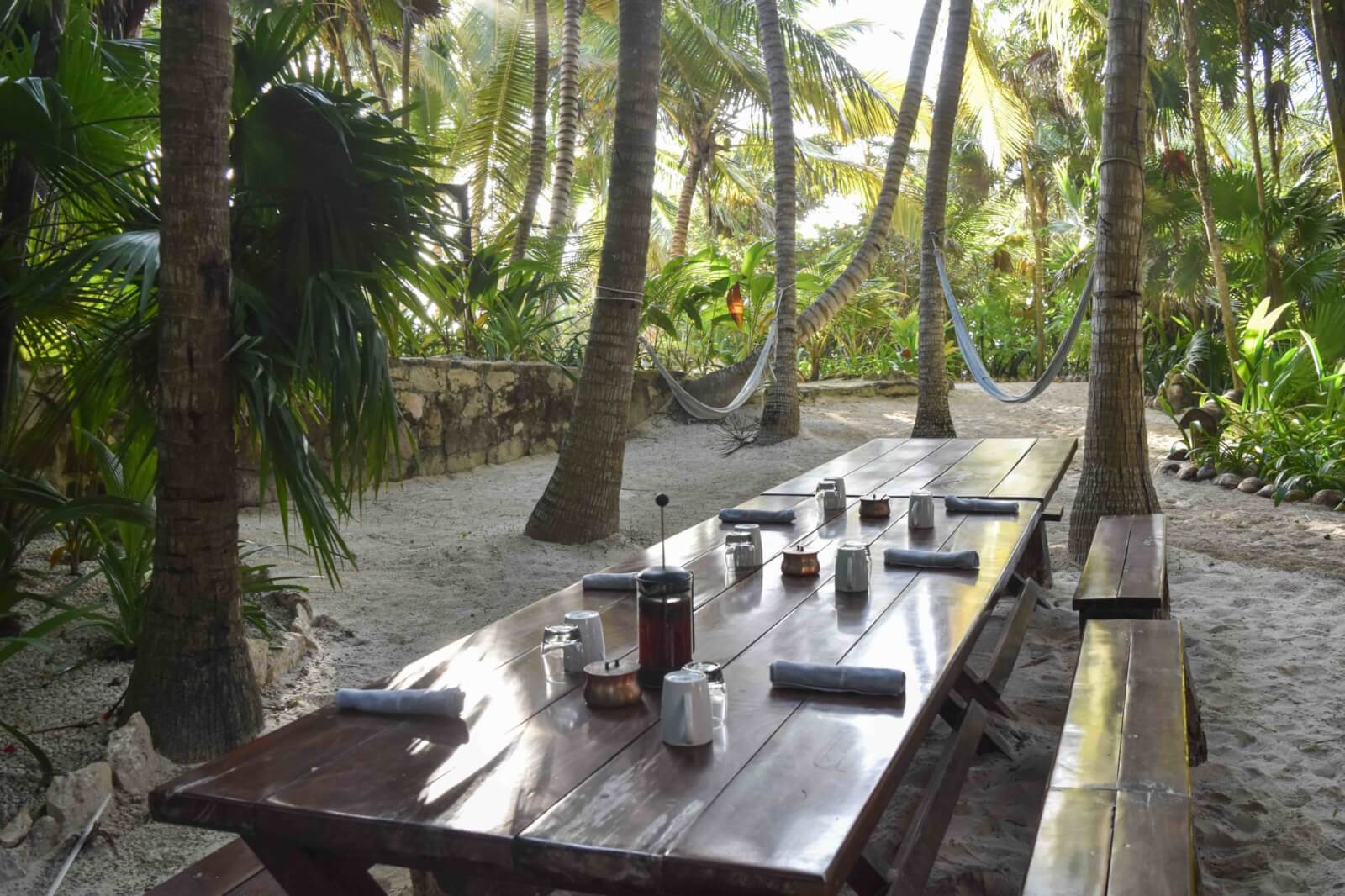 If you're looking for something a little cheaper, we also spent a night in the main town of Tulum at Casa Abanico. I loved this accommodation and it had its own kitchen which is great when you're on a budget. However, it's a bit of a trek to the beach and the main town of Tulum feels a bit like a construction site. Something to bear in mind! (However, this is pretty much where all the budget accommodation is!).
Diving Tulum
Aside from the beach, a good reason to stay in Tulum is to dive. Unfortunately, we were both unwell and were not fit to dive, however, I've heard great things about cenote diving in Yucatan and we were gutted to miss it.
Tulum to Playa Del Carmen/Isla Cozumel – 65km / 54 minutes
Here you have two options, as Cozumel is an island, you need to take a ferry to get there. So you can either take your rental car on the ferry, or you can return your rental car in Playa Del Carmen and take the passenger ferry (and then bus/taxi back to Cancun). We did the latter, although in hindsight the first option is probably easier.
Cozumel – 2 Nights
We visited Cozumel to go diving as it's considered one of the best diving spots in Yucatan. It's quite a big island, and the main town feels quite touristy, however, I've heard it's quite different on the other side of the island.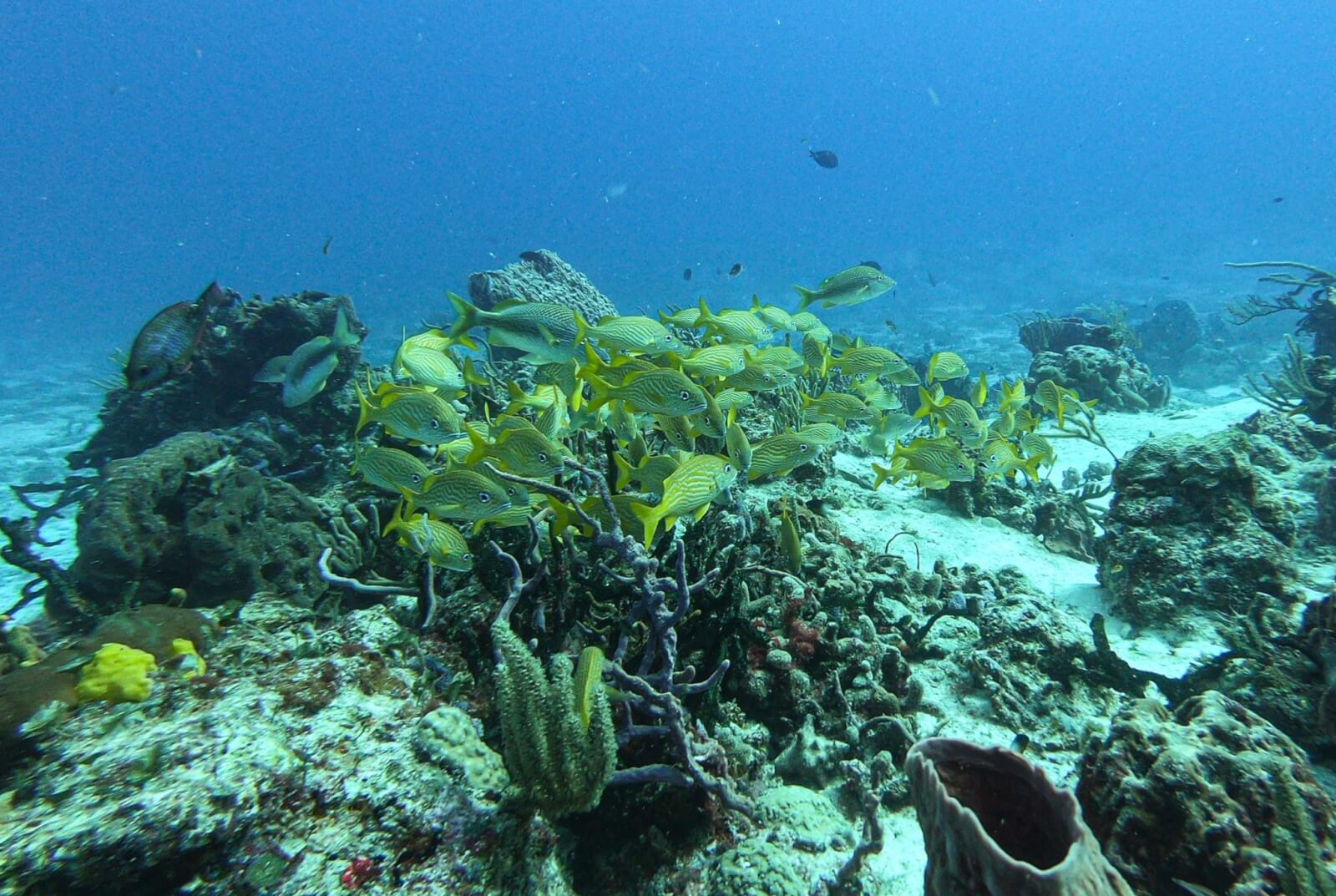 Cozumel Diving
We did two dives with Scuba Life Cozumel, which were fantastic! There were great swim-throughs, colourful corals, an abundance of fish, and turtles! It's totally worth making the trip over.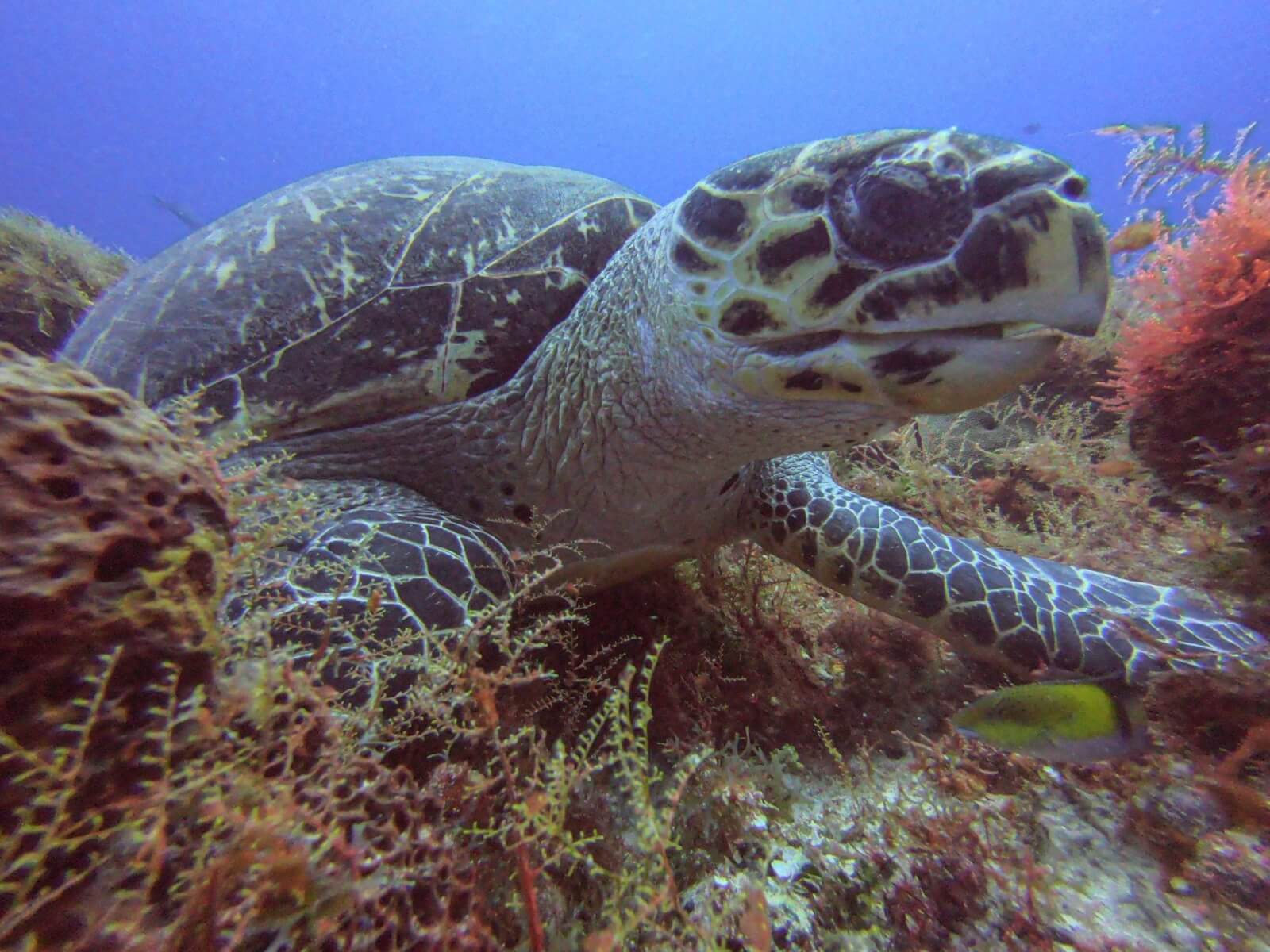 Sleep – We stayed at Hotel Mary Carmen, which was a short walk from the ferry and lots of restaurants.
Playa Del Carmen/Isla Cozumel to Cancun – 68km / 56 minutes
Cancun – 3 Nights
At the end of your Yucatan road trip, if you can afford it, it's worth spending a few nights in an all-inclusive on the beach in Cancun to really unwind. We stayed at Haven Riviera. You can read my review here.
I'm not usually an all-inclusive hotel person, but it was really nice to switch off for a few days, not think about where to go and just chill on the beach and by the pool, and eat and drink as much as we wanted!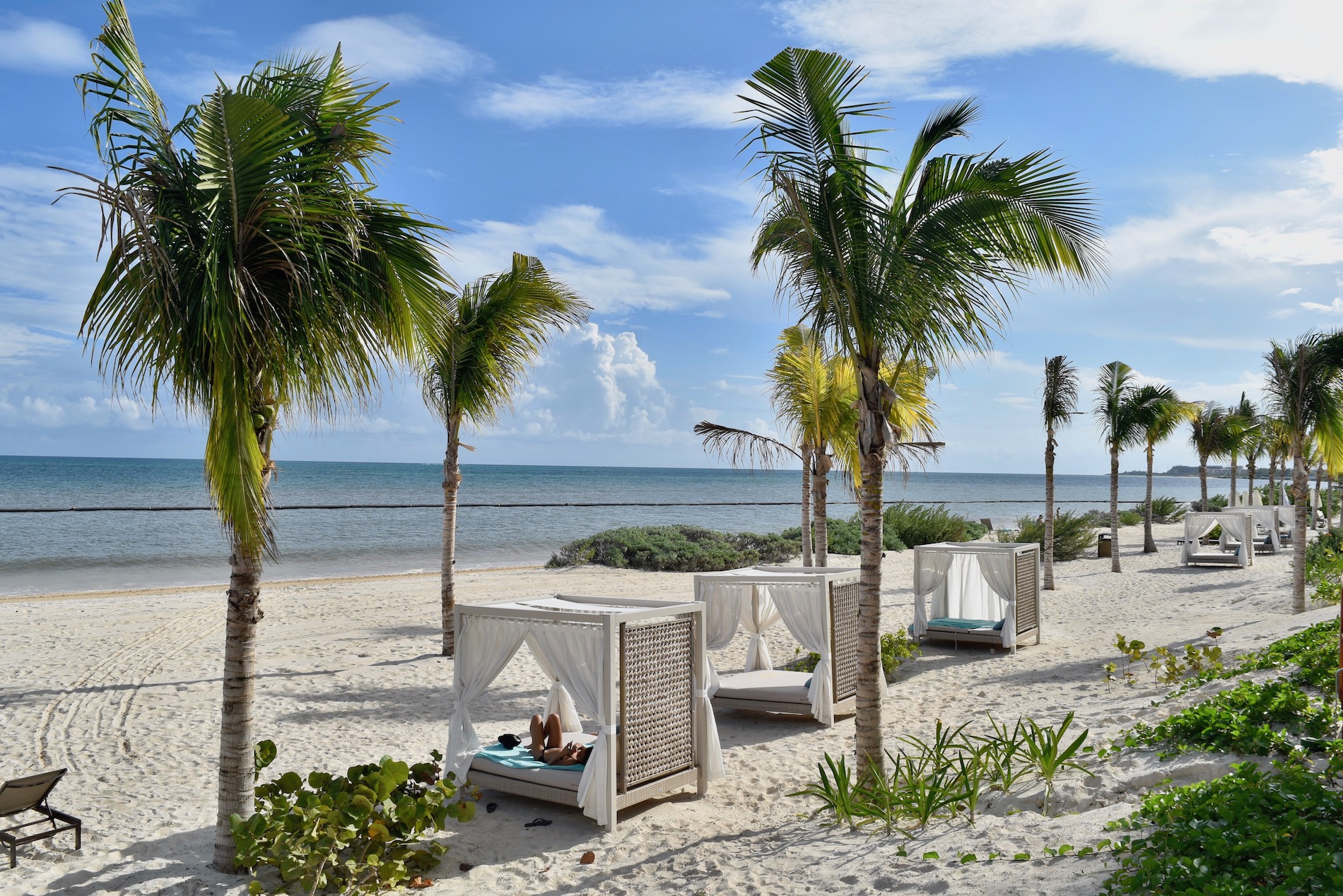 Other destinations to add to your Yucatan itinerary
Isla Holbox
If you have more time on your Yucatan road trip, drive (or take the bus) from Cancun up to Chiquila and take the ferry over to Isla Holbox. We didn't do this, but I've heard it's a lovely relaxed island and well worth the visit.
Isla Mujeres
Another beautiful island and also a great diving spot. To get there, you can take the Ultramar Ferry from Puerto Juarez which takes about 20 minutes.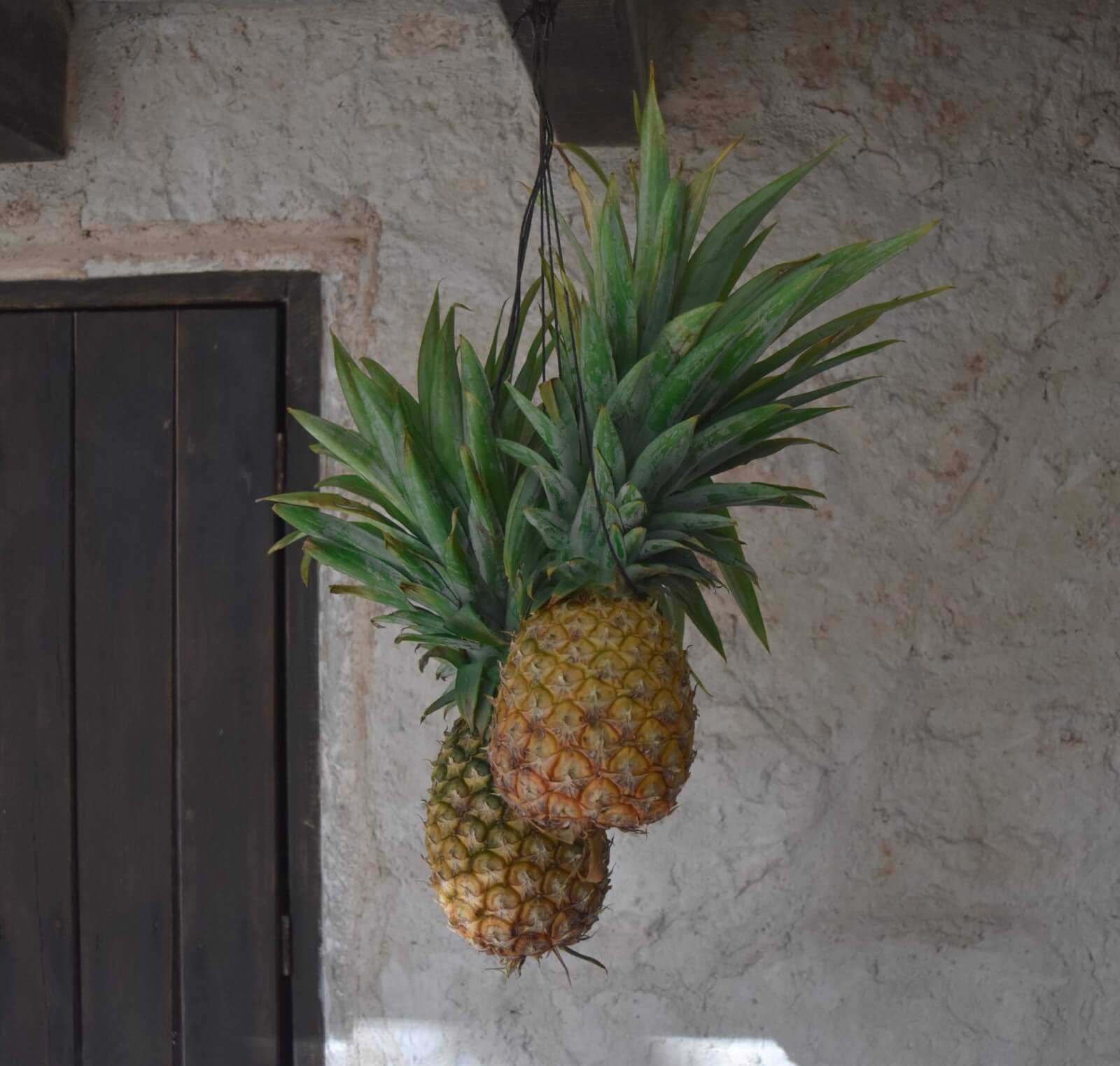 FAQs
Hope you enjoyed our Yucatan road trip itinerary – please comment below if you found it useful or if you think we missed anywhere!