A Lovely Planet contributors Sarah and James offer their perfect two week Borneo itinerary.
This content will be available if you accept Google privacy policy. Google has its own privacy policies over which we have no control. There is no installation of cookies from Google until you consent to Google policies. By accepting you will be accessing a service provided by a third party external to A Lovely Planet.
Disclosure: This article contains affiliate links. This means that if you click a link and purchase something I've recommended I may earn a small commission. This does not affect the price you pay but helps me to run this site. You can read my full affiliate disclosure here.
Getting to Borneo
This two week Borneo trip starts and ends in Kuala Lumpur. You can fly direct to Kuala Lumpur from London and from Sydney. Book a return ticket to KL and then book your other flights in and out of Borneo separately.
Kota Kinabalu – Four Days
Getting to Kota Kinabalu
Hop on an easy two and a half hour flight into Kota Kinabalu (KK) from Kuala Lumpur (KL). You can also do this itinerary in reverse by flying into Tawau first which is three hours from KL.
Arriving into KK, head to the city; a gateway to beaches, rainforests, watersports and so much more. The app Grab is widely used in Malaysia and Indonesia, so get a local SIM and you can travel all over the city easily and cheaply.
Where to Stay in Kota Kinabalu
For a 'splash the cash' option stay at Shangri-La's Tanjung Aru Resort & Spa , or for a comfy low-key stay with all you need, choose Homy Seafront Hostel.
Find accommodation in Kota Kinabalu
Get Stuck into Local Cuisine
KK is filled with busy streets, local eateries, shops and markets as per most Asian cities. What makes Malaysia unique is the fusion of Indian cuisine. The simple Roti Canai is a delicious no-frills dish, our personal go-to for a tasty snack.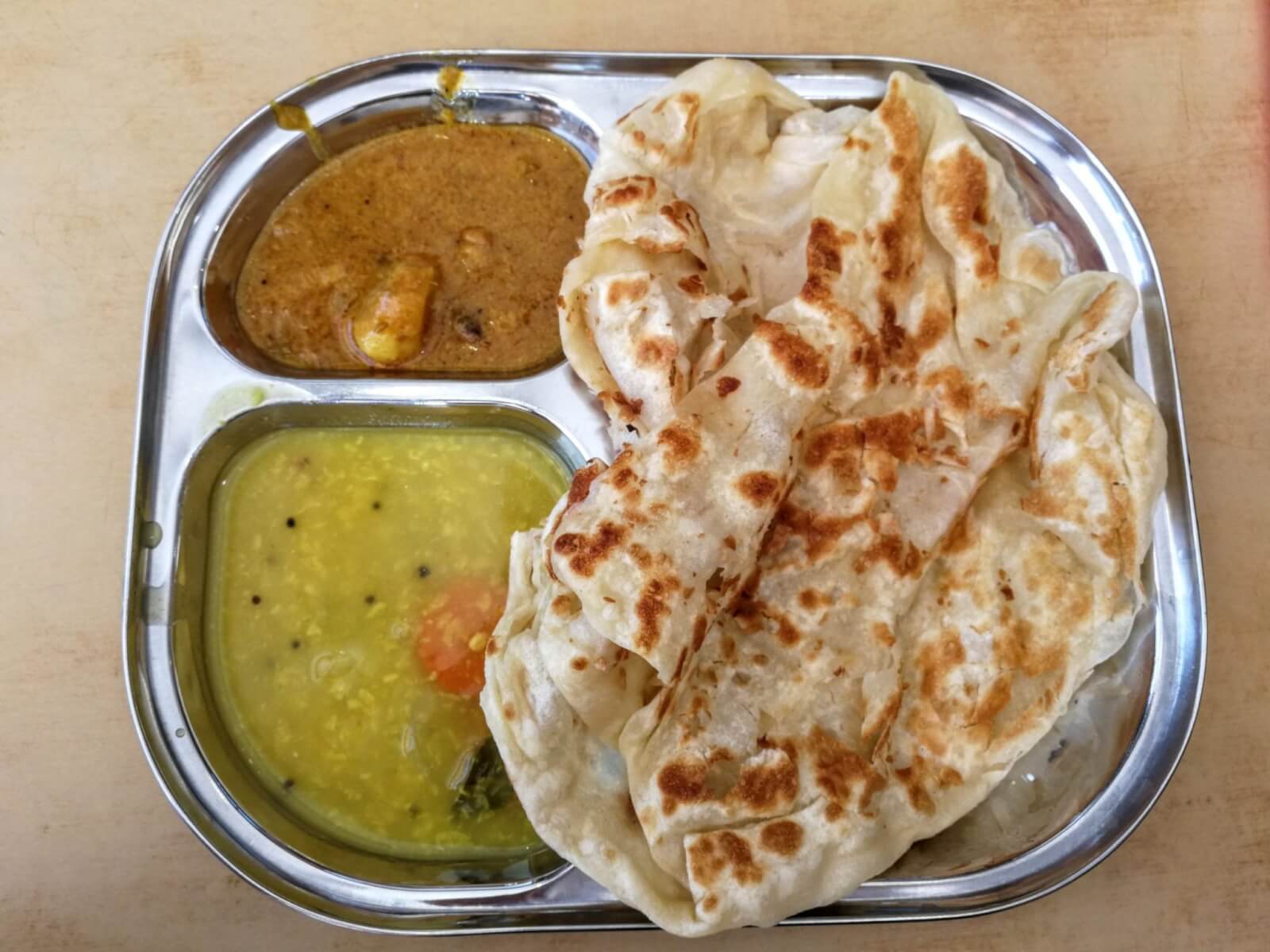 This town is bursting at the seams with seafood restaurants! The harbourfront is packed with restaurants cooking fresh fish by the weight at reasonable prices.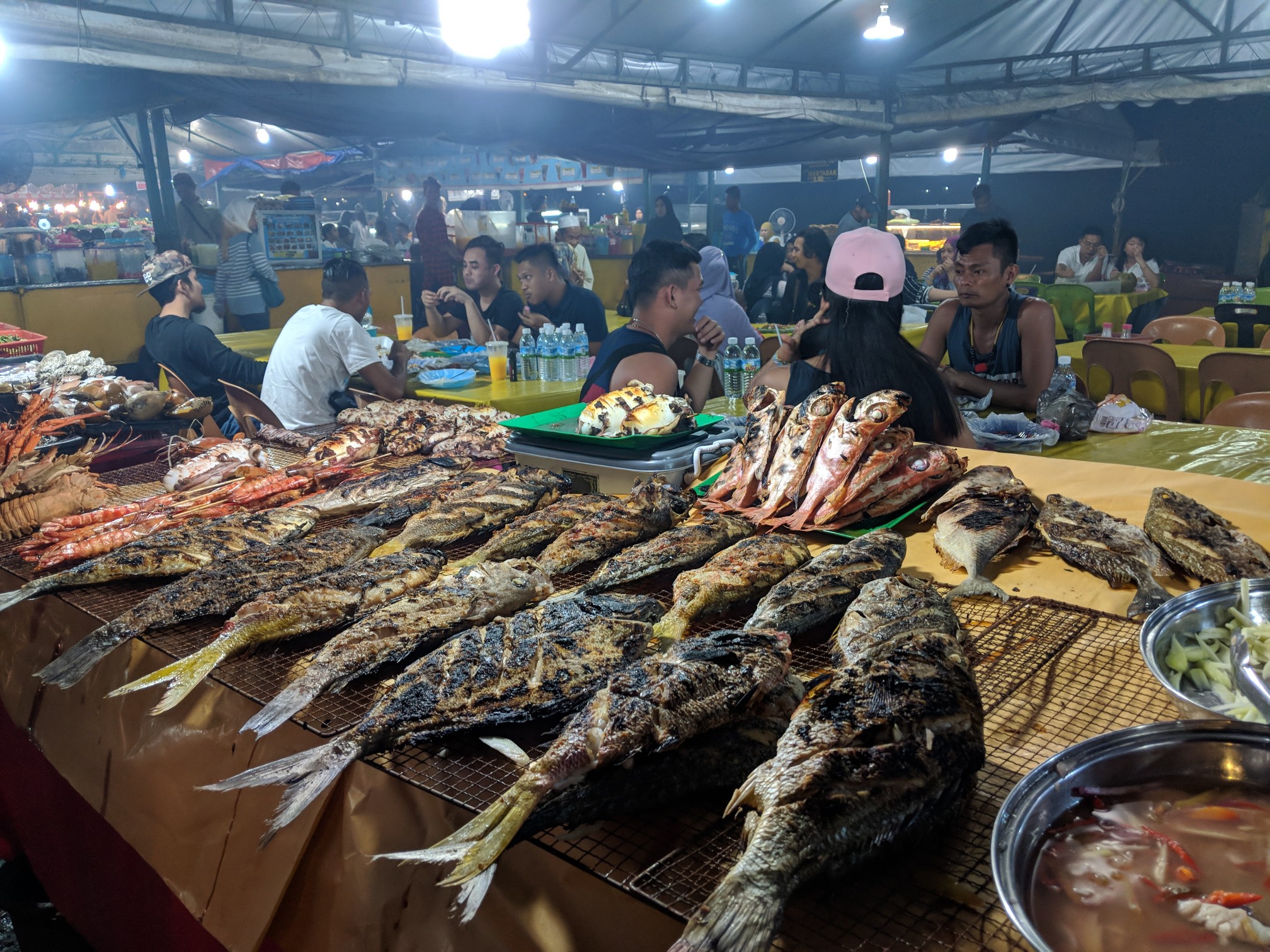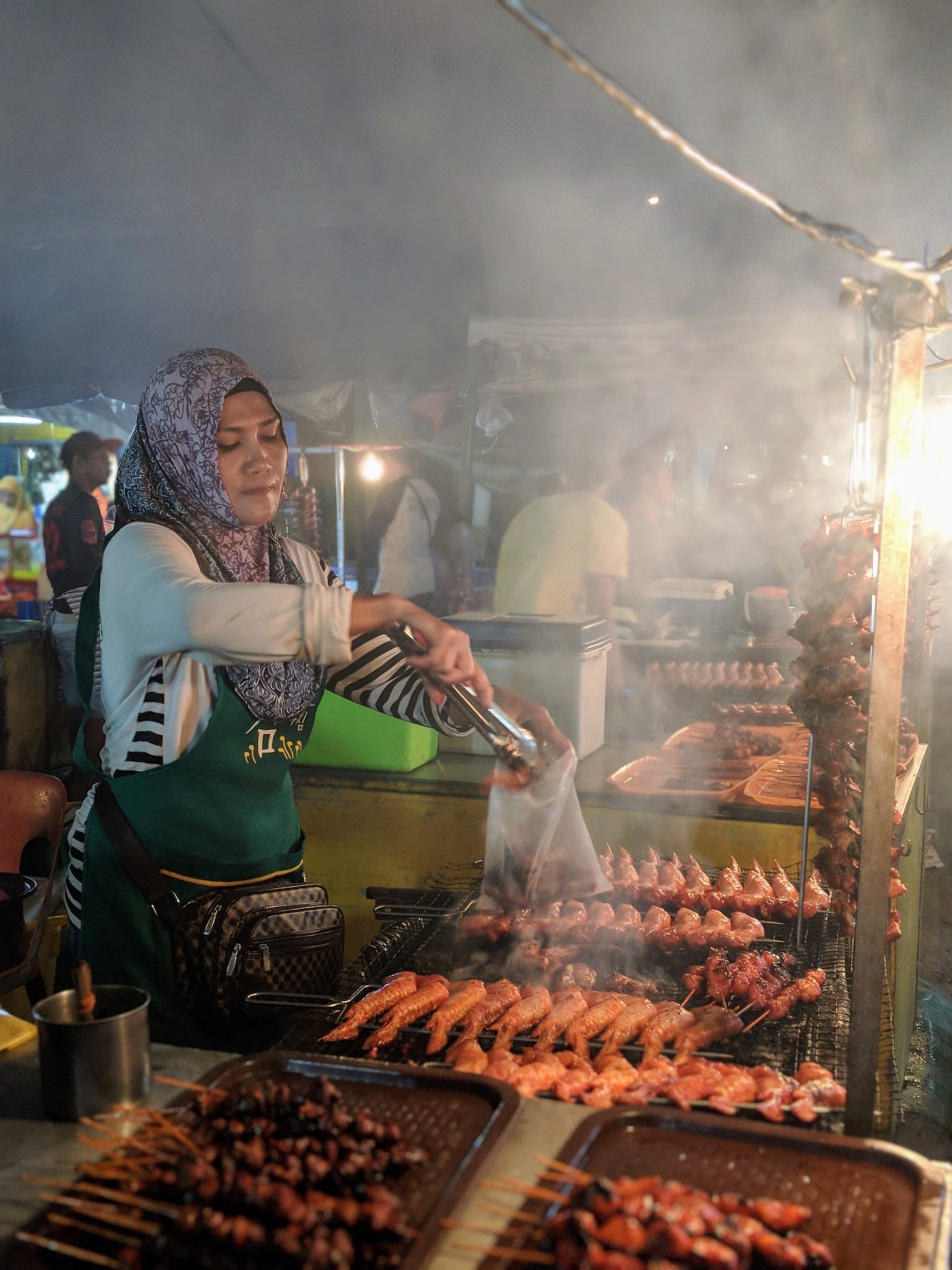 Ice Tea or Teh Tarik can be found anywhere. Beer is harder to find as Malaysia is predominantly a Muslim country. Generally, you will only be served in high-end bars or hotels.
If you love coffee we recommend trying the local "Kopi", however, we always find ourselves drawn to more western coffee places for a 'treat' and to enjoy the AC. But here you'll pay western prices, so make sure it's a good one. We vouch for Nook Cafe.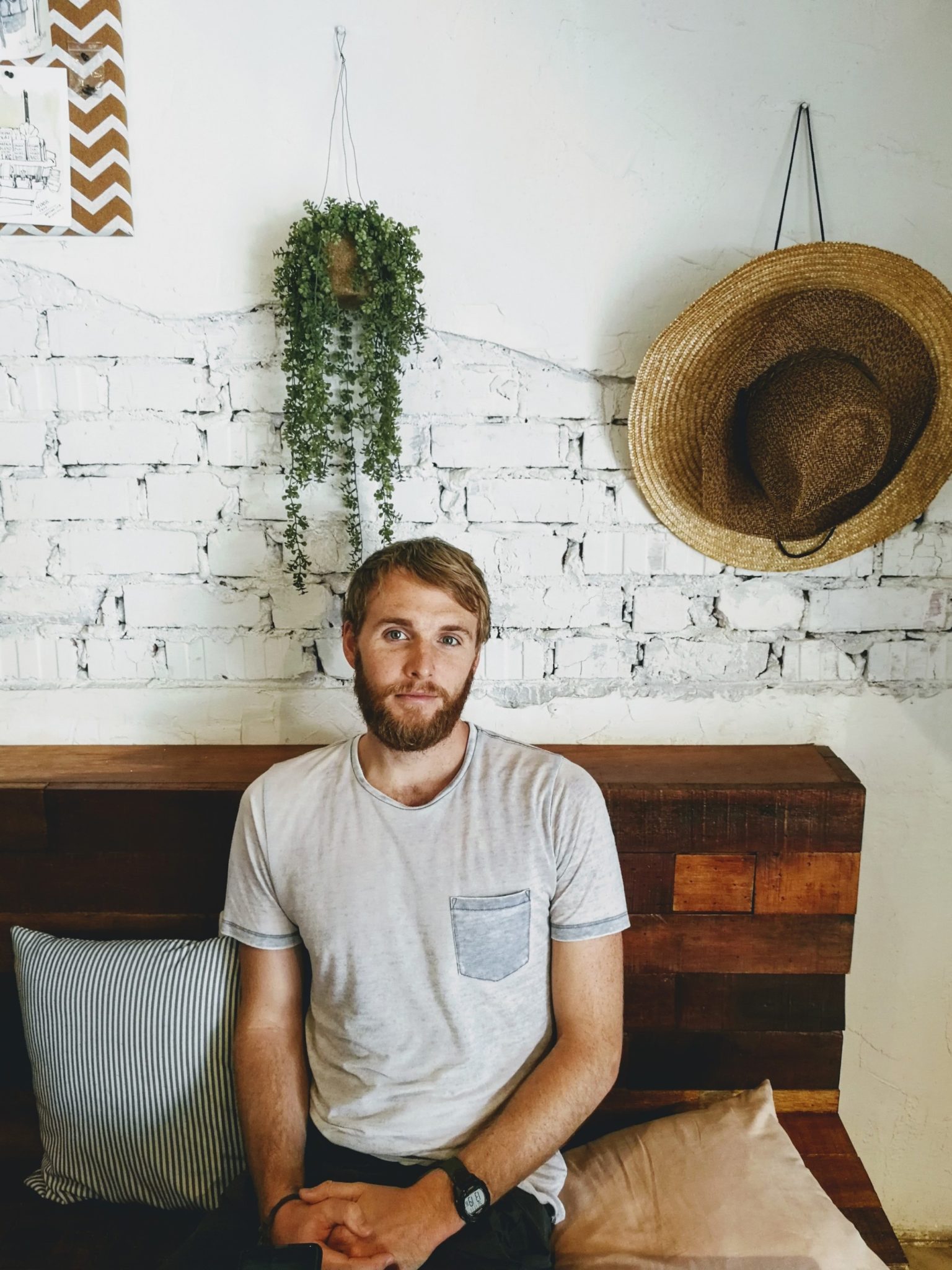 Diving or Island Hopping in Kota Kinabalu
For a day trip take a ferry from the harbour. Gaya, Sapi and Manukan islands are only a ten-minute boat ride away. We chose diving, joining Downbelow Adventures, a company with a base at Manukan and Gaya islands.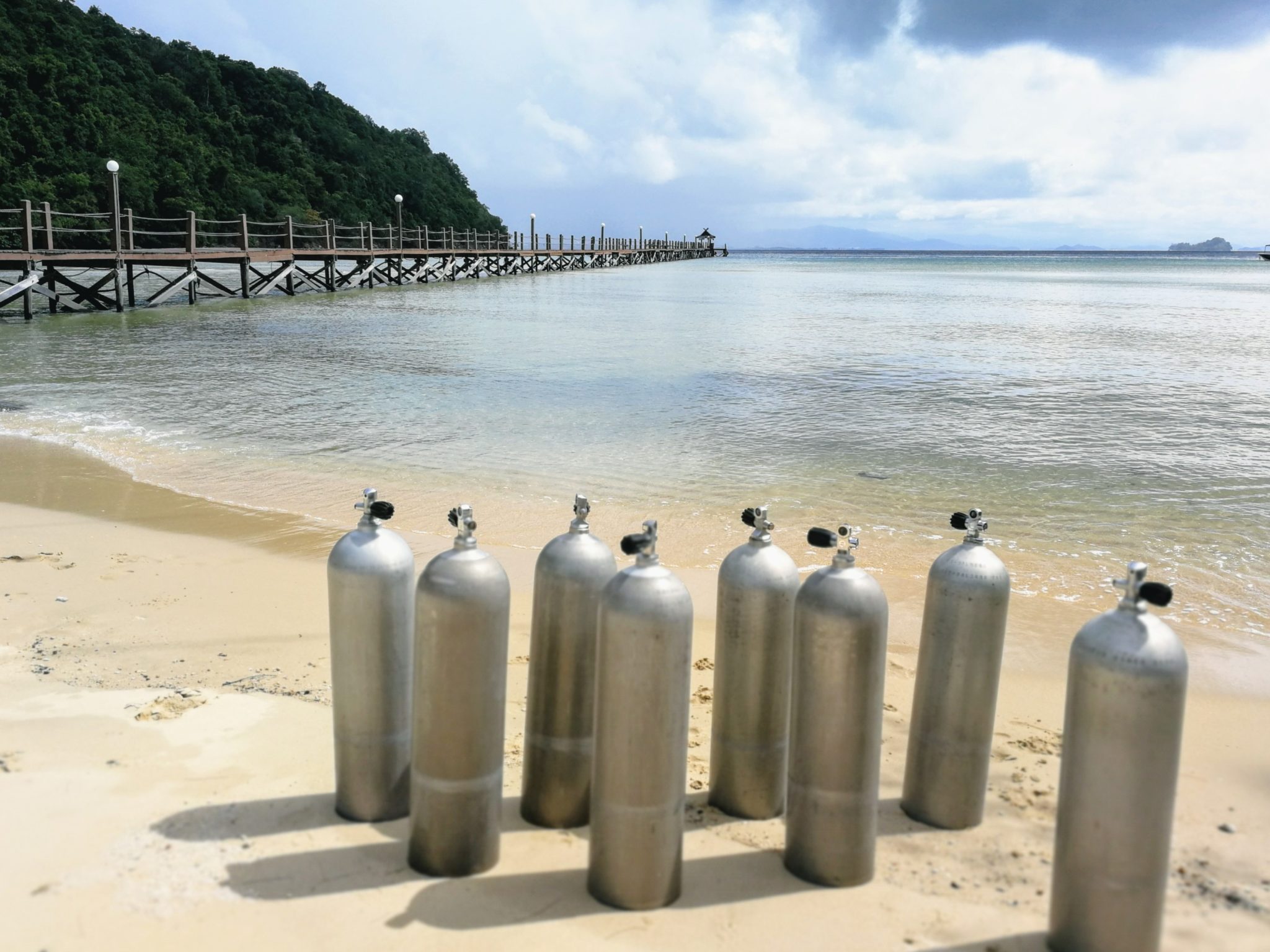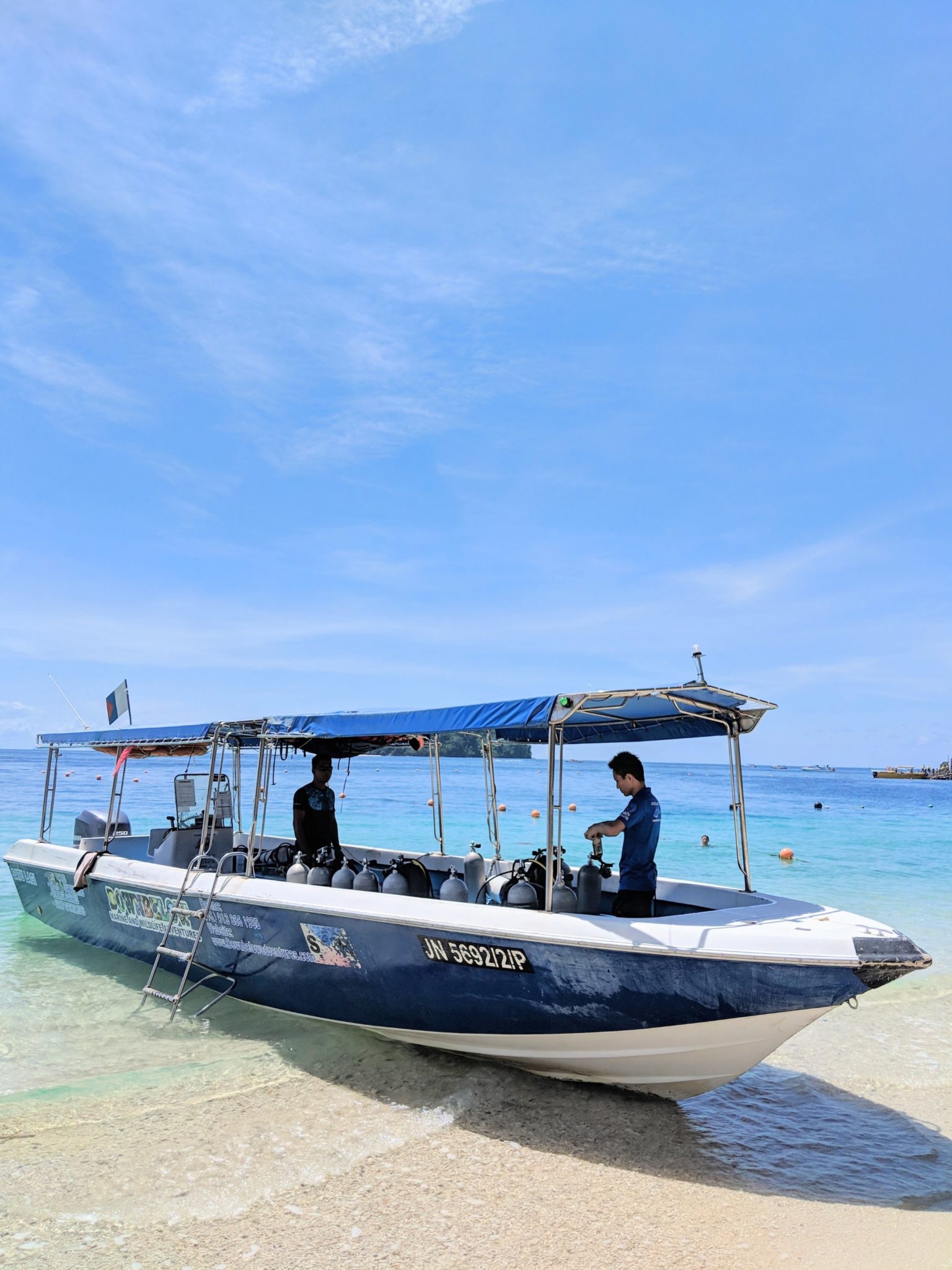 Meeting at the harbour, we were taken to Gaya Island, where the dives depart from. It's a quiet island with beautiful views looking out into the ocean and back to the city. Here you can even spot the famous Proboscis monkeys hanging out in the trees.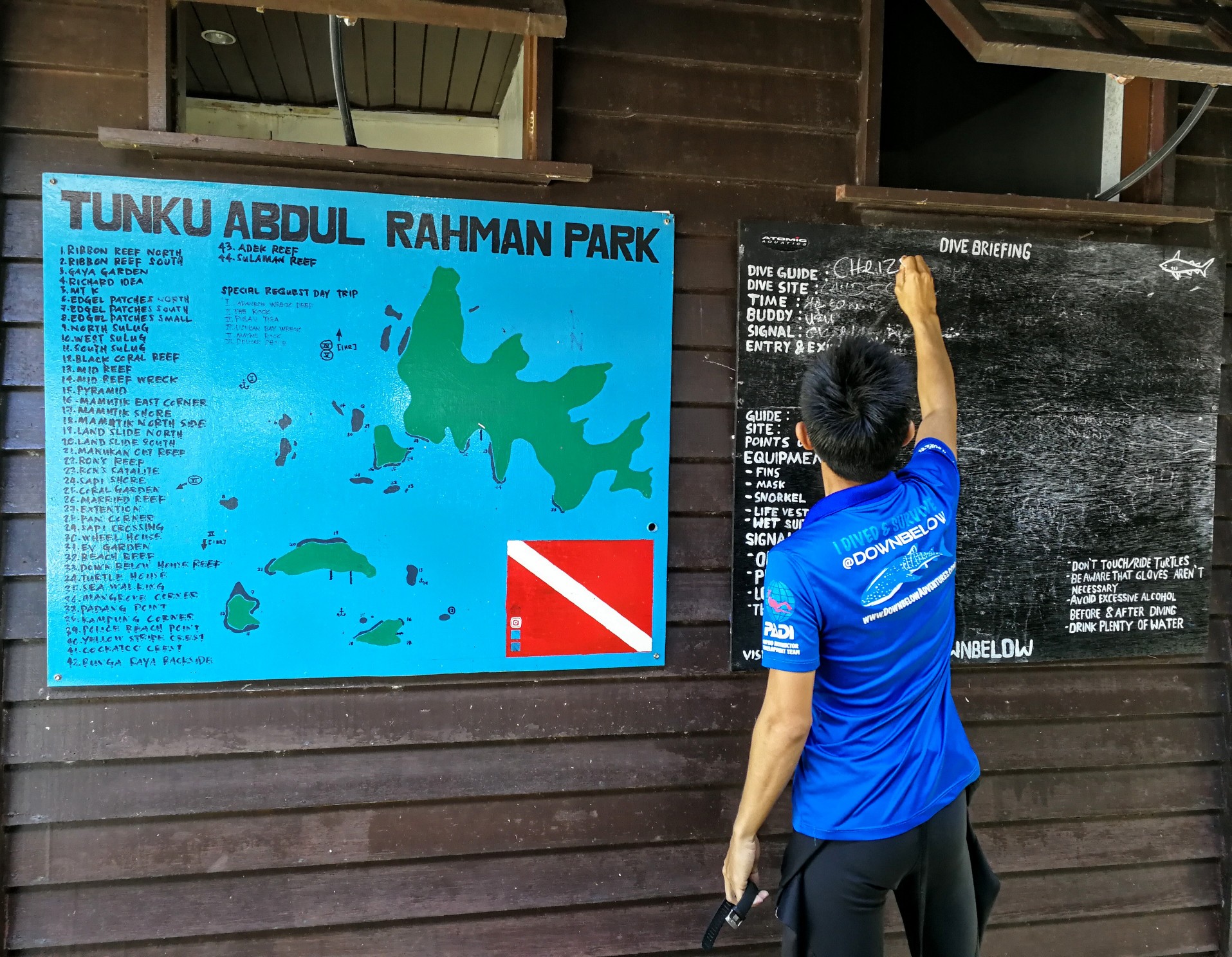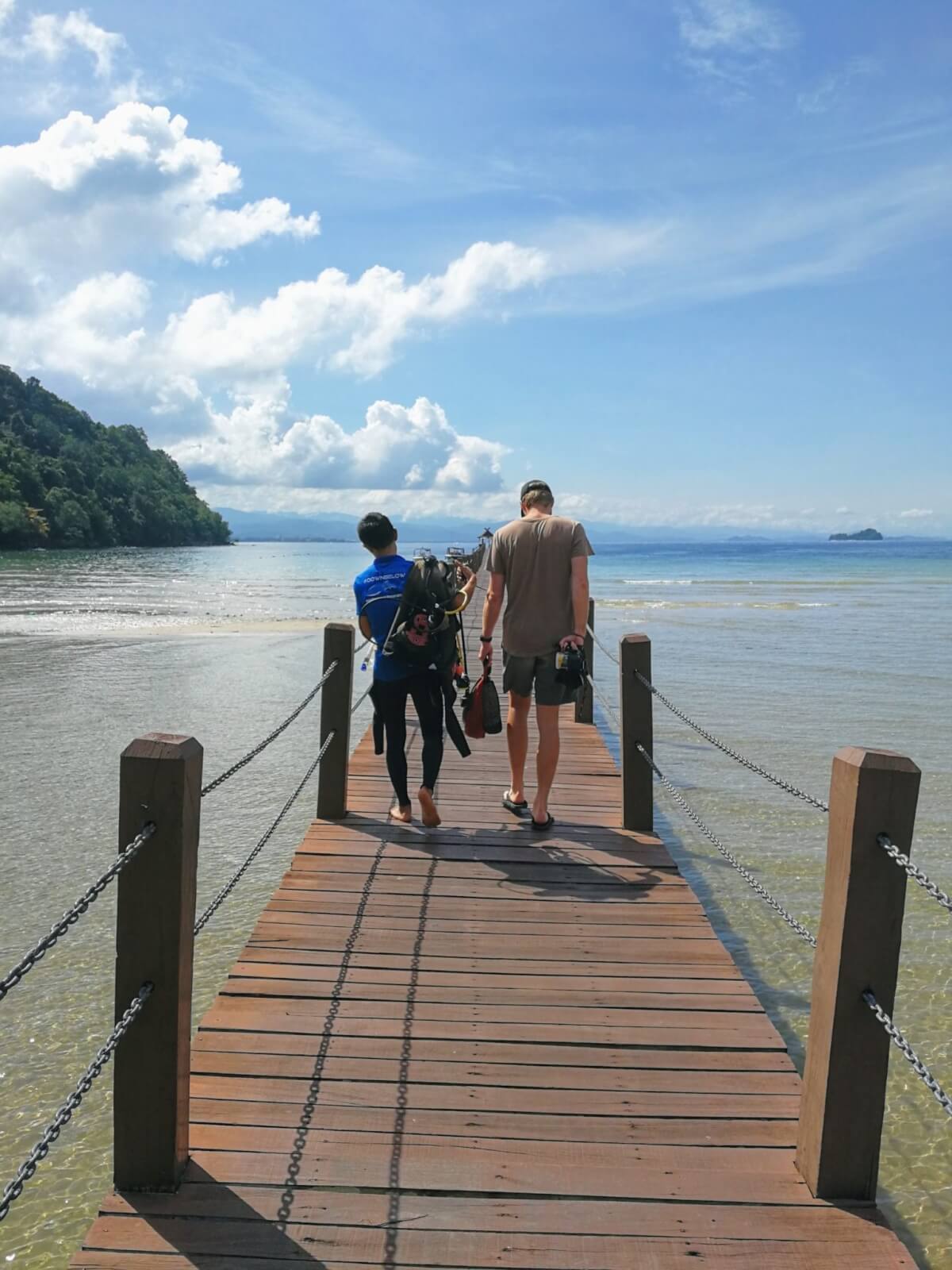 The variety of soft coral here is impressive for reefs so close to the mainland. We highly recommend hiring a torch so you can experience these in all their colourful beauty.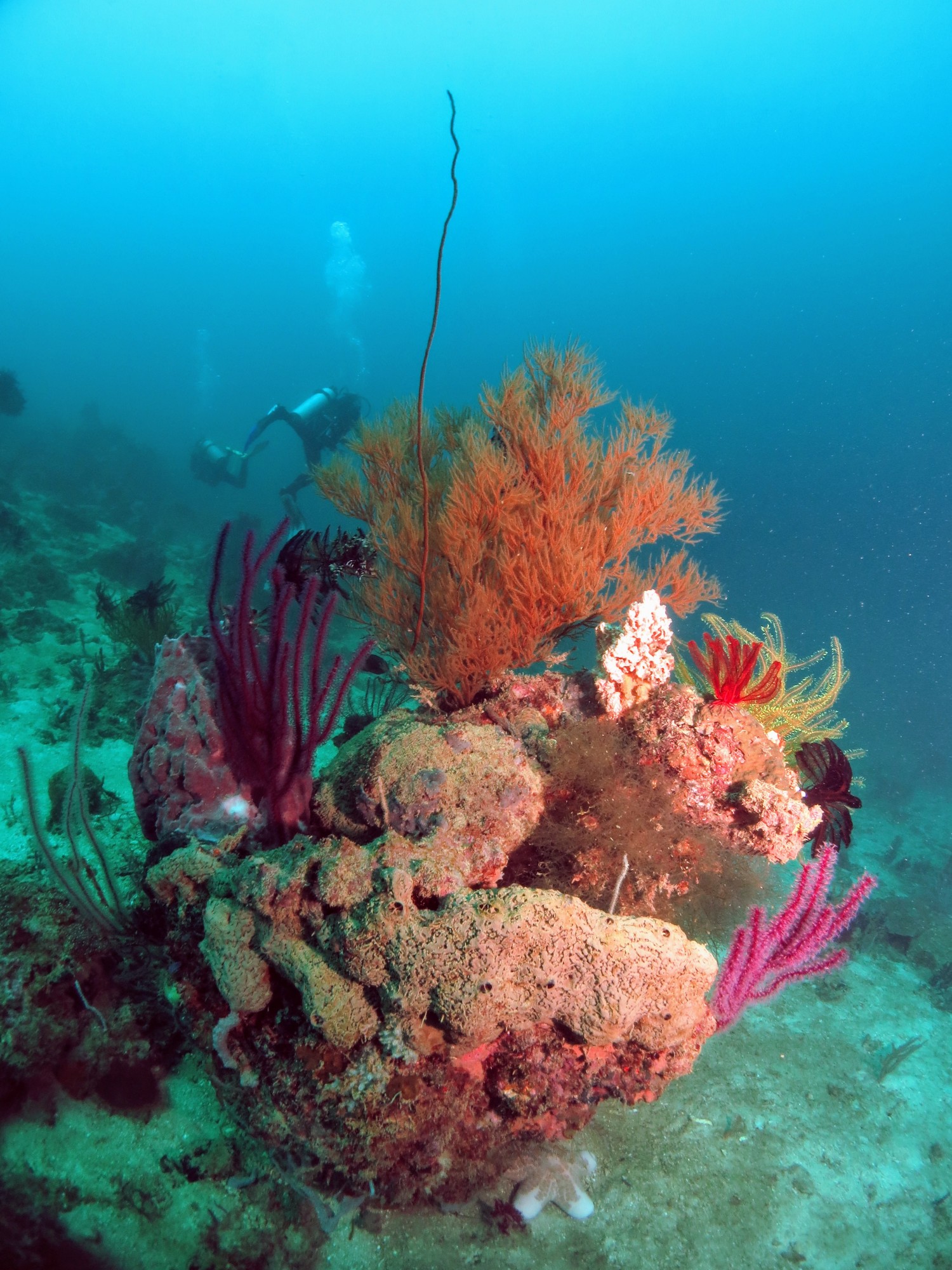 Downbelow adventures also have an office at Manukan island resort. A perfect place for a lovely surface interval in their relaxing pool, bliss!
You can find huge Cuttlefish here along with colourful and interesting nudibranch.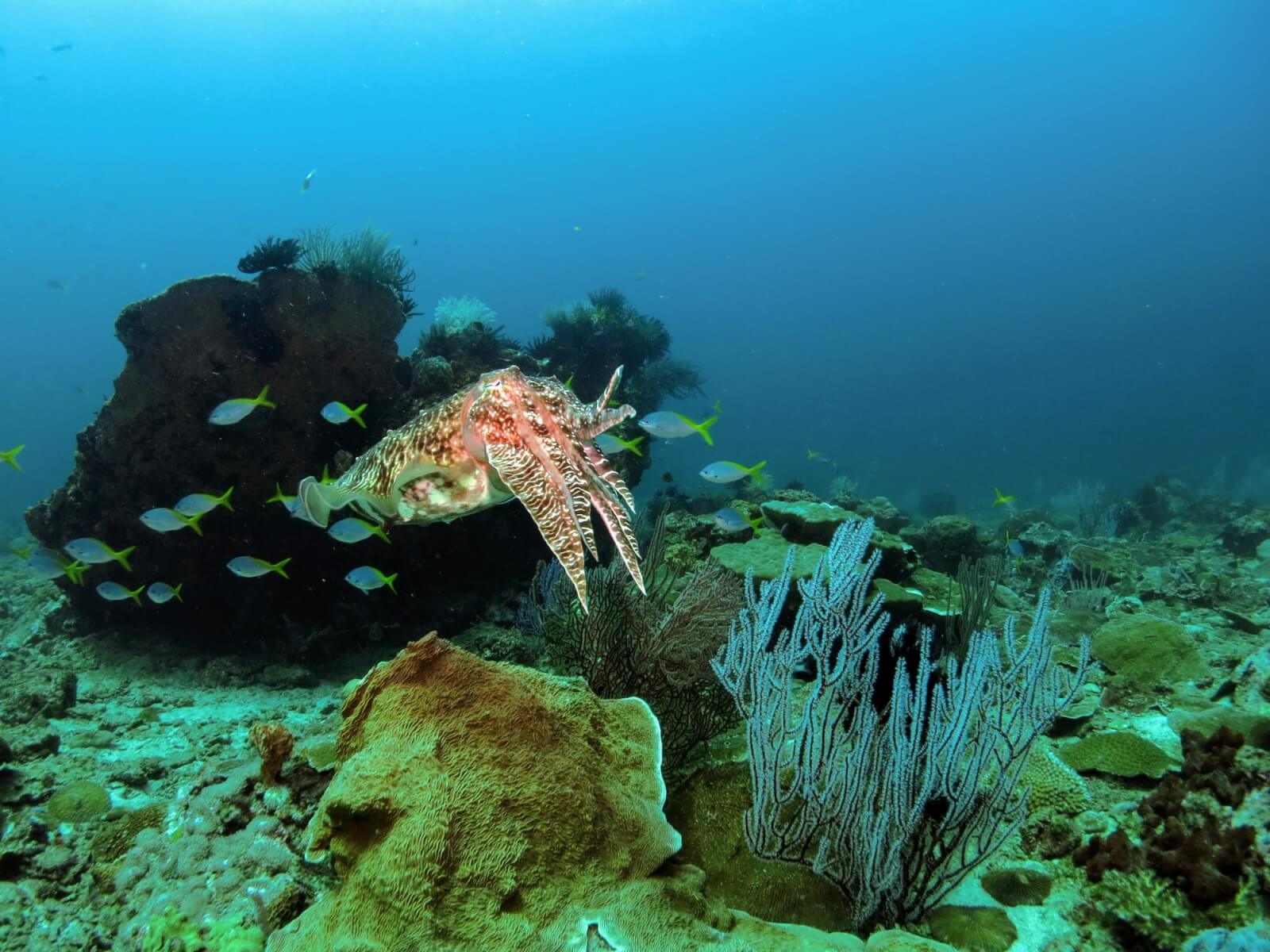 What we particularly liked about the team at Downbelow adventures was their active involvement in preserving and protecting the marine environment by supporting the national park with clean-up operations such as 'ghost nets'.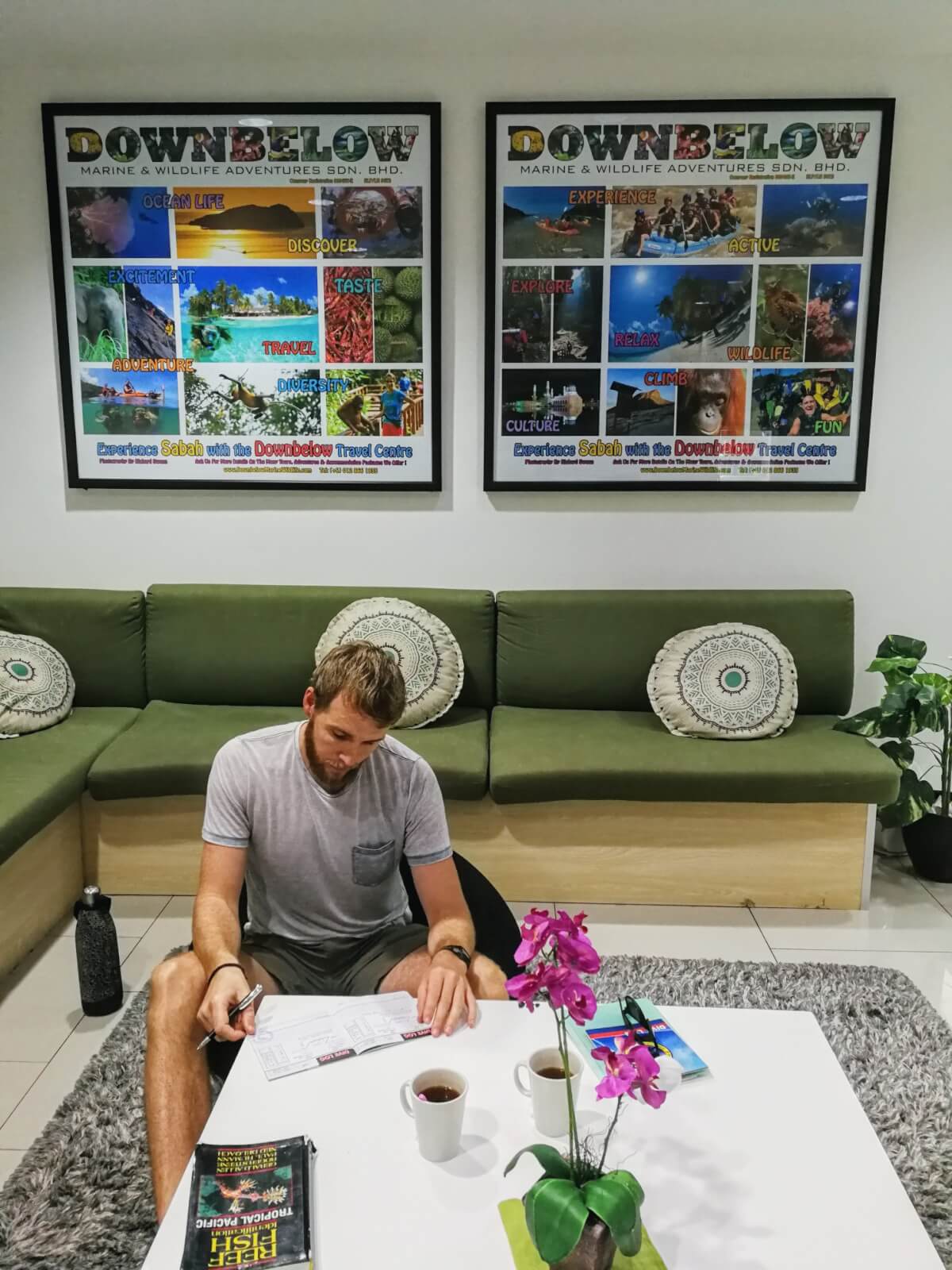 Kota Kinabalu Activities
You can climb the famous Mount Kinabalu, the tallest mountain in Malaysia with a peak of 4095m. Or try whitewater rafting or take a wildlife tour to the Kinabatangan river to spot those famous Orangutans.
Sepilok – Two Days
Getting to Sepilok
Take a six-hour coach from KK to Sepilok.
Where to Stay in Sepilok
The Sepilok Edge Lodge is a beautiful stay amongst the trees. Their food is amazing with some great veggie and vegan options.
There's a beautiful nature walk where you can spot monkeys, rainforest birds and creatures like this quirky guy below.
Meet the Orangutans
The lodge is only a ten-minute walk from the Orangutan Rehabilitation Centre.
Aside from the nursery area, this is an open rainforest area where the orangutans are free to roam. Food is left every day for those wanting to supplement their food from the wild, however, the rangers leave the same food (so they become bored with it) to encourage the Orangutans to rely on natural food sources in the rainforest.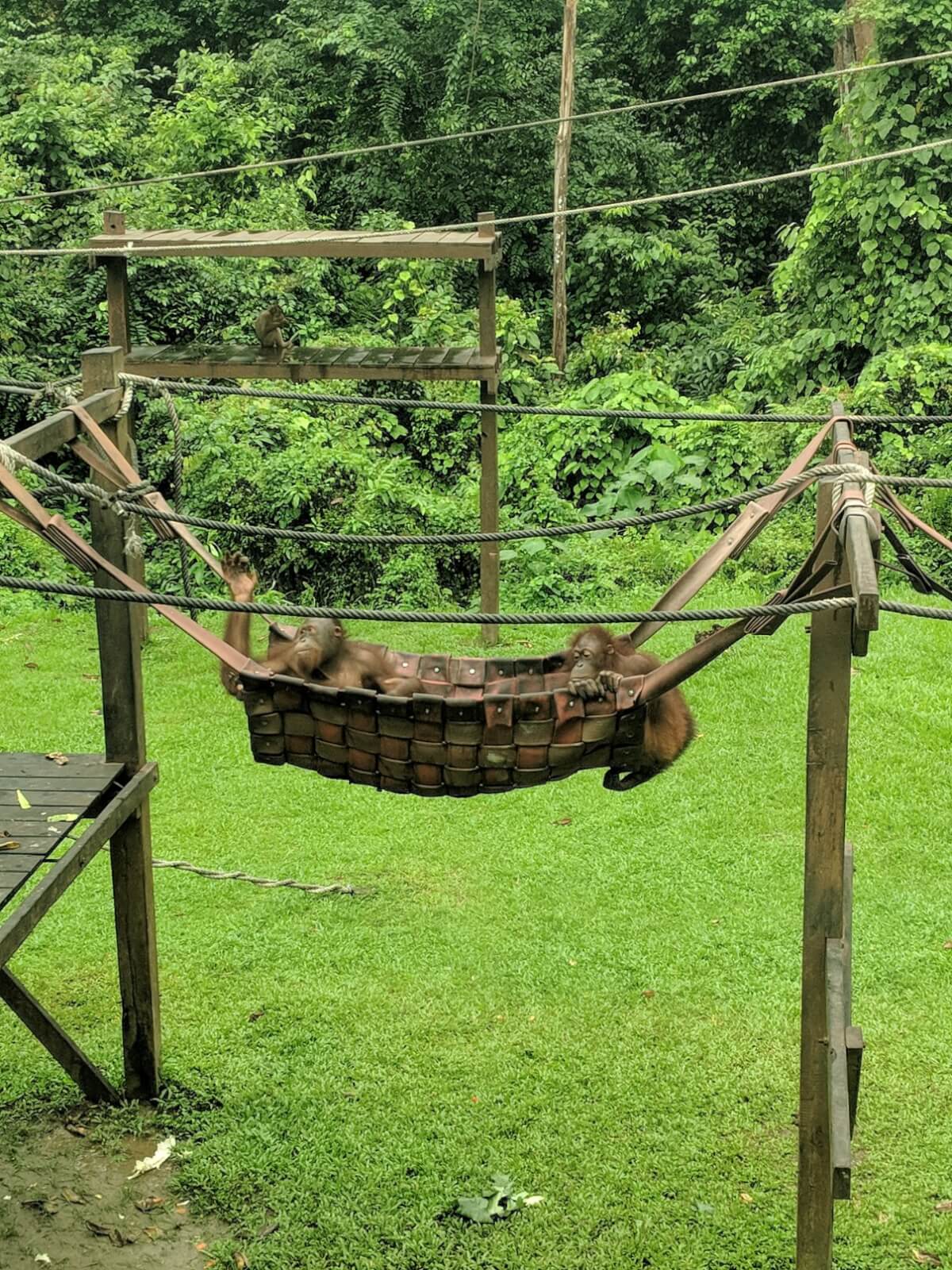 The Orangutans are brought here for many reasons; sick, orphaned or because they are affected in some way by the reduction in their natural habitat caused by the palm oil industry.
We had a very close encounter when this curious Orangutan swung over to us to say hello. Like most people, we would always prefer a 'wild' encounter (which we had, luckily) however it was great to learn about the work the centre is doing.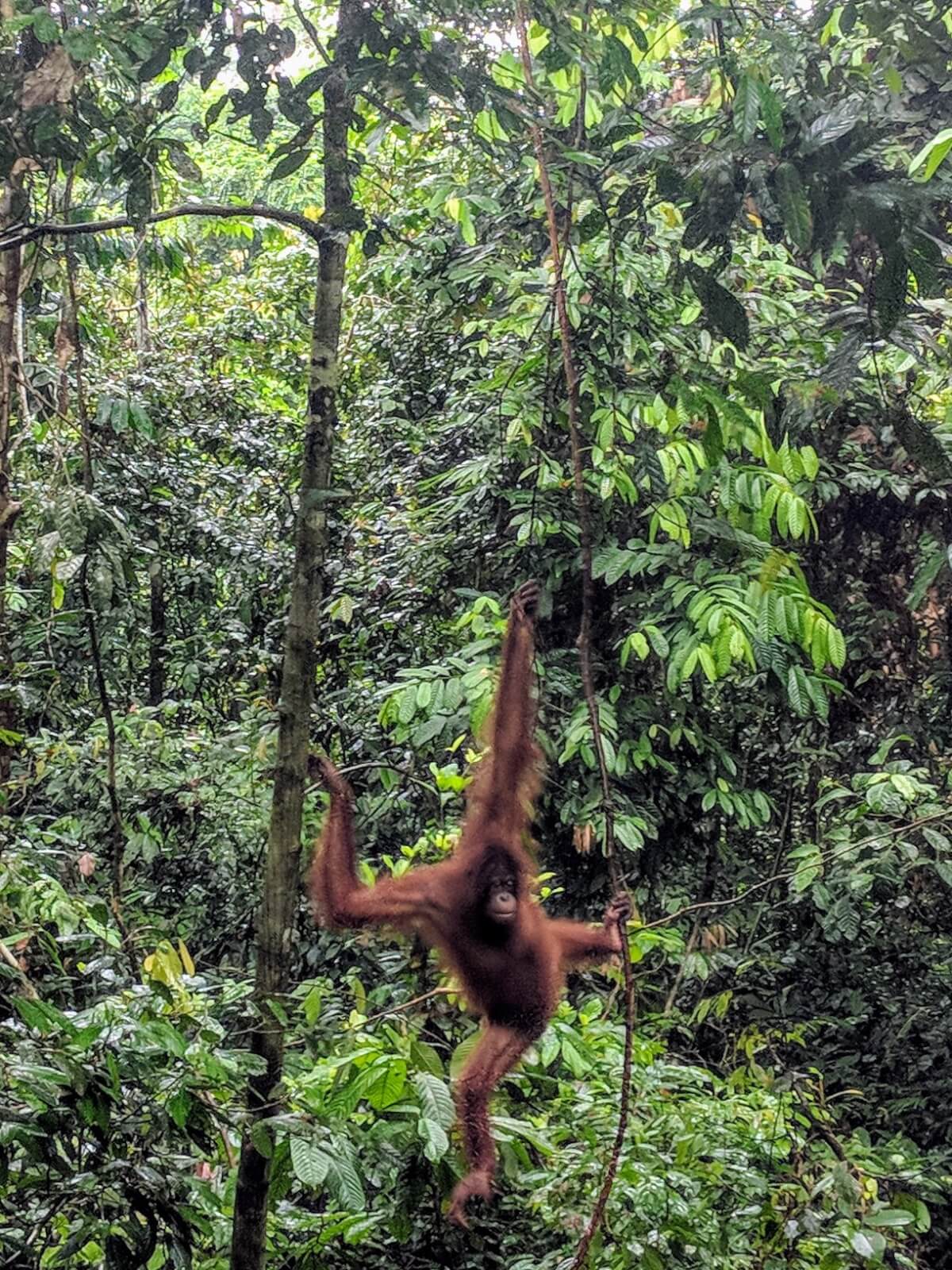 Palm Oil
Borneo is known for its Palm Oil. The government here has taken action in this area and for years palm trees have only been allowed to be re-planted in the same spot so that the rainforest isn't being lost to more plantations.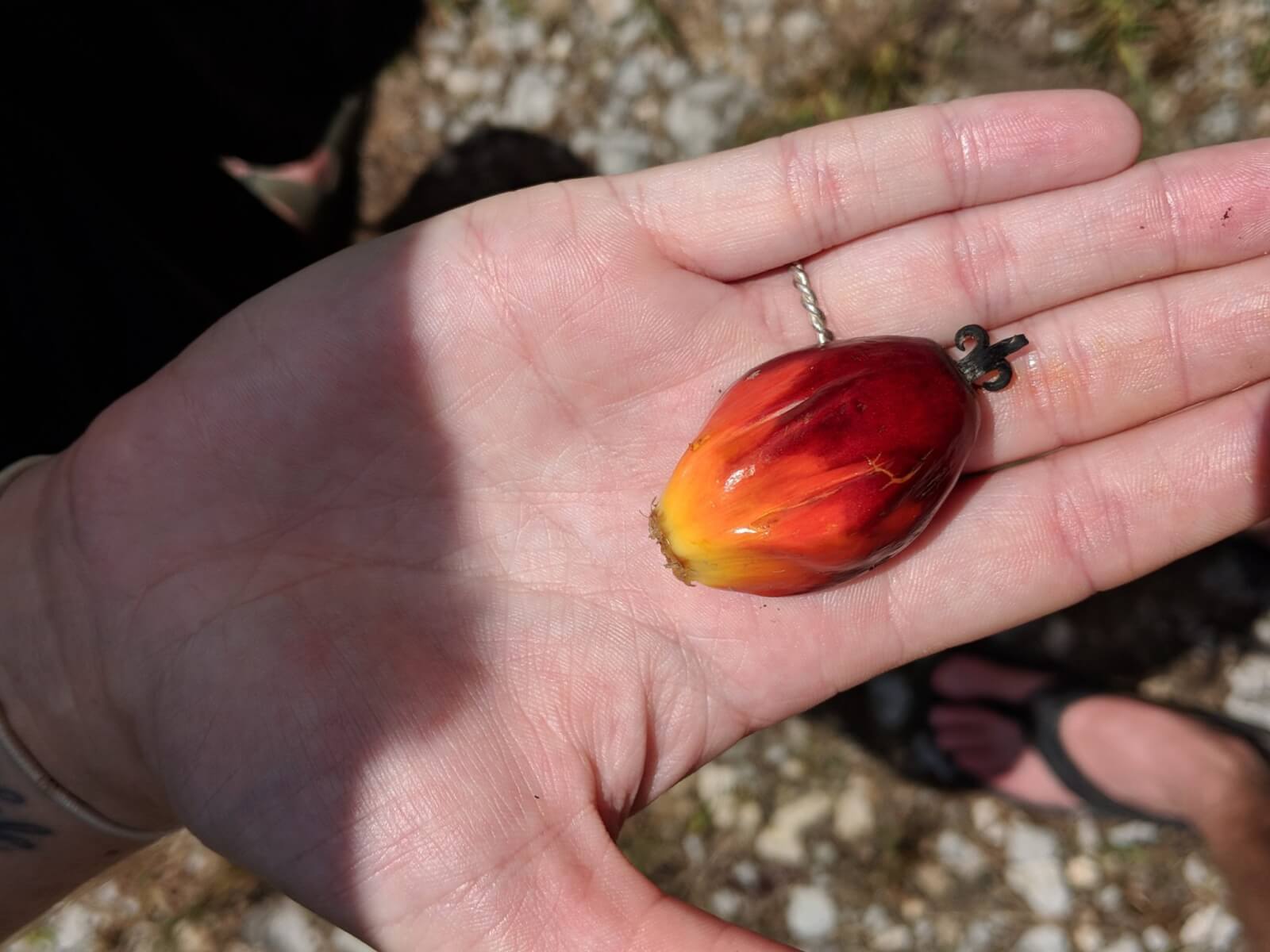 Kinabatangan River – Three Days
Getting to Kinabatangan River
You can pretty much arrange a visit to Kinabatangan River from anywhere in Borneo. It took us around two hours in a minivan from Sepilok (included in the tour price).
Book a Kinabatangan River Tour.
Where to Stay in Kinabatangan River
We stayed at The Sukau Bilit Resort.
A two night/three day stay includes; a two night stay in a lodge in the rainforest, five river cruises, two night walks, one trek and all meals.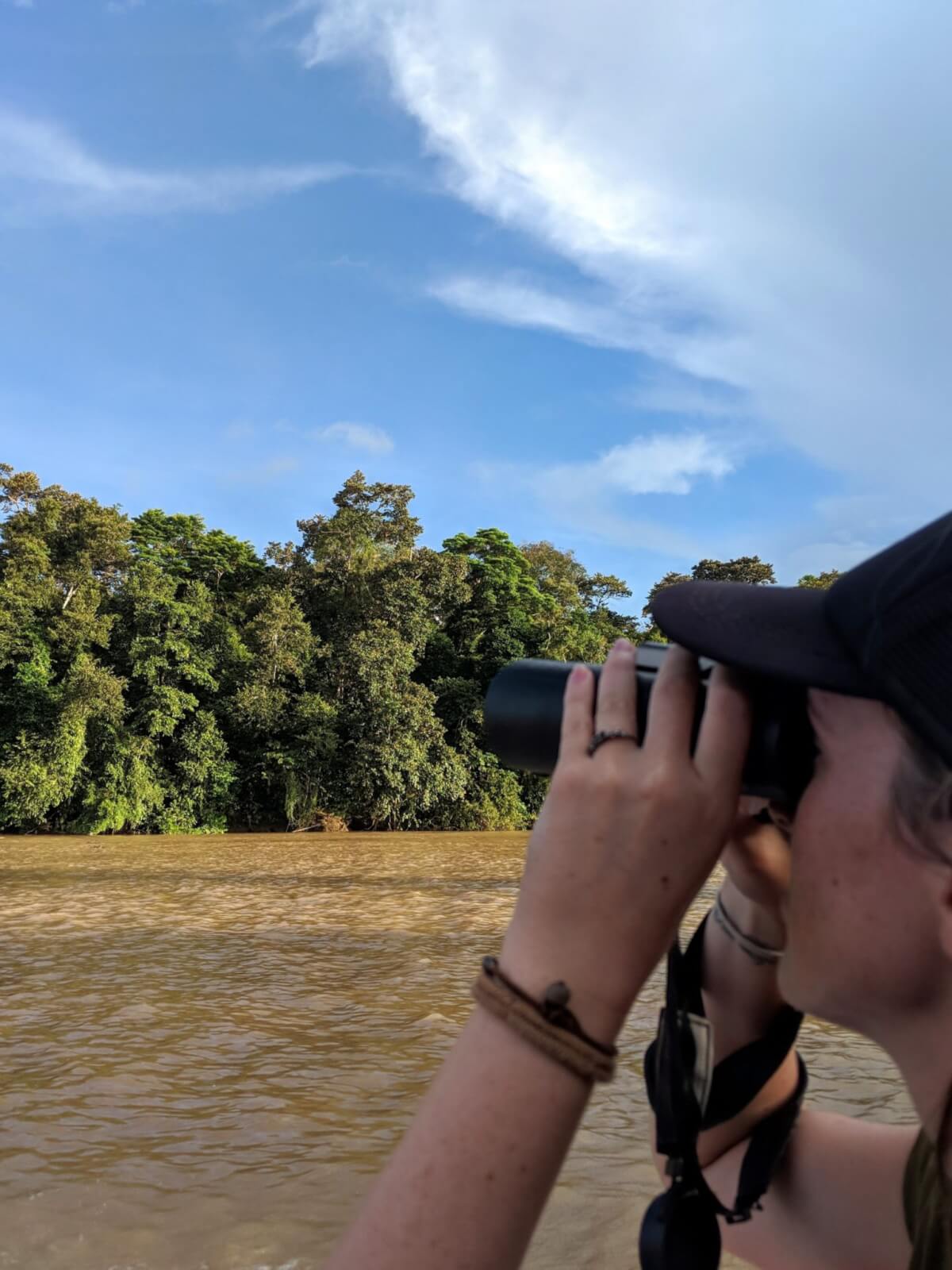 We're here to spot the Borneo 'Big five':
Orangutans
Pygmy Elephants
Proboscis monkeys
Crocodiles
Hornbills
We were very lucky to see all five! What a fantastic experience.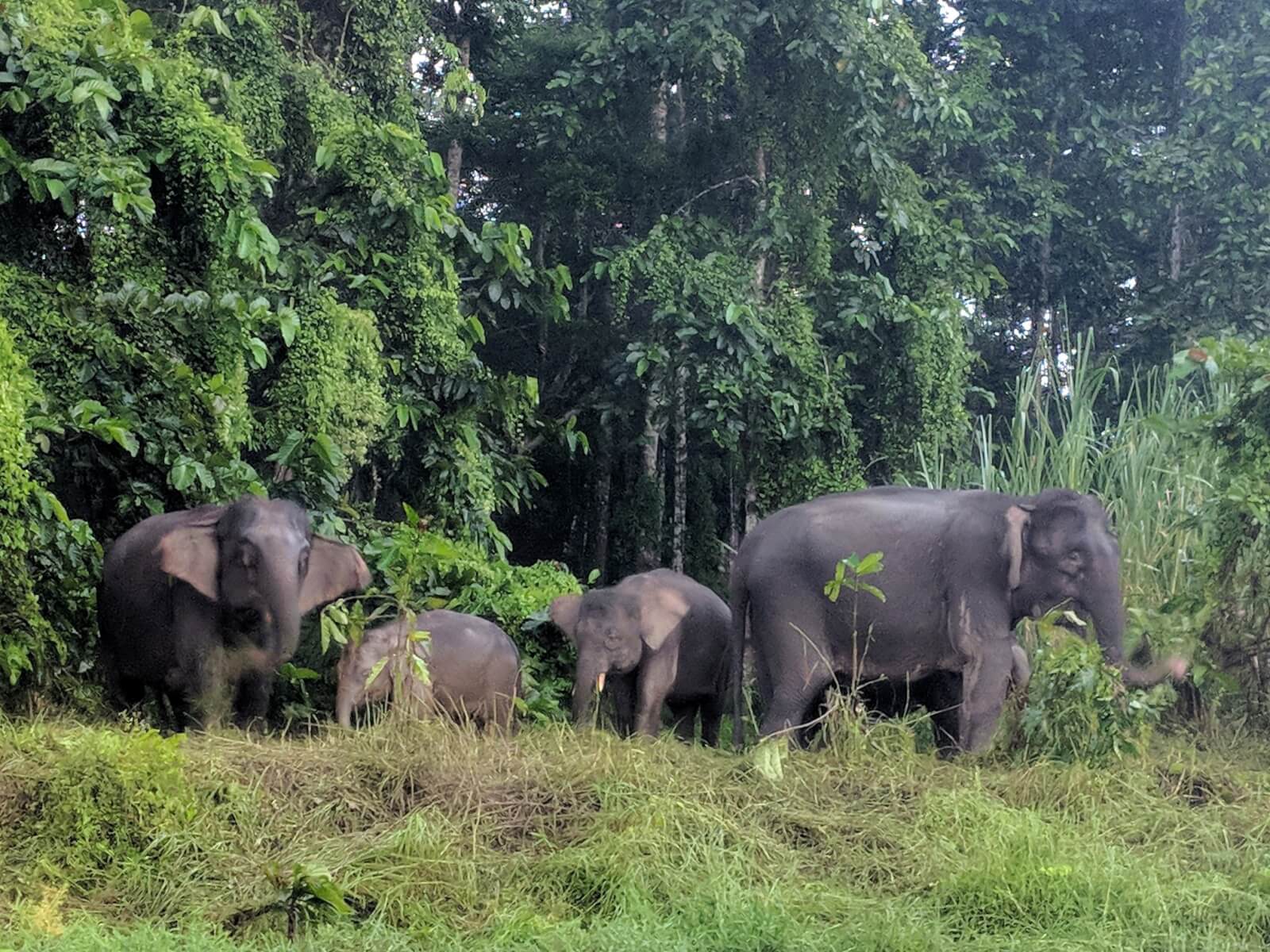 Sipadan & Mabul Diving – Five Days
About Sipadan
The main reason we were in Sabah was to dive Sipadan! It's one of the top ten dive locations in the world, so we were anxious to see if it lived up to the hype.
Diving here can be an expensive trip, and shopping around can be time-consuming and exhausting. Lucky for you we've done that for you!
Getting to Sipadan
Usually, you'll need a night in Semporna, the closest airport is Tawau (a two-hour bus ride). Semporna is an unassuming stop before heading off to your chosen island. It's not cheap for what you get here, but we recommend a stay at Sipadan Inn, which now has three hotels.
Staying here you're surrounded by dive shops, and after lots of research and only two roads away from our hotel, we chose to dive with Billabong Scuba. It is one of the budget/middle options that received positive TripAdvisor reviews.
Where to Stay in Sipadan
The Billabong office in Semporna is a little underwhelming, but so are most others it seems as the dive accommodation is based on Mabul Island.
Mabul, a fishing town mainly home to the Baja Laut 'Sea gypsy' people, provides a variety of accommodation options from very basic to high-end.
Billabong Scuba was a great stay with simple cute bungalows perched out over the sea, which are all you need for a unique, comfy stay.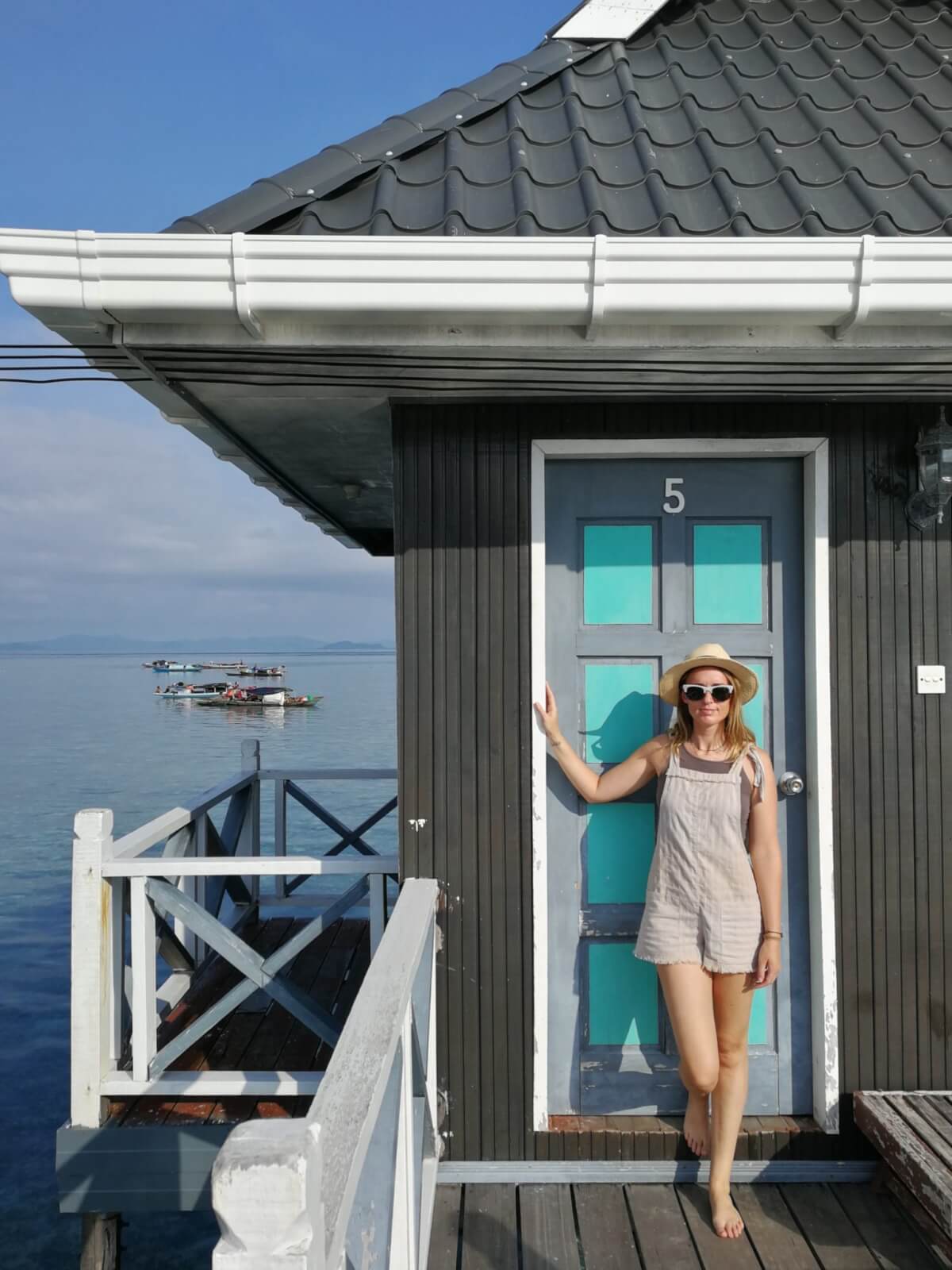 The huge buffet restaurant looks out onto open water and serves three meals a day (included in the price). It stretches out further than most other accommodation giving it one of the best outlooks for a sunset beer.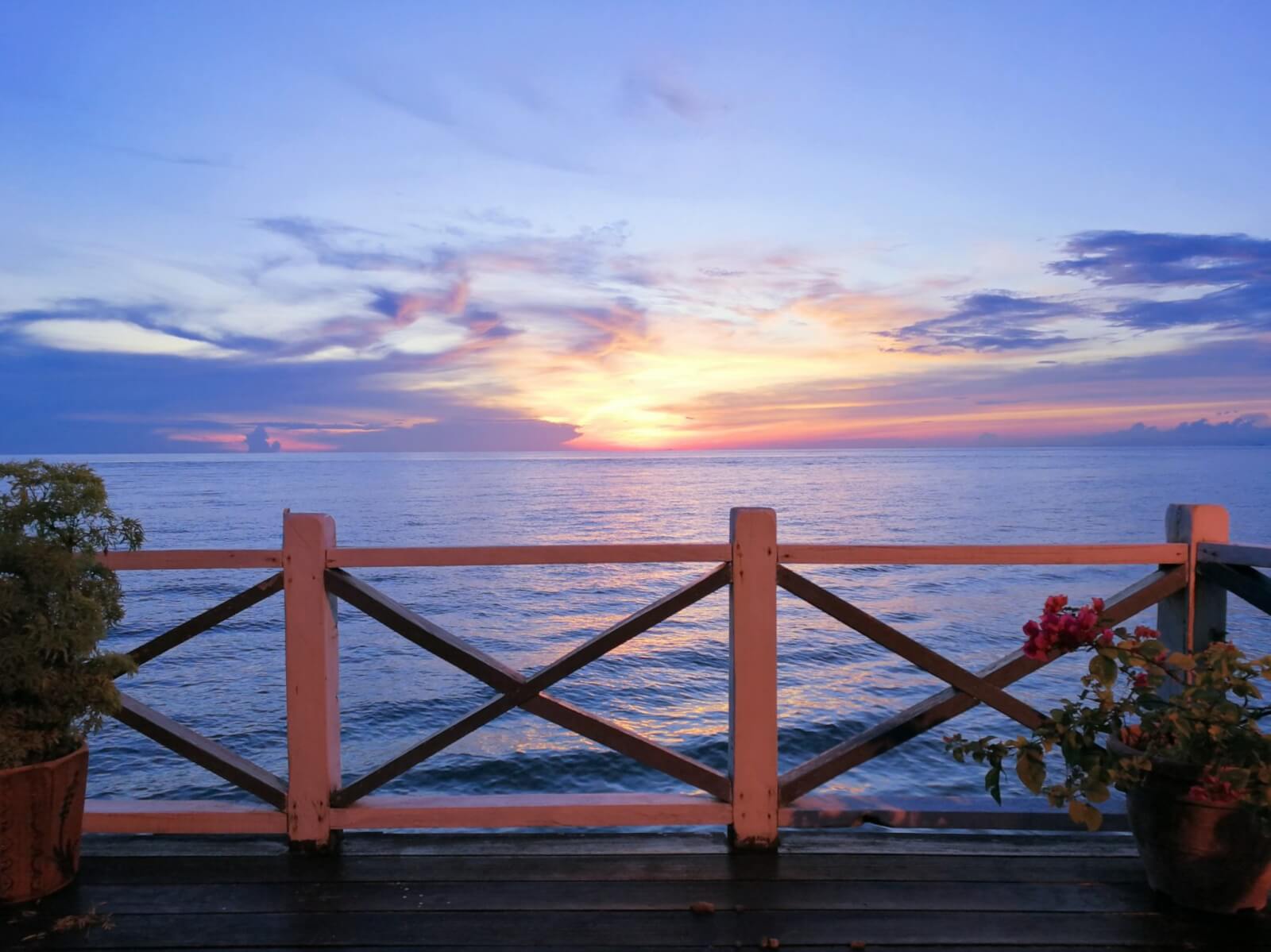 Fishermen and sellers appear from beneath your bungalows in boats selling anything from live lobsters, to crabs, coconuts and fruits.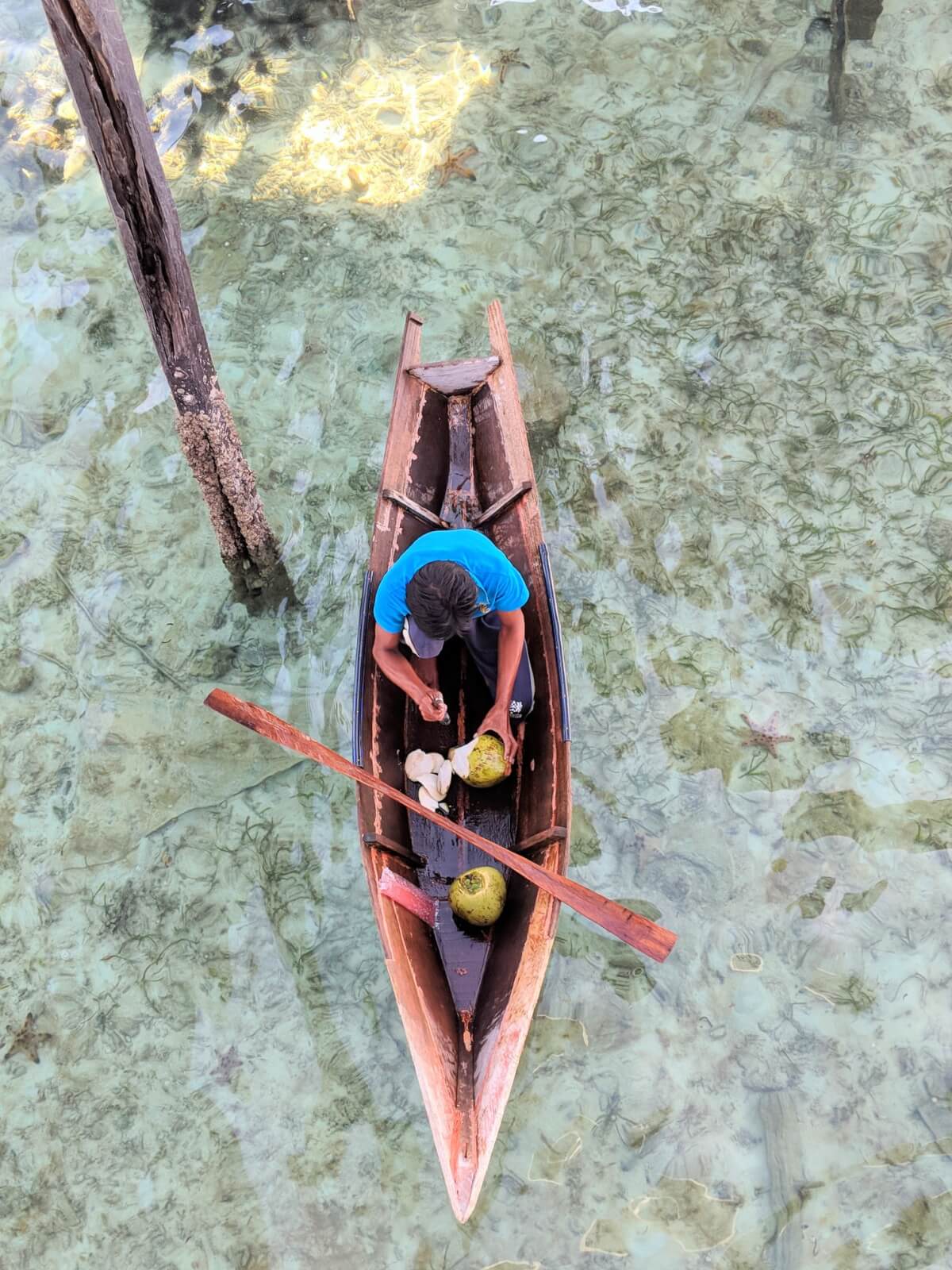 A two night/three day package includes three dives around Mabul/ Kapalai Island and three dives on the famous Sipadan island including the permits and all meals.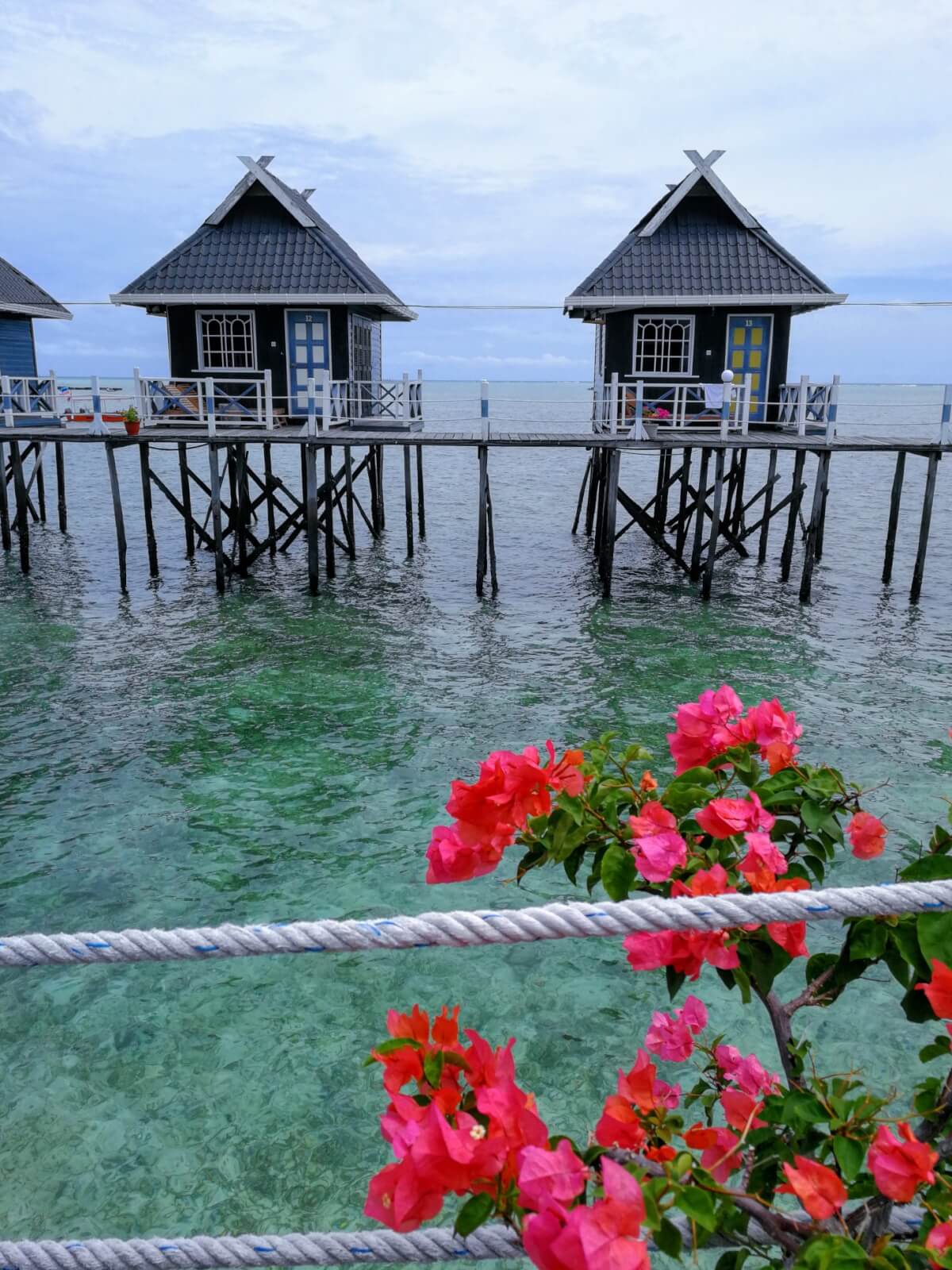 Diving in Sipidan
Neighbouring Mabul and Kapalai islands are mostly for the macro (small) critters. We found the weird and wonderful here, which we absolutely love!
A rare moment caught in this picture as a Giant Frogfish yawns. Frogfish camouflaged as coral are difficult to spot, we've never actually spotted one ourselves, one day!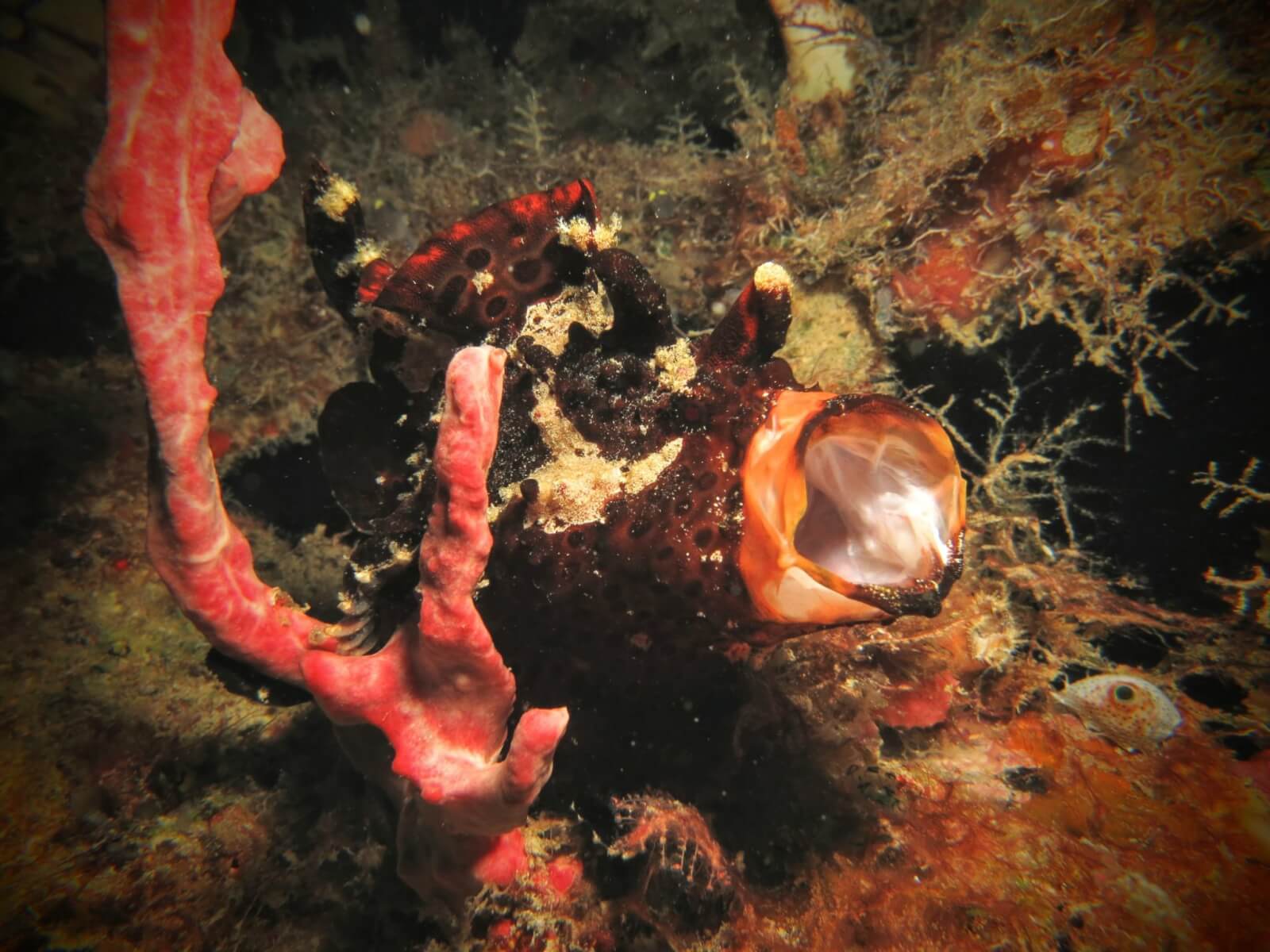 We were in awe of these unusual animals. We left these dive sites buzzing and wanting more!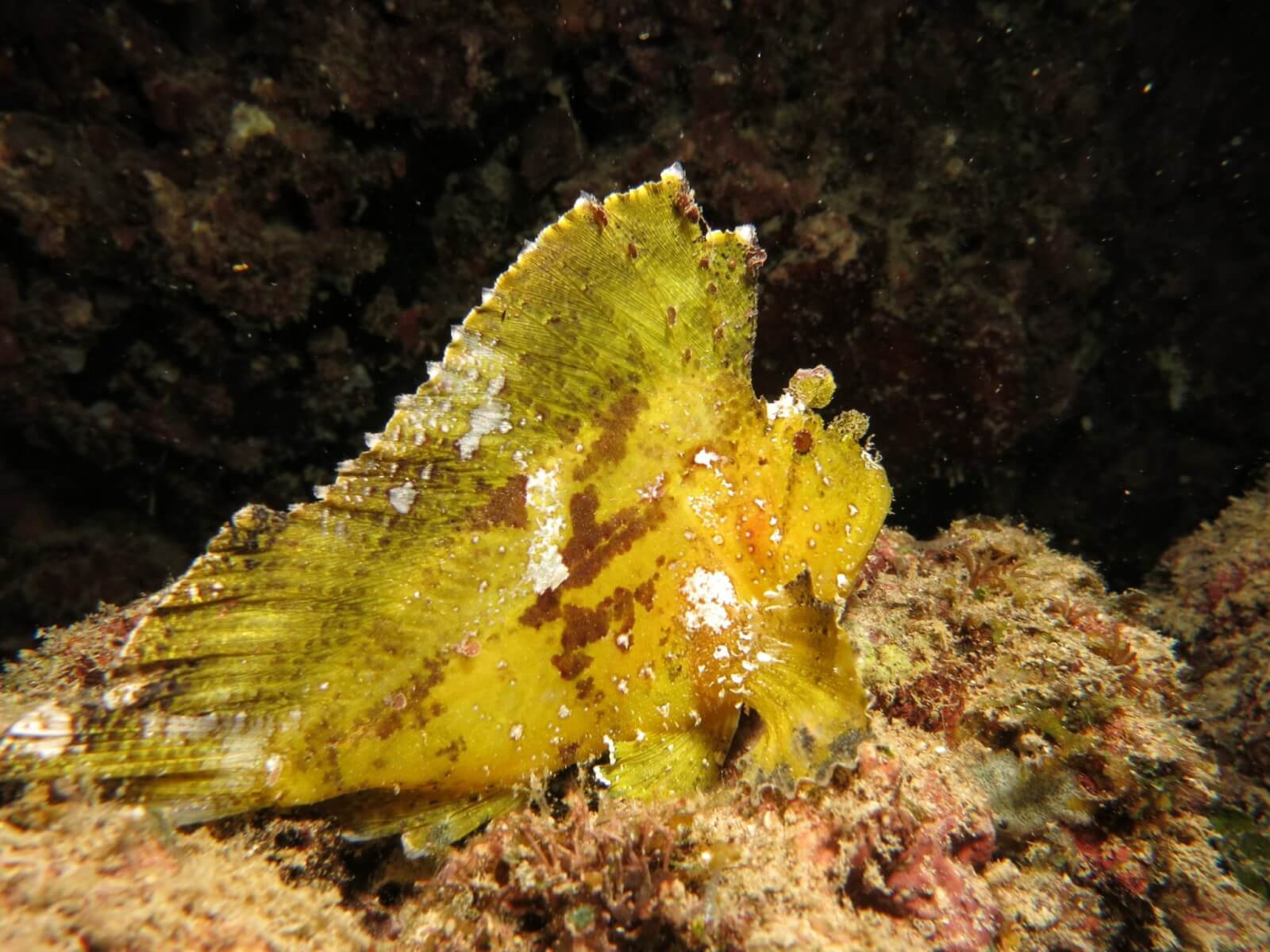 Sipadan Island, however, is the main reason scuba divers come to these parts. Permits to dive here are limited to 125 people per day (divided between the various dive shops), so it's wise to book your spot early.
The island formed from coral growing on an extinct volcano. Now surrounded by depths up to 600m, the island attracts large numbers of well…everything!
It didn't disappoint, delivering what felt like fish soup…..everywhere!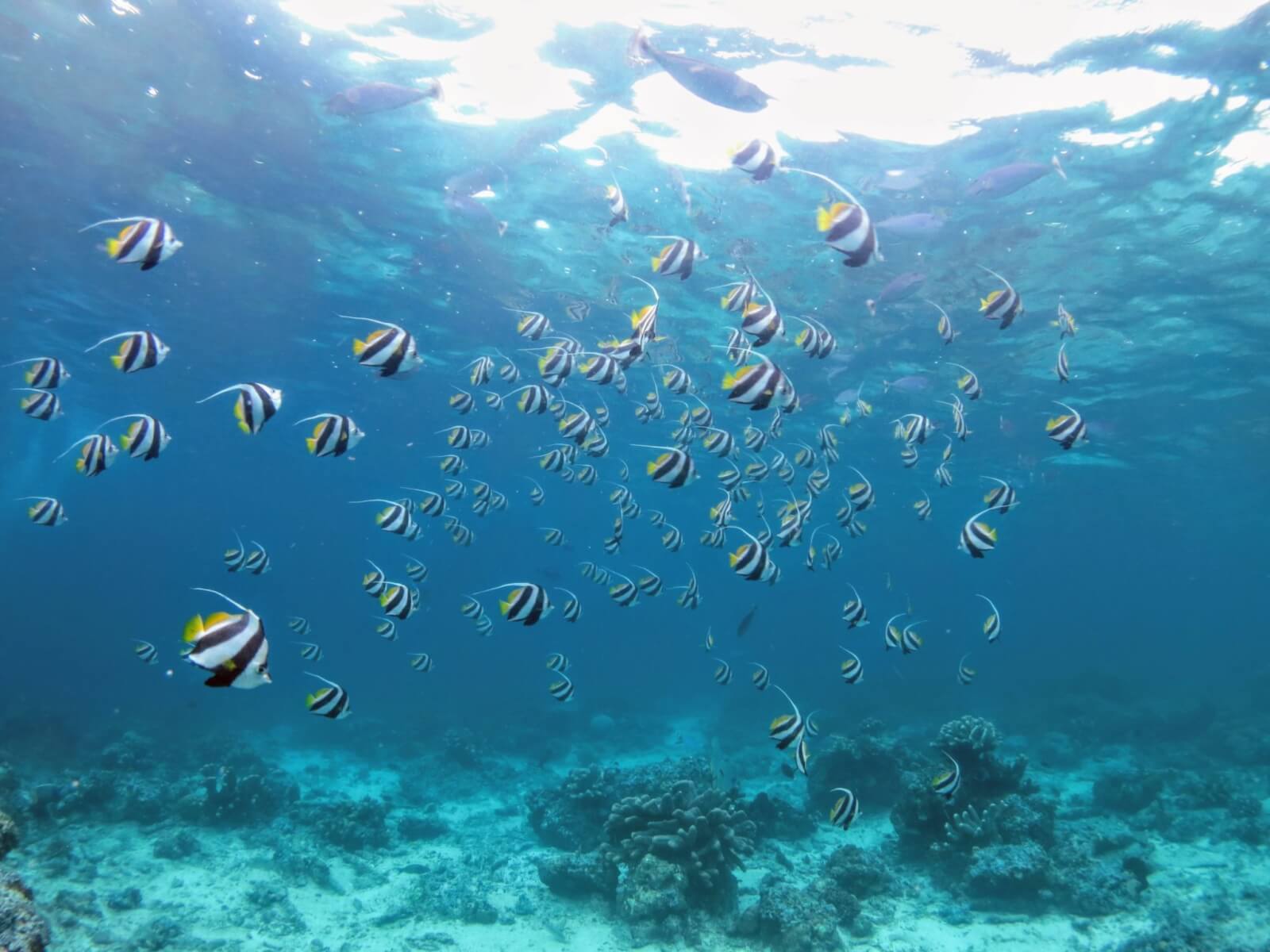 It really did feel like you were in an aquarium with the sheer density and variety of fish! This included curious reef sharks and huge turtles passing by.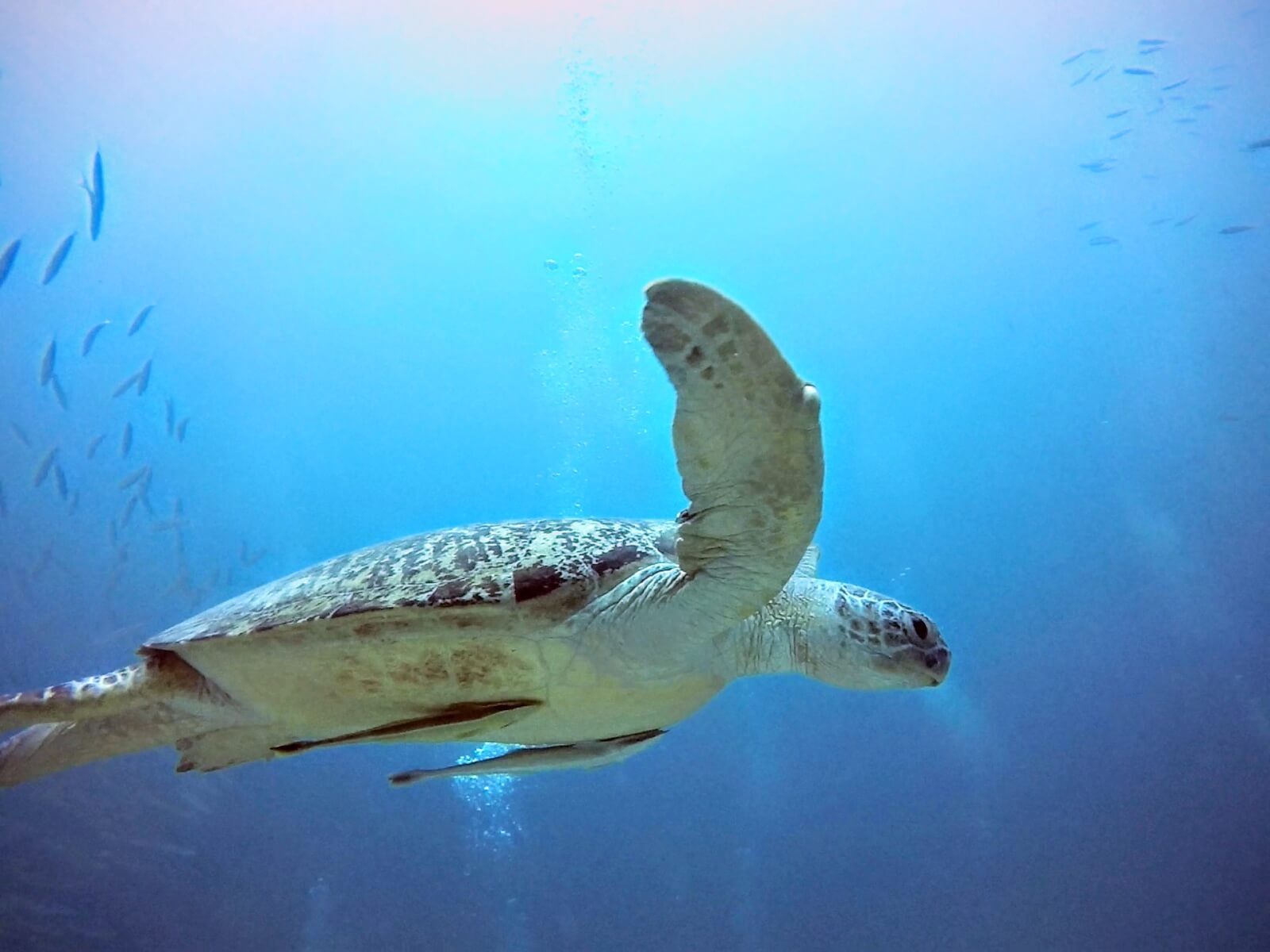 The coral and reef were in good health with huge sea fans and tubular sponges, an indicator of a mature healthy ecosystem.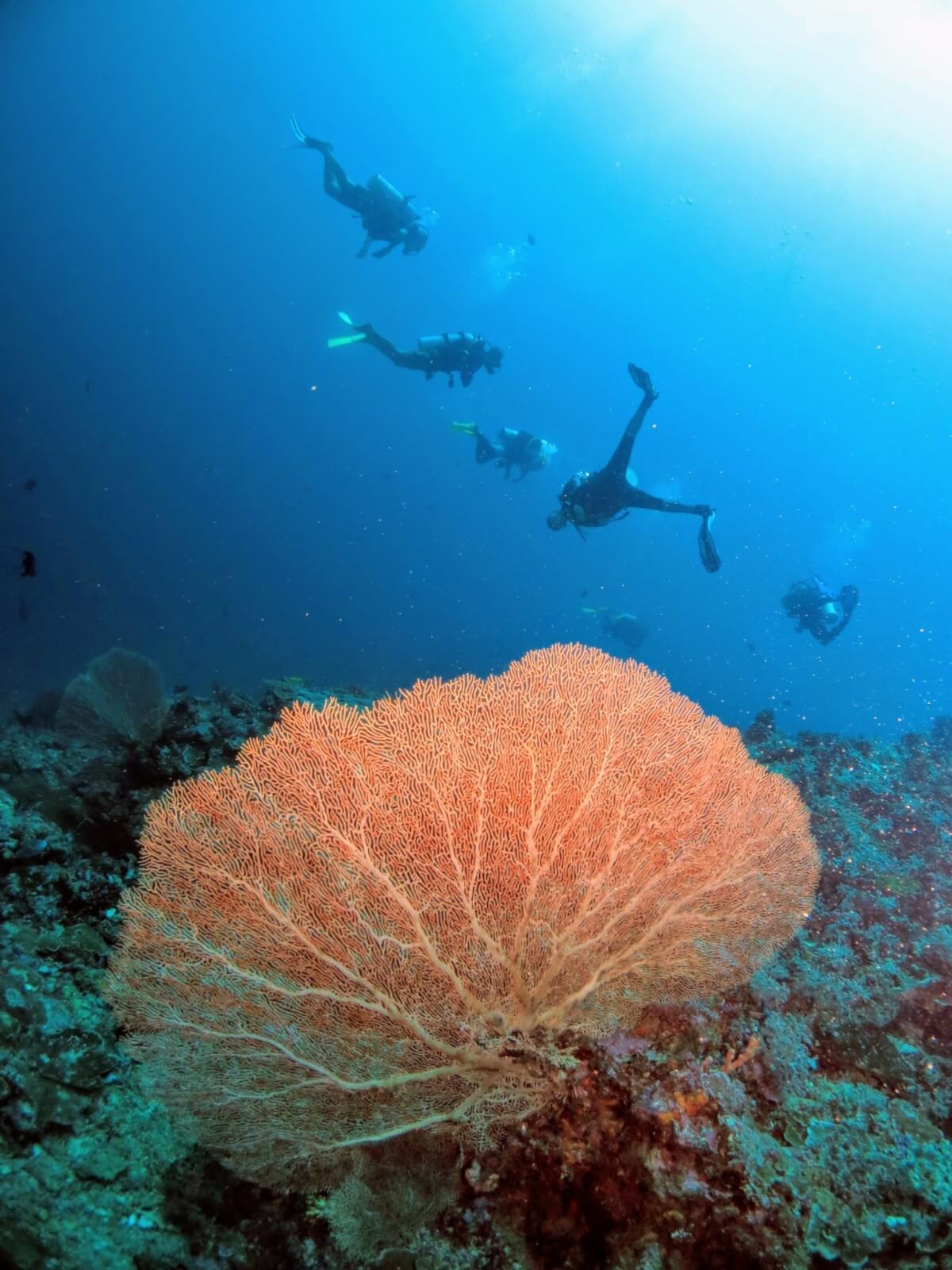 During the time between dives, the island of Sipadan was relaxed and quiet, especially if you take a walk away from the 'pit stop area' where all the dive shops serve lunch.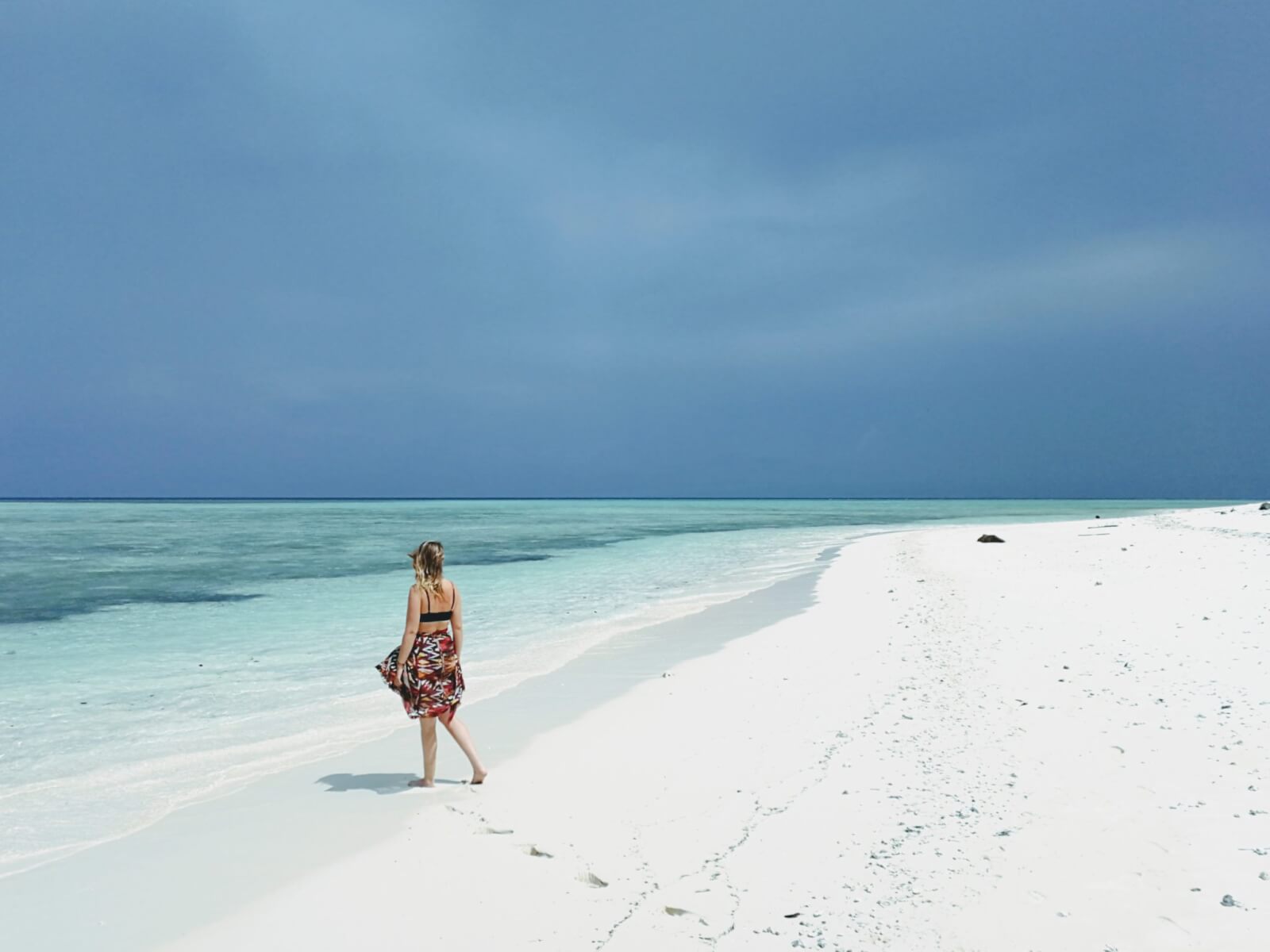 To confirm….YES, this is a bucket list dive site.
This really is a place that pictures or videos cannot do justice to.
Malaysian Borneo is a nature lover's dream and it is possible to do either on a budget or a 'splash the cash' vacation. It gets a huge thumbs up from us.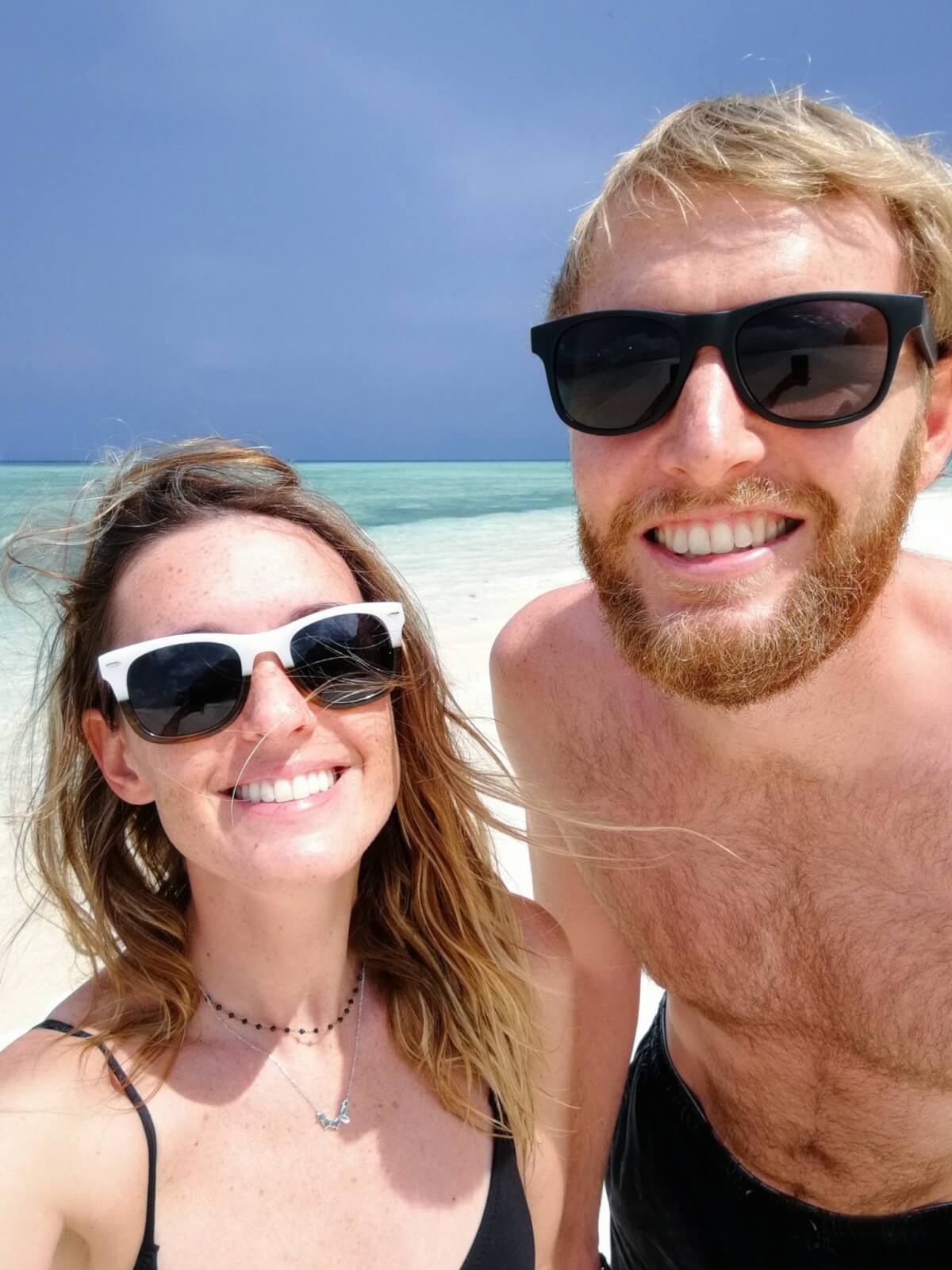 Thank you to Downbelow Adventures for hosting A Lovely Planet.