I visited Vancouver for the first time in October and was fortunate enough to stay in a few different areas of this beautiful city.  After a relaxing weekend on Bowen Island, I checked into the Hilton Vancouver Downtown in the heart of Downtown Vancouver. (Previously the Westin Grand Vancouver).
Disclosure: This article contains affiliate links. This means that if you click a link and purchase something I've recommended I may earn a small commission. This does not affect the price you pay but helps me to run this site. You can read my full affiliate disclosure here.
The Neighbourhood
Downtown is the main hub of the city and a great base for a stay in Vancouver.  It's a relatively small area, and easy to get around. The Hilton Vancouver Downtown is located next to the impressive public library building on Robson Street – the main shopping street of Vancouver, with lots of nice cafés and restaurants close by.
It's close to one of my favourite areas in Vancouver – Gastown. This is a 15-minute walk from the hotel and has great bars and restaurants lined along its cobbled street, as well as some lovely boutiques.
You can also walk to Rogers Arena (home to the Vancouver Canucks) and BC Place (home to the BC Lions and The Vancouver Whitecaps), within 10 minutes from the hotel.
The Hotel
The Hilton Vancouver Downtown is an all suite hotel – we had a superior one bedroom suite, which was lovely.  We entered into a living room, complete with a couch, coffee table, desk and chair as well as a small kitchenette (with microwave and dishwasher!).
To the left was a beautiful bathroom with a great shower and the through double doors to the right was the bedroom. the bed was very comfortable and luckily check out wasn't until 12pm, so I could make the most of it!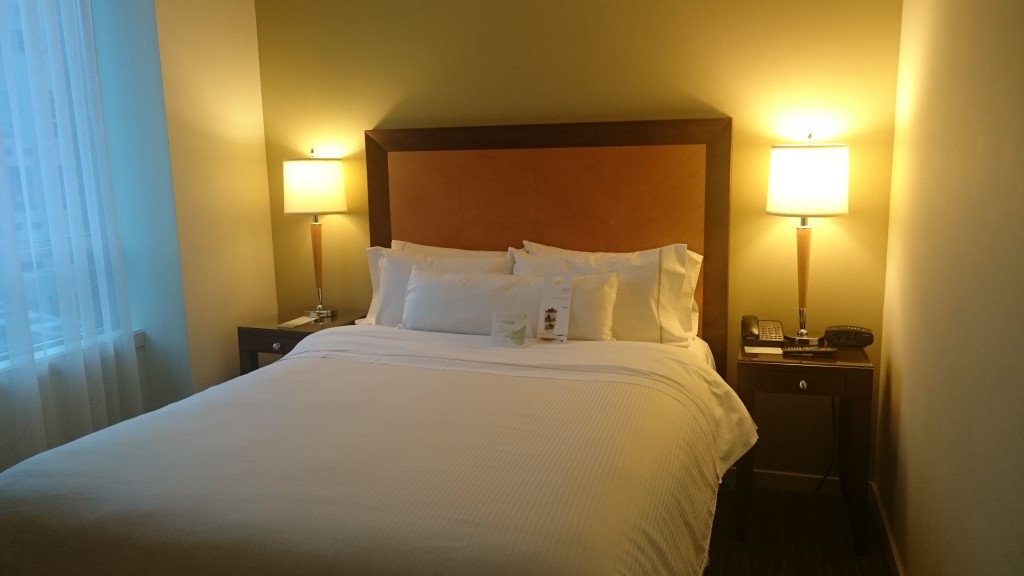 All three areas of the Suite had stunning north-facing views of the city and mountains.  I loved this view; the bustle of the city, in front of the Georgia Strait, backing onto the beautiful mountains.   It was equally as lovely in the morning, as it was at night – so I would definitely recommend asking for a north-facing view (although I'm sure the south-facing view is just as nice!).
The Hilton Vancouver Downtown has a heated outdoor pool, so even in October, we were able to swim outside, with views of the city around us.  It was the perfect start to a day of sightseeing and shopping in the city, and we were lucky enough to have it all to ourselves.
If you're looking for the perfect location in Vancouver, then this is the hotel for you. It's also great if you like staying in apartments (as I do), as the Suites with their kitchenettes and lounges give you the feel and amenities of an apartment, but with all the luxuries of a hotel.