Before moving to Australia I'd heard people raving about Bannisters by the Sea in Mollymook, a small coastal town in New South Wales. This hotel is home to one of my favourite TV chefs restaurants – Rick Stein at Bannisters – the chef's only Australian eatery. A hugely popular restaurant, which has been awarded an Australian Good Food Guide Hat (the Aussie equivalent of a Michelin Star.)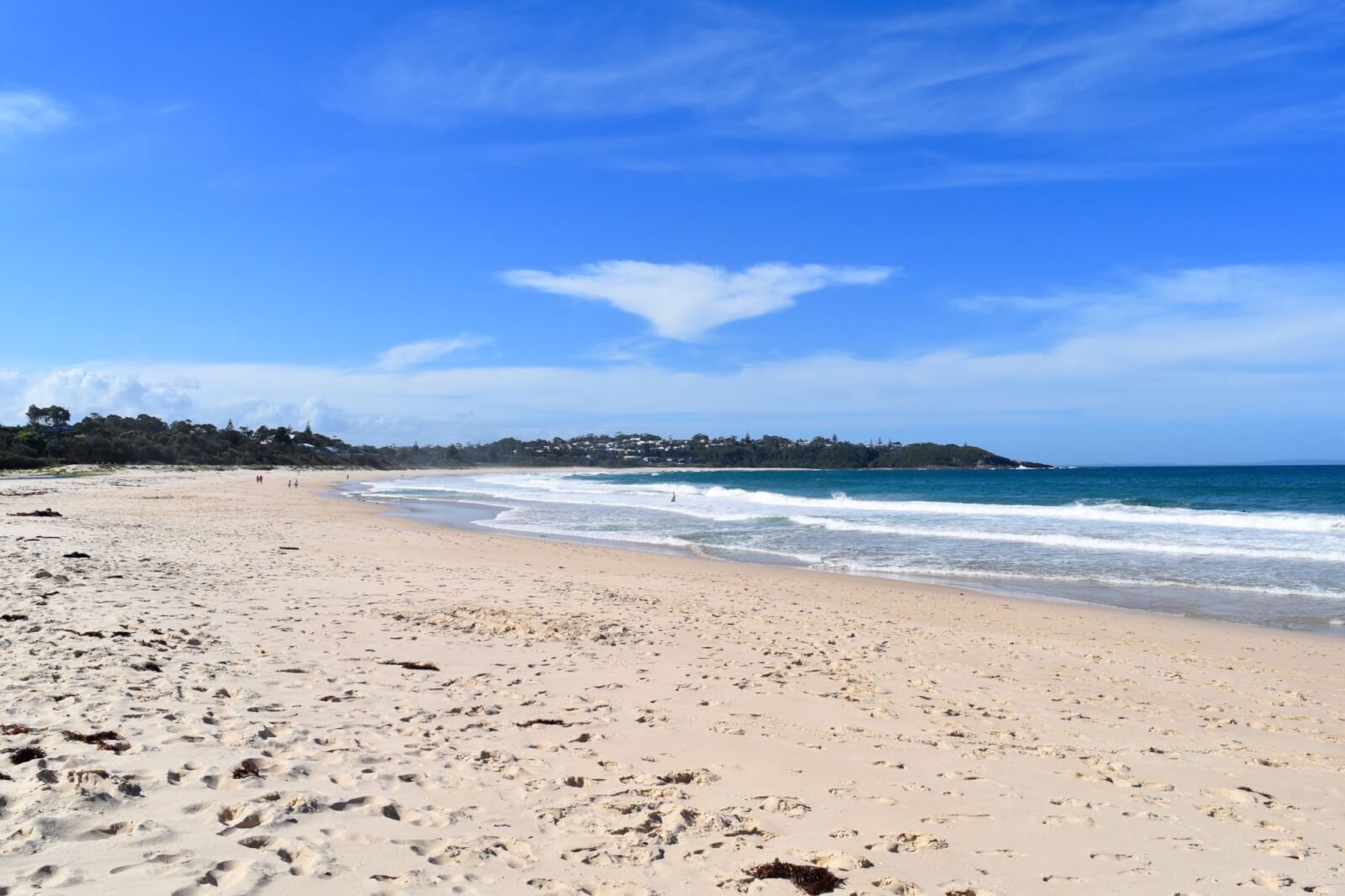 Mollymook is a popular spot for surfers, with a 2km beach, as well as a gorgeous rock pool known as the 'Bogey Hole'. It's also one of my sister's favourite places in Australia, so we decided to head there for a long weekend. From Sydney it's a three-hour drive, passing through some beautiful spots, including Kiama and the beautiful Jervis Bay.
Bannisters actually has two hotels in Mollymook; Bannisters by the Sea and Bannisters Pavilion. These are a short walk from each other in the seaside town. We stayed at Bannisters by the Sea but visited both hotels during the weekend.
Bannisters by the Sea
My sister and I arrived on a sunny Sunday afternoon and stayed at the hotel for two nights in a Spa Retreat room, with sea and pool views. It was gorgeous. The balcony was huge with an amazing Jacuzzi looking out over the ocean!
We had a very comfy king bed, as well as a very well equipped bar/coffee area and Bluetooth speakers, which were great!
Bannisters by the Sea has 7 different room options, and we were able to look around all of them. As well as our Spa Retreat room, there are Ocean Deluxe, Courtyard Suites, Luxury Suites, Terrace Suites, the Collette Dinnigan Penhouses and the Cameron Kimber Penthouse. I loved the Terrace Suites, which were huge and beautifully furnished. However I still think our Spa Retreat room was my favourite – nothing beats the Jacuzzi with sea views!
We had dinner booked at Bannisters Pavilion for 6, so we got ready before heading to the reception. Bannisters Pavilion is around a 15-minute walk from Bannisters by the Sea, but the hotels offer a shuttle service. We were both wearing heels and feeling a little lazy so we decided to take the shuttle and were driven by a very lovely driver to the sister hotel.
Bannisters Pavilion
Bannisters Pavilion has 33 Classic rooms and 2 Penthouses. It was the second of the Bannister hotels, and the owner purchased the property due to high demand at Bannisters by the Sea. We headed straight to the Rooftop Bar & Grill. As well as the restaurant, there is also an infinity pool on the rooftop, and part of this overhangs the building, which is pretty cool.
It was happy hour, so we started the evening with a glass of wine, whilst listening to a live guitarist/singer for the 'Sunday Sessions'. It was a lovely sunny evening and we relaxed in the bamboo seats overlooking the pool.
Then it was time for food! We skipped starters and headed straight for the mains. I had grilled Saltwater Barramundi with green mango, coconut and cashew salad. It was so good – I nearly didn't order it as we would be eating fish at Rick Stein's the following evening, but I'm glad I did! Vick had ribs, which were incredible. Not your usual thin kind, but really meaty slow-cooked BBQ ribs, served with slaw. For dessert, we shared a delicious mango panna cotta, served with coconut ice cream.
After a farewell cocktail, we headed back to Bannisters by the Sea, and decided to test out the Jacuzzi! It was a pretty lovely way to end the evening with a glass of wine out on the balcony.
The Area
The next day we were up early, ate breakfast in the restaurant and headed out to explore the area. The closest town to Mollymook is Milton, a lovely little town with some quirky shops and nice little cafés. We did a little shopping, had a coffee, and then it was back to Mollymook for a stroll along the beach, before an afternoon by the pool!
The Pool
Bannisters by the Sea has a gorgeous infinity pool overlooking the ocean. We ordered lunch from the pool bar and relaxed in the sunshine. The pool area also has a games room, complete with giant chess.
Rick Stein at Bannisters
That evening we had dinner at Rick Stein's. You enter the restaurant via a lounge room with lovely furniture and a beautiful tiled wall. This is also a great spot to relax with a coffee in the morning. The restaurant overlooks the gardens and has lovely ocean views.
We started with some New South Wales oysters, before moving onto a shared starter of marinated tuna with passionfruit, lime and coriander, accompanied by some delicious white wine.
For main I had a grilled fillet of snapper with laksa noodles and Vick had Bombay salmon masala curry, coconut spice paste, tomatoes and tamarind with rice, mango chutney and naan bread. Both were delicious.
The dessert was equally as good – an incredible hot chocolate fondant! Then it was back to our room for our final night at Bannisters by the Sea.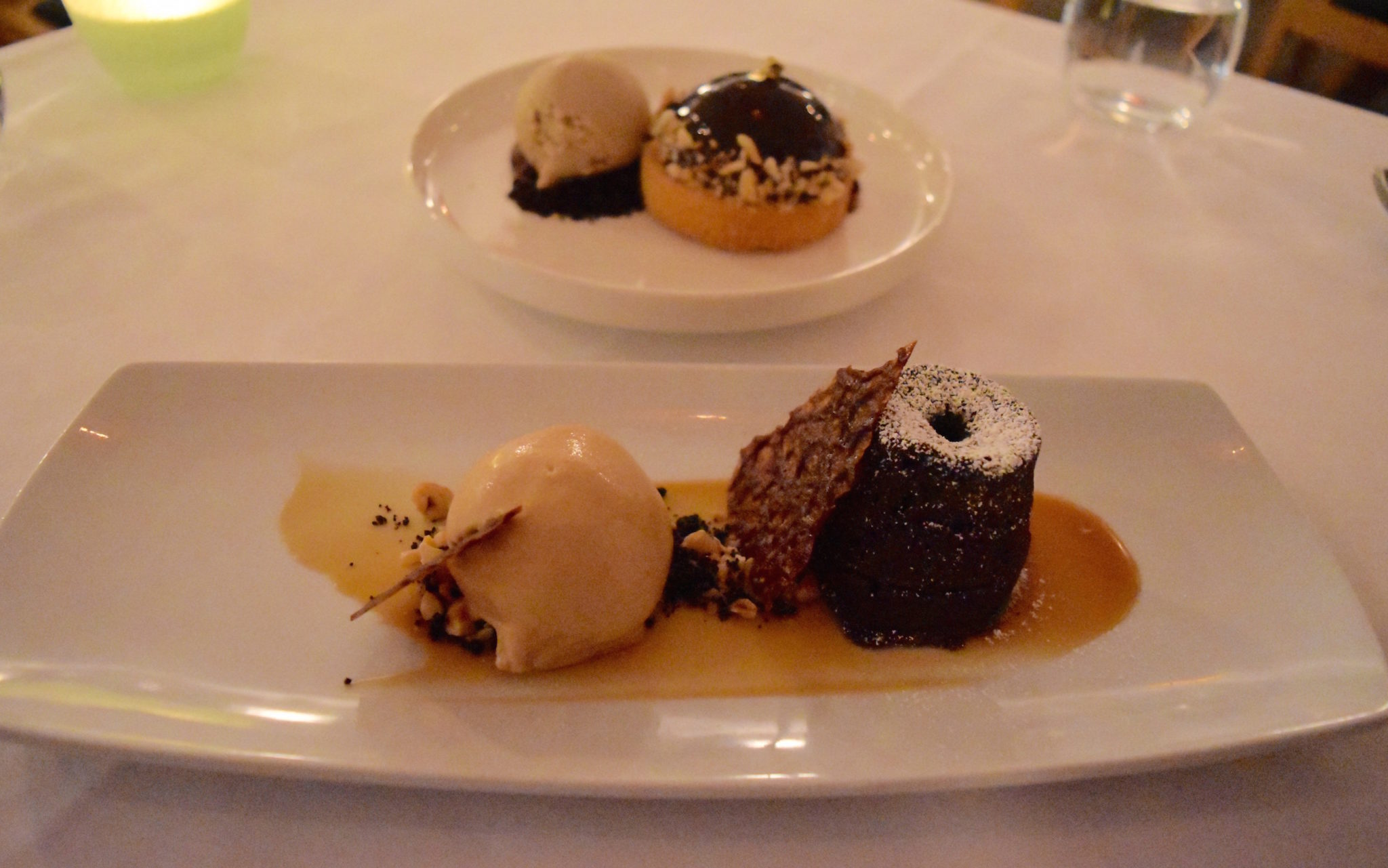 We had a great stay at Bannisters by the Sea. It's a beautiful hotel in a lovely little town, and the two restaurant options are fantastic.
Rooms at Bannisters by the Sea start from $370 per night.
Thanks to Bannisters by the Sea for hosting A Lovely Planet.