When I go on city breaks, I often book apartments rather than hotels. Especially if I'm travelling with a group, as it's more social. As well as this, it's great to be able to make breakfast, snacks or meals if necessary and perhaps a drink before a night out.
Last month I took a trip to Olso and decided that an apartment would definitely be the way to go, as the city has a reputation for being expensive.  Frogner House manages over 300 apartments in Oslo and has an excellent reputation, so we booked into the Bygdøy Alle 53 branch of their apartments in the area of Frogner for a long weekend.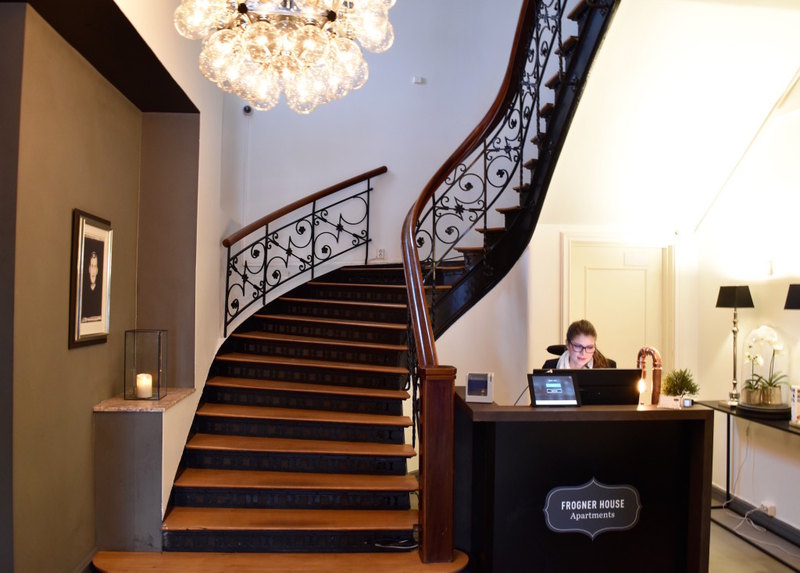 Disclosure: This article contains affiliate links. This means that if you click a link and purchase something I've recommended I may earn a small commission. This does not affect the price you pay but helps me to run this site. You can read my full affiliate disclosure here.
Location
Frogner is West of the city centre and is an upmarket area with beautiful buildings and wide streets lined with restaurants and boutiques. A lot of the Foreign Embassies are based in this area.
A short bus ride North West is the Bygdøy peninsular, where most of Oslo's museums are located, as well as some lovely parks and forests for walking. Frogner is also well known for the Vigelandsparken, a park featuring more than 200 statues from Norwegian sculptor Gustav Vigeland.
We arrived late on a Thursday and were advised to check in at the Skovveien 8 branch of Frogner House, as our reception was already closed. Once we had our key we were on our way to Bygdøy Alle.
The building itself is very impressive, with turrets and pastel colour bricks. The apartments are located on the upper floors and downstairs, there is a café, a restaurant and a bar, so you've plenty of options if you don't want to leave the building!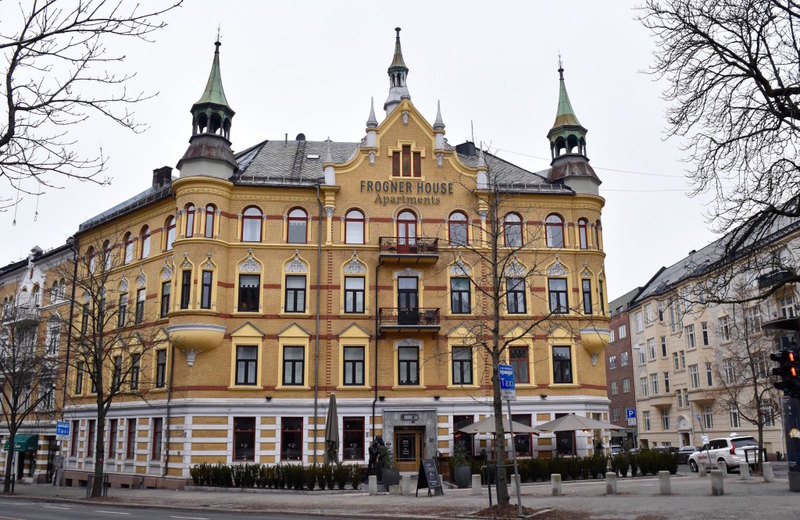 The Apartment
The room was fantastic. We had a studio apartment, but it was huge, with a king size bed, desk, table and chairs, kitchenette and cupboards plus loads of floor space. There was a good size bathroom with an incredibly powerful shower (which is always important for me – I hate weak showers!).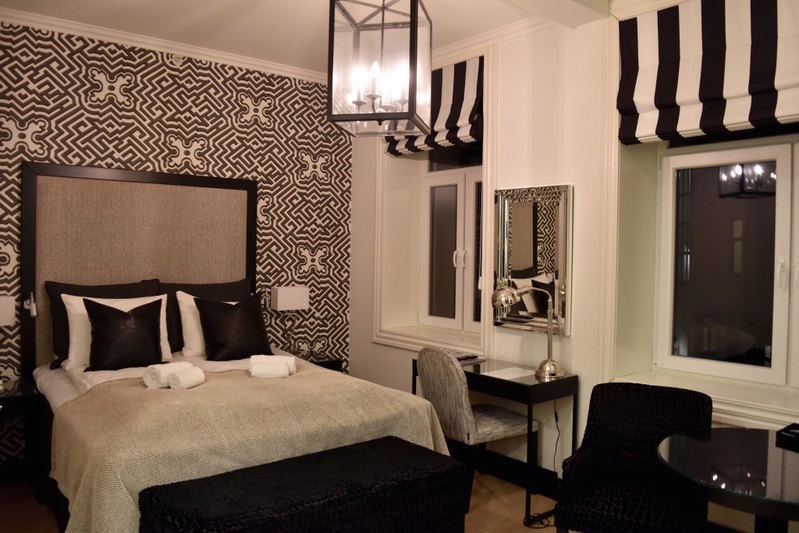 The Kitchenette was great, I'd actually never seen one like this. It was so neat and well designed, with doors that you could close so it looked like a cupboard. Once opened, there was a 4 plate hob, sink, cupboards and drawers with all the utensils, saucepans and cutlery you needed, plus plates, cups and glasses.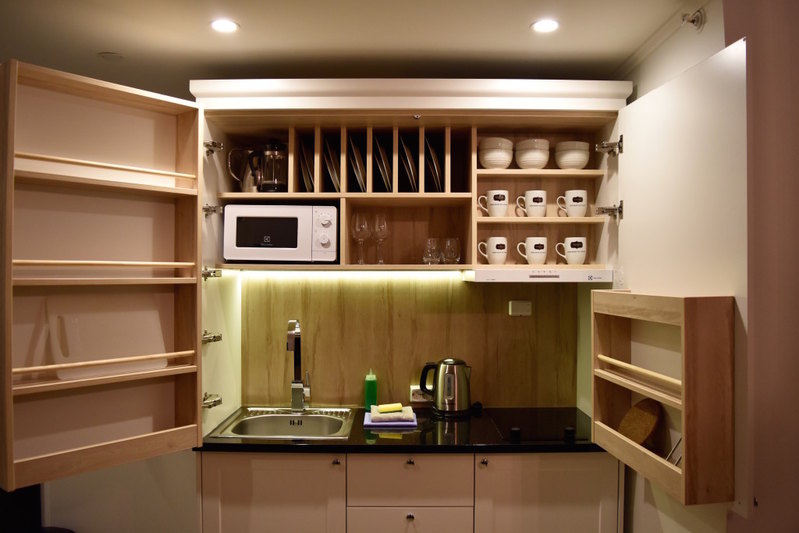 We used it every morning to cook breakfast, as well as for a couple of lunches and dinners so we could keep the costs low.  Three minutes down the road was a supermarket, which we visited on the first day and stocked up on essentials. We had also bought some Gin at duty-free and so had a gin and tonic in our lovely apartment before we headed out for an evening.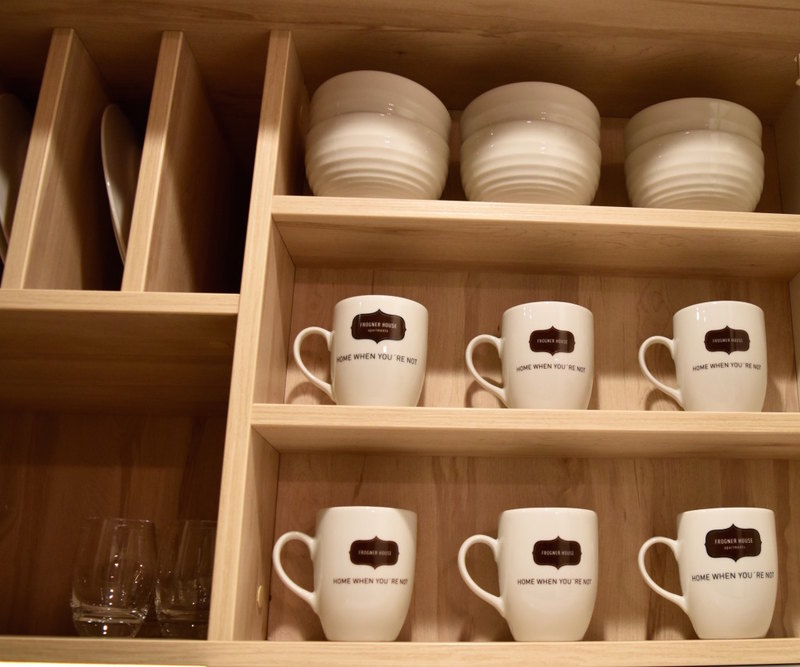 Frogner House offer a cleaning service, but as we were only there for 4 days, we didn't need it and the studio was in immaculate condition when we arrived.
Directly outside the apartments is a bus stop, with two regular buses (usually one every 5 minutes) heading into the city centre. The bus journey takes around 5-10 minutes, or you can walk it in around 30 minutes which we did on a couple of occasions.
I liked being based in this part of the city. It felt very relaxed, and it was still really easy to get into the centre when we wanted to, but then we were also close to the peninsular which was nice.
Frogner House was the perfect base for our weekend in Oslo, and I would definitely stay again next time I visit the city (I'm hoping to return in the summer to explore the beaches!). Oslo is an expensive place, but by staying in an apartment, it turned out to be a pretty reasonable and very enjoyable weekend away!