During my recent trip to Marrakech, I decided to pay a visit to the Marrakech Henna Art Cafe. I had read about the work it does with the local community and artists and was interested to see this first hand (and of course sample the food which I'd heard was great!).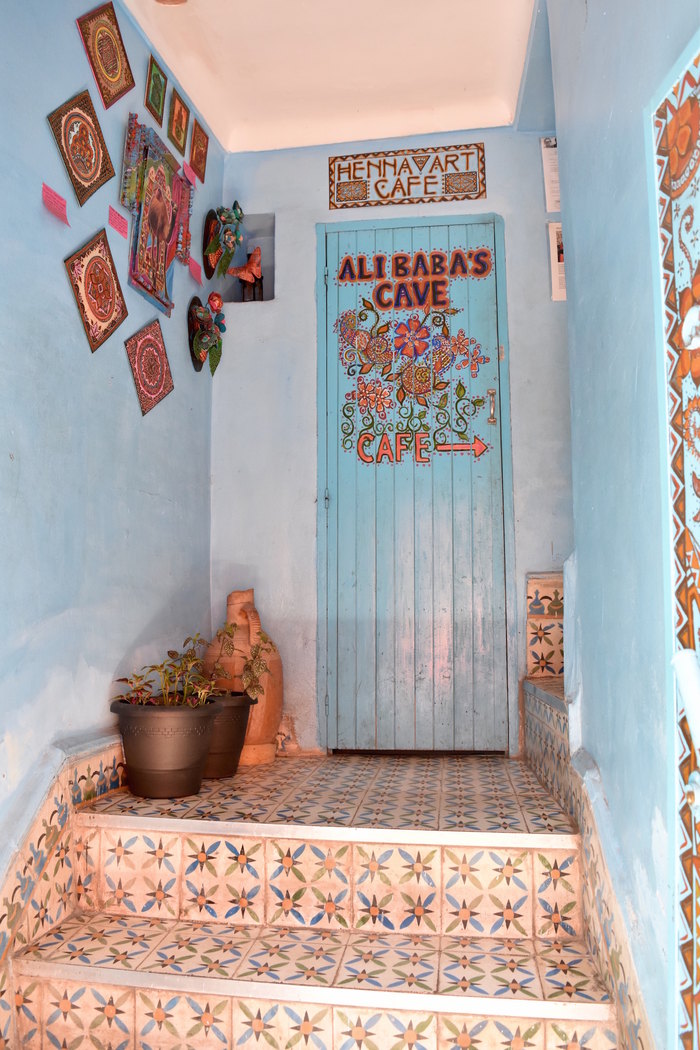 Located on one of the winding streets in Marrakech's famous Souk, the Marrakech Henna Art Cafe is run by American Artist Lori K. Gordon and Moroccan Berber Rachid Karkouch. It's only been open since 2014, but already seems to have made a big impact on the city.
As the name suggests, the café not only serves food but offers Henna tattoos and sells artwork. Lori also runs Six Degrees Consortium, a charity that uses and creates art as a way to address social and cultural barriers and the café also works closely with El Fenn Maroc, a non-profit cultural association supporting Moroccan artists and communities. The café only hires Moroccan staff and promotes and sells the work of many local artists, which then helps fund the projects.
Not far from the bustling Djemaa El Fna square, the Henna Art Cafe provides a tranquil escape from the busy souk surrounding it. The menu is full of lovely salads and fresh meals perfect for lunch. It's also a good spot for vegetarians, with plenty of meat-free options.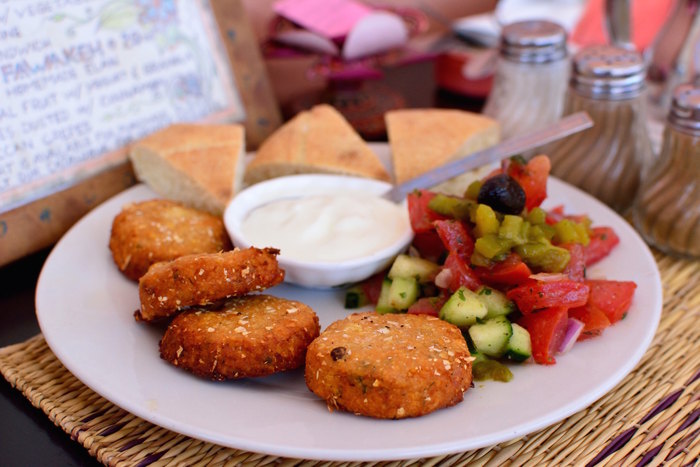 The café is split across two floors. Downstairs are the Hand of Fatima Gallery and the Henna Gallery, as well as the art shop. The Henna Gallery hosts amazing local henna artists creating different tattoos. The studio is popular, so many people book in when they arrive, have lunch and then have the tattoo afterwards. Upstairs are two terraces overlooking the roofs of the Medina, this is where most people choose to eat.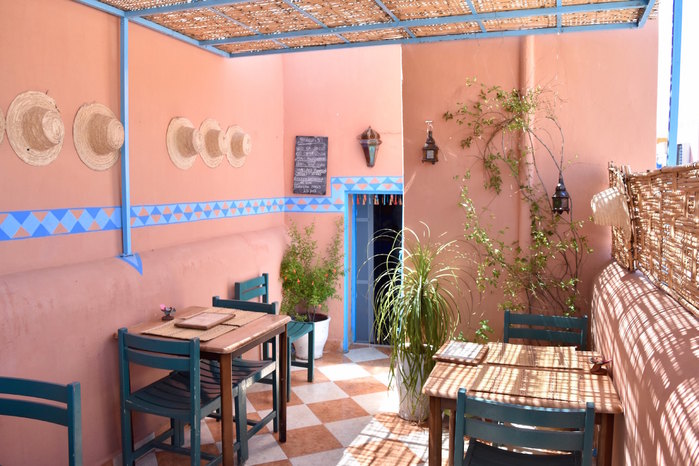 We sat on one of the terraces for lunch and had a selection of salads, with avocado and falafel, accompanied by Moroccan Tea and juices. One of the most popular items on the menu is the Berber Mojito, a non-alcoholic, Moroccan inspired version of the drink. Everything tasted fresh and delicious.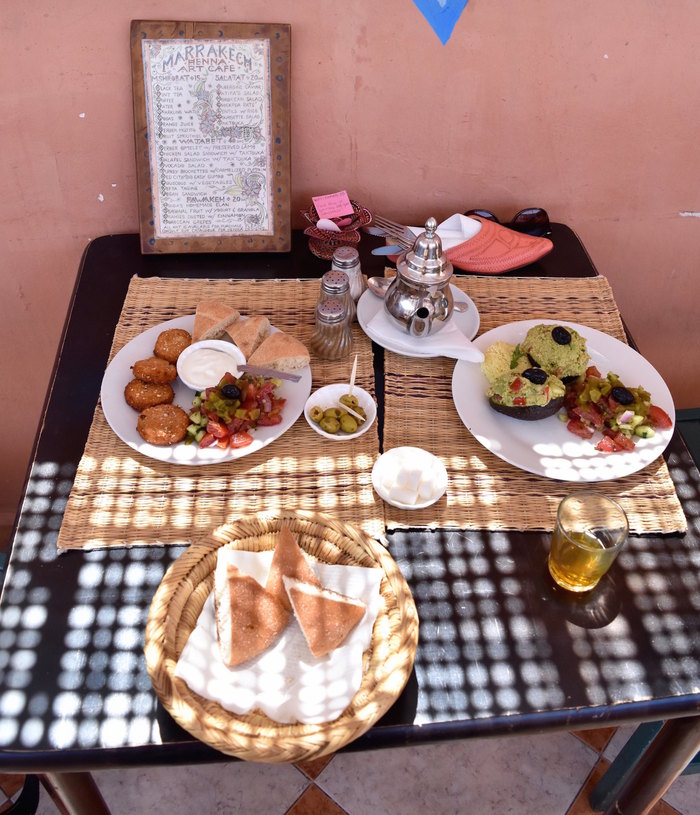 It's also incredibly good value, the mains were 40DHS each (£3 at the time of writing!) and drinks were 15DHS (£1).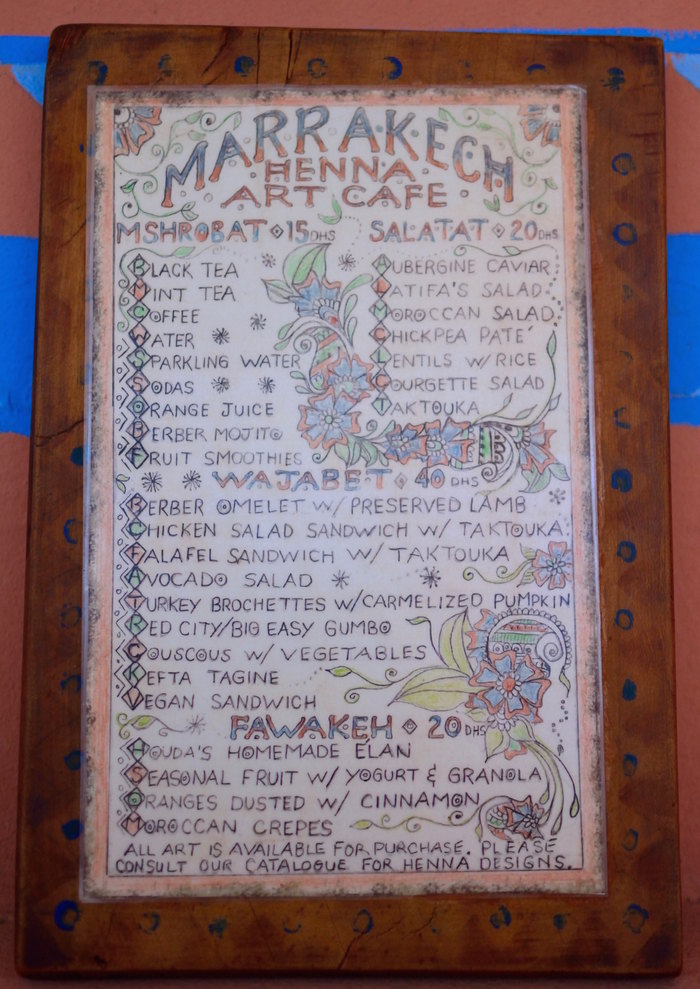 There were lots of lovely little touches, like beautiful henna decorated paper flowers on the tables, and napkins served in Moroccan shoes!
After lunch, we decided to check out some of the art for sale. There is a mixture of work, including henna art on paper and wood with traditional and contemporary designs. You can buy these with or without frames (depending on how much space you have in your suitcase!). There were also hand-carved models decorated with henna and some beautiful photography.
Henna Art Cafe also hosts workshops from local and international artists and is used as a gallery for exhibitions.
Next, we went to watch the henna artists at work. I was really impressed, the designs were incredibly intricate and they were amazingly skilled at creating the tattoos.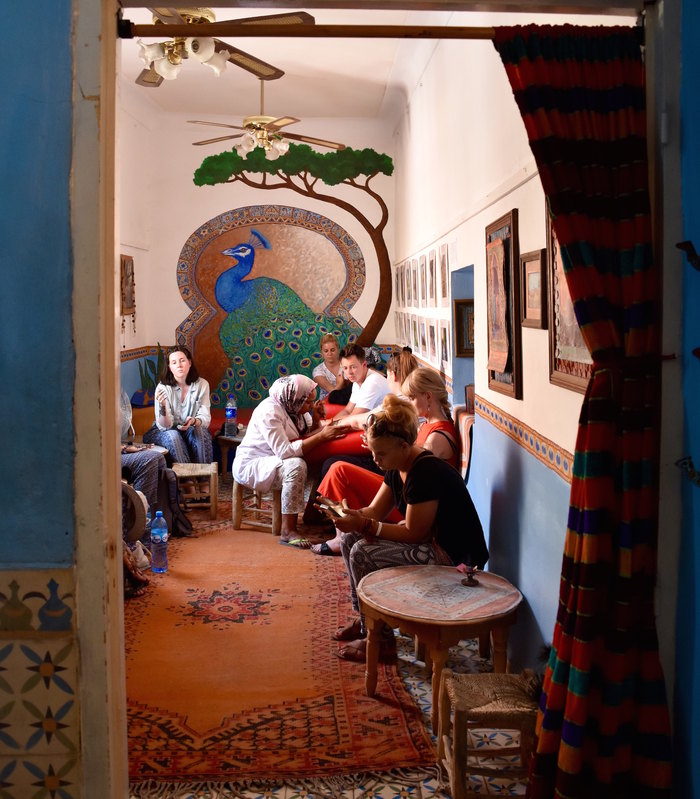 If you're going to get a henna tattoo in Morocco, this is the place to do it. While there are many artists offering tattoos on Djemaa El Fna and the surrounding streets, you're not always sure what's in the ink, and it's often mixed with dyes that can cause allergies. At Marrakech Henna Art Cafe, they only use 100% natural henna ink, and you know you're tattoo will be created by an experienced artist.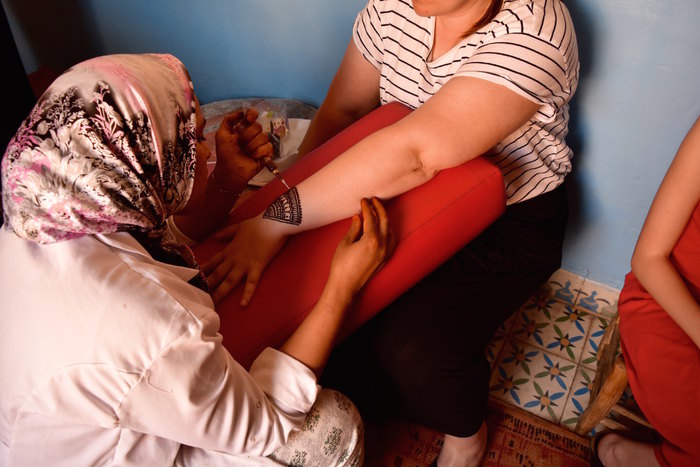 Full from the delicious food, we headed back out into the souk. It was a lovely and relaxed experience and the perfect lunch spot for a day in the city and I will definitely return next time I'm in Marrakech.
Thanks to Marrakech Henna Art Cafe for hosting A Lovely Planet.