Antonia Williams' guide to trekking the Manaslu Circuit in Nepal.
The Himalayas is widely regarded as the Holy Grail of high altitude trekking. On the roof of the world, it is home to 10 of the world's 14 "eight-thousanders" – including the mountain that needs no introduction: Everest. And while the highest mountain on earth pulls in most punters who trek to its Base Camp, the lesser known circuits shouldn't be overlooked. We eschewed Everest Base Camp trek and the iconic Annapurna Circuit in favour of the road less travelled – the Manaslu Circuit.
Equally as beautiful, but more quiet and remote, the Manaslu Circuit is (quite literally) breathtaking. Traverse through miles of serene pine forests, trek beside roaring glacial rivers, cross white-knuckle suspension bridges, and experience the adrenaline and dizziness of a high altitude mountain pass. All your efforts (and headaches) will be rewarded with dazzling views of the soaring snow-capped mountains of the Ganesh Himal range. Witnessing the first rays of sun hitting the top of Mount Manaslu's peak (8,163m) will remain vividly in your memories.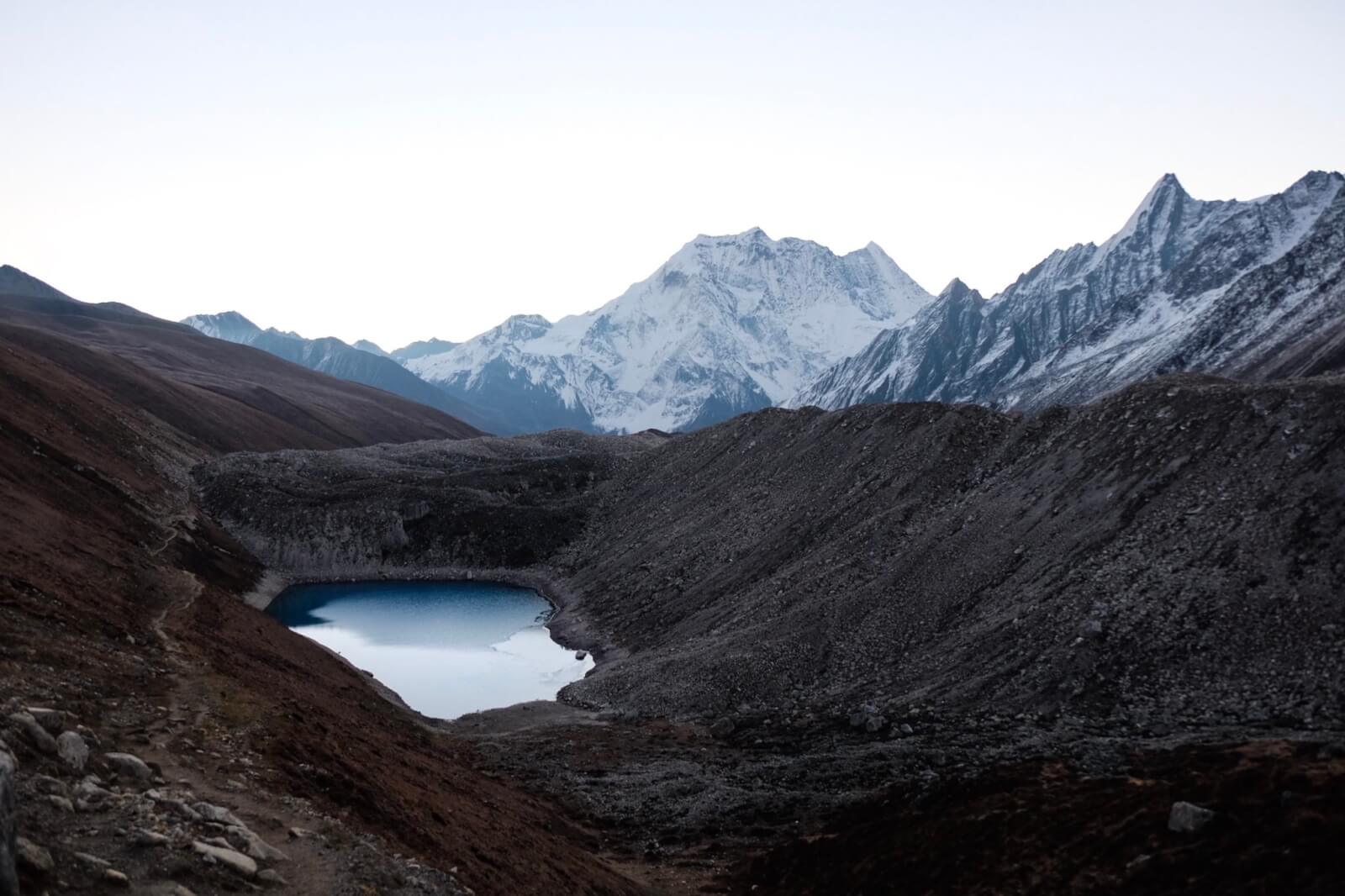 Disclosure: This article contains affiliate links. This means that if you click a link and purchase something I've recommended I may earn a small commission. This does not affect the price you pay but helps me to run this site. You can read my full affiliate disclosure here.
Kathmandu is the international point of entry into Nepal. From there to the Manaslu Circuit trailhead, you'll need to take a public bus or private jeep for around 6-8 hours which your guide will accompany you on. Prepare yourself for a slightly hair-raising and uncomfortable journey. Nepal is a poor country, still recovering from the devastating earthquake of 2015, so needless to say paved roads are not the norm here. All part of the experience though (right!) and when you spend your money in more remote areas like Manaslu or Langtang you are helping a very hard-hit community to rebuild. Once here, there are plenty of things to do in Nepal.
Hiring a Guide and Porter
Kathmandu is the place to get things done and your trip organised. The Nepalese are hard-working people, and within 24 hours of turning up in the city, we had a guide, porter and all permits (MCAP, ACAP & TIMS) in hand. At the time of writing, it is compulsory to have a guide and specific permits to trek the Manaslu Circuit. The Thamel area in Kathmandu is packed with trekking agencies. Speak to other travellers and take your time to pick the agency you feel most comfortable with. Ask for a clear breakdown of the price and what's included before you part with your cash. We paid around US$1000 per person for our guide, porter, all meals, all accommodation, travel and permits for 12 full days. This did not include tips for the guide and porter. In hindsight, we would have paid extra for a private jeep to the start point as the public buses were hot, slow and dangerously overcrowded.
We can recommend Heian Travel agency. Ask for the guide Gopal and porter Bijay. Whatever agency you decide to go with, meet your guide first and make sure you feel comfortable and safe with them. It's not an exaggeration to say that your life may be in their hands in the rare event something goes wrong, so they are the single most important decision you'll make.   If you do decide to hire a porter, make sure they're not carrying more than the legal maximum weight (20-30kg) and that they are adequately equipped for the trek.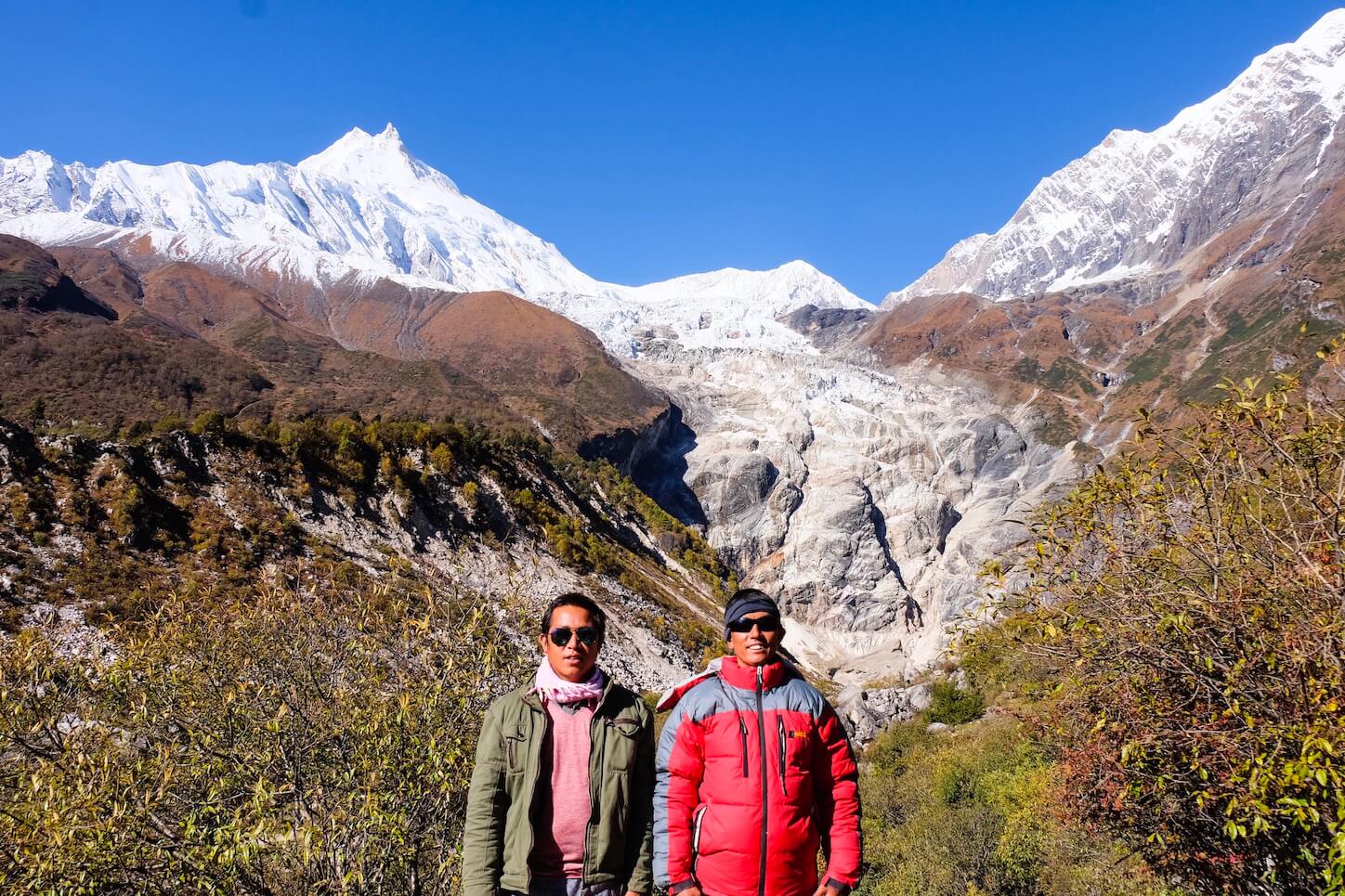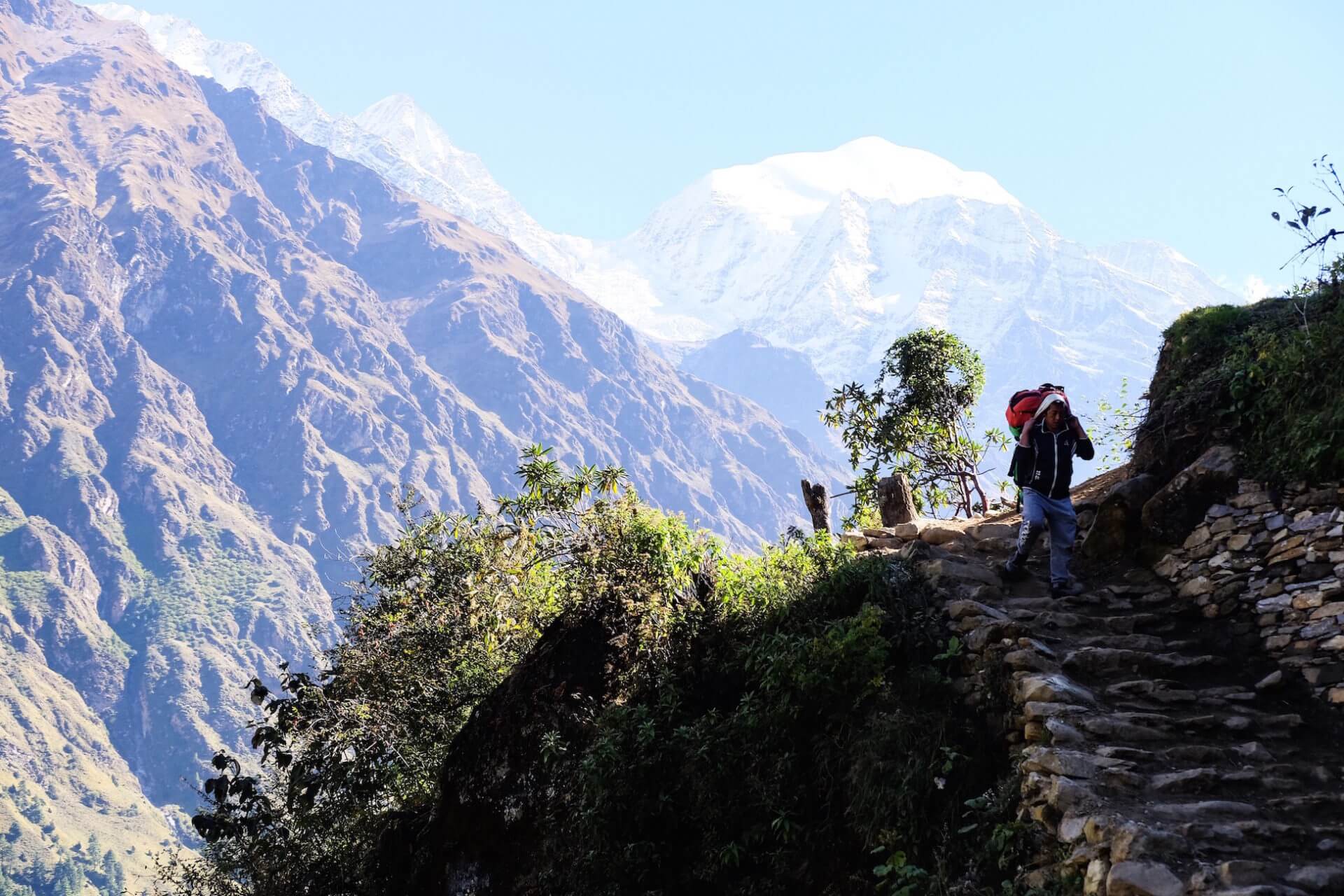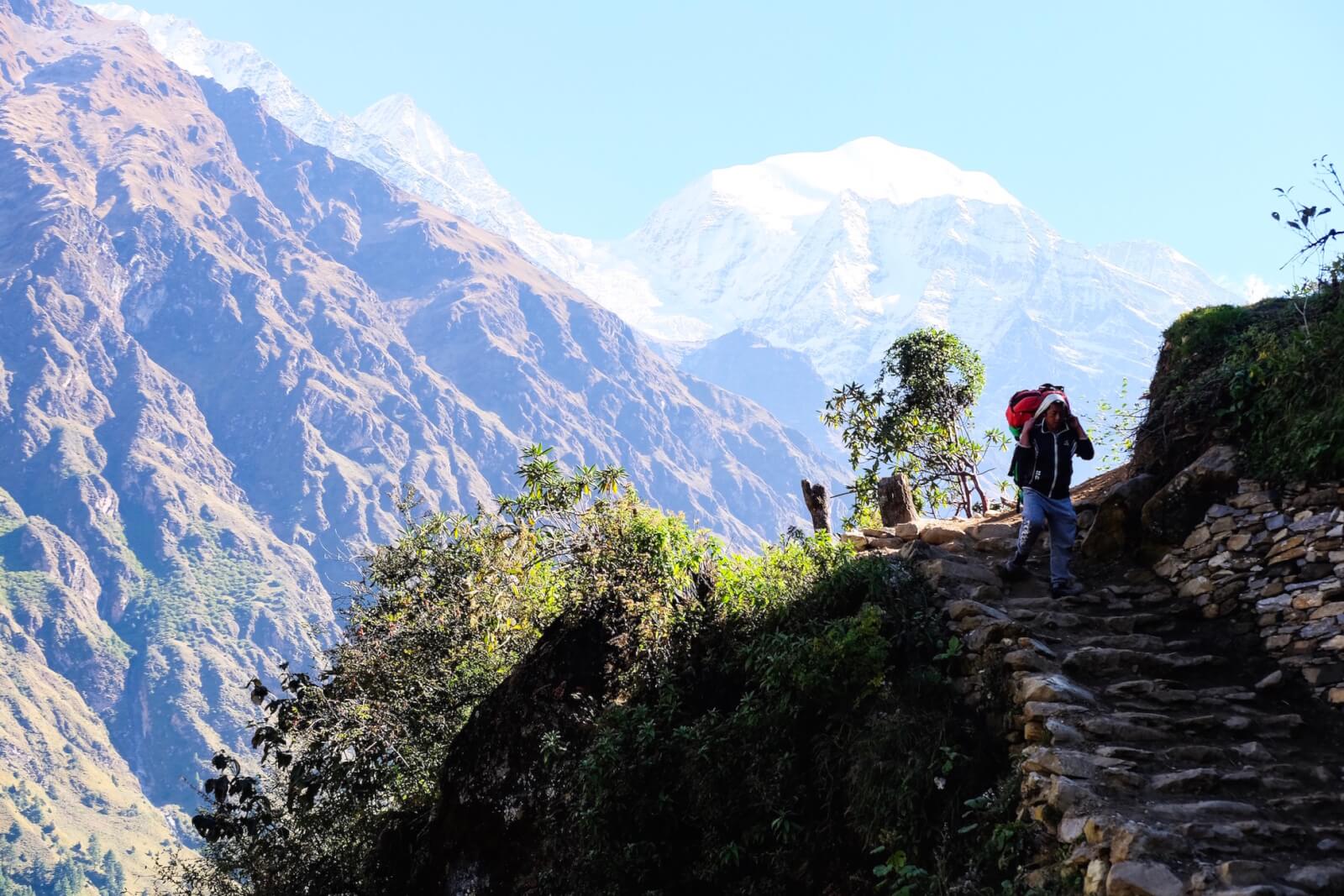 Where to Stay in Kathmandu
In Kathmandu, we stayed at Elbrus Home before and after the trek. If you're backpacking in Nepal like we were, it's a fantastically situated hostel on the outskirts of Thamel with excellent showers that you will really come to appreciate after 2 weeks in the mountains. If you're splurging, Kathmandu has plenty of higher-end options like Everest Boutique Hotel and Basera Boutique Hotel.
Book accommodation in Kathmandu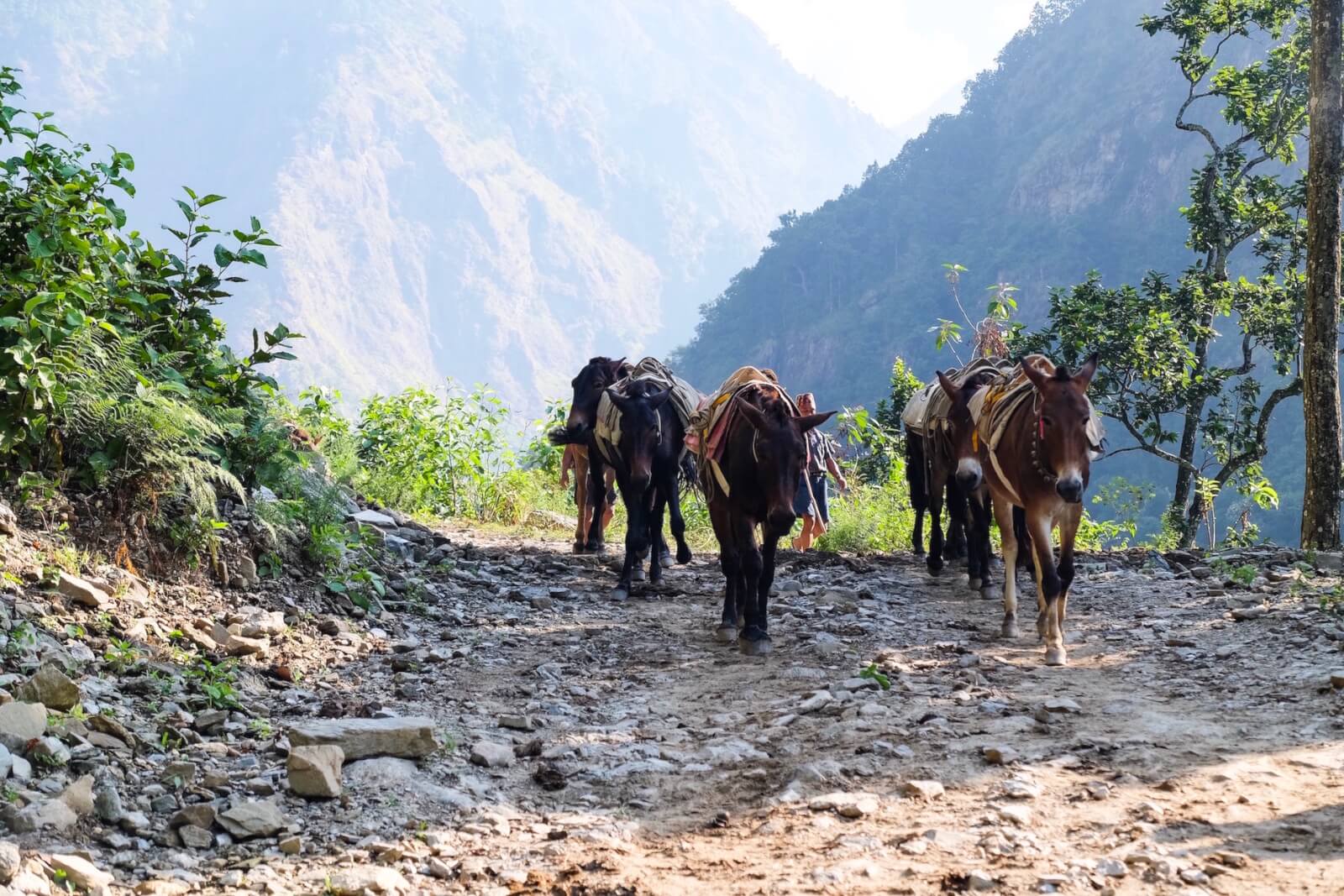 On the trek, you will stay in very basic tea houses or guesthouses along the trail. Standards are low, but at least you can take some comfort in the fact that no matter your bank balance everyone is staying in a similar style. Your guide will normally have alliances with a particular establishment, so you won't typically get a choice of where you lay your head. You can often pay extra for a hot shower (or bucket of hot water) and thick blankets for colder nights. WiFi is occasionally available for a fee, but so patchy that now is really the time to embrace that digital detox.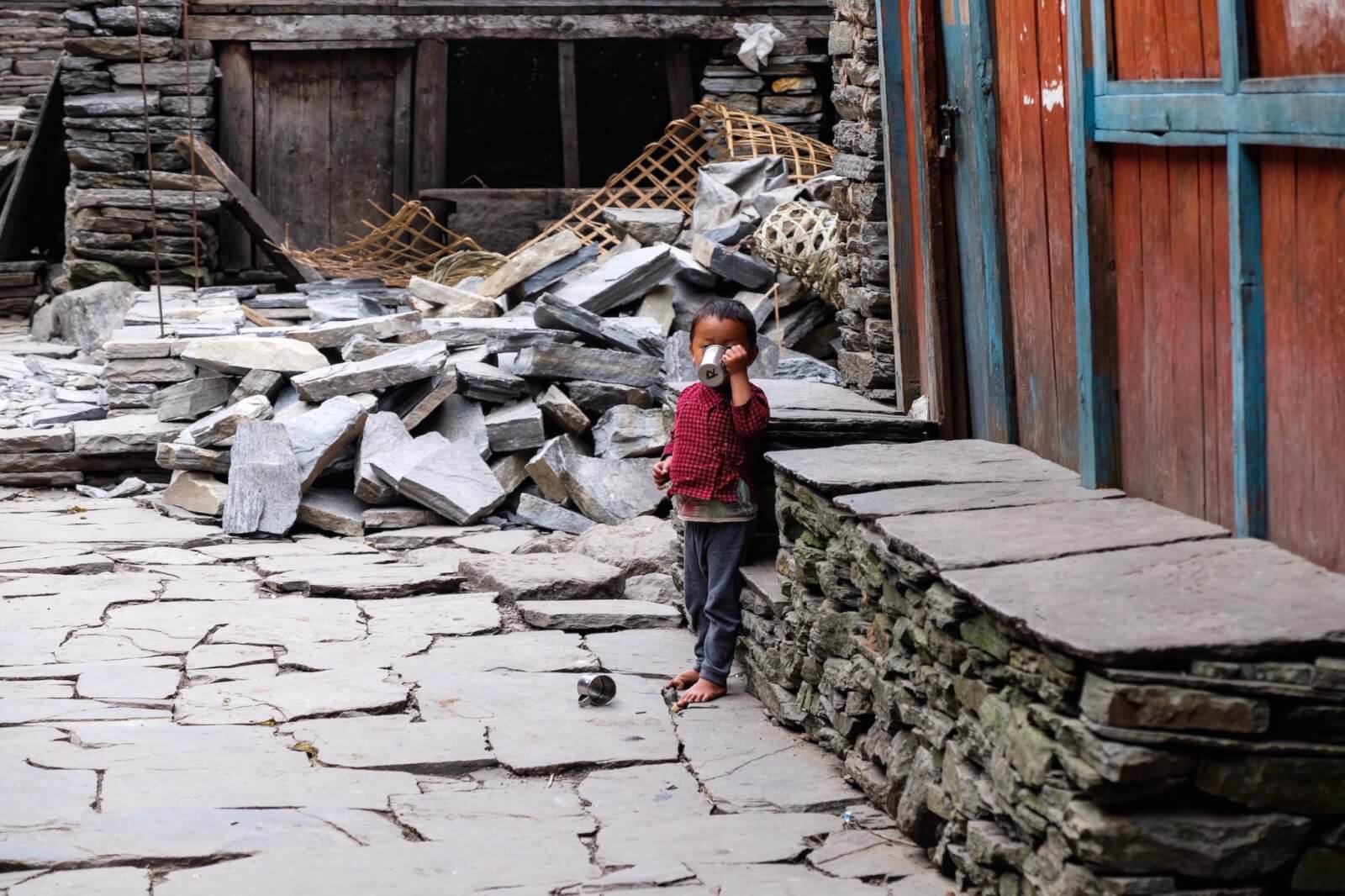 What You'll Be Eating in Nepal
You'll be well-fed en route. When you're up this high and walking up to 10 hours a day, it's all about carb loading and you will become very familiar with the Nepalese traditional meal Daal Baat – a simple rice and curry dish. "Daal Bhaat 24-hour power" really is a thing. Bring your favourite sugary snacks to keep you going during the day.
The Manaslu Circuit Route
The Manaslu Circuit takes between 12 -14 days and at your highest point, you'll be trekking at 5,125 metres. You will trek between 4-10 hours a day and itineraries will differ slightly depending on what agency you go with. In general, the trek begins at the village of Soti Kohla, starting in the lowlands and following the beautiful Budhi Gandaki river as it runs down from the mountains. The first couple of days are relatively easy before you begin climbing onto a more undulating trail. You'll spend a large portion of your time diving out of the way of mules carrying gas cylinders and loads to and from remote villages or back from expeditions. Due to the low altitude, you'll be trekking through lush countryside and dense pine forests before you start seeing your first glimpses of the blindingly white glaciers peeking through the hills.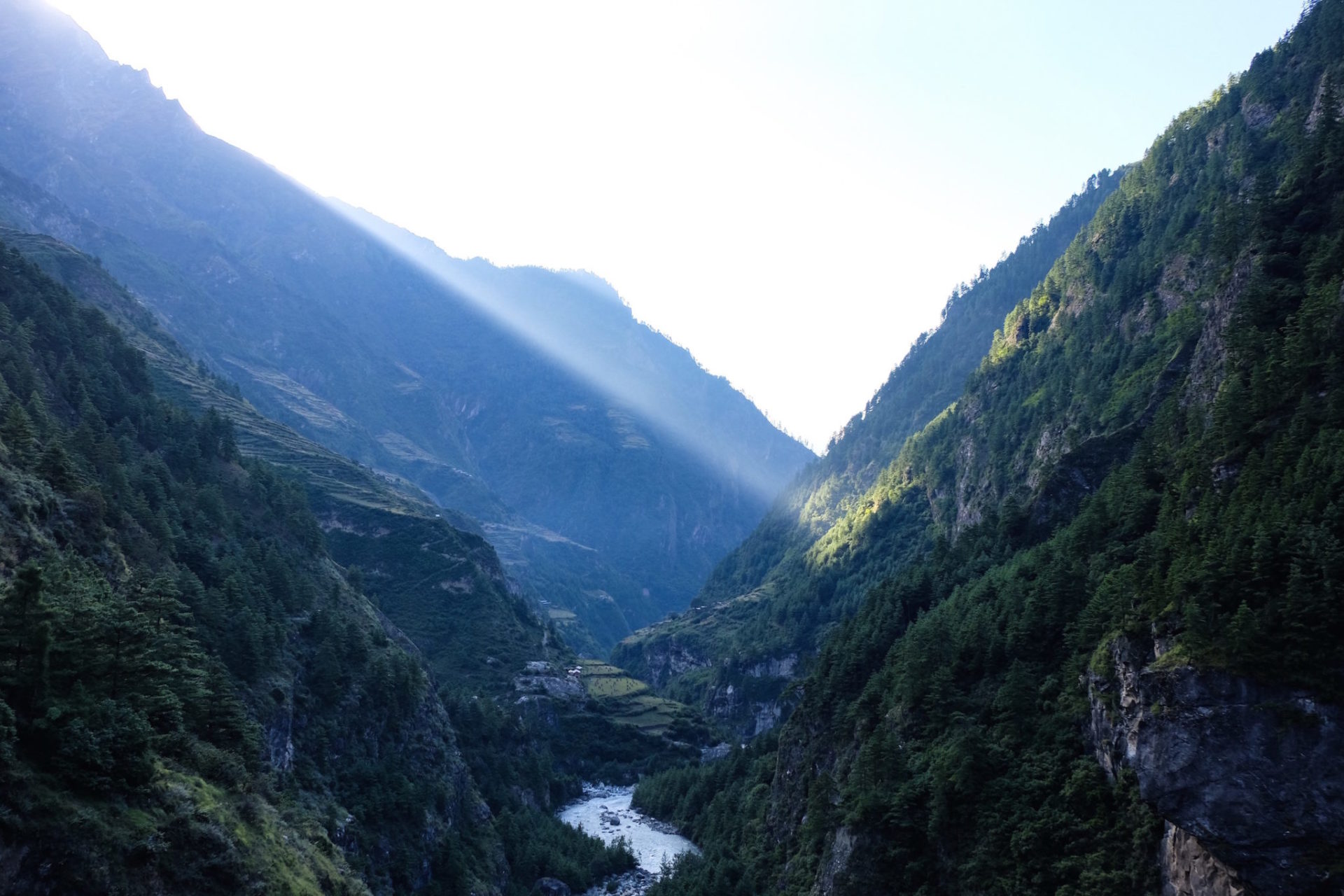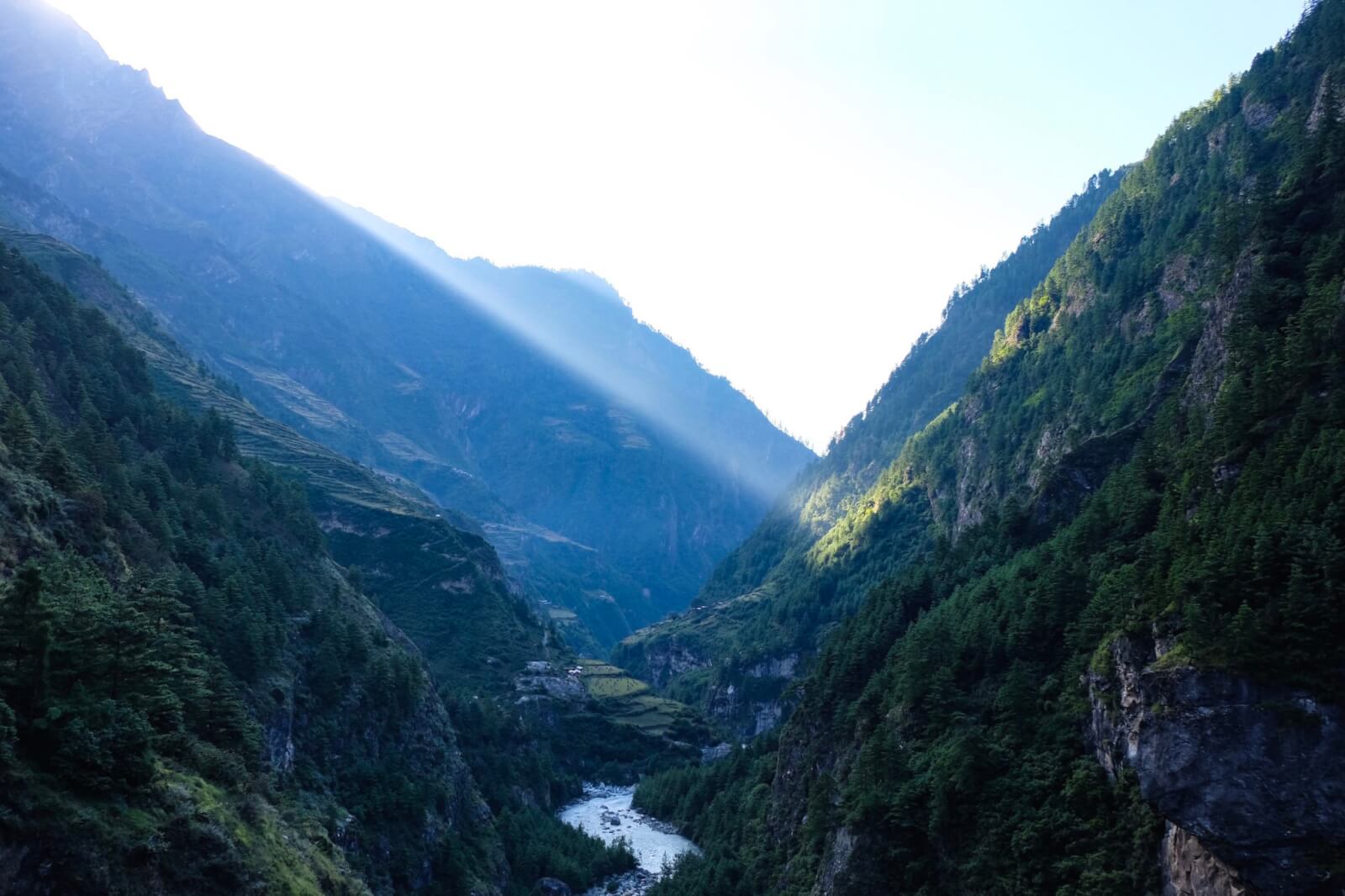 Once at higher elevations, you'll start seeing the Himalayas' ubiquitous Yaks and pass through a predominantly Tibetan area on the way, littered with temples and adorned with prayer flags.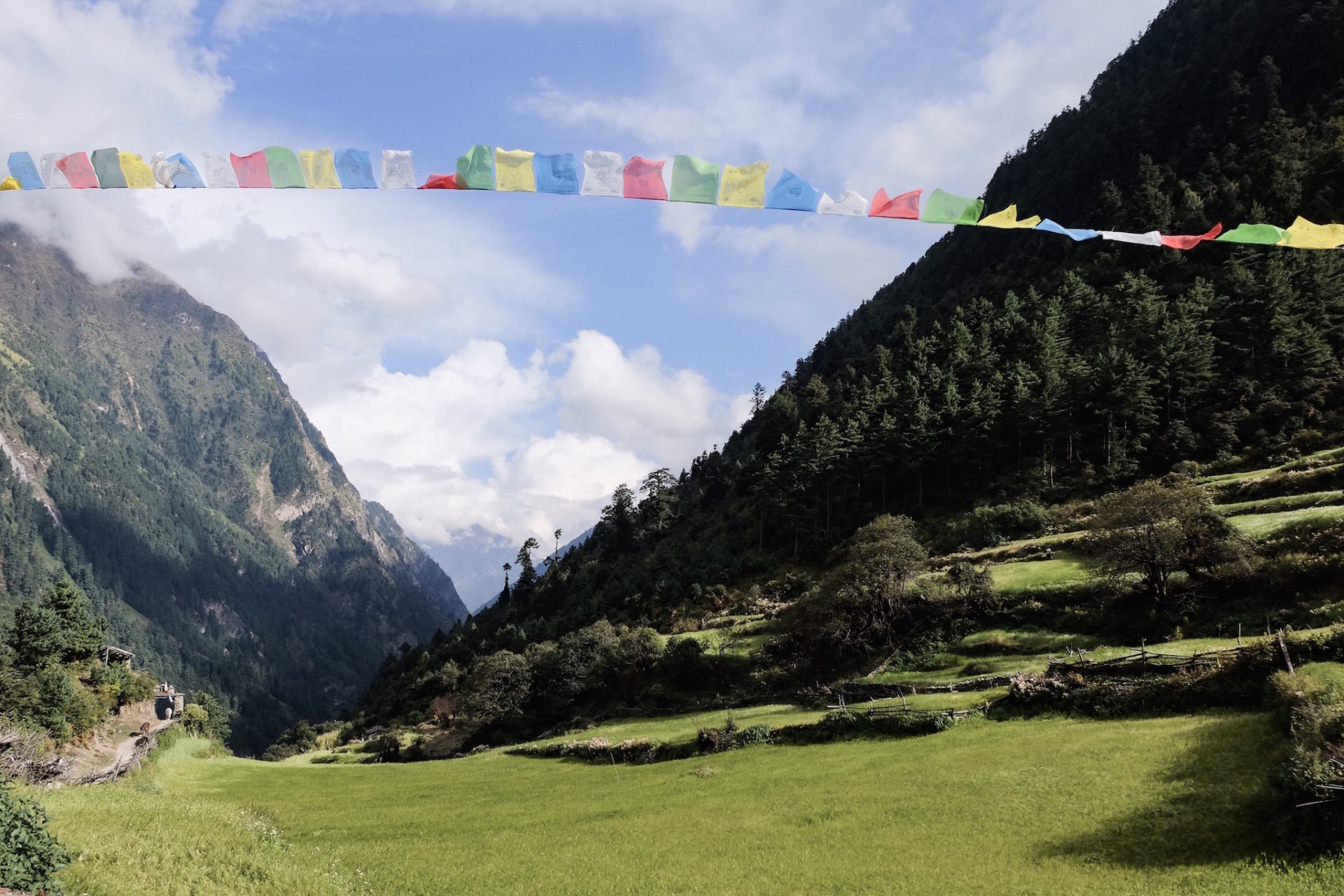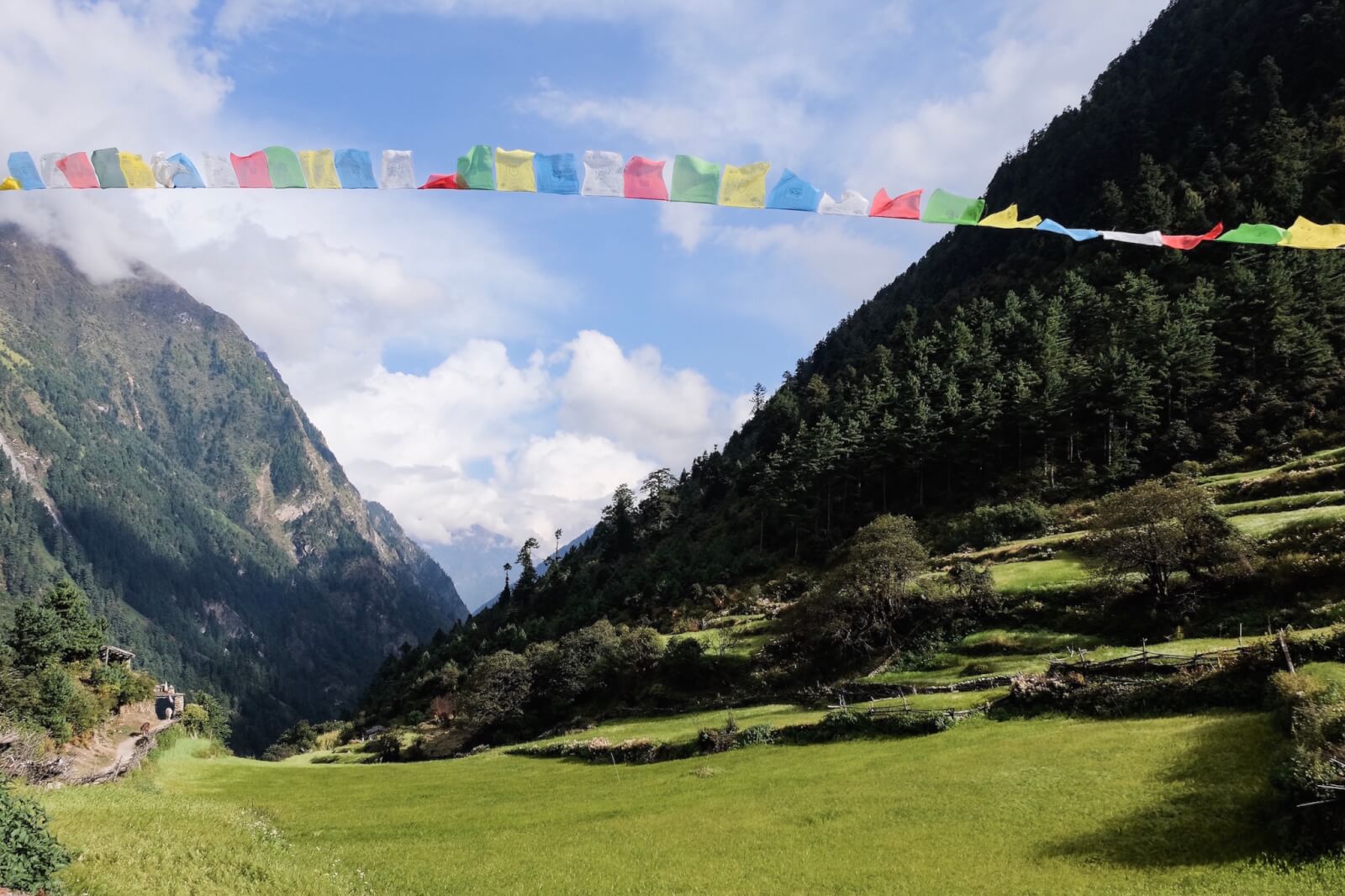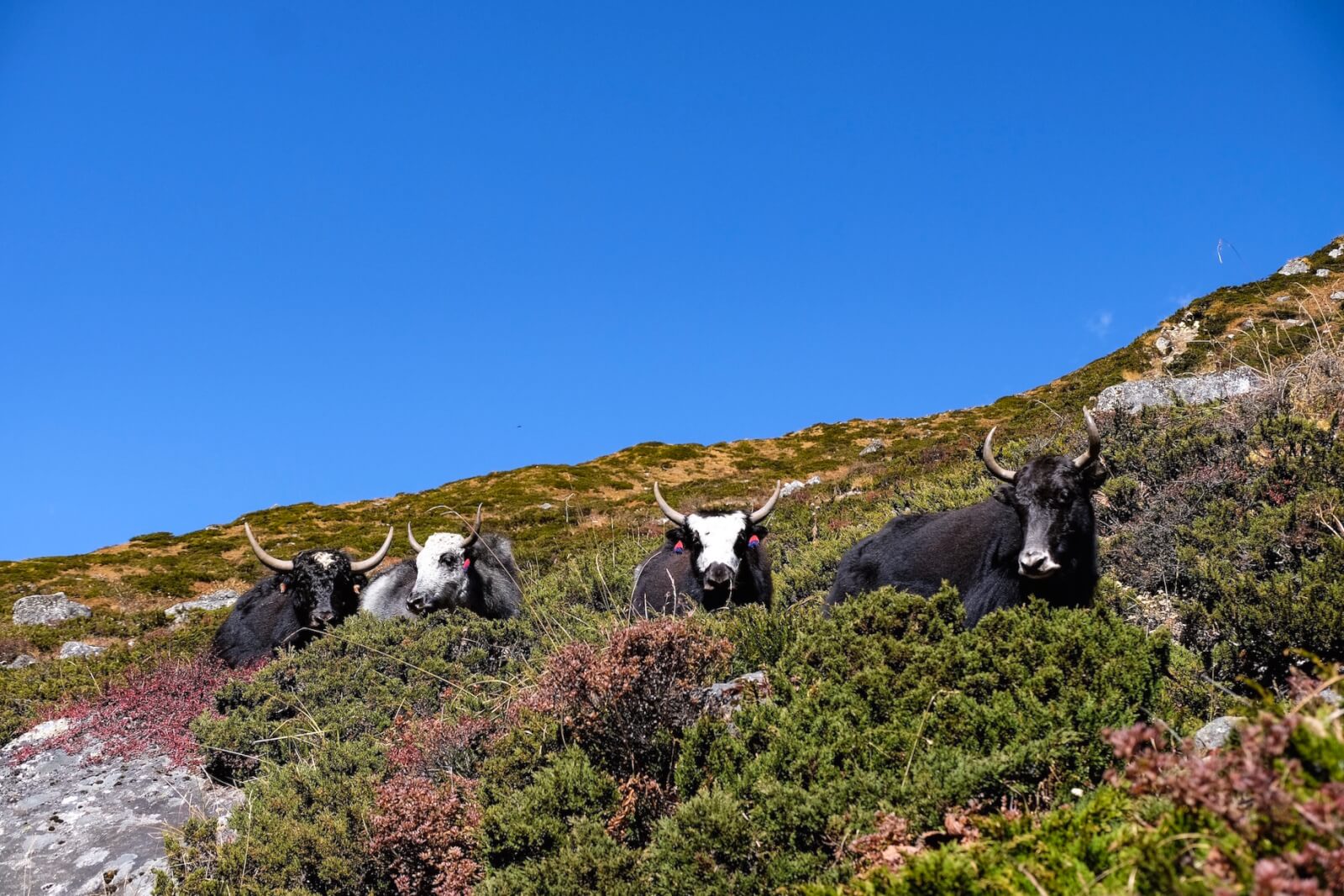 At the colourful village of Lho, wake up for sunrise to witness your first views of Mount Manaslu. You'll also get your first taste of the bone-shattering cold to come.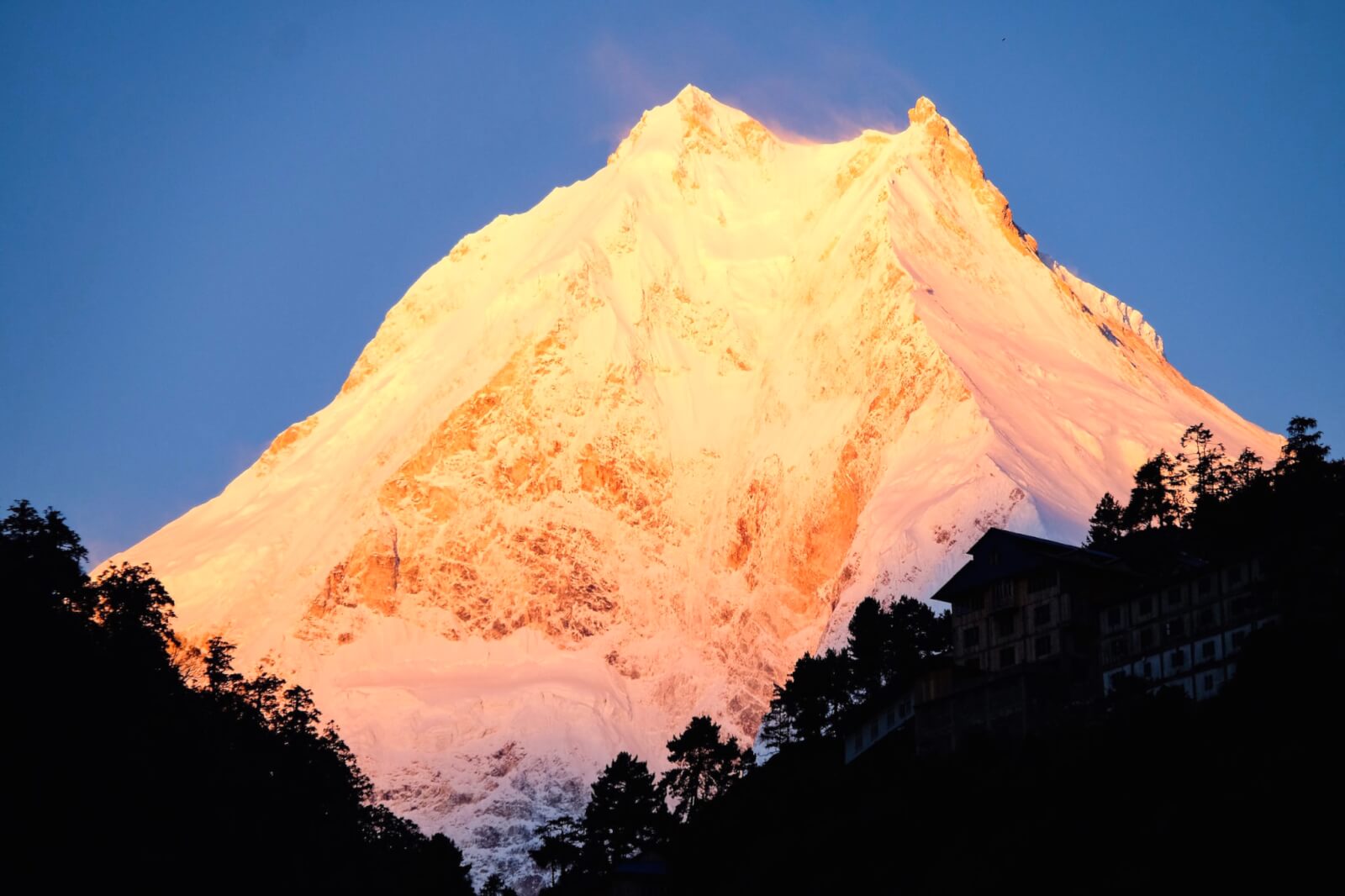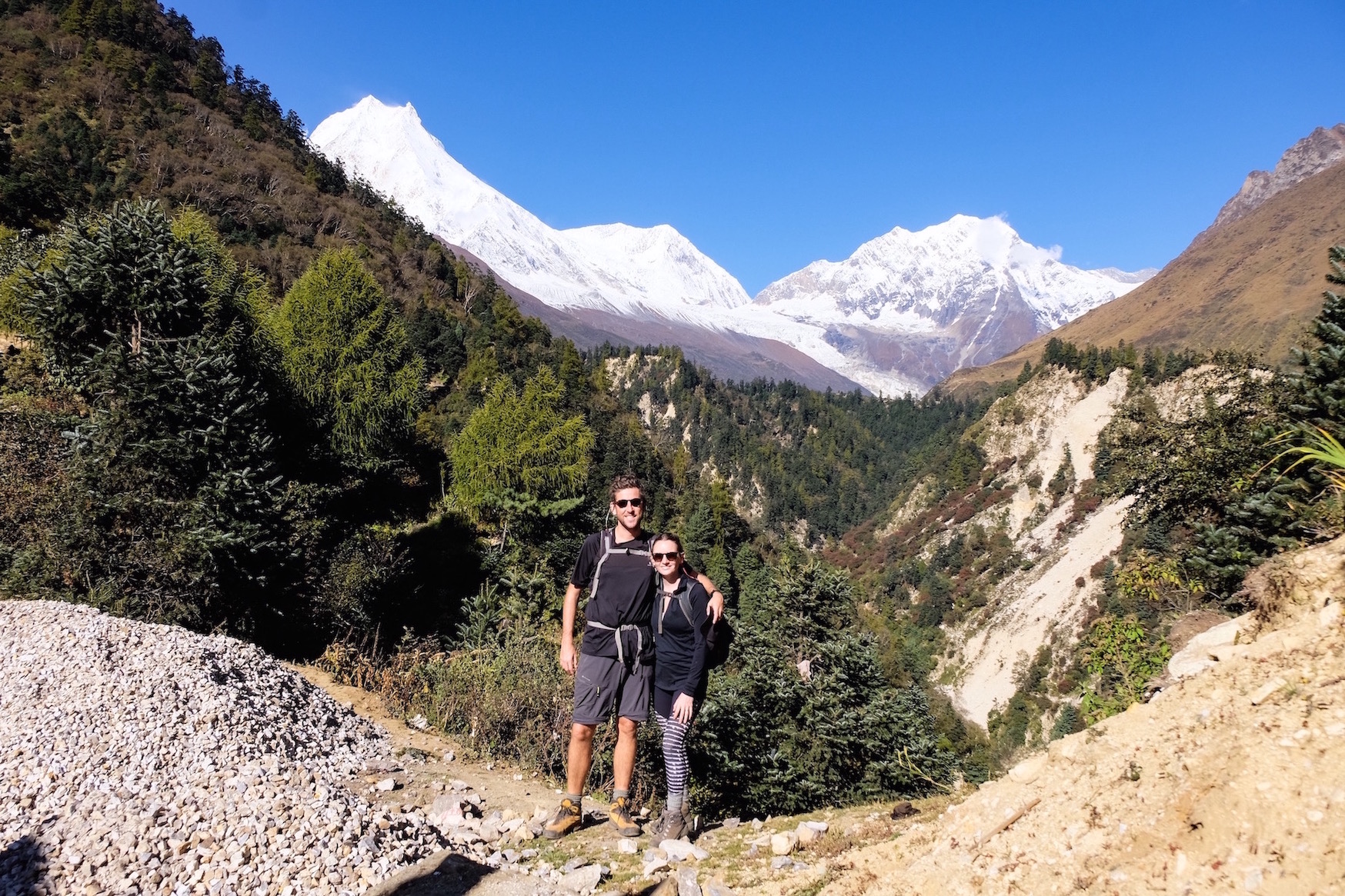 At the village of Samagoon, you will take a rest day – an essential opportunity to acclimatise to the increasing altitude and rest your legs before you tackle Larkya La Pass. On your "day off" you can hike up to Manaslu base camp or, as we did, take a less strenuous walk to the spectacular glacial Lake Birendra.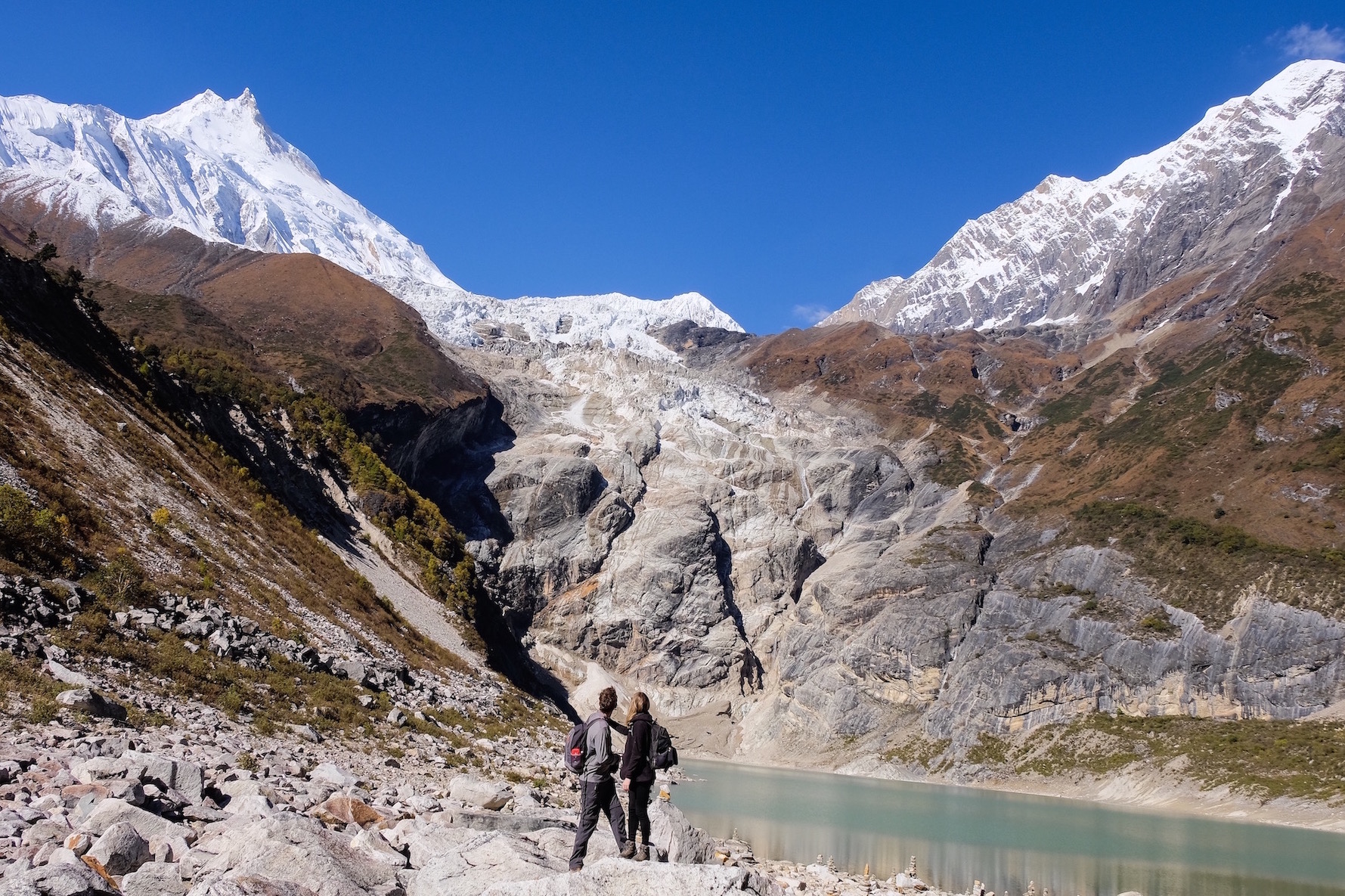 The Pass
Your trek will peak (quite literally) at Larkya La Pass on Day 10 or later depending on your speed. After spending a sub-zero night at Larkya Phedi, your guide will have you up around 3am to begin walking up to the pass. Around this time, when you can barely feel your toes, or breathe for that matter, you will really begin to question your life decisions and why you paid money for this torture. However, as soon as the sun starts coming up and the snow-capped mountains that surround you on all sides come into vision, it will all start making sense again.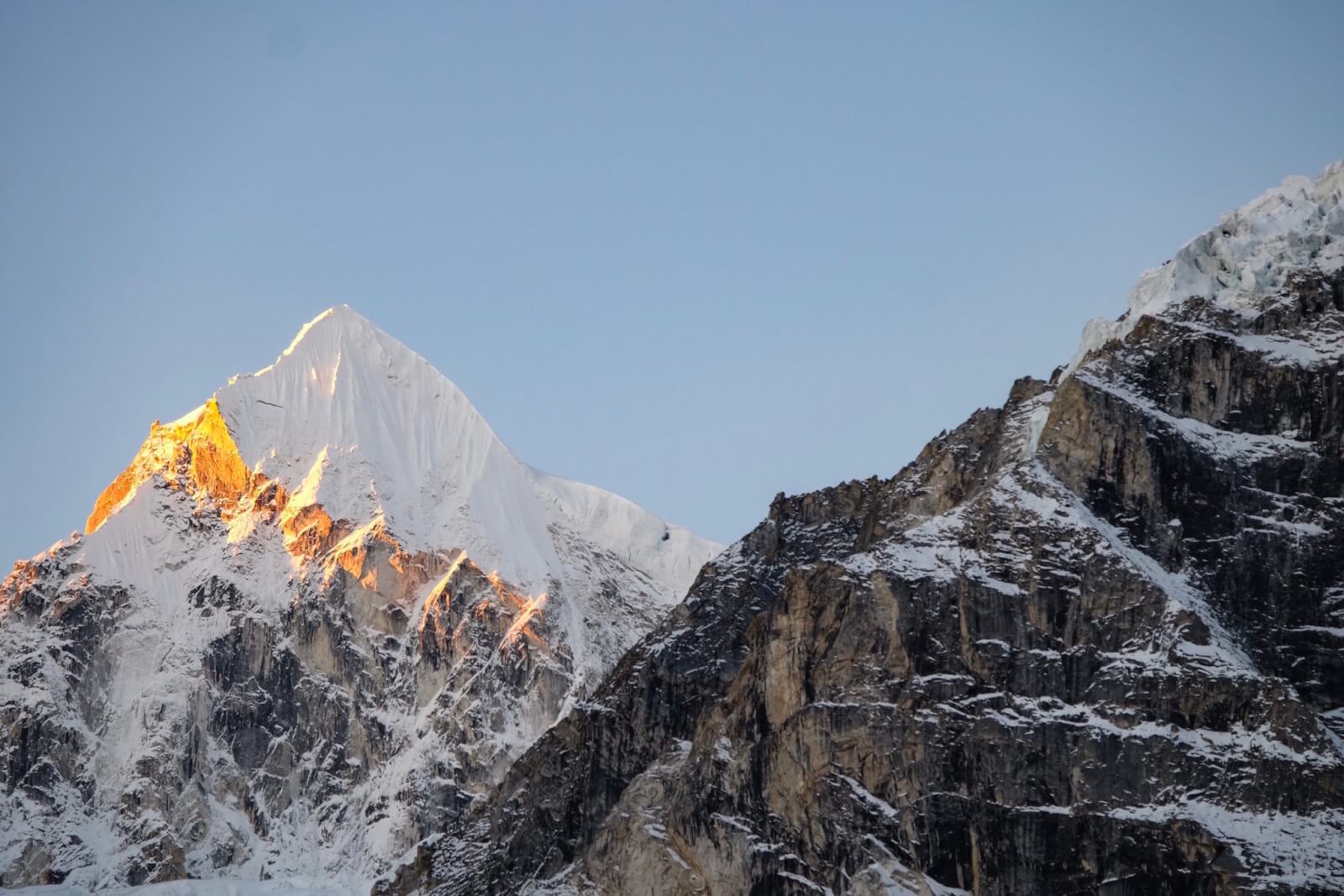 The pass is akin to something from the surface of the Moon. Vast, exposed and barren, it will astound you and terrify you in equal measure. Settle in, because you'll be crossing this thing for a good 4-5 hours and at over 5,100 metres. The altitude will become your biggest nemesis. Focus on putting one foot in front of the other, take your time and listen to your guide. When you finally make it to the tin sign and bunch of flags that indicate you have reached your highest point – and didn't pass out – don't be surprised to feel a little emotional about the whole thing. This will be immediately followed by the pure elation that, once your pictures are out of the way, you can begin descending.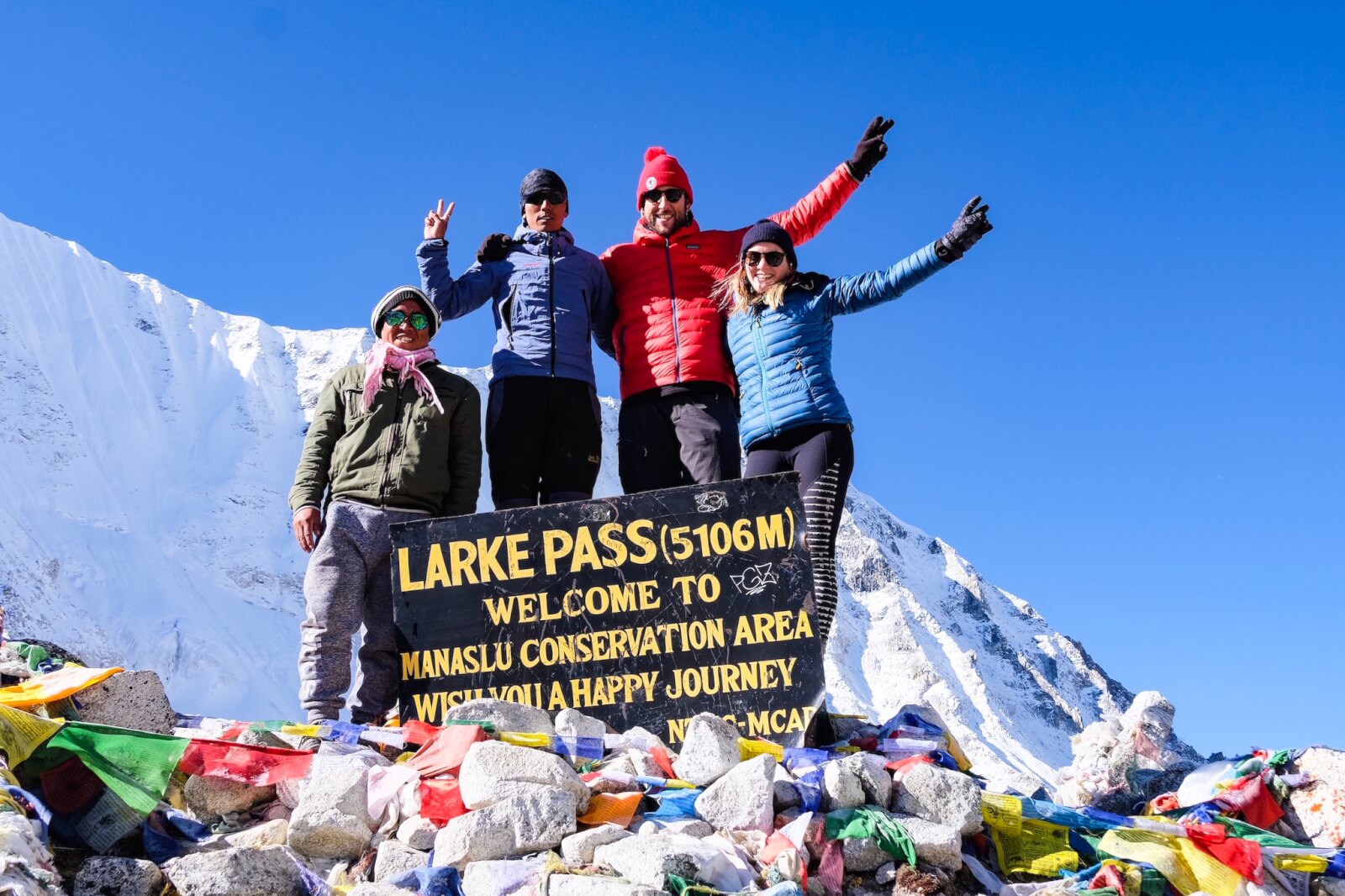 On your final day, the trail will eventually join up with the start of the ever-popular Annapurna Circuit. It's here, when you see hoards of people (and jeeps) on the trail, that you can feel slightly smug about the fact you chose the less crowded but equally spectacular Manaslu Circuit. Pat on the back for you.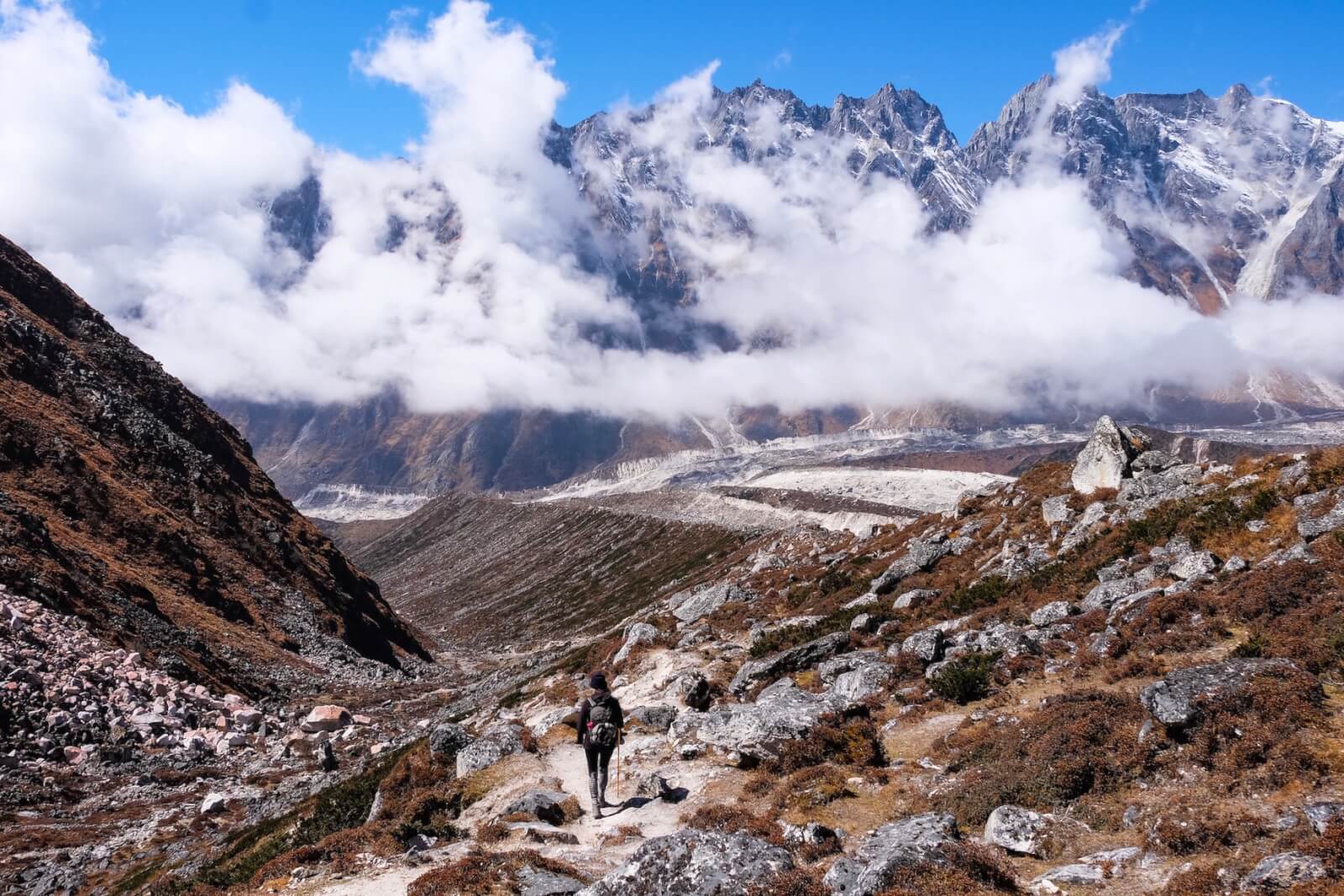 Trek or jeep it back along the mountain road to your first real sight of major civilisation in 12 days – the town of Besisahar. From here, we managed to get a private car dropping off some Annapurna trekkers to take us all the way back to Kathmandu for a nominal price. Once back in Kathmandu, enjoy your first cold beer in a fortnight and the best shower of your life.
When to Do The Manaslu Circuit
The months of October and November are the peak trekking season in Nepal. The temperatures are relatively mild for walking and the skies are clear blue making for a spectacular contrast with the snow-capped peaks. Our tip: go in the first week of October, just before all the crowds roll in.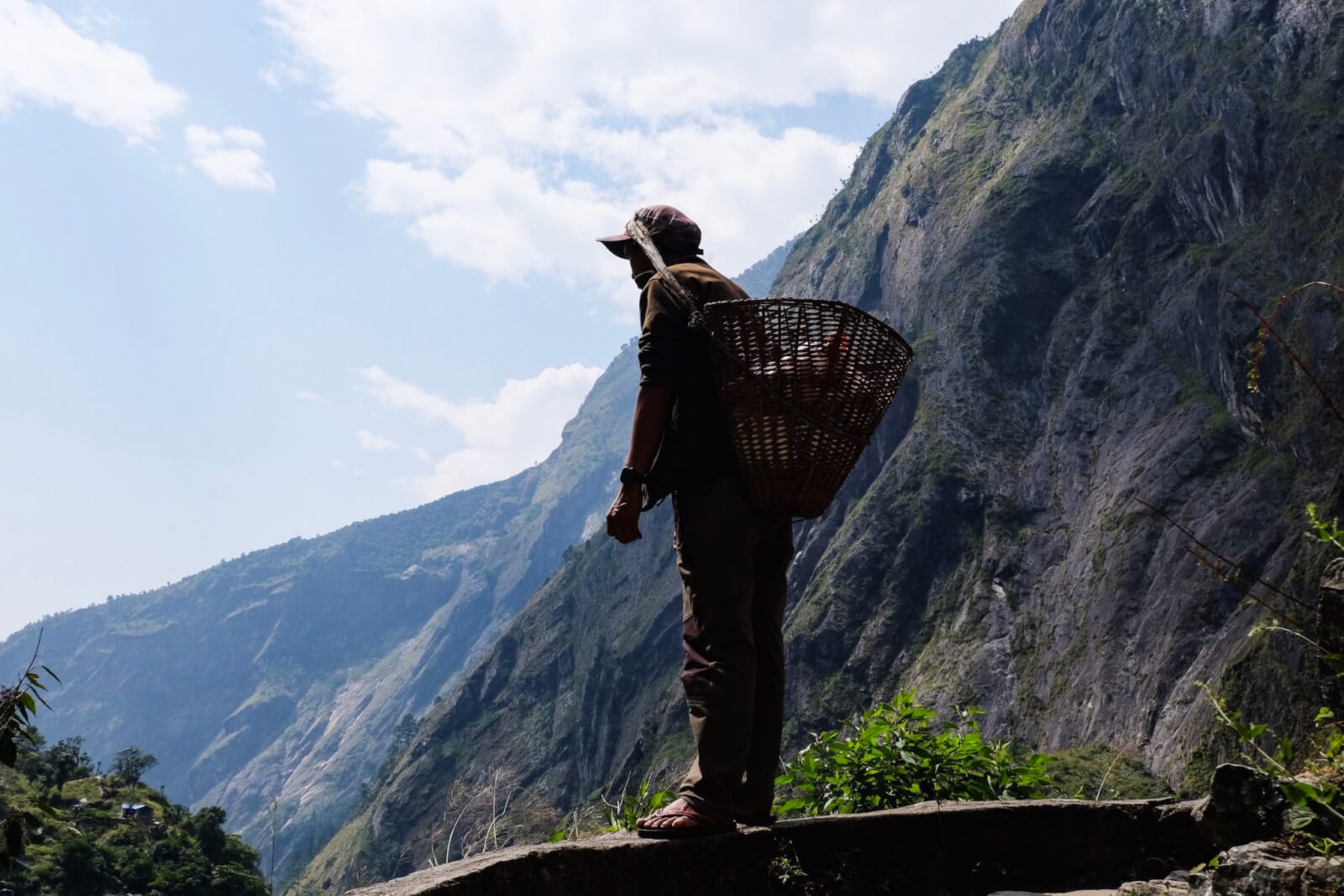 What to Pack
The weather in the Himalayas should not be underestimated, even if you're not scaling its 8,000 metre peaks. While Kathmandu and the lower elevations will be warm in peak season, the higher altitudes are bitingly cold and Mother Nature can be volatile on the roof of the world. The weather can change drastically without much warning, as some trekkers tragically found out in 2014 when over 30 people died on Thorong La pass on the Annapurna circuit.
Here are some essentials we recommend for trekking in Nepal:
Comfortable day pack for trekking (your porter will carry the rest of your essentials)
A good feather down jacket for temperatures down to -10
Fleece or warm jumper
Wool thermals – top and leggings (Merino is always a solid choice and won't smell even after 2 weeks of wear)
Neck/face snood or scarf
2 pairs of Wool trekking socks
A good pair of hiking boots (break them in before you set off)
Warm and waterproof gloves
Waterproof windbreaker
Waterproof trousers
Trekking trousers or leggings
Trekking shorts for warmer days
Headtorch
2-3 trekking t-shirts (one for the evening)
Walking poles (even if you don't normally use them, you'll be begging for them when it comes to the downhill on the penultimate day)
Warm hat/beanie
Sun hat
High factor sun cream or block (the sun is brutal at these elevations)
Polarised sunglasses to combat the high altitude glare
A warm sleeping bag for -10 and lower conditions (you can rent these in Kathmandu if you don't want to bring your own. Just check the quality and shop around)
A good book and playing cards for downtime
A good camera to record the unforgettable views you're about to see
Wet wipes
Dry shampoo (when it gets really cold, washing your hair is a big no-no)
Lip balm & moisturiser (the air is extremely dry and hard on your skin)
Anti-bac hand gel
Reusable water bottle
Plenty of water purification tablets (you will take water from taps in the villages which you'll need to purify)
A general antibiotic (for emergencies, as you might be 5 or more days walk away from a hospital/doctor)
Diamox anti-altitude sickness tablets for peace of mind
Ibuprofen for the inevitable altitude headaches
Sugary snacks
First-aid kit
Solid travel insurance which covers you for trekking at altitudes over 5,000 metres and includes Nepal helicopter evacuation (on Manaslu Circuit helicopter is the only way out if you fall seriously ill or injure yourself)
Plenty of US dollars to pay for the trek. Cash is king in Nepal, and ATMs often have limits on withdrawals, so organise your money before you land in Kathmandu. You will also need some extra cash for tipping your guide and porter, and for any add-ons during the trek ie. chocolate, hiring blankets and hot showers. The US dollar is widely accepted.
Altitude Sickness
It's near impossible not to feel some effects of altitude sickness at these heights, no matter how fit or young you are, but if you ascend gradually and make sure you take at least one rest day to acclimatise, chances are you will be fine. The most common advice given to us was to climb high, sleep low and if you get really sick, GO DOWN. Give your body time to adjust to the altitude, avoid alcohol, cigarettes and caffeine, and drink plenty of water throughout the day. Dehydration is a fast track to getting sick. Diamox can be taken to counter anything too serious, but trekkers question the benefits and complain about the side effects. As always, you should consult your doctor before leaving.
The Manaslu Circuit was undoubtedly one of the most challenging treks I've embarked on, but also one of the most rewarding. The length, terrain, altitude and sub-zero temperatures all combine to make this a physical endurance test but a very achievable one for anyone with a good, basic fitness level. Mindset is key and you need to be comfortable with roughing it a bit in return for some of the most spectacular landscapes imaginable. It's not just the views of those famous snow-capped mountains or bragging rights you're here for though; a journey on foot through some of Nepal's most remote villages is an opportunity to experience genuine Nepalese culture and their warm hospitality. They may be a small country but they have a huge heart and despite the devastating earthquake of 2015 are some of the friendliest and most optimistic people you'll meet.