The Road to Hana in Hawaii has become a well-known and popular road trip, and quite rightly so.  It's full of beautiful beaches, waterfalls, hikes and lots of great little food stops.  Most people tend to get up really early and do the drive in a day, but I think the best way to do it is over two days, spending a night in the lovely town of Hana.
While the drive isn't actually that long, the roads are narrow and winding, so it can take some time to get there, not to mention the fact that there are so many great places to stop en route, you want to have the time to enjoy them.
Depending on where you are starting from originally, will, of course, affect the journey, but a good aim is to reach Paia, the last town before Hana for around 10am.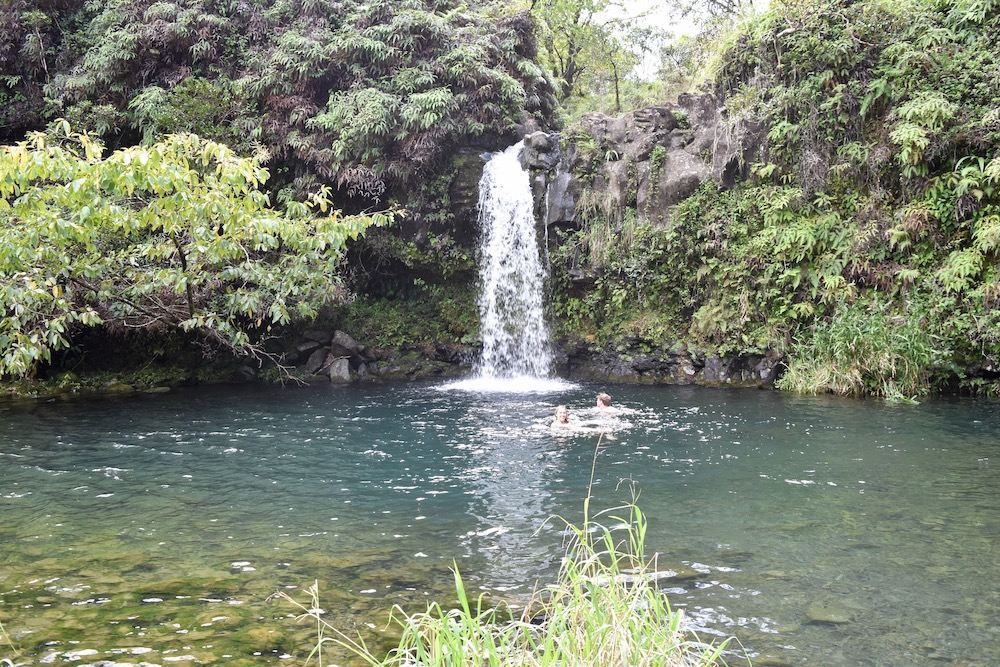 The Road to Hana
From here, there are lots of great stops, including the Twin Falls, Pua'a Kaa State Wayside Park, and one of my favourites Wai'anapanapa State Park – which has a beautiful black beach, lava caves and lovely coastal walks – you can easily fill a day here.  From Wai'anapanapa, it's a 10 minute drive into Hana.  Make sure you wear your swimsuit under your clothes for the drive, as there are lots of places to swim on the way and be sure to stop for vegan ice cream at Coconut Glen's and yummy banana cake at Halfway to Hana.
Where to Stay in Hana
Once in Hana, there are a few accommodation options, including a resort and a variety of guest houses and apartments. We stayed at Hana Kai, which has 17 apartments of varying sizes, all with fully equipped kitchens. We had a one bedroom apartment, that slept 4 people with a beautiful ocean view of Hana Bay from a huge balcony.
It was the perfect place to stay in Hana. There were lots of nice little additions like board games, locally produced organic shampoo and conditioner and loads of ice waiting in the freezer, which was especially useful as we were only staying for one night.
Hana only has two restaurants that open in the evening, both owned by the resort.  We decided to make the most of our apartment and bought some local produce from the Hana General Store, and cooked it with herbs from the Hana Kai garden.  Watching the sun go down over the Pacific Ocean from the balcony, with a home-cooked meal was an idyllic way to spend an evening.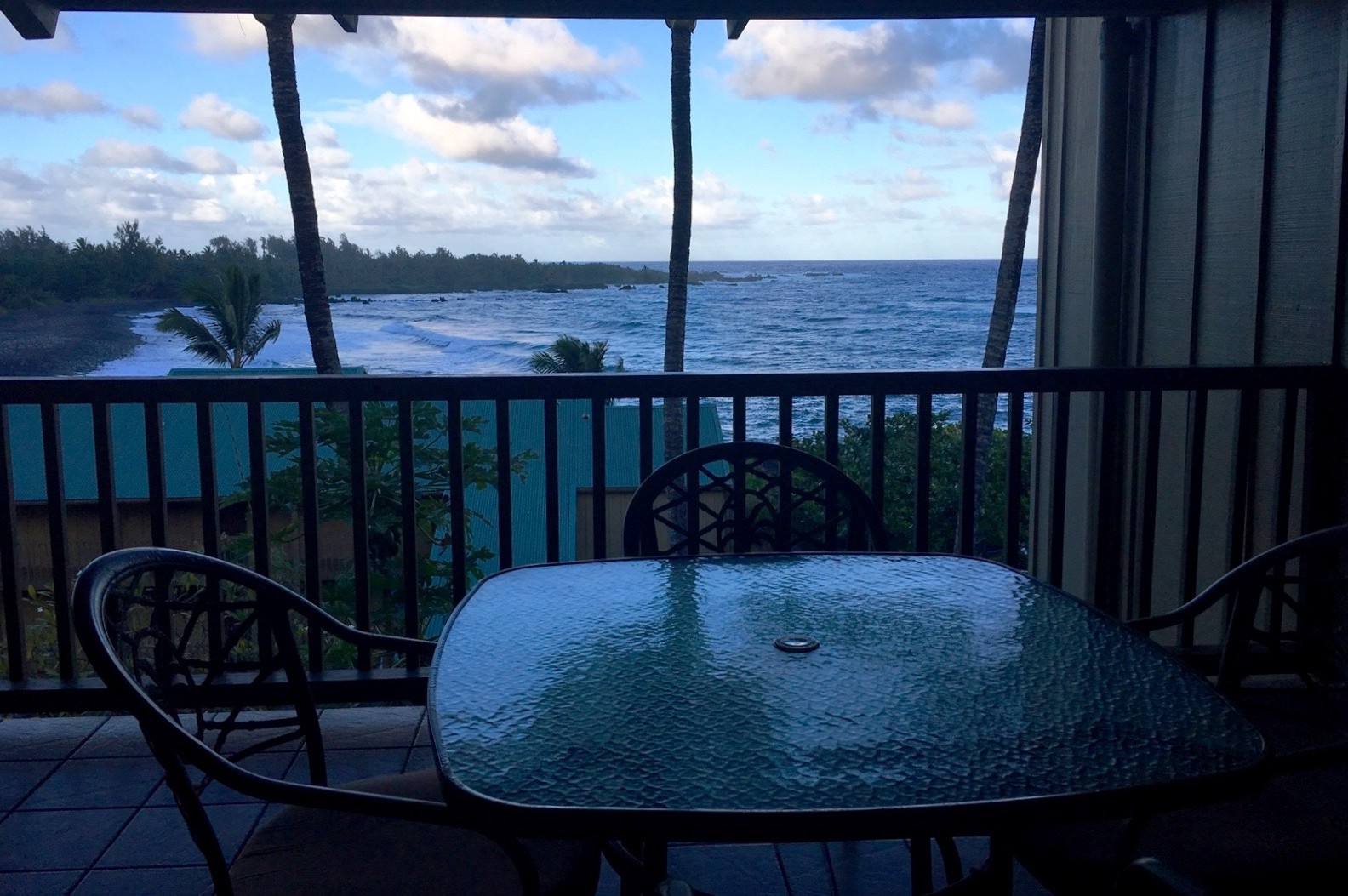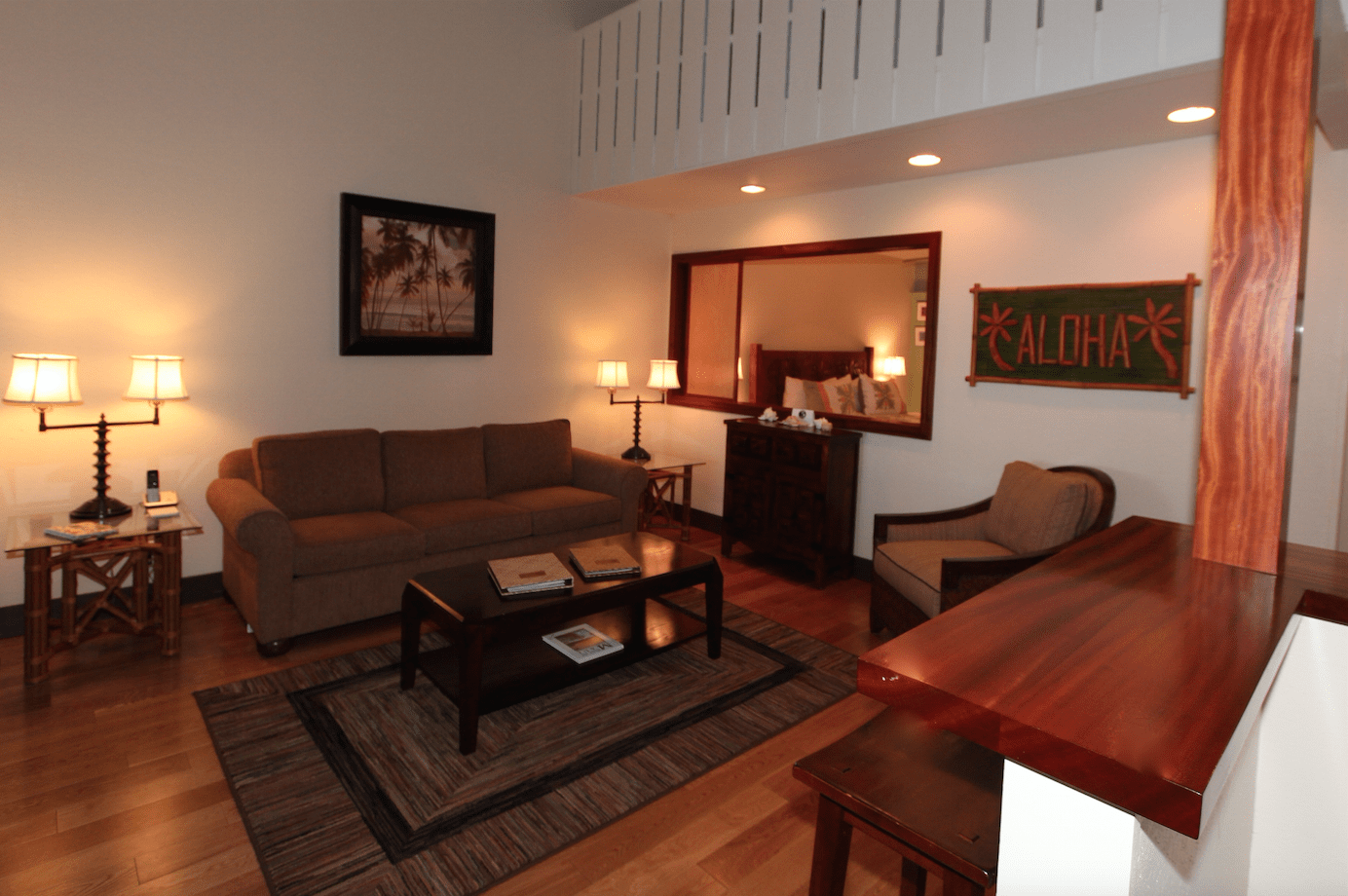 If you have a cool box, it's worth stocking up on a few things before you head to Hana, as its isolated nature means the supermarkets are slightly more expensive than those on the west coast. However, we still managed to have a very reasonable meal.
Things to Do in Hana
The next day, there are a number of beautiful beaches to explore in Hana, including the hidden Red Beach (be careful here as landslides have damaged the path) and Hamoa Beach.  Then you can spend the rest of the day driving the southern side of the island, stopping at more beautiful waterfalls and beaches along the way, as well as the 'Ohe'o Gulch (Seven Sacred Pools) in the Haleakala National Park.
The drive becomes much rougher here, with lots of narrow unpaved roads.  However the scenery is stunning, and in a few hours, you travel through lush rainforest into open mountains covered in yellow grass.
The drive from Hana back to the west coast takes at least around 3 hours, but generally longer depending on how long you stop at each place.
By allowing two days for the journey you have so much more time to spend at all the beautiful stops, and time to explore Hana, which many only briefly pass through.  So I would definitely recommend spending a night (or two) in Hana.
Thank you to Hana Kai for hosting A Lovely Planet in Maui. All opinions are my own. For more information on Hana Kai, please click here.