A Lovely Planet contributors Sarah and James explore Laos. Here are their top 5 things to do in Luang Prabang.
Arriving in Luang Prabang, you may think you have been transported back in time to a European town. This is, however, Luang Prabang in Southeast Asia, Laos.
With a harmonious mix of French architecture and Asian features, we immediately noticed the huge contrast from the hustle and bustle of a typical Asian city.
Instead of rickety local homes and street food lining the pavements, you'll find spectacular cafes and boutique craft stores at every turn.
A colourful charming city that was once the capital of Laos (now the capital is Vientiane), Luang Prabang is usually visited as the first or last stop within Laos due to its international airport servicing Bangkok and Kuala Lumpur. It is also the first stop for many people entering Laos who opt for the two-day slow boat from Thailand down the Mekong River.
Curious about the history, we soon learnt this town was declared a UNESCO world heritage site in 1995 to help preserve the traditional Laos wooden buildings, Buddhist sites and French colonial architecture, backdated to when Laos was part of the French colony of Indochina in the 19th and 20th century.
There are so many things to do in Luang Prabang, but we've whittled it down to our top 5.
Visit the Temples
There are many temples in Laos and we know it's easy to feel "templed out" (not another temple) but these are small and easy to visit due to their close proximity to each other.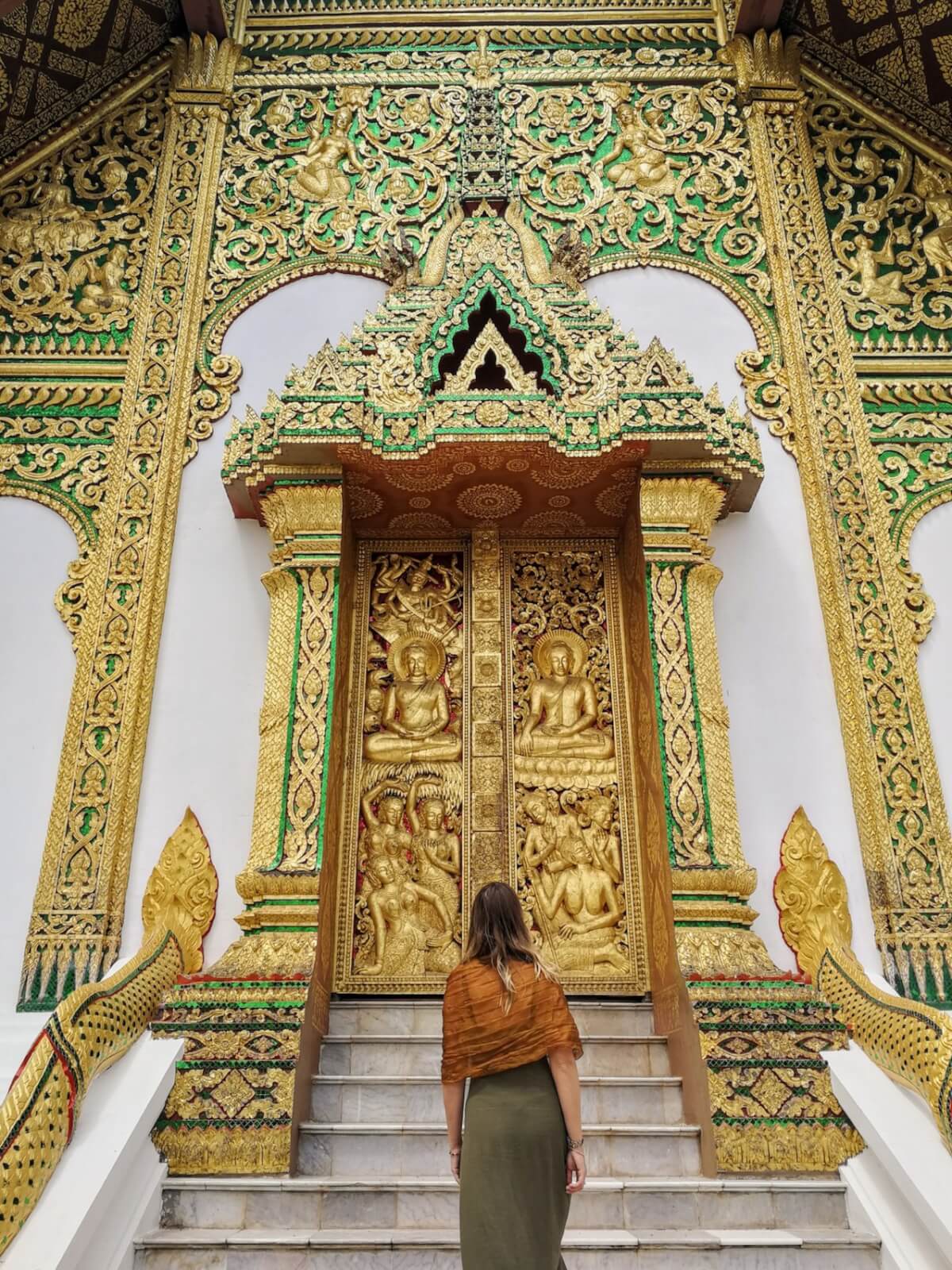 Ornate with golden details and impressive spires, many of the original temples were unfortunately destroyed in 1877 by the Chinese Army, with only a few surviving and still standing today.
The most recently built Haw Pha Bang temple sits in the grounds of the Royal Palace and is one of the most impressive.
The Royal Palace itself has a small entry fee and includes a museum of many historical items, gifts from across the globe and a small but impressive royal car collection.
When visiting any Buddhist temple, shoulders and knees should be covered at all times to show respect.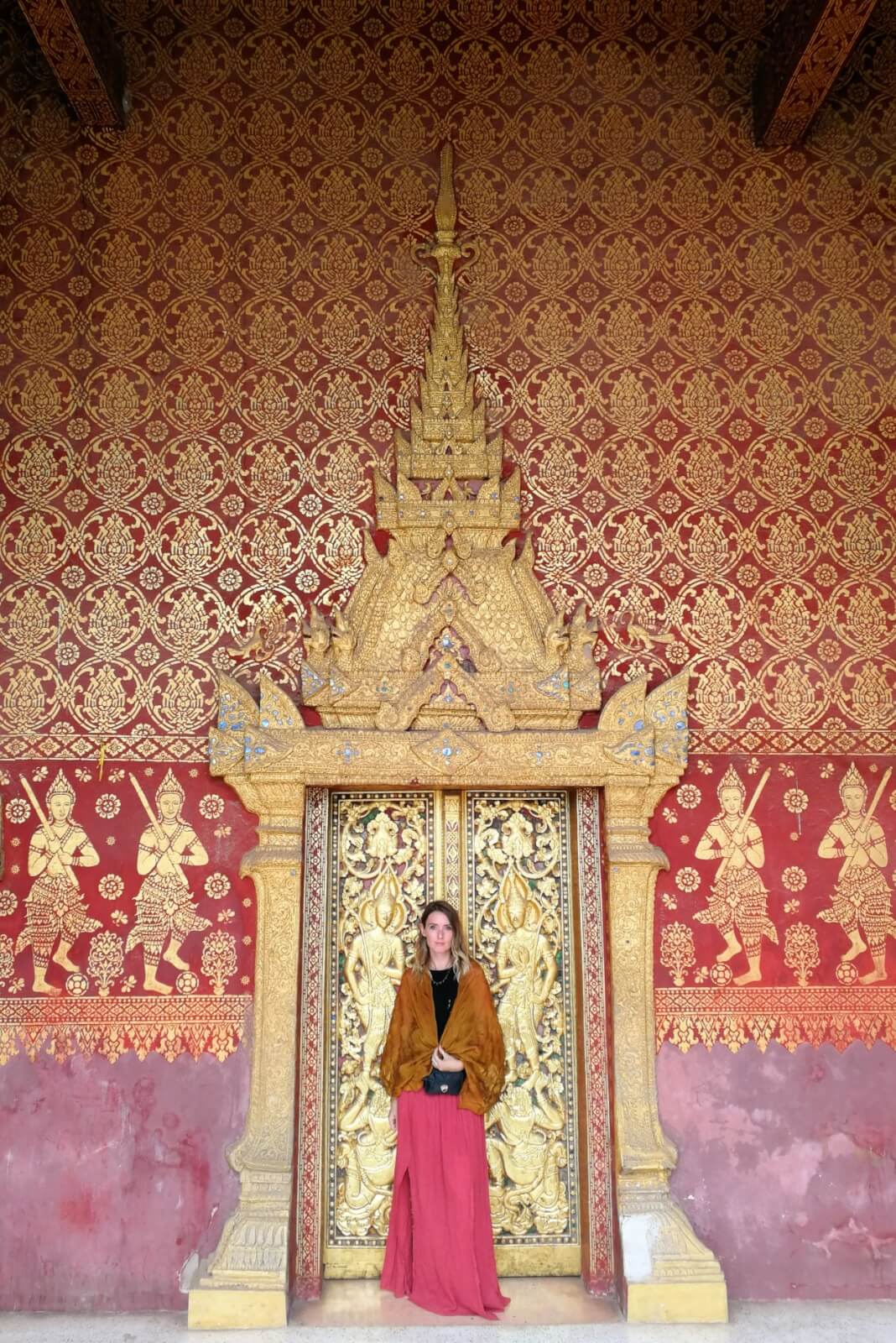 Enjoy Local Coffee
Luang Prabang is packed with great coffee shops, which made it very hard to choose where to go. After lots of cafe visits, Cafe De Laos was by far our favourite.
Serving Siphon, Cold Press and Drip to name a few, you are spoilt for choice for coffee options. We enjoyed a very theatrically prepared Siphon coffee and took about 20 pictures of each fascinating step.
Some of the finest coffee in the world is grown within the Bolaven Plateau region of Southern Laos. Although Laotians generally don't drink that much coffee, it is exported all over the world with some of the finest Arabica beans purchased by cafes such as Cafe De Laos. The coffee sourced here also supports local businesses that practice sustainable production and pay their employees a fair wage; you can see why this cafe was our top pick.
This quaint cafe also has five adorable rooms at the Inn just upstairs. Fine décor and vintage touches make it a very cosy stay and obviously very Instagramable.
Join the Morning Almsgiving
A very unique experience if you rise with the sun is the morning alms ceremony, which sees around 200 monks depart from their various temples at 6am, collecting offerings for their daily meals. Offerings generally include sticky rice, biscuits, fruits and simple snacks.
A tradition completed by many locals, but tourists are also welcome to partake. You can join by offering some food on one of many stools set up on the pavement by the street vendors, or simply sit back and observe this ancient tradition from afar.
Unfortunately, tour groups can be a little disrespectful, getting way too close and talking during this sacred tradition. We still, however highly recommend this unique and cultural experience as a must-do whilst in Laos.
A few things to consider during this ceremony:
Dress modestly with shoulders, chest and knees covered
If offering food always sit or kneel below a monk
Do not touch the monk or ask for a picture during your offering
Only take a picture from a distance without a flash
Keep silent until the monks are out of sight
You'll notice many young monks in the monasteries in Luang Prabang. Many have been sent by their families from rural areas as it's one of the only ways they can receive an education. Most monks renounce their Monkhood at some stage to continue a normal life to help their families, get a job or to marry, but some dedicate their whole life to being a Buddhist monk.
Food Glorious Food
For foodies, one of the best things to do in Luang Prabang is to explore the local cuisine. It's easy to spend money in Luang Prabang with prices generally higher than anywhere else in Laos due to the variety of high-end restaurants and cafes. There are however some hidden local gems that won't break the bank and are equally (or more) delicious!
The Xieng Thong Noodle shop, hidden down a quiet unassuming side street sells out by 1pm, so you'll need to get there early to avoid disappointment.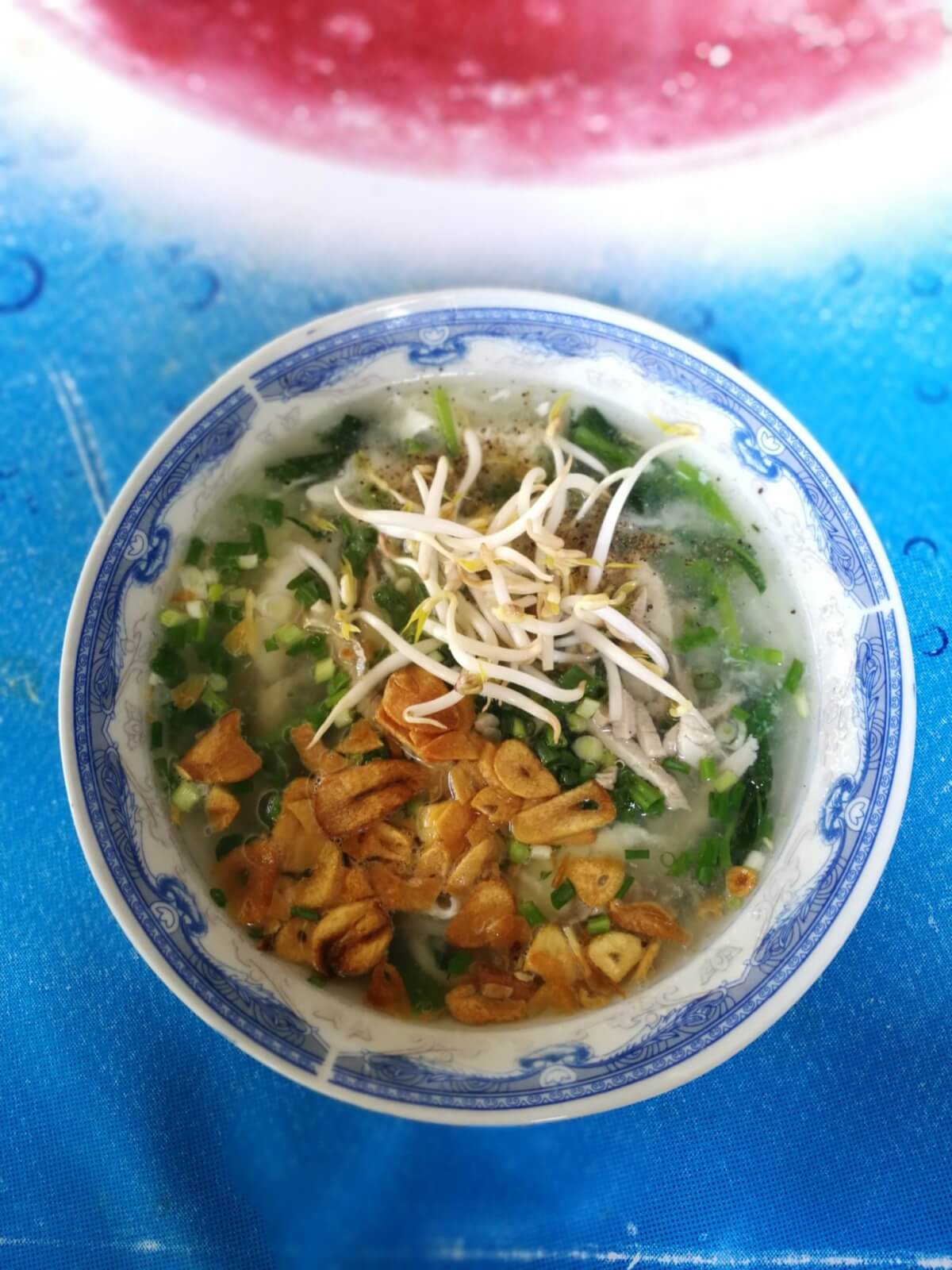 Another place we stumbled across was Phonheuang Cafe, its menu is a mixture of Vietnamese and Laotian cuisine. We visited three times during our stay as the food was so good and such great value.
The Bo Bun and fresh spring rolls were to die for!
Make a night of it with Garavek Storytelling Show just next door. A small intimate theatre showcasing traditional folktales, legends and myths about Laos traditions.
Stay in a Heritage Hotel
It's hard to miss the beautiful architecture and design of this UNESCO city but fully immerse yourself by staying in a heritage hotel.
The Burasari Heritage Hotel is a beautiful mix of traditional Laotian and colonial French architecture.
The hotel overlooks beautiful gardens and the Nam Khan River but is very close to the market, temples and fantastic cafes.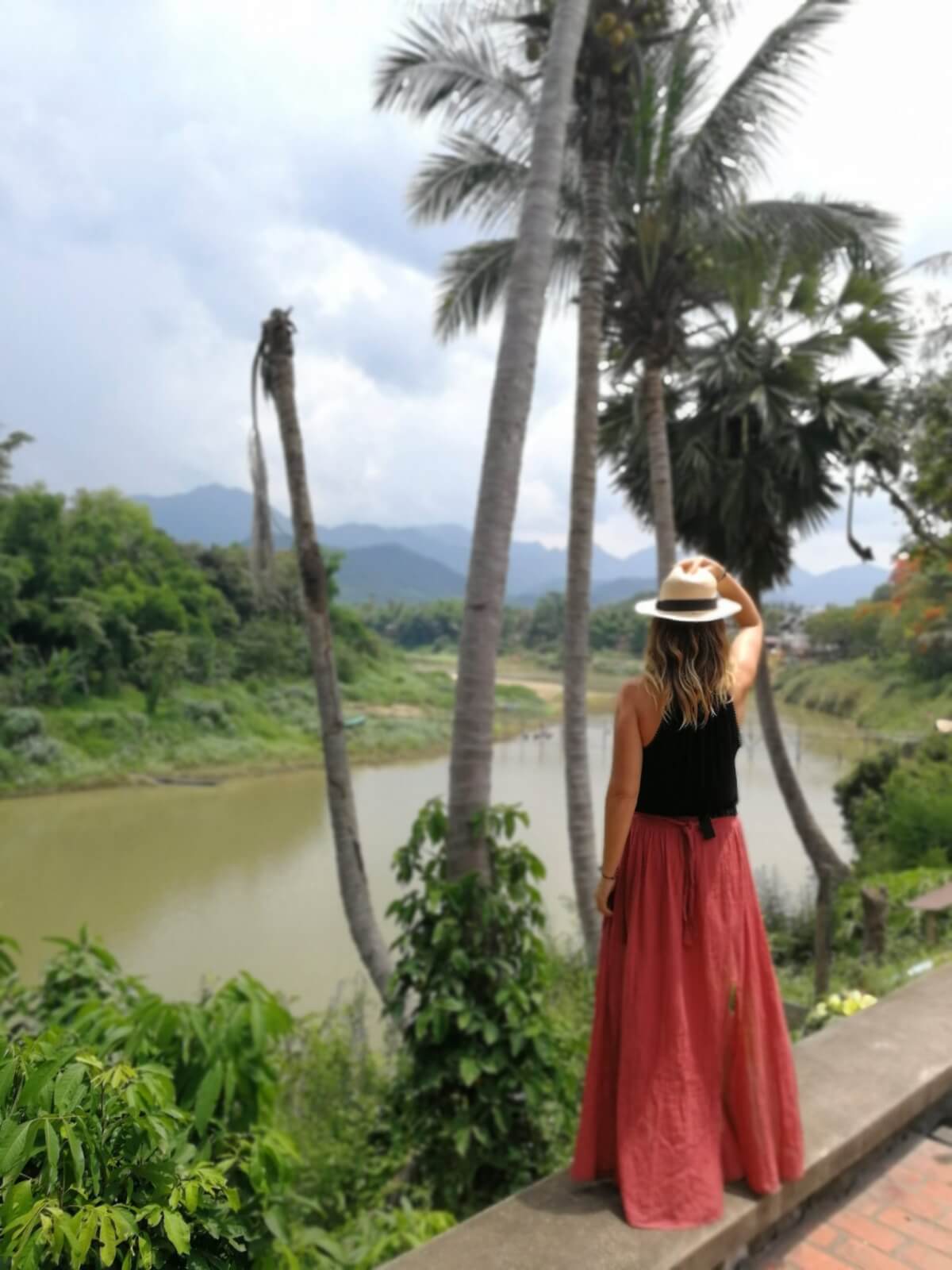 The design details in this hotel are absolutely stunning. One of our favourite things was the shower, something you only usually see in a movie scene.
The separate building next door houses the Burasari spa, which offers treatments from ancient healing techniques to modern relaxation treatments.
If the stay wasn't already great enough, we topped it off with a chauffeur driven classic Mercedes Benz, the final part of stepping back in time.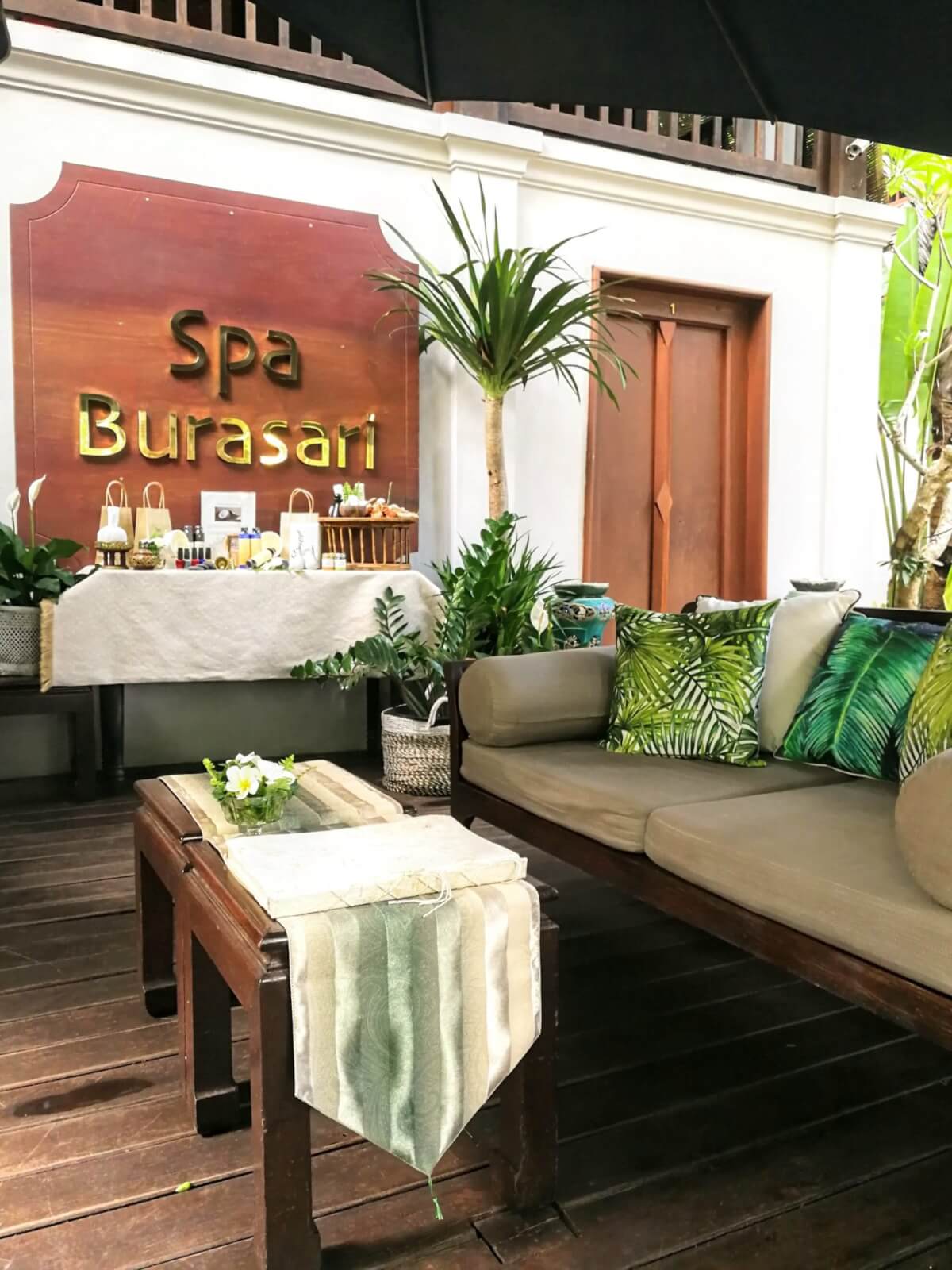 We loved this fantastic city as there really isn't anything else like it in Asia.
To see the 'real' Laos however, take a short drive in any direction outside of Luang Prabang where rural living showcases a more authentic visit, so if you have the time visit these places too.
These are just a taste of the many things to do in Luang Prabang. Let me know your favourites!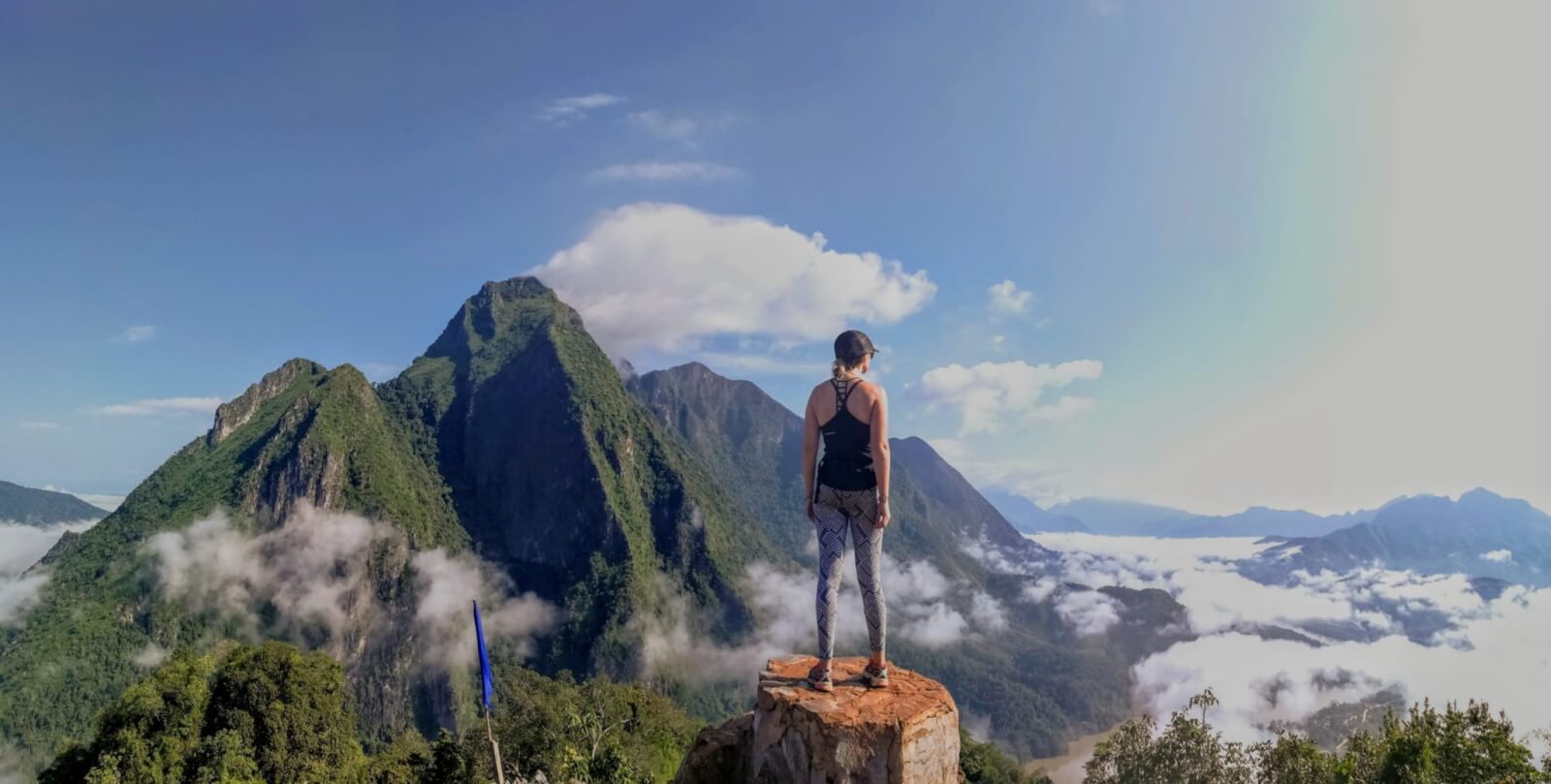 Thank you to Burasari Heritage Hotel and Cafe De Laos for hosting A Lovely Planet.
Travelling in Asia? Check out our articles on Thailand, Cambodia and Indonesia.