Vancouver is situated on the West Coast of Canada, just north of the US border. It's a beautiful city, surrounded by water, with mountain ranges to the north and a collection of islands off the coast.
Disclosure: This article contains affiliate links. This means that if you click a link and purchase something I've recommended I may earn a small commission. This does not affect the price you pay but helps me to run this site. You can read my full affiliate disclosure here.
If you like the outdoors, this is the perfect place for you.  In winter, you can ski on Grouse or Cyprus mountains, or travel a little further to the famous resort of Whistler, which is 45 minutes northeast of the city.  Year-round there are hundreds of beautiful places to hike, and in the summer, there are beaches all over the city and surrounding islands.
Vancouver Neighbourhoods
Downtown is the main hub of the city and a great base.  It's a relatively small area and easy to navigate via bus or walking.  There are lots of hotel options to choose from.  
Downtown has some amazing restaurants and shops, as well as the majority of the city's main businesses. I loved Gastown, which is east of the main hub. This area has cobbled streets, and old warehouse-style buildings full of cool bars and restaurants. It's a great place to wander, with lots of shops and coffee shops to stop in. This area stretches from Richards/Seymour down to Main Street. Further east than this, is an area known for drug abuse and sadly, lots of homeless people. While it doesn't feel unsafe, it isn't a particularly nice area to visit.
At the western end of Downtown is Stanley Park, one of Canada's most famous parks. This beautiful rainforest is almost completely surrounded by water, and you can walk the circumference of the park on the sea wall.
Across the water, is North Vancouver, which can be reached by either Lions Gate or Second Narrows Bridge, or via the Sea Bus. This area forms the base of a number of mountain ranges, and further west along the coast, is one of the most affluent areas of the city – the British Properties.
Things to Do in Vancouver
Vancouver has a rich and interesting history, with influences from both the First Nations and subsequent settlers. The First Nation's influence is reflected with art and story poles displayed across the city.
UBC Campus and Museum of Anthropology
In the Westside of Vancouver, is the huge UBC campus, while it might not be an obvious tourist destination; it's really worth a visit. Home to the Museum of Anthropology, a striking building designed by Arthur Ericson which houses an eclectic mix of exhibitions, as well as a collection of First Nations art and artefacts. Below the museum is Wreck Beach – one of Vancouver's most beautiful beaches (clothing is optional!). And following the walk back up the steps, from the beach (believe me, it can be challenging!), you can stop off a Koerner's pub for a drink and some food.
Capilano Suspension Bridge
In North Vancouver, I would recommend heading to the Capilano Suspension Bridge – this bridge, suspended over a 220ft canyon, was first built in 1889 and is one of Canada's longest-running tourist attractions.  It's a very wobbly walk over, but has some spectacular views.  On the other side, there is a nature trail and a treetop walk through the rainforest.  Though it's only 20 minutes from downtown, you feel like you could be miles away from the city.
The cliff walk is another suspended platform around the cliff face. Possibly not for those with a fear of heights, but great for views (and photos!).
Shopping
If you want to shop, there are two excellent department stores in the city – Nordstrom in Downtown and Simons at Park Royal in West Vancouver (a Canadian department store). The main shopping strip is on Robson Street in Downtown and there are also some lovely boutiques in Gastown.
Head to an Island
There are a number of beautiful islands close to Vancouver which are great for a day trip or longer. Bowen Island is a lovely spot, just a 20 minute ferry from Horseshoe Bay in West Vancouver. Vancouver Island is a much larger island, further from the city. It takes around four hours by car and ferry, or bus and ferry or a 35 minute flight.
Go to Whistler
Take a day or more for a road trip from Vancouver to Whistler. It takes 1 hour 30 to drive there directly, but there are lots of lovely stops along the way. If you're there in the winter you can ski or snowboard and the rest of the year there are excellent hikes and beautiful lakes to enjoy.
Food and Drink in Vancouver
Vancouver has no shortage of great eats, and there are amazing restaurants all over the city catering to a variety of tastes.  A few recommendations are Ask For Luigi, a lovely Italian restaurant in Gastown.  All the pasta is handmade and the recipes are more adventurous than your average Italian.  (The Wild Boar Ragu was delicious!).  In Downtown, Medina is a great brunch spot, serving a variety of dishes in heavy cast iron pans.  They are famous for their Belgian Waffles, which you can have with almost any kind of sauce you can think of.   And another restaurant worth a mention is The Flying Pig, which serves all sorts of delicious dishes including Pulled Pork Poutine and Crispy Brussels Sprouts with Lemon and Parmesan. Yum!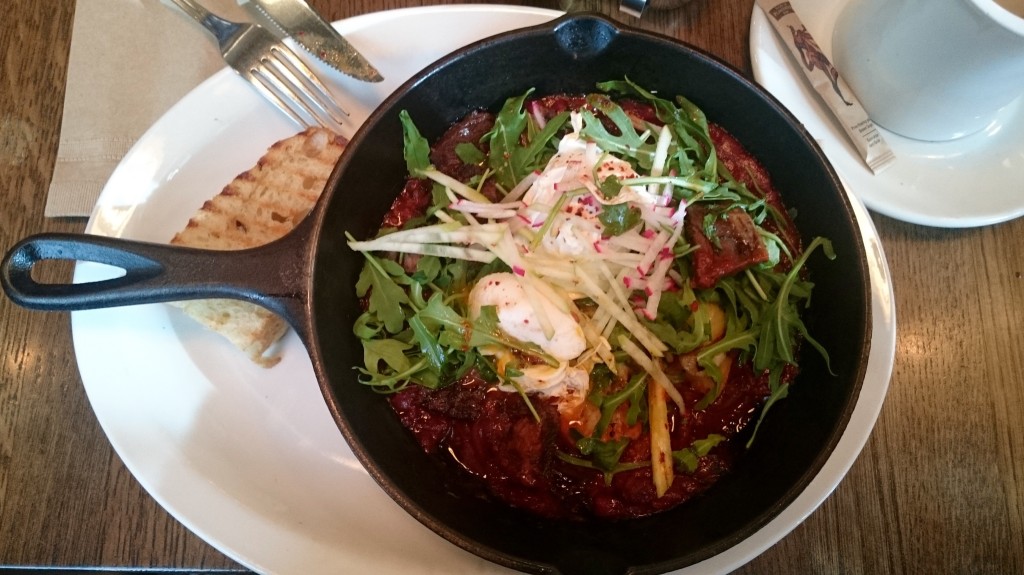 I recommend spending at least four days in Vancouver and more if you have time. It is the sort of city you could spend a lot of time in, and still find lots of things to do.  I definitely have more to explore in this beautiful city and can't wait to return.
Getting Around Vancouver
Downtown Vancouver has great public transport and it's easy to get around. If you want to explore wider Vancouver and other areas of British Columbia, then it's worth hiring a car. If you don't hire a car, then the newly built sky train from the airport terminal reaches downtown in 20 minutes and is an easy way to reach other areas of the city.
Thanks to Tourism Vancouver for my Vancouver experience.