Everything about Bali is lovely, the people, the beaches, the culture, and it's still relatively cheap to visit. I've been to Bali three times now, and I still love going back. Each time I go, I spend quite a bit of time researching where to stay in Bali, so I thought I'd put together a post on the different parts of the island.
If you're visiting from Europe, the most expensive thing will be the flight, which unfortunately does require a stopover. Usually in Singapore, Kuala Lumpur or Jakarta.  But if you can cope with that then it's well worth the trip. From Australia, it's an easy direct flight (hooray!).
Once in Bali, you can find great accommodation and food at really reasonable prices.
If you have the time, I would recommend splitting your trip and spending some time in different areas of Bali and the surrounding islands.
Where To Stay In Bali
Ubud
One of my favourite places in Bali is Ubud, situated inland, up in the hills.  It's a very spiritual place, with a beautiful palace, temples and lots of yoga classes.  It also has some great places to eat and an enormous market.  It has definitely become more touristy in recent years, partly due to the book/film Eat Pray Love, but I still love it. I would definitely include a few days in Ubud in your Bali itinerary.
If you're into shopping, you can easily spend a day in the market, which is huge and full of jewellery, clothes and amazing furnishings.  And If you love healthy eating, then this is the place for you – there are loads of organic, vegetarian & vegan restaurants and smoothie bars.  (Don't worry – there are lots of less healthy places too).  Everywhere I've eaten in Ubud has been amazing.
Read our Ubud guide for more info.
Where To Stay In Ubud
I've stayed in various accommodation in Ubud, from budget guesthouses to luxury resorts. I recommend staying close to the town centre so you can walk in and out easily. We love Pertiwi Bisma 1, which has a great location in the centre, plus a pool and rainforest views.
Alternatively, if you want rainforest luxury (with an Instagram-able pool), then go for a resort in the jungle – ideally one that offers transfers like the Kayon Resort.
For absolute luxury, head to the Four Seasons Sayan.
Read our reviews of the Kayon Resort and the Four Seasons Sayan in Ubud.
After Ubud, I would head to the beach.  Here you have plenty of options.
Kuta or Seminyak
Most people choose Kuta or Seminyak in the south-west of Bali.  For me, Kuta is a bit too hectic, it's a bustling town with loads of bars and very noisy, however, I can't deny that I've had some fun nights out there.  Seminyak is more upmarket and relaxed.
Where To Stay In Seminyak
There are some lovely hotels and bars, including Potato Head and the Seminyak Resort.
Sanur
On the south-east of Bali is Sanur, which is a great little town with lots of good restaurants.  If you're after big resorts, visit Nusa Dua, or if you want to get away from it all, you can head to the north of the island, where there a fewer, smaller hotels and fewer tourists.
Nusa Lembongan
Alternatively, you can head to an island.  Nusa Lembongan is easily accessible and takes around an hour to reach by boat, so you can go for a day trip, or stay for a few nights.  When booking a boat, make sure you ask where they are dropping on you on the island, as many of the cheaper boats head to the east of the island (when you ideally want to head to the west for the nicer beaches).  There aren't many transport options once on Nusa Lembongan, so if you're in the wrong area it can be a little challenging to get to your destination.  However, there are some great beaches there, including the lovely Mushroom beach.
Lombok
A little further west is the Indonesian island of Lombok.  Lombok has some beautiful beaches as well as an active volcano and is great for hiking, although not technically in Bali, it makes a great addition to a Bali trip.
Gili Islands
Just off the coast of Lombok are the Gili islands, – Gili Trawangan (or Gili T), Gili Air and Gili Meno.   I would definitely recommend spending some time here.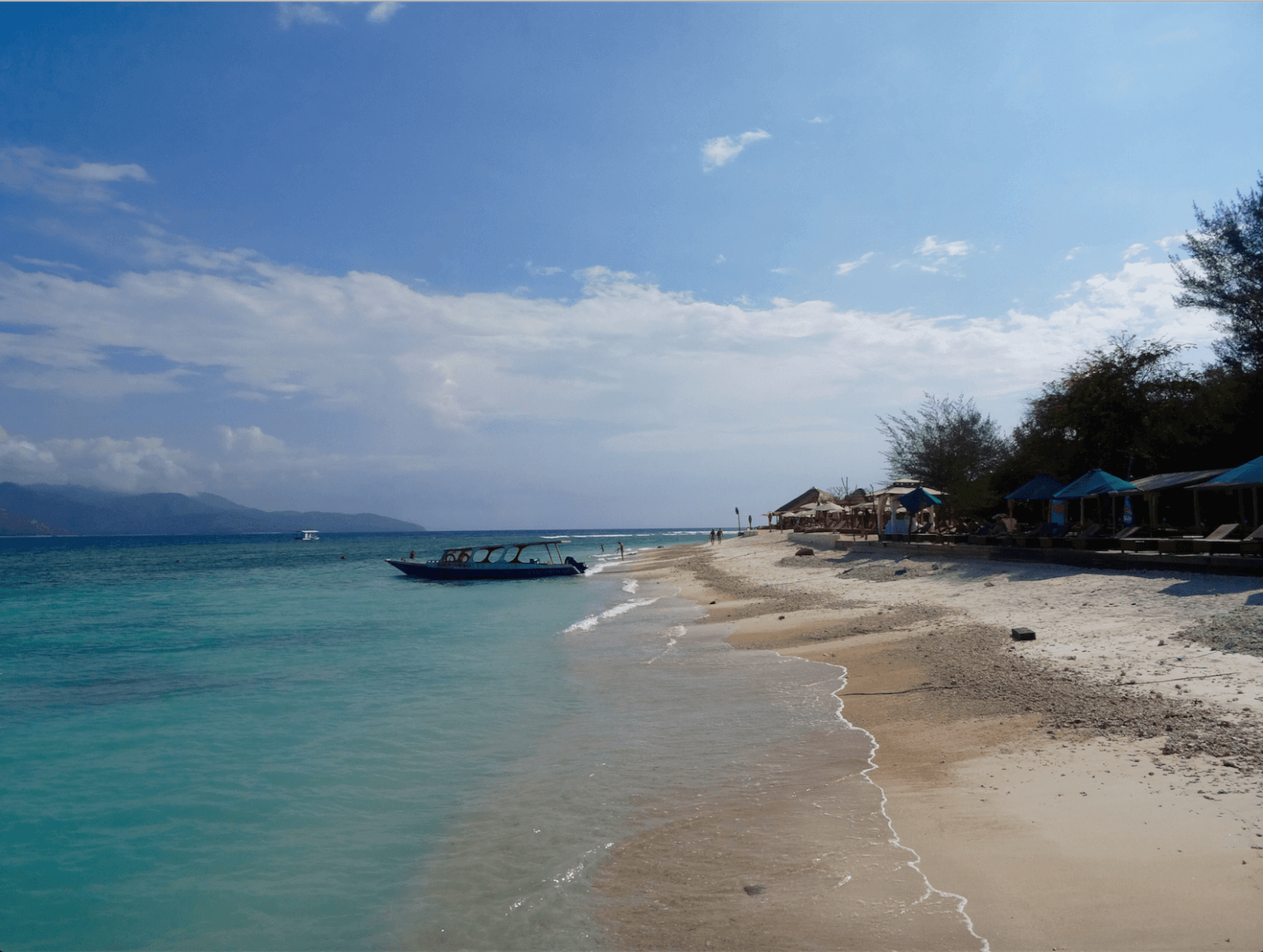 These tiny paradise islands are all free from cars, with white sand beaches, and each has its own appeal.  Gili T is the busiest of the three, and the most popular island to visit, with lots of bars and hotels (although it's still very low key – no high rises).  Gili Air is quieter and more relaxed, and Gili Meno is the smallest and most underdeveloped of the three islands, a real desert island experience.
It takes a couple of hours to get to the Gili Islands from Bali by boat (or there is the option to fly), so it's wise to head back to Bali at least a day before your outbound flight, just in case there are any disruptions. (It's worth noting that boats and buses in Indonesia rarely leave on time, so be prepared to wait).
Uluwatu
Finally, one of my favourite places in Bali – Uluwatu.  This is surfer heaven.  A dramatic cliff face leads down to the beach, with lots of bars on the way.  It's home to the Pura Luhur Uluwatu Temple on the cliffs (and lots of monkeys). I recommend visiting Uluwatu on a Sunday – first head to the temple and then to the bars for sunset.  Watching the surfers with a cocktail while the sun goes down is a lovely way to spend an evening.
Read our review of Anantara Uluwatu here.
And no trip to Bali is complete without a massage – there are great massage parlours all over Bali and they are incredibly cheap!  They usually also offer pedicures, manicures and body scrubs.  A lovely way to finish an afternoon on the beach.