A Lovely Planet's guide to the top things to do in Moliets et Maa, France.
For a while now, Enrico and I have been wanting to visit the south-west of France, as it is considered one of the best surfing spots in Europe. So we were very excited to be heading this part of the world. Having never visited the region, I knew of Biarritz but not a great deal more, however, this wasn't a city break, our destination was Moliets et Maa.
Moliets et Maa is a lovely little town in the middle of a forest, around an hour north of Biarritz. We stayed with Summer France at Villas la Clairière aux Chevreuils. It was idyllic, with a private swimming pool, surrounded by trees and with a small lake nearby.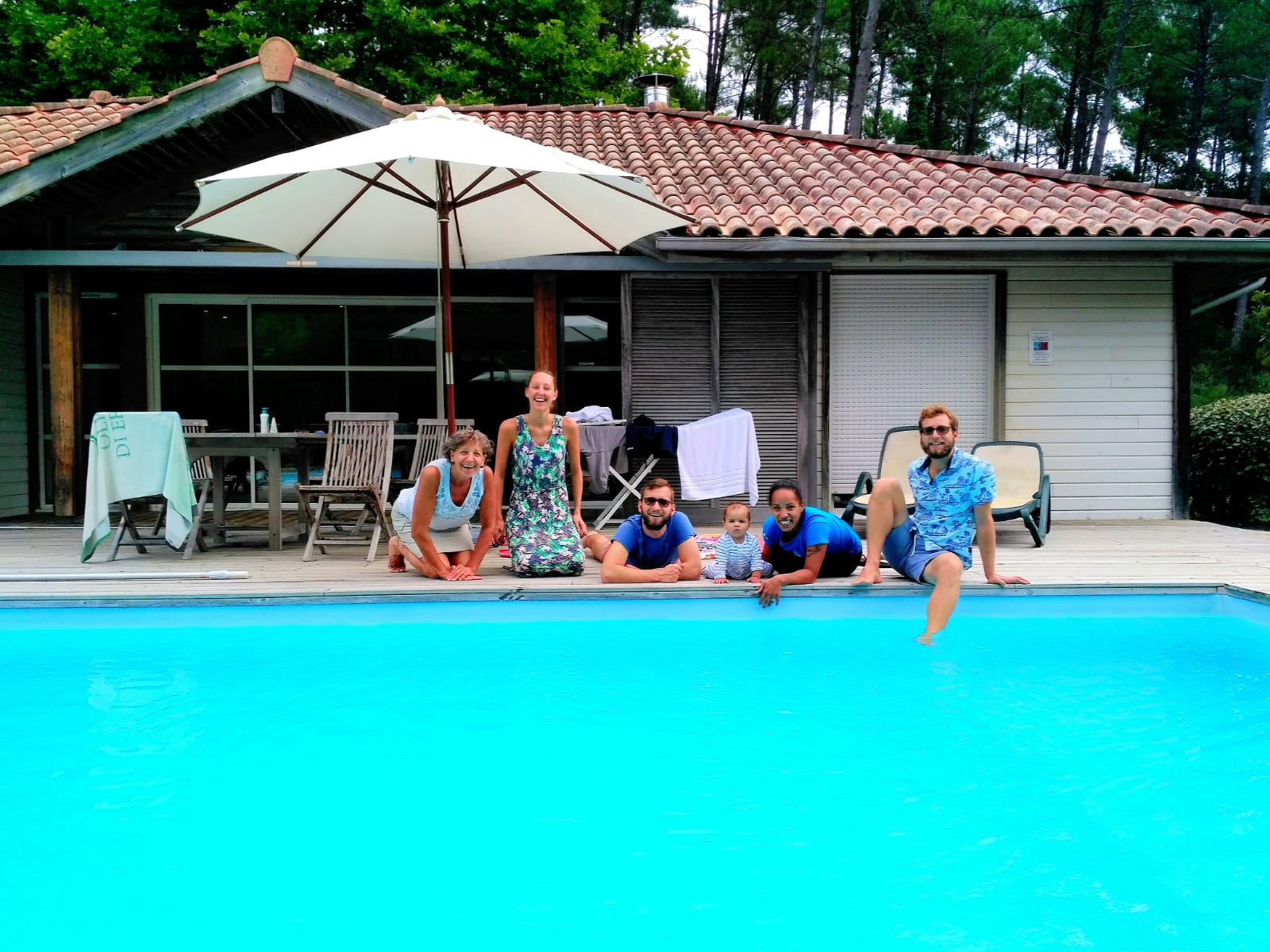 Disclosure: This article contains affiliate links. This means that if you click a link and purchase something I've recommended I may earn a small commission. This does not affect the price you pay but helps me to run this site. You can read my full affiliate disclosure here.
Though incredibly peaceful, there are plenty of things to do in Moliets et Maa, and we spent the week trying out as many of these as possible (and of course allowing time to enjoy some French wine and cheese).
Book a rental car in Moliets et Maa.
Top Things to Do in Moliets et Maa
Cycling
Cycling is the easiest and in my opinion, the best way to get around Moliets et Maa. The roads are quiet and have cycle paths, plus there are plenty of paths through the forest leading to the beaches, which are 2km from Villas la Clairière aux Chevreuils. It's cheap and easy to hire bikes, which we did on our first day and from then on we only used the car to explore further afield. Cycling our way around the area has other benefits too; firstly, exercise and secondly it meant we could all drink wine and no one had to drive! (Did I mention I like wine?).
Surfing
It was the main reason we wanted to visit this region and so one of the first things on our agenda. Enrico is a pretty accomplished surfer, so he was excited to check out the surf, particularly as there is a big World Surf League competition that takes place every year in Hossegor just down the road. I'm still very much in the beginning stages of my surfing career and so decided to take a lesson. It had been a few months since we left Sydney and I was a little rusty.
There are two beaches in Moliets et Maa; Plage des Chenes Lièges and Plage de Moliets. My lesson was on the former, which is the quieter and slightly wilder beach (my favourite kind!). I had a two-hour lesson with Ecole de Surf du Golf, which was really enjoyable and (hopefully) improved my surf technique.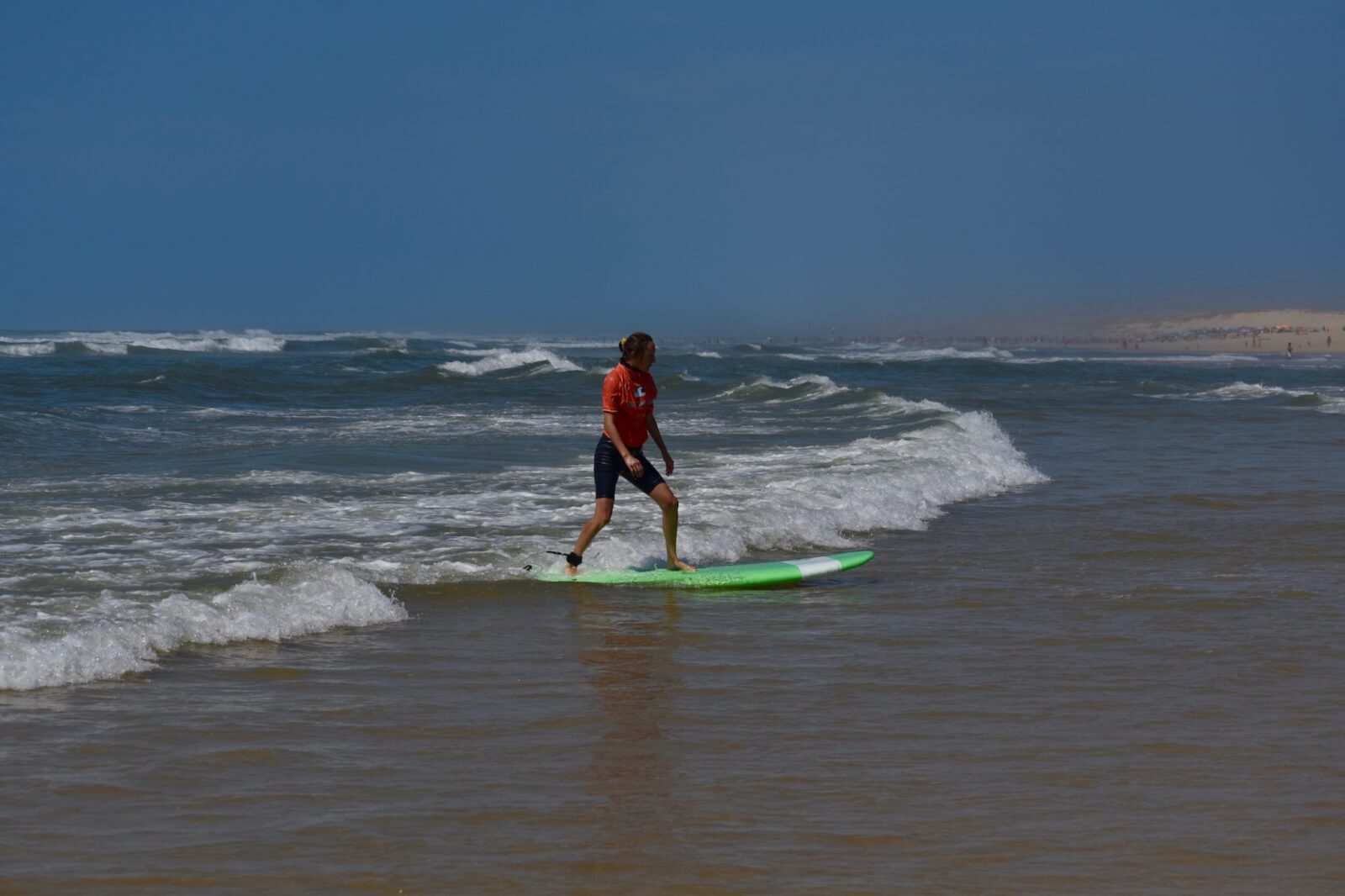 Horse Riding
Less than 10 minutes cycle from the Villa is Prade Messanges Equestrian Center, which offers lessons and guided hacks. I took a two-hour forest and beach ride, which followed a path through the forest from the school for about 40 minutes, before opening out onto the beautiful beach. This was further south than the Moliets et Maa beaches and had far fewer people. It may have been a nudist beach (or at least I saw some naked people!), but there was hardly anyone else there. I've never ridden on the beach before, but it's something I always wanted to do and I absolutely loved it. I was tempted to go back and do the sunset ride another day.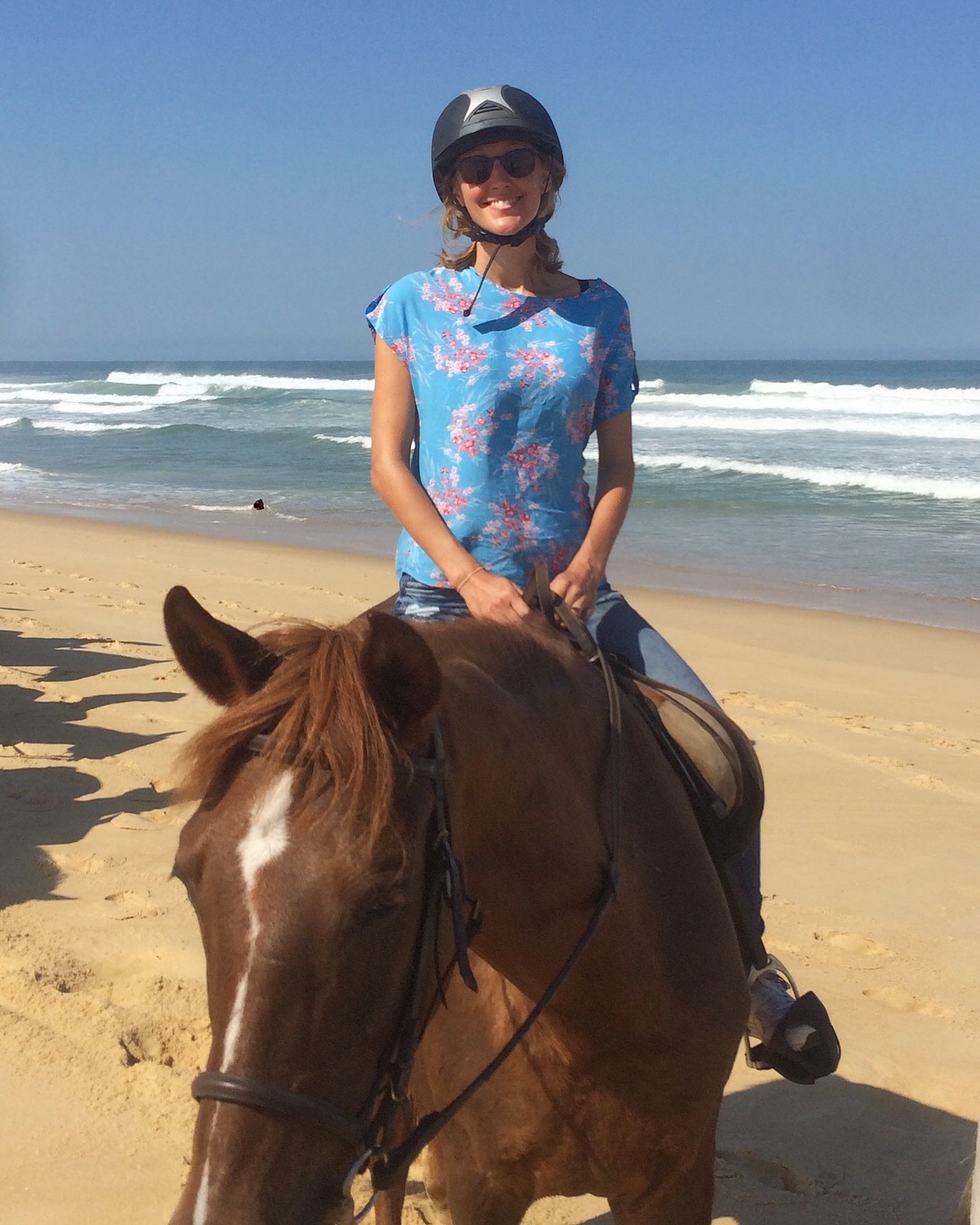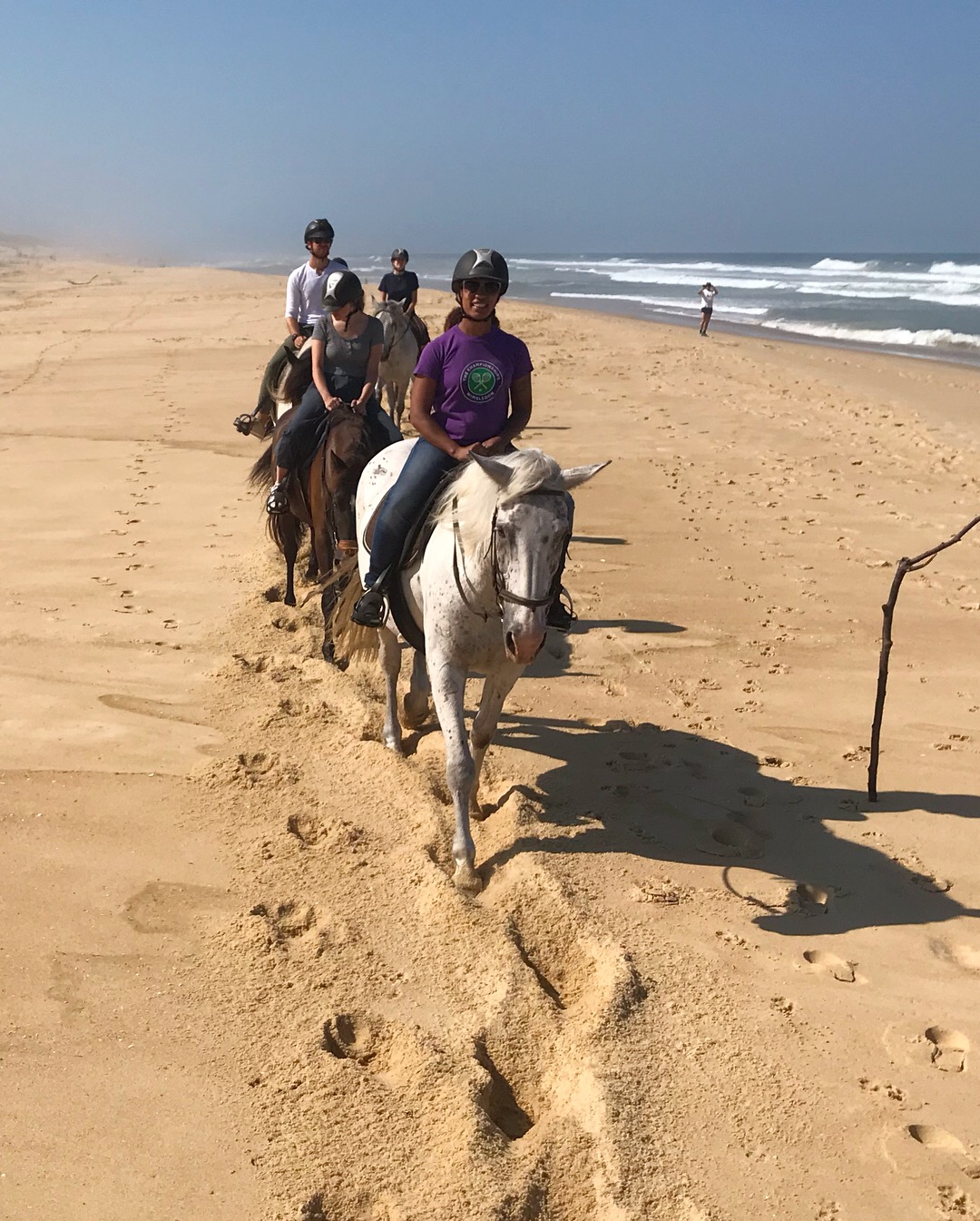 Take a Day Trip to Hossegor
Hossegor is a 30-minute drive from Moliets et Maa, so we decided to take a day trip. What a great place! For me, this is the Byron Bay of Europe. A funky little surf town with cool cafes, boutique shops, an awesome market, great food and of course surf!
I will definitely be returning here, especially to shop. There were so many lovely clothes, jewellery and furniture shops. I could have spent the whole day shopping.
We lunched at the market, which has both fresh produce stalls (definitely check out the fishmongers – it is incredible), as well as cafes and food stalls. Being so close to the Basque region of Spain means there is plenty of delicious pinxtos, which we enjoyed with a lovely French white wine.
The other reason for visiting Hossegor was to surf. Depending on the weather and season, Hossegor is great for both beginners and experienced surfers. The waves can get pretty big, so if it is your first time, definitely take a lesson or ask advice from the surf hire stand.
If you want to stay in Hossegor, JO&JOE HOSSEGOR is a great option by the beach and Hôtel Les Hortensias du Lac is a gorgeous high-end hotel in the same area. If you want to stay in the main town, where most of the bars and restaurants are then I recommend Aux Sources d'Hossegor.
Find accommodation in Hossegor
Swimming
Whether at the beach or the pool, you have plenty of swimming options in Moliets et Maa. My original goal was to get up every morning and do lengths of the pool before brekkie. That surprisingly didn't happen, but we did manage a few swimming races and spent a lot of time in the waves at the beach. While at the beach, make sure you swim between the flags, it can get rough and surfers aren't allowed in this area, so at least you won't get hit by a surfboard!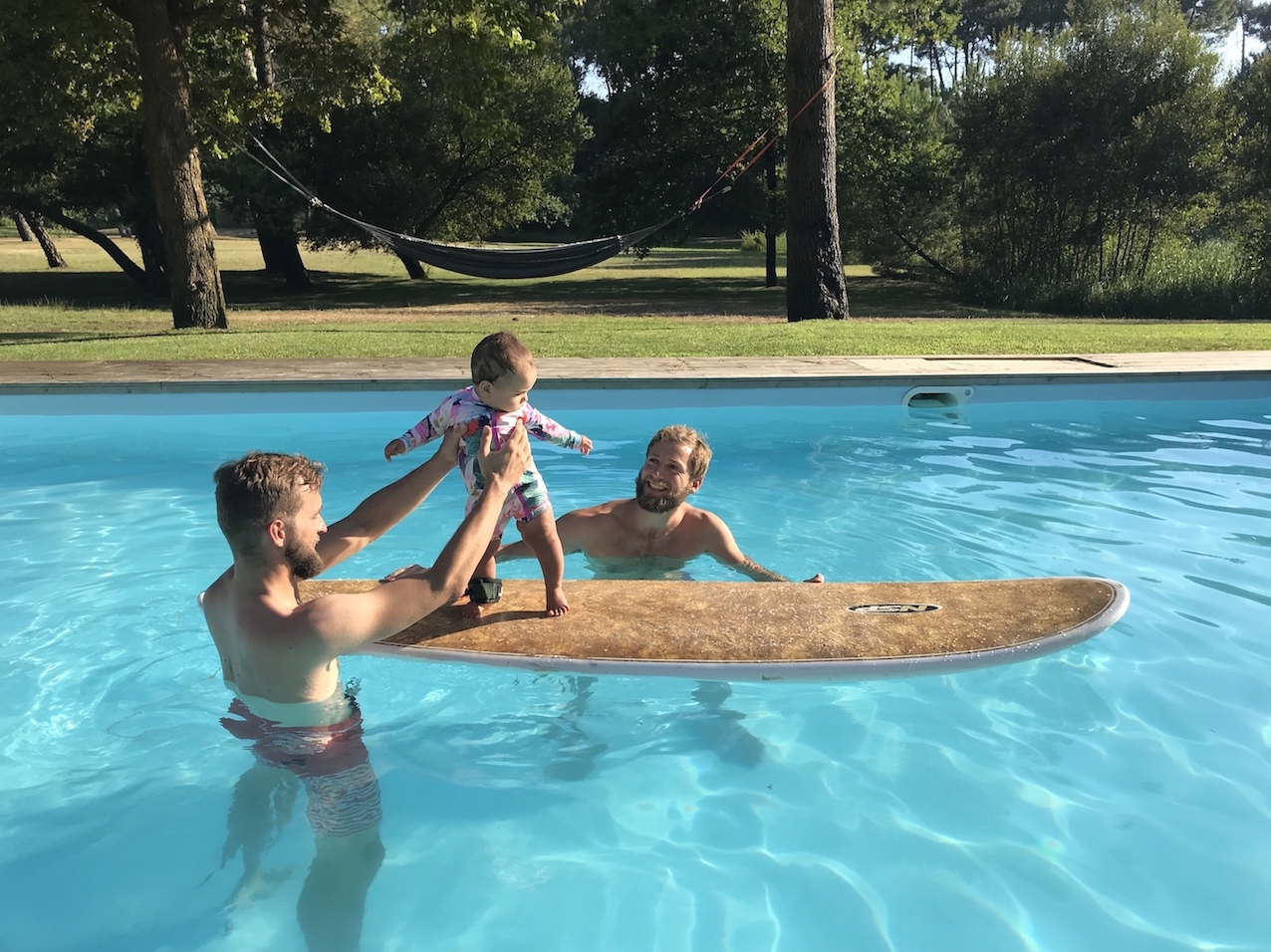 Folklore Festival
During the months of July and August, Moliets et Maa has a folklore festival. There is local food and wine on offer, plus a display of basque sports, dance and culture. The stilt dancing was pretty impressive and originates from the days when shepherds would wear stilts in order to better control their sheep and have a better vantage point!
Drink French Wine & Eat French Cheese
There aren't many things in life that I enjoy more than drinking a glass of wine and eating cheese. It just so happens that the French are really good at making both of these things, so while here make sure you sample a little (or a lot) of both. I'm a big fan of goat's cheese and there was a great variety on sale at the local shop in Moliets and they were delicious. Being sandwiched between Bordeaux and the Basque Country means you have access to wines from both regions, plus all the other yummy French/Spanish wine that you can buy at the supermarket. (We also drank prosecco – I mean I was with an Italian family after all!).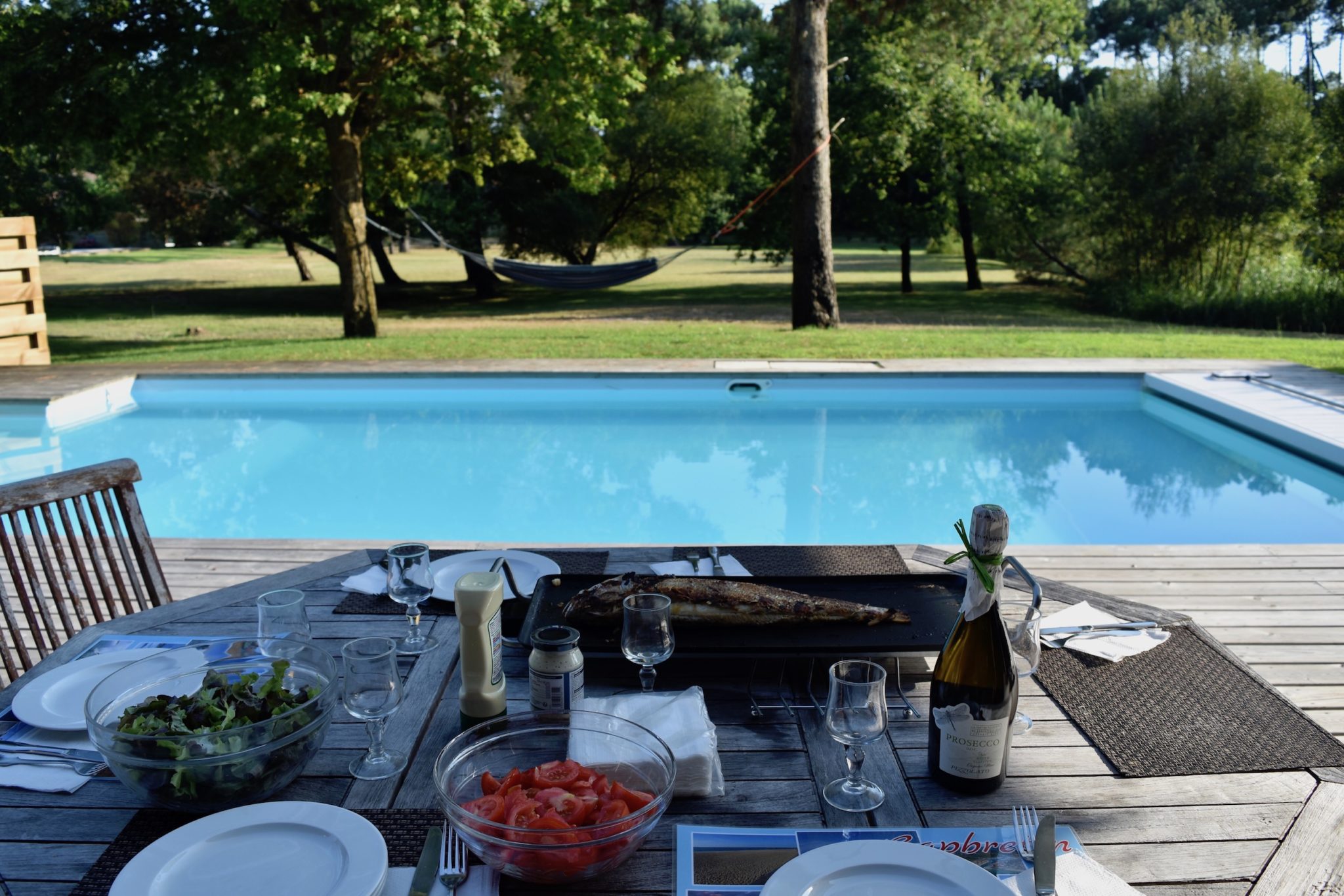 Other Things to Do in Moliets et Maa
I didn't manage to get around to these, but all looked like great options while in Moliets et Maa.
Adrénaline Parc
Quite sad I didn't get around to this one, but it's essentially a high ropes centre. We drove past and it looked awesome! They also have paintballing and quad biking.
SUP
Who doesn't love a bit of Stand Up Paddleboarding! You can hire these for an hourly rate.
Golf
I have to admit, I'm not a keen golfer, but we took a cycle through the golf course and it looked pretty impressive to my untrained eye. Golf Moliets.
Where to Stay in Moliets et Maa
A week's stay at Villas la Clairière aux Chevreuils costs from £760 for a self-catering three-bedroom prestige villa with a private garden and swimming pool.
For smaller groups, you could try Blue Ocean or Ohana Lodge.
How to Get to Moliets et Maa
The closest airports are Biarritz and Bordeaux.
Thanks to Summer France for hosting A Lovely Planet.
Travelling to France? Check out our guide to Burgundy and Châteauneuf-du-Pape.