Despite living on the east coast of Australia, I've found myself spending an increasingly large amount of time in WA. After exploring the Kimberley last year, we later drove from Exmouth to Perth and then took another Western Australia road trip, travelling from Perth to Esperance and back along the gorgeous southwest coast.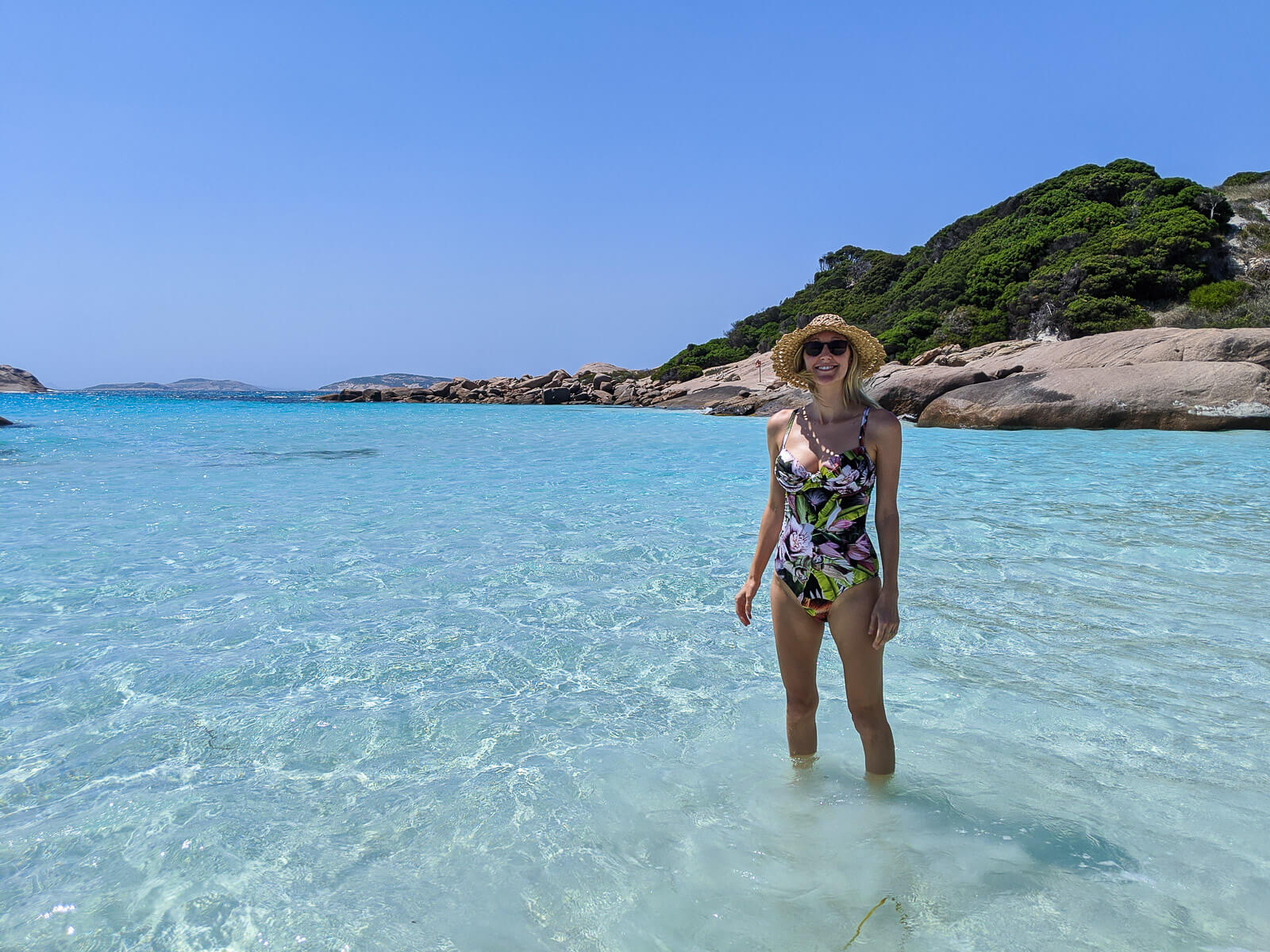 Disclosure: This article contains affiliate links. This means that if you click a link and purchase something I've recommended I may earn a small commission. This does not affect the price you pay but helps me to run this site. You can read my full affiliate disclosure here.
It's a fantastic route, and one of the great things about it is that it's easy to do in a loop, meaning no one-way fees if you're hiring a car and you're always travelling somewhere new. Not to mention insane beaches, fantastic wine and plenty of wildlife. I recommend allowing at least two weeks for this trip, and if you have more time, you can continue up the coast after completing this WA drive towards Exmouth.
Read about the Perth to Exmouth road trip.
Perth to Esperance Road Trip Loop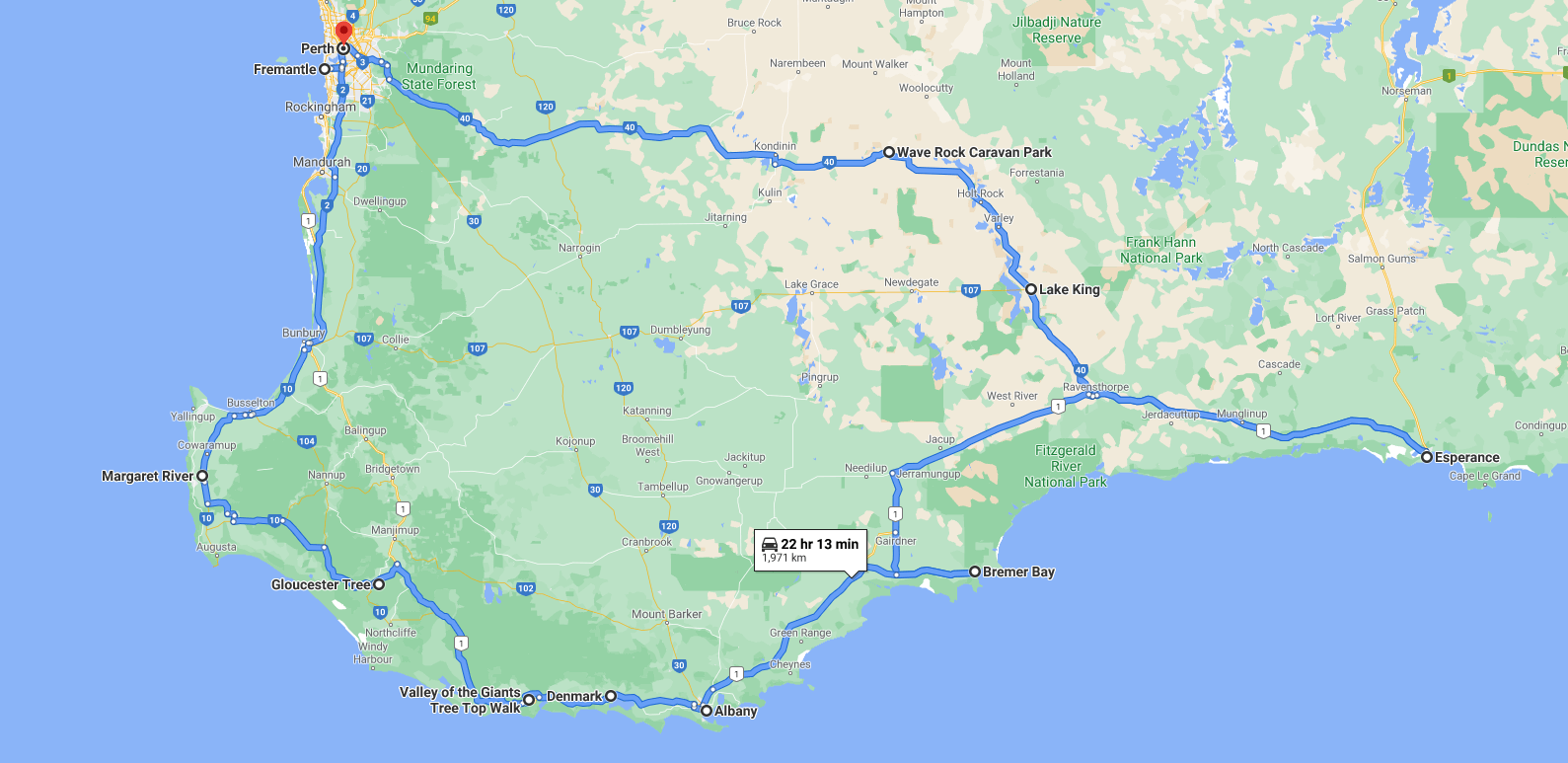 • Day 1 Perth to Esperance
• Day 2-3 Esperance
• Day 4 Esperance to Bremer Bay
• Day 5 Bremer Bay
• Day 6 Bremer Bay to Denmark
• Day 7-8 Denmark
• Day 9 Denmark to Margaret River
• Day 10-11 Margaret River
• Day 12 Margaret River to Fremantle
• Day 13 Fremantle
• Day 14 Fremantle to Perth or Rottnest Island
This Esperance road trip takes between 13-14 days, depending on how long you stay in Bremer Bay. However, if you have more time, I recommend adding an additional day in Esperance, Denmark and Margaret River.
Perth
Depending on how long you have and how far you've travelled, you may want to spend a few days in Perth or pick up your hire car and head straight off on your road trip. I've been to Perth many times so on our road trip we landed early and departed straight away, however it's a great city with lots of things to see and do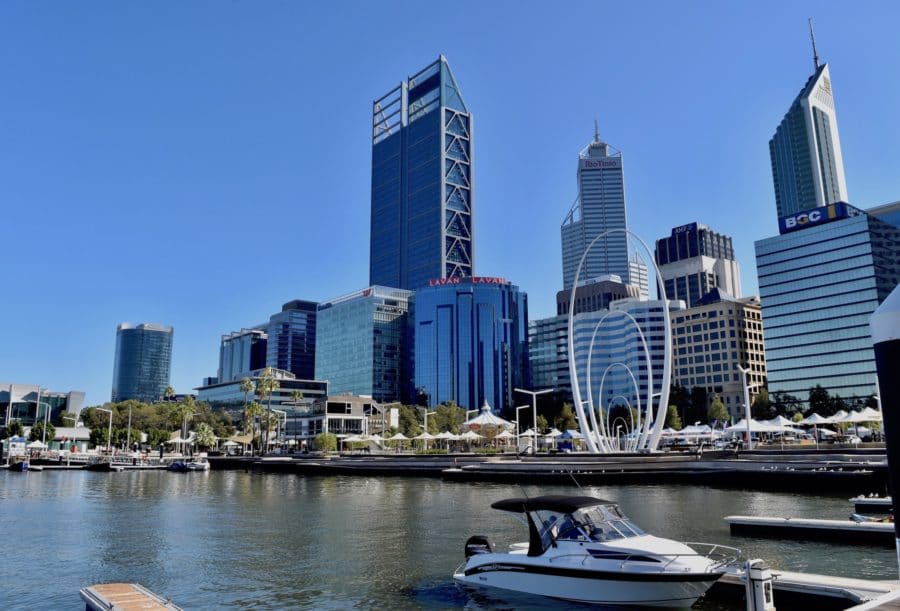 Where to Stay in Perth
Perth has a huge range of accommodation options. If you already have your car, then it's best to stay outside the city centre, as there isn't much parking. Northbridge is a great spot and I also like staying by the beach, especially in the summer. Both Scarborough and Cottesloe have some great accommodation.
Before You Depart Perth
Download google maps or bring a paper map, because mobile reception isn't great, especially on the first stretch. Fill up your petrol before you leave, as there aren't that many petrol stations on the first day and make sure you bring lots of water.
Perth to Esperance – Day 1 – 7.5 hours / 706km
Perth to Wave Rock
Pick up your hire car from Perth (check out Rental Cars for cheap deals), and drive east. This is the longest day of driving, so try and get going early. It's a good idea to pack a lunch for the journey as there aren't many restaurants along the route, and these tend to only open between 12-2.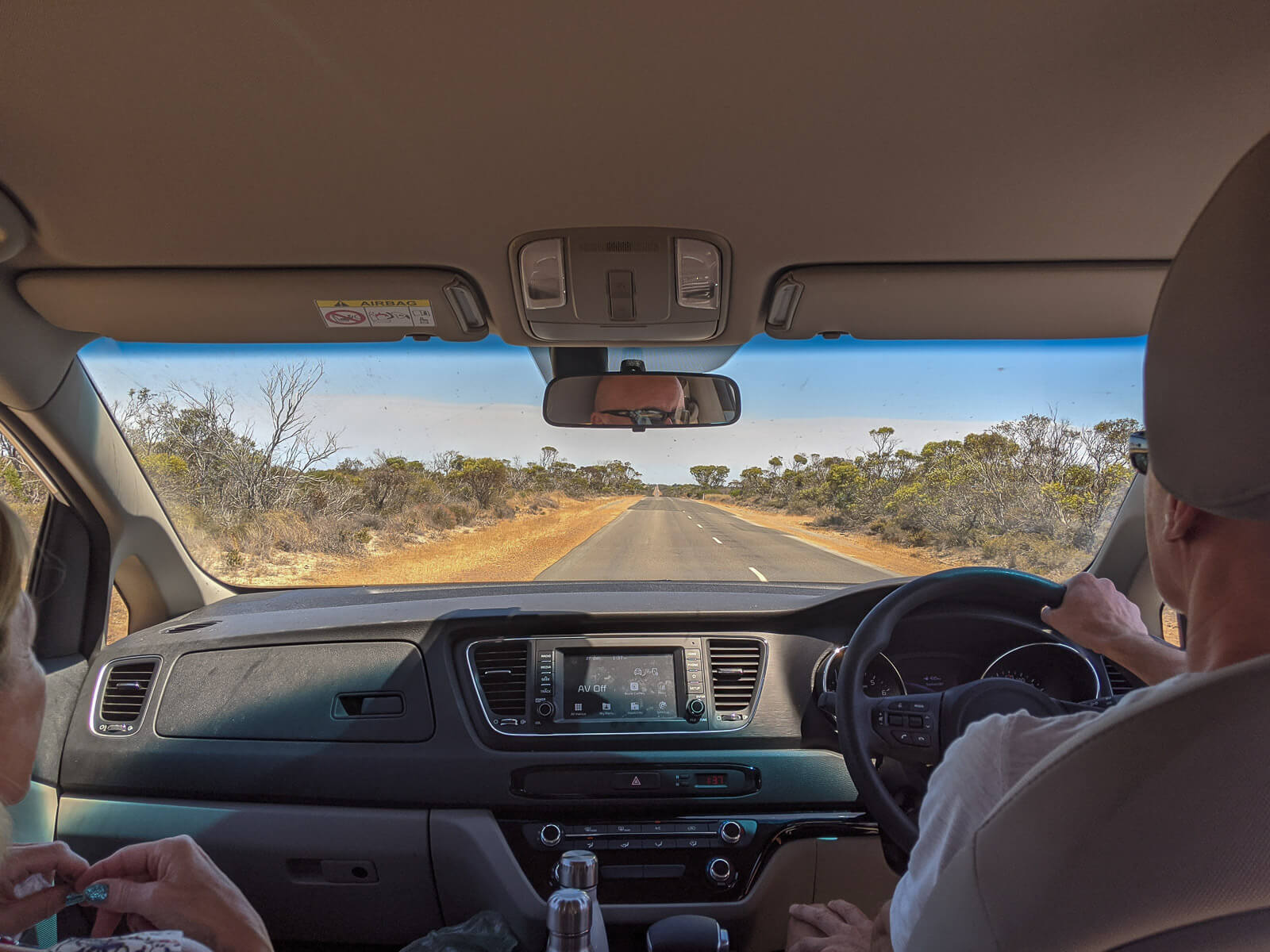 Road Trip Tip: Be extra cautious when driving in the early hours/dusk in Australia, as this is when much of Australia's wildlife is active. It's not uncommon for kangaroos, emus, etc. to graze on the roadside and unfortunately, accidents are common.
The scenery changes drastically during this drive and you really see some of WA's contrasting landscapes on this first day.
Wave Rock
At about four hours into the drive, you will arrive at Wave Rock. This incredible 15-metre high multi-coloured granite cliff looks like a huge wave, hence the name. You don't need a lot of time here but stop for half an hour to admire the rock, pose for a photo and walk the trails.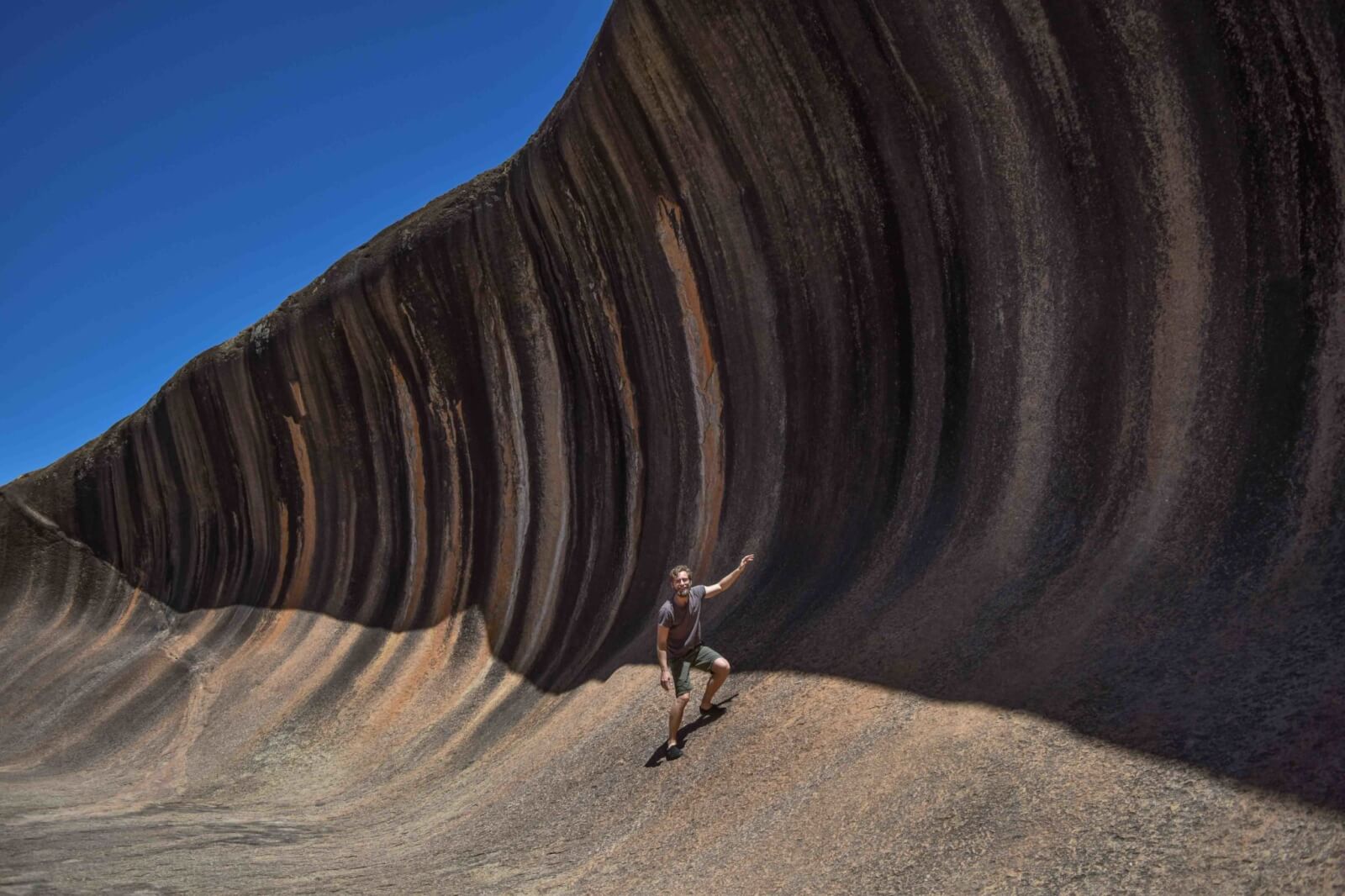 There is a restaurant here if you want to stop for lunch, or head on to the next destination as we did.
If four hours is enough driving for you in one day, there are a couple of accommodation options in the area, including a motel, a resort and a caravan park.
Wave Rock to Lake King
Another 75 minutes on the road and you will reach Lake King.
Lake King
This small town is named after the nearby salt lakes. You'll arrive in Lake King from the north, but take a detour west along the Lake King Causeway (Newdegate Ravensthorpe Road) and admire the Lake King Nature Reserve and the bright white salt lakes.
Lake King has a tavern (they stop serving food at 2pm), a general store and a service station – it's a good idea to refuel here.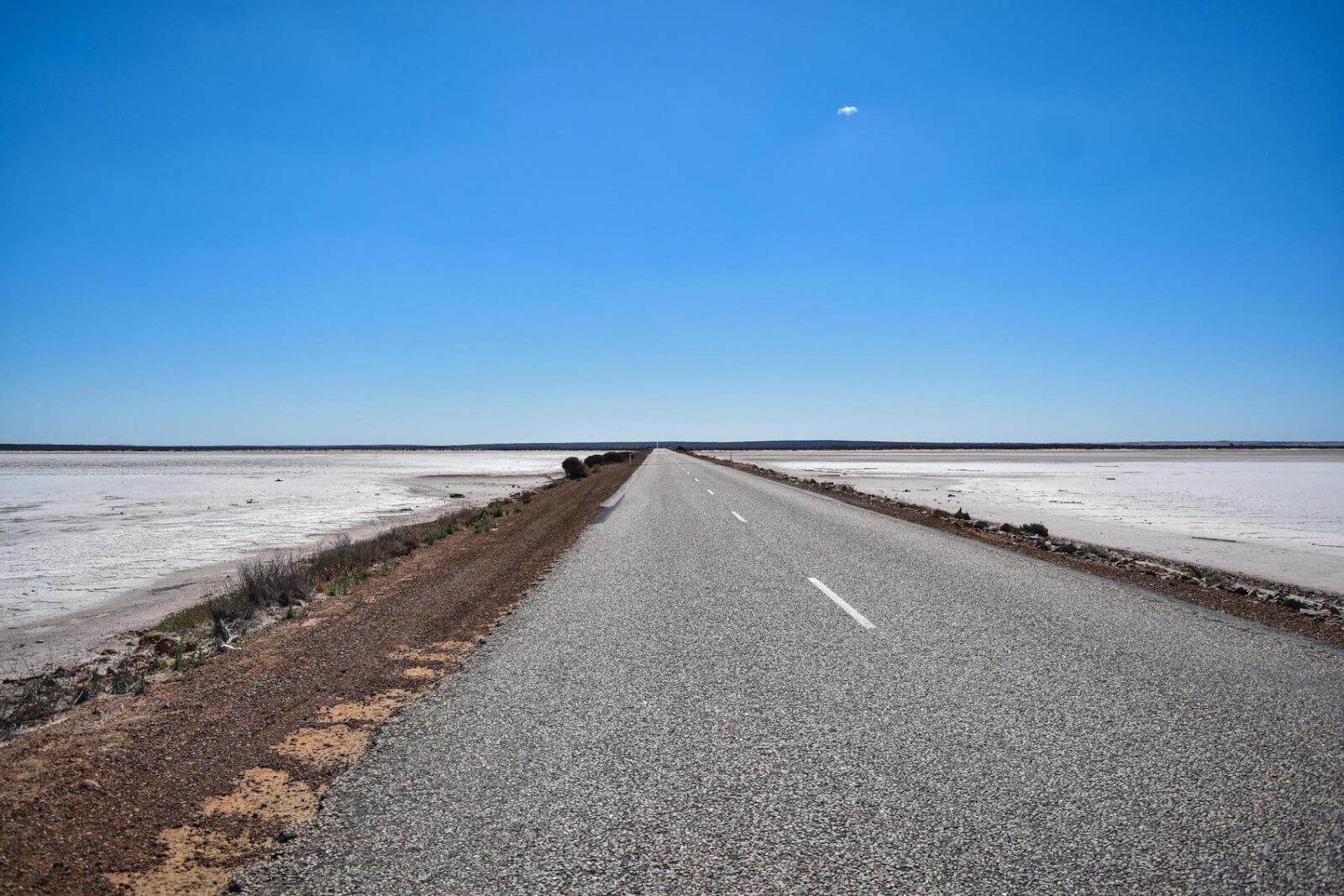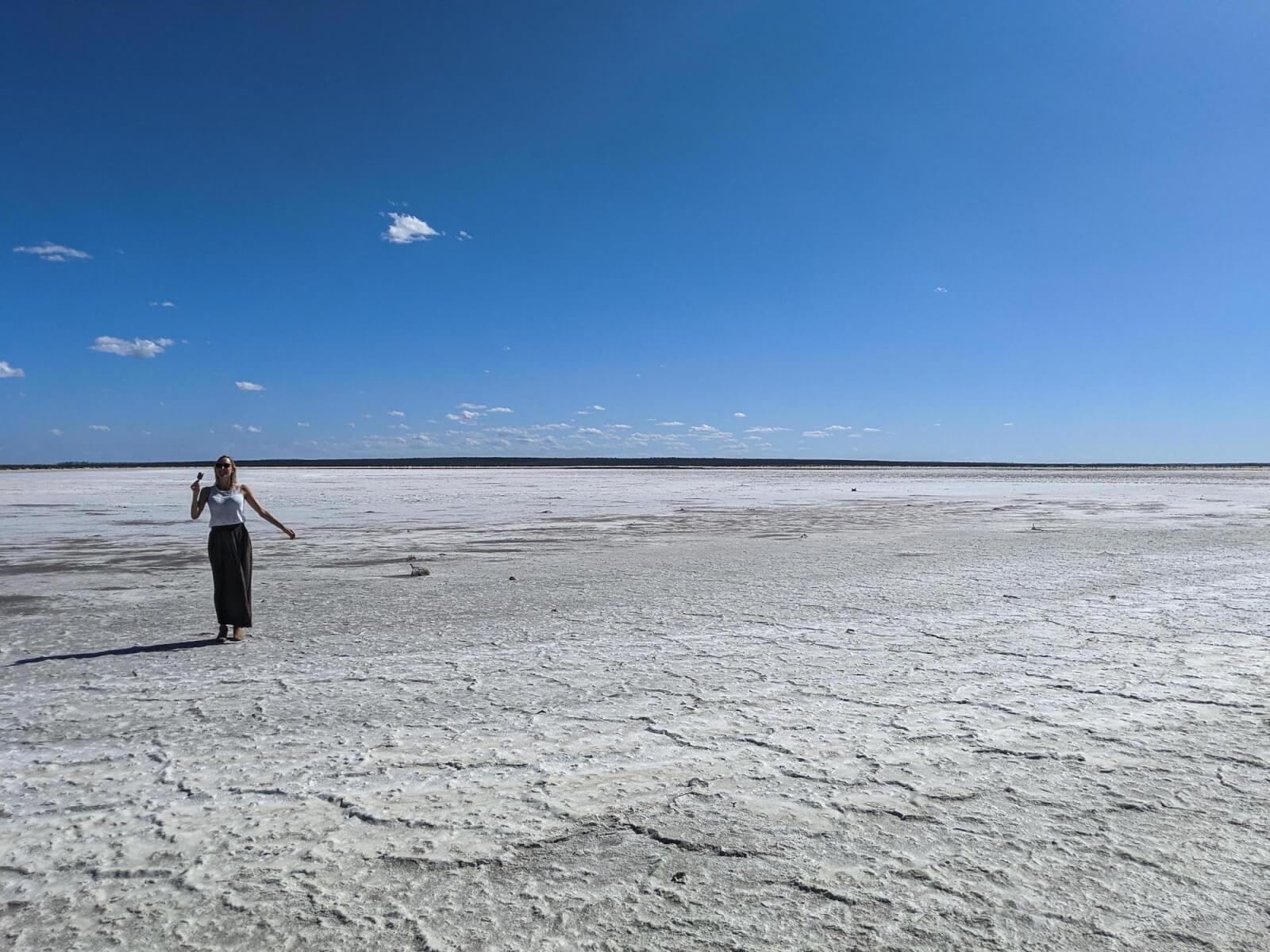 Lake King to Esperance
At this point, you're now more than halfway to Esperance, and it's less than three hours until you reach your destination. You'll notice the scenery change again as you get closer to the coast, but otherwise, there's not much to see on this stretch, plus you will take this road in the other direction on your return drive to Perth along the coast.
Esperance – Days 2 and 3
Esperance is a sleepy town with stunning beaches and incredible surrounding national parks. We spent a week here, and if you have lots of time I would suggest the same, but if not, allow at least 2-4 days.
There are plenty of things to do in Esperance and you can read our full Esperance guide here.
Make sure you don't miss:
Beaches in Esperance
Australia is blessed with incredible beaches, but the watercolour in Esperance is definitely something else. It's just so blue. I highly recommend the following beaches, all a short drive from the town centre:
Twilight Beach – in my opinion, this is the best beach in Esperance.

Blue Haven

West Beach – good for surfing

Lucky Bay – see below

Hellfire Bay – see below

Lovers Cove

Salmon Beach

Eleven Mile Beach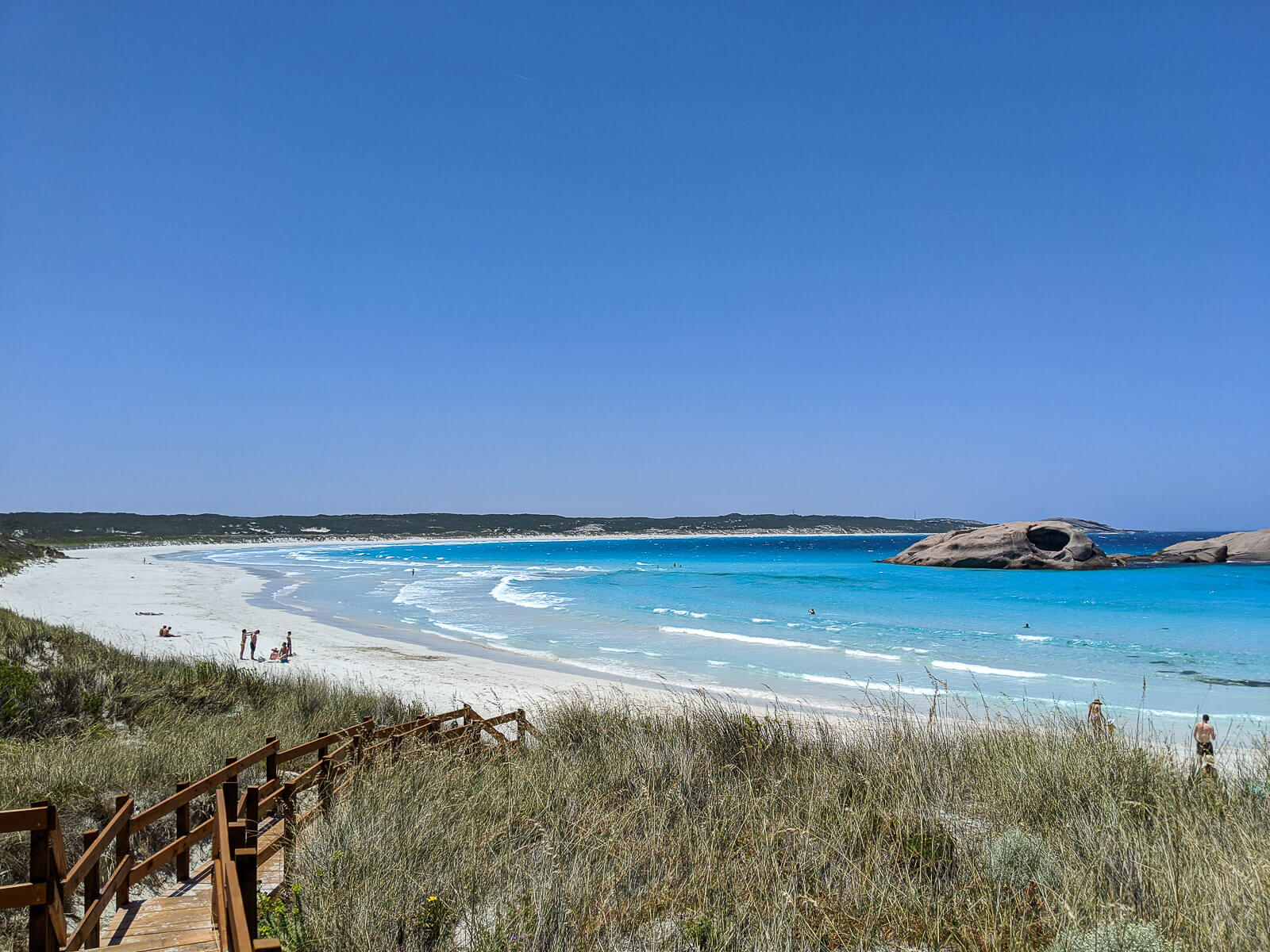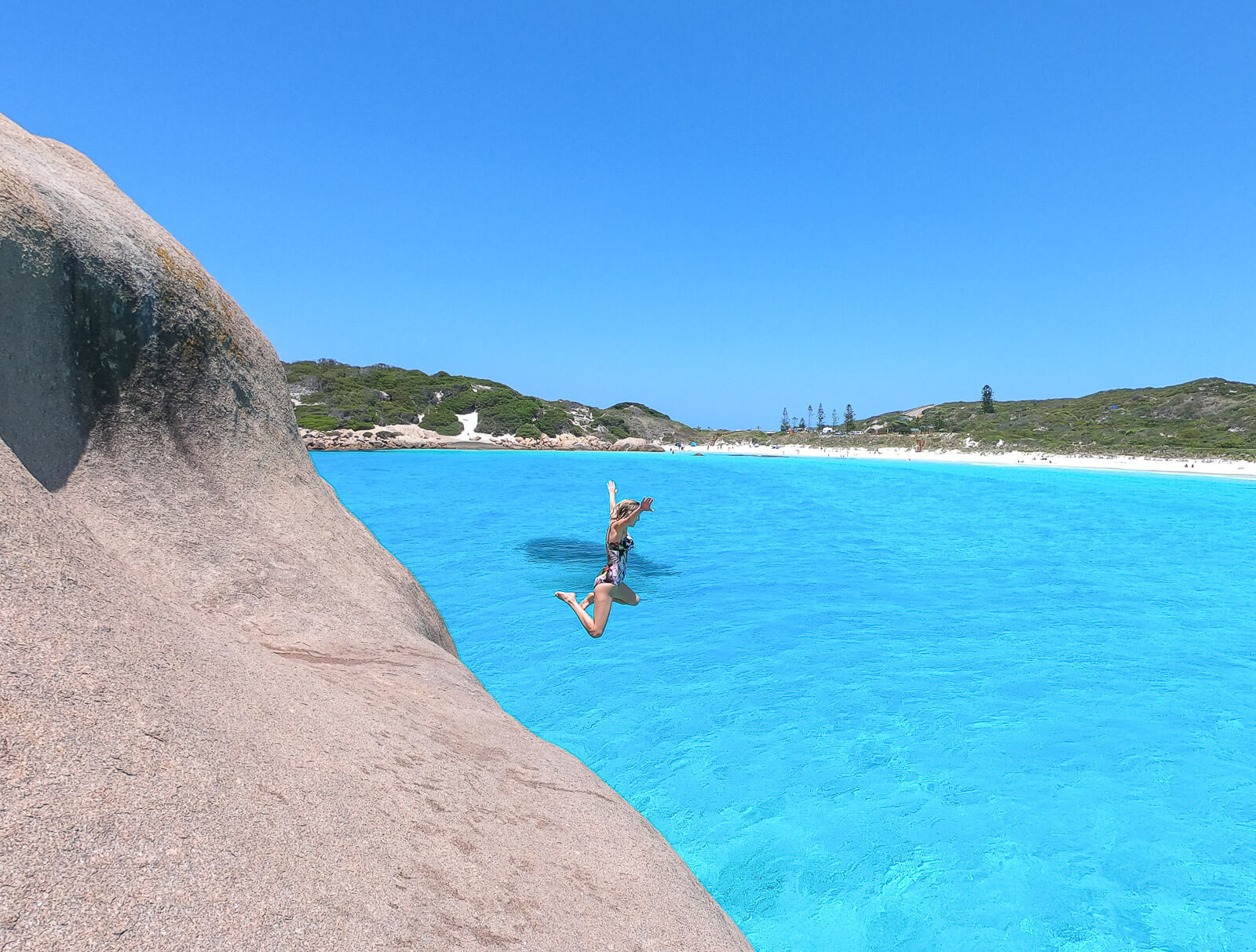 Cape Le Grand National Park
You can't really visit Esperance without going to Cape Le Grand National Park. You've most likely seen the photos of kangaroos on white sand beaches with aquamarine water in the background. This is Lucky Bay, one of the beaches within the national park. If you can, arrive early, as the Kangaroos tend to sleep during the day. We arrived at 10am and only saw one still about.
Hellfire Bay is another beautiful beach in the park, and if you're into hiking you can also climb Frenchmans Peak for panoramic views. We visited Esperance in December and it was pretty hot, so we decided against the walk, but I'd love to return and do it another time.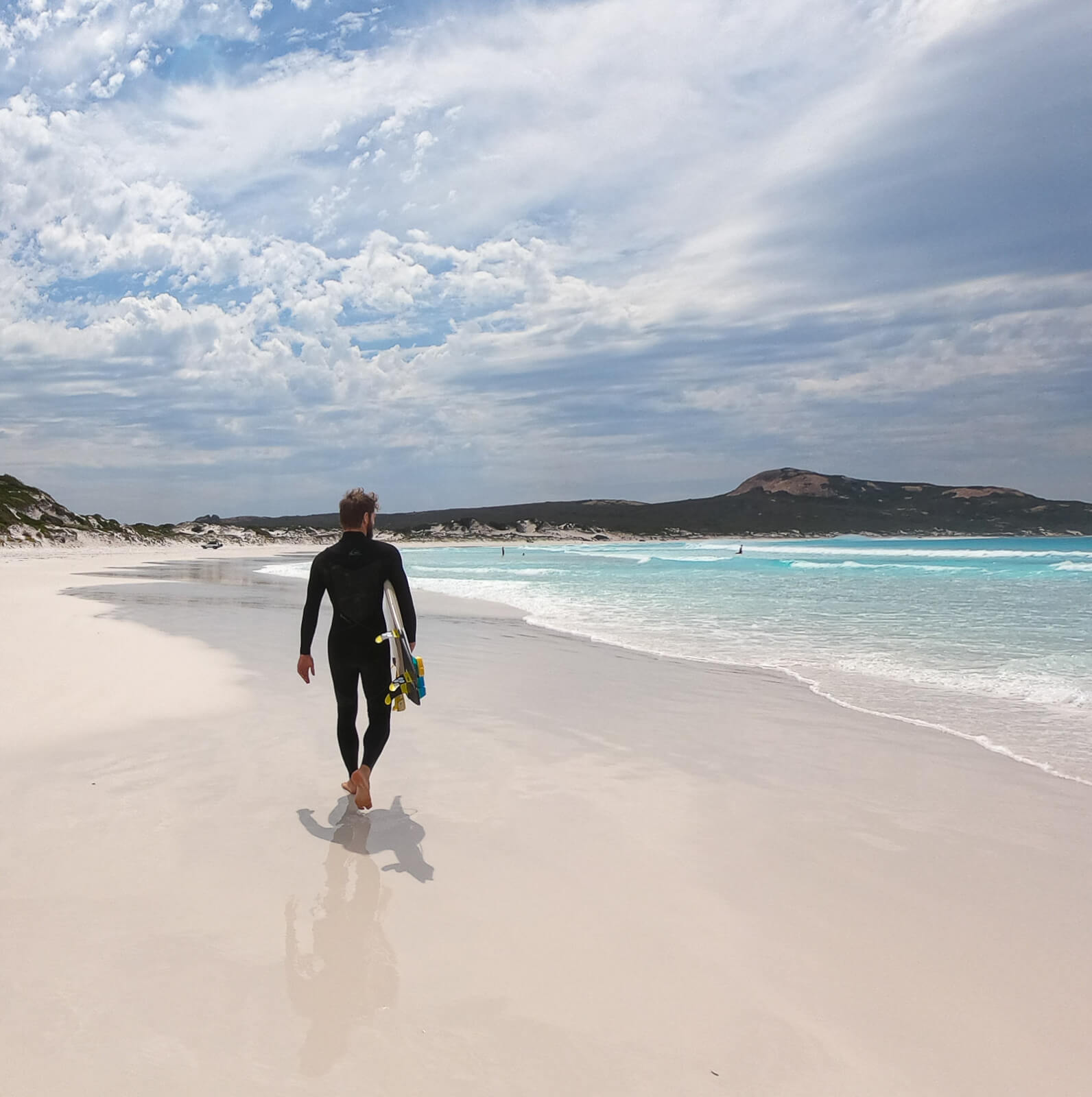 Where to Stay in Esperance
There is a good range of accommodation in Esperance from campsites and caravan parks to self-catering apartments and resorts. We stayed in Esperance Island View Apartments as there was a group of us, which was great, with a fully equipped kitchen and BBQ. I would also have loved to stay in Esperance Chalet Village as it has been recommended many times and the chalets look so cute.
Find accommodation in Esperance
Esperance to Bremer Bay – Day 4 – 4 hours / 380km
You have two options for this drive, either continue straight along the South Coast Highway or take a detour through Fitzgerald River National Park (turn off at Quiss Road). This rugged national park has some great hikes and beautiful beaches, as well as more than 200 species of birds.
Bremer Bay – Day 5 (and 6 if it's Jan to March or July to October)
Bremer Bay is considered one of the best places in the world to see Orcas in the wild. The largest known congregation of orcas in the southern hemisphere gathers here from January to March, and you can head out on a whale watching cruise to see them up close. You may also see sperm whales, pilot whales and sunfish during this period. If you're travelling between July and October, you're likely to see southern right whales, as large numbers congregate to calve.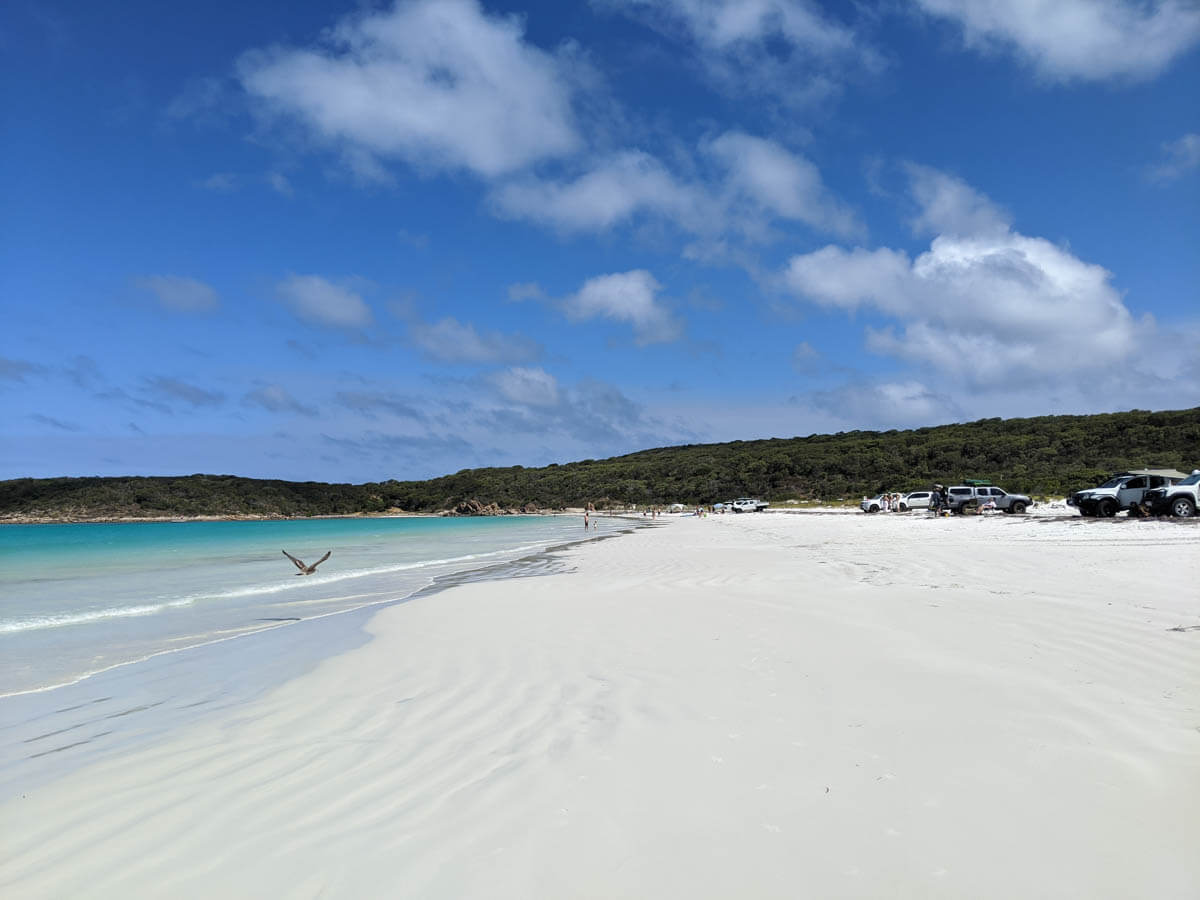 Where to Stay in Bremer Bay
Bremer Bay is a small town, but there are some great accommodation options, including the lovely Bremer Bay resort, a gorgeous B&B, as well as historic cottages and holiday rentals including the impressive Aqua Views. There is also a caravan park right on the water.
Find accommodation in Bremer Bay
Alternative option: If you're short on time on your road trip itinerary, skip Bremer Bay and drive straight through to Denmark in one day.
Bremer Bay to Denmark – Day 6 – 2 hours 30 minutes / 218km
Continue on your road trip towards Denmark. We drove along the South Coast Highway, until Albany, but you can also take a detour via Stirling Range National Park. This is especially worthwhile if you're travelling during wildflower season (September to October), as more than 1,000 different species grow in the park, some of which are found nowhere else. The park is also home to one of Western Australia's highest peaks, Bluff Knoll.
Alternatively, you can stop in Two Peoples Bay Nature Reserve. There is a 2 hour return scenic walk along the Heritage Trail, or you can drive to Little Beach, known for its clear water, white sand and granite boulders.
Albany
Albany is an alternative overnight stop to Denmark and there is plenty to see and do here. The city is the oldest colonial settlement in Western Australia and you'll find lots of lovely colonial buildings, some of which are now used as museums, galleries and restaurants. The self-guided 30 minute Amity Trail walk features many of these and includes convict prisons, quaint cottages and churches.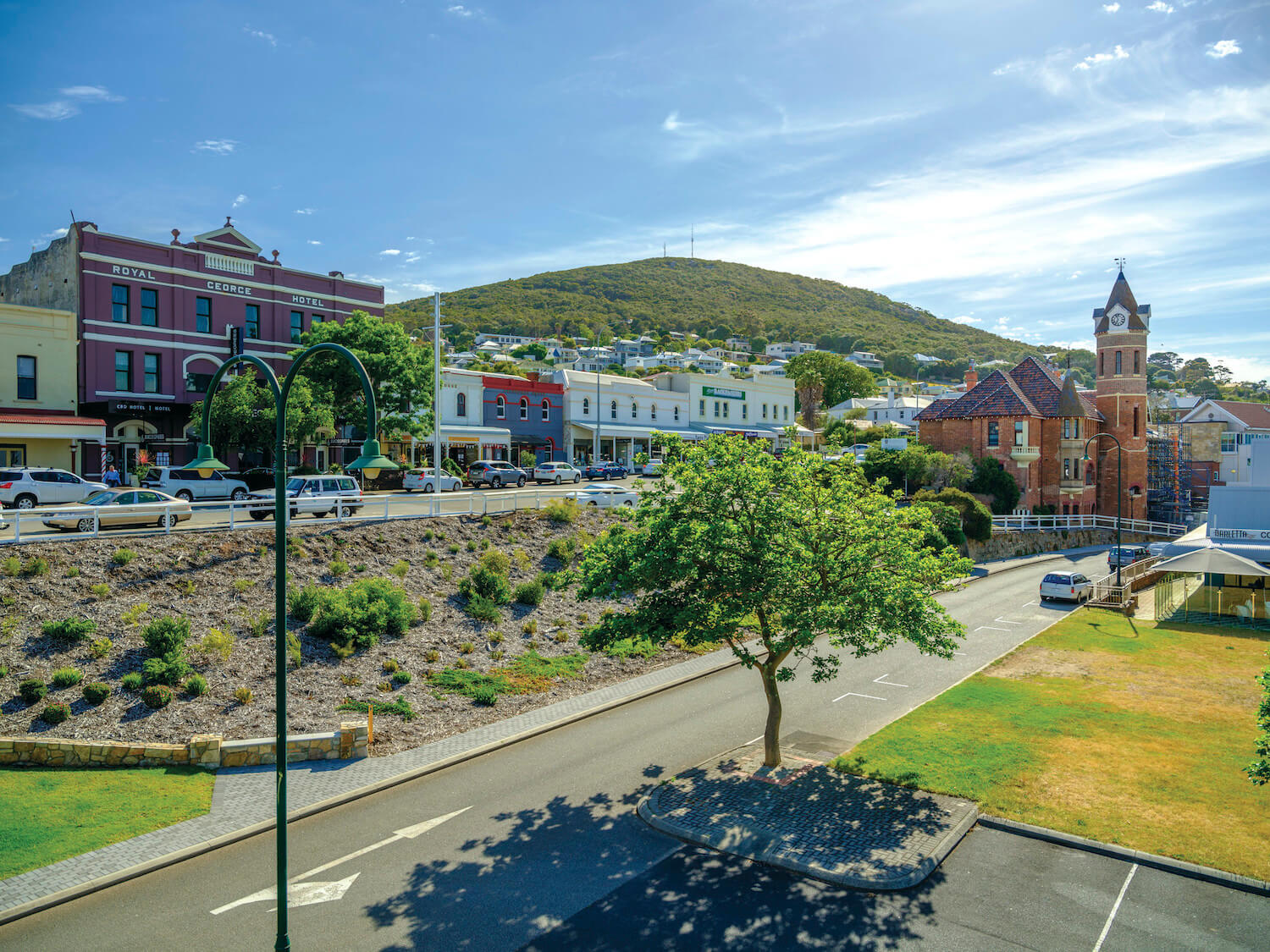 The first convoy of ANZACs departed Albany's King George Sound for the battlegrounds of the First World War. Visit the National Anzac Centre to learn about their stories through your own eyes with interactive exhibits and historical artefacts.
Another museum worth visiting in Albany is the Historic Whaling Station at Discovery Bay, which tells the story of Albany's whaling industry, which ended in 1978.
From Albany to Denmark it's only a 40 minutes drive, however, you could take another detour to Torndirrup National Park, for a clifftop walk and whale spotting (in season).
Denmark – Days 7 and 8
Denmark is a glorious little town, with yet more beautiful beaches and a lovely community vibe. We were really torn between staying here and Albany, but in the end, we were happy with our choice. We had a lovely few days of wine tasting, swimming, surfing, fishing and browsing the cute boutiques in town.
Elephant Rocks and Greens Pool
This is a must-visit in Denmark. The two beaches are located next to each other, so it's easy to visit both in one day. My advice: arrive early! In summer this spot gets extremely busy, so to avoid having to walk miles from your car make sure you get up early.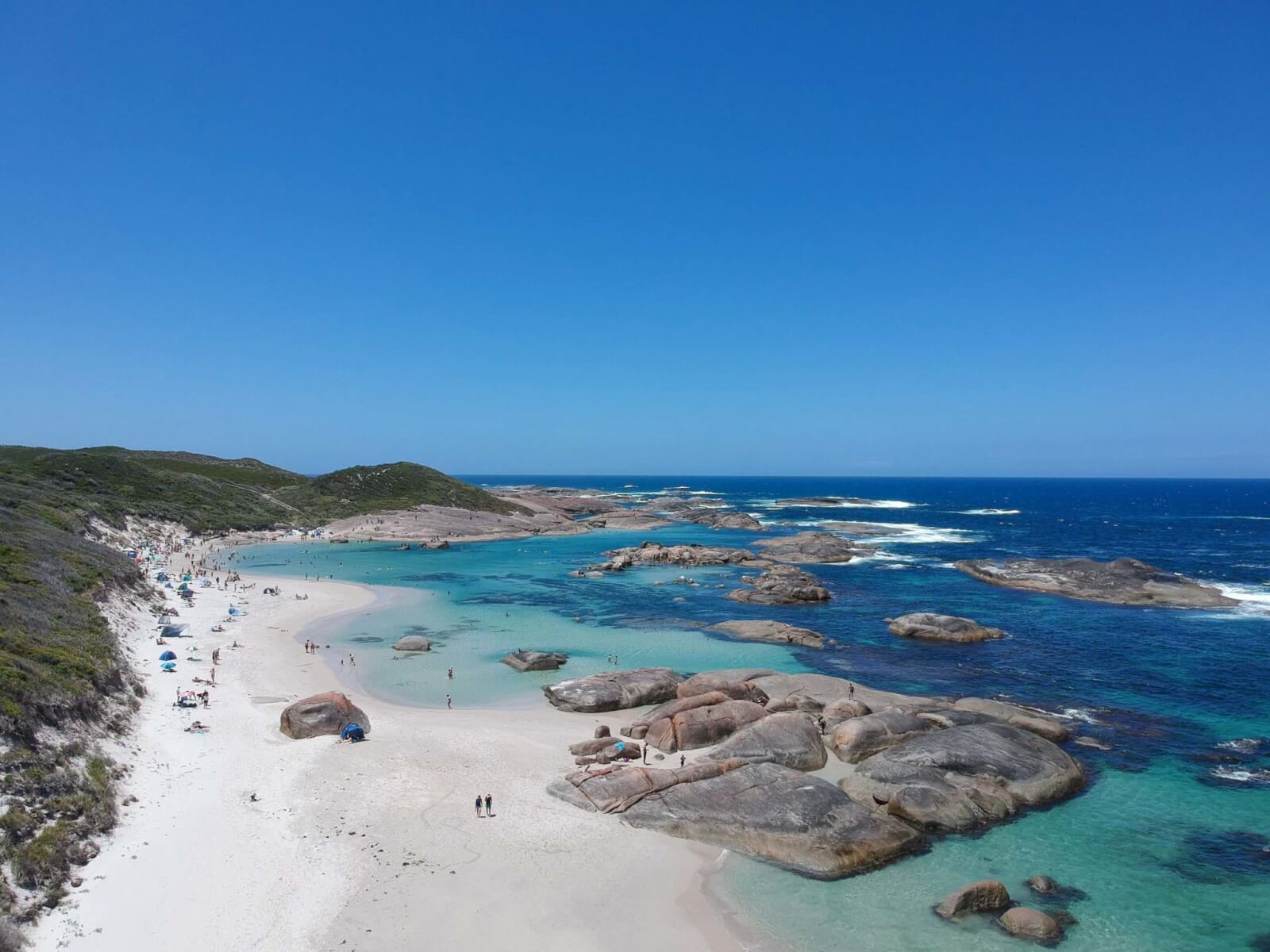 I know I've talked a lot in this article about turquoise water and white sand, but WA just has so many incredible beaches and Greens Pool is another of these. Sheltered from the waves of the Great Southern Ocean by huge boulders, Greens Pool is beautifully calm, making it a great place to swim and snorkel. This also makes it a popular spot with families.
A short walk over the hill takes you to Elephant Rocks, named for the huge elephant-shaped boulders that emerge from the water. It's an excellent spot for one of my favourite pastimes – jumping off rocks.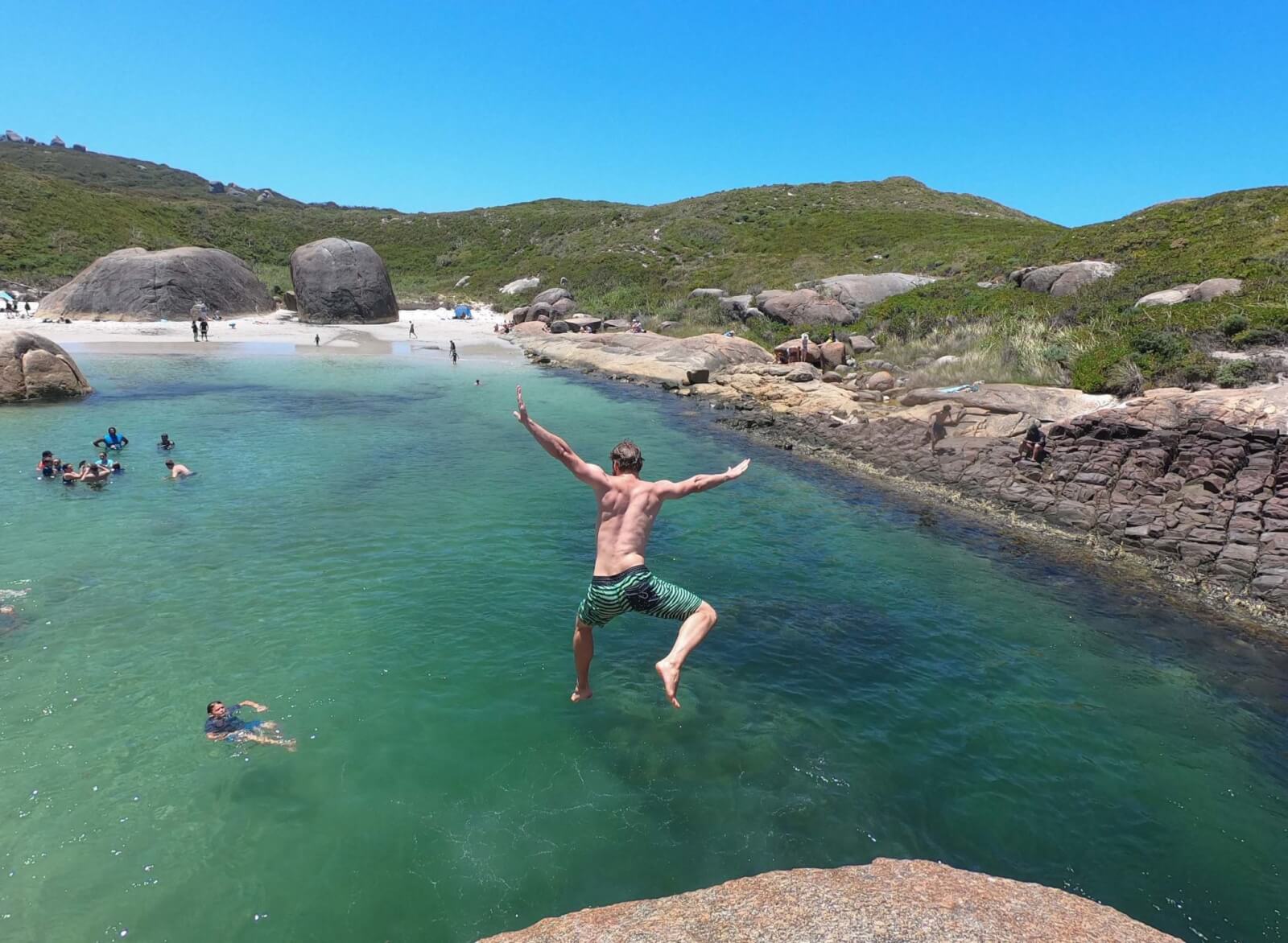 Great Southern Wine Region
Denmark is part of the Great Southern Wine Region and is home to a number of wineries and cellar doors. Though lesser known than the Margaret River Region, you'll find some excellent wines here, along with great winery restaurants.
We had a fantastic meal and tasting at Castelli Estate Wines, which produces a variety of wines including shiraz, riesling and pinot noir. Their cellar door and restaurant are located on Mount Shadforth, with lovely views of the countryside and delicious Italian cuisine.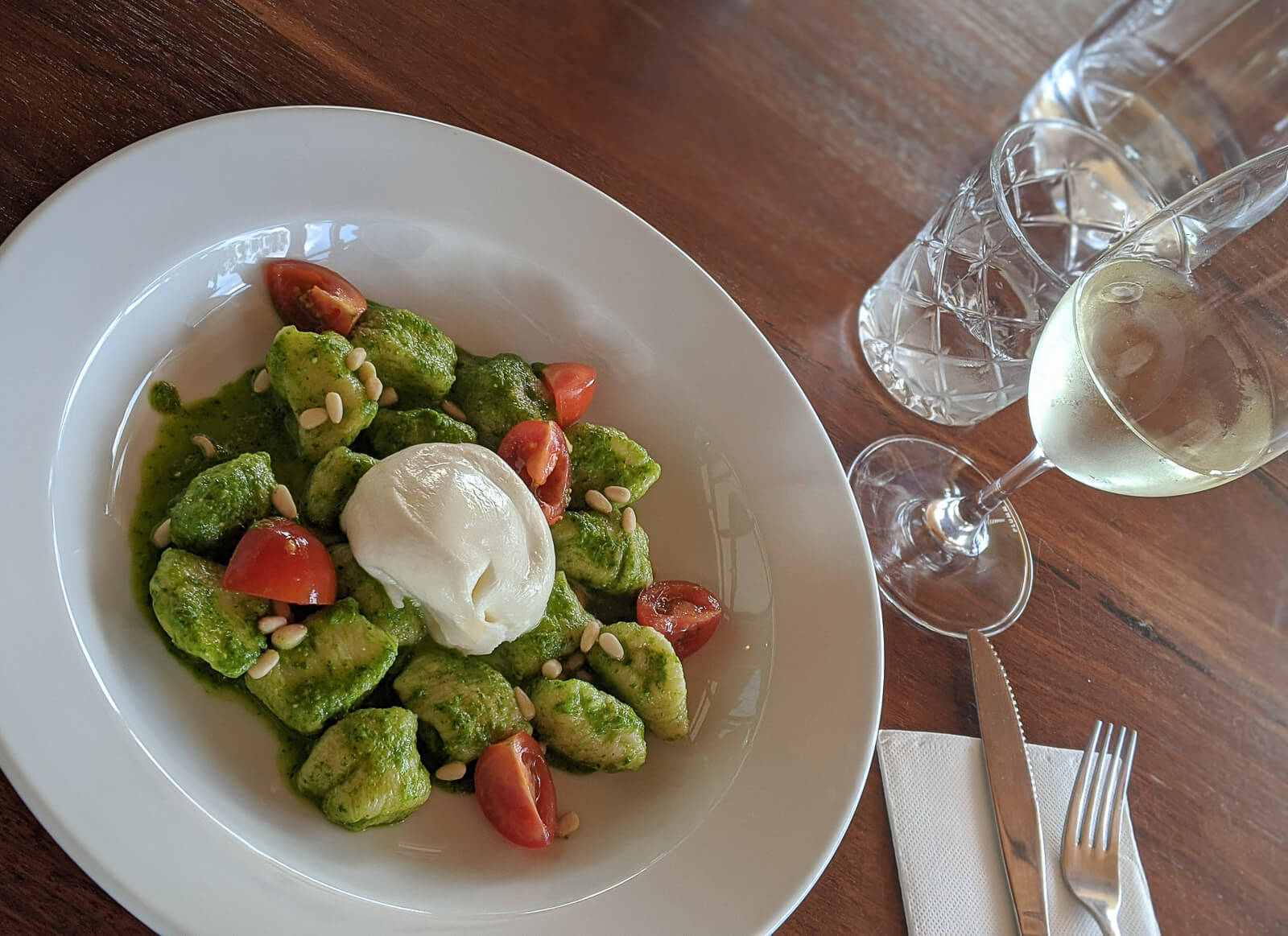 Denmark Beaches
As well as Elephant Rocks and Greens Pool, there are lots of other beautiful beaches in Denmark. We loved Ocean Beach, which is good for surfing and has a Surf Life Saving Club that hosts regular BBQs and events. We were there for paella night, which was great!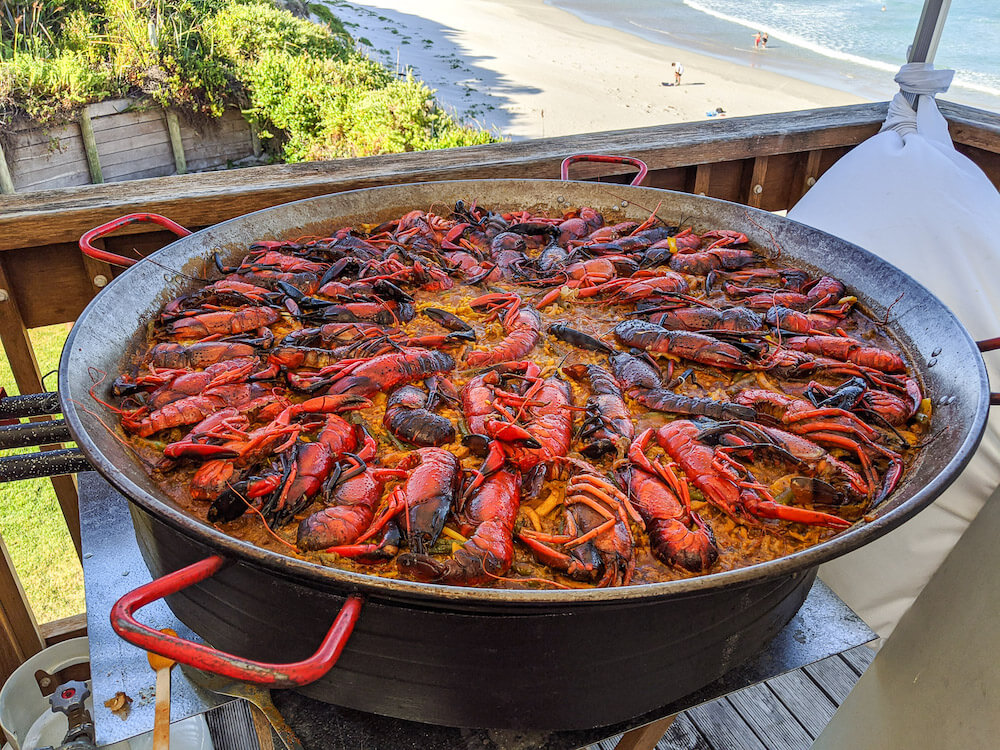 Denmark Town
Denmark has a quaint town centre with some great shops and restaurants. It still has an independent department store which is really rare! We visited the town most mornings for a coffee and pastry at the bakery and also spent a bit of time shopping (which my dad was thrilled about). Definitely grab a pie from the bakery during your stay – it has won lots of awards for its baked goods. We also had a great pizza from Massimo's Place and curry from Curry King Indian Cuisine.
Just outside of the town is Boston Brewing Co, a brewery and casual restaurant set in beautiful gardens. Definitely worth going to check out some of the beers and to enjoy a burger on the lawn.
Where to Stay in Denmark
We stayed at Inlet Waters, a lovely little self-catering apartment by the water. There are lots of cottages and apartments to rent in Denmark, as well as eco retreats and B&Bs.
Denmark to Margaret River – Day 9 – 4 hours / 326km
Another early start as you make your way to the Margaret River region. The quickest route is to head inland and drive along the Muir Highway, however, I recommend taking National Route 1 so you can stop at the Valley of the Giants.
The Valley of the Giants Tree Top Walk
Admire some of the tallest trees on earth from a birds-eye view on the Valley of the Giants Treetop Walk. A boardwalk takes you 40 metres high, amongst the tops of majestic tingle trees, which have been standing for more than 400 years. Back on the ground, you can take a walk inside and through some of the trees, which have holes and gaps at the base.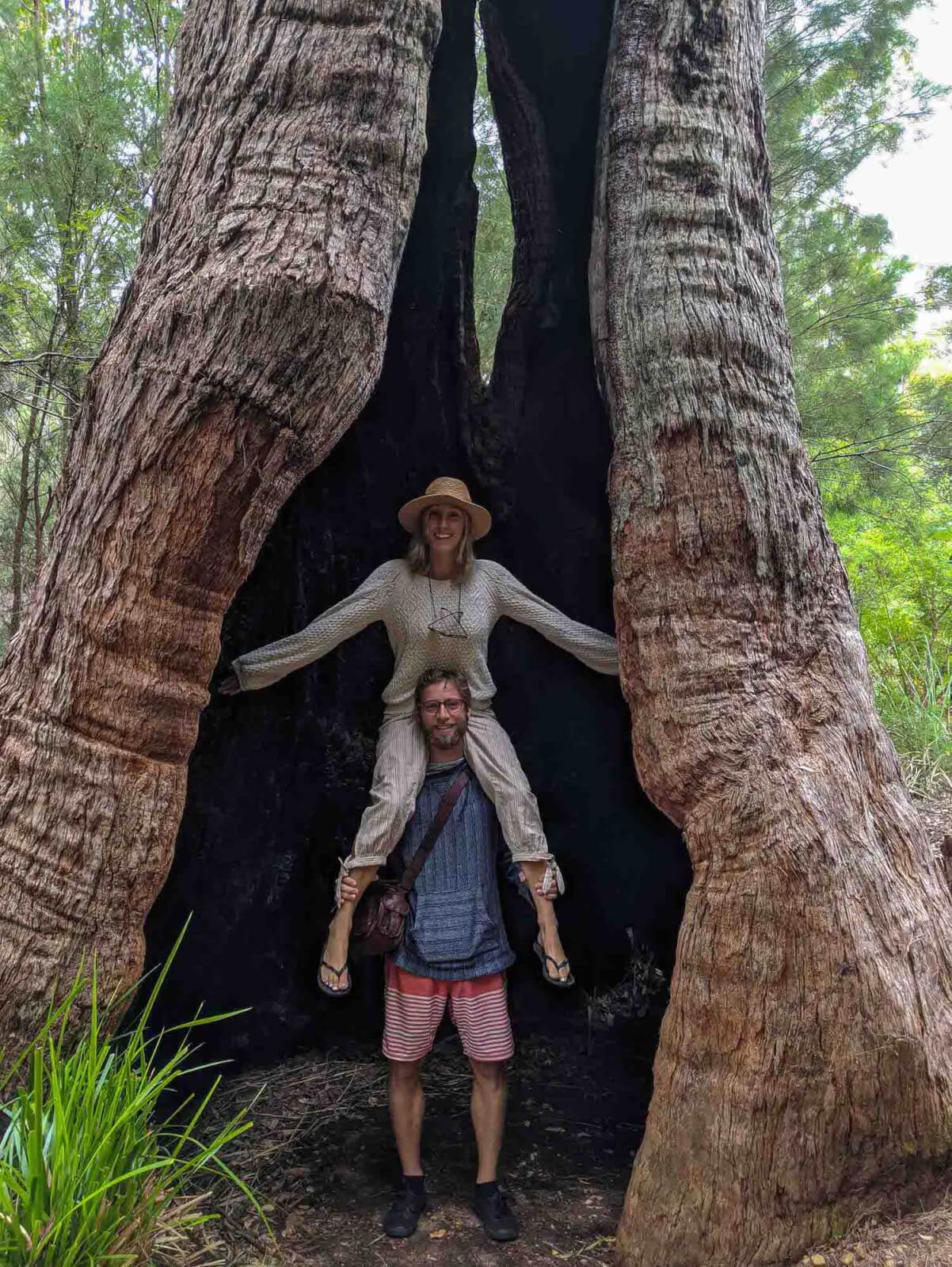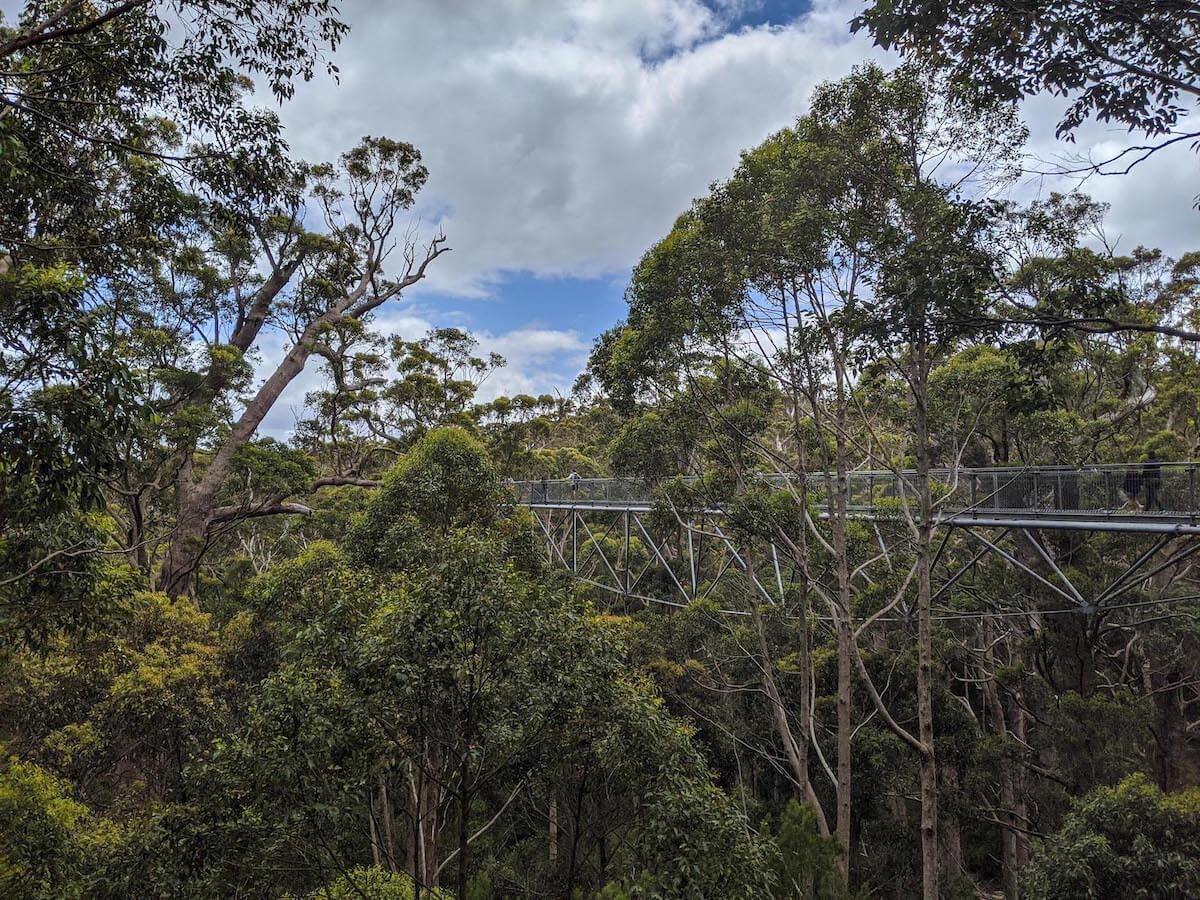 Continue along the South Coast Highway, stopping at John Rate Lookout to admire the view and get a quick snap.
The Gloucester Tree
An hour and 45 minutes after the Tree Top Walk is the Gloucester Tree. I climbed the tree when I was 15 and was keen to see if I was as brave at 34. The Gloucester Tree is one of eight karri trees that were used as fire lookouts, with the addition of pegs and lookout platforms. The karri is the tallest tree species in Western Australia and the third tallest in the world. It can grow up to 90 metres. This particular tree is 53 metres high and to reach the top platform involves scaling the tree on 153 metal pegs that stick out from the trunk, much like climbing a ladder.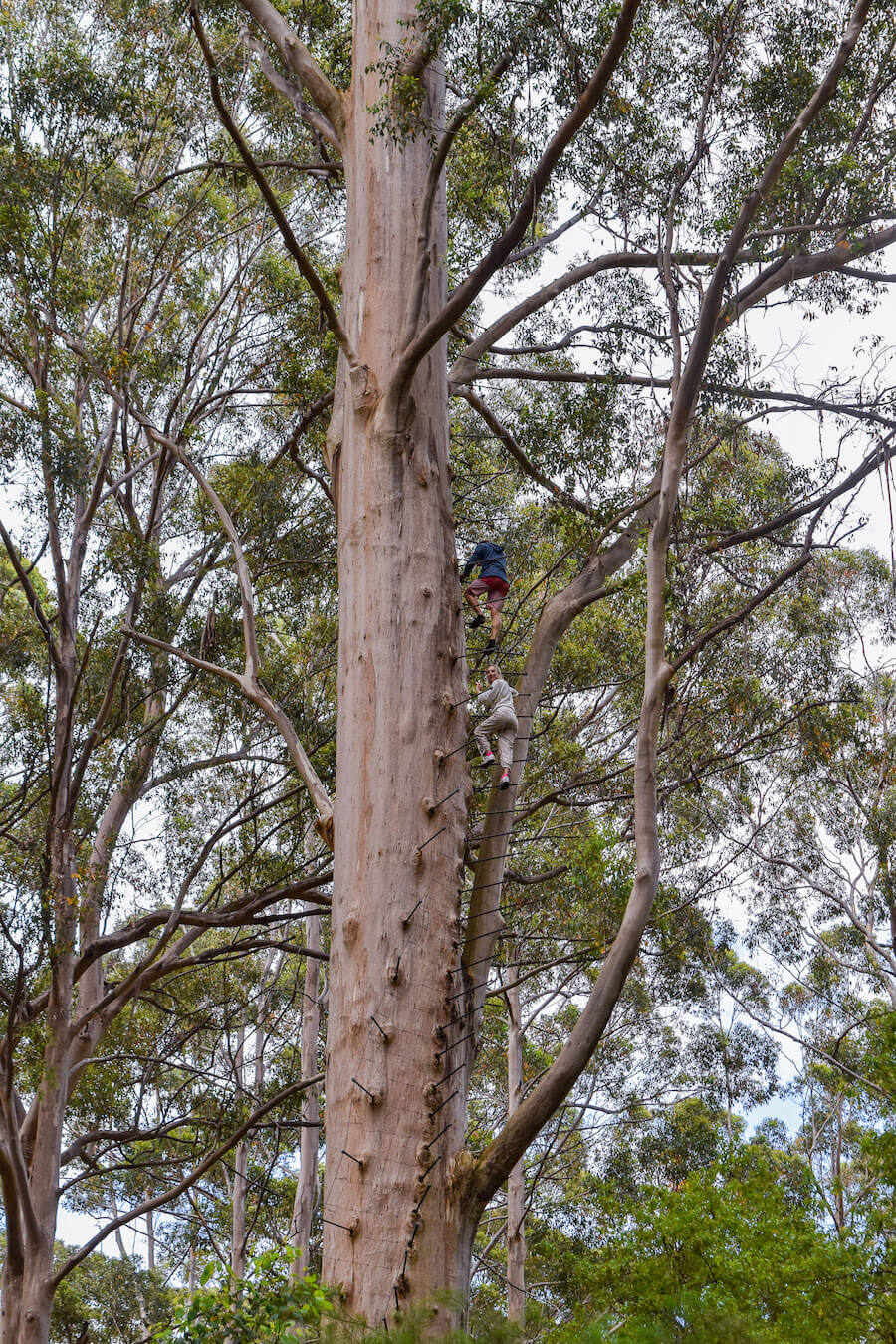 It's actually pretty scary, as there is nothing preventing you from falling if you were to slip, and apparently only 20% of the people who attempt to climb the tree make it to the top. I was brave enough the second time around and it was well worth it, the views from the top are gorgeous. Even though I spent most of my time thinking about the journey back down!
You can also climb the nearby Dave Evans Bicentennial Tree.
Margaret River – Days 10 and 11
I love Margaret River, I've been here quite a few times now and I'd say it's in my top 3 places in Australia. It has beautiful beaches, great wine, amazing surf, lovely scenery and just an all-around fabulous atmosphere.
There are loads of things to do in Margaret River and you could easily spend a week in the region. I've written a full guide to Margaret River here.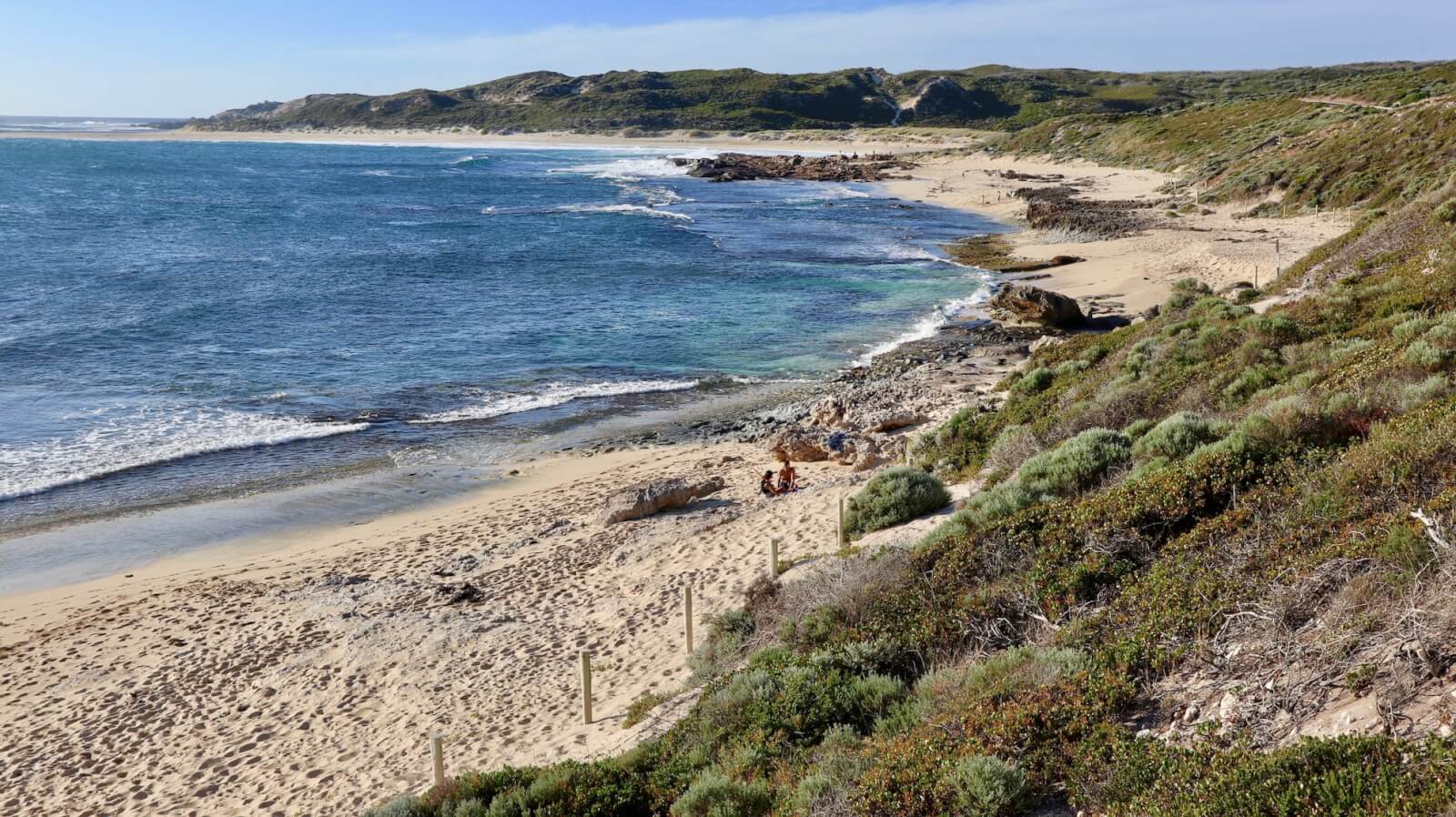 Definitely check out some of the wineries, I'm a fan of the smaller boutique wineries such as Heydon Estate, Arimia Estate and Burnside Organic Farm, however, there are also some bigger ones that are worth visiting. Aravina has lovely gardens overlooking a small lake and a really cool surf museum.
Explore the gorgeous beaches and admire the surfers at Prevelly and see the stingrays at Hamelin Bay.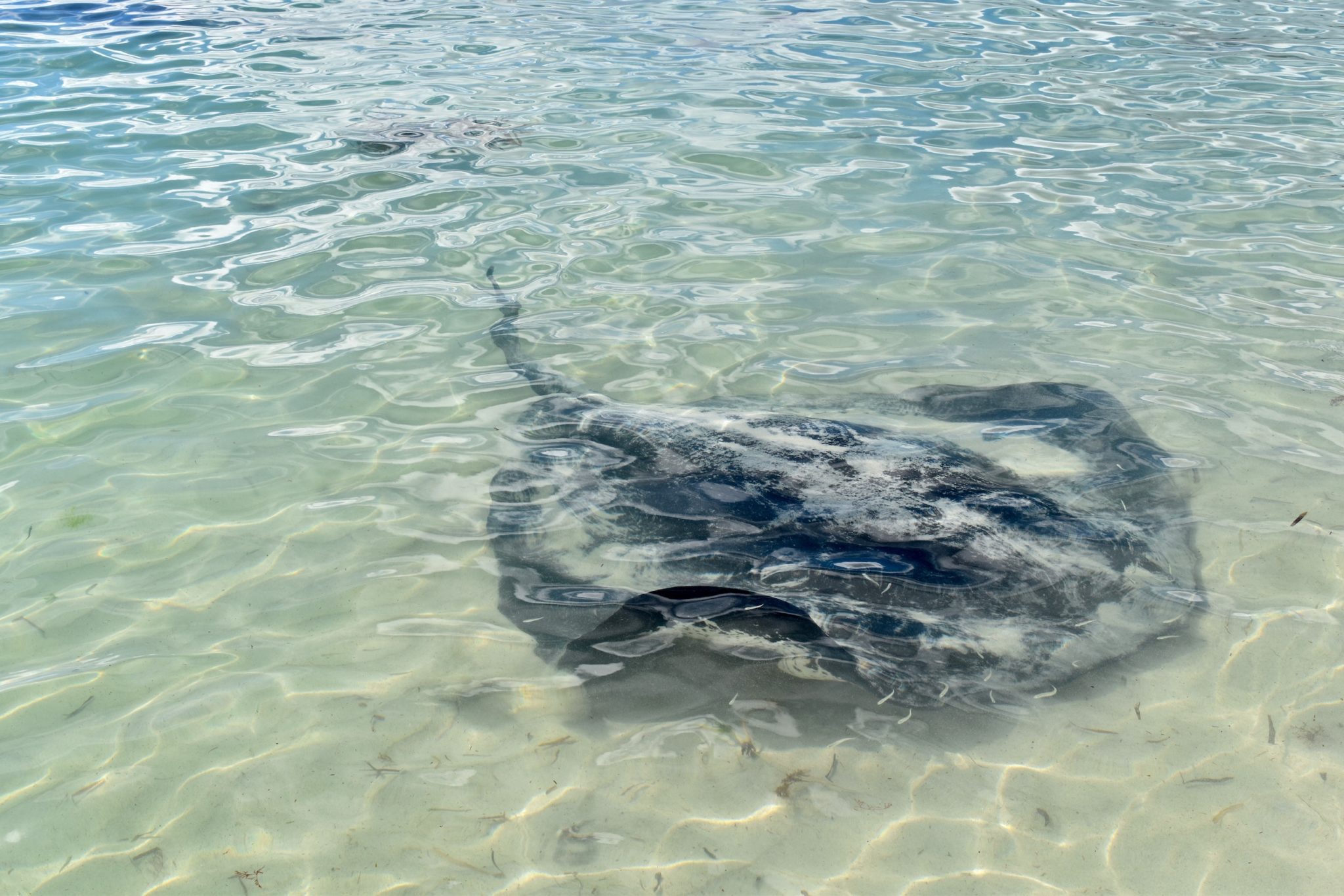 If you have time in your trip itinerary, drive down to Cape Leeuwin, Australia's tallest mainland lighthouse, located where the Southern Ocean and the Indian Ocean meet.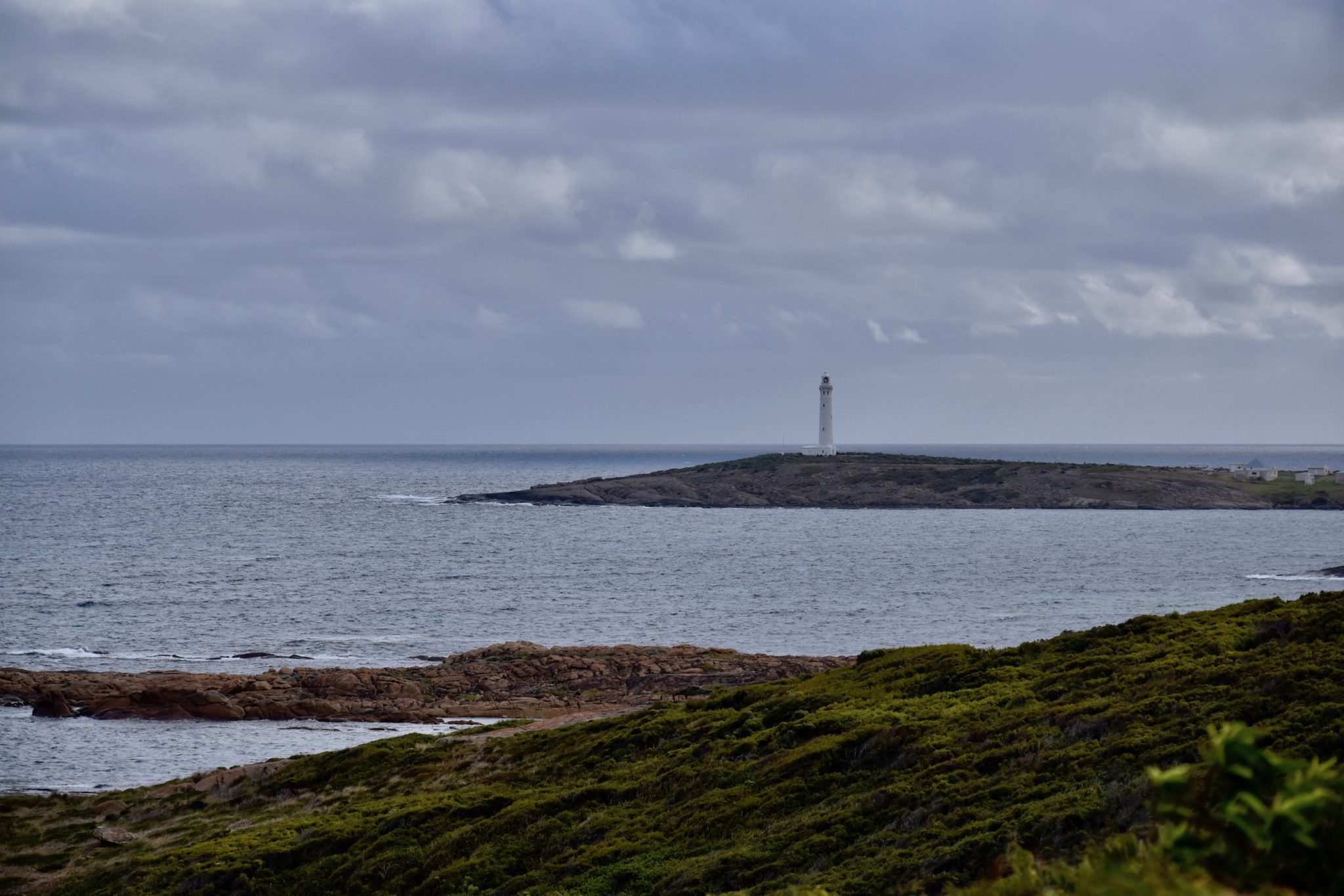 Where to stay in Margaret River
When choosing a place to stay in Margaret River, you really need to think about what sort of trip you're after. Because the region is large and spread out, if you want to be able to walk to restaurants and bars you should aim to base yourself in Margaret River Town, which is what we did this time around. We stayed at the Traill, which is amazing. Right on the main street with a huge terrace, massive baths, gorgeous kitchen and living room. We were there for New Year's Eve and we ended up going back to the apartment after dinner, instead of to a bar as the place was so nice. If you prefer to be by the ocean, then go for an Airbnb or one of the beachside properties. I stayed at Aqua Resort Busselton a few years ago and it was lovely. I'd also love to stay at Canal Rocks Beachfront Apartments, which are right on Smiths Beach.
Find accommodation in Margaret River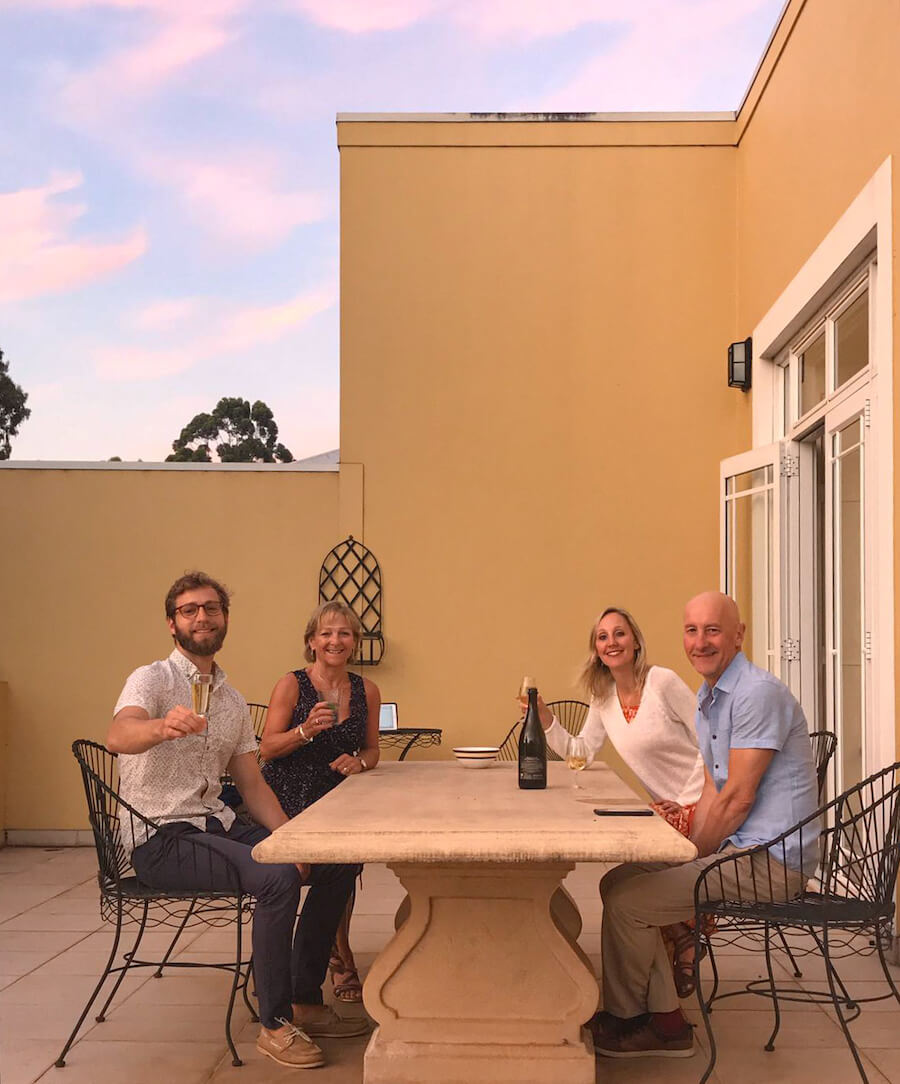 Margaret River to Fremantle – Day 12 – 3 hours / 268km
Continue north to Fremantle stopping at Bunbury for the Dolphin Discovery Centre. Here you can take an eco-cruise or even swim with dolphins in the wild. I did this the first time I visited Australia, way back in 2002! Dolphin swims depart at 8am so you'll need to get up early and book in advance. Eco cruises leave at 12pm.
Fremantle – Day 13
I love Freo, as it's affectionately known. It's such a cool little city. There are lots of great restaurants here, so you can spend a good amount of time eating and drinking. La Sosta is an excellent Italian, Duck Duck Bruce is really popular for brunch (be prepared to queue) and no visit to Fremantle is complete without a visit to Little Creatures. This brewery has an impressive location, right on the water which makes and serves a variety of beers along with great food. There are also daily brewery tours.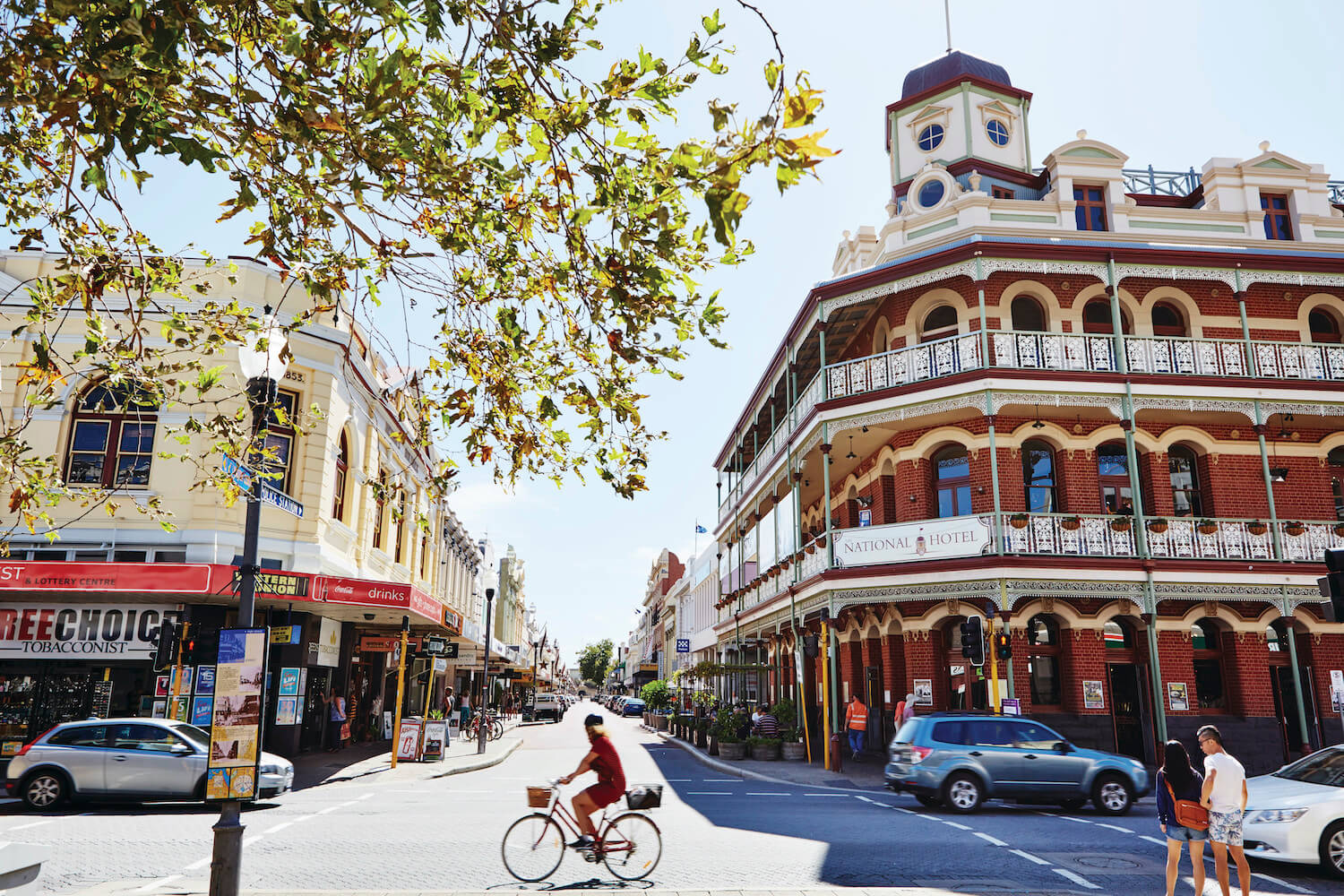 Where to stay in Fremantle
I recommend choosing accommodation in the centre of town, so you can easily walk to bars and restaurants. It's not a big place so you don't really need to drive during your visit. We stayed at the Esplanade Hotel which was great and parked in the car park across the street.
Find accommodation in Fremantle
Fremantle to Perth or Rottnest Island – Day 14
On the final day of your Perth to Esperance loop, you can either drive back to Perth and spend the rest of the day there or hop on a ferry from Fremantle to Rottnest Island.
Rottnest Island
I've been to Rottnest Island a couple of times and it really is worth the trip. From Freo, it's 25 minutes on the ferry (and you can also ferry across from Hillarys, north of Perth or from Perth's Barrack Street Jetty which both take longer.)
The beaches on the island are beautiful, and there are 63 of them to explore – make sure you bring a mask and snorkel or hire one on the island. Once on the island, it's easy to hire bikes to get around, or if you don't fancy cycling, there is the Island Explorer bus, as well as the Discovery Bus Tour. There are a couple of restaurants and cafes, as well as a supermarket for food, or you can bring your own from Perth as a cheaper option.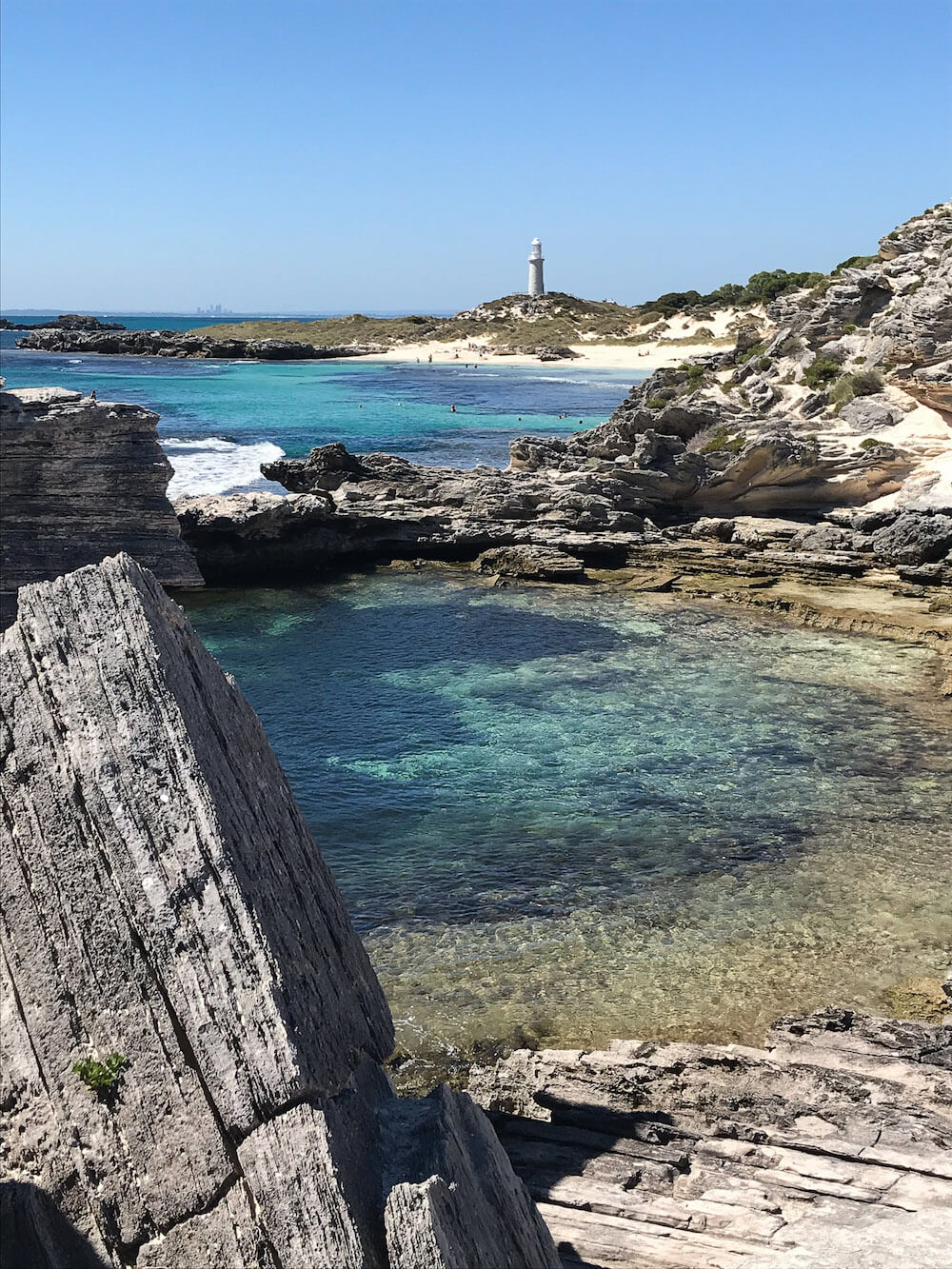 Rottnest Island is home to a large population of Quokkas. It's the best place to see them in Australia, as there aren't many on the mainland and they are much harder to spot. On Rottnest, you'll see them wandering around all day. Just make sure you don't feed them.
Take the ferry back to Perth or Freo in the afternoon.
Other ways to travel from Perth to Esperance
You can fly to Esperance from Perth in 1 hour 35 with Rex.

TransWA operates a bus to Esperance which takes 12 hours, departing from East Perth Terminal.
FAQs
How long is the drive from Perth to Esperance?
The most direct route between Perth and Esperance takes 7 hours 30 to drive.
Can you fly from Perth to Esperance?
QantasLink flies from Perth to Esperance. The flight takes about 1 hour 35.
What is there to see between Esperance and Perth?
There is so much to see between Perth and Esperance:
-Spot kangaroos on the beach at Lucky Bay
-Go whale watching in Bremer Bay
-Visit the ANZAC Museum in Albany
-Visit the Tree Top Walk in the Valley of the Giants
-Climb the Gloucester Tree
-Swim at Greens Pool in Denmark
-Go wine tasting in Margaret River
-Swim with dolphins at Busselton
-Enjoy craft beer in Fremantle
Have you taken this road trip? We'd love to hear your thoughts in the comments below!