Sardinia is such a beautiful island, with incredible beaches, gorgeous scenery and delicious food. When we were planning our trip there, I spent hours researching all the different towns and villages and working out where to stay in Sardinia. In the end, we opted for a road trip and managed to travel all over the island, which gave us a great taste of the different areas, and when we return we will spend more time in our favourite Sardinia accommodation and towns.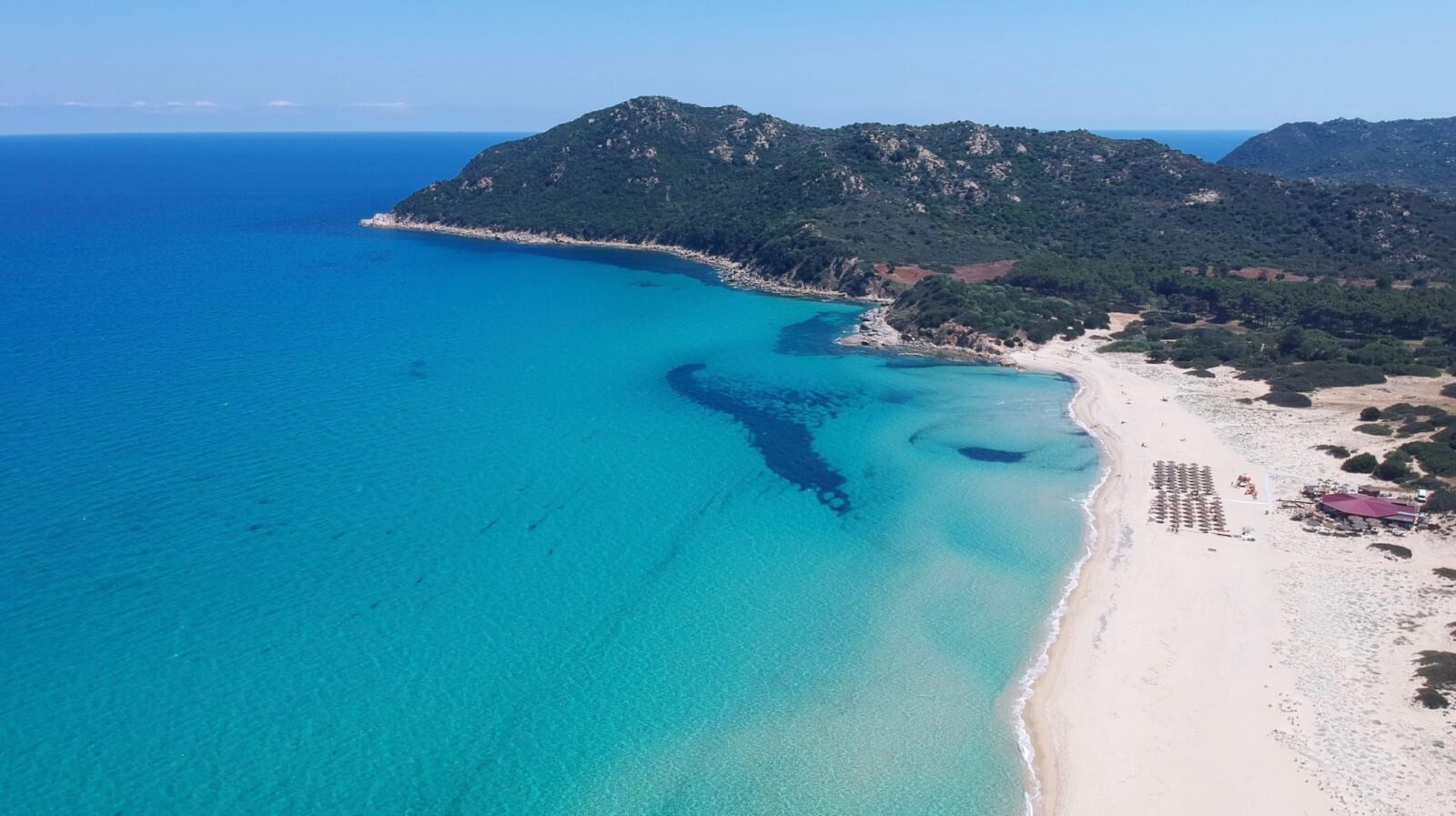 Disclosure: This article contains affiliate links. This means that if you click a link and purchase something I've recommended I'll earn a small commission. This does not affect the price you pay but helps me to run this site. You can read my full affiliate disclosure here.
Where to stay in Sardinia
First up, do you want to stay by the beach? In a historic town or city or in the countryside? Are you looking for a hotel or prefer self-catering or Airbnb's, or would you consider a Sardinia sailing holiday?
There are so many options to choose from on this idyllic island, so I've broken this article into regions and styles of travel.
North East Sardinia
If I had to choose one region of Sardinia to visit again, this would be it. In the far north, you have La Maddalena – a stunning archipelago with deserted islands and incredibly clear and clean water. Continuing south you'll find a plethora of white sand beaches until you reach Cala Gonone, a great little town on the Golfo di Orosei.
La Maddalena
Often said to have the best beaches in Sardinia, La Maddalena is made up of seven main islands and numerous small islets. The largest is Maddalena – the main town or commune of the region. Only three of the islands are inhabited; Maddalena, Caprera and Santo Stefano.
Maddalena Accommodation
Yacht – A great way to explore this area of Sardinia is by hiring a sailing boat. If you've not sailed before, you may want to join an organised sailing tour.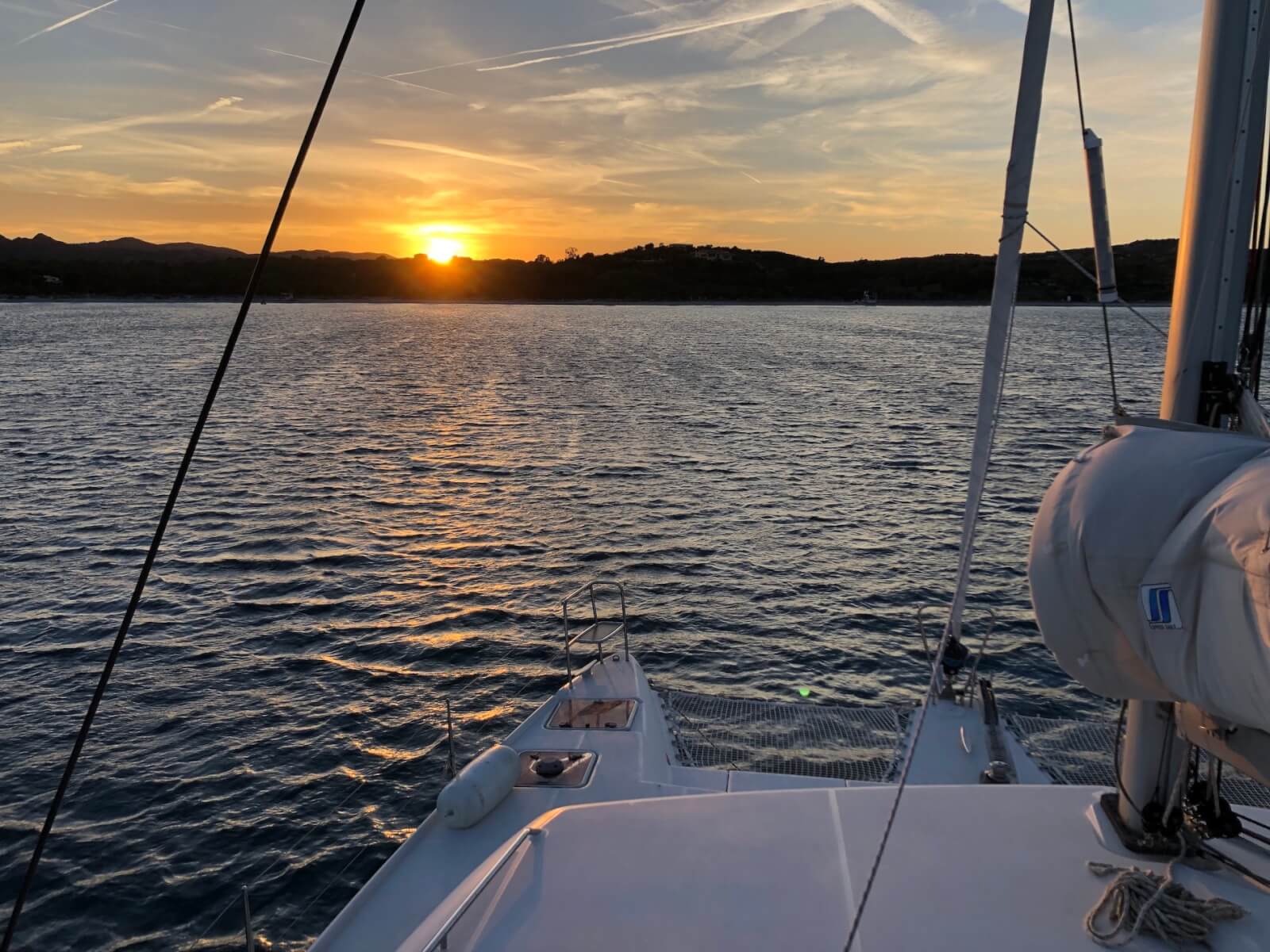 Budget – Locanda dal Genovese
A family run guest house on Maddalena island. Rooms from €40 per night for a double.
Mid Range – Le Nereidi Hotel Residence
A beautiful hotel set in the Maddalena National Park, 300m from the sea. Rooms from €88 per night for a double.
Luxury – Santo Stefano Resort
A private resort and the only accommodation on Santo Stefano island. Rooms from €120 per night for a double.
Olbia
Olbia is the main ferry port into Sardinia, and if you're coming from mainland Italy via boat you will likely arrive here. There is also an international airport so it's a good starting point for a Sardinia holiday, especially if you want to spend time in the north of the island. There are some nice bars and restaurants in the Centro Storico (historic centre), as well as great boutiques.
Olbia Accommodation
Budget – Antares B&B and Suites
Harbour views from a historic building in central Olbia. Rooms from approx. €50 per night.
Mid Range – Grand Hotel President
A 4-star hotel on Olbia's promenade. Rooms from approx. €85 per night for a double.
Luxury – Kkult Boutique Relais
4-star accommodation with a hot tub and terrace in the centre of Olbia. Rooms from approx. €100 per night.
Read our ultimate Sardinia road trip itinerary.
Cala Gonone
This lovely town on the east coast is the gateway to the Orosei Gulf (Golfo di Orosei). It's one of my favourite places in Sardinia and it has everything you need – nice beaches, good restaurants and it's compact – meaning you can walk everywhere. There are operators offering boat trips to the beautiful beaches along the coastline and to the Bue caves. You can also find some great hikes close by.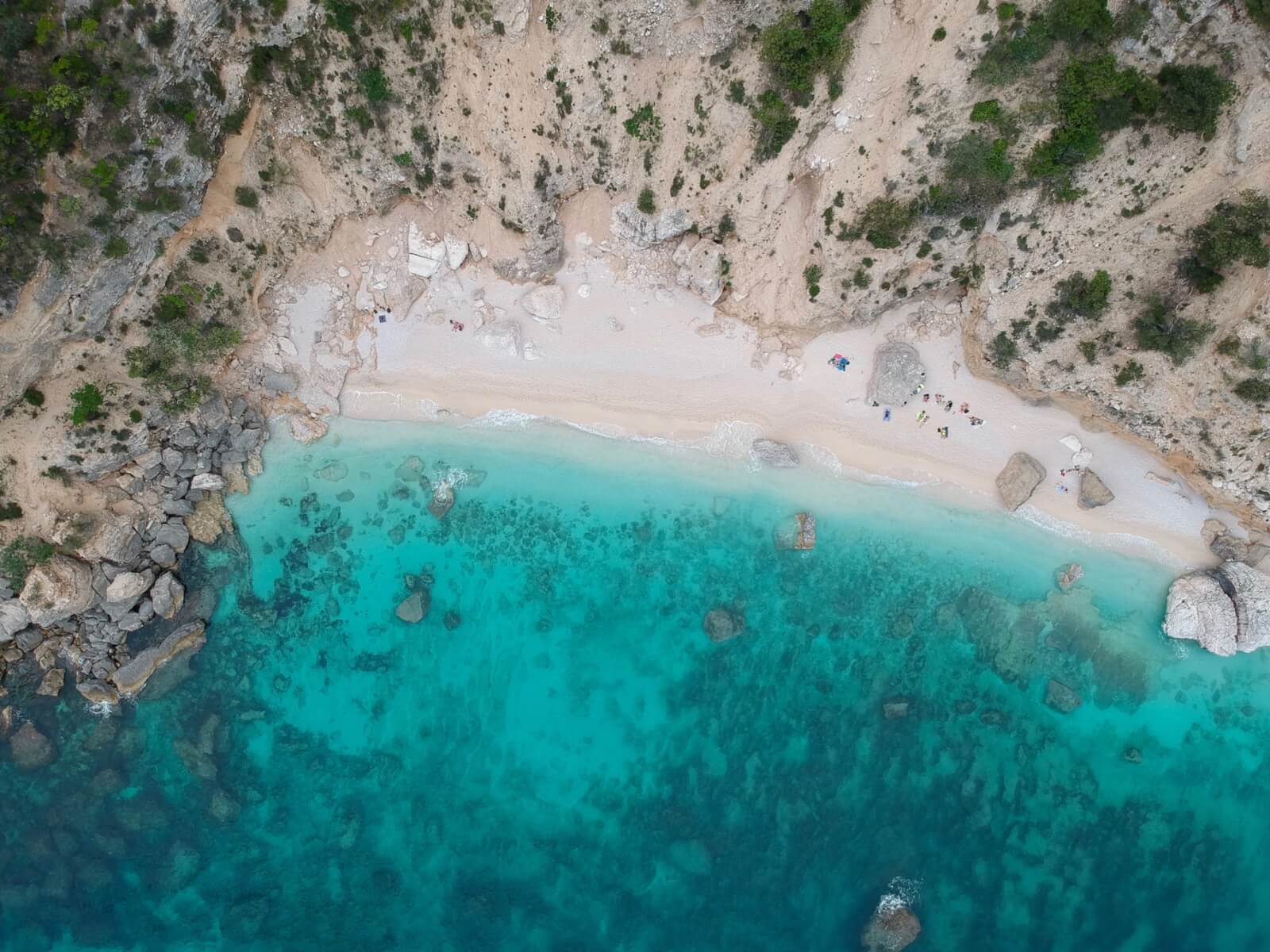 Cala Gonone Accommodation
Budget – Casa Marzane
Self-catering apartments with a fully equipped kitchen, garden with a barbecue and a terrace. From approx. €42 per night.
Mid Range – Hotel Nuraghes Arvu
We loved this place, an easy walk to the beach, huge pool and lovely breakfast served by the pool. From approx. €130 per night.
Luxury – Hotel Villa Gustui Maris
Beautiful hotel located 600m from the beaches and the town centre. From approx. €110 per night.
North West Sardinia
This part of the island has some beautiful historic towns including colourful Bosa and the walled city of Alghero. You'll also find some lovely small villages to stay in, as well as gorgeous beaches. Particularly in and north of Stintino.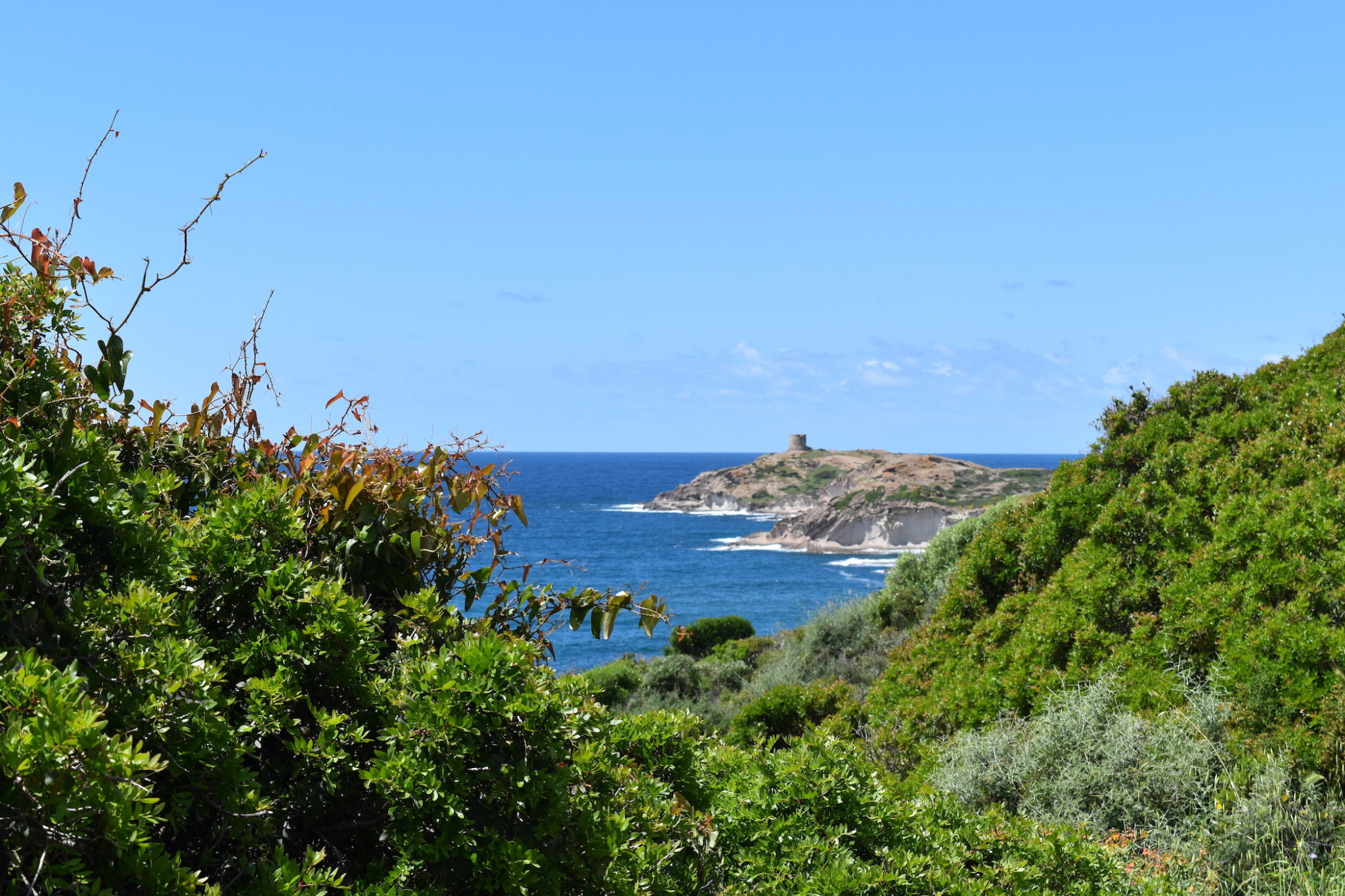 Stintino
Stintino is a small fishing village on the northwestern tip. There are some much loved and photographed beaches here including Pelosa and Pelosetta, which are great for families due to their shallow waters. It's a popular resort town with a good selection of accommodation. Stintino is the gateway to the stunning island of Del'Asinara – once the location of a notorious prison and now a beautiful national park.
Stintino Accommodation
Budget – B&B Roccabianca
Air-conditioned rooms and self-catering accommodation located 2km from the beautiful La Pelosa beach with breakfast included. From approx. €45 per night.
Mid Range – 103 Boutique Hotel Stintino
Boutique hotel with beach styled rooms. From approx. €70 per night.
Luxury – Karamare
A lovely guest house with sea views and a garden. From approx. €110 per night.
Alghero
This popular Sardinian town has a heavy Catalan influence, due to the fact that the Catalans conquered Alghero, and Sardinia was part of the Crown of Aragon in the middle ages. Catalan is the co-official language and you will find paella as well as pasta on many menus. The walled city is a great place to base yourself if you're looking for more nightlife and restaurants, but still want easy access to beautiful beaches.
Alghero Accommodation
Budget – Hotel Angedras
Spacious hotel in a quiet part of Alghero, but within easy walking distance to the historic centre. From approx. €54 per night.
Mid Range – Hotel Florida
A beachfront hotel with two swimming pools and a panoramic restaurant, situated 800 m from the historic centre of Alghero. From approx. €93 per night.
Luxury – Villa Las Tronas
In my view, this is the best place to stay in Alghero. It was once a residence of the Italian royal family and is incredibly luxurious with high ceilings and opulent decor. If you're having a Sardinian honeymoon I highly recommend a few nights here. From €250 per night for a double room.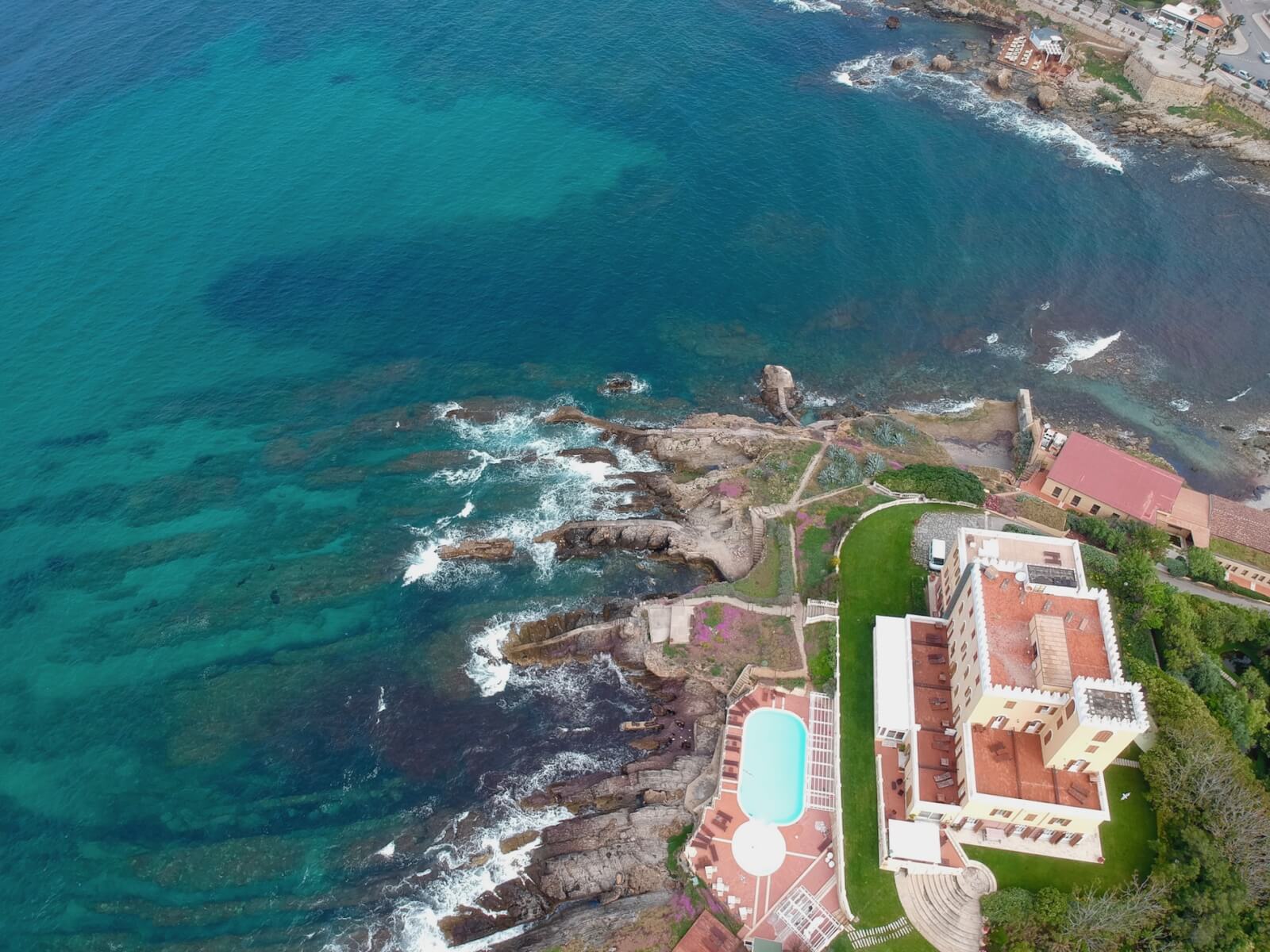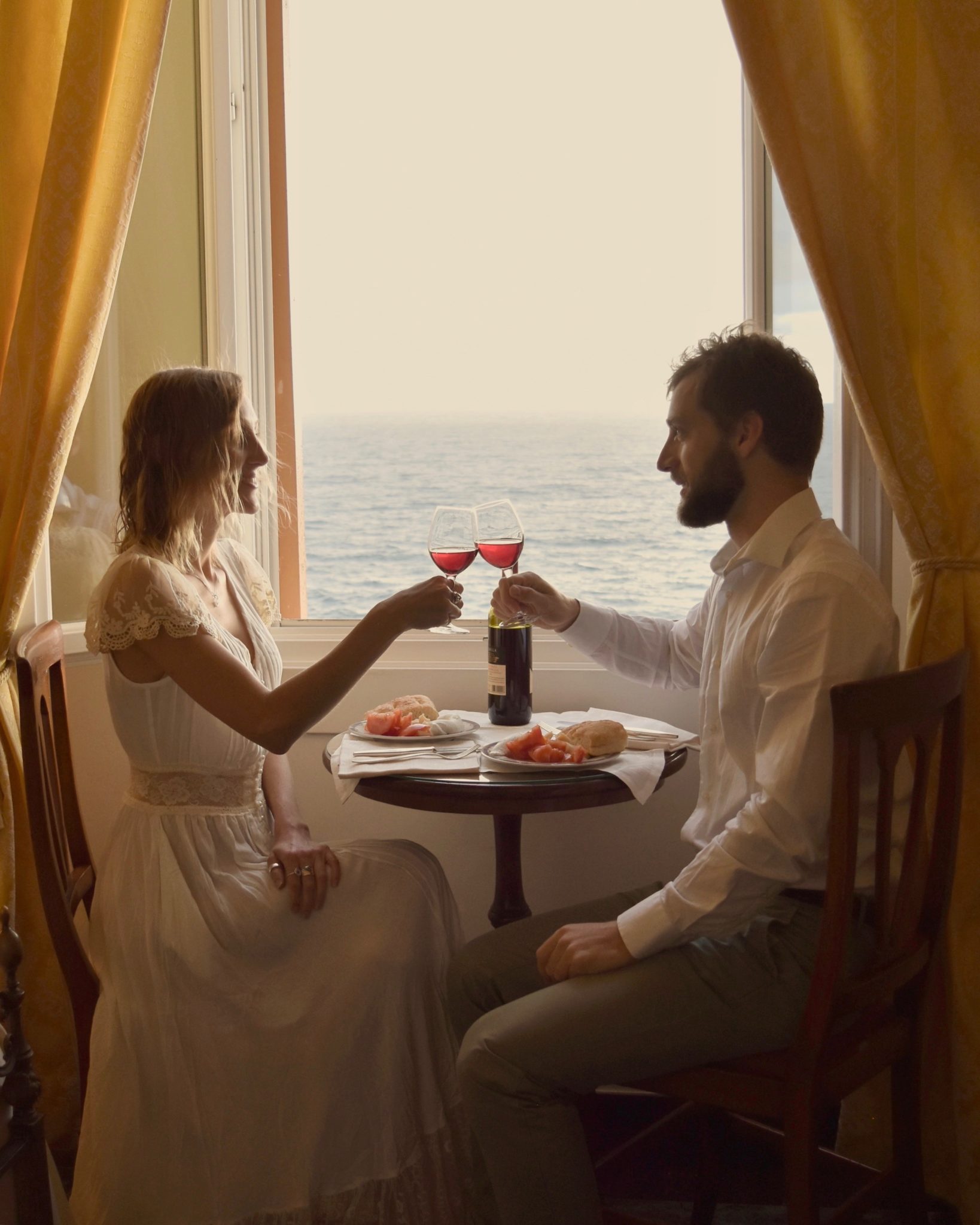 Discover the best beaches in Sardinia.
Bosa
Colourful houses lead up to a majestic castle in Sardinia's rainbow town. With quaint cobbled streets and a river lined with palm trees, Bosa is the perfect place to lose a few days, wandering the lanes and enjoying a few aperitivos.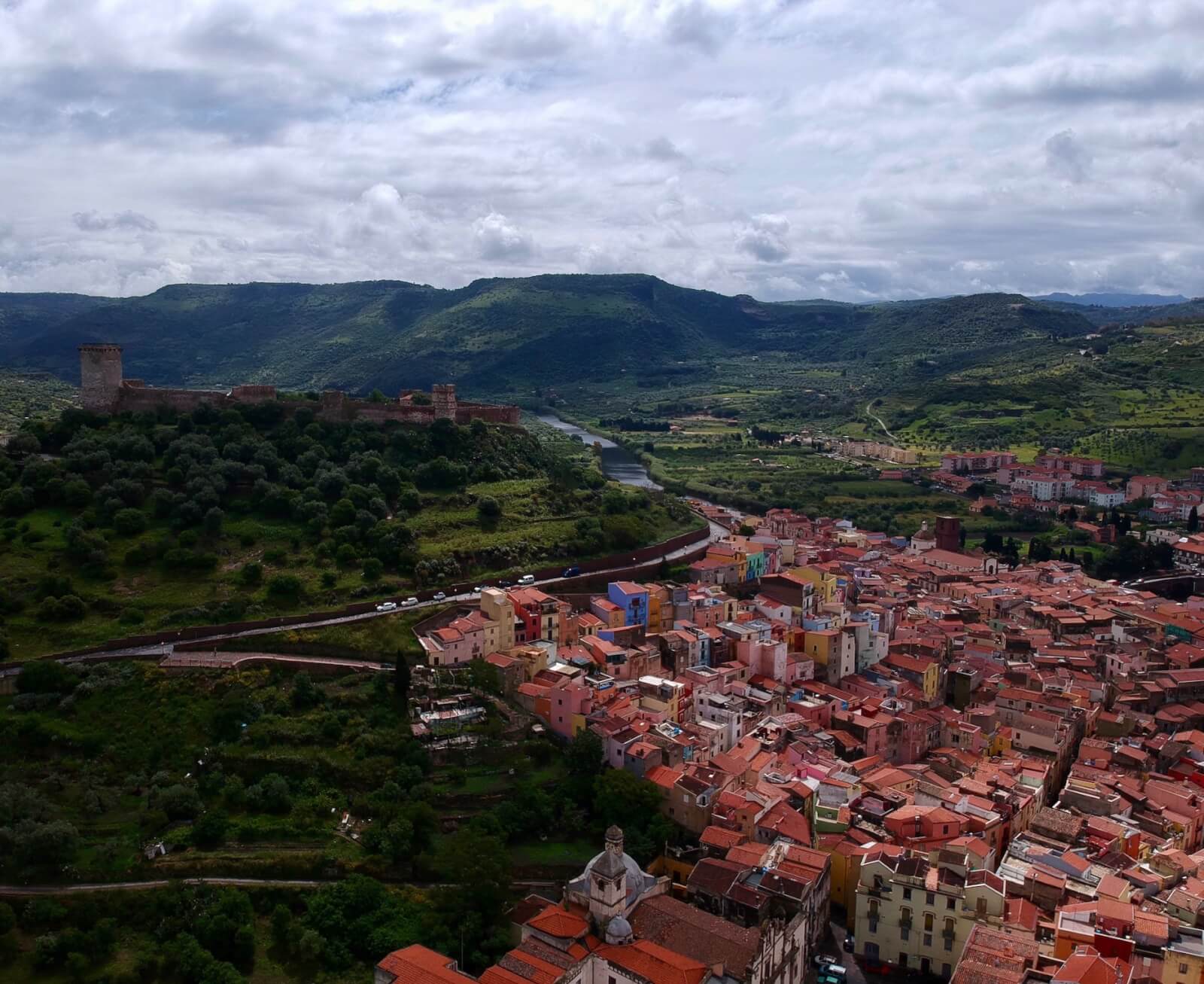 Bosa Accommodation
Budget – B&B Sandalia
Hillside B&B with city views. From approx. €55 per night.
Mid Range – Corte Fiorita Albergo Diffuso
Elegant hotel on the bank of the River Temo made up of two historic buildings. From approx. €70 per night.
Luxury – Palazzo Pischedda
A grand hotel with views of the Temo River and elegant furnishings. From approx. €70 per night to €200 for a deluxe room with a spa bath.
South East Sardinia
Oristano
The elegant town of Oristano is a good base for the beautiful beaches of the Sinis peninsula and has excellent boutique shopping and great cafes.
Oristano Accommodation
Budget – Hotel Il Duomo
Set in a 17th century building in the heart of Oristano historical centre in front of the majestic cathedral of Oristano. Rooms from approx. €54 per night including breakfast.
Mid Range – Via Del Centro Guesthouse
Modern guesthouse in the centre of Oristano, with a garden. From approx. €80 per night with breakfast.
Luxury – Residenza d'Epoca Regina d'Arborea
Set in a 19th-century building in the historic centre of Oristano with only seven rooms. From approx. €120 per night.
Sant Antioco
Linked to the mainland by a causeway, the island of Sant Antioco is a laid back spot with a lovely little town centre, with one of Europe's oldest churches and some great (and quiet) beaches.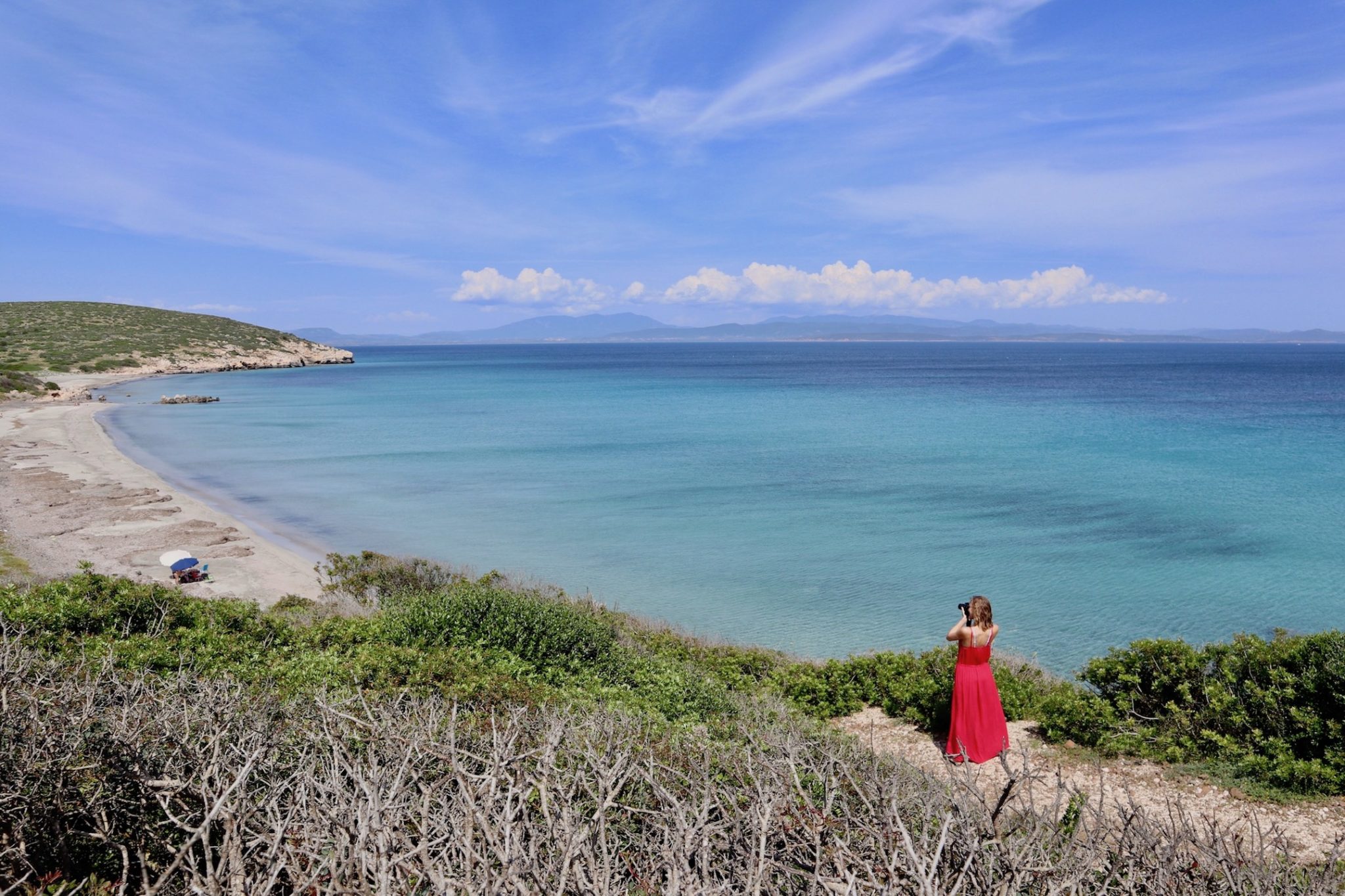 Sant Antioco Accommodation
Budget – Hotel I Colori
Great value guest house in the centre of Sant Antioco with breakfast included. We stayed here for a friends wedding and it was lovely! From approx. 35 per night. from approx. €54 per night.
Mid Range – Casa Tartaruga
Self-catering two bedroom apartment with city views and free parking. From approx. €85 per night.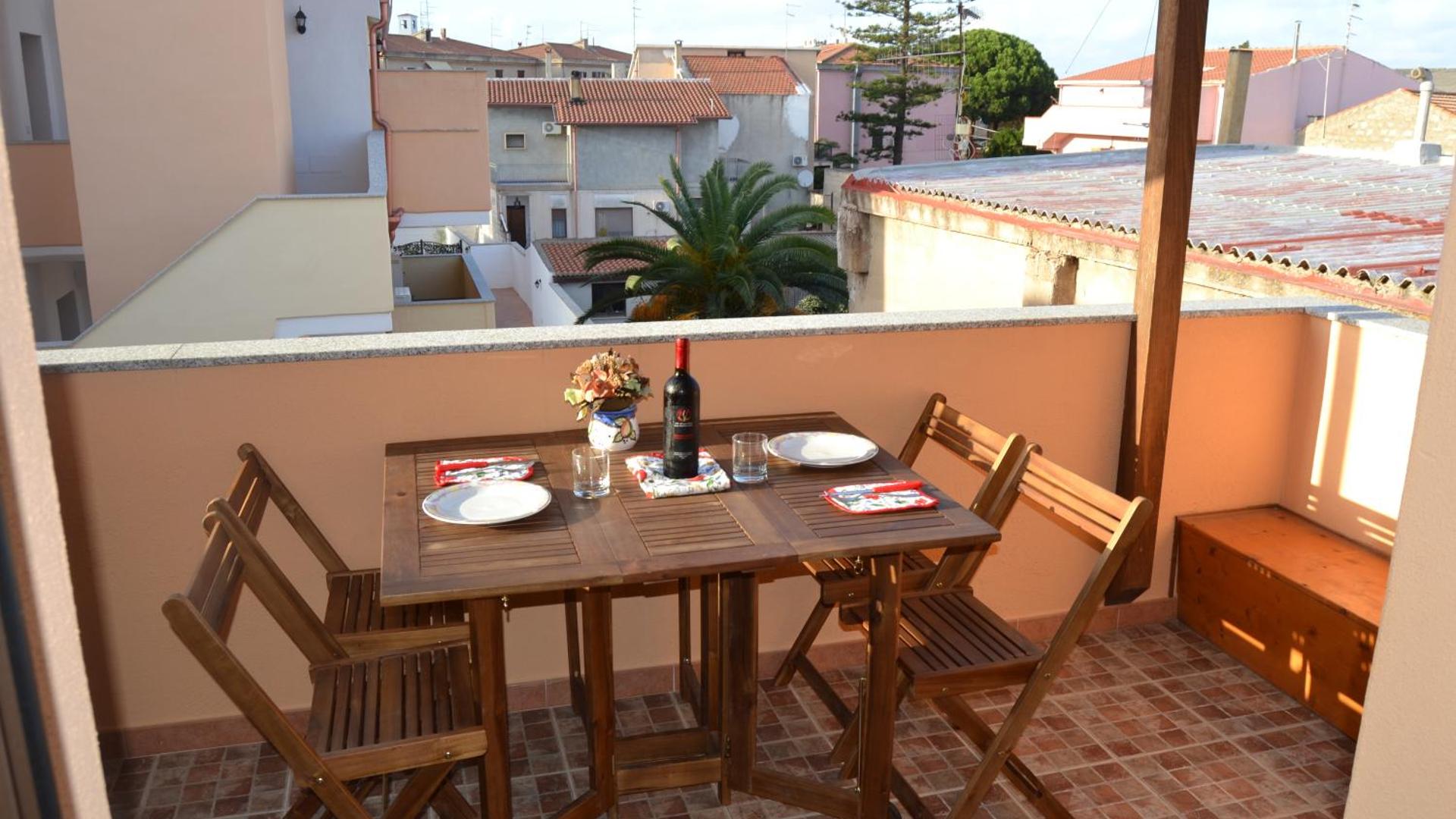 Luxury – Lu' Hotel Maladroxia
4-star hotel with a pool, 180 m from the beach. From approx. €100 per night.
South West Sardinia
Cagliari
The capital of Sardinia, Cagliari is often the entry point onto the island and is often overlooked as a destination in itself. However, the beautiful seaside town has plenty to see including the Neo-Romanesque Cattedrale di Santa Maria del Castello, Roman ruins, ancient palazzi, museums and much more.
Cagliari Accommodation
Budget – Hotel L' Ambasciata
Pet friendly hotel centrally located in Cagliari, only 800m from the National Archaeological Museum of Cagliari. From approx. €50 per night including breakfast.
Mid Range – Il Gallo Bianco
Central hotel with allergy-free rooms, a bar and a terrace, located 400 m from Via Roma Cagliari and 600 m from Piazza Yenne. From approx. €70 per night including breakfast.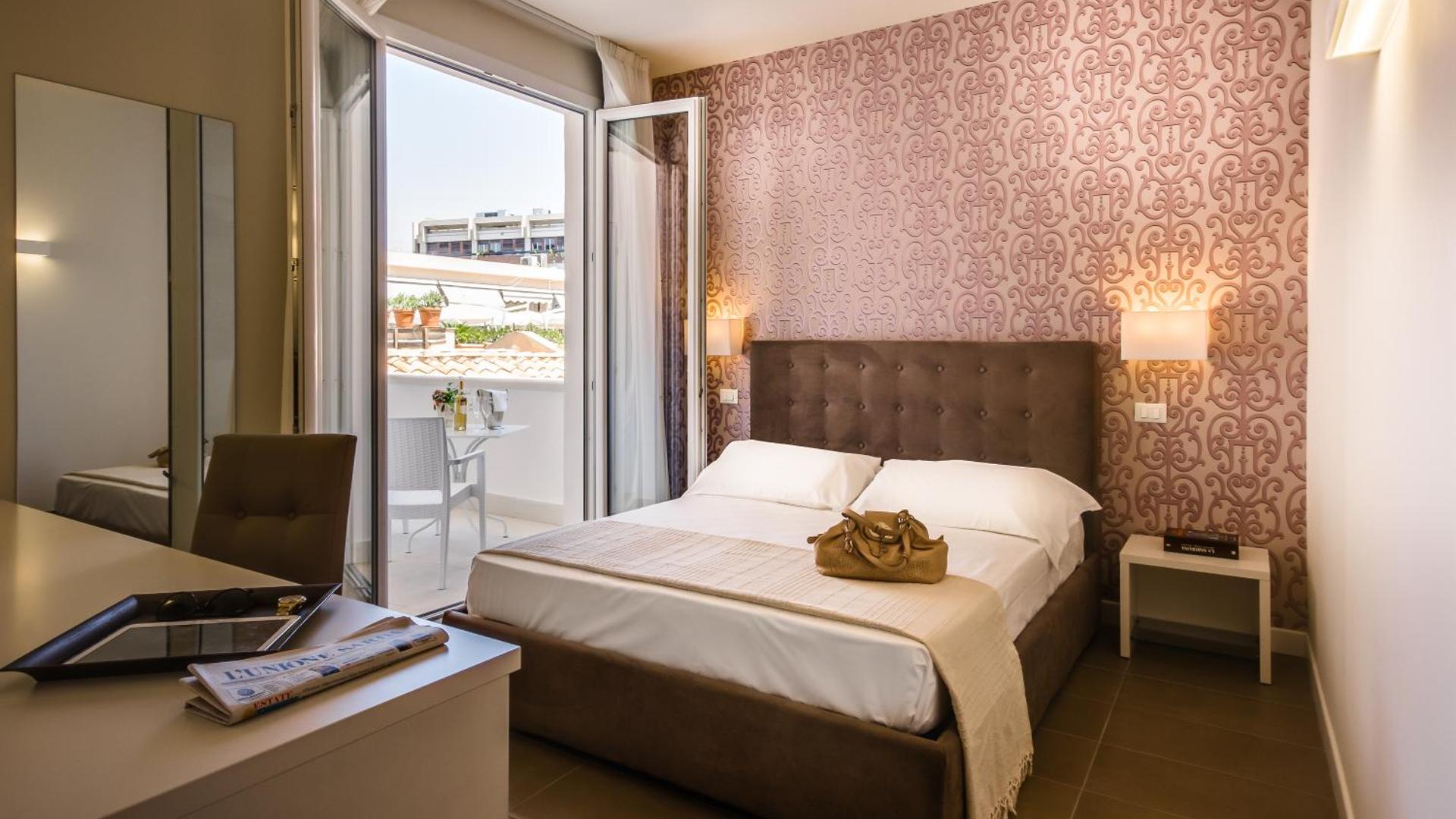 Luxury – Palazzo Doglio
Sophisticated hotel, with a charming central courtyard, within walking distance of Cagliari's main attractions and a short drive to Poetto Beach. From approx. €240 per night including breakfast.
Villasimius and surrounds
For beautiful beaches and great nightlife, base yourself in Villasimius. It's also a great spot for divers, with the Protected Marine Area Capo Carbonara within easy reach, as well as shipwrecks from WWII in the Gulf of Cagliari. Just along the coast from Villasimius is my favourite beach in Sardinia – Cala Sinzias. This area is very relaxed and feels quite wild in comparison to other parts of the island, with the Sette Fratelli mountain range as the backdrop for a nature reserve and white sand beaches and forest. There are plenty of watersports opportunities here, including windsurfing, diving and snorkelling.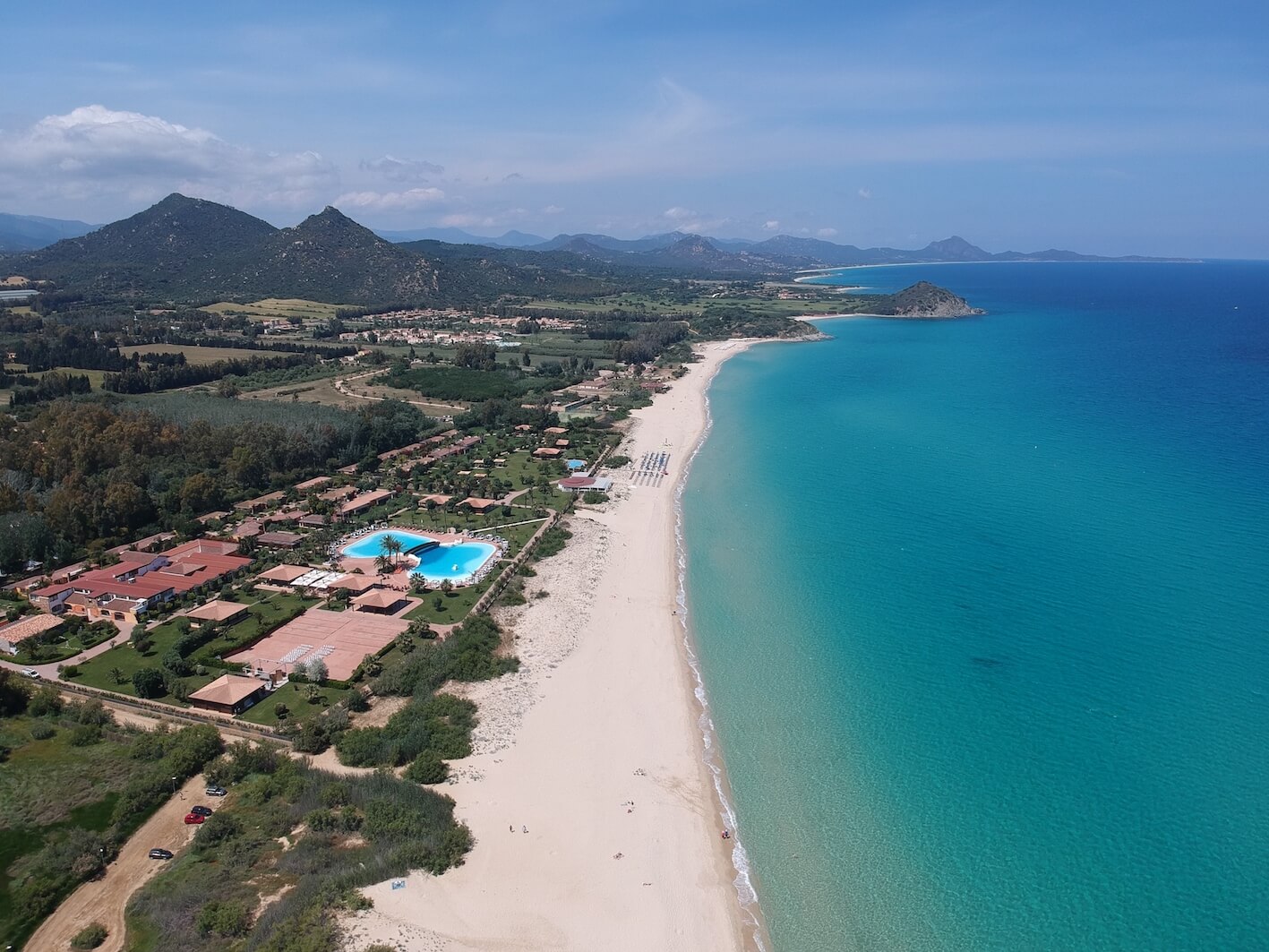 Villasimius Accommodation
Budget – Ca'Mea
Centrally located hotel with a terrace and panoramic views. Only five minutes drive from the sandy beaches. From approx. €70 per night including breakfast.
Mid Range/Luxury – Hotel Cala Caterina
Secluded hotel located 100 m from the beach, with a sea-view terrace, restaurant and a garden with swimming pool. From approx. €200 per night including breakfast.
Luxury – La Villa Del Re
Twenty minutes from Villasimius, the hotel has a private beach, outdoor pool and restaurant and offers windsurfing, scuba diving, snorkelling and canoeing. From approx. €350 per night.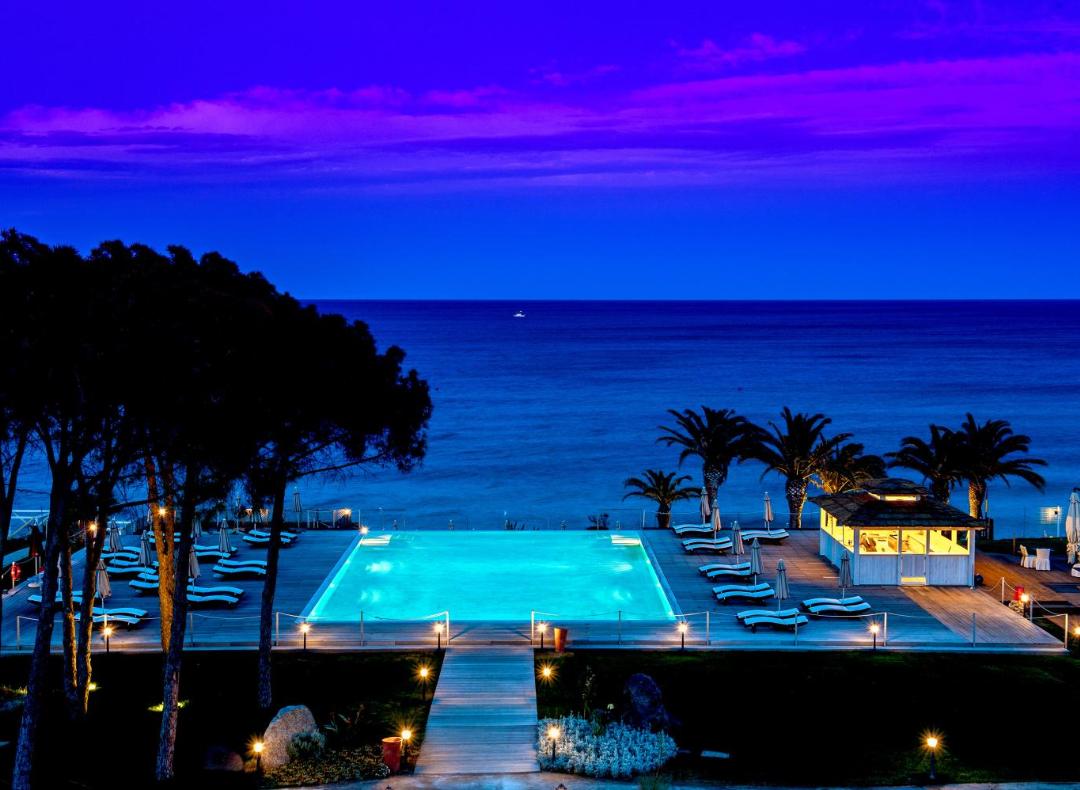 Sardinia accommodation for foodies
Set in a charming villa in the Supramonte countryside, Su Gologone began as a restaurant in 1967 and food is still a big part of the experience, with the fantastic restaurant serving traditional Sardinian dishes in a beautiful setting. From approx. €350 per night including breakfast.
Beachfront accommodation in Sardinia
An adults-only hotel with a private beach in Marina di Cardedu, surrounded by a large park. From approx. €200 per night.
Luxury Sardinia accommodation
A luxury resort & spa set in hectares of forest with panoramic views of the Maddalena Archipelago, with traditional Sardinian houses, known as Stazzi, converted into beautiful rooms. From approx. €465 per night.
Sardinia Eco Accommodation
A 60 hectare park on the edge of Capo Bellavista peninsula in Arbatax, by Capo Monte Santo marine park, featuring a variety of different hotels and accommodation at varying price levels.
The Arbatax Park Resort was awarded the title of Best Eco Resort in the World in 2019 at the World Travel Awards and has a number of sustainable initiatives and features including the use of green and renewable energy, rainwater, recycled glass and paper, as well as being a plastic-free resort.
Accommodation options include Telis from approx. €110 per night, Dune from approx. €112 per night and the exclusive Suites del Mar from approx. €284 per night.
Have you been to Sardinia? We'd love to hear about your favourite places to stay. Please leave a message in the comments below!