A guide to the top things to do in Phnom Penh, Cambodia.
When we talked to friends about visiting Cambodia, nearly everyone we spoke to said they didn't like Phnom Penh. They advised us not to spend too much time in the city and focus on other areas of the country. These recommendations actually made us keen to explore Phnom Penh and make up our own minds on the city. This fitted in well with our travel plans, as we had decided to travel overland rather than by air. We stayed in the city three times during our Cambodia trip, as many of the main destinations transit through the capital, and found plenty of things to do in Phnom Penh.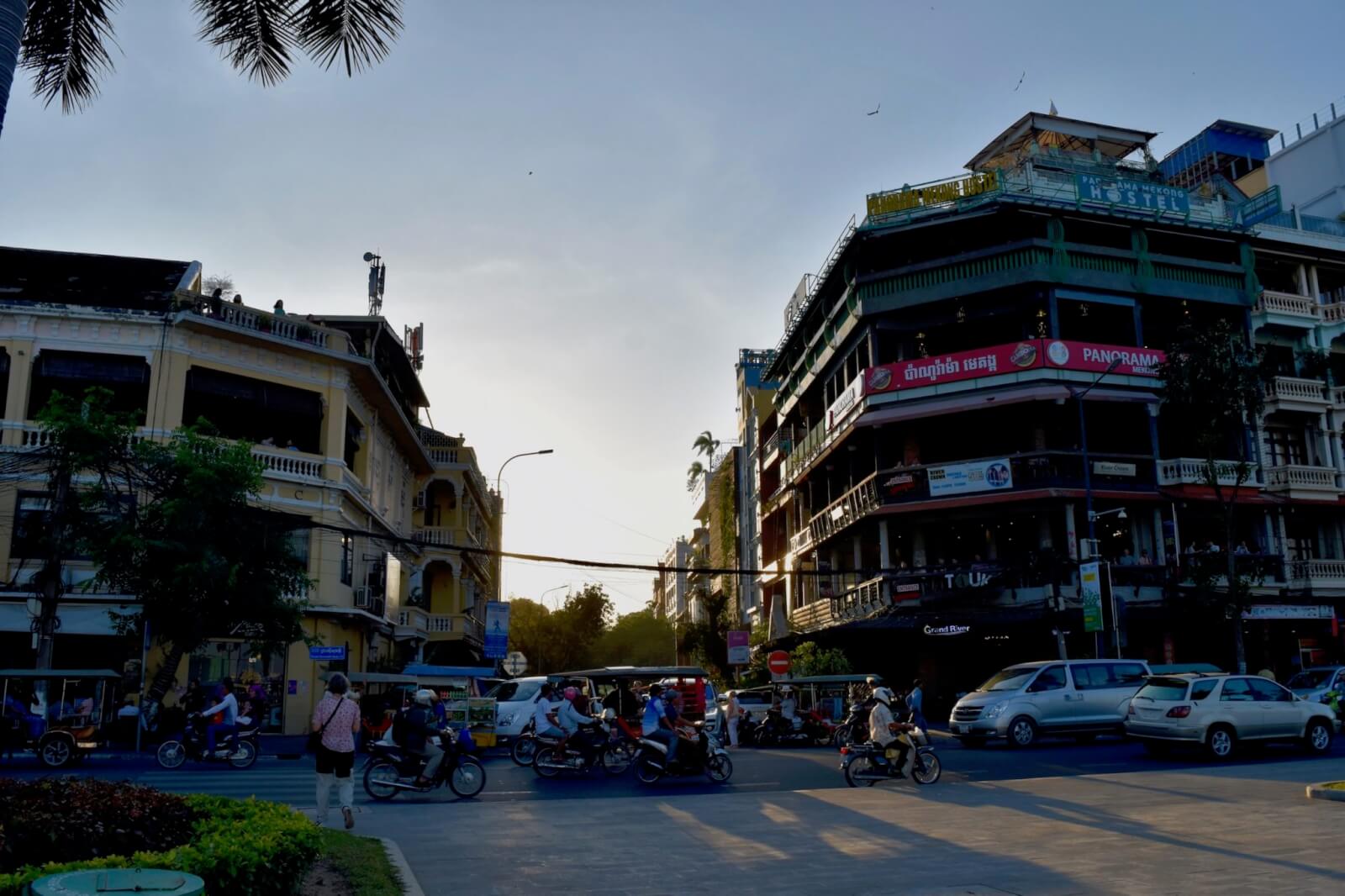 Disclosure: This article contains affiliate links. This means that if you click a link and purchase something I've recommended I may earn a small commission. This does not affect the price you pay but helps me to run this site. You can read my full affiliate disclosure here.
I understood the main reason behind these views, as the principal tourist attraction in Phnom Penh is very upsetting. Tuol Sleng prison, also known as S21 was used to torture and murder thousands of people during the rule of the Khmer Rouge in the late 70s. I knew very little of the Khmer Rouge before my trip and was shocked to learn how many people were killed during this period and such a short time ago.
Many visitors to Phnom Penh visit this site, are understandably disturbed by what they learn and leave the city shortly after with a distressing memory of their visit.
However, there is a lot more to Phnom Penh than Tuol Sleng and it's well worth spending a few days in this city. We really enjoyed our three stints there and despite feeling incredibly saddened by what we learnt, we could see that it's definitely a city on the rise with kind people, lovely food and a great bar scene.
Things to Do in Phnom Penh
Tuol Sleng
It's estimated that nearly a third of the Cambodian people died during the rule of the Khmer Rouge, between 1975 and 1979. Tuol Sleng was one of the most prolific torture facilities during this time, and approximately 30,000 people passed through its gates. Most often their final destination was the Choeung Ek killing fields outside the city. Tuol Sleng was once a high school and today it is a museum that explains the history behind the Khmer Rouge's rise to power and some horrendous details of the torture methods used. It is a very sad place and I wouldn't recommend taking children, but we felt it was important to visit and learn the history. It had a huge impact on the rest of our trip, but I'm glad we went. The Khmer people have a very positive outlook and want to move forward, however, many believe it's important to remember what happened so that it never happens again. Audio guides are available at the entrance in multiple languages or you can book a guided tour.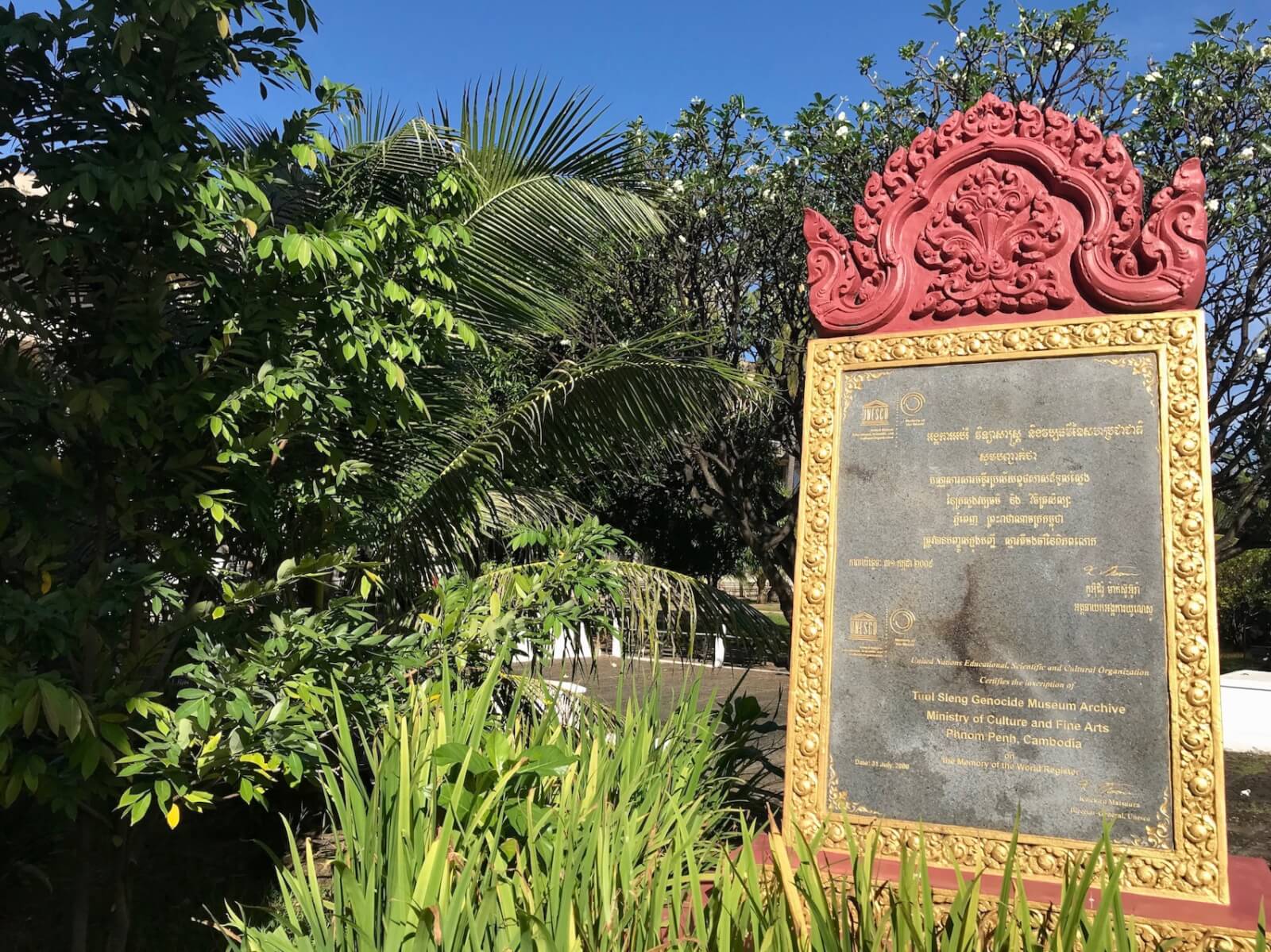 Choeung Ek
As well as Tuol Sleng, you can visit Choeung Ek, one of the killing fields. Again a harrowing experience, but we felt a worthwhile one. There were many moments after this day when we felt incredible sadness at what the Khmer people had been through, but I don't think you can truly experience the country without knowing it. We also found Cambodian people to be friendly, kind and extremely welcoming, which in a way was even more surprising after everything that had happened. Audio guides are available at the entrance in multiple languages. Not recommended for children.
Read our two week Cambodia itinerary.
Colonial Glamour
Cambodia was once a French colony and the French influence can be seen in everything from food to architecture. In Phnom Penh, there are some beautiful old colonial hotels and even if you don't stay at them, it's worth going for a cocktail (or two). The Elephant Bar at Raffles is a beautiful spot with a great cocktail menu and one of our favourite bars was The Foreign Correspondents Club overlooking the Mekong River. This has an impressive gallery of photographs taken by American Photographer Al Rockoff, who was stationed in Cambodia during the 70s. He was a featured character in the movie 'The Killing Fields' although it's said he is not happy with how he was portrayed. The photographs are incredible and I would definitely recommend stopping to have a look.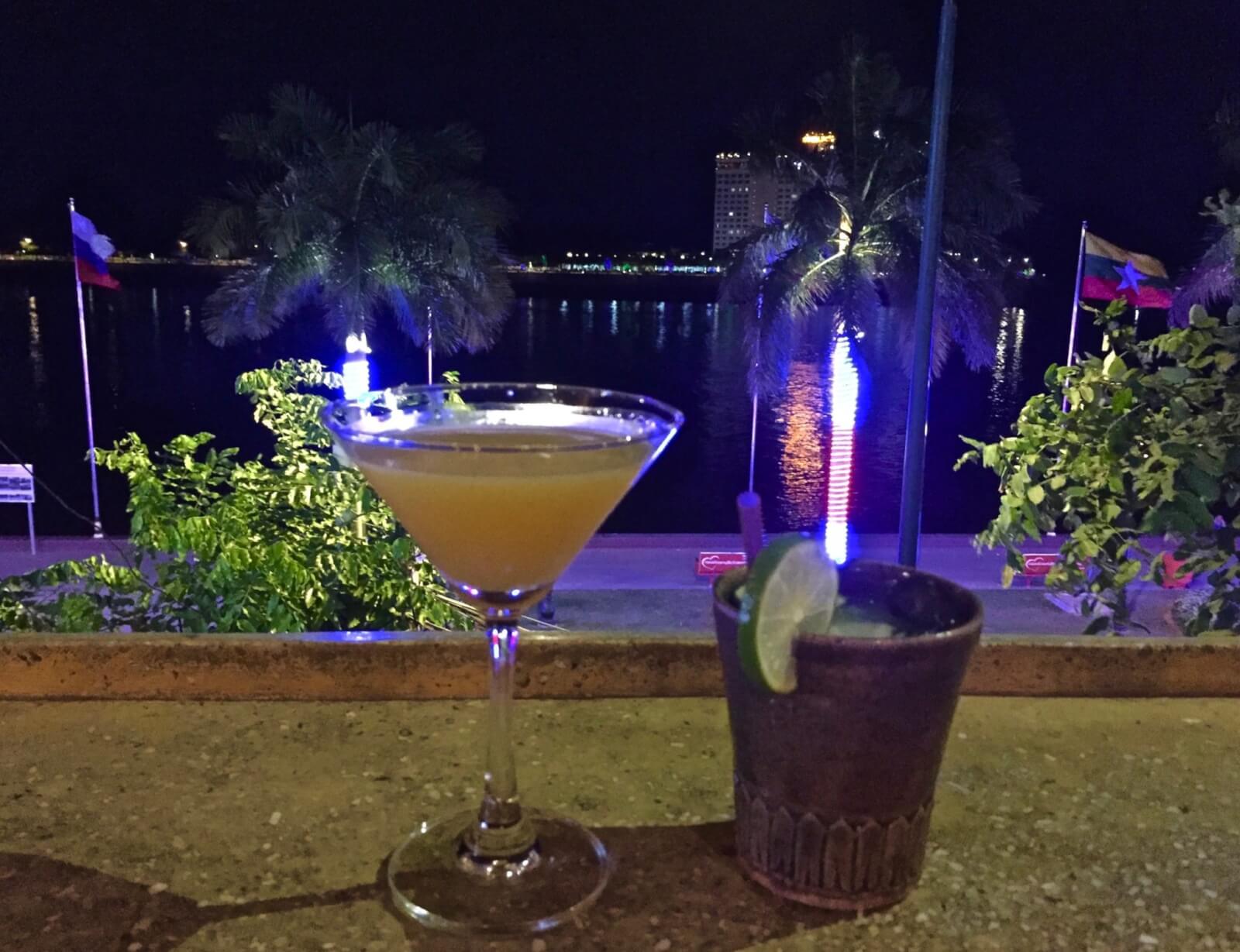 Hit the Pool
Phnom Penh can get pretty hot, and many of the hotels and hostels have swimming pools, but even if yours doesn't, quite a few hotels allow you to use their pool and facilities for a small fee. It's definitely recommended after a day wandering the city.
Phnom Penh Markets
I'm obsessed with markets (Enrico less so!), and Phnom Penh has loads of them. We visited the Russian Market, the Night Market, the Phsar Kandal Market and the Central Market. The Night Market is great for clothes and usually has some kind of live entertainment. The Russian Market was better for trinkets and gifts as well as furniture. The Central Market is huge and has a bit of everything and the Kandal market is the best for local food and culture.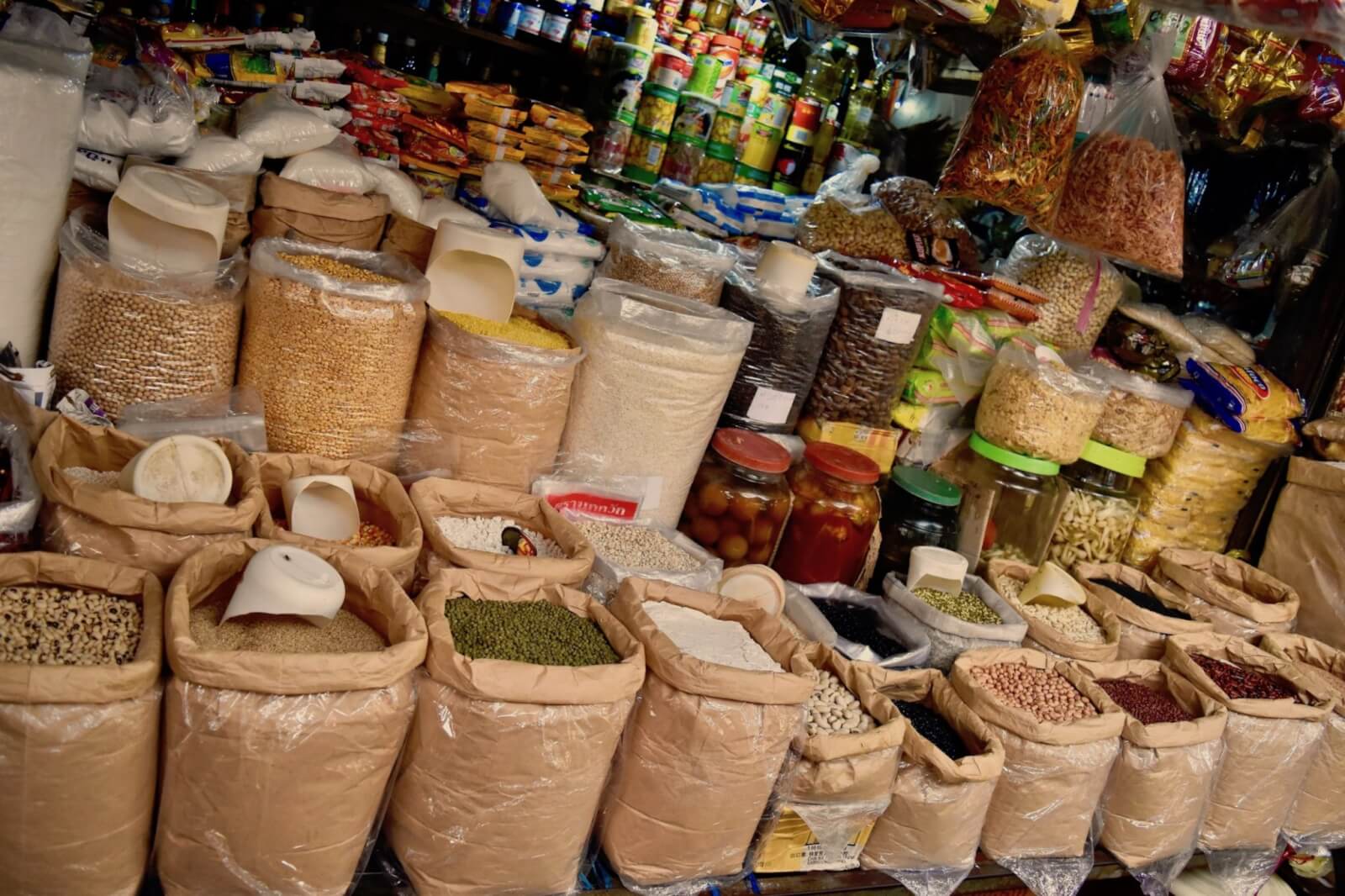 Cambodian Cooking Class
While in Phnom Penh we decided to take a cooking course. Cambodian cuisine is not as well known as its Thai and Vietnamese neighbours, but it's equally tasty and this was one of our favourite Phnom Penh activities. One of the most common and popular dishes is Fish Amok, a curry made with coconut milk and often steamed in a banana leaf. We learnt to make this along with a variety of salads and a dessert. A cooking course is a great way to learn about the country's cuisine. I recommend taking one at the start of your trip to Cambodia, as it will help you order food for the rest of the holiday.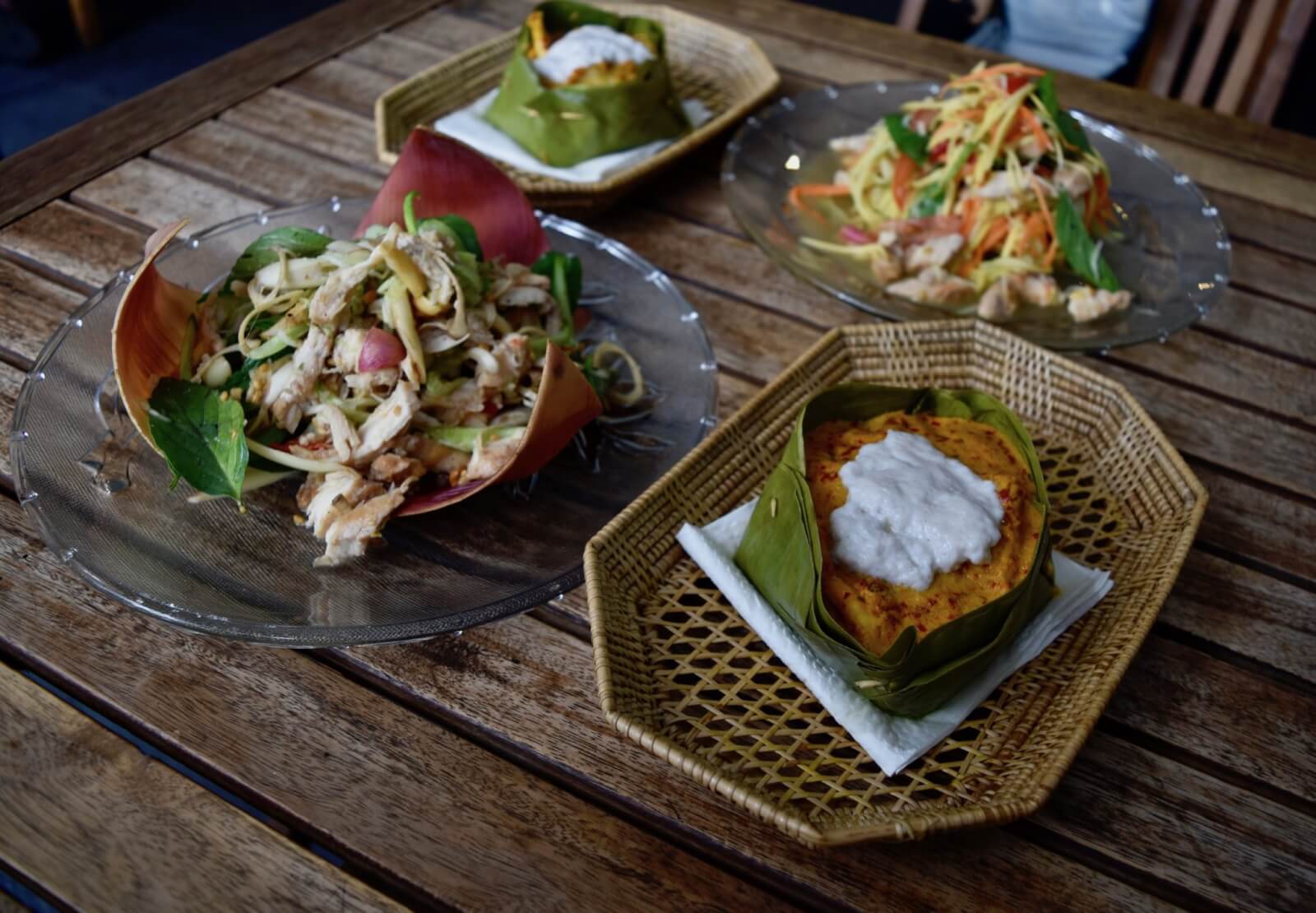 Restaurants In Phnom Penh
Cambodian cuisine takes influences from the French, Indian and Chinese, and shares many dishes with neighbouring Vietnam and Thailand, which means, there are excellent dumplings! We loved David's Noodle Restaurant for amazing dumplings and delicious handmade noodles.
Across the country, there are a number of restaurants that train young Cambodians in hospitality, many of these are part of the tree alliance. There are two of these restaurants in Phnom Penh; Friends and Romdeng. We visited the former and loved it. The food is Cambodian with a few international dishes thrown in, as well as some more interesting dishes that include fried tarantula and ants!
Phnom Penh Hotels
We stayed in three different hotels during our stay, at three different budget levels.
Budget – Mad Monkey Hostel Phnom Penh has air-conditioned rooms and an outdoor swimming pool. There are dorms and private rooms.
Mid-range –G Mekong is a lovely hotel with a great rooftop swimming pool and beautiful interior (loved the showers here!).

Luxury – Raffles Hotel Le Royal is located in the centre of Phnom Penh with an excellent restaurant and bars.
Find accommodation in Phnom Penh
How to Get to Phnom Penh
Flying to Cambodia from the UK requires a stopover. Flights from Sydney to Phnom Penh also require a stopover so we chose to fly into Ho Chi Minh City in Vietnam and travel to Cambodia by bus (around 8 hours). We flew with Vietnam Airlines, who fly direct to Ho Chi Minh City from London and Sydney.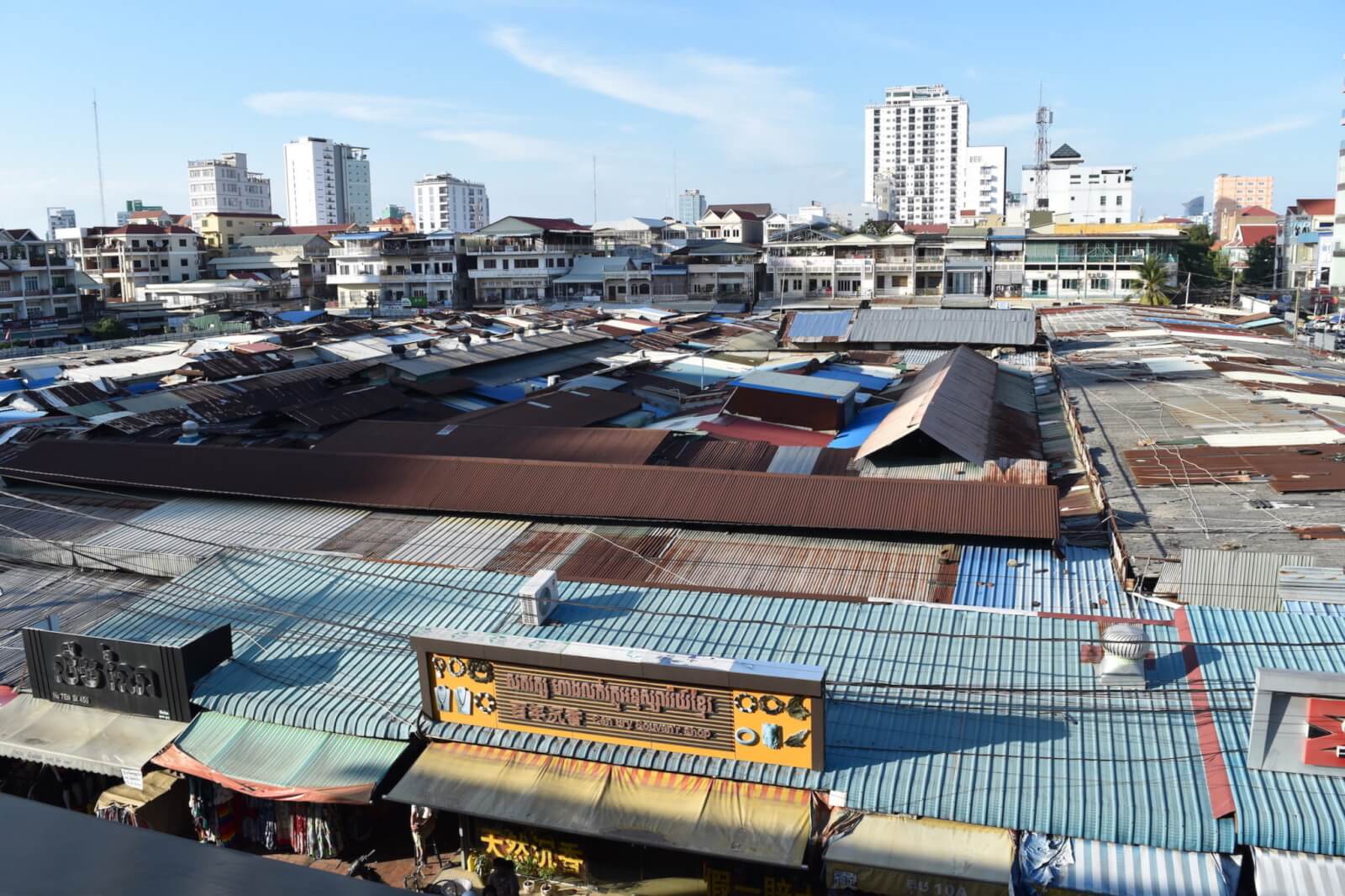 I had hoped I would like Phnom Penh and I did. There were, of course, some sad times during our stay, but I left feeling that I had really gotten to know the city and I would 100% recommend friends to visit and spend a few days there.
Travelling to Cambodia? Check out our guide to Southern Cambodia here.