Before going to and researching Cambodia, I have to admit that I really didn't know a lot about the country. I was keen to visit Angkor Wat and explore Phnom Penh, but other than that, I had no idea where to go. After chatting with friends, reading blogs, and travel guides and exploring Instagram, we discovered that Cambodia has some incredible beaches, gorgeous islands and great little towns, which ended up being some of our favourite parts of the trip. So here's a little roundup of the Sihanoukville region, the Cambodian islands and the towns in Southern Cambodia and our favourite places.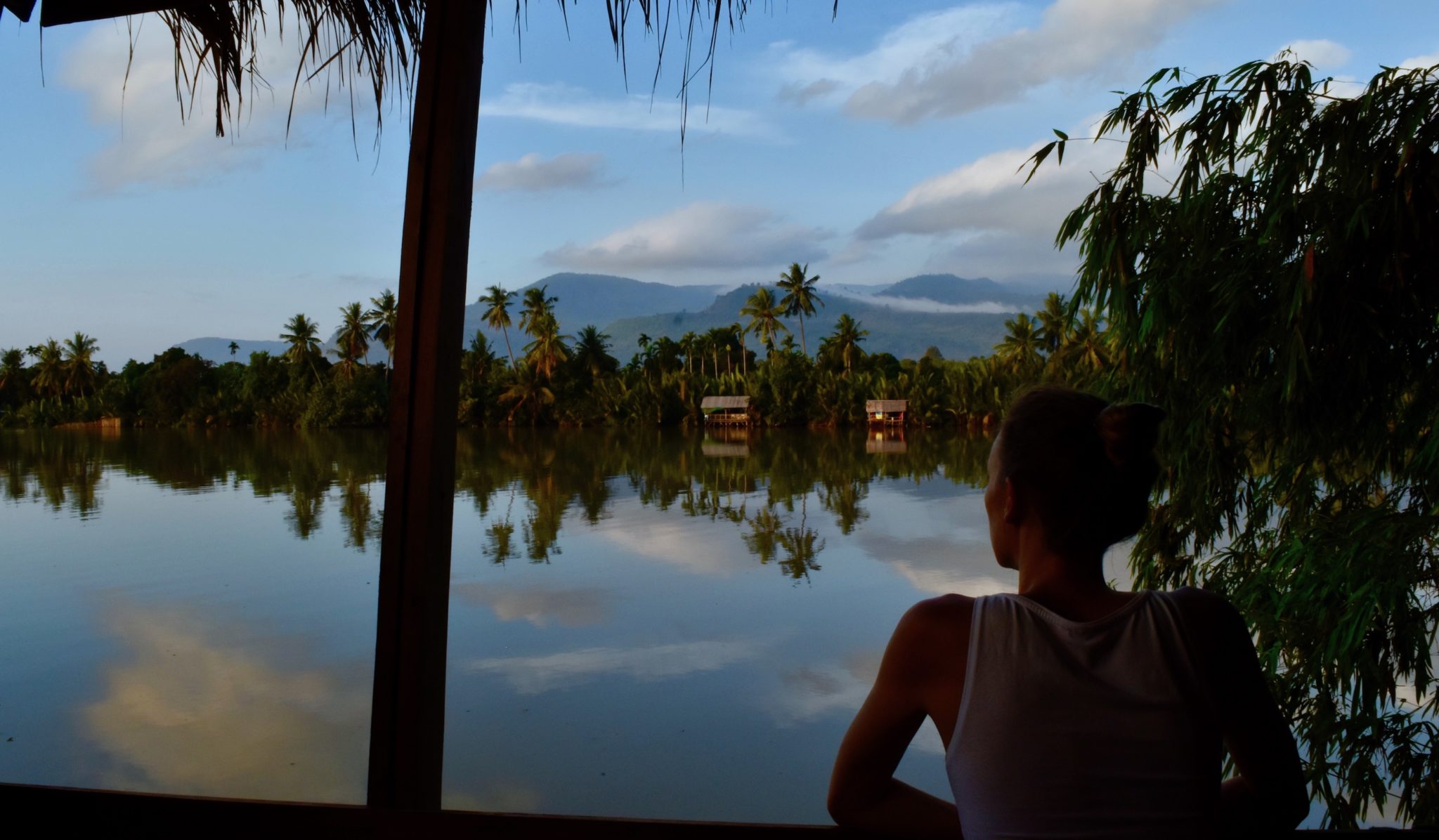 Disclosure: This article contains affiliate links. This means that if you click a link and purchase something I've recommended I may earn a small commission. This does not affect the price you pay but helps me to run this site. You can read my full affiliate disclosure here.
Sihanoukville & The Islands
We didn't stay in Sihanoukville, and after driving through it I have to say I'm glad, as it does not seem to be a particularly nice city. However, just along the coast are some gorgeous beaches. We spent a night in Otres, which has a beautiful long sandy beach. It has a very hippy/backpacker feel to it, with lots of bars and restaurants lining the water. The sunsets here are incredible. We spent an evening in a beachside restaurant, enjoying a few Angkor beers and watching one of the most beautiful sunsets I have ever seen.
Where to Stay in Otres Beach
Budget – Oasis Boutique Hotel is a great option close to the beach.
Mid-range – Sok Sabay Hotel has a pool and restaurant.
Luxury – White Boutique Hotel is located at the quiet end of the beach with a pool.
Find accommodation in Otres Beach and Sihanoukville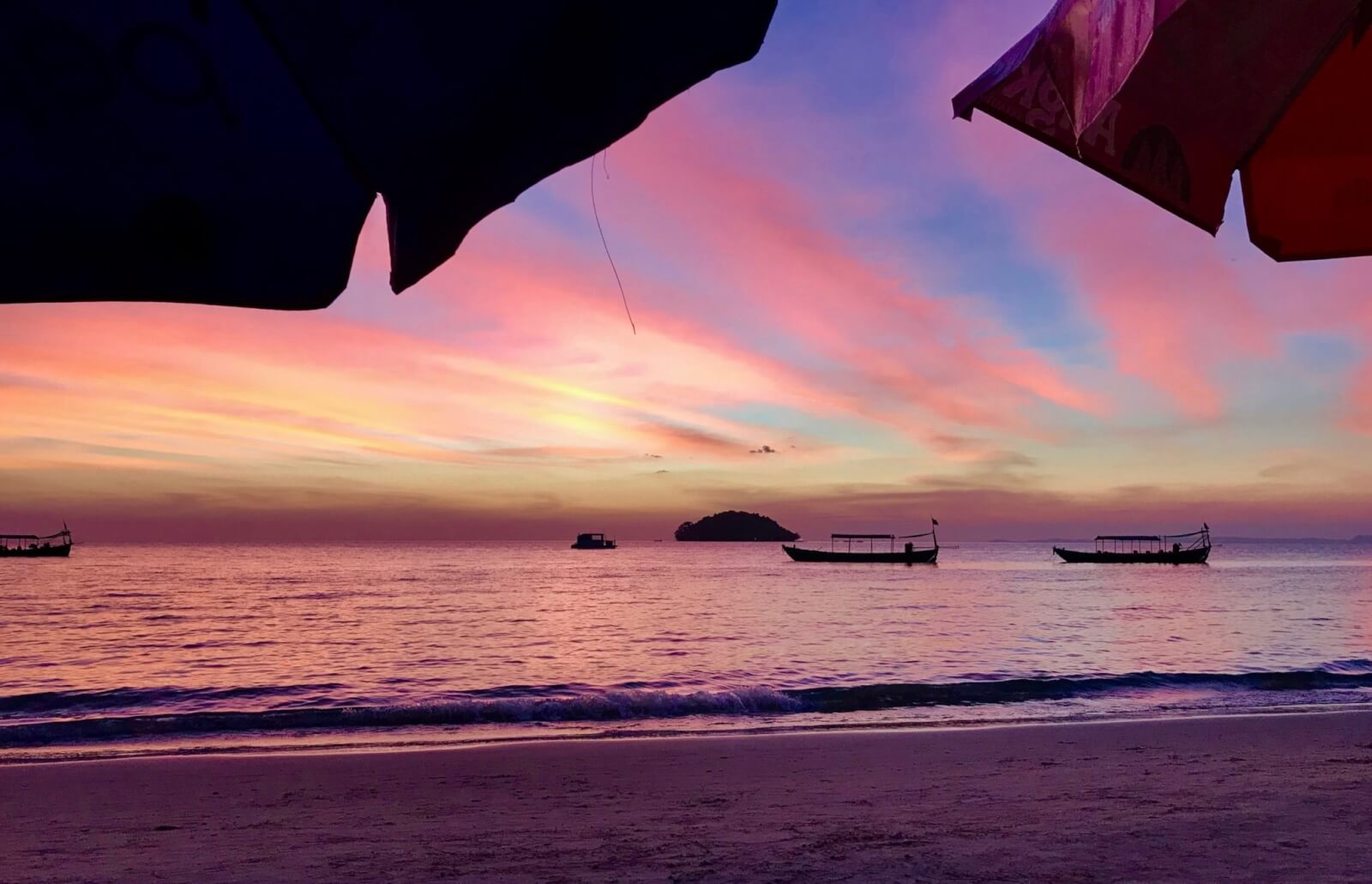 Otres and Sihanoukville are the gateways to the Cambodian islands. And on a two-week trip to Cambodia, I would recommend heading to one of the islands for a couple of days. The most popular is Koh Rong. We didn't go there, so I can't comment on it, but I've heard from friends it has a bit of a party vibe with full moon parties and lots of booze. We opted for the lesser-known and lesser-visited island of Koh Ta Kiev. I had a personal recommendation from a friend to visit this island and I'm so glad we did.
Check out our two week Cambodia itinerary.
Koh Ta Kiev
Koh Ta Kiev is a small island, 10 kilometres off the coast of Sihanoukville. You get there by boat, either from Otres Beach or from Ream National Park.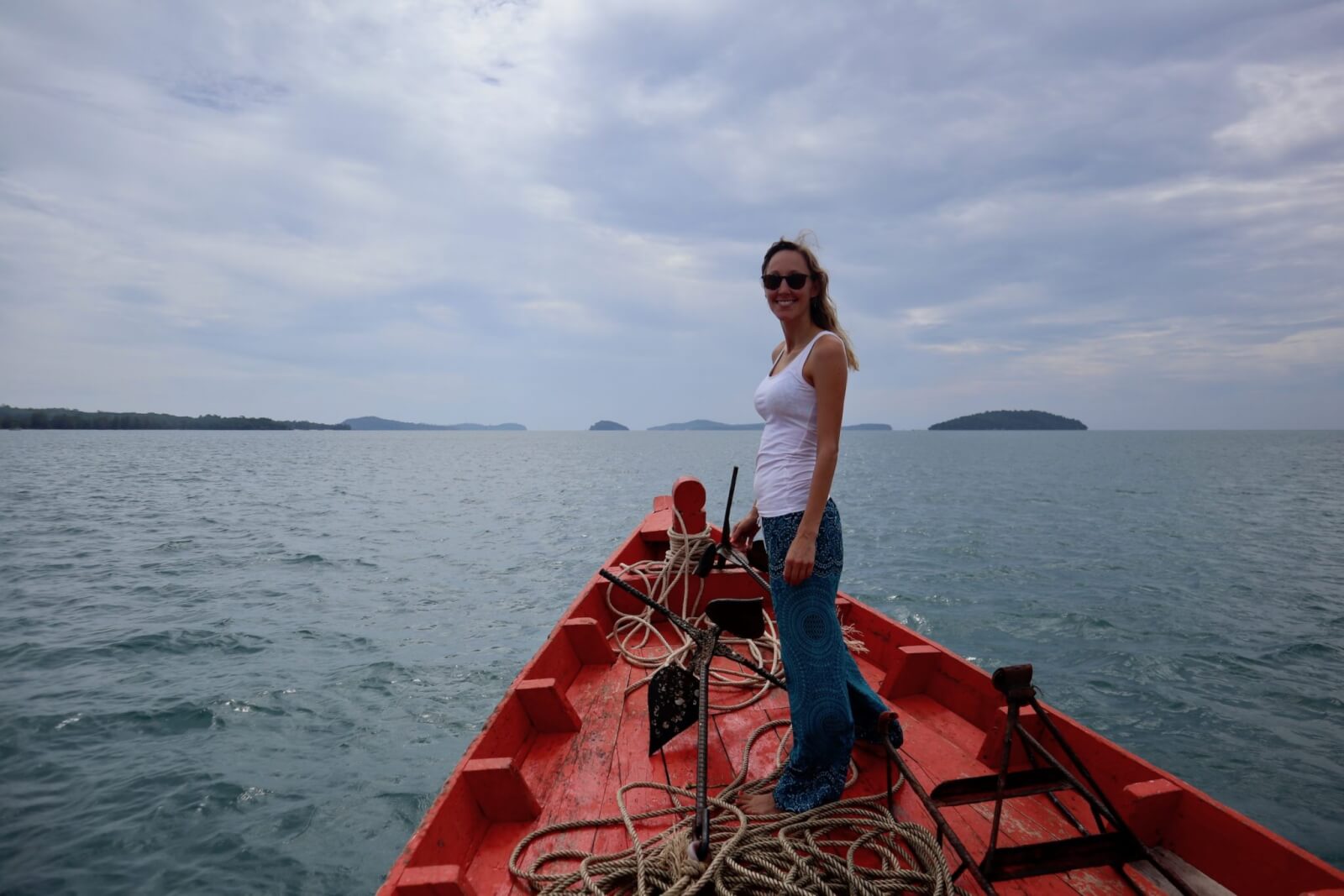 There isn't much on the island, just a few guesthouses and jungle. There's no electricity, no WIFI and no shops. So make sure you come prepared and bring everything you need (sun cream, bug spray, painkillers etc.). Also, bring enough cash for your accommodation and food/drink as there are no ATMs and card machines!
We stayed at Kactus on the sunset side of the island and it was the perfect place to relax. You sleep in simple huts, treehouses and hammocks, with a bucket of water for a shower. It might not sound that nice, but it was actually amazing.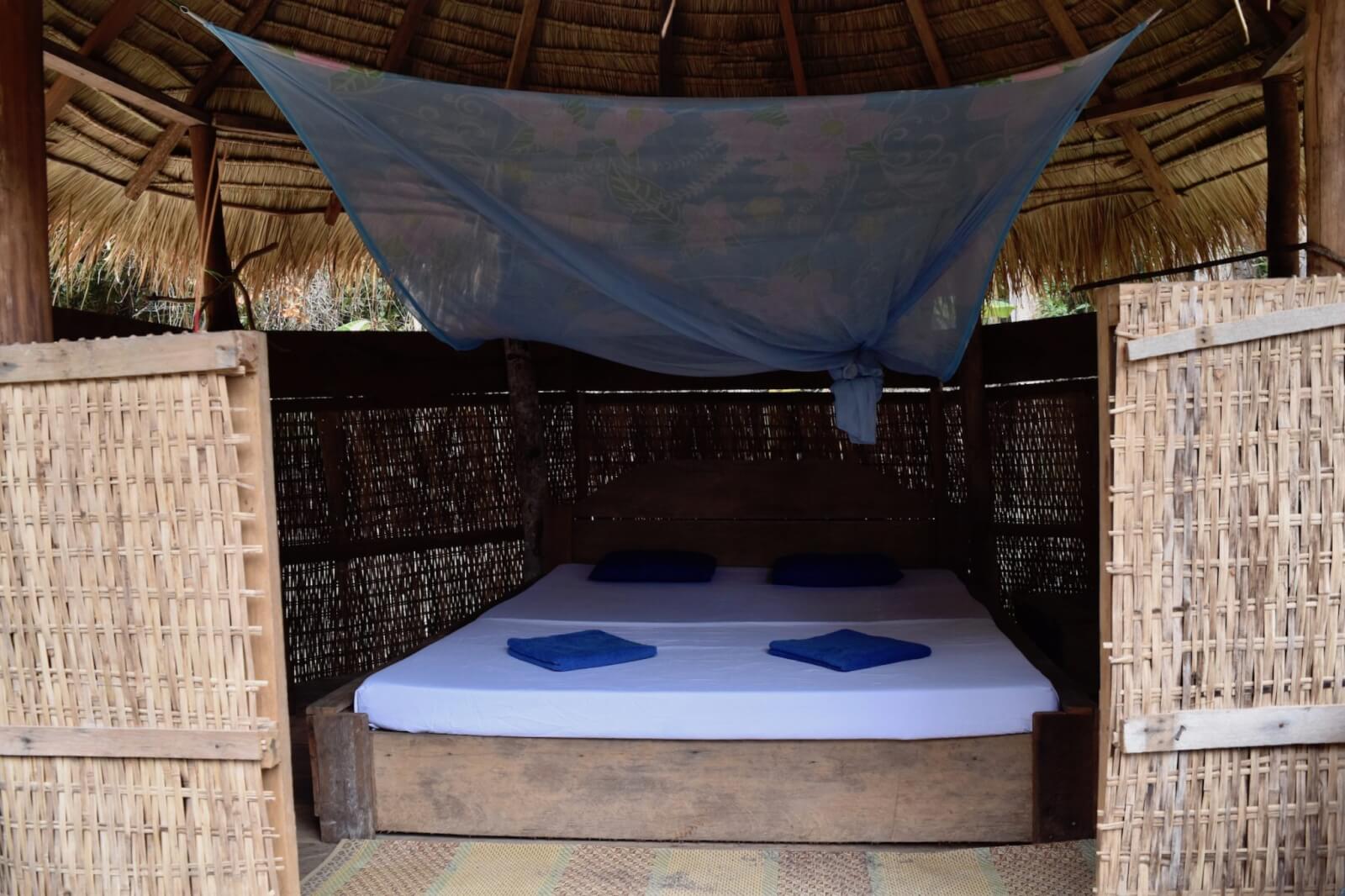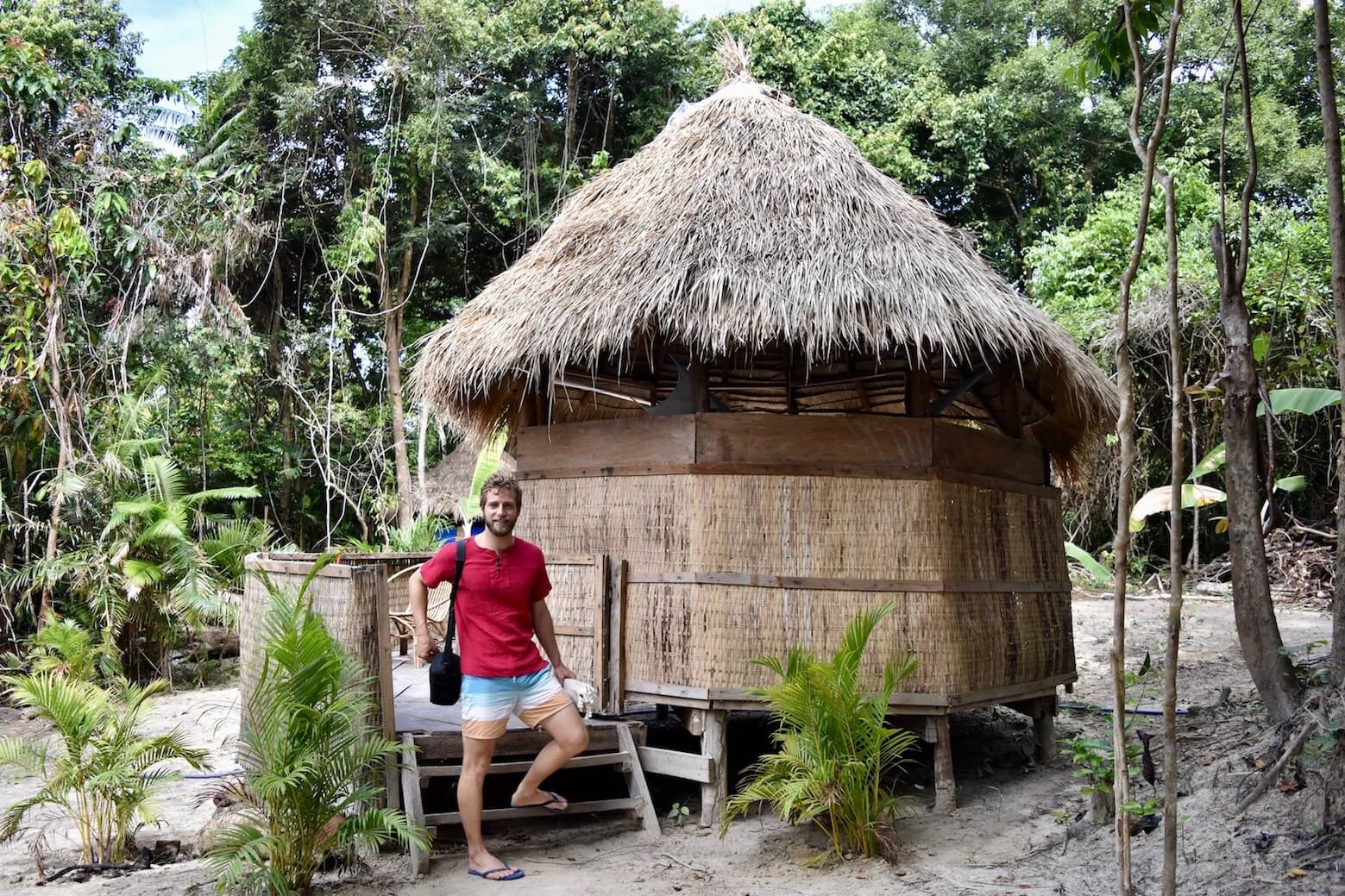 It has its own gorgeous private beach and it was so nice to switch off from the outside world. Kactus also has a fabulous restaurant and great wine and coffee, so you can still enjoy good food while you're off the grid!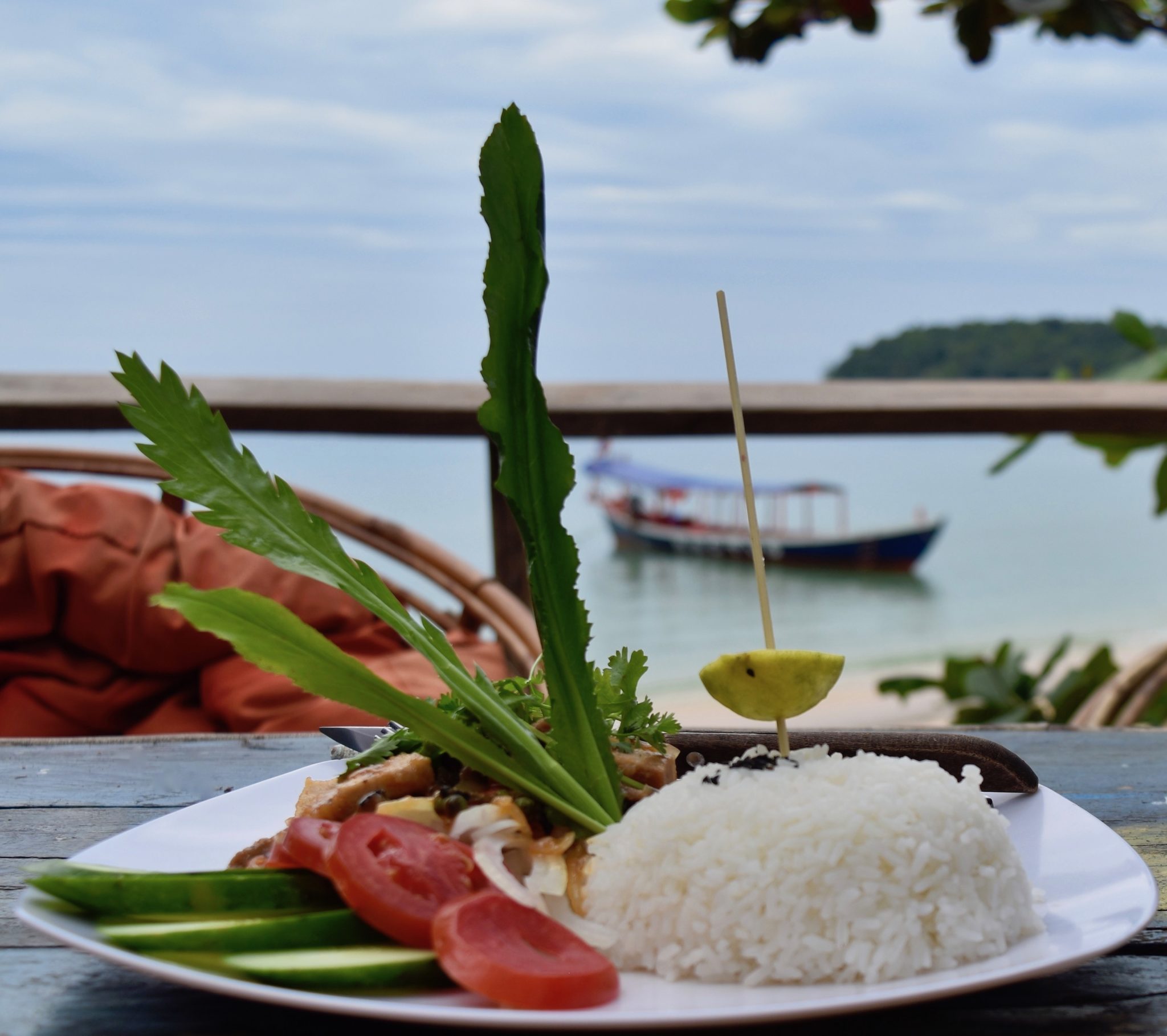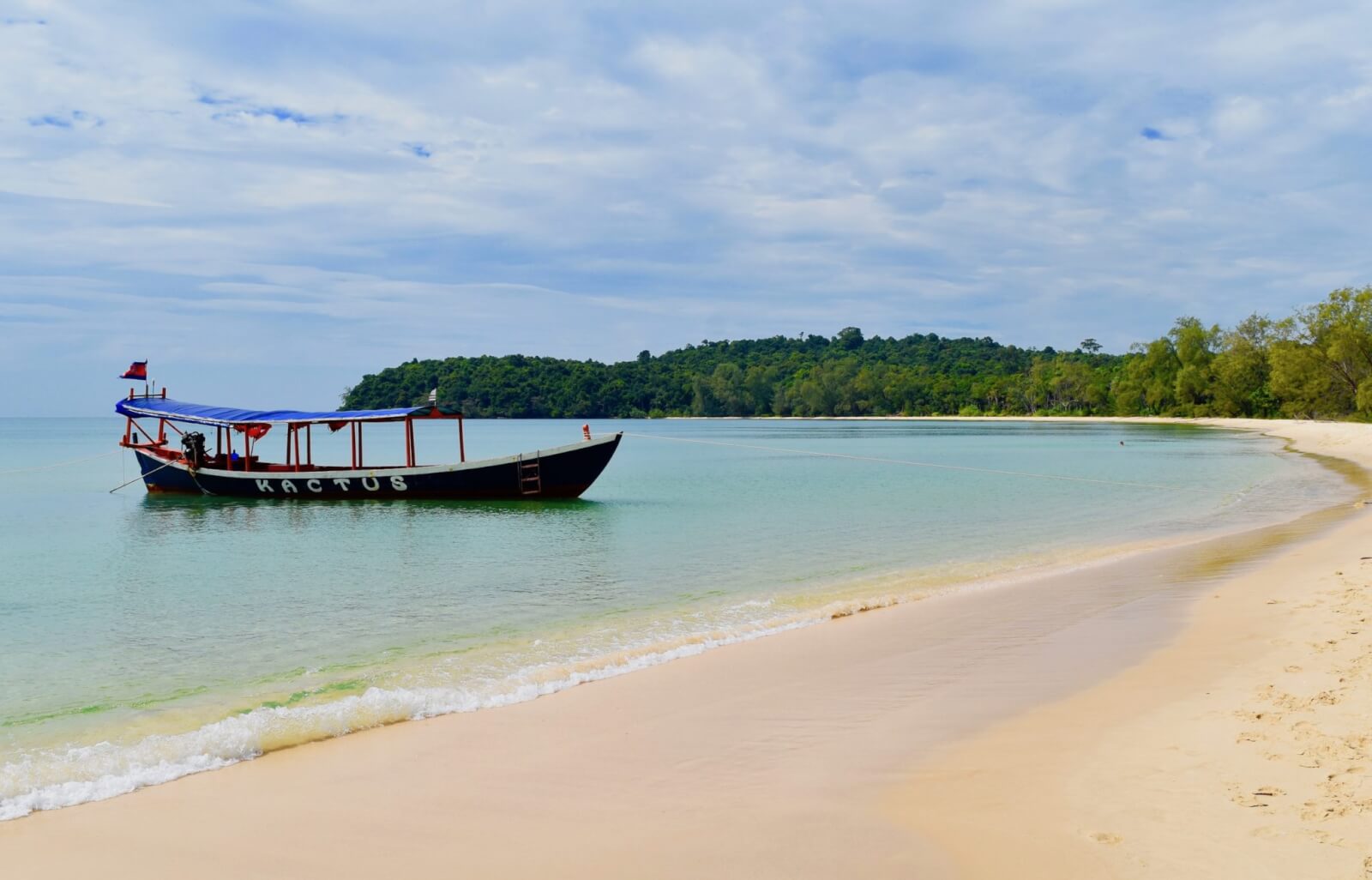 The main reason I wanted to come here was for the bioluminescent plankton. My friend Kirsty had told me that at night it was possible to swim with them off the beach if it is dark enough. Unfortunately, a huge storm in the Philippines meant that we had some pretty relentless rain while we were there, however, we didn't let that stop us. We headed to the beach at midnight, soaked by the rain and jumped into the water. It was amazing, every movement created a glowing blue light from the plankton. It felt like something out of Harry Potter! It was an incredible experience.
Kampot
After sailing back to the mainland, we travelled east along the coast to the town of Kampot.
Kampot is a lovely little town situated on the Preaek Tuek Chhu River. It reminded me of Chang Mai in Thailand (or at least Chang Mai 15 years ago when I was there). There are plenty of things to do in Kampot; it has great little coffee shops and restaurants and a bustling night market.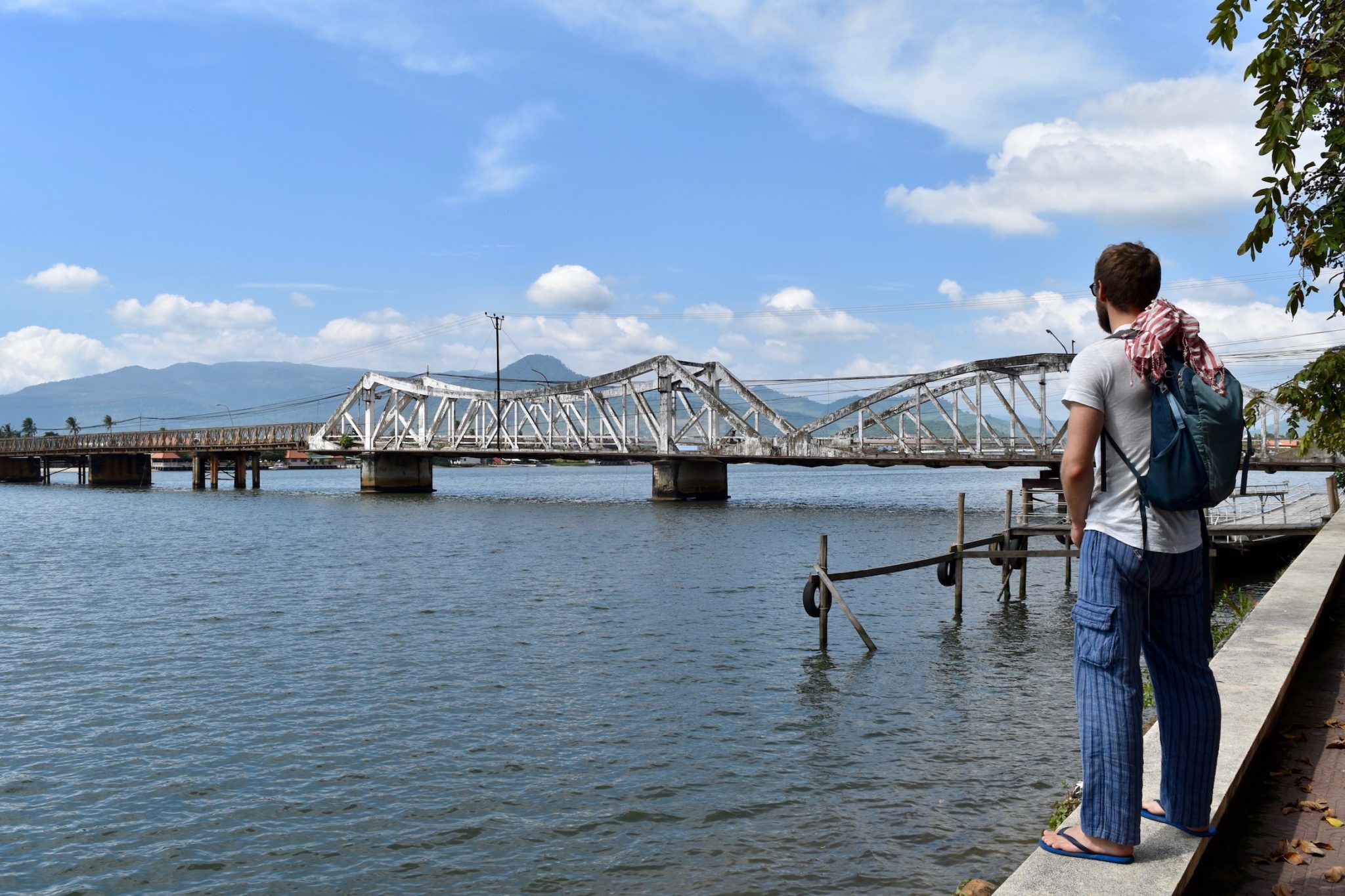 Kampot is famous for the production of pepper and Durian. Durian is a fruit that has a very pungent smell. In fact, it's forbidden on most public transport and in many hotels! However, the taste is actually pretty good. Enrico is a fan!
Read our two week Cambodia itinerary.
Where to Stay in Kampot
We spent two nights in Kampot. I would recommend staying outside of the main town in one of the gorgeous riverfront guesthouses. We stayed at Sabay Beach, surrounded by mango, durian and coconut trees, right on the river with its own sandy beach! (Hence the name).
Waking up overlooking the river was so peaceful. We got up early to see the sunrise and watch a local fisherman starting work.
Pepper
While in Kampot we visited a pepper plantation to sample some of the famous Kampot pepper and learnt a bit about the production. It's a very picturesque part of Cambodia, with lots of rice fields and palms.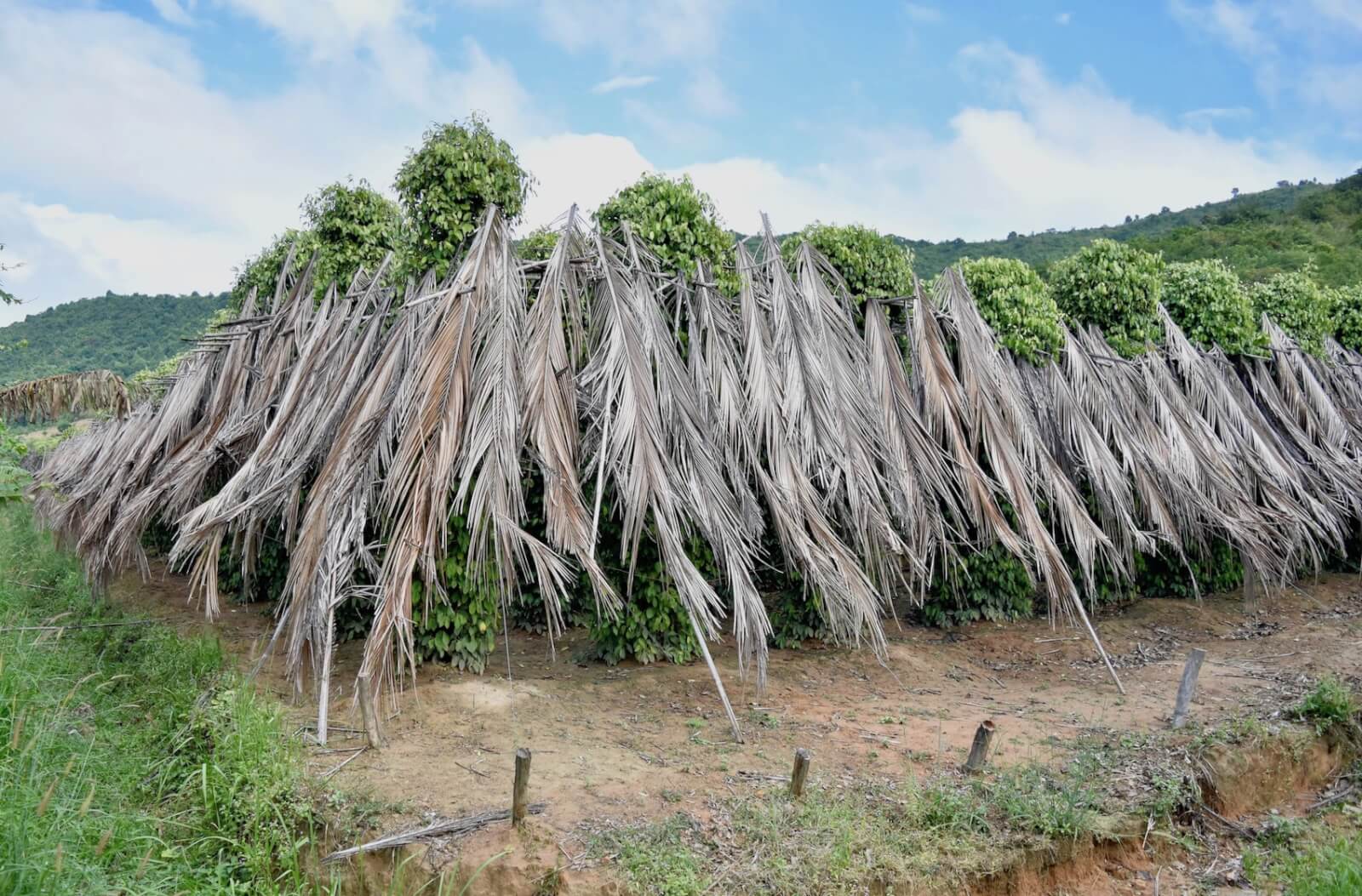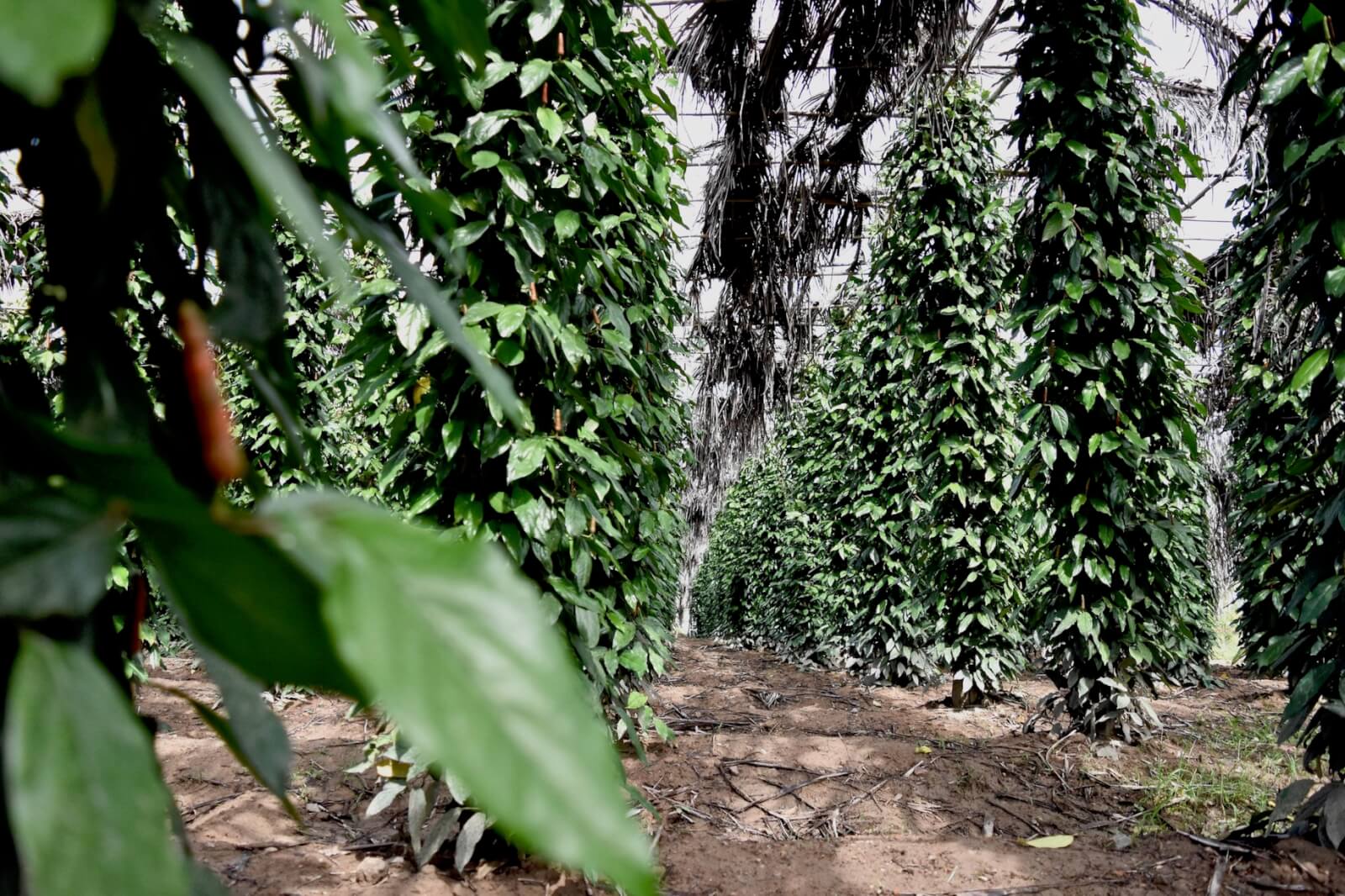 Kep
From Kampot, we took the Crab Shuttle down the Preaek Tuek Chhu River to Kep. The crab shuttle is an old fishing boat that travels between the two towns, run by a lovely English chap. You can also take a bus or a taxi between the two towns, which is faster but not nearly as scenic.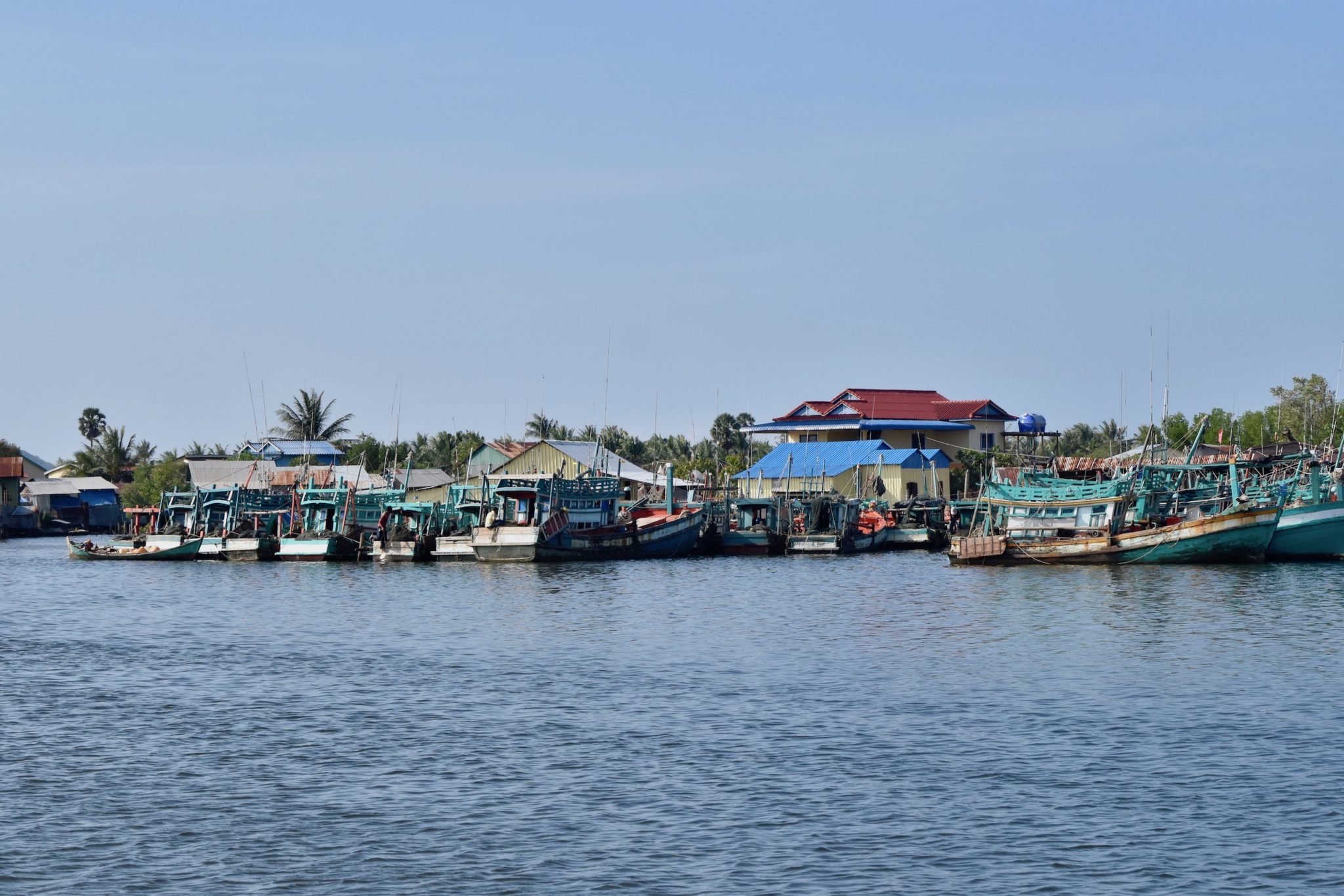 Kep is a former colonial resort town, it was once a holiday spot for the rich and famous, but many of the beautiful villas were abandoned during the 70s and fell into disrepair. However, the town is making a comeback and many people are visiting the town for its delicious seafood.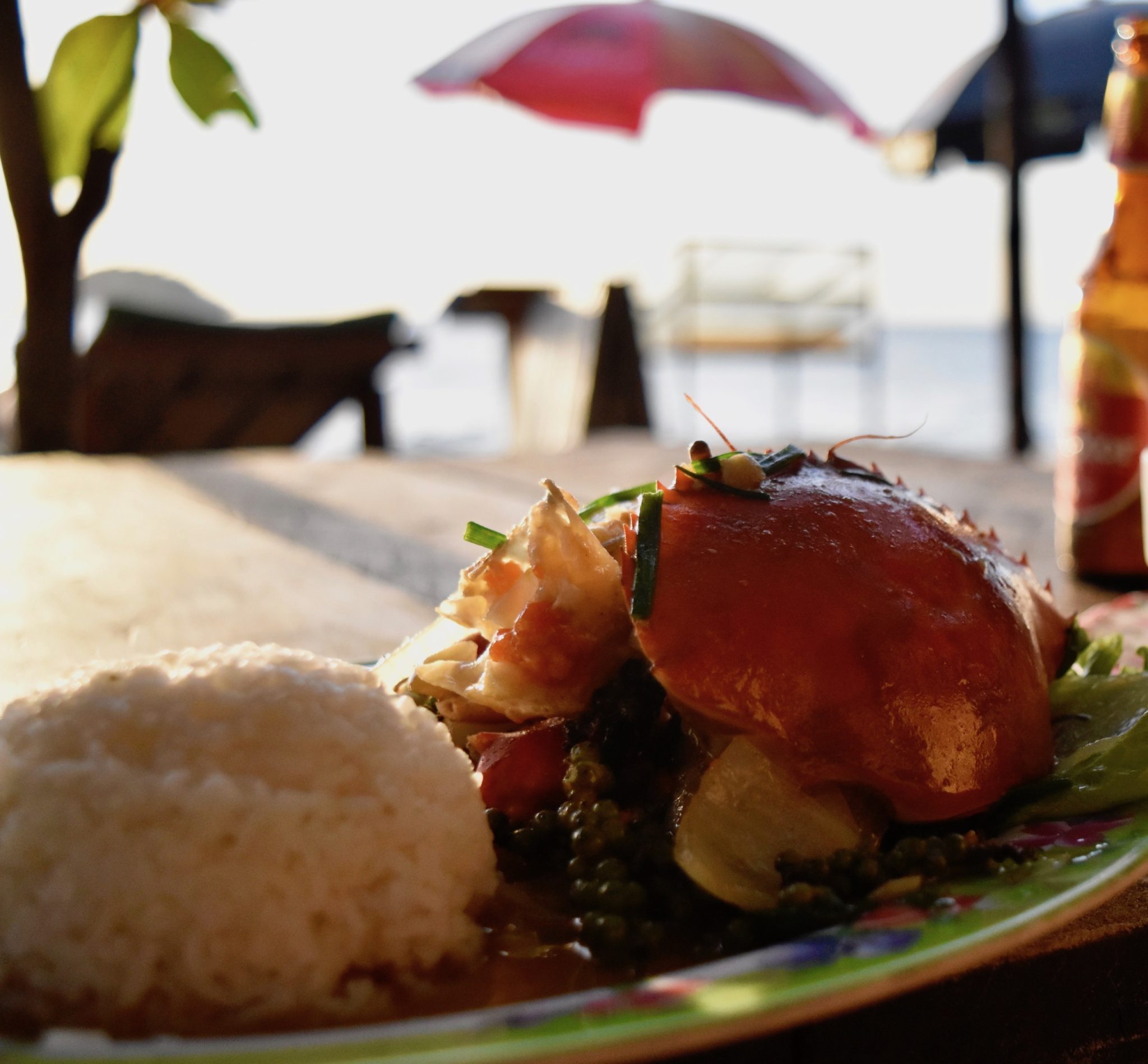 The signature dish of the region is Kep crab with Kampot pepper and it's a must-try if you visit. There is a market on the seafront with plenty of stalls and restaurants selling their versions of the dish.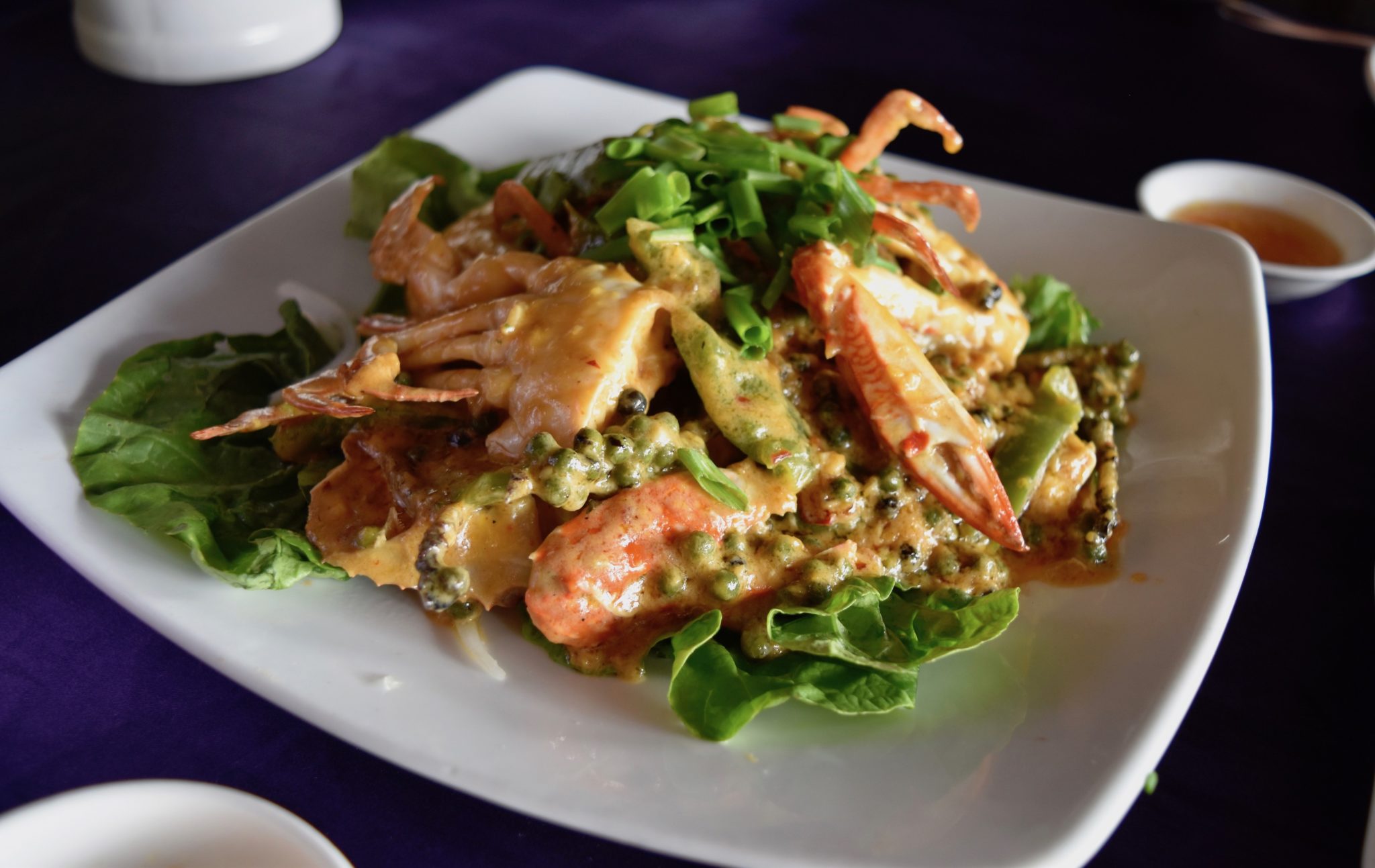 Where to Stay in Kep
We were lucky enough to stay in the fabulous Knai Bang Chatt, a stunning beachfront luxury retreat, with a beautiful infinity pool. If you fancy splashing out during your trip I would totally recommend staying here.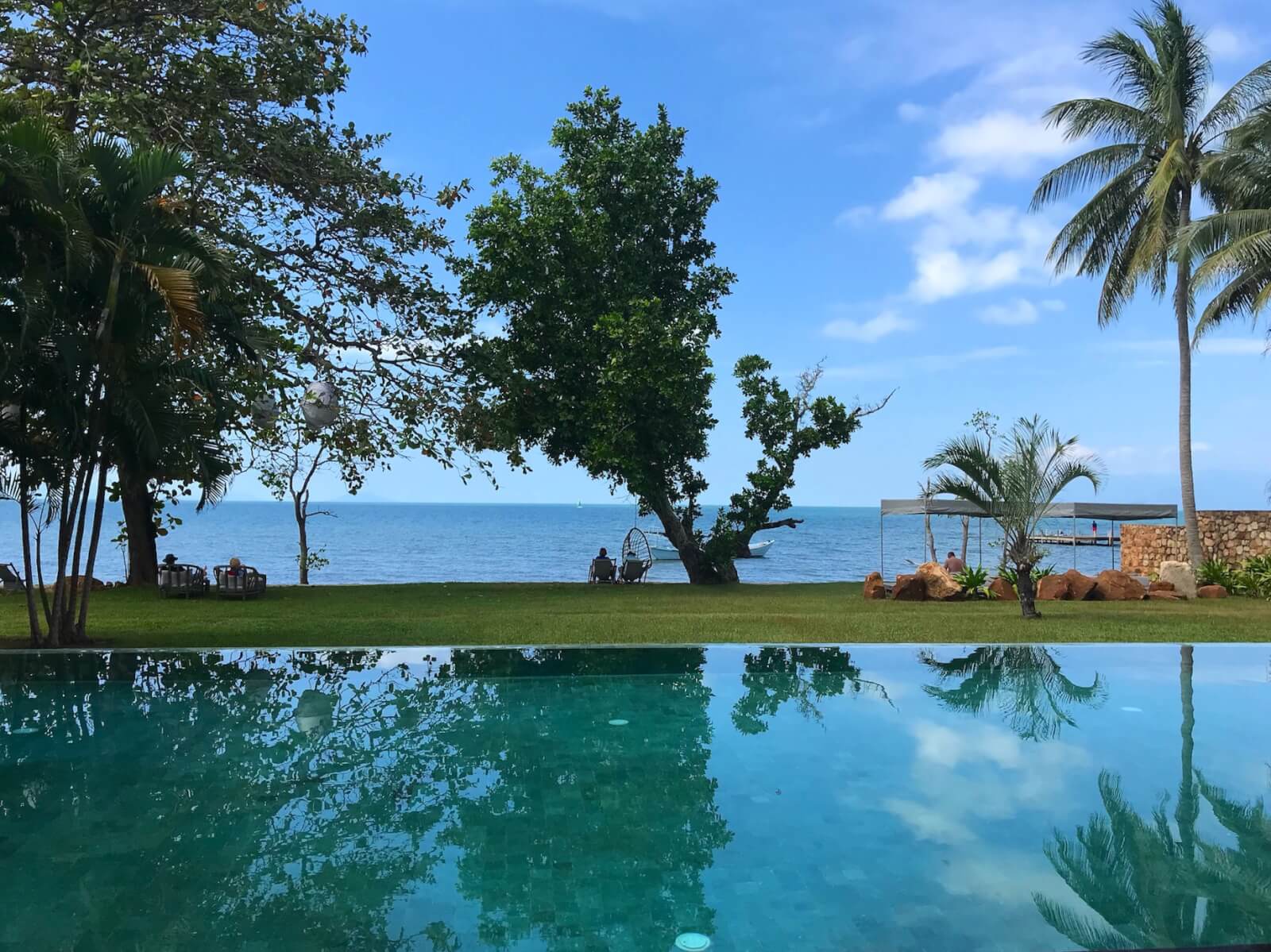 It's a short walk from the hustle and bustle of the market but is a complete tranquil oasis. We treated ourselves to a massage here too, which was heaven.
Read our review of Knai Bang Chatt.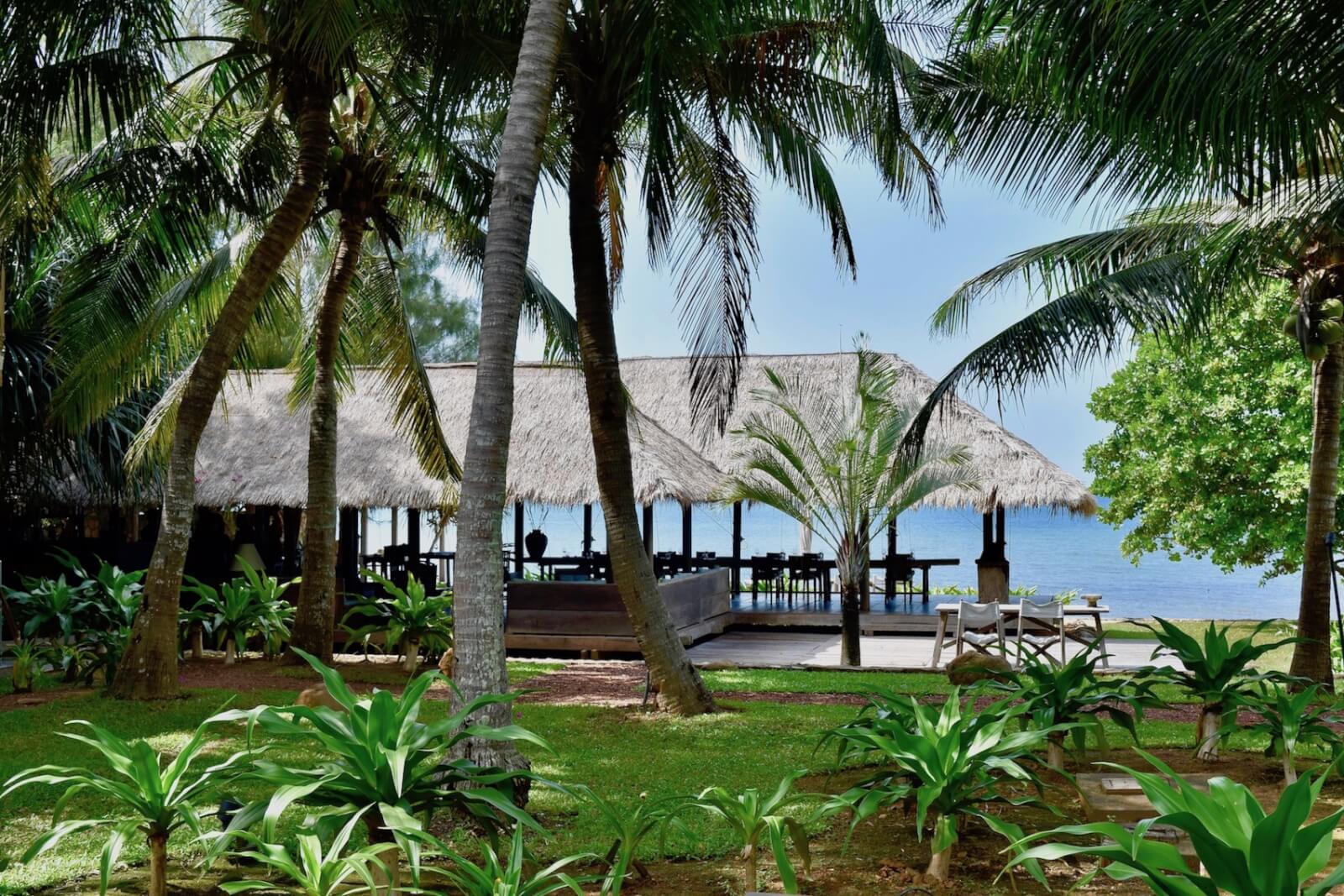 If you're looking for a more budget-friendly option, the Khmer Hands is a good choice.
From Kep, we left the south coast and headed back to Phnom Penh. If we'd had more time I would have loved to explore the national parks of Ream and Boutum Sakor. But I think based on the time we had, we made good choices and would recommend all of these if you're heading to the Sihanoukville region!